Are you looking for a unique tattoo that shows your infinite love for someone? Look no further! Heart Infinity tattoos with names are one of the best ways to declare your love to the world.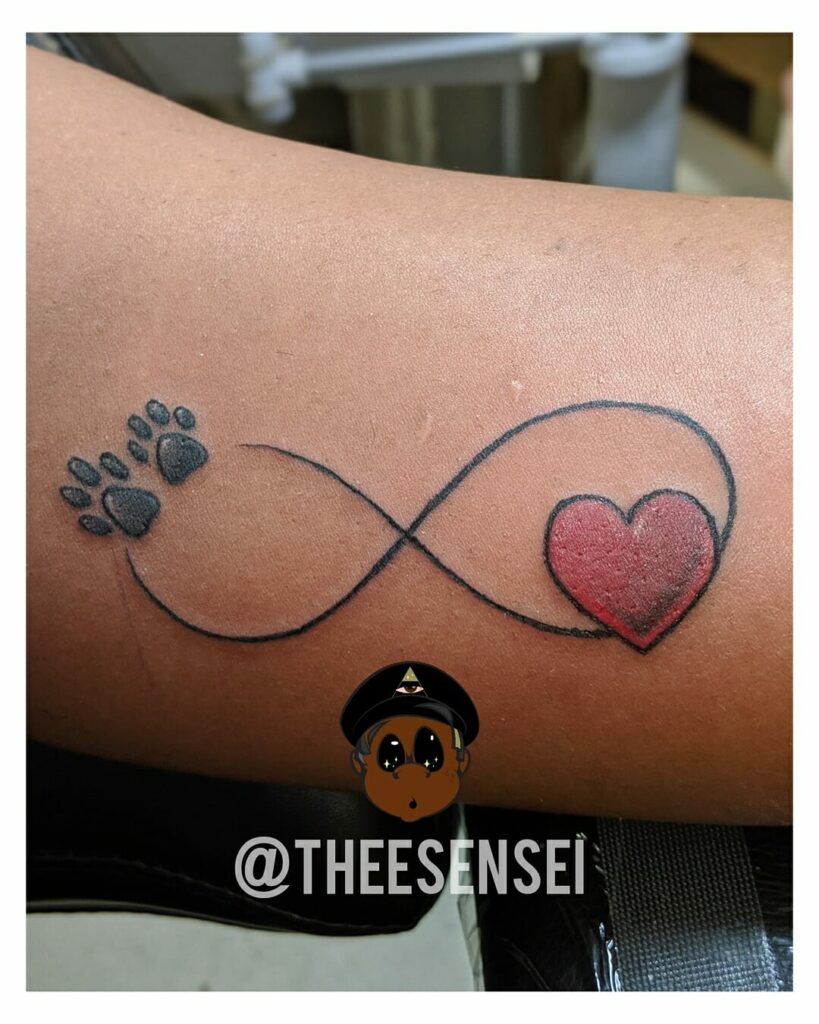 These tattoos are a combination of the infinity symbol with a heart and are meshed with the name of a loved one in creative ways. The infinity symbol means limitless and unbound, so these tattoos have special meaning more than other tattoos. When it is combined with the heart it symbolizes an unlimited, unbounded, and limitless love.
Infinity tattoo ideas with a heart are the best way to show your forever love for someone. Apart from love, infinity tattoo ideas can be a good choice to show your peaceful and harmonic personality. You can even show your infinite love for animals and nature by adding the name or tattoo of that animal.
These tattoos are often seen at weddings and sometimes considered as a ring symbol. But you can also use them as a symbol of love for your parents, brothers, or sisters. Being the symbol of love, the infinity tattoo idea is an emotion, so you can choose the colors and placement in a way that matches your personality. In infinity tattoos with a heart, there is a unique meaning, a deep emotion, and with elegant colors- it can make an attractive tattoo design.
Medical Alert Infinity Sign With heart
This amazing infinity tattoo covering the forearm looks stunning. It is composed of a heart, a heartbeat diagram, an infinity sign, and a date. This tattoo is not only beautiful but also serves as a medical alert tattoo. The words "diabetic" and "stemi" are inked here to showcase if someone has a medical condition in case they are facing an emergency situation and need to convey this.
This tattoo can be a symbolism for someone in your life. If you are inspired by someone and love him/her more than your life, just go for this infinity tattoo idea. It shows your forever love for someone. The beauty of this infinity tattoo is also hidden in its large size covering the whole arm by making a combination with other tattoos. This infinity tattoo can be inked in vibrant colors as well.
Forearm Infinity Heart Tattoo With Names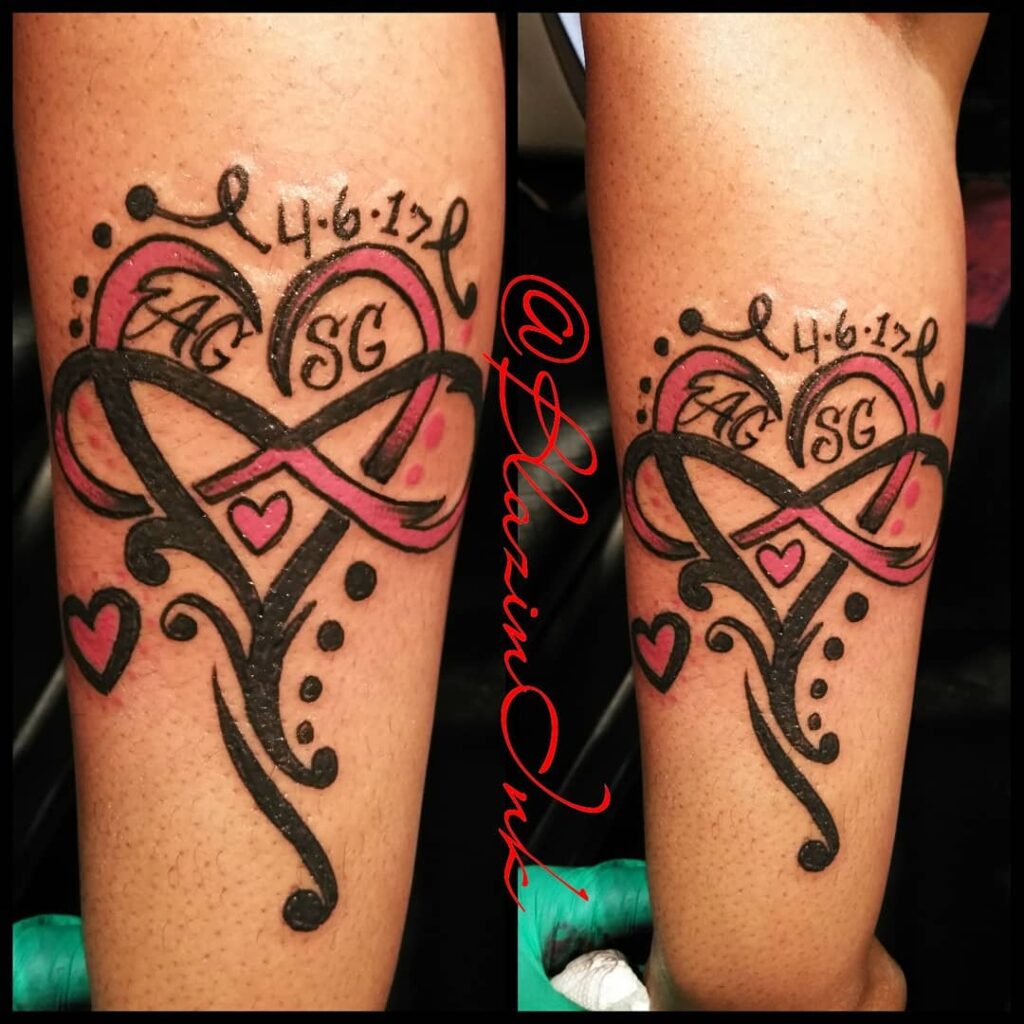 The amazing design and stunning colors are the elegance of this infinity tattoo. Beautifully placed on the forearm, this tattoo is bound to grab your attention. In this tattoo, there are two sets of initials inked in on each side of the heart. The letters in this Infinity tattoo can be replaced by the initials of your name along with your loved ones'. As shown in the image, the couple has each inked the same tattoo design. In the same way, you can get this matching tattoo with your spouse or partner. The infinity sign is designed beautifully and is adding to the charm of the tattoo along with small hearts.
Geometric Watercolour Infinity Tattoos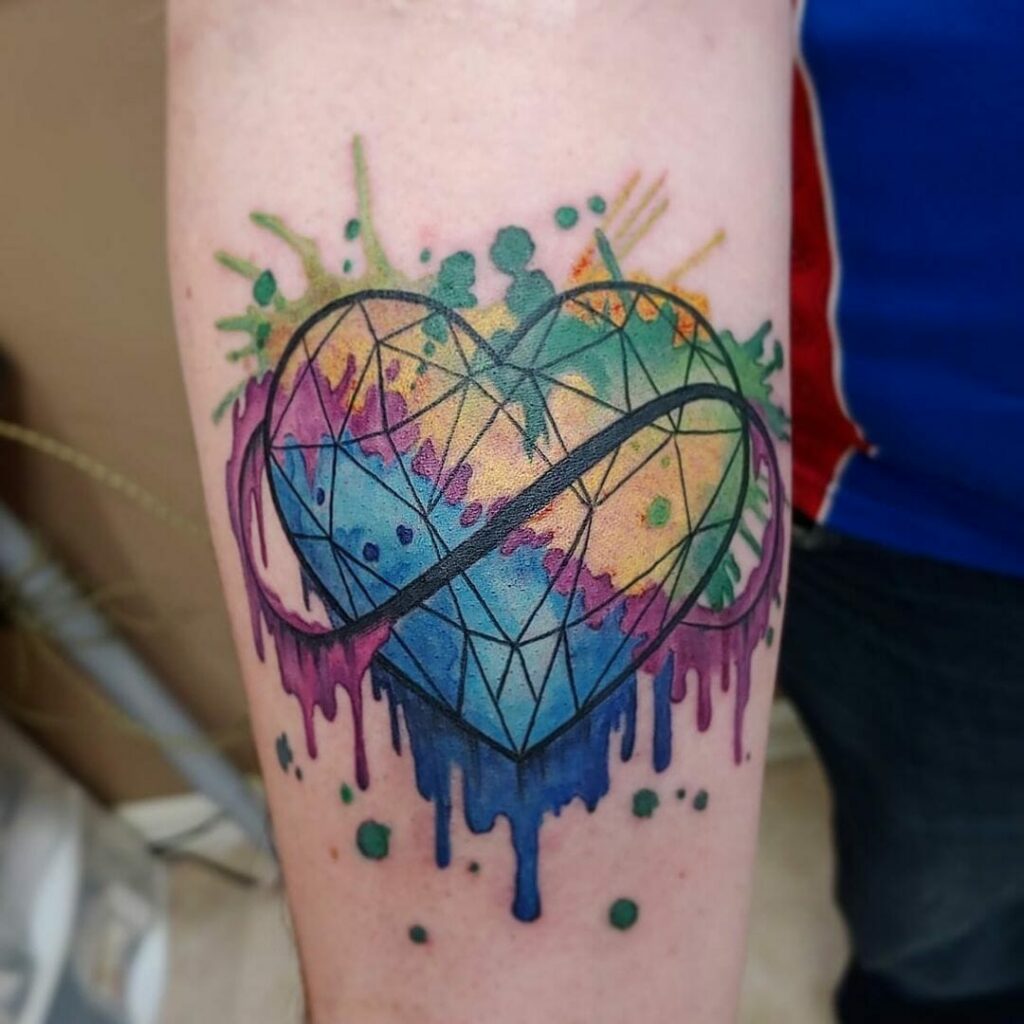 When it comes to tattoos, watercolors create some of the best designs. Here is a special and unique infinity tattoo with a heart mixed with a geometric tattoo design. With dripping splashes of yellow, pink, green and blue, this tattoo looks creative and stunning. The outline of the heart and geometric shapes within are inked in thick black. You can place the name or initials anywhere around the tattoo. The infinity symbol with watercolor drops is like an infinity sign for the elegance of the infinity tattoo, so double infinity tattoo!
3-D Infinity Tattoo Heart Tattoo With Date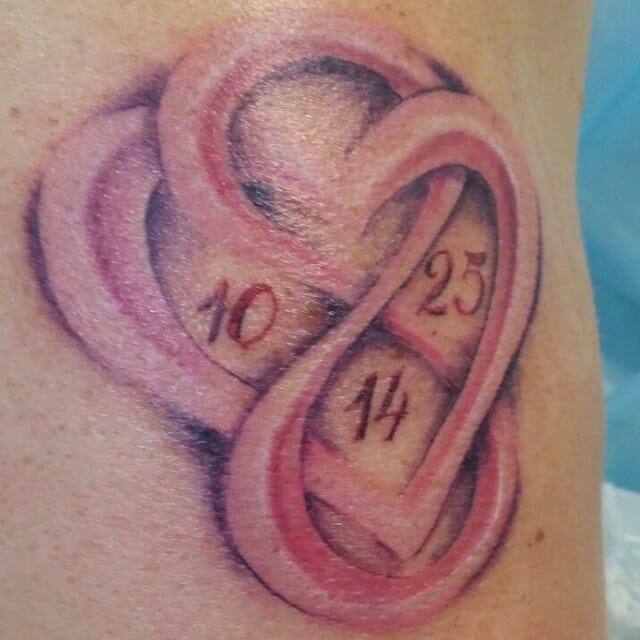 This beautifully designed infinity tattoo is drawn entirely in pink and carries some significance. The pink color is a symbol of sensitivity and romance. So these infinity tattoos represent your love for your life partner. You can change the color of the infinity tattoo according to your emotions and desires. The artist made it in a way that it looks like a three-dimensional tattoo. It can be inked in many colors and placed on the neck, arms or chest. Inside the circular pattern of the tattoo, there are numbers that may signify a meaningful date or lucky numbers.
Infinity Sign With Heart, Flowers And Butterflies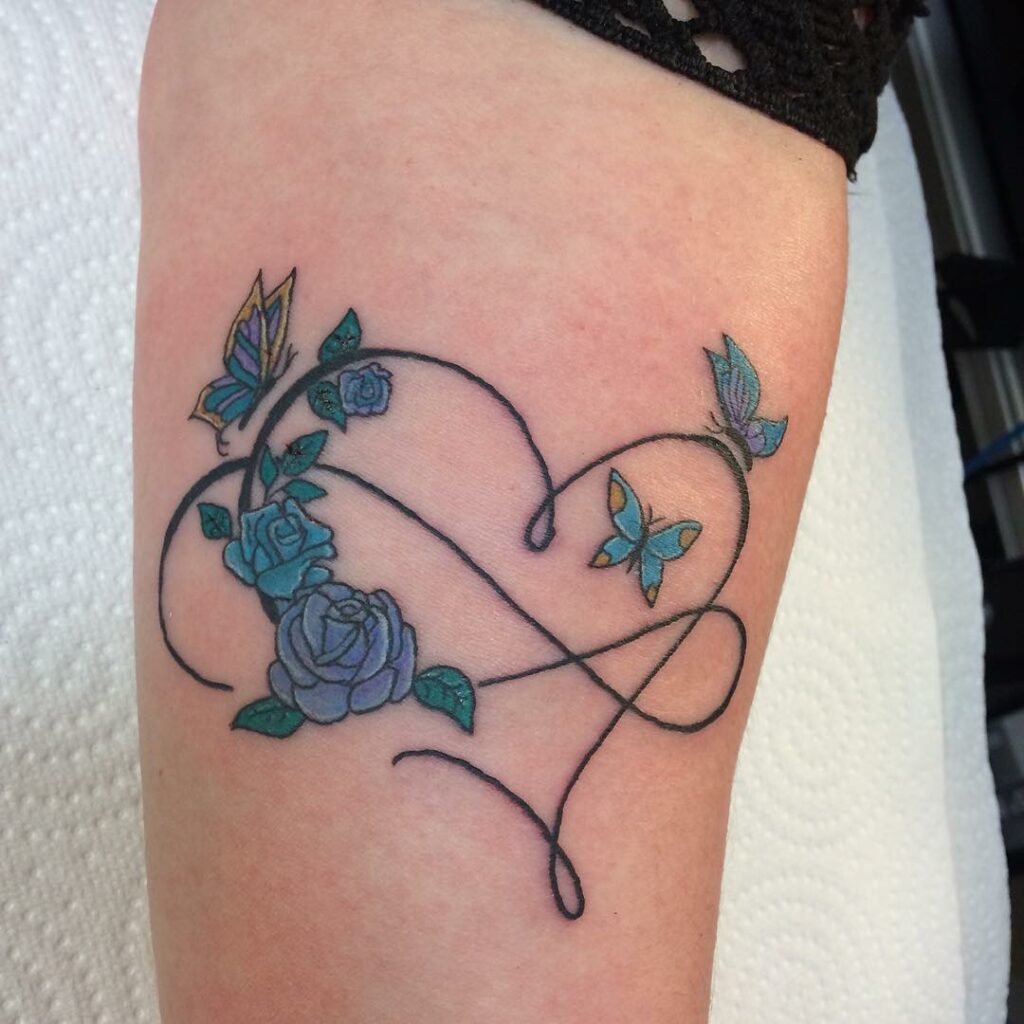 Have a look at this classic, unique and elegant infinity tattoo with beautiful and vibrant flowers and butterflies. The heart is drawn in a freehand style with fine black outline. Around the heart are a few blue butterflies and blue roses decorating the design. You can add your desired names or letters inside the heart. You can place it on the neck, arms, legs, etc. Search for the best tattoo shop and enjoy the tattoo!
Mother Daughter Infinity Tattoo With Heart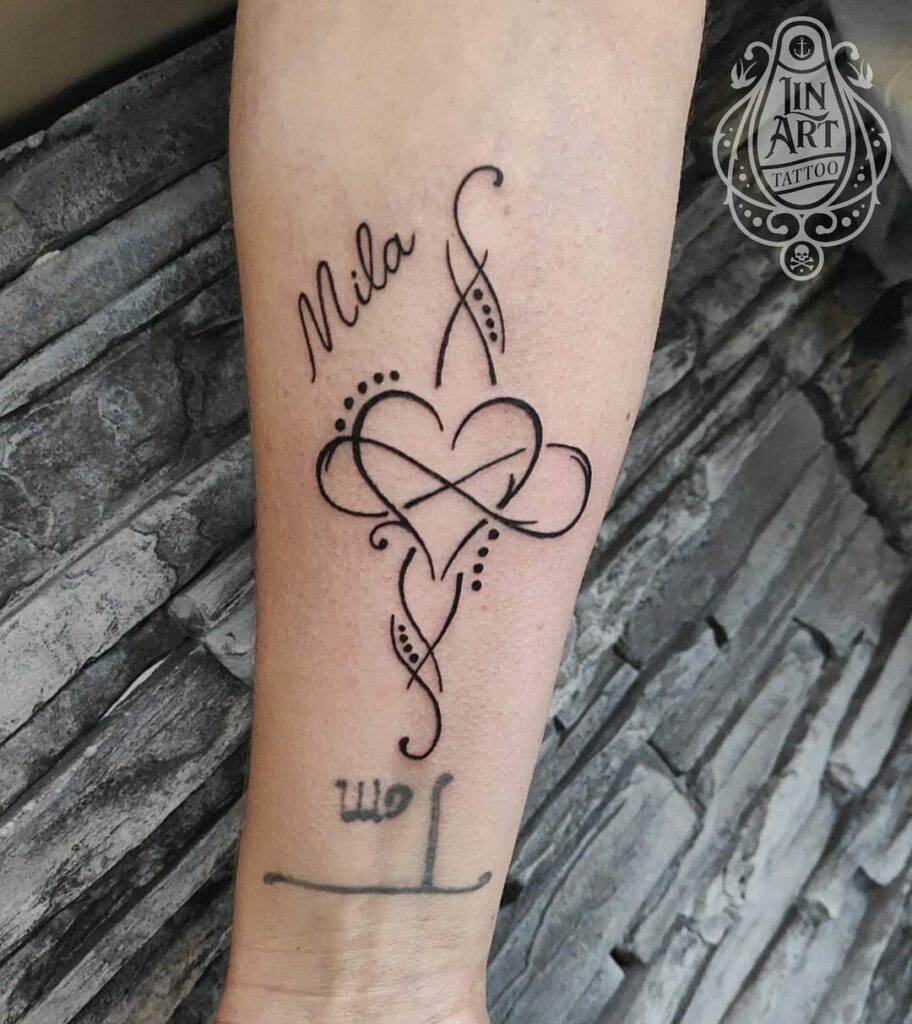 This infinity symbol tattoo symbolizes the sacred bond between a mother and daughter. The sentence "I love you, mom", describes it. Though this is made unique to represent the infinite love for a mother, you can inscribe the names of other family members as well. In black and white ink, this tattoo uses a very stylish and minimal design. The use of dot work with a fine gradient makes this tattoo more appealing.
Filigree Design Infinity Symbol With Heart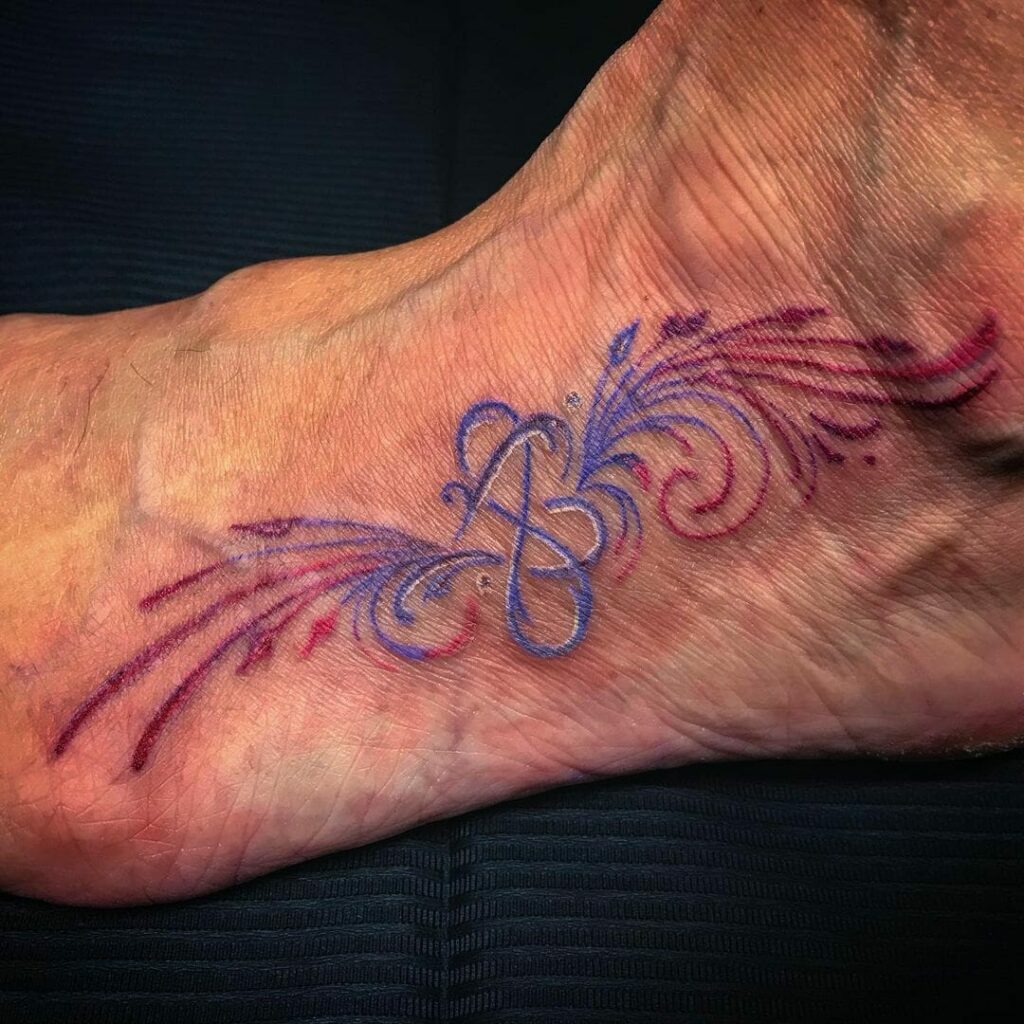 Take a glance at this infinity heart tattoo made of a unique design with beautiful and vibrant colors. The infinity symbol is at the center of the design like a feather. This is unique for it is amazingly inked and simply designed. This tattoo uses fine lines of purple, red and white to create the infinity design. You can place it on the arm, chest, wrist, and other parts of the body.
Double Heart Infinity Tattoo
The next tattoo is a double heart infinity tattoo. Two hearts are overlapping, creating an infinity symbol at the center. This infinity tattoo with heart was made for a couple. If you are a couple you should try this one as a love mark since a double heart represents the bond of your hearts. It has a double outline with black and solid fill inside.
Infinity Tattoo With Heart And A Message
This is one of the best and classic infinity tattoos. In this Infinity tattoo, there is a message "love you" inscribed within the loop of the infinity sign. This represents your infinite love for someone. You can write the names of your loved ones within each loop or a heart-felt quote below it. In this design, there is a message conveying that their love is forever. This infinity sign tattoo looks quite polished and classy in black ink. You can pick a different font, color, and quote as per your preference.
Wrist Infinity Tattoo With Names And Hearts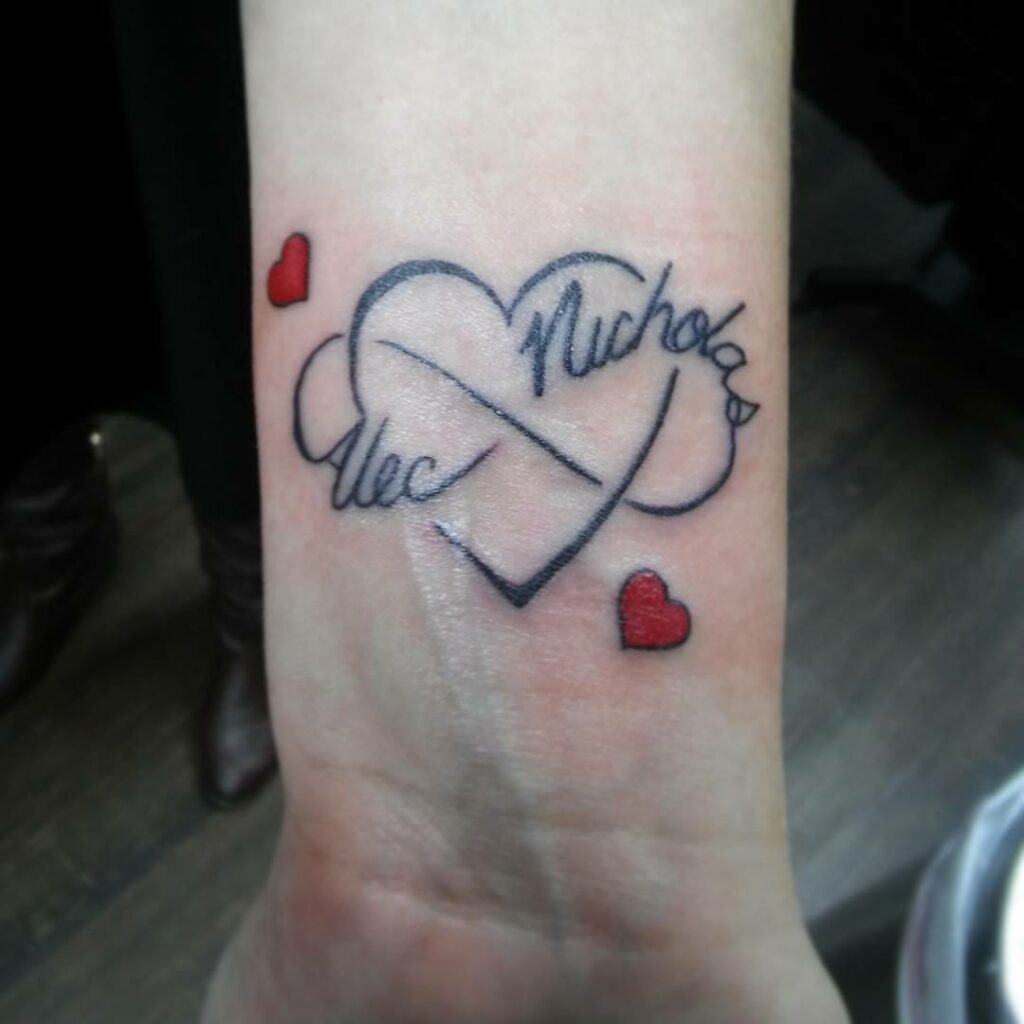 Here comes the last but not the least infinity tattoo with heart and names wrist tattoo. The style in which the infinity sign is placed is amazing. The two red hearts on each side look adorable. People love infinity tattoos and as the red color symbolizes love, people prefer this design. If you also like these love-font tattoos, you can try this infinity love tattoo and share it with your family!
Conclusion
Infinity tattoos are a great way to express your love and affection for someone. They are versatile and can be customized to suit your preferences. You can choose from a variety of designs, colors, and fonts to create a unique tattoo that represents your love. Infinity tattoos can be placed on any part of the body, but the wrist is a popular choice. It is important to note that tattoos can be expensive and may have potential negative side effects or risks. It is important to do your research and choose a reputable tattoo artist who uses safe and hygienic practices. Remember to take care of your new tattoo by following the aftercare instructions provided by your tattoo artist.
Feature image from Pinterest