Hey there! Looking for some cool and simple tiger tattoo designs? Look no further! The tiger is a truly majestic creature, and incorporating it into a tattoo design can be a great way to showcase your fierce personality. Tiger tattoos are popular among both men and women, thanks to their unique designs and powerful messages. Once you get one, you might even find yourself wanting more! With so many different styles to choose from, like Japanese tiger tattoos, white tiger tattoos, and minimalist tiger tattoos, it can be tough to pick the perfect design. To help you out, we've put together some of the best examples of simple tiger tattoos. Check them out below!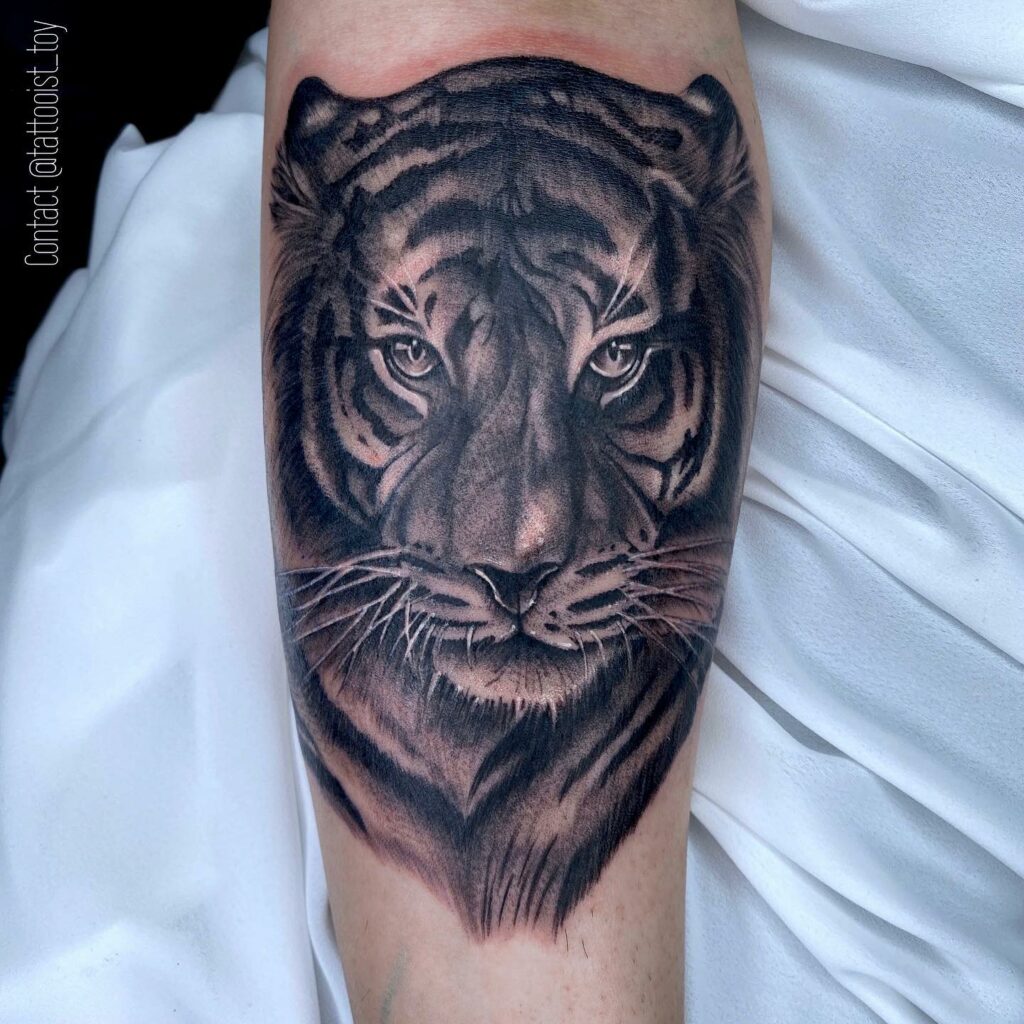 Roaring Tiger Tattoo
Feast your eyes on this breathtaking example of a tiger tattoo design! This stunning piece features a black ink rendition of a crouching tiger, poised to pounce on its unsuspecting prey. The artist skillfully captured the tiger's powerful jaw and razor-sharp teeth, perfectly symbolizing strength and power. This design is a beautiful representation of the primal animalistic instincts that reside within us all. For those seeking a bold and dramatic tattoo, this design is an excellent choice, particularly for larger areas such as the thigh or chest. So, if you're looking to showcase your inner beast, this tiger tattoo is an ideal pick!
Prowling Tiger Tattoo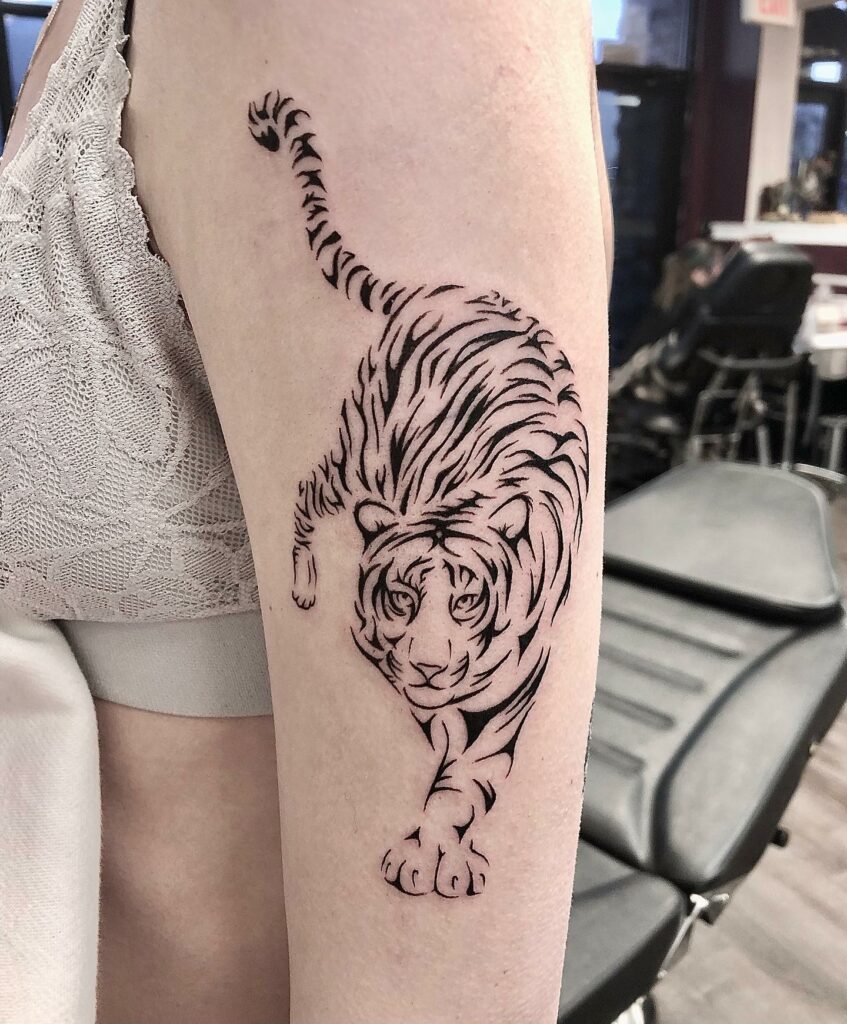 This incredible creature embodies traits of strength, grace, and power that inspire awe and admiration. The image above captures all these emotions with a simple yet striking tiger tattoo design. The artist has foregone traditional outlining techniques, instead using the tiger's iconic stripes to create a stunning visual effect. The piercing gaze of the tiger is another essential feature of this design, emphasizing the royal nature of this feared beast. The tattoo is artfully placed on the forearm, where it can be admired and appreciated. If you're seeking inspiration for your next tiger tattoo, this design is a fantastic choice. Channel the regal energy of this magnificent creature and let it inspire you every day!
Tiger and Rose Tattoo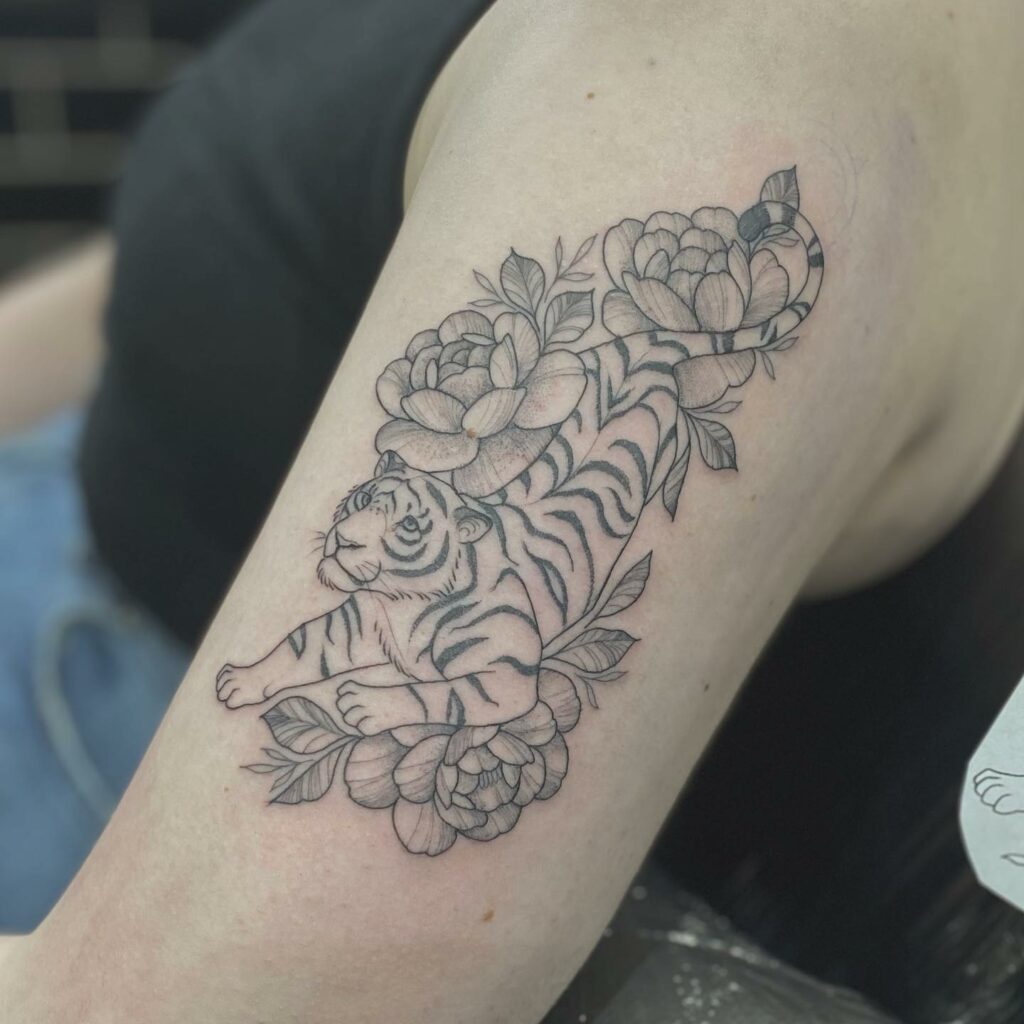 If you're looking to add a touch of femininity to your tiger tattoo, we've got just the thing for you! By incorporating additional elements into your design, you can imbue your tattoo with personal meaning and symbolism. Take, for example, the stunning image above, where the artist has combined a tiger tattoo with a delicate rose. The contrast between the fierce power of the tiger and the fragile beauty of the rose creates a visually stunning effect. This design perfectly captures the harmony between strength and vulnerability, making it a truly unique and meaningful tattoo. If you're drawn to this style, don't feel limited to roses; any flower can be incorporated into a tiger tattoo to create a one-of-a-kind piece that perfectly represents you. So, whether you're a fierce warrior or a delicate flower, let your tiger tattoo reflect your unique spirit and personality!
Funny Tiger Tattoo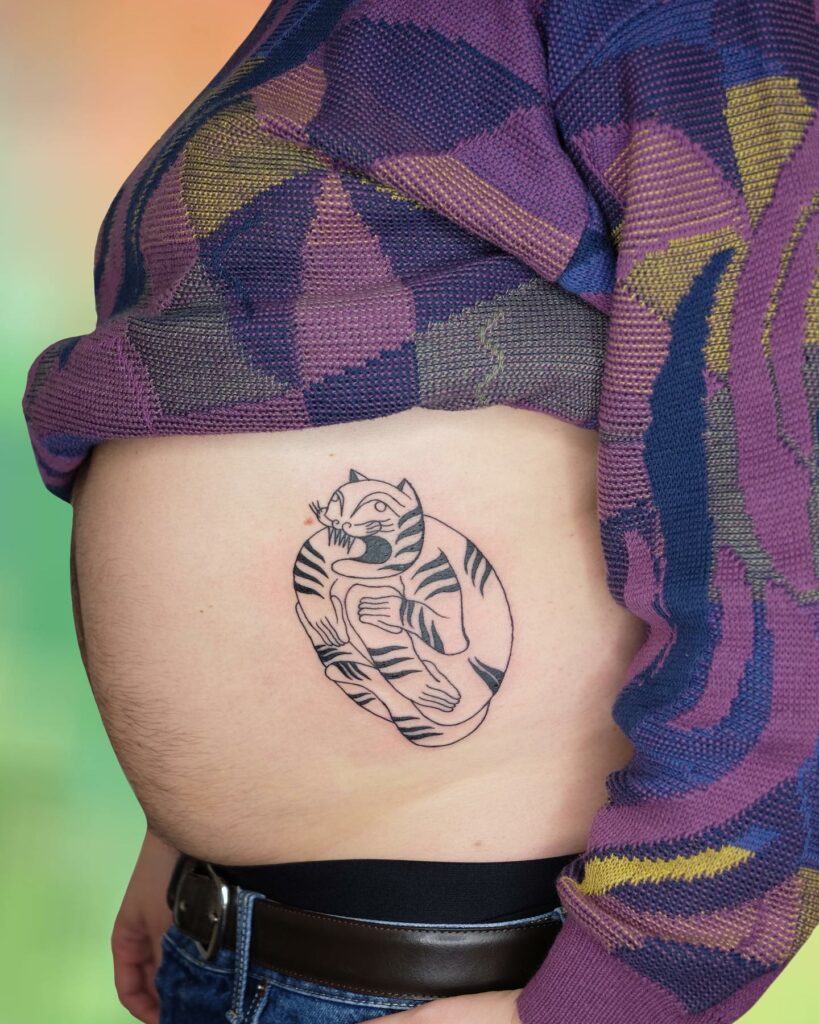 When it comes to tiger tattoos, the most common adjectives used to describe them include majestic, brave, ferocious, and powerful. But did you know that you can also inject a little humor into your design? The image above demonstrates how altering the facial expression and size of the tiger can turn a vicious, angry design into a lighthearted and adorable one. This approach has proven particularly popular with women, but it's a fantastic option for anyone looking to infuse their tattoo with a playful energy. Best of all, this design is entirely customizable, so you can make it your own and truly stand out from the crowd. So, if you're looking to add a little levity to your tattoo collection, a funny tiger design might be just the thing you're looking for.
Tiger Head Tattoo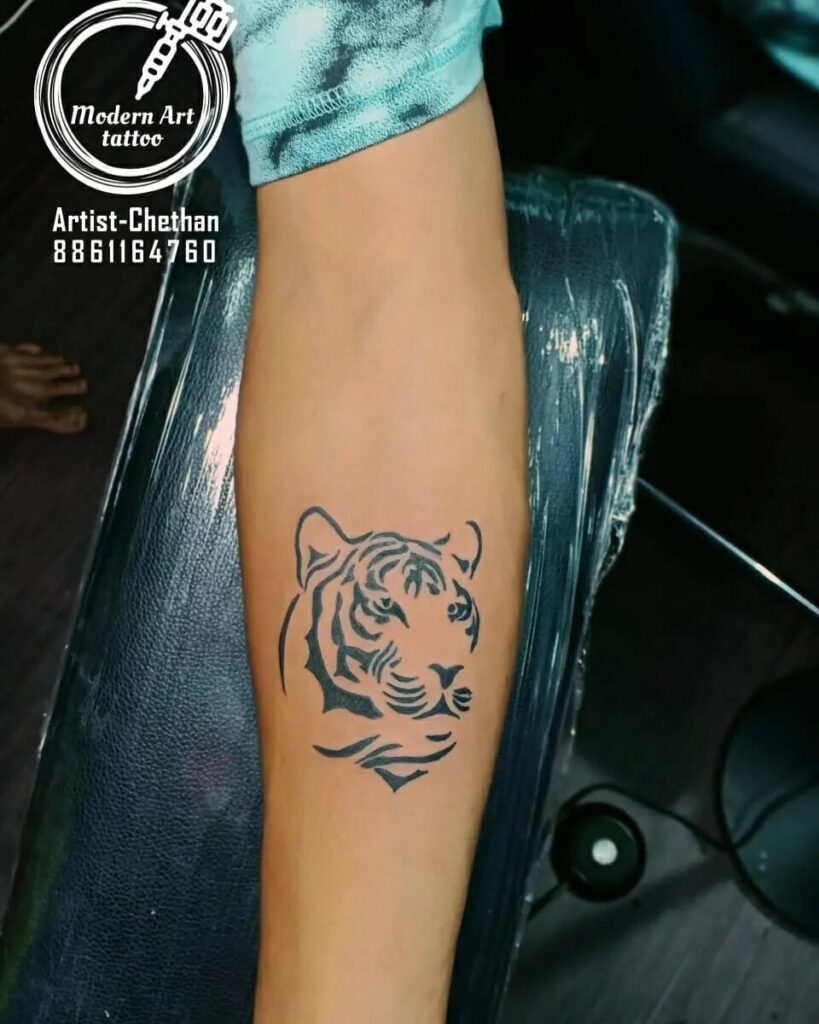 This design features a powerful and majestic tiger head, which is a symbol of strength, courage, and resilience. You can choose to get this design inked on your forearm, finger, neck, or thigh – the possibilities are endless! To add more color to the design, you can opt to include any hue of your choice, as long as it complements the design and brings out its desired meanings. If you're feeling adventurous, you can even experiment with other designs like tiger eyes tattoo or half head tiger tattoo. So, what are you waiting for? Go ahead and unleash your wild side with this tiger tattoo!
Japanese Tiger Tattoo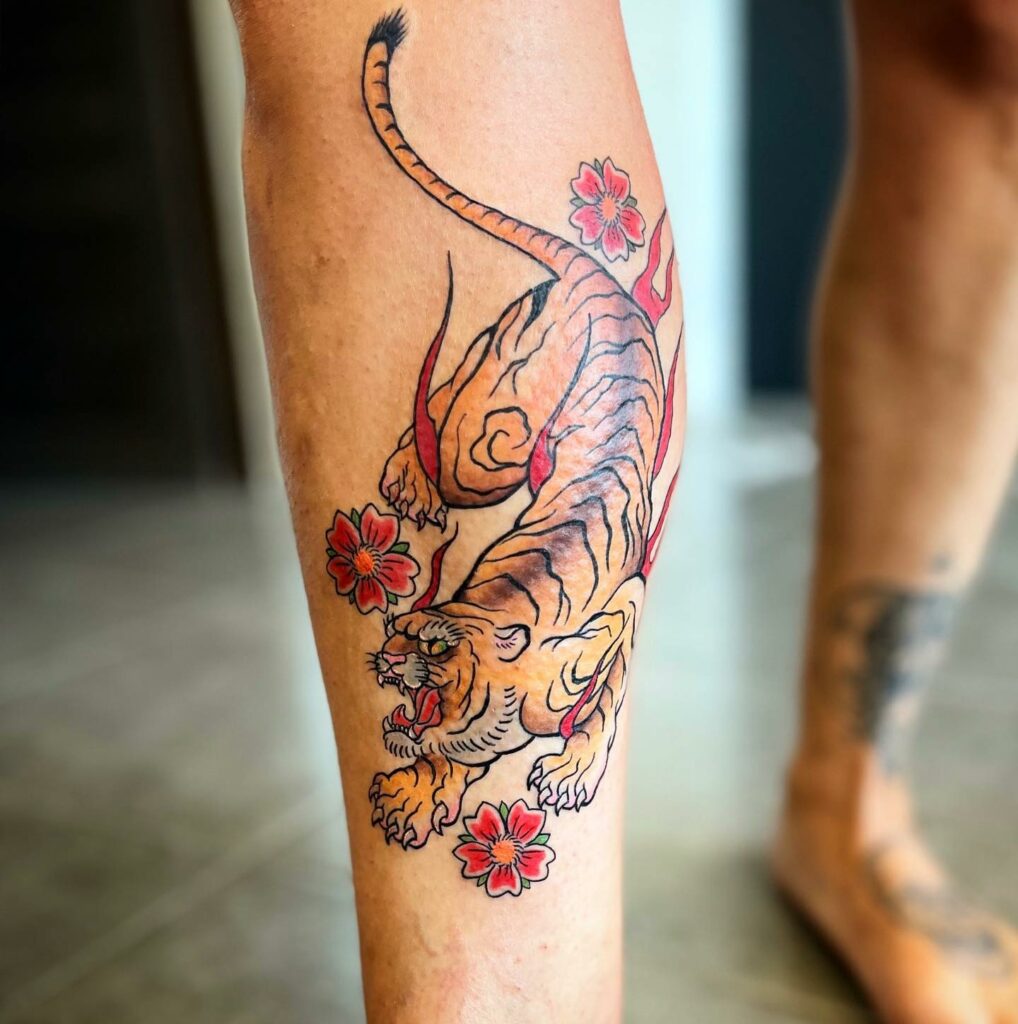 Tigers have always held a special place in Japanese culture, being one of the four sacred animals in the world. They are regarded as protectors of mankind against evil spirits and bad luck. When it comes to Japanese tiger tattoo designs, the color palette used is much wider than traditional black and white designs. This exquisite image showcases a subtle orange shade highlighting the tiger's body, complemented by the bright red ink used for the flowers near the tiger. Such elements make the design more distinctive and personalized. When it comes to placement, you can consider areas such as the thigh, legs, chest or back to showcase the intricate details of this design.
Tiger Watercolor Tattoo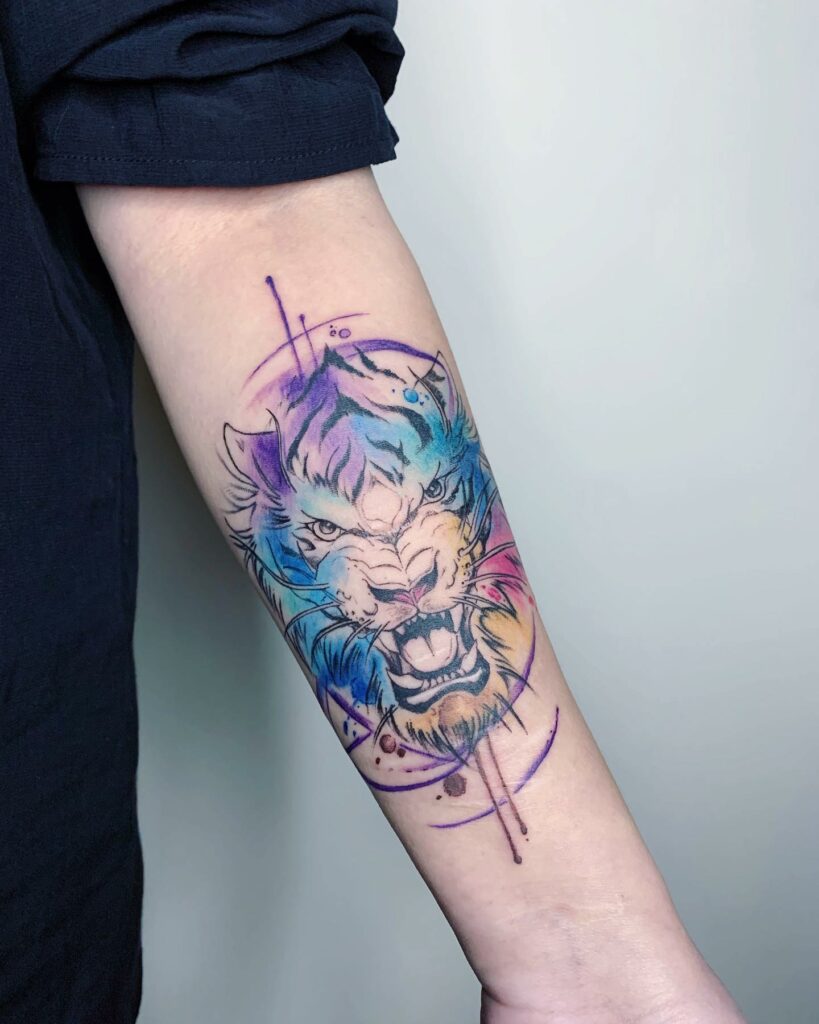 Tattoo lovers looking to add a splash of color to their ink will love this stunning tiger watercolor design! In this particular image, a fierce tiger is depicted with its mouth wide open, and a beautiful blend of blue, purple, orange, and pink colors has been used to bring this design to life. Watercolor tiger tattoos are perfect for those who are looking for a unique and artsy take on the traditional tiger tattoo. Keep in mind that the bigger the tattoo, the better it will look, as the intricate details of the watercolor design can be properly highlighted. So, if you're a fan of vibrant and colorful tattoos, this design may just be the perfect suggestion for your next ink!
Minimalist Simple Tiger Tattoo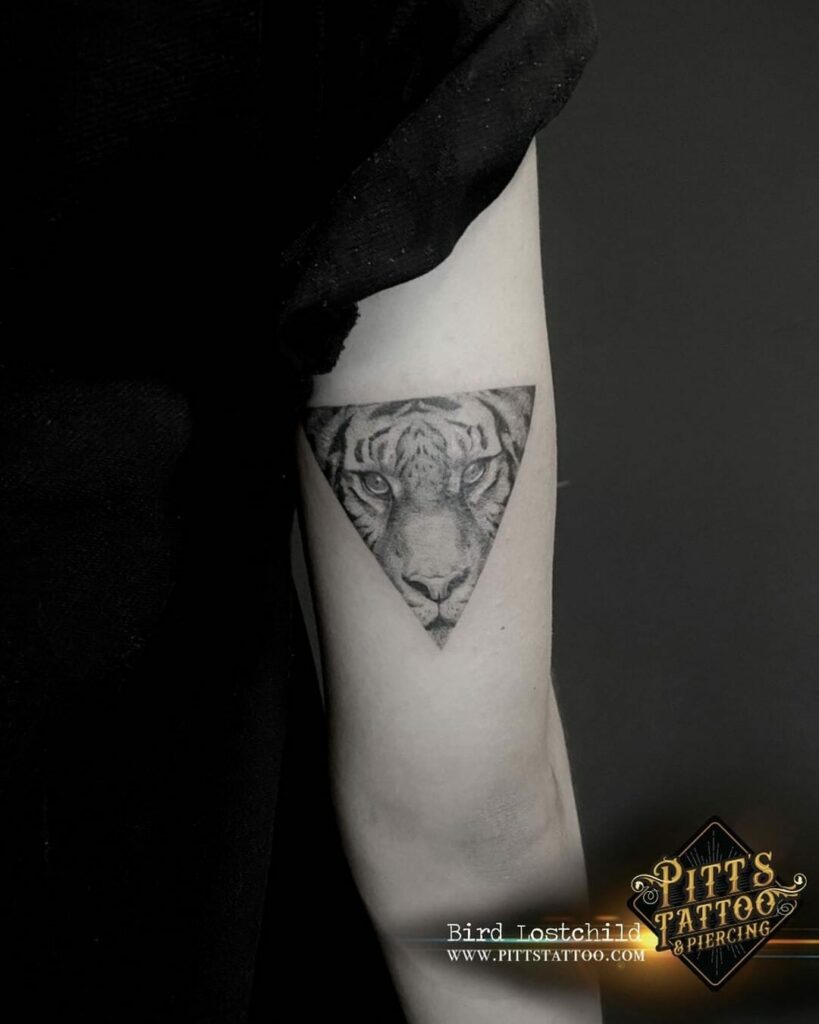 If you're looking for a tiger tattoo that is both simple and elegant, then this design is definitely worth considering. Etched on the back of the forearm in the shape of a triangle, the tiger's face is beautifully highlighted with different shadings of black and gray ink to bring out the texture of the fur. This kind of design is perfect for those who prefer a subtle and understated look for their tattoos. It's a versatile design that will complement any skin tone and look great on both men and women. If you're getting a tiger tattoo for the first time, this design is an excellent option to start with.
Finger Tattoos
In this fascinating image, we see an intricately detailed tiger's face tattooed on the finger of a brave individual, creating a unique and eye-catching ring-like appearance. However, when considering a finger tattoo, it's important to keep a few things in mind. Firstly, finger tattoos have a shorter lifespan than tattoos on other parts of the body, usually fading after 6-8 months. Regular touch-ups are recommended to keep them looking fresh. Additionally, because the fingers and hands have more nerve endings than other areas, getting a finger tattoo can be more painful. But for those willing to endure the pain, finger tattoos can be a bold and stylish statement!
Small Tiger Tattoo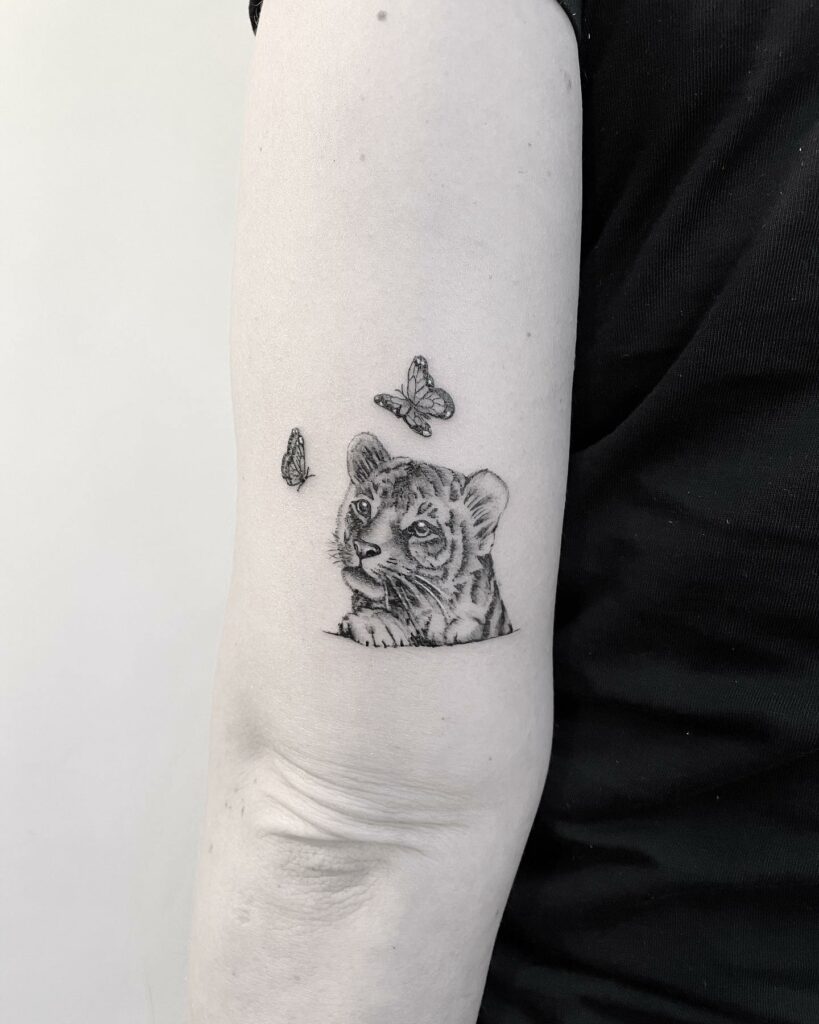 Tigers are undoubtedly one of the most popular choices for animal tattoos, and for good reason. They are powerful, beautiful creatures that represent both strength and grace. In this image, we have a unique take on the traditional tiger tattoo. Instead of a fierce adult tiger, this design features a sweet and innocent tiger cub alongside delicate butterfly images. The artist has used only black and white ink to create a soft and subtle design that is perfect for those who want to showcase their love for these amazing animals in a more understated way. This type of tattoo is especially popular among women, as it can represent the bond between a mother and child. The cost of getting a tiger tattoo can vary depending on the design and size you choose, but generally, a minimalistic tiger tattoo can cost around $250, while a larger and more colorful design can go up to $600. As always, it's important to choose a reputable tattoo artist who can help you create a beautiful and meaningful tattoo that you'll be proud to wear for years to come.
feature image from Pinterest – Want your tattoo to look brighter? Try "Tattoo Balm"