Hey there! Are you a fan of fantasy creatures, particularly the powerful and mystical dragons? Dragons have long been a subject of fascination in the world of art, movies, and tattoos. These legendary creatures are said to possess extraordinary powers and are often portrayed as protectors of nature and humans. Chinese dragons are particularly famous for their captivating eyes and the belief that they bring good luck. Meanwhile, Japanese dragons symbolize strength, power, and authority. In this article, we present to you ten unique and captivating small dragon tattoo ideas that you definitely don't want to miss. A dragon tattoo can be an excellent representation of your love and admiration for these mythical beasts. So, if you are looking to get inked, check out our list and find the perfect dragon tattoo design for you!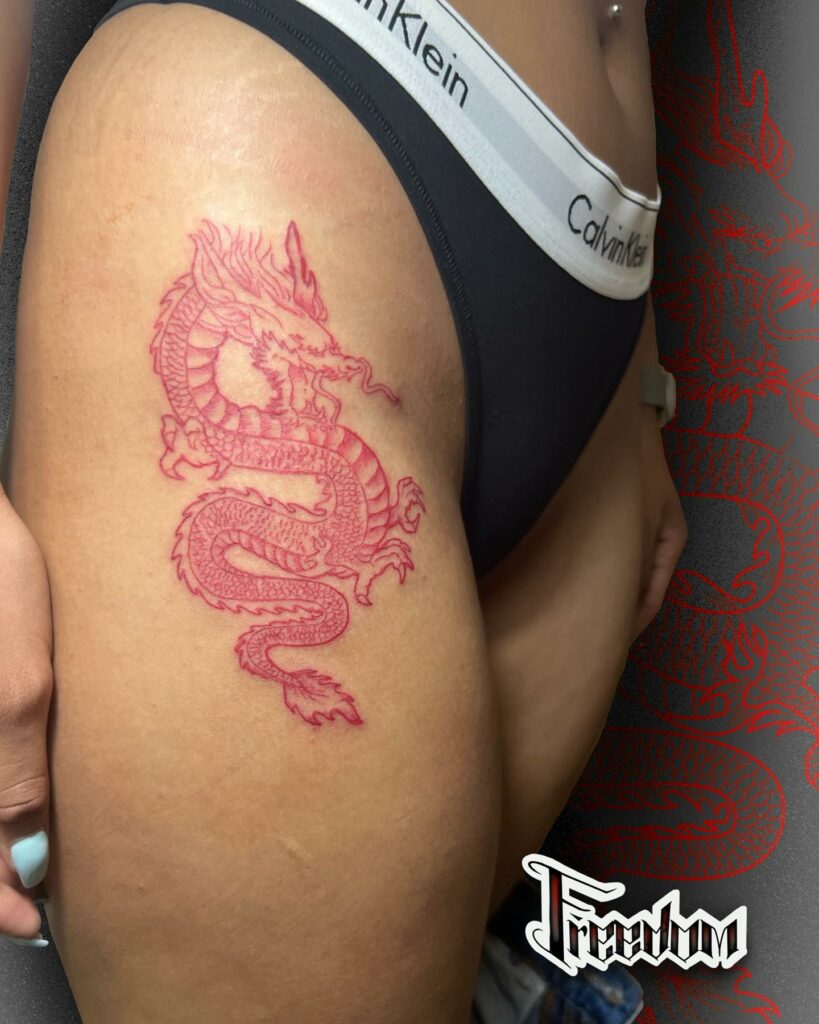 Small Leg Dragon Tattoo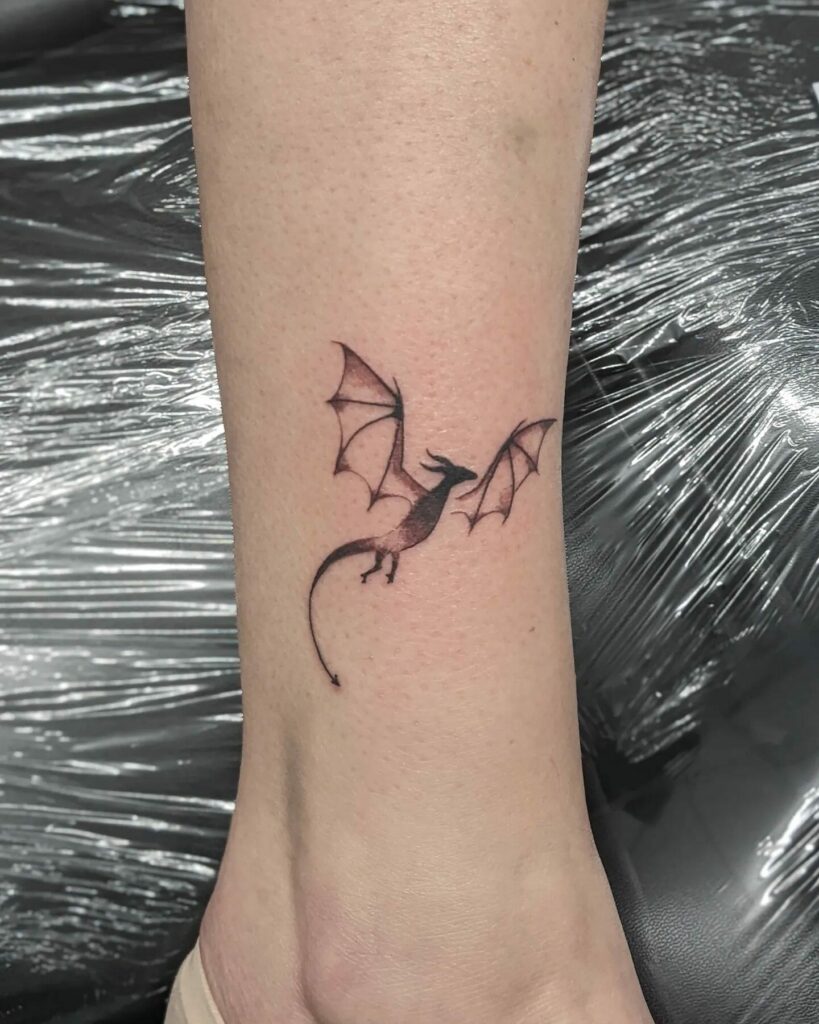 If you're considering a tattoo that represents strength and freedom, a flying dragon tattoo might be perfect for you! Dragons are majestic creatures that have long been associated with power, and getting a dragon tattoo is a great way to show off that strength.
The tattoo we're featuring here is a small, but mighty black dragon tattoo that's been inked onto the leg. Not only is it visible to everyone, but it also features a unique art style called "dot work tattooing." This type of tattooing involves using small dots to create intricate designs, and it really makes this dragon tattoo stand out from others.
The tattoo artist who created this piece did an incredible job with the dot work, creating a dragon that looks both fierce and cute at the same time. The black ink was used artistically, and the finishing of the tattoo is neat and precise. You can clearly see the dragon's horns and claws, which is a testament to the artist's passion for the craft.
If you're a dragon lover and looking for a small, cute, and unique flying dragon tattoo to put on your leg, this tiny dragon tattoo is a perfect choice. It's a great way to express your love for these incredible creatures and symbolize your strength and freedom.
Chinese Dragon Tattoo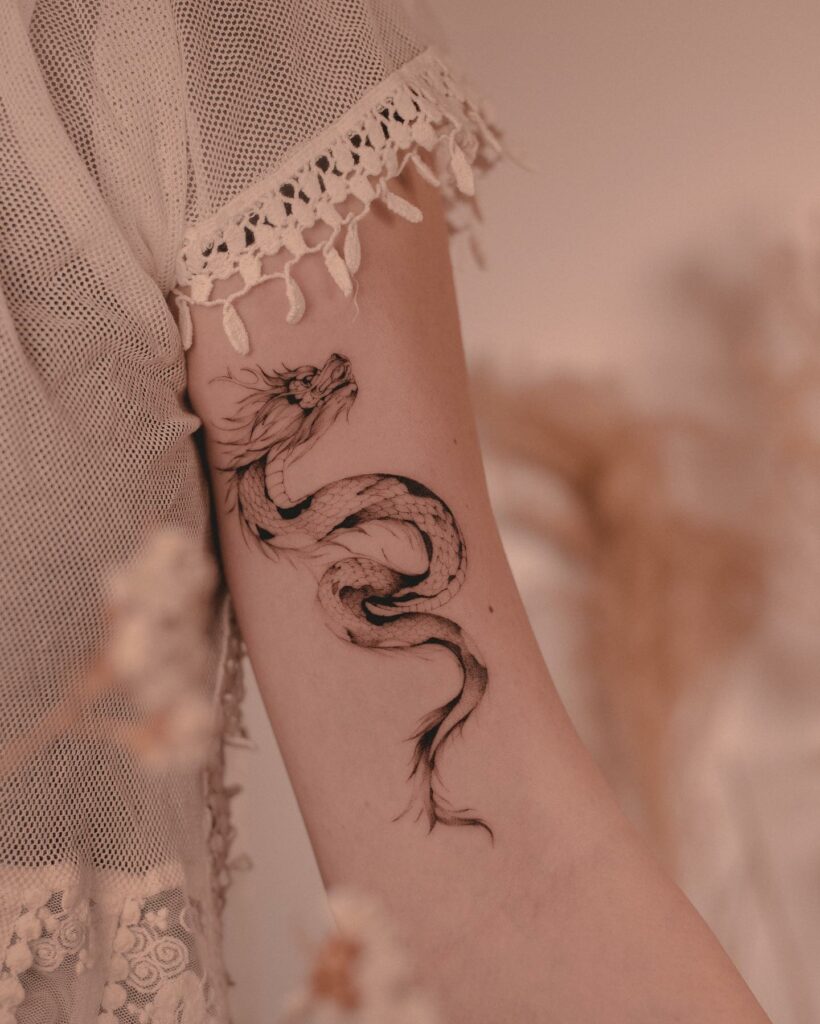 Chinese dragon tattoos are not only one of the most popular tattoo designs, but they also hold significant cultural and symbolic importance. In Chinese culture, dragons are revered as sacred creatures, symbolizing strength, power, and protection.
The tattoo depicted above is a stunning example of a Chinese dragon tattoo, placed on the back of the wearer. The addition of red flowers to the design adds to the significance of the tattoo, as it represents the generosity of the dragons and their ability to bring happiness and good fortune into people's lives.
The tattoo artist has expertly colored the dragon in black, with intricate detailing of scales, highlighting the tattoo's precise and detailed work. The careful attention to detail has resulted in a striking and eye-catching tattoo that truly stands out.
If you are looking for a tattoo design that represents strength, power, and good fortune, then a Chinese dragon tattoo like this is a great choice. Not only is it a beautiful work of art, but it also holds significant cultural and symbolic importance.
Feminine Small Red Dragon Tattoo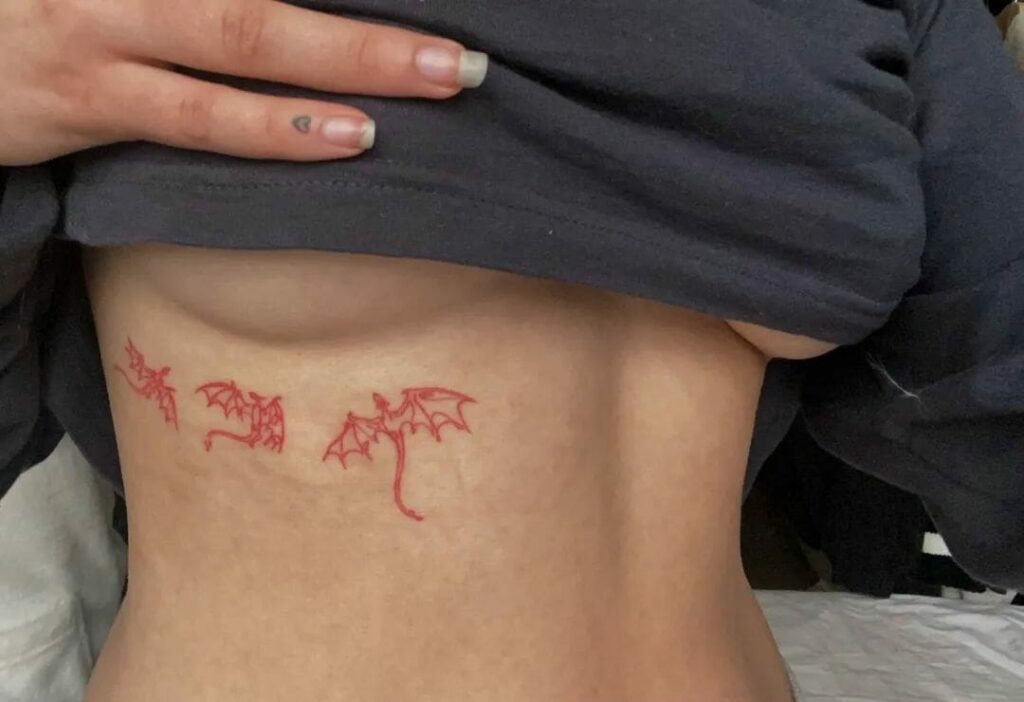 This red dragon tattoo is truly a sight to behold. The underboob is a great spot to showcase your strength and courage, and this tattoo is a wonderful choice for anyone looking to represent these qualities. The tattoo features three small red dragons outlined in red, which gives the design a unique and distinctive look. The precision of the tattoo artist's work is truly exceptional, making it a great option for anyone looking for a tattoo that is both cute and meaningful. If you are looking for a tiny yet bold tattoo design, this red dragon tattoo is the perfect choice!
Small Dragon Hand Tattoo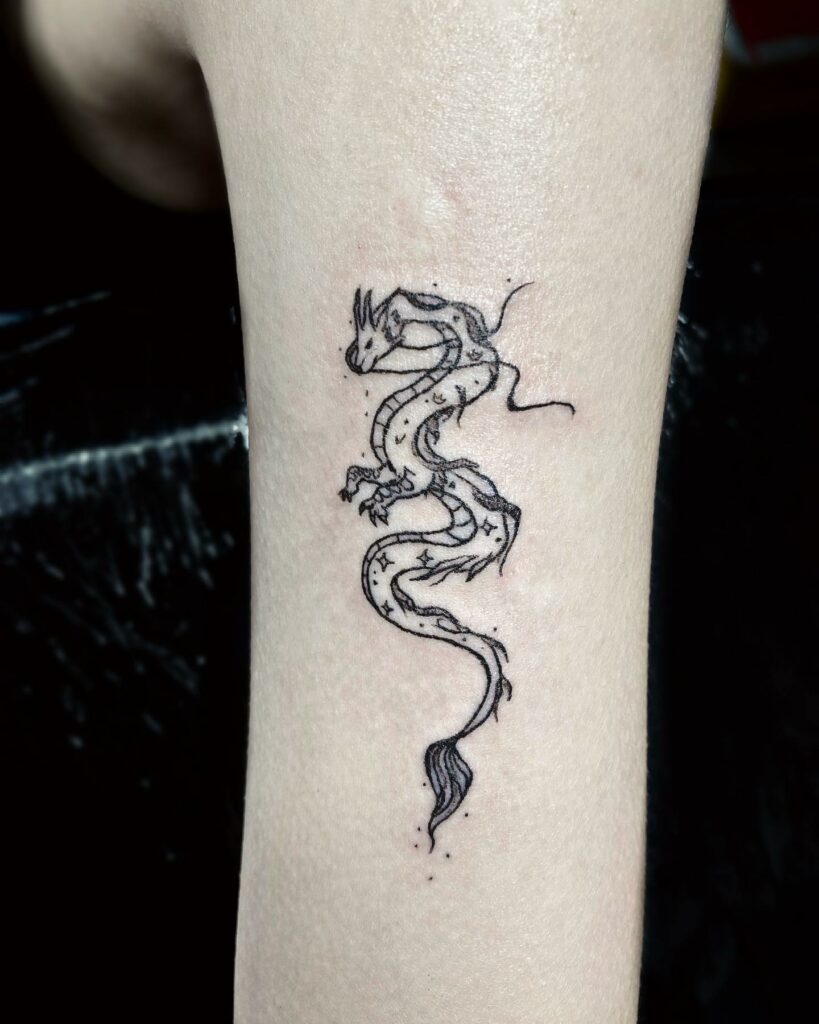 This Japanese Dragon tattoo is definitely something you want to check out if you're into Japanese culture. This particular tattoo design is inked on the bearer's arm with adorable black outlines, and it stands out from other Japanese dragon tattoos due to its comical representation. In Japan, comic and animation have always been important to their culture, and this tattoo represents that. Japanese dragons are highly respected in Japan, and this tattoo design adds an extra meaning to it. So, if you want to express your love for Japanese culture, this tattoo is the perfect choice!
Small Dragon Ball Z Tattoo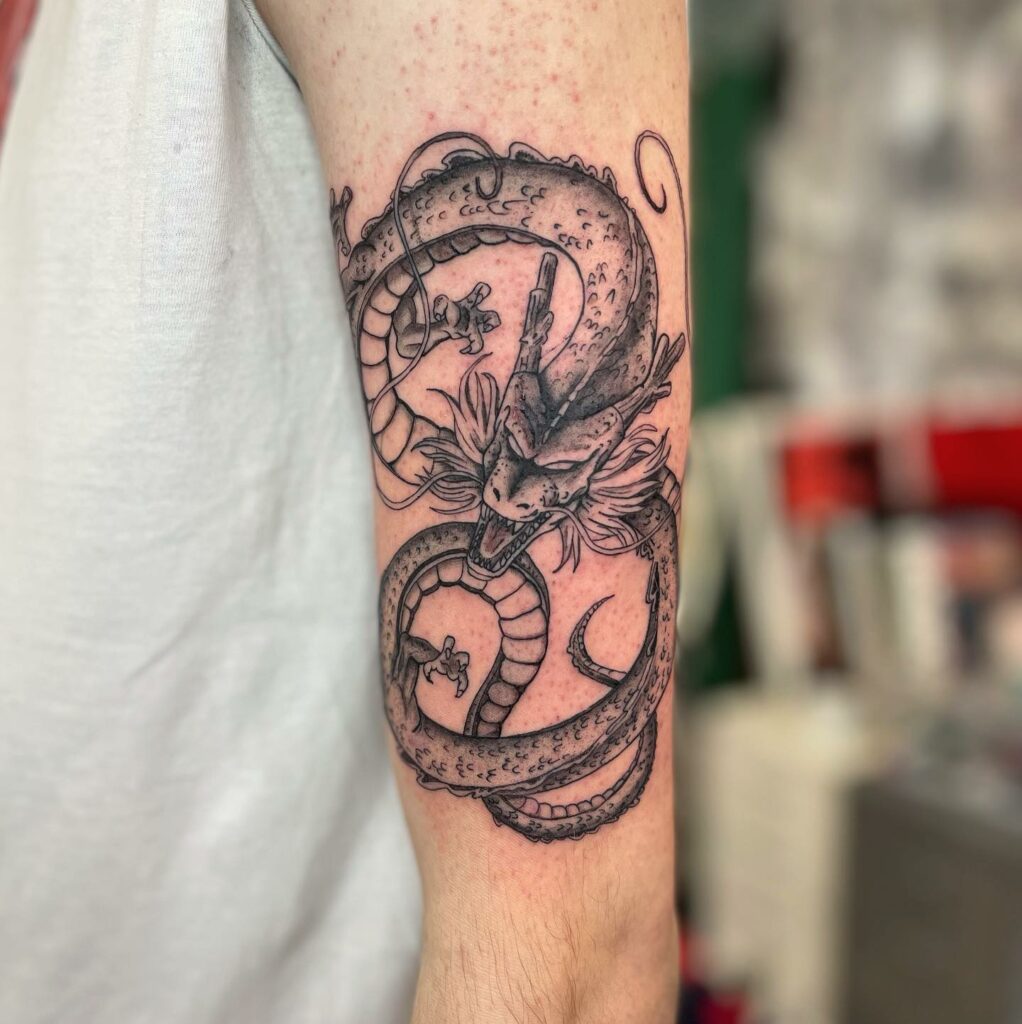 Are you a Dragon Ball Z fan? If so, you might want to consider getting a Shenron tattoo! This tattoo features one of the most iconic and beloved dragon characters from the popular anime series. Shenron, also known as the Eternal Dragon or Dragon God, is famous for granting wishes regardless of their intent or nature. This tattoo is a great option for fans of the show who want to pay homage to this legendary dragon. To make the tattoo even more recognizable as a Dragon Ball Z tattoo, you could add some green coloring. With a Shenron tattoo, you'll be sure to turn heads and show your love for this classic anime series.
Yin-Yang Dragon Tattoo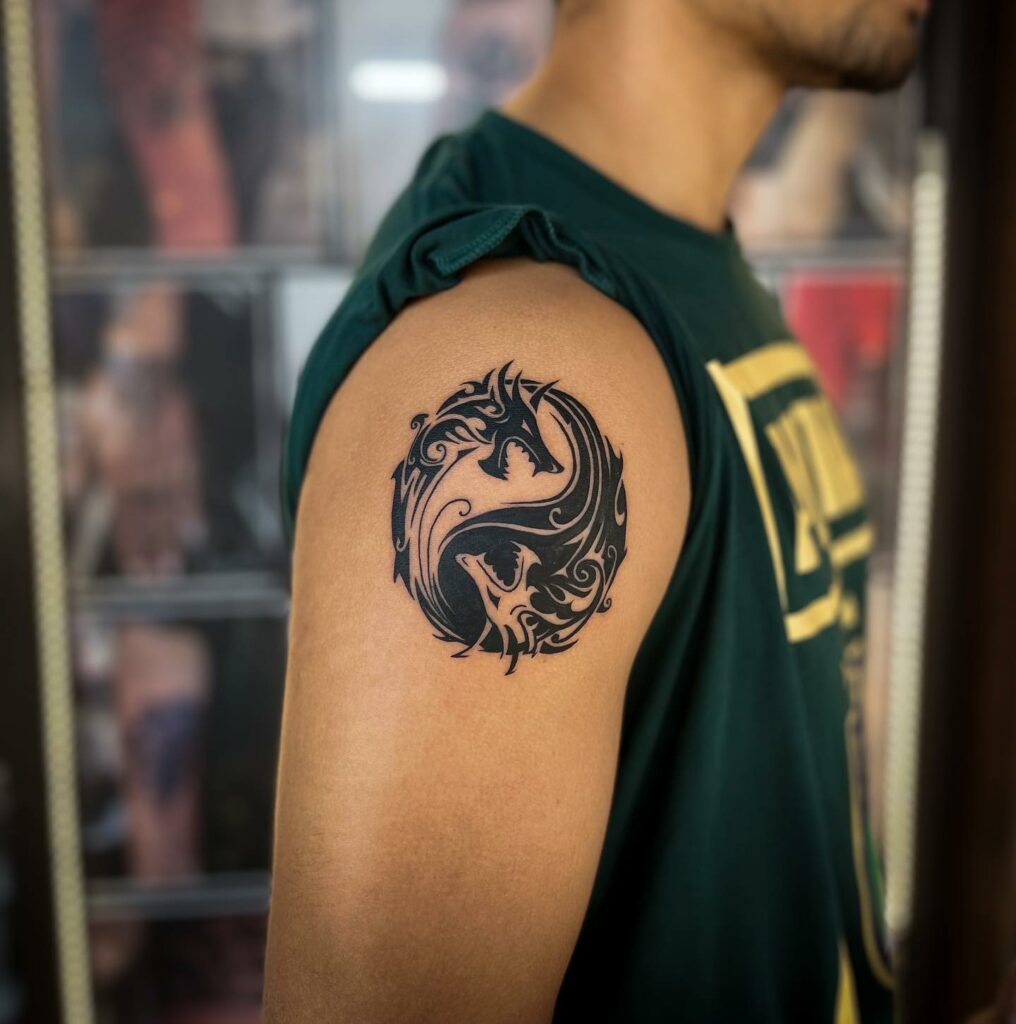 Yin-Yang tattoos are a great representation of balance, according to Chinese culture. The yin and yang symbolize the perfect balance between light and dark, bringing them together in unity. While the yin represents darkness, the yang represents light, which makes it a symbol of duality.
This tattoo has a deep meaning in Chinese culture, making it one of the best dragon tattoos. This tattoo shows the balance between good and evil, which is essential to ensure growth and prosperity. Since good and evil always coexist in our world, it is crucial to maintain the balance between the two. If you are a spiritual person and want a dragon tattoo to represent that, then consider getting this yin-yang tattoo with two dragons, which is one of the best dragon tattoos you can get.
Blue Dragon Tattoo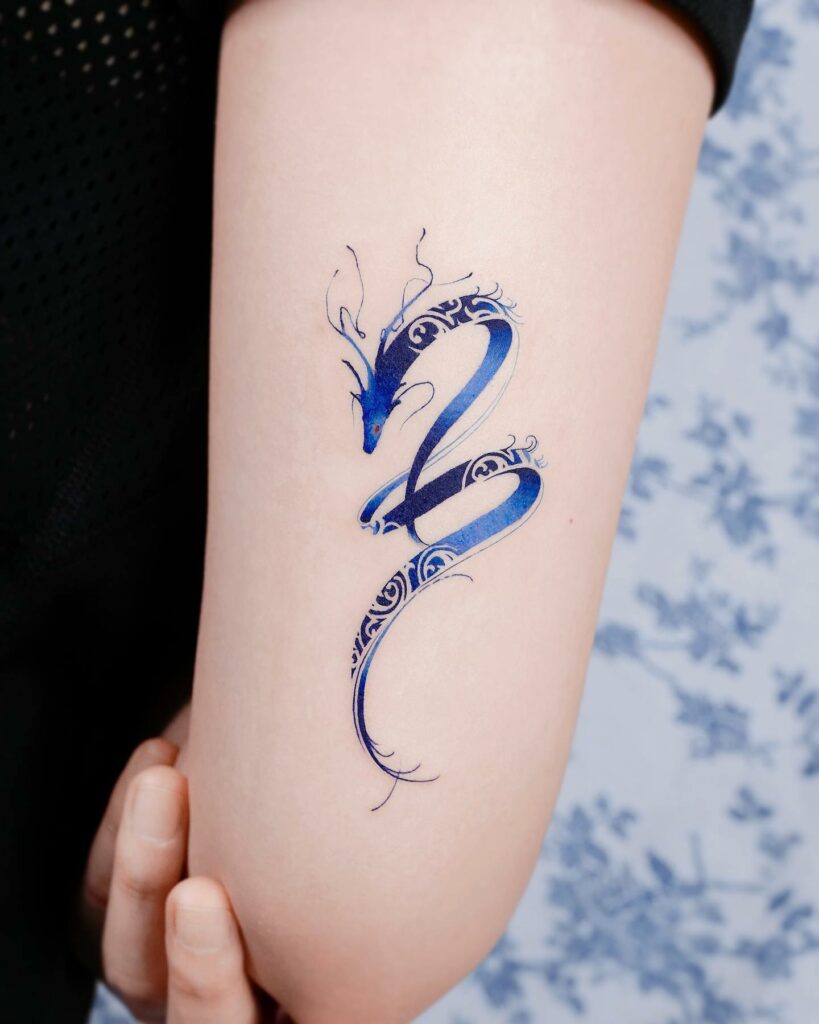 Blue dragons are often associated with the season of spring and represent new beginnings, making them a popular choice for tattoo designs. This particular dragon tattoo design is a true masterpiece, created with meticulous attention to detail and vibrant colors that truly bring the design to life. If you're looking for a way to commemorate a new chapter in your life, there's no better way to do it than with a beautifully crafted dragon tattoo like this. The stunning indigo blue dragon depicted in this design is sure to turn heads and would look incredible on your arm. So, if you're searching for a unique and meaningful tattoo, this is the perfect choice for you!
Colorful Dragon Tattoo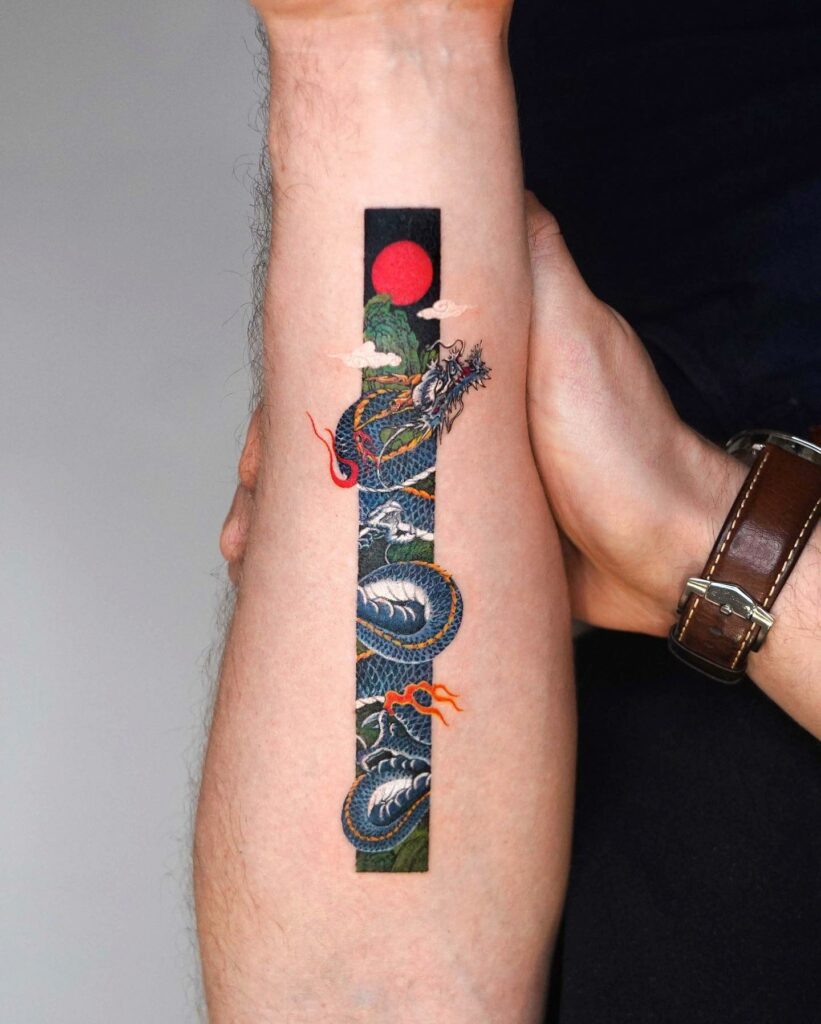 Colorful tattoos can bring happiness and joy to our lives, and a dragon tattoo is no exception! As a symbol of protection, guardianship, prosperity, and happiness, a dragon tattoo is an excellent choice for anyone seeking a colorful and meaningful tattoo design.
This particular dragon tattoo is a stunning and spiritual design that features a blue dragon with a bright sun behind it. The blue color of the dragon adds to the tattoo's meaning, making it one of the most unique and symbolic dragon tattoos out there. If you're tired of the same old black dragon designs and want a colorful dragon tattoo for your next piece of body art, this one is definitely worth considering!
Tribal Dragon Tattoo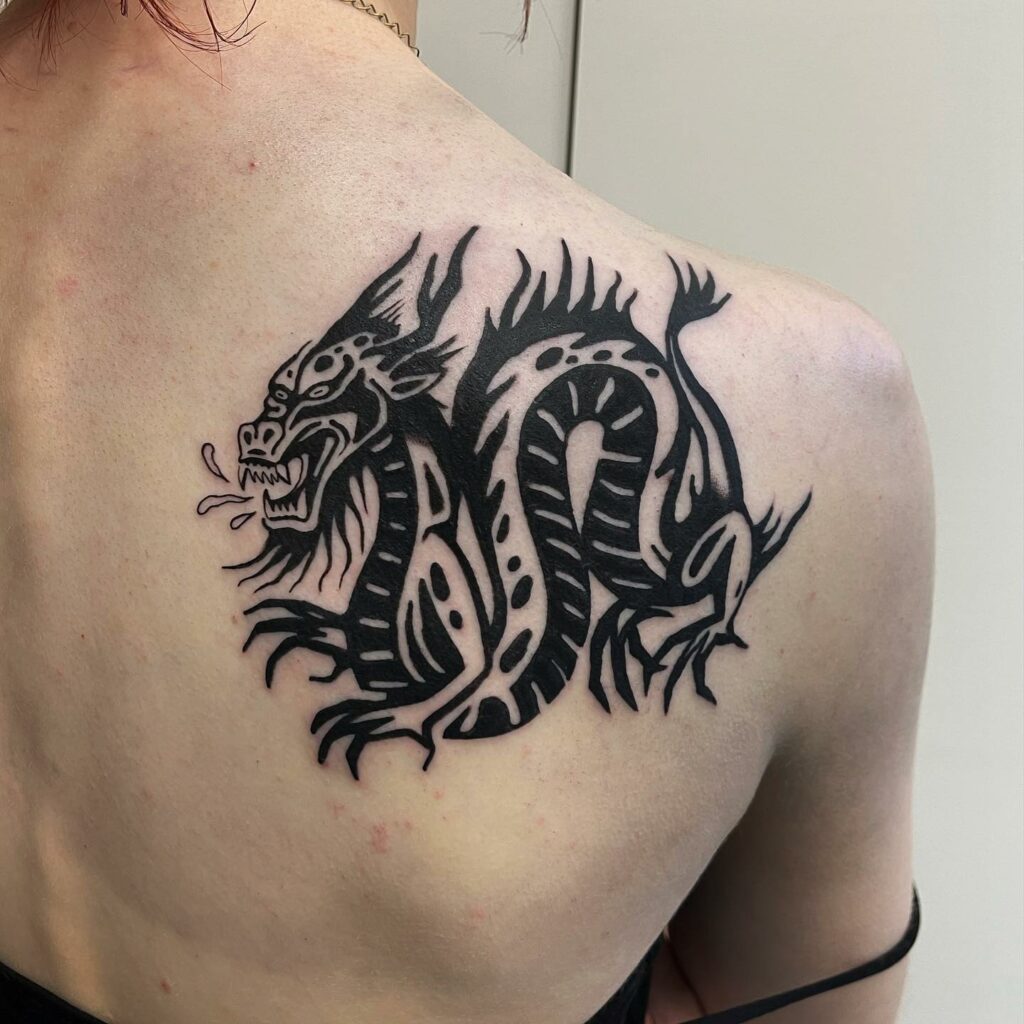 Tribal tattoos are a great way to express yourself with minimal yet meaningful art. Creating tribal tattoos is all about choosing a concept, picking a monotone color of your choice, and working with a skilled tattoo artist.
This tribal dragon tattoo design is not only a stunning piece of art but also symbolizes a deep connection with nature. The bold black lines and intricate designs of the tattoo create a realistic image of a dragon. Tribal dragon tattoos are some of the best artistic dragon tattoos because of their simplicity and spiritual meaning. If you're looking for a cute tattoo to add to your back, this one is perfect for you.
Small Dragon Thigh Tattoo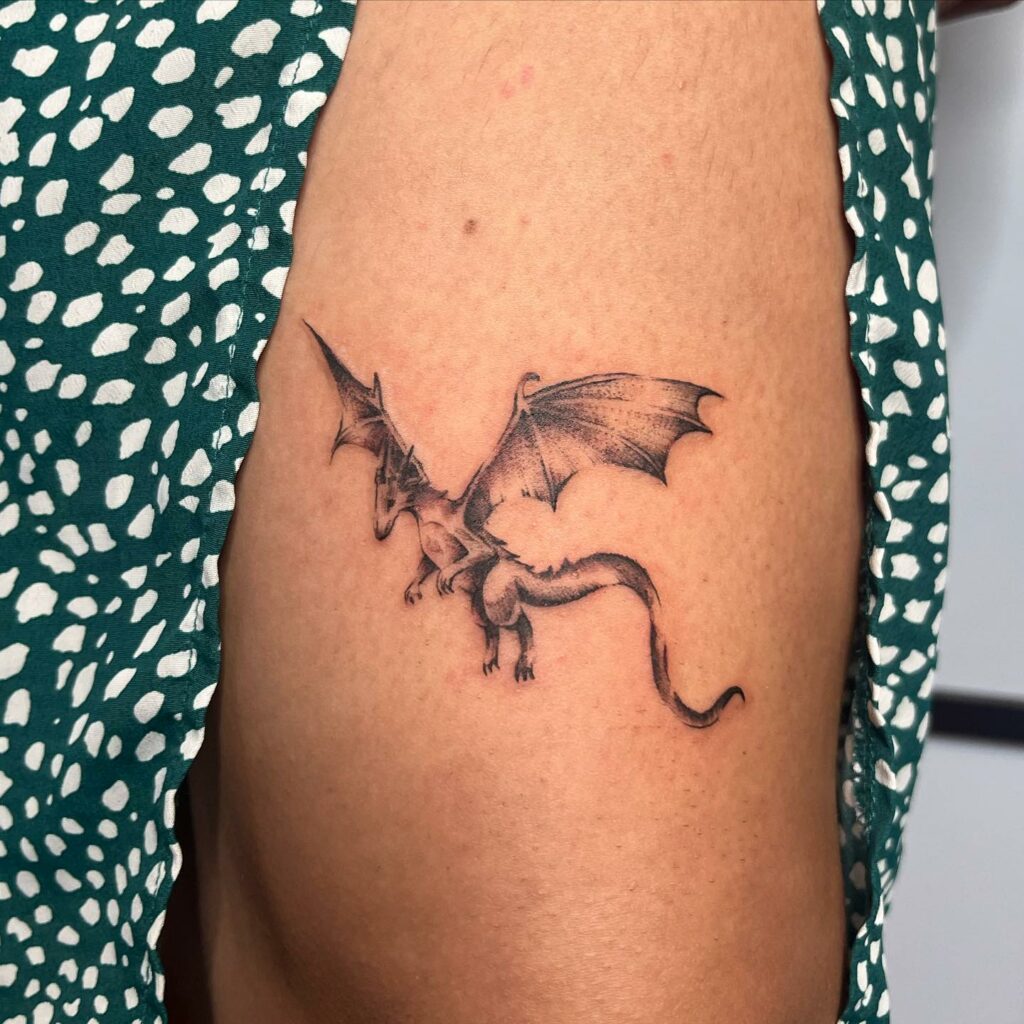 In the world of tattoo art, a dragon with wings is commonly associated with demons in Christianity. However, this doesn't mean that dragons can't be cute and lovable, like this tiny dragon tattoo with black dot work. Despite its small size, this tattoo design is filled with intricate details that showcase the dragon's fierce yet protective nature. Whether you want to ink it on your wrist, ankle, or behind your ear, this dragon tattoo design is a great choice for those who want a small but meaningful piece of body art. With this tiny dragon tattoo by your side, you'll feel like you can conquer anything. We hope you've found the perfect dragon tattoo design to inspire your next ink.
feature image from Pinterest – Want your tattoo to look brighter? Try "Tattoo Balm"
Last reviewed and updated on June 7, 2023