Are you searching for a tattoo design that is not only simple and cool but also holds deep meaning? Look no further! Check out these amazing stoic tattoo ideas that we have just for you.
Stoicism is a philosophy that values simplicity, practicality, and living life to the fullest. It has been followed by some of the greatest minds in the history of America. Unlike other philosophical concepts, stoicism doesn't try to sugarcoat things or make them overly complicated. It teaches us that the only things we can truly control in life are our thoughts and actions. Stoics believe that we are all part of the universe and should live our lives in harmony with nature. They also believe that each person should strive to become their best self for the greater good of the world.
If you consider yourself a philosophical person who believes in stoic principles, then these tattoos are perfect for you. Stoics used to have elaborate tattoos that expressed their beliefs. These tattoos are a great way to embrace and experience stoic philosophy.
We have curated a list of the top ten stoic tattoo ideas that are simple yet meaningful. Take a look and choose the design that resonates with you the most.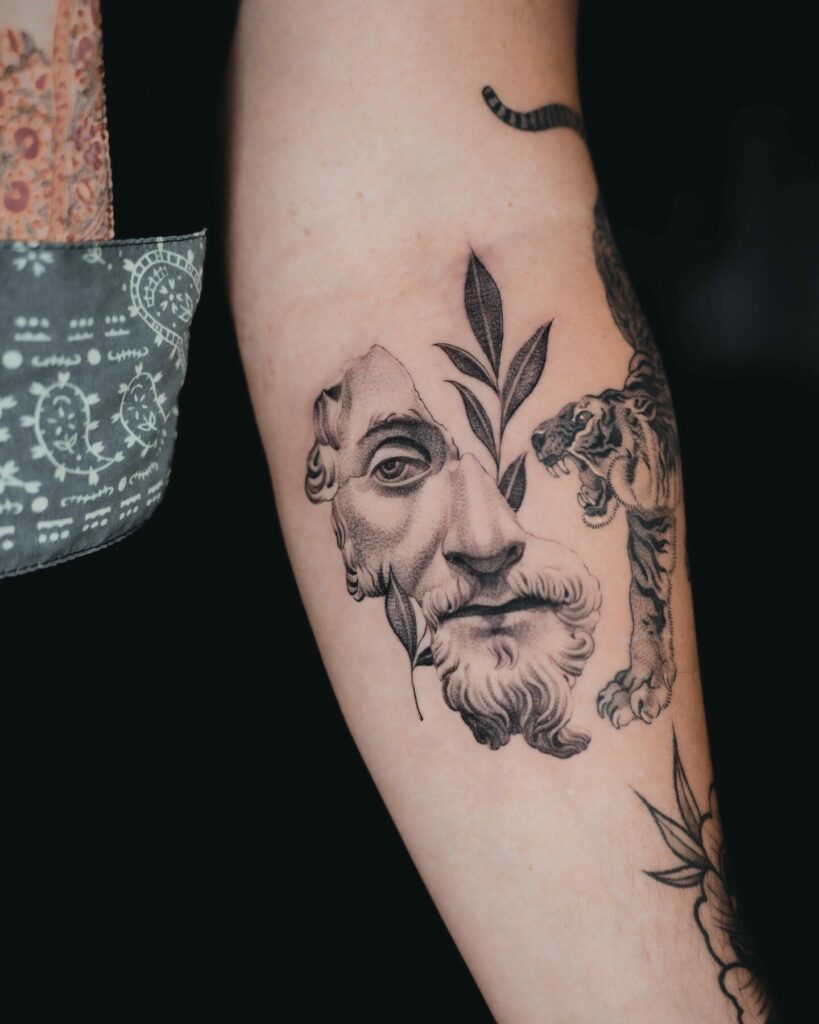 Marcus And Skull Tattoo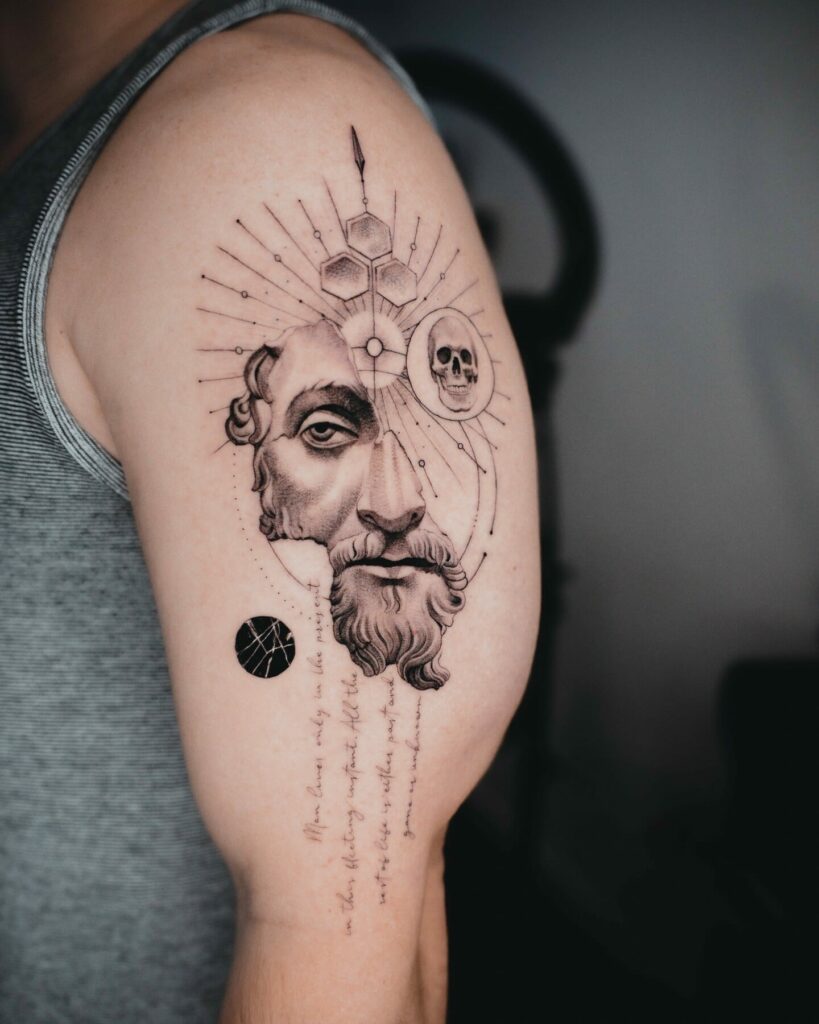 Marcus Aurelius, a philosopher, and king, inspired many Stoicism tattoo designs in America. His book, The Meditations, has influenced many influential figures throughout history. The Stoic philosophy emphasizes focusing on what is within our control and letting go of what is not.
One of the most popular Stoicism tattoos designs features Marcus Aurelius' face and a small skull beside it. The skull represents the inevitable fate of death and rebellion against the norm. The tattoo is usually done in fine black lines, giving it a subtle yet elegant appearance. This tattoo is an excellent choice for those who admire the wisdom of Marcus Aurelius and the Stoic philosophy.
Memento Mori Tattoo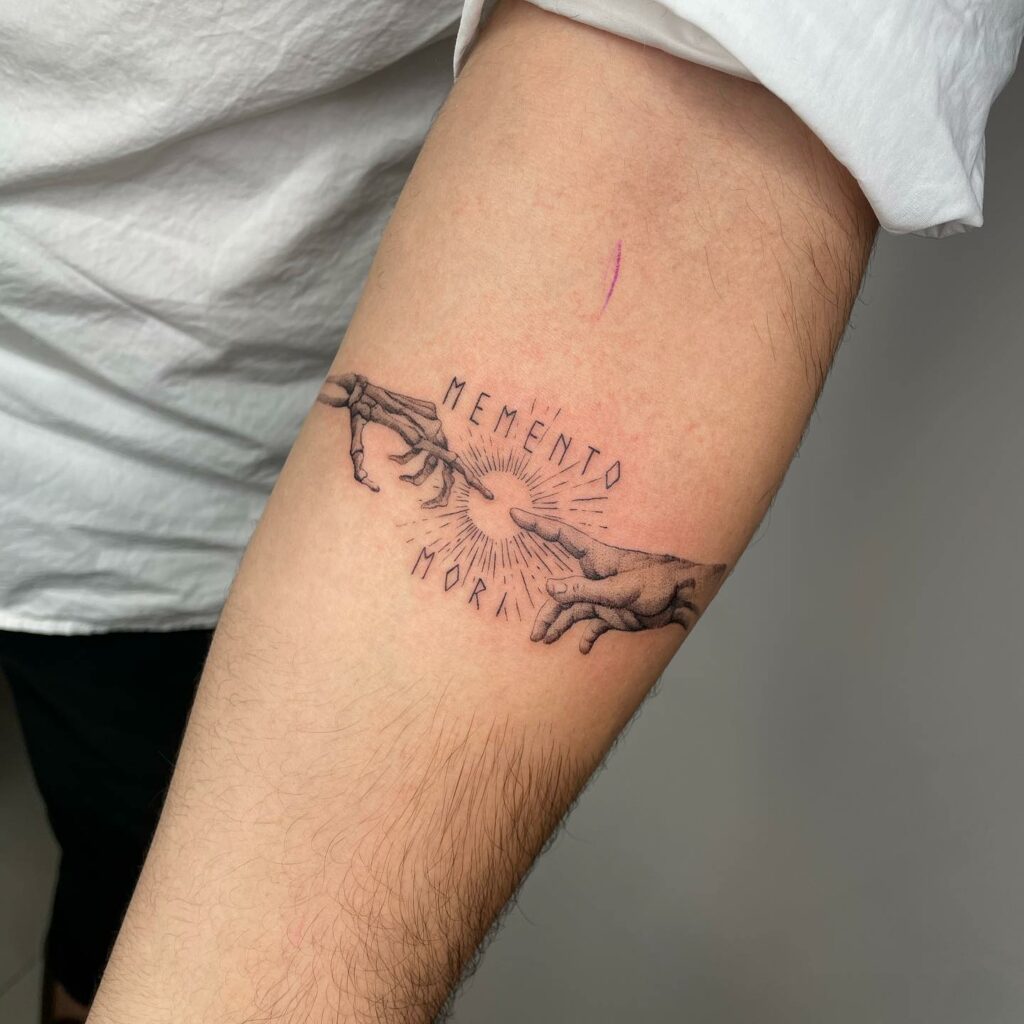 Memento Mori is a popular phrase in Stoic philosophy, and it's easy to see why. This philosophy emphasizes that each person has limited time on this planet, and this tattoo serves as a reminder to live in the moment and pursue your dreams.
The design features two hands, one of which is skeletal, while the other is normal. The hands' index fingers seem to be touching each other, with the words "Memento Mori" written behind them. The tattoo is placed on the forearm, making it easily visible, and the artist used black and grey ink to create the design. The letters for "Memento Mori" are written in sharp black ink, making for a striking and meaningful design that's perfect for your next tattoo.
Marcus Aurelius Tattoo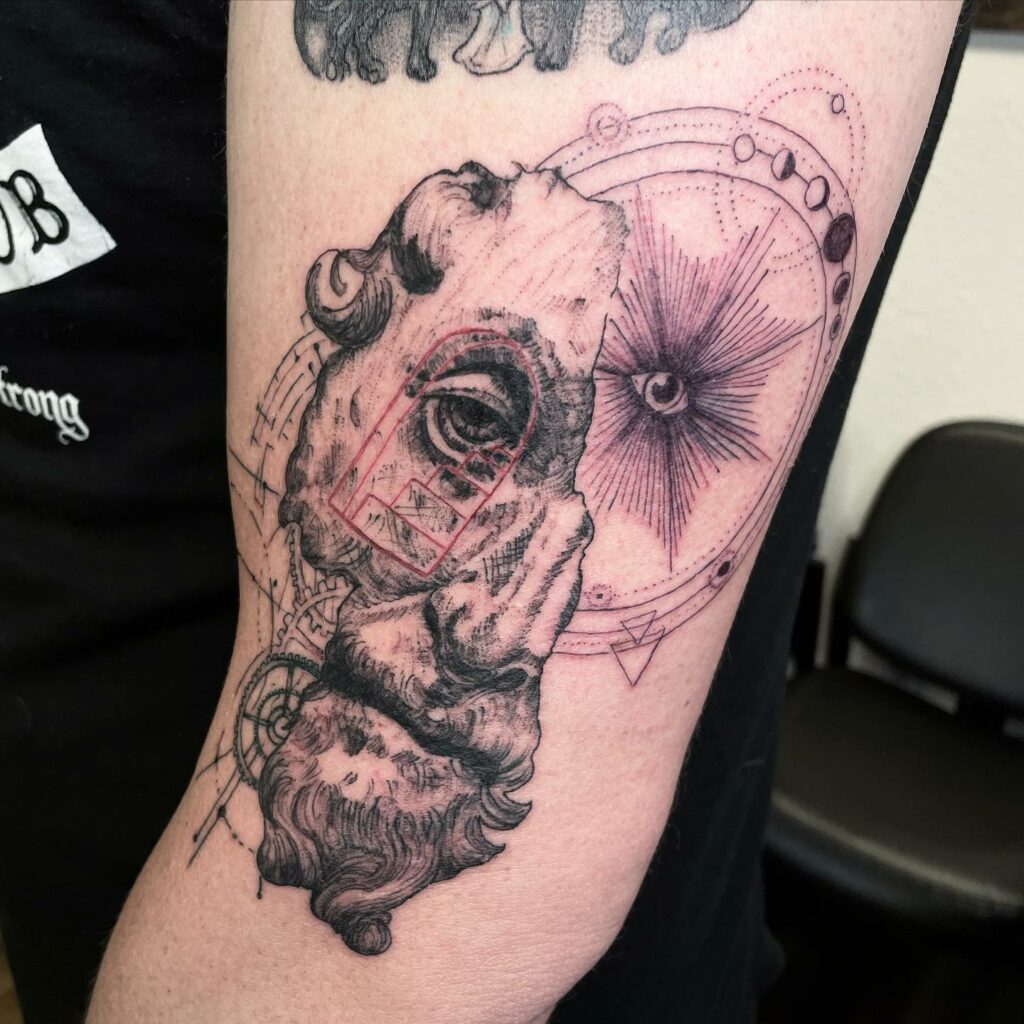 Marcus Aurelius, a renowned philosopher and king, is an inspiration to many people who follow the Stoic philosophy. This design is a perfect tribute to his teachings and beliefs. The Stoicism tattoo ideas inspired by Marcus Aurelius often incorporate different elements of his philosophy, making for stunning and meaningful designs. This particular tattoo design is created using shades of black and grey, with fine lines of red ink to emphasize certain areas. The tattoo artist has done a remarkable job in creating an elegant and visually striking design that captures the essence of Stoicism.
Seneca Tattoo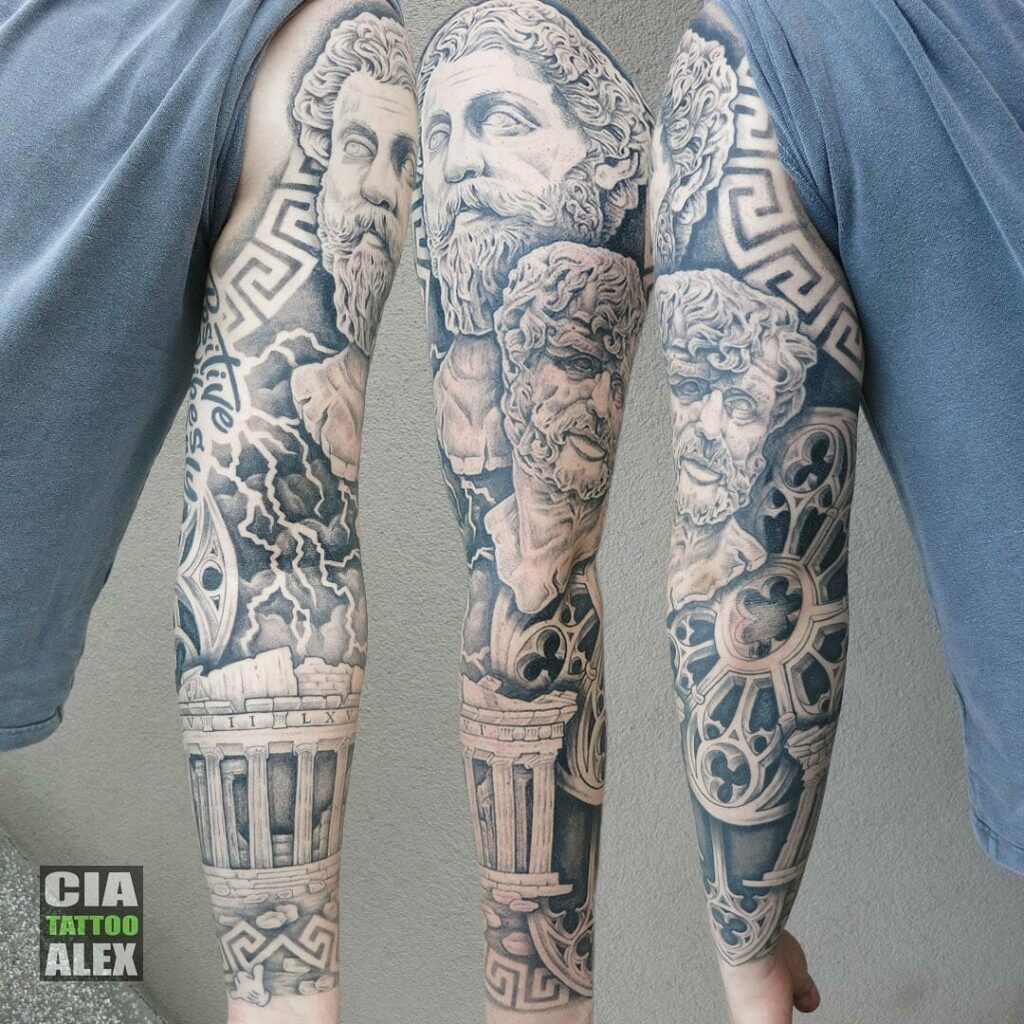 Seneca the Younger was known for his luxurious lifestyle, which set him apart from other Stoics, and earned him the nickname of the "Bad Boy" of Stoic philosophy. However, this is precisely what made him a perfect inspiration for modern Stoics. His teachings are still relevant today and offer valuable insights on how to overcome life's challenges. It's no wonder that Seneca has become one of the most popular tattoo designs for those who follow the Stoic philosophy.
This particular design is a full sleeve tattoo that features both Seneca and Marcus Aurelius. The artist has used varying shades of black and grey to create a stunning portrait that captures the essence of both men. The attention to detail in this tattoo is impressive, making it a true work of art. If you're looking for a meaningful and impressive Stoic tattoo, this design is definitely worth considering.
Philosophy Tattoo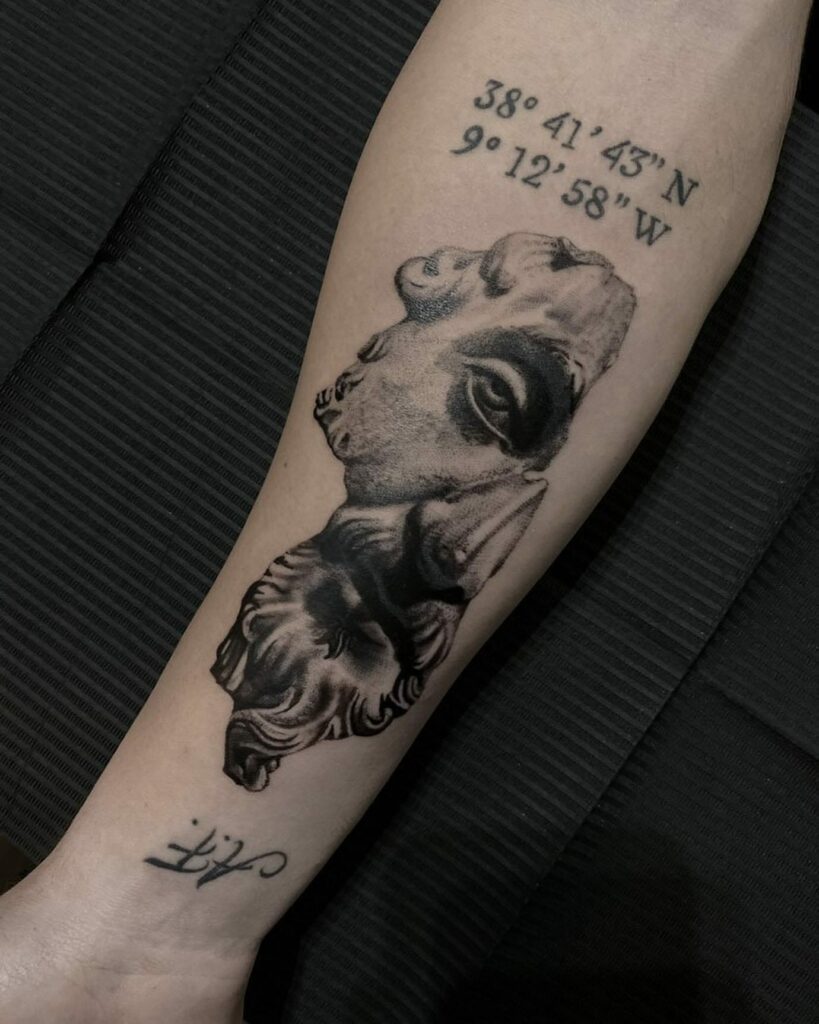 Marcus Aurelius was a philosopher and king who has inspired many Stoicism tattoo designs. His teachings encourage individuals to live their lives to the fullest, even in the face of difficulties. The message of his philosophy is not only inspiring but also aesthetically pleasing.
This tattoo design features a beautifully detailed portrait of Marcus Aurelius, crafted with black and grey ink. For those who want to add more details to the design, the four virtues of Stoic philosophy can be included. This design not only looks great, but it also carries a powerful message of perseverance and strength in the face of adversity. Consider this design for your next body art if you want to showcase your appreciation for the teachings of Marcus Aurelius.
Amor Fati Tattoo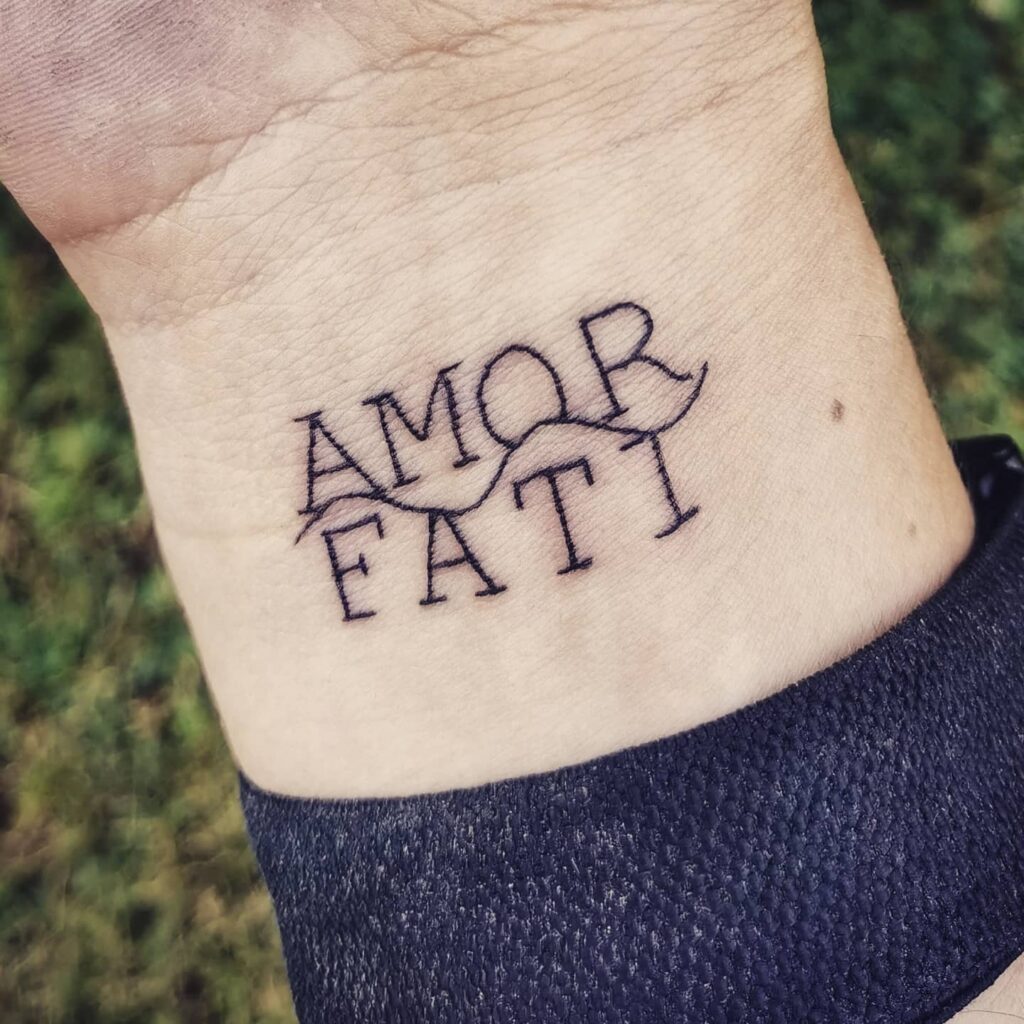 Amor Fati, or "love of fate," is a beautiful concept that encourages us to embrace life's ups and downs. It teaches us to love every aspect of our lives and find meaning in all our experiences. This design is a beautiful and constant reminder to cherish the world and everything in it. It encourages us to embrace our suffering and hardships and find solace in the fact that everything happens for a reason.
This design is a perfect blend of simplicity and elegance. The words "Amor Fati" have been written in a beautiful font on the wrist. The tattoo artist has used fine lines of black ink to create this design, giving it a clean and polished look. If you are someone who is looking for a minimalistic yet meaningful tattoo that embodies the Stoic philosophy, this design is definitely worth considering.
4 Stoic Virtues Tattoo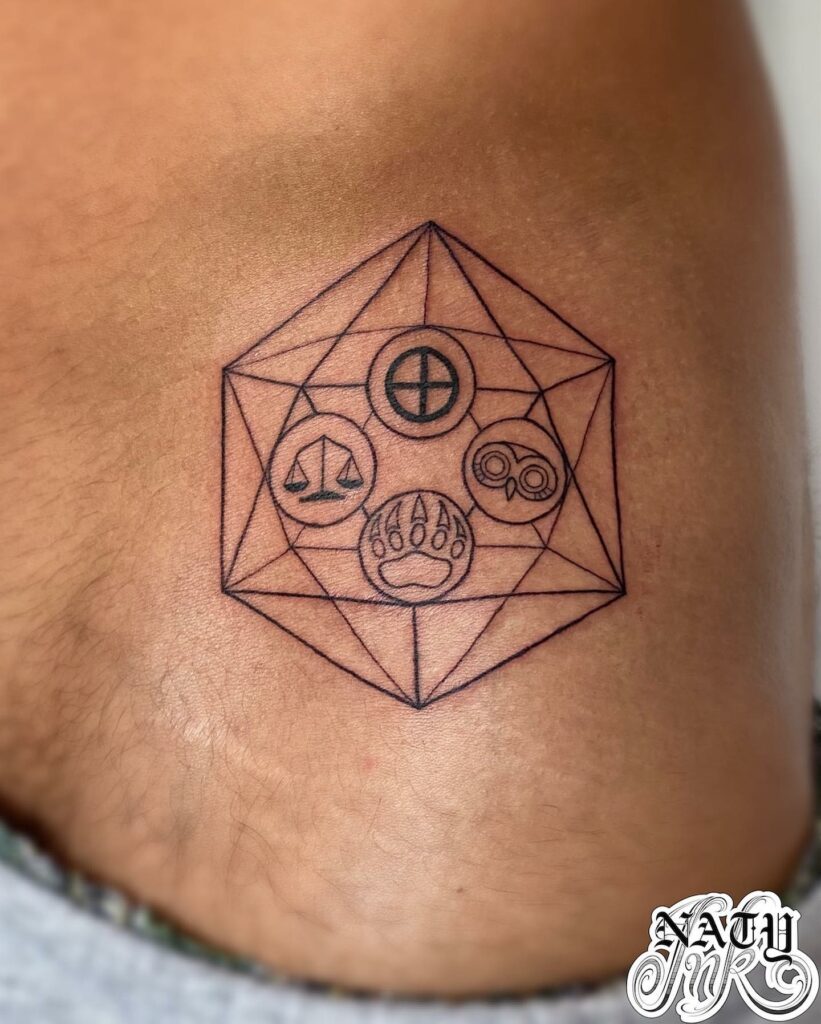 The Stoic philosophy emphasizes the importance of four virtues: wisdom, justice, temperance, and courage. These virtues have been at the core of Stoic teachings for centuries, guiding individuals to live a virtuous life. This tattoo design incorporates these virtues in a meaningful way, with the owl representing wisdom, the scales representing justice, the anchor symbolizing temperance, and the lion paw signifying courage. Each of these virtues holds significant meaning and relevance in our daily lives.
This design features a diamond-shaped background with the four virtues depicted within it. The tattoo artist has used precise and intricate lines in black ink to create a beautiful and timeless design. If you are looking for a tattoo that not only looks stunning but also represents the essential values of the Stoic philosophy, this design is definitely worth considering.
Thor Hammer Tattoo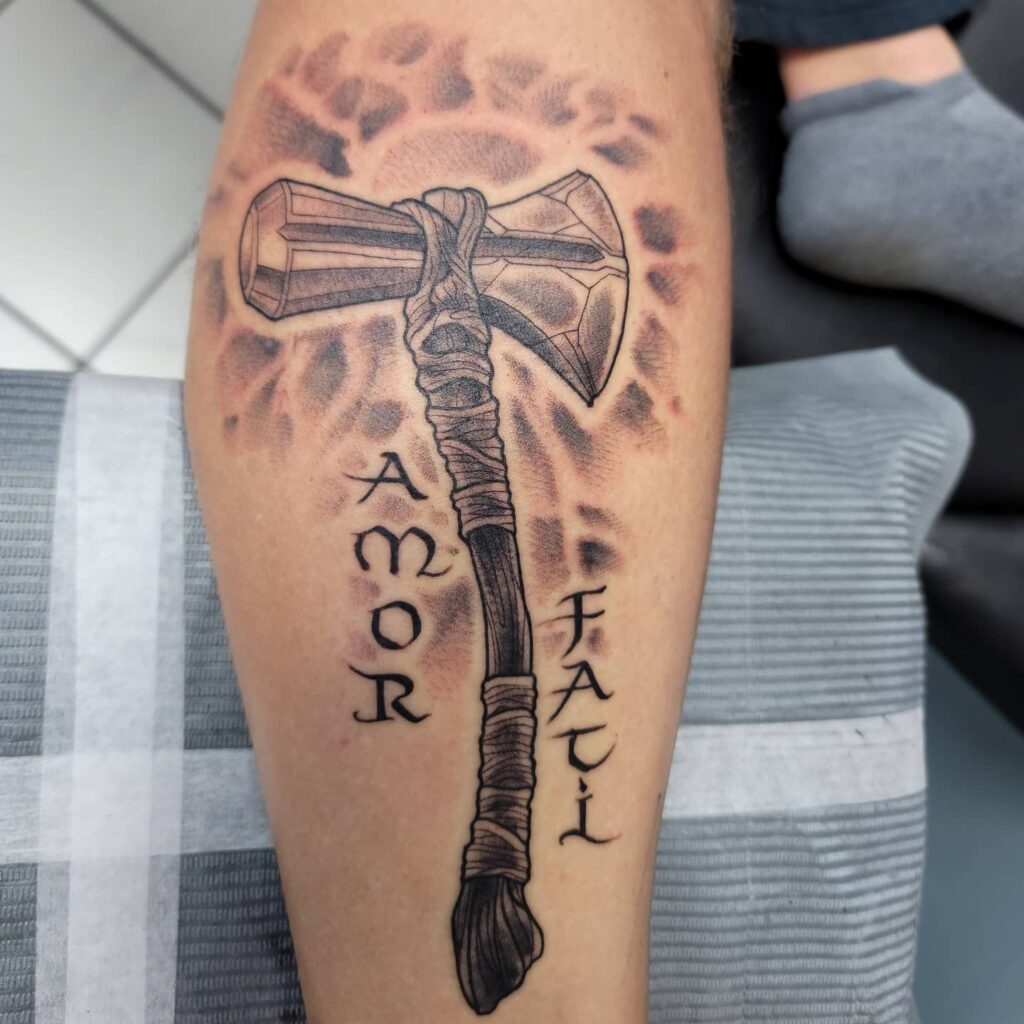 The Stormbreaker, a weapon wielded by the powerful Greek God Thor, represents inner strength and resilience. The wearer of this tattoo finds meaning in Thor's character arc, which involves fighting inner demons and rediscovering faith in oneself, a concept closely aligned with Stoic beliefs. The addition of the phrase "Amor Fati," meaning "Love Fate," further emphasizes the importance of embracing one's journey in life. The tattoo artist has skillfully used shades of black and grey to create a stunning and intricate design, incorporating the Stormbreaker and Amor Fati in a unique and meaningful way.
Life And Death Tattoo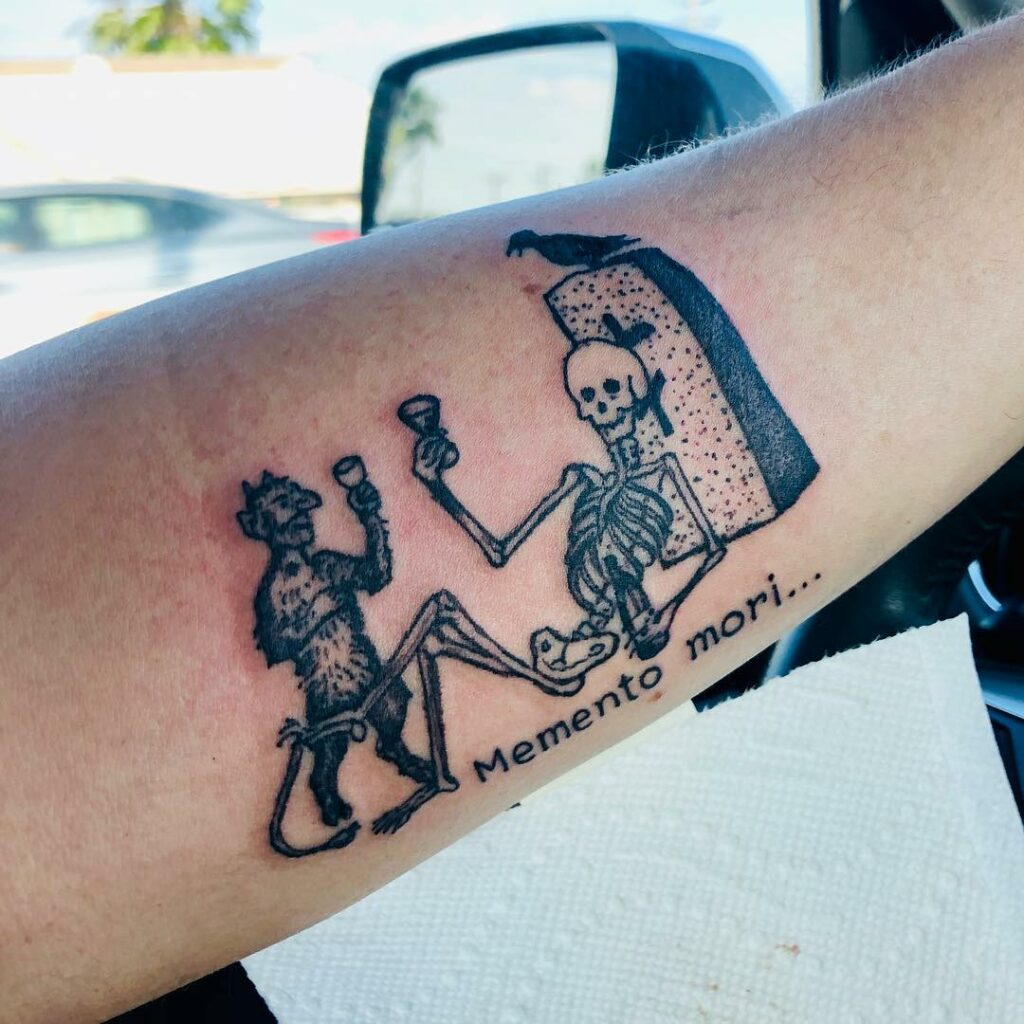 Life and death tattoos are powerful choices that can convey a person's beliefs in a unique way. These tattoos come in two different forms: life tattoos, which represent the strength and cycle of life and immortality, and death tattoos, which remind us of our own mortality. One popular tattoo design that embodies the Stoic philosophy is Memento Mori, which serves as a reminder to live life to the fullest and cherish every moment. This stunning tattoo depicts a skeleton, a drinking animal, glasses of wine, and a crow perched atop a cemetery stone. The tattoo artist has created this design using bold black ink, bringing every detail to life.
Enlightenment Tattoo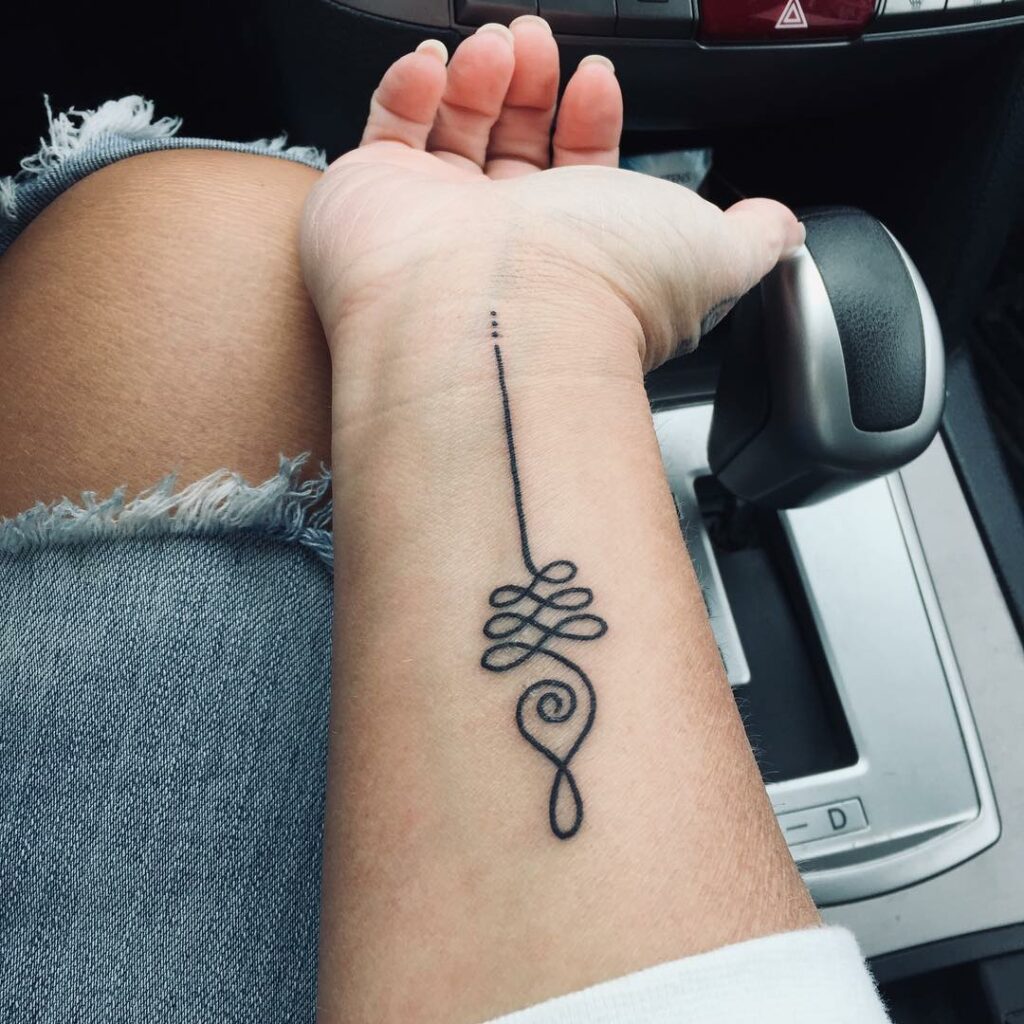 Tattoos are a powerful way to express one's beliefs and life journey. For those seeking enlightenment, a symbol that represents their struggles and path to harmony can be a beautiful reflection of their life. The Unalome is a stoic tattoo design that represents spiritual enlightenment, created using fine lines of black ink. This design is perfect for those looking to express their philosophical beliefs and inspire others. With bold and meaningful tattoos like these, expressing oneself becomes an art.
feature image from Pinterest – Want your tattoo to look brighter? Try "Tattoo Balm"