Coloring in predetermined lines is such a stress-reliever! Great for flashing out ideas and color palettes even if you're not that creative. And what better way to plan out your next tattoo than with tattoo coloring pages! You can find a bunch of free printable tattoo coloring pages for adults online! This idea is perfect for those picky people that can't decide on what tattoo style they want to have forever. If you're one of them, check out our list of top 13 tattoo coloring pages down below!
Japanese Oni Tattoo Page
Looking for some Japanese traditional tattoo coloring pages? Look no further than this amazing rendition of a Japanese Oni! Oni is a demon from Japanese folklore, often depicted in their traditional theatrical plays. It symbolizes fighting against evil, rather than evil itself! Red is most often used for the face, but play around with the colors! Just decide before the Oni steals a sacred scroll or something!
Colorful Day of the Dead Skull Tattoo
On the topic of traditional tattoo style coloring pages, how about this Day of the Dead skull tattoo? Rooted as a holiday in Mexican culture, these fun mask designs honor the dead and symbolize rebirth. Bold lines and some vibrant colors are all you need for this adult coloring tattoo page! And if you decide to get it as tattoo art on your skin, deep reds and purples work wonders for any skin tone out there!
Serpent Creature Coloring Page Tattoo
Tattoo coloring sheets aren't your typical fun activity for kids! While they can enjoy coloring tattoo pages too, this is the best relaxation for adults! Who knows, maybe you end up with one of the designs from that tattoo art coloring book you love! Look at this crazy serpent and flowers coloring page! Relieves stress while designing it, looks awesome when tattooing it! What else would you want?
Praying For Freedom Tattoo
Adult tattoo coloring pages can range from simple to complex, just as any kids coloring sheets! Just take a look at this beautiful praying tattoo! This hand position can mean different things for different cultures too. Adding a word of significance to pictures can elevate the design and give meaning. Try this unique twist with having gold ink instead of black! Add a background element like a ray of sunshine and you're good to go!
Watercolor Sun and Bones Tattoo
Looking for cool tattoo coloring pages? Gearing up for a new awesome tattoo? You're at the right place! How about a classic among coloring pages tattoo designs – skull and crossed bones tattoo? What makes tattoo coloring books so unique is bold outlines and infinite coloring possibilities! Try a watercolor gradient of your favorite colors, or just leave it black and white. It's always your own choice!
Phoenix Bird Tattoo Art Coloring Pages
Looking for incredible bird tattoo design coloring pages? We have just the thing! Rise from the ashes (and boredom) and get to adult coloring tattoos! Who knows, you might even end up with a phoenix bird tattoo on your back or biceps! Get this design in vibrant and fiery colors like in the pictures, or reverse the color palette! Experimenting is what makes coloring in a tattoo so fun!
Tiger and Snake Sword Tattoo Design
Have you ever seen a pastel colored snake before? We have, in the world of tattoo coloring pages! Anything is possible when you turn on your imagination! So why not try this fascinating tattoo design with tigers, snakes and swords! Inspired by the traditional painting style of East Asia, these tattoo designs coloring pages look incredible both on paper and skin! The foliage in the background just gives off that rain forest vibe we all love.
Mermaid and Anchor Sailor Tattoo Design
Let's turn it down by a notch with this charming sailor tattoo! Nothing screams more 'sea' than a gorgeous mermaid hugging an anchor! Trying to find the perfect tattoo coloring pages to print in a sea of simple design. How about this one? You could go for the classic Disney's Ariel colors, or go opposite. Color combinations are endless for this one!
Birds and Rose Tattoo Coloring Pages
Flower tattoo coloring pages are so calming to do! With free tattoo coloring pages found online, you'll never be stressed again! And with our best 13 coloring pages of tattoos, you'll never be not inspired for a new tattoo! If you want to convey those calm feelings, color this swallows and roses tattoo design! And you don't even have to use conventional colors; get a bright blue swallow!
Golden Koi Fish Tattoo Color Pages
Animal tattoo coloring pages for adults never get boring! Take for example this stunning goldfish! Metallic colors can be translated into tattoo inks too! You can get each fish scale a different shade if you wanted. Be it a tattoo or a coloring page, the sunset palette is always warm and cozy to look at. Koi fish are associated with good fortune and luck. Who wouldn't want that?
Heart and Flowers Coloring Page for Adults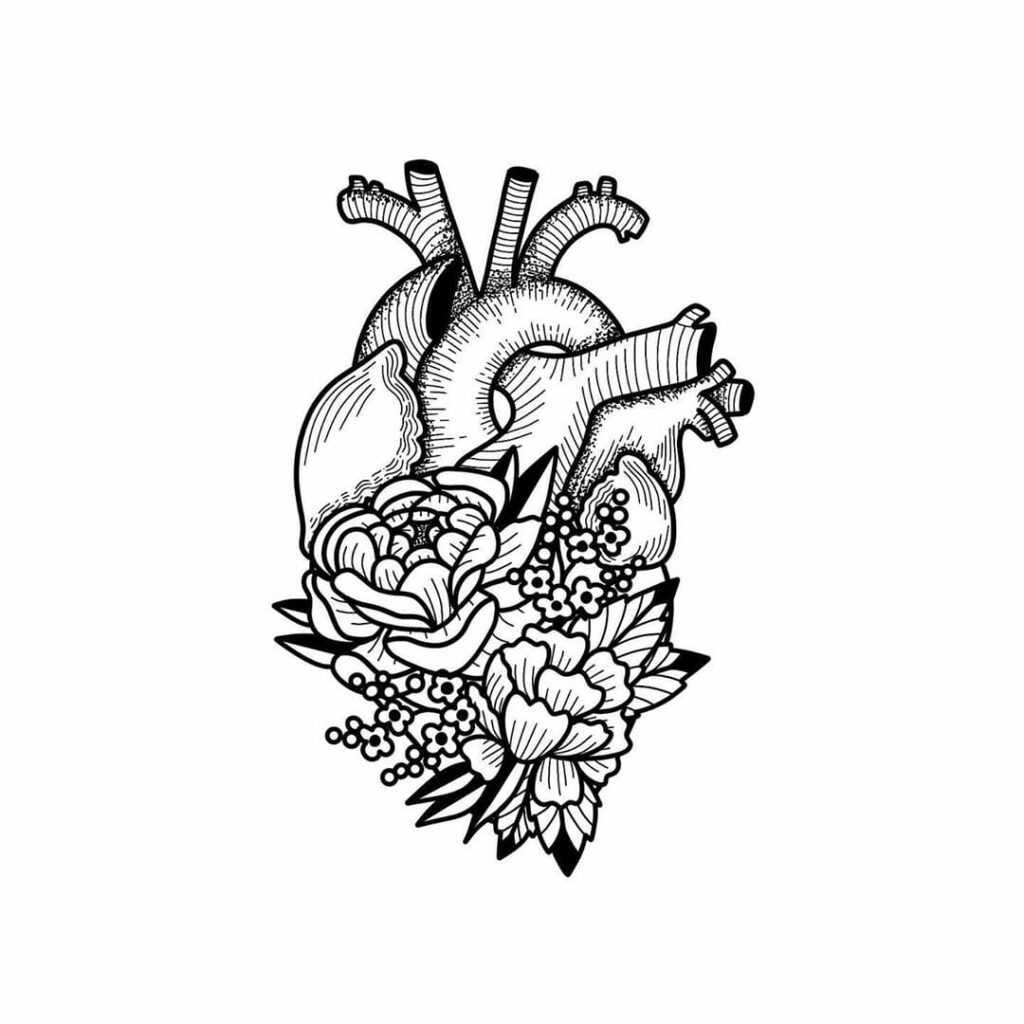 Blank tattoo coloring pages for adults can seem daunting at first. Let your imagination run wild with this heart and flowers design! You have an abundance of free tattoo coloring pages on the internet, so you'll never be bored. And if you find a page you like, get it as a permanent tattoo! Something tells us you'll love this particular coloring page! Choose colors you like or that pop against your skin tone and call that tattoo artist now!
Mandala Coloring Page Tattoo
Nothing gets those creative juices flowing more than a beautiful mandala design! With so many flower-like shapes and lines to fill in, the possibilities are infinite! A mandala tattoo can represent your own little universe. So choose your favorite colors and designs to make it unique only to you! No mandala in the world is the same, so why not get your own lovely mandala tattoo design?
Tattoo Girl Coloring Pages
Have you ever seen a more gorgeous girl on tattoo coloring pages for adults? Those roses at the bottom can't be compared! Stunning women are an ever-popular tattoo option for men. So why not get your ideal woman tattooed somewhere on your body? Figure out what you want exactly by practicing on some free tattoo coloring pages. 
Having Said All That
We hope you loved our top 13 tattoo coloring pages for adults! Don't ever be afraid to unleash your creativity when it comes to tattoos! It's always better to have the design set in stone before going to the tattoo shop. After all, every tattoo has humble beginnings on paper! And remember, an activity like a coloring page isn't just for kids, adults can have some fun too!
Still looking for inspiration, then checkout this blog post amazing tattoos.
Need More Inspiration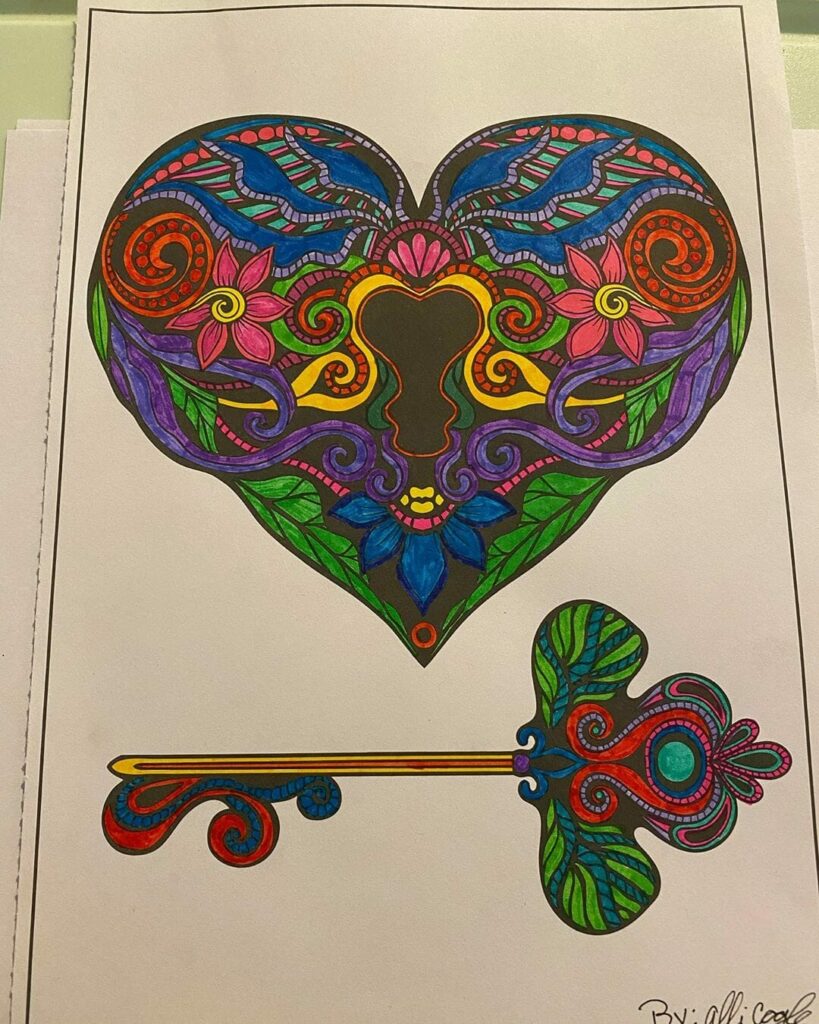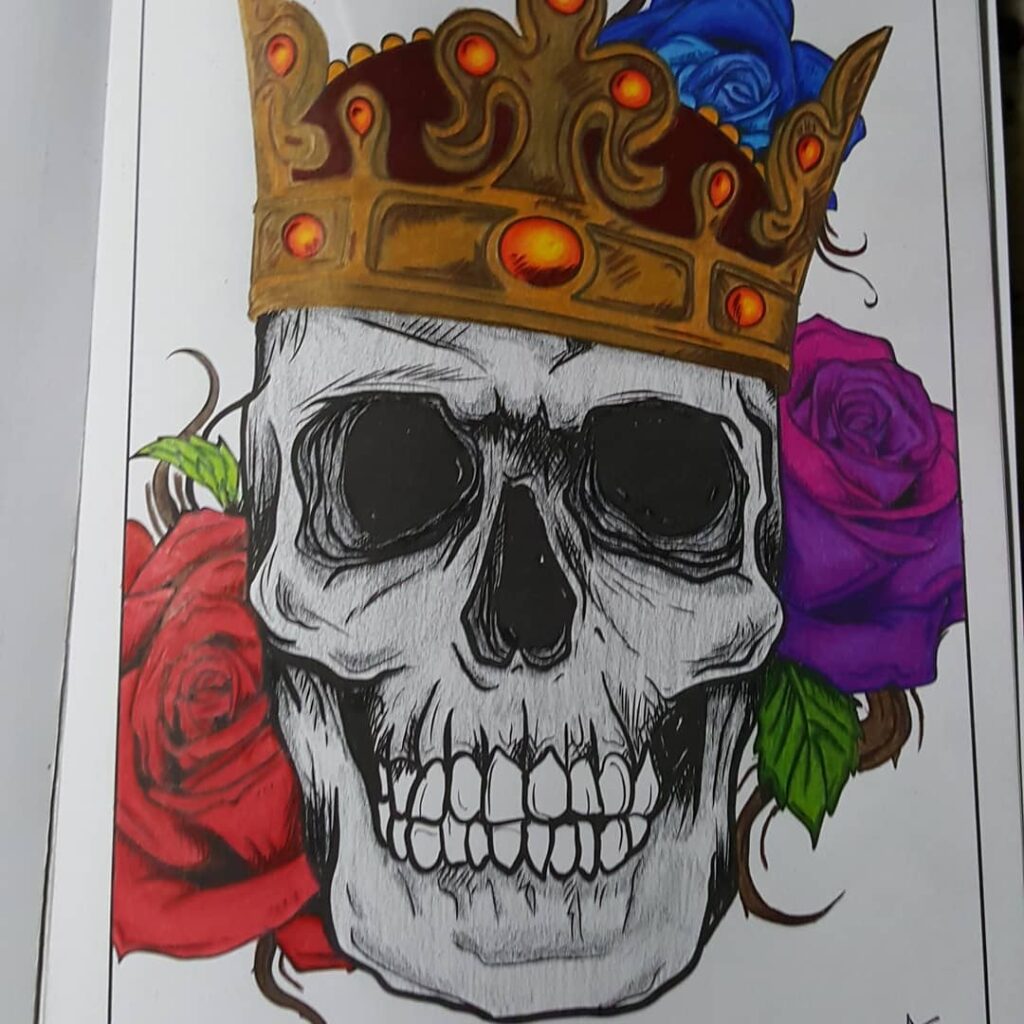 Feature image and all other images from Pinterest