Hey there, cannabis enthusiasts! Are you considering a tattoo that represents your appreciation for this versatile and storied plant? We've got a fantastic selection of weed leaf tattoo ideas for you to explore!
Weed leaves come from the cannabis plant, which has a long and fascinating history. Although many people associate it with recreational use, the cannabis plant has deep roots in ancient Indian Vedic texts, where it was mentioned in the Ayurveda. Even today, some cultures, like the Rastafarians, use cannabis for spiritual purposes and meditation.
Beyond recreational use, cannabis has shown promise in various medical applications, such as alleviating nausea during chemotherapy, improving appetite for HIV/AIDS patients, and reducing anxiety and stress. However, research in this area has been limited due to legal restrictions and societal stigmas.
While cannabis remains a polarizing topic in many parts of the world, there's a growing community of people who support its use, both medically and recreationally. If you're among those who appreciate cannabis for its various properties and want to express that appreciation with a unique tattoo, check out our curated collection of weed leaf tattoo designs!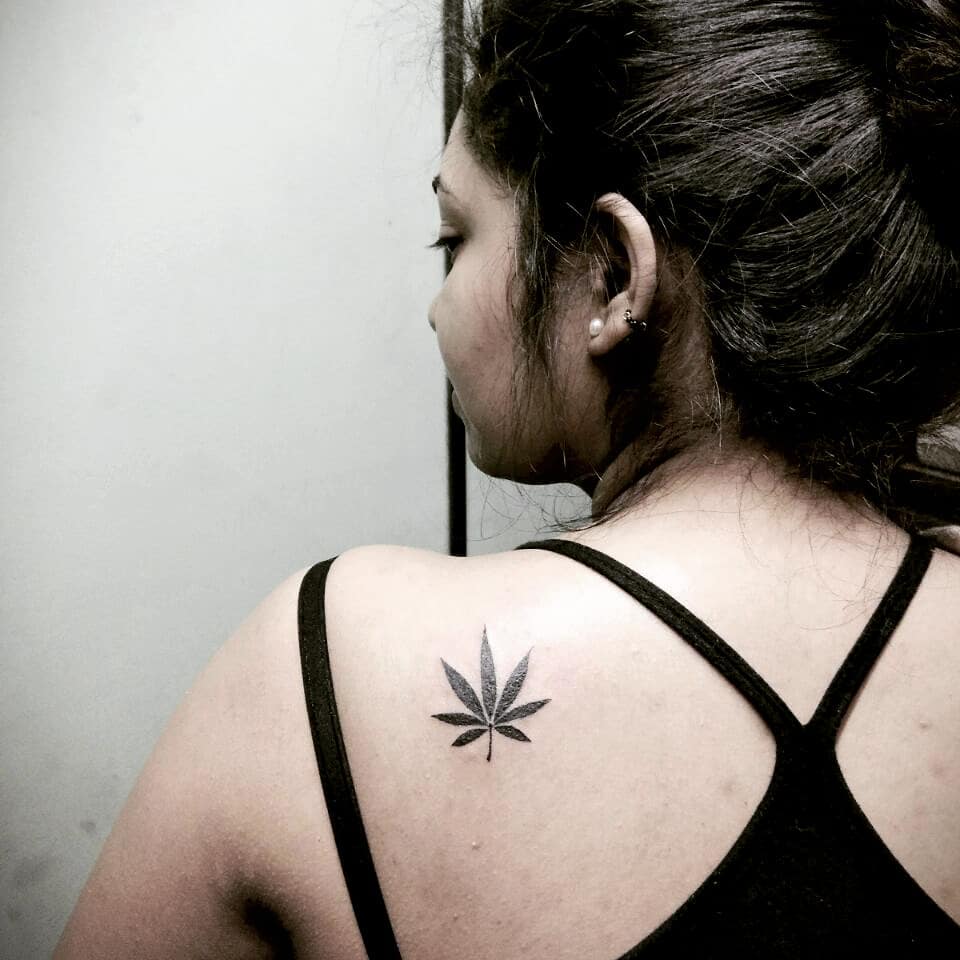 Weed Leaf Tattoo Design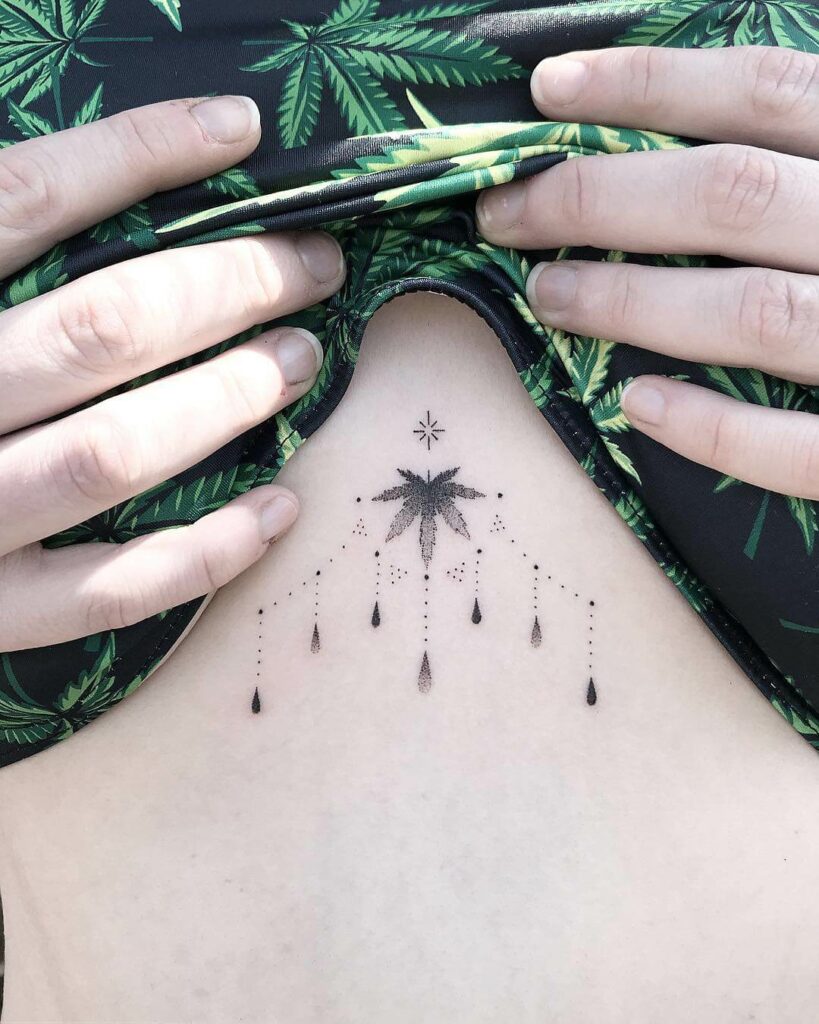 The tattoo design in the picture above features a cannabis leaf hanging upside down with some intricate decorative patterns around it that look like dangling jewelry. A small star shines above the dotwork tattoo, which appears to be inked on the person's torso. However, it would also look lovely if tattooed on the wrist and resemble a pretty bracelet. This weed tattoo design is perfect for both men and women who appreciate delicate and intricate body art.
Colored Weed Leaf Tattoo
The picture above features an impressive pot leaf tattoo with black and grey smoke tattoo work in the background. The cannabis leaf in this tattoo design has seven leaflets that are perfectly highlighted by the skilled use of darker shades of green ink. The bright green color of the leaf is eye-catching and gives the tattoo a fresh and vibrant feel. This is a great choice for anyone looking for a colorful and unique weed tattoo design that will stand out on their skin.
Moon And Marijuana Tattoo Designs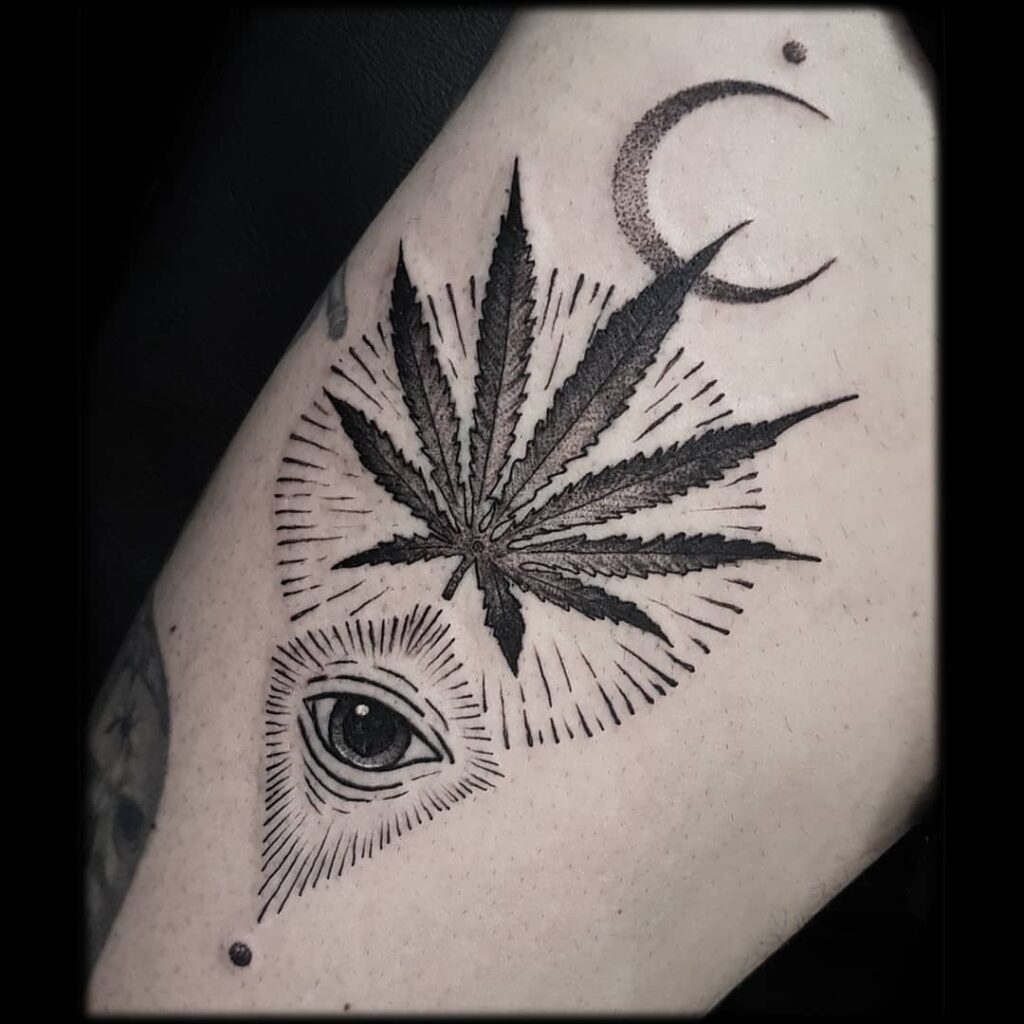 In the picture above, you can see a stunning weed tattoo design that features a marijuana leaf encircled by a crescent moon and an eye below the leaf. The tattoo holds a deep meaning, as many individuals believe that smoking weed can help them contemplate the mysteries of life and existence, leading to a spiritual awakening that's often referred to as the opening of the third eye. This thought-provoking tattoo can serve as a reminder to stay curious and question the world around us. It's an exquisite design that's perfect for placement on the hand, where it can be admired and appreciated by all.
Smoking Marijuana Tattoo Designs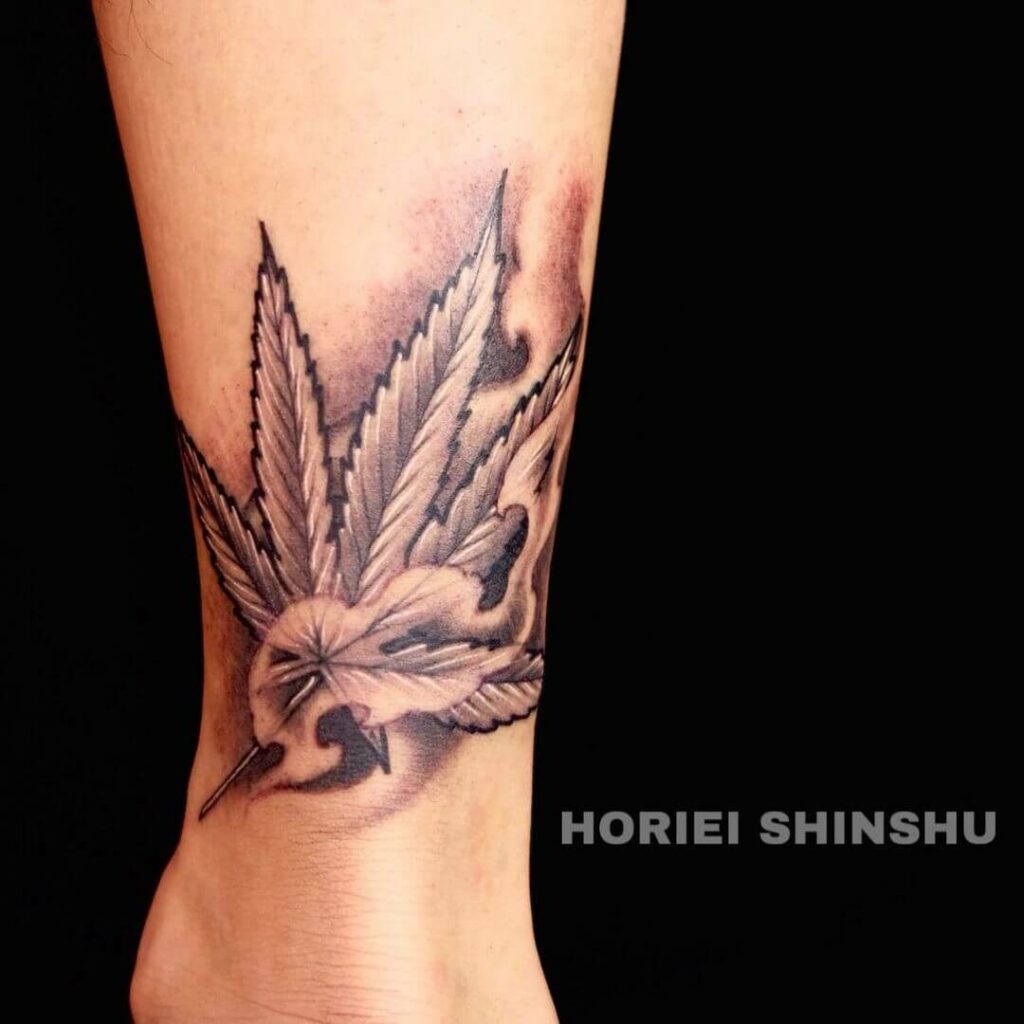 This stunning weed tattoo features a marijuana leaf depicted with great detail, surrounded by smoke that seems to be emanating from it. The tattoo can represent the spiritual experience of smoking weed that many people believe in. The burning fire and smoke could symbolize the passion and hope that people feel when they are using marijuana. The tattoo artist has done a fantastic job of creating a work of art that is both beautiful and realistic. The shading of the smoke is done in black and grey, which gives it a lifelike appearance. This weed tattoo can look great on any body part, such as the leg or arm.
Bright Leaf Marijuana Tattoo Designs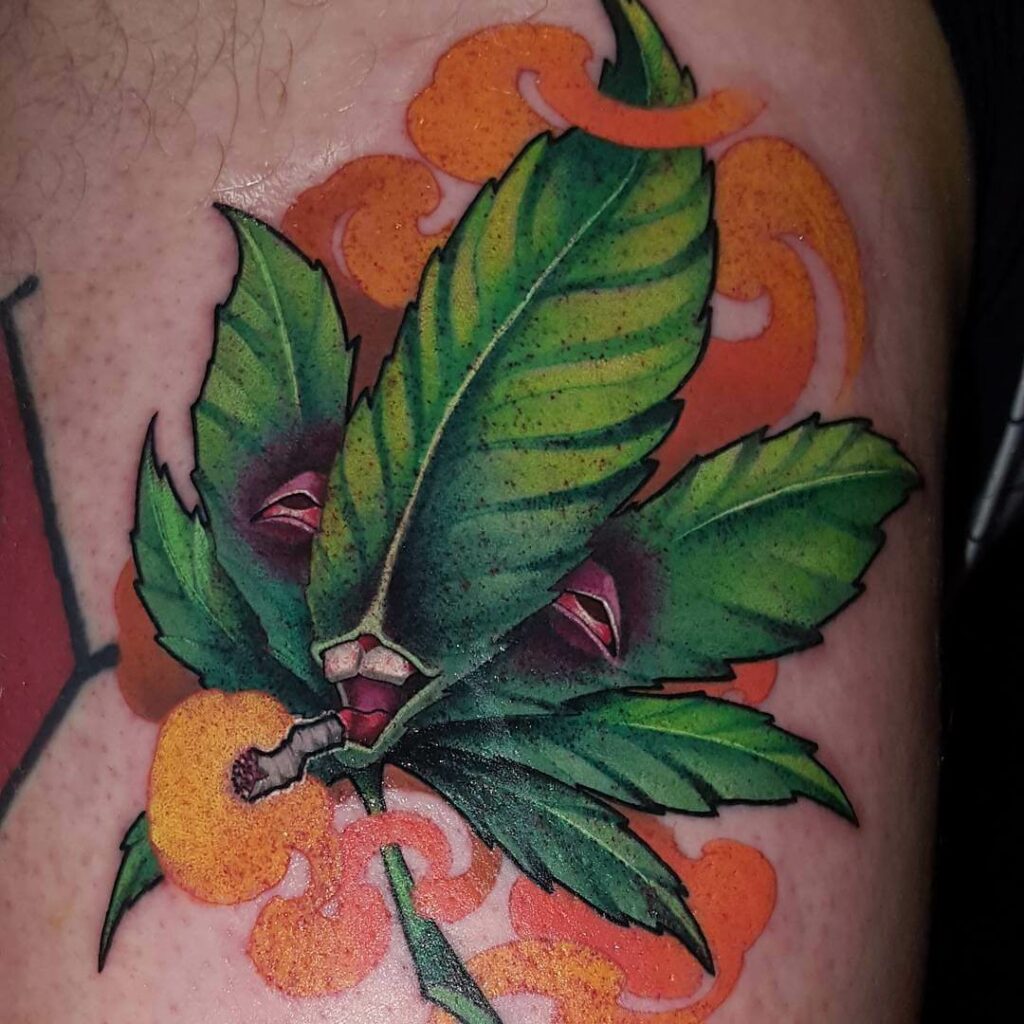 The tattoo in the picture above is a colorful cartoon of a marijuana leaf holding a joint in its lips. The red, droopy eyes of the cartoon give away the fact that it's high on the effects of smoking weed. The weed leaf tattoo is set against a bright red background of smoke, which stands out from the green and red of the leaf. This tattoo could represent the owner's love for smoking weed and enjoying its effects. The design is playful and cartoonish, making it a fun choice for anyone who wants to show their appreciation for cannabis.
Colorful Cartoon Weed Tattoo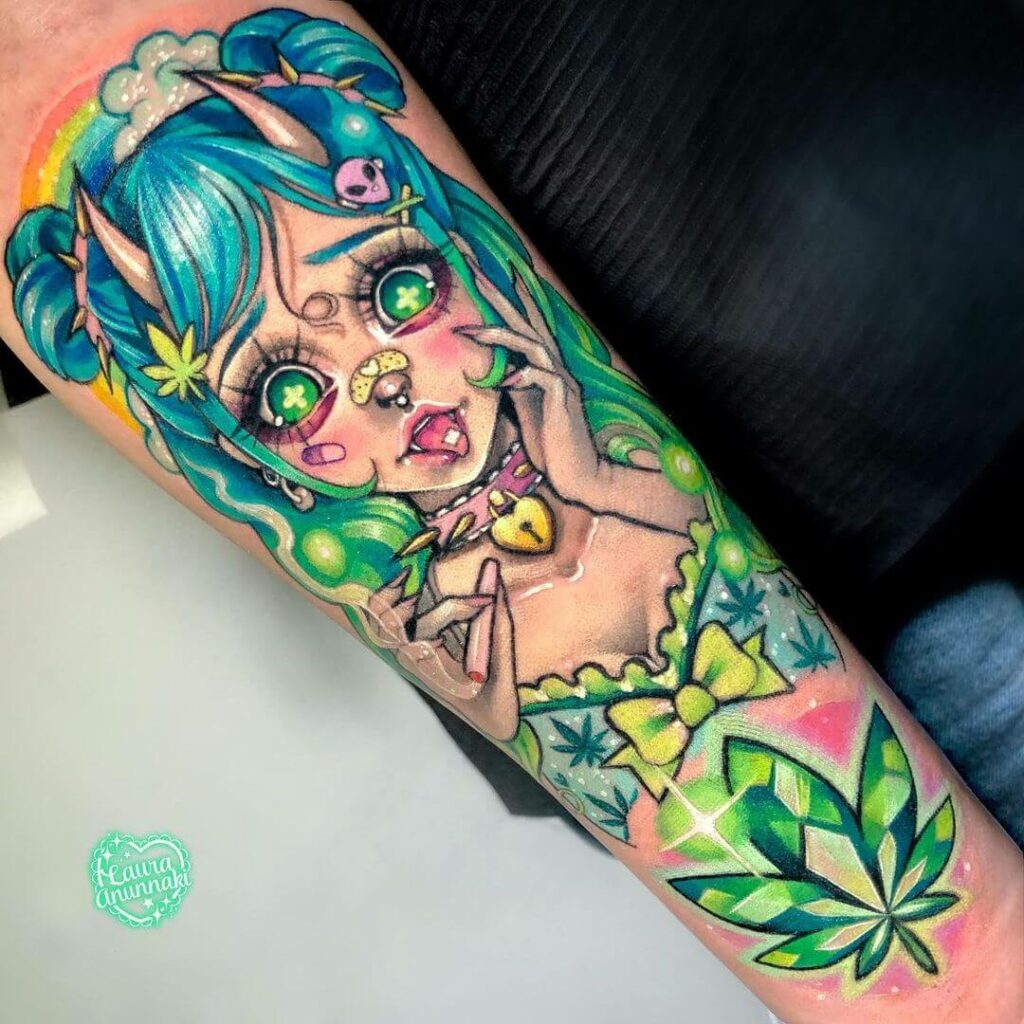 The tattoo design above is a stunning work of art, showcasing an anime-style girl holding a marijuana joint. The blue-haired girl has a green dress made of grass, which symbolizes the natural aspect of the herb. The green weed leaf beneath the girl is masterfully inked with various shades of green to make it look realistic. The small horns on the girl's head could represent the rebellious side of those who enjoy smoking weed. The artist has done an incredible job of creating a unique and beautiful tattoo that could cover a whole forearm or leg. This tattoo is perfect for someone who loves anime, nature, and weed.
Heart Marijuana Tattoo Designs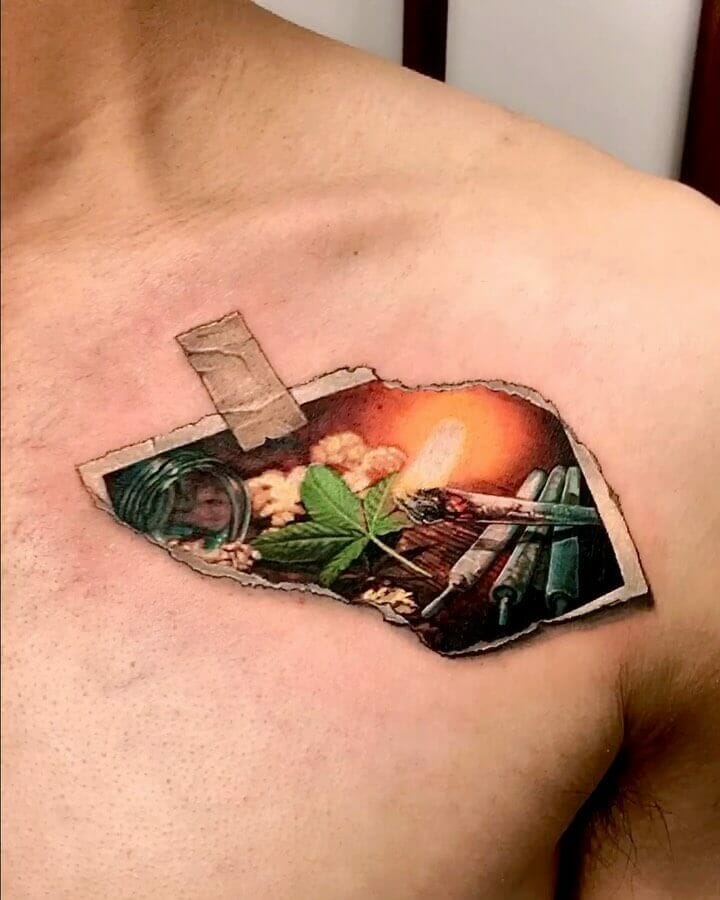 In the image above, you can see a beautiful weed tattoo that has been inked on the left side of the person's chest, where the heart is supposed to be. The tattoo is designed in a way that it seems like the person's skin is peeled open, revealing a weed leaf and several joints, one of which is burning. This stunning tattoo signifies the importance of weed or marijuana in the person's life, portraying it as the life force that keeps the person alive. The bright yellows and oranges combined with the muted blacks create a beautiful shadow effect, making this tattoo stand out from others. This weed tattoo is a great choice for anyone looking to showcase their love for marijuana in a unique and artistic way.
Weed Leaf Tattoo Stencil
The weed tattoo showcased above highlights a single marijuana leaf outlined in black ink and carefully shaded in various hues of pink and purple. The tattoo artist has taken care to create a beautiful contrast with the delicate pink center of the leaf, which gradually darkens towards its tips. Although inked on a private body part like the buttcheek, this weed tattoo can be customized and inked on any part of the body, including hands, wrists, or even shoulder blades. With its subtle beauty and striking colors, this weed tattoo is sure to turn heads wherever you go.
Weed Leaf Tattoo Outline With Green Shading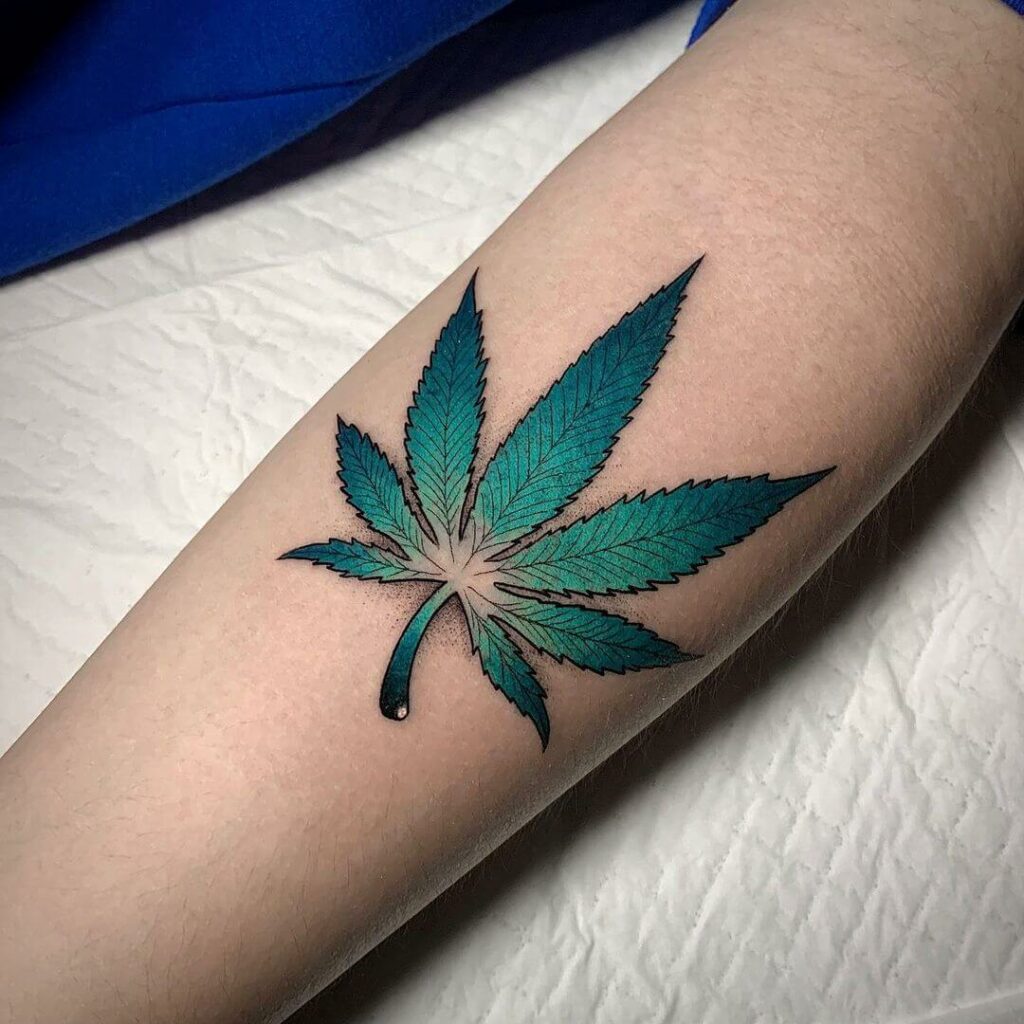 This small weed tattoo features a simple yet elegant seven-leaf design that is colored in a lovely shade of green, with thin black outlines to give it a delicate feel. The use of various shades of green on this cannabis leaf tattoo is a testament to the skill of the artist, making it stand out on the person's arm. This design is suitable for both men and women and can be inked anywhere on the body, making it a safe choice. Its simplicity and ease of execution make it a popular choice for anyone looking for a stylish and low-maintenance weed tattoo.
Buds And Marijuana Tattoo Designs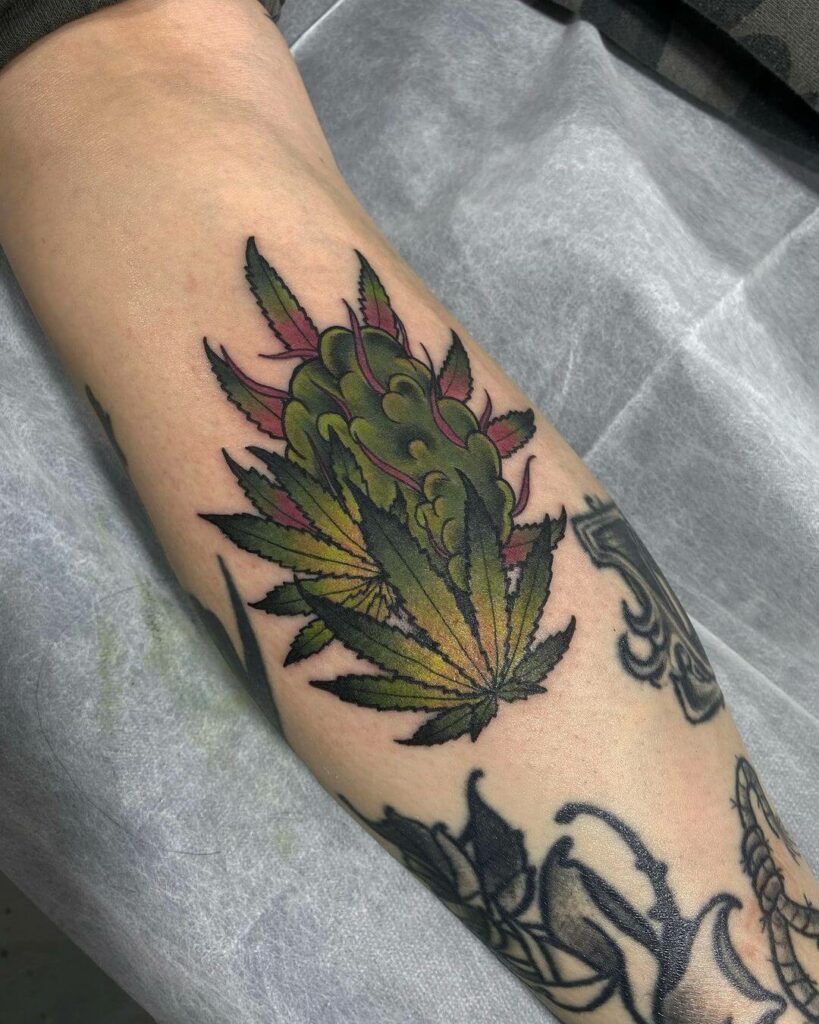 Marijuana and weed are widely associated with parties and having a good time with friends. This weed tattoo is a representation of the plant's essential parts used to make marijuana, the leaves, and the buds. The tattoo artist has used a dark shade of green with hints of red and yellow to highlight the intricate details of the plant. This beautiful weed tattoo will definitely turn heads with its creative shading and dimension. However, it is important to note that while marijuana can be a fun recreational drug, it is still a controlled substance and should be consumed responsibly. It's always good to remember that you have a choice, and partying can be enjoyed without them as well.
Feature image from Pinterest
Last reviewed and updated on May 3, 2023