Today, we're diving into the mesmerizing world of black ombré nails—a sophisticated blend of edginess and elegance that's taking the beauty realm by storm. Think of it as the little black dress of the nail universe: timeless, versatile, and effortlessly chic. We're exploring 38 different takes on this trend that will make you the center of attention without even trying. Why settle for one shade when you can have a seamless gradient that transitions from understated to jaw-dropping? Black ombré nails offer the perfect canvas to experiment with colors, textures, and techniques. The range is limitless, from matte to glossy, simplistic to bedazzled.

In this post, you'll feast your eyes on captivating designs and grasp the techniques behind creating them. Whether you're a DIY pro or a salon regular, this guide will equip you with the know-how to elevate your nail game. Let's get started, shall we? The world—or at least your Instagram feed—isn't going to wow itself!
Mysterious Depth of Black Ombré Coffin Nails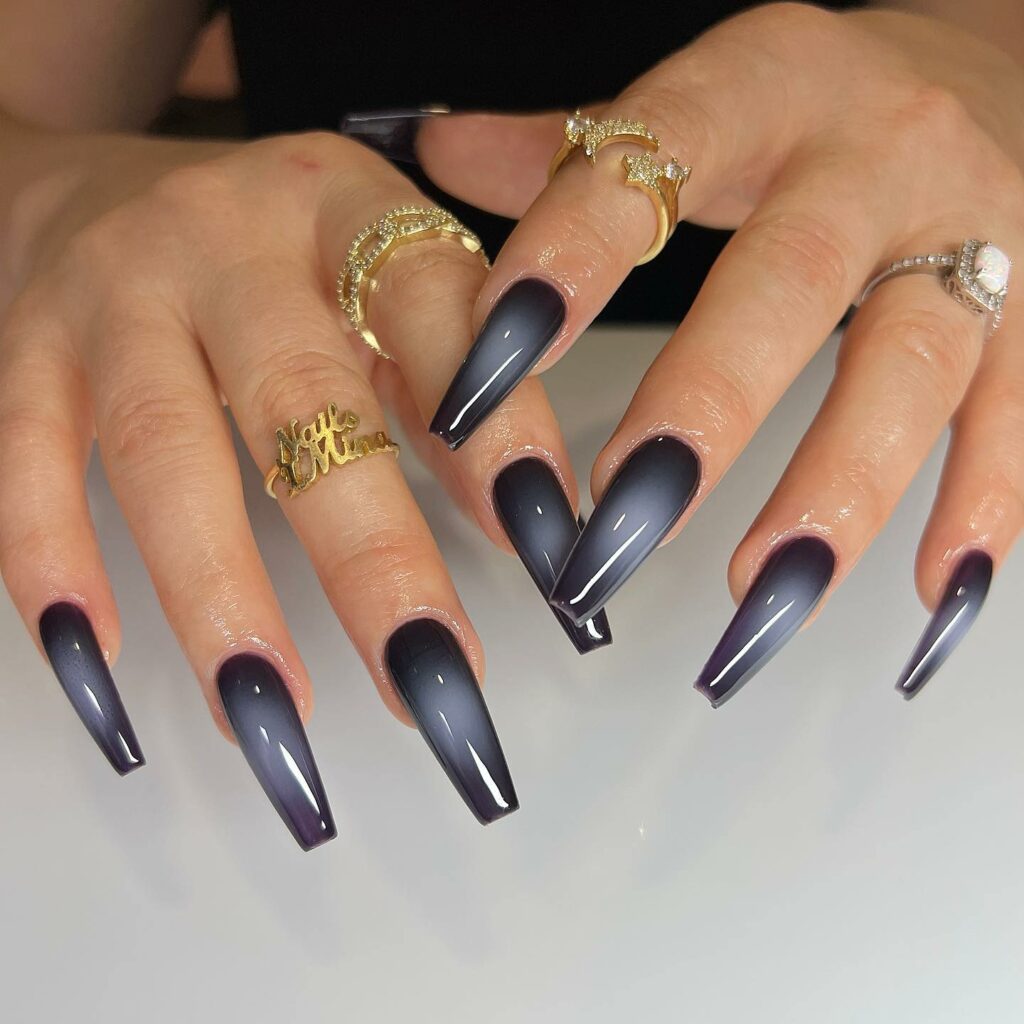 When adorned with the black ombré design, the coffin shape gives a deep, mystic allure. Ideal for those who prefer a bolder nail style with an air of mystery.
Coffin Black Ombré Nails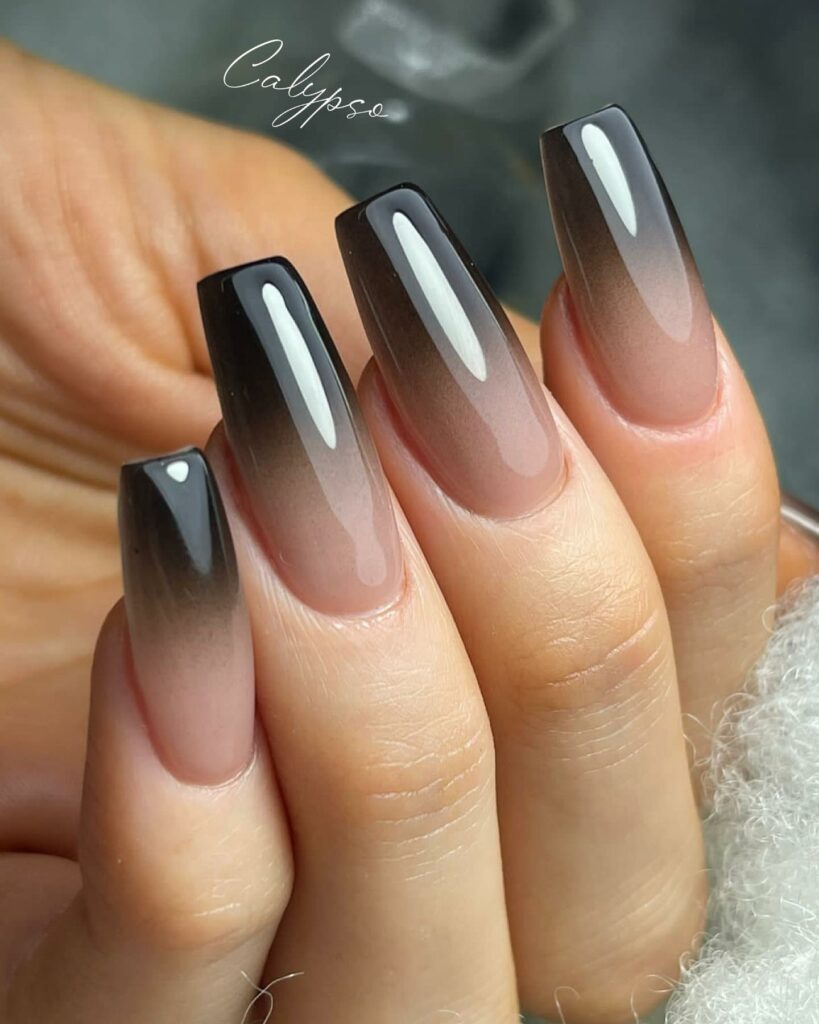 The striking coffin shape adorned with the black ombré gradient provides an edgy and sophisticated look. A design that resonates with modern nail art enthusiasts.
Edgy Sophistication with Stiletto Black Ombré Nails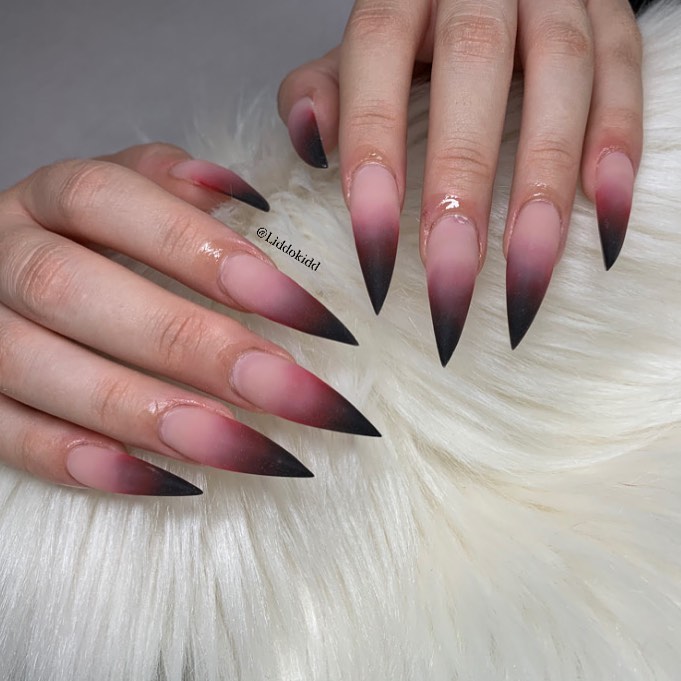 Elevate the drama with the sharp, edgy stiletto form paired with the black ombré. It's a style statement for those unafraid to stand out.
Metallic Black Ombré Nails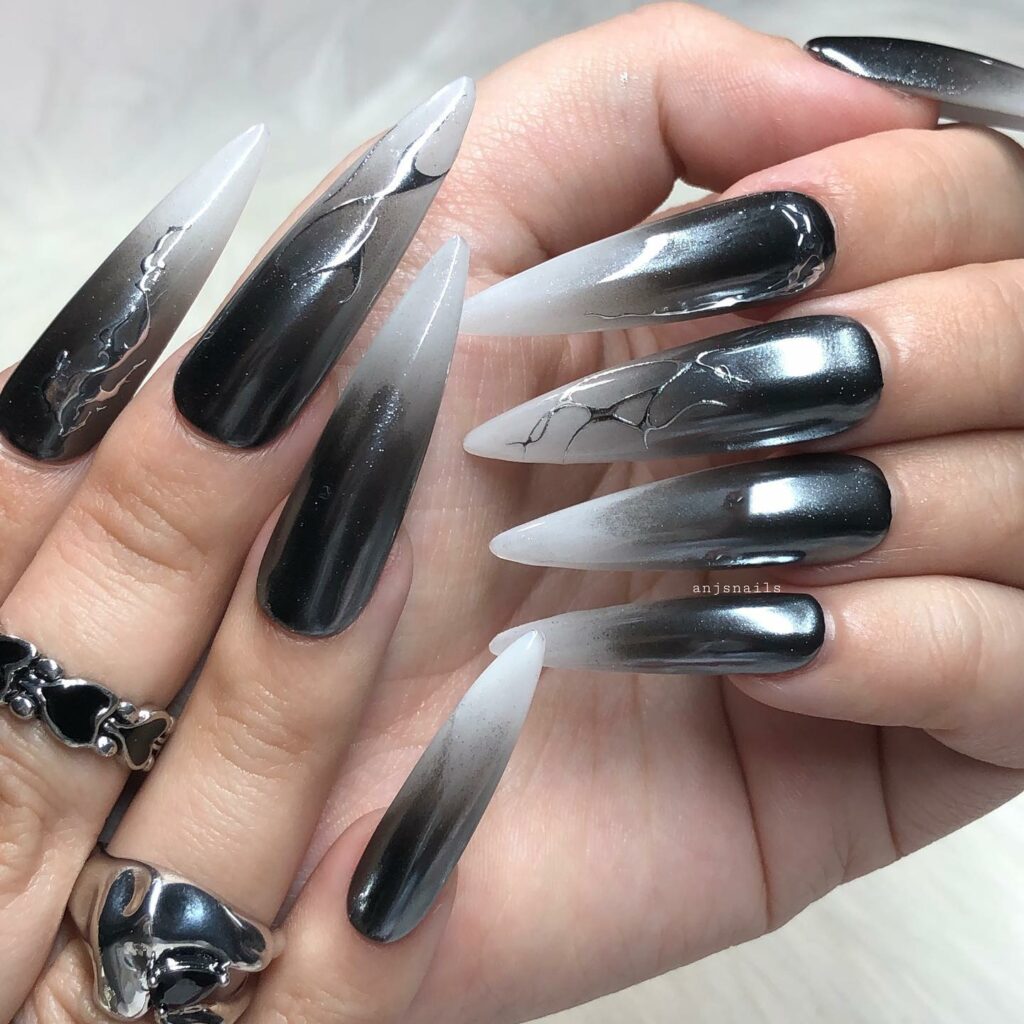 The gleaming touch of metallic sheen over a gradient of black offers a unique and luxurious feel. It's a glamorous twist on the classic black ombré.
Dark Red Jelly Ombré with Black Accents
Experience the depth of dark red jelly shades transitioning into the abyss of black. A design that echoes the beauty of a shadowed sunset.
Deep Maroon Meets Glittering Black Ombré Nails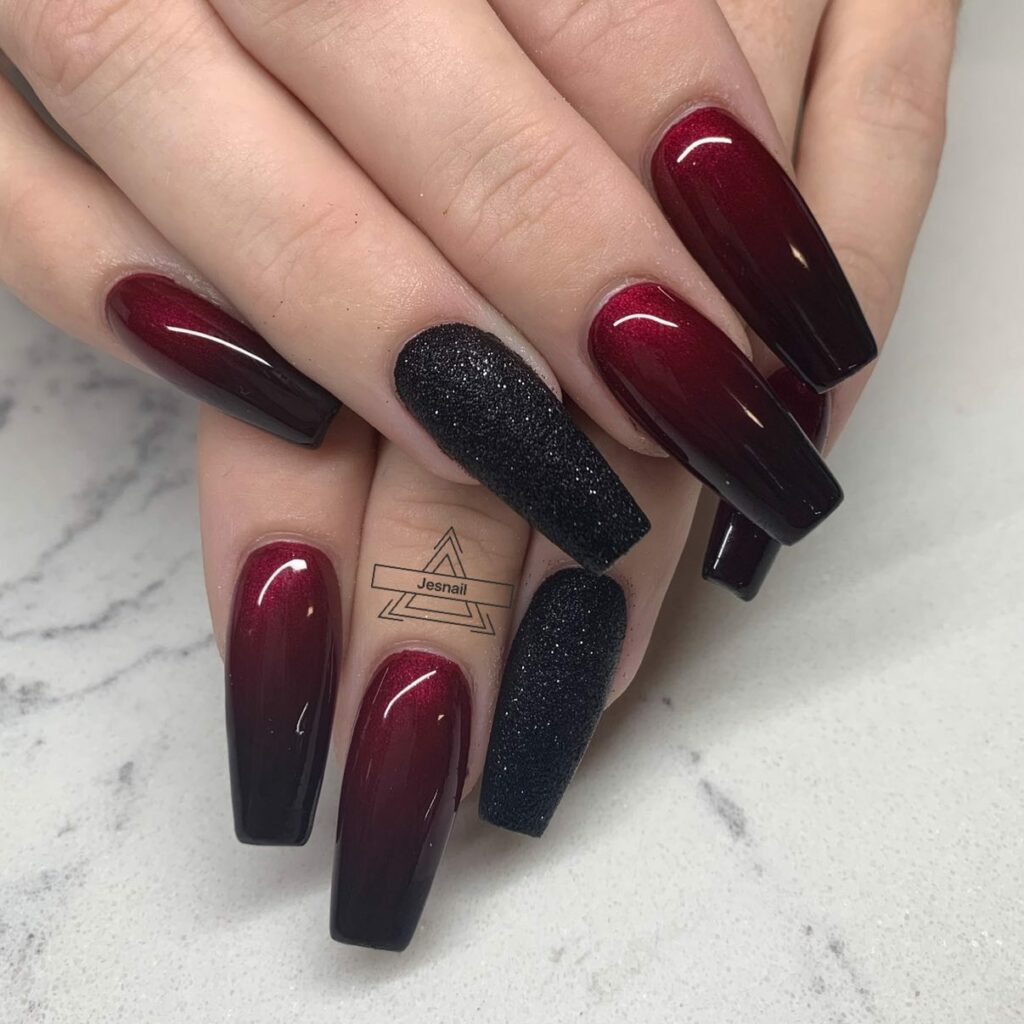 Embracing the timeless allure of deep maroon juxtaposed with a shimmering black, these nails are the epitome of sophistication. The lustrous finish of the maroon is enhanced by the contrasting glittery black accent, offering a design that's both classic and contemporary in its appeal.
Starry Nights with Galaxy Black Ombré Nails
Inspired by the vastness of space, the galaxy black ombré nails are a cosmic play of colors on a black canvas. A design that's truly out of this world.
Timeless Beauty of Classic Black Ombré Nails
Dive into the ageless elegance of the classic black ombré style. This design offers a subtle gradient that transitions seamlessly from transparent to deep black, making it a favorite for every occasion.
Devilish Black And Red Ombre Nails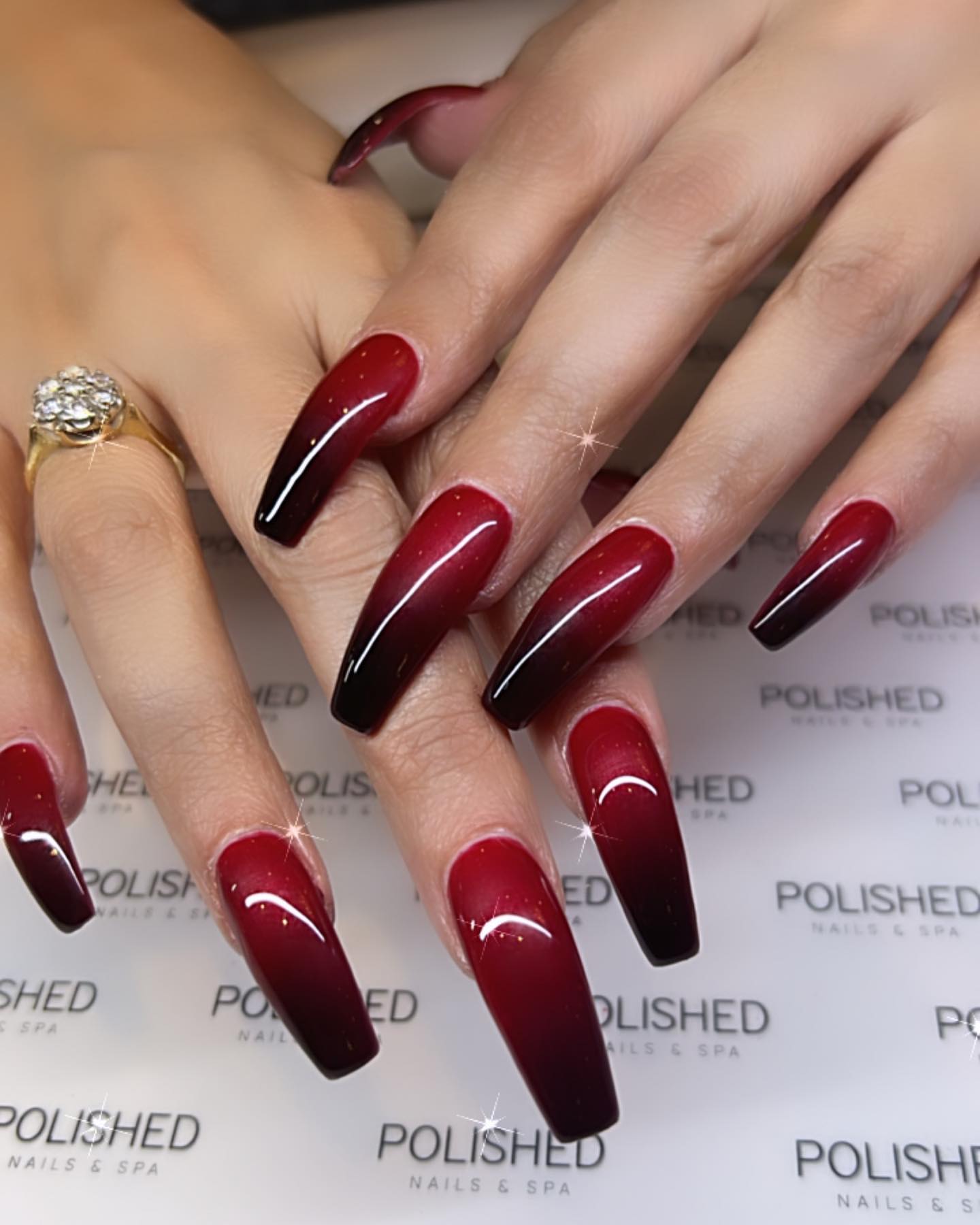 Sexy nails in a vibrant red seamlessly transitioning into a sultry ombré black exude confidence and flair. This captivating nail design combines passion and mystery, making it a perfect choice for those looking to make a bold statement.
Stilleto Black Ombre Nails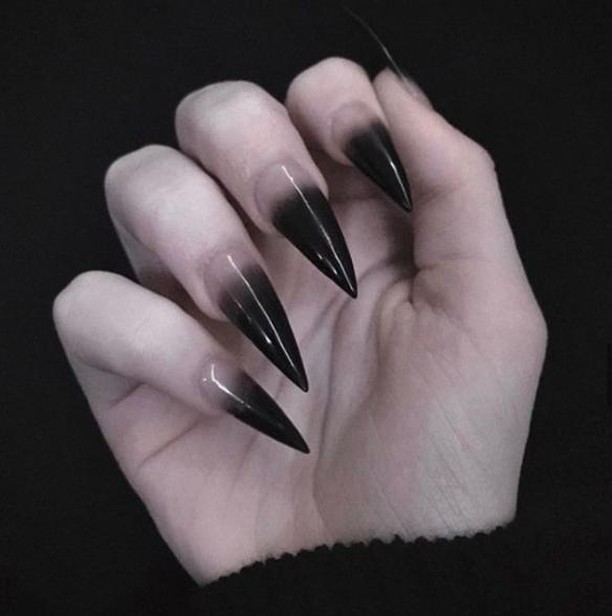 Stiletto black ombré nails offer a daring and edgy twist to the classic nail design, elongating the fingers with their sharp, pointed shape. The gradual transition from a lighter shade to deep black adds a touch of sophistication, making them a striking choice for fashion-forward individuals.
Galactic Glitter Black Ombre Nails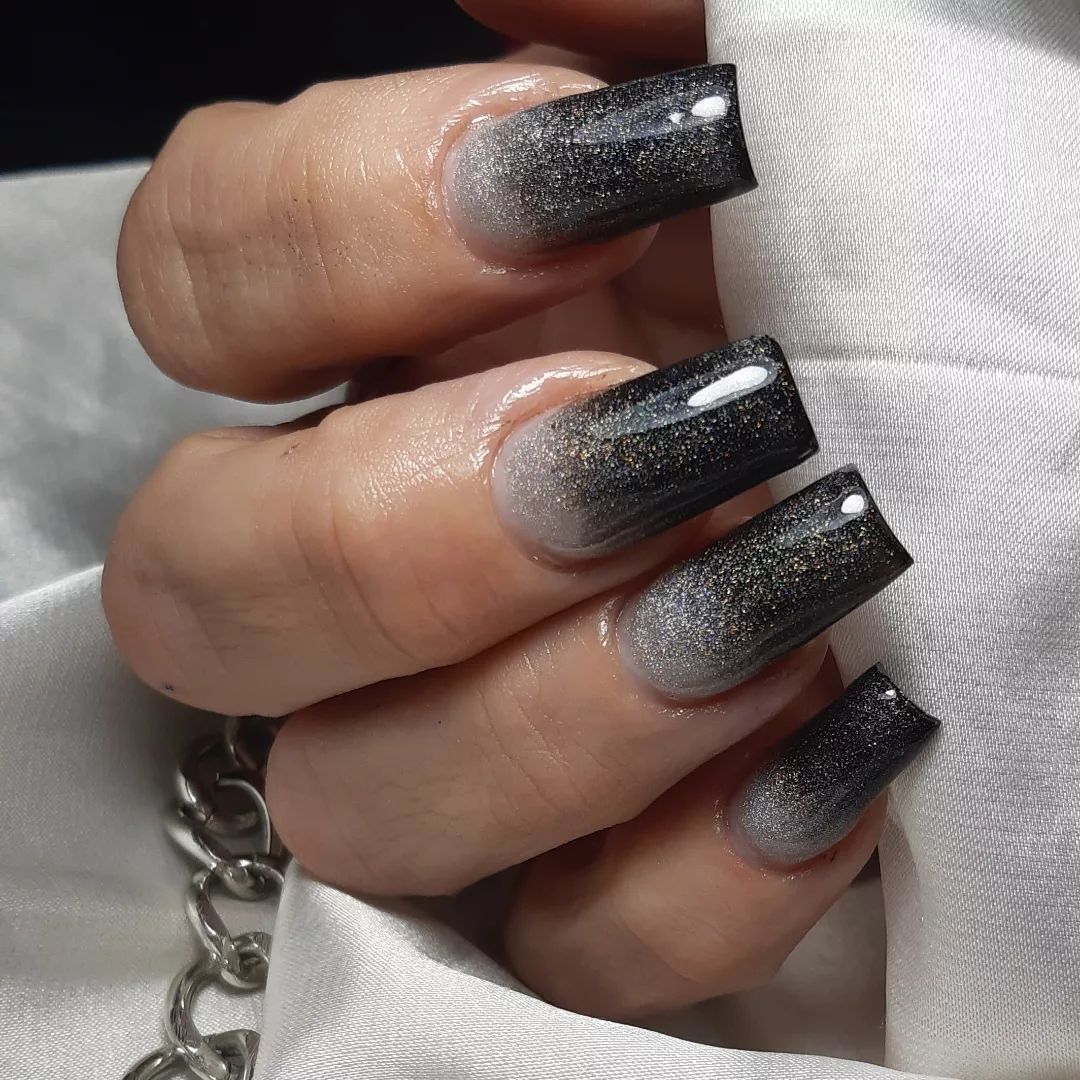 Galactic black ombré nails transport you to the cosmos with their deep, starry gradients. This celestial design captures the vastness and mystery of space, making every gesture feel like a journey through the stars.
Hot Pink And Black Ombre Nails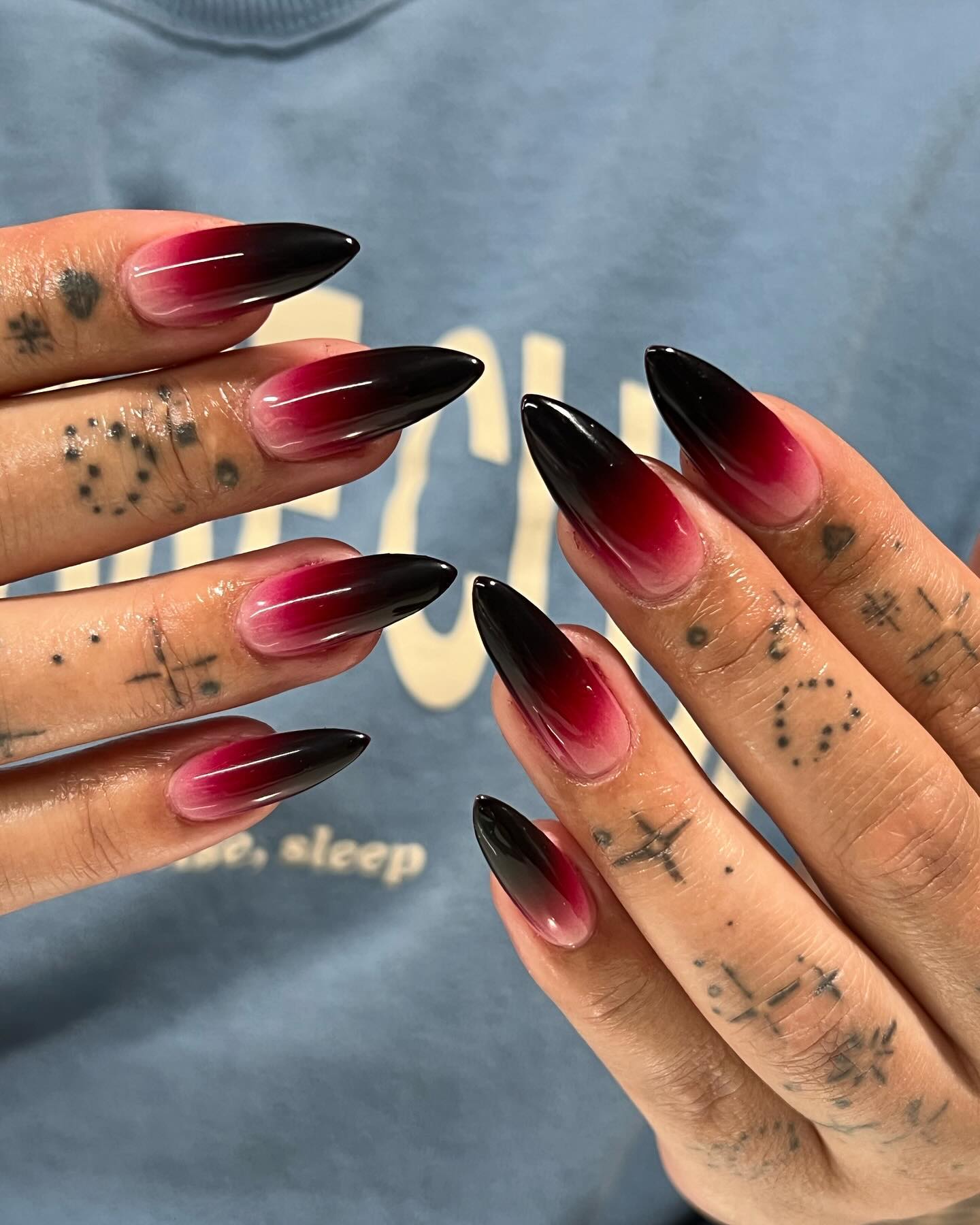 Hot pink and black ombré nails strike a balance between vibrant femininity and edgy boldness. The playful pink seamlessly blending into a deep black offers a dynamic contrast, perfect for those seeking a nail design that truly stands out.
Black And Silver Vine Ombre Nails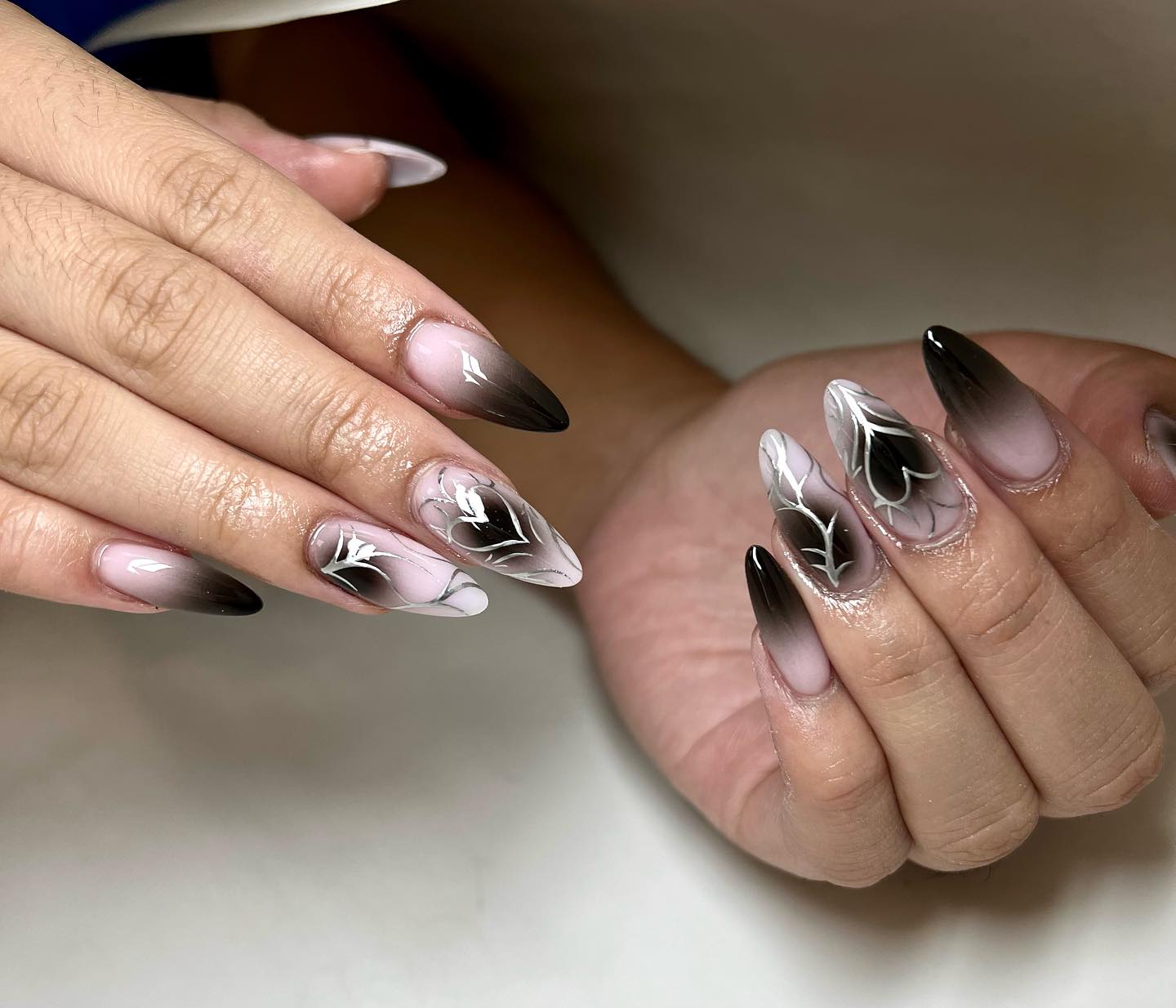 Black and silver vine ombré nails intertwine the elegance of shimmering silver with the depth of black, creating a design reminiscent of delicate vines under moonlight. This unique combination exudes sophistication and is perfect for those wanting to add a touch of enchantment to their look.
Matt Black Ombre Nails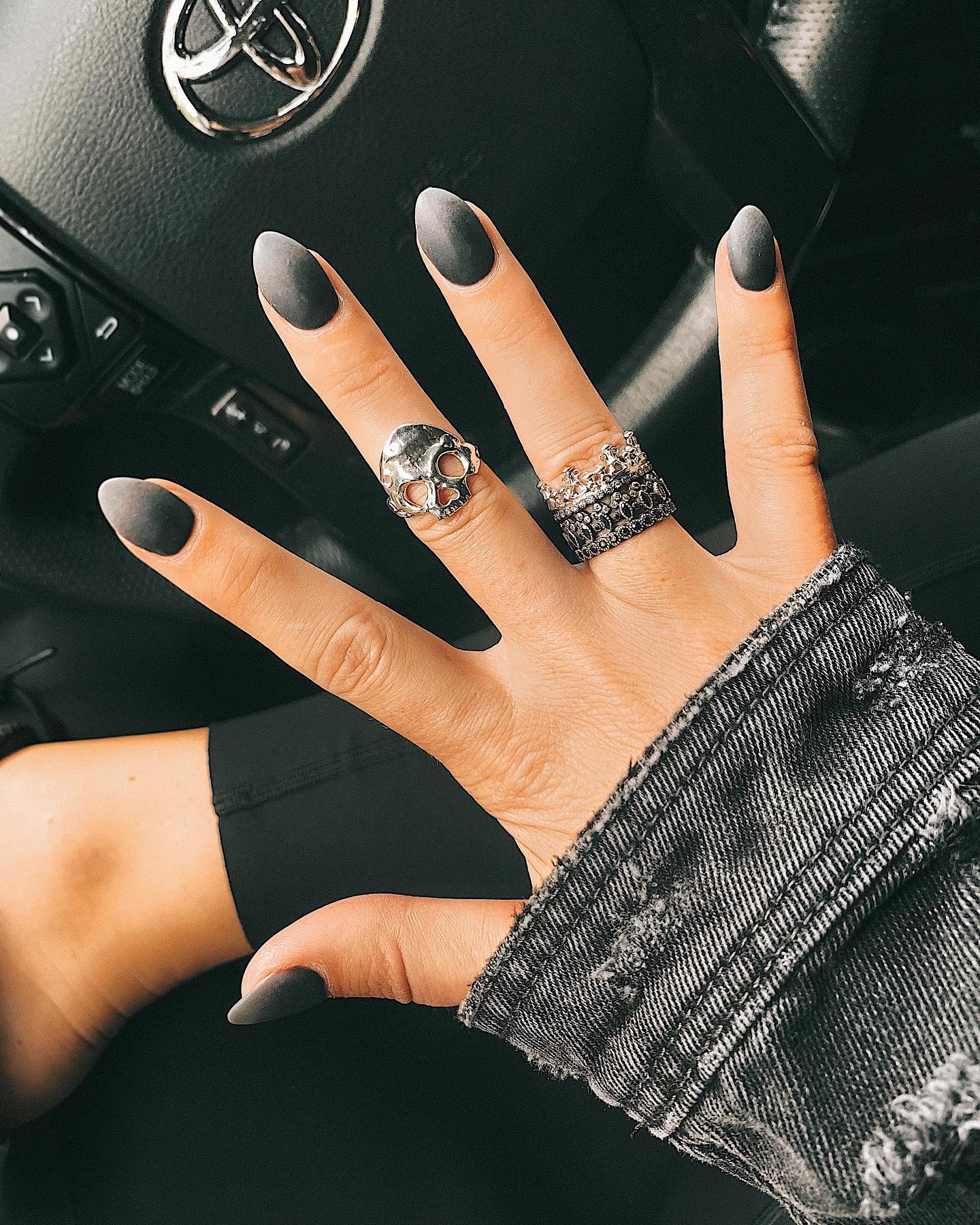 Matte black ombre nails offer a sophisticated and modern twist on the traditional glossy finish. The muted sheen provides a unique texture, blending seamlessly from intense black to a softer shade, ensuring a chic and understated elegance.
Red and Black Ombré Nail Designs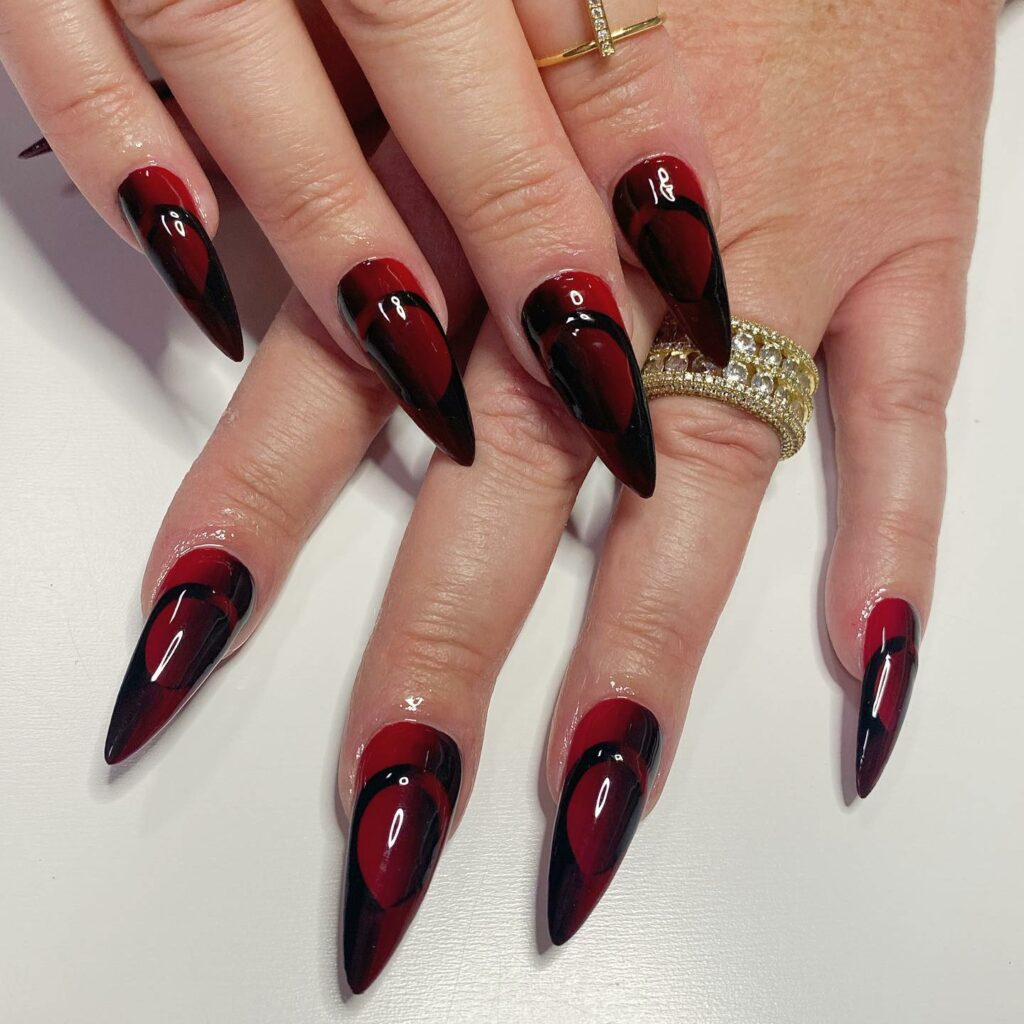 Ignite the passion with a blend of sultry red, merging into the deep abyss of black. This ombré design is a fiery representation of power and allure.
Dazzling Glitter Black Ombré Nails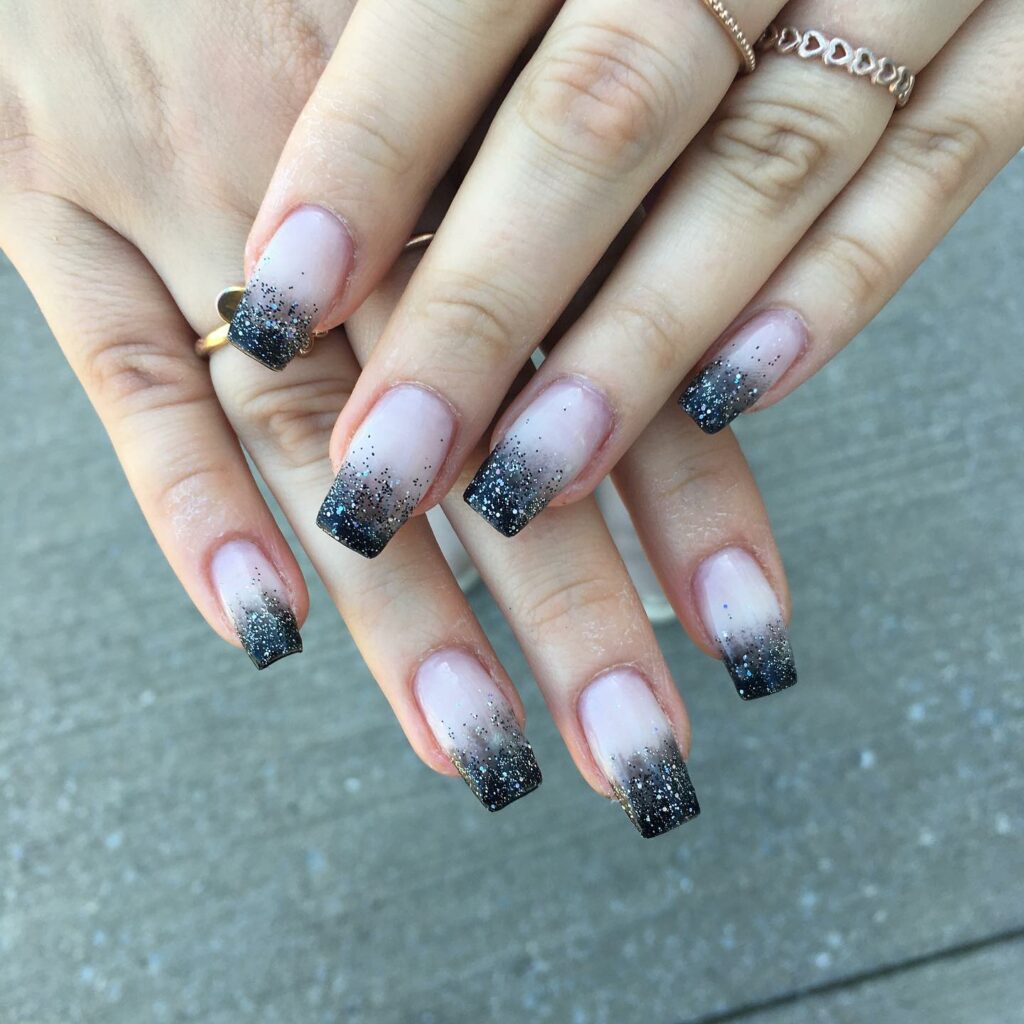 Add a touch of sparkle to the enigmatic black ombré. The glitter element infuses a dash of glam, making your nails the centerpiece of every ensemble.
Red and Black Ombré Coffin Nails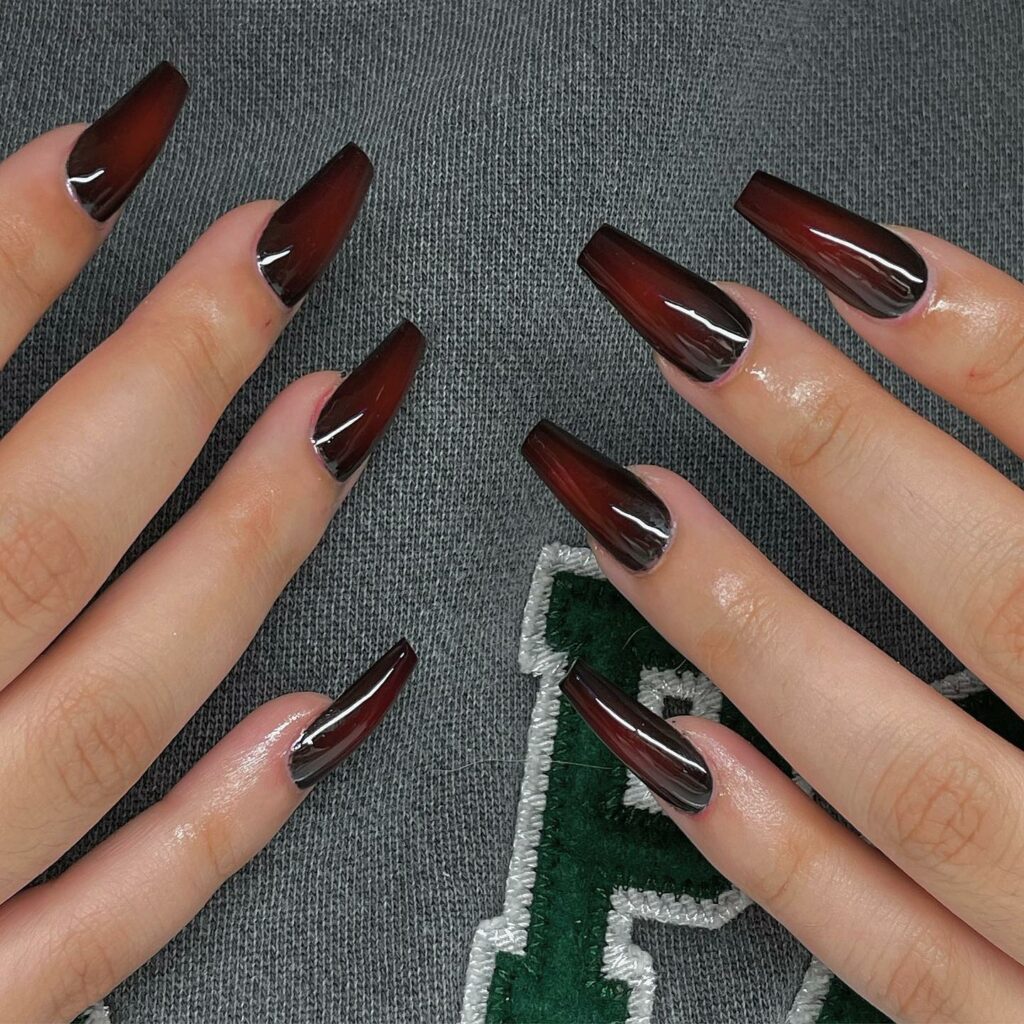 The coffin nail shape with a gradient of fiery red to deep black provides an edgy and enthralling look. A must-try for those who love dramatic nail art.
Black And Silver Ombré Nails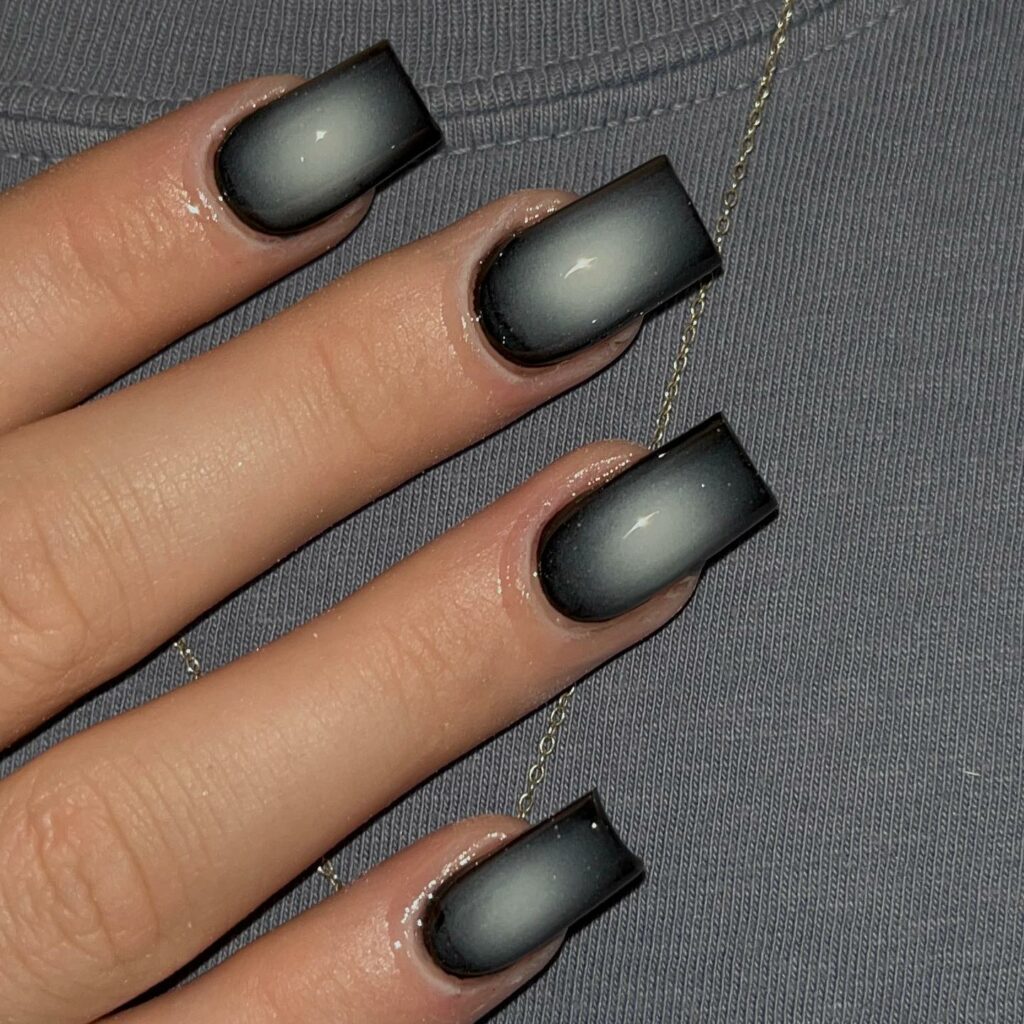 Transitioning from sheer to a muted black, the matte finish offers a chic and understated elegance. Perfect for minimalists who appreciate subtle beauty.
Skull and Black Ombré Nails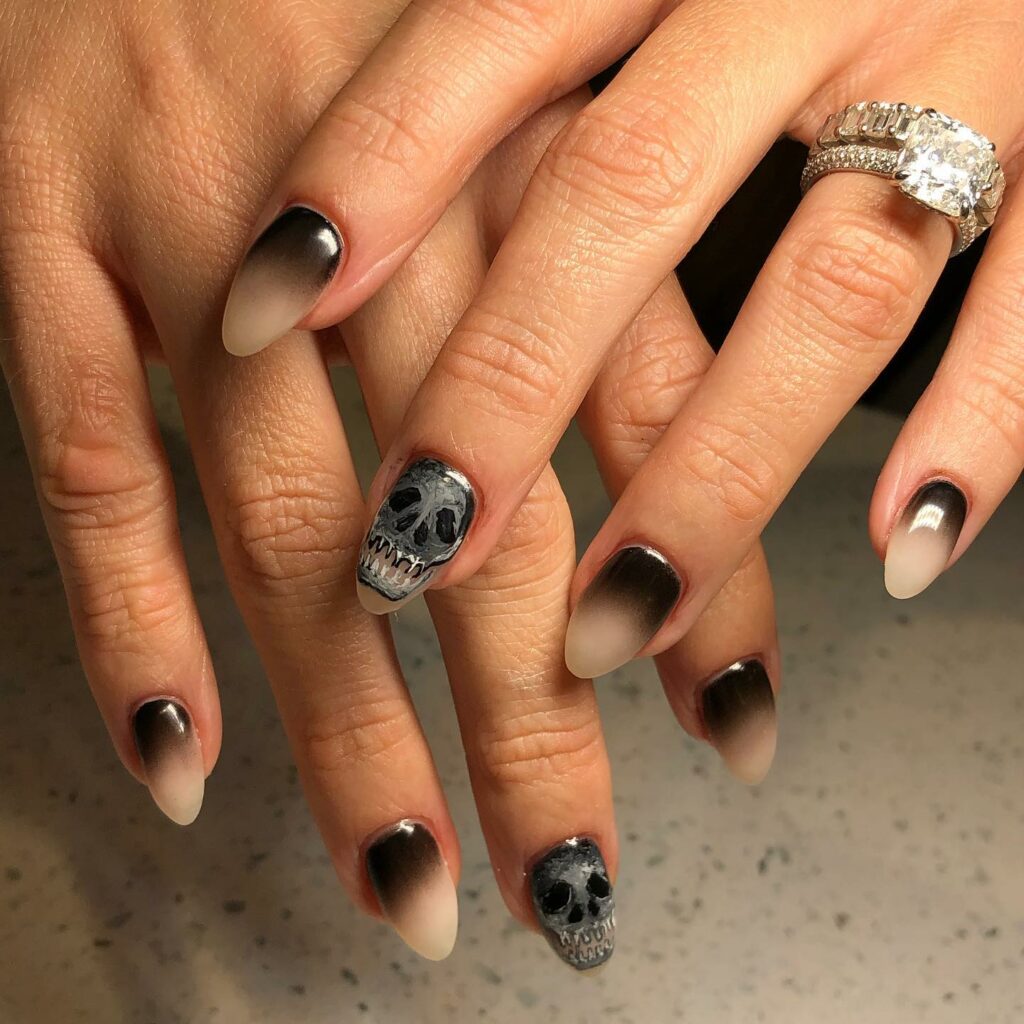 Delve into the gothic charm of skulls seamlessly blended into the black ombré design. It is a bold choice for those who embrace the edgier side of fashion.
Brown and Black Ombré Nails
Earthy brown tones meeting the profound depth of black create a warm and captivating ombré design. A harmonious blend that resonates with nature's palette.
Black and Gray Ombré Nails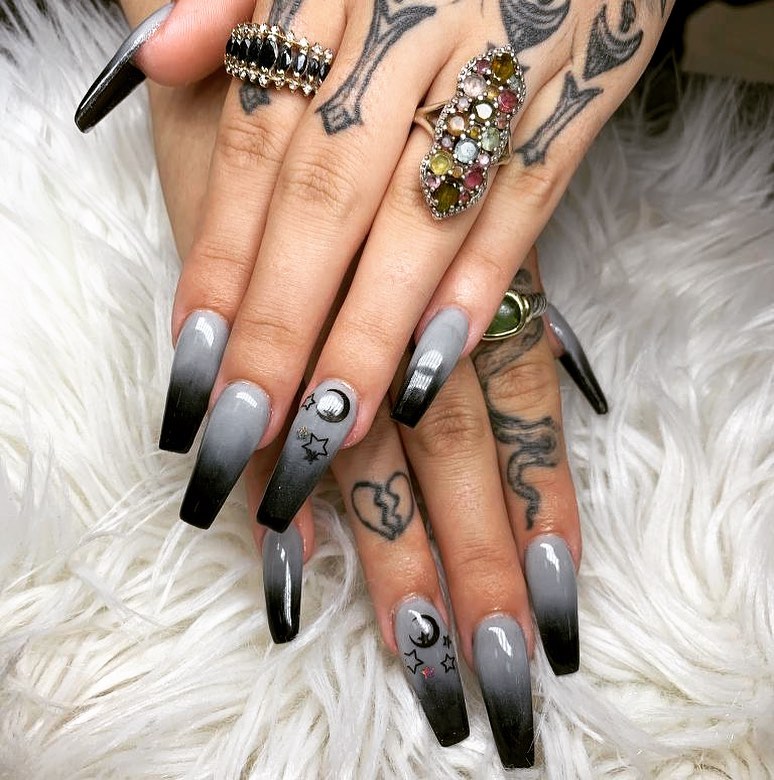 Experience the refined transition of deep black flowing into muted gray tones. A monochromatic masterpiece that embodies sophistication and modernity.
Green and Black Ombré Nails
Explore the intriguing blend of earthy greens fading into the depth of black. A reminder of dense forests transitioning into the night.
Blue and Black Ombré Nails
Dive into the enigmatic blend of midnight blue, merging with the abyss of black. This ombré design evokes the serenity of deep oceans meeting endless night skies.
Abstract Black Ombré Nails
Dipping into the realms of artistic expression, these nails perfectly embody the modern essence of abstract monochrome designs. The nuanced shades of black blend seamlessly with the translucent base, giving an illusion of depth and movement, making every gesture a piece of art in itself.
Nude Black Ombré Nails
Black ombré nails need not always fade to a neutral hue. Make a colorful statement by swapping the nude base with a more vibrant shade. This periwinkle is on trend and sure to spark joy.
Silver and Black Ombré Nails
Revel in the shimmering beauty of silver merging into the enigmatic black. A design that sparkles with every gesture, perfect for evening events.
Purple and Black Ombré Nails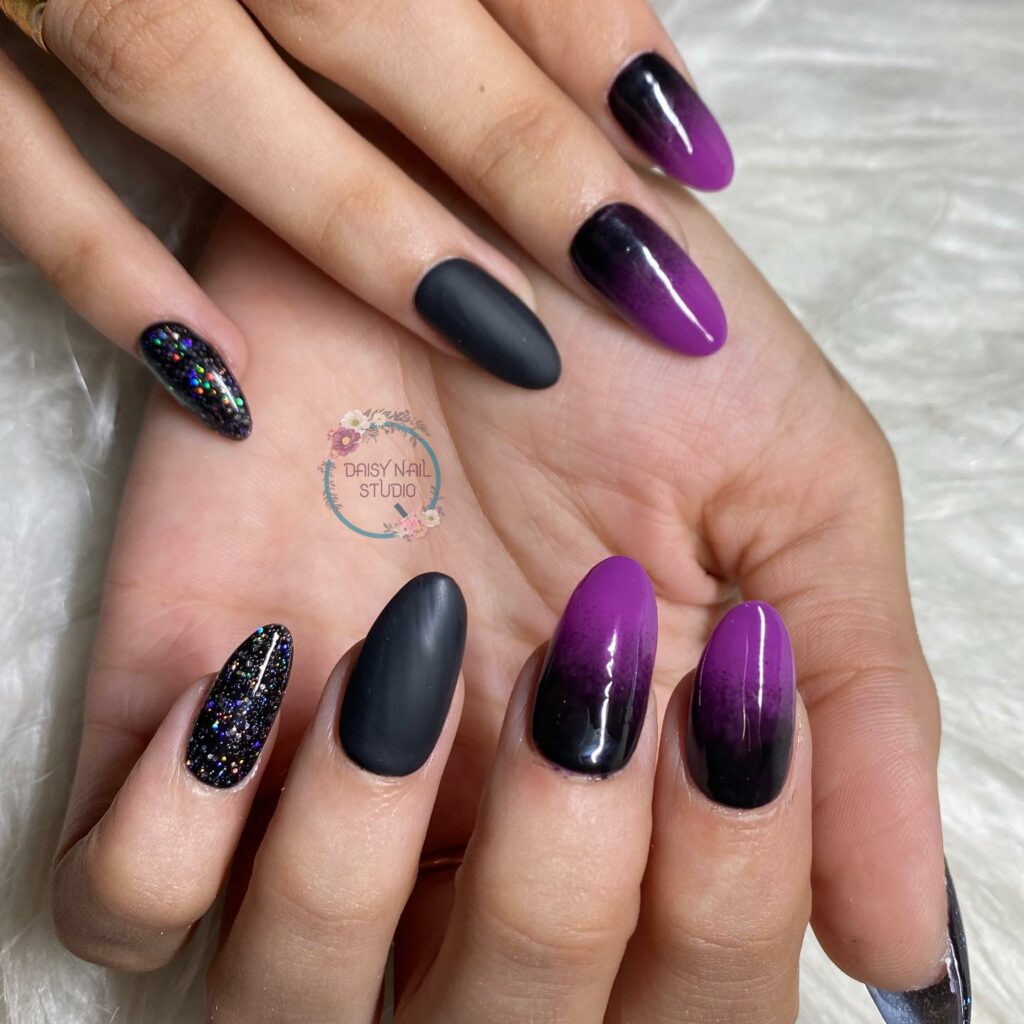 Drift into a magical blend of mystical purple and deep black. This ombré combination captures the allure of twilight skies.
Hot Pink and Black Ombré Nails
Unleash the vivacity of hot pink as it daringly melds with the depth of black. A bold gradient that resonates with those who love to stand out.
Silver and Black Ombré Nails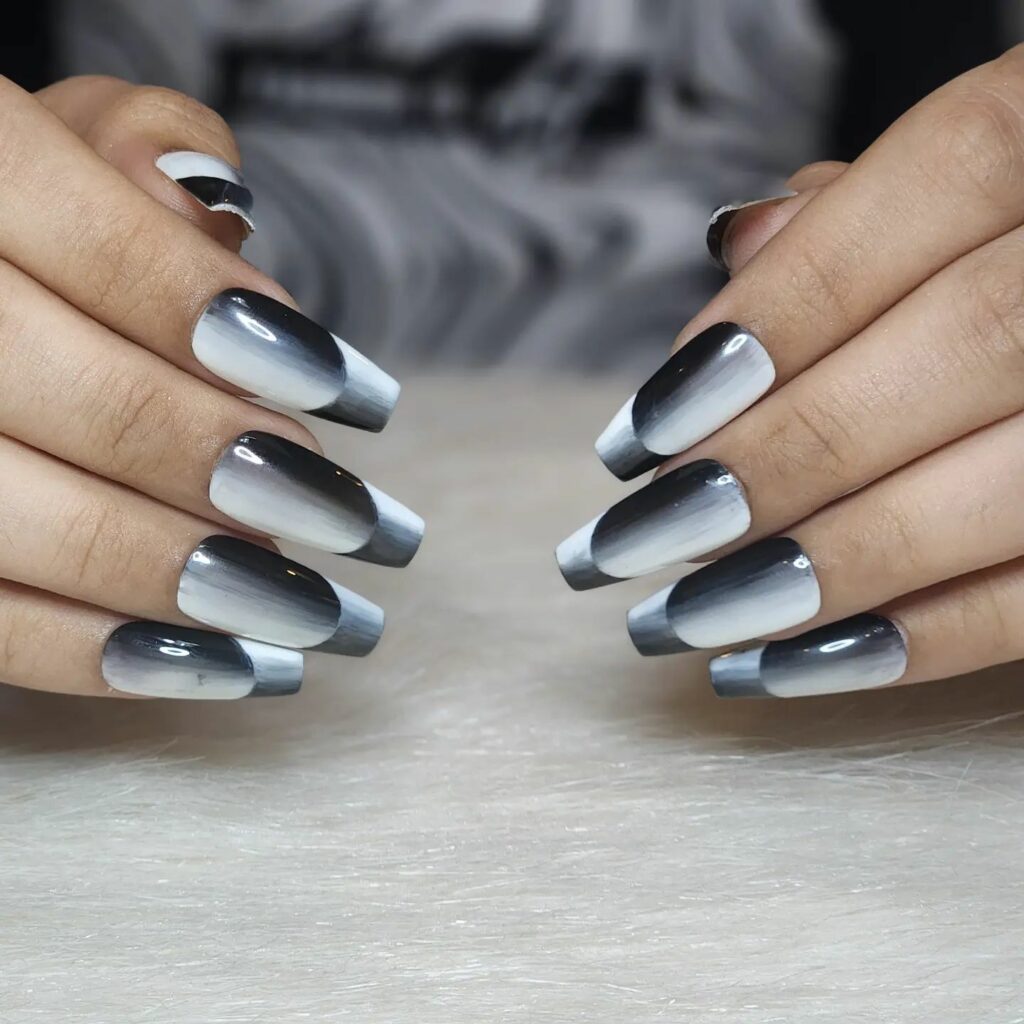 Immerse in silver's reflective splendor juxtaposed against the black ombré's depth. A second take on this combination to highlight its versatile elegance.
Green and Black Ombré Nails
Delve into a mesmerizing blend where rich greens meet the enigma of black. It reflects nature's expanse, from lush meadows to midnight skies.
Lavender and Black Ombré Nails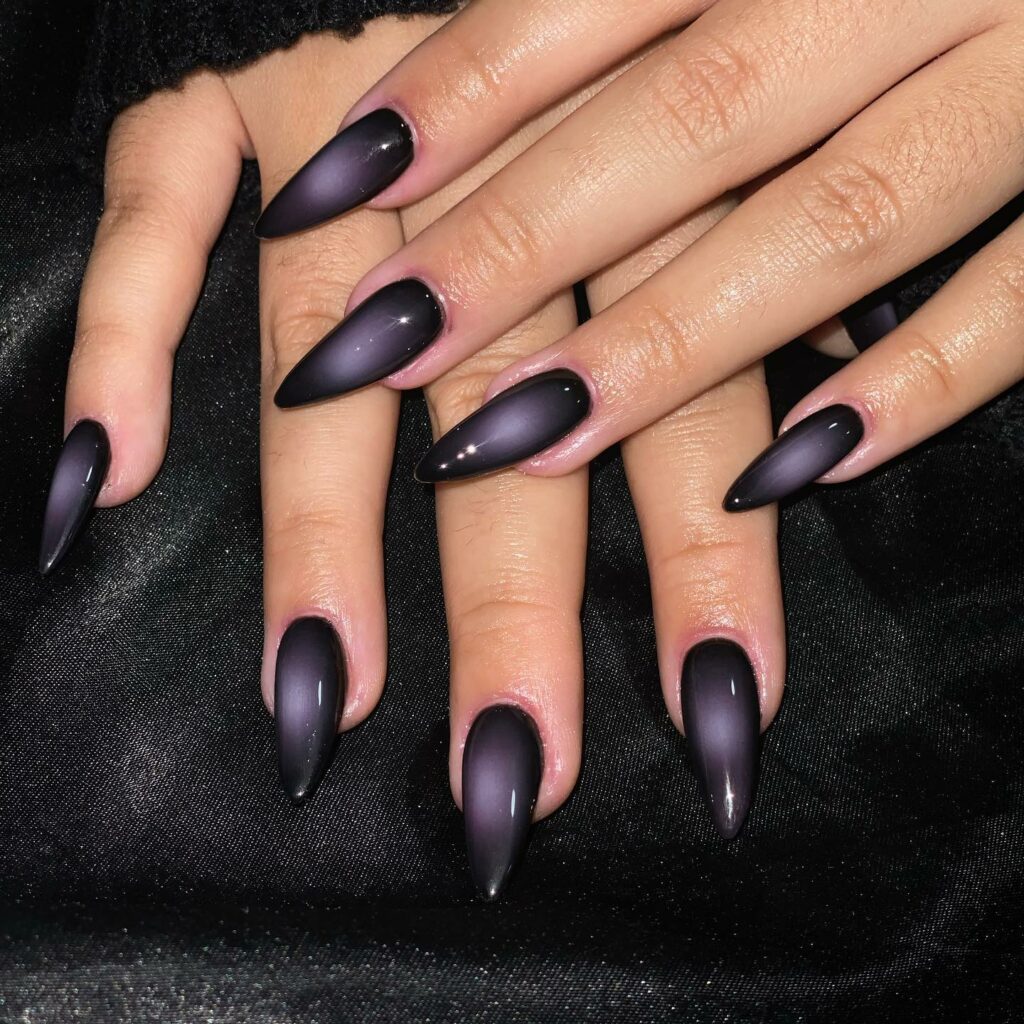 Experience the gentle touch of lavender as it fades into the profound allure of black. This ombré combination evokes the serenity of a twilight dreamscape.
Fiery Fade Red and Black Ombré Nails
Ignite the passion with a gradient that starts with a vibrant red and dissolves into the mystery of black. A design that sizzles with intensity.
Blue & Black Ombre Nails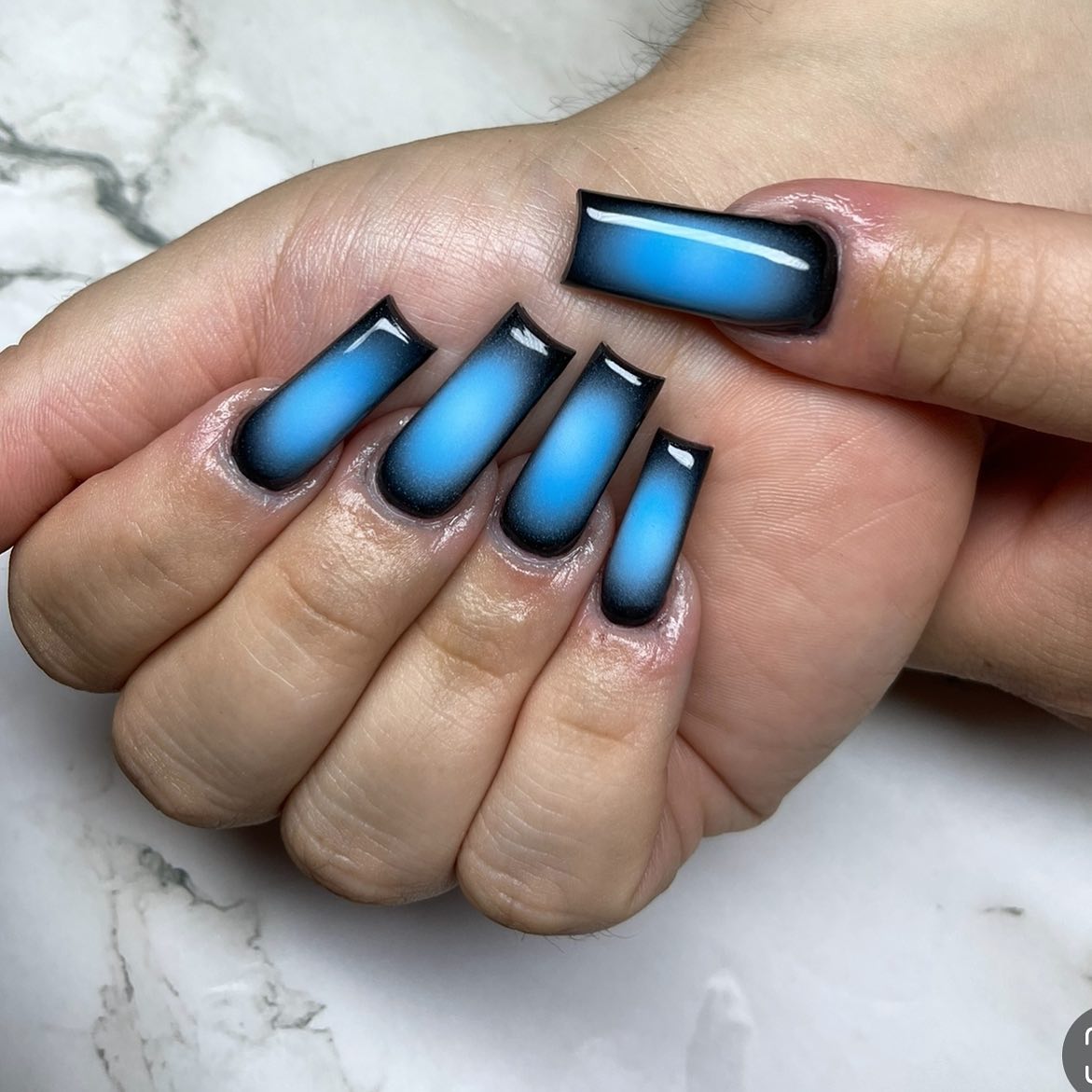 The nails showcase a mesmerizing gradient transitioning from a deep black at the base to a vibrant sky blue at the tips. The sleek and glossy finish complements the ombré design, making it a striking choice for those seeking a bold yet elegant look.
Vampy Red and Black Ombré Nails
Embrace the allure of deep, vampy red seamlessly blending into a dark black finish. Perfect for those who cherish a touch of gothic glam.
Floral Black Ombré Nails
Witness delicate floral patterns dance on the gradient of black ombré. A harmonious blend of nature's beauty with nocturnal elegance.
Glistening Artistry: Glitter Black Ombré Acrylic Nails
Dive into the resilience of acrylics adorned with the shimmering beauty of glittered black ombré. It's where durability meets sparkling style.
White and Black Ombré Acrylic Nails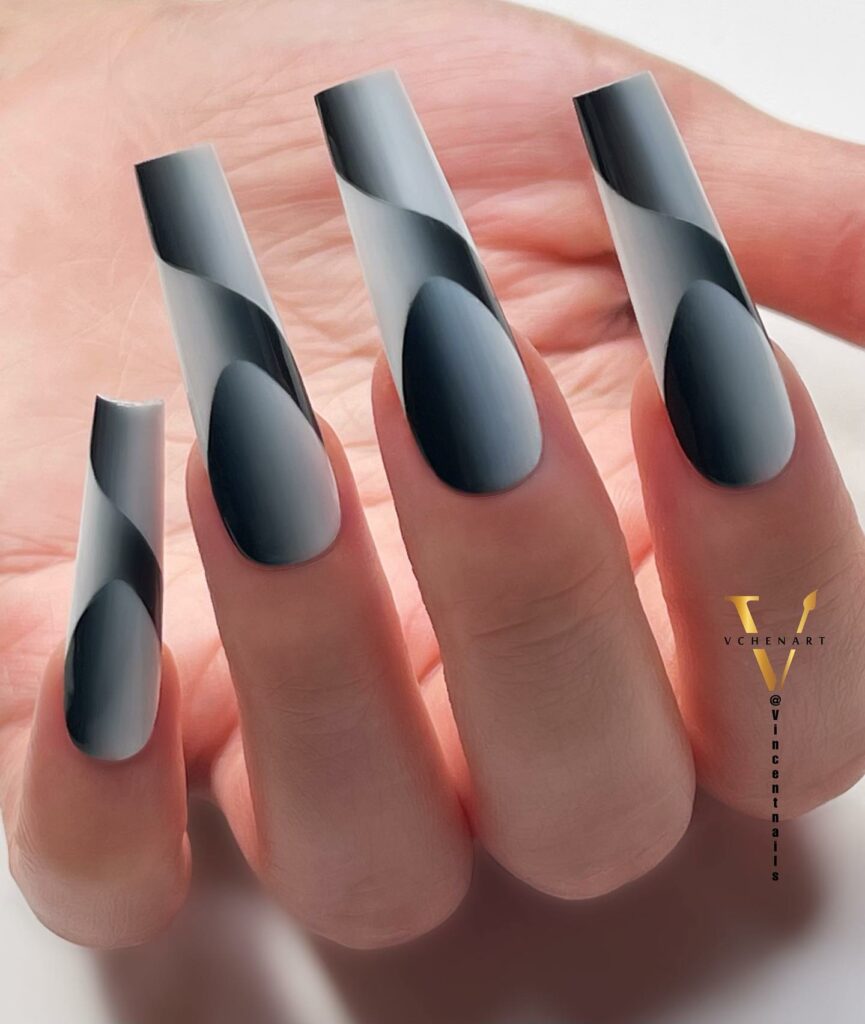 Revel in the stark contrast of pristine white transitioning into the enigmatic black. It is a monochromatic masterpiece suitable for all occasions.
Sleek and Modern Square Black Ombré Nails
Square-shaped tips and smooth black ombré transition bring a contemporary touch to traditional designs. Perfect for those who cherish geometric precision in their look.
6 Techniques That I Recommend To Create the Black Ombré Nails
Sponge Technique: A piece of makeup sponge is the primary tool here. Apply black polish to one end of the sponge and a lighter shade (or clear nail polish for a more sheer effect) to the other. Dab the sponge onto the nail, moving it slightly up and down to create a blended effect.
Brush Blending Technique: Start by applying the lighter shade as the base. While it's still wet, add a bit of black polish to the tip of the nail. Using a clean brush, gently blend the black into the lighter shade, creating a gradient effect.
Airbrushing: Professionals sometimes use an airbrush machine for a seamless ombré effect. Begin with a base color. Once dry, use the airbrush to apply the black shade, adjusting the gradient as needed.
Dry Brush Technique: After applying the base color and letting it dry, wipe off most of the polish from the black brush. Lightly drag the brush with minimal polish from the tip of the nail upwards. This gives a faded, gradient effect.
Using Ombré Nail Polish: Some brands offer nail polish specifically designed for ombré effects. They usually come in duo packs with lighter and darker shades. Apply the lighter shade first, followed by the darker shade while the base is still slightly wet, and blend.
Taping: This technique requires using pieces of tape to section off parts of the nail. Once the base color is applied and dried, tape off sections and apply the black polish. When the tape is removed, it leaves behind a gradient effect.
Regardless of the chosen technique, finishing with a clear top coat is crucial. This seals in the design, smoothens any uneven textures, and adds a shine (or matte finish, depending on the top coat). Remember to practice to refine the technique and achieve the desired loo
11 Tips That I Recommend For Getting The Perfect Black Ombré Nails at Home
Preparation is Key: Start with clean, oil-free nails. Use a good quality nail polish remover to remove any old polish. Push back cuticles gently and shape your nails according to your preference.
Base Coat First: Always begin with a clear base coat. This prevents staining, especially when using dark colors like black, and helps the polish adhere better.
Use Quality Polishes: The smoother and more pigmented your nail polishes are, the better the ombré effect.
Perfect the Sponge Technique: When using a sponge, make sure it's a fine-pored one, like a makeup sponge. Wetting the sponge slightly can help absorb less polish and give a smoother blend.
Layering: Don't try to achieve the perfect gradient in one go. Layering thin coats can often result in a more seamless ombré.
Clean Up: Ombré can get messy, especially around the edges. Keep a brush dipped in nail polish remover handy to clean up any mistakes or polish that gets onto the skin.
Protect Your Work: Once you've achieved your desired ombré effect, permanently seal it with a top coat. This will add shine, protect the design, and prolong the life of your manicure.
Patience: Allow ample drying time between coats to prevent smudging, especially when layering colors.
Experiment with Colors: While black ombré nails are striking, consider blending black with shades like gold, silver, or even neon colors for different effects.
Maintain Your Manicure: Use gloves when doing tasks that might chip your nails, like washing dishes or gardening. Reapply the top coat every 2-3 days to maintain the shine and protect the ombré effect.
Practice Makes Perfect: Like any skill, the more you practice, the better you'll get. If your first attempt isn't perfect, keep going. Keep trying, and you'll refine the technique over time.
Remember, the beauty of nail art is in its creativity. So, while these tips can guide you, don't hesitate to adapt and make the design your own. Enjoy the process and flaunt those stylish black ombré nails!
Conclusion
As we explore the captivating world of ombré nails, let's reflect on a few key takeaways. First, the beauty of ombré lies in its versatility – from fiery reds to deep blacks, there's an ombré shade to reflect every mood and occasion. However, always ensure you choose quality products and, if possible, seek professional guidance to achieve that perfect fade. While there's room for experimentation, remember that maintaining nail health is paramount. Overdoing treatments or frequently changing nail art might weaken the nail bed over time. Lastly, while trends come and go, the essence of fashion lies in self-expression. So, while it's great to be informed and inspired by the latest, always choose what resonates with your style. Here's to flaunting those nails with confidence and flair!
Feature image @nailsbykarenm_ via Instagram
Last reviewed and updated on October 27, 2023