Prepare to be swept off your feet by the latest sensation, turning Instagram into a kaleidoscope of animated wonders—one nail at a time. Yes, you've guessed it right; we're diving deep into the magical world of 64 Cartoon Nails, a trend captivating everyone from celebrities to your next-door neighbor. And here's the kicker: it's not as complicated as it looks. You might be a few brush strokes away from mastering this art form.
In this comprehensive blog post, you'll learn the origins of this whimsical trend, the essential tools you'll need, and step-by-step tutorials that demystify the process. Moreover, we'll be unraveling the artistic concepts behind 64 Cartoon Nails to help you understand not just the 'how' but also the 'why' behind this trend's meteoric rise. Get ready for a tour de force of colors, patterns, and nostalgia as we dissect the coolest trend taking over your feed. Trust me, by the end of this, you'll be itching to transform your nails into a captivating storyboard of mini cartoon scenes. Let's get started!
Vibrant Animated Cartoon Nails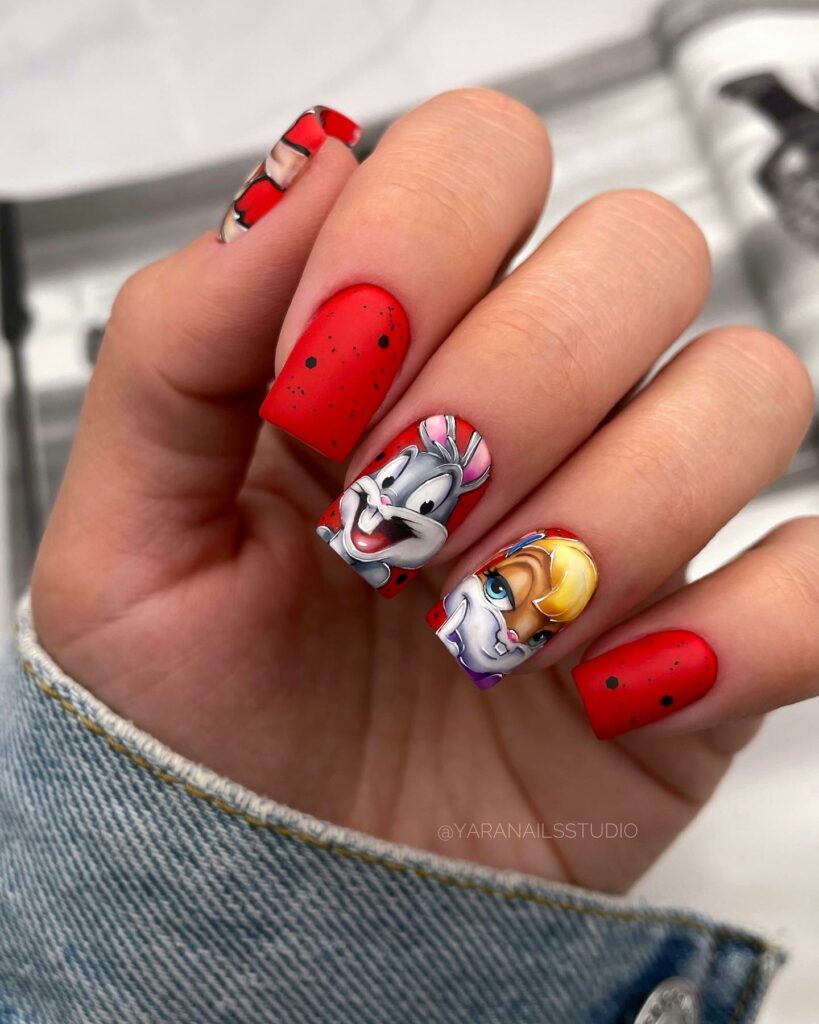 The captivating world of animated favorites has reached our fingertips, merging nostalgia with modern nail artistry. From playful expressions of beloved characters to meticulously crafted backgrounds, this trend is a testament to the boundless creativity in nail design.
Pastel Dreams Meets Animated Charm
Bridging the delicate world of pastel hues with the joy of iconic cartoon characters, this nail design evokes memories wrapped in modern elegance. The iridescent shimmer serves as a dreamy backdrop, enhancing the meticulous character art and elevating the overall aesthetic to whimsical sophistication.
Power Puff Girls Cartoon Nails
A tribute to the superheroine trio, these nails bring Blossom, Bubbles, and Buttercup to life, showcasing their distinctive colors and personas.
Halloween Cartoon Nails
Featuring iconic spooky cartoon characters, these nails provide a fun twist to traditional Halloween motifs, ensuring a spirited celebration.
Animated Icons Cartoon Nails
Stepping into a world where playful character art mingles with the sophistication of gem-like adornments, these nails are a testament to the limitless boundaries of creativity. The soft lavender base is the perfect canvas, allowing iconic figures and intricate patterns to shine brightly, narrating tales of style, nostalgia, and innovation.
SpongeBob Cartoon Nails
Dive deep into the world of Bikini Bottom with these nails, showcasing SpongeBob and his friends in all their underwater mischief and fun.
Lion King Cartoon Nails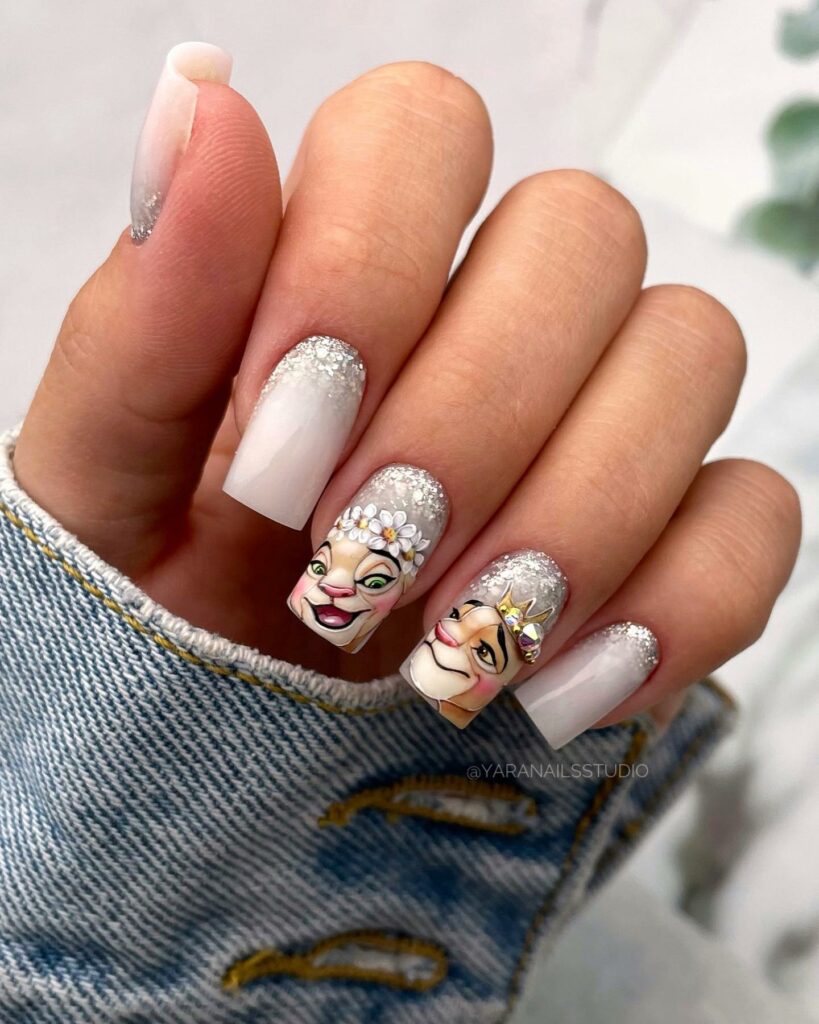 With a base of snowy white, these nails beautifully capture the juxtaposition of regal character portraits and ethereal glitter. The luminescent shimmer, paired with detailed faces adorned in crowns and tiaras, offers a glimpse into a magical realm where elegance meets fantasy. Each nail tells a unique story, blending artistic flair with a touch of sophisticated sparkle.
Sailor Moon Cartoon Nails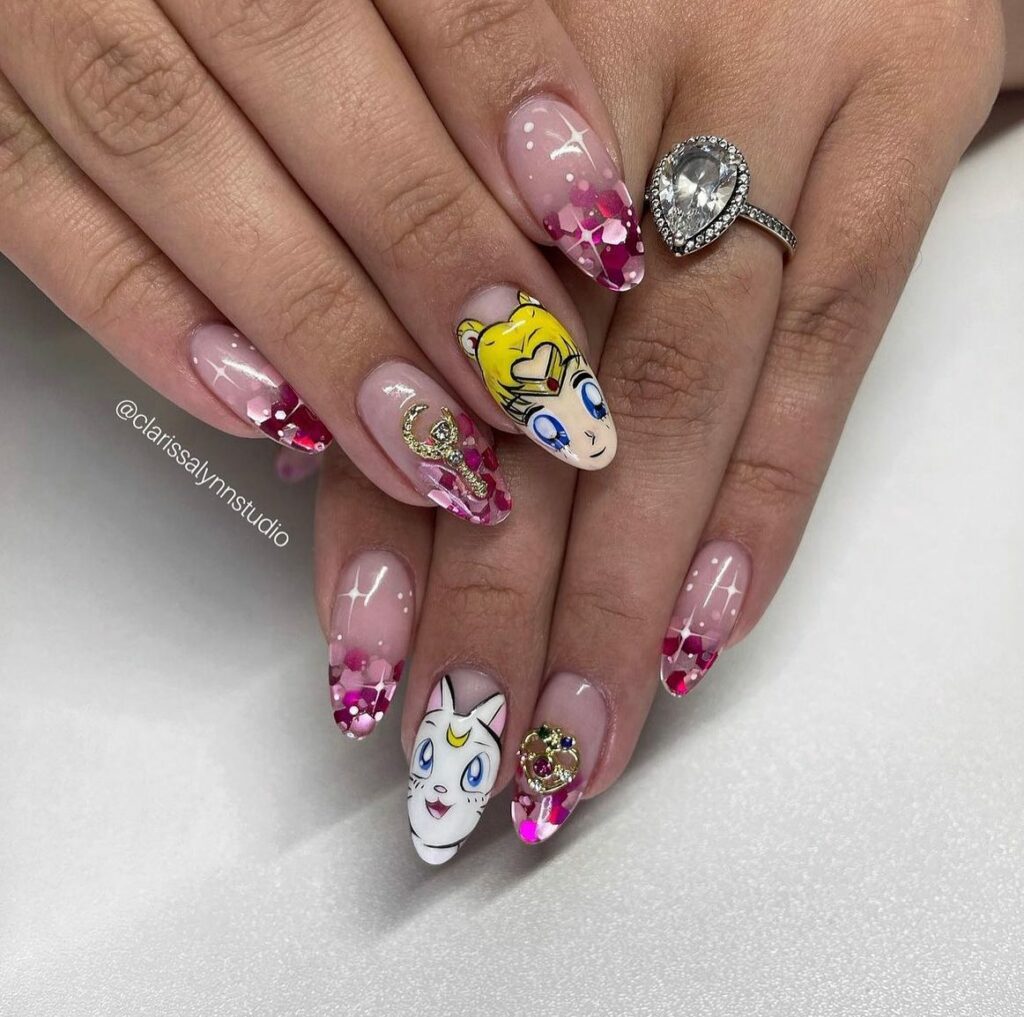 Channeling the magic of the moon and stars, these nails celebrate the iconic Sailor Moon and her celestial companions in radiant detail.
Snow White Cartoon Nails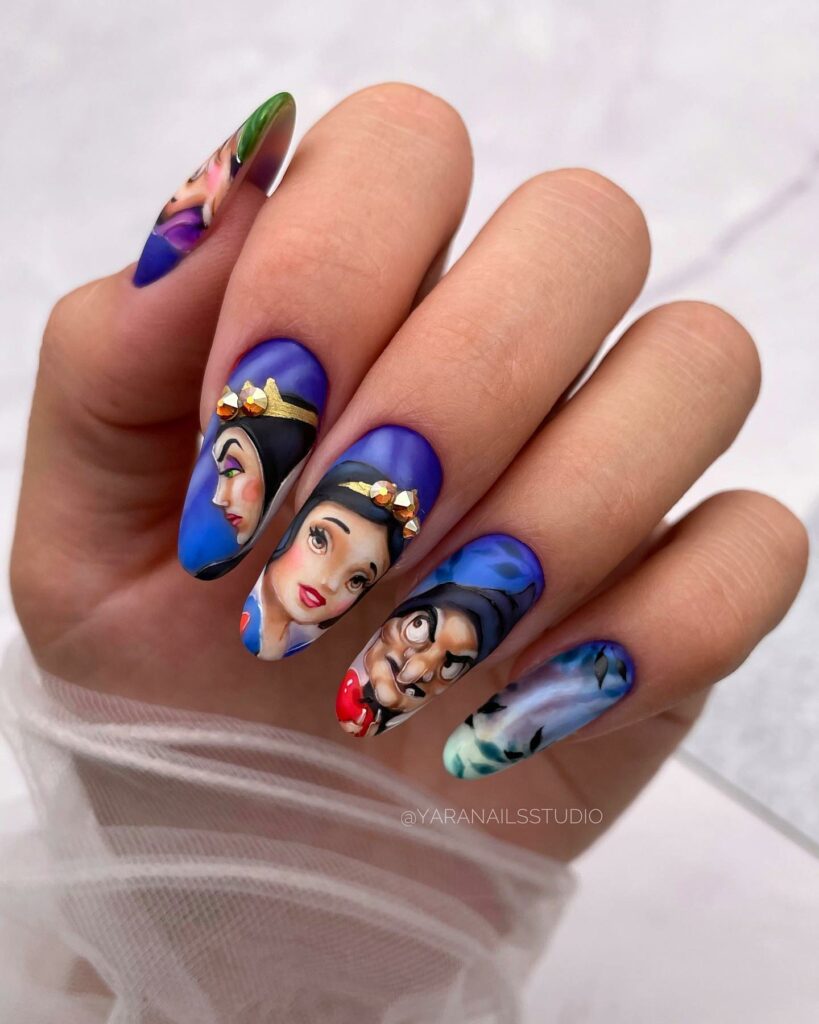 Delving into a classic fairy tale, these nails depict Snow White and her enchanting world, from the infamous apple to the beloved dwarfs.
Lilo and Stitch Cartoon Nails
Venture to the Hawaiian shores with Lilo and her alien buddy, Stitch, as they bring tropical vibes and intergalactic fun to these nail designs.
Mickey Mouse Cartoon Nails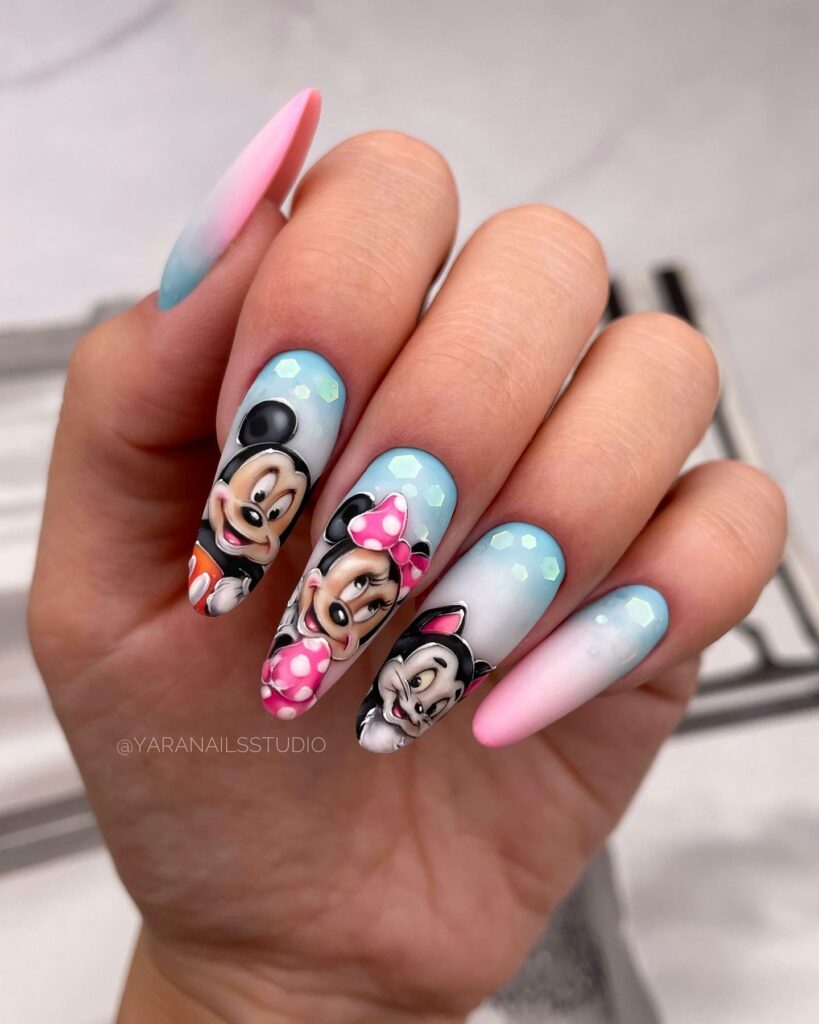 Honoring the legendary Mickey Mouse, these nails encapsulate his cheerful spirit and timeless appeal, making every hand gesture a nod to animation history.
Christmas Themed Cartoon Nails
Marrying festive cheer with classic cartoon characters, these nails are the perfect accessory for the holiday season, capturing the essence of Christmas joy.
Floral Mickey Mouse Cartoon Nails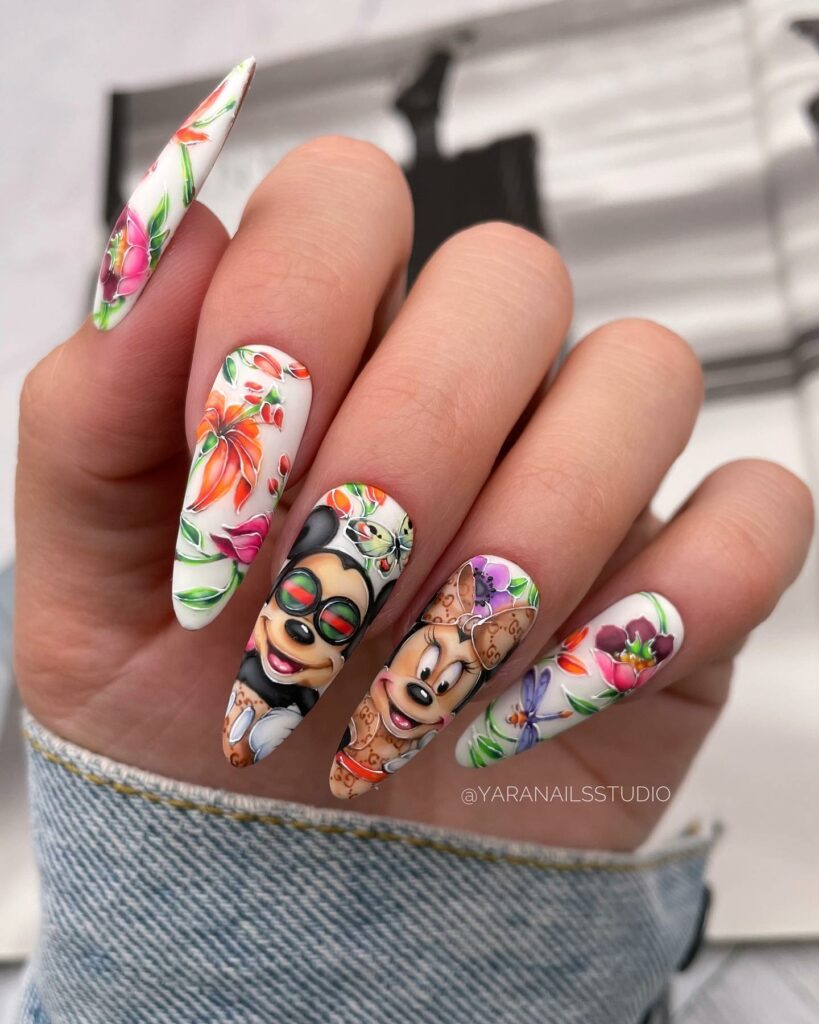 Blending delicate floral patterns with the iconic Mickey Mouse silhouette, these nails offer a harmonious mix of nature's beauty and animated charm.
Gold Accents with Matte Black Cartoon Nails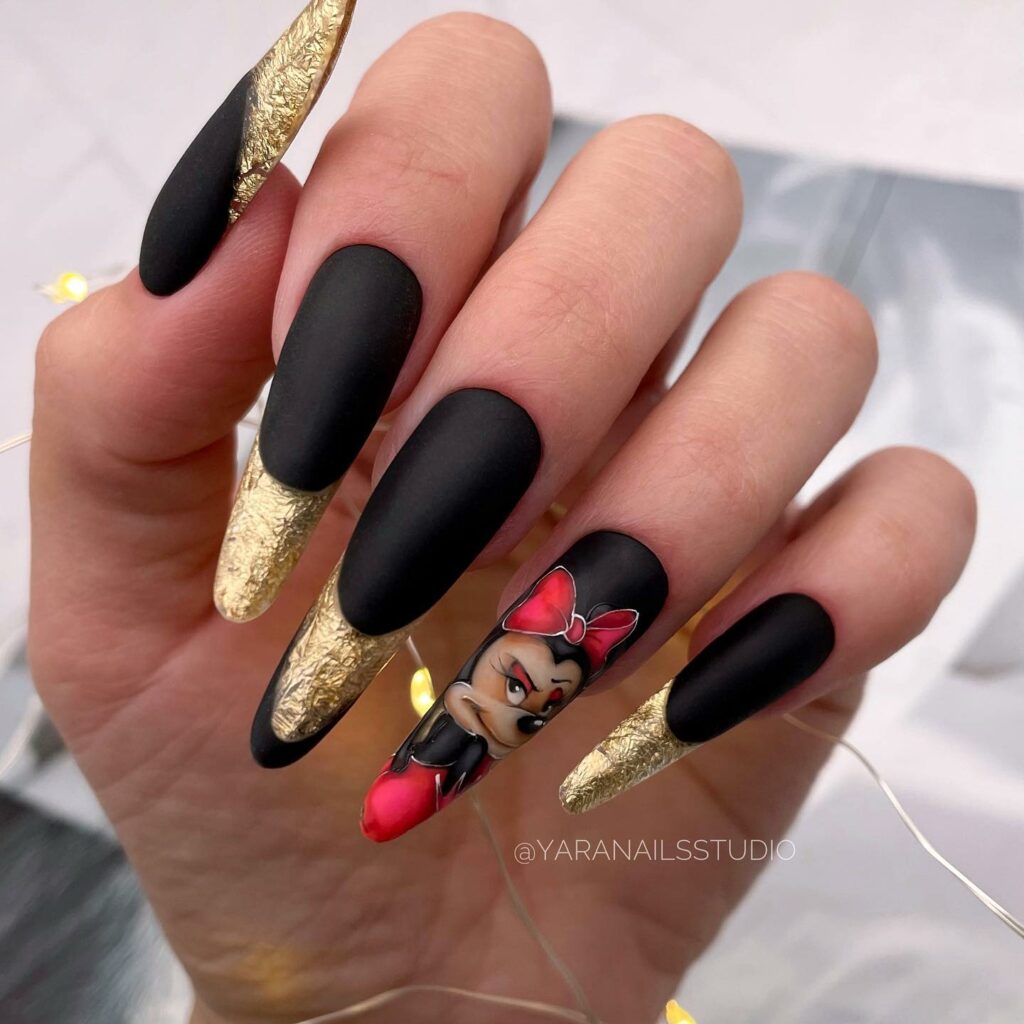 The image reveals a striking balance between the matte black finish and the rich gold foil accents on the nails, exuding luxury and boldness. Nestled among these contrasting shades is a playful depiction of a character with a vivacious expression, her bright red bow adding a touch of color and sass to the ensemble. The overall design is a testament to the harmonious blend of opulence, drama, and a dash of whimsy.
Whirlwind Adventures with Taz Cartoon Nails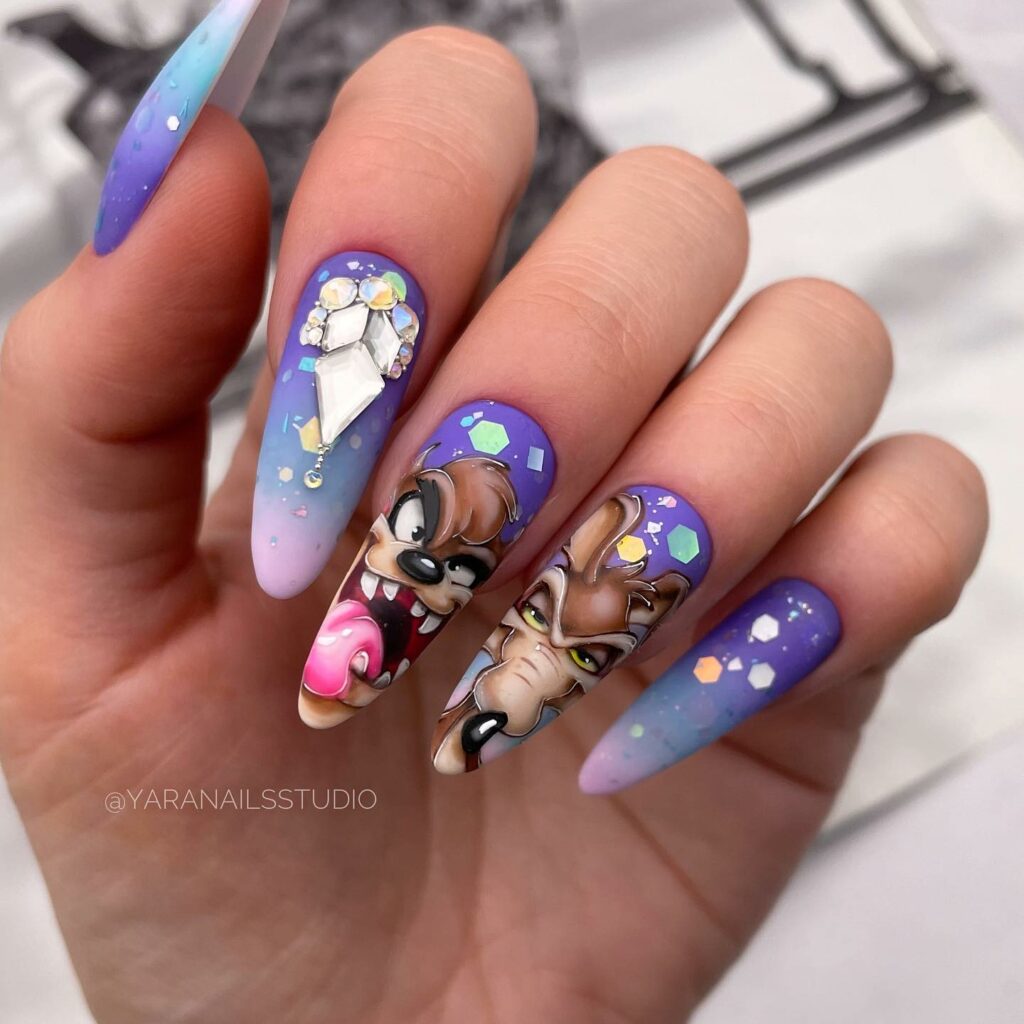 Channel the untamed energy of the Tasmanian devil with these dynamic Taz-inspired nails. The designs reflect Taz's wild nature, bringing a touch of animation chaos to your fingertips.
Sleek and Mysterious Pink Panther Cartoon Nails
Step into the world of the iconic Pink Panther with these elegantly designed cartoon nails. The minimalist pink silhouettes against a neutral background capture the character's stealthy charm.
Winnie the Pooh Cartoon Nails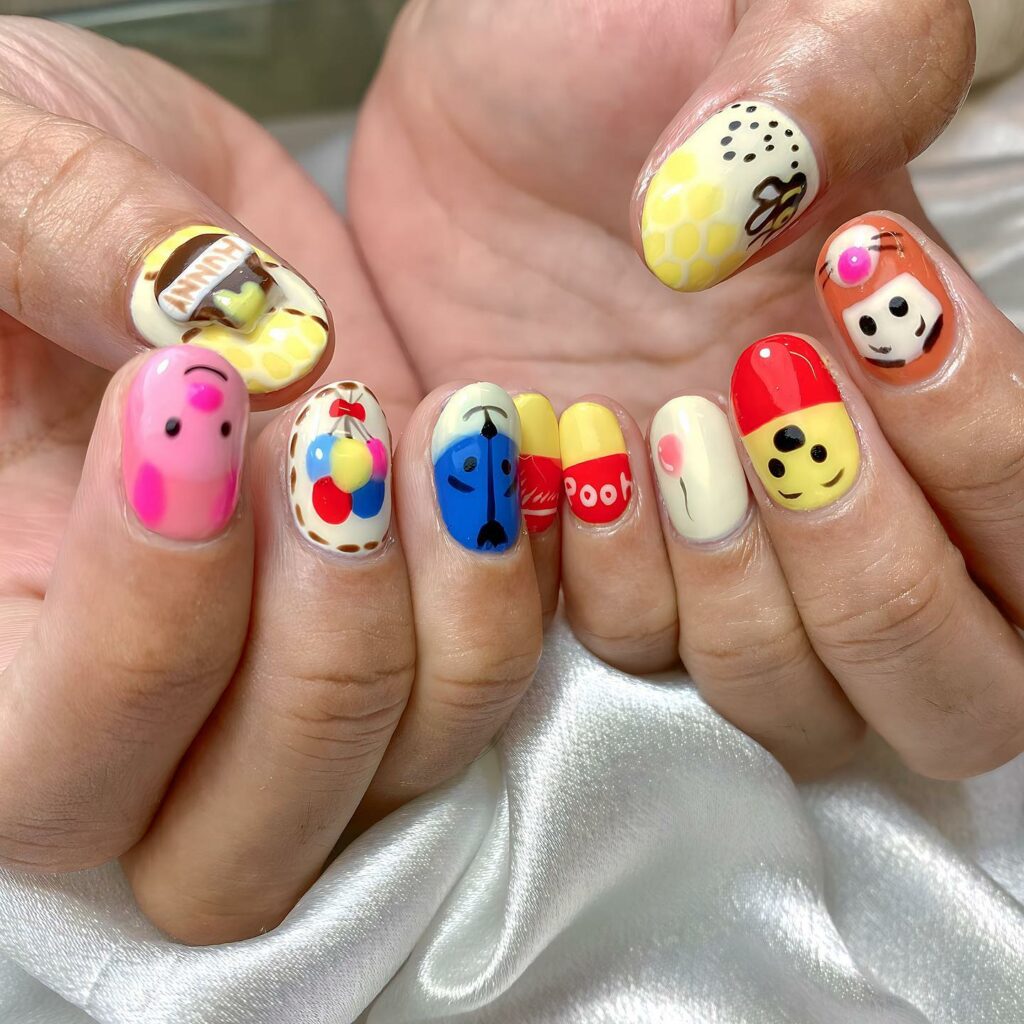 Relive the cherished tales of Winnie the Pooh and friends with these heartening nail designs. The artwork encapsulates Pooh's gentle nature, love for honey, and the camaraderie of the Hundred Acre Wood.
Vibrant Festivities with Rio Cartoon Nails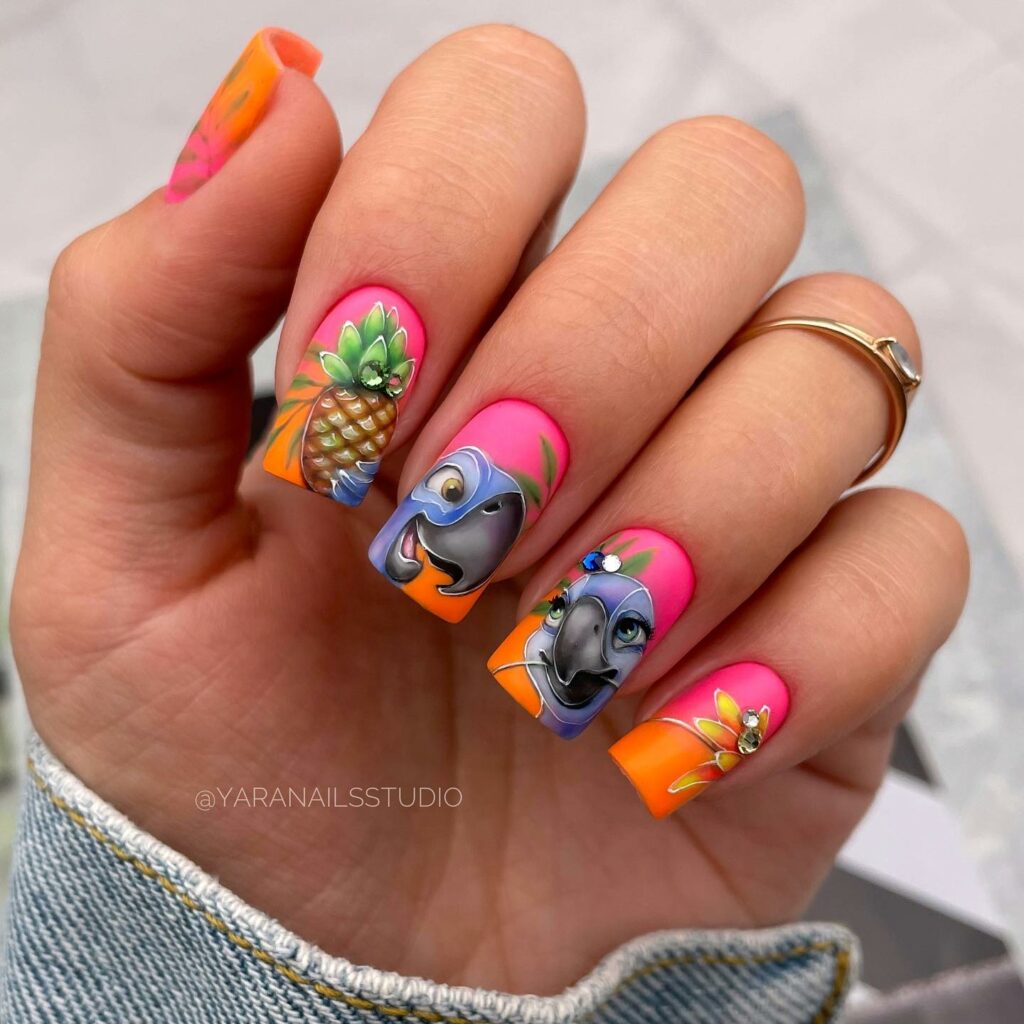 Embrace the spirited essence of the animated movie Rio with these lively nail designs. They reflect the film's vivacious colors, rhythms, and characters, taking you through Brazil's heart.
Enchanting Tales of Cinderella Cartoon Nails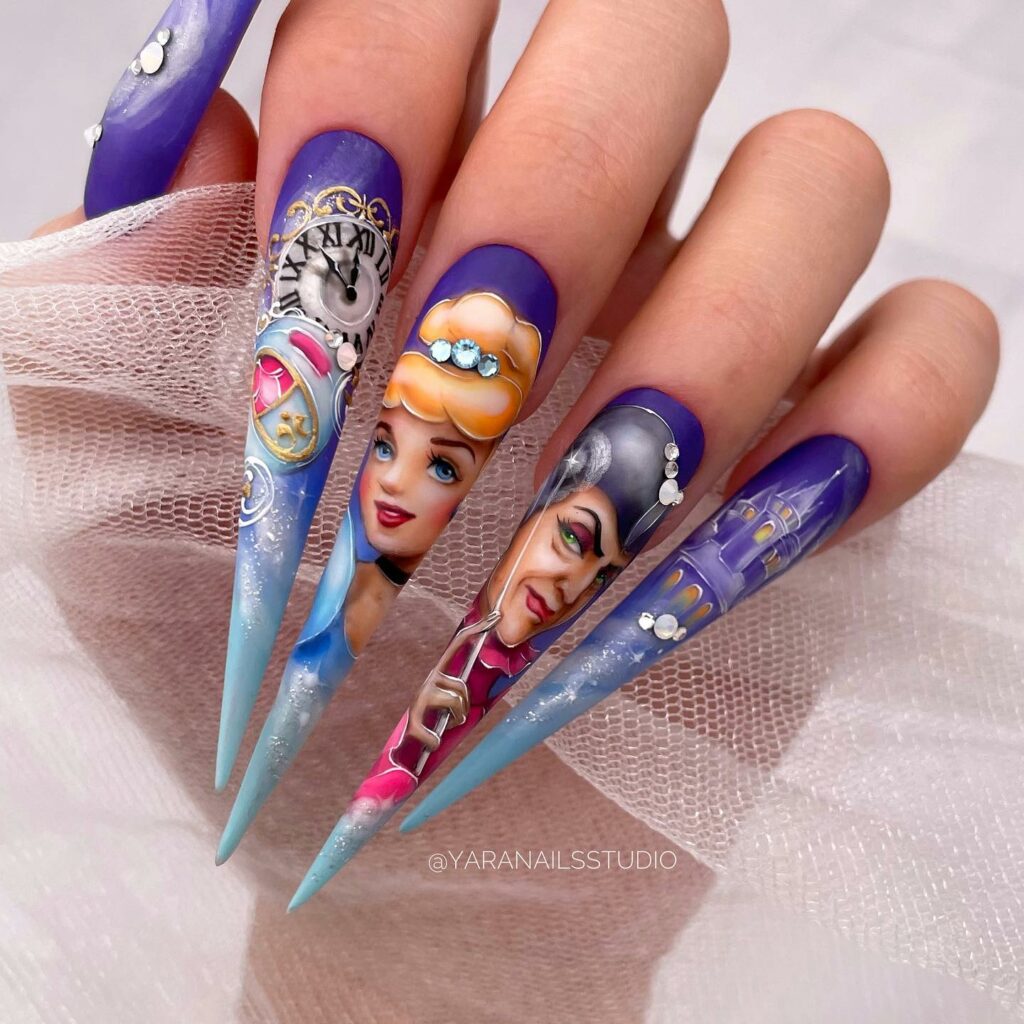 Get whisked away to a magical ball with these Cinderella-themed cartoon nails. The designs evoke the fairy tale's wonder, from the shimmering glass slipper to the magical pumpkin coach.
Mischievous Antics of Tom and Jerry Cartoon Nails
Relish the age-old rivalry of cat and mouse with these Tom and Jerry-inspired nail designs. The playful artwork brings out the duo's hilarious escapades and timeless charm.
Vivid Pink and Blue Tones in Cartoon Nail Art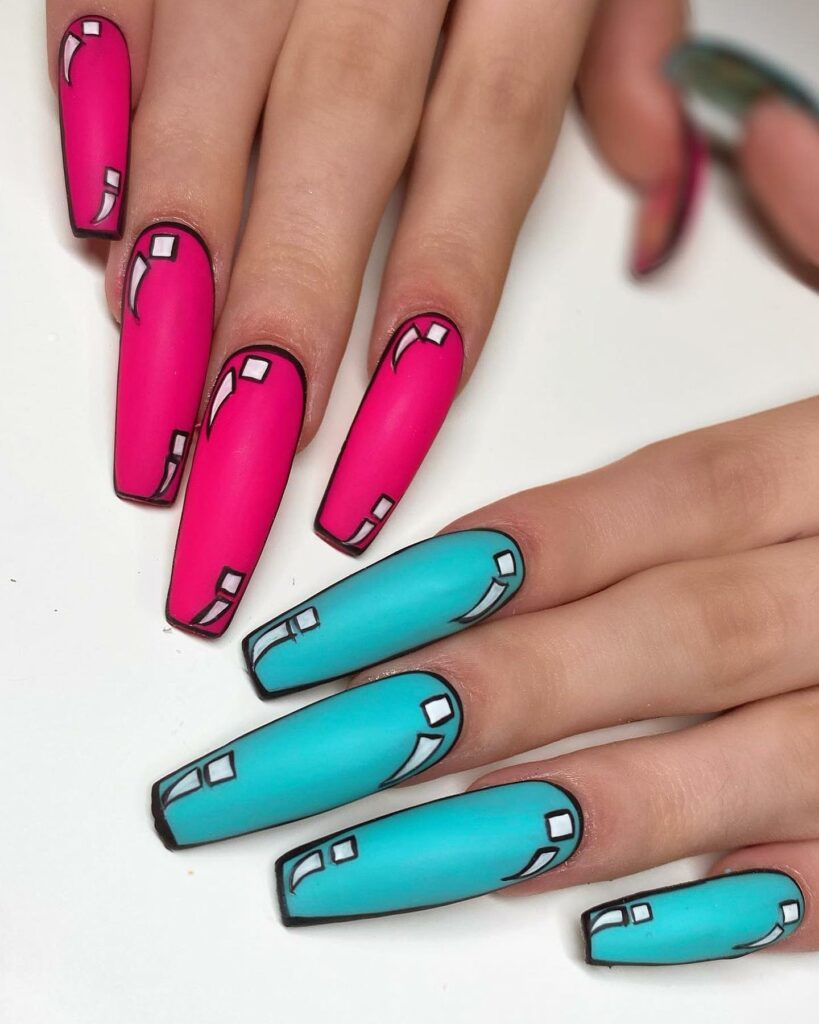 Discover a world of animated vibrancy with these cartoon nails, beautifully painted in pink and blue shades. The bright tones set a perfect backdrop for cartoon characters or stories, making them pop.
Elegant Almond Shaped Cartoon Nail Creations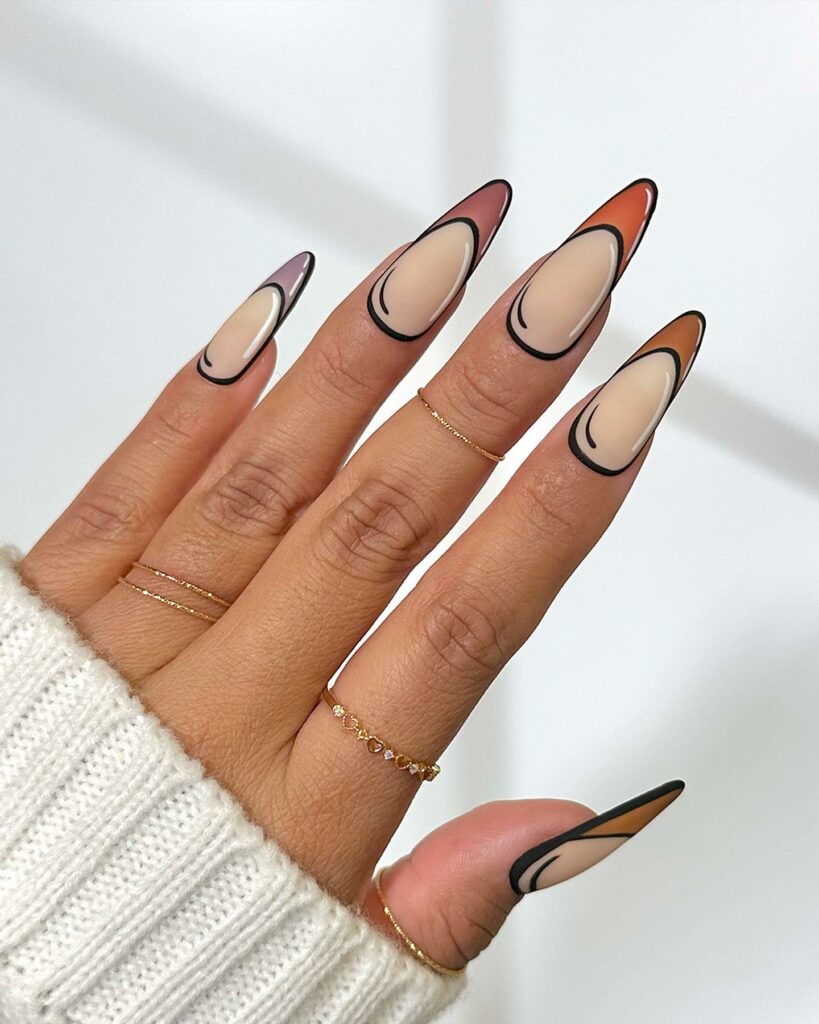 Celebrate the grace of almond-shaped nails with these cartoon designs that blend form with fun. Their unique shape provides an ideal canvas for showcasing animated tales or characters.
Dynamic Electric Shades in Cartoon Nails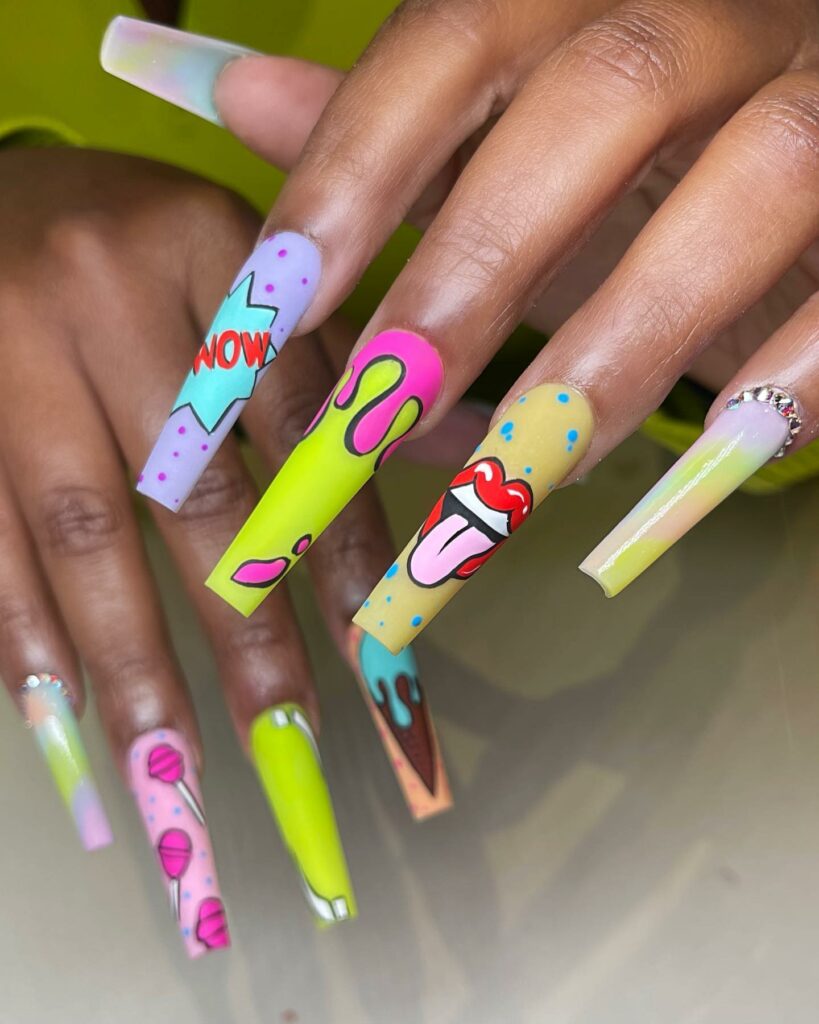 Brighten up your look with these cartoon nails that radiate with electric colors and designs. Their vividness complements animated characters, creating a striking visual appeal.
Kaleidoscope of Colors Cartoon Nails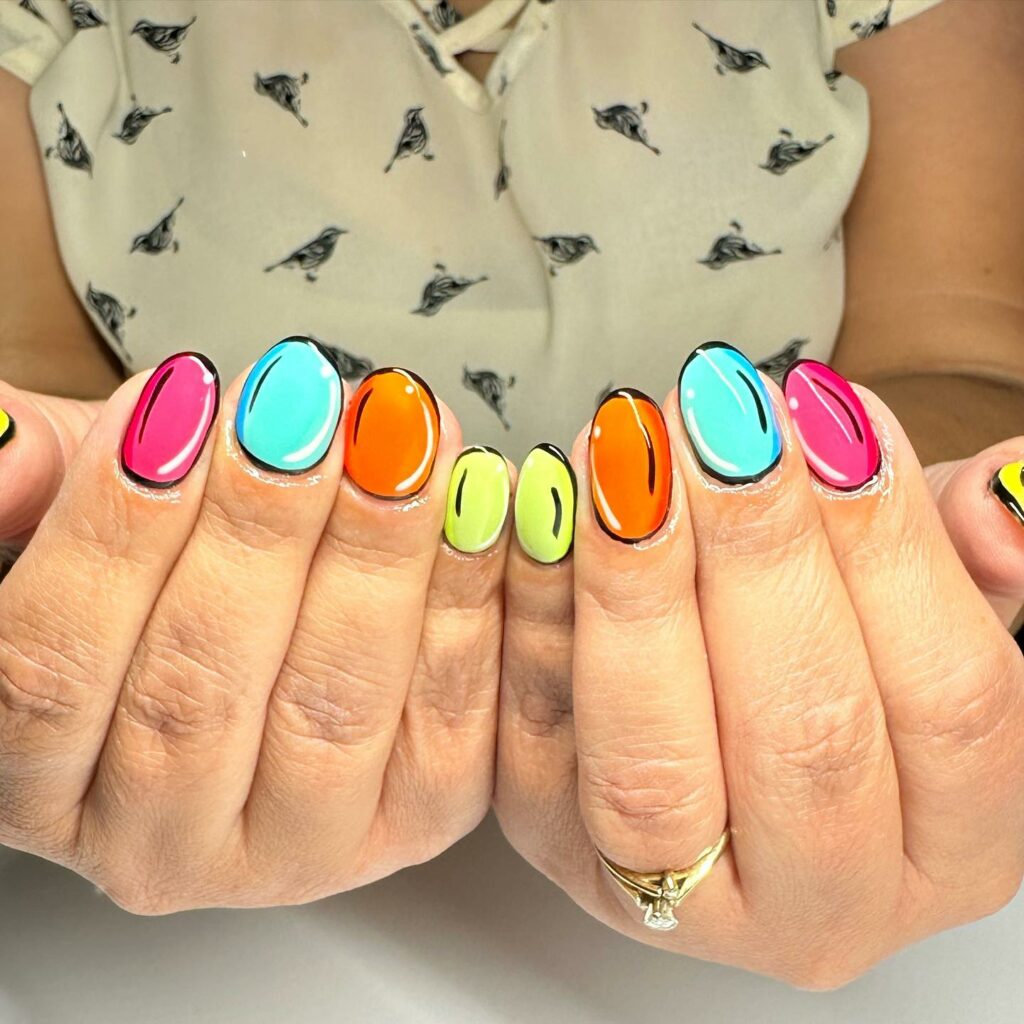 Dive into a spectrum of shades with these cartoon nails, where each nail tells a different animated story. From subtle pastels to vibrant primaries, these designs cater to every cartoon lover's dream.
Perfectly Square Cartoon Nails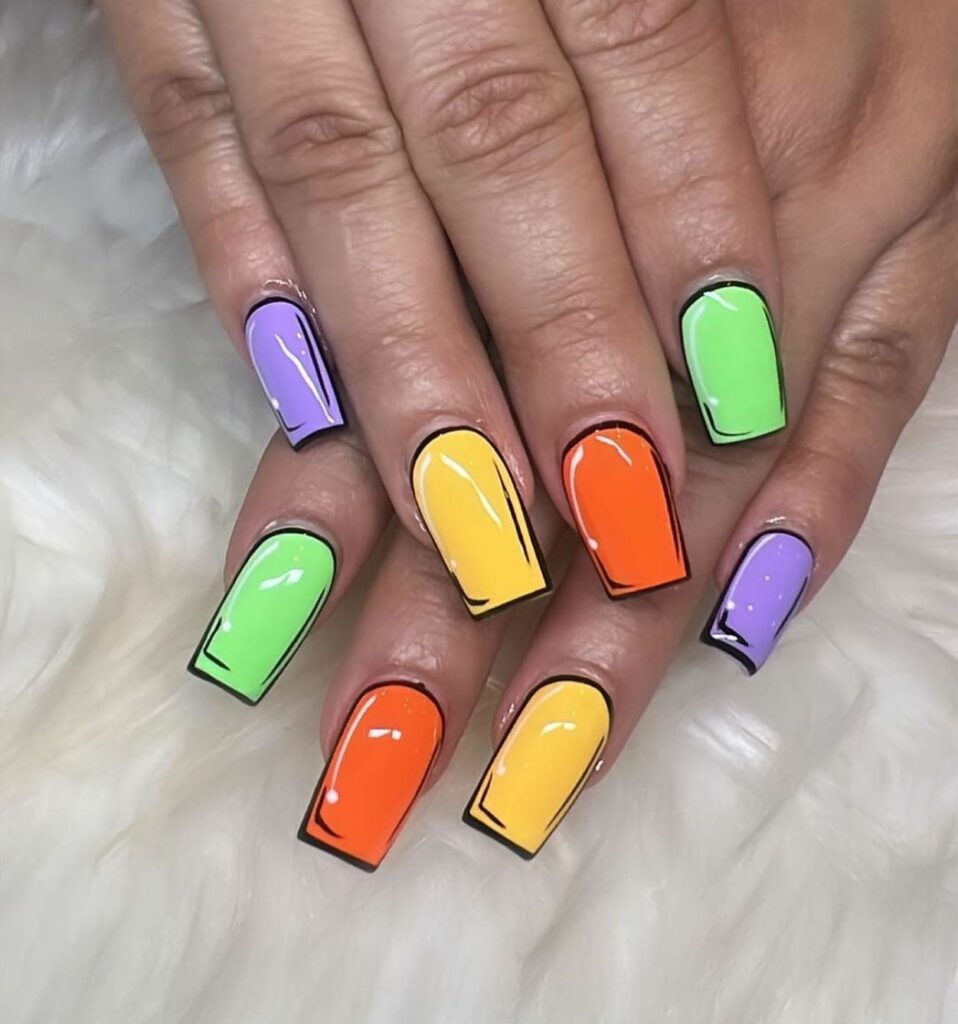 Revel in the geometric precision of square nails while indulging in cartoons. Their defined edges offer a distinct boundary for animated scenes, making each design stand out.
Trending Stories in Cartoon Nail Artistry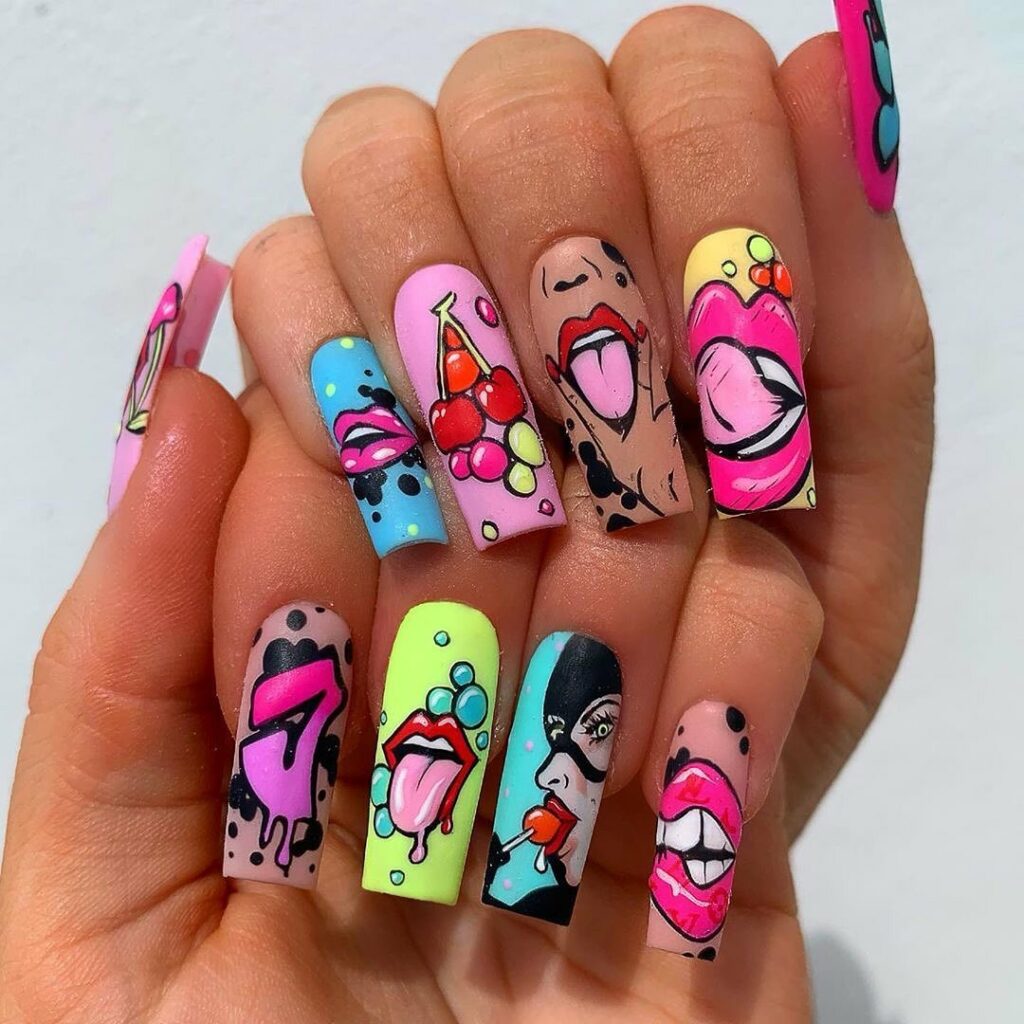 Stay at the forefront of nail art trends with these designs that draw inspiration from popular cartoon culture. From timeless classics to modern favorites, these nails celebrate the world of animation in style.
Halloween-Inspired Cartoon Nails
Venture into the spooky realm of animation with these Halloween-themed cartoon nails. From playful ghosts to mischievous witches, these designs encapsulate the eerie fun of the season.
Classic Patterns in Cartoon Nail Art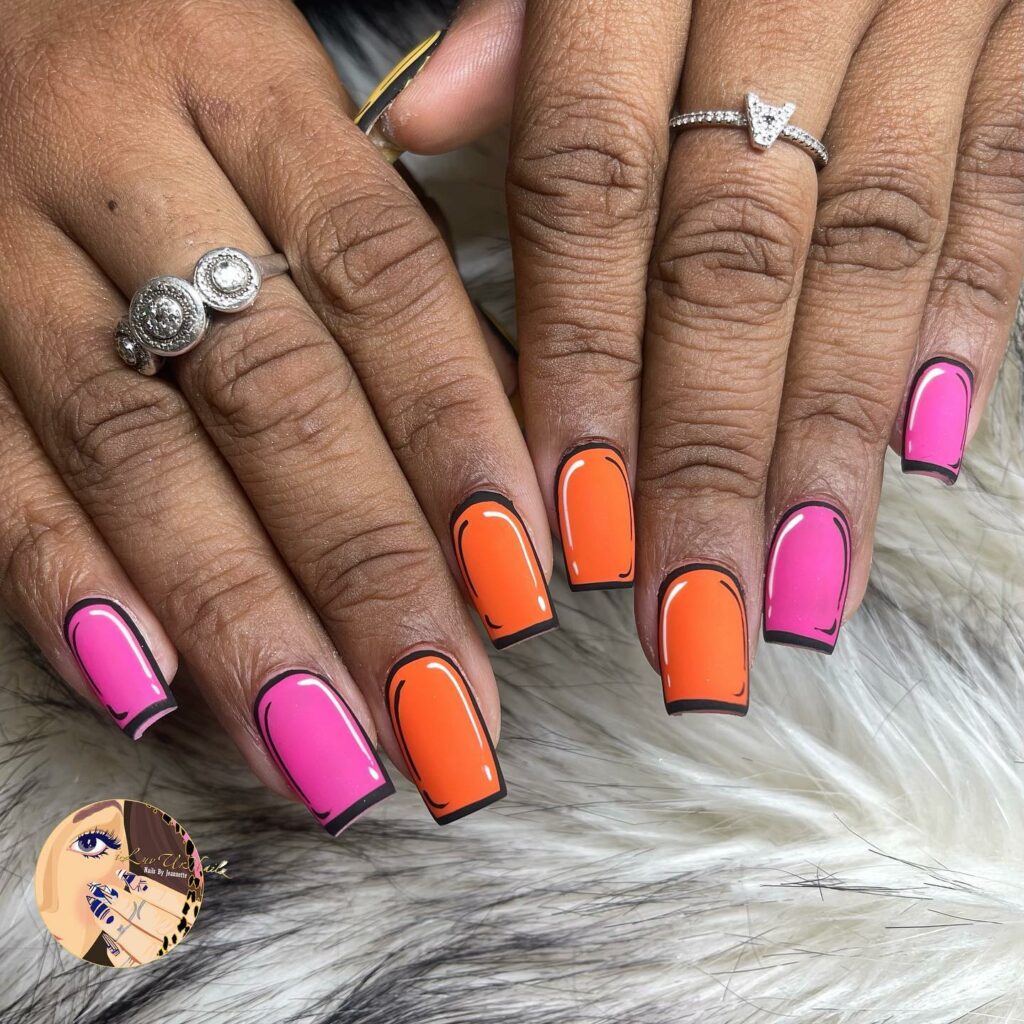 Reconnect with timeless designs transformed into cartoon nail artistry. These patterns breathe new life into beloved animated characters or tales, offering a nostalgic touch to modern nail art.
Acrylic Cartoon Nail Masterpieces
Elevate your style with these acrylic cartoon nails that brilliantly showcase animated designs. The durable acrylic medium ensures longevity while allowing intricate cartoon detailing to shine through.
Square Cartoon Nails on Acrylic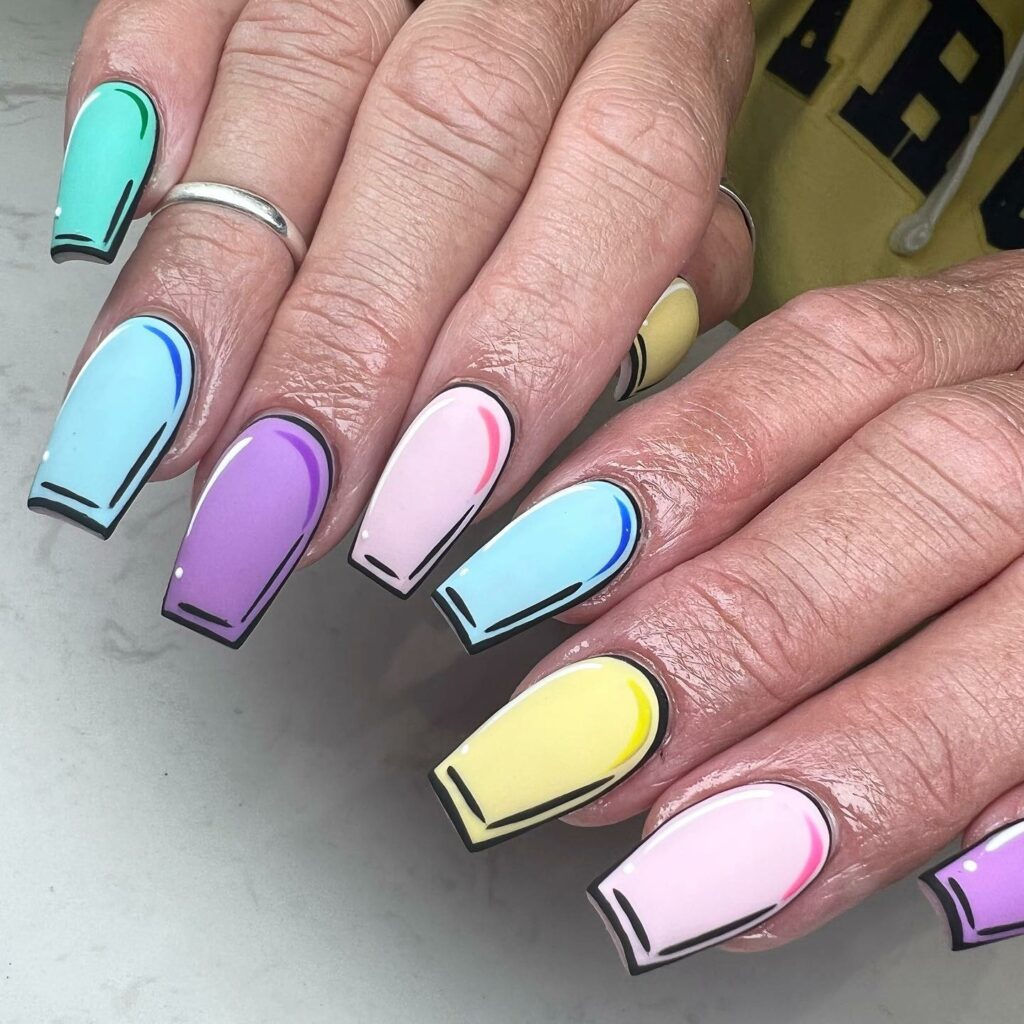 Embrace the elegance of short, square acrylic nails with delightful cartoon visuals. Their compact size pairs perfectly with simple yet impactful animated designs, blending style and comfort.
Cartoon Nails Embellished with Shimmering Gems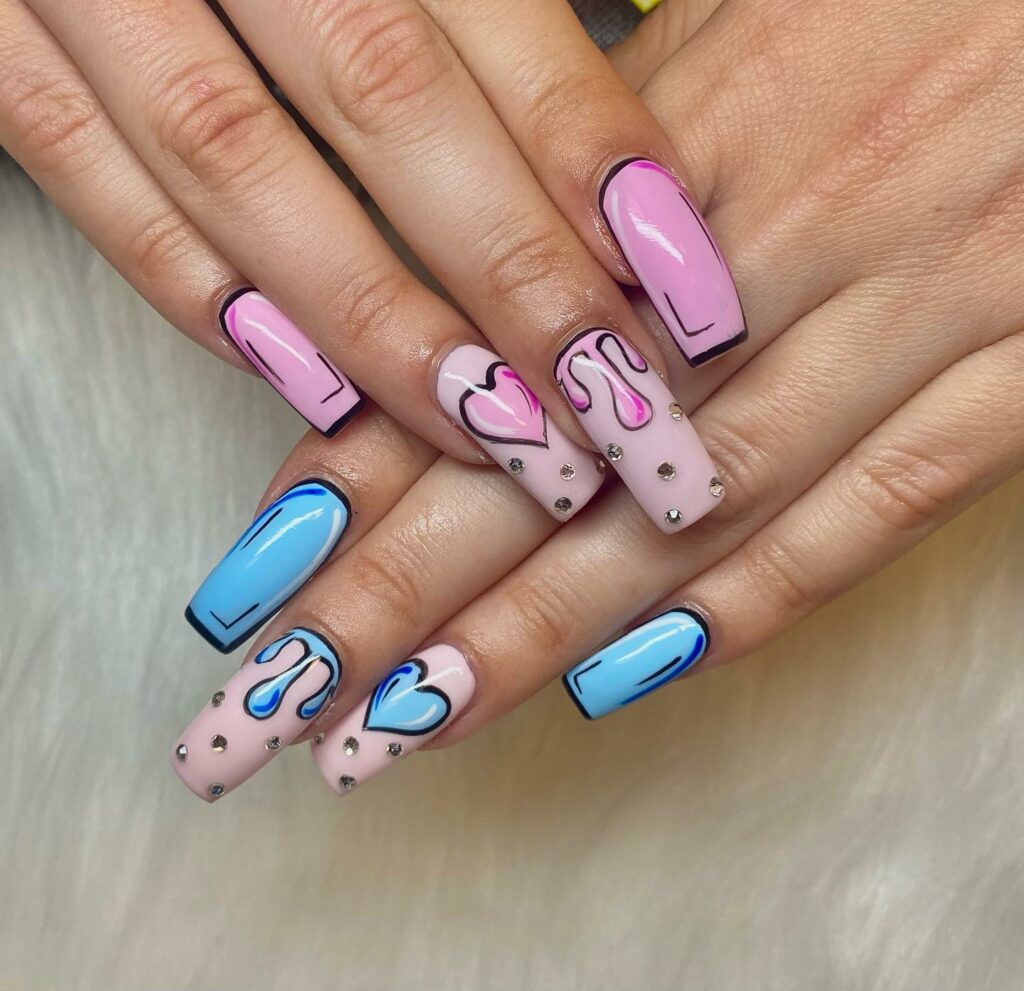 Dazzle onlookers with these cartoon nails gracefully decorated with radiant gems. The sparkling embellishments enhance the animated designs, adding a layer of glamour to each nail.
Serene Baby Blue Cartoon Nails
Dive into the calming hues of baby blue with these cartoon-inspired nail designs. The gentle color provides a soothing backdrop for various animated characters or motifs, evoking a sense of tranquility.
Long Cartoon Nail Artistry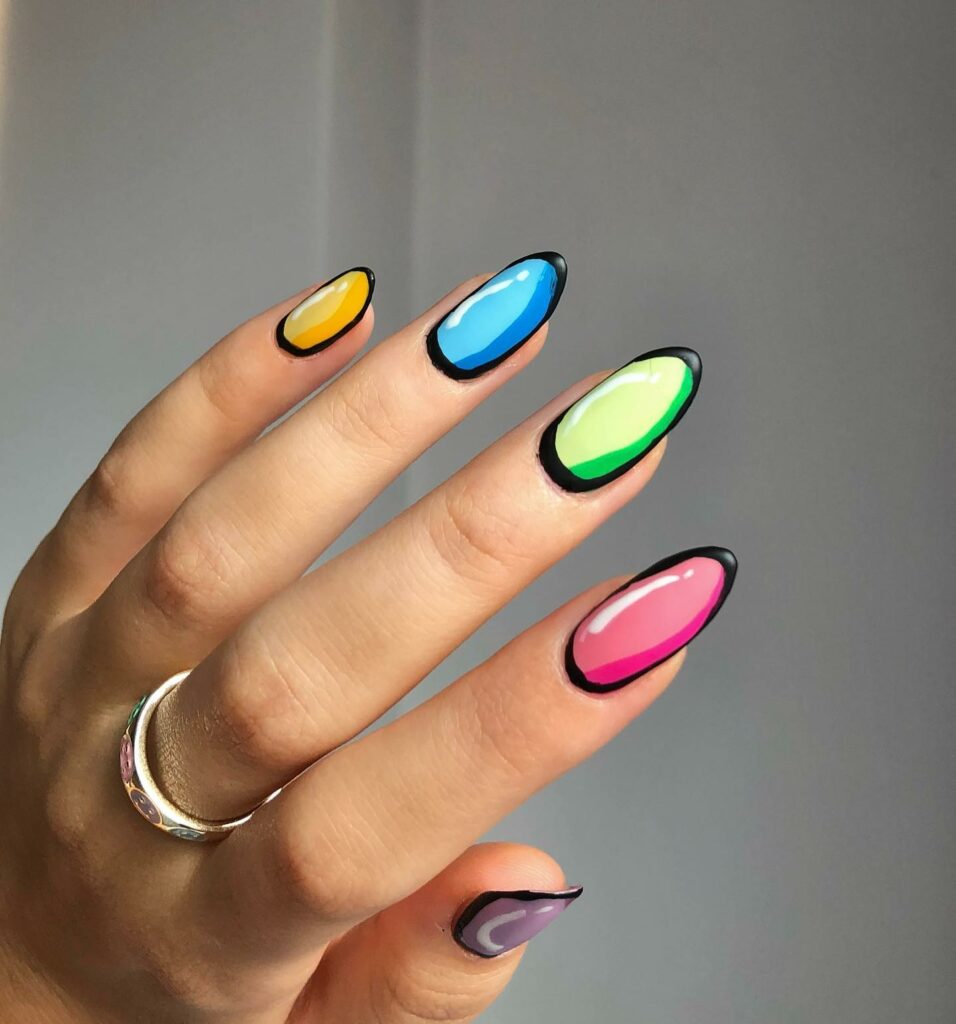 Celebrate the drama of long nails paired with captivating cartoon designs. The extended canvas allows for a detailed portrayal of animated stories or characters, making a bold statement.
Stiletto Cartoon Nails with Gem Accents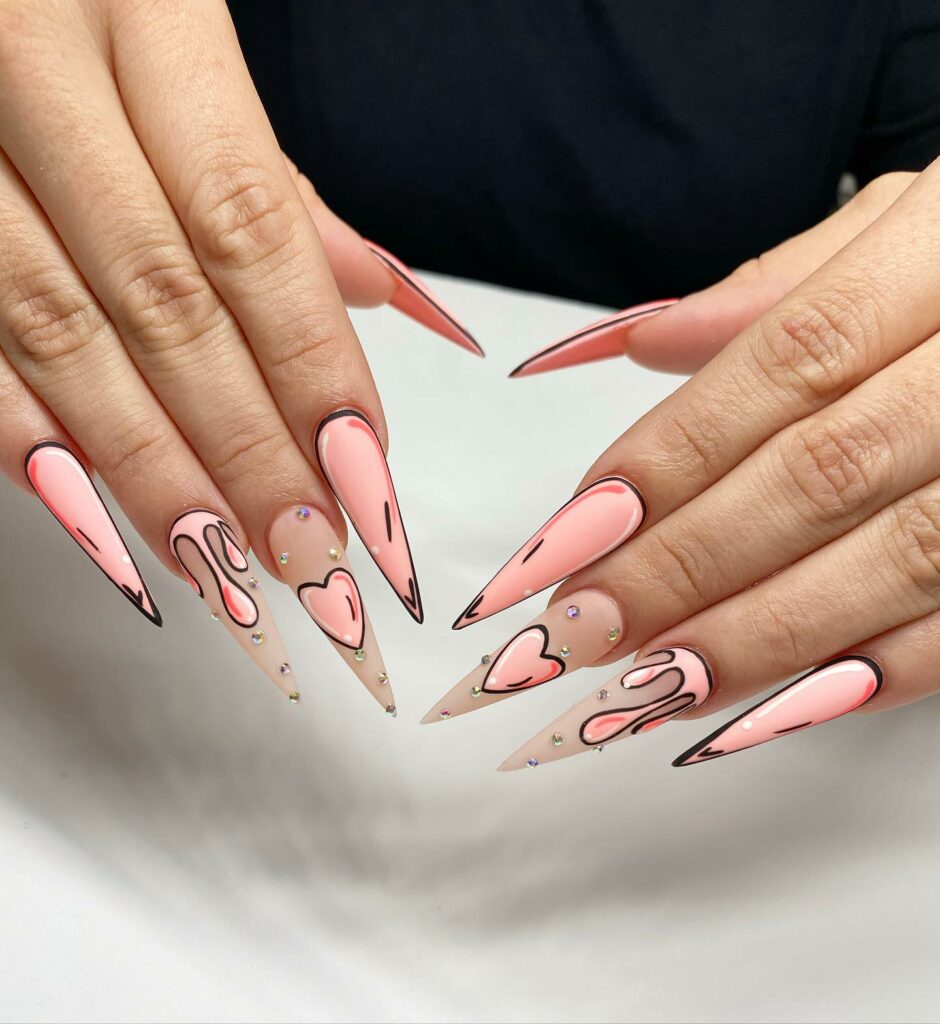 Strike a balance between edgy and elegant with these gem-decorated stiletto cartoon nails. The pointed shape complements the animated designs, while the gems add a touch of sophistication.
Vibrant Neon Pink Cartoon Nails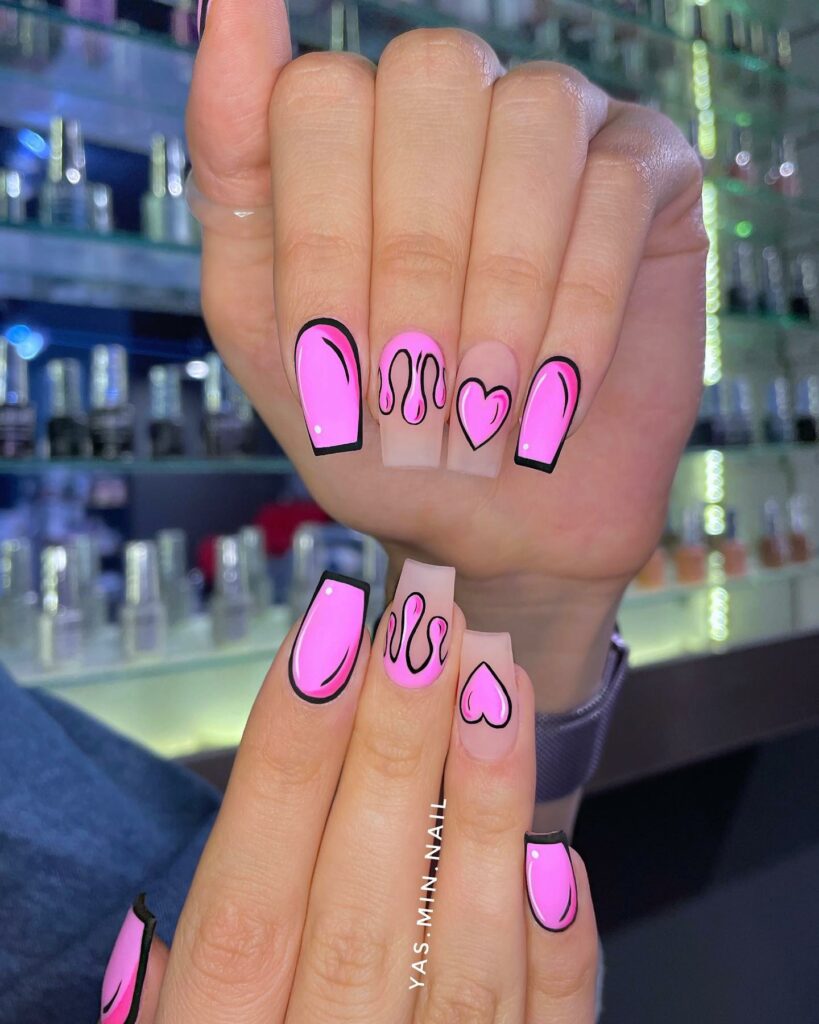 Illuminate your look with these neon pink cartoon nails, brimming with animated allure. The electric shade accentuates the cartoon designs, making them pop against the vibrant backdrop.
Juicy Watermelon Cartoon Nails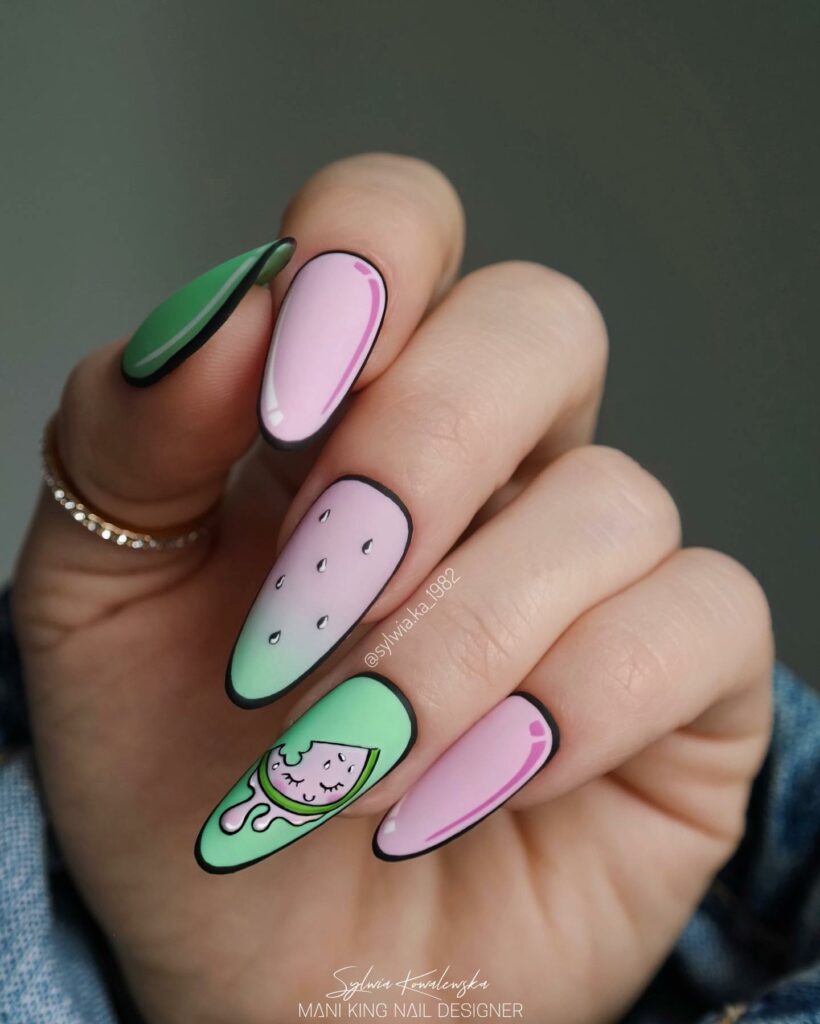 Delight in the summer vibes of watermelon-themed cartoon nails. Their refreshing design brings animated fun, perfect for sunny days and picnics.
Nude Square Cartoon Nails
Simplicity meets artistry in these nude square cartoon nails. The muted palette sets the stage for subtle animated designs, offering a chic and sophisticated look.
Holiday Joy in Cartoon Nail Patterns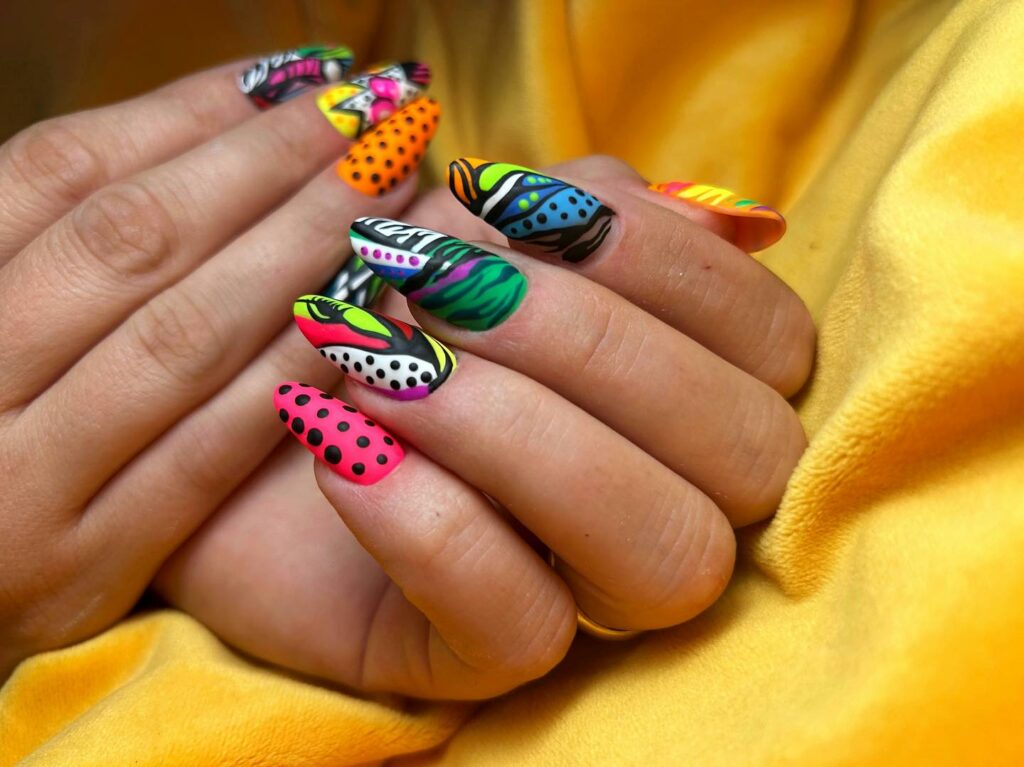 Get into the festive spirit with these cartoon nail designs inspired by holiday celebrations. From snowy scenes to cheerful characters, these nails encapsulate the warmth and joy of the season.
Pink Cartoon Nail Spectacle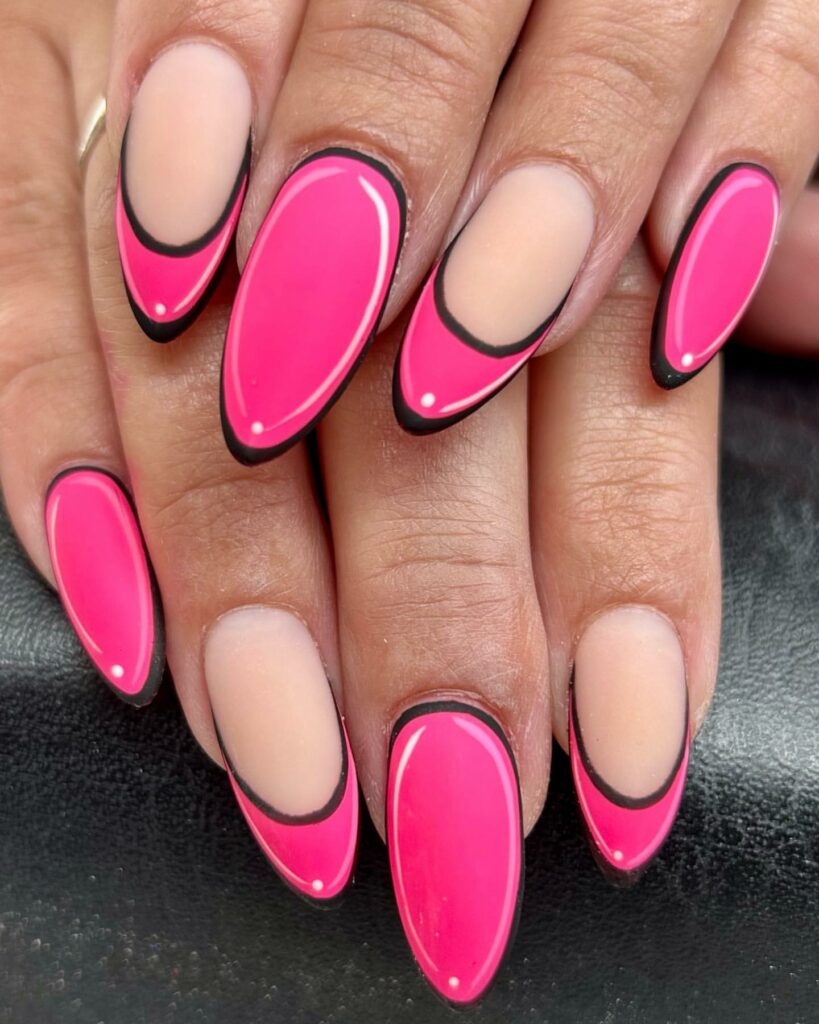 Dive into the world of animation with these stunning pink cartoon nails. Their vibrant shade beautifully complements cartoon illustrations, offering a feminine and playful touch.
Shimmering Chrome Cartoon Nail Designs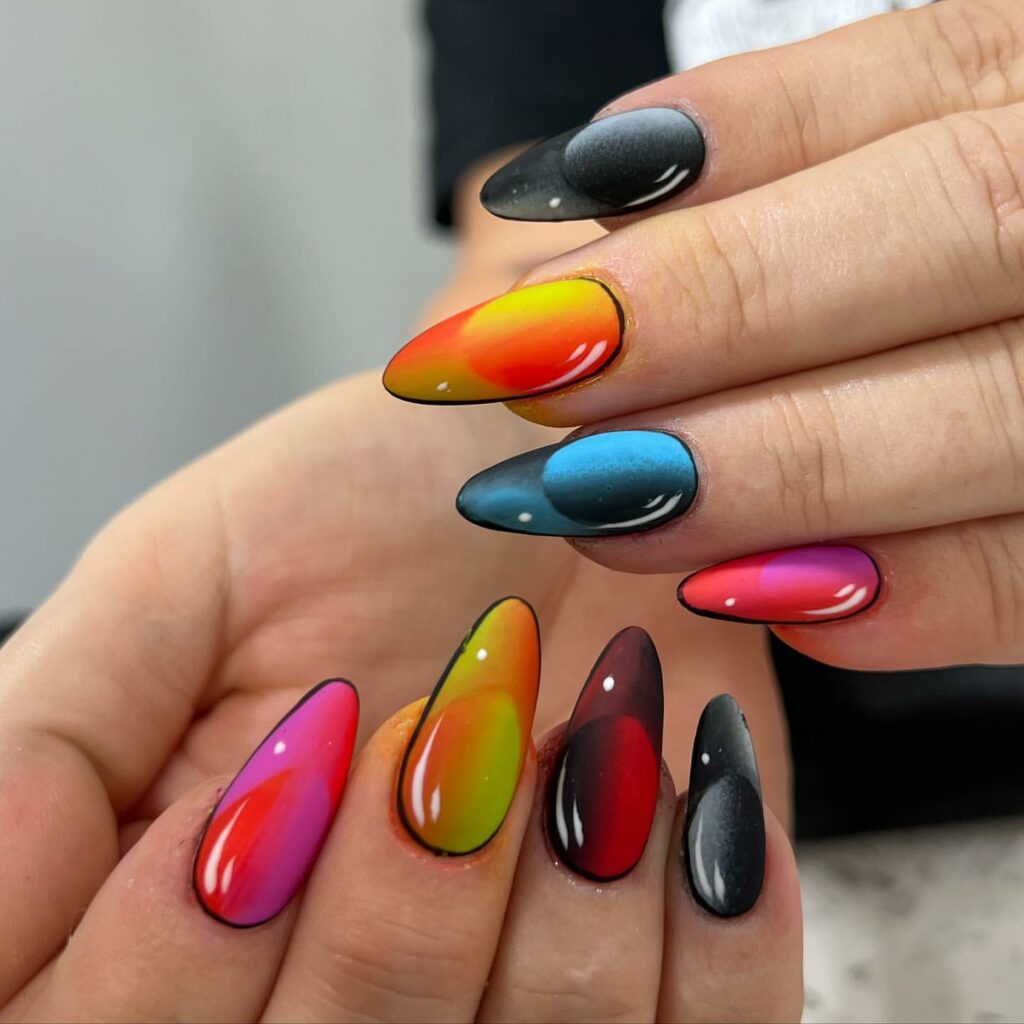 Elevate your nail game with chrome finishes featuring animated motifs. These cartoon nails brilliantly reflect light, showcasing a fusion of metallic sheen and whimsical designs.
Gory Cartoon Nail Masterpieces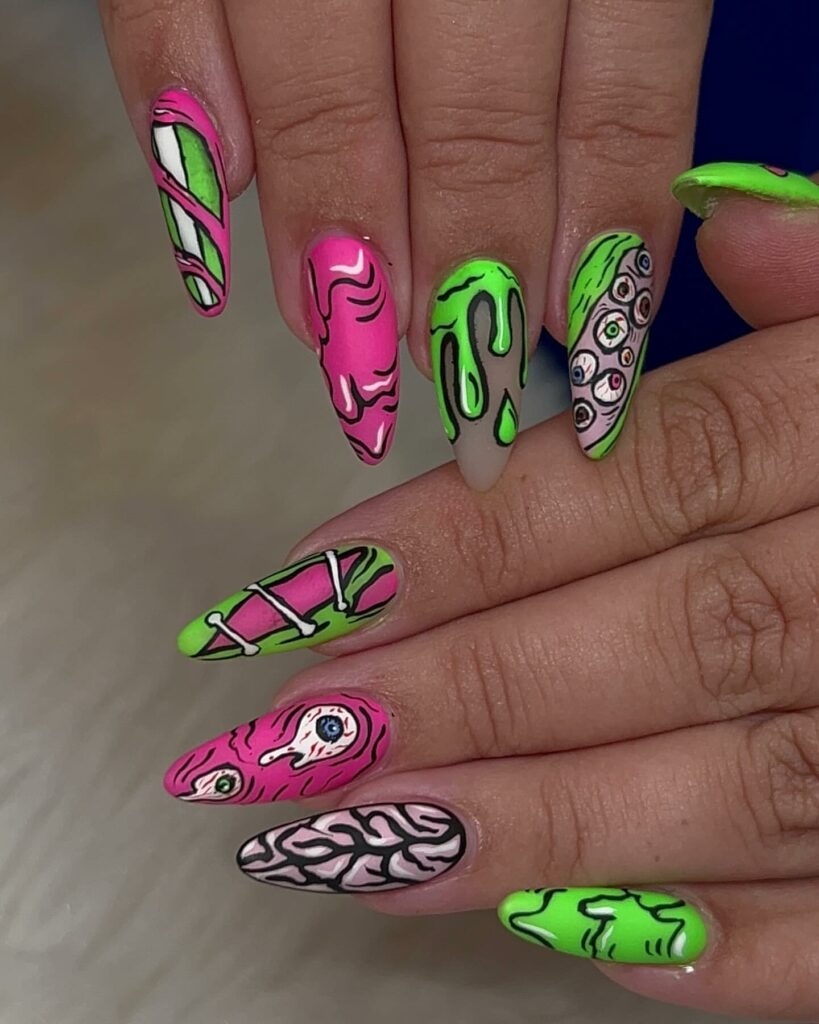 For those who relish the macabre, these gory cartoon nail designs are a thrilling choice. Animated scenes of suspense and horror come alive, making a bold and edgy statement.
Sunny Orange Cartoon Nail Creations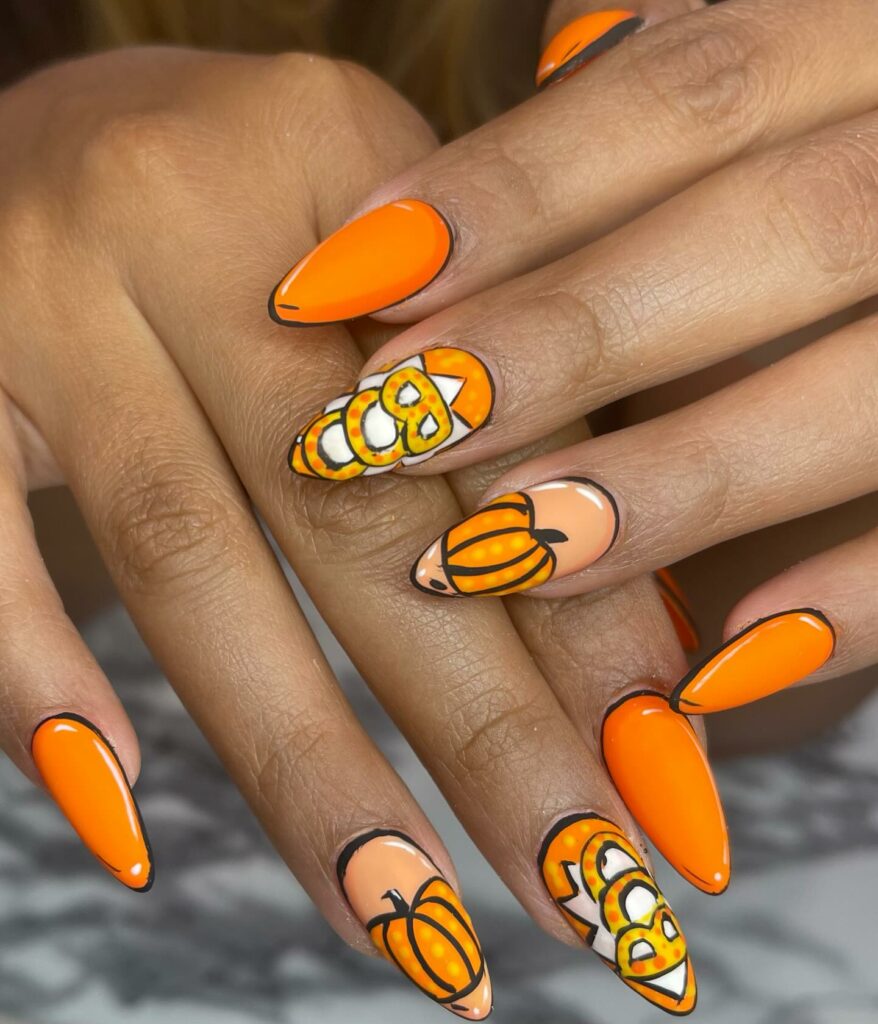 Bask in the warm and cheerful vibes of orange cartoon nails. The bright hue provides a lively canvas for animated characters and stories, capturing the essence of joy.
Romantic Red Heart Cartoon Nails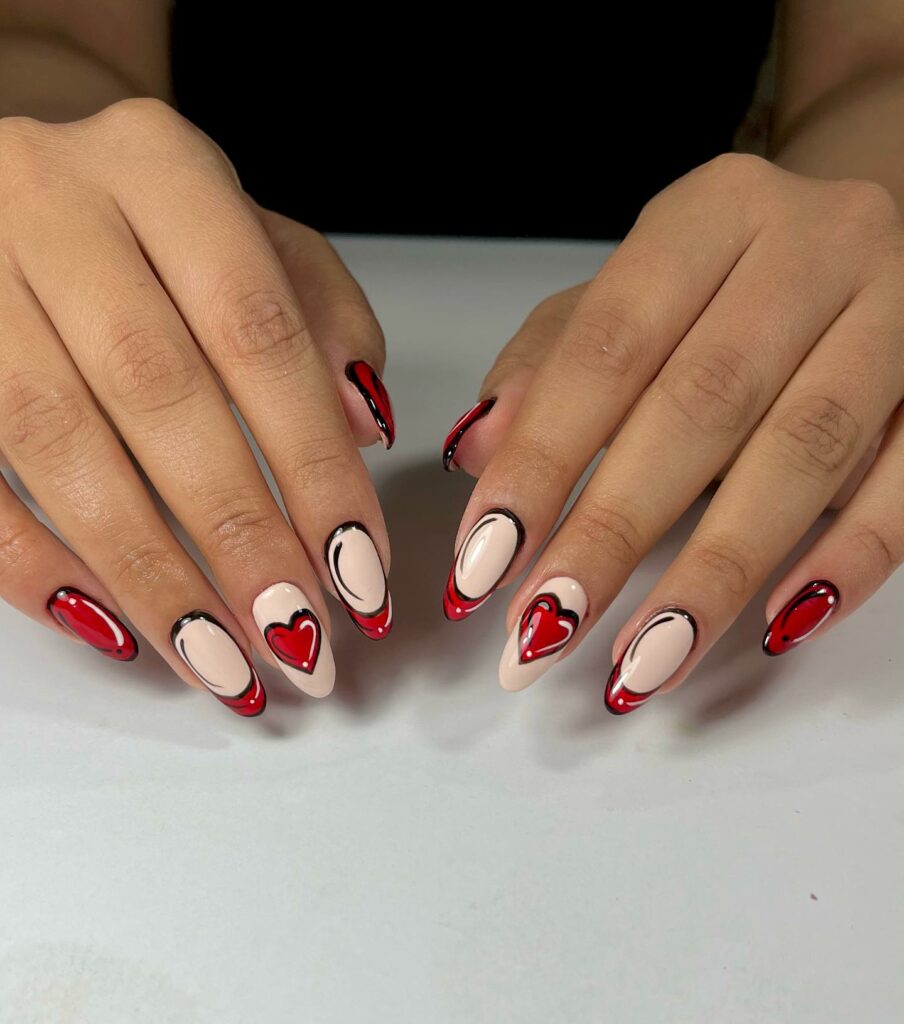 Celebrate love and romance with these red heart-themed cartoon nails. The passionate shade paired with heart designs exudes affection, making them perfect for special occasions.
Autumn Bliss in Cartoon Nail Art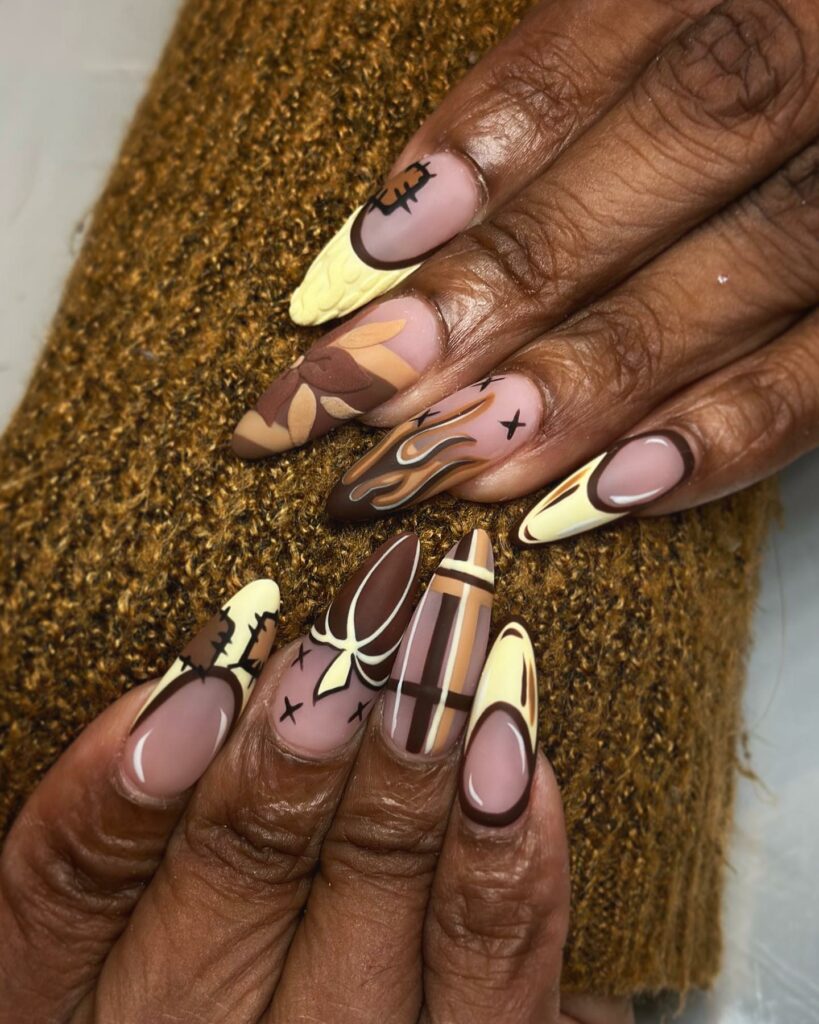 Embrace the changing seasons with these fall-themed cartoon nails. From falling leaves to animated pumpkins, these designs encapsulate the rustic charm of autumn.
Floral Cartoon Nails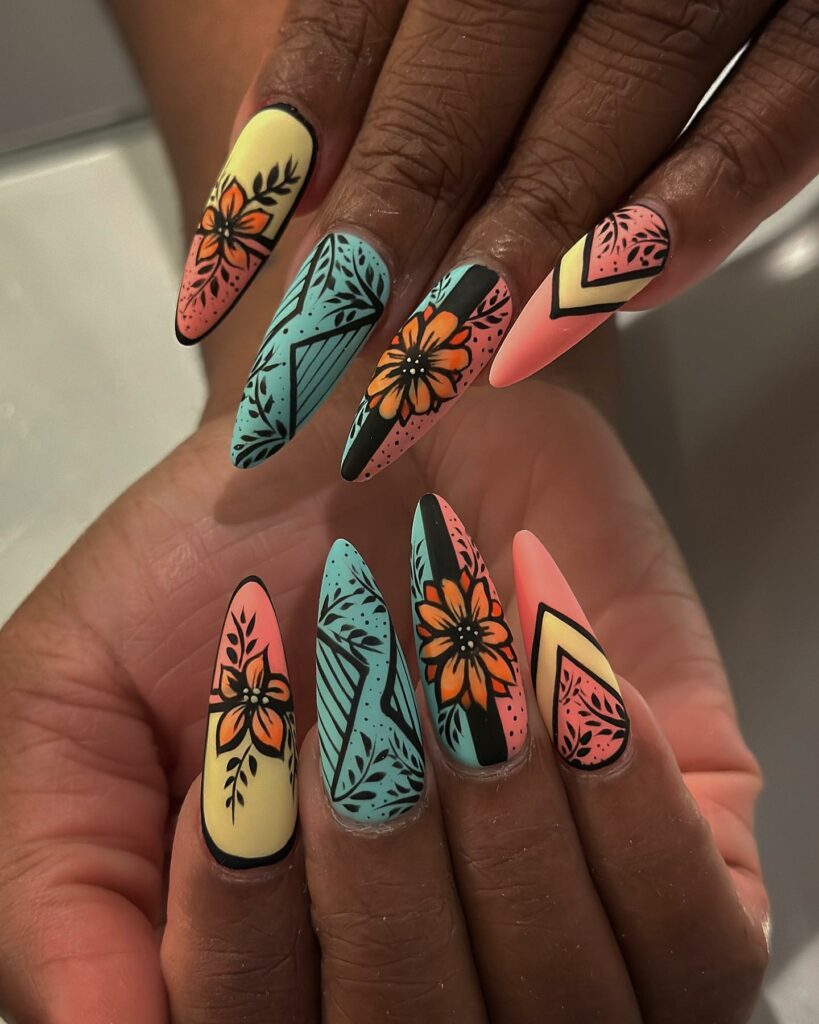 Venture into a botanical wonderland with these floral cartoon nail designs. Blooming flowers paired with animated characters offer a refreshing and enchanting aesthetic.
Vibrant Neon Cartoon Nails
Illuminate the room with these neon cartoon nails, radiating animated charm. Their electric shades accentuate cartoon designs, adding a dynamic and modern flair.
Mysterious Neon Black Cartoon Nails
Explore the enigmatic blend of neon and black in these cartoon nail designs. The contrast creates a captivating visual, where animated designs shine against the dark backdrop.
Chic Neon French Cartoon Nails
Reimagine the classic French manicure with a neon and cartoon twist. The iconic design gets an animated makeover, resulting in a stylish and contemporary look.
Sizzling Hot Pink Cartoon Nails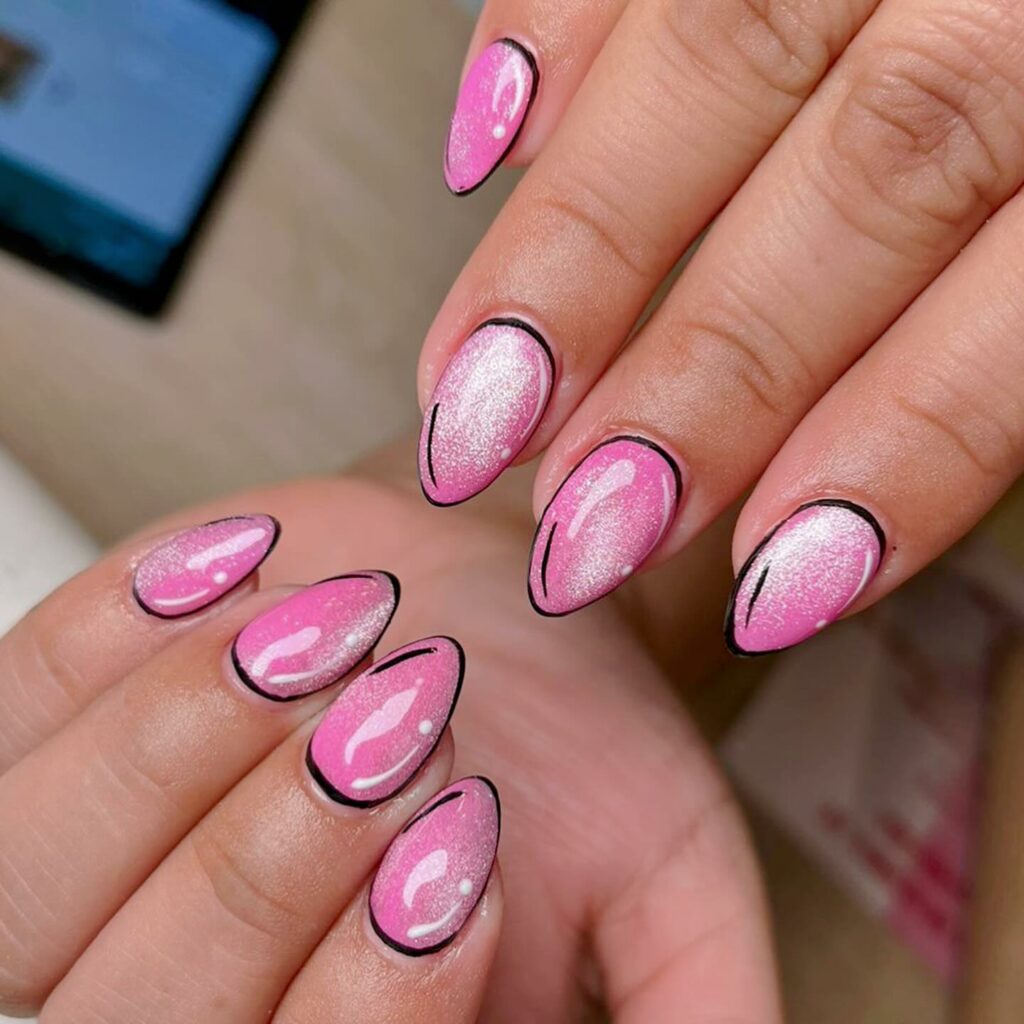 Turn heads with these striking hot pink cartoon nails. Their bold shade is a vibrant backdrop for various animated characters or motifs.
Cartoon Nails In Neon Pink
Journey into a realm of contrasts with these cartoon nails, showcasing a play of light and shadow. The juxtaposition of colors and designs creates a visual treat, highlighting the artistry of animated nail art.
Animated Flair on Fingertips
Celebrate the world of cartoons with these detailed cartoon nail designs. Every nail tells a story, inviting observers to appreciate the depth and creativity of animated artistry.
Acrylic Cartoon Nail Artistry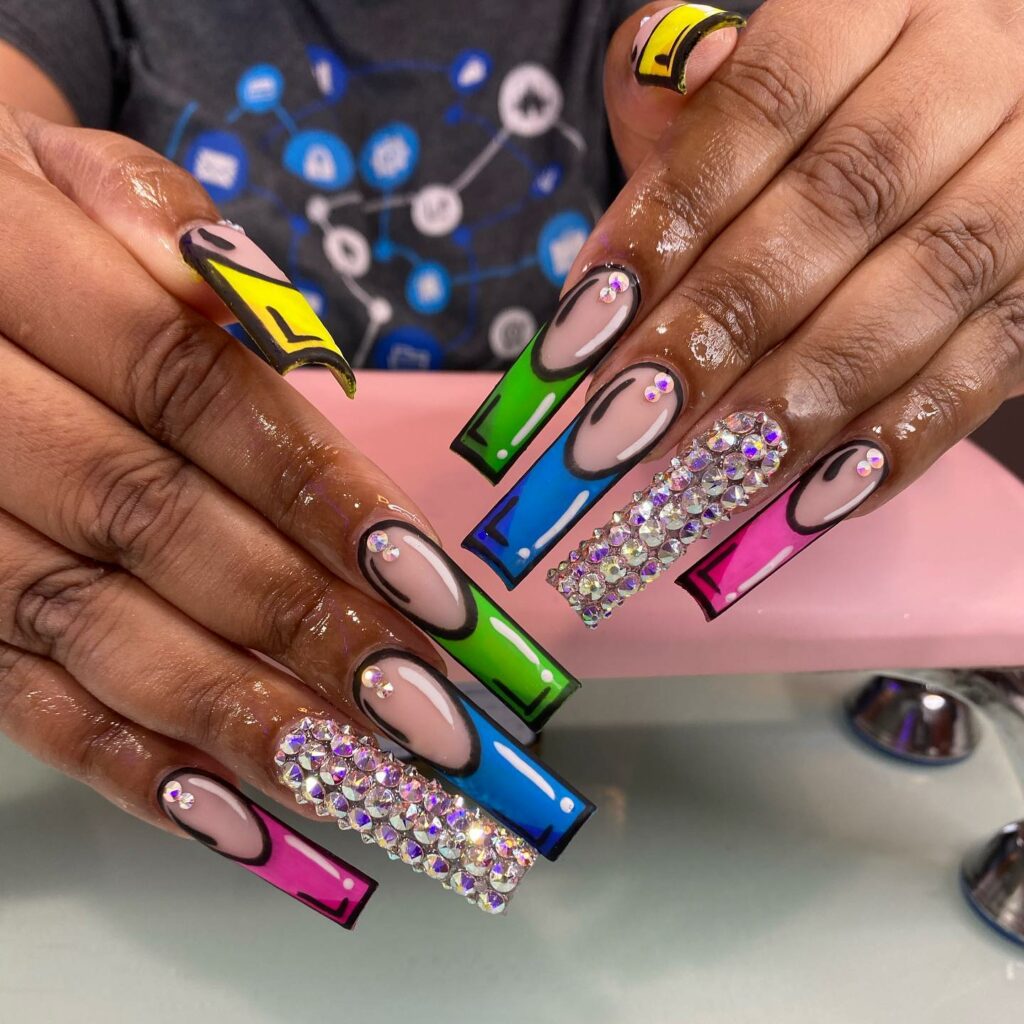 Elevate your style quotient with acrylic cartoon nails. Their durable nature and lustrous finish make animated designs stand out, creating a mesmerizing visual appeal.
Fiery Red Stiletto Cartoon Nails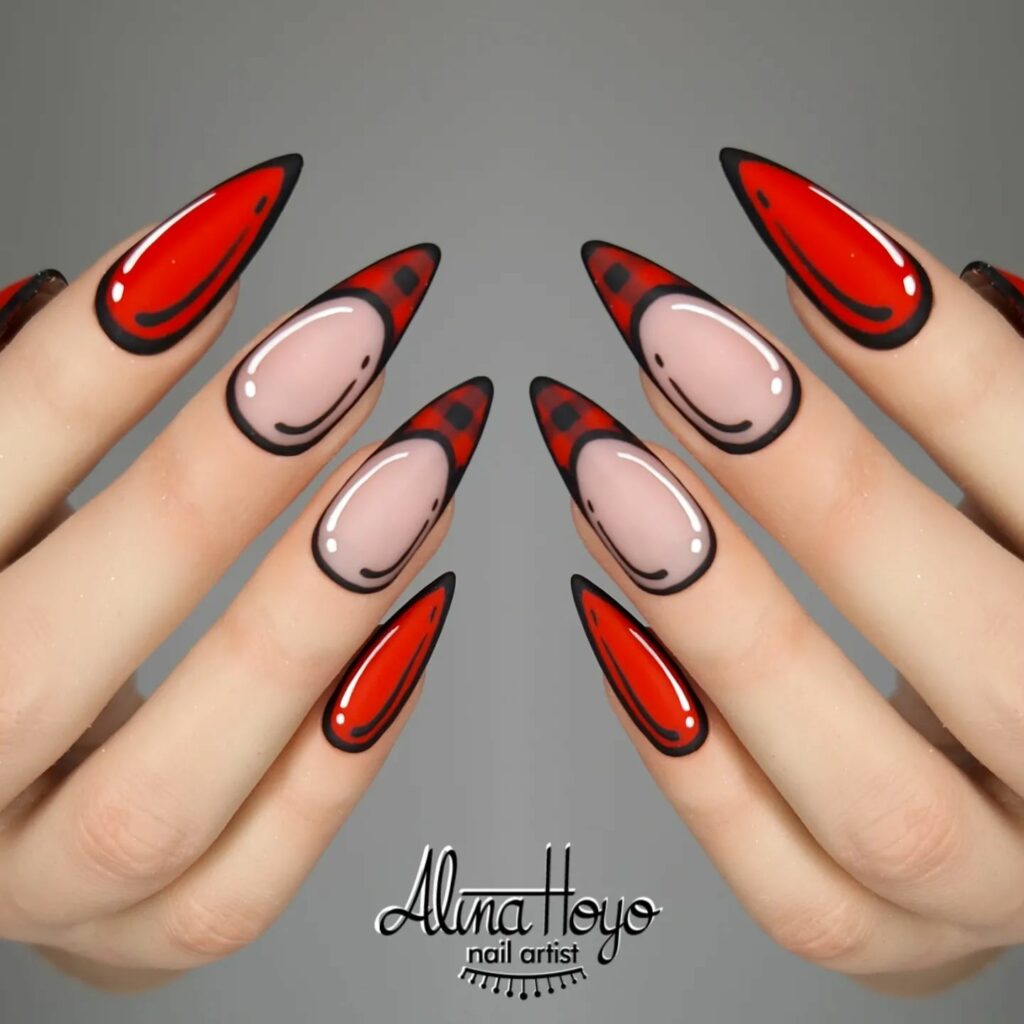 Make a fierce statement with these red stiletto cartoon nails. The elongated shape, paired with vibrant animations, ensures that your nails are the center of attention.
Glistening Pink Cartoon Elegance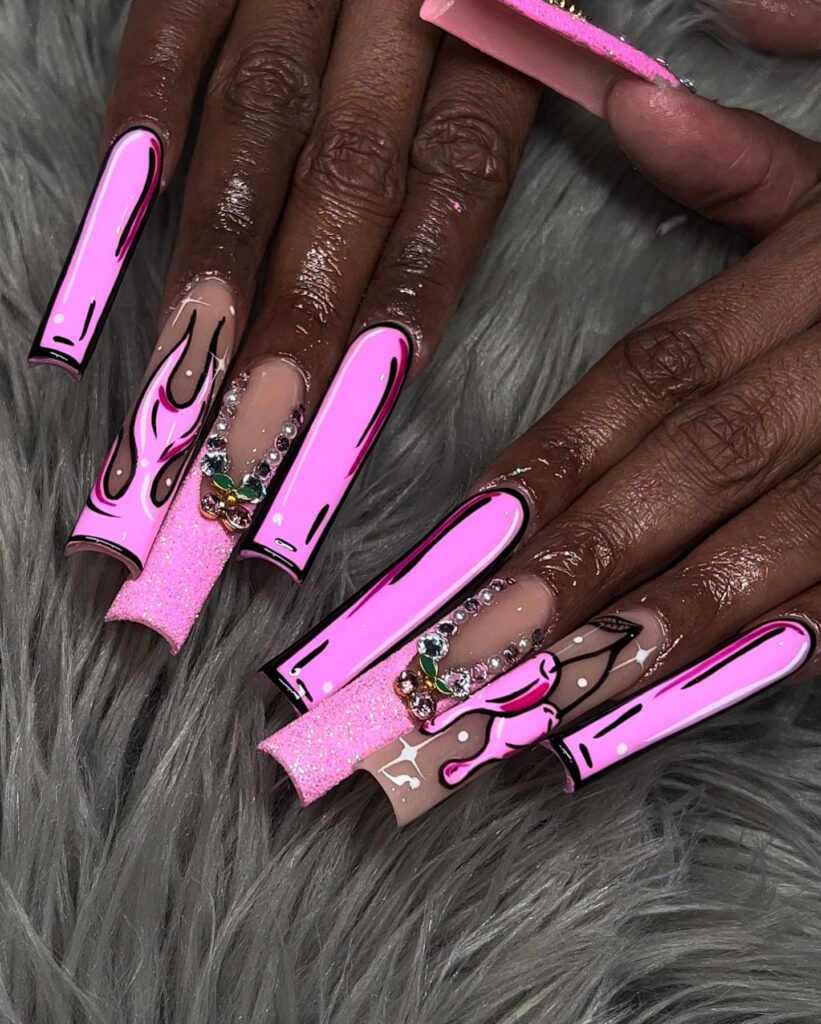 Dive into a realm of femininity with these pink cartoon nails. Their lustrous shade is the perfect canvas for intricate animated designs, exuding grace and charm.
Peachy Cartoon Nail Delight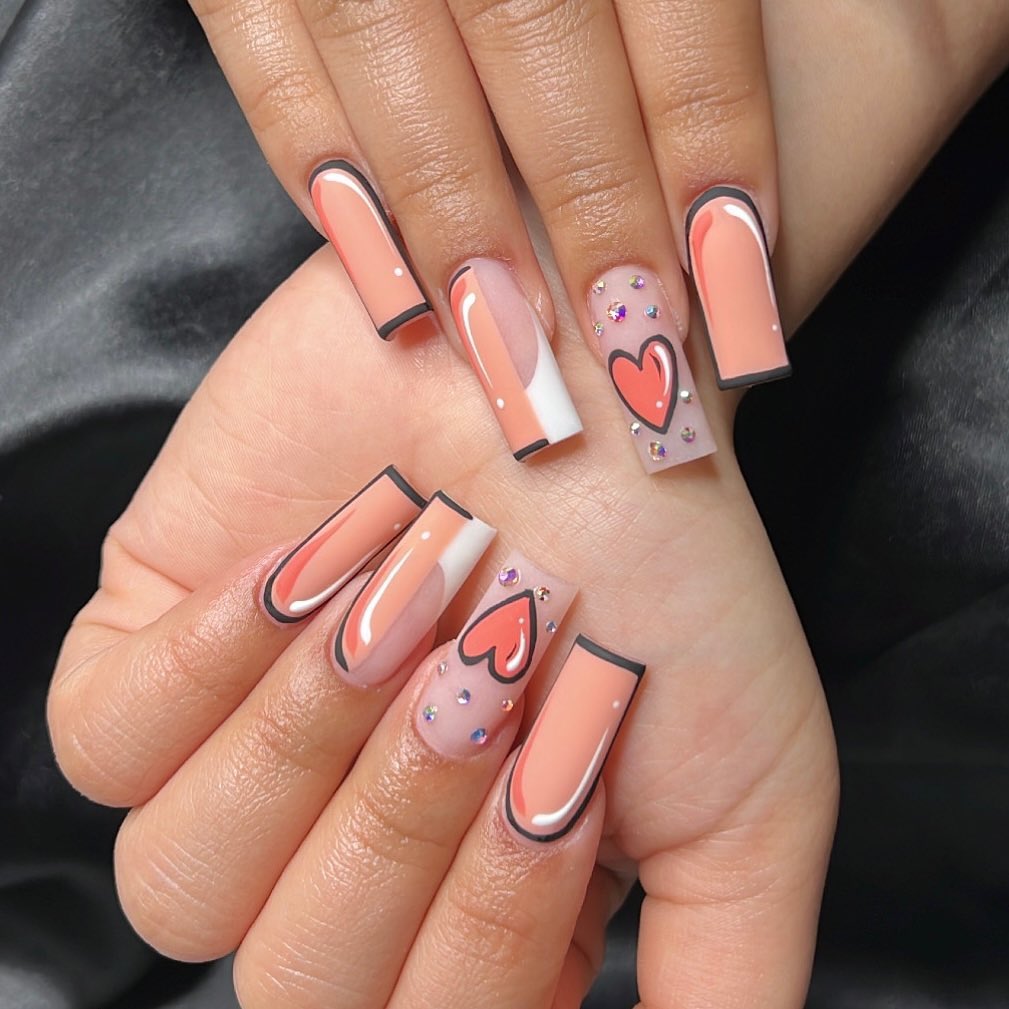 Indulge in the warm and inviting vibes of peach-hued cartoon nails. Their soft tone complements animated characters, adding a whimsy and elegance to your fingertips.
Blooming Floral Cartoon Nails
Walk through an animated garden with these floral cartoon nail designs. Lush blossoms come to life, creating a serene and enchanting atmosphere at your fingertips.
Spooky Halloween Pink Cartoon Nails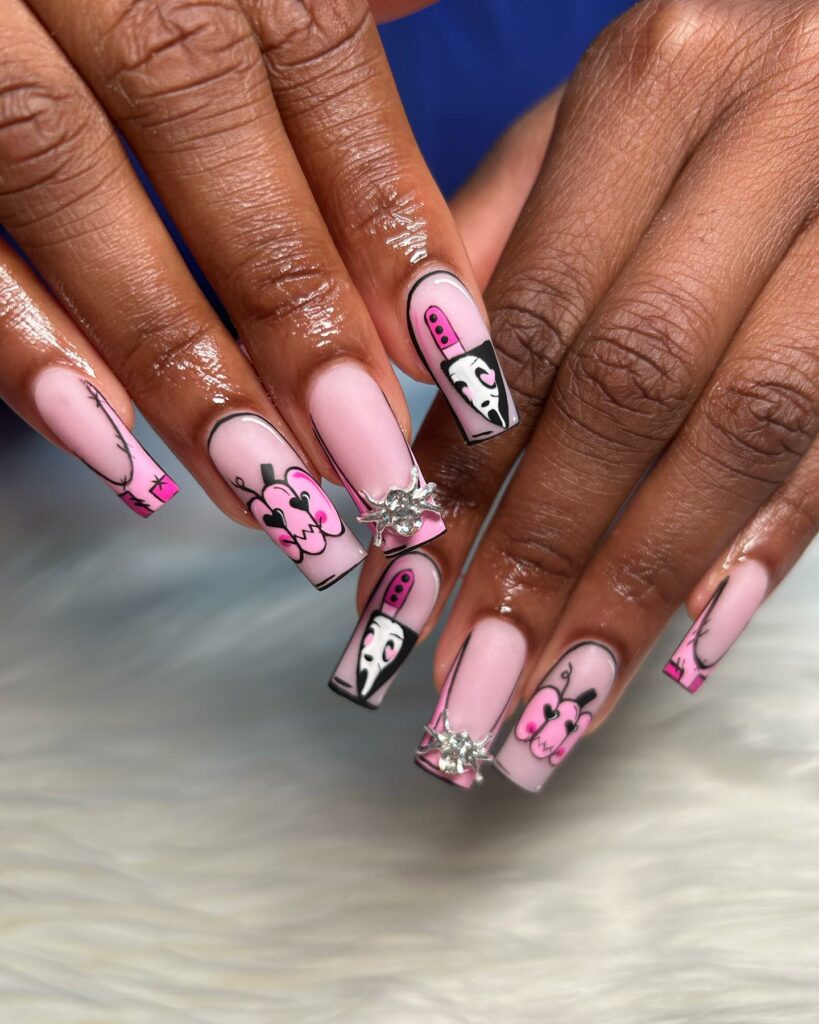 Gear up for the spookiest time of the year with these Halloween-themed pink cartoon nails. Animated ghosts and goblins contrast the soft pink hue, making a fun yet eerie statement.
Acrylic Cartoon Nails with a Cat Eye Finish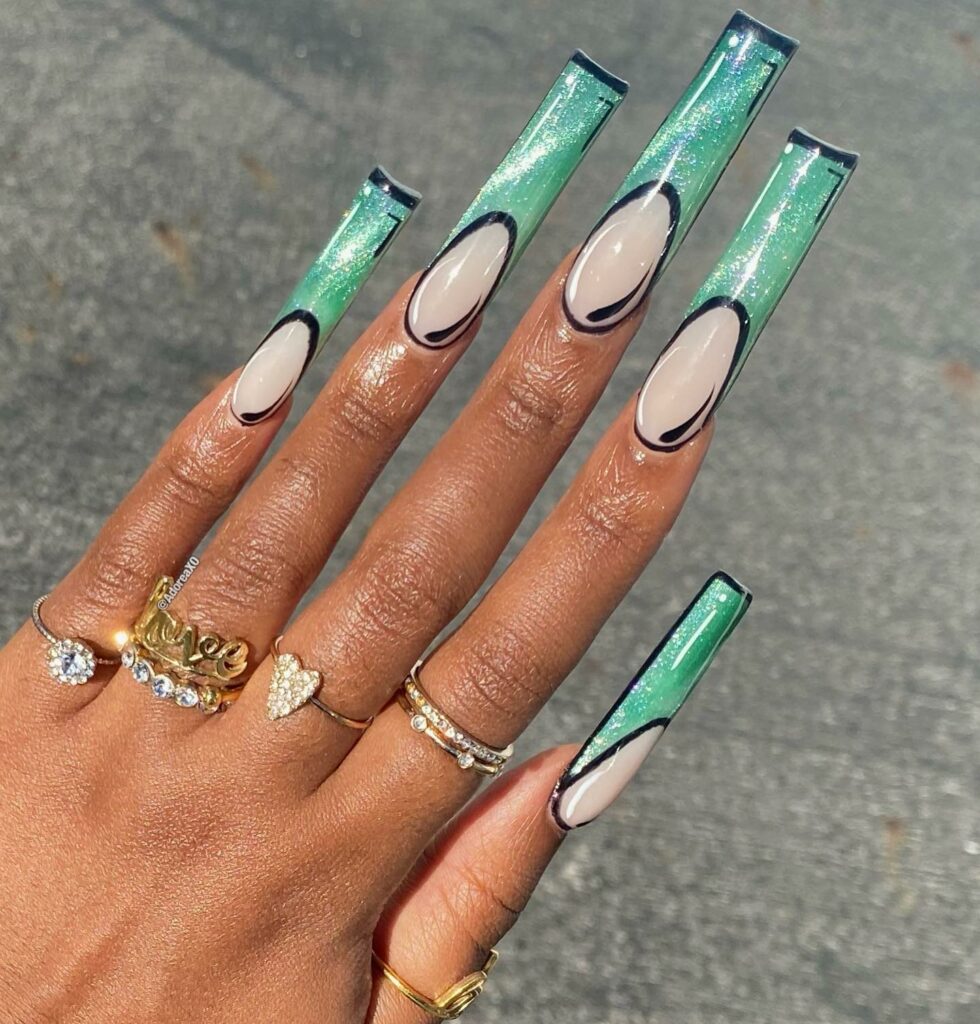 Elevate your cartoon nail game with a captivating cat-eye finish. The shimmering effect, paired with animated designs, brings depth and dynamism to every nail.
Cartoon Nails with an Animated Pumpkin Touch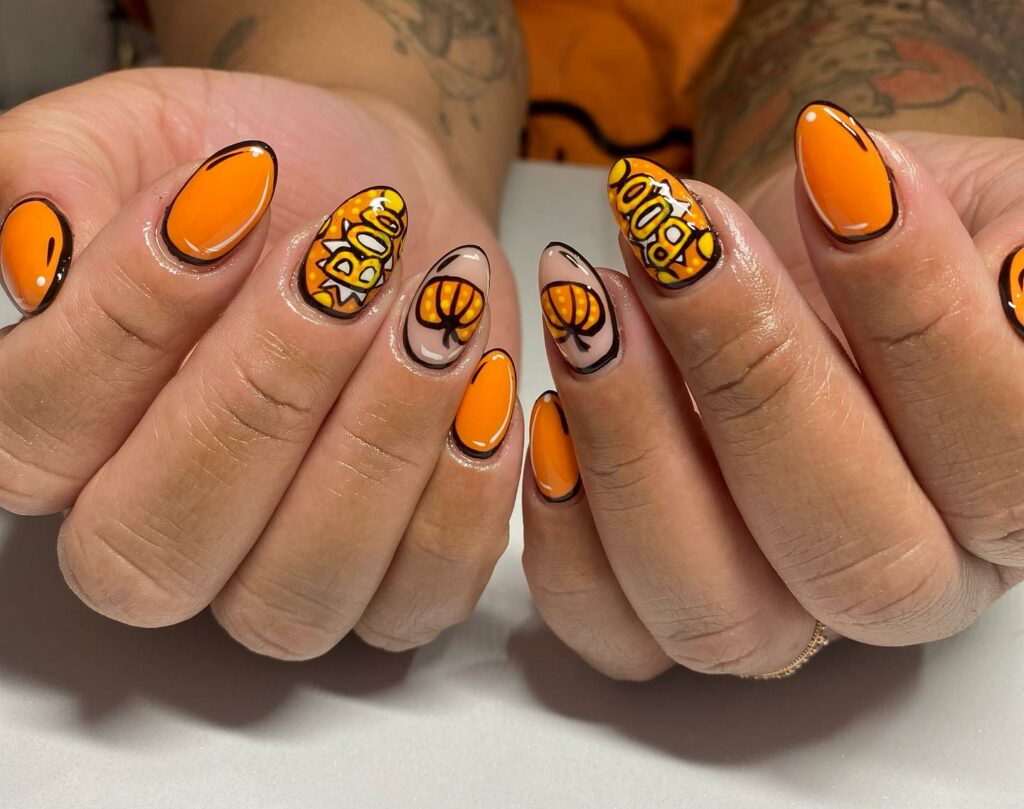 Celebrate the essence of fall with these pumpkin-inspired cartoon nails. The animated pumpkins add a playful twist, capturing the spirit of harvest and festivity.
Edgy Sharp Stiletto Cartoon Nails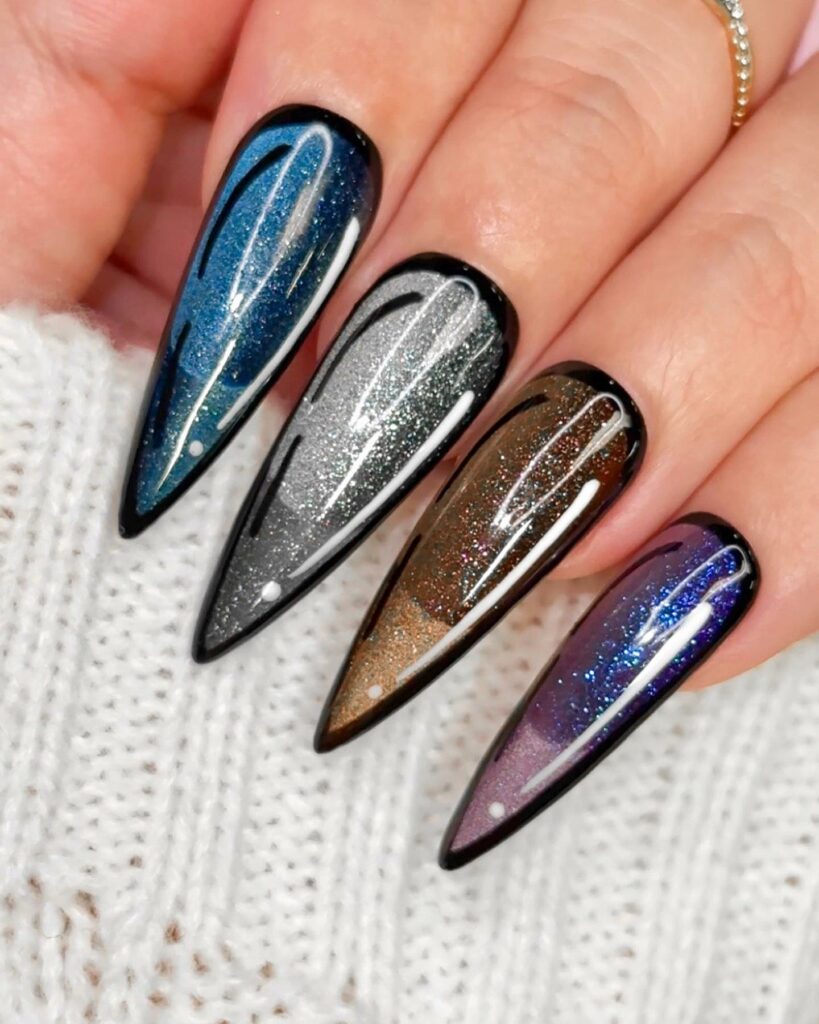 Venture into drama and edginess with these sharp stiletto cartoon nails. Their pointed design accentuates animated illustrations, ensuring every nail is a masterpiece.
20 Essential Tools You Need for Creating Cartoon Nails At Home
Base Coat: To prepare the nail surface, provide adhesion, and protect against staining.
Top Coat: To seal in the design and provide a glossy or matte finish, depending on preference.
Nail Polish: A variety of colors to match the cartoons you want to depict.
Detail Brushes: Different sizes for intricate designs and details.
Dotting Tools: For creating dots, eyes, and other small details.
Nail Polish Remover and Cotton Swabs: For correcting mistakes and cleaning up.
Nail Art Stickers: Cartoon-themed stickers can simplify the design process.
Striping Tapes: For creating straight lines or separating designs.
Sponges: Useful for gradient or ombre effects.
Stencils or Templates: These can help create specific cartoon shapes or patterns.
Stamping Kit: This includes a stamping plate with cartoon designs, a scraper, and a stamper.
Nail Rhinestones or Studs: To add some bling or 3D effects.
Fine-tip Pens: For drawing intricate details or outlines.
Tweezers: To place stickers, decals, or rhinestones precisely.
Nail Clippers and Files: To shape the nails before applying designs.
Cuticle Pusher: To prepare the nail bed.
Cuticle Oil: For after-care to hydrate the skin around the nails.
Acrylic Paints: They can sometimes be easier to work with than nail polish for detailed designs.
Palette: To mix custom nail polish or acrylic paint colors.
Latex Peel-off Tape or Liquid Latex: To protect the skin around the nails when working on designs, making cleanup easier.
LED/UV Lamp: If using gel polishes, this cures the polish quickly.
Remember, while these are essential tools, only some designs will require all of them. It's also beneficial to practice on nail wheels or practice sheets to perfect your cartoon nail designs before applying them to the nails.
Conclusion
In the ever-evolving realm of fashion, nail art has emerged as a canvas of self-expression, creativity, and personality. As we've explored, cartoon nails offer a delightful blend of nostalgia and artistry, allowing us to showcase our favorite animated memories at our fingertips. When diving into this trend, always prioritize nail health; choosing quality products and trusted salons can prevent potential damage. Moreover, it's essential to give your nails breathing time between designs to ensure their continued strength and health. Remember, fashion is as much about personal joy as it is about making a statement. With cartoon nails, you're blending both sentiments beautifully. So, hello, fashion enthusiasts! Embrace this trend, let your imagination run wild, and, most importantly, enjoy every moment of your fashion journey.
Feature image @yaranailsstudio via Instagram
Last reviewed and updated on November 17, 2023