If you've ever been entranced by the mesmerizing shine of chrome nails on social media, you're in the right place. Today, we're diving deep into the kaleidoscopic world of chrome nail artistry, unveiling not just one or two but 30 outstanding chrome nail ideas that will leave you yearning for a trip to the nail salon.
Why settle for the humdrum when you can shine—literally? Chrome nails offer an iridescent quality that takes traditional polish to extraordinary heights. Whether you are seeking an opulent gold finish for a luxurious vibe or a holographic spectacle that seems plucked from the future, chrome nails can transform your hands into a visual masterpiece.
In this comprehensive guide, you'll discover many innovative designs and gain insights into the application techniques, durability, and even the science behind the chrome magic. Whether you're a DIY trailblazer or a salon aficionado, we've got you covered.
Get Ready for Pink Paradise: Glossy Pink Chrome Nails
Hey there, style lovers! Remember when I attended that rooftop brunch last month? My nails were shimmering with this stunning triple threat look: pink Chrome, glazed doughnut finish, and a glossy topcoat. I swear, this trend is the go-to for all your sundresses this spring and summer season. Perfect for sipping mimosas in style!
The Cosmic Extravaganza: 3D Chrome Nails
If you've ever stared at the night sky and wished you could capture its essence, then get ready for some interstellar beauty. I recently tried a chrome mani that felt like a cosmic journey with volcanic eruptions—picture-raised Chrome swirls over a clear base. If you're all about that sci-fi allure, trust me, this is your next must-try mani. Let your nail tech go wild, and you'll be the talk of the galaxy!
Ditch Pastels for Power: The Chrome Purple Mani
I adore my lilacs and lavenders, but sometimes you need a switch-up, right? Last autumn, I took the plunge into a deep-purple chrome mani, and let me tell you—it was transformative. Deep shades offer a richness that screams sophistication. Move over, pastels, there's a new hue in town!
Ride the Waves: Textured Wavy Chrome Nails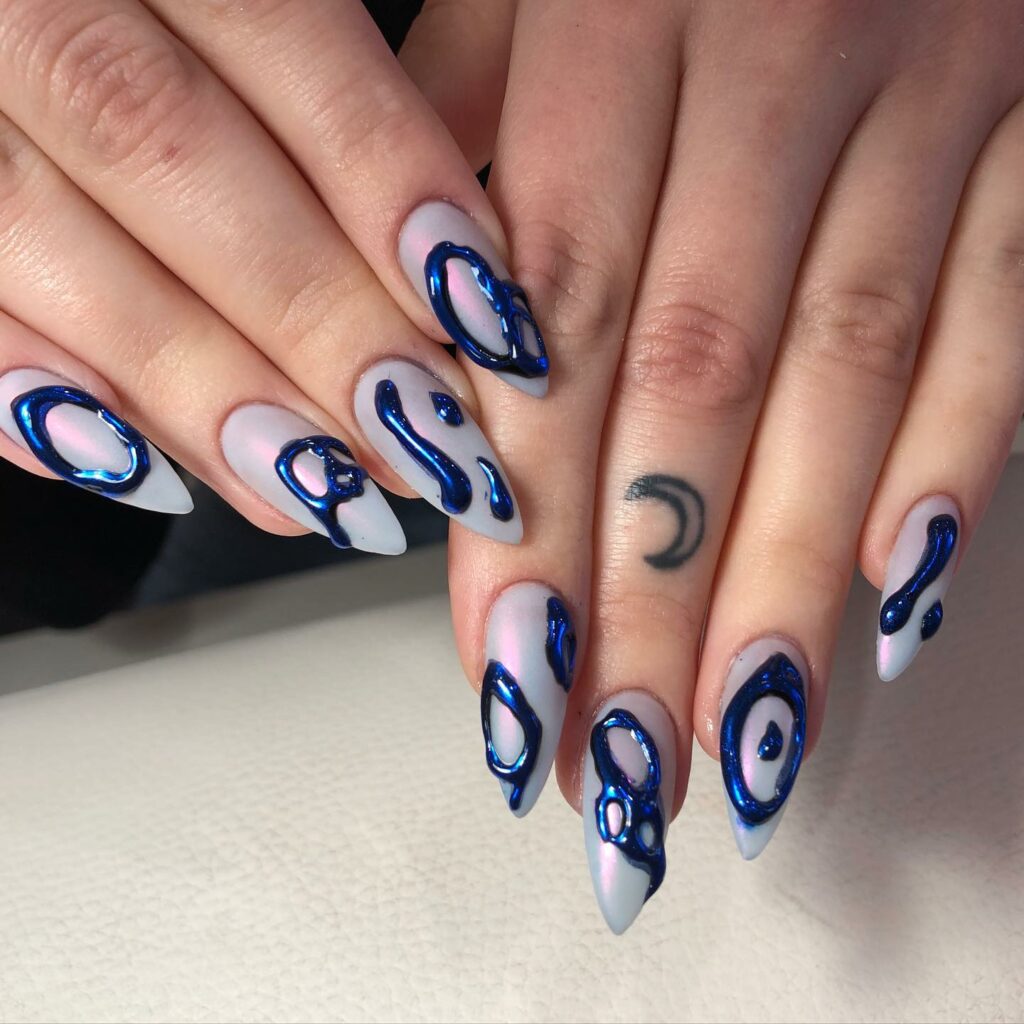 Are you into texture as much as I am? Last month, I swooned over the wavy chrome mani that one of my favorite nail techs posted. Raised waves and swirls make this Chrome look gorgeous and tactilely fascinating. This one might be a little complex for a DIY, so save the inspo and let a pro make your nail dreams come true.
Timeless with a Twist: Chrome French Manicure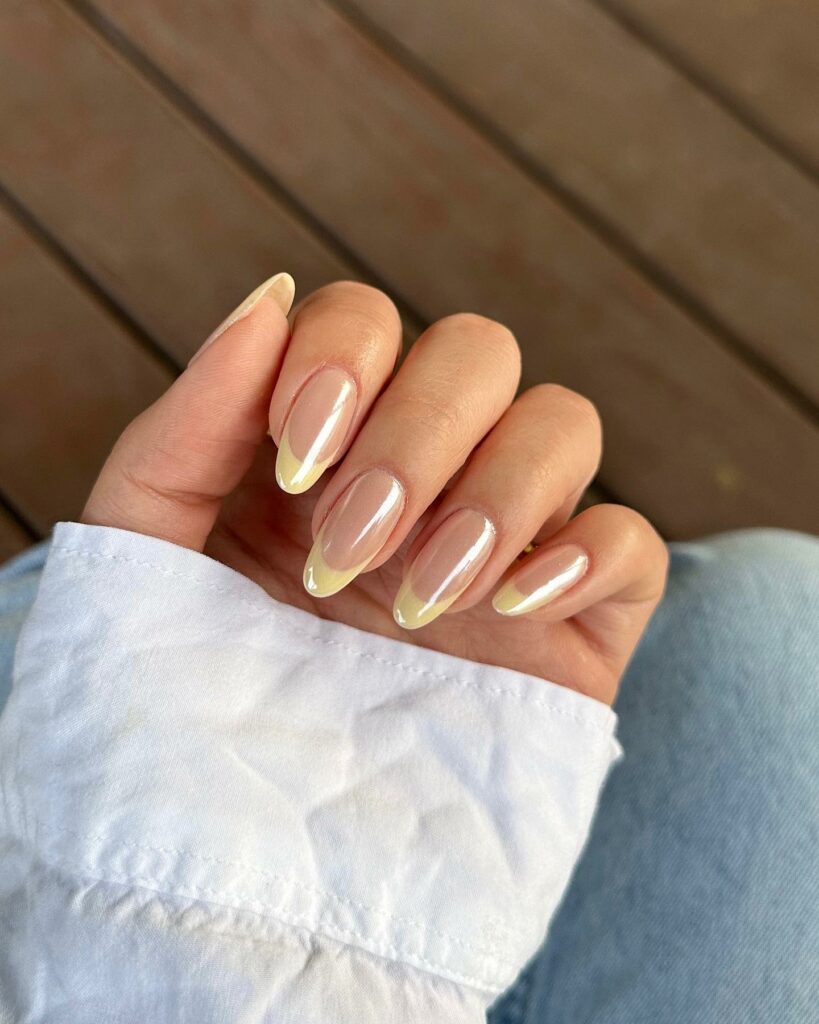 Old habits die hard, and giving up the classic French mani feels almost sinful if you're like me. But who says you can't innovate? Replace the traditional white line with a chrome quarter-moon, and voilà! You've got yourself a modern classic that feels fresh and fabulous.
Celebrity-Approved: Hailey Bieber's Chrome Glaze Nails
Hailey Bieber recently stepped out with a manicure that had me double-tapping. Imagine a red-tipped French mani with a subtle chrome glaze. It's icy, edgy, and perfect for elevating your holiday or Valentine's Day look. Instant love!
A Splash of Color: Rainbow-Tipped Chrome Nails
Here's something fun: a multi-colored chrome French mani that made heads turn when I tried it last festival season. Each nail tip flaunts a different shade of Chrome, making it visually stunning and oh-so Insta-worthy.
Summertime Madness: Pink and Red Chrome Mani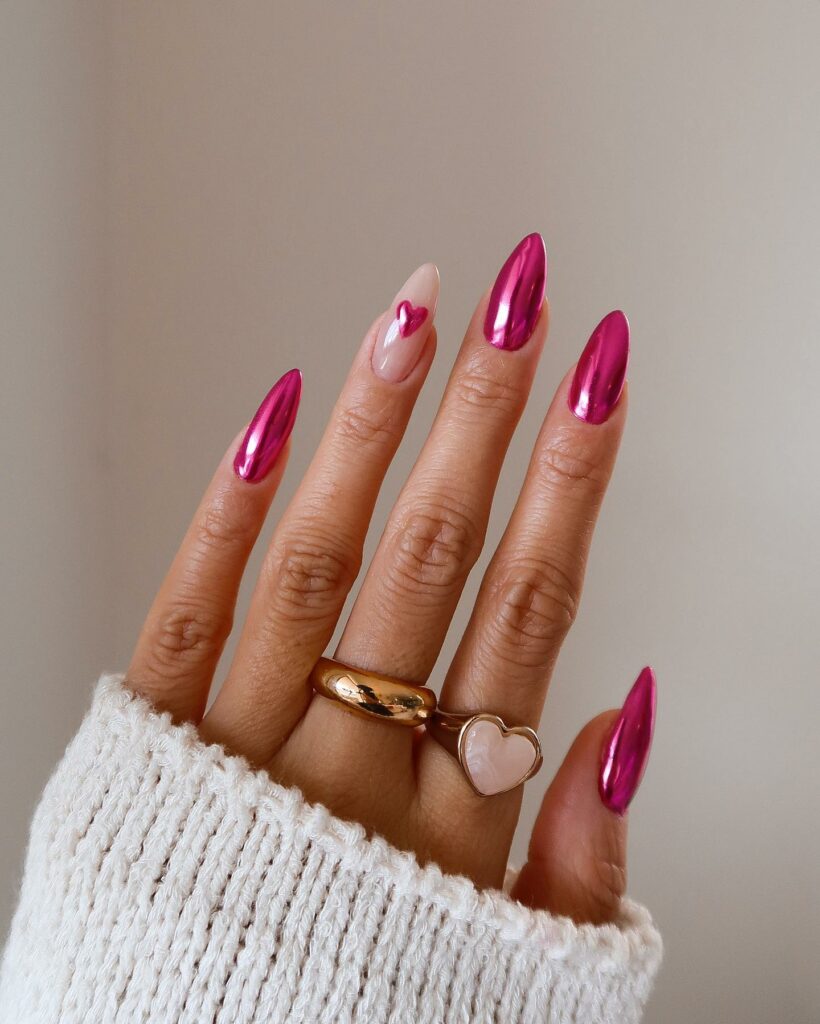 Feeling a bit playful? How about a bubblegum pink base with a red tip—all in chrome finish? Not only does it make for a fabulous summer look, but it also adds flair to the standard French mani. Go for an almond shape if you're looking for bonus style points!
Minimalist Chic: Silver Heart Chrome Mani
Who says Chrome has to be over the top? If you're more into the less-is-more vibe, add just a few chrome accents, like silver hearts. Trust me, these tiny details pack a big punch and work marvelously with almond-shaped tips.
Step into the Future: Futuristic Chrome Nails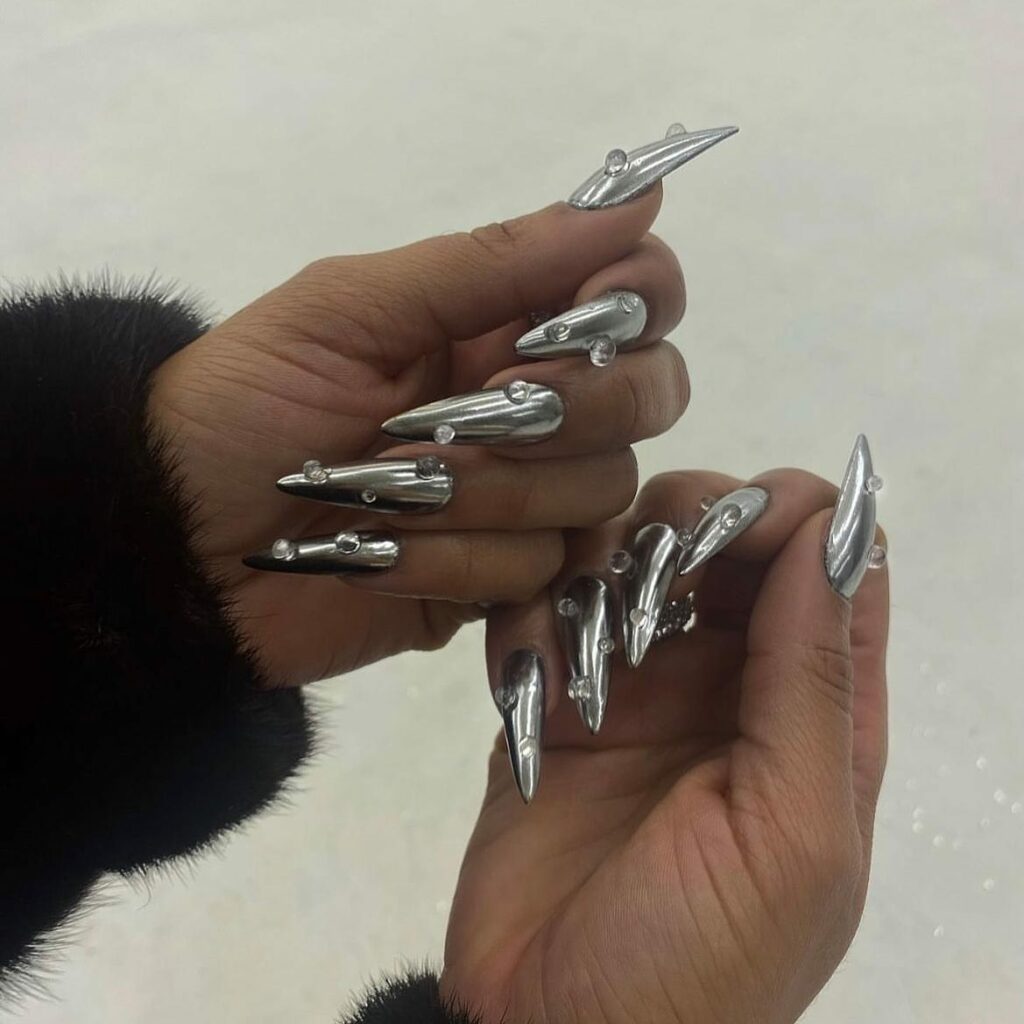 Ever feel like channeling your inner space traveler? This chrome look employs a unique blend of silver and gold, all unified by a singular accent nail. It's futuristic yet grounded and bound to give your outfit a sci-fi edge that's totally out of this world.
Get Electrified: Electric Green Chrome Nails
Hey there, lovers of all things trendy! Have you ever considered starting your chrome manicure with a black base coat? It sounds wild, I know. But Betina Goldstein, a nail artist I've been following for ages, uses this technique to create a jaw-dropping electric green chrome look. I gave it a whirl last weekend before heading to a music festival, and let me tell you, my nails were the life of the party.
Blooming Marvel: Chrome Nails With Floral Accents
One thing I love about chrome nails is their versatility. Picture this—a chrome manicure with delicate floral designs in blues, pinks, and greens. Sounds like a fairytale, right? It's pretty easy to achieve. Just invest in some floral nail stickers or striping brushes, and you're good to go. I wore this look to a garden party and felt like I had little masterpieces at my fingertips.
TikTok Trendsetter: Slime Green Chrome Nails with Airbrushed Details
Aura nails are blowing up, especially on platforms like IG and TikTok. Want to know a secret? You can combine the aura trend with chrome nails. You'll need metallic green polish, milky white polish, and a makeup sponge for that dreamy airbrush effect. I tried this look before it blew up, and the compliments haven't stopped!
Bridal Bliss: Vanilla Chrome Nails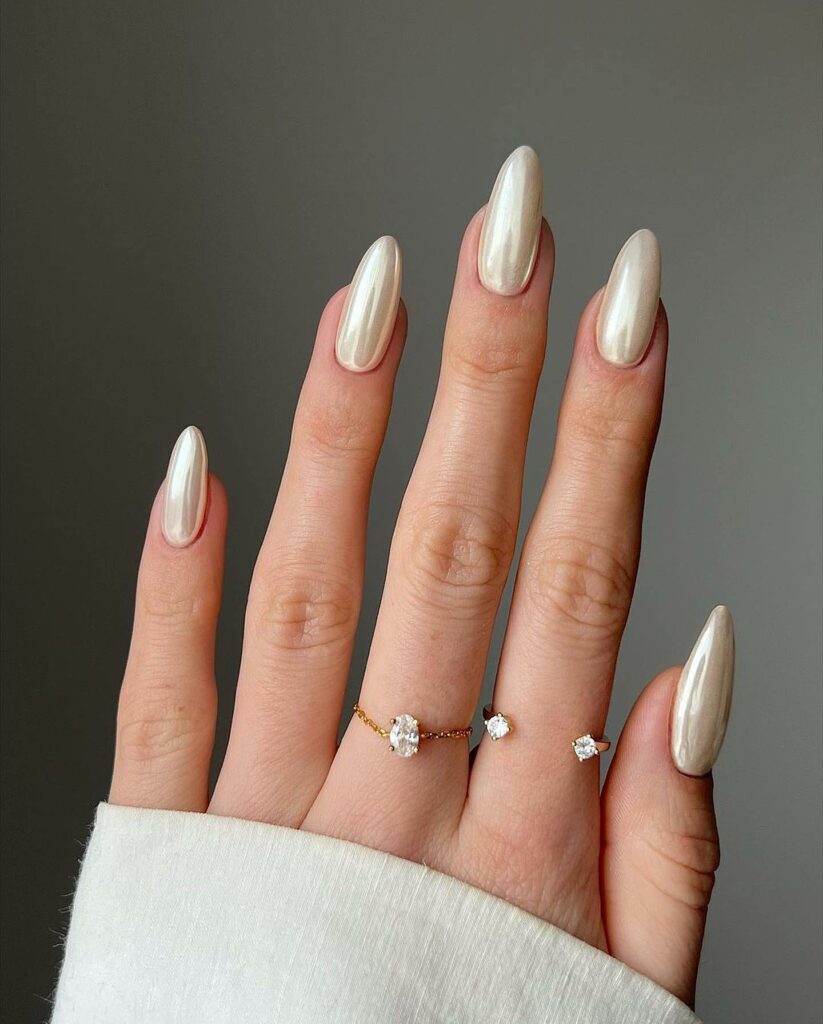 Wedding season is around the corner, and guess what? Vanilla chrome nails are predicted to be the go-to bridal look for summer 2023. Its off-white base makes it versatile enough to pair with any gown, but the chrome finish elevates it to a new level of glam. I can already picture myself saying "I do" with these nails (that is when the time comes!).
A Touch of Midas: Dua Lipa's Gold Chrome Nails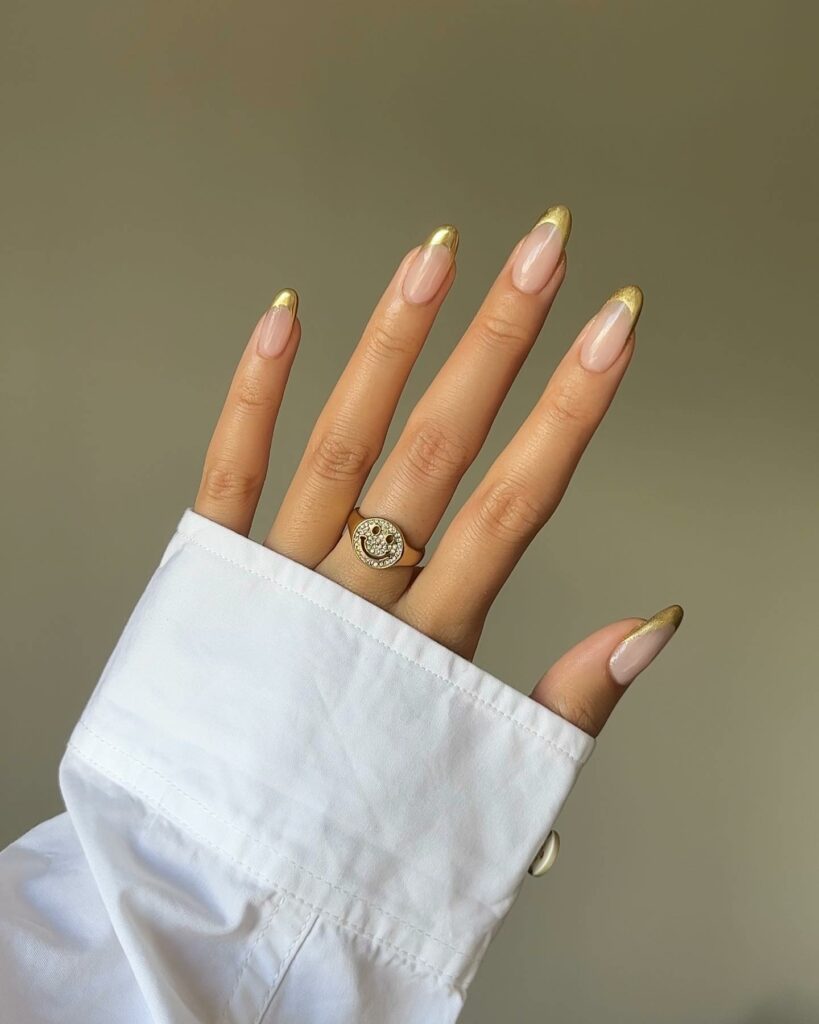 Silver chrome nails are great, but what about gold? Dua Lipa rocked a gold chrome mani that had me immediately reaching for my polish stash. I tried it out for an evening gala, and it was a total hit—a cool twist to an already chic trend.
Summer Vibes: Creamsicle Chrome Nails
Ready for a taste of summer? Think creamsicle, but for your nails! This look combines a luscious orange polish with soft chrome accents in a gradient pattern. I wore these to a beach party, and let me tell you, my nails were as big of a hit as the sunset!
Simply Striking: Black Mani with Chrome Accent Nail
Looking for a way to jazz up your classic black manicure? Add a single chrome accent nail with a crackled foil effect. I sported this look at a rooftop cocktail party last month, and it's the perfect blend of edgy and glam.
Wedding-Ready: Pearly Pink Chrome Nails
Here's another wedding season win: pearly pink chrome nails. This dreamy mani will add a touch of elegance whether you're the bride, a bridesmaid, or simply a guest. I wore these to my best friend's wedding, and they were enchanting.
Cinematic Inspiration: Purple, Green, and Blue Chrome Nails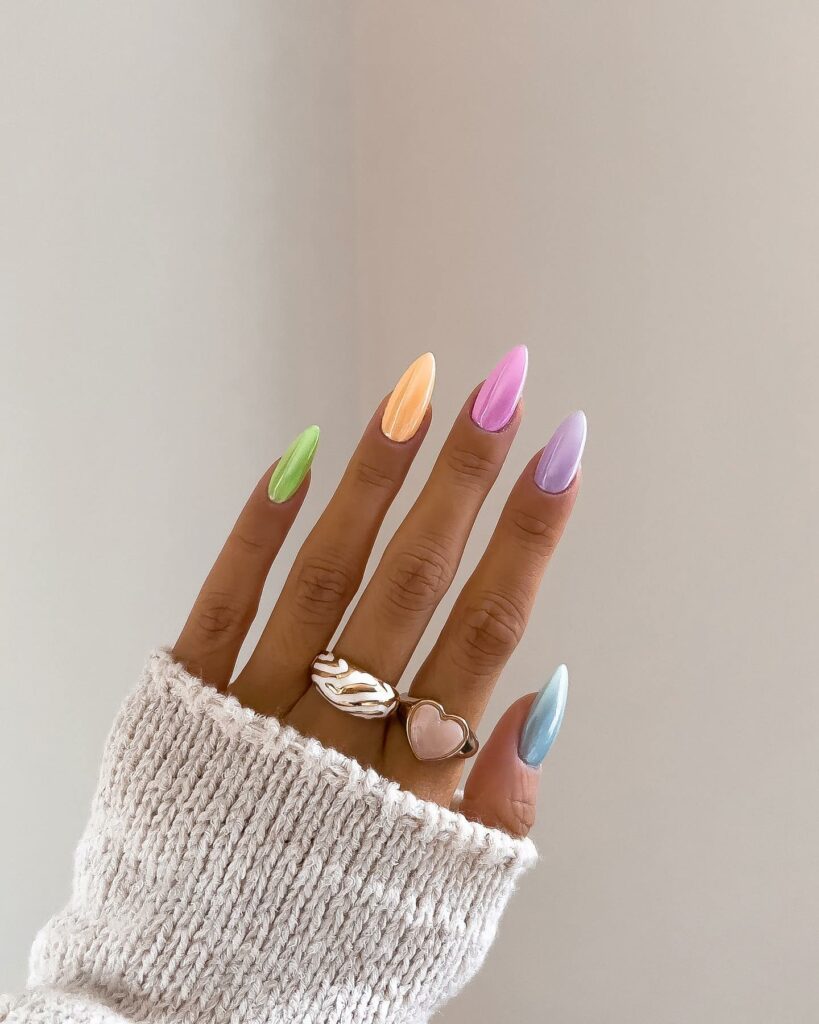 Any film buffs out there? This look screams "Transformers" in the best way possible. Megan Fox needs to rock this at her next red carpet-event. I wore these to a movie premiere and felt like a star myself!
Stick it On Gel Nails with Zero Fuss
Lastly, talk about these stick-on gel nails with glazed swirls over pink Chrome. Inspired by none other than Margot Robbie, these UV-free nails from ManiMe are heaven-sent for people who can't deal with messy polishes. I popped these on for a casual brunch and felt like living in a Barbie world.
Let Your Fingers Do the Talking with Trippy Chrome Tips
Hey, trendsetters! Let's talk about a total eye-catcher manicure: the trippy French manicure with holographic tips. I couldn't take my eyes off them when I saw a friend sporting this style at an art gallery opening. Camera flashes or sunlight, it doesn't matter—these nails are in a league of their own. They make such a statement that you'll want to keep your hands up all day to catch glimpses of the holographic magic.
Indigo Dreams: Color-Shifting Chrome Nails
Ready to take your manicure game to the next level? Check out Mooncat's Heavy Is the Crown collection. This DIY-friendly collection has all the hues you'll need for a mesmerizing, color-shifting manicure. Imagine having a whirlpool of indigos, violets, and edgy pinks at your fingertips. I tried it for a night out with friends, and let me tell you, my nails were the stars of every Instagram story.
The Illusionist: Half-Moon Chrome Mani
Negative space designs have always been my go-to for a sleek, modern look. But let's be honest; the striping tape and cleanup can be a bit of a hassle. Cue the half-moon chrome manicure—a simple green brush stroke atop a silver base gives the illusion of a more complex design. It's like magic but without the wand, or in this case, the tape!
Reach for the Stars: Star-Studded Chrome Nails
Who among us doesn't want to feel like a celestial body sometimes? Star-themed nail art has a way of making anyone feel out of this world. Adding stars to a multi-hued chrome base creates an ethereal effect that won't quit. I wore this look to a weekend music festival and felt like I was shimmering on Earth and in the galaxies far away.
Toast-worthy Nails: Champagne Chrome
Okay, we have to talk about Vanessa Hudgens' sparkling rosé-inspired nails. A fabulous manicure's basically a champagne toast at your fingertips. I tried to replicate this for a bridal shower I attended, and let's say the nails received as many toasts as the bride-to-be.
When Opposites Attract: Matte Meets Chrome
Now, for those who can't decide between the sultry look of matte nails and the eye-catching allure of Chrome—why not have both? Nail artist Mei Kawajiri shows us how it's done. A blend of mocha matte polish with silver chrome accents makes for a compelling, stylish look. I sported this versatile combo for a week of business meetings and after-work socials. Trust me, it was a conversation starter at both.
Ombré Chrome Magic
Unleash the artist within by blending two or more chrome shades seamlessly on a single nail. This technique creates a magical gradient that transitions from one shade to another, offering a visually captivating and sophisticated look. Trust me, once you try it, you'll be fielding compliments left and right.
Geometric Bliss
If you're someone who appreciates symmetry and structure, this one's for you. Using tape or freehand techniques, craft geometric patterns using different chrome shades. It's an exquisite blend of modern artistry and chic style, making your nails a canvas for geometrical wonders.
Starry Night
Reminiscent of Van Gogh's masterpiece, this design embraces the deep, dark blues and twinkling stars of a night sky. Start with a black or navy base and adorn it with twinkling chrome stars and a sprinkle of glitter for a heavenly finish. It's not just a mani; it's a nightly adventure on your nails!
Marbled Elegance
If you're drawn to the organic patterns found in nature, a marbled effect is your ticket to a mesmerizing manicure. Using a combination of swirling chrome colors, you can create an intricate marbled effect that rivals the beauty of natural stones.
5 Simple Techniques for Chrome Nail Art In 2023
So you're sold on the chrome nail trend and ready to give it a go? Excellent choice! But before diving into that shimmering powder jar, let's walk through the different application techniques. After all, knowledge is power, especially in nail art.
Gel Polish Method
Prep the Nail: Like any good manicure, start with clean, shaped nails and apply a base coat.
Apply Color: Apply your chosen gel polish color and cure it under a UV or LED lamp according to the polish's directions.
Top Coat: Apply a no-wipe gel top coat and cure.
Chrome Time: Take a makeup sponge or eyeshadow applicator and gently rub the chrome powder onto your nail.
Seal it In Finish with another layer of the no-wipe top coat and cure one last time.
Regular Polish Method
Base Coat: As always, begin with a clean slate and apply a base coat.
Color Application: Apply your chosen regular nail polish color and let it dry completely.
Sticky Layer: Apply a water-based top coat and allow it to dry until it's tacky, not wet.
Apply Chrome: Use an applicator to rub the chrome powder onto the tacky surface.
Top Coat: Seal everything with a strong, quick-drying top coat.
Chrome Nail Stickers
For those who are a little apprehensive about diving into powders and gels, chrome nail stickers are your best friends. They're a peel-and-stick situation with zero drying time.
Pro Tips:
Always use high-quality chrome powders for the best results.
The finer the powder, the smoother the chrome finish will be.
Some people wear gloves during the application process to avoid getting chrome powder on their skin.
Risks and Precautions
Always perform a patch test of the products to ensure you don't have an allergic reaction.
UV lamps are often used for gel polish, so apply sunscreen on your hands to protect your skin.
So there you have it—a simple guide to chrome nail art application. Each method has its pros and cons, so feel free to choose what aligns with your skill level and needs. Ready to let your nails shine bright like chrome? Happy painting!
How Durable Are Chrome Nails?
Let's dive into a question we've all pondered when mesmerized by that gleaming set of chrome nails: How long will this beauty last? We want our nails to look stunning, but they also need to withstand the trials of daily life, right?
The Longevity of Gel-Based Chrome Nails
You're in luck if you're going down the gel polish route. Chrome nails applied over gel polish are usually more durable, lasting about 2-3 weeks without chipping. I love this method for vacations or during busy work weeks when touch-ups are not on the agenda. Remember, the key to long-lasting chrome nails lies in the prep work. Ensure your nails are clean and well-shaped and that you've applied a base coat before moving on to the color and chrome powder.
Regular Polish and Durability
For those who prefer the regular nail polish method, the durability is less, averaging around 5-7 days before chips start appearing. So, if you've got an event, party, or short-term reason for wanting to sparkle, this is your go-to. Just remember that regular polish takes time to dry, so arm yourself with patience and a good Netflix show while you wait.
Chrome Nail Stickers: Quick and Easy
Now, if you opt for chrome nail stickers, you're looking at about a week of wear, depending on how well you apply them and how rigorous your daily activities are. I once rocked a set of chrome nail stickers during a camping trip, and let me tell you, they stayed put through marshmallow roasting and all!
Tips for Durability
Use a high-quality top coat to seal in your chrome design, regardless of the method used.
Avoid using your nails as tools; that means no can opening, folks!
Wear gloves when doing chores that involve chemicals or excessive moisture, like washing dishes or using cleaning sprays.
Discover The Science Behind Chrome Nail Designs
If you've ever sat back and marveled at the lustrous shimmer of chrome nails, you're not alone. I, too, have found myself pondering, "How exactly does this nail sorcery work?" Well, it turns out that the dazzling effect isn't just a visual trick—it's science. Let's break it down, shall we?
What Is Chrome Powder?
Chrome powder is at the heart of the chrome nail trend, a fine pigment usually made from mica, iron oxides, and titanium dioxide. When applied to a wet nail surface, these particles adhere, and that's when the magic happens. But what's truly fascinating is the way these micro-particles interact with light.
Light Interference: The Key to Shine
Chrome powder owes its shimmer to a phenomenon known as light interference. When light hits the powder, the layers of pigment scatter the light in various directions. What you perceive as the chrome shine is actually light bouncing off those tiny, metallic-like particles.
The Role of Color Undercoats
Let's get into why the base color matters so much. Chrome powder is usually translucent. This means it adopts the hue of the undercoat, often enhancing and transforming it. Ever notice how different chrome effects start with different base coats? A black base coat, for example, often results in a more vibrant, iridescent finish. I've tried a dark blue base and then layered chrome powder on top—the result was this dreamy oceanic hue that I couldn't stop staring at!
Sealing the Deal: The Importance of Top Coats
The top coat is where polymer science comes in. The long molecular chains in top coat formulations work like a charm to bind everything together, protecting your color and chrome powder layer. Think of it as the clear shield in a knight's armor. It's the unsung hero in ensuring your chrome nails keep their dazzling appearance for as long as possible.
So there you have it—the chrome effect is more than just a passing trend; it's a beautiful interplay of light and color, made possible through material science and optics. Armed with this knowledge, you're not just making a fashion statement; you're embracing the delightful intricacies of science.
Conclusion
Alright, style mavens, that's the wrap-up on the chrome nail universe! It's undeniable that this trend offers something for every taste and occasion, from ethereal star motifs to luxe champagne hues. If you're diving into DIY, make sure you have all your bases covered with the right base coat, top coat, and color-shifting powders. Remember that while chrome nails are show-stoppers, they can be high-maintenance. Chipping can happen; touch-ups might be necessary, so be prepared for extra care. Beauty sometimes demands a bit of effort, right? Armed with these tips and inspiration, you're more than ready to take your nail game to the next level. Go ahead; let your fingertips do the talking!
Feature image @vivianmariewong via Instagram