Hi nail lovers! Ever find yourself captivated by the elegant simplicity of short nails but feel like the realm of nail art is limited to those with long talons? Think again. Today, we're diving deep into the vibrant world of short-nail designs, debunking the myth that beauty and artistry require length. From minimalist motifs to intricate detailing, we'll explore 34 breathtaking designs that perfectly suit your trimmed tips.

In this comprehensive guide, you'll find a curated selection of design ideas, step-by-step tutorials, pro tips, and the best polishes to make your nails pop. Short nails are more than just a trend; they're a lifestyle. Prepare to redefine your beauty routine and amplify your style. Trust me, by the end of this post, you'll be booking your next manicure appointment armed with many ideas that will make even the most seasoned nail technicians do a double take. Let's get started, shall we?
.
Nude Nails With White Swirls
This design strikes a perfect balance between modern minimalism and artistic flair. It's subtle yet captivating—perfect for anyone who wants to add a touch of uniqueness to their everyday look.
Purple and Orange French Tips
It's a daring duo that's surprisingly versatile. I once sported this during a summer music festival, and let me tell you, the compliments were as endless as the playlists!
White Swirly Nails
You might think white is just for winter, but these intricate swirls keep your look fresh year-round. The design adds a touch of whimsy, making even the most straightforward outfits pop.
Blue French Tip Nails
This one's a gem for ocean lovers or anyone needing a dash of calm in their busy lives. The blue tips make a statement without screaming for attention.
Pink French Tip Nails
I wore this design and paired it with a floral dress; the combination was unbeatable. It's the ultimate style for the young at heart, irrespective of age.
Blue and White Swirl Nails
It's exceptionally cozy for wintertime, but I've worn it during a beach vacation, too—the swirls reminded me of waves crashing on the shore under moonlight.
Yellow Moon Nail Design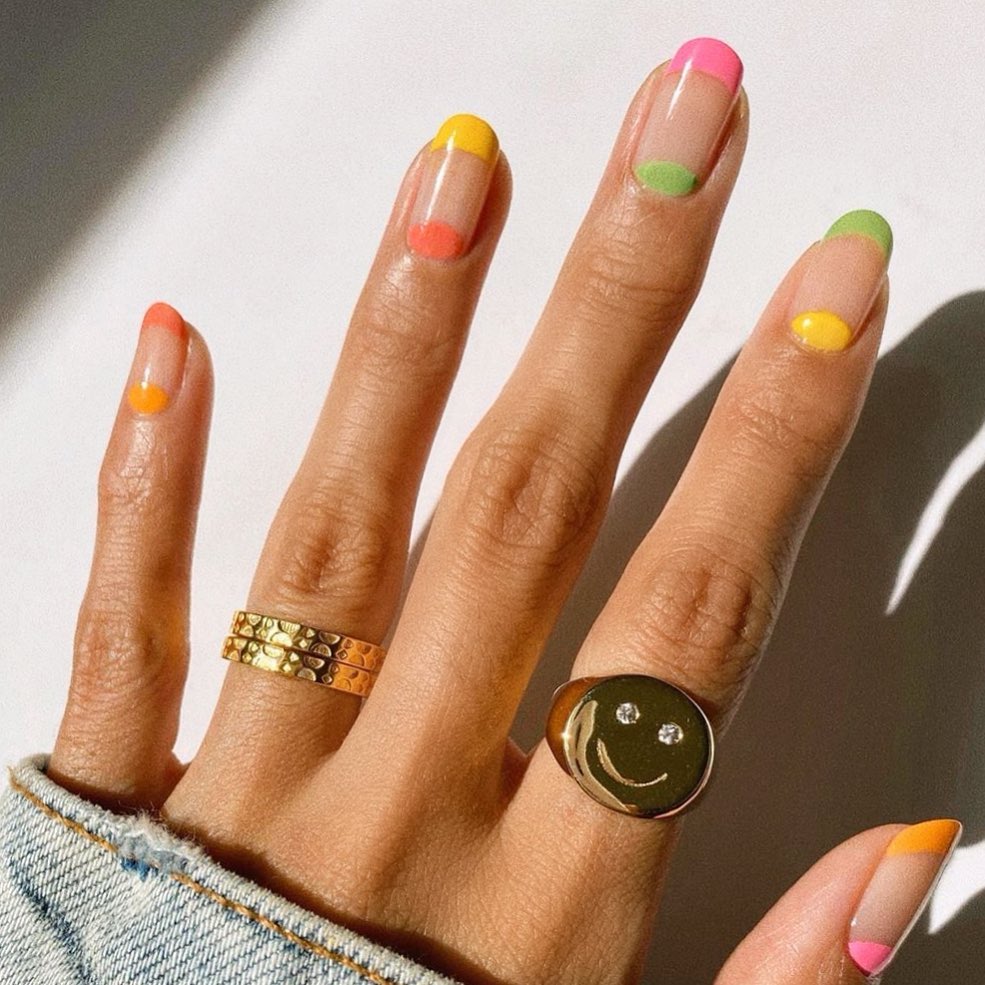 This design is a must-try for anyone fascinated by astronomy or lunar phases. It captures the moon's magic and tucks it right at your fingertips.
Tiny White Heart Nail Art
Whether celebrating an anniversary or just in the mood for a bit of self-love, this design offers a whisper of affection that is impossible to ignore.
Black White French + Reverse French Tips
Feeling indecisive? This style offers you the best of both worlds. I wore this to a networking event, and everyone kept asking for the name of my nail artist!
Classic White French Tips
When in doubt, I always go back to this classic. It's a failsafe option for events where I want to look polished but not overpowering.
Black and White Geometric Lines Nails
Geometric designs have this sleek, contemporary vibe that I love. Perfect for a night out or even an avant-garde office look. I sported this design at a friend's gallery opening, and it was a topic of discussion just as much as the art on the walls!
Green Nails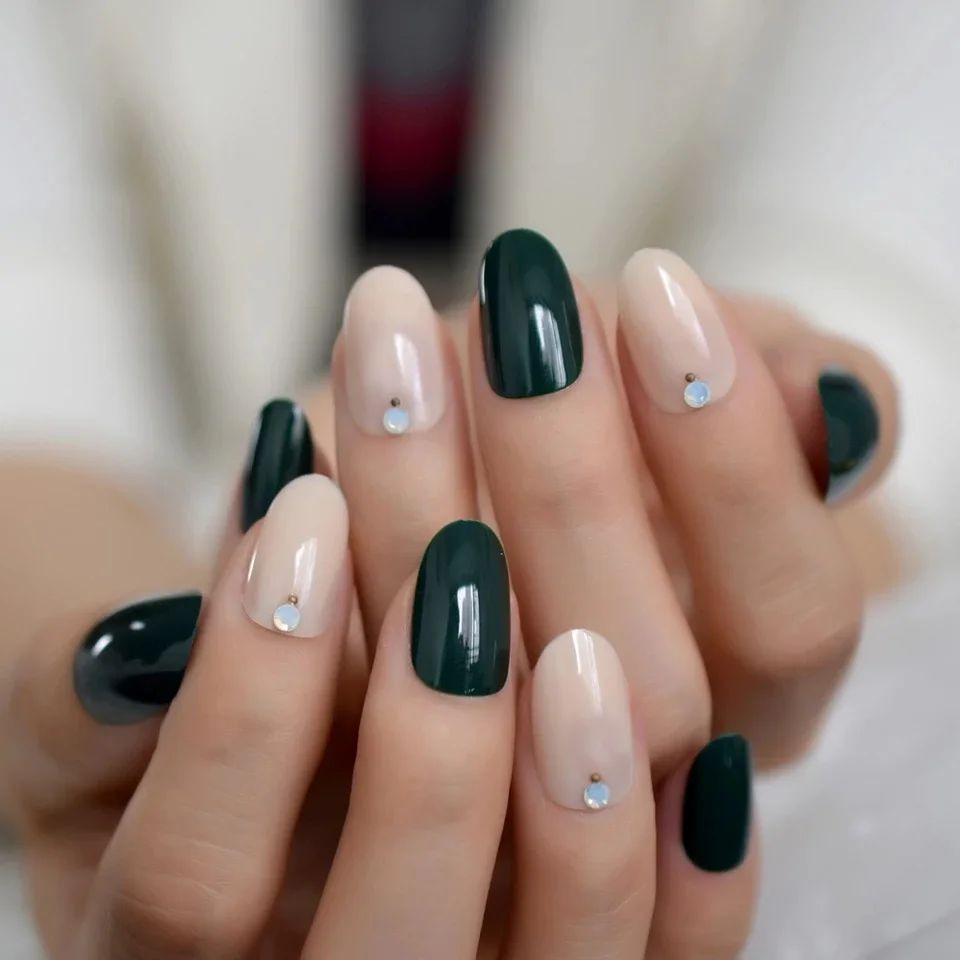 Green is often overlooked in nail art, but it can be astonishingly refreshing. Green nails can add an earthy flair to your style, whether it's a muted olive or a bright lime.
Black Nails With Swirl Design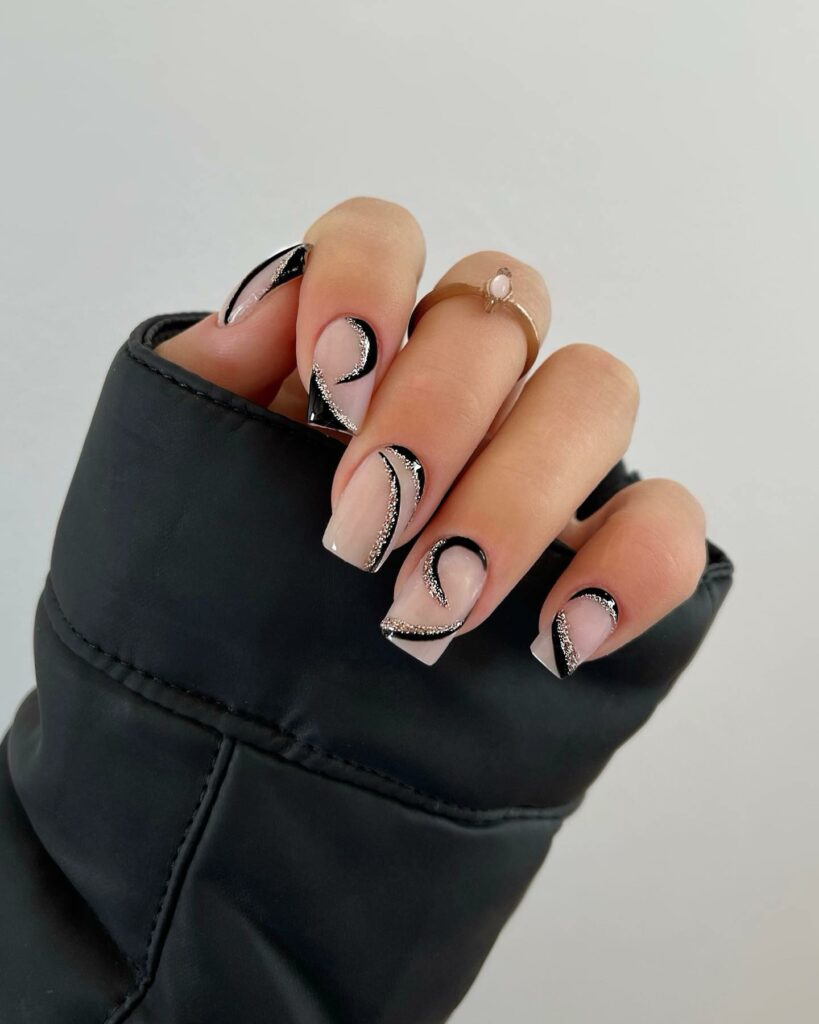 I first tried this for a formal event, wearing a classic black dress. These nails brought the perfect edge, giving the outfit an unexpected depth.
Neon Yellow Nails With Flower Art
This style is your go-to if you're yearning for a splash of sunshine. Perfect for beach holidays or summer BBQs, these nails will make you the life of the party.
French Fade Nails
This is an elegant twist on the traditional French tip, ideal for those who want subtlety with a dash of flair. You get the timeless appeal of a French manicure with a gradient finish that's oh-so-now.
Nude Nails With White Dots
This look offers a dreamy yet minimalistic feel. The white dots give an illusion of space and depth, making this design incredibly unique yet simple This look offers a dreamy yet minimalistic feel. The white dots give an illusion of space and depth, making this design incredibly unique yet simple.pull off.
Blue Nails With Swirls
I wore this design to a beach wedding, and it was a total hit. The swirls felt like dancing with the ocean waves—pure magic!
Star Nail Art
I'm a night sky enthusiast, so this one holds a special place in my heart. It's like having the whole universe at your fingertips—literally.
Blue French Tip Nails.
Why settle for one shade when you can have an entire spectrum? This time, go for a gradient or mix different shades to create a multidimensional look.
Black and White Nail Art
One word: versatility. This design works for almost any occasion, from casual brunches to black-tie events. The first time I tried it, I was stunned by how many outfits it complemented.
Milky White Rainbow Frenchies
These aren't your typical French tips; they're what I like to call a 'surprise party on your nails.' I wore them to a picnic recently, and let's say they were more popular than the guacamole!
Green and Cow Print Nails
I tried this one for a farm-to-table dinner event. The combination of green and cow print made me feel so in tune with the sustainable theme!
Blue Gradient Nails
If you're a fan of the sea or the sky, these gradient nails will make you feel one with the elements. Perfect for daydreaming or sky-gazing, I promise.
Hot Red Nails
These nails scream confidence. I donned them for a big presentation, and not only did I nail it (pun intended!), but the fiery red also gave me that extra dose of courage.
Unique Orange French Nails
They're fun, edgy, and perfect for that fall aesthetic or even a summer bonfire. I can't wait to try these for my upcoming pumpkin-picking outing!
Pastel Swirly Art Nails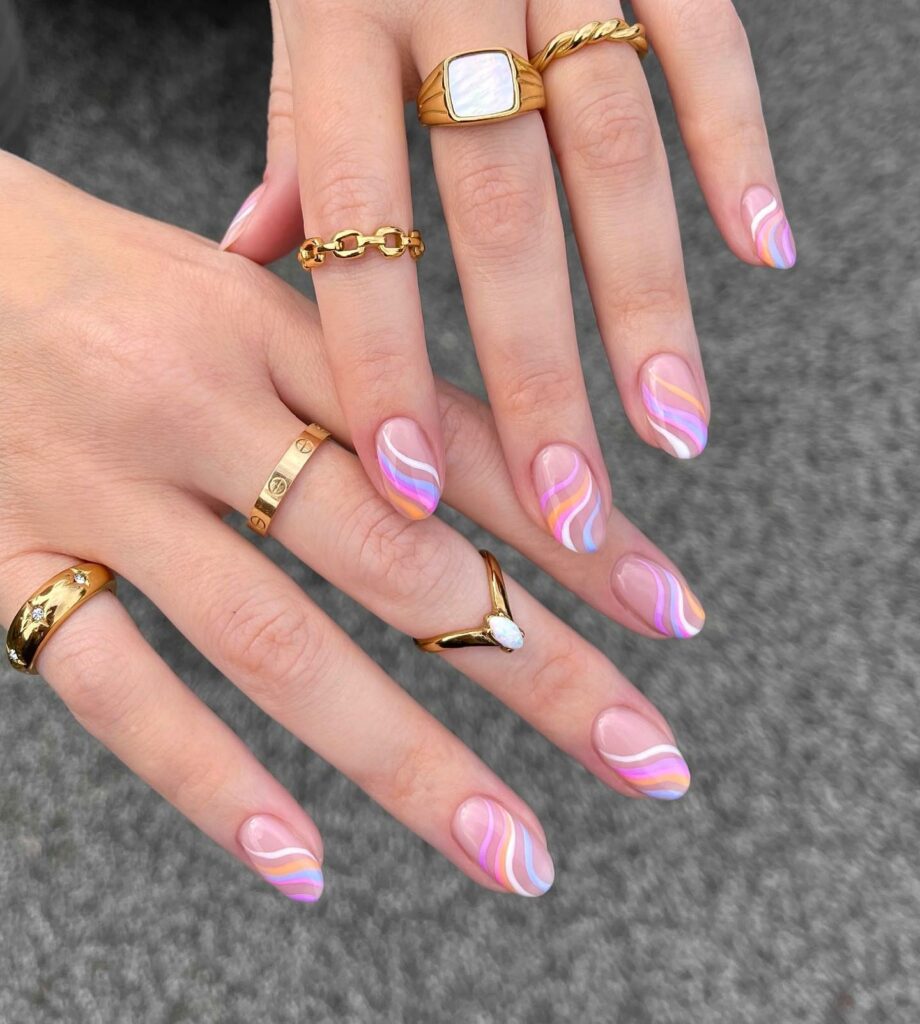 Wore this design to a pastel-themed party. I felt like my nails were part of the décor, and yes, they were a conversation starter!
Mini Hearts Nails
Got this one done for Valentine's Day, but who says you can't sport hearts all year round? Love is not just a seasonal affair, after all!
Mango Orange Nails
These nails fit the bill for Summer BBQs, beach trips, or just cruising down the highway. They're the epitome of sunny days and good vibes.
Red Squiggle Nail Art
These nails make me think of a heartbeat pattern or the rhythm of a good tune. Donned these for a concert recently; let me tell you, they were in perfect harmony with the vibes.
Tortie French Nails
I tried this out for a coffee date with friends, and it was a total hit. It's classic but with a twist, making it a conversation piece right at your fingertips.
Glazed Donut Nails
Oh, how we love donuts! But wearing them on your nails? Now that's next-level. I had these on during a coffee meet-up, and you won't believe the number of double-takes they received!
Little Flower Nails
I rocked this style at a garden party last spring, and they fit in perfectly with the blooming landscape. If you're looking to bring the spirit of spring to your fingertips, this is your go-to!
Taste the Rainbow Nails
Who needs to find the end of the rainbow when you've got it right at your fingertips? I wore this design to Pride, and waving my rainbow-decked hands in the air felt so empowering.
Daisy Art Nail Design
First wore this for a picnic date, and let me tell you, these nails were as much a talking point as the cheese and wine. They're the embodiment of laid-back elegance and sunny afternoons.
Gold French Nails
I sported these beauties to a formal charity event, and they were the perfect finishing touch to my outfit. The gold tips added an air of luxury without stealing the show.
Mint Ombre
A subtle transition from soft mint to vibrant emerald. This design is a fresh take on the ombre trend, perfect for spring or when you're craving a palette cleanser.
Jungle Print
Think lush leaves and tropical textures. This design brings the wild heart of the rainforest to your fingertips, capturing attention with intricate patterns.
Metallic Olive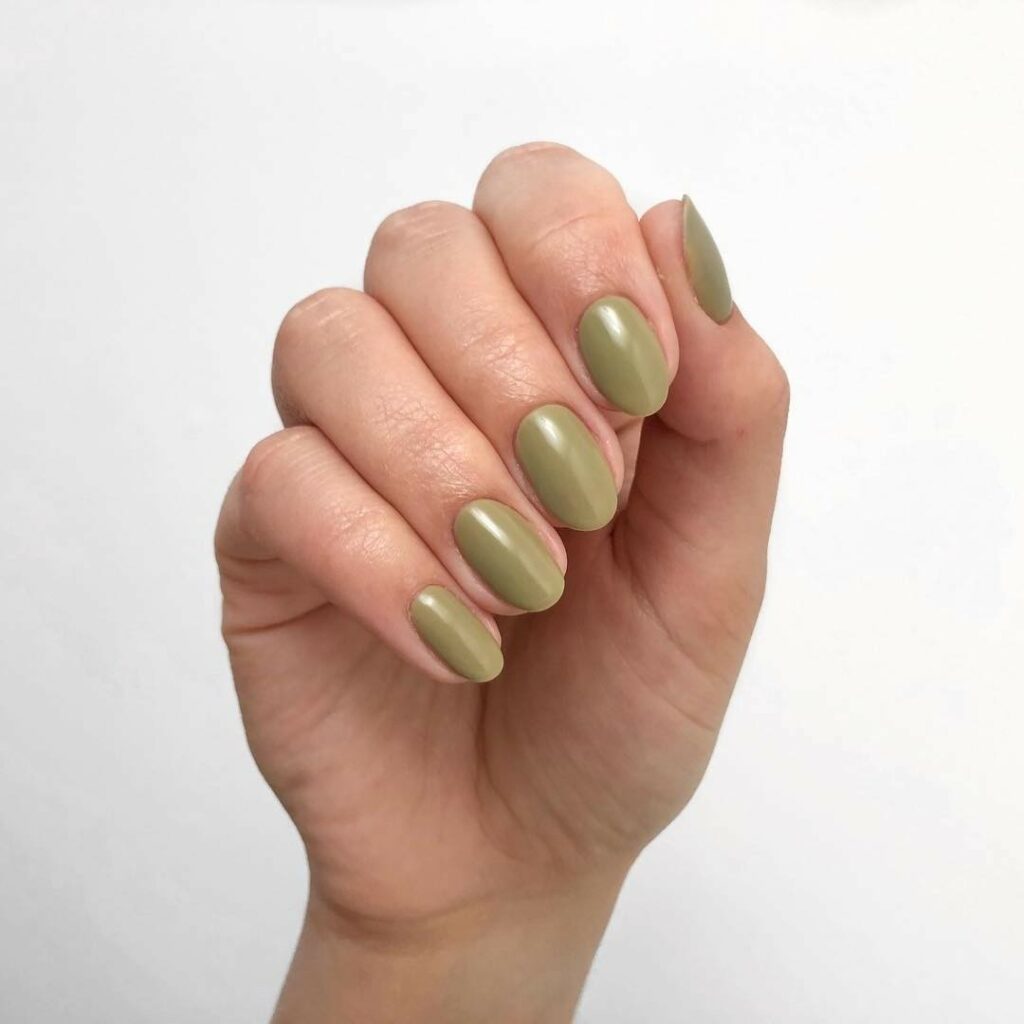 Olive green paired with metallic gold accents. Ideal for those who appreciate luxury without losing that earthy vibe.
Geometric Emerald
Sleek lines and sharp angles come alive in an emerald hue. This design is an architectural dream for those who love structure and symmetry in their style.
Green Glitter Bomb
A full-on sparkle using varying shades of green glitter. This one's for when you feel extra playful and aren't afraid to shine.
Seaweed Swirls
Think oceanic vibes with swirls that resemble seaweed or waves. It's a calming, flowing design that draws the eyes without overwhelming them.
Serpentine Chic
Incorporate snake prints or scales using varying green tones. This fierce and edgy design makes it a bold choice for those looking to make a statement.
Pastel Pistachio
This understated light green works with tiny white or pearl accents. It's a minimalist look that still captures attention due to its fresh subtlety.
Neon Pop Art
Think bright, think electric! Neon green paired with black and white elements can bring your look a retro pop art feel.
10 Cute Short Nail Designs To Ask For At The Salon
Classic French Manicure with a Twist: Think French tips with a dash of unexpected color or pattern. It's an elegant and timeless choice that remains surprisingly versatile.
Monochromatic Magic: One color, multiple shades. Dive into designs that explore the nuances within a single color family, making a statement through subtlety.
Negative Space: Learn to master the art of leaving portions of your nail untouched for a modern, minimalist look that's equal parts chic and understated.
Marble Effect: Give your nails the look of intricate marble veins. This design is an aesthetic feat, perfect for those who appreciate nuanced detail.
Retro Polka Dots: Capture the essence of the 50s with playful polka dots. A trend that's come full circle and is currently experiencing a resurgence in popularity.
Galactic Inspiration: Celestial designs with star patterns, nebula hues, and more. These are ideal for anyone who dreams of the cosmos.
Floral Flourish: From intricate roses to simplistic daisies, floral designs offer endless possibilities. Perfect for those who want to carry a piece of nature with them.
Bohemian Rhapsody: Think earthy tones, intricate patterns, and a free-spirited vibe. Ideal for the laid-back, creative soul.
Luxury Gem Accents: Elevate your nails with gemstone accents or metallic details for an added touch of glamour. It's ideal for special occasions or when you're looking to add some sparkle.
Athleisure Lines: Borrowing elements from sportswear, these designs feature bold lines and high contrast colors. Perfect for those who want a dynamic, energetic look.
7 Pro Tips for Achieving Short Cute Nails Designs At Home
Creating stunning nail art might seem like a feat reserved for professionals, but with a few insider tips, you'll be on your way to achieving salon-worthy results at home. Here are some pro tips tailored to the diverse designs we've discussed:
General Tips:
Prep First: Always start with clean, dry nails and a base coat to ensure longevity and prevent staining.
High-Quality Tools: Invest in quality brushes, dotting tools, and striping tapes for precise designs.
For Color Gradients like Mint Ombre or Monochromatic Magic:
Use a Sponge: Apply the different shades of polish on a makeup sponge and dab onto the nail for a smooth gradient.
Light to Dark: Work from the lightest shade to the darkest for a more natural gradient.
For Pattern-Heavy like Jungle Print or Retro Polka Dots:
Stencil Help: Use pre-cut stencils or create your own with painter's tape for more complex shapes.
Thin Brushes: Opt for super-thin brush tips for intricate details.
For Metallics like Metallic Olive or Luxury Gem Accents:
Use Foil: Apply a thin layer of nail glue and gently press on metallic foil for a full metallic effect.
Seal with Top Coat: Always seal metallics and gems with a strong-hold top coat to keep them in place.
For Textures like Marble Effect or Galactic Inspiration:
Water Marbling: Drop different polish colors into a water bowl and swirl for a natural marble effect.
Saran Wrap Technique: Crumple a piece of saran wrap, dab it in polish, and gently press it onto the nail for a nebula-like texture.
For Minimalist Styles like Negative Space or Pastel Pistachio:
Tape for Precision: Use striping tape to block off areas you want to remain polish-free.
Less is More: When opting for a minimalist design, focus on clean lines and perfect your technique.
For Freehand Designs like Floral Flourish or Bohemian Rhapsody:
Sketch First: Draw your design on paper to reference while painting.
Steady Hand: Take time and work in stages, allowing each layer to dry to avoid smudging.
12 Best Polishes To Use for Short-Nail Designs?
Having shorter nails doesn't mean you must compromise style or color options. Some designs look incredibly chic on a more compact canvas. When it comes to picking out the best nail polishes for shorter nails, here are some things to keep in mind:
Quality Over Quantity
OPI Nail Lacquer: Known for its long-lasting formula, OPI offers an array of colors that provide opaque coverage, crucial for detailed designs on small surfaces.
Essie Gel Couture: If you're after a gel-like finish without the UV light, Essie's Gel Couture line is a strong contender. It offers vibrant hues and lasts for up to two weeks.
Sally Hansen Miracle Gel: This brand offers a tremendous gel-effect finish without UV light, perfect for complex designs you'll want to show off for longer.
Zoya Natural Nail Polish: For vegan and eco-friendly options, Zoya offers an expansive color range with a formula free of harmful chemicals.
CND Vinylux: Excellent for intricate designs, CND Vinylux dries quickly and offers a week-long wear.
Color Considerations
Dark Hues: Dark colors can make a striking statement on shorter nails. Just be sure to keep the edges clean for a polished look.
Neutral Shades: Soft pinks, beiges, or grays are timeless and make the nail beds appear elongated.
Vibrant Tones: Bright colors like hot pink or bold green can be eye-catching on shorter nails, making each small canvas pop.
Special Finishes
Metallics and Shimmers: A shimmering or metallic finish can add dimension to small nails.
Matte Finish: If glossy isn't your vibe, a matte top coat can add a unique touch to any color or design.
Quick Dry: Consider fast-drying formulas if you're planning intricate designs; waiting for layers to dry on a small surface can test anyone's patience.
Textured Polishes: Polishes with built-in textures like sand or glitter can bring an extra element of intrigue to short nails without the need for advanced techniques.
Regarding shorter nails, the key is to focus on formula quality, color impact, and the finish that suits your design vision. These recommendations offer a solid starting point to ensure your petite canvases shine.
Conclusion
So there we have it, from glazed donut-inspired designs to little daisies that can make even the dreariest day brighter, the world of short nail art is truly your playground. Remember, the key is to choose designs that resonate with you, your personality, and the occasion you're dressing for. While the creative possibilities are endless, remember that more intricate designs may require a steady hand or a professional touch, so plan your time and budget accordingly. What's certain is that your nails are a canvas waiting to be adorned. Please take the plunge, try these designs, and make your unique style statement. After all, life's too exciting to have dull nails!
Feature image @sansilt via Instagram
Last reviewed and updated on October 4, 2023