Hey there beauty buffs! Prepping for a wedding means immersing yourself in a whirlpool of excitement and glam, right down to your twinkling toes! Dive in with me as we uncover the secrets to giving your trusty feet the royal treatment they truly deserve. Together, we'll navigate through the vibrant world of wedding pedicures, where style meets soul-soothing care.
From choosing the perfect splash of color to pampering skincare rituals and modern trends, I've got the lowdown to help you craft a pedicure that's not just a beauty step, but a joyful prelude to your big day. Picture this as your mini guidebook, sprinkled with my seasoned tips, where you'll learn to celebrate every tiny detail that adds a sprinkle of magic to your grand celebration. So, lace up for a journey filled with luxury, charm, and a sprinkle of awe – let's make your walk down the aisle nothing short of a fairytale dance, shining with grace from head to twinkling toe!
Crystal Adorned French Pedicure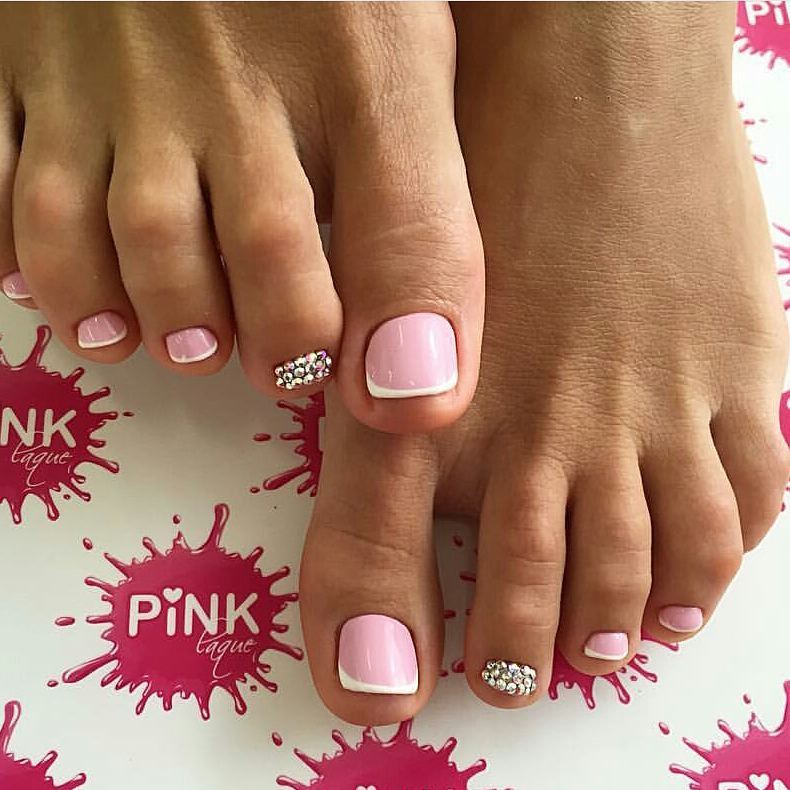 Picture this – I was wandering through the vibrant streets of Paris last spring and stumbled upon a sparkling trend that captured my heart instantaneously. Let's give the traditional French pedicure a luxurious uplift with a sprinkle of crystals on an accent nail, adding a dash of panache to your wedding ensemble. Imagine flaunting this under the romantic city lights, paired with open-toe shoes, letting every step shimmer with elegance. It's the perfect match for a wedding setting, offering a subtle yet special finishing touch that echoes glamour and sophistication.
Sparkling Glitter Pedicure
Oh, the sparkle of glitter! It brings me back to my childhood, playing with glitter pens and crafts. As an adult, I find the same joy and sparkle in a glitter pedicure. Opt for hues of silver or gold to add a festive touch that effortlessly matches any attire. The best part? This DIY-friendly style makes your prep for the big day both fun and personal. Let your toenails twinkle like the stars in the night sky, promising a day filled with glamour and joy.
Unique Nail Art
Now, let's venture into the whimsical world of nail art that speaks volumes. Remember the flutter in your stomach the moment you said "Yes"? Let's encapsulate that in a pedicure! Picture a chic French pedicure and a charismatic accent nail declaring, "I do." Adorned with a tiny gem, this pedicure narrates a story of love and commitment, becoming a conversation starter and maybe even a trendsetter at your wedding.
Tropical Beach Wedding Pedicure
Dreaming of a serene beach wedding? I've got just the thing to complement the soft whispers of the waves and the golden hues of the sand. Envision a pedicure featuring a refreshing white polish coupled with a tropical floral accent nail that mirrors the vibrant ambiance of a beach setting. Remember, you can customize the floral hues to match the vibrant backdrop of your beach wedding, creating a harmonious and picturesque scene whether you are donning shoes or walking barefoot on the sandy aisle.
Trendsetting Gem Pedicure
Ah, the charm of a well-thought pedicure! It transports me to my days of playing dress-up, where each element played a pivotal role in crafting a fairy-tale moment. Similarly, let us craft a modern fairy tale with a pedicure showcasing an appealing color palette harmonized with the glow of gems and an iridescent design. Tailor it to suit your bridal look, making it a trendy yet personal touch to your special day.
Floral Elegance in Nail Art
As someone who can't resist admiring fresh blooms during my morning walks, I can confidently say that floral patterns bring a similar freshness and grace to wedding pedicures. Imagine delicate white flowers gracing your nails, adorned with gem centers, promising to be a visual delight that enhances your bridal aura. And here's a tip – coordinate with your bridesmaids to have variations of this design, creating a beautiful, floral harmony on your big day!
Glistening Gold Glitter Pedicure
Gold – the hue that echoes elegance and luxury, the color that has graced many of my memorable occasions. Let it grace your wedding day in the form of a glitter pedicure. Pair it with your choice of footwear and watch how it adds a golden touch to your momentous day, reflecting the grandeur and celebration that awaits.
Pink Palette Pedi
Inject a burst of color into your bridal look with a pink pedicure, a color that has been my personal favorite since my teenage days. This lively shade complements any footwear, while crystals add that special finishing touch, enhancing your big day's youthful and vibrant spirit. For the trendsetting bride, toe rings can be a chic addition, elevating your pedicure to a fashion statement.
Refined Accent Nail Design
Let's delve into a design that spells tradition and elegance – a pedicure featuring a delicate white lace design and crystals. Picture this as a harmonious addition to your bridal attire, a design that promises to blend seamlessly with any dress and pair of shoes. Here's an insider tip – consider extending this design to your manicure, creating a cohesive and stunning look that graces both your fingers and toes.
Revamped French Pedicure
Let's revisit the classic French pedicure with a trendy twist as we explore. Simple yet significant, imagine a pedicure featuring an accent design with silver gems lining the nail base. This minimalistic yet modern approach allows for personalization with your choice of gems or crystals, setting the stage for a wedding day filled with unique touches and splendid moments.
The Whimsical Accent Nail Pedicure
I remember when I was at a coastal retreat, soaking in the vibrant hues of summer. This memory inspired me to share this fun and lively idea with you! Wedding pedicures don't have to stick to the traditional white palette; they can echo the joy and vibrancy of your spirit. How about a pedicure with a lovely light blue polish adorned with an accent nail of shimmering shades? Tailor it to match the theme of your beach or summer wedding by choosing a color that resonates with you.
The Glittering Silver Pedicure Journey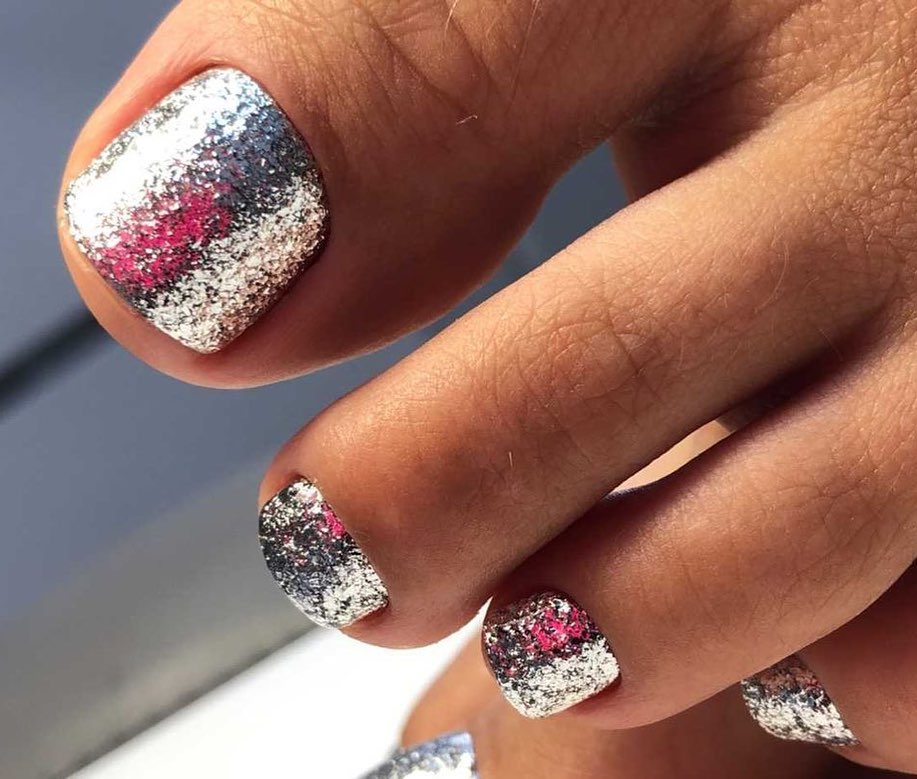 For all the sparkle lovers out there, this one's for you! Immerse yourself in a pedicure experience that mirrors the twinkling stars in the night sky. Adorn your nails with a radiant silver glitter polish that complements any outfit and pair of shoes you choose. Imagine walking barefoot along the seashore during a beach wedding, leaving a sparkling trail with each step. It's genuinely a fairy-tale moment in the making!
Bride and Groom Nail Art Adventure
With this next pick, get ready to embrace the quirky and adorable side of bridal pedicures. Remember the excitement of picking out your wedding outfit? Relive that joy with a French pedicure that features a mini wedding dress and a groom's suit on accent nails. This design is fun and a sweet representation of the union. Feel free to get creative and personalize it with different dress styles or nail colors, maybe even incorporating an "I do" nail to seal the deal!
Classic White Pedi Enhanced with Gems
The classic white pedi never fails to evoke a sense of bridal grace. It is a timeless choice that stands as a symbol of purity and elegance. To add a touch of glamour, consider embellishing your white pedicure with dazzling gems, giving your nails an exquisite finish that screams sophistication. Perfect for the glam bride who wishes to walk down the aisle with a sparkle in her step!
Chic Pink Pedicure Fiesta
If subtlety and elegance are what you seek, this one is a must-try. Imagine a summer garden party with soft pink petals scattered around – this pedicure brings that image to life on your nails. A single hue of light pink offers a fresh and feminine charm, setting a joyful tone for a summer wedding celebration. Sometimes, simplicity speaks volumes, and this style is a testament to that!
A Burst of Summer in Your Wedding Nail Art
Next, we travel to a tropical paradise with this vibrant and stunning floral design, perfect for a beach or summer wedding. Dive into a pool of colors with a radiant blend of white and orange ombre, crowned with a floral accent nail that captures the essence of summer. Feel free to explore different color palettes and flower designs to create a pedicure that is uniquely yours!
Subtle Sparkle with Pink and Glitter Design
For those who love a hint of sparkle but prefer to keep it understated, here's a design that strikes the perfect balance. Picture a pedicure featuring a subtle sparkle with only two nails adorned with silver glitter on each foot. This style offers a soft glow, allowing you to experiment with different polish and glitter combinations, with the silver and pink combo being a beautiful start.
Trendy Lilac Nail Art Escape
Are you someone who loves to stay ahead in the fashion game? Then, this vibrant pedicure is designed just for you! Step into your wedding day with a pedicure showcasing bold lilac nails accented with a silver strip and crystal design, creating a stylish and glamorous narrative. Break away from the traditional soft shades and embrace vibrant colors that mirror your bold and beautiful spirit.
Sparkly Bliss with Glitter French Manicure
Get ready to step into a world of glitz and glam with this next choice. Experience the classic French manicure, transformed with a sweep of glitter and sparkly gems that promise to add sparkle to your bridal look. Customize this design to match your style, creating a cohesive and glittering bridal ensemble that shines bright on your special day.
The Statement-Making Trendy Bridal Pedicure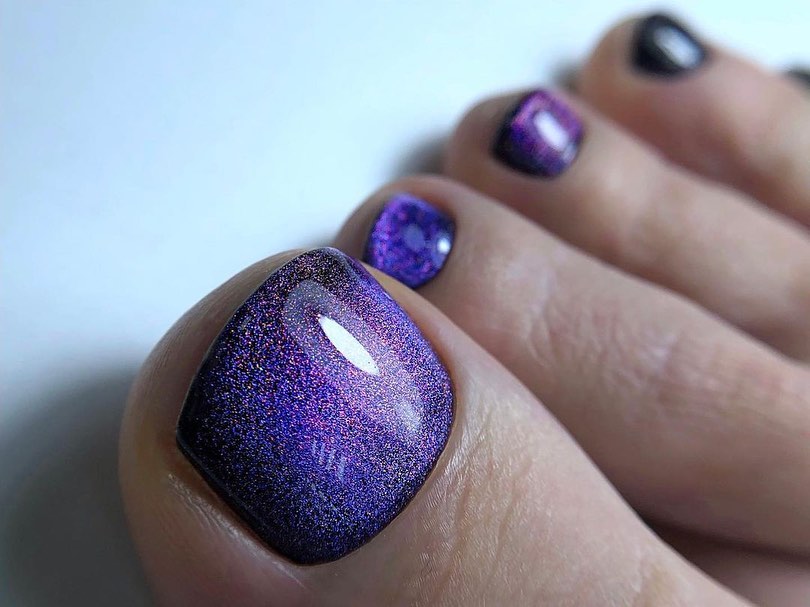 For the bold and beautiful trendsetters, here's a pedicure that is a testament to your fashion-forward approach. Immerse yourself in a metallic design journey that promises to turn heads and make a statement. Coordinate the colors with your bouquet to craft a harmonious and chic bridal look. This technique promises a stunning transformation, ensuring you follow your new journey with style and grace.
White Floral Pedi: Blossom at Every Step
Picture this – a gentle sea breeze, a beautiful garden surrounding, and your feet adorned with an elegant floral pedicure. I adore floral designs, and this idea brings back fond memories of wandering through blooming gardens. Enhance the beauty of your toes with an exquisite accent nail adorned with cute little gems. You can choose any color to suit your theme; a soft pink or purple would harmonize wonderfully with a floral setup.
White Tip Toe Nails: A Classic Choice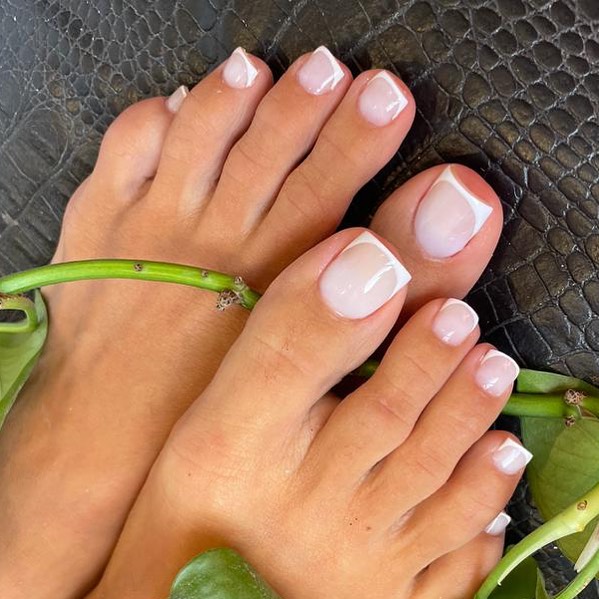 As a beauty blogger who has witnessed countless bridal journeys, giving attention to every detail is the key to creating a magical wedding experience. And yes, that includes your lovely toenails! Opt for a classic white tip design that promises to add a touch of elegance to your overall look. It pairs beautifully with any attire, letting you walk down the aisle with an extra sprinkle of grace.
White Color & Shimmery White French Tips: Shimmer in Every Step
Taking the classic a notch higher, consider gracing your toes with a white color base complemented by shimmery white French tips. This choice adds a beautiful sparkle to your step, creating a dazzling effect as you dance the night away. Picture twinkling stars right at your feet with each step!
Jewel Embellishment: For the Love of Bling
I remember how I found a little gemstone on the beach that sparkled under the sun! Why not bring that sparkle to your toes? Decorate your nails with small jewel embellishments that catch the light beautifully, making your feet look like a treasure trove of sparkles. It's time to let your toes shine!
White & Aurora Toe Nails: Dancing Under the Aurora
Inspired by the beautiful colors of the aurora, this nail art brings the celestial wonder right to your toes. You can almost hear the whispers of the northern lights each time you glance down. It's a magical choice for brides seeking something ethereal and unique.
Milky White and Gold Flake Natural Toe Nails: Nature's Touch
To harmonize with a natural and organic wedding theme, consider a pedicure that features a milky white base adorned with golden flakes. This look brings a touch of nature to your ensemble, setting a serene and earthy tone that resonates beautifully with outdoor weddings.
Aurora with Outline: A Cosmic Delight
Take the aurora theme to the next level by adding an artistic outline. This design resembles a beautiful canvas that captures the celestial dance of the auroras, letting you carry a piece of the cosmos with you as you step into your new journey.
Shimmery Nude Toe Nails with Rhinestones: Subtle Sparkle
This shimmery nude toenail design is a perfect choice for those who love a touch of sparkle but with a subtler tone. The added rhinestones bring a touch of glam to the neutral palette, making your toes look like a beautiful starry night.
Glass & Rhinestone Toe Nails: A Touch of Elegance
Imagine a design that mirrors the intricate patterns found in glass artworks; this is what this pedicure aims to bring to your toes. Complemented by rhinestones, this art turns your nails into little canvases of elegance and sophistication, promising to add a touch of class to your wedding ensemble.
Nude Color Toe Nails with Rhinestones: Chic and Elegant
Last but not least, this design offers a chic and sophisticated option for brides who prefer keeping it simple yet stylish. The nude color palette adorned with rhinestones brings a harmonious balance between glamour and subtlety, promising a graceful walk down the aisle.
I hope this guide has filled you with inspiration and excitement to give your toes the pampering they deserve. Remember, every detail makes your big day a beautiful and memorable affair. Happy planning!
5 Tips & Techniques Involved In Each Of The Suggested Pedicure Styles
White Floral Pedi
Step 1: Begin with a clean and prepped nail bed, trimmed and filed to your preferred shape. Step 2: Apply a base coat to protect your nails. Step 3: Apply a white or soft pink nail polish as the base color. Step 4: Create delicate floral designs on the accent nail using a thin nail art brush. Step 5: Add tiny gems to the center of the flowers using nail glue. Step 6: Seal the design with a top coat to give it a glossy finish and protect the artwork.
White Tip Toe Nails
Step 1: After prepping your nails, apply a base coat. Step 2: Apply a nude or soft pink polish to all the nails. Step 3: Using white polish, create a crisp and clean tip on each nail, achieving the classic French manicure look. Step 4: Finish with a top coat to seal the look.
Jewel Embellishment
Step 1: Start with a well-prepared nail bed. Step 2: Choose a base color that complements the jewels you plan to use. Step 3: Apply the base color and let it dry completely. Step 4: Strategically place the jewels on the nails using a dotting tool and nail glue. Step 5: Secure the jewels with a generous layer of top coat.
White & Aurora Toe Nails
Step 1: Prep your nails as usual. Step 2: Apply a base coat to protect the nails. Step 3: Use a white polish as the base color. Step 4: Create a gradient or ombre effect using an aurora nail polish, blending it into the white base. Step 5: Apply a top coat to secure the design and add a glossy finish.
Milky White and Gold Flake Natural Toe Nails
Step 1: Start with clean, prepped nails. Step 2: Apply a base coat to protect your nails. Step 3: Apply a milky white polish as the base color. Step 4: Add gold flakes using a nail art tool or a tweezer, arranging them in a pattern or scattering them naturally across the nail. Step 5: Seal the design with a top coat.
I hope these steps inspire some lovely nail art for the special day! Let me know if you'd like steps for the remaining styles.
Are There Any Tips For Maintaining The Pedicure Throughout The Wedding Day?
Maintaining a fresh and fabulous pedicure throughout a bustling wedding day is a concern shared by many. Here's how you can ensure that your pedicure stays pristine all day:
Apply a Quality Top Coat: Make sure to seal your nail art with a high-quality top coat, possibly a gel top coat, for an extra layer of protection. This will help to prevent chips and extend the life of your pedicure.
Dry Completely: Allow sufficient time for your nails to dry completely before slipping into your shoes. It may take longer than expected if you've applied several coats or intricate designs.
Avoid Closed-Toe Shoes if Possible: If feasible, opt for open-toe shoes to prevent smudging or chipping with closed-toe shoes, especially if you have embellishments or 3D elements in your pedicure.
Carry a Nail Repair Kit: Consider having a small nail repair kit, complete with the polish colors you've used, a top coat, and a few essential tools. This way, you or a helpful friend can quickly fix any minor issues that might arise.
Be Mindful of Your Steps: On the big day, try to be mindful of your steps to prevent accidental chips or smudges. It might not be accessible amidst all the excitement, but caution can go a long way.
Hydrate Your Cuticles: Prioritize keeping your cuticles moisturized. You can use a cuticle oil or a hydrating cream. This not only maintains the health of your nails but also adds a fresh shine to your pedicure.
Quick Drying Sprays or Drops: If you pedicure close to the event, use quick-drying sprays or drops to speed up the drying process and avoid streaks.
Wear Comfortable Footwear: Whenever possible, like during transportation or downtime, slip into comfortable footwear to avoid pressure on your nails.
Remember, it's your special day, so even if a little mishap occurs, keep your smile on because your happiness will outshine any minor nail hiccup!
Are There Any Recommended Products Or Tools For Achieving The Perfect Wedding Pedicure?
Achieving that picture-perfect wedding pedicure isn't just about skill – having the right products and tools can make a significant difference. Here are some essentials that can help you achieve and maintain a flawless pedicure:
Quality Nail Polishes and TreatmentsLong-lasting nail polish: Opt for polishes known for their long-wearing formula.
Base Coat: A good base coat will protect your nails and provide a smooth canvas for your polish.
Top Coat: A high-quality top coat can give a glossy finish and protect the artwork, making it last longer.
Nail Art Supplies
Nail Art Brushes: These come in various sizes and shapes to help you create intricate designs.
Nail Stamps: For detailed and uniform designs, nail stamps can be helpful.
Dotting Tools: These are essential for creating dots or small details with perfection.
Rhinestones & Embellishments: Stock up on various sizes and shapes to add bling to your design.
Pedicure Essentials
Foot Soak: To soften the skin and relax the feet before the pedicure.
Foot Scrub: For exfoliating and achieving smooth skin.
Moisturizing Cream: A hydrating foot cream to keep the feet soft and moisturized.
Cuticle Oil: To nourish the cuticles and add a finishing touch to your pedicure.
Tools
Nail Clippers: For trimming the nails to the desired length.
Nail File: To shape the nails and smooth the edges.
Cuticle Pusher: For gently pushing back the cuticles.
Nail Buffer: To smooth the nail surface before applying polish.
Drying Aids
Quick Drying Spray or Drops: To expedite drying and prevent streaks.
Nail Dryer: If you're doing gel pedicures, a UV/LED lamp is necessary for curing the polish.
Remember, a trial run before the big day can help you fine-tune your choice of products and tools, ensuring everything is perfect for the wedding day.
Conclusion
Hey there, beauty lovers! As we wrap up this blissful journey through the wonderland of wedding toenail designs, I want to leave you with a sprinkle of wisdom. Choosing the perfect nail art for your special day isn't just about following trends; it's an artistic expression of your unique style and personality. While indulging in these alluring nail arts, it's essential to ensure that you opt for quality products and expert services to avoid any potential nail damage or infections. Always pamper your feet with the love and attention they deserve, perhaps with a soothing pedicure spa day before your big event. Armed with these sensational ideas, you're all set to step into your new beginning with style and confidence. Until next time, keep shining and embracing the beautiful canvas that is you!
Feature Image Photo by dashingdiva_usa on Instagram
Last reviewed and updated on October 4, 2023