Hey everyone! Today, we're exploring the classic but ever-versatile world of white tip nails. Don't underestimate this seemingly simple style; it's a blank canvas that's got more range than you think. We've put together a diverse list of 40+ designs to amp up your nail game. Whether you're into DIY or planning your next salon visit, we've got ideas for every occasion that you'll want to try out ASAP. Stick around, and you'll discover not just fresh takes but also some hidden gems you haven't seen before. Trust me, you'll be reaching for your nail polish before you even finish reading!
Classic French Tip Nails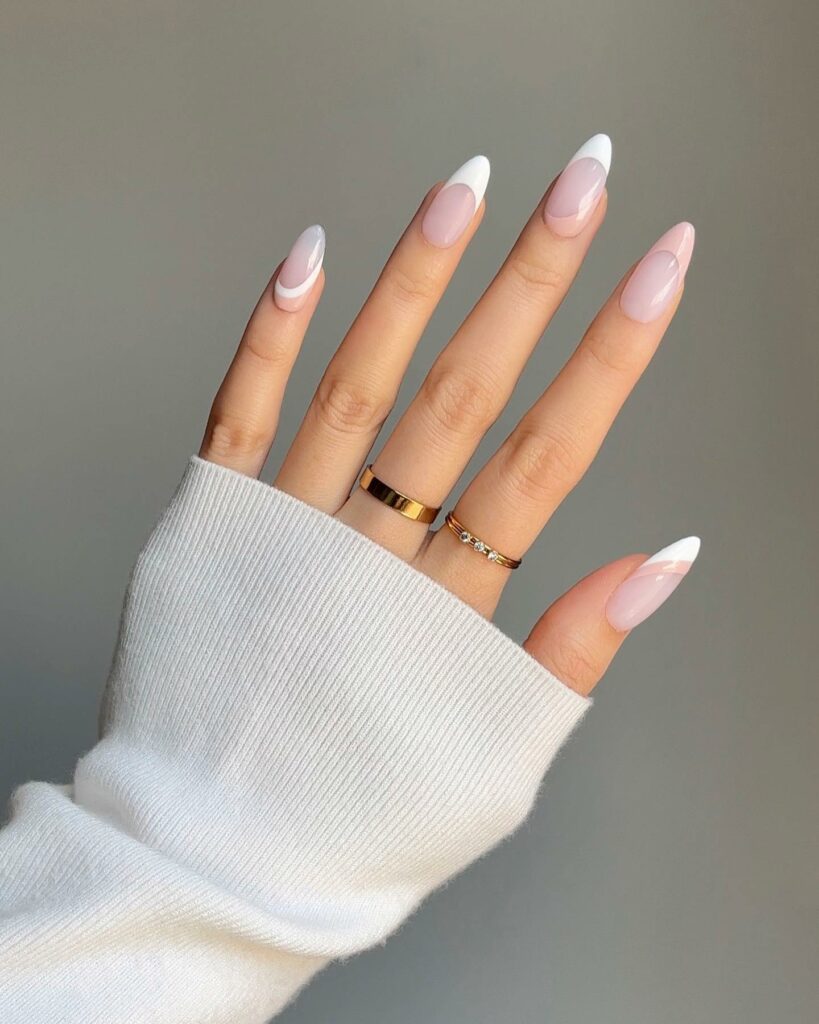 Ah, the evergreen French tips. It's like the little black dress of nail designs. Remember my trip to Paris last year? Even among the high fashion and art, I noticed how these nails never lost their charm on the city streets. These nails feature a soft pink base crowned with elegant white tips. They're perfect for anything from business meetings to candlelit dinners. No wonder it's a classic—a look that suits every mood and setting.
Long Nail Design with Rhinestones
Love to make a statement? Me too! I wore a similar design to New York Fashion Week, and let me tell you, they were the talk of the front row. We have long coffin nails here, mainly donning a nude base color with iconic white tips. But wait, there's more! Accent nails are adorned with rhinestones and sparkly gems. It's glam meeting grace, and the combo is show-stopping.
Short and Easy to Wear Nails
Not everyone is about the glitz and glam—sometimes, less is more. My go-to when I have back-to-back shoots? A shorter nail design with a straightforward flair. These nails are shorter in length with a subdued nude base. Then, white tips grace three of the nails, bringing in the classic touch. This design is easy to wear and adaptable to casual hangouts and formal events.
Diagonal White Tips
It's time to change lanes with something unconventional. Diagonal white tips bring a fresh twist to the classic design, and I remember rocking this style during a recent beach vacation. Long coffin nails with a nude base set the stage for white diagonal stripes. If you want to try this at home, some nail tape and a steady hand will be your best friends. Add some rhinestones, and you've got a masterpiece at your fingertips.
V Tips with Ombre and Glitter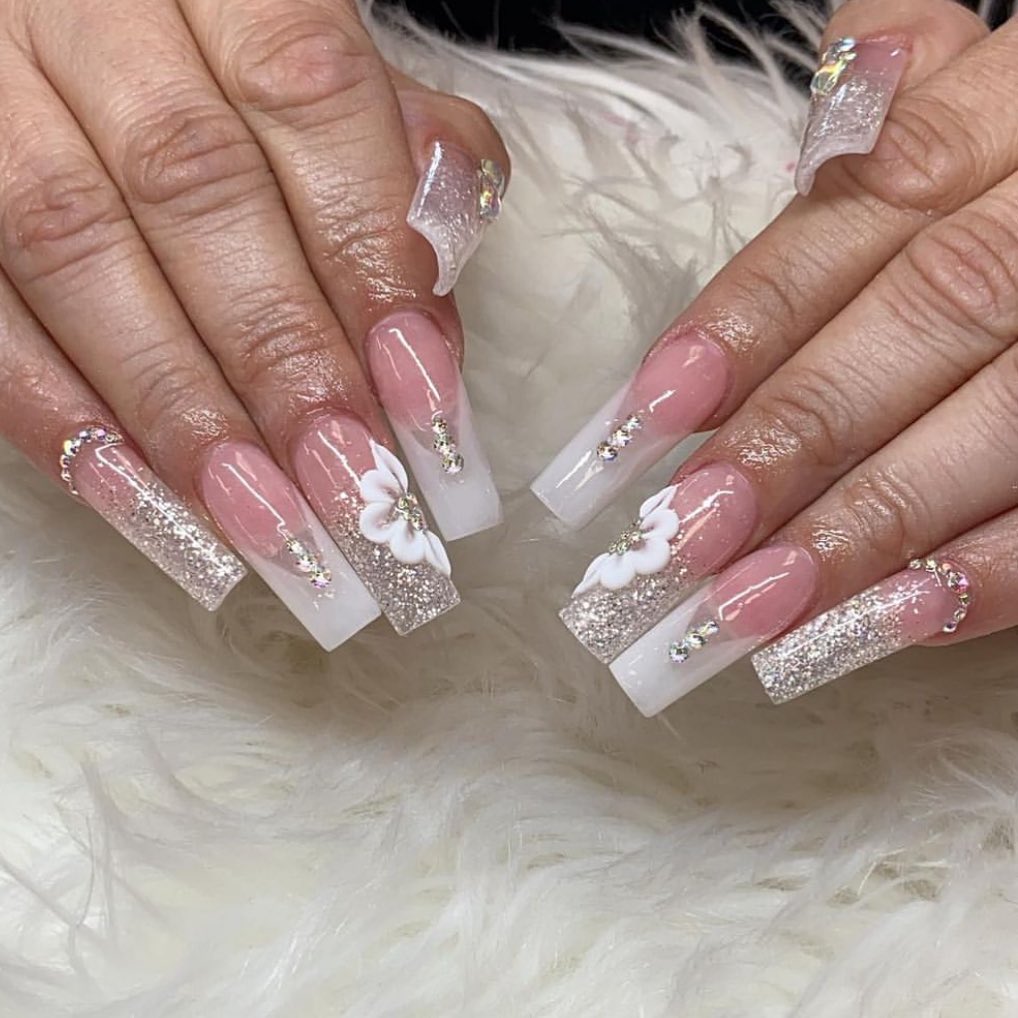 Channel your inner diva with V-tips that give a unique spin to the French manicure. I once wore a similar design to a red carpet-event, and it was an instant hit. Featuring long nails with ombre art and rhinestones, the sharp V-tips make the whole look pop. It's a design that's not just stylish but also the embodiment of modern elegance.
Nude Stiletto Nails with White Tips
If you're feeling fierce, stiletto nails are the way to go. They remind me of when I took a bold fashion risk at a gala, which paid off. These nails blend glossy nude and white tips but with a plot twist—a thin black outline and touches of gold foil. They're audacious, captivating, and undeniably chic.
White Tips with Butterflies
Spring has sprung on your nails! Butterflies are a perennial favorite in nail art, and I sported a similar design at a garden party last spring. The matte nude base is a canvas for delicate white tips and two fluttering butterflies on each nail. Get your hands on some butterfly stickers online, and you're all set for a whimsical mani.
Elegant V Tip Coffin Nails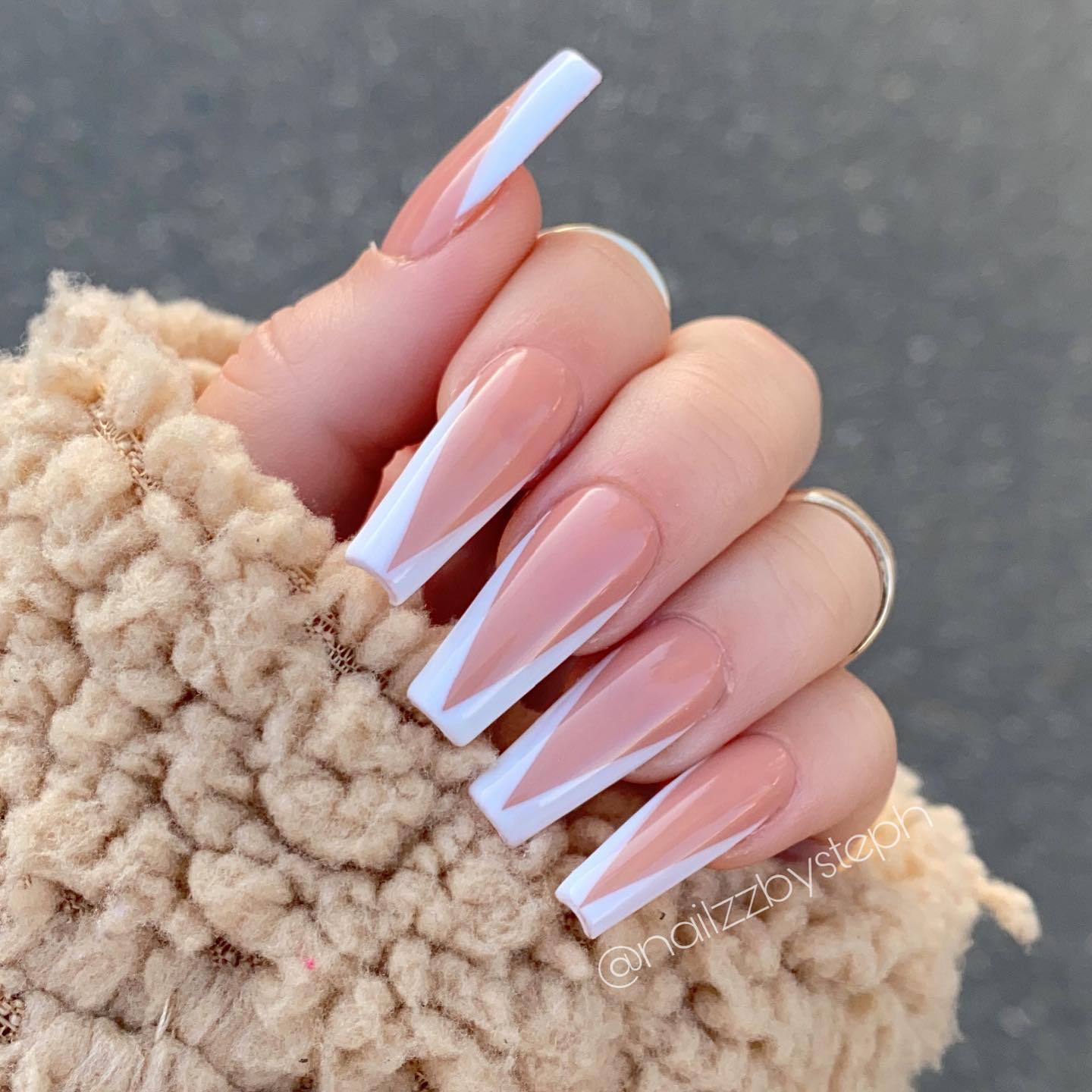 We're back with V-tips, but they're on coffin nails this time. Perfect for those who love elegance without the fuss. These nails are glossy and nude with a striking white V-tip. They're timeless but with a contemporary edge, ideal for anyone who wants to keep things simple yet stylish.
Statement-Making Nails
Unleash your inner rockstar with these extravagant coffin-shaped nails. I wore a similar style to a music awards show, and it was an absolute hit. Each nail has bold tips and even bolder rhinestones, capturing attention from a mile away. For those who like to be the life of the party, these nails are your go-to.
Chrome Nails and V Tips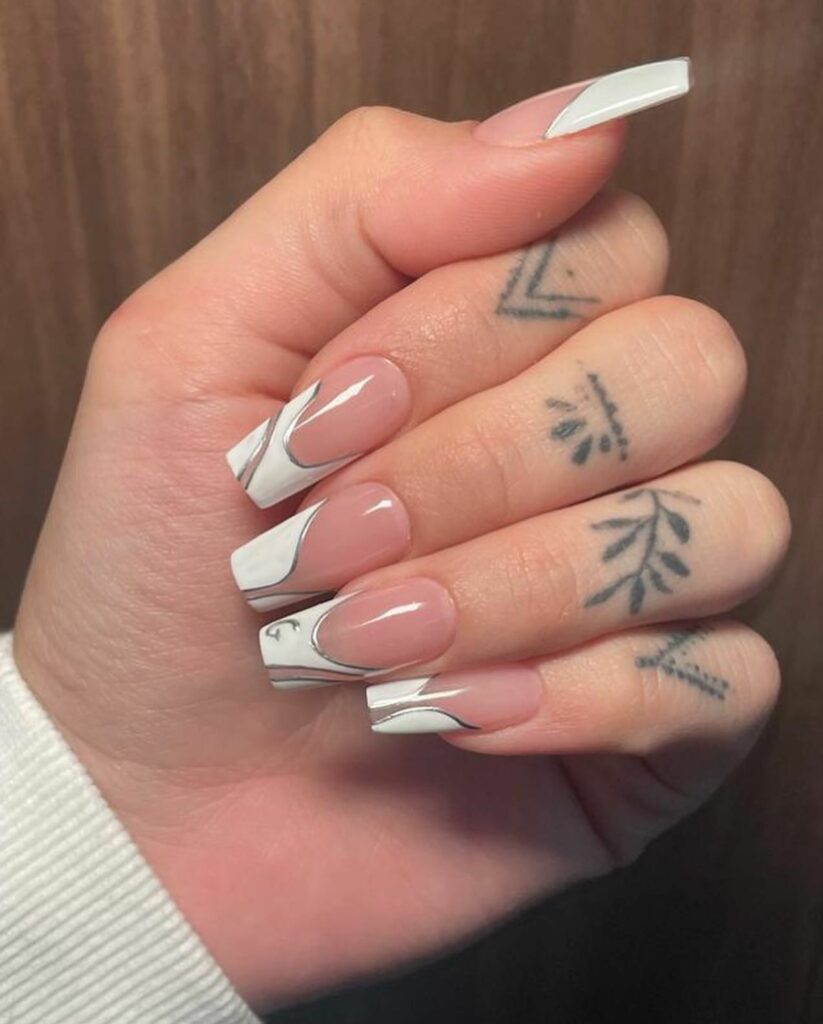 Lastly, let's talk chrome. I experimented with Chrome for a magazine shoot a while ago, and I've been hooked ever since. These coffin-shaped nails feature white chrome, nude bases, and striking white chrome tips. The result is an enchanting mix of texture and color, perfect for those who want to keep things fresh.
White Flame Tips: Where Fire Meets Fashion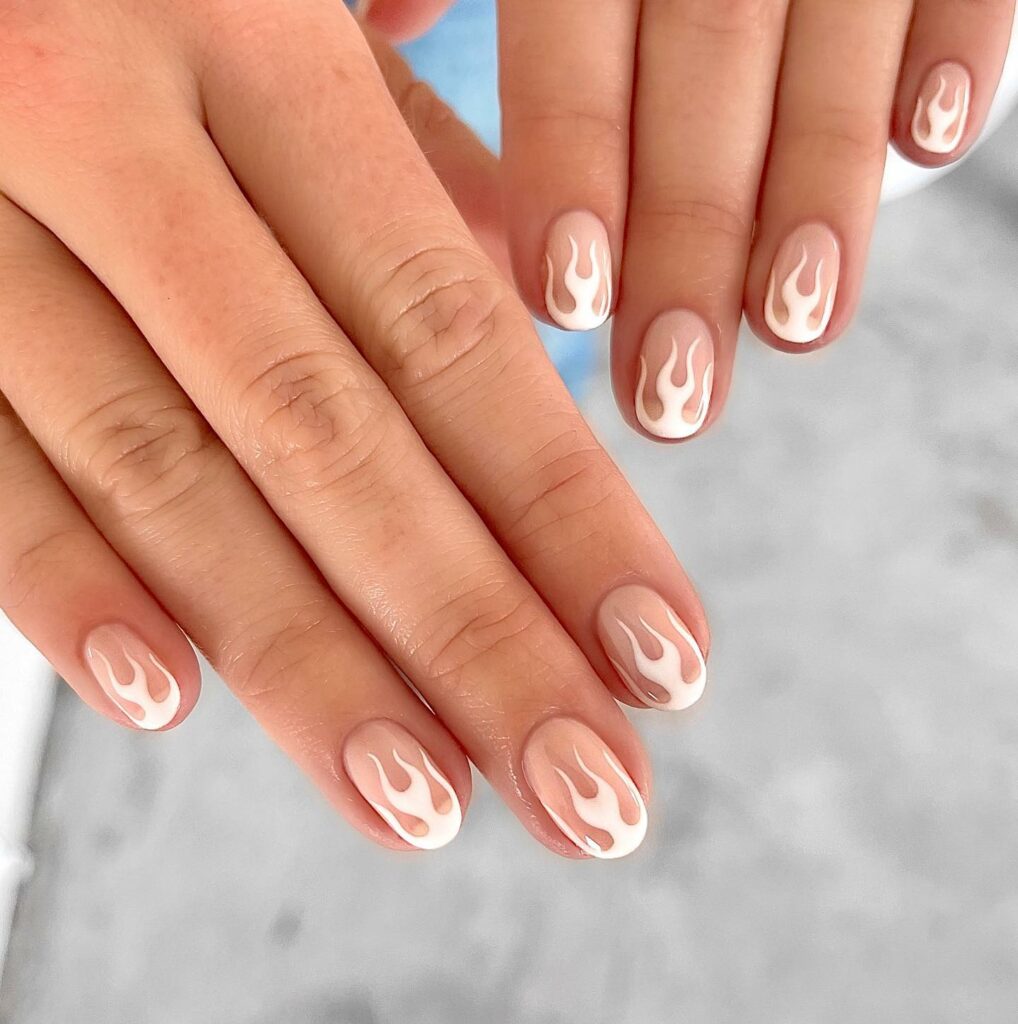 Ah, the combination of ombre and flames—talk about dramatic flair! This design features coffin nails with unique flame patterns transitioning from a white tip. Some nails even get the glitter treatment. It's like a bonfire party but for your nails! I felt an instant urge to snap a million pictures when I tried this. Pro tip: Look for flame nail art tutorials online to DIY.
Bold Nail Design: When Less is Not More
This design is for those who believe in "Go big or go home." While keeping the base light, the white tips here cover a significant part of the nail, making them the center of attention. The first time I rocked this look at a soirée, trust me, people noticed. The bolder tips amplify the chicness, making it impossible to ignore.
Matte Nude Nail Design: The Subtle Showstopper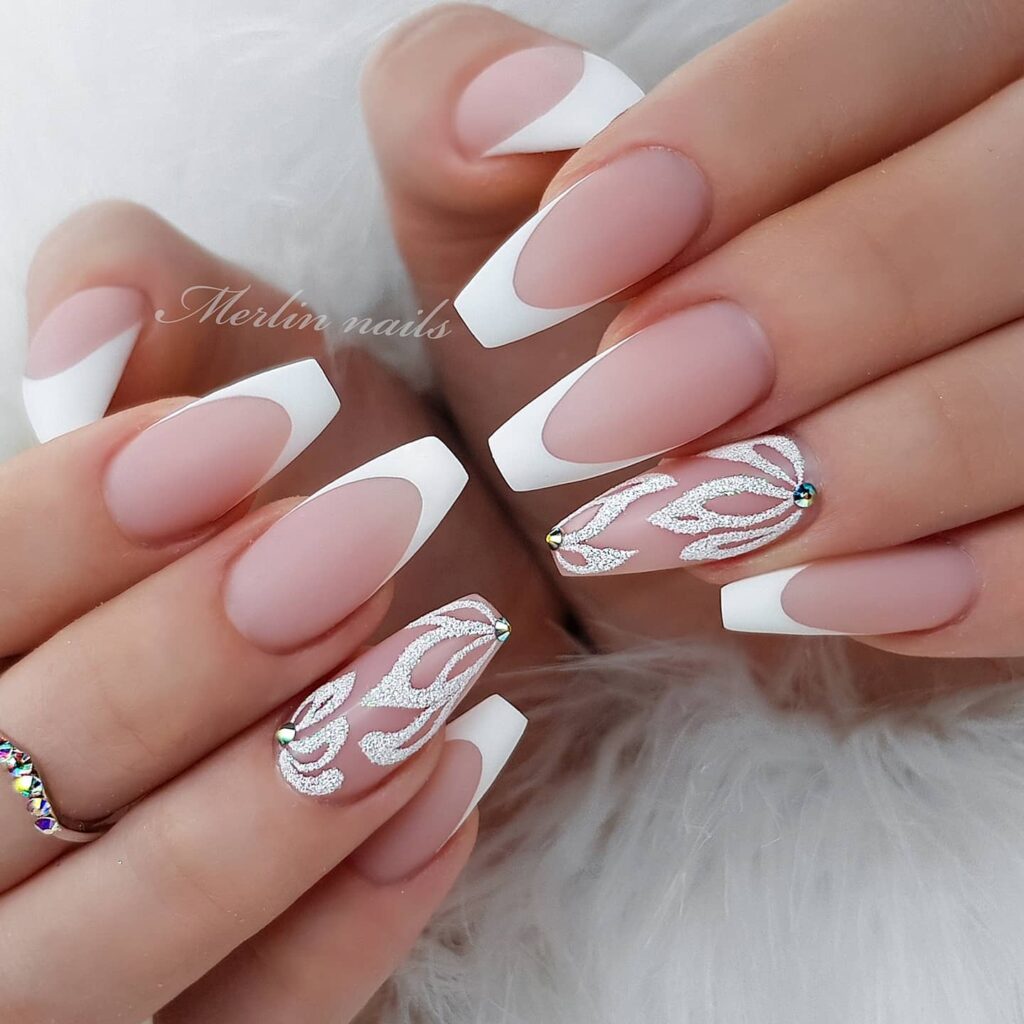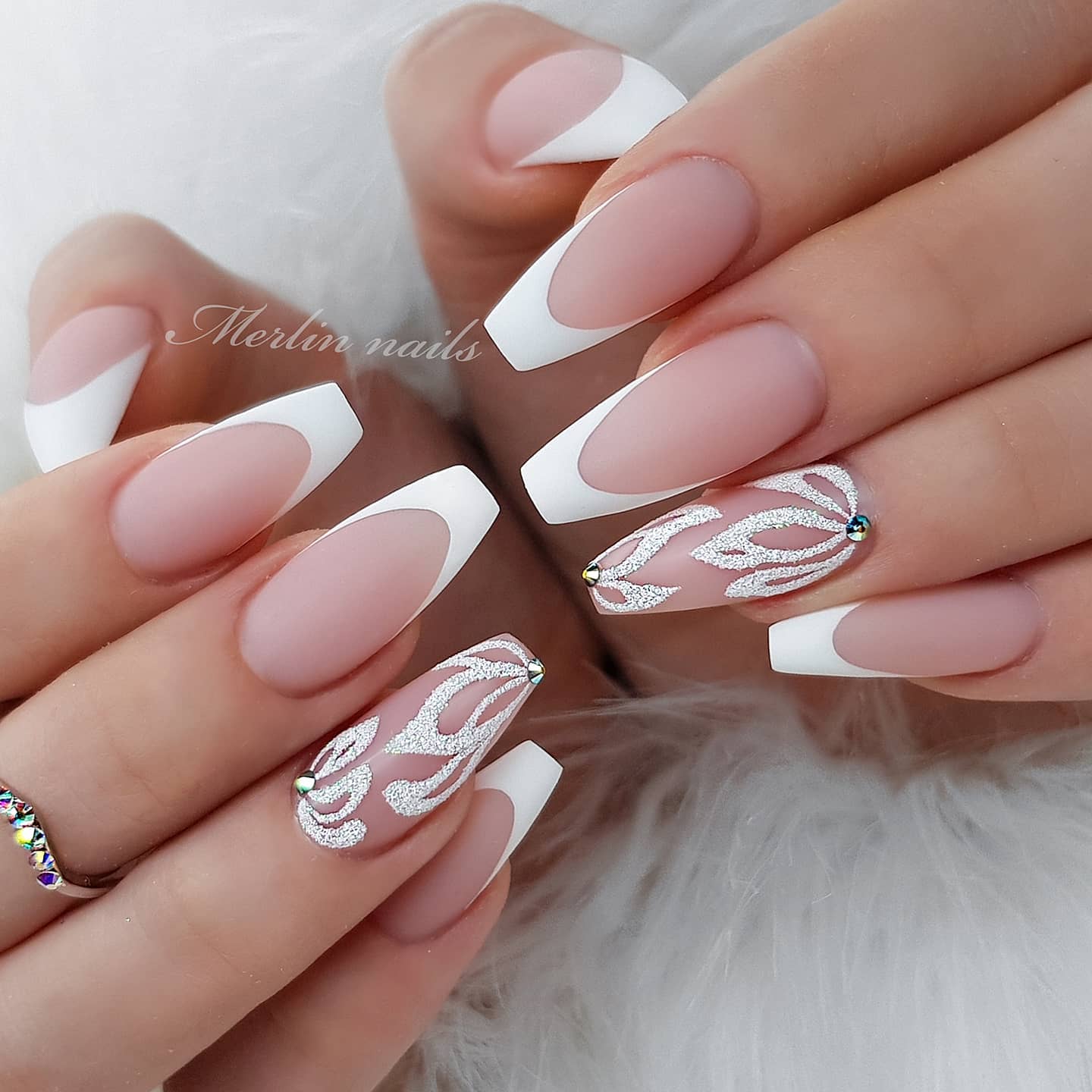 The matte finish adds a luxurious feel to these coffin-shaped nails, and the unique white tip outline is a game changer. The curve begins further down, giving an optical illusion of elongated nails. I love matte finishes; they give that understated glam that seamlessly works from day to night.
French Ombre Nails with White Edges: Fairy-Tale Vibes
This mani offers the best of both worlds: the subtlety of French ombre with the modernity of thin white edges. If Cinderella had a go-to nail design, this would be it. You could stick to the original or jazz it with some sparkly rhinestones.
Short French Tips: The Everyday Classic
Who says French tips are only for long nails? This short, easy-to-wear design proves otherwise. Classic nude base with pristine white tips—it's the ultimate go-anywhere, do-anything look. Short nails are easier to maintain and less prone to accidents—I learned that the hard way after a tragic zipper encounter.
V Tips and Rhinestones: Bling It On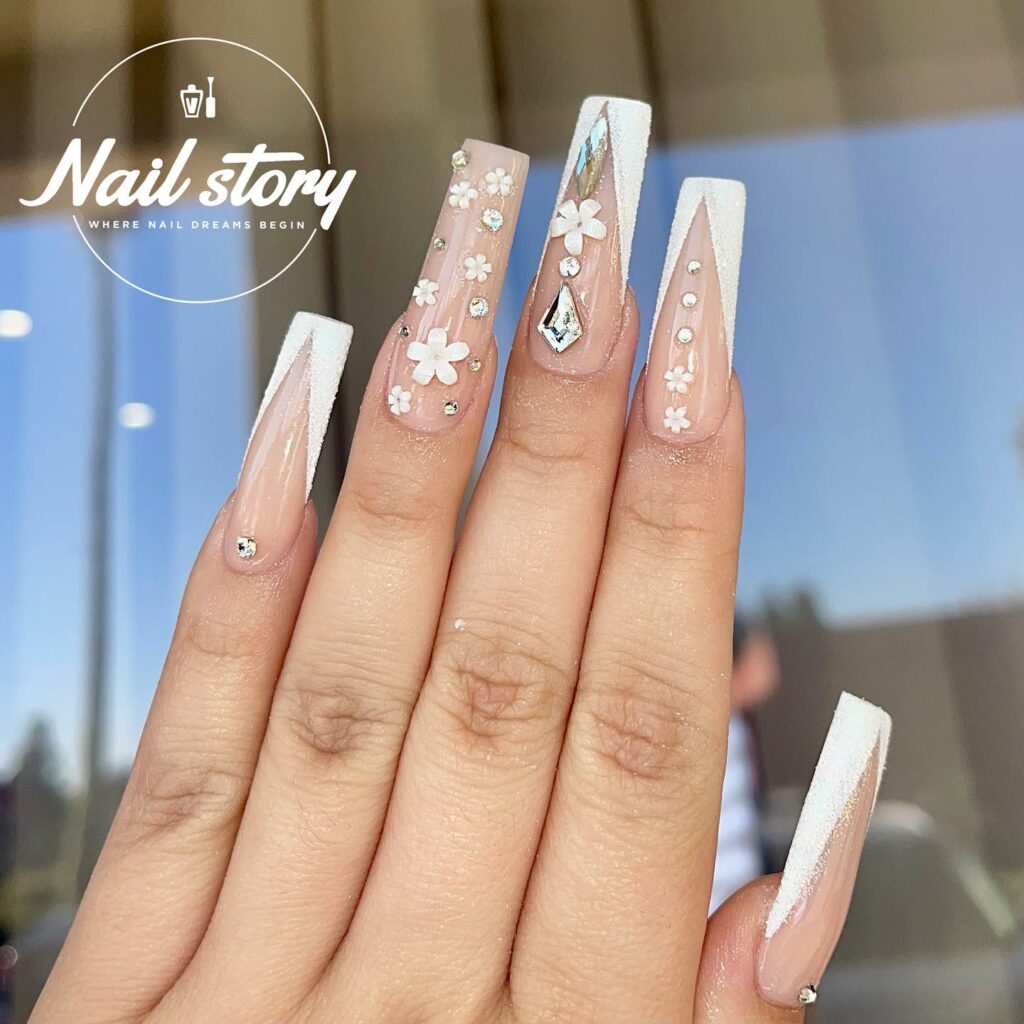 The V tips are a trendy twist, but adding rhinestones? That's the next level. You can use rhinestones online and glue them on for that extra glam factor. The first time I added rhinestones to my V tips, I couldn't stop staring at my own hands.
White Tips and Butterflies: Spring in Your Step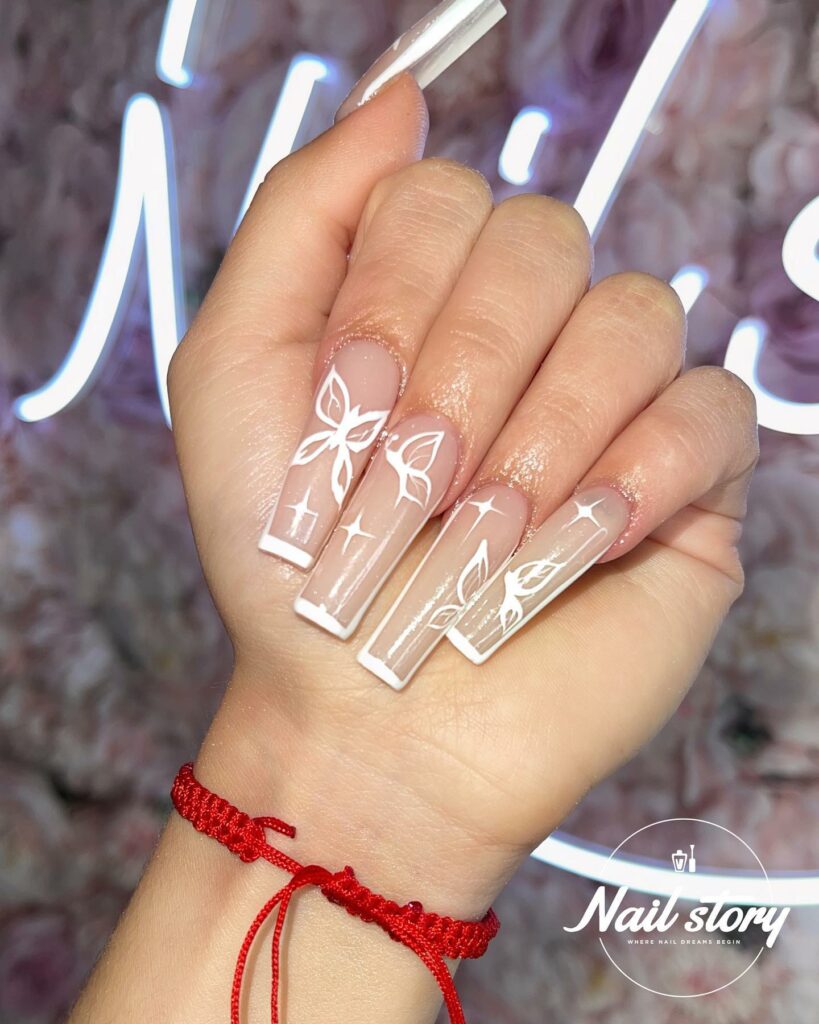 Similar to an earlier butterfly design, this version takes it up a notch with V tips. Each nail also features either butterflies or rhinestones. Butterflies always give me those joyful spring vibes, so this one's a seasonal favorite.
Pink Glitter with White Tips: Sparkle Away
White tips are added with a pink glitter base for an extra pop. The spectacular contrast adds a new dimension to the classic French tip. A sprinkle of glitter never hurt anyone, right?
Trendy Matte French Ombre Nails: Elegance Meets Edge
This soft ombre effect is a more understated alternative if stark white tips aren't your jam. The coffin shape adds a modern twist to the classic ombre, making it look as elegant as it is edgy. It's a must-try for anyone seeking a toned-down yet stylish option.
Short V Tips with Rhinestones: Pocket-Sized Glam
While some nails feature classic white tips, others boast various intricate designs, all adorned with sparkling rhinestones. It's a party on your nails, and everyone's invited!
Glitzy and Glam Nail Idea: Shine Bright Like a Diamond
So, are you planning to attend a party or a special dinner? Let your nails be the life of the event with this glitzy and glam design. Picture this: nude nails with immaculate white tips and a stunning array of white rhinestones on two accent nails. I tried this look for a New Year's Eve party, and the compliments were endless. You can either go all out or pick one of the accents for a subtler look.
Artistic Stiletto Nails with White Tips: A Masterpiece at Your Fingertips
If you want to go beyond the norm, how about turning your nails into an art exhibit? These are not just stiletto nails; they're your canvas. Featuring a nude ombre with white tips on some, and an artistic face painting on another, it's eclectic yet cohesive. Perfect for those who have an appreciation for art and fashion equally.
White Tips and Cherries: Rockin' the Retro
Summer calls for something fun and playful, and this design hits the nail on the head—pun intended! Nude nails, striking white tips, and the cutest cherry accents bring in a fabulous 1950s vibe. It's retro-chic meets modern fashion and screams summer picnics and poolside fun.
Cosmic Sparkle: A Night Sky on Your Nails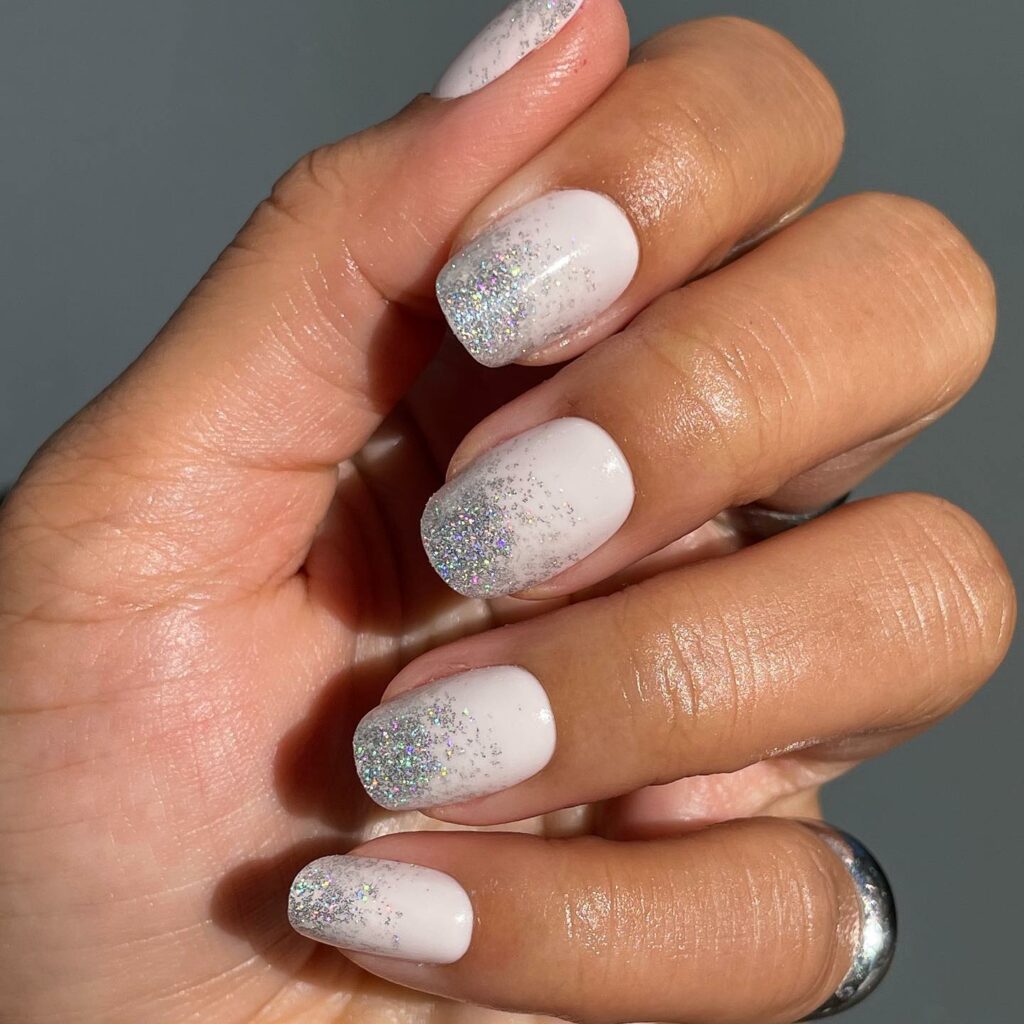 Starry night skies have always fascinated me, so why not bring them to your fingertips? Pair a deep navy or black base with twinkling white tips that emulate stars. Add a touch of glitter for that extra celestial vibe. Perfect for romantic evenings or simply gazing at the stars.
White Tips with Leopard Print: Unleash Your Wild Side
Animal prints in fashion are like peanut butter and jelly—they belong together. Blend a classic nude base and white tips with some leopard print accents. It's the perfect design for those days when you feel a little fierce. The first time I sported this design, I swear my demeanor changed. Wild, right?
Mismatched White Tips: Because Why Not?
Why stick to one design when you can have multiple? Create a mismatched look by playing around with the shape, size, and patterns of the white tips on each nail. It's the perfect playground for your creativity and makes for an eye-catching conversation starter.
White Tips and Floral Accents: Blossoming Beauty
Spring always gives me the feels for flowers, and what better way to celebrate than with a blooming beautiful manicure? Start with the classic nude and white tip base and add some dainty floral designs on one or two accent nails. It's like having a bouquet at your fingertips, and trust me, it'll put a spring in your step.
Geometric White Tips
If you love lines and angles, how about combining white tips with geometric shapes? This design takes the classic white tip to an ultra-modern level. Add a triangle or a square in a different color next to the white tip, and you've got a manicure that turns heads.
Animal Print Accents
Animal prints are showing up everywhere, so why not on your nails? Imagine a zebra or leopard print fading into a white tip. This gives your nails a wild edge without going overboard and can be a fun conversation starter.
Rainbow and White Tips
For those who adore color, consider a rainbow gradient that flows into a crisp white tip. This is like happiness, bottled up and painted on your nails. It's a sunny choice that might brighten your day and anyone else who spots your fabulous nails.
White Tips with Minimalist Black Dots
Minimalism has its own charm. Think of a simple white tip with small, black dots aligned near the cuticle or along the tip's edge. This subtle touch adds depth and complexity to a classic look, making it a chic option for everyday wear.
White Tips with Gold Flakes
How about some bling? Gold flakes to a classic white tip can add an air of luxury without overpowering the whole look. It's a subtle yet classy way to uplift your nails, perfect for a night out or a special occasion.
Double-Layered White Tips
Two is better than one, right? Add a second layer of white just below the tip, separated by a sliver of your nude base. It's simple but effective for adding a touch of uniqueness.
White Tips with Intricate Lace Designs
Incorporate some lace-like designs using a very fine nail brush or a stencil. The intricate details can add a romantic and feminine vibe to your look. It is ideal for weddings or whenever you want to feel like you're in a fairytale.
Celestial White Tips
Consider adding some tiny star or moon decals for the starry-eyed among us. Place them on the white tips or even along the cuticle line for a design that's truly out of this world.
Marble White Tips
White tips with a marbled effect on the base nail create a dynamic and luxurious vibe. Combine shades of gray and silver for a sophisticated appearance that catches the eye.
White Tips with Geometric Patterns
How about adding geometric shapes? Thin lines, squares, or triangles in black or metallic hues can add a contemporary and edgy look to your classic white tips.
White Tip Animal Prints
For a walk on the wild side, you can incorporate animal prints like zebra or leopard spots over the white tips. This design allows you to show off your bold and adventurous spirit.
Neon Accents on White Tips
For the vibrant souls out there, consider adding neon color accents alongside or on top of your white tips. Whether it's a neon line along the cuticle or tiny neon dots adorning the white tip, this style screams fun and spontaneity.
Floral White Tips
Bring a garden to your fingertips! Tiny floral designs like roses or daisies on one or two accent nails can add a sweet, romantic flair to your white tips.
Holographic White Tips
Elevate the traditional white tips with a holographic top coat. this slight twist brings a futuristic touch to an old favorite. It's perfect for tech events or when you feel a bit avant-garde.
White Tips with a Pop of Neon
Imagine your classic white-tip nails but with a small streak of neon color along the edge. This design offers an energetic flair and is a great conversation starter. I rocked this design during last summer's BBQ parties, and it was a hit!
Geometric Cut White Tips
For those who love sharp angles and clean lines, geometric cuts on your white tips can add a unique architectural feel to your nails. It's like having little pieces of modern art at your fingertips. I wore these to an art gallery opening, and it felt like my nails belonged with the exhibits!
White Tips with Mini Portraits
If you're an art lover, consider adding mini portraits or designs like paisley or intricate doodles just above the white tip. It's a delightful blend of tradition and artistic expression, ideal for creative events or casual outings where you want your nails to be the center of attention.
How Can I Recreate These Designs at Home?
Hey there, savvy DIY-ers! So you've read through the fantastic white tip designs, and you're raring to go. I get it. When I first ventured into DIY nail art—I felt like a kid in a candy store. The prospect of having the freedom to switch things up whenever I wanted was thrilling! Here's a straightforward guide to help you recreate some of these looks right in the comfort of your home. So grab your nail art kit, and let's dive in!
Essentials You'll Need:
Base coat and top coat
White nail polish
Additional color polishes for accents or designs
Fine-tip brushes or nail art pens
Rhinestones, studs, or embellishments
Tweezers
Dotting tools
Nail art stencils or striping tape for precision
Optional: UV lamp if you're using gel polish
Steps for Basic White Tips
Prep: Ensure your nails are clean and filed to your desired shape.
Base Coat: Apply a base coat to protect your natural nails.
White Tips: Use a fine-tip or regular brush to paint the tips white carefully.
Dry and Seal: Allow the polish to dry before applying a top coat for a long-lasting finish.
Popular Designs
For Marble White Tips: After your white tips, add a few drops of gray and silver polish and use a fine-tip brush to swirl them together for a marbled effect.
For Geometric Patterns: Use striping tape to create geometric shapes over the dried white tips, then fill them with your chosen colors.
For Animal Prints: After your white tips are dry, take a fine-tip brush and your chosen animal print colors to create your pattern. For a leopard print, for example, some brown and black dots and streaks work well.
For Neon Accents: Use a dotting tool or the tip of a fine brush to add neon dots or lines along the white tips or near the cuticles.
For Floral Designs: With a fine-tip brush, draw the outlines of your flowers in a contrasting color and then fill them in. You can add tiny leaves or vines for extra flair.
Pro Tips and Precautions
Patience is Key: Wait for each layer to dry before proceeding to the next step.
Quality Matters: Use good-quality nail polishes and tools for the best results.
Seal with a Topcoat: Always finish with a topcoat to seal in your design and give it a glossy or matte finish, based on your preference.
Feeling informed and ready to try some awesome nail art designs? Trust me, once you start, you'll get the hang of it quickly and wonder why you didn't start sooner. So go ahead, unleash that inner nail artist!
What Occasions Are Best Suited for Each of These Designs?
Ever wondered which nail design fits best with a particular event or setting? I was thinking about this the other day while sipping my chai latte and decided that you shouldn't save your glam nails just for special occasions. So, here's a guide to help you match your white-tip nail designs with different events or moods.
Everyday Chic: Classic White Tips: Let's start with the basics. Classic white tips are the go-to for everyday life. They're clean, professional, and can seamlessly transition from a business meeting to a casual dinner out. I rock these when I have a packed week and need my nails to be versatile.
Romantic Date: White Tips and Rhinestones: Planning a romantic date night or anniversary dinner? Add some rhinestones to your white tips for that extra sparkle. It's like your nails say, "I'm here and ready to shine!" just like you!
Weekend Brunch: White Tips with Cherries or Florals: What better way to embrace a sunny brunch with friends than with playful designs? Add some cherry motifs or floral designs to your white tips, and you'll be the talk of the brunch table—after the avocado toast.
Music Festival: White Tips and Neon Accents: Hitting up a music festival? Go for white tips with neon accents to stand out from the crowd. Trust me, the pop of color dances in the sunlight and looks amazing in those festival photos!
Wedding Guest: French Ombre Nails with White Edges: Elegant but not over-the-top is the aim here. French ombre nails with delicate white edges are an excellent pick. If the bride doesn't mind, add a soft sparkle with miniature rhinestones.
Job Interview: Matte Nude with Subtle White Tips: You can still flaunt some style in a professional setting. Opt for matte nude nails with subtle white tips. It's like wearing a tailored suit but for your nails—classy and put together.
Girls' Night Out: Glitzy and Glam Nails: On nights when you and your crew decide to hit the town, go all out with a glitzy and glam design. Add bold elements like larger rhinestones or metallic accents to your white tips.
Vacation: White Tips and Artistic Patterns: If you're on vacation, your nails should be too. Consider white tips with artistic patterns or a vibrant color splash that mirrors your relaxed state of mind.
Holiday Parties: White Tips with Seasonal Accents: For holiday festivities, add seasonal accents to your white tips. Think snowflakes for winter or little pumpkin designs for fall. A little creativity can make your nails season-ready.
So there you have it—your ultimate guide to white-tip nail designs for every occasion. Remember, your nails are an extension of your style, so don't be afraid to experiment—mix and match designs based on your outfit, mood, or the event you're attending.
Conclusion
Alright, there we have it—our tour of taking white tip nails from classic to cutting-edge. While sticking to the tried and true is fantastic, remember that a bit of experimentation can go a long way. Whether you're feeling the glam with rhinestones or wanting to express your artistic flair, the sky is truly the limit. The risks? Well, going bold might make you the center of attention, and let's face it, not every experiment is a home run. My advice: do a test run and see how the design vibes with you before committing to it for a special occasion. Overall, nail art is a fabulous way to express yourself and keep up with the ever-evolving world of fashion. So go ahead, break out that nail kit, or book an appointment with your favorite nail artist. Here's to letting your nails shine bright like your personality. Happy painting!
Feature image @vivianmariewong via Instagram
Last reviewed and updated on October 4, 2023