Hey everyone, welcome back to the blog! Today, we're diving deep into the world of beige nails—a look that has stood the test of time and is absolutely a go-to for any occasion. Forget what you've heard about beige being "bland" or "unexciting." When done right, a beige nail can be a statement of elegance, sophistication, and, yes, even boldness.
In this post, we cover everything from choosing the perfect shade that complements your skin tone to nailing (pun intended!) the application for a flawless finish. And because beige is such a versatile color, I'll also share my top tips for jazzing it up with accents, textures, or even a hint of sparkle if you're feeling adventurous. Trust me, by the end of this read, you'll be rushing to grab your beige polish and give yourself a manicure that turns heads. So, stick around—you won't want to miss this.
Wave Hello: Beige Nails With White Waves
Nothing says elegance like beige with glossy white waves. It's the perfect look for a girls' night out—sophisticated yet fun!
French Twist: Beige Nails With French Tip Outlines
The modern French mani gets a beige makeover, and it's everything you'd want—classy, chic, and timeless. This is my Sunday brunch look; it is always a winner!
The Golden Rule: Matte Nails With Gold Accent Lines
If you have yet to try gold accents on light beige, you're missing out! This one's a surprise for any and every occasion.
Sweet & Sassy: Dark Beige Nails With Heart Details
Dark beige nails serve as a sultry canvas for some playful heart details, striking the perfect balance between sweet and sassy. It's a charming choice for when you want your manicure to whisper romance with a wink.
Cozy Chic: Beige Sweater Nails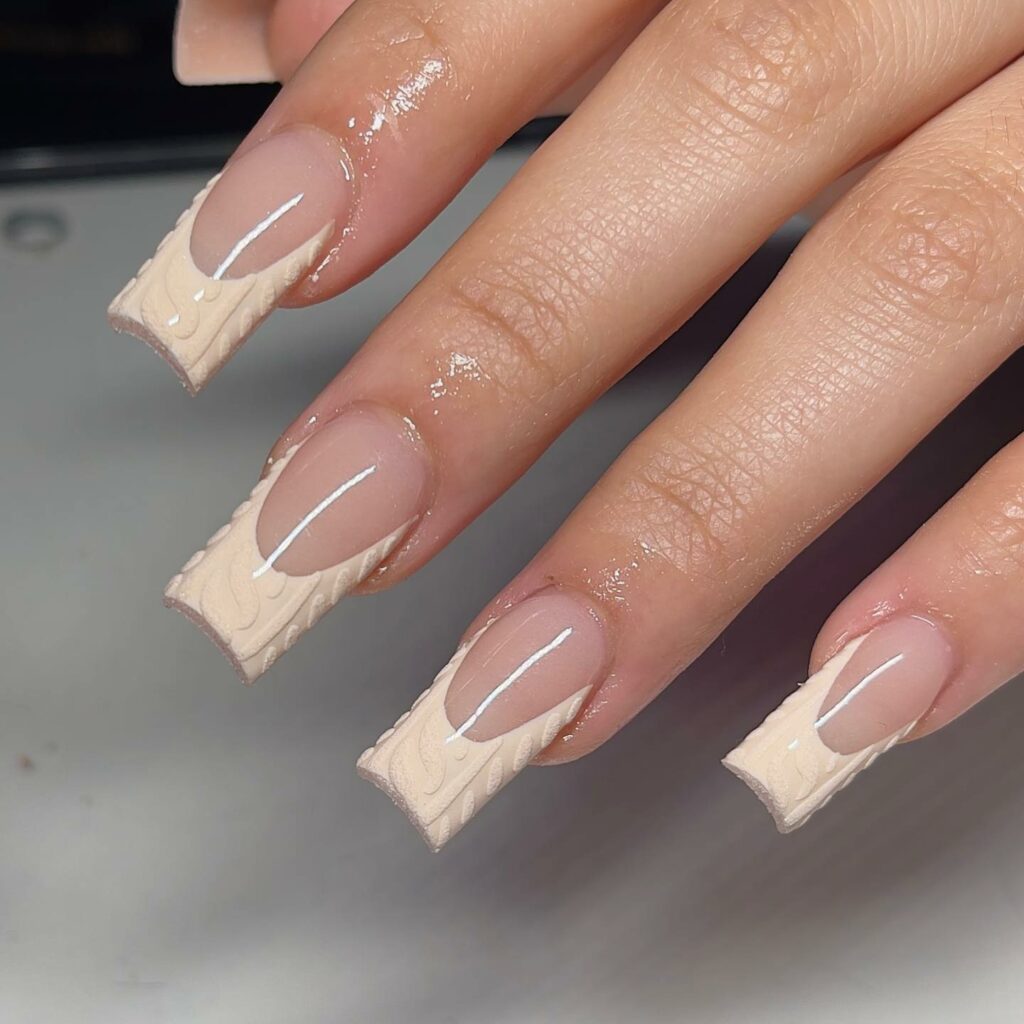 For those breezy evenings or just because these cozy sweater-inspired nails are a game-changer. Mixing various designs makes it playful and eye-catching, perfect for your next Instagram post!
A Touch of Glam: Gold-Dusted Beige Nails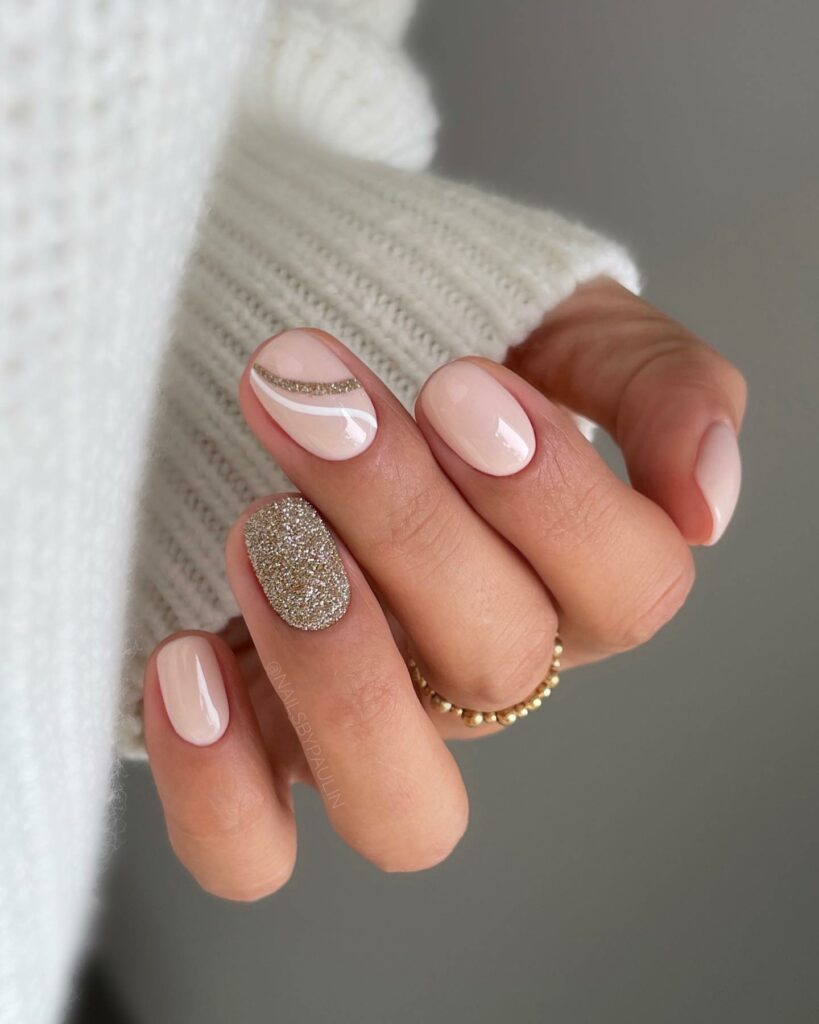 Short nails can have all the fun, too! A sprinkle of gold foil on a glossy beige base makes even the shortest nails look glam.
Less is More: Minimalist Beige Nails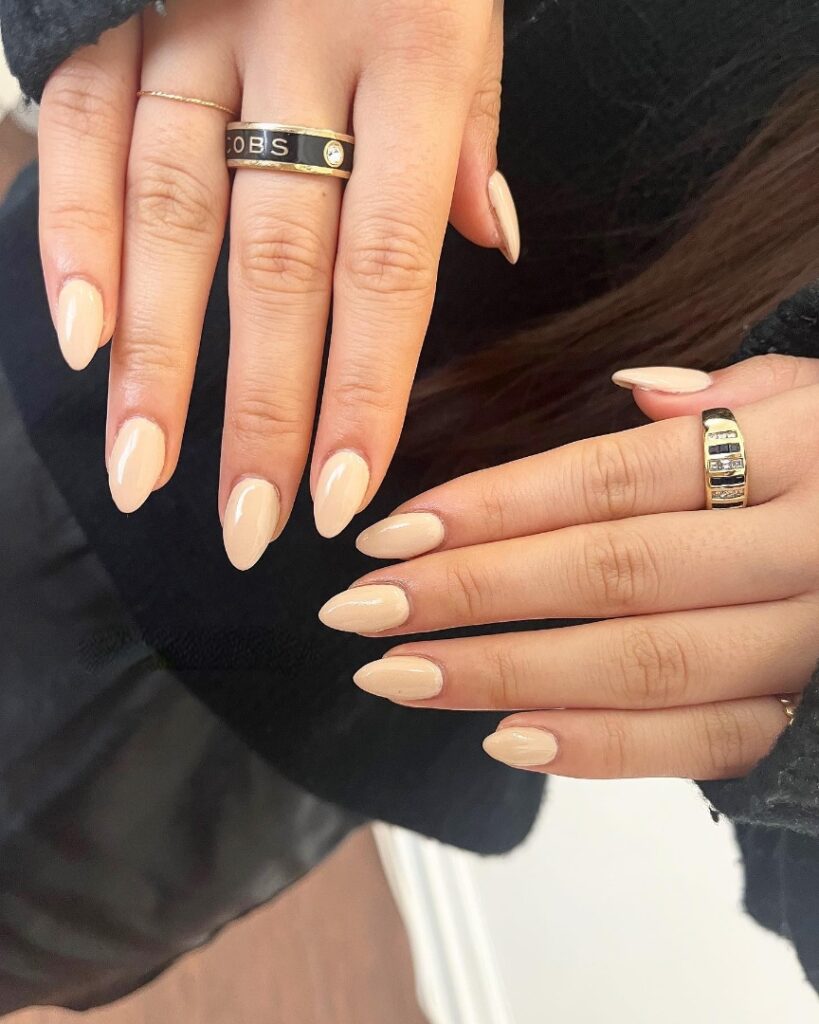 Sometimes, simple does it best. Light beige with minimalist art creates a manicure that speaks volumes without saying too much.
Simplicity At Its Best: Neutral Nails With Dot Accents
Talk about a refined vibe! This minimalist design uses beige, brown, and cream in a style uplifted by those cute dot accents.
Edgy Elegance: Gold & Beige French Tips
This edgy take on the classic French tips with gold and beige is perfect for when you want to make a subtle yet striking statement. Wear it from your morning coffee to your evening cocktails; it's that versatile.
Matte Nails With White Marble
Love houndstooth? Could you put it on your nails? Pair matte beige with white marble for a posh, high-end vibe. I wore this during Fashion Week, and let me tell you, it was a showstopper.
Comic Relief: Comic Black And Beige Nails
Get playful with these comic-style beige and black nails. It's a unique mix of classic and trendy, and I can't get enough of it.
The Fine Details: Short Matte Nails With Black Nail Art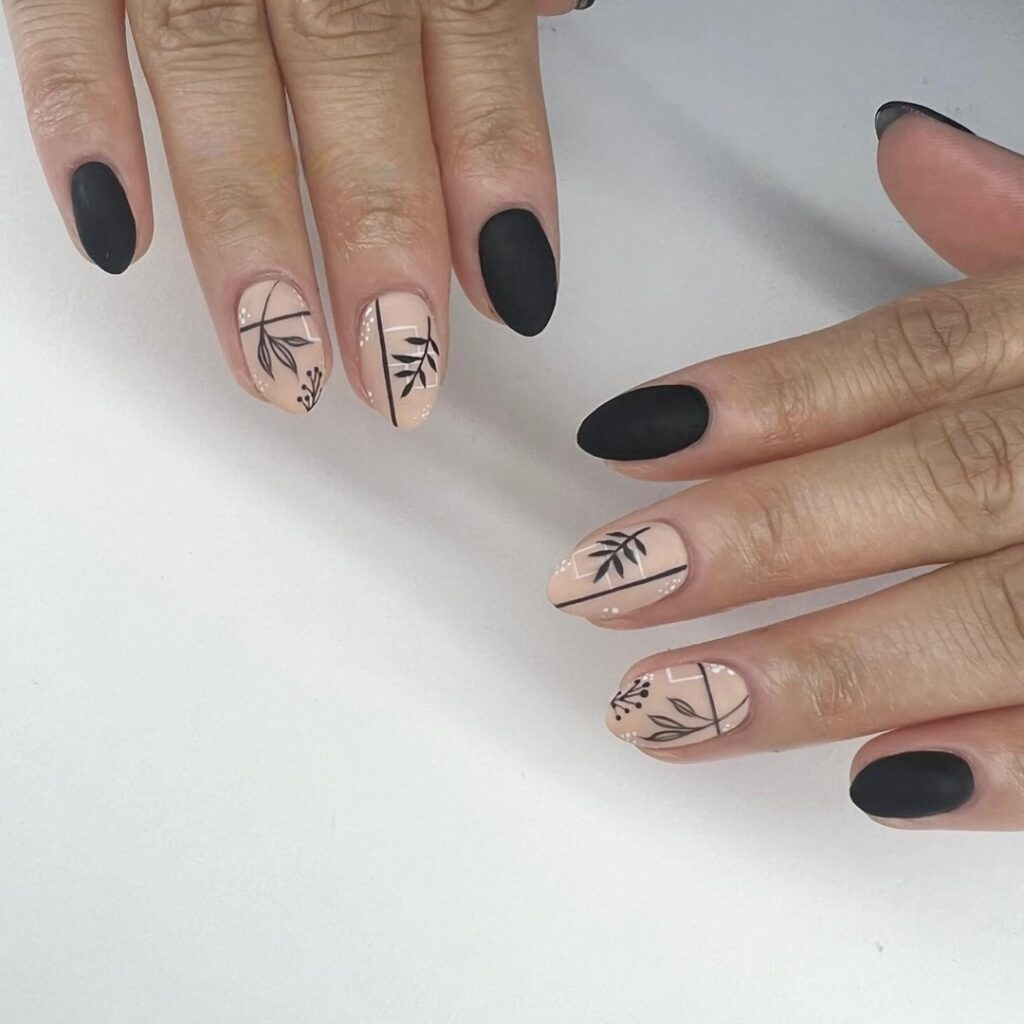 Looking for something more subdued? Go for short matte beige nails with intricate black leaf art. This is elegance, in a nutshell, people.
The Retro Revival: Beige And Brown Swirly Nails
Returning in time with this retro-inspired beige and brown swirly nail design. Perfect for a date night or even a standard workday, these swirls are here to play while the neutral tones keep it all in balance.
Polished Perfection: Gorgeous Beige Nail Polish Designs
For those of you who prefer polish over acrylics, there's a whole world of beige nail designs waiting for you. Keep an eye out for marbling and gold foils to keep things interesting.
Beige Comme des Garçons Nails
Up your fashion game with this iconic Comme des Garçons-inspired design. Trust me, it's the right blend of luxury and playful vibes. Natural nails are a go, but you can switch it up with a classic red logo on a beige base.
Glitter Galore: Square Nails With Beige And Glitter Polish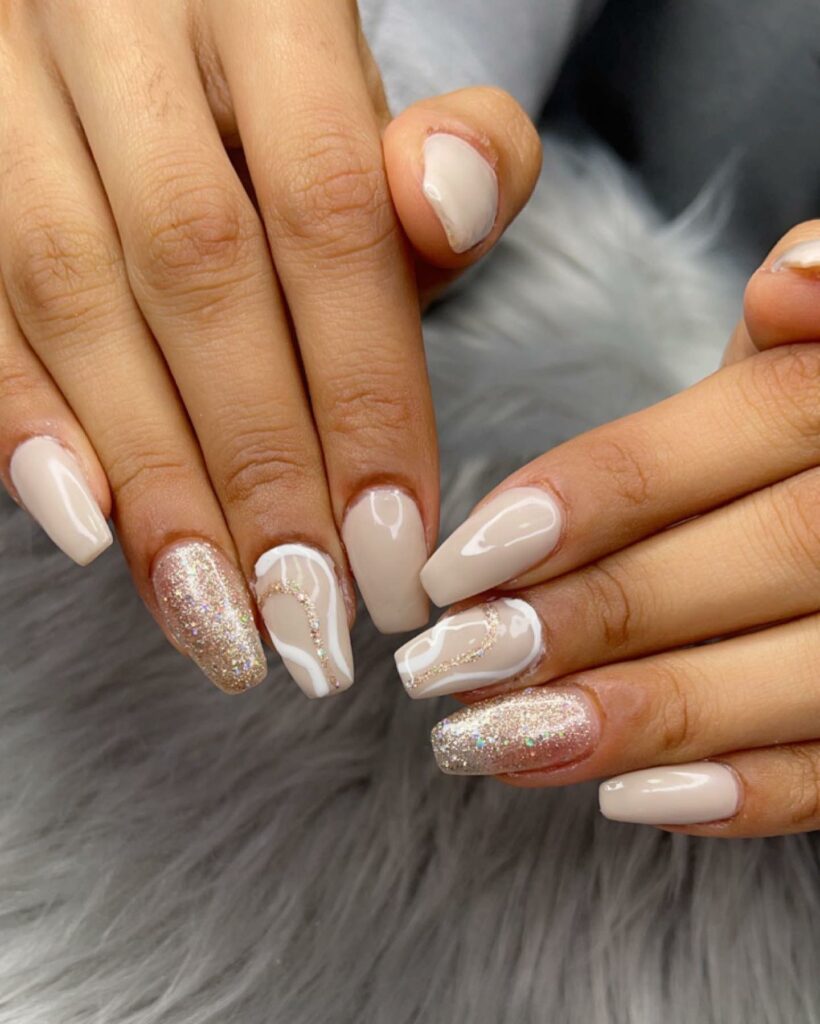 Sparkle lovers, this one's for you! The beige paired with glitter accents is both trendy and timeless. Choose any nail shape and your favorite beige shades, and you're good to go.
Wild at Heart: Animal Print Nails with Beige Accent
Animal print on beige nails? Yes, please! The black animal spots and an accent nail are the spices that this manicure needs. This one's a showstopper whether you're brunching on a Sunday or planning a romantic weekend away.
Subtle Bling: Pretty Gemstones with Neutral Beige Nails
Gemstones don't always have to be the divas; they can play the supporting role beautifully. Team them with a neutral beige for a look that's both subtle and sophisticated, perfect for an expensive dinner or a special occasion.
Summer Stunner: Peach Beige Nails With White Stripes
Hey, beach babes, ready to slay this summer? It would help if you tried this peach beige nail art with sunburst white stripes. Trust me, I rocked this look last summer, and it was a total hit. It's like carrying a piece of sunshine wherever you go!
Silver Glitters: Light Beige Nails With Silver Glitters
Elevate your beige nails with some wavy silver glitters for an extra edge. This is my top pick when I'm hitting the town. It's got that je ne sais quoi.
Freestyle Fun: Abstract Art Nails
Unleash your inner Picasso with these abstract black and beige nails. Mix and match patterns and colors for a look that's uniquely you. I went freestyle on a lazy Sunday, and the end result was Insta-worthy!
The OG: Classic French Manicure With Beige Polish
You can always go right with the classics, can you? Switch out the regular nude pink with beige for a warm, inviting look.
The Classic: Beige Polish On Square Nails
Square nails and beige polish are a match made in heaven for those who love keeping it classy. But hey, if squares aren't your thing, this shade works wonders on any nail shape—coffin, almond, or stiletto.
Sparkle On: Almond Nails With Shimmering Beige
For my girls who love a dash of fun, a shimmering beige is your new best friend. Just a coat of glitter on top, and you're golden—literally.
Dotty Delight: Beige Nails With Black Glitters
Up your beige game with some Black glitter accents. It's chic to add flair to an otherwise understated hue.
Elegance Simplified: Light Beige Mani Nail Art, Matte Finish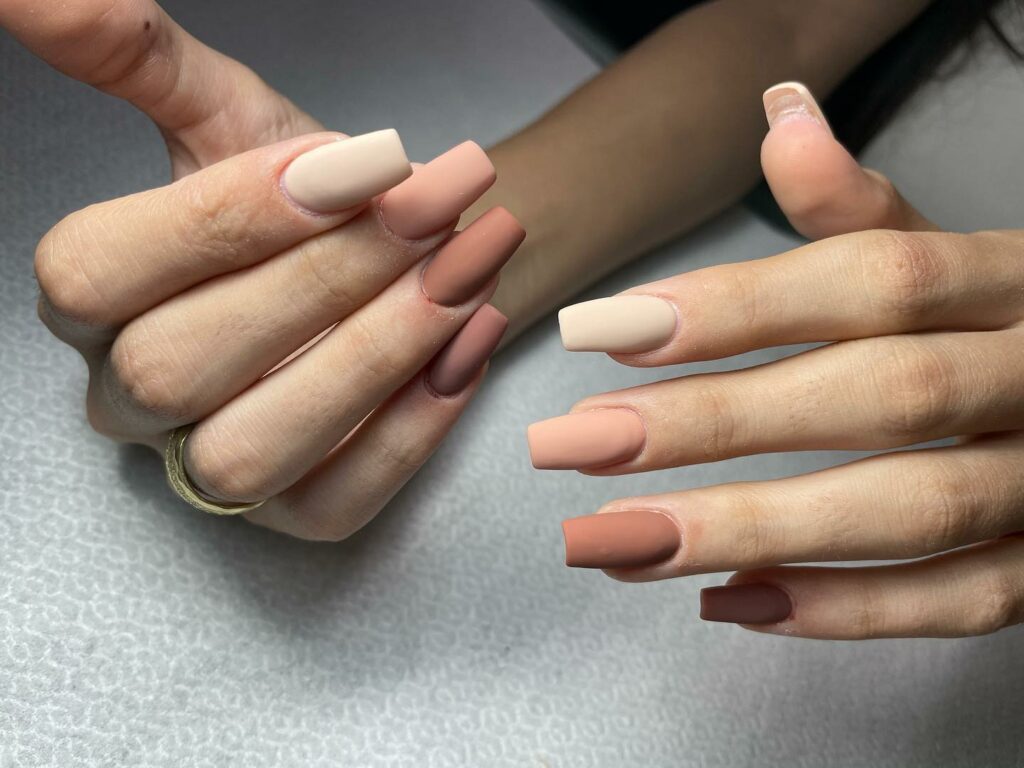 If 'effortlessly elegant' had a look, it'd be this. The light beige is soft and warm, and the matte makes it pop. I can't recommend this enough for brunch or an afternoon soirée.
Golden Glow: Dark Beige Nails With Gold Accents
Ladies, let me tell you, beige and gold are a dream duo. If you want to go from office to oomph quickly, throw in gold accents. Trust me, it's my go-to for date nights!
4 Simple Tips I Recommended For Different Skin Tones
Fair Skin Tones – For those with fair or light skin tones, stick to lighter beiges with pink or peach undertones. These complement the natural pinkish hue of your skin without washing you out. My go-to? A soft champagne beige. It's like the little black dress of the nail world for fair-skinned folks!
Medium Skin Tones – If you have a medium or olive skin tone, lean into warm, sandy beiges or even beiges with a hint of mauve. These shades work harmoniously with the warmth of your skin. Think caramel latte, but on your nails!
Dark Skin Tones – For darker skin tones, richer shades of beige can look incredibly chic. Opt for tawny beiges or even beiges with a hint of bronze to make those nails pop. A mocha beige is my absolute fave for deep skin tones—the perfect blend of depth and warmth.
Universal Beige – If you're still unsure, a neutral beige with balanced undertones is the Switzerland of nail colors—it's neutral and works for everyone. So, when in doubt, go neutral!
8 Tips To Make Beige Nails Really Pop!
Matte & Glossy Combo – One of my all-time favorites is mixing matte and glossy finishes. Apply a matte topcoat to some nails and keep others glossy. It's a subtle change, but trust me, it makes all the difference. It's like having a party and an after-party on your nails simultaneously!
Glitter Galore – If you're a sparkle queen like me, adding a glitter topcoat or even a single glitter accent nail can elevate your beige mani instantly. Silver glitter gives a relaxed, celestial vibe, while gold adds warmth and elegance. Mix' and match, baby!
Negative Space Designs – Why not add some intrigue with negative space designs? Use nail tape to create geometric shapes, exposing your natural nails against the beige background. It's artsy, it's chic, and it's definitely Insta-worthy.
Metallic Accents – Metallic lines or shapes are like jewelry for your nails. Gold, silver, or rose gold can turn your beige nails from simple to stunning.
Gemstone Love – I can't resist a bit of bling! Small gemstones near the cuticle or at the tips can add excitement without overwhelming your look. I usually opt for classic clear stones or match them with my outfit. A single gem can go a long way, trust me!
Textured Elements – For the adventurous souls, you can play with textured elements like sand or velvet nail powder. This creates an eye-catching tactile dimension. But a word of caution—textured nails require more TLC to keep 'em looking fresh.
Ombre Effects – Why settle for one shade when you can have two (or more)? Beige blends effortlessly into pinks, browns, or metallics for a chic ombre effect.
Animal Prints – For those who live on the wild side, animal prints like leopard or snake skin can look incredibly trendy with beige as the base color. It's playful, sassy, and makes a statement for sure!
Still Looking for Inspiration, Then Check Out This Video
Conclusion
Alright, my fabulous nail fans, that's a wrap on the beige nail bonanza! Beige is far from boring, and as you can see, it's the perfect canvas for letting your creativity run wild. Whether you're channeling retro vibes with swirly patterns or going for that luxe look with gold dust and gemstones, there's a beige look for everyone. My personal fave? The Cheetah Print with a red accent nail—it's a vibe, honey! But don't just take my word for it; try these out for yourself. Remember, the best accessory a gal can have is a set of well-manicured nails. So get those polish bottles shaking and let your nails do the talking! Until next time, keep those tips tip-top!
Feature Image Photo By monika__nails on Instagram
Last reviewed and updated on November 3, 2023