Welcome to the world of vibrant pedicures, where today, we're diving into the sensational realm of the Hot Pink Pedicure! If you want to add a bold splash of color to your look, you've come to the right place. In this post, we'll explore everything about the hot pink pedicure – why it's a must-try, how it can elevate your style, and some essential tips to make it last longer. As a beauty and nail enthusiast, I've seen how a pop of pink can transform not just toes but moods and outfits.
You'll learn about the best shades of hot pink for your skin tone, the suitable nail shapes that make this color pop, and the top products for that salon-quality finish. I'll also share my tips on maintaining that glossy look and preventing chips. So, buckle up, and let's paint the town pink – starting with your toes!
Hot Pink Pedicure With Glitter
This pedicure is a perfect blend of glamour and playfulness, with glitter adding a sparkling twist to the bold hot pink. It's ideal for those who love to make a statement and enjoy a touch of shimmer with every step.
Classic Hot Pink Pedicure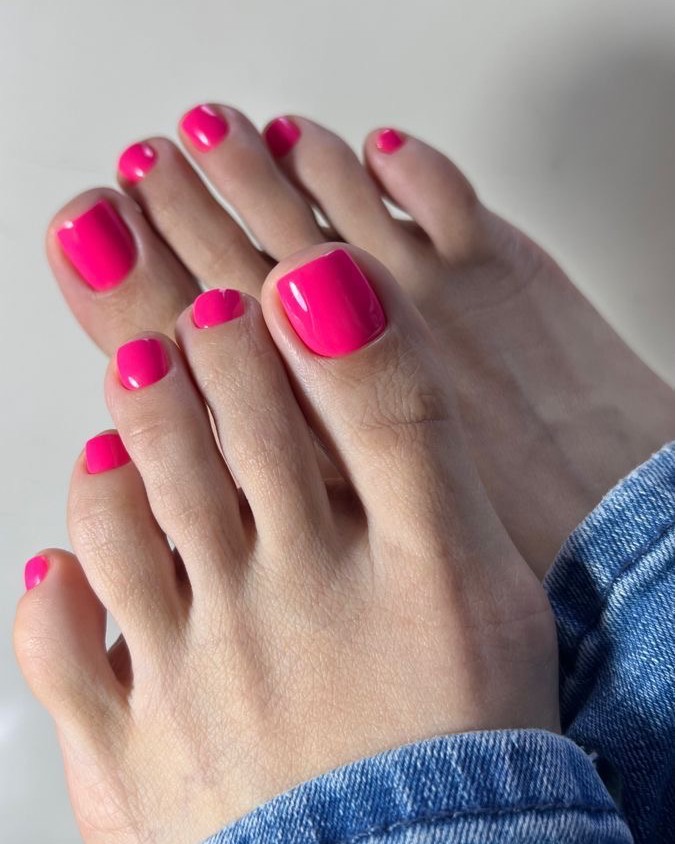 Timeless and chic, the classic hot pink pedicure is all about a solid, vibrant pink hue that never goes out of style. It's a go-to choice for anyone seeking a pop of color that's both elegant and eye-catching.
Hot Pink French Pedicure
Boldly reimagining the classic French tip, this style swaps the traditional white tip for a striking hot pink. It's a trendy twist on a classic, offering a playful yet sophisticated look.
Hot Pink Animal Pattern Pedicure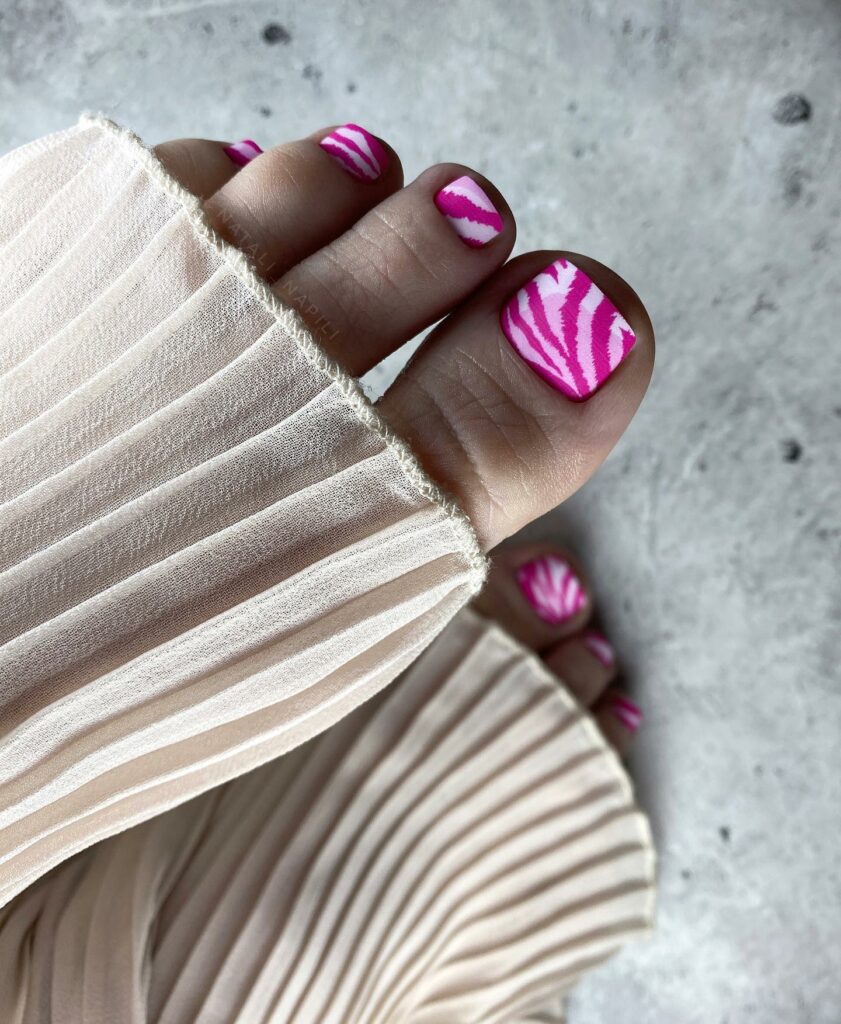 Unleash your wild side with this edgy design combining hot pink and animal prints. It's perfect for those who love experimenting and stand out with unique and daring nail art.
Abstract Hot Pink Design On White Base Pedicure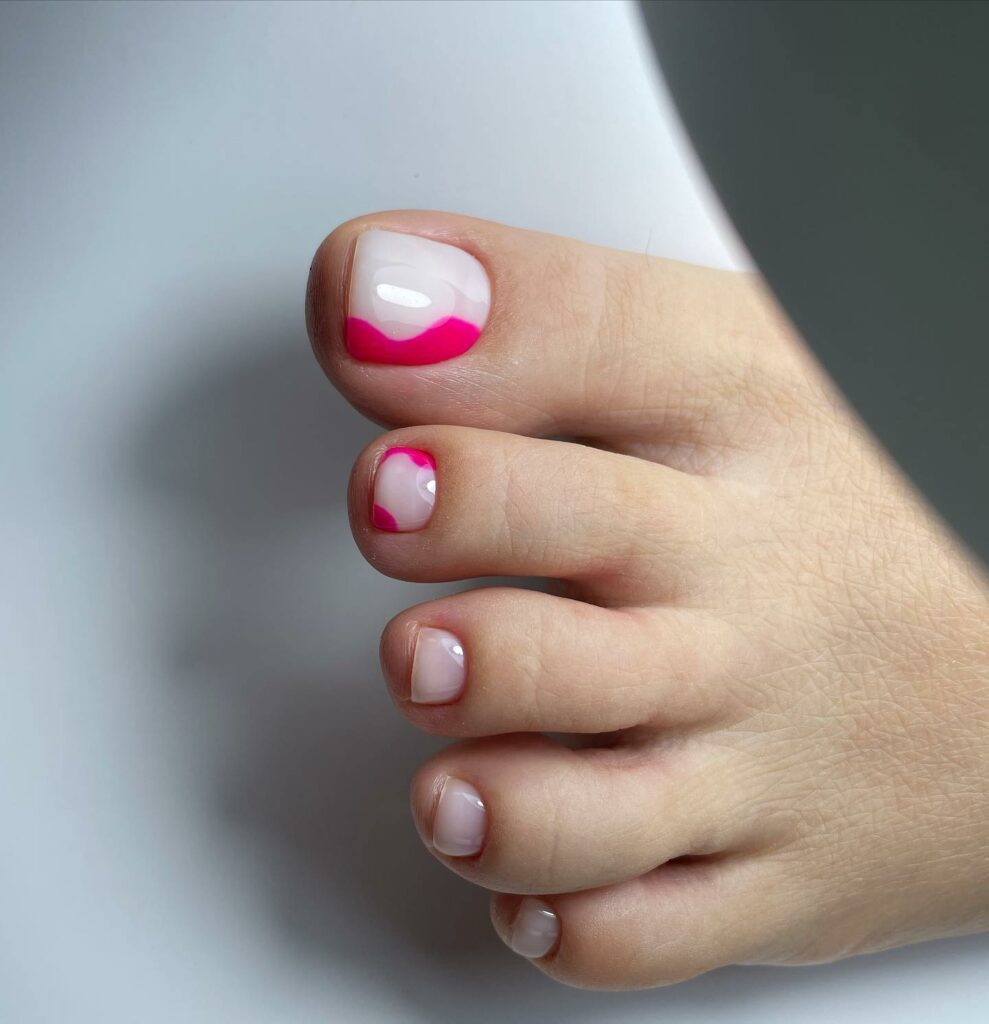 This artistic approach features abstract hot pink patterns over a crisp white base, creating a striking contrast. It's a modern and stylish option for those who appreciate creative and unconventional designs.
Matte Hot Pink With Amazing Pattern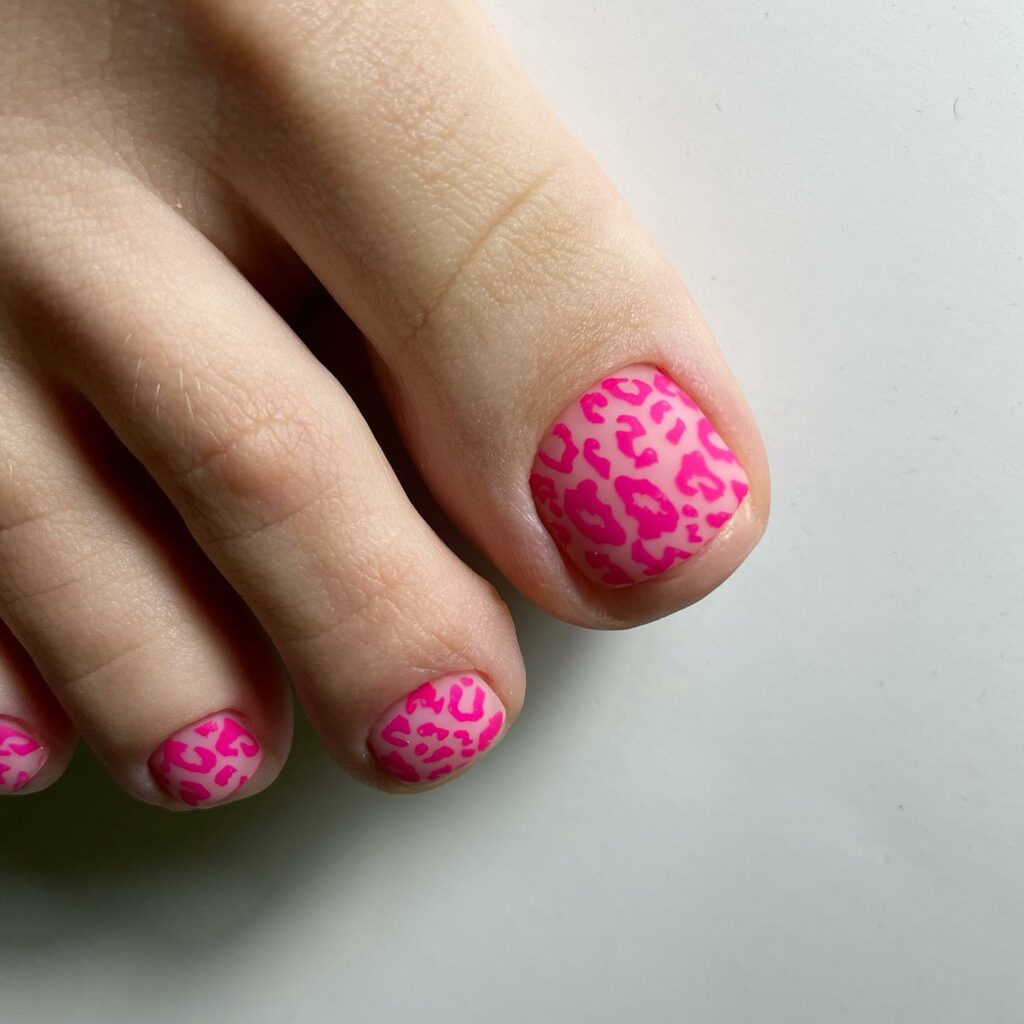 The matte finish gives the hot pink a sophisticated edge, while the intricate patterns add an element of intricate detail. This pedicure is for those who love a contemporary look with a twist.
Hot Pink, White And Gold Stripes Pedicure Design
A luxurious combination, this design features elegant stripes in hot pink, white, and gold, offering a chic and polished look. It's perfect for special occasions or for anyone who loves a touch of glamour.
Glossy Hot Pink Short Pedicure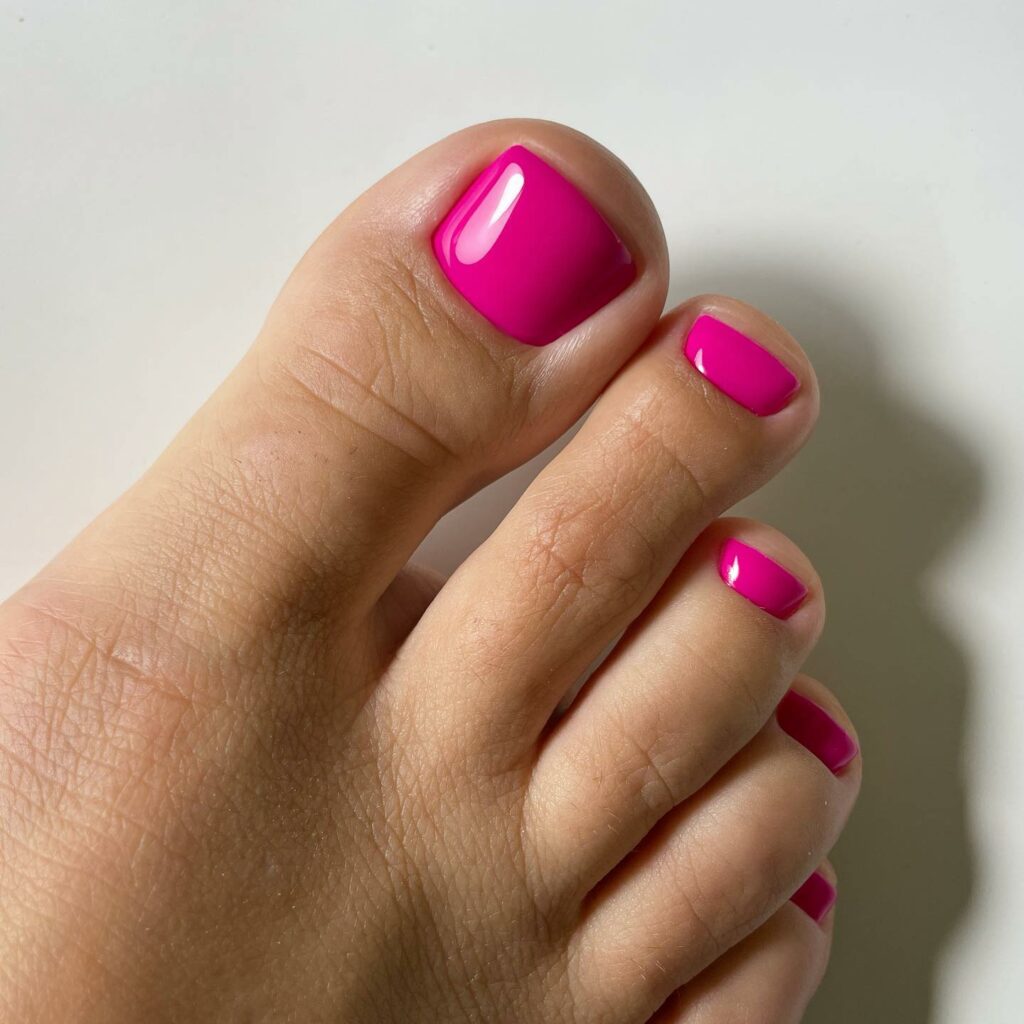 A shiny, glossy finish brings the hot pink to life, especially on short nails, for a modern appearance. It's ideal for those who prefer a minimalist yet bold nail style.
Hot Pink Pedicure With Rhinestones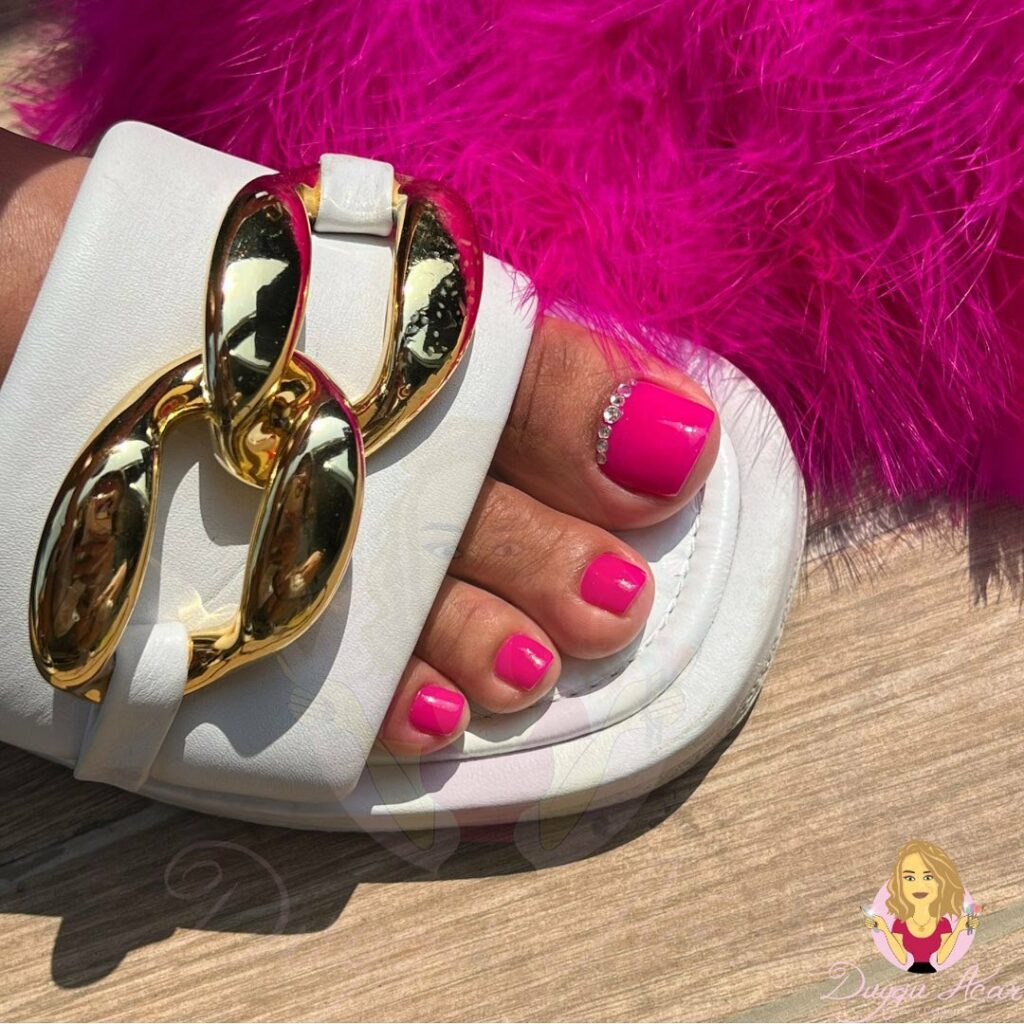 Adding a sparkling touch to the vibrant hot pink, rhinestones create a glamorous and eye-catching effect. This pedicure is perfect for those who love to sparkle and shine.
Hot Pink Chrome Pedicure
This pedicure features a metallic chrome finish on hot pink, giving your nails a futuristic and edgy look. It's an excellent choice for trendsetters and those who love a metallic sheen.
Hot Pink Long Pedicure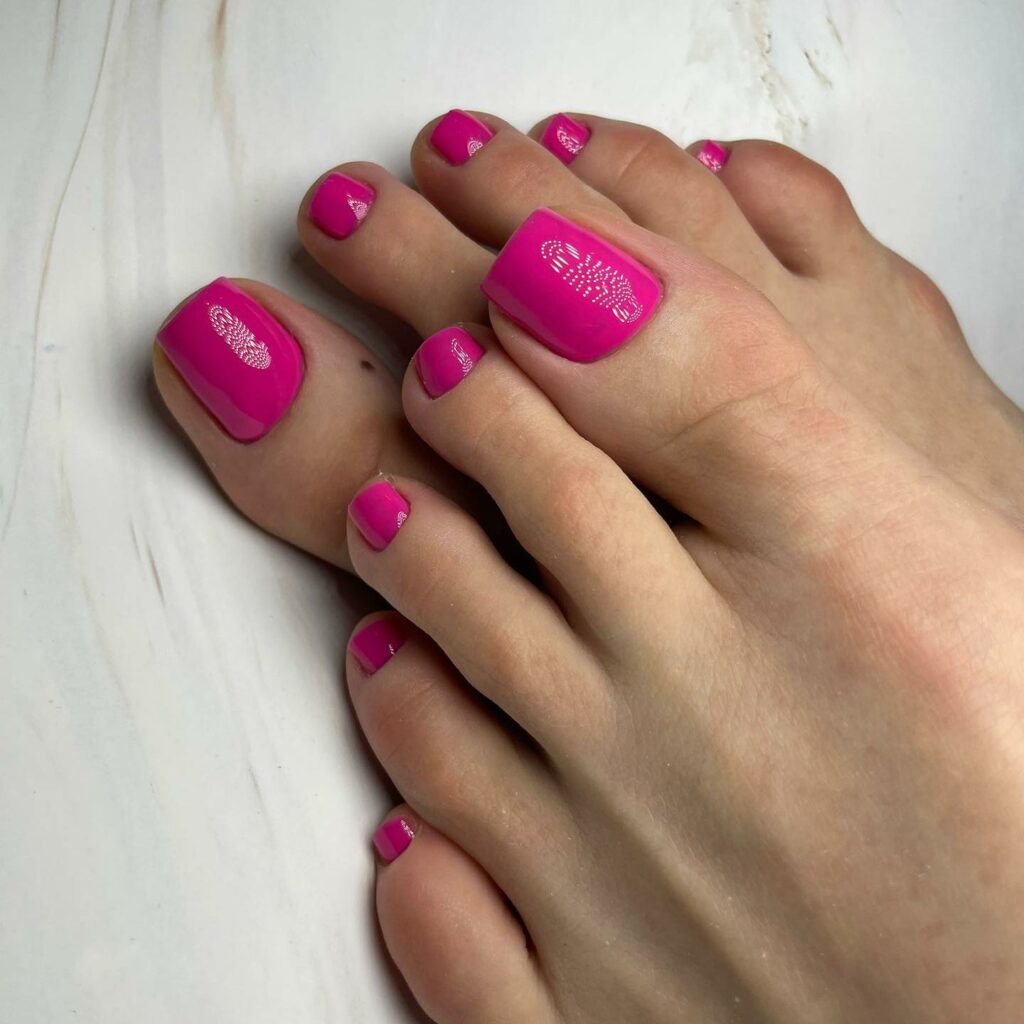 Emphasizing length, this style lets the hot pink stand out on longer nails, making a bold and dramatic statement. It's suited for those who love to showcase their nails as a fashion accessory.
Watermelon Themed Hot Pink Pedicure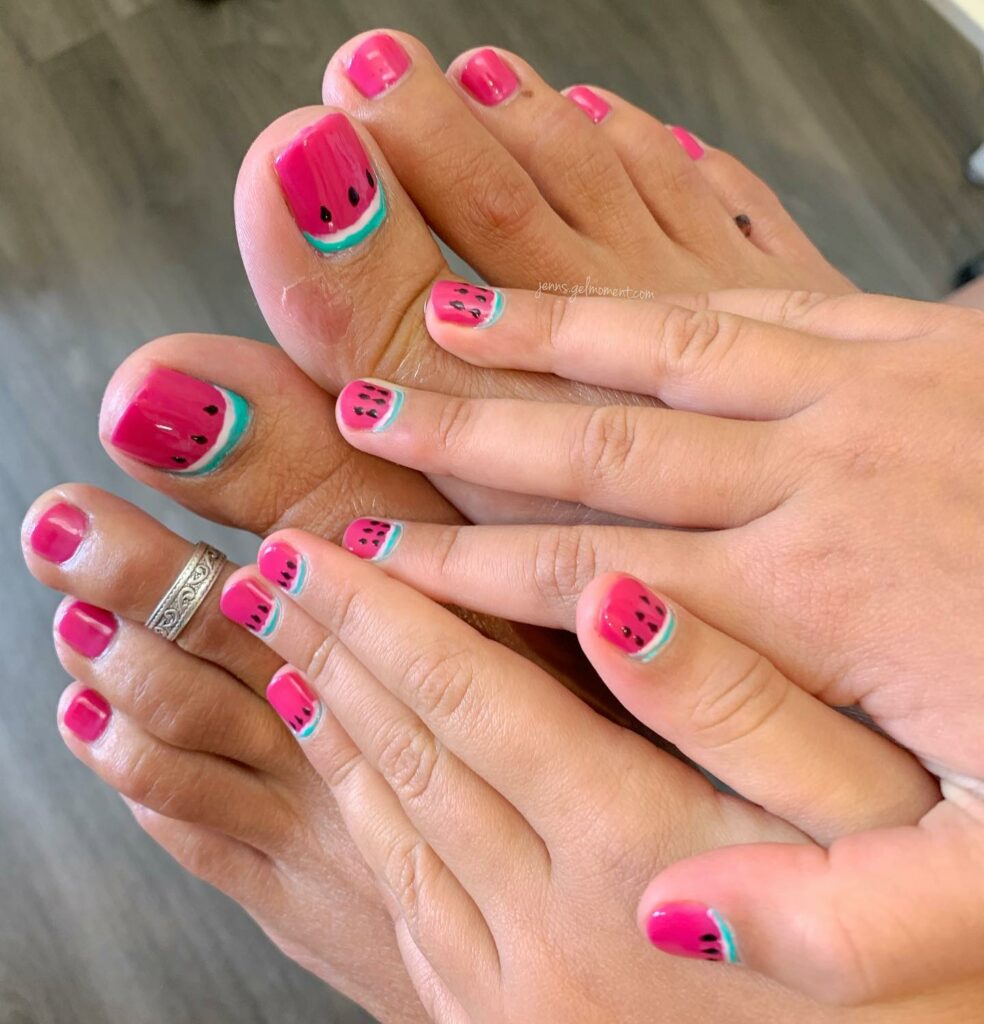 This fun and fruity design combines hot pink with green and black shades to mimic a watermelon, perfect for summer vibes or for those who love playful and thematic nail art.
Hot Pink Accent Pedicure With Pink Glitter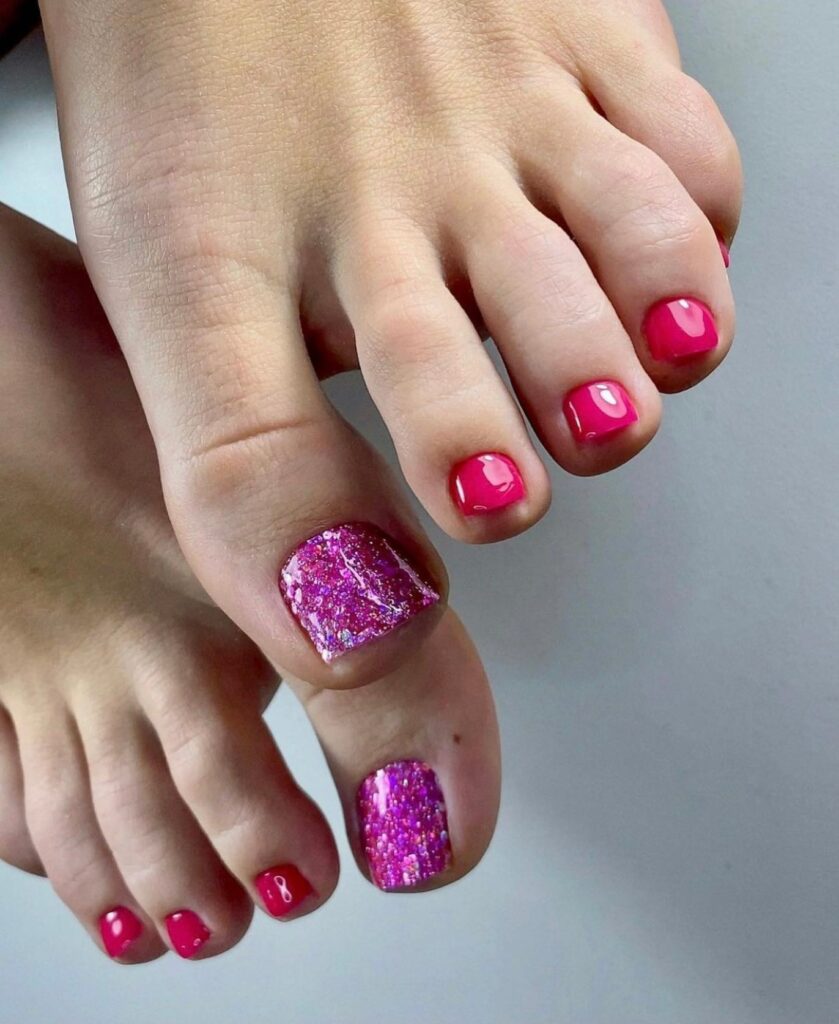 This pedicure style uses a striking hot pink as the base color, accented with sparkling pink glitter for an added glam factor. It's perfect for those who love to combine bold colors with a touch of sparkle.
Hot Pink Botanical Pedicure Design
This design is vibrant and elegant and features intricate botanical patterns in hot pink. It's ideal for nature lovers who want a floral touch to their pedicure.
Hot Pink Accent Pedicure With Pink Glitter
This style highlights a hot pink base with accents of pink glitter, creating a playful yet chic look. It's a perfect choice for adding a bit of fun and sparkle to your regular pedicure routine.
Neon Hot Pink Pedicure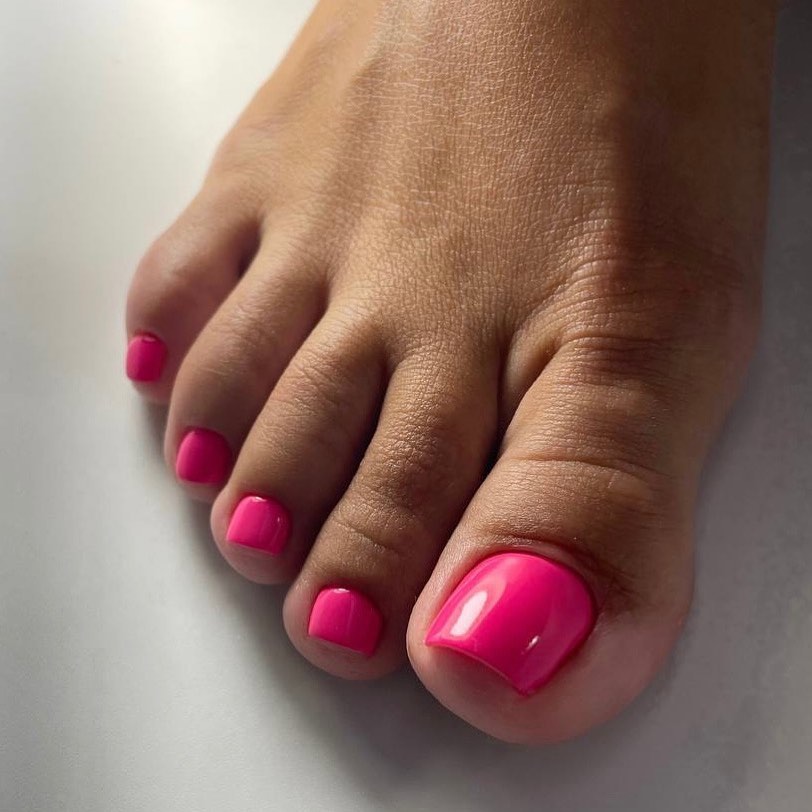 This pedicure's neon hot pink shade is perfect for making a bold, eye-catching statement. It's especially great for summer days or those wanting to stand out.
Hot Pink Pedicure With Swirl
This design features elegant swirls over a hot pink base, offering a modern twist on classic nail art. It's stylish for those who appreciate artistic and unique nail designs.
Hot Pink Pedicure With Rhinestones And Glitter
Combining the boldness of hot pink with the glitz of rhinestones and glitter, this pedicure is all about luxury and glamour. It's a top pick for special occasions or anyone who loves a dazzling nail look.
Hot Pink Accent Pedicure With Leaves Design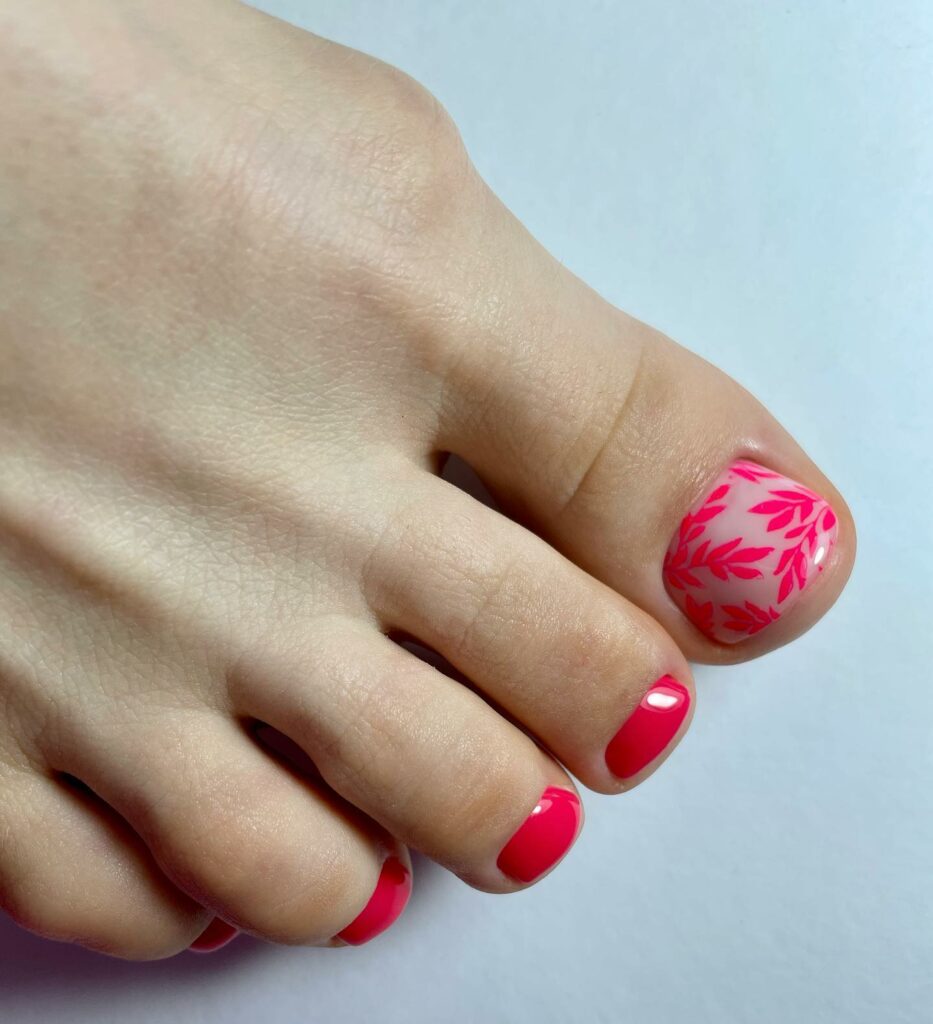 This pedicure pairs a hot pink base with delicate leaf designs, blending boldness with nature-inspired elegance. It's perfect for adding a unique and sophisticated touch to your nail art collection.
Hot Pink Pedicure With 3D Flower Design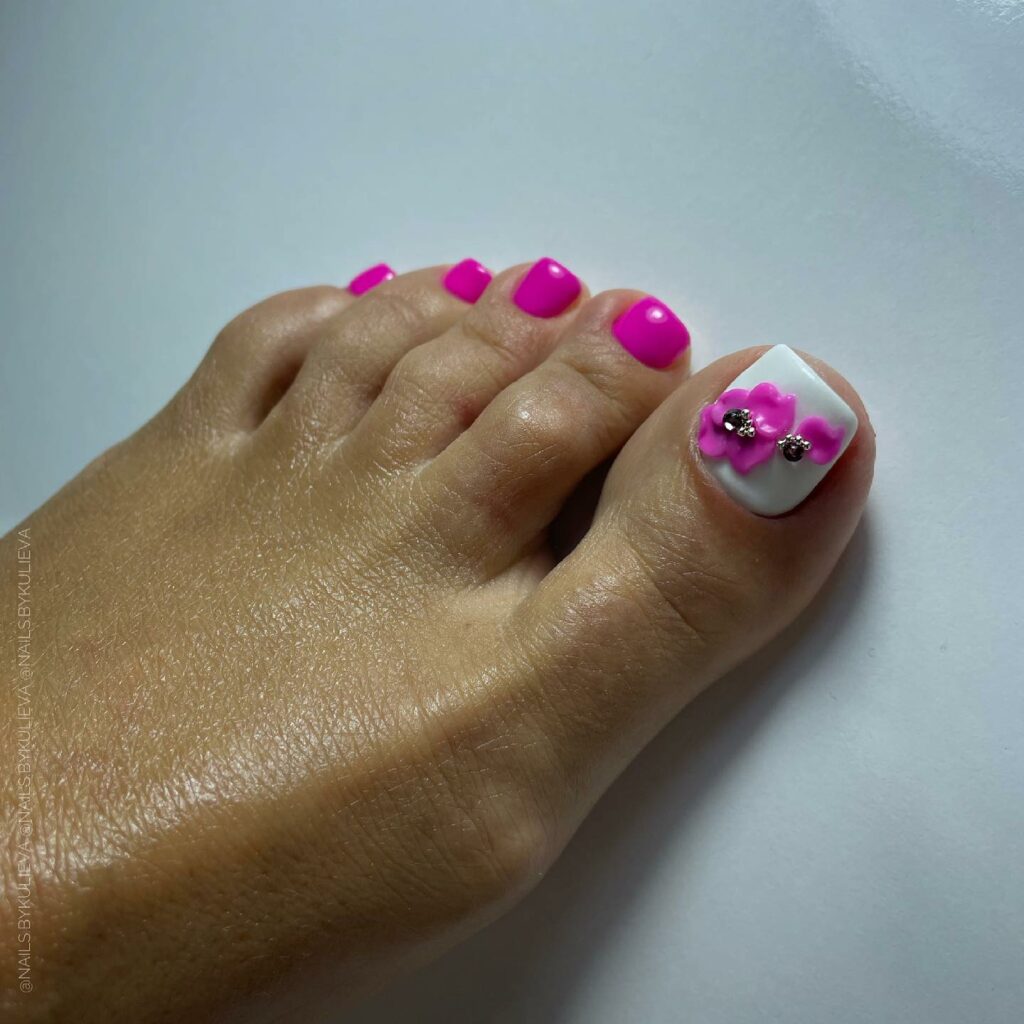 The 3D flower design on a hot pink base adds a tactile and visually stunning element to this pedicure. It's a gorgeous choice for those who love intricate, eye-catching nail art that stands out.
.
7 Tips To Prevent Chips And Maintain A Glossy Look
Proper Nail Preparation: Before you even start painting, make sure your nails are clean, dry, and free of any old polish. Gently buffing your nails can also help the polish adhere better.
Use a Base Coat: Always start with a base coat. It protects your nails from staining and provides a smooth surface for the color to stick to, reducing the likelihood of chips.
Quality Polish Matters: Invest in good quality nail polish. Higher-quality polishes often have better pigmentation and staying power, which can significantly reduce chipping.
Thin Layers are Key: Apply your polish in thin, even layers. Two thin coats of color are better than one thick one, as they dry faster and are less likely to smudge or chip.
Seal with a Top Coat: A top coat is your best friend for maintaining a glossy look and protecting your color. Apply a clear top coat every two to three days to keep your pedicure shiny and to prevent chips.
Avoid Water and Heat: Prolonged exposure to water and heat can weaken your nail polish. Wear gloves when doing dishes and avoid hot baths or showers immediately after painting your nails.
Moisturize Your Feet: Keep your feet and toenails moisturized. Dry nails and cuticles can lead to polish chipping. Regularly applying foot cream and cuticle oil can keep your feet looking and feeling great.
Touch-Up When Needed: If you get a small chip, touch it with the same polish and then apply a thin layer of top coat over the entire nail.
.
10 Products I Love To Use For A Salon-Quality Finish?
High-Quality Nail Polish: Start with a premium nail polish brand known for its longevity and pigmentation. Brands like OPI, Essie, and Sally Hansen are popular and offer a wide range of hot pink shades.
Strengthening Base Coat: A good base coat protects your nails from staining and strengthens them. Look for formulas that promote nail health and provide a smooth base for your polish.
Durable Top Coat: A high-quality top coat is crucial for achieving that glossy, chip-resistant finish. Consider top coats labeled as "long-wear" or "gel-like" for best results.
Cuticle Oil: Healthy cuticles are critical to a professional look. Regular cuticle oil hydrates your cuticles and nails, promoting overall nail health.
Nail Polish Remover and Corrector Pen: A good nail polish remover is essential for cleaning up any excess polish. A corrector pen is also handy for precise touch-ups around the edges.
Nail File and Buffer: Keeping your nails shaped and smooth is vital. Use a fine-grit nail file and a buffer to prep your nails before applying polish.
Foot Exfoliant and Moisturizer: Smooth, well-moisturized feet complement your pedicure. Use a gentle exfoliant to remove dead skin and a rich moisturizer to keep your feet soft.
UV or LED Nail Lamp (for Gel Polishes): If you're using gel polish, a UV or LED nail lamp is necessary to cure the polish, giving it a long-lasting, durable finish.
Quality Pedicure Tools: Invest in a good pedicure kit that includes nail clippers, a cuticle pusher, and other essential tools for nail care.
Quick Dry Drops or Spray: If you're short on time, quick dry drops or sprays can speed up the drying process and prevent streaks.
Still Looking for Inspiration, Then Check Out This Video
Conclusion
Hot pink pedicures offer something for every style, whether it's the playful sparkle of pink glitter, the sophistication of botanical designs, or the statement-making 3D flowers. Remember, the key to a fabulous pedicure is not just the color or design but also the care you put into maintaining it. Keep those feet pampered and moisturized for the best results. My top tip? Experiment with these styles, but always listen to your feet – if they're happy, you'll be strutting in style. So, grab your favorite hot pink shade, unleash your creativity, and let your toes do the talking. Happy painting!
Feature Image Photo By laguna__beauty on Instagram
Last reviewed and updated on November 21, 2023