Hey, let's jump right into the chill and chic universe of mint green nails. I'm telling you, mint green isn't just a color, it's a vibe – think lazy weekends, soft breezes, and that zen feeling you get after a long, satisfying yoga session. This isn't just any nail trend; it's your new go-to for a look that's both laid-back and put-together. I've got the lowdown on everything from choosing the right minty shade for your skin to making a statement with some clever nail art. Plus, I'll throw in some personal tips on how to match your nails with your outfit to keep things coordinated without trying too hard.
Whether you're into a plain and simple one-color look or you're all about mixing it up with some cool designs, mint green is the way to go. It's the perfect mix of mellow and edgy, and by the time we're done, you'll be ready to flaunt those nails like you've invented the color yourself. So, let's dive into this minty journey, shall we? It's time to get your nails looking as refreshing as a cold mojito on a sunny beach day!
Elegant French Mint Green Nails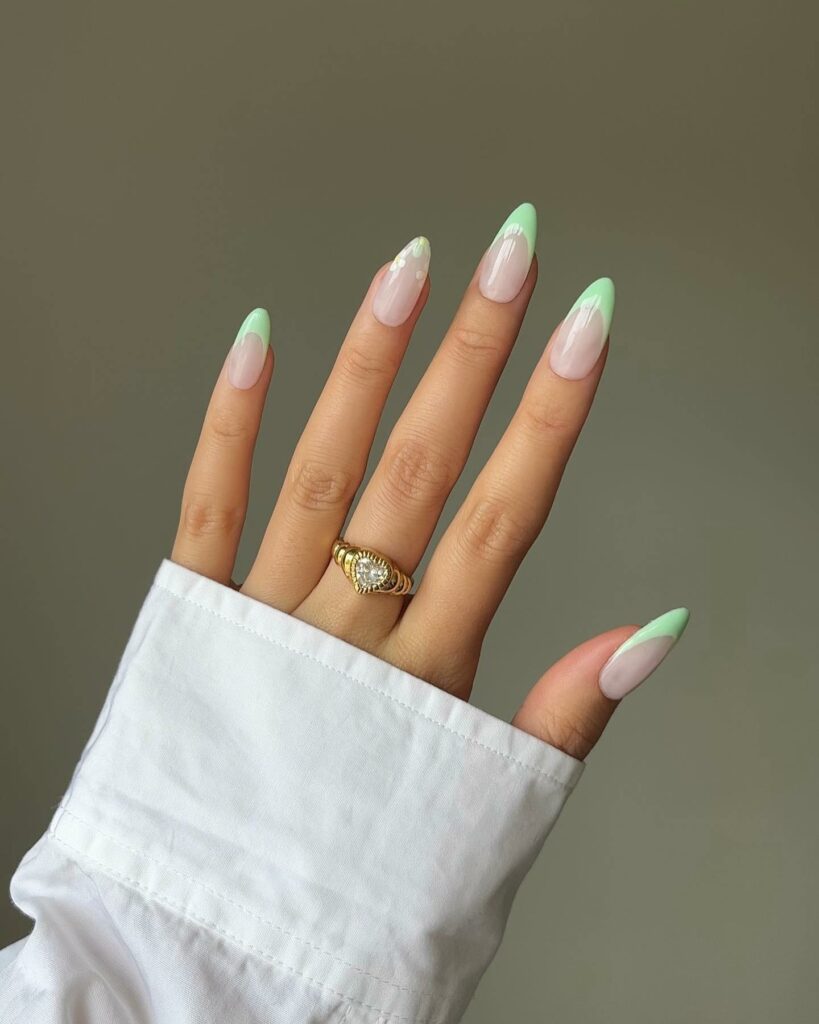 Experience the classic French manicure with a refreshing twist. These nails flaunt a mint green tip that adds a touch of modern vibrancy to a timeless style.
Glossy Acrylic Mint Green Nails
Achieve a polished and sleek look with these acrylic mint green nails. Their lustrous shine and sturdy build ensure longevity and brilliance.
Delicate Short Mint Green Nails with Gold Foils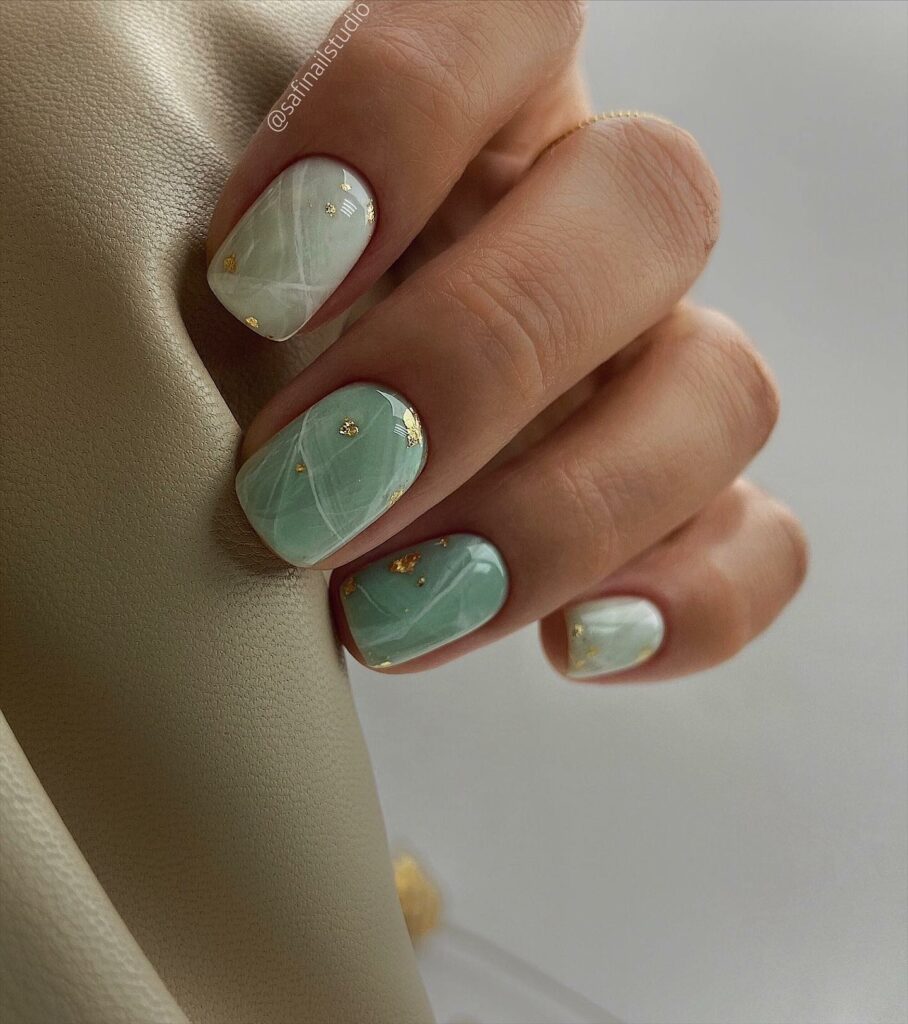 Combining soft mint green hues and shimmering gold foils offers a chic and sophisticated look. Perfect for those who adore subtle elegance with a hint of glamour.
Gradient Ombre Mint Green Nails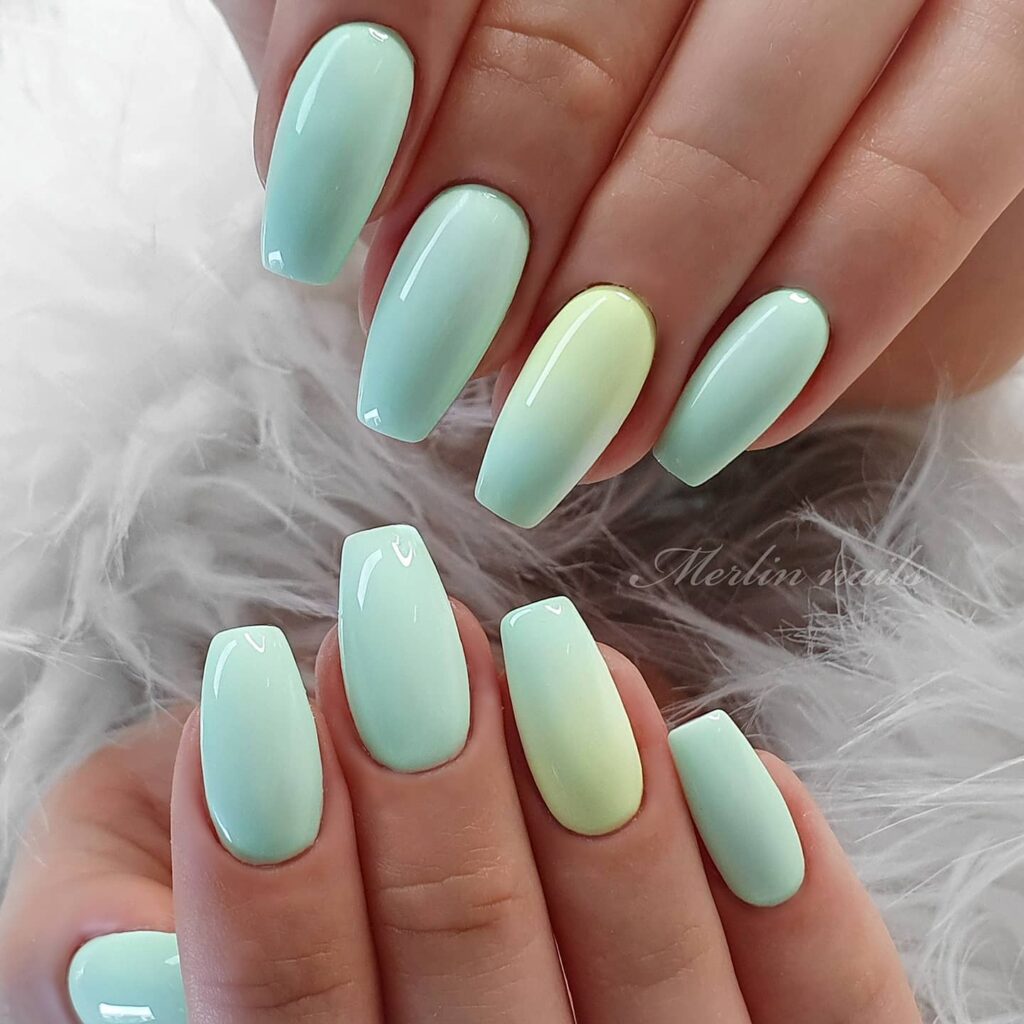 Transitioning smoothly from a deeper hue to a lighter mint, these ombre nails reflect the varying shades of nature. It's a style that captures the essence of fluidity and grace.
Gold Accents on Mint Green Nails
A celebration of chic minimalism, these nails artfully combine soft pastel mint with luxurious gold accents, creating a contemporary yet timeless look. The delicate gold strokes on the mint tips exude an air of sophistication, making this design both versatile and statement-making.
Two-Toned Mint Green Nails
Embracing the serenity of mint green juxtaposed against a pristine white, this nail design exudes a timeless elegance. Perfectly encapsulating a blend of minimalist charm with a dash of color, it's a testament to the notion that beauty can be found in the most understated details.
Blossoming Pastel Hues with Floral Accents
This nail art design perfectly captures the essence of a springtime bloom with delicate daisy details set on a pastel backdrop. The contrast between the fresh mint green and soft pink evokes a feeling of youthful exuberance, making it an ideal choice for those looking to add a touch of playful elegance to their style.
Lustrous Finish with Glossy Mint Green Nails
Shine bright with these glossy mint green nails. The radiant finish adds an extra layer of sophistication and style.
Rugged Textured Mint Green Nails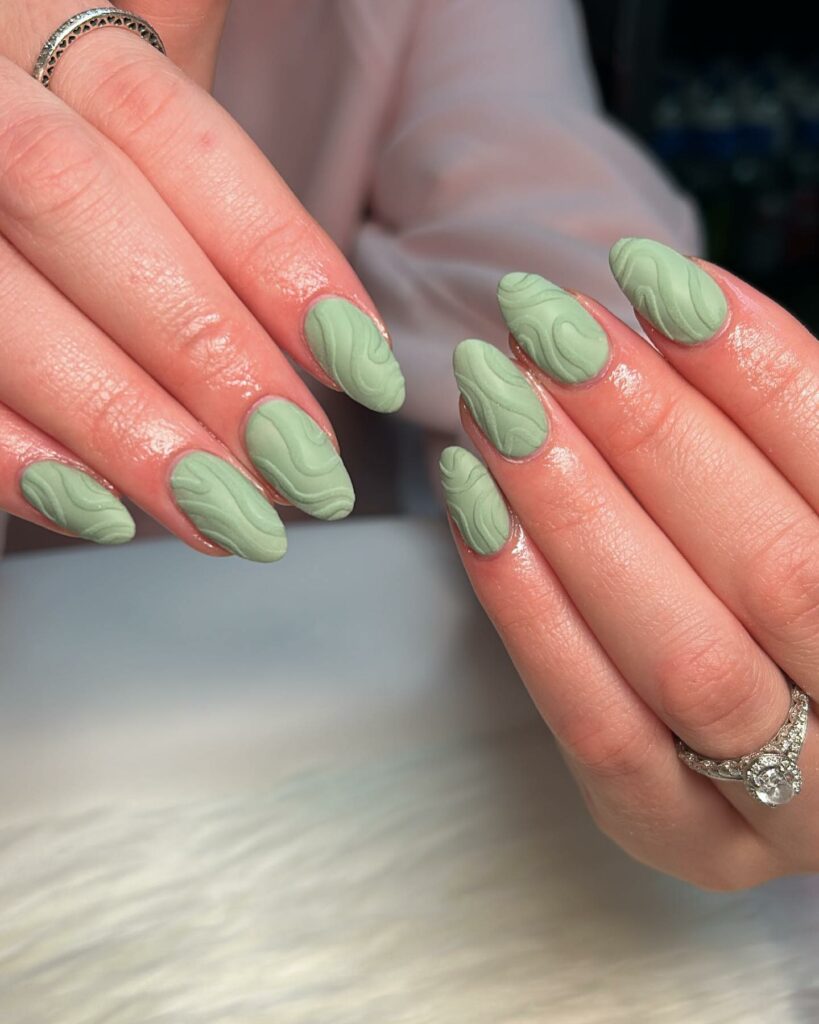 Dive into a multidimensional look with these textured mint green nails. Their unique surface adds depth, making them stand out in any crowd.
Soft Pastel Mint Green Nails
The understated charm of pastel mint green offers a serene and calming effect. These nails are elegant, perfect for a relaxed day out.
Dual-Toned Pink and Mint Green Nails
Where warm meets calm, these nails combine the softness of pink with the freshness of mint green. A harmonious blend that's both playful and refined.
Earthy Matcha Mint Green Nails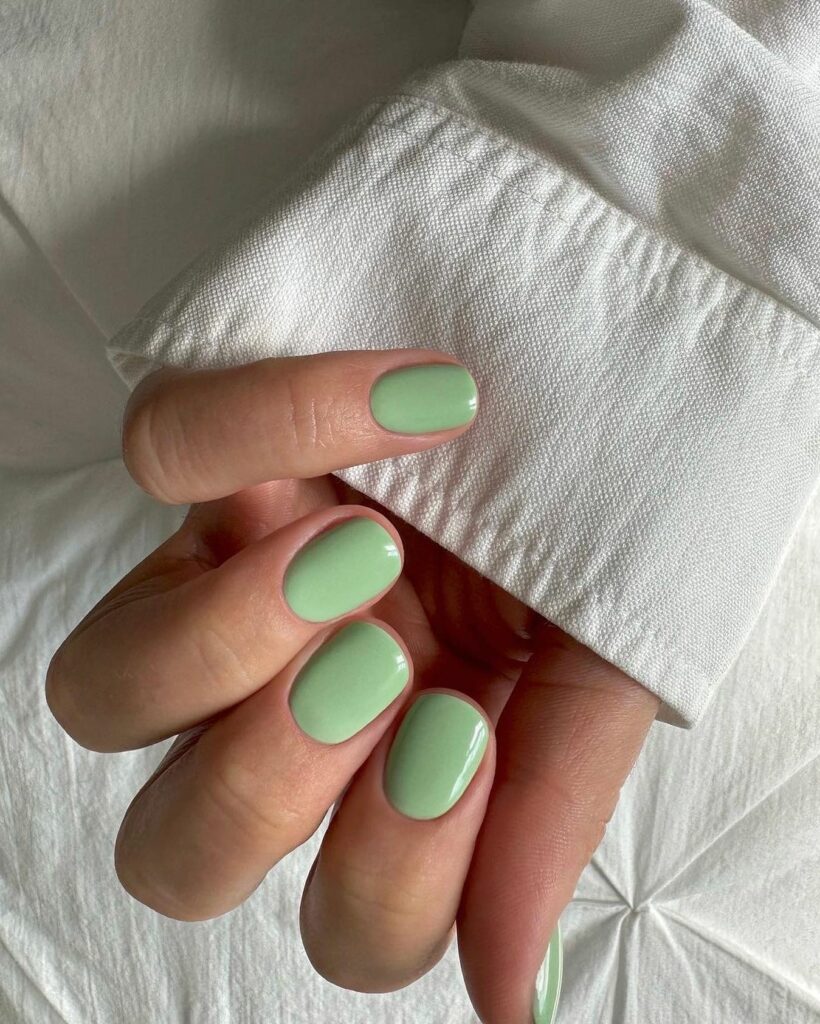 Drawing inspiration from the world of tea, these nails have a deeper, matcha-infused shade. It's a grounding and rich interpretation of the mint green palette.
Artistic Swirl Mint Green Nails
Let your nails tell a story with swirls of mint green dancing across them. This artistic design is both captivating and whimsically charming.
Sleek Coffin Mint Green Nails with Gold Swirl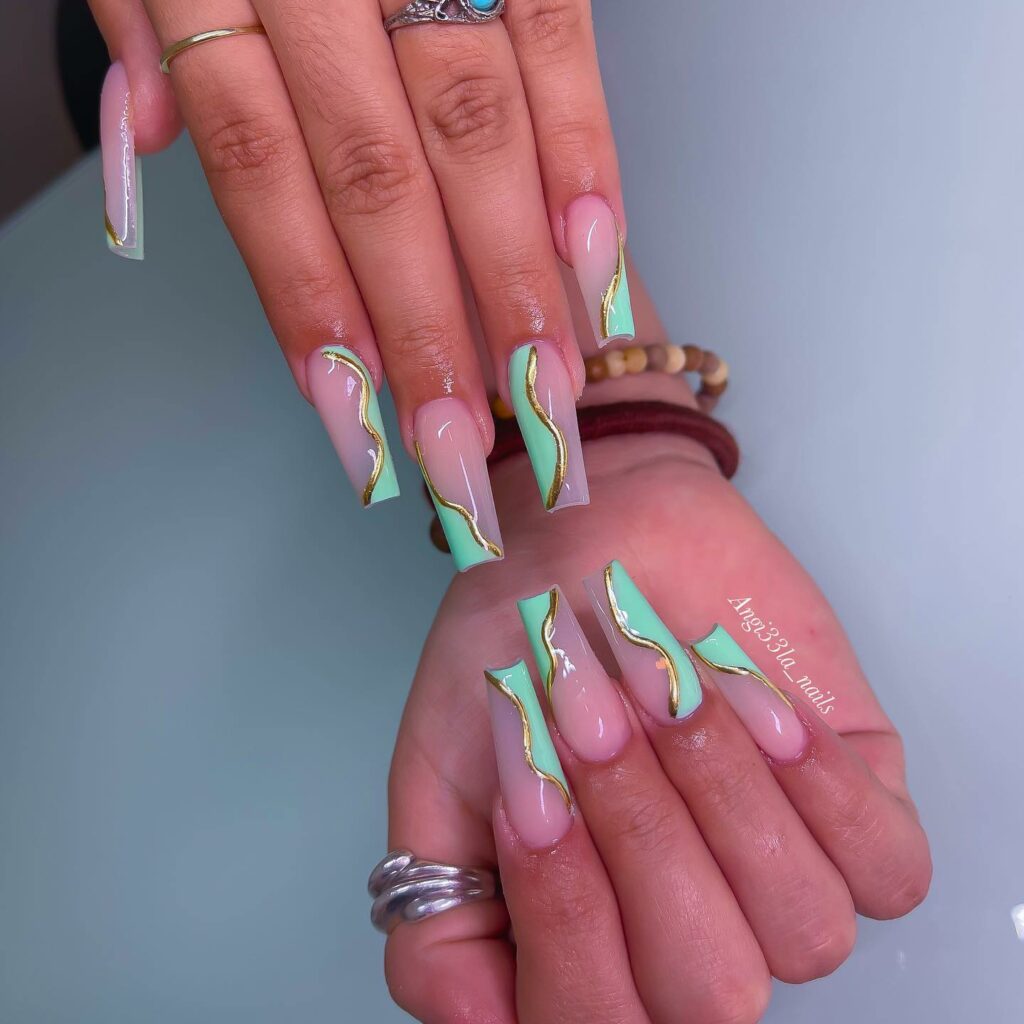 Marrying the edgy coffin shape with luxurious gold swirls, these mint green nails are a statement of bold elegance. A design for those unafraid to stand out.
Dazzling Mint Green Nails with Rhinestones
Add a touch of sparkle to your mint green base with strategically placed rhinestones. It's a design that radiates luxury and sophistication.
Modern Abstract Mint Green Nails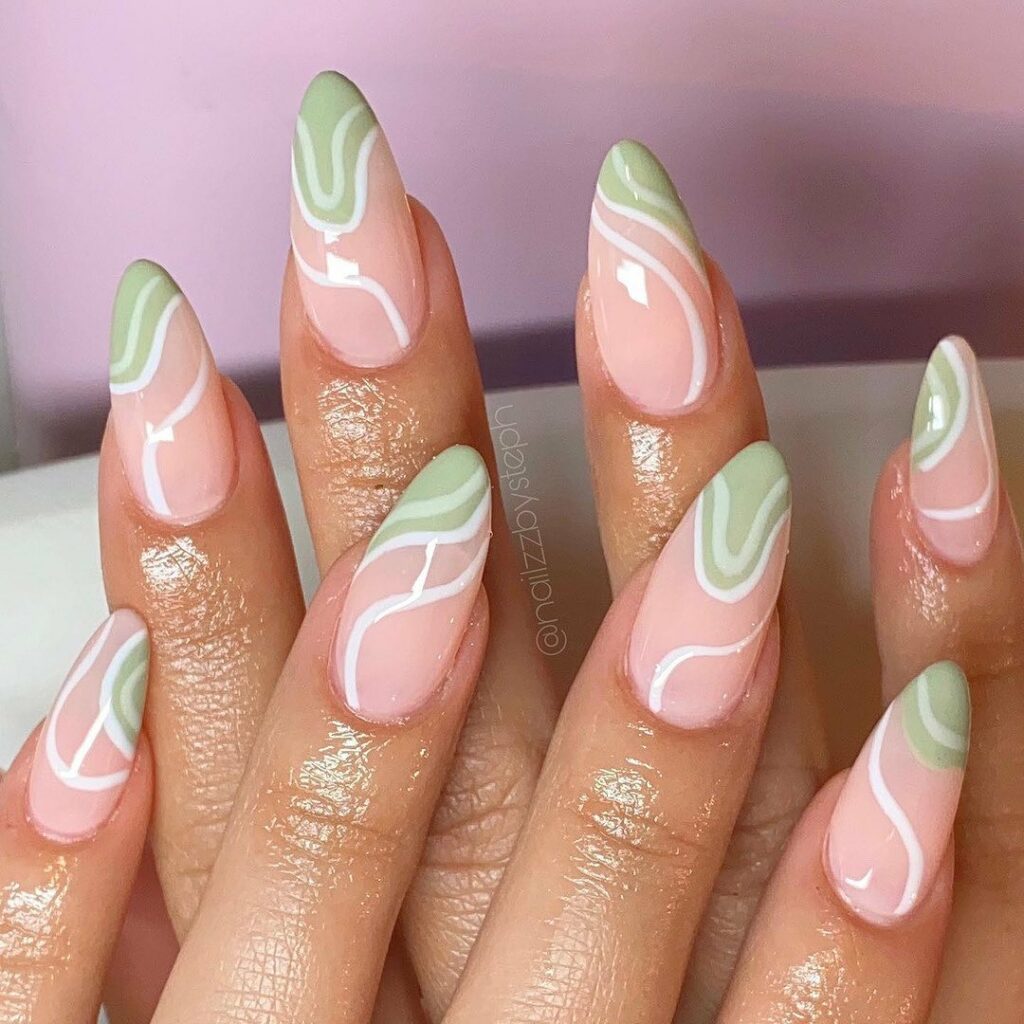 Venture into the world of modern art with these abstract mint green nails. Their unique patterns and designs make them a centerpiece of conversation.
Luxurious Marble Mint Green Nails
Immerse yourself in the beauty of swirling patterns with these marble mint green nails. The intricate designs evoke a sense of luxury, perfect for those seeking a touch of opulence.
Dynamic Mint Green Nails with Swirls and Stripes
Dive into the mesmerizing world of geometric patterns with these mint green nails, artfully combined with spirals and alternating stripes. This unique design showcases how playful patterns can seamlessly come together to create a bold yet harmonious statement, taking the nail art game to refreshing new heights.
Graceful Almond Shaped Mint Green Nails
Elegant and refined, the almond shape paired with the mint green hue offers a harmonious balance. Ideal for those who love a combination of classic style and fresh color.
Contemporary Abstract Round Mint Green Nails
Showcase your artistic side with these round, mint green nails featuring abstract designs. The playful patterns lend a modern and trendy vibe.
Floral Designs on Mint Green Nails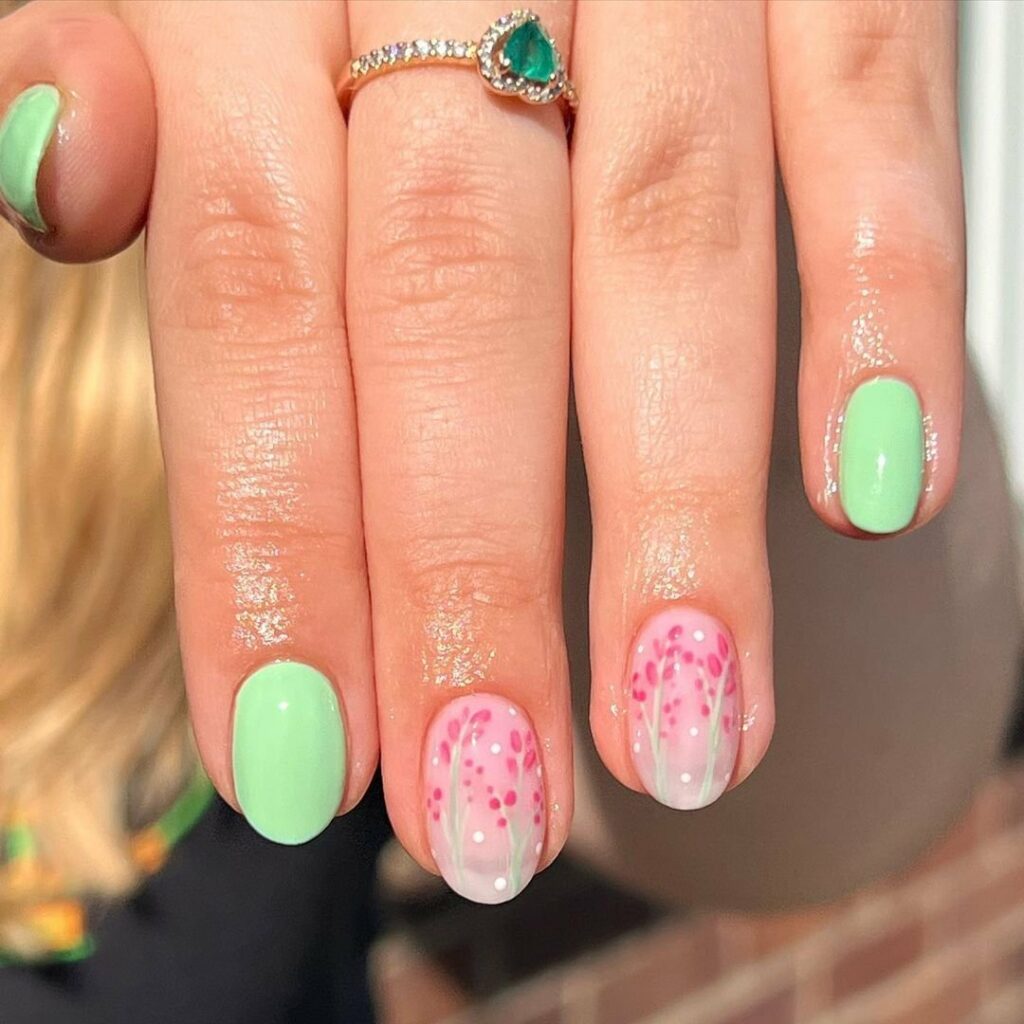 Embark on a nature-inspired journey with floral designs elegantly placed on a mint green canvas. It's a design that harmoniously blends flora with fresh hues.
Sophisticated Marble French Mint Green Nails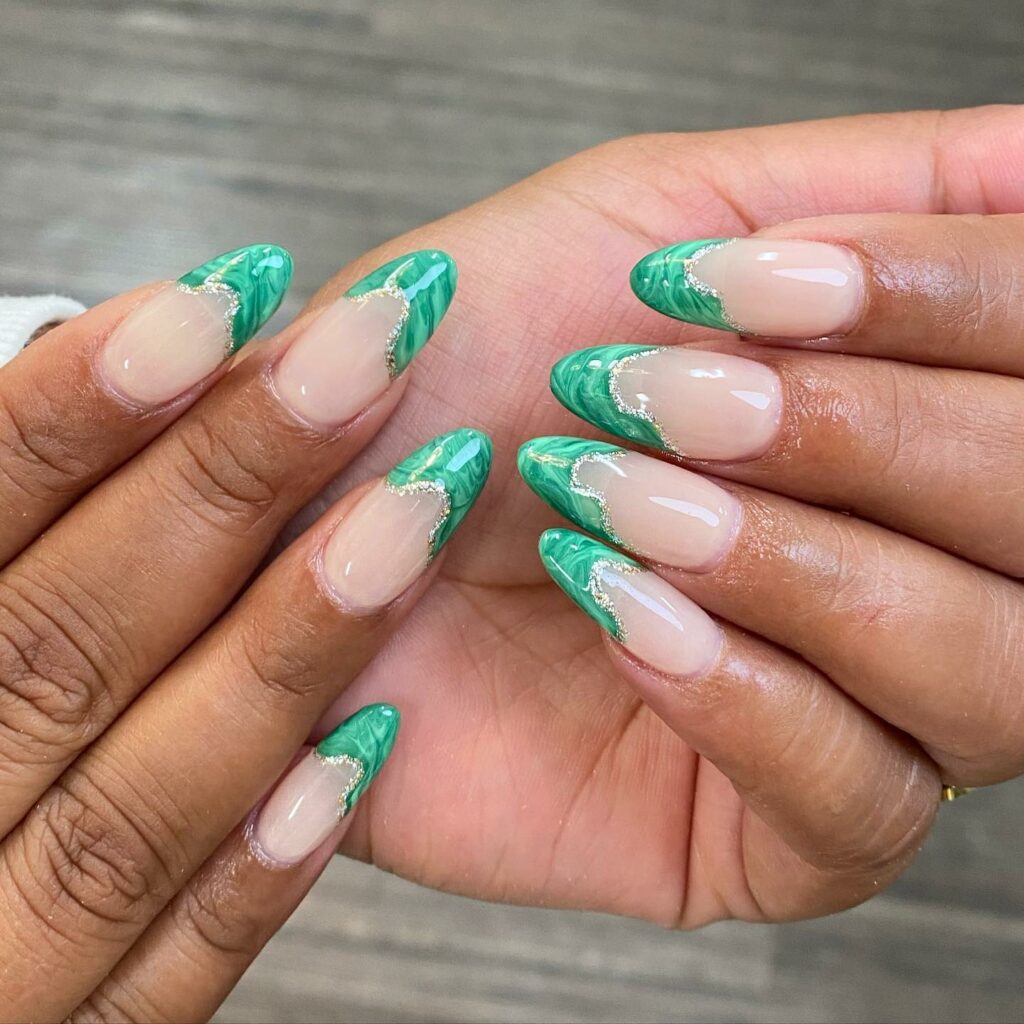 Experience the fusion of classic French tips with a marble twist on a mint green base. It's a design that exudes class and innovation.
Timeless Classic Almond Mint Green Nails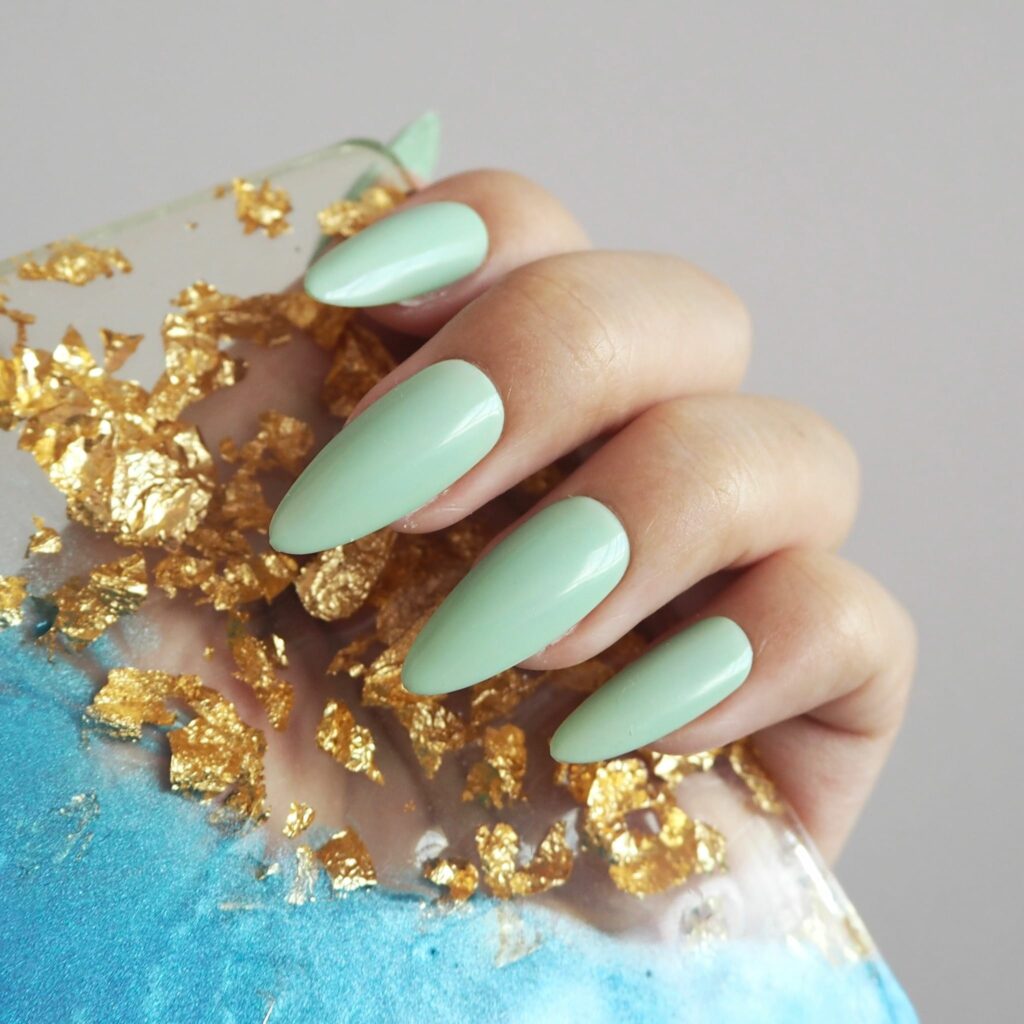 Revel in the ageless beauty of the classic almond shape, accentuated with the serene mint green shade. It's a design that always goes in style.
Delicate Blush Mint Green Nails
Explore the subtle charm of blush undertones combined with mint green. This design offers a soft and dreamy look, perfect for those who appreciate gentle elegance.
Elegant Nude Nails with Subtle Mint Contours
Gracefully capturing the essence of modern nail art, these minty waves flow effortlessly over a nude backdrop, exuding an air of sophistication and calm. Perfect for those seeking a touch of elegance with a contemporary twist, this design proves that sometimes, less truly is more, striking a balance between bold expression and understated charm.
Velvety Creamy Pastel Mint Green Nails
Indulge in the soft allure of these creamy pastel mint green nails. Their velvety finish offers a gentle and soothing aesthetic.
Botanical Mint Green Nails with Florals
Infuse nature's touch with delicate floral patterns on a mint green base. This design evokes a garden in spring, blooming with beauty and elegance.
Refined Pastel French Tips in Mint Green
Elevate the classic French tip with a pastel mint green twist. It's a subtle yet impactful update to a timeless design.
Sparkling Allure of Glitter Mint Green Nails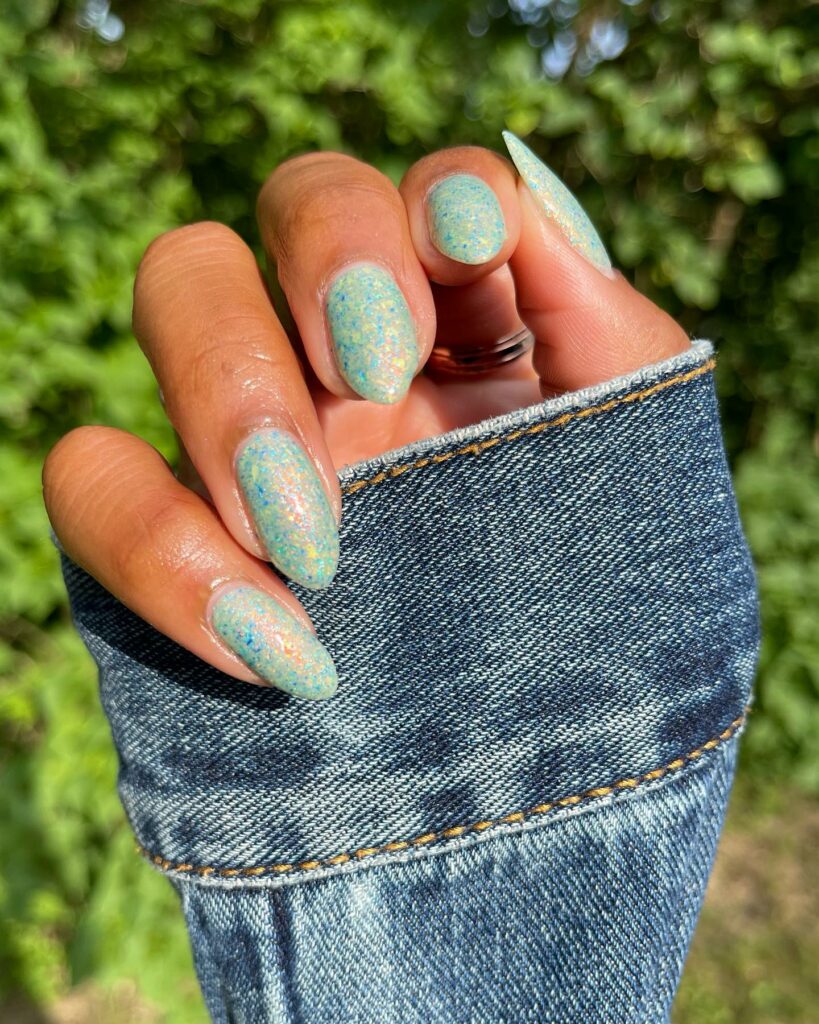 Make a shimmering statement with these glitter-infused mint green nails. The sparkle adds a dash of glamour and festive vibe.
Sleek Combination of Glossy and Nude Mint Green Nails
Experience the best of both worlds with a glossy mint green paired with a muted nude base. It's a balanced design that exudes modern elegance.
Nature-Inspired Floral Almond Mint Green Nails
Celebrate nature's beauty with almond-shaped nails adorned with floral patterns on a mint green canvas. A botanical treat for the eyes.
Oceanic Mint Green Nails with Translucent Waves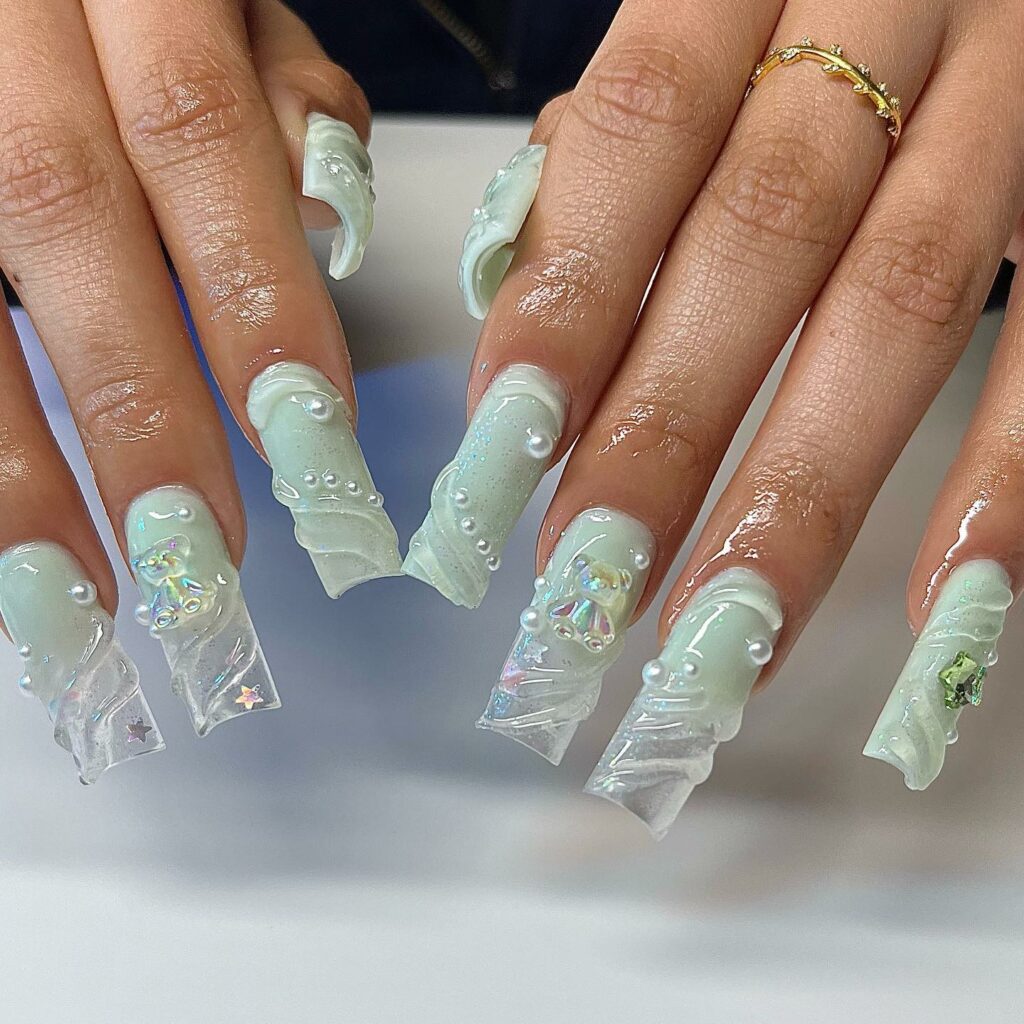 Diving into the depths of ocean-inspired design, these nails showcase a mesmerizing blend of translucent textures, resembling waves, paired with shimmering details reminiscent of marine treasures. The iridescent accents and delicate pearls transport one to a serene underwater world, effortlessly merging artistry with the wonders of the sea.
Square Mint Green Nails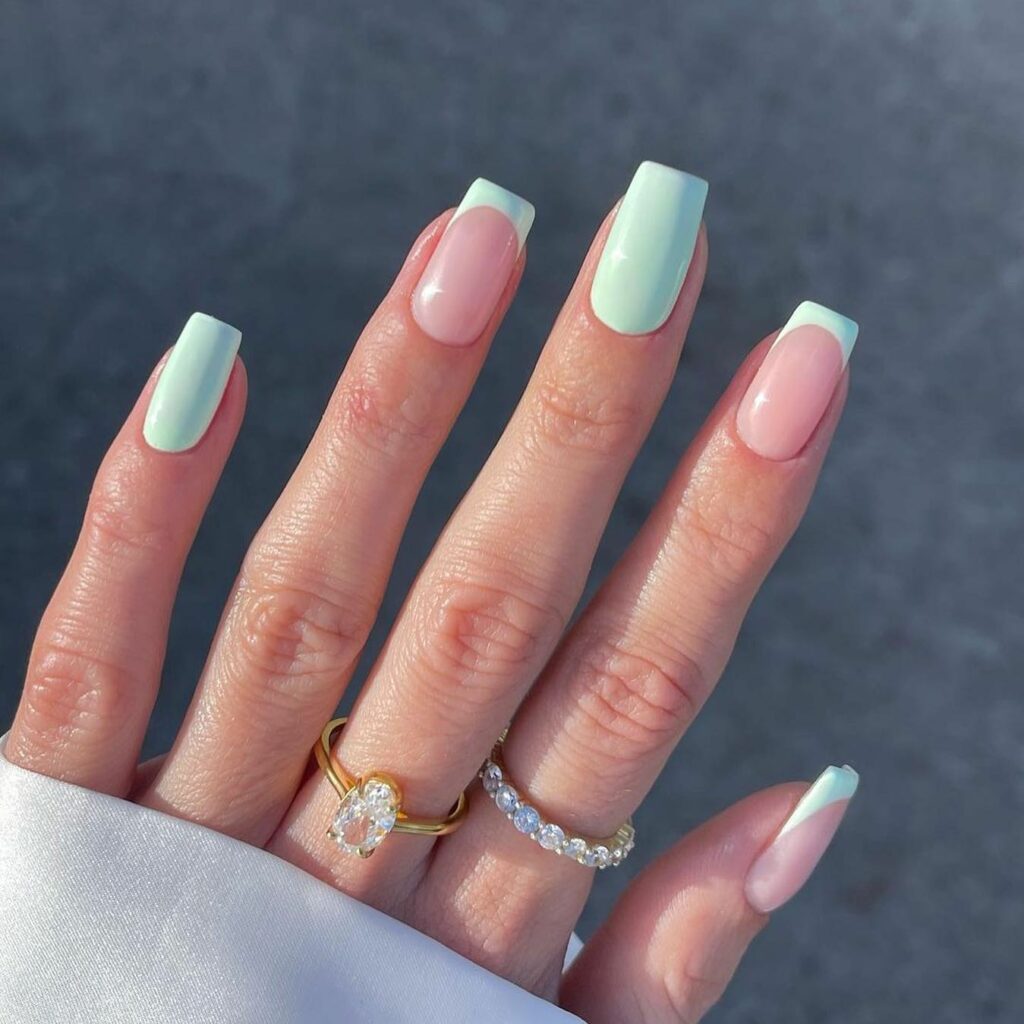 Channel timeless elegance with these perfectly shaped square mint green nails. Their structured look is both modern and classic.
Square Mint Green Nails with Swirls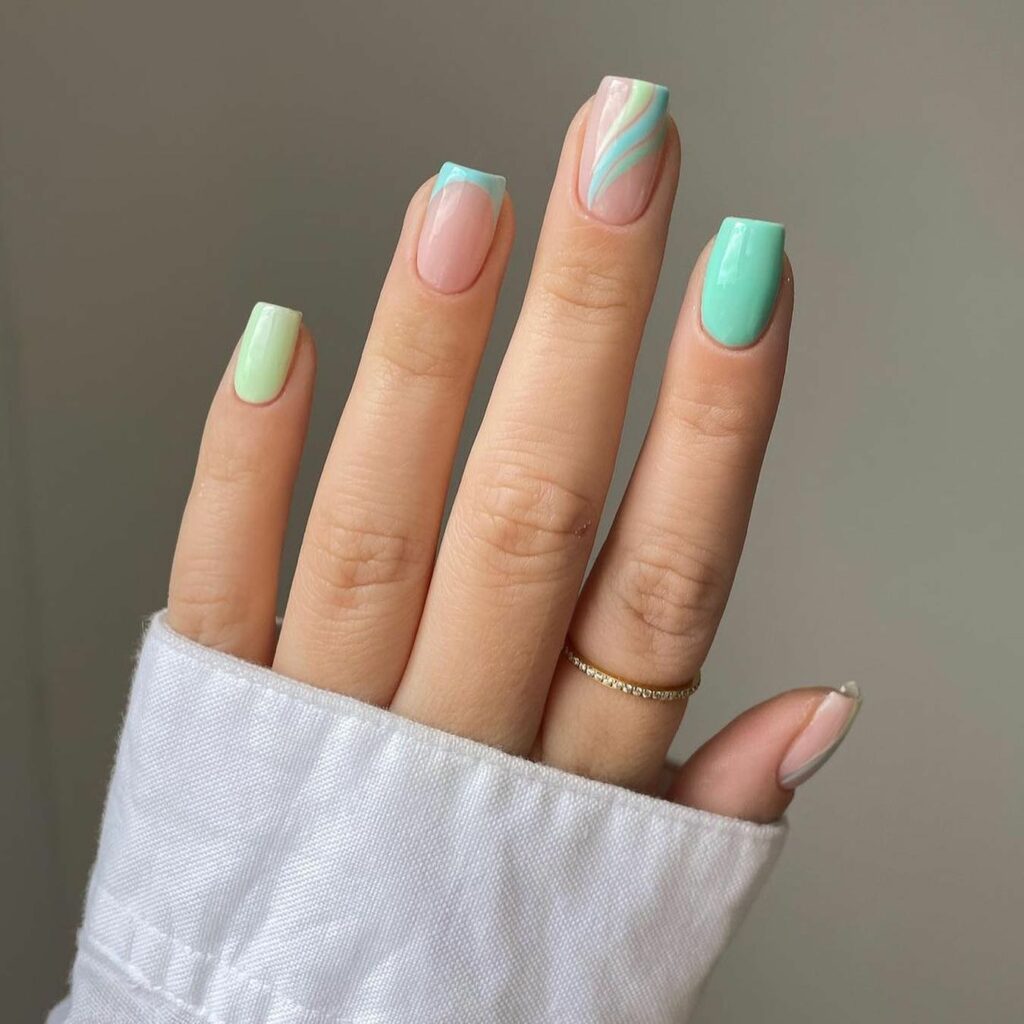 Add a touch of artistry to your fingertips with square mint green nails accentuated by whimsical swirls. It's a creative blend of form and design.
Sparkling Mint Green Nails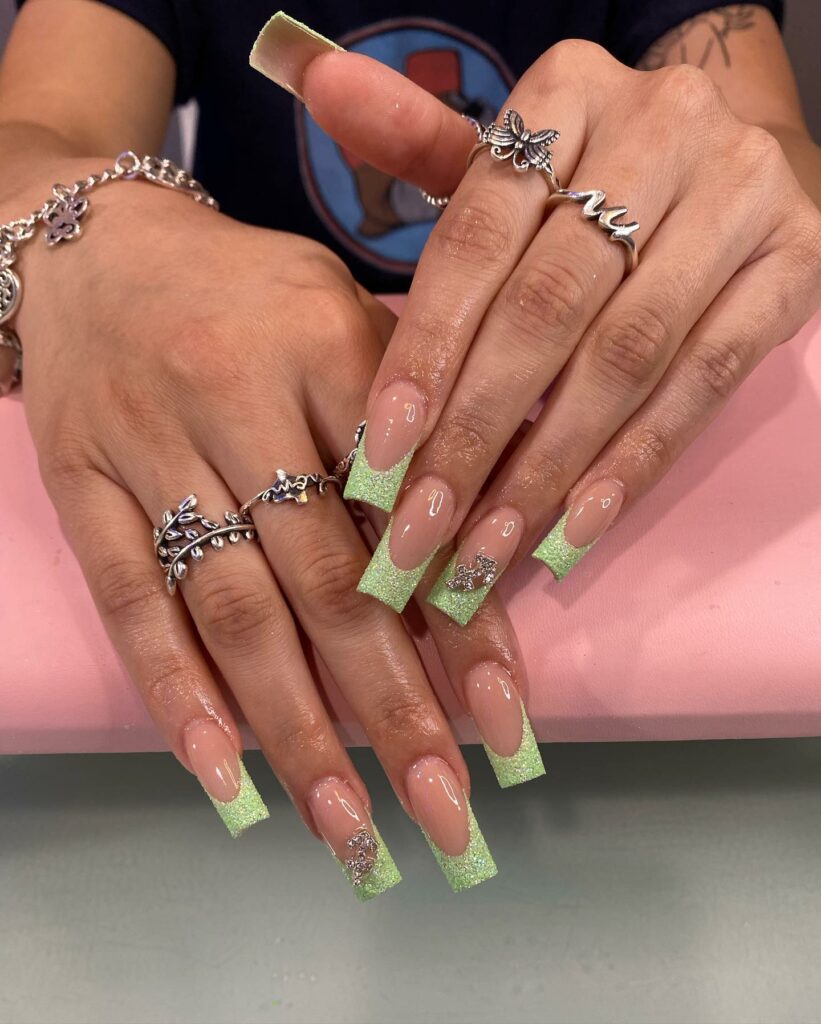 Experience the perfect blend of classic and contemporary with coffin-shaped mint green nails, featuring glittery French tips. This design combines elegance with a hint of sparkle for an added touch of glamour.
Serene Mint Green Nails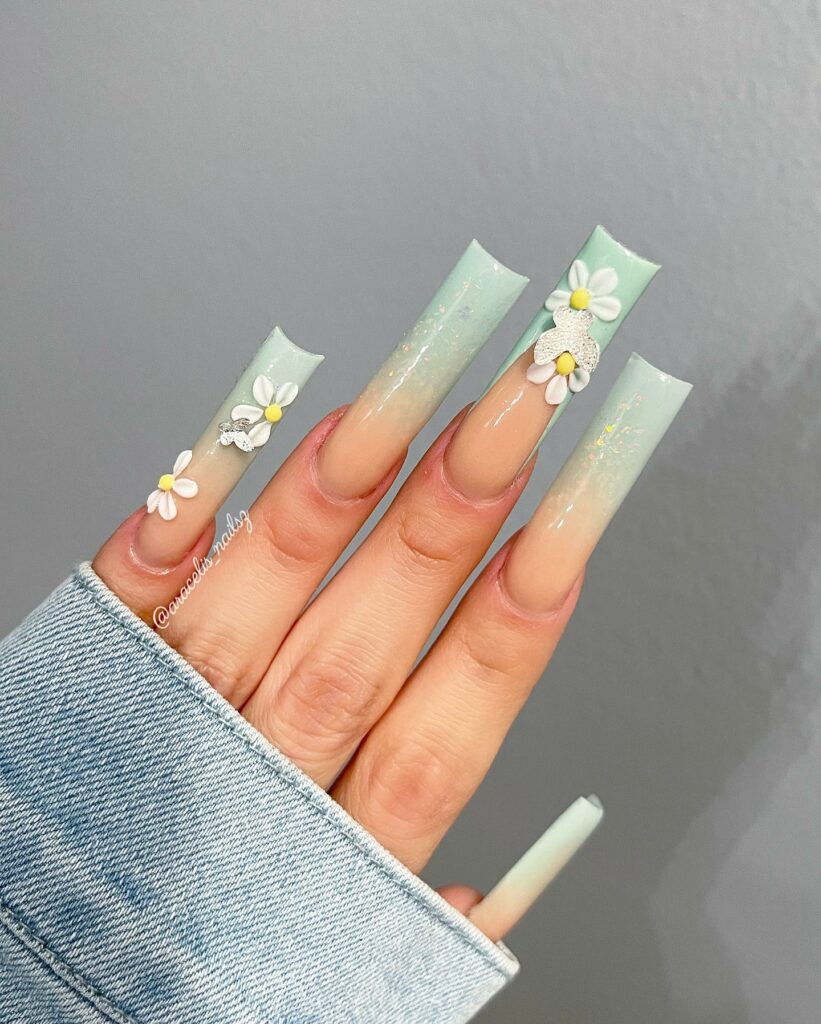 Capturing the essence of a serene spring day, these nails seamlessly blend soft minty shades with dainty white flowers, evoking feelings of calm and elegance. The touch of shimmer and subtle glitter background adds a whimsical charm, creating a design that is both delicate and refreshing.
Smooth Gradient Mint Green Nails
Celebrate the various shades of mint with these gradient nails. The smooth transition from light to dark offers a serene and calming visual experience.
Edgy Stiletto Mint Green Nails
The sharp stiletto shape combined with the refreshing mint green color creates a bold and daring look. It's a perfect statement for those with a fierce sense of style.
Mesmerizing Holographic Mint Green Nails
Dive into a world of shimmer and iridescence with these holographic mint green nails. Their multi-dimensional effect captivates and delights, making your nails truly stand out.
6 Tips for Selecting the Perfect Mint Hue for Your Skin Tone
Choosing the right mint hue for your nails is just as crucial as picking the right shade of foundation or lipstick—it should complement your skin tone. Here are some tips for selecting the perfect mint hue based on different skin tones:
Fair Skin Tones: Cool Undertones: Go for a bright, icy mint shade. This type of hue pops against fair skin and complements cool undertones beautifully. Warm Undertones: A pastel mint with a touch of warmth will flatter the golden undertones in the skin.
Medium Skin Tones: Cool Undertones: A classic mint green with a slightly deeper pigment looks excellent. Avoid too pale shades as they might wash out the skin. Warm Undertones: Opt for a mint shade with a hint of turquoise. This brings out the warmth in medium skin tones.
Olive Skin Tones: Olive skin beautifully complements a variety of mint shades. However, an actual mint shade or one with a touch of teal works wonders to accentuate the skin's natural green undertones.
Tan Skin Tones: Cool Undertones: A rich mint green with deep pigmentation will pop against tan skin. Warm Undertones: A tropical mint with a hint of blue can beautifully complement the golden undertones of tan skin.
Deep Skin Tones: Cool Undertones: Deep, jewel-toned mints or mints with a hint of teal can look incredibly chic. Warm Undertones: Opt for vibrant mint shades. These shades stand out and complement the warmth in deep skin tones.
Additional Tips: Always test nail polish shades in natural light. This helps get a true sense of the color and how it complements your skin. Remember that nail polish shades can look different in the bottle than when applied, so trying them out is the best way to judge.While these tips provide a guideline, personal preferences play a significant role. Always choose what makes you feel confident and happy.
Still Looking for Inspiration, Then Check Out This Video
Conclusion
In the vibrant world of nail artistry, mint green nails have carved a niche, standing out as a refreshing blend of calm and style. Hello, fashion enthusiasts. Here is a tip from the experts: incorporating accents, be it gold touches or floral motifs, can elevate the mint green base to another level of elegance. While artistry offers vast potential for creativity, it's essential to ensure the products you use are high quality to maintain nail health. Remember, the beauty of nail art lies not just in the design but also in the care it demands. Choosing a reputable salon or quality products is vital to avoid potential risks. As with all things in fashion, balance is key. So, immerse yourself in this delightful trend, but remember to give your nails some rest and care between sessions. Here's to confident choices and nails that speak volumes! Embrace the minty wave, and let your fingertips do the talking.
Feature image @minea.nails via Instagram
Last reviewed and updated on November 6, 2023