Today, we're diving into the magical world of ombre nails but with a sparkling twist—glitter! Trust me, this is the manicure you didn't know you needed, but once you try it, you'll wonder how you ever lived without it. We're talking gradients, shimmer, and that WOW factor. By the end of this post, you'll know exactly how to nail this look—pun intended.
I'll explain the step-by-step process, the necessary tools, and some insider tips to make your nails the show's star. If you love a pop of glam but also want something subtle enough for everyday wear, this is your go-to guide. My personal advice? Don't stop experimenting with colors; the more unique, the better! Let's get those nails shining, shall we?
Forever Pink: Pink Ombré Nails
Combine a classic oval shape with timeless pink and a dash of silver sparkle. It's flirty, fun, and fabulous—all the good F-words!
Dramatic Flair: Coffin-Shaped Ombré Glitter
Who says ombré has to be subtle? Coffin-shaped nails provide the perfect canvas for a dramatic glitter tip. I tried this with some holographic glitter, and let me tell you, the compliments were endless.
Glam Neutral: Long Nude Ombré with Rose Gold
Who says neutrals are boring? Add a sprinkle of rose gold-tinted holographic glitter to your nude nails for a sensational yet sophisticated look.
Understated Elegance: Subtle Glitter Ombré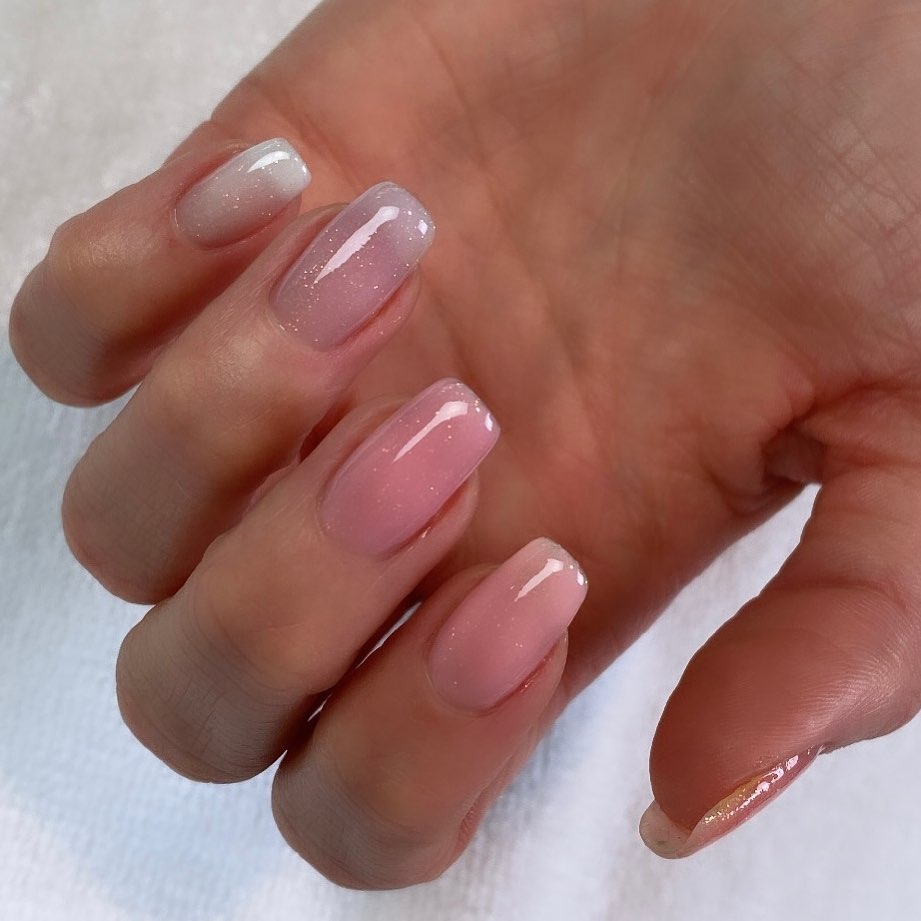 For the ones who prefer to keep things low-key, I get you. Start with a nude base—I love OPI's Infinite Shine 2 in Snowfalling for You. Add a layer of soft glitter polish like OPI's Naughty or Ice, and voila! Sophisticated with a hint of sass.
Flip the Script: Inverted Glitter Gradient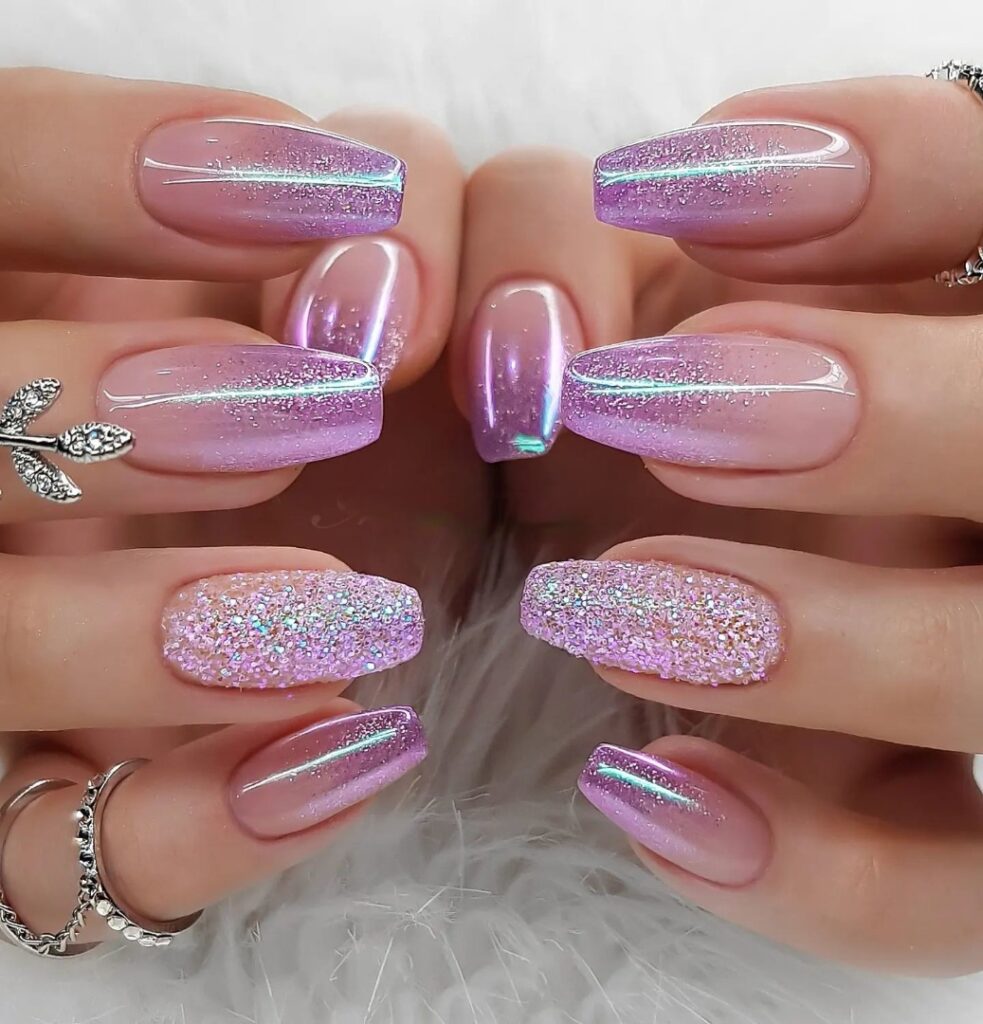 Why mix things up a bit? Instead of a typical French glitter tip, go for an all-over glitter vibe by inverting the glitter fade. I tried this look with a dark base and silver glitter, and it's a total game-changer.
Neutral Glam: Silver Glitter Fade
Opt for a peachy-nude base and elevate it with silver glitter tips. Super easy yet undeniably stylish. A go-to for my office days.
Elegance Meets Sparkle: Rose Gold and Stars
Rose gold glitter with hand-painted white stars? Yes, please! This gives me major KiraKira vibes, and it's surprisingly easy to pull off.
Unicorn Dreams: Glittery Mauve Tips
If you're into the fantastical, go for holographic pink and purple nails with a glitter finish. This one screams magical unicorn, and I am here for it!
Winter Wonderland: Icy Blue Gradient
Opt for an icy blue gradient with added sparkle and rhinestones for those of you missing the winter chill. This is my go-to for winter holiday parties, hands down.
Snowflakes In The Sky: Icy Tipped Ombré
Similar to the icy blue, add some big, hand-placed stars for a snowflake effect. It is guaranteed to make any winter outfit pop.
Throwback Glam: Confetti Ombré
This one's for the '90s kids—or anyone who loves a good throwback. Colorful confetti glitter gives off major nostalgia, and it's just plain fun.
Extra Bling: Bedazzled Ombré
Who said glitter should be the only star? Add some extra bling to your mani for an over-the-top sparkle effect. A little goes a long way!
Classy with a Twist: French Nails & Reversed Glitter
The classic French mani gets a sparkly upgrade with a reversed glitter gradient. Think of it as the French manicure's edgier cousin.
Go Big or Go Home: Chunky Glitter Ombré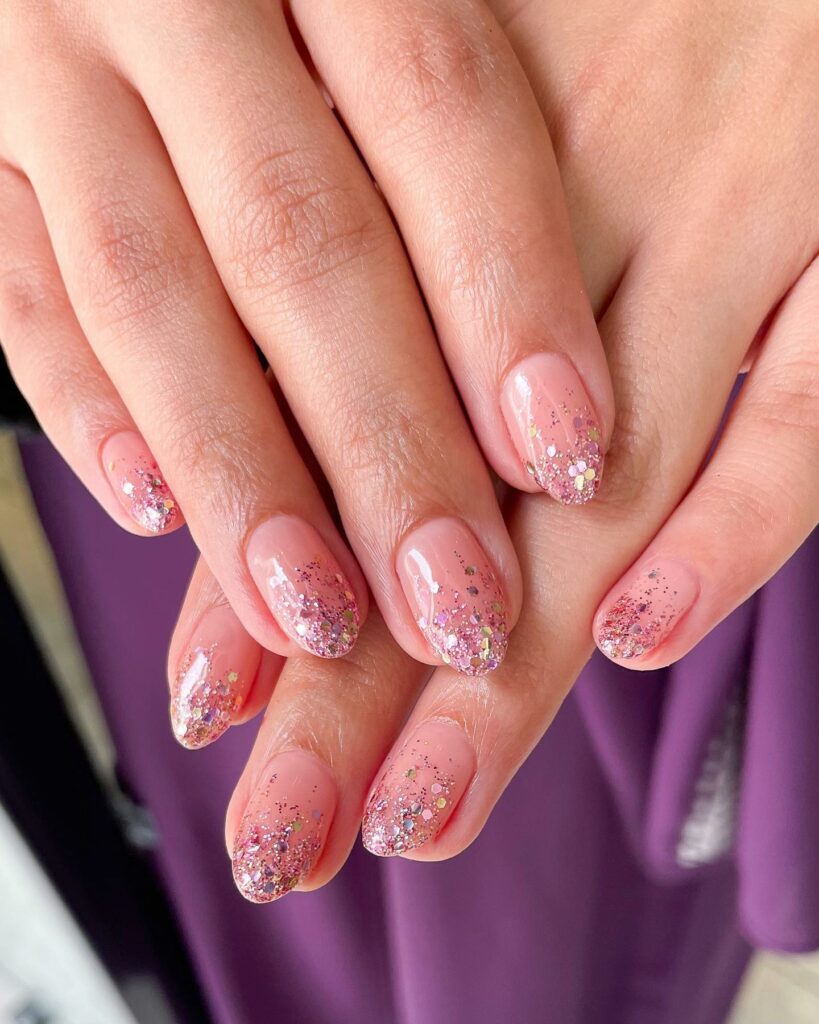 Remember chunky glitter. It might not offer a subtle fade, but it will turn heads. I wore this to a concert, and it was an instant hit.
Shine Brighter: Exaggerated Glitter Effect
If your glitter polish is subtle and you're looking for more oomph, use a thin nail art brush to manually draw on more glitter particles. Think of it like adding extra chocolate chips to your cookie dough—never a bad idea.
Dot It Up: Polka Dot Glitter Gradient
Have some fun with polka dots! This playful mani is unique and adds a youthful touch to any look.
Go Long or Go Home: Ombré Acrylics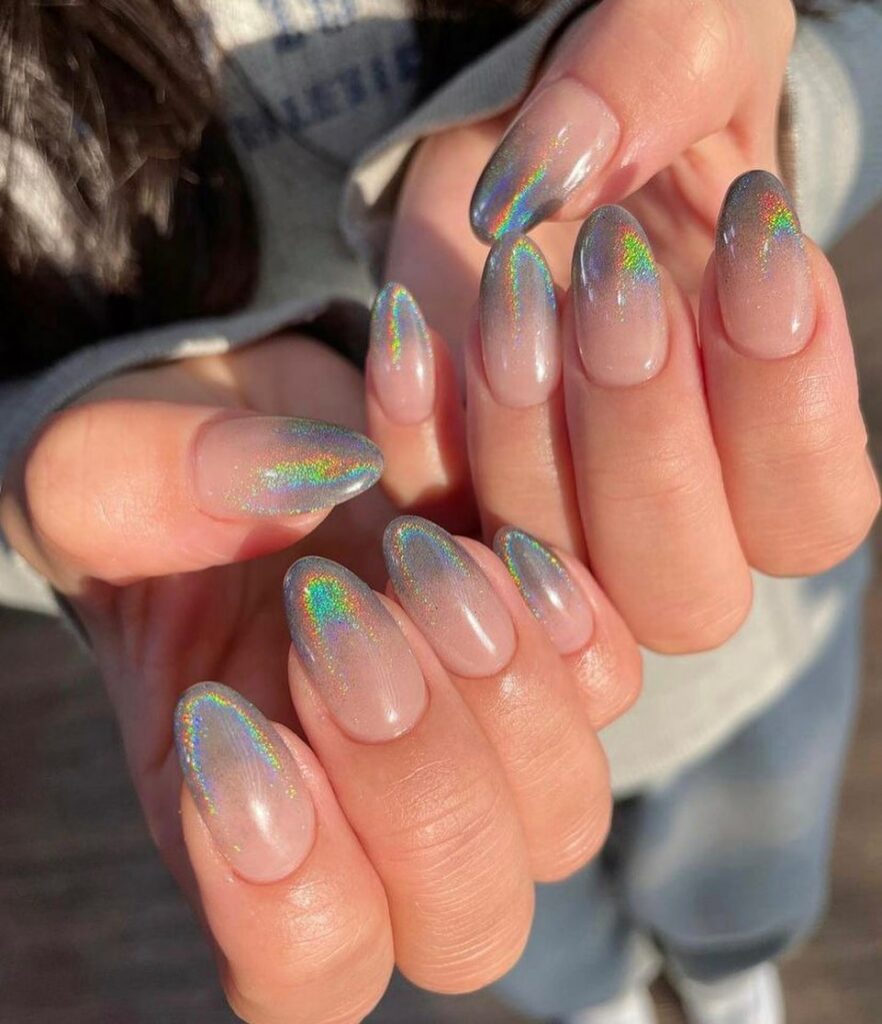 If you've got those long, diva-esque nails, the ombré glitter fade will look bomb on you. I remember trying this look on my square-tipped acrylics and honey. I couldn't stop staring at my nails. You'll likely need a pro to nail this look (pun totally intended), but it's worth it.
Cosmic Chic: Starry Glitter Ombré
Now, for my absolute favorite. This one features a translucent nude base with champagne glitter and holographic star confetti. The trickiest part? Adhering the stars. Just press them onto semi-wet polish and seal them with a topcoat. I wore this to a dinner party, and my nails got more attention than the entrée!
Gold Rush: Dipped Ombré Nails
If you're all about that sunny, golden vibe, you've got to try these gold-dipped ombré nails. Start with a clear base coat and then dazzle half each nail with gold glitter polish. The beauty of glitter polish is that it naturally creates that fade we love. Seal it off with a topcoat, and you're golden—literally!
Less Is More: Baby Glitter Gradient
For the minimalists, a tiny sprinkle of glitter at the tips can make your clean aesthetic more exciting. Seal it off with a top coat, and you've got yourself a low-key dazzler.
Playful Vibes: Purple Glitter Gradient
Bored with your nude polish? Amp it up with some chunky purple glitter. My tip: use a sponge to dab on the glitter for an extra vibrant effect.
A Touch of Elegance: Rose Gold Ombré
Lightly dab some rose gold polish over a pale pink base for a chic yet playful look. It's the perfect combo for brunch or a garden party.
Big and Bold: Chunky Glitter Gradient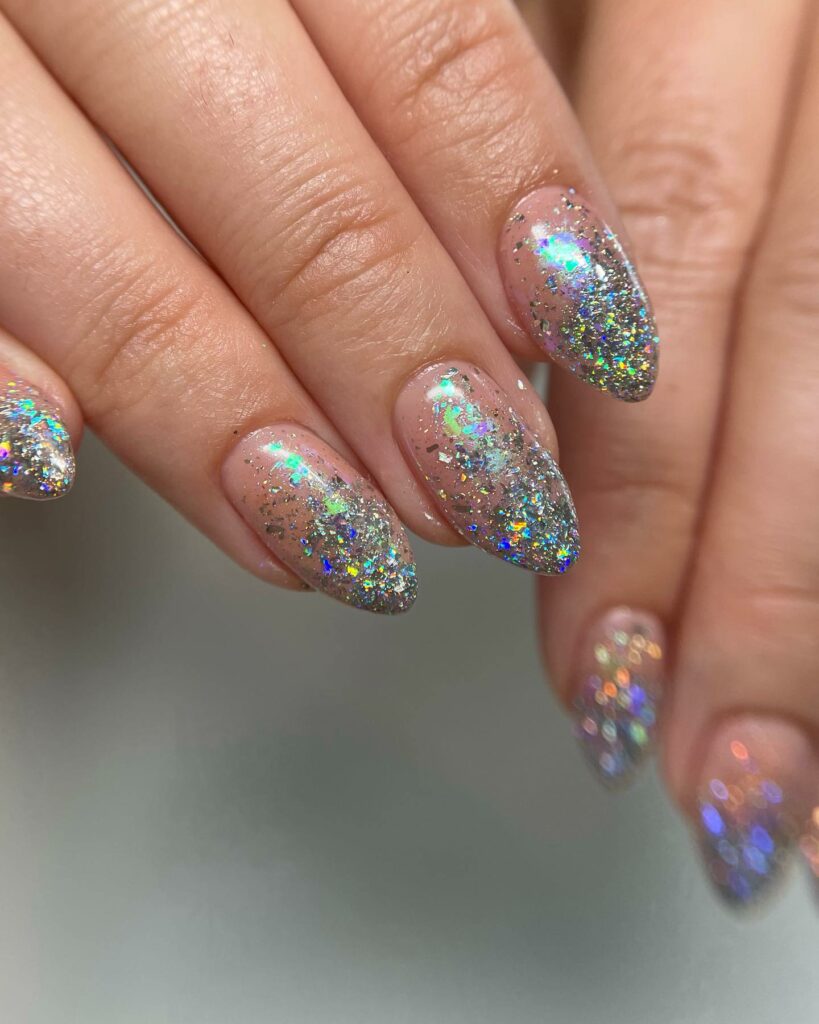 If you're about to make a statement, pack some chunky glitter heavily at the tips and fade it towards the base. I wore this to a New Year's party, which was a hit.
Winter Wonderland: Icy Ombré
These icy blue tips are a winter staple. I got the look using the Nails Inc. Nail Porn Nail Polish Duo, and it's my go-to for December get-togethers.
Classic Elegance: Glitter Tips
Opt for a timeless look with a nude base and silver glitter tips. It's like the little black dress of nails—always in style.
Dark and Dazzling: Dark Ombré Nails
Want to go on the darker side? Try a nude base with pepper-like dark sparkles. It's a perfect look for those colder months; the grow-out is forgiving.
Extra Glam: Sparkles & Shine
If you want to upgrade your ombré game seriously, toss in some nail gems. These bedazzlements take your glitter to the next level. I like to call this the "red carpet ready" look.
Spooky Glam: Dripping Glitter Tips
Getting into the Halloween spirit? Go for an edgy, dripping glitter effect. Swap out black for fuchsia or emerald for a festive spin.
Subtle Chic: Nude Glitter Tips
For a monochromatic look, stick to a nude base and top it off with glitter in a similar hue. It's understated but definitely not dull.
Chill Factor: Icy Blue Glitter Ombré
If you're singing "Let It Go" as much as I am this winter, these icy blue nails with snowflake designs are your go-to.
And there you have it! A glitter ombré style for every vibe, mood, and occasion. Happy sparkling!
10 Step I Recommend To Achieve The Glitter Ombre Nails
Base Coat: Preps your nails and makes sure the polish adheres better.
Nude or Colored Nail Polish: This serves as your base color. You can go from neutral hues like nude or pale pink to more vibrant shades—whatever tickles your fancy.
Glitter Nail Polish: Choose your sparkle! This could range from fine glitter to chunky or even holographic.
Top Coat: To seal the deal and add that long-lasting shine.
Nail Sponge: You'll use this to dab on the glitter polish, helping to create that smooth ombré fade.
Fine Nail Art Brush: Handy for more detailed work, like adding specific glitter placements or small designs.
Nail Gems or Stickers (Optional): You'll need these if you're going for that extra bling.
Tweezers: Super helpful in placing any nail gems or stickers with precision.
Nail Polish Remover & Cotton Swabs: For any clean-up around the edges or mistakes.
Good Lighting: You'll want to see all that sparkle in its full glory while working on it!
10 Color Combinations I Love
The sky's the limit when it comes to color combos for glitter ombré nails! It's all about what speaks to your style. Here are some rad color ideas to get those creative juices flowing:
Black & Gold: A little edgy, a lot of glam. Perfect for a night out or when you're feeling bold.
Pastel Rainbow: Use a different base for each nail and top it off with iridescent glitter for a magical effect.
Ocean Vibes: Think teal or turquoise as the base, with silver or light blue glitter. Makes me feel like I'm beachside every time I look at my nails!
Fire & Ice: Red at the base, fading into a fabulous silver glitter. Hot and cool all at once, you know?
Mint & Rose Gold: Mint is fresh, but add some rose gold glitter, and it's just next level.
Tangerine & Copper: Perfect for fall or when vibrating those rustic, warm tones.
Plum & Silver: A deep plum pairs well with silver glitter for that regal touch.
Champagne & Pearl: Ideal for weddings or elegant events. The subtle shimmer is perfect for when you want to keep things classy but still have that pop.
Nude & Neon: A neutral base with a shock of neon glitter at the tips. Trust me, it's a showstopper!
Classic Red & Gold: You can't beat the classics sometimes, right?
The Best Way To Remove Glitter Nail Polish Fast!
Sure, glitter nails are all fun and games until it's time to take them off, am I right? If you're dealing with this sparkly predicament, the soaking method is your best bet. Just grab some cotton balls, acetone-based nail polish remover, and aluminum foil. Soak a cotton ball in the remover, place it on your nail, and wrap it up with foil for about 10–15 minutes. When you unwrap, that glitter should slide right off like a dream.
If you're a frequent glitter gal, consider using a peel-off base coat before you apply your glitter polish. It lets you peel off the whole layer once you're done showing off those dazzling digits. Just remember, this method can be a bit harsh on the nails, so maybe save it for special occasions. Either way, make sure you're moisturizing after to keep those nails and cuticles happy and healthy!
Still Looking for Inspiration, Then Check Out This Video
Conclusion
Alright, nail queens, that wraps up our glittery journey through the magical world of ombré nails. From the minimalist Baby Glitter to the show-stopping Chunky Glitter Gradient, there's a sparkle level for everyone. My personal fave? The Rose Gold Ombré is like brunch, but it is classy and a little bit sassy for your nails! Whatever your vibe, don't forget to seal your masterpiece with a top coat for that long-lasting sparkle. And hey, if you're feeling extra, throw in some nail gems because why not? Life's too short for dull nails, so go ahead and let your tips do the talking. Keep shining, beauties!
Feature Image Photo By @merlin_nails via Instagram
Last reviewed and updated on October 18, 2023