When making a statement with your nails, shape matters as much as color. Straight edges or square tips? Yawn—been there, done that. Now, let's venture into the sophisticated yet understated elegance of oval nail designs.
In today's post, we're diving deep into the transformative power of this classic nail shape. Curved edges aren't just a fleeting trend; they're a timeless choice that can elevate your look. We'll explore 60 captivating designs, ranging from minimalist to intricate, that will convince even the staunchest skeptics to round their edges. As we dissect the aesthetic principles behind each masterpiece, you'll gain the know-how to pick the perfect oval design that harmonizes with your unique style persona.
So sit back, prepare your favorite top coat, and get ready to delve into a world where the slightest curve can make the boldest statement. Welcome to the ultimate guide on oval nail designs. Your digits will always be different.
The Illusionist: Faux Stiletto Tips
You don't have to go full-blown stiletto to enjoy a little edginess. These oval nails give the illusion of pointy stilettos without the hazardous risks. Imagine my surprise when I first tried these out; I got all the looks without constantly worrying about scratching my smartphone screen!
Milky Way Dream: Milky White Tips
There's something ethereal about milky white oval nails. The translucent finish captures light in the most enchanting way, making your hands look like they're floating in a dream. It's my go-to when I want to radiate subtle sophistication.
All that Glitters: Gold Glitter Tips
Sometimes, less is more—except when it comes to glitter. I've found that sprinkling gold glitter on neutral-toned oval nails gives me the right flair and elegance. It's the spice your nails didn't know they needed!
New Age Classics: Ombré French Tips
If you think the French manicure has run its course, think again. A soft ombré transition from pink to white breathes new life into this eternal favorite. It's a modern take on a classic that I swear by for those fancy soirées.
Gilded Frames: Outlined Nails
When I discovered this, it was like hitting the jackpot. Who knew a simple gold outline could make my oval nails stand out like a masterpiece? It's minimal but makes a statement, perfect for when you're short on time but still want that "wow" factor.
Wild Minimalism: Leopard Silhouettes
Ah, the joys of animal print without the guilt of going overboard. This design incorporates negative space and subtle leopard spots, making it a minimalist's dream. It's my go-to for casual brunch dates when I want my style to roar subtly.
Crystal Lagoon: Coral Dots
I've always loved coral—that beautiful bridge between orange and pink. Add a sprinkle of high-shine crystals, and you have a breathtaking design that captures your attention without screaming for it. Trust me; your eyes will be glued to your nails.
Masterpiece Alert: Marble Ovals
The sheer artistry of marble designs in multiple shades of green is nothing short of a painting coming to life. This isn't just a manicure; it's a statement of your unique artistic flair. A total conversation starter at any event!
The Wizardry of Simplicity: Minimalist Harry Potter Nails
For all you Potterheads, here's a design that screams Gryffindor without diving into the cliché. It's minimalist magic at its best, paying homage to the wizarding world in the most understated yet compelling way.
Sticker Chic: Sticker Nails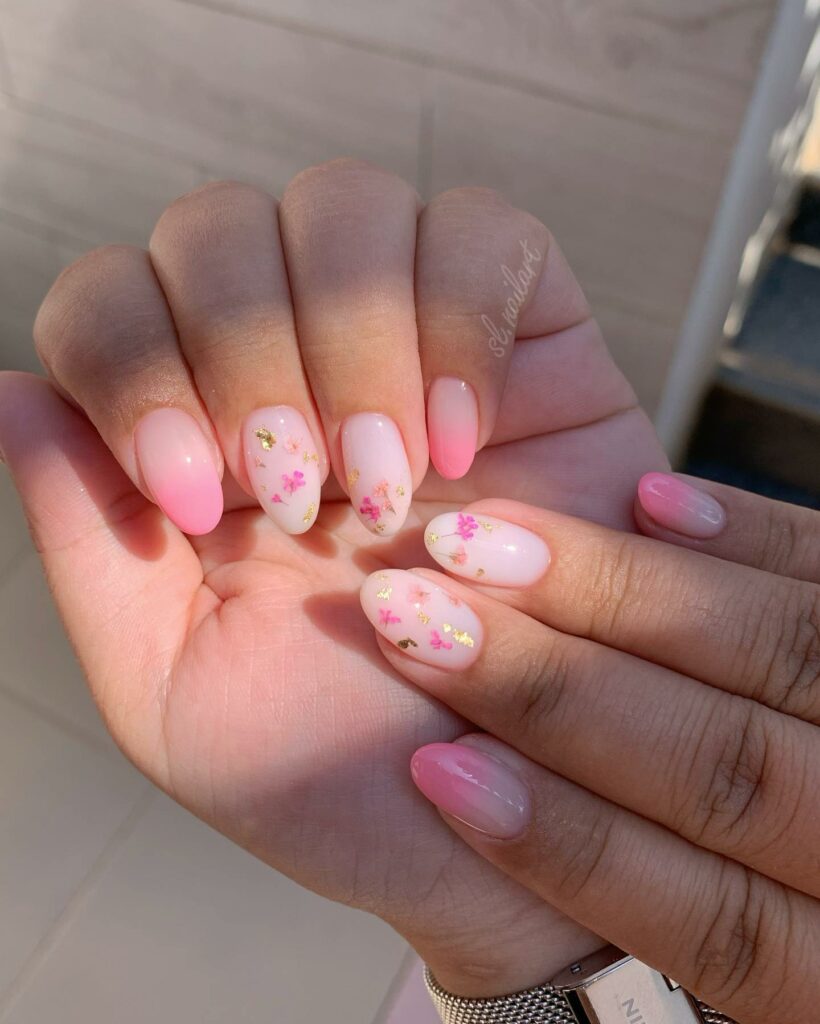 Remember those sticker books from childhood? Here's the grown-up version you've been waiting for. Intricate sticker-like designs on a nude base turn your nails into a canvas for a low-key art fest. You'll want to jump on this bandwagon even if you're a minimalist.
Spotty Chic: Terrazzo Nails
Don't you love terrazzo floors? Well, this design brings that eclectic charm right to your fingertips. Picture tiny, scattered specks in a medley of colors, all playing harmoniously on the curves of your oval nails. I've sported these at art gallery openings; let me tell you, they were a showstopper!
Love at First Sight: Heart Nails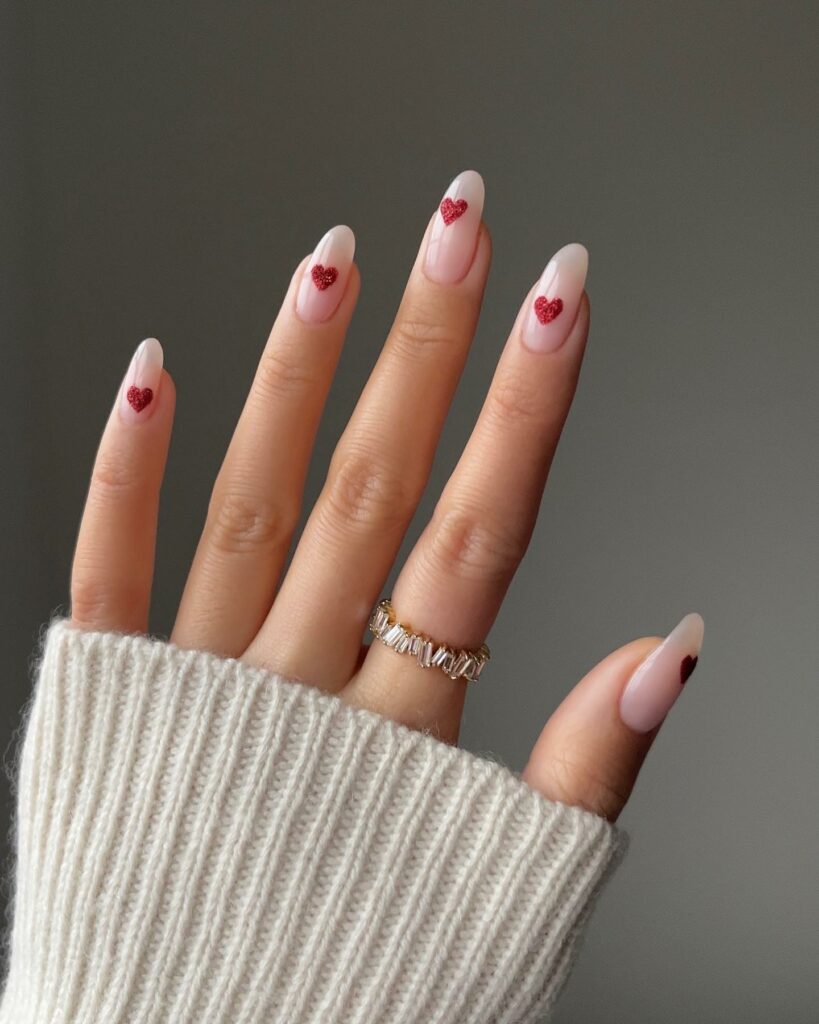 Oh, the sentimentality of a heart! These animated heart nails will steal your attention with a sheer wash of glitter serving as the base. When I first wore these, my partner was so smitten they took photos to show off to friends!
Neutral Harmony: Mauve Moment
Oval nails in mauve and camel? Yes, please. I love how the negative space adds an extra layer of intrigue. I felt so effortlessly chic when I tried these, like the human embodiment of a neutral Pinterest board.
Two-Tone Magic: Black and White
Picture the elegance of coral reefs or the whimsy of cow prints. Now, bring that into the abstract realm, and voila—you have this daring black-and-white design. It's a versatile choice; I've worn it to casual lunches and elegant dinners.
Finding Balance: Yin Yang Nails
Looking for a design that's both eye-catching and meaningful? These yin-yang nails bring tranquility and balance to any look. I once sported these during a stress-filled week, and every glance at them was like a mini meditation session.
The Dark Side: Dark Marble Nails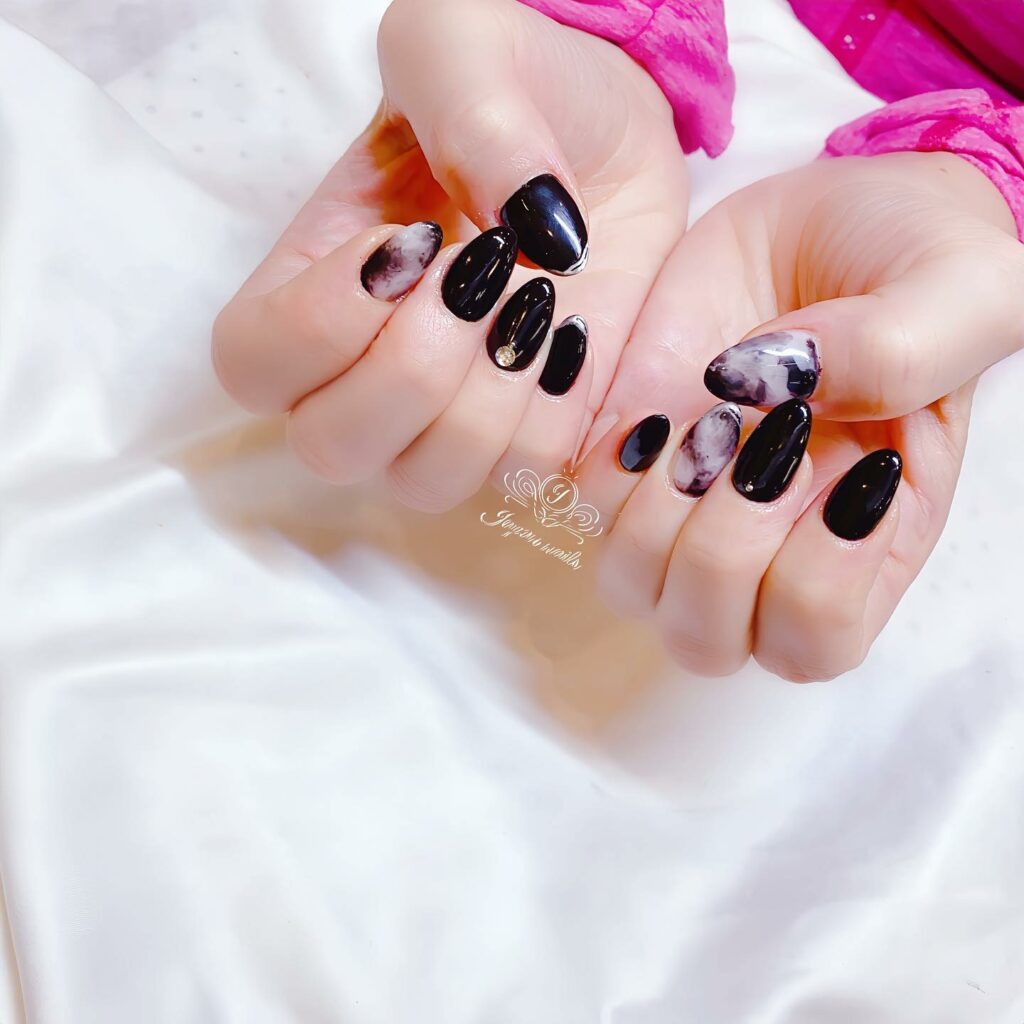 Who says marble has to be all light and airy? These moody marble nails had me reaching for shades of black and navy like never before. It's such a sophisticated way to add a bit of drama to your style.
Pastel Power: Pale Camo Nails
If traditional camo isn't your thing, this pastel rendition will make you reconsider. It's chic, it's fresh, and it's a springtime favorite. I wore these to a garden party and was showered with compliments!
Lunar Mystique: Matte Moon
Why settle for the mundane when you can reach for the moon? Matte black polish adorned with intricate moon designs will make your nails a celestial vision. These were a hit at a recent astronomy-themed gathering I attended.
Grow-Out Glam: Coral Tips
This design has negative space near the cuticles, making it incredibly low-maintenance and ideal for camouflaging any grow-out. I tried this before a two-week vacation, and it looked fabulous even as my nails grew!
Dreamy Hues: Silver Foil
These metallic charcoal and silver foil nails are reminiscent of cloudy days and endless possibilities. They're a great reminder that even a cloudy day can be full of silver linings and big dreams.
Neon Realness: Neon Lines
Neon has been the life of the fashion party for a while now. You can embrace this trend without going overboard by adding neon lines over a neutral base. It's like a rave, but make it classy. I wore this design to a summer music festival, and I swear it became an instant conversation starter!
Go for the Gold: Gold Stripes
Ah, the beauty of a single gold stripe on a neutral base! This design elongates your oval nails and draws attention without screaming for it. I chose this design for a formal event, and let me tell you, it was an under-the-radar hit!
Forever Romantic: Shades of Pink (and Red)
Who says pink and red are only for Valentine's Day? This combo is a classic that'll turn heads year-round. I tried it on a regular day and felt an extra spring in my step. Romance yourself first, right?
Fresh Take on French: Split Outlines
If you're like me and love a French mani but want to shake things up, this is for you. Use nail tape to divide each tip into coral and peach halves. Once I did this, I was flooded with compliments about how creative it looked!
Jelly Good: Glass Nails
Spring and summer are screaming for these jelly-like nails. Yes, they require some skill, so schedule that salon appointment unless you're already a nail pro. I went for these for a beach getaway and felt like a mermaid!
Juicy Vibes: Cherry Red Jelly Nails
I have one word for you—juicy! These cherry-red nails have a jelly effect that makes them look even more delicious. They were the cherry on top of an already fab outfit when I wore them.
Sparkling Rose: Rose Mismatch
Rosy tones are great, but what about spicing them up with a dash of glitter? This mismatched design is anything but predictable. I tried this out for a date night, and let's say it was a sparkly success!
DIY Glam: X Marks the Spot
This is your chance to channel your inner nail artist. Start with a nude base and crisscross some gold glitter lines. A topcoat seals the deal. I did this for a girls' night out, and everyone wanted to know my "salon."
Nail Puzzle: Negative Space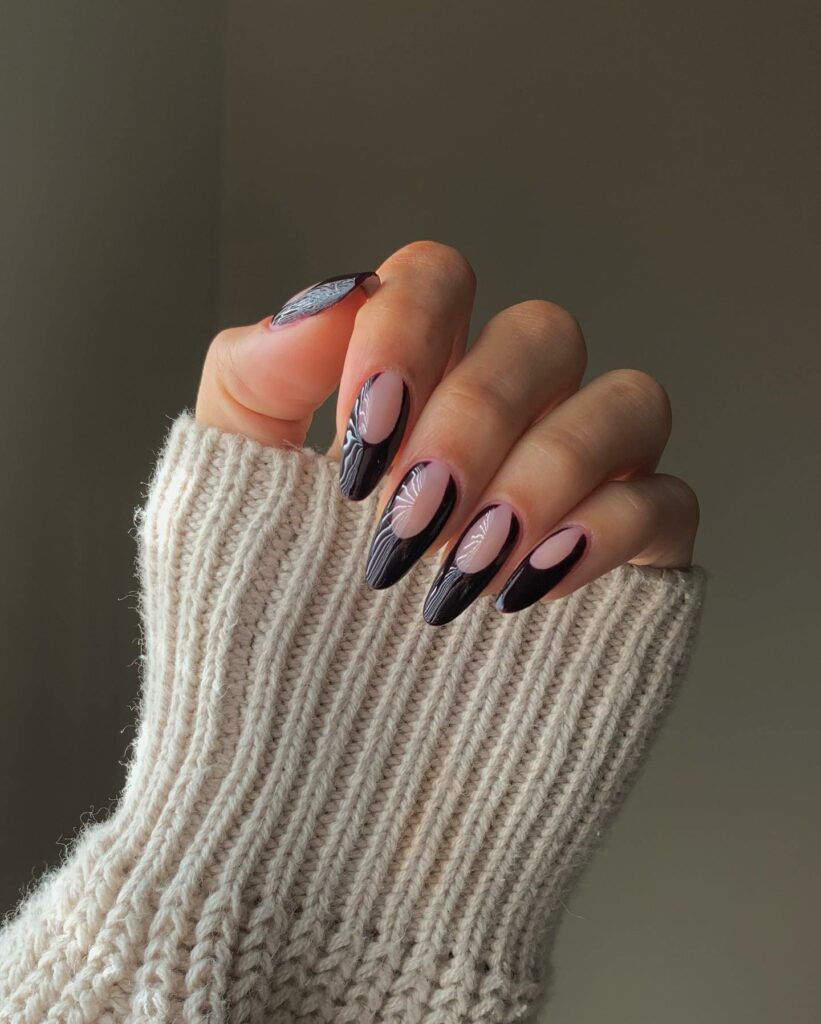 Put your nail skills to the test by sticking small circle stickers on each nail, painting around them, and voila—art! This design makes me feel like an artist whenever I look at it. Seriously, try it!
Reinventing the Classic: Asymmetric French Tips
French tips are a timeless beauty, but asymmetry adds an unexpected twist. Once you look closely, you'll notice the unique edge running down the side. It's a subtle yet striking change that caught even my grandma's eye!
Starry Night: Cosmic Nails
Incorporate a cosmic vibe with dark navy or black polish and tiny star-like dots into your look. It's like wearing a piece of the night sky at your fingertips. I wore these to a stargazing outing, and the thematic match was astronomical!
Bohemian Rhapsody: Paisley Patterns
Bring out your boho chic side with paisley patterns on a neutral base. These intricate designs are perfect for anyone who loves a vintage, hippie feel. I took this look at a folk music festival, and it couldn't have fit in better!
Sea Siren: Seashell Accents
If you love the ocean, why not carry a bit of it with you? Add tiny seashell pieces or decals to your nails for an authentic beach vibe. I did this for a weekend getaway to the coast and felt entirely in my element.
Fiery Flicker: Flame Tips
Flame designs on the tips of your oval nails are perfect for feeling edgy. This design is a head-turner, and it caught so many eyes at a rock concert I attended.
Lush Lavender: Floral Embellishments
Decorate your nails with soft lavender and floral embellishments for a lush, botanical feel. I chose this design for a garden party, and I was the talk of the flowerbed!
Street Chic: Graffiti Art
Unleash your urban aesthetic with graffiti-style art on your nails. Splashes of color against a black or white background make this design edgy yet stylish. I wore these nails to an art gallery opening and blended right into the aesthetic landscape.
Touch of Whimsy: Polka Dots
Good old polka dots bring a fun, whimsical feel to your nails. Keep the colors muted for sophistication, or go bold for a more playful vibe. I chose muted tones for a business meeting, and the dots were a subtle nod to my playful side.
Autumnal Aura: Fallen Leaves
Embrace the fall season with designs of falling leaves in earthy hues. It's an instant mood setter for autumnal activities. I wore this during a pumpkin patch visit and felt like the epitome of fall!
Hidden Gem: Jewel Tones
Combine jewel tones like emerald, sapphire, and amethyst for a rich and luxurious design. It's a perfect look for the holiday season or fancy events. Last winter, I sported this during New Year's Eve, and it was a dazzling hit!
Frosted Flair: Icicle Tips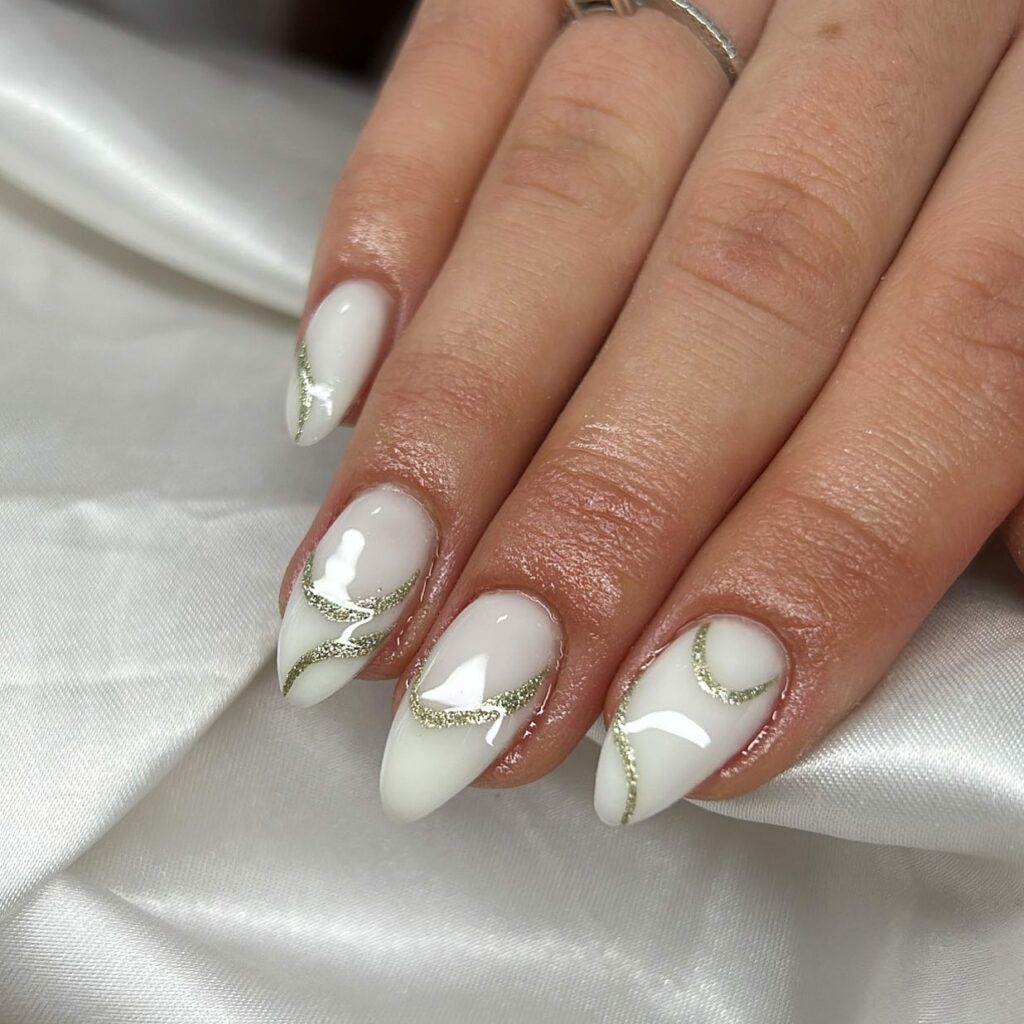 Get into the winter spirit with icicle-shaped designs on the tips of your oval nails. Silver and blue hues make for an ethereal, frosty look. I rocked this at a winter wonderland-themed party, and it was like having a piece of the North Pole on each nail.
Aqua Waves
Imagine ocean waves captured in a gradient of aqua and turquoise colors. This design has a calming effect, making it perfect for a vacation or a beach-themed weekend.
Pixelated Fun
Get techy with pixelated patterns using a blend of bright colors. This quirky, geometric design nods to the digital age and is a real conversation starter.
Tribal Beat
Unearth the earthy allure of tribal designs with intricate patterns and bold colors. These designs feel ancient and modern, ideal for those who appreciate cultural art.
Ethereal Clouds
Soft white and blue hues give the illusion of clouds on your nails. It's a heavenly design perfect for those lazy, daydreamy afternoons.
Metallic Edge
Add a touch of glam with metallic gold or silver accents over a nude base. This sophisticated style elevates your overall look, making your nails the perfect accessory for an elegant night out.
Sweet Mint
Think refreshing mint green combined with white for a fresh and clean vibe. This color scheme is perfect for spring and feels as refreshing as a cool mint shake on a hot day.
Vintage Velvet
Picture deep, velvety hues like maroon, navy, or forest green with a matte finish. It's a timeless style with a nod to vintage elegance.
Tropical Sunset
Capture the essence of a beach sunset with gradient shades of orange, pink, and purple. This look instantly transports you to tropical destinations, piña colada in hand.
Art Deco Allure
Turn your nails into tiny canvases featuring Art Deco designs in black and gold. It's a glamorous throwback to the Roaring Twenties, perfect for a Gatsby-themed party.
Celestial Sparkle
Adorn your nails with stars and celestial bodies against a dark background for a truly out-of-this-world design. It's like wearing the galaxy at your fingertips, and I can attest it's a hit at astronomy club meetings.
Coffee and Cream
Combine shades of brown and beige for a cozy, caffeinated look. Perfect for fall, this design is like sipping on a pumpkin spice latte but for your nails.
Abstract Hues
Let your imagination run wild with splashes of various colors and abstract shapes. This look is a nod to modern art—ideal for a visit to the museum or an artsy night out.
Into the Woods
Bring the essence of a forest to your fingertips with shades of green and brown, perhaps with tiny tree or leaf designs. It's a natural look that complements outdoor adventures or woodland getaways.
Nautical Stripes
Think navy and white stripes for a crisp, nautical look. It's the perfect style for a seaside excursion or a boat day with friends.
Rainbow Ombre
Why settle for one color when you can have them all? The rainbow ombre look is vibrant and joyful—a real crowd-pleaser at any summer gathering.
Neon Pops
Bright neon accents against a white or black base make your nails instantly eye-catching. This design is for when you want to make a bold statement without saying a word.
Frosted Tips
A winter-inspired design, think of frosted tips as the colder cousin to the classic French manicure. The icy blue tones are perfect for setting a winter mood.
Watercolor Dream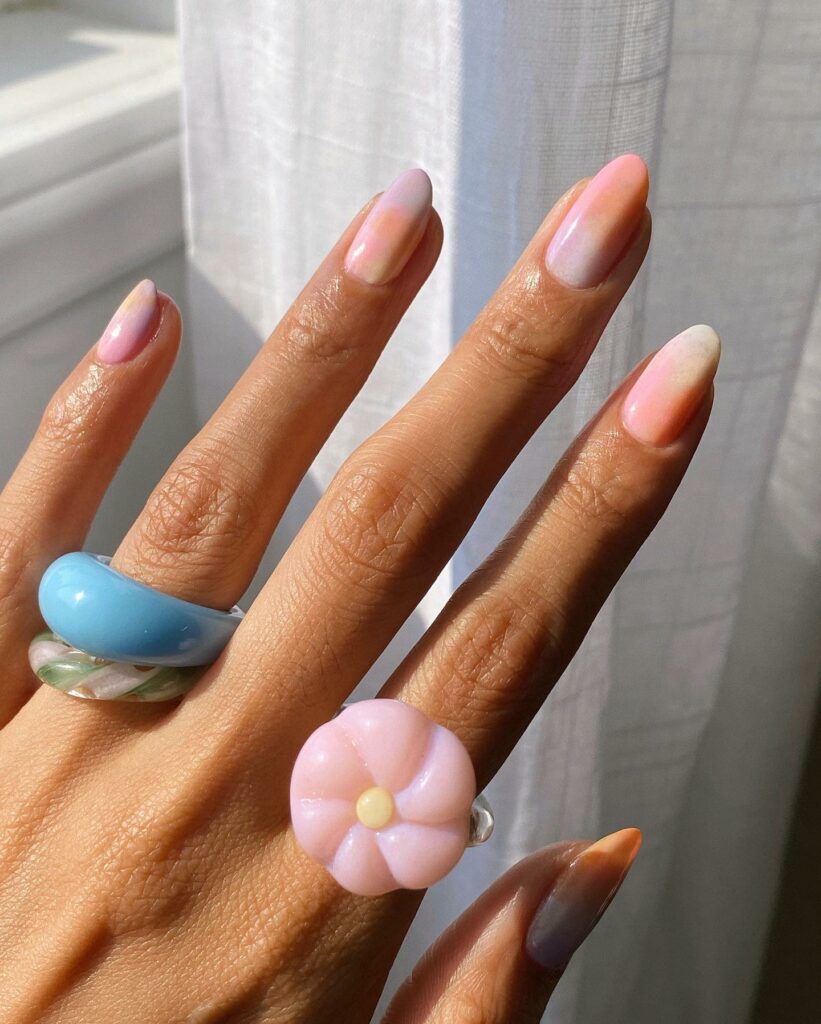 Soft pastel tones give a watercolor effect to your oval nails. It's like carrying tiny pieces of Impressionist art on your hands—ideal for the romantically inclined.
Classic Checkerboard
Go for a retro vibe with a black-and-white checkerboard pattern. This design harkens back to '90s grunge and is perfect for channeling your inner rockstar.
Holographic Shine
Add a futuristic touch with holographic polish that changes color as it catches the light. It's a unique and mesmerizing style that captivates the room no matter where you are.
How Do You Pick the Perfect Oval Design That Harmonizes With Your Unique Style Persona?
Choosing the perfect oval nail design that aligns with your unique style persona can feel like a delightful treasure hunt. The good news is there are no hard and fast rules, but some guiding principles can help you make an informed decision.
Reflect on Your Personal Style
Start by asking yourself some questions about your overall aesthetic. Are you inclined towards minimalist designs, or do you have a penchant for the extravagant? You may lean towards classic elegance or are enchanted by bohemian flair. Identifying your style preferences will help you filter through endless nail art choices.
Consider the Occasion
While it's tempting to go for that glittery, multi-colored spectacle, consider the events you'll attend in the next few weeks. For professional settings, subtler designs with neutral tones could be more appropriate. Special occasions call for something more dramatic or festive.
Seasonal Influence
Let the seasons guide you! Spring might inspire pastel shades and floral designs, whereas winter could lend itself to icier blues and snowy patterns. Your nails can be an extension of the season's beauty.
Take Inspiration But Make it Yours
Instagram, Pinterest, and fashion blogs (like this one) are chock-full of inspiration. Feel free to adapt a design to fit your style better. After all, personalization is the name of the game when expressing your style persona.
Test the Waters
If you need clarification on a particular design, start small. You could try your desired pattern on an accent nail first. You can extend it to all your nails during your next manicure if you love it.
Consult a Professional
For those intricate, jaw-dropping designs, or if you're new to nail art, a seasoned nail technician can be your best ally. They can provide expert advice tailored to your style and the shape of your nails.
The Harmony Factor
Ultimately, your nails should feel like a harmonious extension of you. If you look at your hands and feel that little spark of joy, you've nailed it—pun intended!
Remember, the perfect design makes you feel confident, comfortable, and unequivocally you. So browse through those inspirations, consult with your nail tech, and let your fingertips do the talking!
Conclusion
So there you have it, folks—an extensive lineup of oval nail designs that cover every aesthetic, occasion, and mood. Remember, the sky's the limit when expressing yourself through nail art. Whether you're keen on the minimalist approach or eager to turn your nails into mini masterpieces, there's an oval design tailored just for you. Remember, however, that patience and practice are your best friends if you're attempting more complex designs at home. Don't hesitate to consult a professional for intricate patterns or if you're new to nail art. And let's not forget—always invest in quality nail care products to maintain the health of your nails. It's a rewarding journey full of artistic possibilities, and there's no better time than now to round those edges and dive right in. Happy painting!
Feature image @heygreatnails via Instagram
Last reviewed and updated on October 4, 2023