Hey there, nail lovers! If you're itching to switch up your manicure game, you've gotta try pointed nails. These babies are the epitome of drama and flair, and I'm totally here for it. Today, I'm spilling all the tea on how to nail this edgy look (pun intended), including my personal hacks for typing without a hitch. So stick around—you're in for a fab nail journey that's gonna have you turning heads!
Fall in Love with Textured Hearts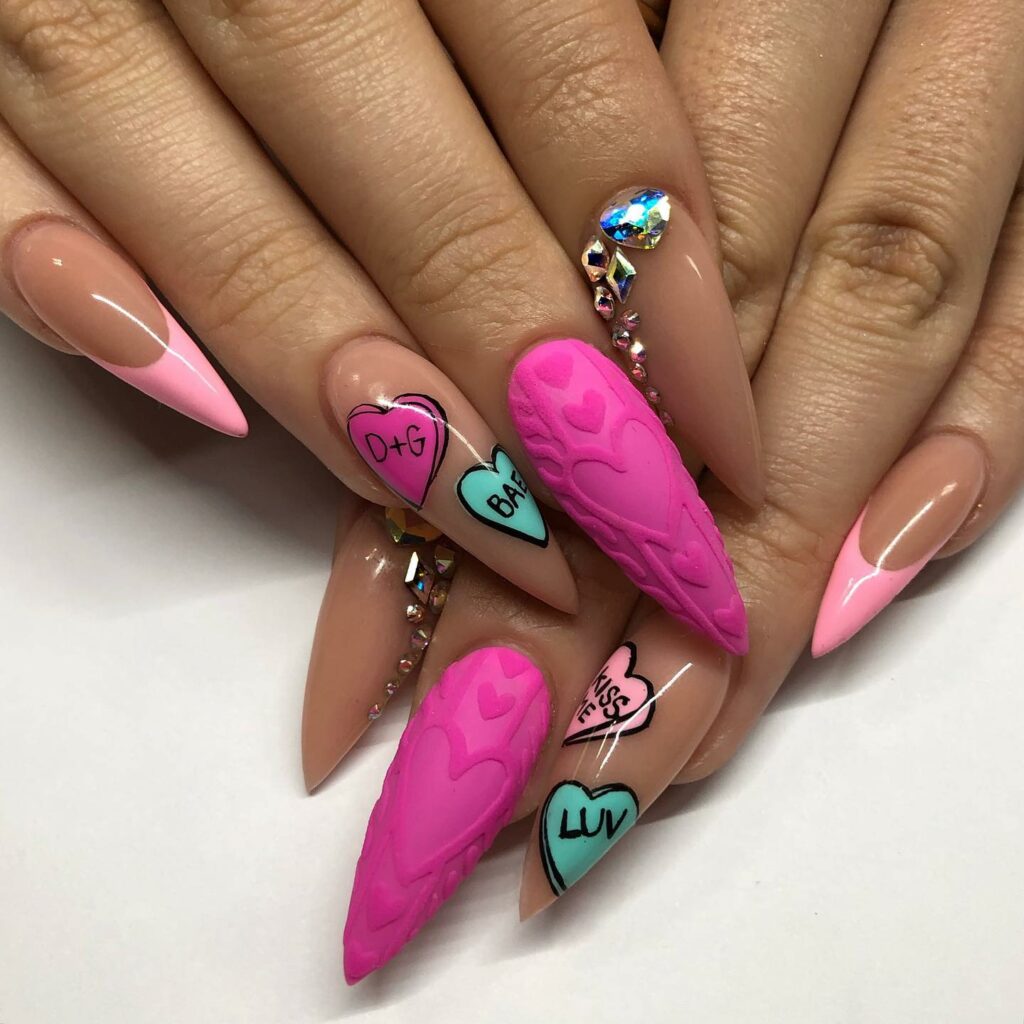 Valentine's Day or not, textured heart designs with an ombré color scheme are an absolute win. Another stunning piece from Chaun Legend that's perfect for romantic dinners or a night out with the girls.
Neon Tie-Dye Extravaganza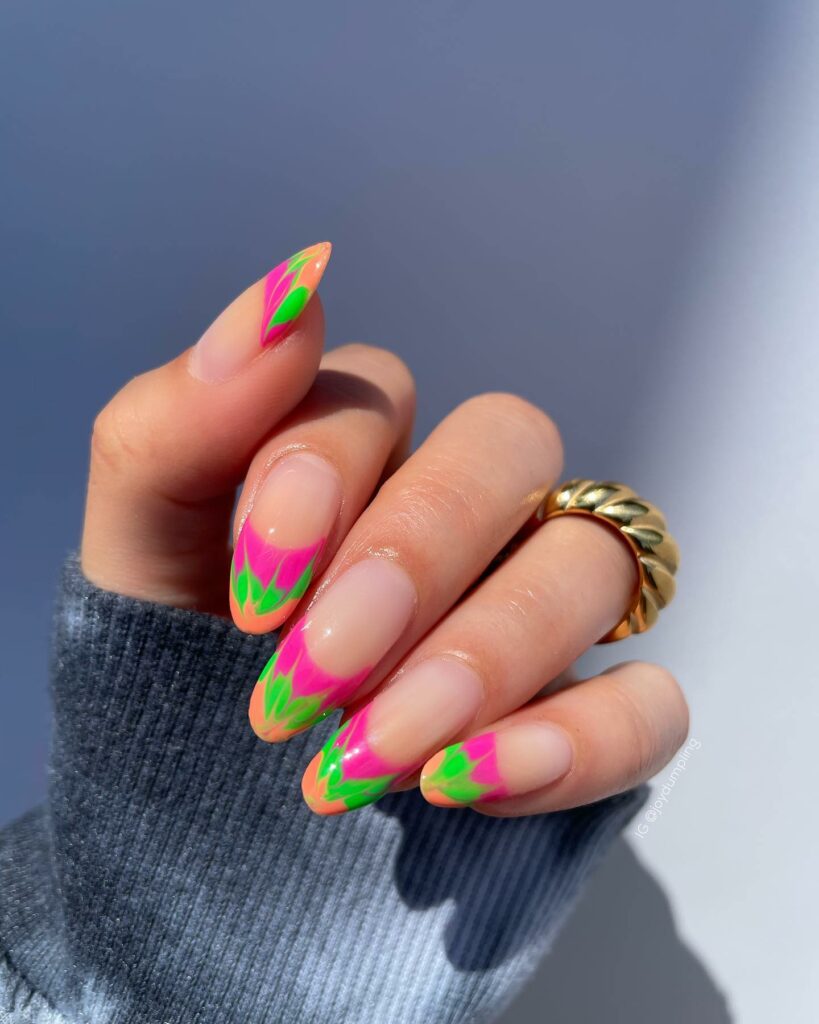 Feeling bold? Dive into the neon tie-dye trend. My heart skipped a beat when I saw this look—every nail has its unique blend of eye-popping colors. Trust me, you'll get some double-takes with this one.
Sweet Gradient Pink Tips
Classic French tips will always stay in style, but why not sweeten the deal with shades of pink? I've done this with shades ranging from soft ballet pink to vibrant hot pink, and it's like a sugar rush for your nails.
Year-Round Tiny Hearts
Hearts aren't just for Valentine's Day, darling! Take a cue from Khloe Kardashian and dress your French tips with adorable tiny hearts. Cuteness overload and totally versatile.
Get Pierced and Be Fearless
Ready to be a total rebel? Pierced pointy nails are all the rage. This is best for artificial nails, as natural nails may not be strong enough. Snag a nail piercing tool and opt for delicate charms or small hoops. The edginess is real!
Checkmate!
Checkered nails are the relaxed, cool-girl trend you need to try. They bring a chill skater vibe that I can't get enough of. If you need more clarification about your hand steadiness, checkered press-ons are a great option.
Beachy Waves
Hitting the beach anytime soon? Go with wavy, ocean-inspired nails. Use a sponge to press shades of blue and white onto your nails for that breezy look. Instant vacay vibes!
Modern Technicolor
If you're blessed with almond-shaped pointy nails, try technicolor tips for a modern twist. Keep the nail base neutral, and let those tips shine in a rainbow of colors. It's like having a tiny Pride parade at your fingertips. Highly recommend!
Red Daggers: The Showstoppers
Want to crank up the wow factor? Go for classic red with textured details. Red is a staple for a reason—it grabs attention. These are the nails to consider if you're going to a gala or a big event.
Pretty And Mysterious In Purple
I love these dark purple pointy nails that gracefully fade from dark at the base to light at the tips. Add some holographic gems, and you have a mystical vibe. Not into dark purple? No worries—soft lavender or dusty rose would look equally mesmerizing.
Festival-Ready And Office-Chic
Multi-art almond-shaped nails are not just festival-friendly; they can also be subdued enough for the office. Just keep the color palette soothing and have a versatile nail look.
Subtle Edge With Dainty Almonds
Seeking something subtle but still want that edge? Opt for almond-shaped nails in a pale pink shade with a single stripe. The high-shine topcoat and tiny base gems give it that extra oomph without going overboard.
Two-Toned Angular Tips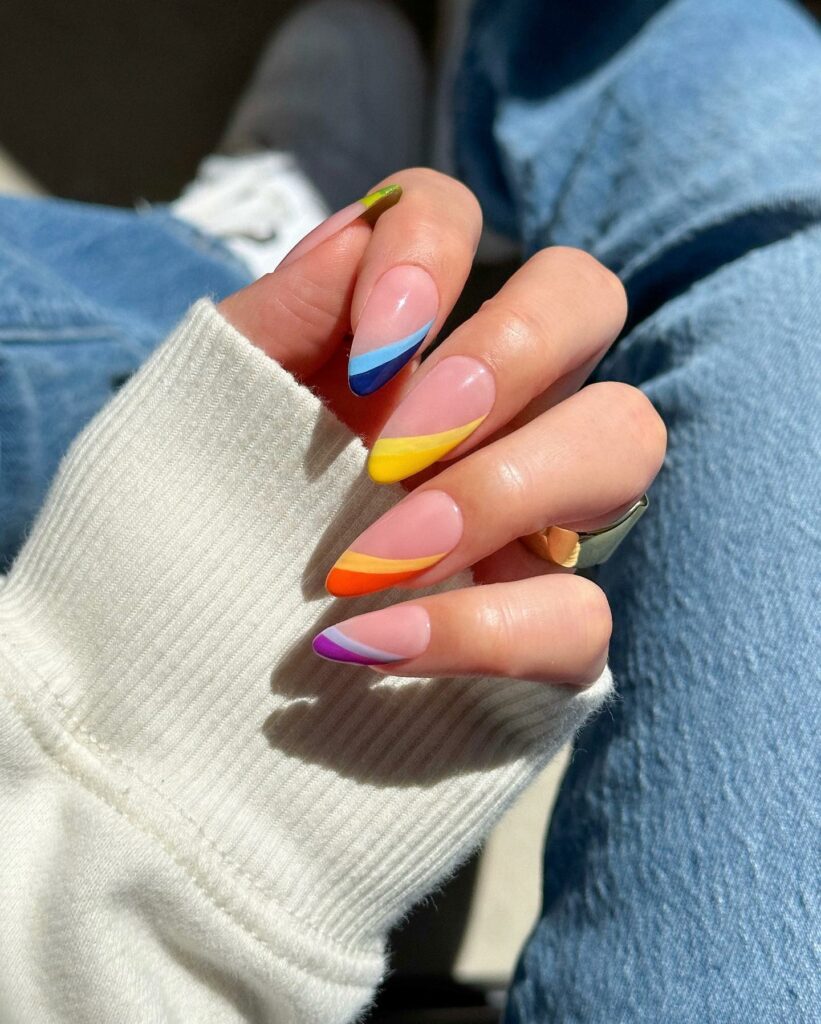 Combine purple and blue for a modern twist on the French mani. This angular design is so chic and can be replicated with any color combo of your choice.
Dreamy Cloudscape
If you're new to the pointy nails club, almond-shaped nails offer a softer introduction. I adore the blue and purple cloud detailing—it's like carrying a piece of the sky with you.
Get Lost In Dreamy Jelly Nails
Are you open to gel nail extensions? If so, you've got to check out these dreamy jelly nails with translucent purple tips. Imagine fluffy white clouds, holographic stars, and tiny gems gracing your fingertips. Last summer, I wore these to an outdoor music fest; let me tell you, they were the talk of the town. These nails are not just a look—they're a vibe.
Dive Into I Mermaid Mani
Merge the ethereal worlds of mermaids and unicorns with shades of purple and blue, topped with various gemstones. It's like wearing a fairytale on your nails! I once matched this look with a mermaid scale-patterned top for a beach outing, and the Instagram photos were divine!
The Twist In Neutral: Pop Of Blue
Okay, so I adore neutral nails, but even I like to shake things up. Adding a blue and white French tip and some tiny studs gives the perfect zing to a classic style. I rocked these at a family brunch and got nods of approval from every generation.
Swooning Over Lilac Tips
Summer calls for light, airy shades like lilac. These almond-shaped nails are at a comfy length, and that slight glitter in the nude base? A total game-changer. Chef's kiss indeed!
Channel Your Inner Diva: Chanel-Inspired Nails
Don't you love it when inspiration strikes in the most unexpected places? Like, say, your Chanel compact? This almond-shaped manicure is the epitome of chic meeting '60s mod. Paired with a bit of black dress and pearls, you'll be the epitome of elegance. Trust me, this look is a crowd-pleaser.
Take It Up a Notch: Purple Metallic
Chrome nails are fun, but throw in some iridescent purple, and you have a full-blown party at your fingertips. The bold saturation from tip to cuticle turns heads wherever you go. I wore these bad boys to a disco-themed night, and let's say my nails were dancing even if my feet weren't!
A Fresh Twist: Green Ombré Tips
If you love stilettos but want to keep them a little more low-key, these green ombré tips are your go-to. The tips fade into a neutral base, making them striking yet subtle. Plus, the slightly squared-off shape gives it a unique flair. This kind of design gets better the longer you look at it.
For the Love of Colors: Splashy Tips
"Go bold or go home" couldn't be more accurate regarding this stiletto set. Those sherbet-colored tips are basically the life of the party, combining rainbow hues and French tips. Perfect for day parties or a night out on the town. I wore these for my birthday bash, and they were a hit!
Pink And Red Ombré Nails
Create a gradient effect on each nail for a look as tasty as gorgeous.
Swirl Into The '60s: Psychedelic Swirly Nails
The '60s are calling, and they're bringing back psychedelic swirls! Not only do these groovy designs elongate your hands, but they're also a total mood booster. Every glance at your nails is like a little trip back in time.
Tickled Pink On Pink
If you're a pink lover, prepare to be obsessed. An ombré pink base accentuated by chrome-pink tips? It's like the rose gold iPhone of nails. Plus, these are pointy and sharp, making them perfect for those who like a little edge with their sweetness.
Let the Rainbow Flames Ignite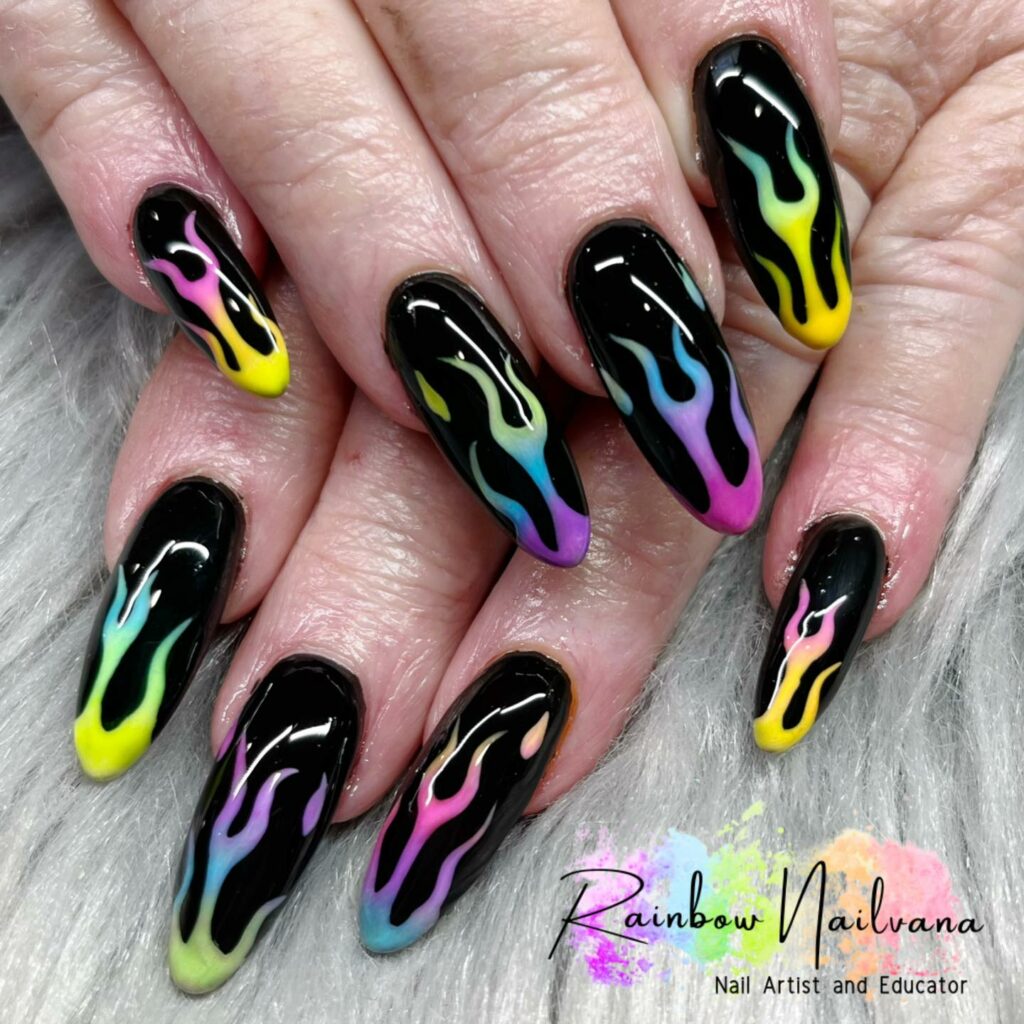 Any design with a rainbow gradient is an instant win in my book. These flame nails are not only vibrant but also meaningful. An excellent way to show your Pride any month of the year!
Chic in Black And White
This black-and-white combo is a graphic masterpiece created by celebrity nail artist Chaun Legend. Pair it with a monochrome outfit, and you're bound to turn heads wherever you go.
Weekend-Ready Nude Matte Tips
Consider these press-on nude matte tips if you're in a hurry but still want to look fab. They're the perfect quick fix for a weekend getaway or a last-minute event.
The Power Of Periwinkle
This universally flattering shade is perfect for all skin tones. And there's something about a single-shade manicure that's so elegant. I wore this to a daytime wedding and received compliments all around.
Simply Stunning Transparent Blue
Who says you need intricate designs for a fabulous look? These simple stiletto blue nails make a statement without the need for extra detailing.
The Elegance Of Rose Quartz
I adore how Lizzo makes another appearance on this list—this time, with rose quartz nails. It is subtle head-turning and perfect for those who love pointed nails but want a softer touch. A total win in my book.
Nude Tones Create The Perfect Pointy Nails
Whether your nails are dagger-like or a softer almond shape, color-blocking is a dynamic look. Choose two contrasting colors or go wild with multiple hues. Pro tip: Add a simple white line to amp up the contrast.
Glitzy Swirls
Feeling extra? Opt for glitter swirls. I recently did this with white and gold glitter over a nude base, and my nails looked like a miniature art exhibit. Seriously, the compliments wouldn't stop!
Stellar Minimalist Stars
Add cosmic flair to your French tips with gold accents and white stars. Perfect for both almond-shaped and dagger-shaped pointy nails. Star nail stickers make this an easy DIY project!
Holographic Wonders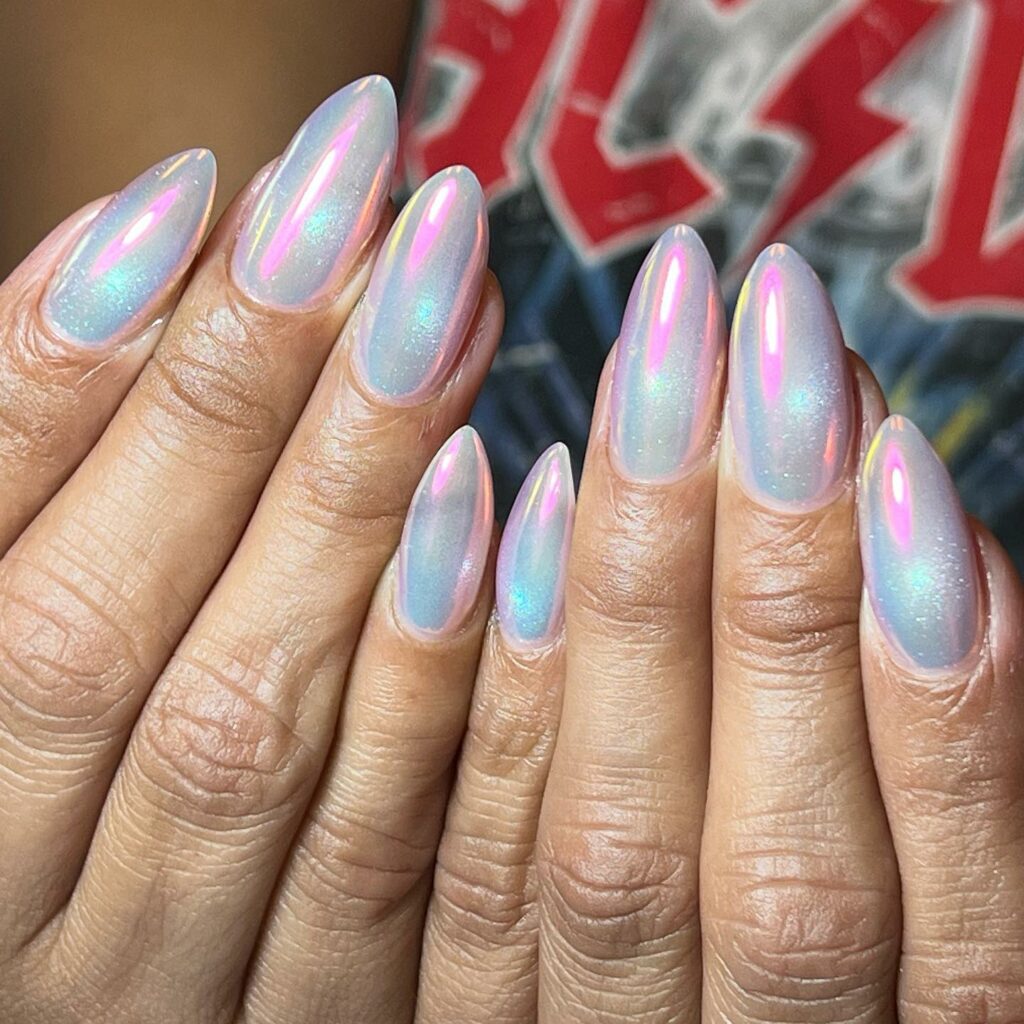 Oh, how I adore holographic nail polish on pointy nails. You'll be mesmerized by how they change color in different lighting. Your nails will be the life of the party, guaranteed.
Go Wild With Cow Print
Cow print. It's not just for cows or cowboy boots! The longer the nail, the more splotches you can fit, and let's face it, it's utterly fun. Pun intended!
Super Woman Vibes
If you're feeling heroic and need nails to match, why not go for pointy, almond-shaped nails with bold cobalt blue and golden yellow splashes? And guess what, the tips are painted white—so it's like a modern French manicure with a cape on. I tried these out before attending a comic book convention and felt invincible!
Confetti Cuties: Who Says Stilettos Can't Be Soft?
Stiletto nails often get labeled "intense," but let's debunk that myth. I went for an abstract, confetti-inspired look, and suddenly, my pointy nails felt playful and versatile. Mix and match shades to keep things interesting; the sky's the limit!
Out of This World Glam
Ready for a cosmic journey? Picture extra-long stiletto nails with a soft, pinkish-nude base and dazzling silver holographic polish. When I sported these, I couldn't stop staring at my nails—it's like having tiny galaxies at your fingertips.
Lizzo's Chrome Dream
You bet we're talking about Lizzo's iconic chrome stiletto nails. These nails scream opulence! I'm absolutely in love with the slender shape and that reflective chrome hue. Perfect for anyone wanting to make a statement at their next outing.
Timeless Terracotta Tips
I recently tried terracotta-shaded pointy nails, and let me tell you, they are versatile like no other. They look fabulous year-round. Grab Smith & Cult's Nail Lacquer in Tang Bang for a perfect match.
Cinematic Flair: Joke's On You
Are you going for a specific look or costume? These Joker-themed pointy nails are intricate but worth it. You'll want a professional for these. I had these done for Halloween, and they were a total hit!
Simplistic Floral Beauty
Sometimes, less is more. Take these blue floral nails: a simple tonal fade with a few petals, and voila! You've got nails that are understated yet impactful.
Flame-Thrower: Sizzle And Spark
If you're into nail art that's literally "fire," these pointy nails feature sizzling orange and yellow flames on a neutral base. Perfect for those moments when you're feeling bold and fierce.
Retro Glam With Pucci Style
Latto's Pucci-inspired nails are a throwback in the best way possible. The unique designs on each nail create a feast for the eyes. I rocked these at a '70s-themed party and got compliments all night.
Gold Extravaganza Pointy Nails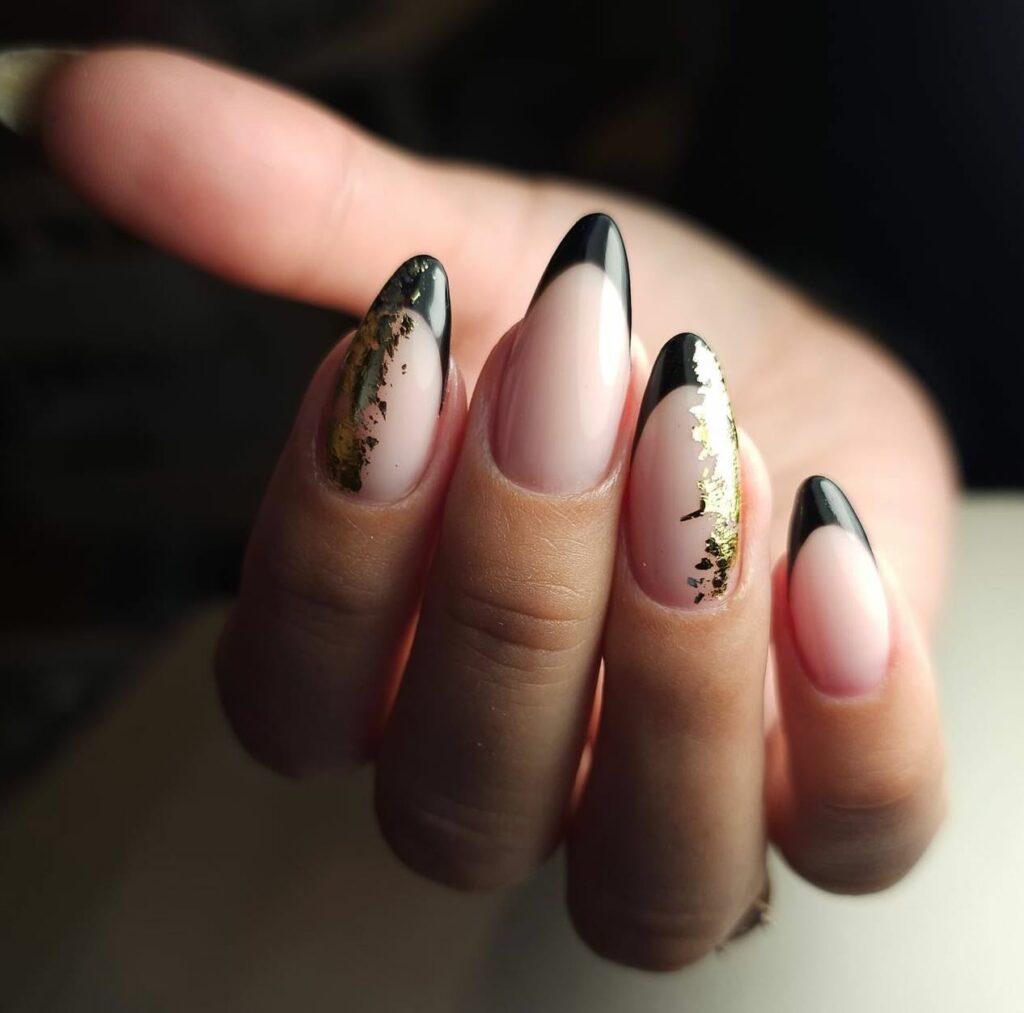 Gold Extravaganza pointy nails are the ultimate statement-makers for when you want to feel like a million bucks. With a luxe gold finish that catches the light just right, these nails are a go-to for any glamorous event or when you simply
Keep Cool With Blue-On-Blue
For those who adore the perfect shade of blue, this manicure is for you. The French tips give it a timeless look, and the length is just right—not too short or long. Perfect for those poolside selfies, trust me.
Milk and Coffee: A Delicious Pair
Who knew a manicure could make you crave a latte? Switching up the flame colors on each hand takes this milk-and-coffee-themed manicure to a gourmet level. Perfect for café hopping or a cozy date night.
J.Lo's Understated French Elegance
When celebrity nail artist Tom Bachik designs a French manicure for J.Lo, you know it will be fabulous. Instead of the traditional stark white tips, go for a creamy, off-white to make it look natural yet chic.
Fairy Princess Magic
Unleash your inner fairy princess with lilac tips and clusters of cartoonish fairytale stars. You'll want to screenshot this look and show your nail artist at your next appointment.
Go Green, Stay Chic: Green Tips
Let's talk about those green-tipped, medium-length stiletto nails that are always in season. This mossy shade is a versatile gem that compliments almost any color you wear. I recently rocked this look for a woodland-themed party, and the compliments flowed like a river. If you want to step outside the usual red and pink box, give this shade a whirl!
Flip the Script: Negative Space French Manicure
Who said French tips and stilettos can't be friends? This metallic fine-line design with silver tips and double half-moons defies all norms, and we're here for it. I wore this to a minimalist art exhibit, and it felt like a walking masterpiece.
Gloss-It Up: Glazed Nails
The glazed nails trend is having a significant moment, and for good reason. They look fabulous in all shapes and sizes — even on your pointy stilettos. It's like having tiny glass sculptures at your fingertips.
Wear It Loud: Logomania Nails
Wear your favorite designer logos on your nails for the ultimate fashion statement. I recently tried this with a matte blue base, and let me tell you, it felt like having tiny designer bags on my nails. The chic level? Sky-high.
Candy-Coated French Tips
Ah, pastel Candy-Coated French Tips are the epitome of sweet sophistication! Imagine classic French tips but dipped in dreamy pastel hues like lavender, mint, or baby pink—it's like your nails are ready for an Easter egg hunt all year round.
Worried About You Will Type, Don't Stress Here Is A Quick Guide
So you've just gotten those dreamy stiletto or almond nails, and now you're staring down at your keyboard like it's a final boss in a video game. Trust me, I've been there! The struggle is oh-so-real, but fret not. Typing with pointed nails is totally doable, and I've got some tips to quickly make you a keyboard wizard.
The Side-Hit Technique – Gone are the days when you can pound away at your keyboard with the flat of your fingertips. With pointed nails, the name of the game is using the sides of your fingertips. Angle your fingers so that the fleshy part of your finger makes contact with the keys rather than your nail. It might initially feel awkward, but you'll get the hang of it.
The Hover Method – If your nails are particularly long, you might find it easier to hover your fingers over the keys and make more of a tapping motion to press them. Imagine you're playing a piano—it's all in the wrists!
Slow and Steady – Take it slow when you're just starting out. Rushing is a surefire way to make more typos and potentially risk a nail injury (yikes!). With practice, you'll gradually get faster. Patience, grasshopper!
Shortcuts Are Your BFF – Keyboard shortcuts can be a lifesaver when you're adapting to new nails. Learning to copy, paste, and switch between tabs without reaching for your mouse can make things easier and reduce the number of keystrokes. If you're a Mac user like me, the touchpad's multiple gestures also cut down on a lot of typing.
Voice-to-Text for the Win – For more extended compositions, consider using voice-to-text software. Most smartphones and computers have a built-in feature that can seriously speed up your workflow. Just remember to give it a quick proofread—autocorrect and voice recognition aren't always on your side.
Nail Care – Lastly, remember to maintain those lovely talons. Keeping them at a manageable length and getting regular fills or touch-ups can go a long way in making daily tasks like typing easier.
So there you have it—typing with pointed nails is possible and can even be efficient with a bit of practice and some minor adjustments. Happy typing, and may your nails always be as sharp as your wit!
6 Steps For Getting The Perfect Pointed Nails
Hey there, nail aficionados! Ready to rock some fierce, pointy nails but need help figuring out how to get there? Don't worry; I've got you covered. Achieving those sharp stiletto or almond shapes is not as intimidating as it might seem. Here's a step-by-step guide to getting those claws looking fabulous.
Tools You'll Need:
Nail clippers or scissors
A suitable nail file (I swear by crystal nail files, but emery boards work, too)
A buffer block
Cuticle pusher or orange stick
Optional: acrylic or gel extensions if your natural nails aren't long enough
Prepping Your Nails
Start with Clean Nails: Make sure your nails are clean and old polish-free. A swipe of nail polish remover should do the trick.
Push Back Cuticles: Use a cuticle pusher or an orange stick to gently push back your cuticles. This creates a clean canvas for your shape.
Shaping Your Nails
Initial Cut: If you're starting with long nails, use nail clippers to clip off the tips at a slight angle, leaving the middle part a bit longer. This starts to form that pointy shape.
Sides First: Begin filing the sides of your nails at an angle towards the tip. Imagine creating a triangle with the tip of your nail at the top point.
Mind the Tip: Now focus on filing the tip into a point. Don't worry; it doesn't have to be needle-sharp—you can go for a softer point if that's more your style.
Buff It Out: Use a buffer to smooth out any ridges or uneven areas.
Optional: Adding Length with Extensions
If your natural nails aren't long enough to get that fierce, pointy look, consider acrylic or gel extensions. You can get these done at a salon or opt for at-home kits. The extensions are filed and shaped in the same way as your natural nails. Just remember, these need proper care and regular fills to keep them looking fresh.
The Finishing Touches
Once you're happy with the shape, paint those beauties! The final look is up to you, whether it's a classy neutral or a bold splash of color. Finish off with a top coat for that extra shine and durability. And voila! You're ready to flaunt those gorgeous pointy nails. These babies are showstoppers but can be a bit delicate. So save the intense rock climbing for another day, okay?
Still Looking for Help, Watch This Tutorial On YouTube
Conclusion
Alright, loves, that's a wrap on our stiletto nail extravaganza! Whether you're all about that high-impact glam or lean more towards the subtly chic, the world of pointy nails has something for everyone. My personal fave? Those deliciously daring splashy tips! If you're new to the stiletto game, I'd say start with a more toned-down ombré or glazed look to ease into it. But if you're a nail art pro, go all out with Logomania or Psychedelic Swirls. The key is to let your nails be an extension of you—your style, mood, and vibe. So, make that salon appointment (or flex those DIY muscles), and dazzle the world, one fab fingertip at a time!
Feature Image Photo By nailbaeshop on Instagram
Last reviewed and updated on October 31, 2023