Today, we're diving into an intricate, glamorous world that encapsulates not just one or two, but 45—yes, you read that right—forty-one classy methods to flaunt your short coffin nails with unapologetic flair. This isn't just about splashing a coat of polish and calling it a day; it's about turning your fingertips into mini canvases that echo your personality and lifestyle.
In this indispensable guide, you'll uncover techniques from subtle elegance to bold extravagance, all tailored to the unique dimensions of short coffin nails. By the time you've scrolled to the end, you'll be equipped with a reservoir of ideas that will keep you ahead of the nail game for months—if not years—to come. Ready to explore this universe of aesthetic potential? Trust me, your nails are about to become your best accessories. Let's get started!
Unveiling the Glam: Elegant, Glitter Short Coffin Nails
First on our style radar is the epitome of elegance—lace and glitter short coffin nails. Imagine a look so intricate it could befit a red carpet or even a wedding aisle! Each nail flaunts a unique twist, whether ombre, shimmer, or graceful lace art. I wore a similar design to a friend's wedding, and let me tell you, my nails were the second most photographed thing after the bride! You will turn heads whether you adopt the entire look or pick a single design element.
Effortlessly Chic: Simple Short Coffin Nails
For those days when you're feeling low-key but still want that touch of sophistication, look no further than these pastel-pink short coffin nails. The light pink polish "You Crossed the Nazca Line" by OPI is your go-to for a versatile look. I've sported this hue in board meetings and brunches, and it's been a hit every time. The beauty of this design is its chameleon-like ability to fit into any setting.
Glitz and Glamour: Short Coffin Acrylic Nails
When you're in the mood for something that screams glamour, these light pink and glitter acrylic nails are your best bet. The various applications of glitter add a textured, layered effect. I wore a version of these to a New Year's Eve party, and let's say the nails were as sparkling as the champagne. Perfect for nights out or festive occasions, you can go full glam or select one or two elements to emphasize.
Making a Statement: Short Chrome Nails
Ready to be the center of attention? These short chrome nails are a walking art exhibit. White chrome, ombre glitter, and pink glitter with gems—this design packs all the trendy punches. Take it from me; this style is a conversation starter. Feel free to switch up the colors to match your vibe.
Minimalist Yet Bold: Short Coffin Nails in Grey
Who says you need a slew of gems and glitter to make an impact? Meet the grey-shaded coffin nails that prove less can be more. The sleek, monochromatic look is the ultimate style statement. I've often opted for this design when I wanted something classy that pairs well with everything in my closet.
Less is More: Natural Short Coffin Nails
If you're dipping your toes—or shall I say fingertips?—into the coffin nail trend, why not start with the natural look? It's an understated yet sophisticated way to test-drive this nail shape. Perfect for anyone wanting a change, but not too much drama.
Bridal Bliss: French Ombre Nails
You don't have to be a bride-to-be to appreciate the ethereal beauty of these French ombre nails adorned with silver glitter and floral design. I've seen this look replicated in many color palettes, from muted pastels to vibrant hues, and it never ceases to impress.
A Pop of Pink: Shimmery Pink Nails
If you're looking to brighten up your look, let's talk pink—shimmery pink, to be exact. These short coffin nails in vibrant, reflective pink hues are instant mood lifters. Trust me, it's hard to have a bad day when your nails are this uplifting.
Icy Tones for Any Season: Short Acrylic Nails in Blue
Who says you have to stick to traditional colors? Go off the beaten path with these glossy, light blue nails featuring glitter accents. I wore a similar style last winter, and it felt like carrying little snowflakes at my fingertips.
Sun-Kissed Glamour: Stylish Yellow and Chrome Coffin Nails
Last, let's talk yellow—the color of sunshine, optimism, and, now, your next manicure! With a mix of chrome, yellow ombre, and glitter, these nails are a burst of sunshine on a cloudy day.
The All-in-One Look: Glam Coffin Nails
Our next entry showcases the magic of unity in diversity—each nail rocks a different design! From gems and glitter to ombre and silver stripes, the common thread is the color scheme that makes the design cohesive. I once wore a similar design to a red carpet-event, and the buzz was all about my nails. If you're up for a bold statement, this is it.
The Feminine Flair: Short Ballerina Nails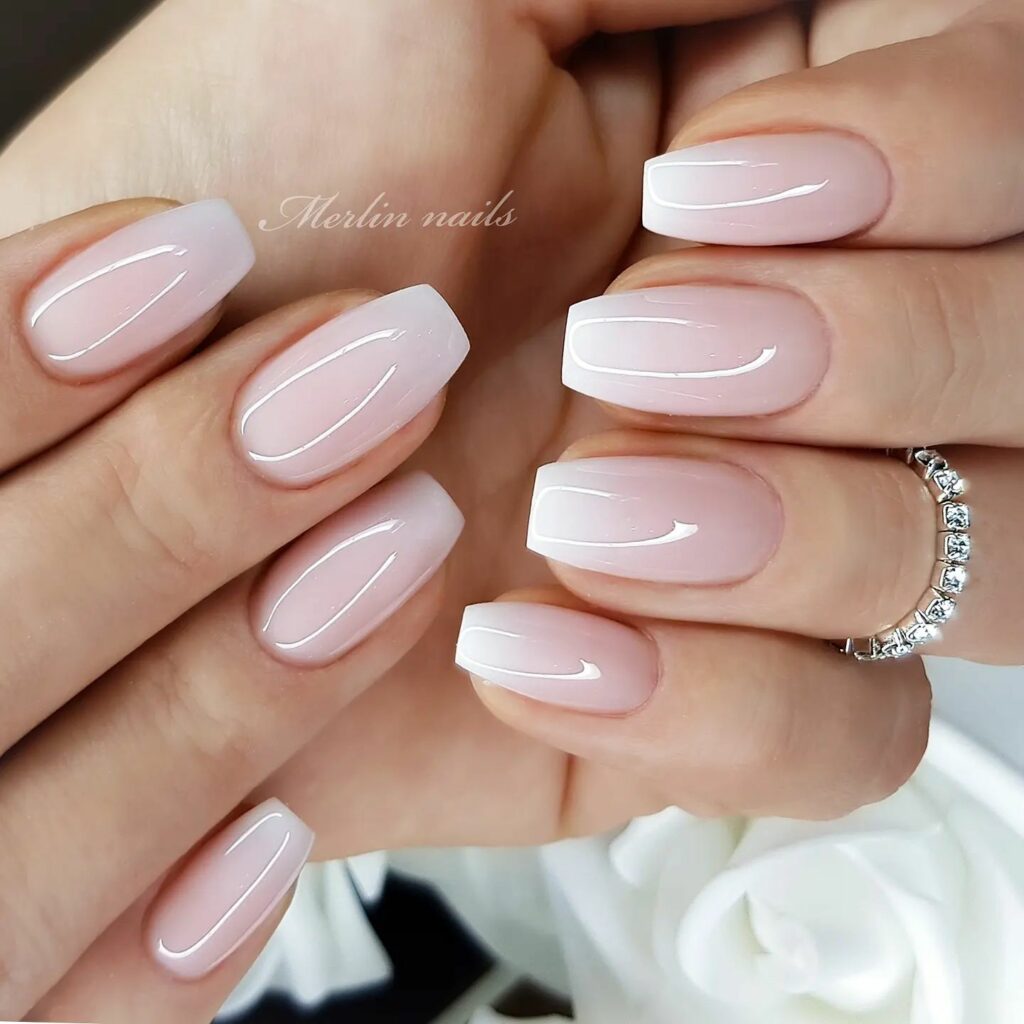 Did you know that coffin nails are also referred to as ballerina nails? If you're looking for something that shouts grace and elegance, this pink and glitter ensemble is your ticket. This is your go-to style for romantic date nights or walking down the aisle. Trust me, your hands will be Instagram-worthy with these beauties!
Modern Classic: Elegant French Manicure
Love the timeless appeal of a French manicure but with a twist? Look no further! This design modernizes the classic French look With white tips, cuticles, and an accent nail. I wore this style to a business meeting once, and let's say the deal wasn't the only thing that was sealed—the nails were a hit, too.
Unlikely Pair: Stylish Blue and Pink Glitter Nails
Ever thought pink and blue could make a trendy duo? Well, they do. From glossy pink to blue ombre glitter accents, this look is a crowd-pleaser. Feel free to experiment with the shades. A little tip: keep the intensities similar for a cohesive look.
Autumn Chic: Burgundy Coffin Nails
Burgundy is the color of mulled wine, fireplaces, and now, your next manicure. Featuring shades from glitter to dark burgundy, this style is your best friend during the colder months—or, honestly, anytime you feel that vampy vibe. I went with this look last Thanksgiving, and not only did it survive the turkey carving, but it also garnered endless compliments!
Softly Romantic: Beautiful Pink and Glitter
Here's a style that speaks to the soft-hearted yet glamorous souls. With shades of light pink complemented by a touch of glitter, these nails are your perfect companion for a dreamy, romantic evening out.
Fiery Red: Vibrant Coffin Nails with Glitter
Dare to go bold? This vibrant red with silver glitter and gems is a statement-maker. Whether it's a hot summer day or a festive winter night, this design is a year-round winner. I rocked this design last Fourth of July, and let me tell you, fireworks weren't the only thing popping!
Minimalist Glam: Elegant Nail Idea
This white and pink duo is elegant yet eye-catching for those who appreciate the subtler things in life. One accent nail with a shimmering pink adds just the right amount of glam. Remember, less can definitely be more.
Purple Haze: Sparkly Coffin Nails
Add a dash of magic to your look with these light pink nails featuring purple glitter accents. One word: Mesmerizing. The purple and pink combo is an unexpected showstopper that is bound to get you noticed.
All-Season Glam: Short Coffin Nails for Fall
Last but not least, we have a design inspired by autumn hues. But don't be fooled! This dark brown shimmery style with a touch of glitter is versatile enough for any season and event. I donned a similar design at a fall wedding once, and it was the talk of the table.
Splash of Lavender: Bright Blue Coffin Nails
Kick off your nail art journey with this refreshing lavender blue shade. I sported a similar hue during a beach vacation, and it perfectly mirrored the clear skies and calm waters. You can go full monochrome with this trendy color or spice things up with glittery accent nails. Either way, it's a win-win!
Accentuate the Glam: Short Coffin Nails with Sparkle
Up next, we've got light pink nails adorned with glitter and rhinestones that bring that extra glam. If subtlety is more your style, feel free to keep the nails shorter but no less chic. When I tried this design, I couldn't help but admire my nails every chance I got—and let's say the compliments flowed in.
Sky-Inspired: Unique and Colorful Nail Art
Summer is all about vibrant hues, and what better way to express that than with a palette that reminds you of sunsets and skies? The brilliant colors and artistic strokes make these nails perfect for those who aren't afraid to make a statement.
Citrus Charm: Cute Orange Nails
Now, let's talk about these zesty orange-tipped nails. The nude base makes the vibrant orange tips pop. I wore this exact color combination to a summer BBQ last year, and let's say I wasn't the only one who thought they were "finger-licking good"!
Tropical Delight: Cute Pineapple Nails
Fancy something fruity? Go for this dark shade set with gold glitter and pineapple accents. I used stencils I bought online to create my own pineapple nail art, and I was thrilled with the result. These nails are both fun and classy, perfect for making a statement at any event.
Sophisticated Flair: Nude Nails with a Pop of Gold
Gold nail art on a light pink base? That's a combination made in nail heaven. It's chic, understated, and incredibly versatile. As an added tip, silver can make for an equally stunning alternative if gold isn't your thing.
A Rainbow of Ombre: Colorful Ombre Nails
Can't decide on just one color? Why not wear them all? Each nail features a different colored ombre against a nude base. The last time I wore a similar design, I couldn't help but feel a little brighter every time I looked down at my hands.
Glam Galore: Glitter and Chrome
Here, we've got the style trifecta: pink, chrome, and glitter. This combo is perfect for occasions that call for a little extra pizzazz—think parties or milestone celebrations. Remember, the aim is to dazzle!
Brighten Up: Neon Pink Nails
This neon pink design is not for the faint of heart—it screams confidence and chicness. Add a colorful, sparkly accent nail, and you're all set for spring and summer. A similar look had me turning heads during a rooftop soirée last year.
Floral Elegance: Coffin Nails with Floral Nail Art
Last but not least, we bring you a manicure that is the epitome of elegance. With light pink sparkly nails and intricate flower designs, this is ideal for weddings or other special occasions where sophistication is key. I wore a style similar to a friend's wedding, which flawlessly matched the day's romantic ambiance.
Sunny Vibes: Summery Nails
Imagine you're heading to a tropical island for a vacation. What's on your nails? How about a soft pastel yellow ombre on a nude base? Throw in some elegant black nail art on one pin of each hand for added flair. I once wore this design to a beachside getaway, and it was a total hit. Remember, you can use stencils to get precise artwork—no pro skills are required!
The Marble Effect: Short Coffin Marble Nails
For those who love the elegance of marble, this design is a game-changer. Matte black, sparkles, and white and blue marble art, all on the same hand! The last time I tried this was the talk of a dinner party I attended. You can go full-on with all three designs or pick just the marble and matte black for a subtler approach.
Pretty in Pink and Purple: Light Pink Nails with Purple Sparkle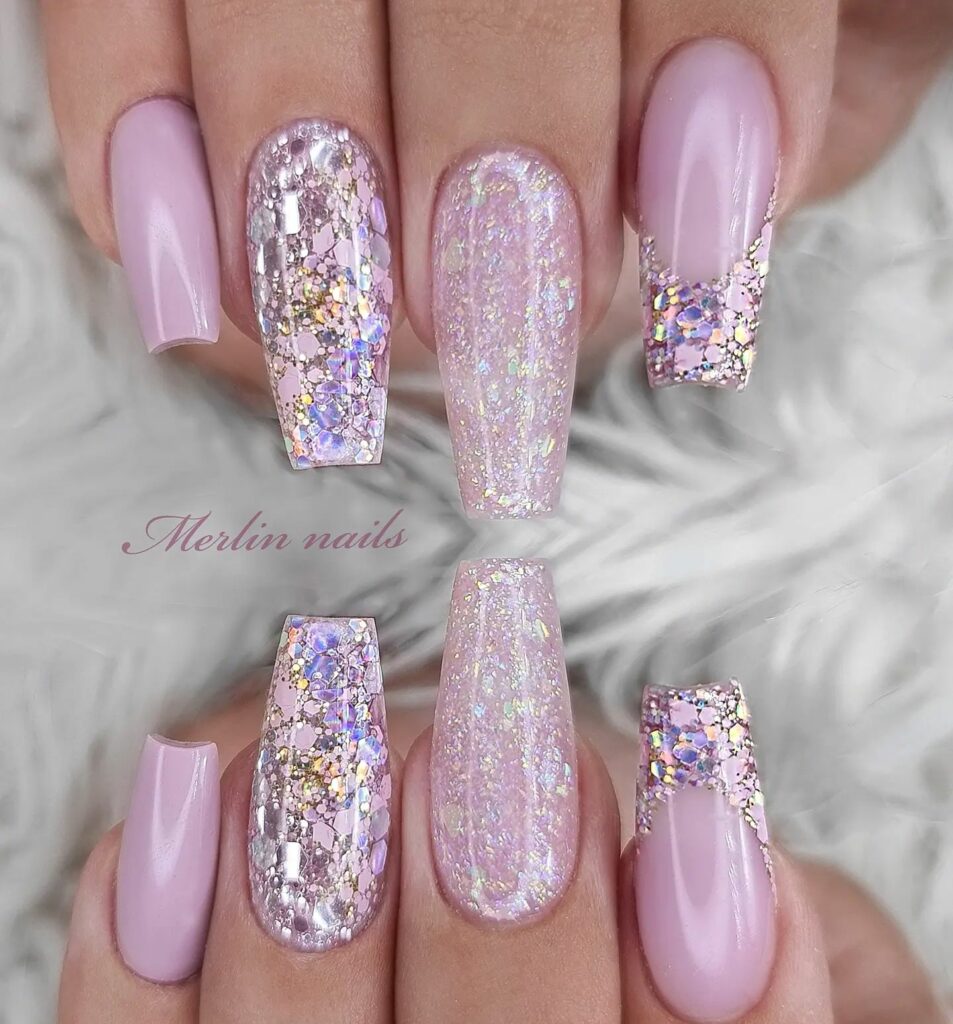 Pink with sparkly purple ombre? Yes, please! This look is like a party on your nails, and it's sure to make you feel joyful and classy. Want a quick tip? If purple isn't your hue, swap it out for another glitter color. To keep it low-key, you can opt for just one glitter nail.
Understated Elegance: Elegant Short Coffin Nails
Not everyone is into bright, eye-catching designs. Light and elegant nude shades might be your go-to if you prefer a more timeless look. This design is your 'wear it anywhere, anytime' manicure. It's easy, graceful, and universally flattering—like that little black dress in your wardrobe.
Daring and Trendy: Short Nails with Trendy Nail Art
This one's for those who love to make a style statement. Dark nude nails decked out with silver glitter, rhinestones, and a dark brown accent nail—talk about a nail art extravaganza! I sported a similar look last winter, and let me tell you, it was a crowd-pleaser. Perfect for the holiday season or a winter night out!
Pink with a Sparkly Twist: Pink and Sparkly Nails
Looking to dazzle at a special event? This pink ombre with sparkly accents might be your ticket to nail glory. If you're not in the mood to go all out, you can always choose just one of the nail designs. Either way, you're in for a treat.
Dare to Be Different: Unique Nail Idea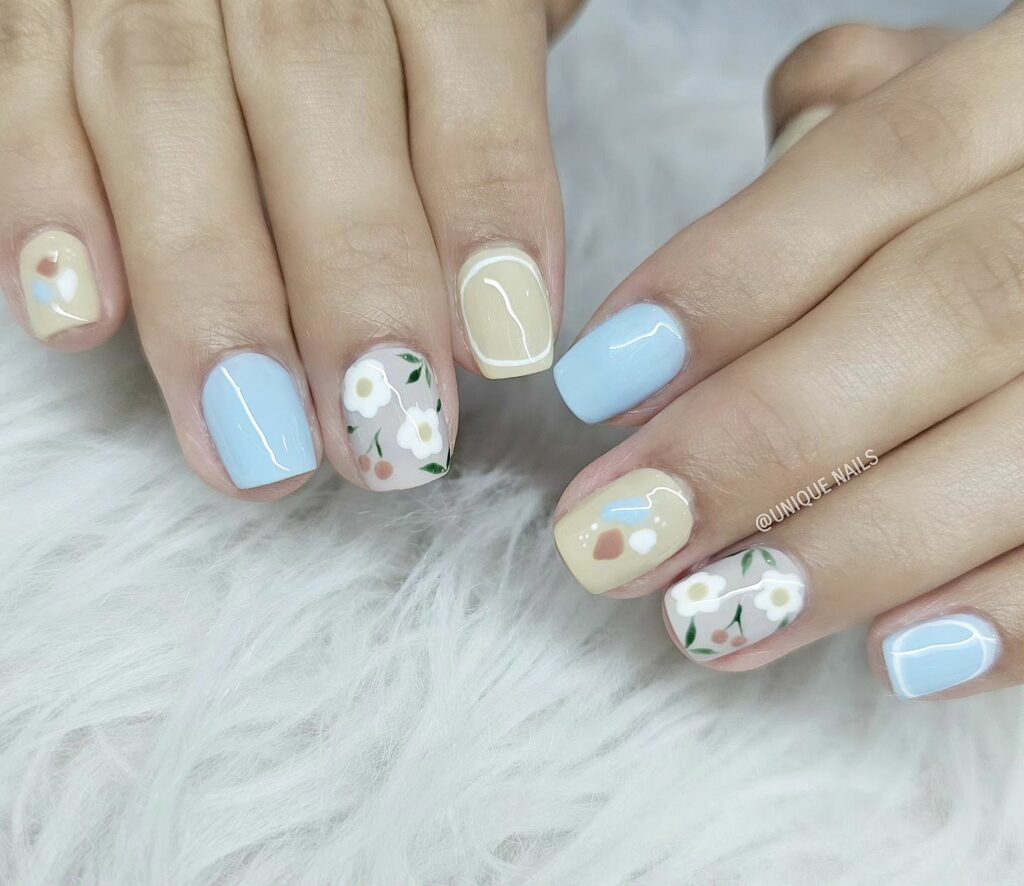 If you want something that screams creativity, try this look with metallic blue nail art and nude nails with blue tips. It's a fresh take that's ideal for spring and summer outings. This was a hit when I wore it to a friend's garden party. Trust me, you'll turn heads.
Festive Elegance: Glam French Ombre Nails
Who says you can't be both classy and glamorous? This design features French ombre nails with gold glitter and a black accent. The mix is stunning and versatile, making it a top pick for the holiday season or a fancy soirée.
Heartfelt Matte: Black Matte Nail Design
Matte finishes have a knack for being effortlessly chic, and this black matte design proves it. The accent nails with heart nail art give it a romantic twist, perfect for date nights or Valentine's Day celebrations.
The Epitome of Chic: Elegant Nail Design
Last but not least, we've got another classy number featuring French ombre. This look can easily transition from a day at the office to a wedding reception. Want a bit more sparkle? Feel free to add some rhinestones.
When Pink Meets Glitter: The Aesthetic
Imagine a classic pink but excited with a layer of sparkle. That's precisely what you get with this nail design. The pink is radiant yet playful, and the glitter adds that extra oomph, transforming your nails into the life of the party. I particularly love how the coffin shape elevates the look even more, giving it a modern edge.
A Simple Guide To Match Your Outfit With Your Chosen Nail Design
A great set of nails can complete your look for any occasion. But how do you know which nail design to go for and when? Well, that's what I'm here for. Let's match each of our previously mentioned nail designs with their perfect setting.
Summary Nails
This pastel yellow ombre with black art is a win for tropical vacations or beach days. It screams relaxation and yet has that intricate detail that shows you put thought into your look.
Short Coffin Marble Nails
Marble nails are elegant and trendy, perfect for a stylish evening event or a big presentation at work where you want to show off your attention to detail.
Light Pink Nails with Purple Sparkle
Think first dates or casual brunches with friends. The sparkle adds that extra pizzazz without overwhelming the delicate pink, making for a balanced yet eye-catching look.
Elegant Short Coffin Nails
When in doubt, go nude. The light, elegant shade is versatile, making it a great option for interviews, weddings, or just your daily office grind.
Short Nails with Trendy Nail Art
Dark nude with silver glitter and rhinestones is great for winter holidays or festive parties. It's bold and fun while keeping a neutral palette.
Pink and Sparkly Nails
Pink ombre with a dash of sparkle is your go-to for special occasions like anniversaries or romantic dinners. It's a harmonious blend of sweetness and glamour.
Unique Nail Idea
The metallic blue art with nude and blue tips is an attention-grabber, perfect for music festivals or summer barbecues where you want to express your style.
Glam French Ombre Nails
This design screams the holiday season! With gold glitter and classic black, this look will make you the talk of any holiday party or New Year's Eve bash.
Black Matte Nail Design
The black matte with heart nail art strikes a balance between edgy and sweet, making it great for Valentine's Day or whenever you feel a bit romantic and want to make a statement.
Elegant Nail Design
French ombre is elegant and can be worn for any high-end event, from gala dinners to weddings. It's a classic that never fails.
Glittery Pink Nail Idea
Ah, the full-on party nail! Perfect for bachelorette parties, birthdays, or any time you want to be the center of attention.
A comprehensive guide on which nail designs work best for various occasions. While these are guidelines, always remember that the best style is the one that makes you feel like the best version of yourself.
9 Simple Tips To Recreate These Nail Designs at Home
One of the most empowering things about fashion and beauty is that so much of it can be DIY, including those drool-worthy nail designs. Let's talk about how you can bring the salon right to your living room.
The Essentials
First off, make sure you've got your basics covered. You'll need:
A good quality base coat and top coat
Nail polish colors according to your chosen design
Dotting tools or toothpicks for intricate designs
Nail tape or masking tape for lines and patterns
A set of brushes for details
A sponge for ombre effects
Glitter, rhinestones, or other embellishments if needed
Nail glue for any 3D elements
Acetone and cotton balls for any slip-ups
Summary Nails
Start with a nude base. Once it dries, gently sponge on a pastel yellow at the tips for that ombre look. Add your black nail art using a fine brush or a toothpick.
Short Coffin Marble Nails
Apply a base coat, then a layer of white polish. Add a few drops of blue and white polish on the nail and use a plastic wrap to create that marble effect. Paint one nail matte black and another with sparkly polish as accents.
Light Pink Nails with Purple Sparkle
Two coats of light pink to start. Use a makeup sponge to lightly dab the glitter polish on the tips for the sparkly purple ombre.
Elegant Short Coffin Nails
This one's straightforward. A quality nude polish, two coats, topped off with a shiny top coat.
Short Nails with Trendy Nail Art
Apply your dark nude base. Once dry, use silver glitter polish and a fine brush to add your sparkle, and place rhinestones with a dotting tool or tweezers. Use nail glue to secure them.
Pink and Sparkly Nails
For this, apply your pink ombre first using a makeup sponge. Go full glitter on the two accent nails or just add sparkly tips.
Unique Nail Idea
Start with a nude base. Paint metallic blue art with a fine brush and add blue tips on two other nails. Don't rush, take your time to get those lines clean.
Glam French Ombre Nails
Paint two nails with a French ombre effect by using a sponge to blend white and nude. Use gold glitter polish on one and paint another nail black as contrasts.
Black Matte Nail Design
Two coats of matte black to begin. The heart design can be easily achieved with a dotting tool or the tip of a bobby pin.
Elegant Nail Design
Apply a light nude base, then create an ombre effect with a white polish using a sponge.
Glittery Pink Nail Idea
A solid coat of pink glitter polish should do the trick. For extra glam, consider a second layer.
Time to Shine!
Voila! You can recreate all these looks without leaving the house with patience and a steady hand. Remember, practice makes perfect, so don't be too hard on yourself if it's not flawless the first time. Have fun, be creative, and let those nails shine!
Conclusion
In summary, style enthusiasts, glittery pink short coffin nails are more than just a trend; they're a fashion statement that balances fun with glamour. To get the look just right, remember to invest in high-quality polishes, and pay attention to the importance of a good base and top coat. The makeup sponge technique is your best friend for that extra glittery effect. But a quick caution: while this nail style is eye-catching, it can also be a bit high-maintenance, especially if you're not used to glitter polish, which can be challenging to remove. No risk, no reward, right? So plunge into this dazzling world, and let your nails do the talking. Happy experimenting!
Feature image @nailzkatkat via Instagram