Hello, fellow aficionados of all things glitter and glam! Are you ready to take your manicure game to a whole new level? Welcome to your one-stop destination for achieving the glitziest nails ever, where we'll explore the captivating world of diamond nail designs. This isn't just about painting your nails; it's about transforming them into a canvas of luxury and creativity, bringing a splash of grandeur to your everyday style.
Dive right in as we unveil 29 jaw-dropping nail designs that merge the opulence of diamonds with the freshest artistry trends. In this engaging guide, you'll not only discover a wealth of sparkling designs to suit every mood and occasion but also gather insider tips to recreate these looks right at home. Whether you're heading to a high-end event or just looking to sprinkle a bit of glamour onto your daily attire, we've got you covered with ideas that will have everyone turning their heads. Let's venture together into this vibrant world of style and sparkle, and elevate your nail game to dazzling new heights! Let's sparkle on, trailblazers!
The Grandeur of the Regal Gemstone Manicure
Imagine stealing the limelight wherever your hands gesture with this black manicure adorned with large, vibrant gemstones. A little birdie told me that pairing this with a dark evening gown creates an aura of mysterious elegance bound to turn heads. I once wore this look to an art gallery opening, and let me tell you, it was nothing short of a conversation starter!
The Timeless Matte Gold French Tips
Stepping out for a casual brunch or an expensive dinner, the matte gold French tips with a sprinkle of gemstones never fail to add that perfect sophistication to your outfit. Drawing from my personal experience, this classic choice complements every outfit and holds a charm that never fails to catch the eye.
Unveiling the Mystery of Gemstone Cutout Nails
During one of my fashion escapades, I stumbled upon this nail art inspired by a trendy shirt on a stylist's Instagram story. The blend of negative space shapes and crystal adornments crafts a piece of art that would intrigue and beckon second glances. Indeed, it is a mesmerizing combination of fashion and artistry!
Simplicity Meets Elegance: Wavy Diamond Nails
As someone who appreciates the beauty in simplicity, I can vouch for the undeniable charm of the wavy diamond nails. A tiny diamond gracing each cuticle against a backdrop of a wavy white border promises a look that's both elegant and chic. And here's a little tip: remember to seal the face with a top coat to lock in the sparkle!
A Winter Wonderland: Shimmering Snowflake Nails
Transport yourself to a winter wonderland with this stellar design that boasts the finest silver glitter and beautifully crafted white snowflakes. It might not feature natural gemstones, but the illusion it creates is just as magical, making your nails resemble twinkling snow under the moonlit sky.
Subtle Sparkle: Twinkling French Tips
If you enjoy subtlety with a touch of sparkle, this is your go-to design. The delicate trio of gemstones adds a hint of glamour to the timeless French manicure. And here's a golden nugget from you: to ensure the gems stay put, place them atop a wet top coat or secure them with tiny dots of nail glue.
A Splash of Color: Pistachio Gemstone Nails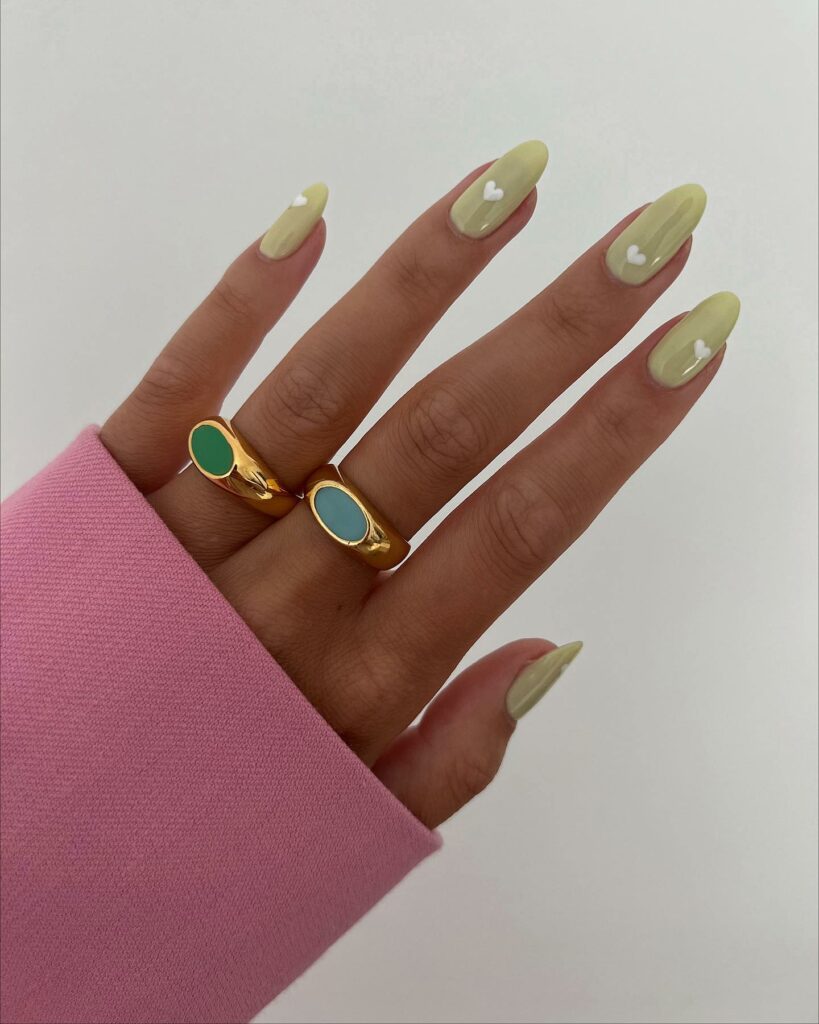 The pale green pistachio manicure is a dream come true for color enthusiasts. The soft swirls and a touch of gem on each nail bring a refreshing and youthful vibe to the entire look, adding that perfect burst of color to your ensemble.
Cosmic Vibes: Dreamy Kira Kira Nails
Embrace the new year with a touch of cosmic energy with this rose quartz-inspired gemstone manicure. It's almost like having tiny galaxies resting on your fingertips, promising a journey through the cosmos each time you glance at your nails.
Making a Statement with Shimmering Cuticles
Dare to be different with this high-shine silver glitter accent along each cuticle. It's a modern, bold choice that guarantees a second glance and speaks volumes about your unique style statement.
Rare Elegance: Emerald-Cut Mani
Step into a world of luxury with this exquisite emerald-cut manicure. Although a tad harder to find than diamond nail embellishments, the green nail art rhinestone kit is a perfect gateway to achieving this glamorous look.
Burst of Colors: The Multicolor Gemstone Mani
Oh, how I adore this almond-shaped French mani adorned with colorful gems! A little advice from someone who has walked down this glittery path: arm yourself with nail stickers like the Blulu 648 Pieces French Manicure Nail Sticker Strips. They are your best ally in achieving those picture-perfect tips. And a little secret from my vault – allow the polish to dry completely before you remove them, guaranteeing a flawless finish bound to steal hearts!
Merging Worlds: Glitter Meets Gemstones
Why choose between glitter and gemstones when you can enjoy the best of both worlds? Let me paint a picture for you: holographic gems sprinkled over a sea of high-shine glitter, creating a spectacle that promises a statement and a grand declaration of style.
A Nod to Fantasy: The Gemstone Stiletto
Oh, the nostalgia this brings! These stiletto nails, adorned with gems, took me on a reminiscent journey to the times of Sailor Moon – an embodiment of fantasy and charm. Dare to step into this magical realm and watch your nails transform into a canvas of dreams and glamour.
Elegant Trims: Gemstone Edges
If, like me, you have a penchant for gracing your cuticles with something that spells class and elegance, this style is your calling. Imagine trading the regular glitter polish for an array of twinkling gemstones, outlining your nails in a festival of sparkle and grace.
Celebratory Canvas: Glittering Abstracts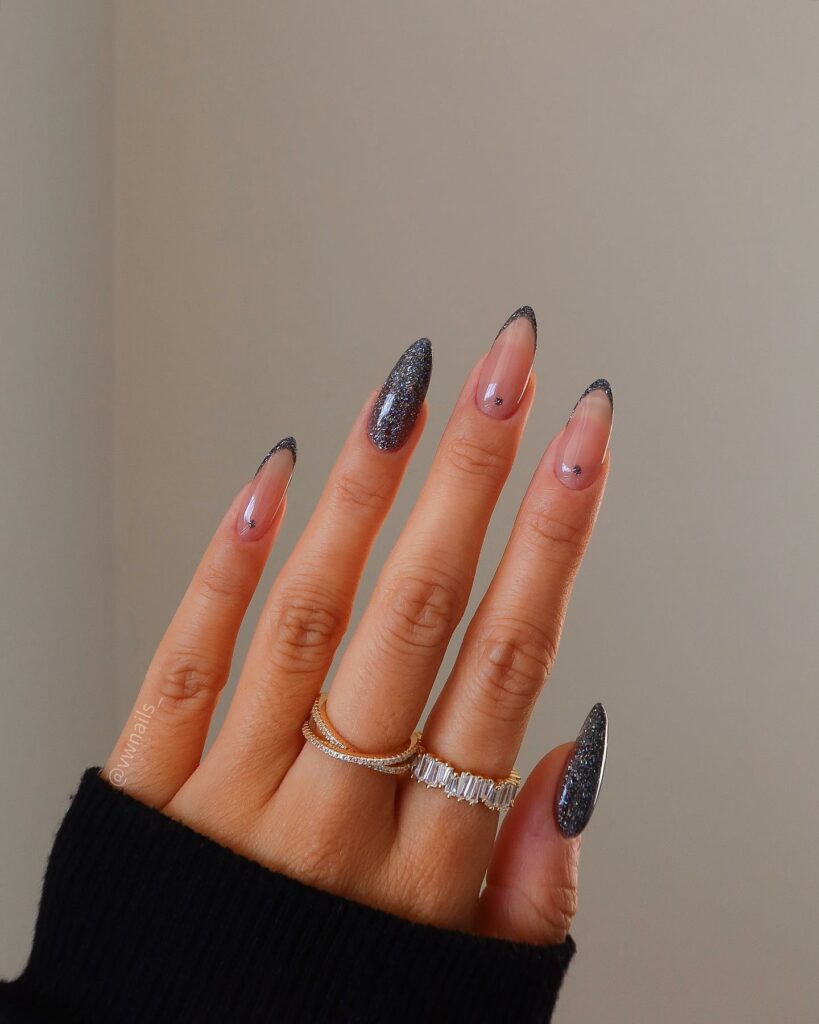 As we approach the festive season, how about we usher in the New Year with nails that scream celebration? Think ultra-sparkly silver glitter mingled with the depth of jet-black polish – a canvas that resonates with the joy and hope that the New Year brings.
Night Sky on Your Nails: Sparkling Stars
Ever looked up at the night sky and wished to hold those twinkling stars in your hands? Well, wish granted! This nail art brings the sparkling diamond effect to your fingertips sans the actual gemstones. With a blend of negative spaces and filled-in stars, your nails will be nothing short of a celestial masterpiece.
Blossoming Beauty: Gemstone Florals
Get ready to swoon over this one because I sure did! The floral motifs created with gemstones are not just a nail design, they're an experience, a journey into a garden where nails blossom into vibrant flowers.
A Purple Dream: Megawatt Lavender
If you're in the mood for a colorful escapade, let's trade the neutral polish for a mesmerizing lavender hue paired with monochromatic glitter that echoes tales of dreams and fantasies.
The Colorful Symphony: Bejeweled Mani
Dive into the world of color where gemstones are transparent and embrace every hue of the rainbow. Here's your chance to sport a bold, vibrant nail look that resonates with your colorful spirit.
Minimalist Majesty: Crystal Accents
This nail art is your go-to for those who prefer a touch of regality with a minimalist approach. Imagine a subdued Polish backdrop adorned with vertical gemstone placements, crafting a look that's nothing short of regal and majestic.
A Twist on the Classic: Iridescent French Tips
Remember the glazed donut nails that virtually everyone, including myself, was flaunting last year? Well, it's time to elevate that trend with a holographic twist that will make heads turn. Imagine your nails, mirroring the iridescent hues of a morning sky, crowned with a sprinkle of gemstones. It's not just a nail design but a ticket to embracing the dawn with style and grace!
Dancing Lights: Disco Nails
Disco isn't just a genre of music; it's a state of mind, and what better way to express that vibrant spirit than with your nails? Picture this: your nails echoing the magic of a disco ball, a canvas of glitter base paired with holographic silver sequins that dance under the lights, just like you on a Saturday night! And, of course, a high-shine top coat to seal in the magic, ensuring your nails are ready to party anytime, anywhere.
Celebrate with Sparkle: Glitter Tips
As New Year's Eve approaches, I can almost feel the magic, the love, and the sparkle in the air. It's the time to embrace the festivities with nails that mirror the starry night sky. Imagine a French tip design with a festive makeover – scattered with sparkling stars that promise to be your perfect accessory as you toast the new beginnings.
Simplicity Meets Glam: Minimalist Diamond Nails
For all my minimalist fashion enthusiasts out there, I haven't forgotten about you. Even the most minimalist designs can embrace a hint of sparkle, and this style proves just that. Picture a serene, milky white base adorned with the daintiest gemstone stars – a celestial journey at your fingertips. This nail design promises elegance and sparkle all in one.
Winter Wonderland: Snow-Dipped Diamond Nails
There is something truly magical about winter, the snow caps, the quietude, and the sparkle that seems to hang in the air. This nail design seeks to capture that winter wonderland at your fingertips. Picture this: your nails echo the tranquility of snow-capped mountains, a perfect companion as you wrap your hands around a cup of piping-hot cocoa. It's more than a nail design; it's a season captured on your nails.
Cosmic Constellation Nails
Imagine a dark, starry night captured on your nails. Begin with a deep navy or black base and artistically place tiny diamond studs to represent your favorite constellations. It's not just a nail design but a celestial experience right at your fingertips!
Lustrous Waterfall Nails
Ever seen a waterfall glitter under the sun? Capture this mesmerizing sight on your nails with this design. Start with a neutral or pastel base and create a cascading effect with tiny diamond stones from the bottom of your nails, gradually decreasing towards the tip, creating a waterfall of sparkle.
Geometric Diamond Nails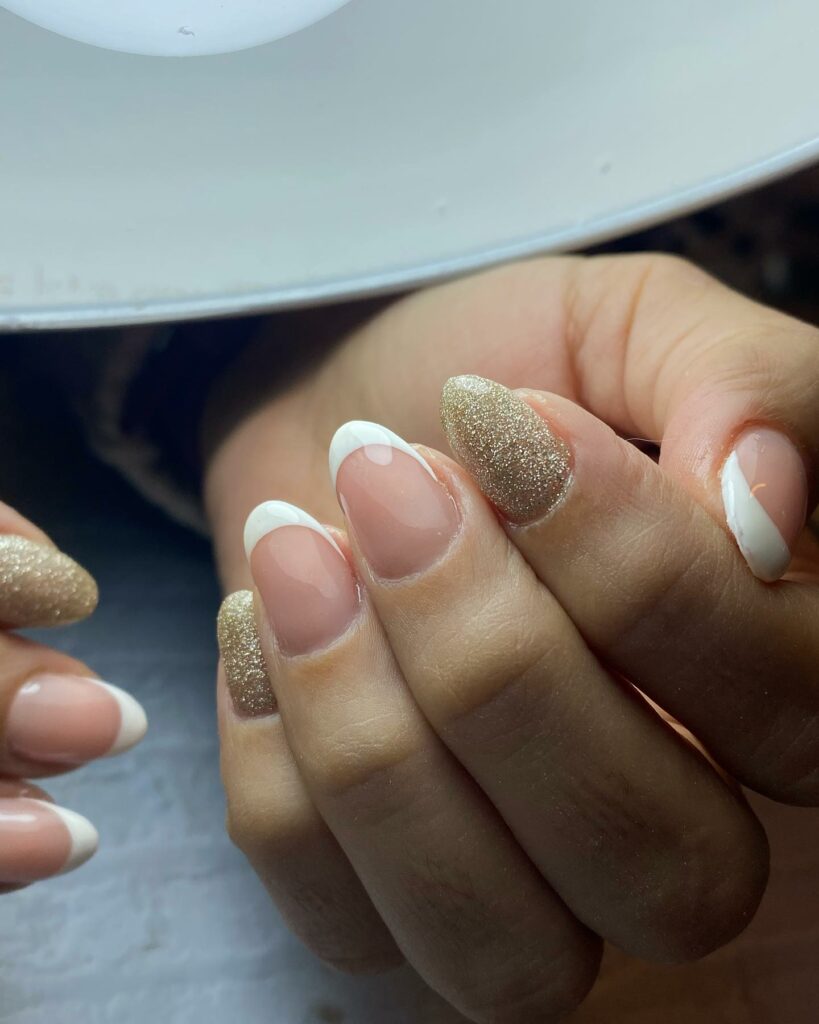 Geometry meets glamour in this unique nail design. Experiment with geometric shapes and patterns using thin lines of metallic shades, and adorn the intersections with tiny diamond stones. The result is a modern, chic, and sophisticated manicure that stands out.
Ombre Diamond Bliss
Ombre isn't just for your hair; this enticing design brings the trend to your nails. Create a beautiful ombre effect with your favorite hues as the base, and enhance the transition with a sprinkling of diamond gems, creating a gradient of sparkle and color that is nothing short of mesmerizing.
What Is the Process for Creating These Diamond Nail Designs?
Creating these diamond nail designs can be a thrilling yet meticulous journey. Let's navigate through the sparkling waters of nail artistry together with a step-by-step guide for each design:
Base Preparation: Start by cleaning your nails thoroughly and applying a base coat to protect them.
Background Creation: Paint your nails with a deep navy or black polish to create the perfect night sky backdrop.
Star Mapping: Using a fine brush or a dotting tool, pick up tiny diamond studs and place them on your nails to form various constellations. Use a reference image to get the shapes right.
Top Coat: Seal your celestial masterpiece with a top coat to ensure longevity.
Base Preparation: Clean your nails and apply a base coat and neutral or pastel nail polish.
Creating the Waterfall: Using a precision tool, start placing tiny diamond stones from the base of your nails, gradually reducing towards the tip to mimic a sparkling waterfall.
Top Coat: Apply a top coat to seal the gems in place and add a brilliant shine.
Base Preparation: Begin with clean, prepped nails, and apply a base coat.
Geometric Patterns: Create geometric patterns using metallic shades. You can use tape to help achieve crisp lines.
Gem Placement: Place diamond stones at the intersections of the geometric patterns to add sparkle.
Top Coat: Finish with a top coat to secure the gems and add a glossy finish.
Base Preparation: Start with clean, base-coated nails.
Creating the Ombre: Create an ombre effect using your preferred hues. Blend the colors well to get a seamless transition.
Diamond Placement: Sprinkle diamond gems at the transition to enhance the ombre effect.
Top Coat: Seal your design with a top coat for a long-lasting sparkle.
11 Tools & Techniques To Help YOu Get The Perfect Diamon Nails!
These sparkling nail designs require specialized tools and techniques to achieve a professional finish. Here's a handy guide to help you get started:
Tools:
Dotting Tool: This tool will be your best friend when placing those tiny diamonds accurately.
Fine Brush: Necessary for drawing delicate lines or filling in smaller details, especially in designs like geometric diamond nails.
Tweezers: A pair of tweezers can conveniently pick up and place those little gemstones with precision.
Nail Tapes: These can assist in creating straight lines and clean geometric patterns, making your work significantly easier and neater.
Top Coat: A good quality top coat is necessary to seal in your designs, ensuring they last longer without chipping.
Adhesive or Nail Glue: A stronger bond than a regular top coat might be necessary for heavier gemstones. Nail glues can provide a more secure hold.
Techniques:
Gradient Sponging (for Ombre Diamond Bliss): Using a sponge to create a smooth gradient effect with your nail polishes. You can dab the sponge gently onto your nail, layering the colors until you achieve the desired transition.
Freehand Drawing (for Geometric Diamond Nails): Enhance your freehand drawing skills for creating geometric patterns. It requires a steady hand and patience.
Stud Placement: Develop a knack for placing studs and gemstones accurately without displacing others. It's a skill that gets better with practice.
Sealing Edges: Learn to seal the edges of your nails with a top coat to prevent early chipping and properly secure the gemstones.
Polish Mixing (for creating new shades in Ombre Bliss): Sometimes, you might need to mix polishes to get the exact hue for your ombre effect. Learn to mix polishes well without creating a clumpy mess.
Conclusion
As we draw our glittering journey to a close, it's vital to note that, while embracing the dazzling world of diamond nail designs, it's essential to prioritize the health of your nails. Remember, a splendid canvas starts with well-cared-for nails. Remember to nourish your nails with a quality base coat to protect them from any potential damage the glittering adornments might cause.
Equally important is to choose your gems and adhesives wisely to avoid any unwarranted nail mishaps. It's always best to opt for nail-friendly products that promise sparkle and safety.
Embrace your inner artist and don't stop experimenting with the abundant styles we've explored today, from the celestial whispers captured in the Cosmic Constellation design to the elegant cascade of the Lustrous Waterfall nails. Every style offers a unique opportunity to express yourself, making your nails a sparkling extension of your personality.
So, arm yourself with a dash of creativity, sparkle, and a heart full of excitement to embark on your glittering nail adventure. After all, a little sparkle never hurt anybody! Let's shine bright, fashion enthusiasts!
Feature image @vivianmariewong via Instagram