Hey there, nail enthusiasts! Ready to dive into the world of sweater nails? Well, you're in luck because I've got the lowdown on the 25 latest and greatest sweater nail ideas for 2024 that you absolutely need to try! From cozy textures to eye-catching patterns, these designs are perfect for adding a touch of warmth and style to your fingertips. Whether you're a DIY pro or planning a visit to your favorite nail artist, this list has something for everyone. So grab your favorite polish (and maybe a hot cocoa), and let's get into these must-try trends that'll make your nails the talk of the town!
The Magic Of Texture for Fall Nails
The texture is in, and it's not just for fabrics! Feast your eyes on this textured nail look with two accent nails that are stunners. The remaining three, with a shiny finish, are the perfect sidekicks. Tip: Textured polish can add that extra oomph!
Blue & White Christmas Sweater Nails
Blue and white Christmas Sweater Nails are the perfect way to bring a touch of festive charm to your look. Imagine delicate snowflake designs and cozy knit patterns in a serene blue and crisp white palette, creating a winter wonderland right at your fingertips!
Deck Your Nails With Christmas Sweater Style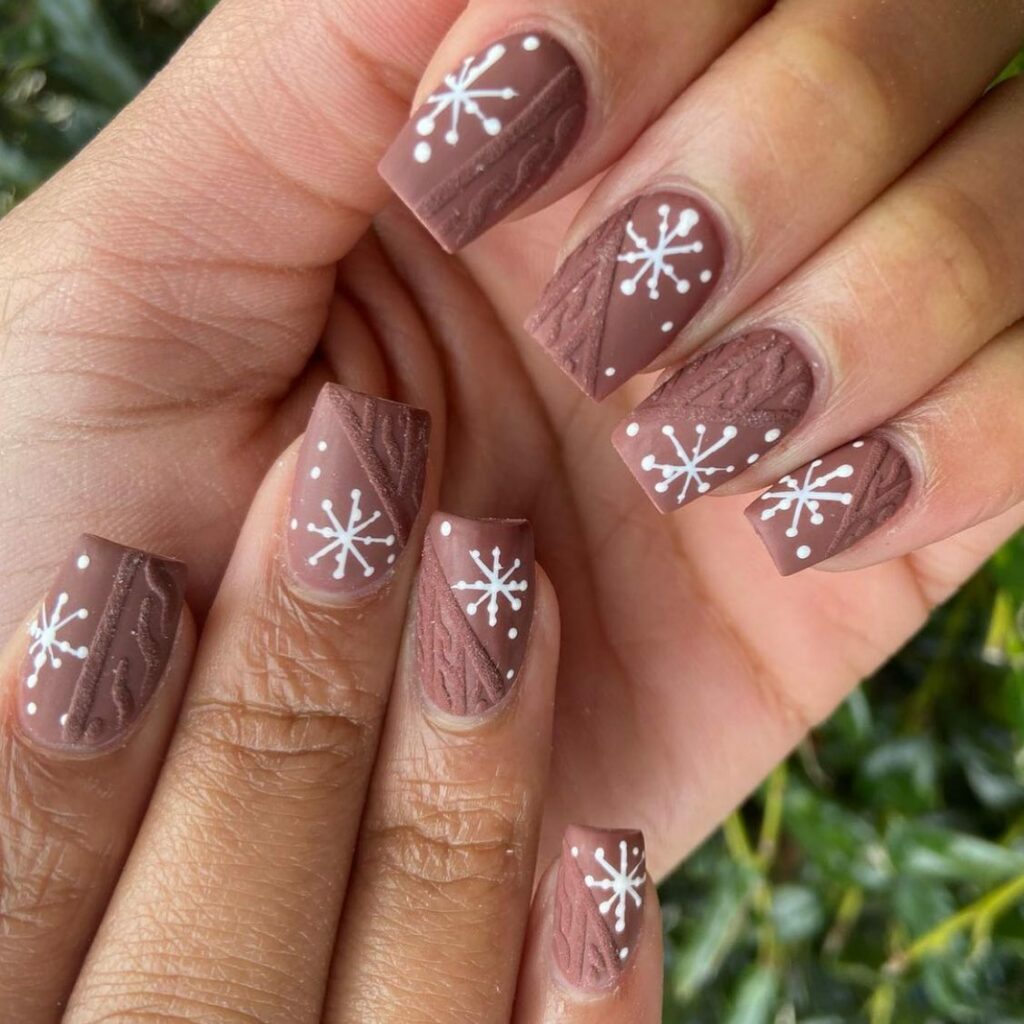 Nothing says "Hello, holidays!" like a Christmas sweater on your nails. Seriously, go all out! From reindeer patterns to snowflakes, the sky's the limit. I love adding a dash of glitter for that extra festive flair.
Color Me Textured
To really make that sweater pattern pop, add some texture. You can use a specialized nail art tool or even an old toothbrush for this (yes, really!). Mix it up by painting each nail a different color; wearing a different sweater on each fingertip is like wearing a different sweater.
Oh-So-Cozy Beige French Tips
Looking to amp up your French tips? Throw some beige sweater details, snowflake nail art, and maybe a pearl. Trust me, your nails will look like a cozy winter postcard.
Love Is In The (Sweater) Details
Valentine's Day calls for love, and what's more loving than a cozy sweater? Jazz up your red or pink Valentine's mani with sweater details. Last Valentine's, I added tiny knit hearts, which made for a memorable date night!
ment under your 3D sweater design. It'll give you a vibe of a much-loved sweater that's seen many a winter.
Details, Details, Details!
Want to make a severe impact? Focus on the details. Thin, intricate lines can make your plaid really pop. I went heavy on the detailing for a New Year's party last year and got so many compliments; it was like wearing a designer sweater on my nails!
Understated Yet Impactful
Do you need an all-out sweater bonanza? That's totally fine! Choose one or two nails as your sweater-accent nails while keeping the rest monochromatic. Sprinkle some glitter or tiny gems for that extra oomph.
Channel Your Inner Grinch
A vibrant green mani can make your heart and nails grow in three sizes. Add in some Grinchy 3D details to really bring that holiday nostalgia home.
Tip-Top Sweater Chic
Who says French manicures are outdated? Add some modern twist by incorporating sweater designs on the tips. It's a unique yet subtle take on the trend.
Winter Whites To Wow
Take notice of winter whites! The argyle knit, the unraveling threads at the base of the nails, and the matte finish can make this a standout look. I wore this to a winter wedding; trust me, it was a hit!
Fifty Shades Of Your Fave Gray
We all have that go-to gray sweater. So, match it with your nails! Add some 3D details, and you'll take your nail game to the next level.
Turn Up the Heat with Textured Skittle Nails
From sultry "cherry mocha" to vibrant red velvet, these Skittle nails are perfect for those who like to turn heads. Add some sweater texture, and you've got a killer combo.
The Maximalist Minimalist
If you're caught between keeping it simple and wanting to go all out, why not do both? Opt for a translucent base with vivid hues. It's like shouting quietly—or, you know, just being fabulously you.
Sweaters For All Seasons
Try a seasonal transition look with shimmering deep red and plaid accents. Perfect for the holidays and versatile enough to wear into the New Year.
The Perfect Pair: Sweaters And Sparkles
Whoever said sweaters and sparkles can't go hand-in-hand clearly never tried it on their nails. This combo is an absolute game-changer. Add some sparkle to your textured sweater nails, and you have a winter wonderland at your fingertips! I've rocked this look on New Year's Eve, and it was the life of the party!
The Spotlight On The Accent Nail
Why not focus all that sweater glory on just one nail? Dress up your ring finger—or whichever you fancy—in a sweater pattern, and keep the rest complementary but straightforward. It's like wearing a statement necklace with a simple outfit.
Double The Chic With French Tips
If French tips are your go-to, there's good news—you can blend them with your sweater nail dreams. The combo is timeless and modern all in one. I did this for a wedding once and got more attention than the bride's dress—just kidding, but close!
Color-blocking: The More the Merrier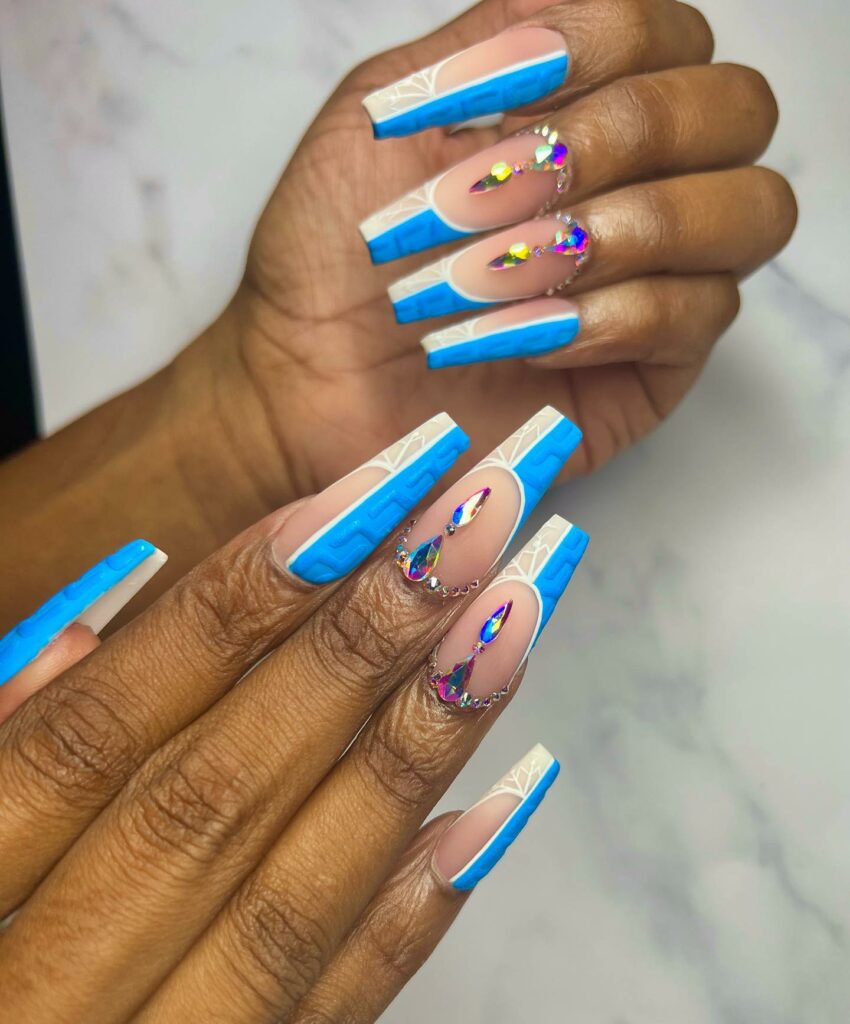 If you can't pick just one color, why should you? Add in a couple more for a full-color masterpiece. Remember to keep the colors in the same family or choose contrasting ones for maximum impact.
Matte Meets Gel: A Textured Dream
Forget the rulebook. Who says you can't mix textures? Add some depth to your sweater print with contrasting matte and gel finishes. This was my go-to look last Thanksgiving, and it was the talk of the table.
Freestyle Your Heart Out
Once you get the hang of the basic sweater design, try freestyle! Add in cute elements like hearts or snowflakes. I tried snowflakes last winter and felt like living in my snow globe.
Uniform Plaid: Less Is More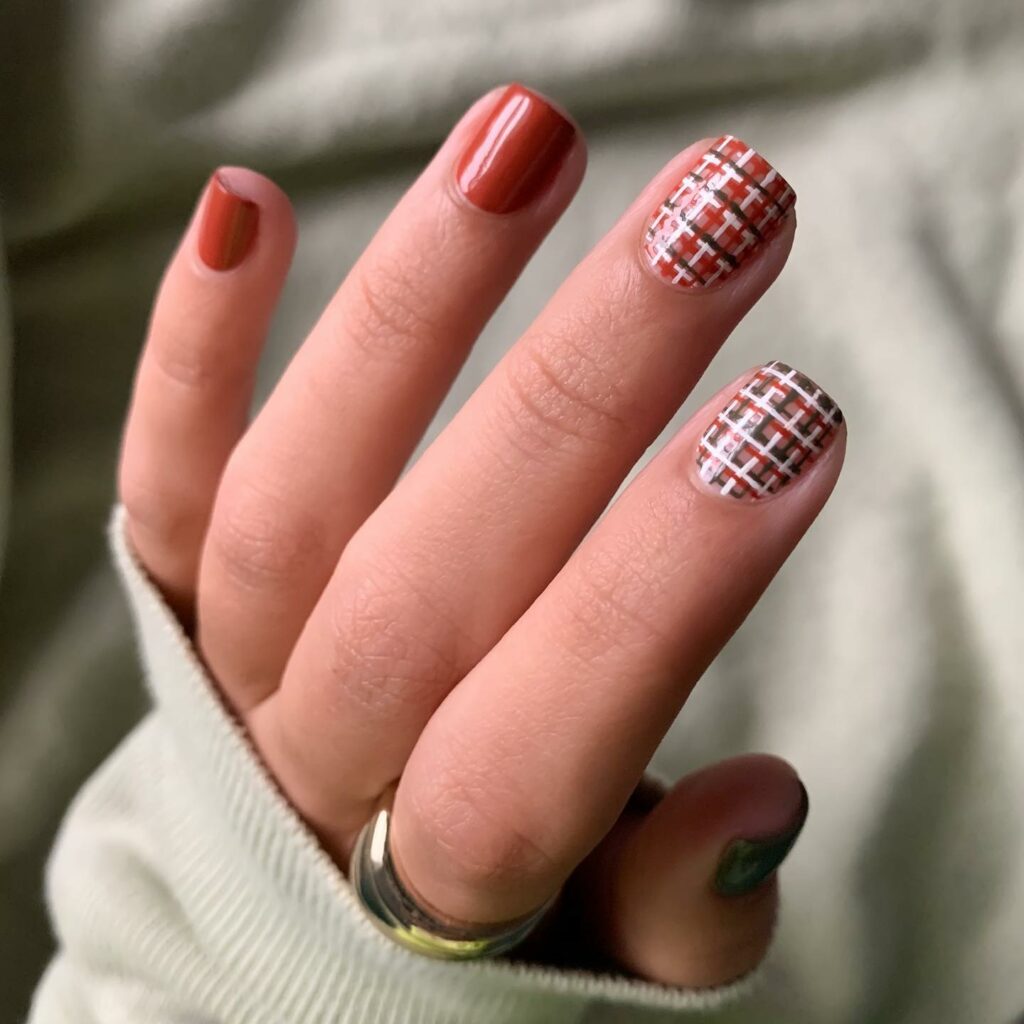 Consider a uniform plaid design if you're looking for something a little understated but still on-trend. Stick to several colors and keep the design consistent across all nails. The simplicity speaks volumes, trust me.
High Fashion Meets Cozy: The Louis Vuitton Print
Is it channeling a bit of luxury? Go for a Louis Vuitton-inspired design in neutral shades. It's like wrapping your nails in a designer sweater! So, which sweater nail vibe are you feeling? Remember, your nails are the ultimate accessory, so don't be afraid to let them shine in all their cozy glory! Happy painting!
In The Pink Of Coziness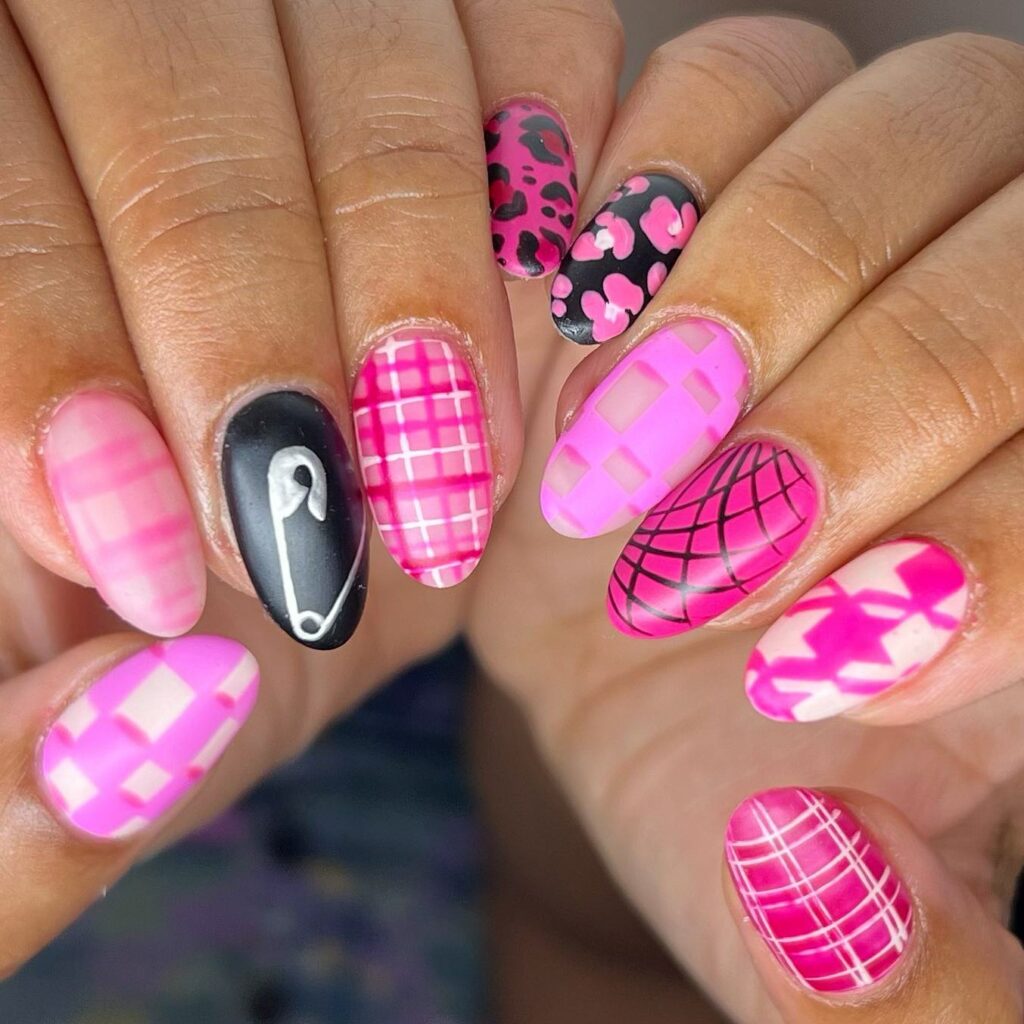 If you know me, you know I can't resist a pink moment. A pink base with plaid designs adds a whimsical touch to your winter outfit. Trust me, you'll feel like you're sipping hot cocoa by the fire, even if you're typing away at your desk.
Nailing The Classic Plaid Vibe
Ah, plaid—always a classic, especially regarding sweater nails. Opt for those eternal shades like red, green, blue, and yellow to create a pattern that's both cozy and chic. I did this look last fall, and let me tell you, it was a total conversation starter at my friend's bonfire night!
7 Tips I Recommend for Creating Textured Nails At Home
Dotting Tool Magic – One of the easiest ways to create texture is with a dotting tool. Dip it into your polish and apply small dots to your nails. You can do this over a base coat or another layer of nail art for added depth.
Sponging – Grab a small piece of sponge, dip it in polish, and dab it lightly onto your nails. This technique is excellent for creating a gradient effect or mimicking the look of a knit sweater.
Sugar Effect – You can sprinkle some nail art powder or plain sugar over wet polish for an excellent, grainy texture. Let it sit briefly, and then seal it with a top coat. It's a super cute look but doesn't last as long as other designs, so it's perfect for a night out!
Layering – Apply one color as your base coat and let it dry. Then, use a different-colored polish and a thin brush to paint stripes, shapes, or patterns. Once everything is dry, finish it with a clear top coat to add depth and protection.
Stamping – Stamping kits come with a metal plate engraved with various designs. You apply polish onto the plate, scrape off the excess, and then press a rubber stamp onto the plate to pick up the design. Press the stamp onto your nail for a textured look. This requires more investment upfront for the tools but offers clean, intricate designs.
3D Accessories – Add small gems, pearls, or tiny bows to your nails for a 3D effect. You'll need a strong adhesive like nail glue to ensure they stay put.
Matte Over Gloss – This is one of my faves! Paint your nails with a glossy polish and let them dry. Then, use a matte top coat to paint over parts of the nail, creating a contrast in textures.
.
Conclusion
So there you have it, from simple and classy to all-out fabulous. If you're new to this cozy trend, don't sweat it; start with a simple plaid or an accent nail to dip your toes—or, should I say, fingertips—into the sweater nail world. Mix and match textures and colors for my daring divas out there for that show-stopping vibe. And let's not forget, you can rock this look any season—yes, even in summer! Trust me, once you try this cozy-chic style, your nails will be the envy of every gathering. So grab your polish and paint because sweater weather just got a lot more stylish!
Feature image Photo By @nailartbyjen on Instagram
Last reviewed and updated on November 22, 2023