Today, we're diving into the world of white coffin nails—a trend that's taken over our Instagram feeds and hearts. This look is for you if you're all about that clean, minimalist vibe but still want to make a statement. I've been rocking this style lately, and let me tell you, it's the epitome of chic without even trying too hard. In this post, we'll go over the must-knows: the products you'll need, the steps to get that perfect coffin shape, and, of course, how to maintain them so they look salon-fresh all the time. Trust me, you won't want to go back once you go to the white coffin. Stick around, and let's get those nails on point!
Metallic White Coffin Nail With Rhinestones
Metallic White Coffin Nails with Rhinestones bring an edgy yet glamorous twist to your look, blending shiny finishes with eye-catching sparkle. It's a futuristic take on classic nail art that will grab attention.
White Ombre Coffin Nail With Gold Glitters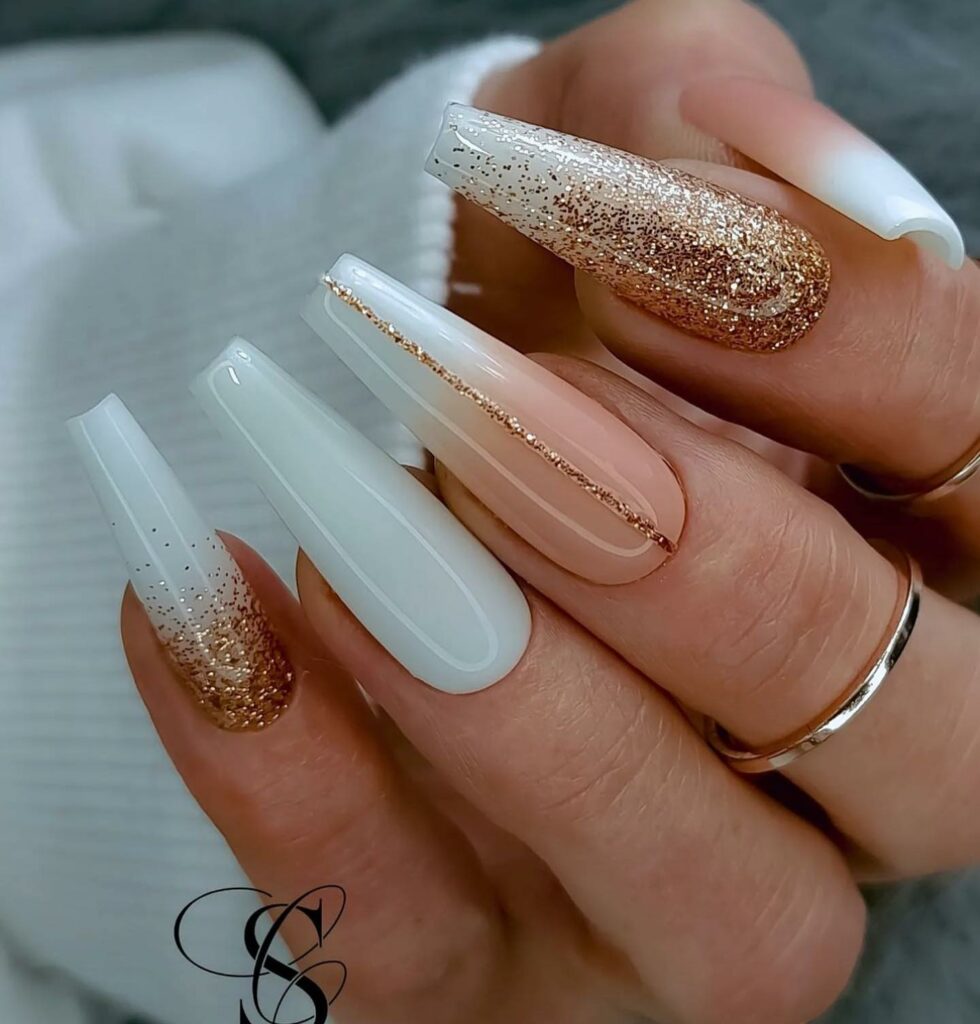 The White Ombre Coffin Nail with Gold Glitters offers a glamorous gradient that transitions from pure white to sparkling gold, marrying elegance with pizzazz. It's a luxe look for anyone wanting to add a splash of luxury to their nail game.
French White Coffin Nail With Butterfly Design
Delicate and whimsical, the French White Coffin Nail with Butterfly Design adds a playful charm to the timeless French tip. It's a sweet and artistic choice for those looking to flutter on the softer side of edgy styles.
Short White Ombre Coffin Nail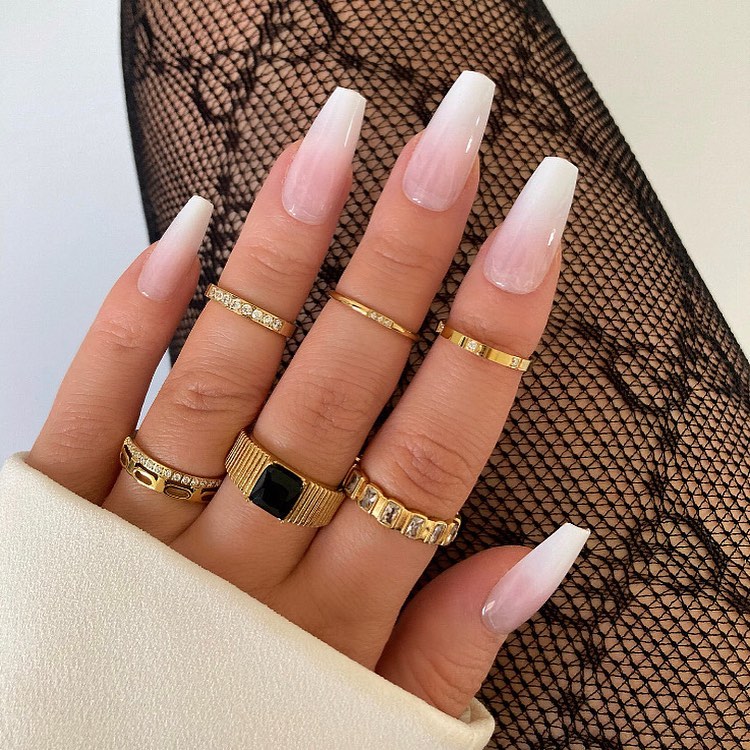 The Short White Ombre Coffin Nail is an on-trend style that gives the nails a modern gradient effect, perfect for those who love a contemporary twist on the classic white. It's a subtle nod to chic without the length, ideal for a more practical lifestyle.
Chrome White Coffin Nail
Chrome White Coffin Nails provide a futuristic mirror-like finish that's sleek and high-gloss, perfect for making a bold, modern statement. This style is for those who love to stand out with a nail look that's as shiny as edgy.
Swirls On A White Coffin Nail
Swirls on a White Coffin Nail add a playful and creative twist, turning a simple manicure into a piece of abstract art. This design is perfect for those who appreciate a minimalist base with a dose of artistic expression.
White Coffin Nails With Silver Foils, Rhinestones And Glitters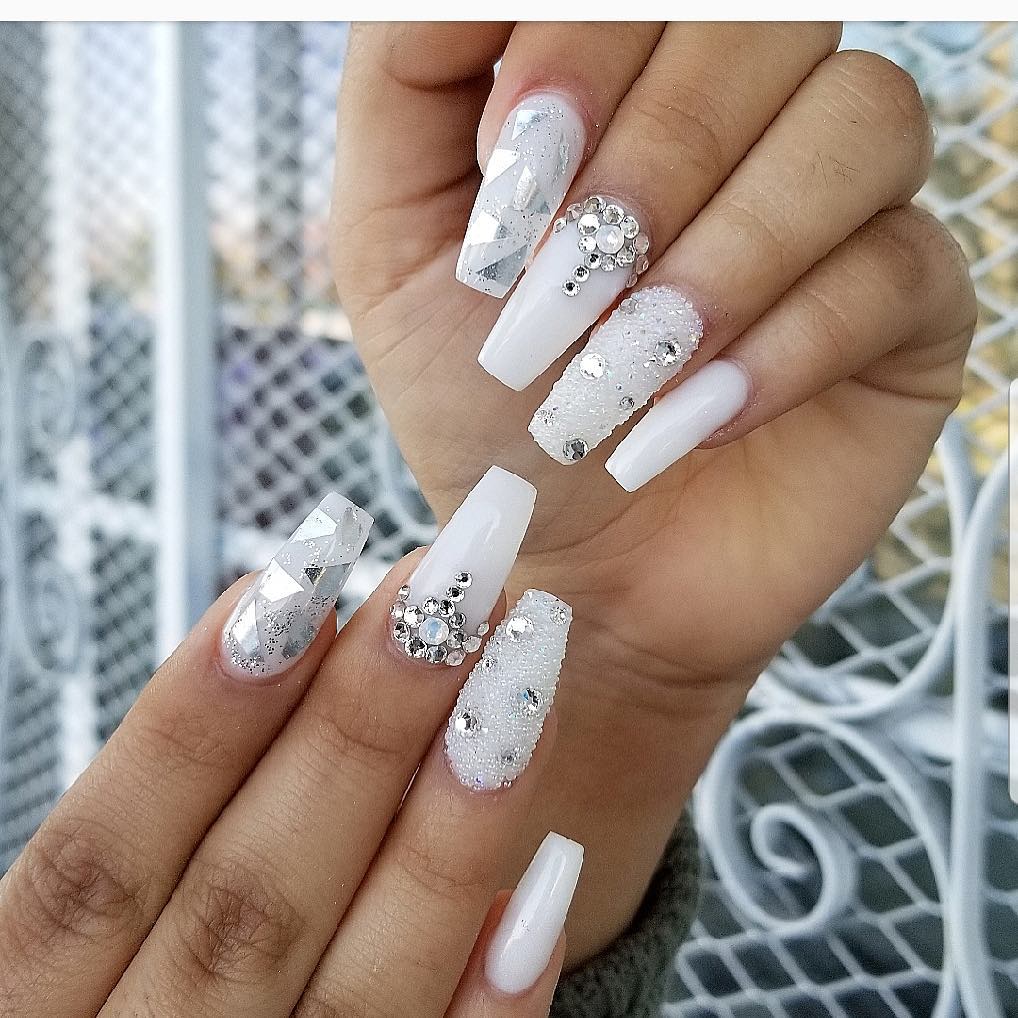 White Coffin Nails become a canvas for extravagance when adorned with silver foils, rhinestones, and glitters, creating a textured and multidimensional look. This nail art is for those who want to sparkle and shine with every gesture.
White Coffin Nail With 3D Flower Design
The White Coffin Nail with 3D Flower Design is a tactile and visually stunning option that brings your manicure to life. It's a romantic and intricate choice perfect for nail enthusiasts looking to showcase artistry at their fingertips.
White Glamour With Glitzy Coffin Nails
Sometimes, less is more. Opt for classic white nails but feature one accent nail with a colorful, sparkly design. Just pick up some colorful rhinestones and let your creativity shine. It's like a little party on your nails!
White Coffin Nails with Hearts
Celebrate love with nails shimmering in white glitter and adorned with heart-shaped designs. It is an expression of romance, perfect for heartfelt occasions.
White Coffin Nails Splashed with Silver Glitter
Elevate your style with white nails artistically splashed with streaks of silver glitter. A dynamic design that adds a touch of luxury to any outfit.
White Coffin Nails With A Touch Of Romance
White coffin nails are already a showstopper, but add a touch of romance with delicate pink accents or tiny heart designs, and you're onto something truly dreamy. It's the perfect nail art for date night, a wedding, or whenever you're in the mood to channel your inner romantic goddess.
Keep It Chic – High Gloss White Coffin Nails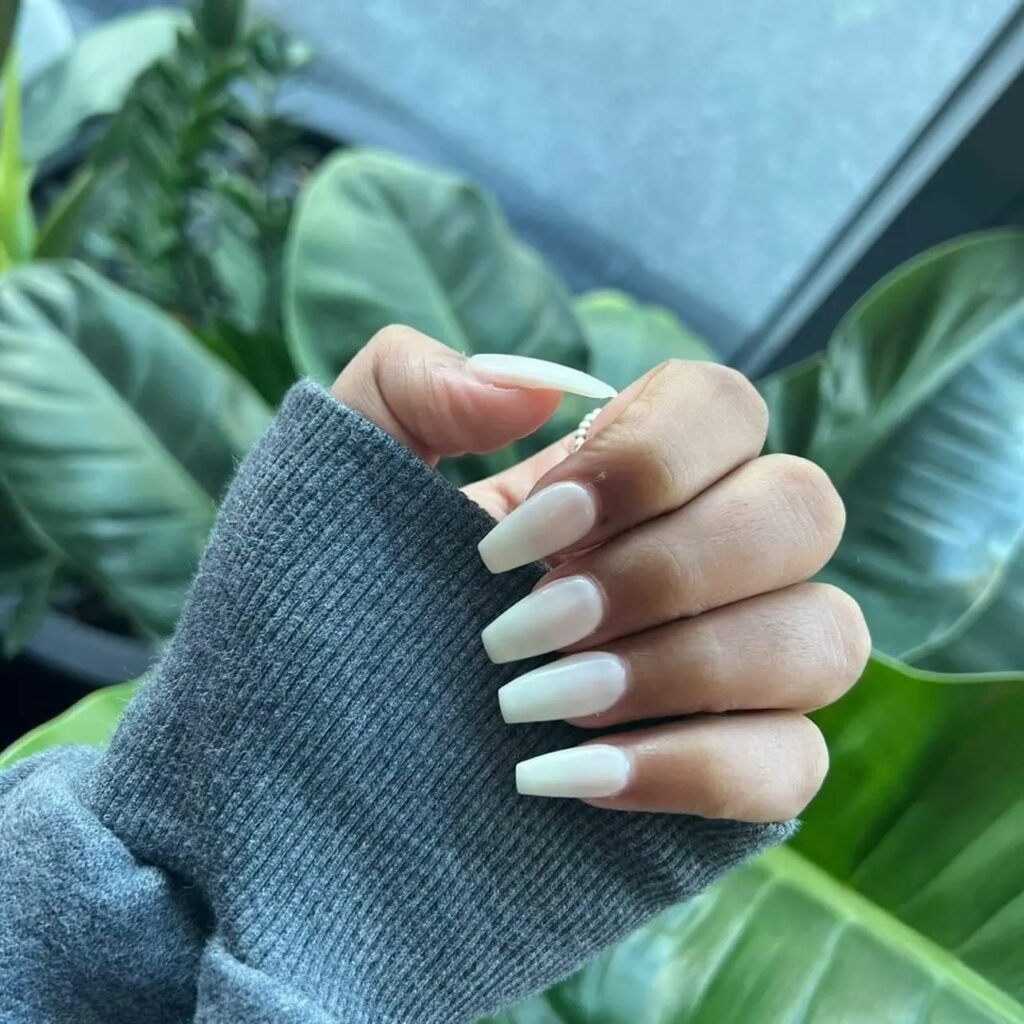 High-gloss white coffin nails are the epitome of sleek sophistication. The lustrous finish not only catches the eye but also adds a layer of refinement that's perfect for formal events or making a statement in your everyday style.
Matte Nude Coffin Nails: The Showstopper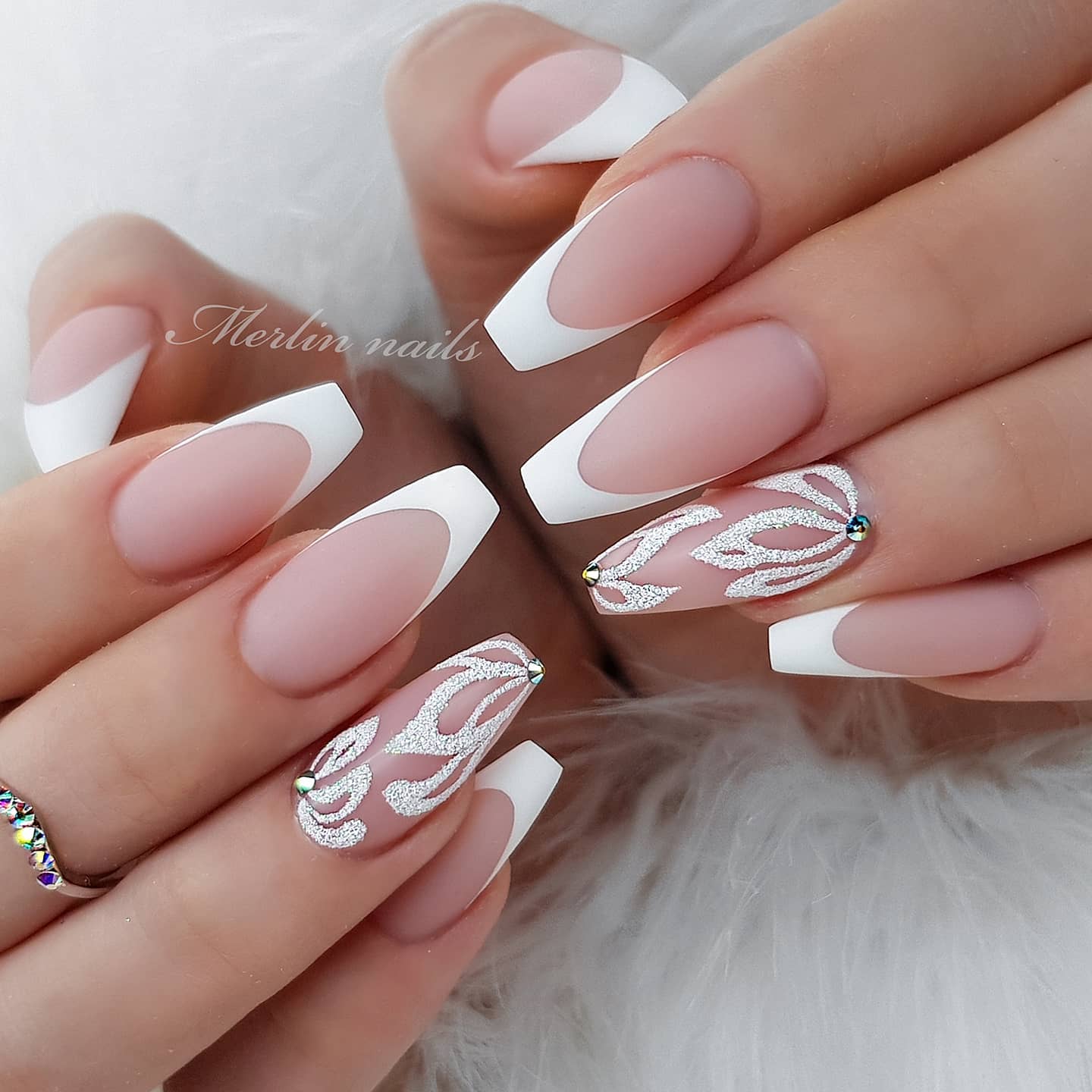 The matte finish adds a luxurious feel to these coffin-shaped nails, and the unique white tip outline is a game changer. The curve begins further down, giving an optical illusion of elongated nails.
Sparkle It Up With Rhinestones on Your Coffin Nails
Who said simple can't be show-stopping? Add a sparkling rhinestone to each white nail, and boom—you've got a look that's both elegant and glamorous. I've got a drawer full of different rhinestones, and sticking them on with a dab of nail glue makes for a super fun DIY project. These gems elevate your look in seconds!
Cable Knit White Coffin Nails
Cable knit white coffin nails bring cozy, sweater weather vibes right to your fingertips. This textured nail art design is not only visually interesting but also a fun and unique way to add some seasonal flair to your winter look.
Ombre Coffin Matte White Nails
Sometimes, less is more. An ombre matte finish on coffin nails can offer a modern twist to the classic French mani. This style has been my lifesaver for last-minute events.
White V-Tips: A Trendy Take On The French Mani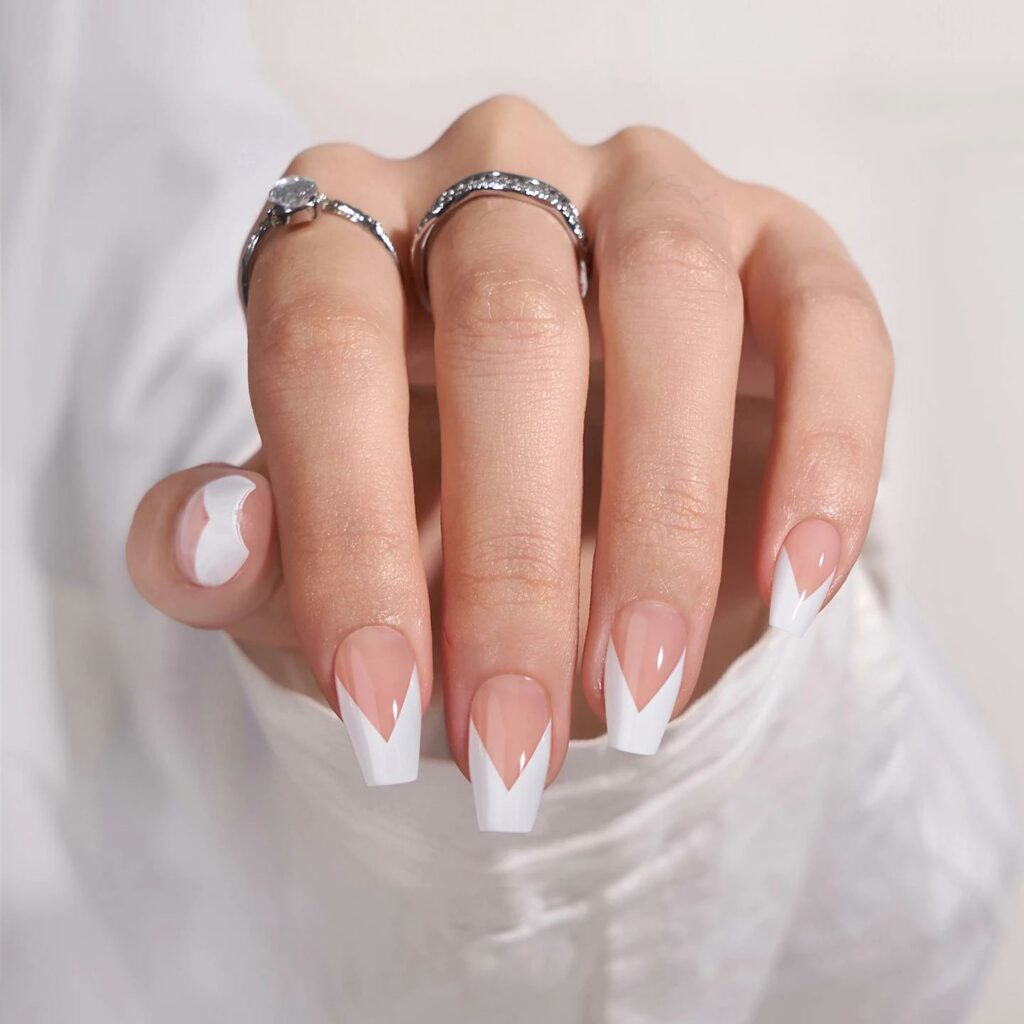 If you're into nude nails but want a trendy spin, try white V-tips. It's a modern, angular take on the classic French manicure that's easy to DIY with a bit of nail tape. If you're new to this, plenty of tutorials guide you through it.
Glass Chic: White and Clear Coffin Nails
Embrace the ethereal look with a mix of white and clear nails featuring pink nail art and a shattered glass design. It's whimsical, unique, and perfect for special occasions where you want to make a subtle yet unforgettable statement.
Elegant V Tip Coffin Nails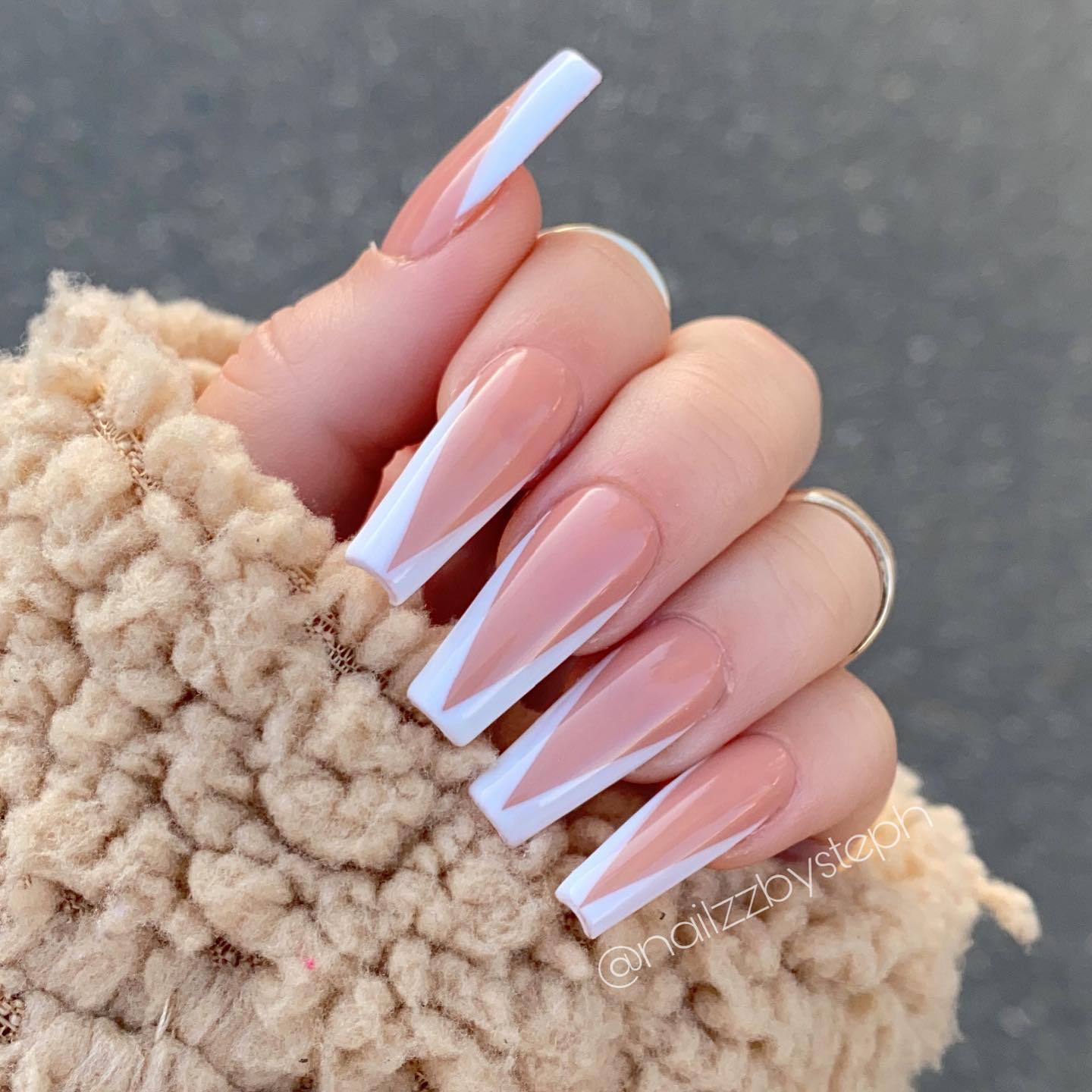 These nails are glossy and nude with a striking white V-tip. They're timeless but with a contemp
Mix It Up: Trendy White Designs
Ready to take it up a notch? Mix and match various designs—geometric patterns, crystals, you name it—on each nail. Not only does it tick all the style boxes, it also gives you that 'fresh off the runway' vibe. If you're hesitant to go full-on with all the designs, try just one or two. My personal fave? White with a dash of silver geometry.
3D Floral Fantasy White Coffin Nails
Planning a summer wedding or feel like blossoming? Integrate some 3D flowers on a white base. The effect is just divine! I had these done last spring and honestly felt like a garden goddess.
Subtle Matte White Ombre Nails
Subtle matte white ombre nails are a fresh twist on the classic French manicure, offering a soft transition that's as understated as it is elegant. This muted matte finish is perfect for those looking for a touch of glam that's versatile enough for both casual hangouts and upscale events.
Bedazzle it: Rose Gold And White Coffin Nails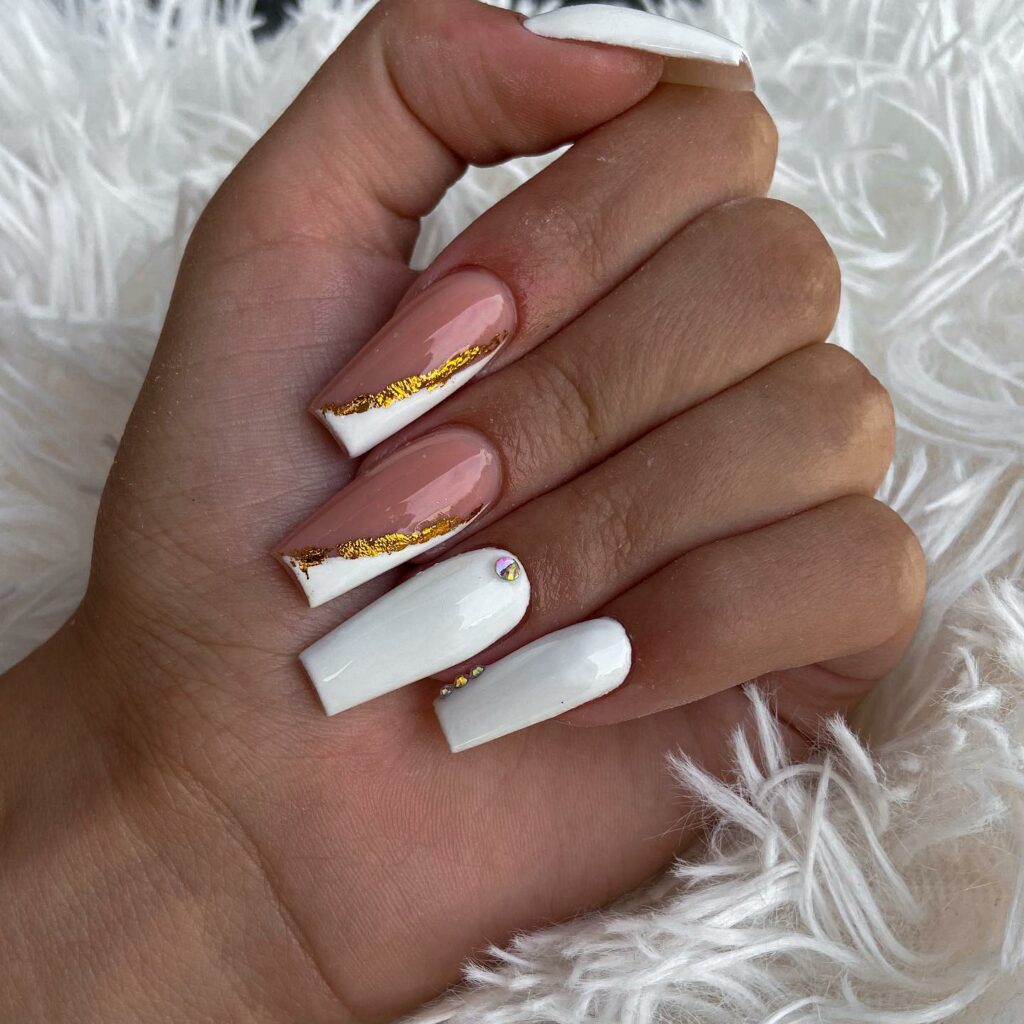 I adore this one! It's white, light pink, and rose gold chrome with some bling-bling. It's got the glam, the sass, and all the sparkle you'll ever need.
Glitter Galore
White glitter ombre nails bring a sprinkle of sparkle to your fingertips, making every gesture feel like a mini-celebration. Whether you're headed to a festive party or just want to brighten up your everyday look, this glitzy gradient is a surefire way to turn heads.
Marble Magic White Coffin Nails
Blocking white with soft gray or other pastel shades creates a stunning marble effect. Marble nails are sophisticated and perfect for both casual and formal occasions.
Tribal Vibes
Get inspired by tribal or Aztec patterns and paint intricate black or colorful tribal designs over a white base. This design exudes a bold and artistic vibe.
Elegance With A Sprinkle of Glam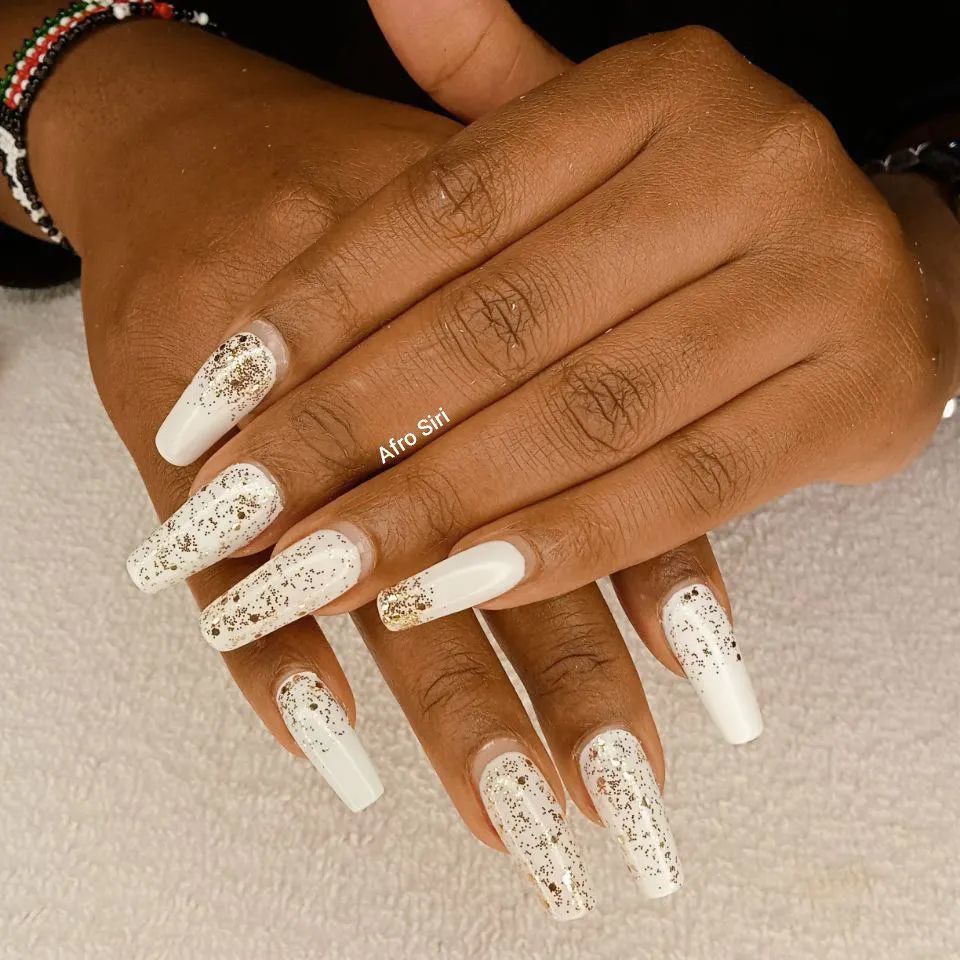 Elegance meets a pop of pizazz in this design featuring a French ombre accented with a stripe of gold glitter. I found a super-easy tutorial online for the ombre effect and added my twist with a gold stripe. Result? Absolute magic.
Glitter All the Way: Silver Sparkle & White Marble
For my glitter queens, this one's a showstopper. Imagine nails dipped in silver glitter paired with white marble accents. Perfect for that upcoming soirée or, you know, a Tuesday. If silver's not your jam, try gold; both will turn heads!
Crystal Clear: Modernity Meets Glam
Two clear nails, three white ones, and a dash of gold sparkle outlining the clear—what's not to love? This design is for anyone who likes to keep things classy but still make a statement. I've been rocking this look for weeks, and the compliments don't stop!
The All-Rounder: Ombre, White Tips & Rhinestones
Need help deciding on one design? Go for a mix of ombre, all-white, v-tips, and—why not—rhinestones! I did this look for a wedding last month, and let's say my nails were almost as talked about as the bride (kidding, but close).
Ethereal Beauty: White Marble & Gold Foil
Picture this: nude nails fading into translucent white marble, sprinkled with gold foil and tiny stars. Chef's kiss, am I proper? I recommend doing this for special occasions where you want to be the epitome of luxe.
Keep It Simple, Make It Chic: Short Coffin & Silver Stripes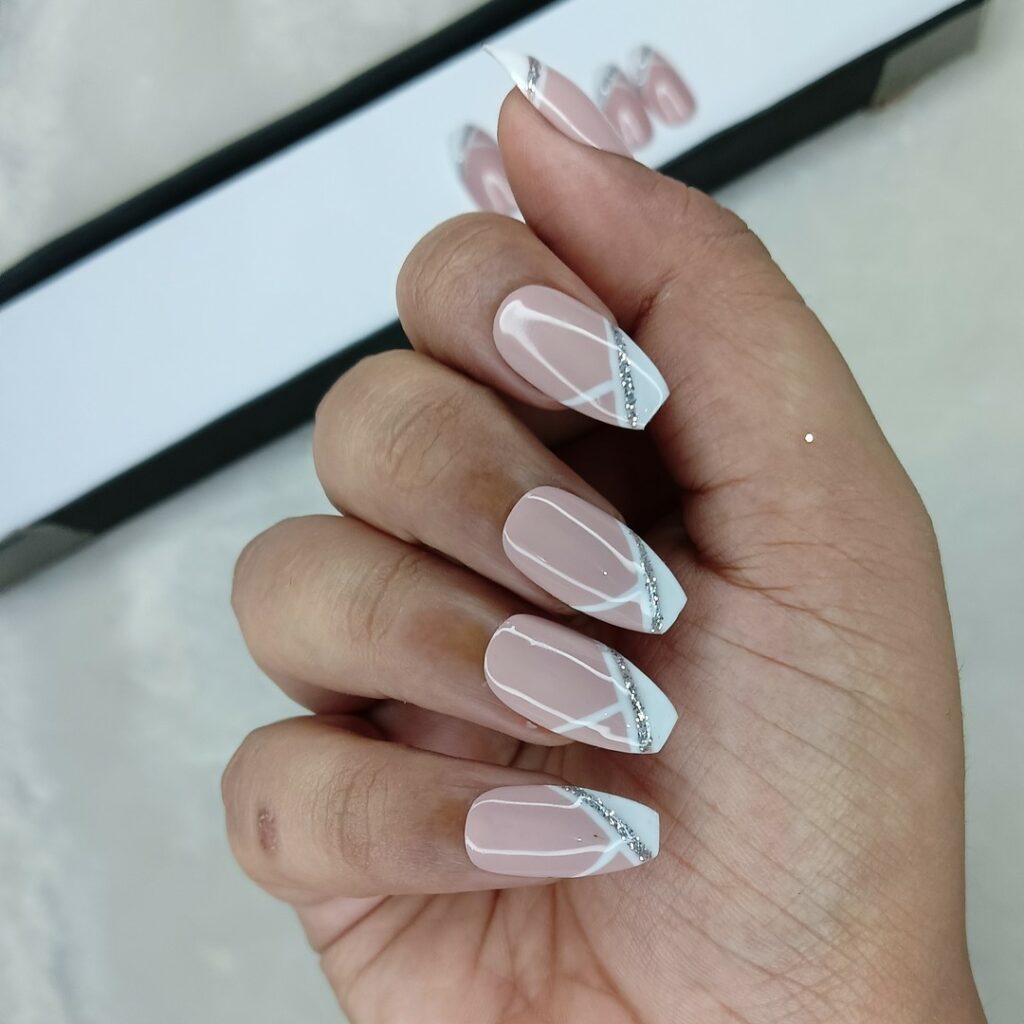 Short nails can make a statement, too, ya know! Add silver stripes to white and nude coffin nails. Use nail tape to make the process a breeze, and you'll be Instagram-ready in no time.
Keeping It Trendy: Chrome Effect
White and chrome together give off a futuristic elegance. It's like your nails say, "Yes, I am this fabulous in 2023, too!" And guess what? Adding some colorful rhinestones doesn't hurt, either.
Triangles On White
Want to keep it neat but still make a statement? Try white nails with triangle decals. Last Christmas, I got many of these cute little nail decorations, and they've been a game-changer.
Pink Glitter Ombre: The Fun Twist
For those days when you want to inject some color, try adding a pink glitter ombre to your white nails. It's fun, it's flirty, and it's fabulous! I tried this last spring, and it was an instant mood lifter. Don't hesitate to play with other glitter colors; they all work great with a white base.
Elegance In Detail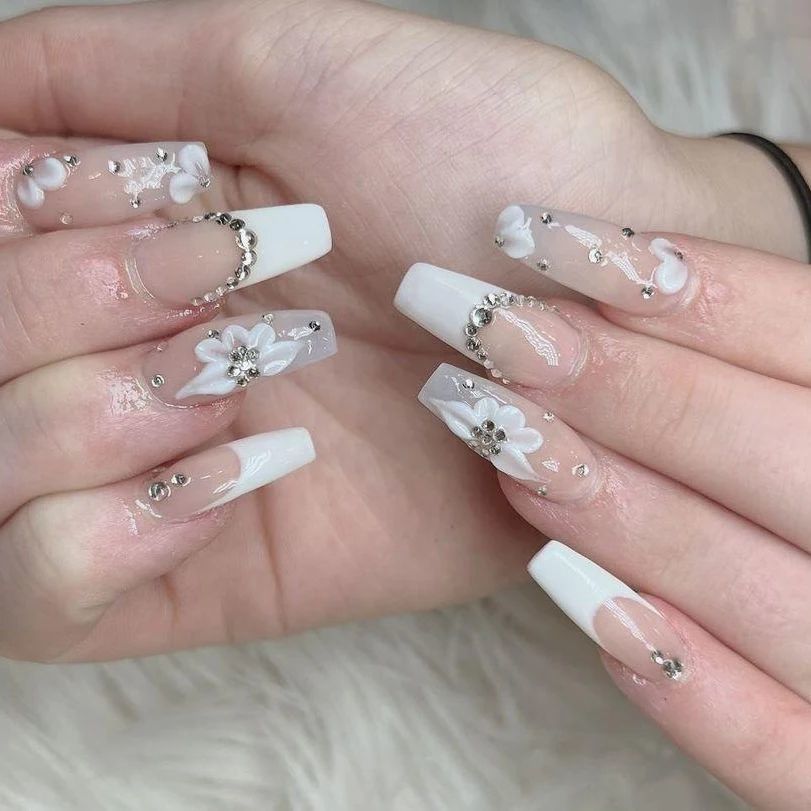 Listen up if you're the type to go big or go home. Adorn your white coffin nails with a medley of 3D flowers, rhinestones, and even silver glitter. I rocked this design last New Year's Eve, and let me tell you, the compliments were endless. You can go all out or tone it down by picking just one or two designs—either way, it's a jaw-dropper.
Modern French: Chic White Tips
For a modern twist on the classic French mani, try going for glossy nude nails with large white tips. It's a simple yet edgy take, perfect for those who like to stick to classics but with a twist. It's so simple yet so impactful. Whether you go long or short, this style is a head-turner.
Holiday Vibes: White And Gold
Holidays around the corner? Amp your white coffin nails with gold glitter on accent nails. It screams holiday spirit and oozes luxury. This is my go-to look for any holiday party, and it pairs fabulously with a glass of champagne!
Glam Galore: Glitzy And Trendy
Let's talk high fashion, but make it accessible. Combine white polish with trends like chrome, glitter, and rhinestones for a glam overload. It's a power move for your nails and adds drama to any outfit. Perfect for when you're feeling extra fabulous!
Understated Glam: Matte White with Gold Studs
If you're all about the matte trend, here's a style you'll love. Paint your nails in matte white and accentuate with some golden studs. It's a minimalist design but screams sophistication. It's the kind of look that says, "I'm effortlessly chic," and who doesn't want that?
Bedazzled Beauty: All About Those Gems
Feeling opulent? Decorate each white nail with an array of glitzy gold rhinestones. This design is not for the faint of heart—it's for when you want to be the center of attention in the best way possible. Perfect for milestone celebrations or whenever you want to feel like a queen.
Luxurious in Gold: Chrome Nail Art
Channel your inner goddess with a mix of white and gold nails, some even featuring intricate gold designs. It's the epitome of luxury and works well for any occasion that calls for a touch of elegance. Seriously, prepare for some envious glances.
The Bling-Bling Mix: Gold Foils and Rhinestones
You know those days when you can't decide between a bit of bling or a shimmer of gold? Well, why choose? I recently tried combining rhinestones with gold foils, and let me tell you, the compliments wouldn't stop. It's like partying with a disco ball at your fingertips. It's definitely a go-to for indecisive souls like me!
All Eyes On You: Mani and Pedi Combo
Coffin nails paired with a unique clear accent nail will definitely have people talking—in a good way! This design is so avant-garde yet universally flattering.
Sequin Ombre for That Special Occasion
Whether it's prom, a wedding, or just a Saturday when you're feeling fabulous, white nails topped off with pink sequins are a win-win. The ombre effect here is just the cherry on top.
Let's Be Clear: Glitter and Transparency
This one's a personal favorite. I love the juxtaposition of clear nails filled with glitter next to the clean white ones. So fresh and summery!
Floral Ombre Elegance
A French ombre background with white 3D flowers is something straight out of a bridal magazine. It's that perfect blend of delicate and dazzling.
Soft and Subtle: Off-White Ombre
You may be into the softer shades. A white-to-nude ombre could be your cup of tea. I tried this with a single rhinestone-accented nail and fell in love.
A Heartful Of Sparkles
Bring out the playful you with heart sequins mixed with ombre and sparkle. Perfect for Valentine's Day or any day you want to feel extra loved.
The Silver Lining: White With Metallic Foils
The mixed metal look is all the rage. Just alternate between white and silver, or throw in a clear nail adorned with gold and silver foils. It's an authentic metallic fiesta!
Shimmer All Night Long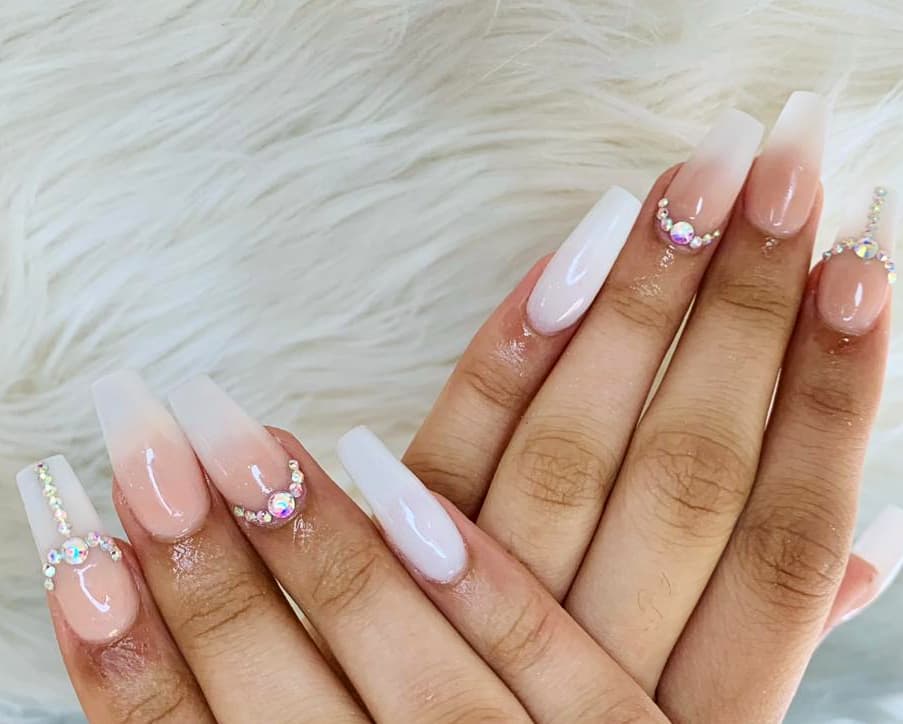 White ombre, but make it shimmery. That's right! For those evenings when you're out and about, this style gives an extra oomph to your look.
A Splash of Color: White and Pink Nail Art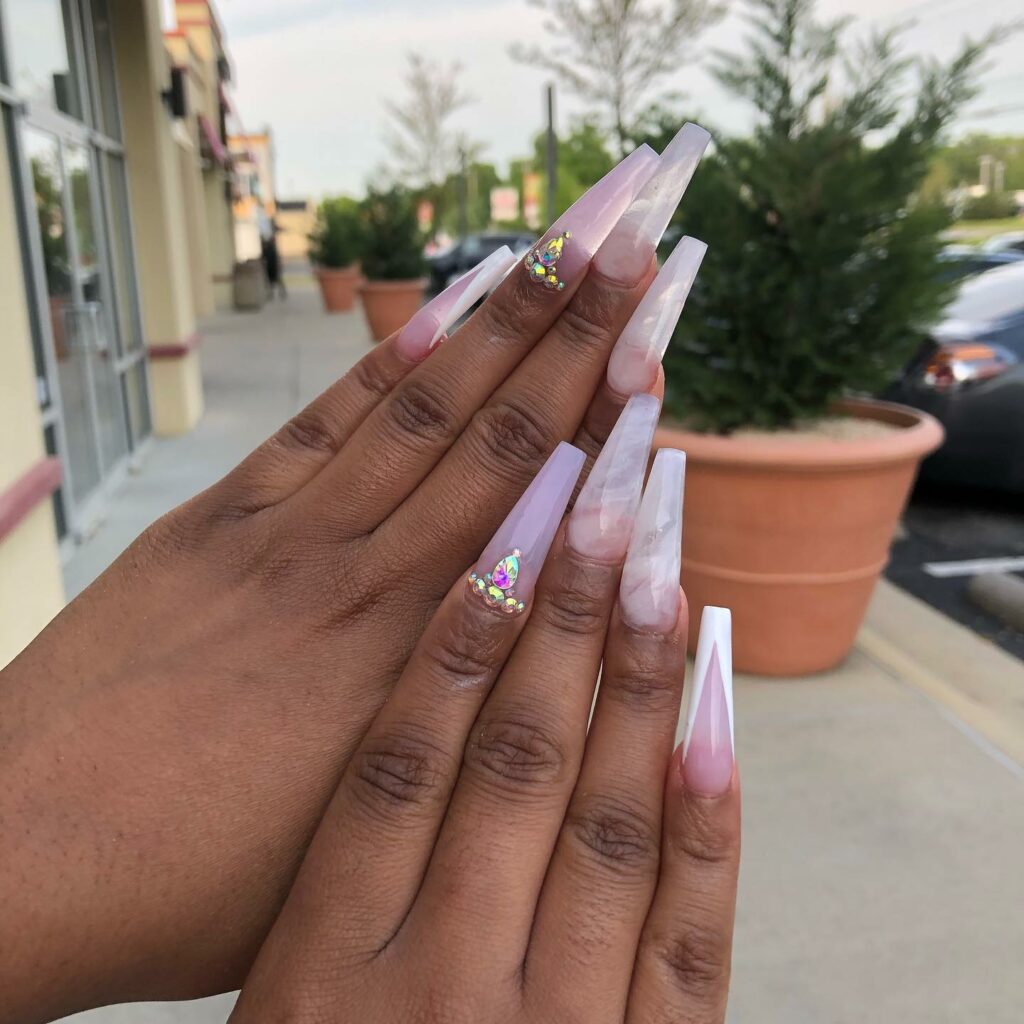 If bold is your middle name, splatter some vivid pink on a white base. It gives this artsy, youthful vibe that's perfect for summer.
Mix It Up With Nude And White Tips Plus Rhinestones.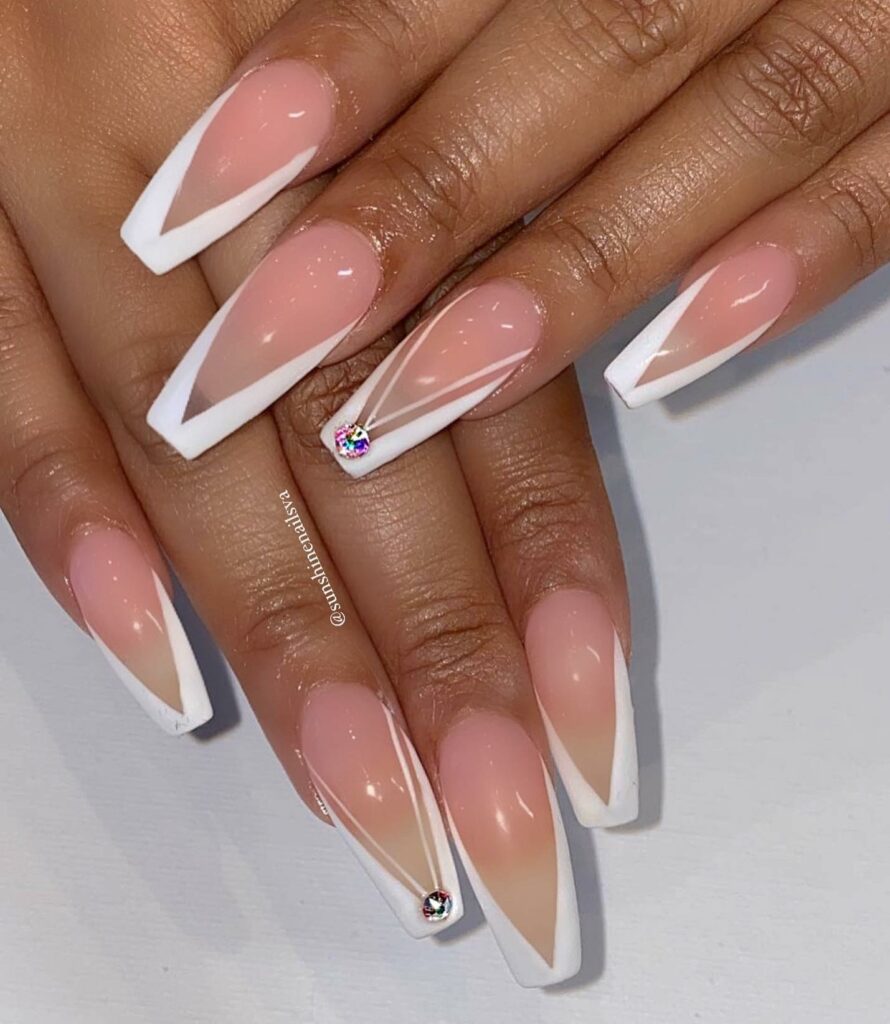 First, talk about my ultimate fave: nude nails with white tips and a sprinkle of rhinestones. Picture this: most nails are coffin-shaped, but wait for it… the pinky is a stiletto! I've tried this one, and let me tell you, it's a whole vibe. You can even switch it up with all-white nails if you feel bold.
Golden Hour: White & Gold Vibes
Summer's calling and these nails are answering! Think long, coffin-shaped nails—three in white, two in mesmerizing gold. I've used Sally Hansen's "Go for Gold" polish, and it's a game-changer. Don't forget those rhinestones for that extra oomph!
Flower Power: Floral With A Side Of Sparkle
Perfect for summer garden parties or a romantic dinner. These nails have a bit of everything—solid white, French ombre, and glitter. Leave your thumb for any design you like, and you're golden!
Glam to the Max: White & Gold Glitter Extravaganza
This one's for when you're feeling extra. Mostly gold glitter with one white nail on each hand. If you're going to go glam, go all out, right?
Subtle & Chic: Nude & White Corner Art
If you want something understated yet trendy, wear nude nails with white corner designs. This look has been my go-to for business meetings. Use stencils or nail tape to get those crisp lines.
Metallic Ombre: Chrome It Up!
Fancy some chrome? These ombre nails bring all the drama. If chrome isn't your thing, you can opt for matte or glossy finishes.
The Holo Experience: Iridescent Shimmer
For the indecisive ones, why not opt for a holographic shimmer? It's not too overpowering but adds that extra flair. Trust me, your nails will be the life of the party!
Simply Classic: All White, All Right
Last but not least, sometimes a plain white mani is all you need. It's like the little black dress of nails—elegant, timeless, and goes with everything.
10 Products You Need To Achieve The White Coffin Nail Look
Nail File and Buffer: For shaping those nails into the perfect coffin shape.
Cuticle Oil and Pusher: To clean up the nail beds and make 'em all pretty.
Base Coat: Essential for protecting your natural nails and ensuring a smooth canvas.
Color & Design
White Nail Polish: This is the star of the show! A gel formula is great for long-lasting wear.
Rhinestones/Glitter/Foil: To add that extra pizzazz. Choose flat-back rhinestones for a more straightforward application.
Accent Colors: Gold or silver nail polish for those fun accent nails or even ombre effects.
Application Tools
Fine-tip Brushes or Dotting Tools: For any intricate designs or applying small details like rhinestones.
Nail Tape: Perfect for creating sharp lines or patterns.
Nail Glue: To secure any 3D elements like rhinestones securely.
Top It Off
Top Coat: A must-have to seal in your design and add that glossy (or matte, if you prefer) finish.
And there you have it! With these items, you're all set to create jaw-dropping, insta-worthy white coffin nails. Have fun, experiment, and remember to share your fab results!
6 Simple Tips To Maintain White Coffin Nails
Protection is Key – Wear Gloves: Whether doing the dishes or diving into a garden makeover, rubber gloves are your new best friend. They help to protect your nails from water and dirt, which can lead to chipping or peeling.
Keep 'em Hydrated – Cuticle Oil: Dabbing a little cuticle oil around the nail beds moisturizes your cuticles and nails. This can prevent any lifting or chipping.
Don't Skip the Top Coat – Regular Top-Up: Apply a clear top coat every 2-3 days. This adds an extra layer of protection and keeps your nails looking shiny and new.
Mindful Maintenance – Be Gentle: Opening soda cans or peeling off stickers are no-go activities. Always use a tool or ask for help to prevent chipping or breaking. Avoid Direct Contact: Be mindful of activities that have direct nail contact with surfaces, like typing. The less force you apply, the longer your nails will last!
Quick Fixes – Minor Touch-Ups: Keep your white nail polish and a fine brush handy for minor touch-ups. A small chip can easily be corrected if you act quickly. Seal the Edges: Every time you add a top coat, make sure to "seal" the free edge of your nails. This prevents water from getting under the polish, which can lead to lifting.
Regular Checks – Nail Health: Look out for lifting, breakage, or any signs of infection. The sooner you address any issues, the better.
And there you have it! Follow these steps, and your gorgeous white coffin nails will thank you by looking fab for weeks. After all, what's the point of nailing that jaw-dropping look if it doesn't last, right? Happy pampering!
Still Looking for Inspiration, Then Check Out This Video
Conclusion
Alright, my lovelies, that wraps up our nail-inspirational journey for today! White coffin nails are like a blank canvas—there's so much you can do, from glitz and glam to subtle and chic. My biggest tip? Don't be afraid to mix it up! Rhinestones, glitter, or even a dash of ombre can elevate your mani game to Insta-worthy levels. And hey, if you're a DIY queen like me, a good set of nail tapes and a quality topcoat are your best friends. Trust me, you'll be waving those fabulous nails around like you don't care! Until next time, keep slaying, and remember: life's too short for dull nails.
Feature Image Photo By @luxxinails via instagram
Last reviewed and updated on November 8, 2023