Are you in search of Akali tattoos to do justice to your League of Legends fancy? Well, we got you covered with some of the best pieces to get started with!
Akali has gained immense popularity among anime nerds who are all over League of Legends.
This rogue assassin naturally has gained the favour of cosplay artists with a new style coming up every day on the rift. It would be such a loss if the artistry would end there, and hence tattoo artists over the world are bent on etching Akali forever!
LoL Akali is a lone ninja warrior with uber-stealthy skills and a personality that charms every League of Legends player. Akali ventures solo after abandoning her tribe and the Kinkou Order and has sworn to protect her people even if it takes her to fight thousands of enemies. Respectful of her former master Shen, Akali carries forward all she had imbibed during the learning process and puts into action her skills. There has often been a much-quoted excerpt from Riot games that says "fear the assassin with no master," alluding to Akali's fighting style. Having such an admired character tattooed is on every gamer's wish list and to help you with the process, the following are some of the trending designs that we could get our hands on!
Realistic Akali Tattoo
You would see Akali in various shades and styles floating around on the internet but these tattoos are something to consider if you want to capture the character in action. The artist here attempts to project the front-facing view of Akali with her kunai in one hand and a sword on the other. The use of green is quintessential to the assassin's being and the artist clubs her true essence coupled with grey.
Intricate Akali Tattoo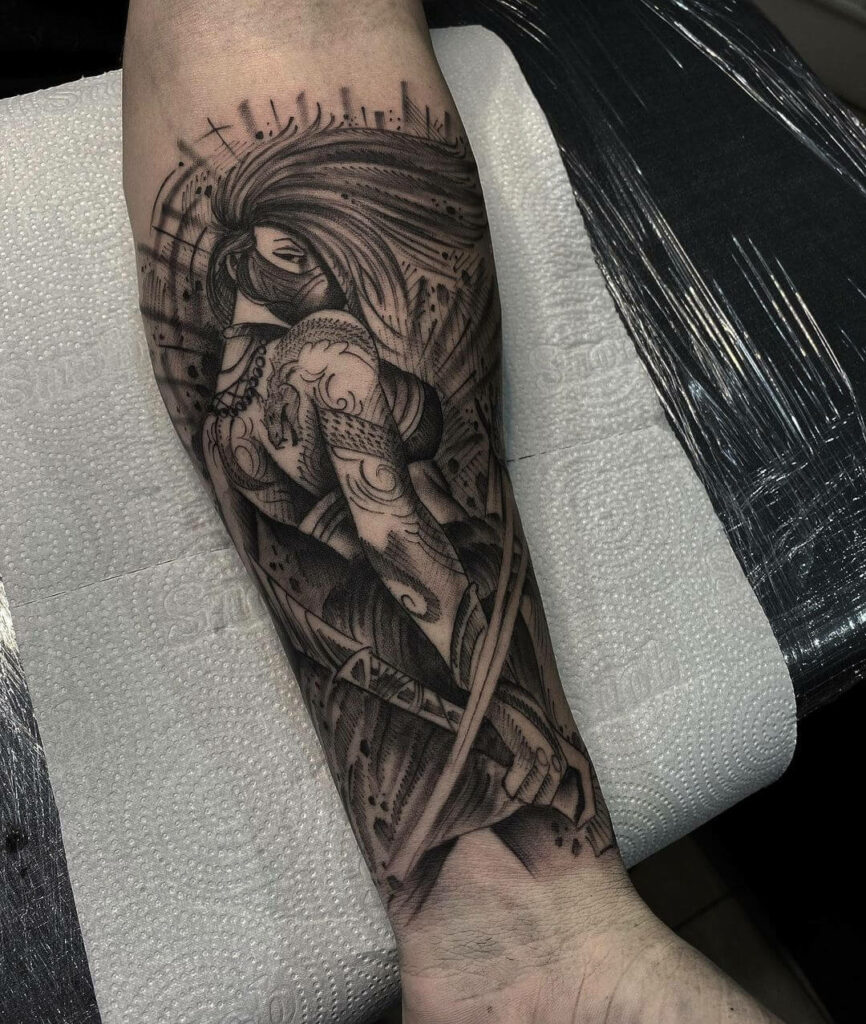 If you want to level up your video game tattoos, try a monochromatic theme that will pose to separate you from the crowd of various designs. This artwork adheres to Akali's stature in the video game and is akin to a majority of the drawings that you may find online. However, the charm of this piece lies in the background that shows the after-effects of Akali's explosive smoke bomb. These weapons grant her the liberty of moving silently and attacking her enemies without much hassle.
Akali Tattoo In Red
Featuring the blood moon skin of Akali, this tattoo digs at the more beautiful side of the assassin. Fans absolutely love this skin as it adds to the more feminine features of her face and long black hair. The bright red runs parallel to the original skin in the video game and would definitely be one of the things that you don't want to miss out on. However, these enigmatic artworks come at a higher price than the average, so be ready to shower some more on the way to add these hyperrealistic pieces.
Blood Moon Akali Tattoo
You can also update the blood moon skin according to your preferences and creativity. For instance, the artist completely eliminates colour and the striking black hair and instead applies a more sketchy approach to this drawing. With her dishevelled hair and stern gaze, the artist channels the graceful skin through the filters of a true warrior. This design till Akali's neck is fitted for an arm tattoo if you haven't thought of any yet, but you are always welcome to capture her full body to make an intimidating piece come to life.
Ghastly Akali Tattoo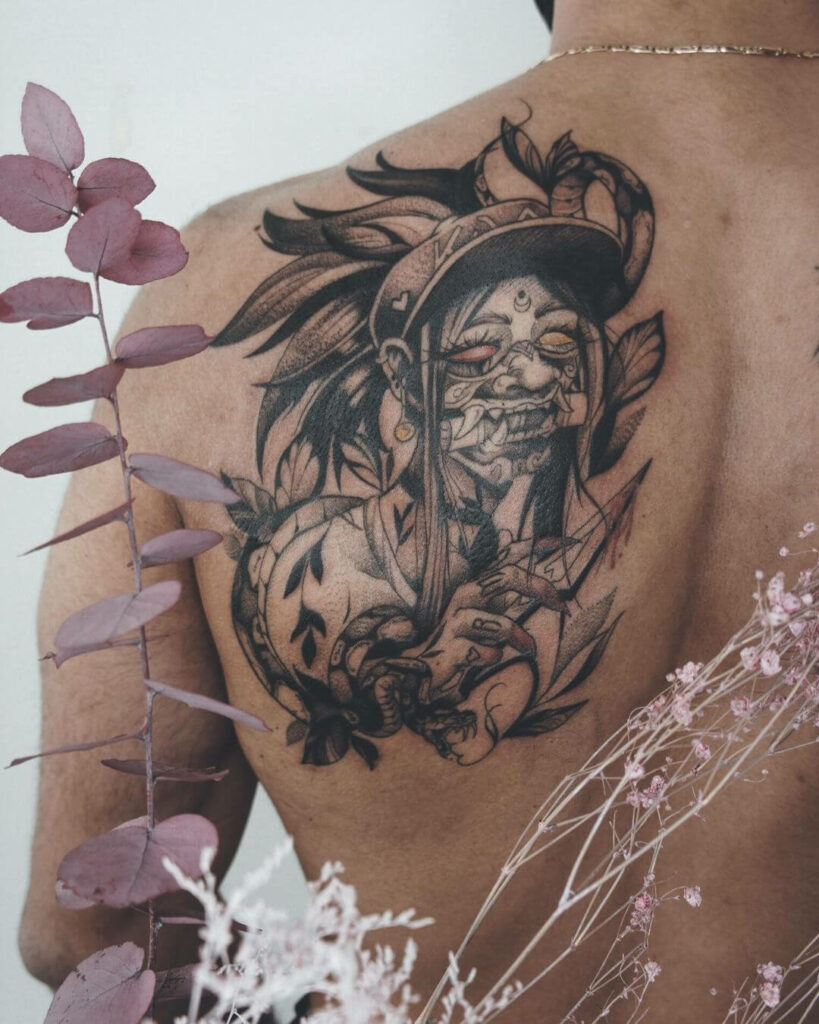 Barging the creative doors open, the tattoo artist amalgamates a number of tropes to create an off-beat account of Akali that would leave you gawking at it. This magnificent Akali in black and grey and heavy details is a cool piece of art mixing some out-of-the-world demonic elements with the beloved anime character. You can place this tattoo anywhere you like and this project is guaranteed to make a statement.
Akali Neon Tattoo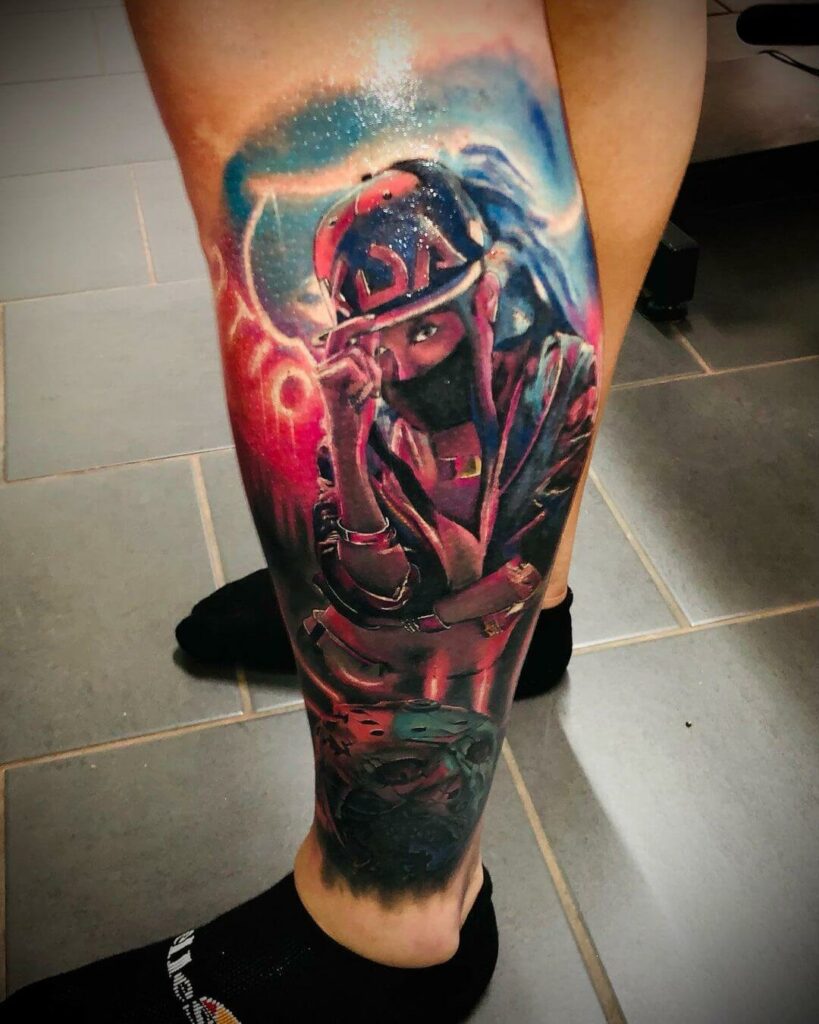 The artist here brings your love for Akali to a more fun and hip-hop environment for you to experience the best of both worlds. In K/DA, Akali is made the rapper of the team, a role that none of us thought had power over. This is a great way to escape the rift and reimagine Akali in funky shoes and a whole different mood. Site this artwork on your limbs and sign up for a great deal of appreciation coming your way.
Cool Akali Tattoo Design In Black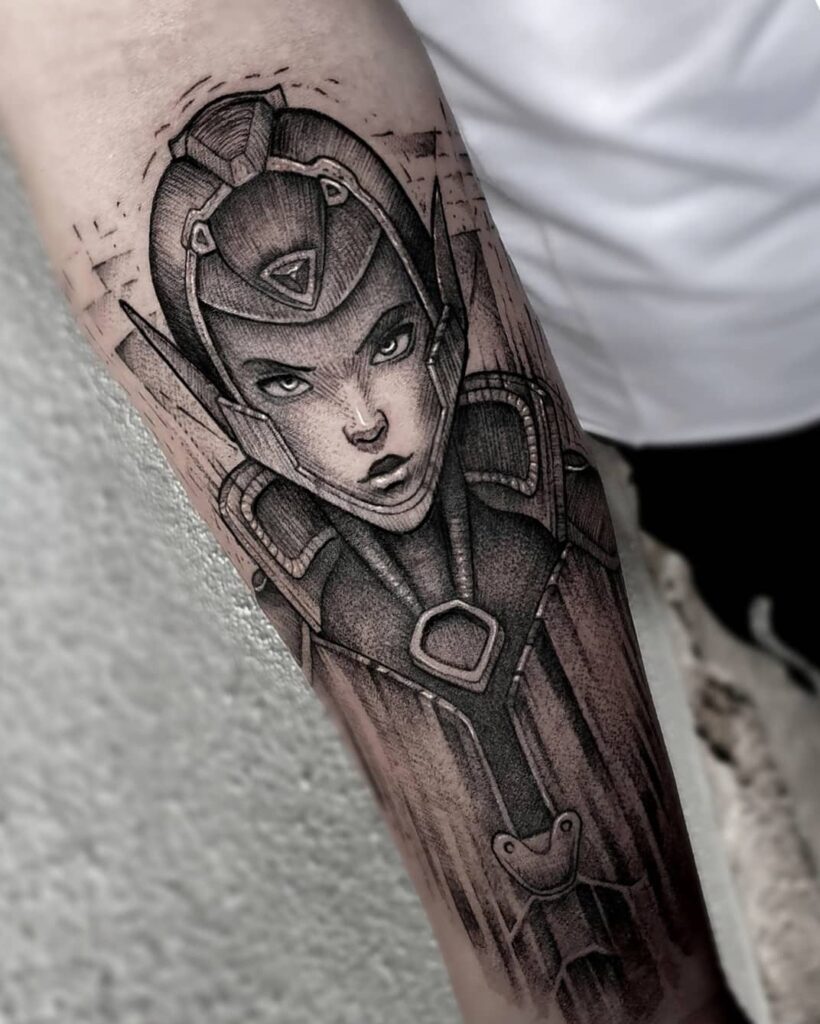 Armoured in a grey suit, this artist gives us a sense of Akali's power even without having to present her in a direct reference. The balance between neat outlines and heavy details with shading is gonna make you go for the design in a heartbeat. Bring your love for the video game to body art and get this wallpaper-sized sleeve tattoo in its full integrity.
Akali Tattoo With Kanji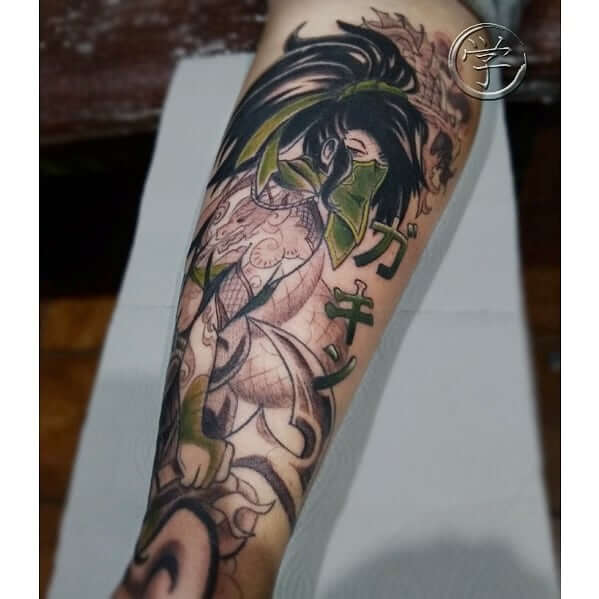 Pick the side-profile Akali reference from any trending internet wallpaper but make the piece of art yours by adding cultural additions, for instance, the Japanese system of lettering. A significant addition will seamlessly include layers of symbolism and details without you having to brainstorm over the video game. Although, try to stick to the generic image of Akali while adding any tropes to your tattoo design. This would enable to draw focus rather than distract the viewer.
Akali Kunai Tattoo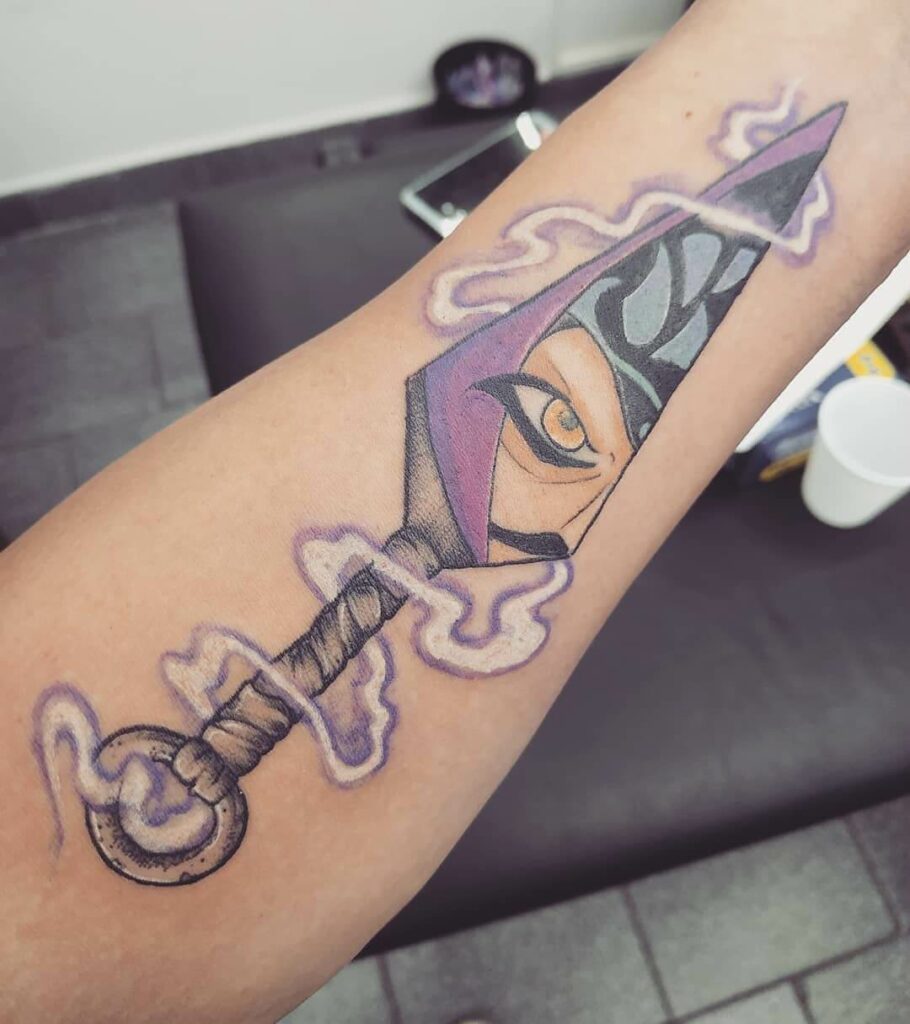 A kunai knife is a weapon causing true damage when attacked correctly. Akali is known for her skilled delivery of kunais in a conical shape, focused on the target of choice. This technique enables her to slow her target down and buy her some time for her actions. Thus, the kunai is primal to Akali's being and credits her stealthy movements in the rift. Here the artist portrays Akali on the surface of a kunai to equate her dependency on the weapon. The details on the handle of the knife along with the purple smoke trail increase the intricacy quotient of the design. You can also use her quintessential shades of green and black to keep the imagery and symbolism simple and easy to note.
Unique Akali Tattoos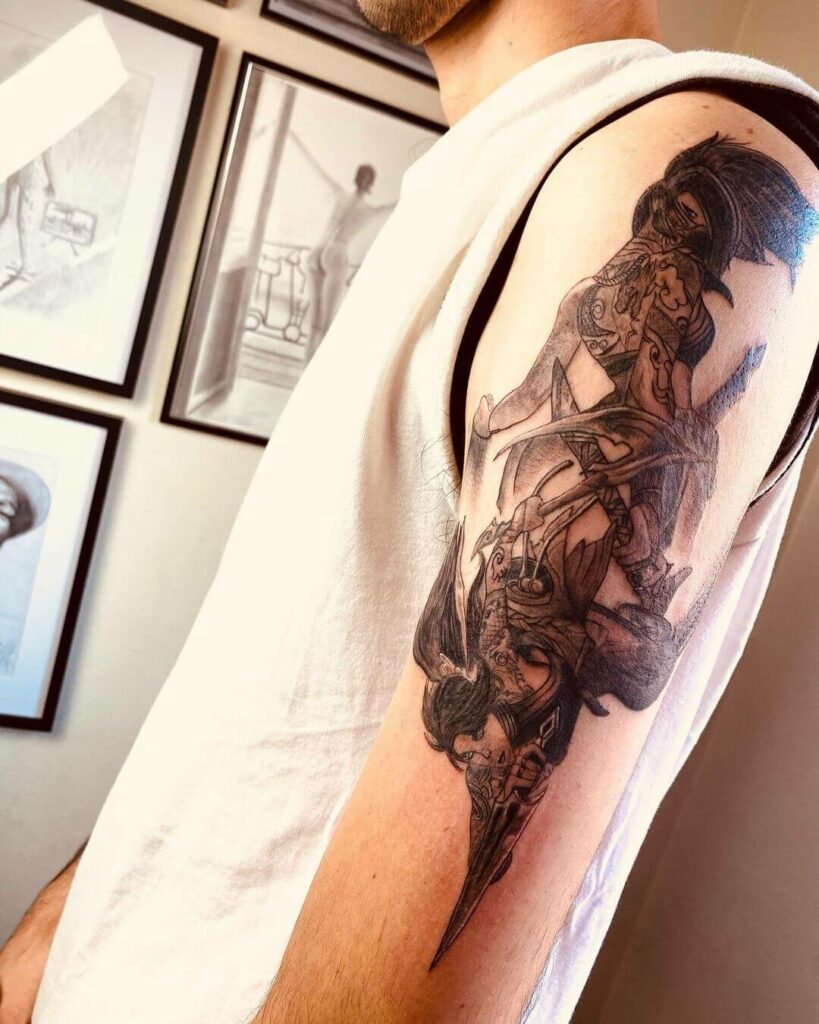 As is evident from the list, an artist will tend to ink a particular character in the design to avoid overcrowding and distractions. The artist here, however, takes two Akalis in order to present them in different scenarios. The one standing upright delivers a menacing gaze that radiates power and control, but the one below it is seen to perform whatever the former promises. This curious interplay of the same character under different circumstances will enable you to do justice to the character as you encounter them in the video game. Shading is of utmost importance in these designs and avoids colour for any mishaps.
Anime tattoos are the craze that has been ruling the tattoo industry for a long time now. Characters from games and series are getting inked more and more with new, creative designs springing up every day. Amidst such a time, a stylish Akali tattoo is bound to do you good among your fellow Otakus.
Feature image from Pinterest – Want your tattoo to look brighter? Try "tattoo balm"
Last reviewed and updated on March 9, 2023