Hello there, seekers of the ink! Tori here, your trusty needle wielder and philosopher of epidermal artwork. If you're reading this, chances are that like me, you've also fallen head over heels for the fascinating world of tattoos. But don't fret, this isn't just another love letter to our beloved art form. Instead, today we are going to dig a little deeper, quite literally, as we peel back the layers of meaning behind one of the most riveting and controversial tattoo themes of our time – Animal Skull Tattoos.
Animal skull tattoos, my friends, aren't just a rebellious proclamation or a gothic indulgence. They embody an array of profound meanings, which I like to think of as the hidden language of life, death, and transformation. And you'll soon discover, as we traverse the symbolic landscapes of this intricate art form, there is more to these bony structures than meets the eye.
In this post, you'll embark on a journey through the wildlands of tattoo mythology, understanding the power and wisdom animal skull tattoos have held throughout history and across cultures. We'll delve into the depths of the human psyche to reveal why people choose to etch these fierce reminders of mortality onto their bodies. And we'll explore some popular animal skull tattoo designs, each one a story, a declaration, a personal mythology etched in ink.
Prepare yourself, folks, for a walk on the wild side. From the strong and stoic bovine to the mysterious and elusive raven, each skull holds a universe of symbolism, waiting to be understood and appreciated. So, whether you're an ink enthusiast, a curious bystander, or a prospective canvas exploring design ideas, let's unmask the enigma of animal skull tattoos together. Now, let's roll up our sleeves and dive right in. Trust me, it's going to be bone-chillingly good!
Animal Skull Tattoos
In the vast universe of ink, you've probably noticed an intriguing trend: animal skull tattoos. These aren't just your average animal tattoos, speaking to your primal side or qualities you aspire to. No, with animal skull tattoos, the narrative shifts, reminding us of the instinctual nature of survival, a dance as much about life as it is about death. These intricate pieces can symbolize someone who acknowledges and embraces life's cyclic nature.
I remember my first animal skull tattoo vividly. A client wanted a wolf skull on their arm, a tribute to their survival through hardships. That's when I realized that these tattoos could convey a story, a sentiment, an acceptance of life's harsh realities, all inked into one's skin.
Bear Skull Tattoos
The mighty bear is an emblem of strength, protection, and pride in numerous spiritual traditions. So, if you're contemplating a bear skull tattoo, it might be because you've endured a trial that you're proud to have overcome. Like a talisman, bear skulls can represent resilience and strength, resonating with mothers who relate to the fierce protection a mother bear provides for her cubs.
In my line of work, I've inked bear skull tattoos on people who've been through significant life changes, symbolizing their emergence on the other side, stronger and wiser. A bear skull can also represent the cycle of life and death, with hibernation as a false death, a reminder of life's unending cycle.
For those seeking a tattoo with grit and symbolism, I've got a tip for you – consider the roaring bear skull for a symbol of strength or the grizzly bear skull as a nod to the wisdom, strength, and luck in hunting associated with Native American legends. For those who've overcome adversity, consider the polar bear skull. A touch of florals can signify the rebirth and regeneration associated with these tough survivors.
Snake Skull Tattoos
Snake skull tattoos offer an enticing duality of meanings. On one side, it signifies death and decay, and on the other, it represents eternal life and wisdom. I love to joke with my clients, "Why settle for one meaning when you can have two?"
These tattoos carry an inherent classic aesthetic, giving you a lot of flexibility to keep your ink traditional or to add a unique twist. From sprawling pieces featuring the entire snake skeleton to small, discreet designs, the choice is yours. Just remember, your tattoo will carry a unique meaning depending on your cultural context. In the West, a snake is often seen as a symbol of death and rebirth, while other cultures regard it as a symbol of healing.
Bull Skull Tattoos
With a bull skull tattoo, you're not just making a statement, you're shouting it from the rooftops! This design represents a fiery spirit, the willingness to charge ahead, and "grab life by the horns." It's a favorite among the folks in Texas, often combined with imagery of the American flag or Texas. But even if you're not a Texan or a Taurus, a bull skull tattoo can still symbolize your unyielding tenacity.
Cat Skull Tattoos
Cats have long been associated with mysticism and cosmic lore. Inking a cat skull tattoo is not just about aesthetics; it signifies your belief in life after death and reincarnation. It can also serve as a touching tribute to a special feline friend in your life.
Cow Skull Tattoos
Cow skull tattoos are versatile and can accommodate any size, complexity, or budget. Traditionally, indigenous peoples used the cow's skull as a symbol of gratitude and respect for the animal. Associated with motherly love and protection, a cow skull tattoo can be an expressive symbol of affection. Pop culture has also thrown this design into the limelight, with celebrities like Post Malone showcasing bold cow skull tattoos.
Deer Skull Tattoos
Deer exude a certain spiritual and graceful quality. A deer skull tattoo often represents respect for the animal and its nourishment. It can also convey dominion over the animal kingdom or a commitment to protect animals and uphold environmental causes. Just remember to pay attention to the position of the horns; they tell a story too!
Dog Skull Tattoos
A dog skull tattoo may symbolize the spiritual transition between life and death, a nod to ancient traditions where dogs guard the other side. This design could represent your curiosity about what awaits beyond or your loyalty to someone who has passed.
Elephant Skull Tattoos
Elephant skull tattoos symbolize the divine on earth, an image of mortality that is as beautiful as it is powerful. Placed on the limbs, due to its long, slender face, it's an intimate symbol of your readiness to face life and death fearlessly.
Fox Skull Tattoos
For the tricksters or daredevils among us, a fox skull tattoo may be the perfect fit. This design can symbolize control over your mischievous side or a person who constantly outsmarts death.
Lion Skull Tattoos
A lion skull tattoo is a bold statement of strength. Unlike regular lion tattoos that focus on the fur texture, skull tattoos reveal the mechanics of the beast. These tattoos can symbolize familial ties, life, death, and the coexistence of the two.
Goat Skull Tattoos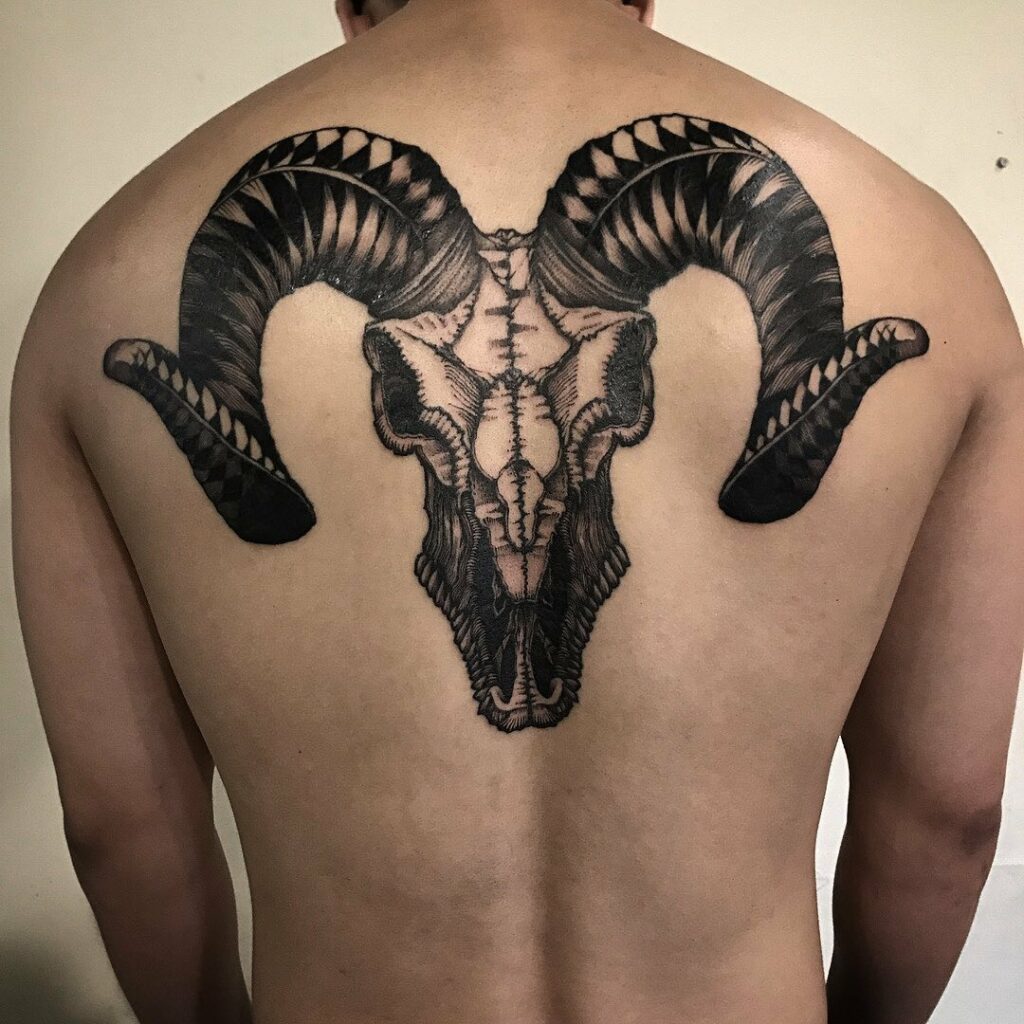 Goat skull tattoos are a popular choice for rebels and rule-breakers. Representing defiance, these designs often carry a political statement or playful image.
Horse Skull Tattoos
Horse skull tattoos symbolize a wild spirit, often resonating with themes of death or apocalyptic narratives. If you're someone who wants to live free, unbound by conventions, this might be the tattoo for you.
Ram Skull Tattoos
The imposing horns of a ram make for an epic tattoo, often symbolizing power, leadership, and fearlessness. Inking a ram skull means you're ready to charge forward without reservation. It's a clear message to the world: make way for the unstoppable spirit!
Embracing the Guide: Wolf Skull Tattoos
Wolf tattoos are immensely popular, and with good reason. They stand for leadership, acute hunting skills, and a strong sense of community, all traits deeply respected, especially in Indigenous cultures. When you choose to get a wolf skull tattoo, it could be a beacon, signaling your desire for spiritual guidance or protection as you navigate the complex path between life and death.
Take my friend Jesse, for example. He came to me wanting a wolf skull tattoo as a symbol of his personal transformation after a particularly rough period in his life. He chose a howling wolf skull design, a constant reminder of his resilience and a testament that loneliness is a temporary state. The addition of flowers, offering a gentle pop of color, balanced the stark black and white of the wolf skull, providing a subtle yet powerful contrast. It's experiences like these that make me love what I do.
Tiger Skull Tattoos
Tiger tattoos carry a potent aura of strength, raw power, and masculinity. When you choose to etch a tiger skull onto your skin, you're boldly declaring your defiance towards death. It's a statement that you're not afraid to meet your mortality and that you'll go down swinging if you must. It's a bold way to express your grit and resilience.
Saber Tooth Tiger Skull Tattoos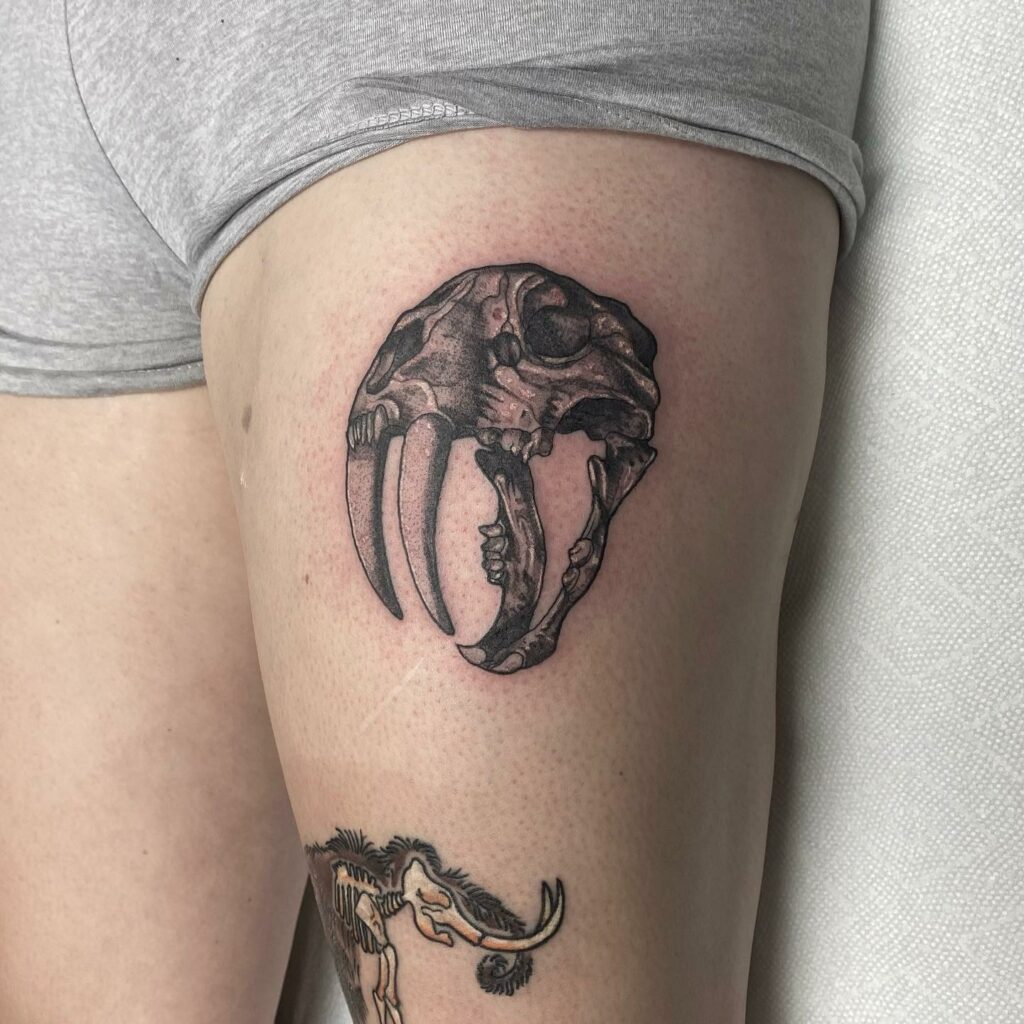 If you fancy yourself a fan of the extraordinary, you might resonate with saber tooth tiger skull tattoos. While these fierce creatures may be long extinct, their distinct aesthetic lives on, carrying with it a sense of legendary strength. It's almost like having a piece of a comic book character inked onto your skin—a fearsome, awe-inspiring creature we can only visualize in our imaginations.
Bird Skull Tattoos
There's something deeply poetic and alluring about bird skull tattoos. They seem to encapsulate our fascination with birds, our longing for freedom, and the serene acceptance of our fate. I remember inking a bird skull on a client who was going through a personal journey of self-discovery. The design stood as a symbol of freedom for her soul and a mark of embracing her destiny. With bird skull tattoos, the styles vary. However, I have noticed that many prefer the minimalistic black pen and ink style.
Owl Skull Tattoos
Owl tattoos are quite the enigma. They represent wisdom, psychic abilities, and nocturnal instincts. Pair that with a skull, and you have an emblem that symbolizes knowledge and understanding that transcends the mundane.
Hummingbird Skull Tattoos
For those who love symbolism with a splash of color, hummingbird skull tattoos can be a delightful choice. These tiny, independent creatures symbolize joy, good luck, happiness, and a consciousness that remains resilient despite all odds. The image of a hummingbird skull can beautifully integrate with any tattoo story and looks good on almost any body part.
Vulture Skull Tattoos
Often seen as a messenger at the border between life and death, vultures symbolize trust, the ability to rise, intelligence, and guardianship. A vulture skull tattoo carries with it an aura of profound respect and fascination for these powerful birds.
Flamingo Skull Tattoos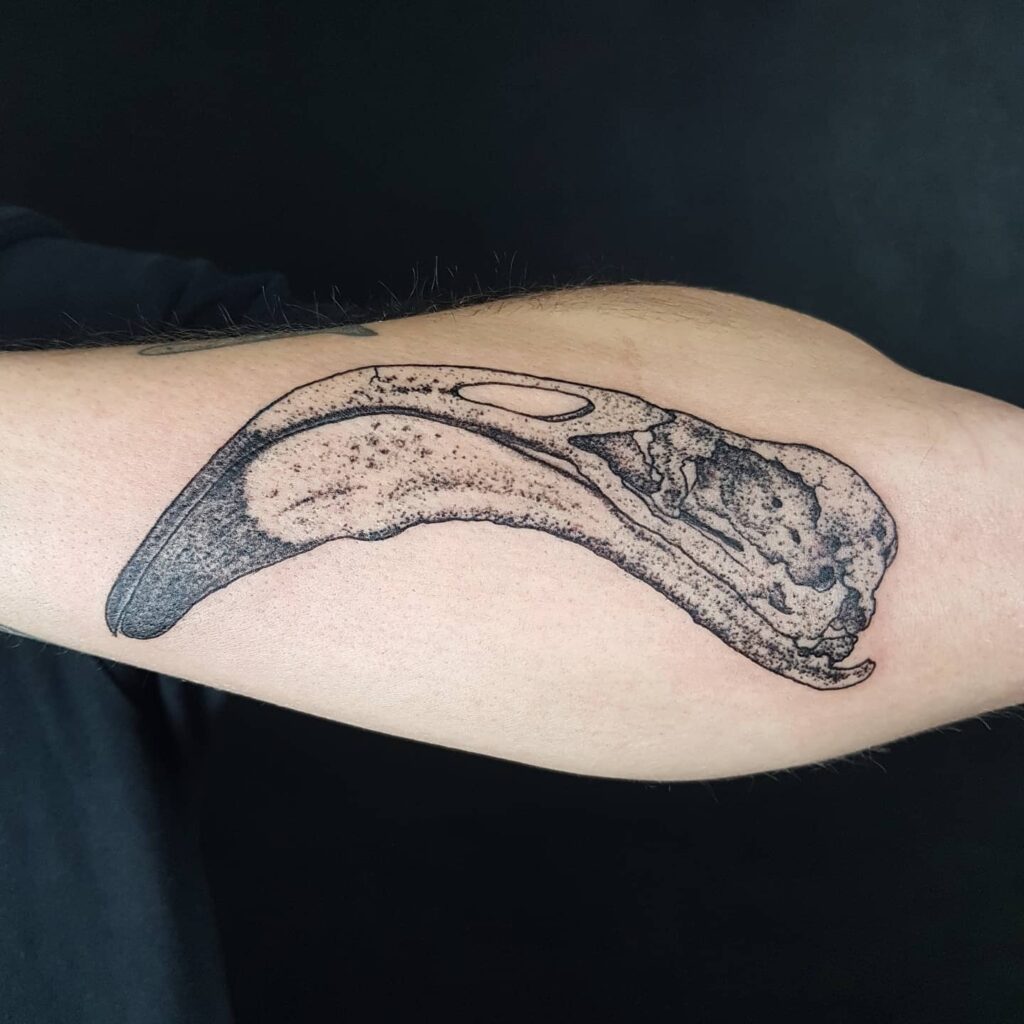 Flamingos are a symbol of harmony, emotional balance, and enjoyment of life. As social creatures, flamingo tattoos speak to the need to connect, socialize, and coexist.
Eagle Skull Tattoos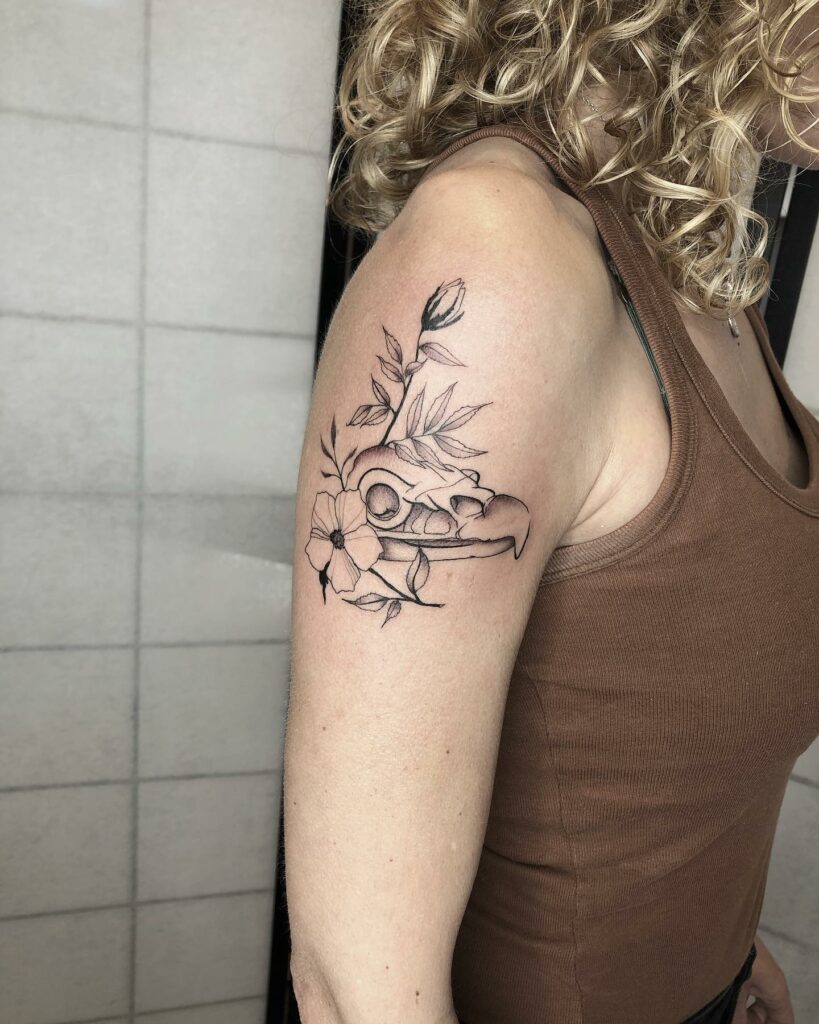 The eagle, with its ability to fly higher than all other birds, is a symbol of power, connection, freedom, and courage. An eagle skull tattoo boldly states a desire to push boundaries, break free, and venture into the unknown.
Hawk Skull Tattoos
The hawk is a spiritual creature, known for its strength, focus, and spirituality. Hawk skull tattoos incorporate these traits into a simple yet powerful design.
Raven Skull Tattoos
Raven tattoos carry with them an association with death, loss, and grief, making a raven skull tattoo a fitting memorial for some. I remember a client who had lost a close family member and chose a raven skull tattoo as a way to process her grief.
Pelican Skull Tattoos
Pelican tattoos, either the skull or the whole bird, symbolize sacrifice, pure love, and devotion. They represent a deep-seated love for parents or from parents, the capacity to sacrifice, and unwavering loyalty.
Crow Skull Tattoos
Crows symbolize change, intelligence, and courage. Crow skull tattoos can be powerful reminders of life's transitions and the craftiness needed to navigate them.
Remember, the most important thing is that your tattoo should resonate with you. Whatever your personal journey, story, or desire, a tattoo is an expressive art form that allows you to etch these elements onto your skin. As an expert tattooist, my job is to help you bring these visions to life.
Conclusion
Choosing to get a tattoo is a deeply personal decision that can be a profound form of self-expression. Whether you're drawn to the powerful symbolism of wolf skulls or the intricate beauty of bird skull tattoos, the choice of design is ultimately an intimate reflection of you. Remember, while the process can be exciting, it's crucial to consider the permanency of tattoos and to select a professional artist who adheres to safe and hygienic practices.
Moreover, remember that every tattoo has a healing period and aftercare regimen that must be followed for optimal results and to prevent any complications. The pain level will vary based on individual thresholds and tattoo placement, so do take this into account.
In my experience, the best tattoos are ones chosen thoughtfully, the ones that resonate with your personal journey or symbolize a meaningful concept for you. Take your time, do your research, and never rush the process. When you're ready, find a trusted tattoo artist, someone you feel comfortable with, who can bring your vision to life.
Getting a tattoo can be an incredibly empowering experience. It's a journey into self-discovery, a celebration of personal resilience, and a bold display of individuality. So, when you're ready, I'll be here, ready to help you make that lasting mark. Here's to the exciting journey of self-expression through the beautiful art of tattooing!
| Animal Skull Tattoo Design | Symbolic Meaning |
| --- | --- |
| Deer Skull | Deer skulls are often associated with spirituality, balance, and transition. They represent grace, gentleness, and a connection to nature. |
| Bull Skull (or Longhorn) | Bull skulls symbolize strength, courage, and resilience. They are often associated with the American West and cowboy culture. |
| Goat Skull | Goat skull tattoos can symbolize balance between opposites, determination, and the pursuit of freedom. In some cultures, they also represent fertility and abundance. |
| Raven Skull | Raven skulls can symbolize wisdom, transformation, and adaptability. They are associated with the mystery of the unknown and can represent an intellectual journey. |
| Wolf Skull | Wolf skulls can symbolize loyalty, family, and strength. Wolves are known for their strong pack mentality and this translates into the meaning of their skull tattoos. |
| Bear Skull | Bear skull tattoos can symbolize power, courage, and motherhood. They are often associated with a protective spirit and the cycle of life. |
| Ram Skull | Ram skull tattoos can symbolize determination, initiative, and leadership. They are often associated with the astrological sign Aries and can represent a strong-willed and fearless individual. |
| Lion Skull | Lion skull tattoos can symbolize courage, authority, and power. As the lion is known as the "King of the Jungle," a lion skull tattoo can represent an assertive and dominant personality. |
Remember, while these are general symbolic meanings, the personal significance of a tattoo can vary widely from person to person. It's always recommended to choose a design that resonates with you on a personal level.