From the mighty Quetzalcoatl to the intricate Aztec Calendar, we're going to dissect and discuss what makes these designs so captivating. Not only will you learn the stories behind these symbols, but also how they can be transformed into unique pieces of body art that tell your own story.
Our journey won't just be a sightseeing tour, though. As your guide, I'll be providing expert insights on how to choose a design that resonates with you, tips on placement, and advice on how to communicate your ideas to your tattoo artist.
Ready to unlock the mysteries of Aztec mythology and history on your skin? Then let's get this expedition started! By the end of this post, you'll be well-equipped with all the knowledge you need to carry a piece of Aztec history with you, wherever you go.
Aztec Animal Totem Feature Tattoos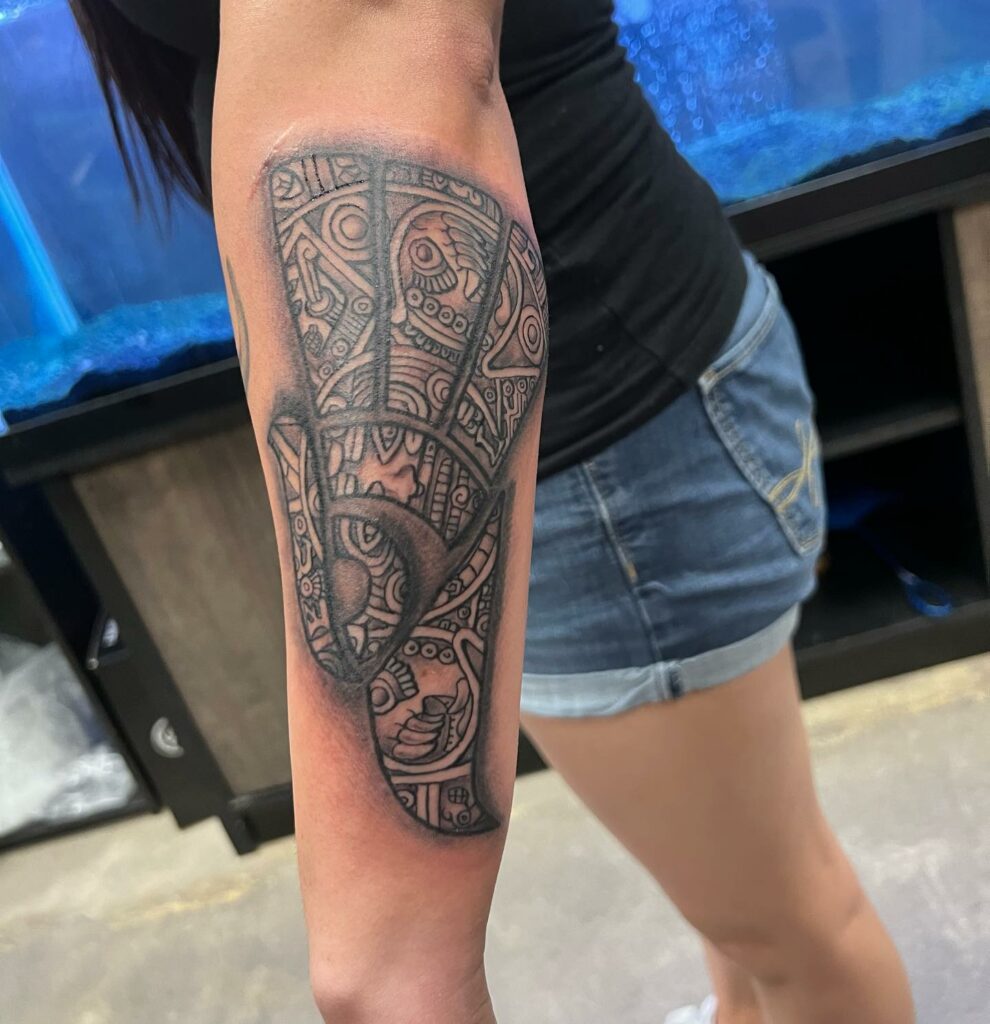 Take a stroll through any Central American art exhibit, and you're bound to spot familiar faces. Jaguars, eagles, bears, monkeys, frogs – these creatures were more than just fauna to the Aztecs. They were totems, symbols of individual character and spirit.
Aztec Warrior Tattoo Ideas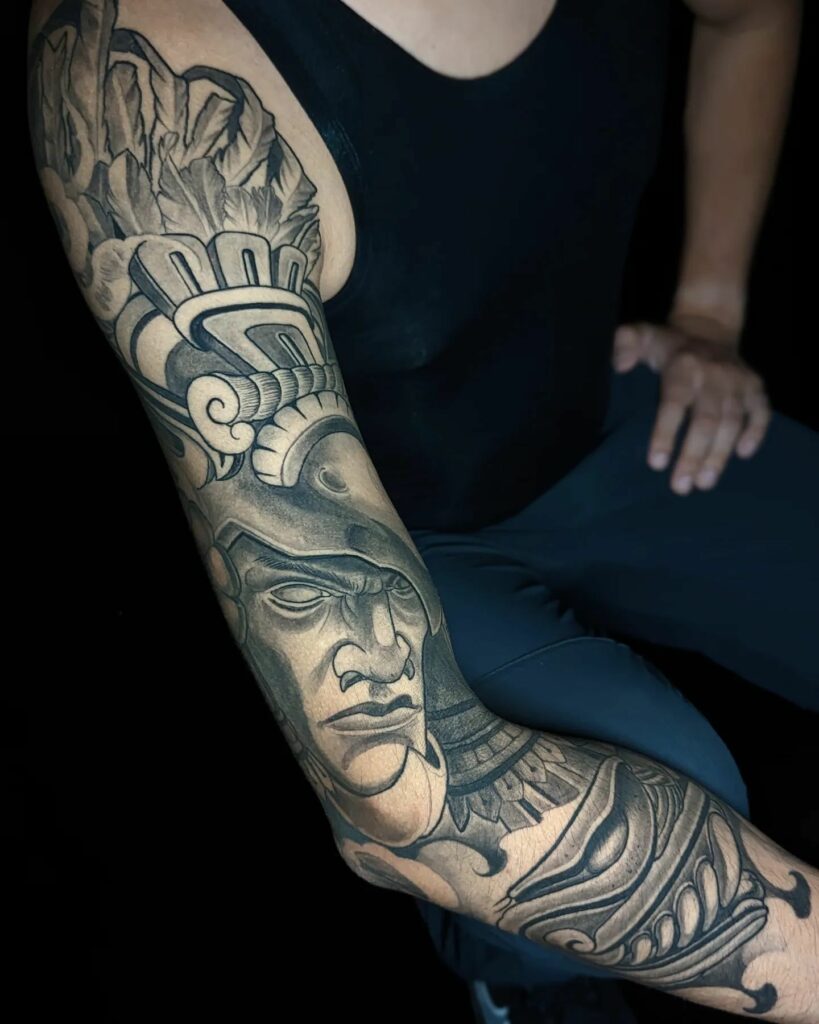 Aztec warriors – brave, skilled, and unyielding – are an indelible part of Aztec lore. Their spirit lives on, etched into the skin of modern day warriors. Like Jorge, whose arm is adorned with an Aztec chief.
Aztec Women Tattoo Design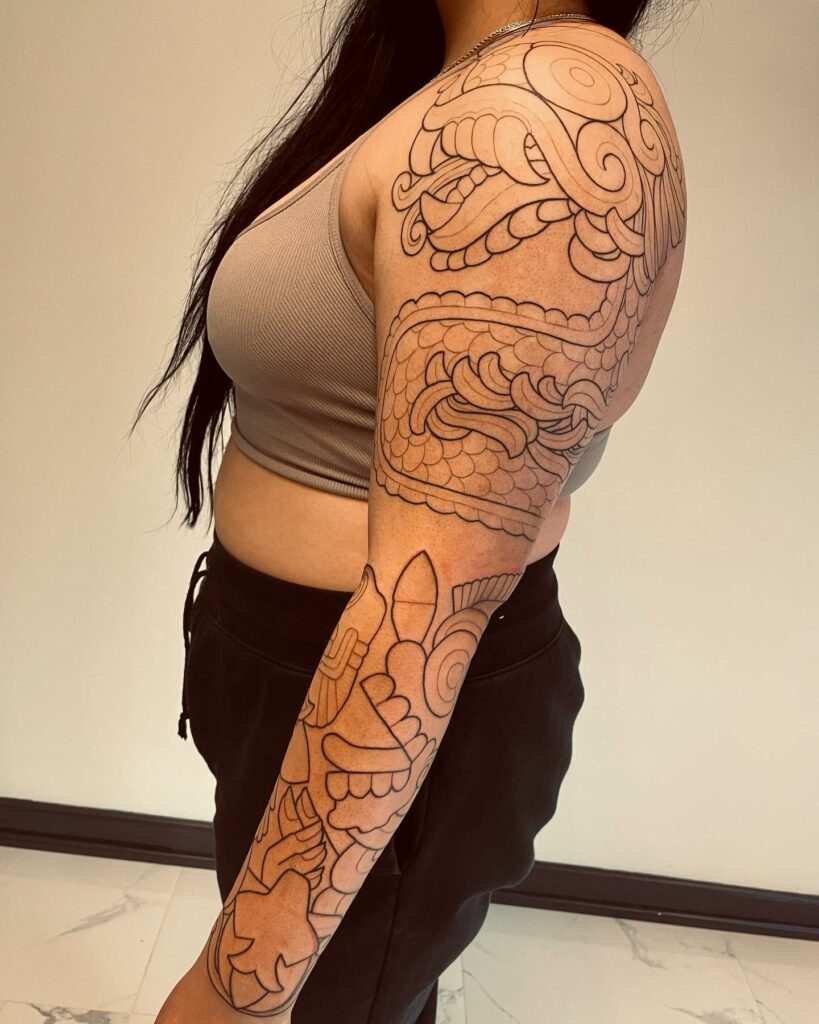 In the dance of Aztec life, women swirled with strength and beauty, their tales now inked in the skin of the descendants. The black patterns and gray shadows blur into a whirlwind of beauty and power, a reminder of the women who came before.
Aztec Chest Tattoo Idea and Application
Detailed Aztec chest tattoos are a song of courage and pride, an echo of ancient artistry. With stone-like patterns juxtaposed against realistically etched figures, the designs sing a tune of history and heritage.
The Ancient Aztec Sun Disc
The sun was the heart of the Aztec cosmos, the giver of life, and its symbol now pulsates on the skin of their descendants. From rustic designs that look carved into the skin, to detailed depictions of ancient temples, the sun remains a glowing beacon of Aztec heritage.
Smaller Aztec Art
Small but potent, these Aztec tattoo ideas prove that size isn't everything. The mighty Aztec eagle, the mesmerizing Feathered Serpent deity, each design is a testament to the ancient civilization's grandeur and depth.
Skull Tattoo Designs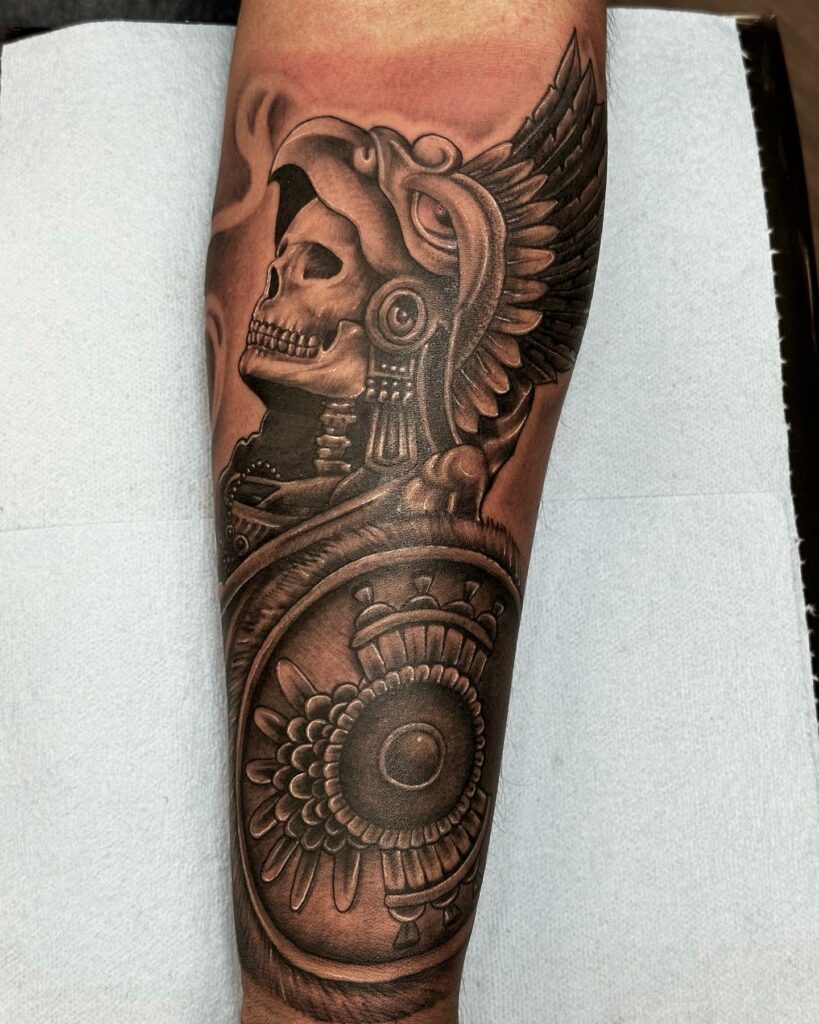 Skulls may evoke images of horror and death, but in Aztec lore, they symbolize transformation and rebirth. Today, they adorn the bodies of those who wear their heritage with pride, a silent proclamation of resilience.
Aztec Back Tattoos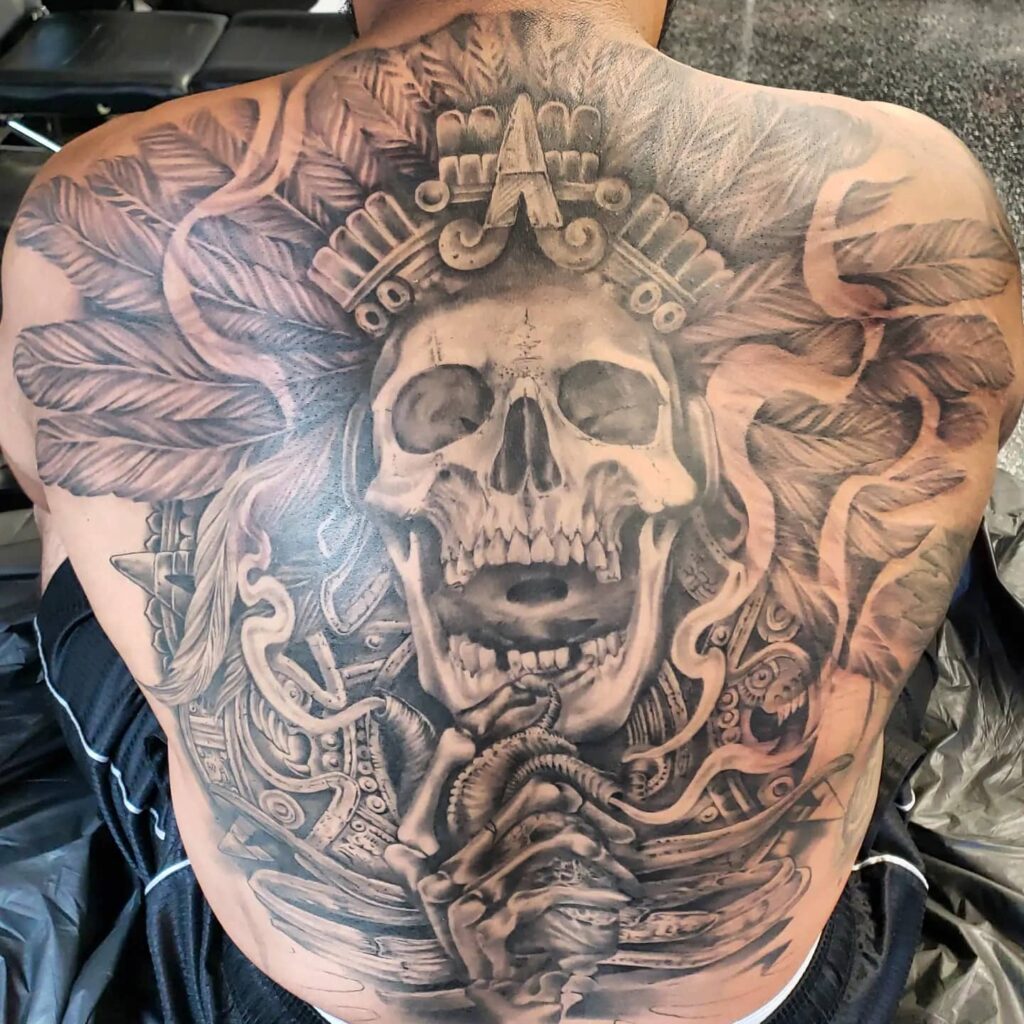 Envision a canvas of skin, etched with intricate designs that weave a rich tapestry of culture and history. Aztec back tattoos are a commitment, a testament to endurance and love for a bygone era.
Sleeve and Half Sleeve Tattoo Ideas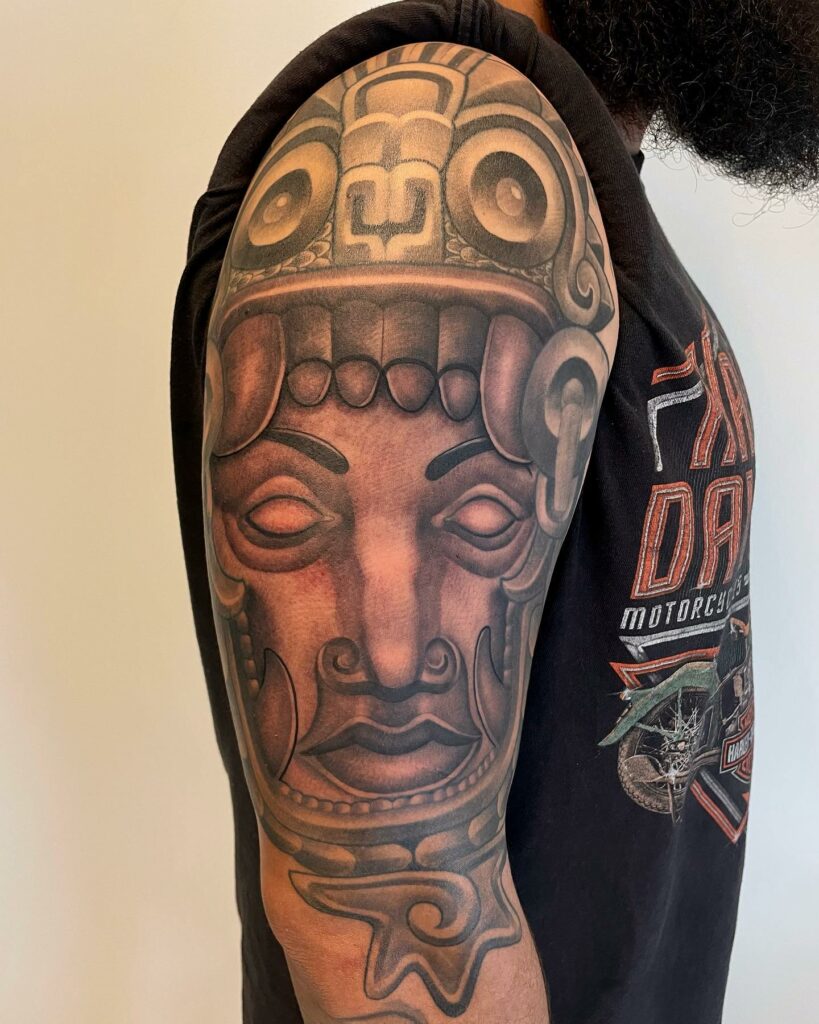 Tales of bravery, symbolism, and ancient lore spiral into captivating sleeve designs, harking back to Aztec tradition while radiating a modern charm.
Aztec Tribe Stone Art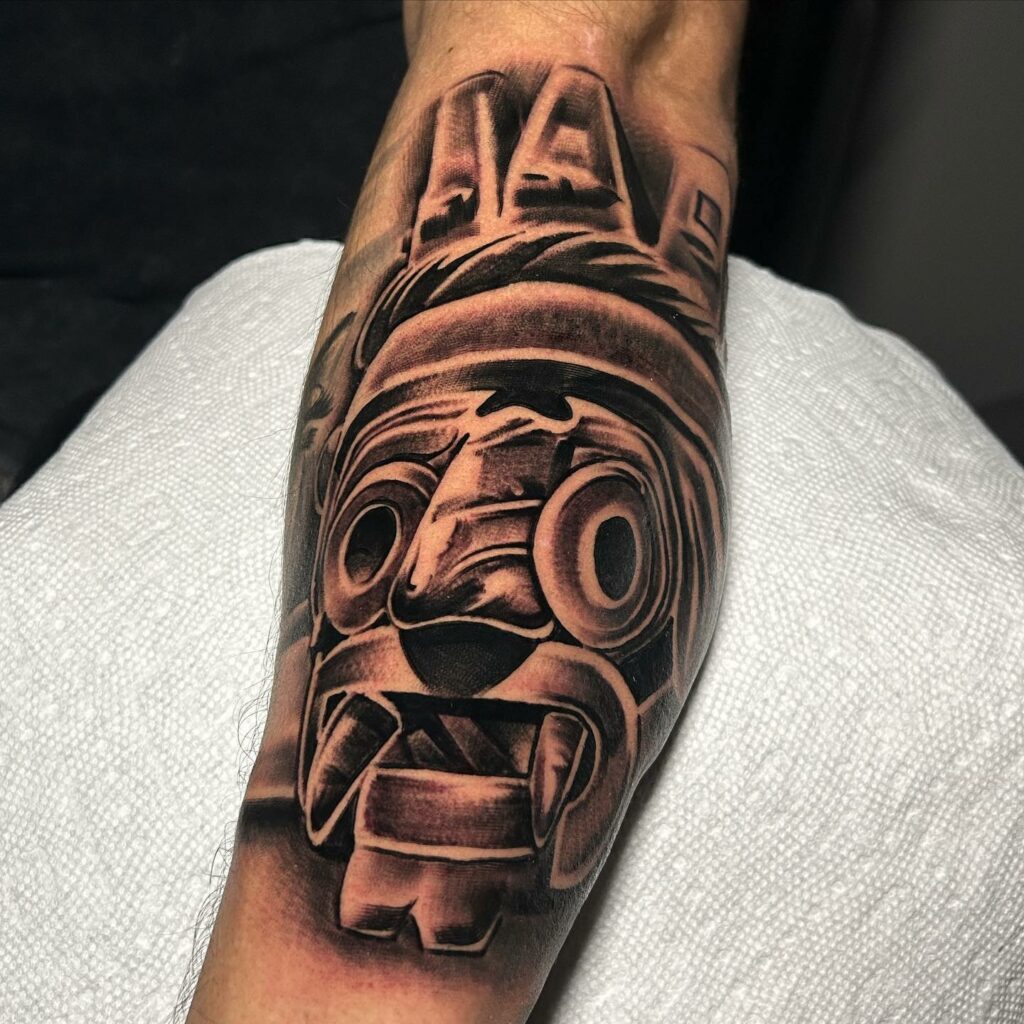 A visual echo of Aztec architecture, these grayscale tattoos pay homage to the stunning stone structures central to Aztec life.
Traditional Aztec Tribal Design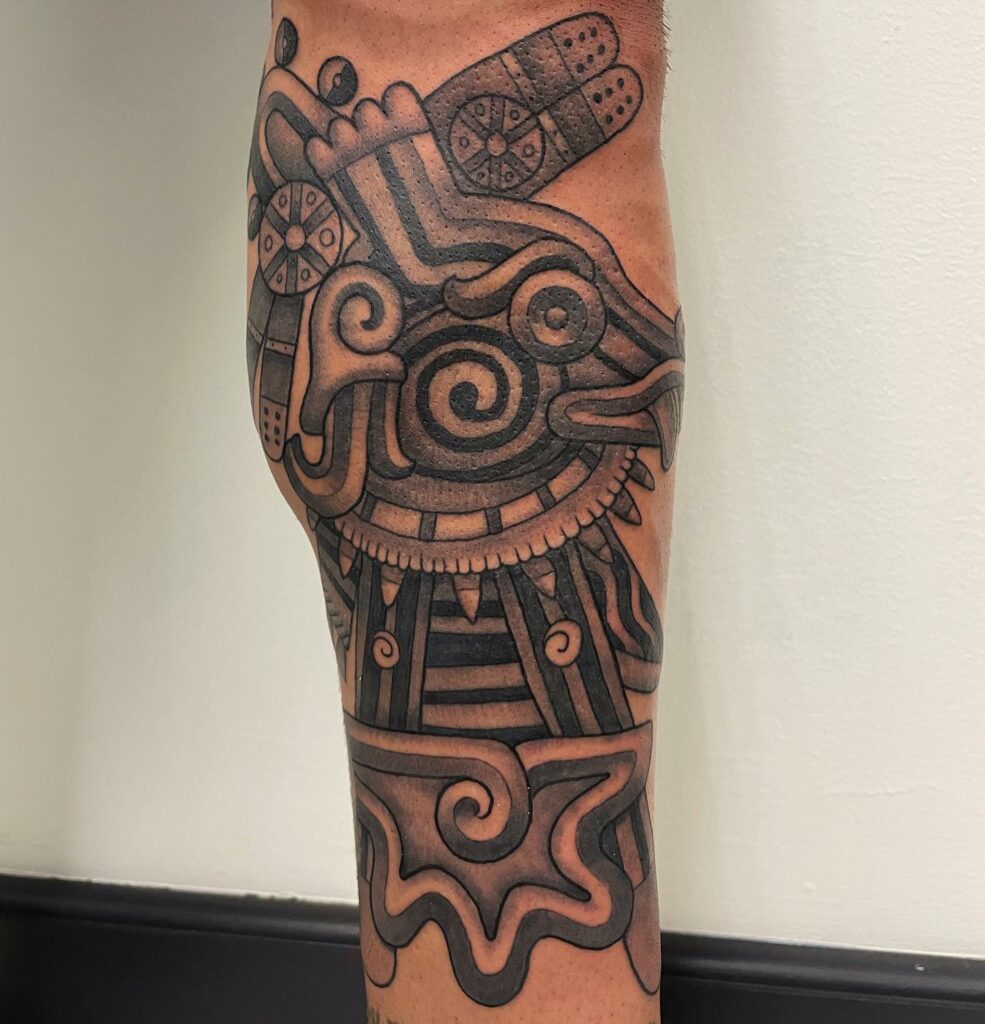 Modern Aztec tattoos echo Polynesian tribal designs, emphasizing pattern, repetition, and the artistic use of negative space.
Unfinished Pieces
Unfinished Aztec tattoos are an ode to the time, effort, and skill that goes into crafting these masterpieces. Each stage is a step closer to completion, a journey towards wearing one's heritage with pride.
Risks or Concerns Associated With An Aztec Tattoo
Firstly, there's the risk of cultural appropriation. The Aztec culture is rich and has deep historical and spiritual significance for many people. Using these symbols without understanding or respecting their origins and meanings can be seen as disrespectful. Therefore, if you're considering an Aztec tattoo, it's essential to do your research, understand the significance of the symbols you're using, and approach the art with respect.
Secondly, there's the matter of design complexity. Aztec tattoos often feature intricate designs and symbols that require a high level of detail. This demands a skilled tattoo artist who is experienced in this style of tattooing. The wrong artist could lead to a poor result, and even worse, potential skin damage.
Then, of course, there are the general risks associated with any tattoo. These include potential allergic reactions to the ink, infections if the tattoo isn't cared for properly during the healing process, and the risk of bloodborne diseases if the equipment used isn't sterile.
Lastly, there's the permanence of the decision. A tattoo is a lifelong commitment and removing it can be a costly, painful, and time-consuming process. That's why it's so important to ensure that you're getting a tattoo for the right reasons, and that you're completely satisfied with the design before proceeding.
Remember, as with any tattoo, the key to minimizing risks and ensuring a result you're happy with is to do your research, choose a reputable and skilled artist, understand the significance of your chosen design, and follow all aftercare instructions meticulously.
Conclusion.
Choosing the perfect location for your Aztec-inspired tattoo is a deeply personal decision. In the world of body art, placement is as important as the design itself. The size and complexity of your chosen design might steer you towards the ample canvas of a back or chest, or perhaps to the winding narrative space of a sleeve. Smaller, more intricate pieces could find a home on your wrist or ankle. The cost varies widely, with smaller designs starting around $100, and intricate full-back pieces reaching into the thousands. Remember, though, the tattoo artist's skill and experience will greatly impact both the cost and the quality of your tattoo.
As with any tattoo, there are risks and side effects to consider. Temporary effects can include swelling, redness, and sensitivity, while more serious risks include infection, allergic reactions, or complications with healing. Always seek a reputable, licensed professional who adheres to health and safety regulations, and always follow the aftercare advice they provide.
Embarking on the journey to wear your heritage or interests on your skin with an Aztec-inspired tattoo is a decision that marries art and personal history. As you consider this path, know that these designs serve not only as a celebration of Aztec culture but also as a testament to its timelessness and its enduring impact. And so, with every heartbeat beneath your newly inked skin, remember the echoes of the ancient Aztecs, ever alive, ever present.