Hey there! Are you looking to add some new ink to your collection? How about combining two popular tattoo trends into one? I'm talking about a beautiful rose tattoo with a personal touch – the name of someone special.
Having a name tattooed on your hand is a popular choice these days, and it's easy to see why. Not only does it make a bold statement, but it also serves as a constant reminder of a loved one. Whether it's your partner, family member, or even your own name, the possibilities are endless.
If you're interested in this type of tattoo, you're in luck! There are so many amazing designs to choose from, including stars, family trees, crosses, and more. And don't worry about the tattoo not suiting your skin tone – name tattoos on hands look great on everyone!
So, why not take a look at some of the extraordinary name on hand tattoo ideas and add a new rose design to the mix? With careful research, you're sure to find the perfect design to represent your love and devotion.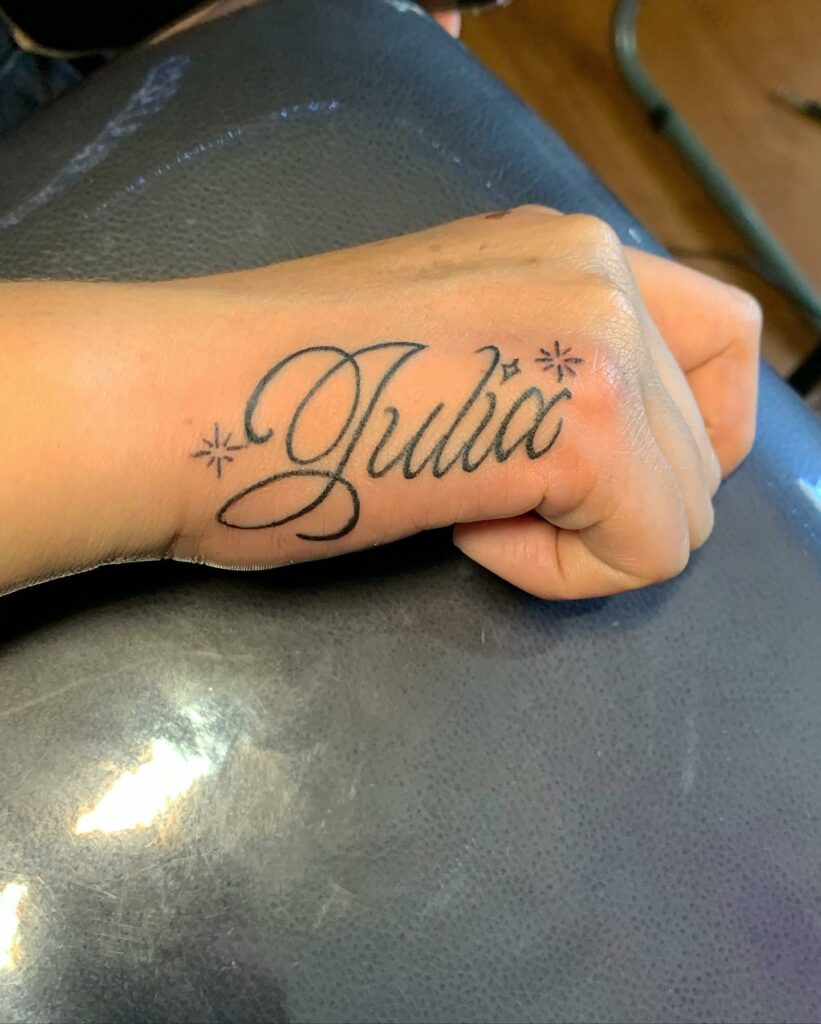 Beautiful Black Name Hand Tattoo With Rose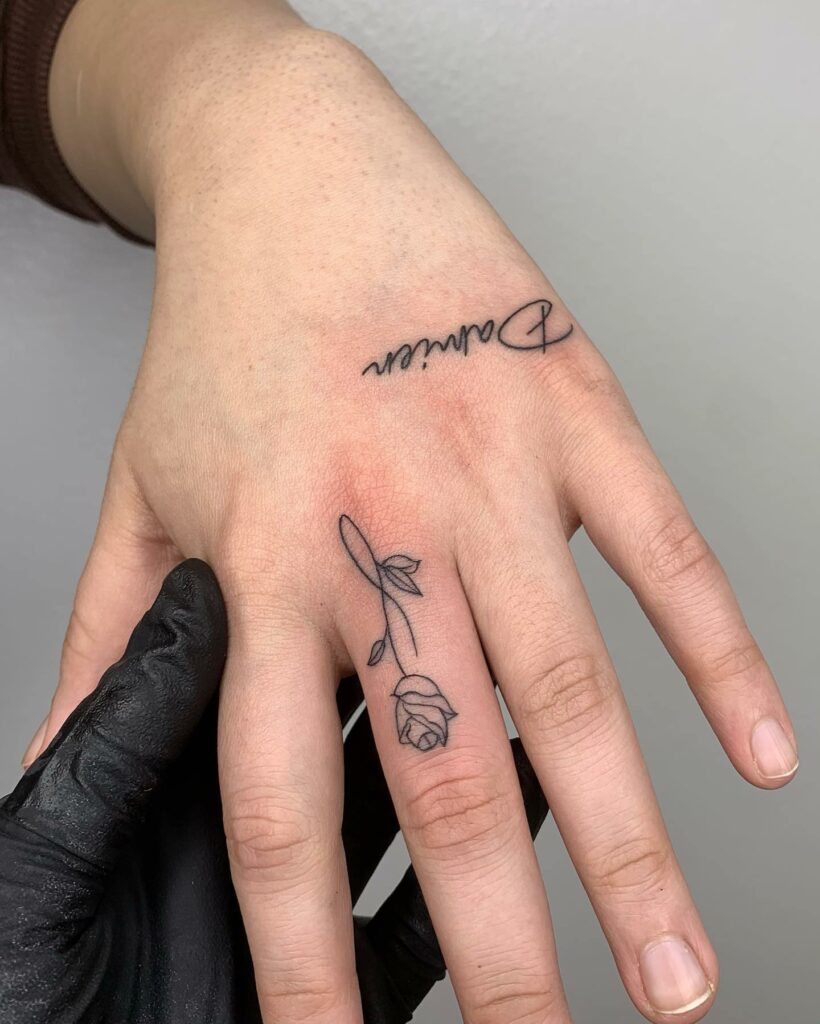 When you're looking for a personalized and elegant tattoo design, consider getting your name or the name of someone special to you inked on your hand. With the right tattoo artist, this hand-name tattoo can be a work of art, featuring delicate lines and a fine line ink style. Adding a small rose tattoo on one of your fingers takes this design to the next level, making it truly unique and special.
While there are many popular tattoo designs out there, such as butterfly and heart tattoos, this name tattoo design stands out for its delicate and intricate design that showcases the skill and artistry of your tattoo artist. So, if you want a tattoo that is both meaningful and beautiful, consider a hand-name tattoo with a rose accent.
Creative Name Hand Tattoo With Wings Design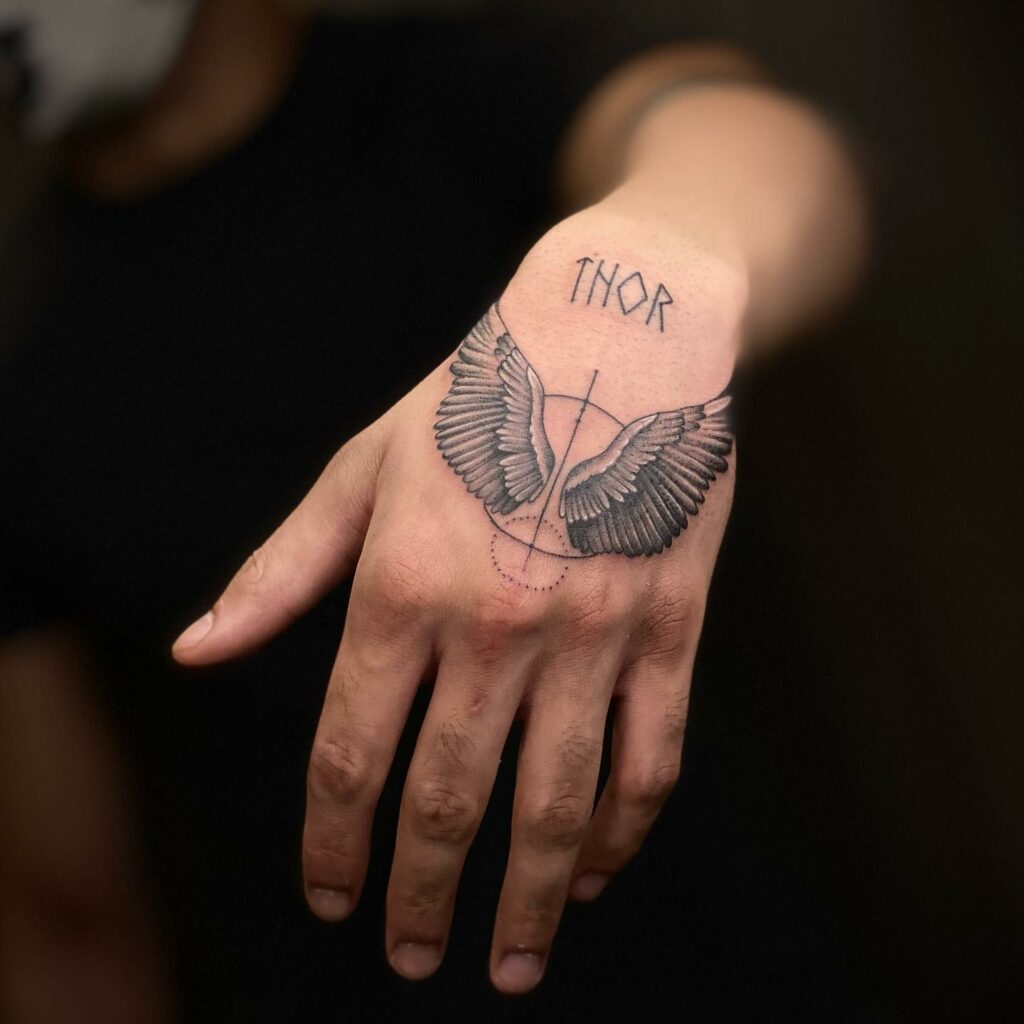 The wings design adds a unique touch to the traditional name tattoo, and the wings themselves can symbolize freedom.
When getting this tattoo, make sure to talk to your tattoo artist about whether it would be best on your wrist or hand. This name tattoo, like other tattoos like cross tattoos or heart tattoos, has the potential to make a statement with its simple yet eye-catching design. And even without the inclusion of flowers, it can still convey love and affection for a special someone.
Stylish Cursive Name Hand Tattoo In Black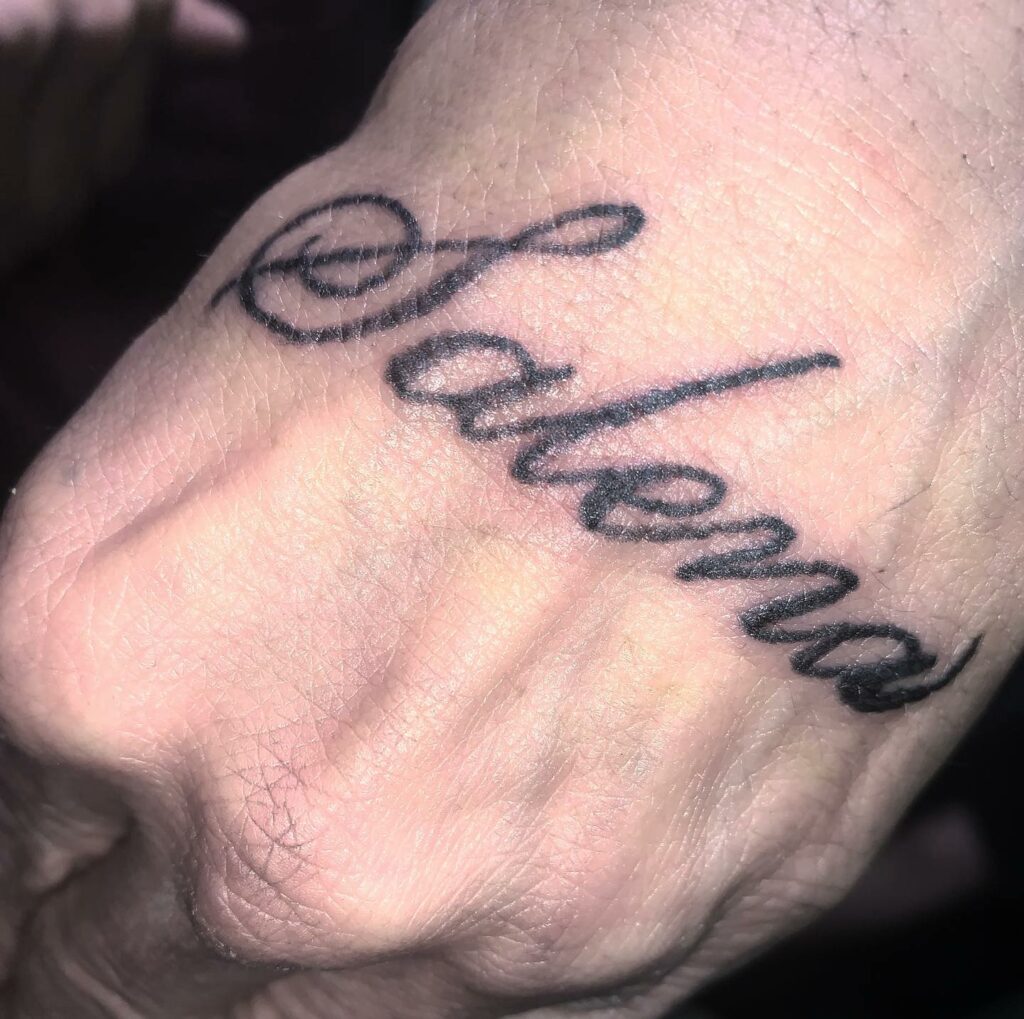 A wrist or hand name tattoo is a perfect option for those who are looking for something subtle yet stylish. The cursive font used in the design adds an elegant touch and makes it stand out from other name tattoos. Whether you're a man or a woman, this tattoo design looks great in black and covers a good portion of the back of your hand. It's a simple design that's sure to turn heads and show off your love for your name or the name of a loved one.
Dynamic Ink Name Hand Tattoo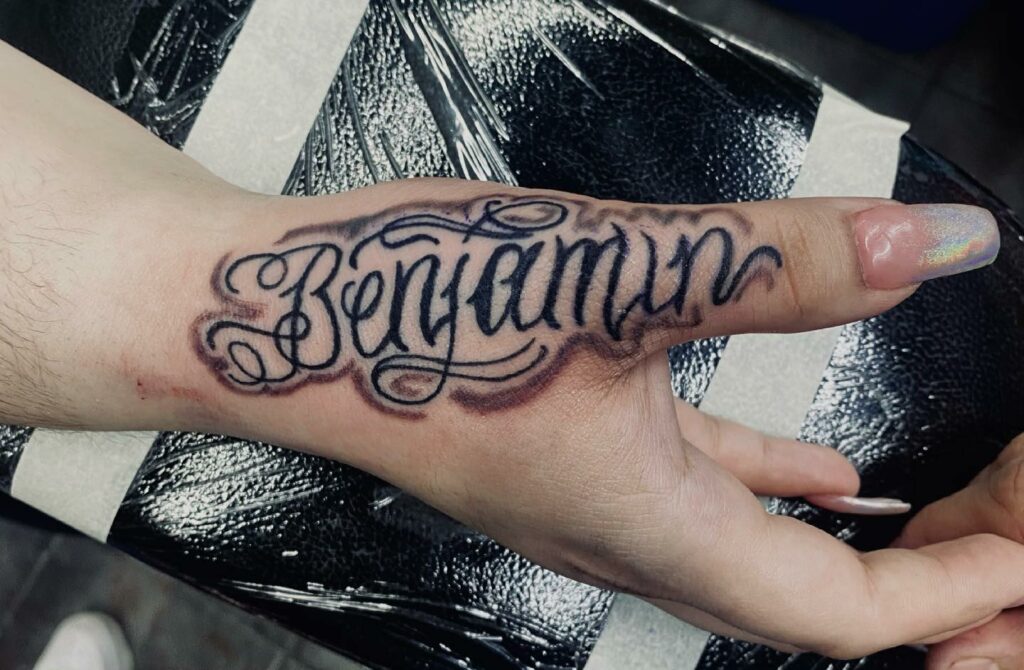 If you're looking for a stunning name tattoo that will truly stand out, you should definitely consider a dynamic ink tattoo design. This hand name tattoo is a favorite among many tattoo enthusiasts and it's easy to see why! With its rich black color, the ink really pops and gives the tattoo a bold and eye-catching look.
Whether you want to get your name inked on your entire palm or just from your thumb to the end of your hand, this design is a great choice. The dynamic ink is so vibrant that it will make your tattoo look truly unique. And with its elegant and bold design
Black And Grey Bold Name On Hand Tattoo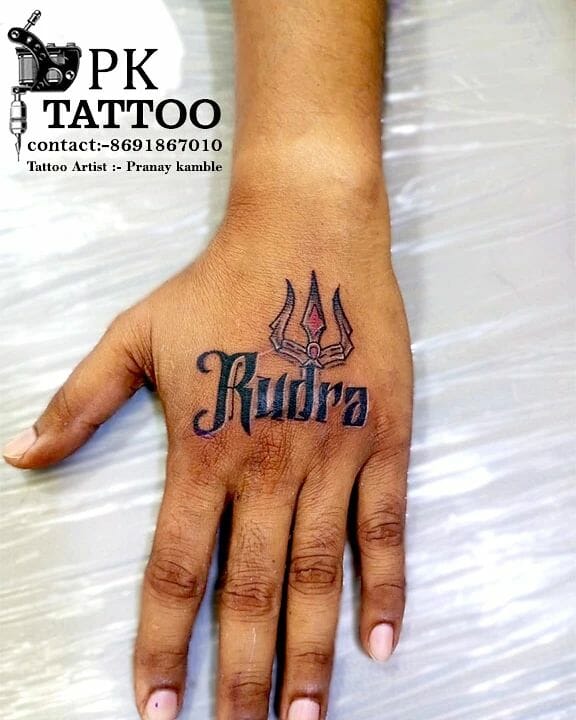 If you're looking to commemorate your children or loved ones with a meaningful tattoo, a hand name tattoo is a fantastic choice. This design typically features the name of your loved one written in bold black or grey ink on the back of your hand. The placement can be customized to suit your preference, but many people choose to have it on the rear of their hand for a more visible display.
It's important to check with your tattoo artist if this design can be done on your wrist as well. The beauty of this design lies in its simplicity and elegant font, making it a timeless and meaningful choice for any tattoo enthusiast.
Fine Line Ink Name Hand Tattoo In Black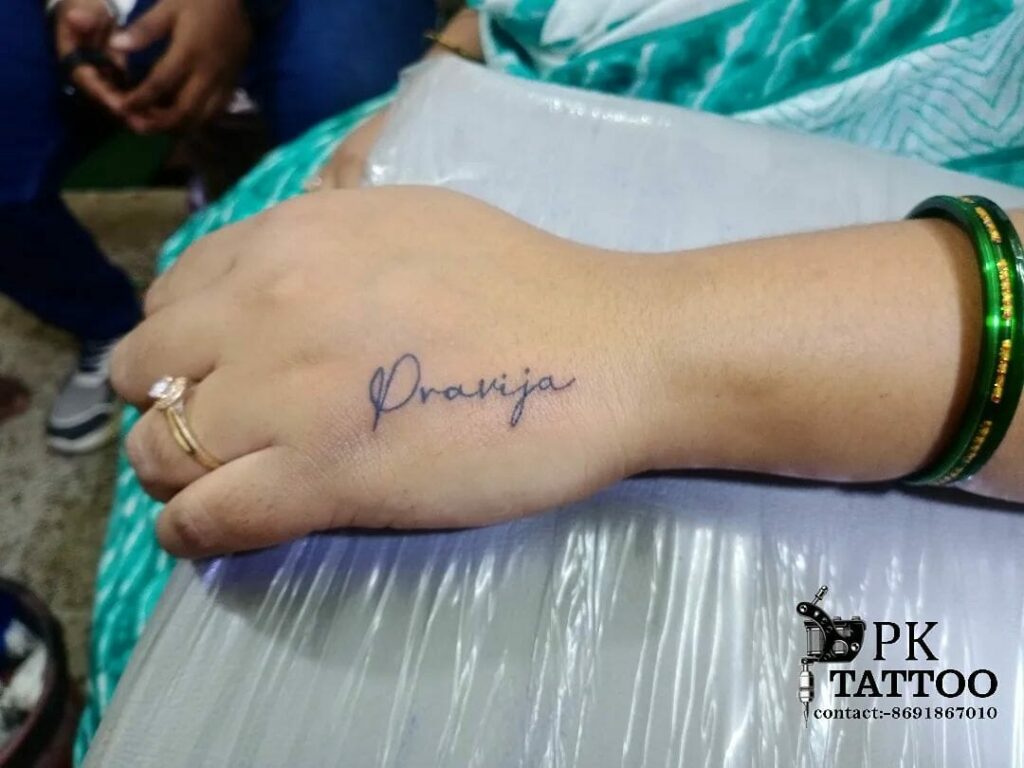 If you're looking for a chic and understated name tattoo on your hand, this design is definitely worth considering! It features your chosen name written in a beautiful cursive font, using simple lines to create an elegant and timeless look. The small size of the tattoo means it won't take up too much space on your hand, leaving room for other designs if you so choose. Whether it's your own name, the name of a loved one, or just a special word or phrase that means something to you, this name tattoo is a great choice for anyone looking for a classic and stylish way to show it off!
Dark Black Ink Name Hand Tattoo With Crown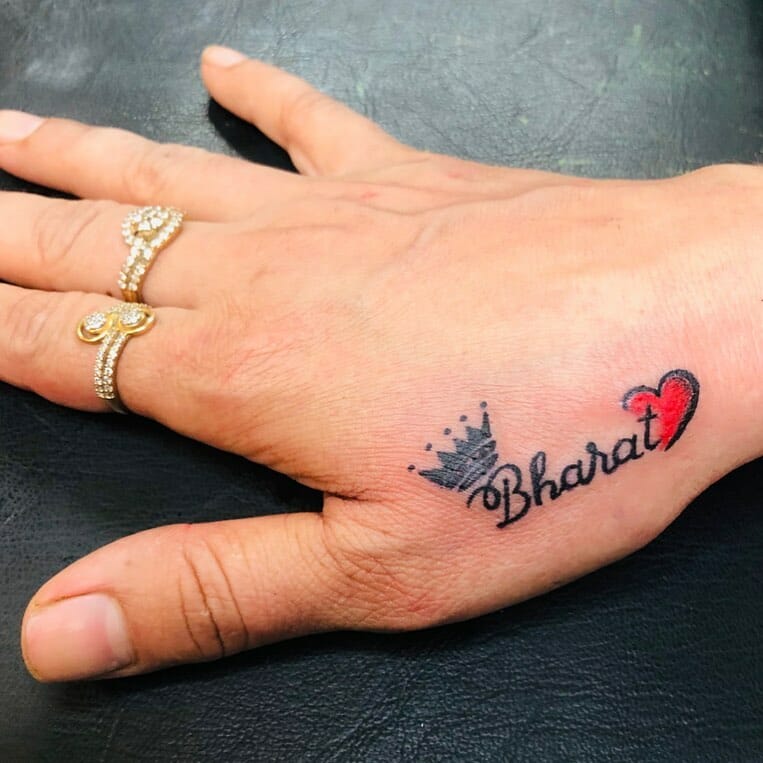 If you're looking for a name tattoo that is bold, stylish and eye-catching, then the name tattoo with a crown is the one for you! This design features your name written in a script font with a small black crown perched atop the first letter, giving it a regal and impressive look.
And to take it to the next level, this design also includes a sweet touch of love with a half heart in red at the end of the name. The combination of the crown and the heart make this name tattoo design a stunning expression of love for the special person in your life. So, if you're searching for a name tattoo that is both stylish and sentimental, then this design is the perfect choice for you!
Simple Name On Hand Tattoo With Thick Letters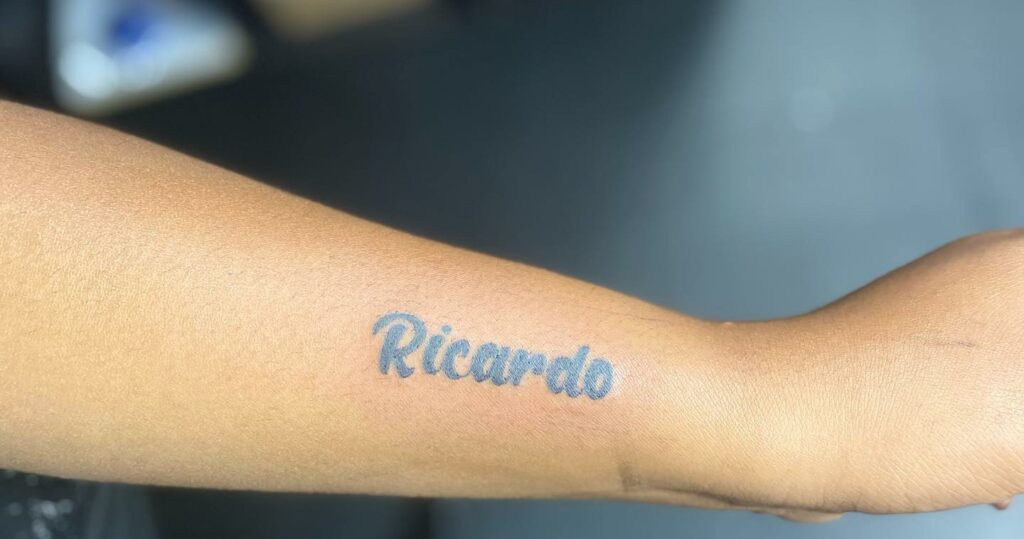 If you're looking for a simple and classic name tattoo, then this option is perfect for you. It's great for those who appreciate the beauty of minimalist designs, and believe that less is sometimes more. With this tattoo, you can choose to have your name, a loved one's name, or any other name you choose, inked on your hand. The simple font in a stunning sky blue color adds to the beauty of the tattoo, making it a timeless piece of art. So, if you want to go for a clean and elegant look, then this name tattoo design is a great option.
Stylish Calligraphy Art Name On Hand Tattoo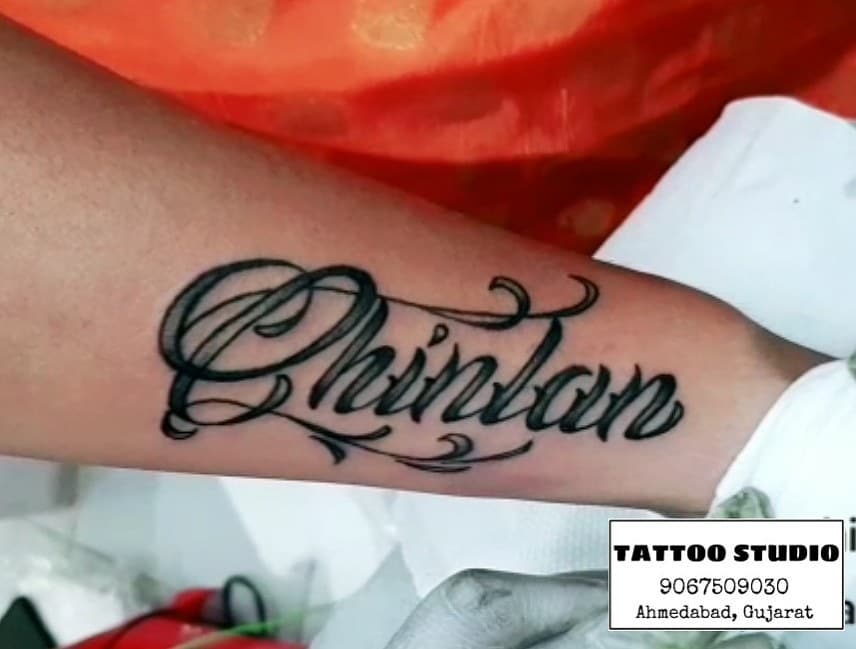 Are you a fan of calligraphy art? If so, then you'll love this hand name tattoo! The design is inspired by the timeless beauty of calligraphy, with the name written in a fancy, thick font in dark black ink.
This tattoo design is perfect for those who prefer a more elegant and fancy look. It's not just a simple name tattoo, it's a statement piece that showcases your appreciation for calligraphy art. Whether you want your own name, the name of a loved one, or even a memorial tribute, this calligraphy name tattoo is a great option. So, if you're looking for a unique and beautiful hand tattoo, consider this calligraphy design!
Artistic Dark Black Ink Name Hand Tattoo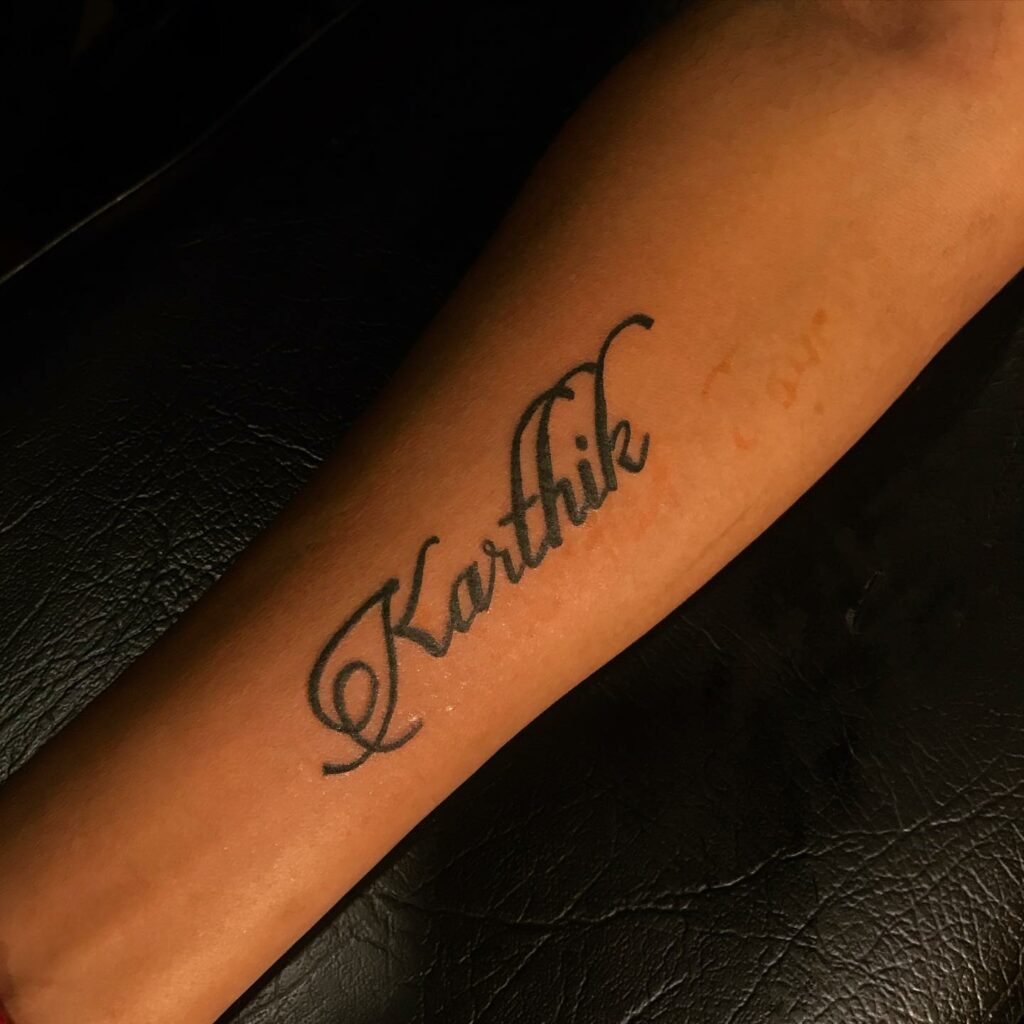 f you're in the market for a unique and stylish hand tattoo, a simple name tattoo may be just what you're looking for. The beauty of a name tattoo lies in its simplicity, with just the letters inked in black and no distracting background designs.
At a medium length, each letter of your name or a loved one's name will be carefully crafted in a stylish manner to give your hand a standout look. Plus, with no complicated designs, this name tattoo can be easily positioned on any part of your hand, whether you prefer it on the back of your hand or wrist.
Hands are one of the most visible parts of the body, making them the perfect canvas for a name tattoo. If you're not a fan of other popular tattoo ideas like flower or star tattoos, or even couple name tattoos, this artistic name tattoo in black is a great alternative.
Don't forget, both men and women are fans of hand name tattoos, and there's a variety of name tattoo ideas available to suit your personal style. Whether you opt for a simple love name tattoo, or commemorate an important date, hand name tattoos are popular for a reason! And with the right design, they look great on a variety of skin tones.
feature image from Pinterest
Last reviewed and updated on May 5, 2023