Wondering what to wear when getting a side tattoo or how much a side tattoo costs? Then, look at some fun and fabulous side tattoo ideas for your inspiration!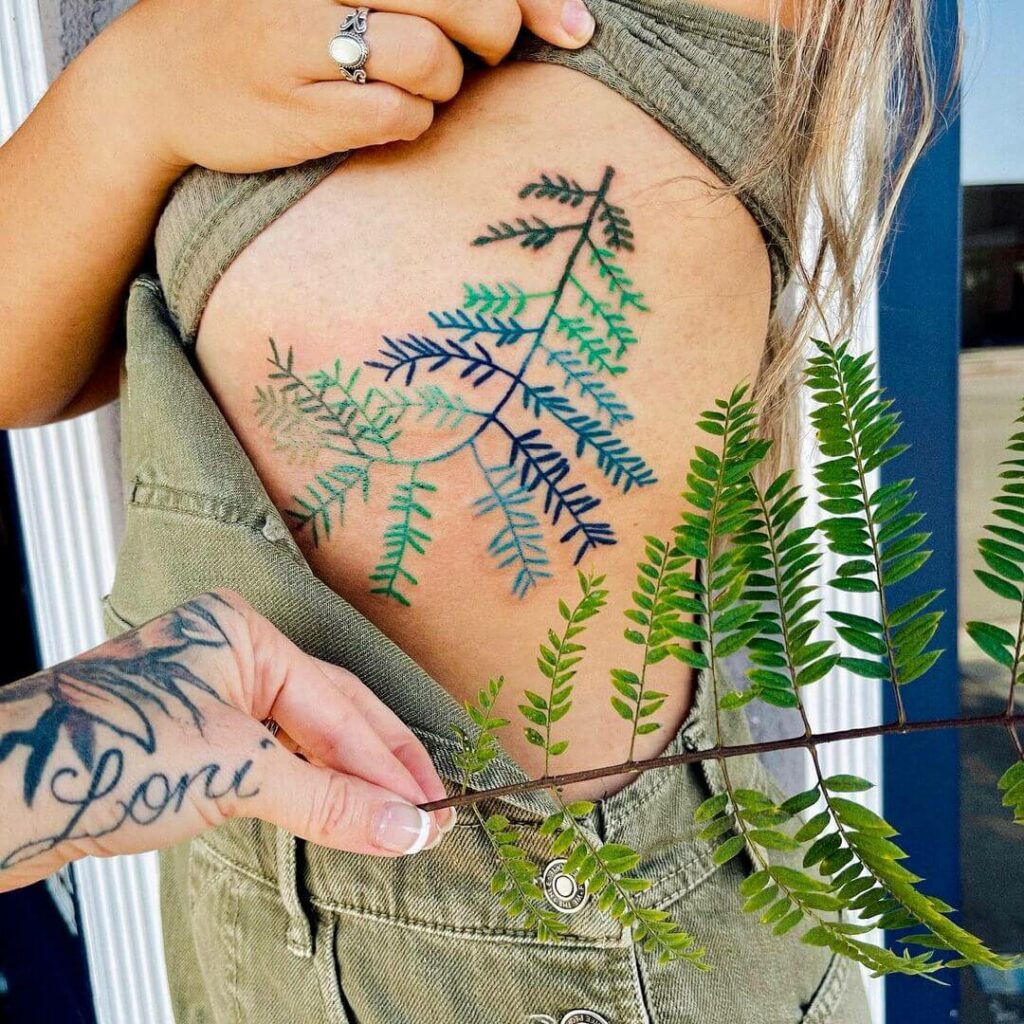 Side Tattoo is one of the most popular and renowned forms of body art these days.
Side Tattoo is commonly known as 'Rib Tattoos' or 'rib tats', for example. Side tattoo is the type of tattoo that is comparatively more popular among women.
Side tattoos are a great option for people who are looking to get a long tattoo or a vertical tattoo. They are commonly known as Rib tats or rib tattoos because they are generally carved around the rib cage area. It doesn't mean that the side tattoo just refers to the side rib tattoo; it equally is used for side wrist tattoo, side face tattoo, side of arm tattoo, side neck tattoo, or the cute, small side breast tattoo as well. The side part of the body, especially the chest side, is a great place to get inked. Not only does it have a lot of space but also, it is covered by clothes most of the time so, you can fearlessly get any design you want. This makes it a great option and a popular choice for most people, especially women. You can get whatever design you want for yourself inked secretly. You can get everything inked, from the image of animal, bird, world, space, feather to your inspiration, whatever you wish! Side tattoos are a very popular choice for most people.
However, getting a side tattoo is more painful compared to getting a tattoo on any other body part due to its placement. That is why most people do not recommend it. However, these are highly recommended tattoos for women. Women are advised to wear a bikini top when going to get these Tattoos. Also, they shouldn't wear bras after getting one because initially, rib tats are like open wounds.
The Ethnic Lady Tattoo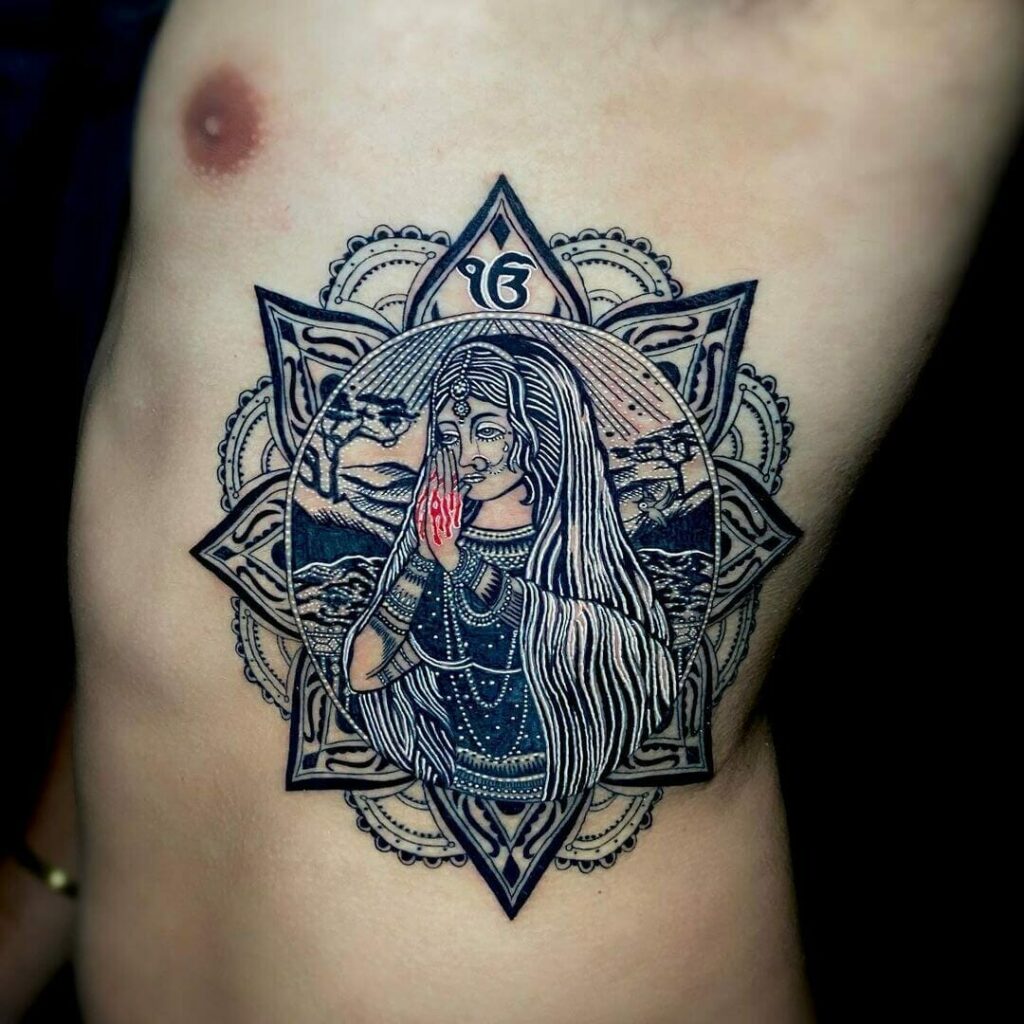 For our first side tattoo design, we have this beautiful and mesmerizing piece of body art. The design is sophisticated. Black ink and dark themes are used to portray this lady in ethnic wear. She seems to be wearing a saree or this other dress with a dupatta on her head. She also has jewellery on her body, and she has her hands folded as in 'Namaste'. The design is larger, and two additional round tattoo designs have been carved surrounding the main image. The woman seems Indian, a Hindu, or a Sikh lady, to be precise. There is also a Punjabi alphabet mentioned at the top. Black and white colours have been used in an adequate proportion to show the depth of the art. This side tattoo design is really commendable. The hard work and the detailing are praise-worthy. Apart from the main tattoo, the designs surrounding the tattoo are also unique, well detailed, and look really awesome. If you are interested in an ethnic or a tattoo representing Indian or Punjabi culture, this side tattoo design is highly recommended! You can also modify it into rib tattoos for women.
The Blood Root Tattoo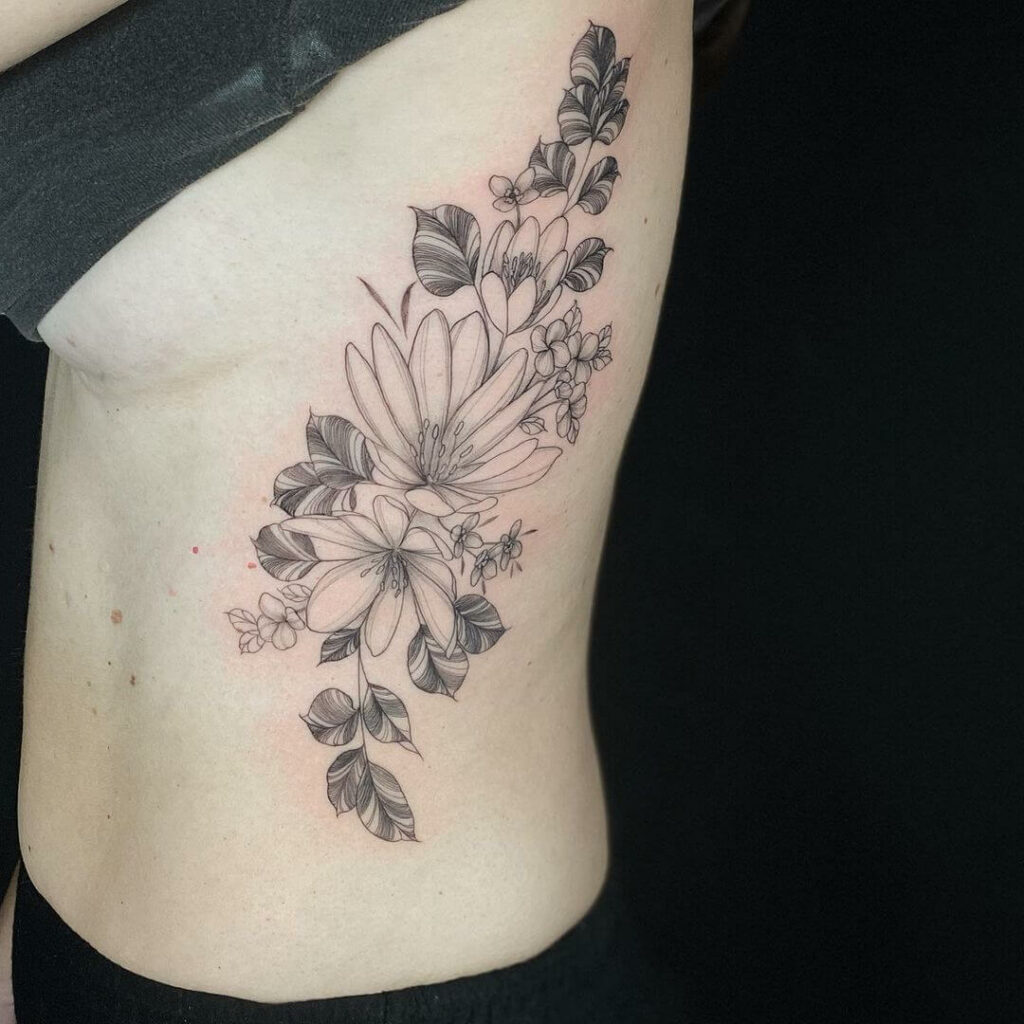 This delicate tattoo design is too hard to ignore. It is a simple yet very innovative tattoo design. The tattoo is spread in a big portion and covers a large part of the side ribs and belly area. It basically includes different designs of flowers and leaves of different sizes. Black and grey ink has been used in a simple way to make it look elegant. The image of the flowers as well as the leaves are carved and painted using fine lines. The use of fine lines enhances the shape of the flower, which adds beauty to this tattoo. If you are looking for a large side tattoo that looks cute and simple, you must take a look at this tattoo. This tattoo might be the missing piece you need! This is a very cool tattoo for women. You can also get it together with your friends.
The Side Rib Tattoo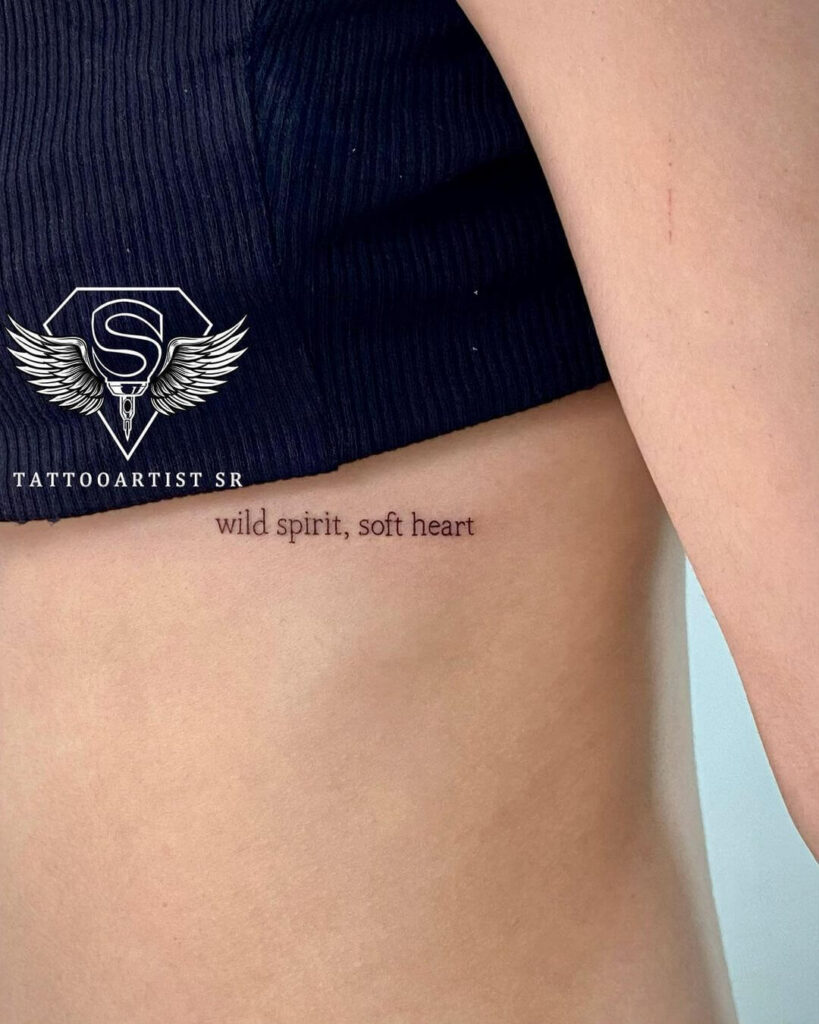 This side ribs tattoo is very simple yet very elegant. It just consists of a message of inspiration or, more profoundly, an introduction of the body that holds it. It is just a combination of four-letter words saying, "Wild Spirit, Soft Heart". Beautiful and, at the same time, very unique, isn't it? Such a west side tattoo with words or messages of inspiration are very common these days. Getting words or small images carved on the side of your body has become a very popular choice nowadays. These words or images can have common meanings, or in other words, meanings we can all relate with. Perhaps, you can also use words that mean something to you specifically and something not everyone can relate with.
The Wild Side Tattoo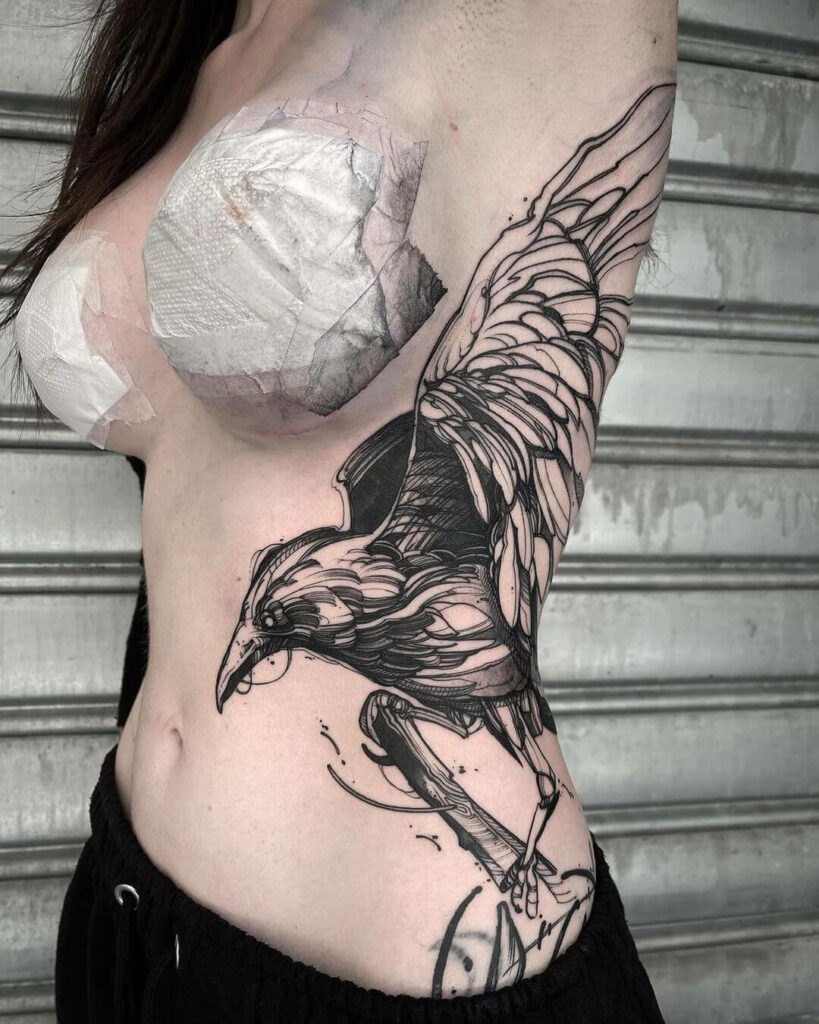 This rib tattoo design will just leave you awestruck. It has this image of a raven sitting on the branch. This is not just a simple feather tattoo or a tattoo with an animal or feather in it. This tattoo is dark and bold and has this amazing tattoo vibe around it. Although the images of animals and feathers are common tattoo art forms, this tattoo is a lot special. This side tattoo is not only difficult to imagine but is also very hard to create, an abstract design carved on the part of your body.
The Korean Tattoo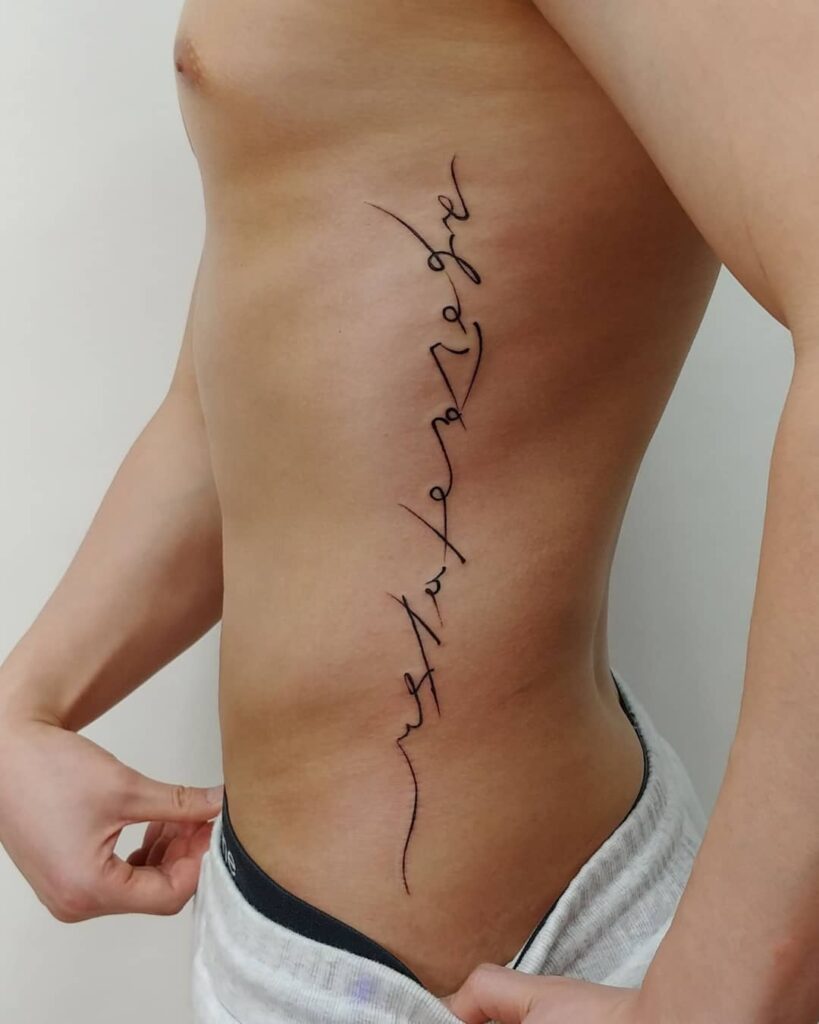 This is a perfect example of a handwriting tattoo. This side tattoo has handwritten words carved in the Korean language. The words are special, though; they are the names of the Korean parents carved by a child on his body. Though it looks so simple, this tattoo tells you a lot about the person. The amount of love and respect he has for his parents and his language has been shown by this simple Korean handwritten tattoo using any image at all! So if you're interested in these types of special and unique tattoos, take a look at this one and decide for yourself!
The Leaf Artwork Tattoo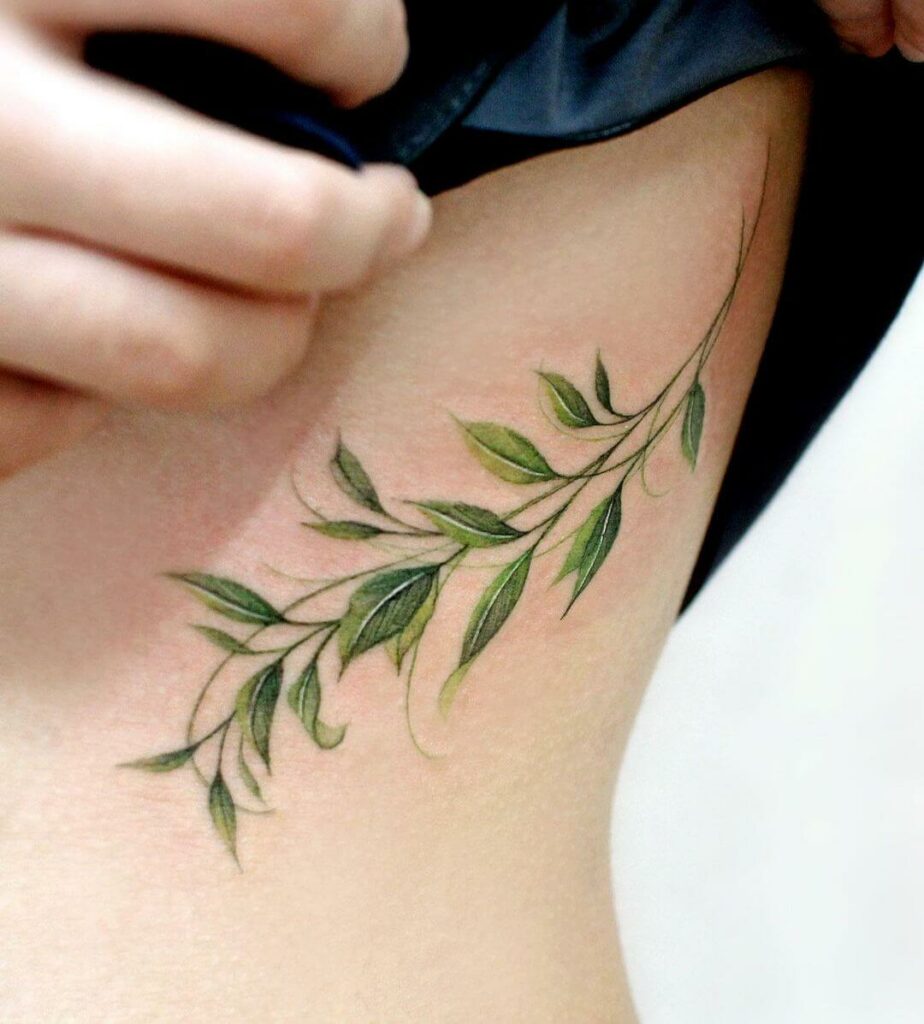 This graceful piece of art is hard to describe in words. Such a beautiful side tattoo is very rare to witness. This small rib tattoo at the side of your chest looks simple and still very realistic. The use of different shades of green colours and the natural lines make it look amazingly real. This rib tattoo design is a must for those who are looking for a simple yet naturally realistic design. The green and white colour used makes this tattoo very attractive, and also, the whole tattoo symbolizes style, passion, and also the love for nature, all at once.
The Lion Head Side Tattoo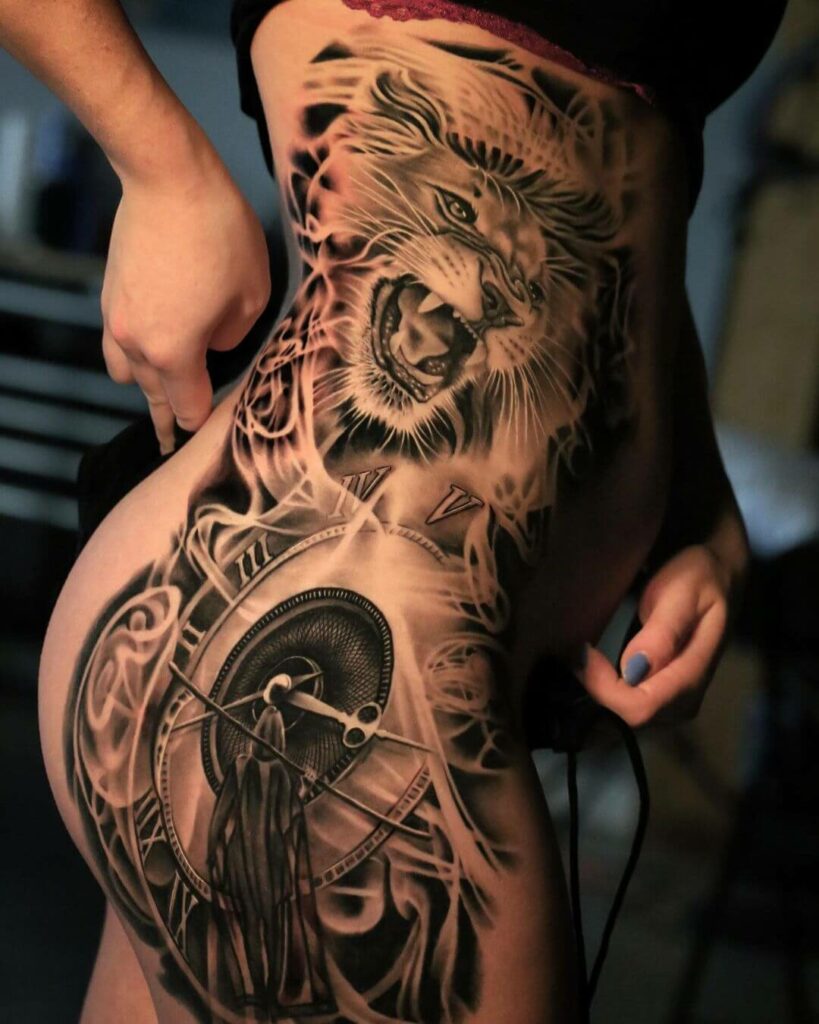 This side tattoo work is incredible. The tattoo is actually enormous. It has a lion head at the top, along with a dark cloak and a terrifying image of the Grim reaper at the bottom of it. The details will blow your mind. Different shades of dark and black ink have been used in a very good manner to execute this gorgeous piece of body artwork. The tattoo is surrounded by this smoke effect around the main images. The lion looks furious and is roaring out loud while the clock depicting a time and the grim reaper looking at it facing his back looks petrifying. If you are indeed looking for a unique and a bit dark-themed tattoo artwork for the side area of your body, your search will definitely stop here!
The Dragon Frame Tattoo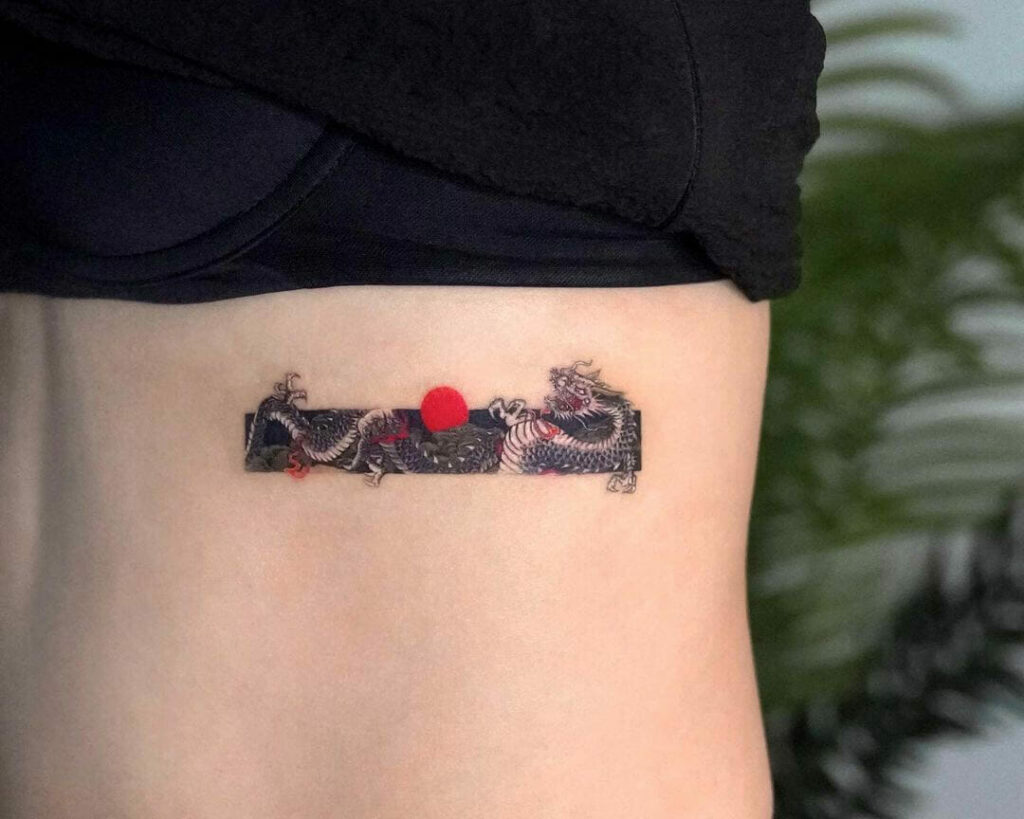 Here we have a beautiful and small side tattoo. It is actually a Korean dragon tattoo. The tattoo is a small-sized dark dragon tattoo carved on the side of the ribs. Black and Red ink have been used to carve the dragon and most probably a sun with it. It looks like the dragon, which has a really large and furious body, is emerging out of the black clouds during the sunset. The red round figure definitely represents the sun and looks very interesting altogether. The body of the dragon has been carved amazingly with a lot of details. The face of the dragon looks angry, and the scales on its body look very elegant. This piece of artwork is admirable and recommended for those looking for a small and detailed unique artwork.
The Raven And The Side Piece Tattoo
This is the most fabulous side tattoo we have on this list and, honestly, one of my favourites. It is a traditional Japanese tattoo. This rib tattoo has got an image of a black crow sitting on a branch of a flowering tree, surrounded by beautiful flowers and green leaves. This colourful side tattoo is really pretty and very attractive. Shades of black and shadows have been used to paint the crow. While the branch has been carved out using brown and dark ink and fine lines. Different sizes of leaves and flowers have also been made along the branch. Dark and light shades of green and purple ink have been used for flowers and leaves. Flowers have got these yellowish-orange centres, which again look really beautiful. Overall the colour and the detailing are amazing, and if you are looking for these types of side artwork, this tattoo work might be the one you are searching for! For more detail work on such a tattoo, you need to find a good tattoo artist.
The Butterfly Life Tattoo
As the name suggests, this is actually a cute butterfly side tattoo. This rib tattoo has got two adorable butterflies. One butterfly has a side view while the other, a front view with its beautiful wings, which are expanded. The black and grey shades are used to make this tattoo look realistic. The tattoo is simple and very adorable. This piece of art is recommended especially for women or girls who are expecting to get a new tattoo that is both cute and small.
There are various tattoo ideas and tattoo designs to choose from, including various tattoo artists and tattoo needle sizes, but you can surely communicate in the room about what you are expecting while the tattoo session is going on. The rib area tattoo can be a bit painful, but the outcome will be pure beauty. Some tattoo recommendations from our end that may not be too painful to ink:
Feature Image from Pinterest – Want your tattoo to look brighter? Try "Tattoo Balm"