Hey there! Are you interested in expressing your personality through a beautiful and subtle tattoo? Then, you should definitely consider wrist angel wing tattoos! These tattoos symbolize freedom, honesty, and purity, making them a popular choice among many young people, especially women.
Angel wings have a rich history and are associated with divinity, representing the idea of God, freedom, and rebirth. Whether you choose a single wing or a pair, a minimalist angel wing tattoo on your wrist can add an extra touch of elegance to your look. The intricate designs and clean black ink give the wings a chic and angelic appearance, making you feel as pure and honest as an angel. So why not let your wrist speak for you and choose an angel wing tattoo today!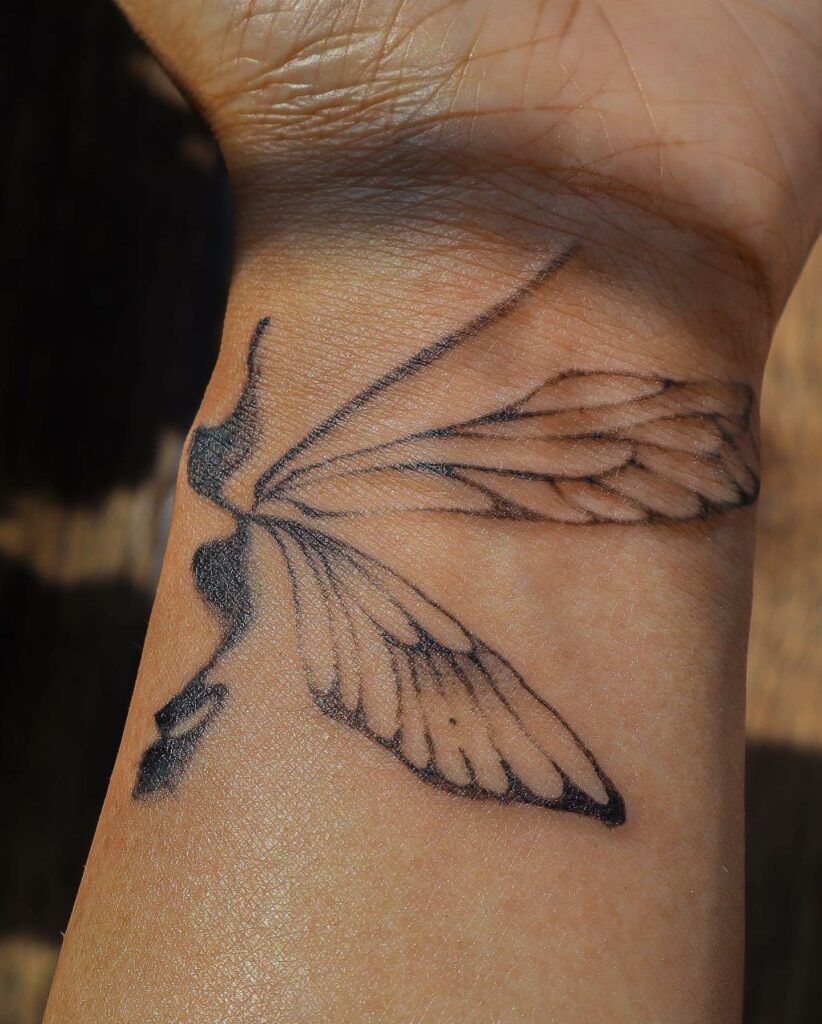 Semi-Realistic Angel Wings Tattoos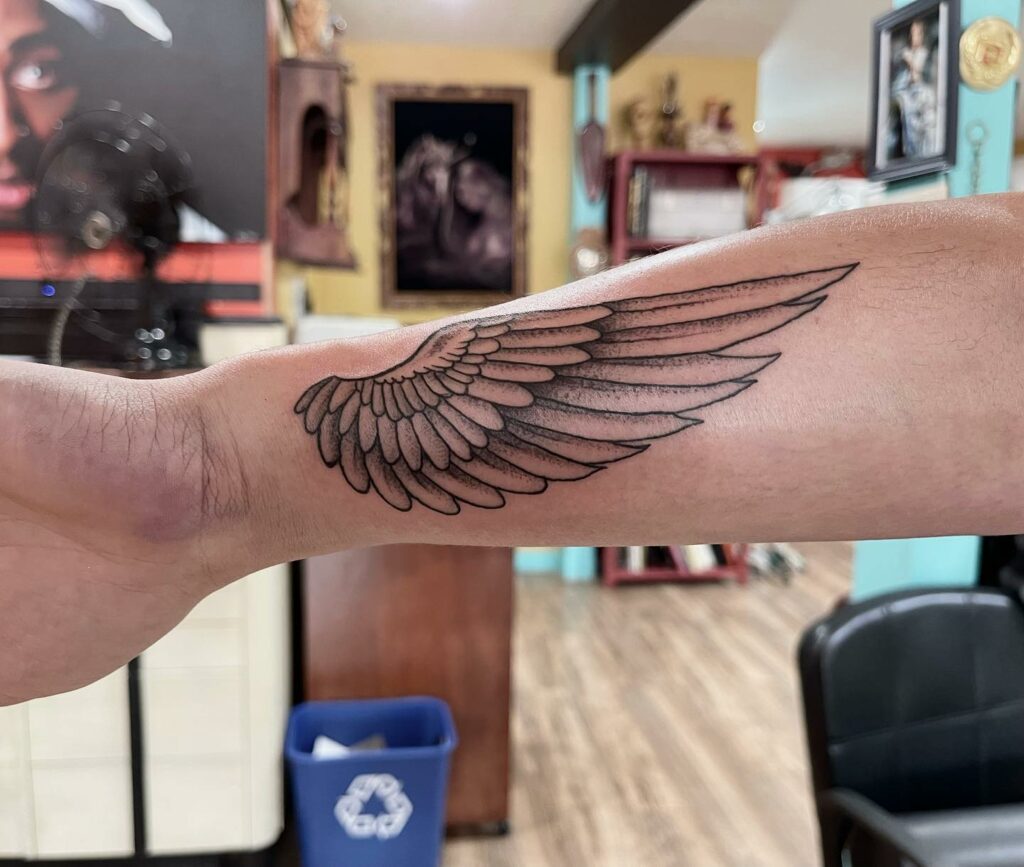 Are you looking for a stunning and meaningful wrist tattoo? Look no further! The semi-realistic angel wing design is just what you need. This beautiful piece of art showcases three-layered wings in black, giving it a timeless classic look that is highly sought after.
The three layers symbolize the eternal heavens and are a popular choice among tattoo enthusiasts. This design is perfect for young tattoo lovers, as it can be inked at the base of the wrist facing either forward or backward. The sharp outlines of this design make it stand out and its location on the wrist is one of the least painful areas to get tattooed. Trust me, as a tattoo artist, this angel wing design is a breeze to work on! So, go ahead and add a touch of beauty and symbolism to your wrist with this stunning design!
Feathered Angel Wings Tattoo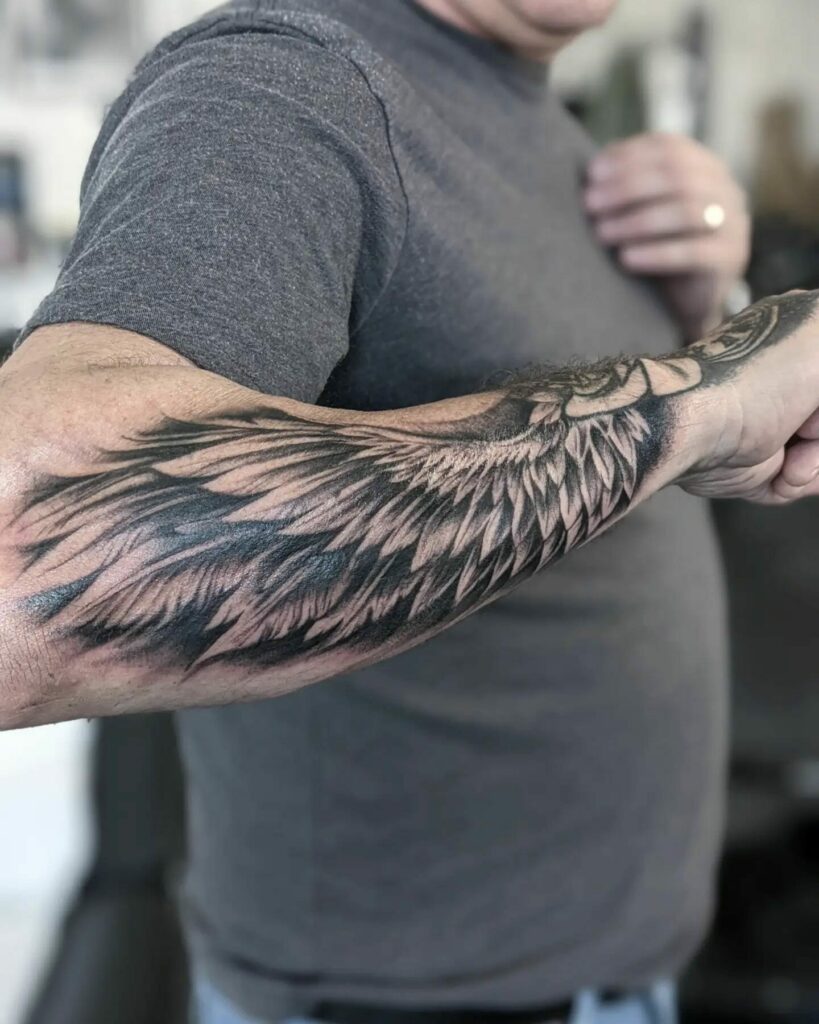 Are you looking for an angel wing tattoo with a special touch? Well, look no further! The feathered angel wing design is a popular and stunning choice that is sure to turn heads. This design features intricate layers of feathers and is accompanied by a beautiful rose and clock, adding a unique and meaningful touch.
The black ink used to create this tattoo is precise and brings out the detailed feathers and other designs. The clock is at the base of the design, with a rose on top, and the angel wings stretch up and out from there. This is a classic example of a feathered angel wing tattoo, and it can be sized and colored to your preference. If you're worried about pain, don't be! This wrist tattoo is typically rated at a 3 out of 10 on the pain scale.
Lettered Angel Wings Wrist Tattoo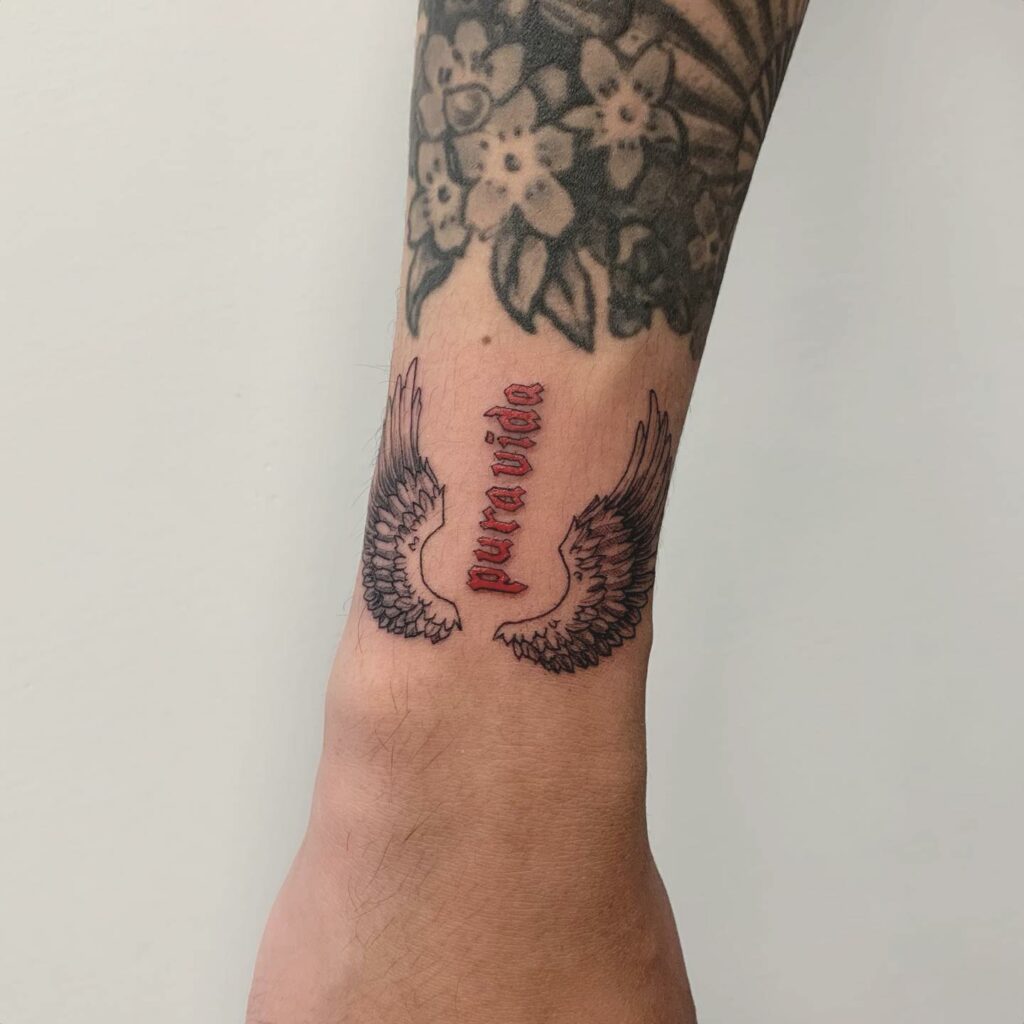 Are you looking for a timeless and classic tattoo design with a strong meaning? Then, the lettered angel wing wrist tattoo is just the design for you!
This minimalistic design is a perfect blend of symmetry, beauty, and simplicity. With precise and intricate inking, the wings are beautifully detailed with adequate shading and neat outlines, giving it a realistic look. The highlight of this design is the word inked in the middle of the wings, in a beautiful font and color of your choice.
Whether you want to commemorate a special memory or express a meaningful word, the lettered angel wing wrist tattoo is a perfect canvas to do so. The symmetrical spacing of the wings and the precise font of the letters make this design a standout piece. So, why wait? Get your lettered angel wing wrist tattoo today and let the world know your story!
Multi-Layered Angel Wings Tattoo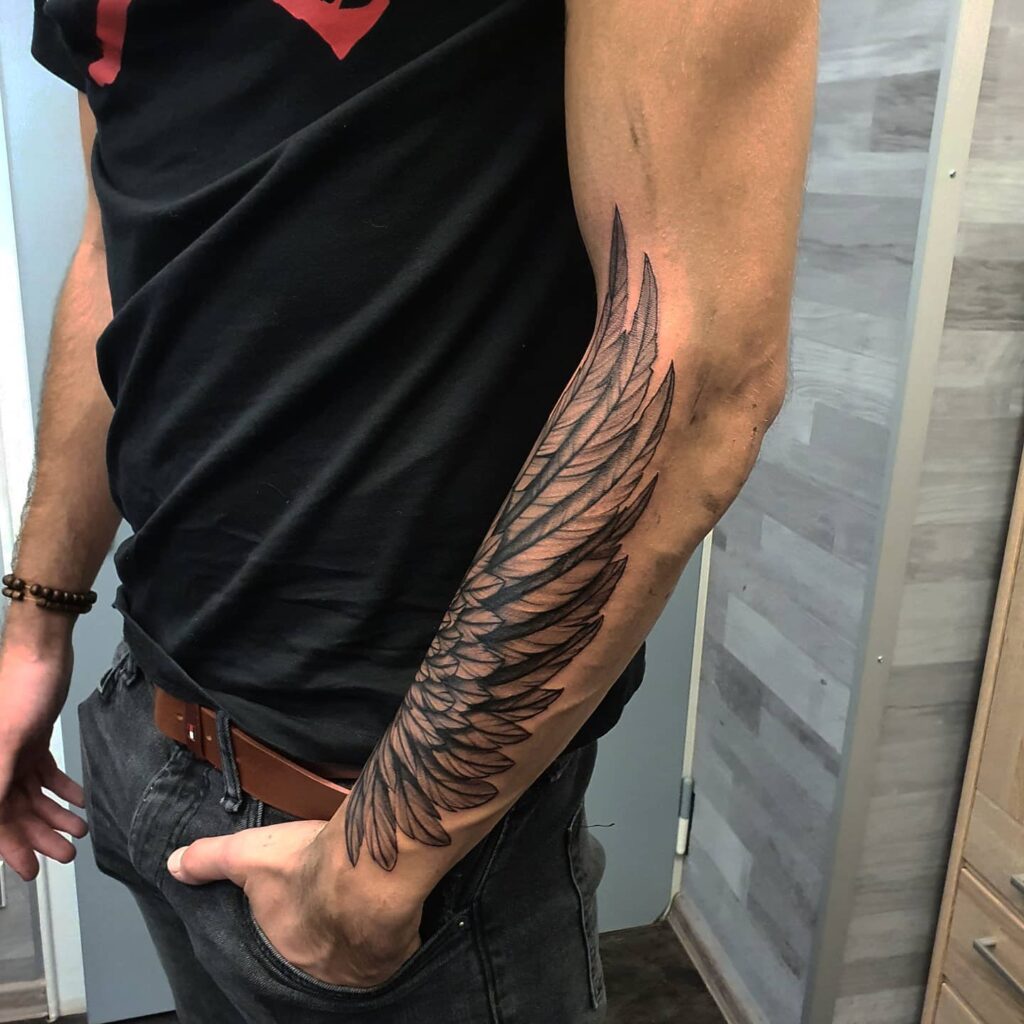 If you're a fan of angel wings tattoos, the multi-layered angel wings design is definitely worth considering. With its symmetrical arrangement of single wings and intricate sets of feathers, this design is truly a work of art. The shading and attention to detail are what make it a fan favorite, giving it a semi-realistic look with black outlining and fine dotted feather corners.
Not only is this tattoo visually stunning, it also holds a lot of meaning and symbolism. Angels are often associated with purity and honesty, and having a beautiful multi-layered angel wings tattoo inked on your wrist can serve as a constant source of inspiration and motivation. The size of the tattoo can be customized to your preference, and it's a relatively painless process too. So, if you're looking for a tattoo that's both gorgeous and meaningful, this multi-layered angel wings design might just be the one for you!
Fallen Angel Wing Tattoos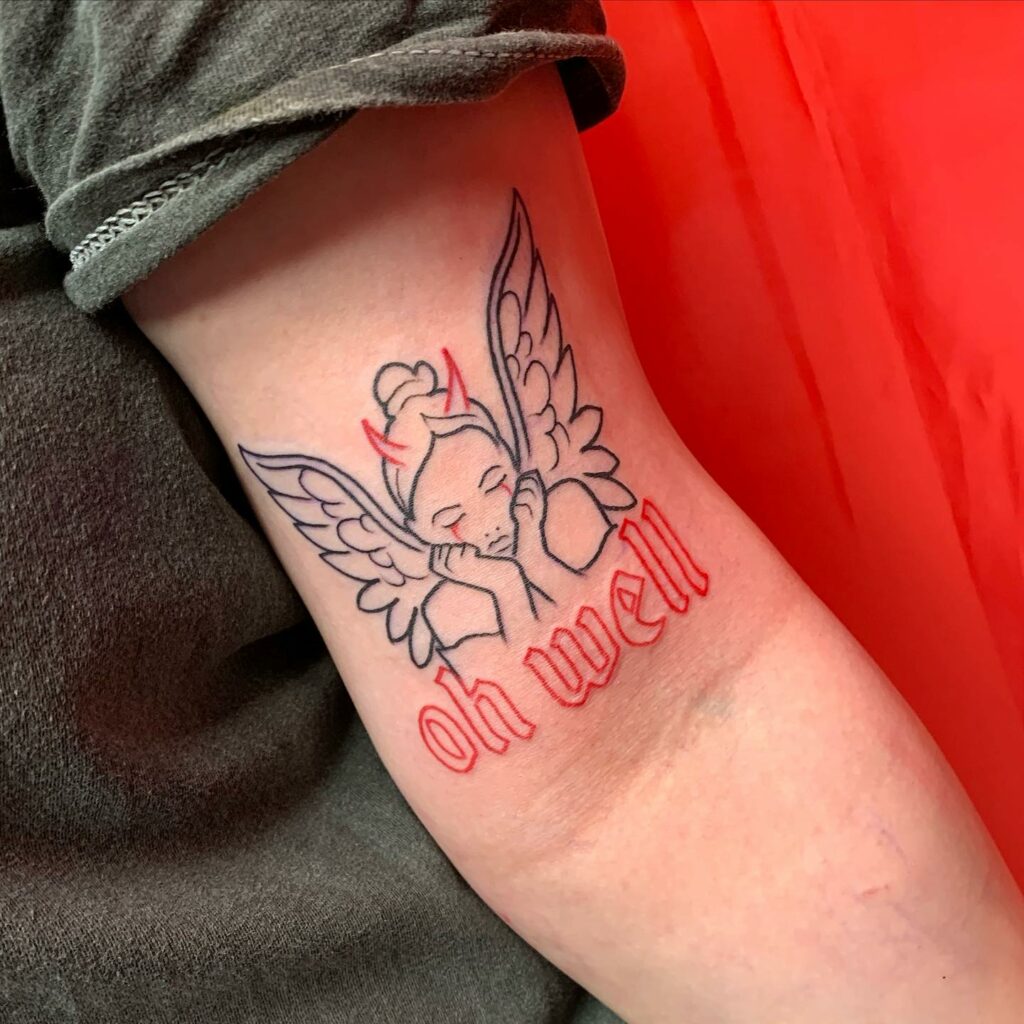 This tattoo design is definitely a head-turner! The "Oh well" lettered angel wing tattoo is one of a kind, with its unique combination of angelic and devilish elements. The beautiful angel wings, with their intricate feather designs, are perfectly paired with the depiction of an angel with devil horns, giving a powerful visual representation of the conflicting forces within us all. Whether you decide to get it on your wrist or another part of your body, this tattoo is sure to make a statement. So if you're feeling daring and want to show off your fearless side, this lettered angel wing tattoo is the perfect pick for you!
Lettered Angel Wing Tattoos With Animals
The lettered angel wing tattoo is a classic among tattoo enthusiasts! It's amazing to see how far the design has come over the years, and the addition of initials to the angel wing design just adds a personal touch.
This wrist tattoo is a stunning masterpiece, with beautifully layered and shaded angel wings that are both spacious and intricately detailed. The use of dots instead of lines during the tattoo process makes it a lot more comfortable and less painful. The initials are expertly placed in between the wings, creating a seamless and eye-catching look that truly embodies the angelic essence. Get ready to show off your personal touch with this stunning lettered angel wing tattoo!
Memorial Angel Wings Tattoo
The angel tattoo design is a true masterpiece, a perfect combination of intricate details and stunning simplicity. With its black and grey shading, it captures both the ominousness of the Grim Reaper and the divine grace of a God. The figure is adorned with a beautiful halo and two magnificent angel wings, elevating the design to a whole new level of magnificence. This tattoo is a true showstopper, scoring a solid 10 out of 10 on the majestic scale!
Angel Wing Tattoo With Quotes
This angel wings wrist tattoo is the perfect way to express your love for a word or quote that means a lot to you. Whether it's a famous quote from a movie or book, or a word that holds a special place in your heart, this tattoo design has got you covered.
The tattoo artist will work with you to bring your vision to life by incorporating your chosen word or quote within the angel wings. The wings are designed with intricate details and shading to give them a life-like appearance. And, the best part is, you can choose the font, shape, and color of the lettering, so your tattoo will be completely personalized to your style and taste.
Angel Wing Halo Tattoo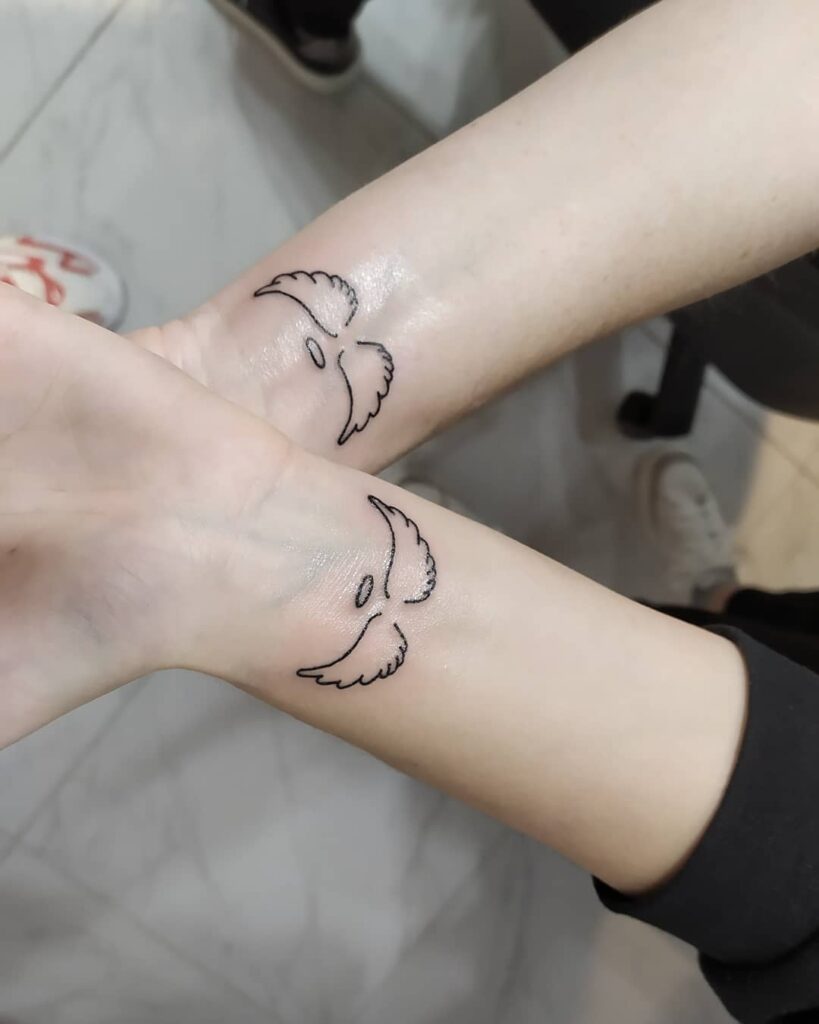 This minimalist angel wing with halo tattoo is a true beauty and one of the most requested tattoo designs out there. Whether you're looking for a wrist tattoo or a larger piece on your body, this tattoo idea is a timeless classic that never goes out of style.
And the best part? It's not too painful! With just a few fine lines and dots for shading, this tattoo is rated low on the pain scale by most tattoo artists, making it a great choice for those who want to add a touch of angelic elegance to their body without having to endure a lot of discomfort. The black outline around the halo and feathers really makes this design pop, and the tiny halo sitting on top of the wings symbolizes freedom and divinity. It's a delicate, elegant piece that will leave you feeling like a celestial being.
Single Wing Angel Wrist Tattoo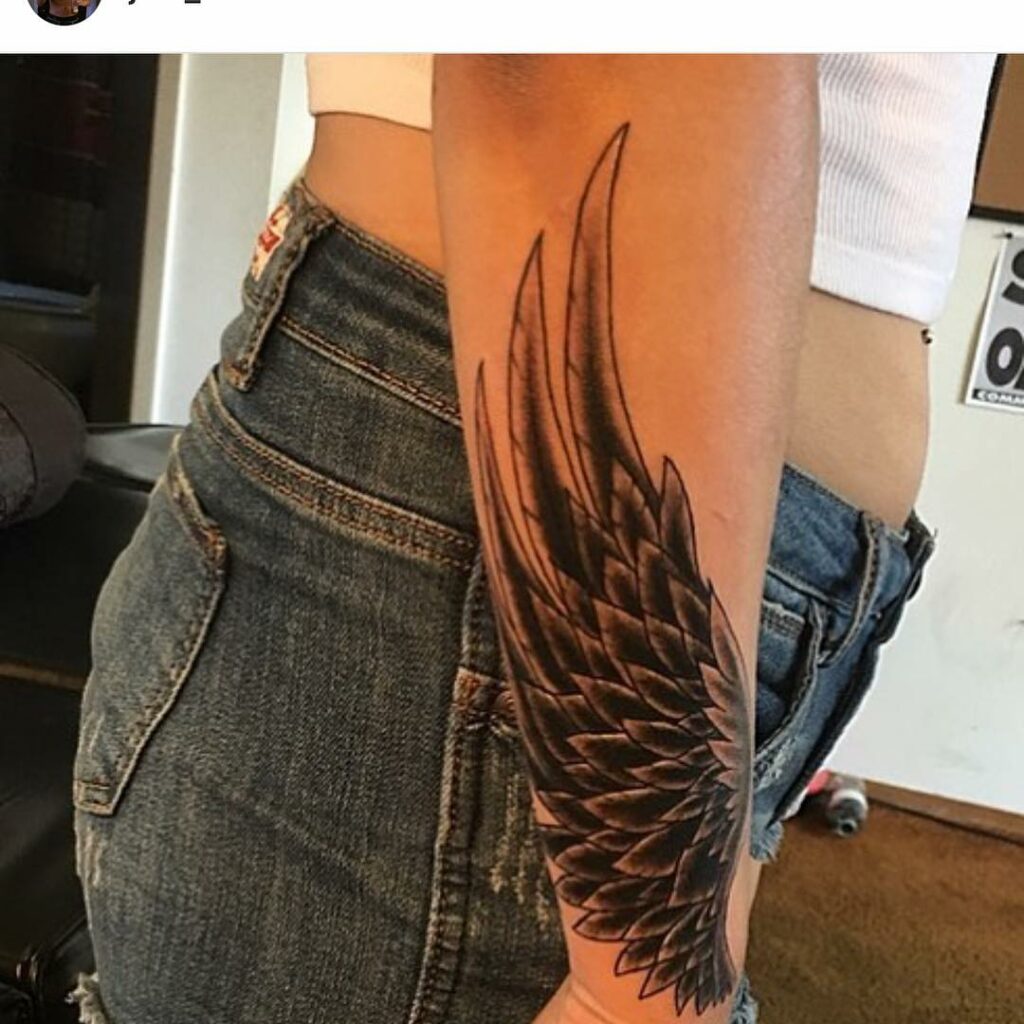 Are you looking for a simple, yet striking tattoo design? Look no further, because the single-wing angel wing tattoo is just what you need. This minimalist design is sure to set you apart from the crowd and make a statement.
This wrist tattoo showcases the intricate detailing of one angel wing, with its multi-layered feathers stylized in a unique way. Each feather is carefully shaded and the outlines are drawn in plain black ink, creating a semi-minimalist look. The tattoo is drawn on one side of the wrist, giving the illusion of a complete pair. With three layers of feathers, it represents the core values of angels, such as freedom, unity, heaven, and purity.
So, whether you want to express your love for angels, or represent your beliefs, this single-wing angel wing tattoo is a perfect way to do it. And the best part? It's rated only a 3/10 on the pain scale, making it a comfortable and easy tattoo to get. Show the world your spirit of freedom and solidarity with this beautiful wrist tattoo.
For more inspiration and tips, browse the other wrist angel wings tattoo here on Alexie.co
Still looking for inspiration, then checkout this blog post about st michael tattoos
Still looking for inspiration, then checkout this blog post about blessed forearm tattoos
feature image from Pinterest – Want your tattoo to look brighter? Try "Tattoo Balm"
Last reviewed and updated on April 26, 2023