The bear holds a significant place in the arts, folklore, and the realm of animal tattoos. Let's have a look at some mind-blowing big bear tattoo ideas!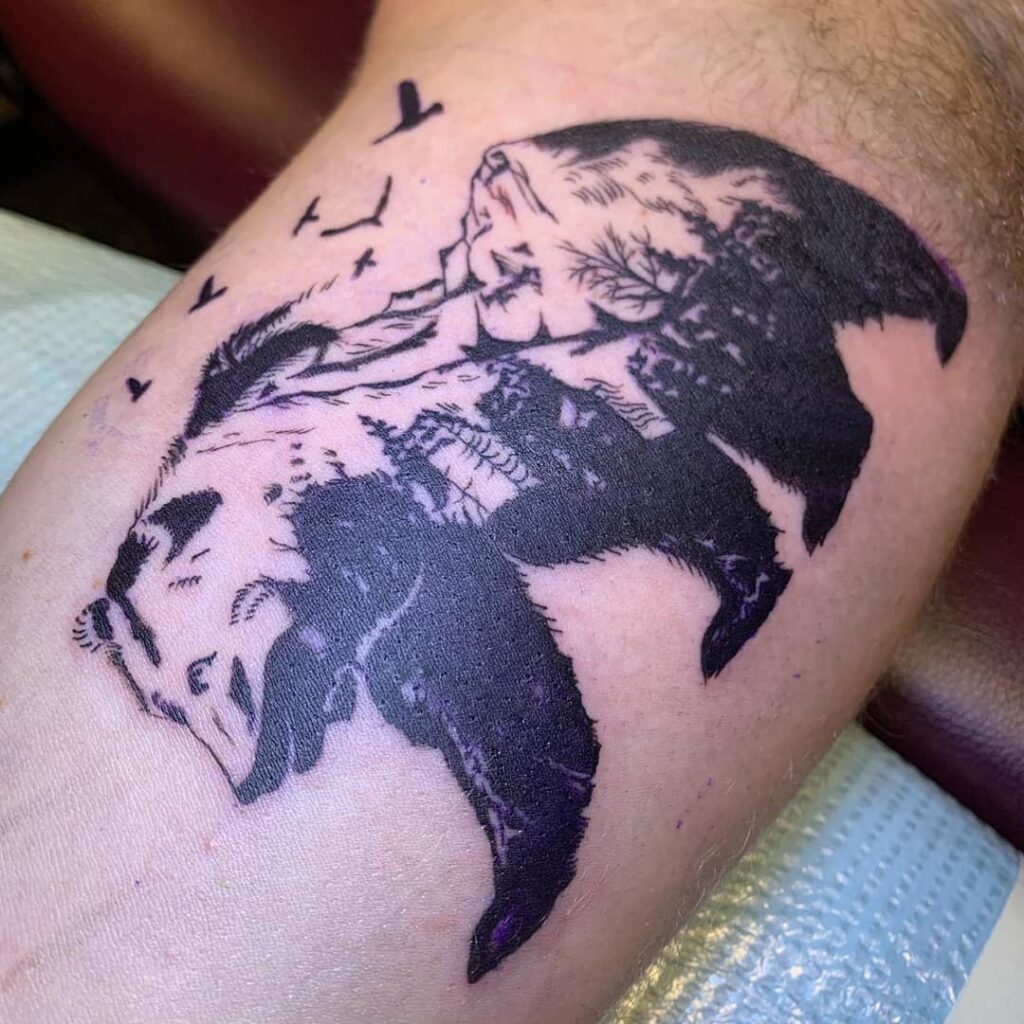 The bear is a representation of power, bravery, and tenacity.
They have been associated with teddy bear-based soft camaraderie and docile followers in popular culture. In all of its majesty and symbolism of strength and dignity, it is made funnier by its love of honey.
Tattoos frequently feature bears holding a jar of honey and bees swarming around. All around the world, bears appear in folktales and legends, from Asian mythology to North American and European cultures. It is a native of these continents, making it a very ancient element from these areas that man was aware of.
It even compares the man to this enormous monster that can move on both four and two legs. There are various theories, some of which claim that man revered bears as fierce predators that were both swift when pursuing their prey and strong and powerful. The animal was portrayed as a human who had undergone a transformation and lived in close proximity to humans in several indigenous myths.
Numerous bears have symbolic meanings in myth and lore. Similar to its African cousin, the lion, the bear is connected with many strong and beneficial qualities, including primal force, sovereignty, intuition, and instinct. The bear represents strength, the fourth component of bravery, as an emblem. Because bears have been present for so long, symbols can be found in the myths and folklore of many different countries.
Black Bear Tattoo
Different bear species are associated with various symbolism and personality qualities. For instance, black bears are more accepting of humans and other black bears in close proximity. On the other side, grizzly bears favor a greater distance from humans. When threatened, they are much more likely to protect themselves than a black bear, who is more prone to flee.
The majority of a bear's waking hours are spent in search of food. Although grizzly bears and polar bears can kill large prey like elk or caribou, they mostly target smaller species like salmon or rodents. This tattoo can also be called a geometric bear tattoo, and we can agree that the most talented tattoo artists can make the tattoo. Basically, the geometrical lines that have been made are not that easy to make, but it is indeed beautifully made.
Big Bear Little Bear Tattoo
Bears are fiercely protective creatures like wolves, and the "mother bear" cliché is widely used. Your bear spirit animal's message is to be extremely protective of the people in your life, especially your family and close friends. You can channel this protectiveness into defending your beliefs, ideals, and the truth. Surprises do not appeal to bears. The big bear and little bear tattoo can also be turned into a bear in the big blue house tattoo.
These laser-focused hunters may become so engrossed in their pursuits that they lose awareness of their surroundings. Thus, when they can activate their protective mode, it is relatively simple to sneak up on all of them and startle them. The bear is one of our favorite animals, which also advises us to be open-minded, willing to try something new and take advantage of chances as they present themselves.
The Big Bear Tattoo With Rose
This tattoo is beautifully made and if anyone wants to make a similar tattoo, they need first to find tattoo shops. The tattoo artist will for sure take customization requests and the customer just needs to show or tell them their ideas. This tattoo can be made as a matching tattoo with their best friend. This tattoo can also be called a California bear tattoo. The sign of the bear can be regarded with courage and bravery.
If one wants, they can get custom areas superbly. The picture in the tattoo controls the attention of the viewers. The location of the tattoo is what is important it is preferred to make the tattoo in a larger place. The best thing is that one can even give their reviews on the tattoo. We can say that the tattoo artist has done a brilliant job. If one does not want a permanent tattoo, they can always go to the school tattoo shop where they can find temporary tattoos.
The Big Bad Tattoo Of The Bear
Bear tattoo designs can be inked on many body parts, depending on their size and complexity. Many tattoos the roaring bear on their chest or shoulders to represent their fortitude and readiness to take on any obstacle. Due to its size, this animal is a good choice for a huge back tattoo or to cover a greater area of a leg or arm sleeve tattoo as a focal point or part of a tribal design.
This tattoo can be made by both men and women. The color added to the tattoo makes it look even more attractive. This tattoo can be made anywhere on the body according to their wish. The colors make the tattoo stand out on its own and make it unique in its way. It is said that making tattoos on the neck is the most painful part, but this tattoo is beautifully made and we can't imagine how tough or painful it must have been.
The Badass Big Bear Tattoo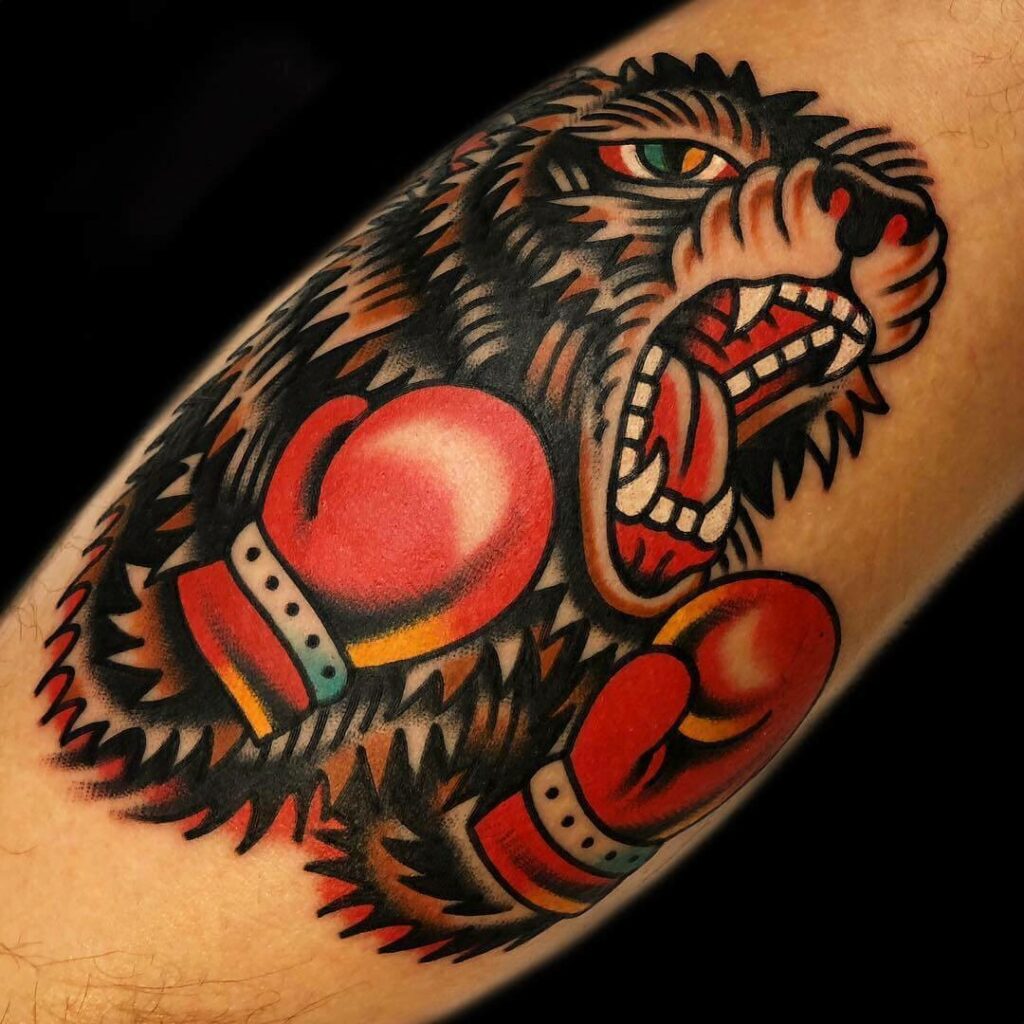 This tattoo is beautiful and is an extraordinary way made. the bright colors that are used to make the tattoo attract the viewers. The bear is a powerful symbol with many meanings because it is one of the forest's lords on the continent. It has appeared in numerous mythologies, cultures, and other symbolisms, which explains why it is so well-liked as a tattoo.
They are gorgeous animals that many people use to display their might. Bears are frequently viewed as autonomous animals with little need for a group or a large family, despite the fact that they are protective parents. They are revered as forest defenders, especially as one of the biggest urban creatures and fierce killers.
The Big Bear In The Aurora Tattoo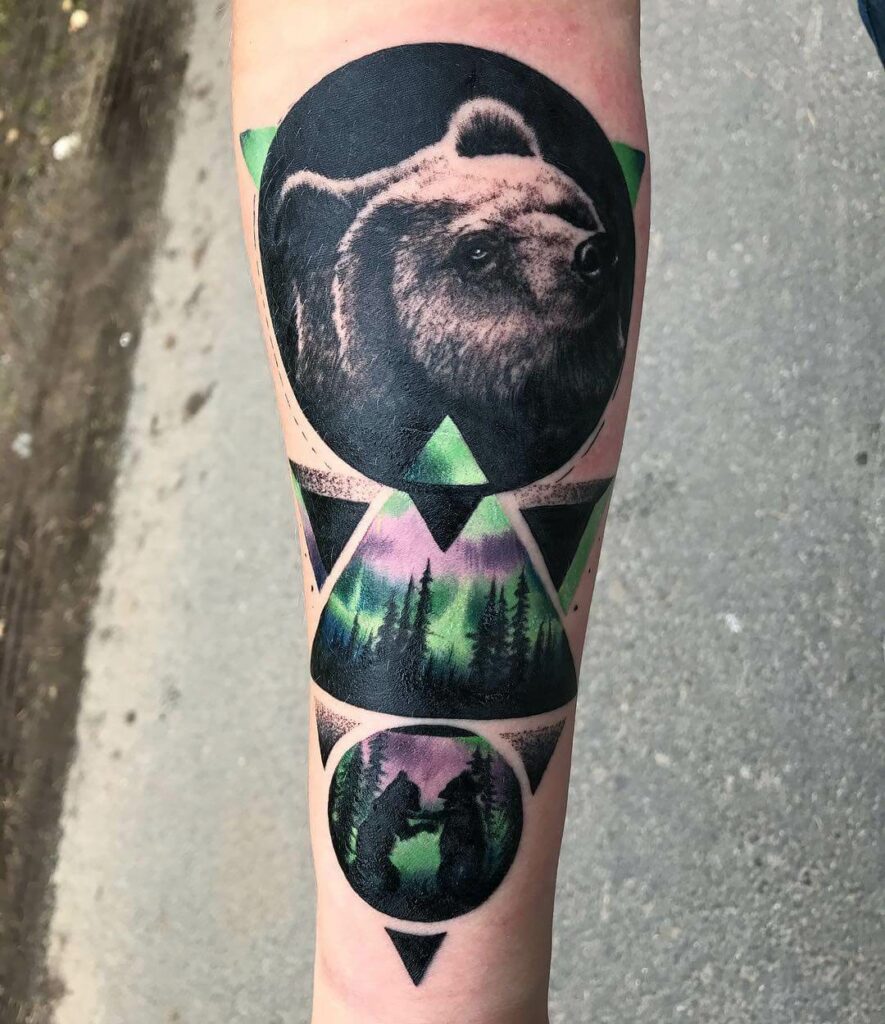 This tattoo has many sides to look at in a sense, the entire tattoo is made inside geometric shapes. In the first circle, we can see the picture of the big bear and in the second, we can just have a look at the Aurora lights in the sky. Therefore in the last shape, we can see two bears standing or playing under the Aurora sky. Each of the images is shown as connected to the Other.
This tattoo can be made by both men and women, but it is preferable to make the tattoos where it is visible because the color shade or the scheme used to make the aurora sky will attract a lot of viewers and also admires the tattoo. The color combination can always be changed or altered because there are many types of Aurora with different color schemes.
The Tribal Big Bear Tattoo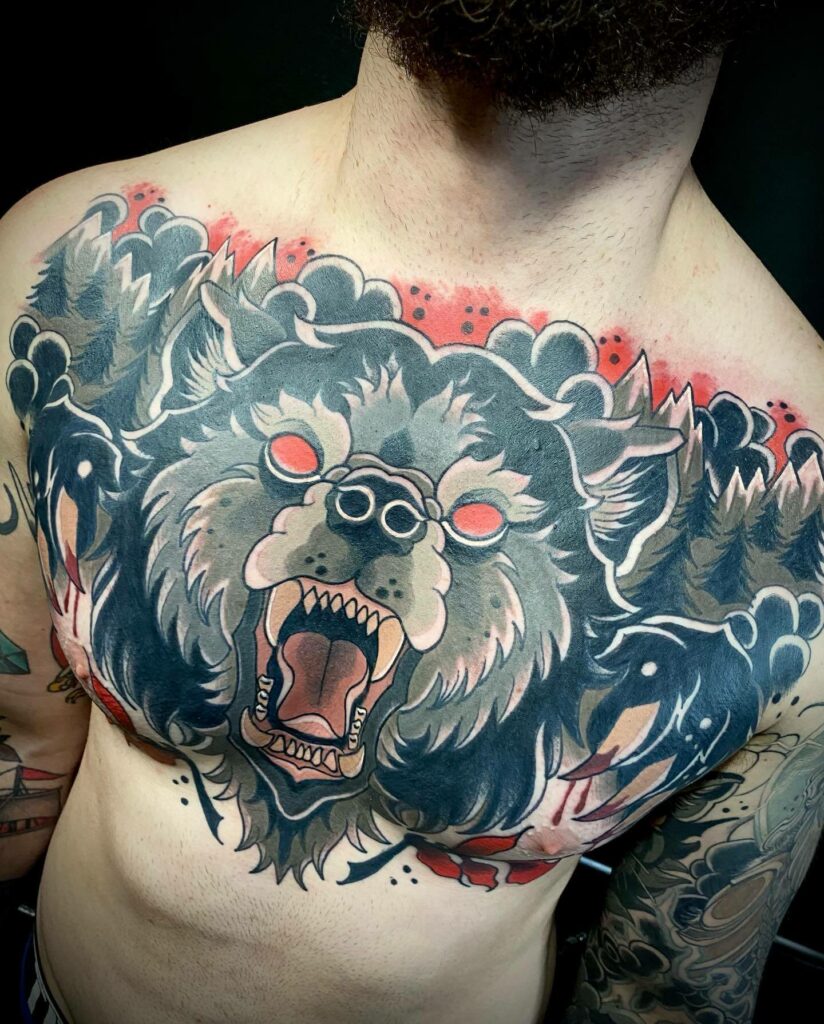 The entire big bear tattoo is made on the chest of the person. As previously said, bear symbols were immensely popular among numerous traditions and cultures, particularly the Native American culture, which saw bears as symbols of strength, power, self-control, and spirituality.
Who knows, maybe a bear is their spirit animal, and you're looking for inner calm as well as the strength hidden beneath its furry fur and muscular form. A bear has several Native American symbols. Seeing such a tattoo, anyone would want to have a similar tattoo.
The Big Bear Tattoo That Shows Stars And The Moon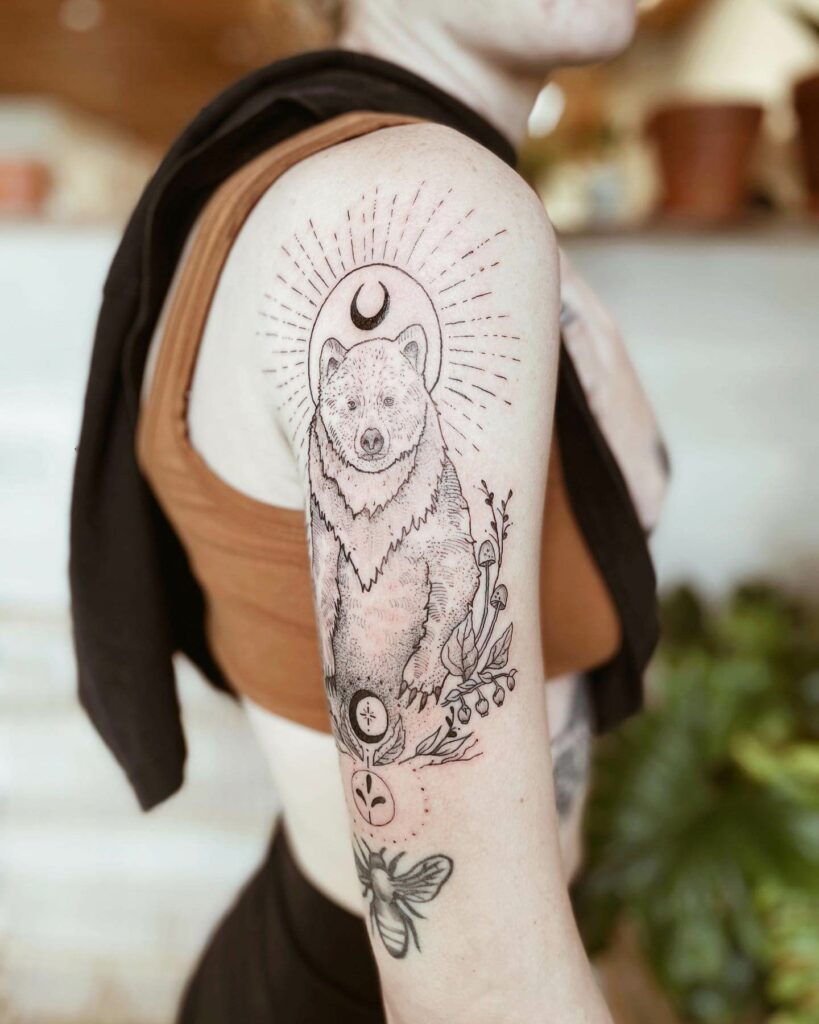 This tattoo is beautifully made, and the site of the tattoo is made in a very fancy way. It could be easily reviewed that any daughter originally wanting to make this tattoo would find tattoo services near them. The artists have done a brilliant job. Just the plain black lines that have made the tattoo leave a great impression.
The elements that are used to make the tattoo make it look even more attractive. We can say that the image in itself is perfect and look admirable. Except for the bear, we can say that the artists have added a bee to the entire image giving it a different meaning of its own.
The Blue Big Bear Tattoo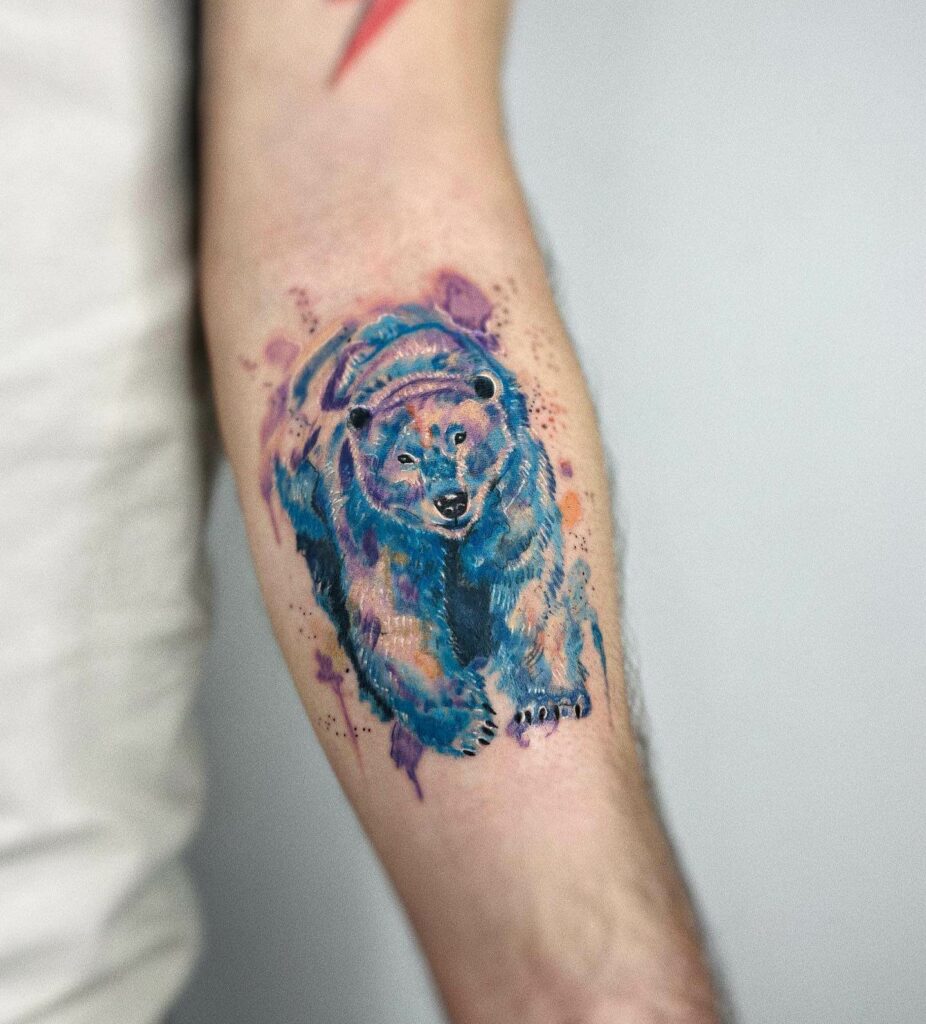 This tattoo is small yet very eye-catching. The bright blue color that has been used in the tattoo makes it look more attractive. This tattoo more over gives a vibe of the polar bear. This tattoo is small in size and the best part is that it can be made anywhere on the body.
This tattoo can be made by both men and women and especially by those who love mountains and cold places. The tattoo looks bright and positive and is a must for bear lovers or who regard the bear as their spirit animal.
The Dope Merge Of The Big Bear Tattoo And Tiger Tattoo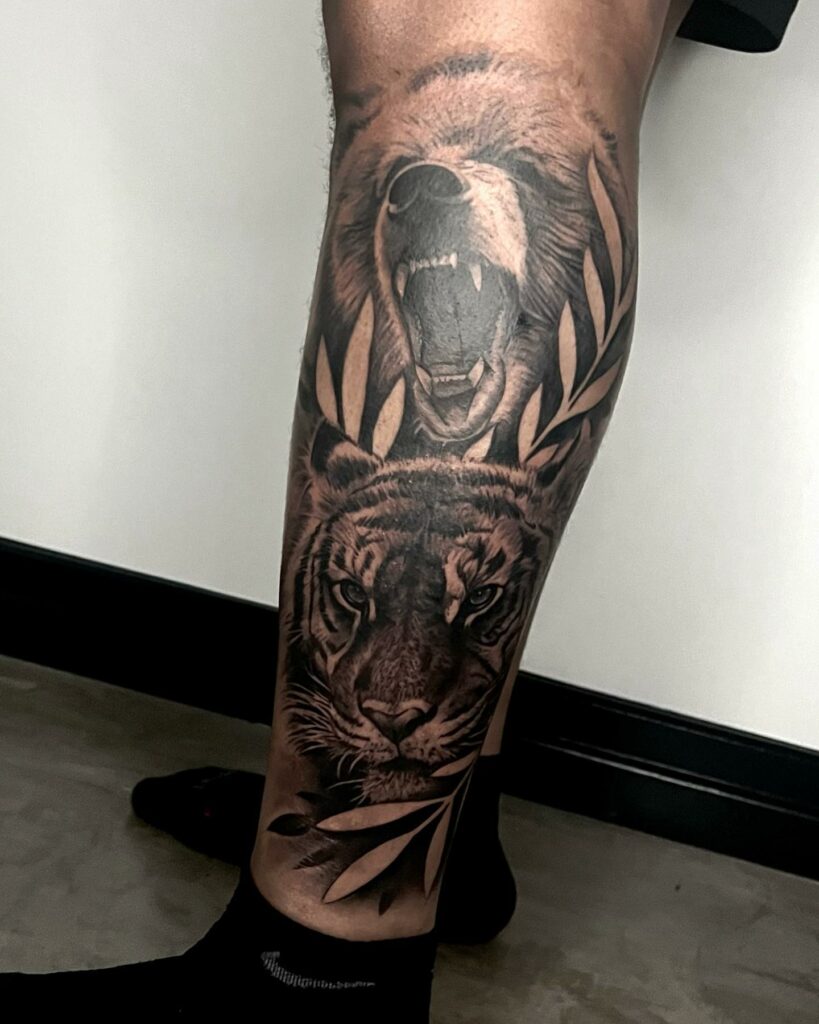 This tattoo is a merge of a big bear tattoo and a tiger tattoo. The detailing of the tattoo is beautifully made, and we can say that the tattoo artist has done an amazing job. The image looks as if someone puts have printed a picture and stuck it to the skin it is that perfect.
This tattoo can be made by both men and women, but it is better if a man makes it. The tattoo is perfect for someone who loves wild animals and somehow wants to get themselves connected to them. This tattoo will also look good as a full-back tattoo.
Still looking for inspiration, then checkout this blog post about bear tattoo ideas
Feature Image from Pinterest – Want your tattoo to look brighter? Try "Tattoo Balm"
Last reviewed and updated on August 23, 2023