Are you searching for the perfect tattoo to complement your darker skin tone? Look no further! We've compiled a fantastic list of tattoo designs that are tailored just for you.
Tattooing on dark skin tones can be a bit challenging, but fear not, we're here to guide you. There are numerous misconceptions about black and brown skin tattoos, but rest assured, with the right choices, any tattoo can look stunning on any skin tone.
Many people with darker skin tones may be concerned about how tattoos will appear on their skin. However, by opting for bold or vibrant colors and working with an experienced tattoo artist, you won't need to worry about your tattoo looking lackluster. While tattoos on darker skin may look different than on lighter skin, they can still be striking and noticeable. Whether you're considering black and white or colored tattoos, the right technique and approach will make all the difference.
Some common myths about tattoos on darker skin include excessive pain and vague end results. Avoiding thin lines in light colors is key since darker skin contains more melanin, which requires bolder lines and vibrant, rich colors for optimal visibility. It's crucial to work with a tattoo artist who has experience with dark skin tones, as they'll know which colors, techniques, and line opacities will best suit your unique complexion.
Another myth is that tattoos on brown skin may cause long-lasting scarring. However, with a cautious tattoo artist who ensures the needle doesn't penetrate too deeply, this can be easily avoided. Keep in mind that white ink may not always be ideal for darker skin tones, so consulting an expert before opting for a white ink tattoo is advisable.
For now, let us inspire you with 10 amazing tattoo ideas that will help you envision the perfect design for your skin tone!
Black Lady Portrait Tattoo On Brown Skin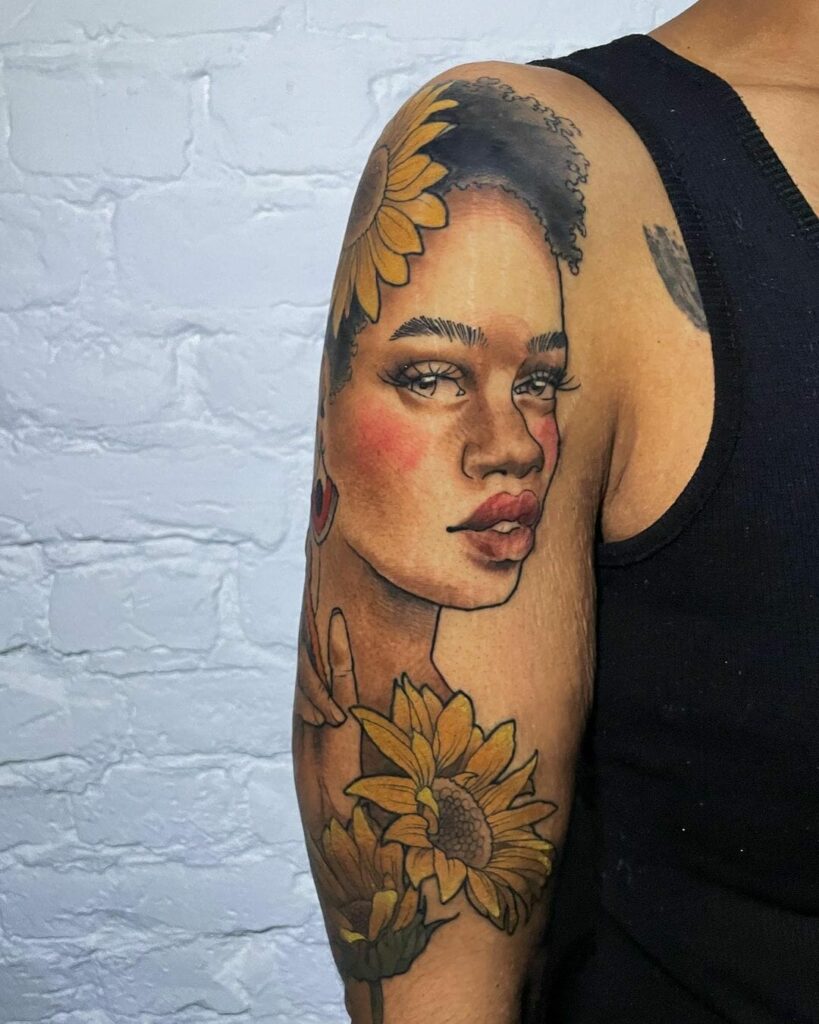 Portrait tattoos are a popular choice for people looking to commemorate someone or something meaningful to them. Whether it's a loved one or a symbol that holds significance, a portrait tattoo can be a powerful expression of emotions. This particular portrait tattoo features a stunning woman of color who represents strength, beauty, and passion, with the addition of sunflowers to symbolize romance. The use of colors and techniques in this tattoo creates an incredibly realistic effect that will surely impress. It is especially recommended for individuals with medium-deep skin tones. If you're considering a portrait tattoo, this one is definitely worth considering.
Astronaut Tattoo On Brown Skin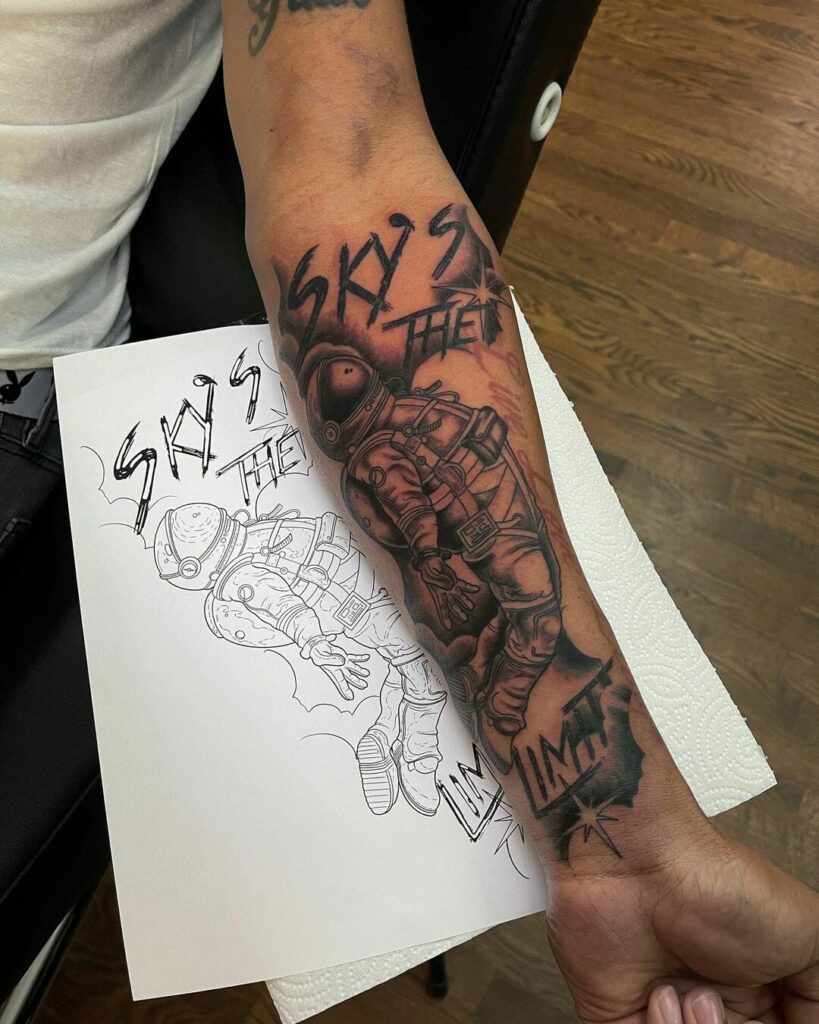 An astronaut tattoo can represent different things for different people. For some, it may signify their aspiration to become an astronaut, while for others, it may symbolize a desire for freedom and reaching new heights. The phrase "Sky's the limit" featured in the tattoo is a powerful reminder to always dream big and overcome challenges to achieve your goals. This tattoo serves as a daily motivation to pursue your dreams, no matter how challenging they may be. So, if you're considering an astronaut tattoo, it could be the perfect way to remind yourself of your limitless potential and determination.
Japanese Sleeve Tattoo on Brown Skin
Japanese tattoos have a reputation for their strong lines and bold contrast. This striking combination of a Japanese sleeve and chest tattoo showcases powerful creatures like dragons and snakes. Each animal in the tattoo holds a specific meaning; the dragon represents strength, ambition, and fierceness, while the snake symbolizes intelligence, calmness, and rationality. If this art truly resonates with your personality, this type of tattoo design is an excellent choice for you, no matter your skin tone.
Egypt Themed Tattoo For Darker Skin Tones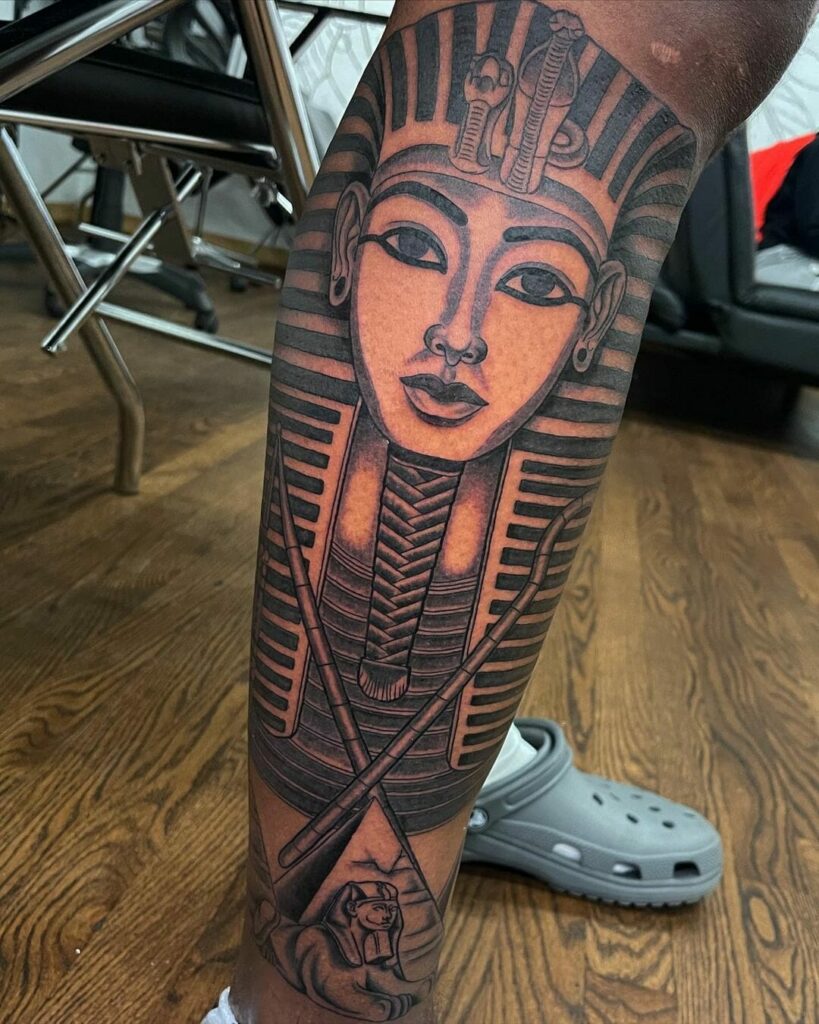 Japanese tattoos are renowned for their strong linework and high contrast, but they're not the only style that holds cultural significance. This fusion tattoo combines the bold lines of Japanese tattoos with the mysterious and iconic symbols of ancient Egypt. An Egyptian-themed tattoo can hold deep symbolism and meaning for the wearer, such as the mystery and intrigue represented by the Sphinx or the strength and power of King Tut. This particular tattoo features King Tut on the calf, symbolizing royalty and strength, while the Pyramid and Sphinx represent enlightenment and the unknown. Whether you choose to get this tattoo on your arm or elsewhere, it is sure to make a striking statement and represent your love for both Japanese and Egyptian culture. With a bit of investment and patience, you can make this unique fusion tattoo your own.
Calligraphy In Red Ink Tattoo For Brown Skin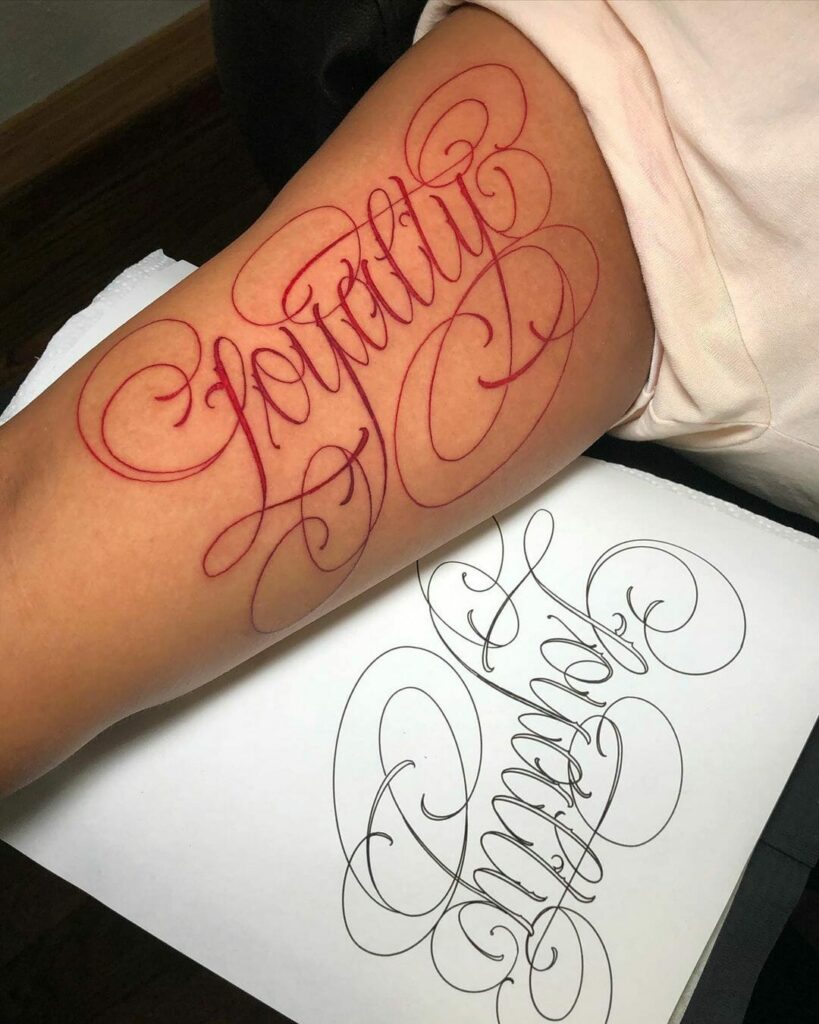 Calligraphy is a beautiful form of handwriting that is often used to create stunning and decorative patterns. Many people opt for calligraphy tattoos to showcase their beliefs or personal mantras. This particular calligraphy tattoo is a prime example of a single-word tattoo, done in bold red ink on brown skin. The chosen word in this tattoo is "loyalty," a powerful statement that holds deep meaning for the wearer. Of course, you can always customize a tattoo like this with words, phrases, or quotes that hold special significance to you. With the help of a skilled artist, your calligraphy tattoo will be a beautiful and meaningful addition to your body art collection.
Floral Tattoo On Dark Skin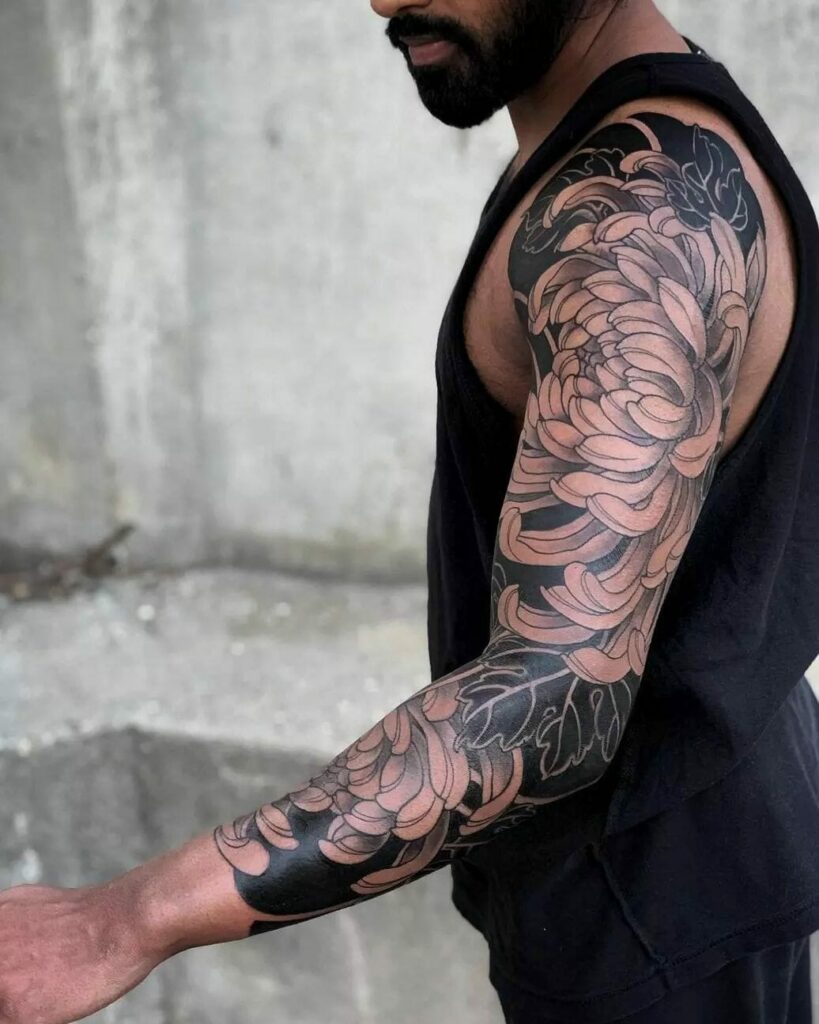 Flower tattoos have been popular for centuries, and it's no surprise why. They represent a range of meaningful concepts, including natural beauty, love, passion, innocence, and even mortality. In many cultures, flower tattoos are thought to bring good luck to the wearer. A black and grey floral sleeve tattoo like this one is an excellent choice for anyone, regardless of skin tone. With proper planning and care during the healing process, a skilled tattoo artist can create a stunning and intricate piece of art that will stand the test of time. Don't be afraid to discuss your ideas with your tattoo artist and make the most of their expertise to create a unique and beautiful tattoo.
Word Tattoo For Black And Brown People
Word tattoos are a popular and powerful way to express oneself silently. This particular tattoo features a single word, artfully inked in handwritten lettering. These tattoos are versatile and can be placed on any body part, such as the wrist, ankle, collarbone, or neck. To ensure that the tattoo stands out, it is important to use ink darker than your skin tone and bold lines. If you're considering a word tattoo, it's essential to find a skilled artist with experience in lettering to ensure the best possible outcome.
Bastet Tattoo For People With Darker Skin Tones
People in Ancient Egypt used to worship cats among many other gods and goddesses. And the cat goddess, Egyptians, used to worship was called Bastet. A Bastet tattoo can have many purposes like immortalising one's pet cat or symbolising the protection of one's home and family as cats were known for protecting the house and the family members from many life-threatening dangers that came their way. Getting this thigh piece might be painful, but we promise the experience will be worth it.
Triple Goddess Coloured Tattoo For Brown Skin
This stunning brown skin tattoo features three powerful goddesses that each represent different traits and symbols. The High Priestess on the left stands for divine knowledge, protection, and purification, while the Empress in the middle represents bravery, soul fire, and community. The weaver she holds is said to set the universe in motion. The goddess on the right side holding a rose, The Star, symbolizes healing, enchantment, and esoterica. The vibrant colours used in this tattoo can be adjusted to match any skin tone, making it a great choice for anyone looking for a colourful and meaningful tattoo.
Black And Grey Tattoo For Brown And Black Skin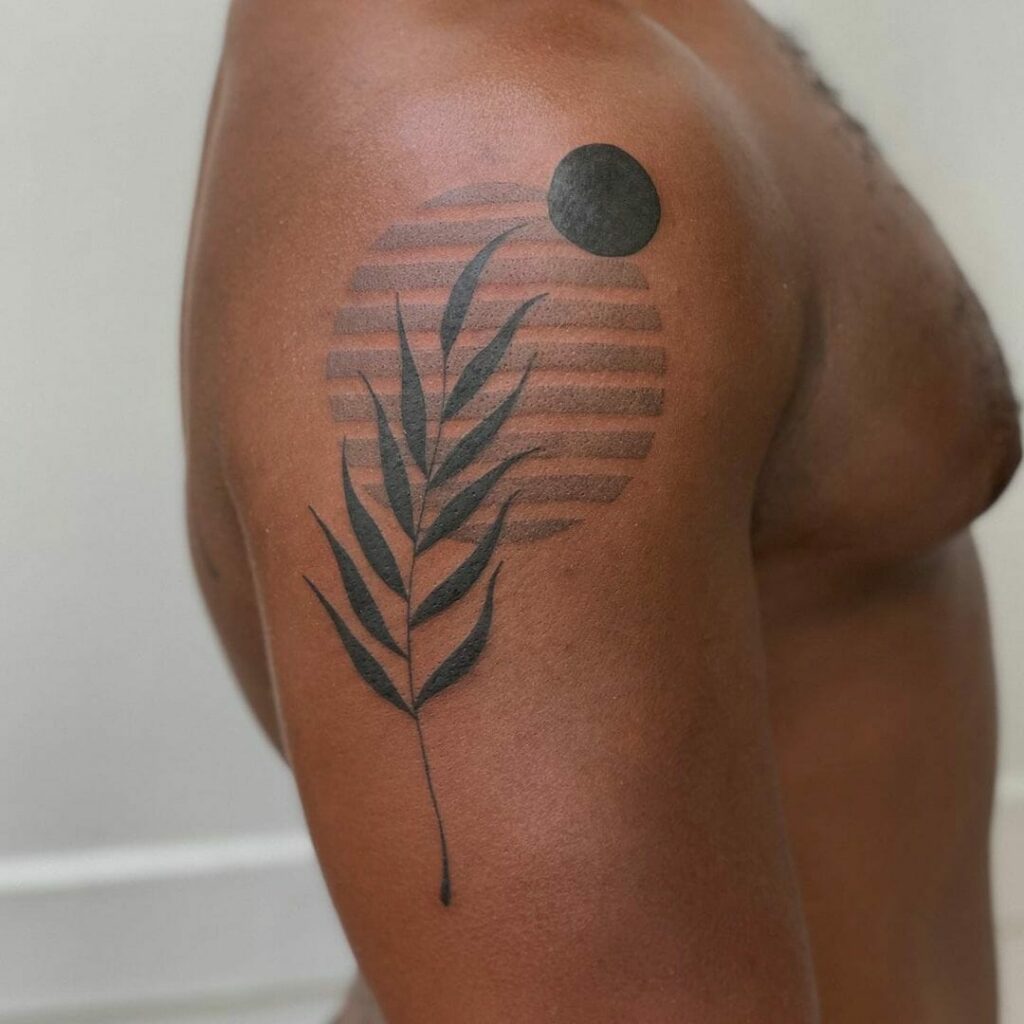 When it comes to tattoos, black and grey ink designs can look strikingly beautiful on darker skin tones. This tattoo is a great example of just that, featuring bold black ink and intricate dotwork shading. It's a myth that black ink tattoos don't show up well on dark skin, and this tattoo serves as proof of that. While this design won't break the bank, it's still important to find an experienced tattoo artist who can create the perfect piece for you. With the right artist and some careful planning, a simple black and grey tattoo like this one can make a big statement on any part of your body.
Tattoo For Dark Skin
Tattoos are a form of art that can look stunning on all skin tones. Despite the misconceptions, tattoos on darker skin tones can be just as beautiful as those on lighter skin tones. It all depends on the colors and techniques used, as well as the skill of the tattoo artist. Our list of brown skin tattoos can help you find the perfect design to enhance your appearance. Remember that you can always customize a tattoo to suit your personal style and skin tone. Just be sure to plan with your tattoo artist in advance and follow proper aftercare instructions for optimal results. Don't hesitate any longer, and find the perfect tattoo to showcase your unique personality, no matter your skin tone!
Feature image from Pinterest
Last reviewed and updated on May 4, 2023