Are you seeking a bold and powerful tattoo design? Dive into our collection of stunning tribal shark tattoos, and find the perfect inspiration for your next ink!
Shark tattoos have long been admired for their symbolism of resilience and tenacity. They can serve as a reminder to persevere and embrace our inner fighter, no matter what challenges we may face.
These fierce marine predators are often depicted in various ways, from different angles and perspectives, highlighting their impressive forms. When you choose a tribal shark tattoo, you're not only embracing the strength and power of the shark but also tapping into the rich cultural traditions of tribal art. These designs can represent protection, cunning, and guidance on your life's journey.
Ready to explore your options? Let's dive into some incredible tribal shark tattoo designs and find the perfect one to suit your unique style.
Tribal Hammerhead Shark Tattoo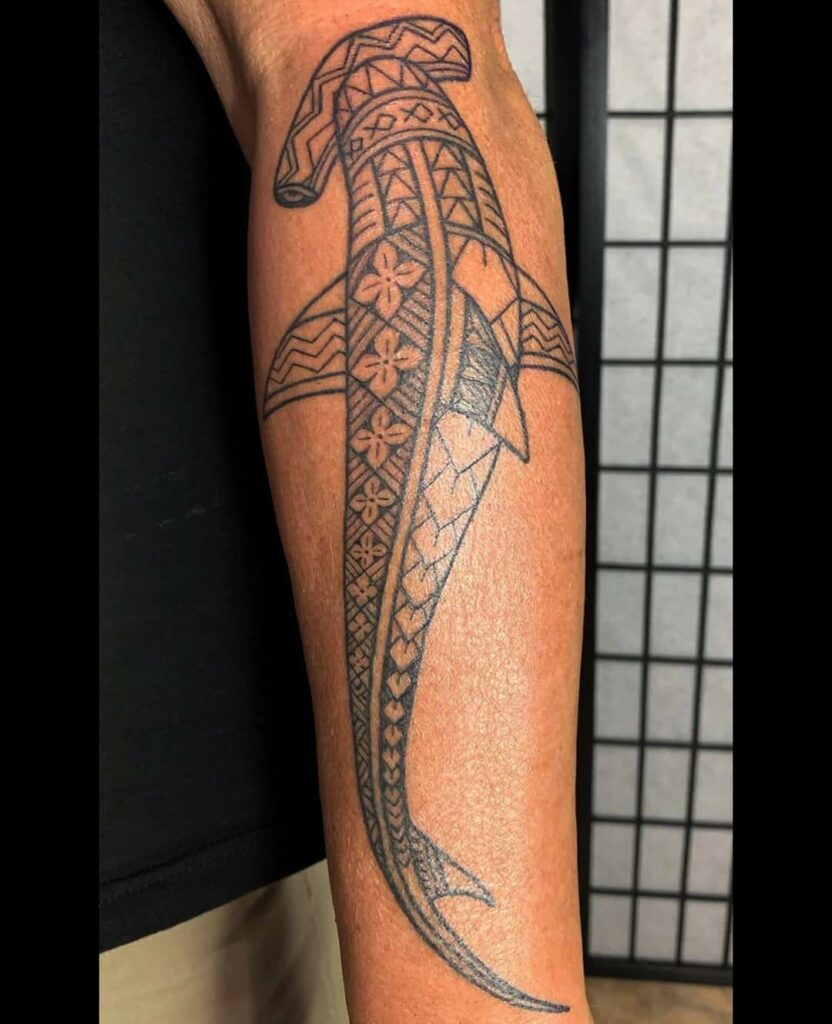 The tribal hammerhead shark tattoo is a masterpiece with its intricate line designs and patterns. The top head of the hammerhead shark is beautifully designed with a fish pattern that blends perfectly with the tribal ink designs. The elements of the hammerhead shark are meticulously inked, and the artistic touch is quite evident. The various illustrations on the shark are inspired by patterns and vectors found in nature, giving it a unique and authentic look. The tattoo is inked solely in black, giving it a traditional and classic feel. This bold and fierce tribal hammerhead shark tattoo is a perfect addition to your arm sleeves or legs, making a bold statement.
Polynesian Tribal Shark Tattoo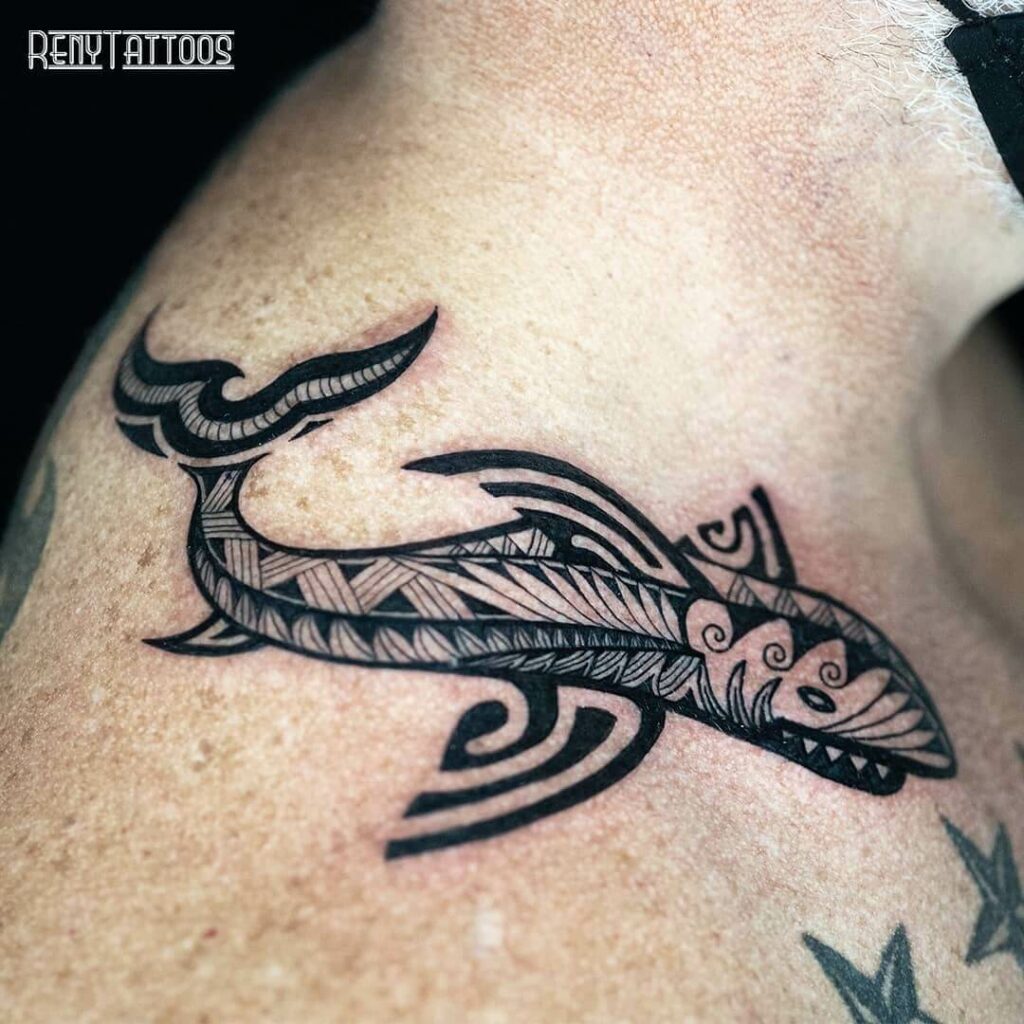 The tribal shark tattoo design featured here boasts intricate details and patterns that add a unique touch to the traditional shark tattoo. The zig-zag stroke line patterns used for the shark's body are complemented by the curly and feathery outline design of the shark's head. The waves shape design on the head and fins add a sense of movement and fluidity, capturing the essence of the ocean world where sharks reside. This tattoo is a great way to express your love for the sea and its creatures. The sharp and pointed teeth of the shark are also depicted in great detail, adding to the overall realistic look of the design. You can ink this tattoo on any part of your body, but it would look great on your arms or legs.
Tribal Shark Tattoo Line Work Style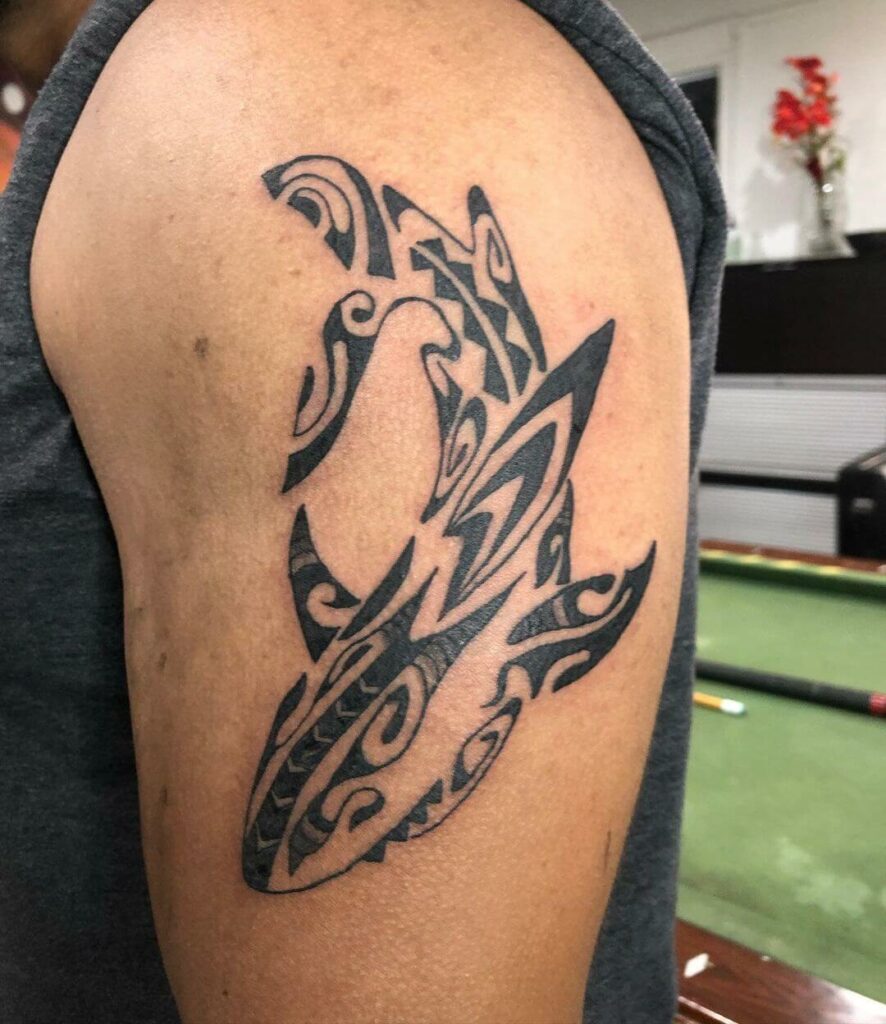 These tribal shark tattoos are a beautiful representation of the spirit and strength of these amazing creatures. The intricate designs of the tattoos are inspired by the sharks' natural environment and their journey through life. The tattoo artist has creatively used the classic image of a shark to bring out its intensity and make it more than just a simple design. The use of black ink throughout the tattoo creates a beautiful contrast and depth, making the ocean and its inhabitants come alive. This tattoo would look amazing on your shoulder or arms, making a bold statement about your love for the sea and its creatures.
The Spiritual Hammerhead Shark Tattoo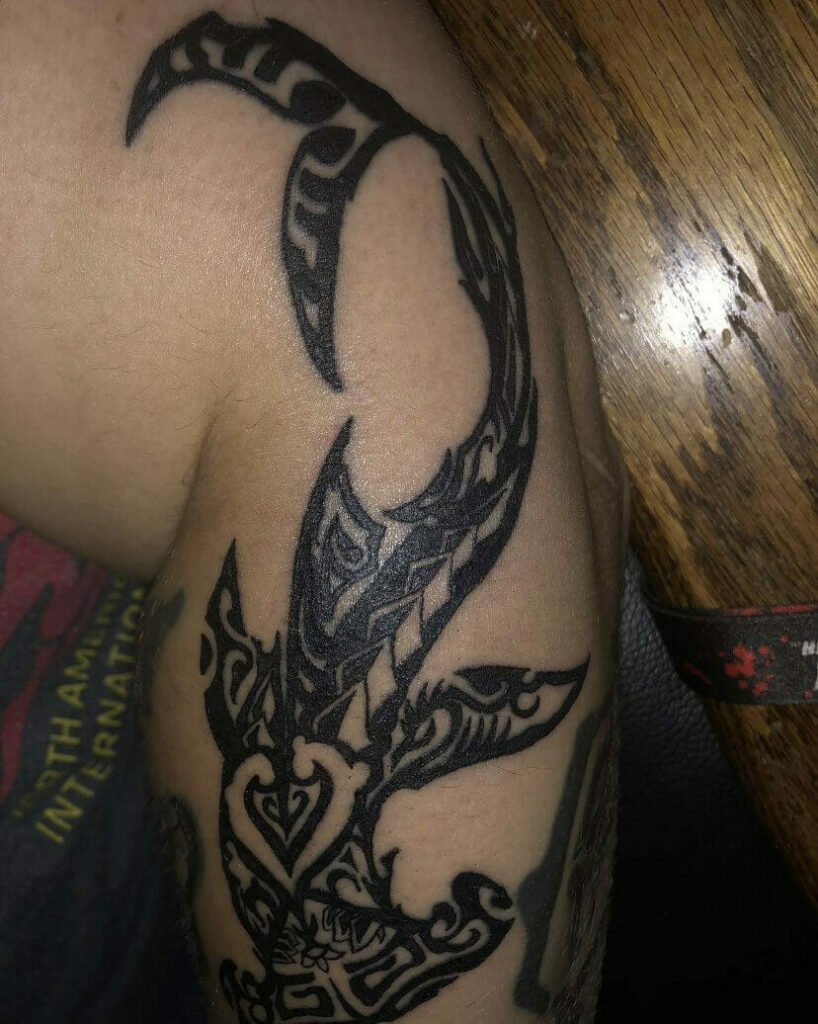 If you are looking for a unique and eye-catching tattoo design, then this hammerhead shark tribal tattoo might be the perfect choice for you. What sets this tattoo apart from others is the heart-shaped design incorporated into the head of the hammerhead shark. The body of the shark is adorned with floral patterns, which add a touch of femininity to the overall design. The long tail structure of the hammerhead shark is also a distinguishing feature of this tattoo. Due to its length and positioning, this tattoo is best suited for larger areas of the body such as the inner thighs or back. If you're looking for a tattoo that is both unique and aesthetically pleasing, this hammerhead shark tribal tattoo is definitely worth considering.
Tribal Shark Tattoo In Action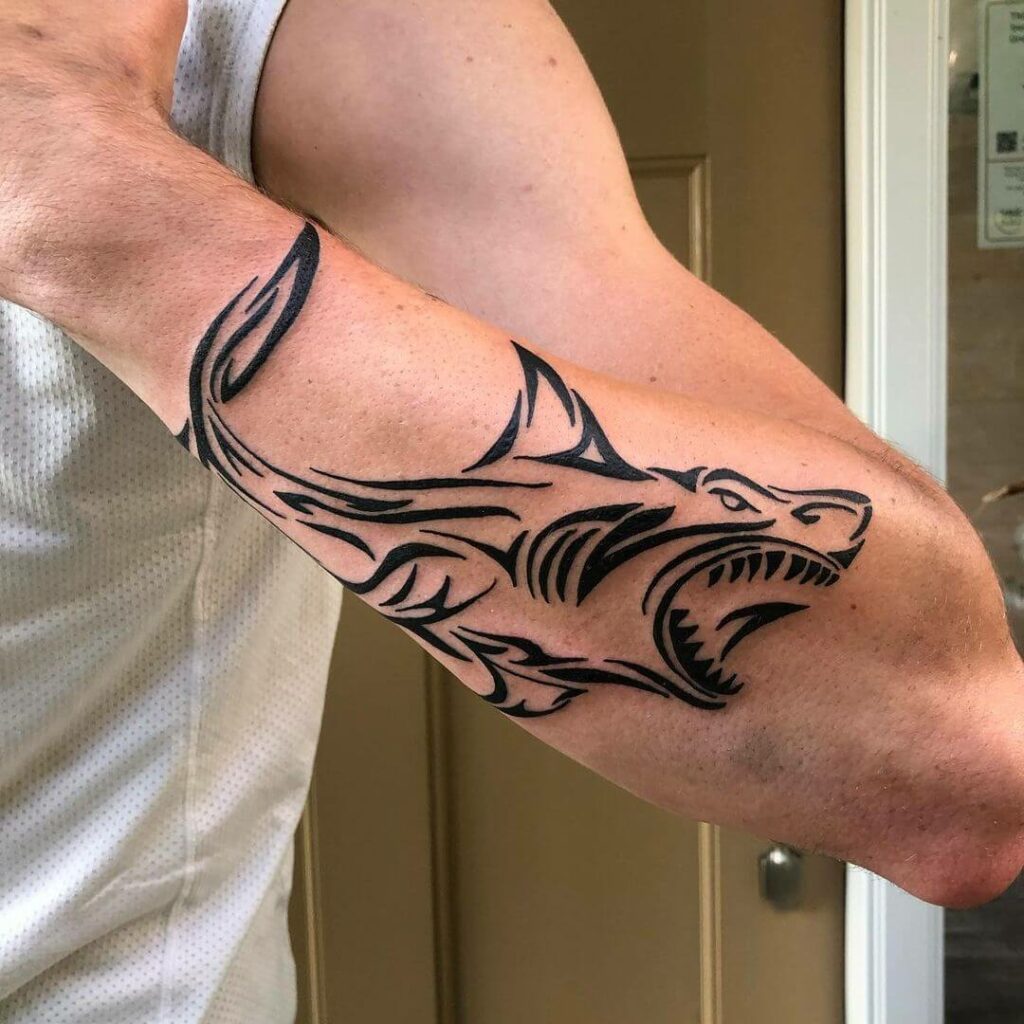 Sharks are known for their aggressive nature, and this tribal tattoo design perfectly captures their fierce behavior. The intricate lines and curves used in the design highlight the sharp and deadly nature of this species of fish. The tattoo artist has created a realistic depiction of a shark attack using tribal style elements, showcasing the power and danger of these animals. The design features the sharp teeth of the shark, showing how deadly they can be when hunting for food. The black color used in this tribal shark tattoo enhances its raw and fierce appearance, but it's also possible to incorporate different colors for a more personalized touch.
Polynesian Style Magical Shark Tattoo
Shark tattoos have been evolving with time, and this tribal hammerhead shark tattoo is a beautiful example of the same. This tattoo is different from the traditional black-inked tribal designs as it features a stunning blue color that adds a mystical element to the design. Hammerhead sharks are unique in their appearance, and the tattoo artist has creatively incorporated various line patterns to bring out the best of these creatures. The blue ink has been used to create beautiful and individual patterns in this tattoo, making it an amazing addition to your body art collection. You can get this tattoo done on your arms or legs, and trust us, it's sure to turn heads.
Hawaiian Tribal Shark Tattoo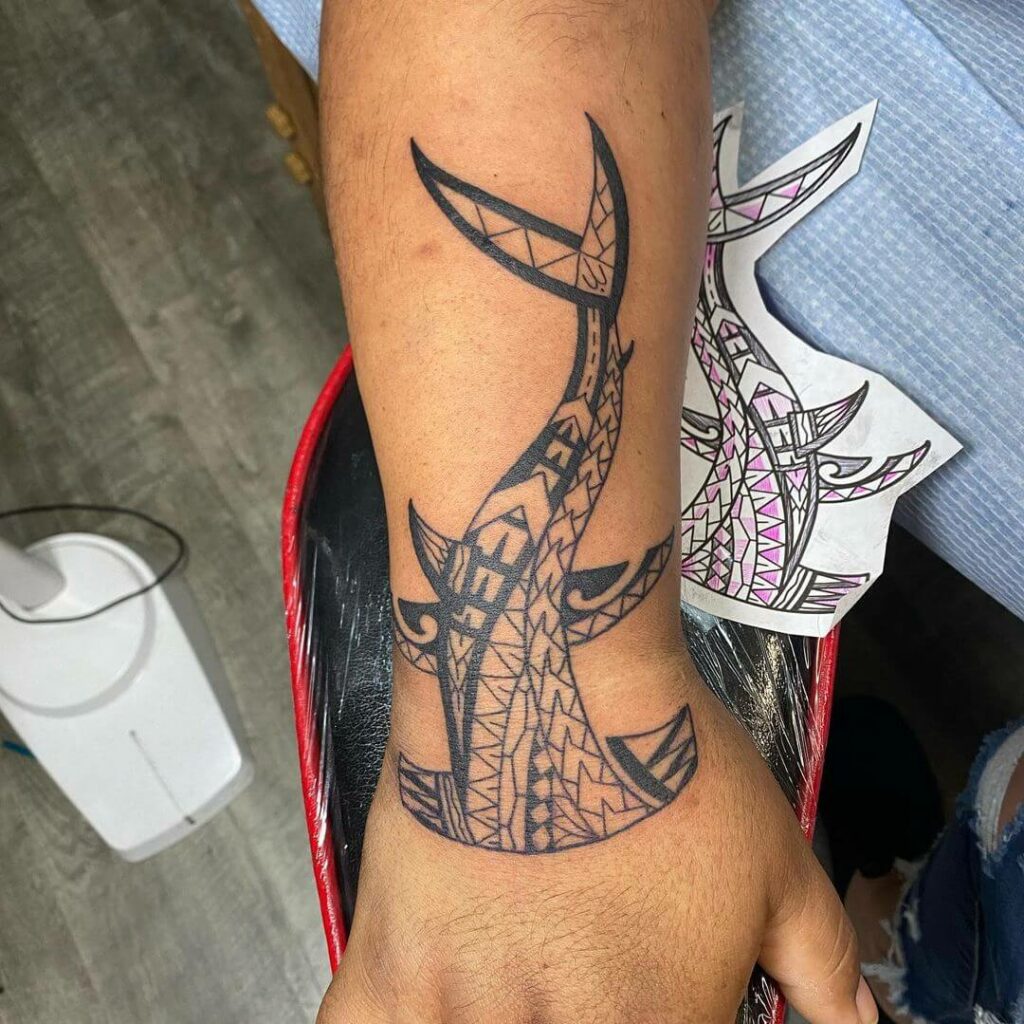 Shark tattoos are a captivating choice to enhance your body art collection. They hold significant values that symbolize strength, power, and many other elements, like most traditional and spiritual tattoos. Hammerhead shark tattoos come in various designs and patterns that make them unique from other shark tattoos. The illustrations of these sharks incorporate different vectors and patterns that give them a sporty feel. The Maori, a popular Disney character, also features these patterns in their body art designs. These creative and spiritual tattoos give us a glimpse into the life of these fascinating creatures. The placement of this hammerhead shark tattoo on the wrist is a fantastic choice that adds to its appeal.
Hammerhead Shark Tattoo On Leg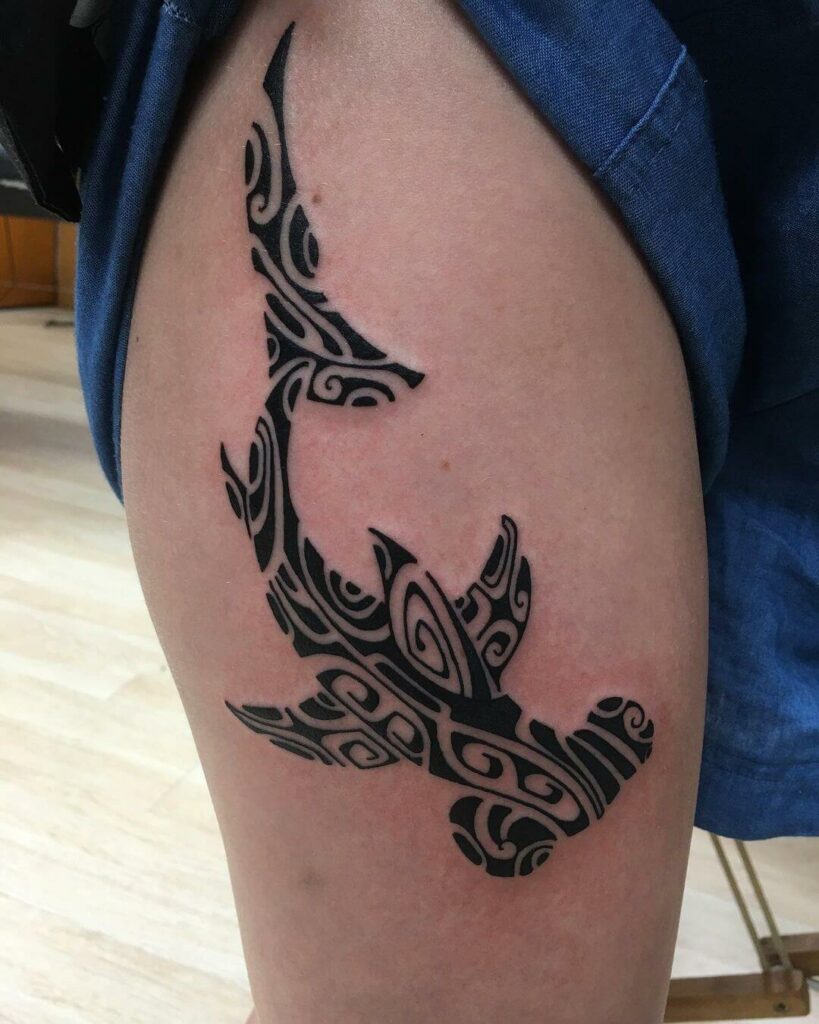 Looking for a minimalistic yet impactful shark tattoo? This hammerhead shark tattoo design could be the perfect fit for you, especially if you're a fan of marine life. The all-black tattoo is simple yet striking, and it can be placed on any part of your body. However, if you want to showcase the curly wurly design, your arm sleeve would be the perfect site. The tail of the shark is placed on the upper side, giving it an excellent flow. The intricate patterns used in each part of the shark's body add to the overall effect of the tattoo. So, whether you're a surfer or simply fascinated by these majestic creatures, this shark tattoo design is worth considering.
Patterned Tribal Shark Tattoo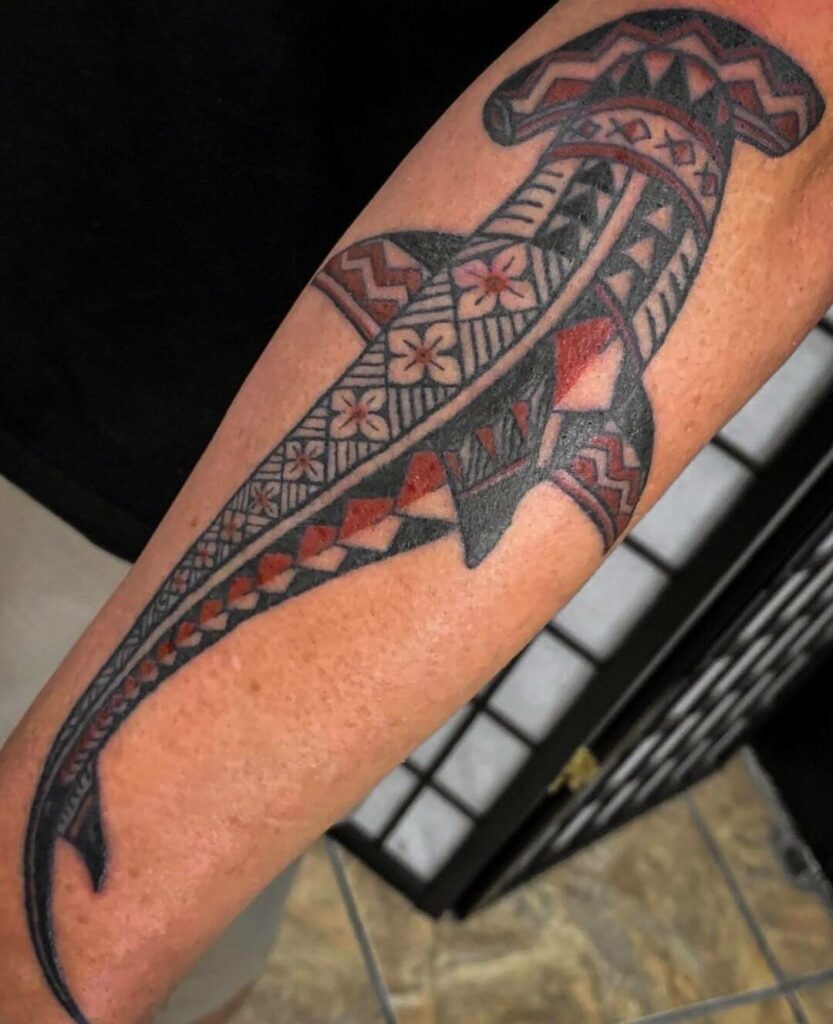 This particular design showcases the beauty and depth of tribal values and cultures. The tattoo artist has used intricate illustrations that include floral, wavy, and spear patterns, and a unique symbol representing fish is prominently displayed at the top of the head design. The black and dark red ink combination used in this tribal shark tattoo design is stunning and works perfectly to bring out the details in the design. Whether you want to showcase your love for sharks or simply appreciate the artistry behind the tribal style, this tattoo is a great option for anyone looking to add some edge to their body art.
Aggressive Shark Tattoos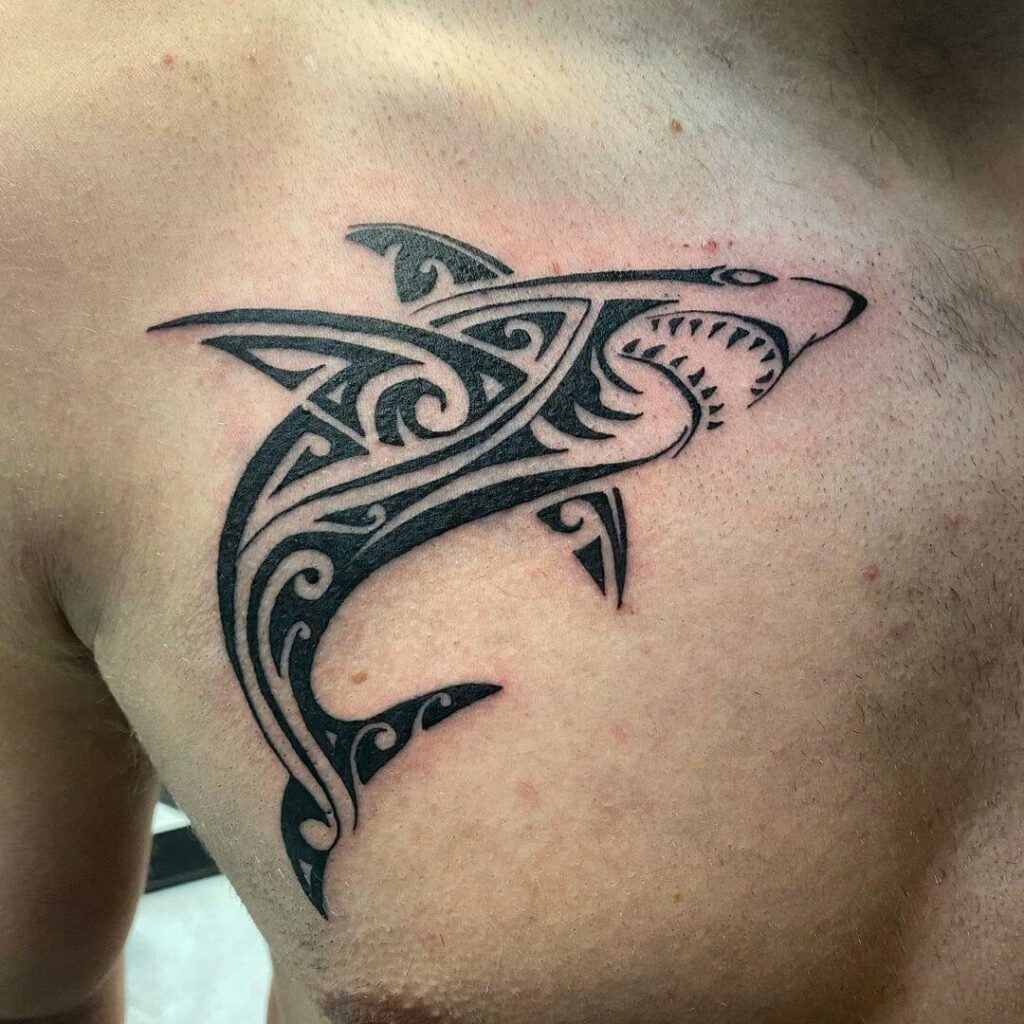 This shark tattoo design is a must-have for any shark lover. The dark black ink used on this design gives it a cool and bold look that would look great on your chest, arms, or legs. The artist has done a great job in creating a smooth and curvy design that perfectly fits the shape of the shark's body. The intricate patterns and designs inside the shark's body represent tribal motifs, giving the tattoo a unique and cultural feel. The attention to detail in this design makes it even more appealing and is sure to impress anyone who sees it.
Feature image from Pinterest