Are you on the hunt for a tattoo that captures your strong and captivating personality? Look no further! Our mongoose tattoo collection is here to provide you with an extra boost of positive energy and power!
Hailing from the Herpestidae family, the mongoose is a fearless carnivorous mammal celebrated in literature from Holmes to Kipling. These fascinating creatures symbolize strength, power, and the ability to conquer evil forces. With their uncanny skill to defeat deadly snakes like cobras, mongooses are often kept as pets to ward off serpents and rodents.
Curious about the meaning behind a black mongoose tattoo? These designs serve as potent totems of adventure, bravery, strength, and resilience, reminding us that even small creatures can overcome dangerous adversaries like venomous cobras. Mongoose tattoos are perfect for anyone, regardless of gender, who seeks the courage and determination embodied by these deceptively adorable animals. Browse our carefully curated selection of mongoose tattoos and find the perfect design to inspire and strengthen you every day!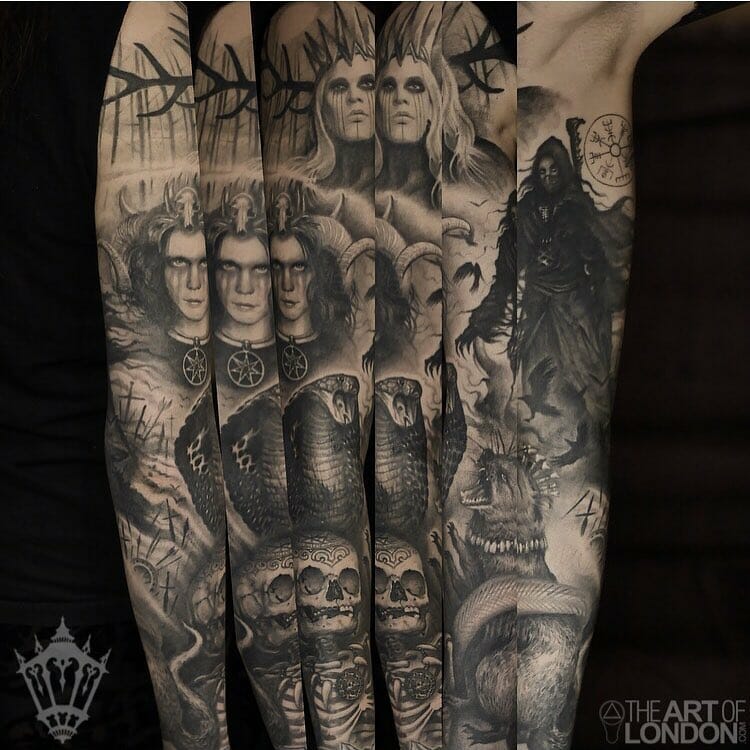 Cobra and Mongoose Fighting Tattoo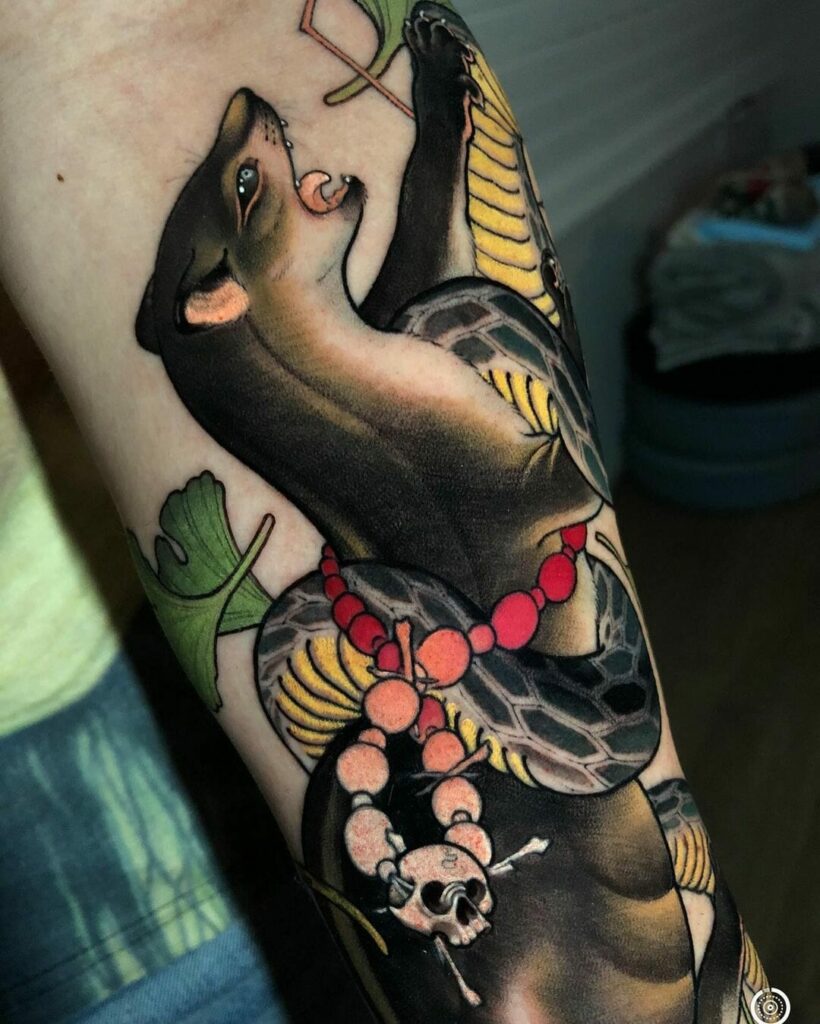 Are you looking for a tattoo that symbolizes courage and strength? Look no further than this striking tattoo of a mongoose battling a venomous king cobra. The artist has skillfully depicted both animals in a ferocious struggle, with the mongoose trapped in the cobra's grip. The use of black, yellow, and orange hues brings the snake to life, while the mongoose is shaded in light orange and peach hues. The intricate details of the scales and the intensity of the creatures' eyes make this tattoo a true masterpiece. If you want to display the power and determination of the mongoose, this tattoo is the perfect choice.
Black Ink Yellow Mongoose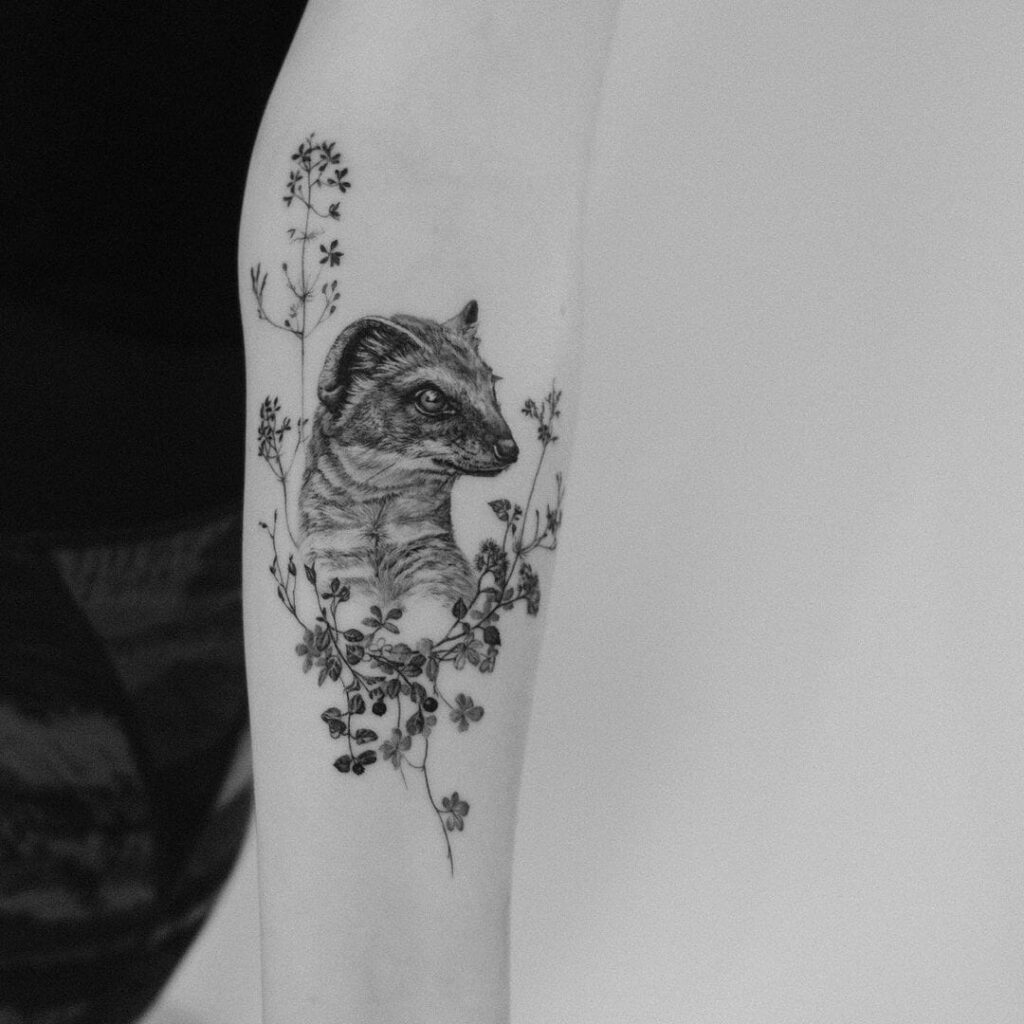 If you are a fan of the mongoose, then you would surely appreciate this beautiful tattoo. This design is a perfect blend of grace and power, making it a must-have for all mongoose lovers out there. The tattoo features the face of a black mongoose, adorned with leaves that give it an exquisite touch. The monochromatic play of shades in the design showcases the true beauty of the tattoo, with delicate detailing of the leaves adding to its aesthetic appeal. The tattoo is not only pleasing to the eye but also has a strong symbolical representation, making it an excellent choice for anyone looking to get a tattoo that speaks of strength and grace.
Mongoose Shoulder Tattoo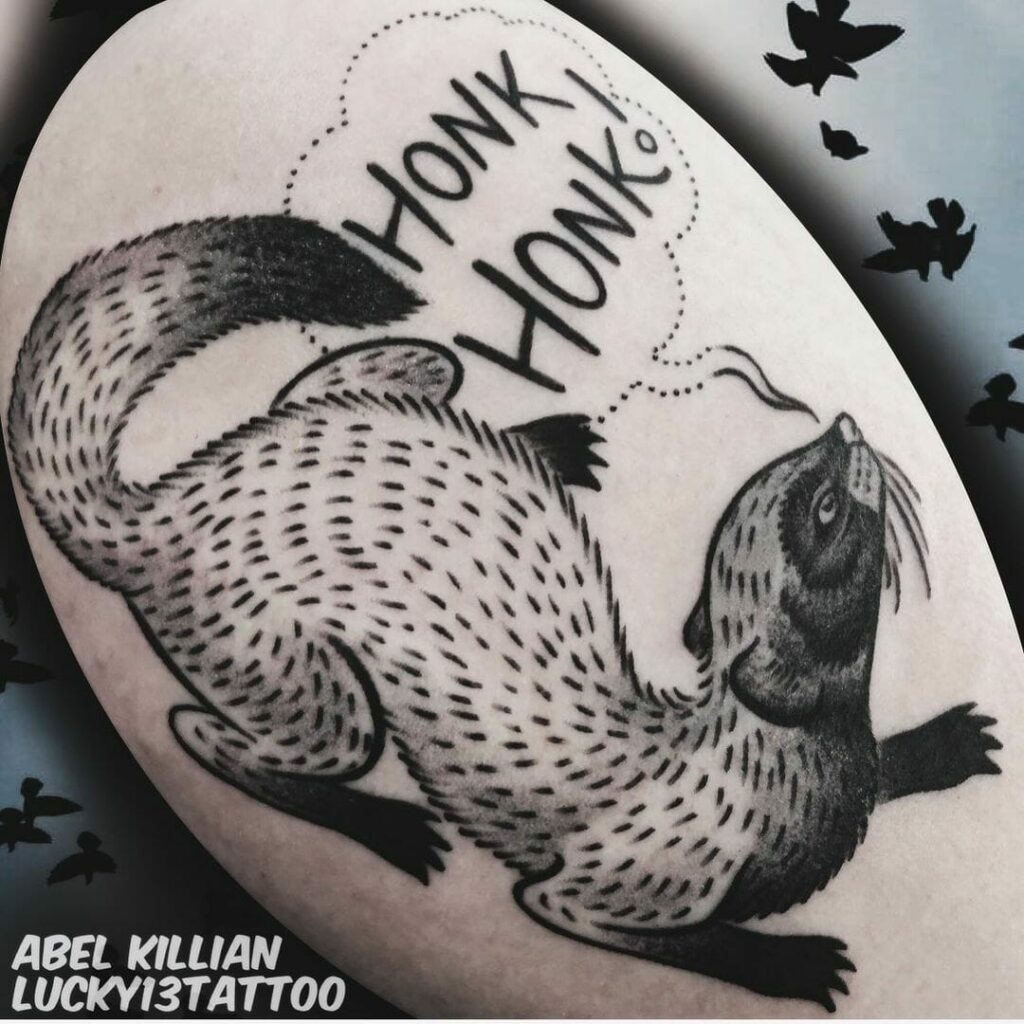 Are you looking for a tattoo that exudes strength and power? Look no further than this seated mongoose tattoo, complete with intricate details on its body. The black spikes on the mongoose's body and deep shade of black on its claws, tail, and face create a striking monochromatic look that is sure to turn heads. The precision and skill used to create this tattoo make it truly special. If you want to add a touch of regal sophistication to your style, head to your local tattoo shop and get this magnificent creature inked on your skin!
Rikki-Tikki-Tavi Mongoose Tattoo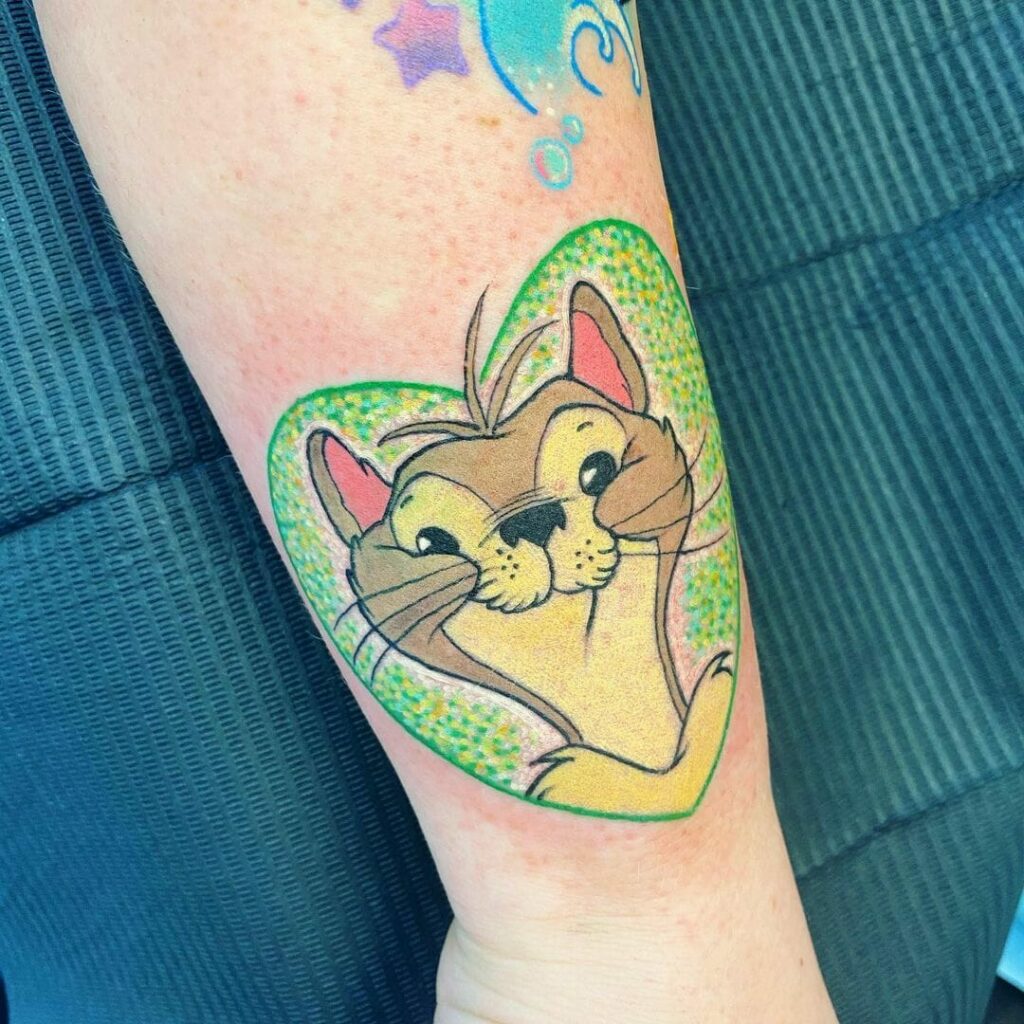 The tattoo design features a playful and smiling mongoose, brought to life with an array of colours like brown, yellow, and orange. The heart-shaped green background design, with a green border and florescent green hue, adds an extra pop of vibrancy to the overall design. The cheerful and positive symbolism of the mongoose will make you feel nostalgic about your childhood and bring a sense of protection wherever you go.
Don't miss out on the opportunity to showcase your charming and playful nature with this wonderful tattoo design. Get it inked today and add some vibrance to your everyday life!
Mongoose vs Cobra Tattoo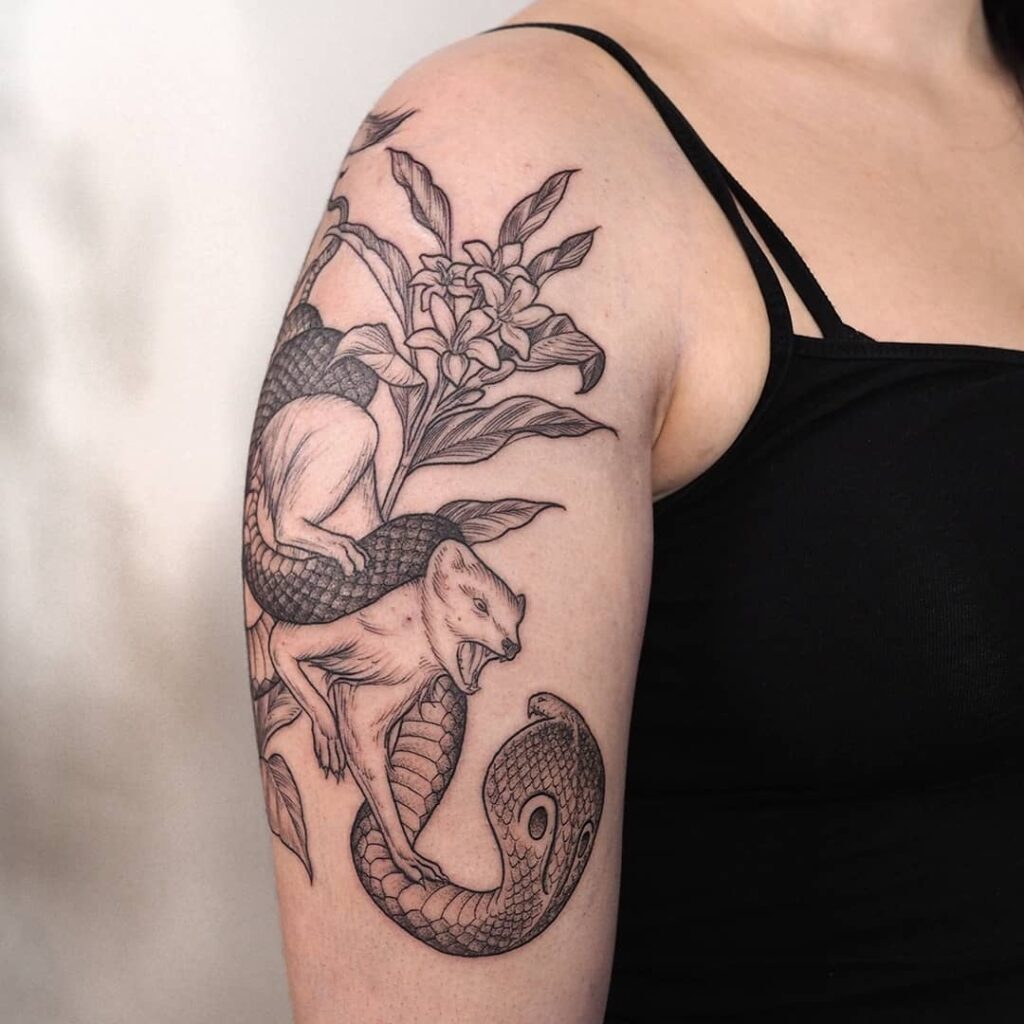 This tattoo design is a perfect representation of the intense rivalry between the mongoose and the cobra. The greyscale design enhances the realistic look of the fighting animals, and the use of black ink in the floral design adds a touch of elegance to the overall design. This tattoo represents the resilience and strength of these animals and their ability to overcome challenges. If you want a powerful tattoo that symbolizes victory over adversity, this cobra and mongoose design is the perfect choice for you.
Colourful Mongoose Tattoo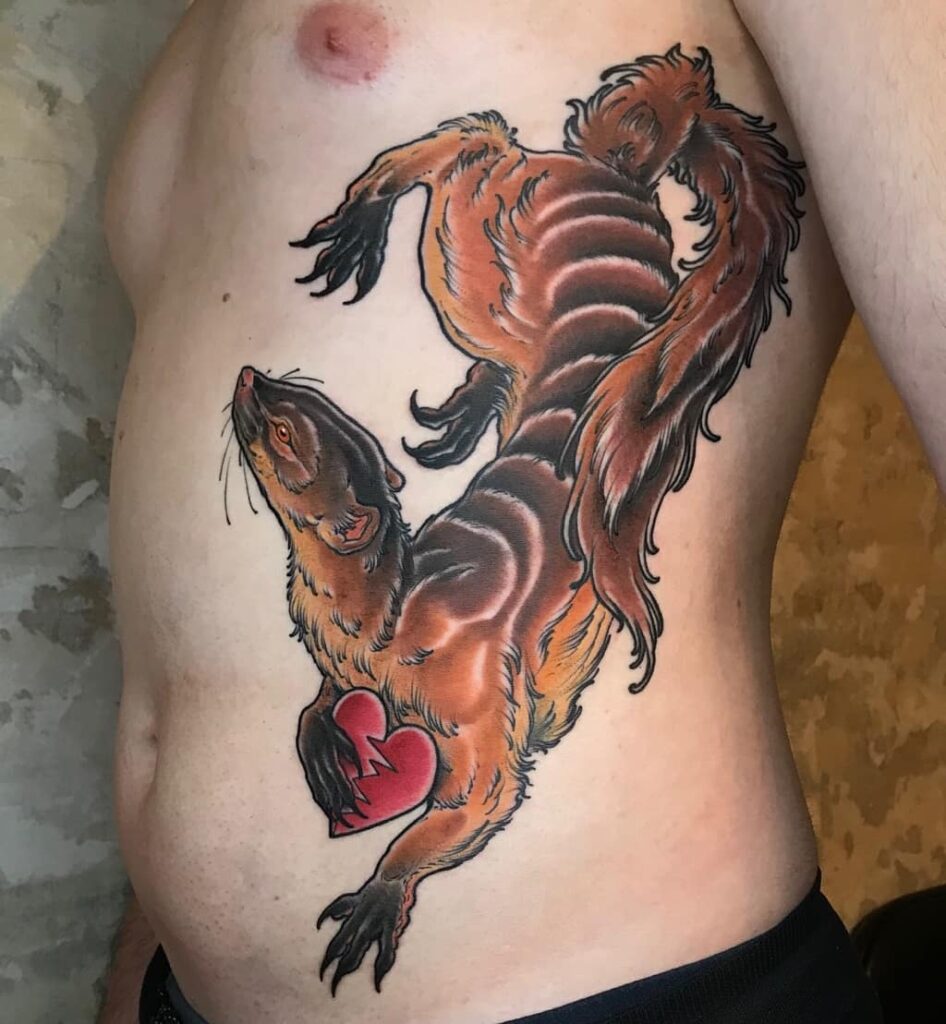 Looking for a tattoo that's both cute and fierce? Look no further than this striking mongoose design! With its bold yellow and orange shading and intricate fur detailing, this tattoo is sure to turn heads. The playful touches of white add depth and texture to the design, while the red broken heart injects a touch of sweetness and charm. This design is perfect for anyone looking to channel the spirit of the mongoose and embrace their own inner strength and resilience. So why wait? Head to your nearest tattoo parlour today and make this fierce and fabulous design your own!
Mongoose Black And Grey Tattoo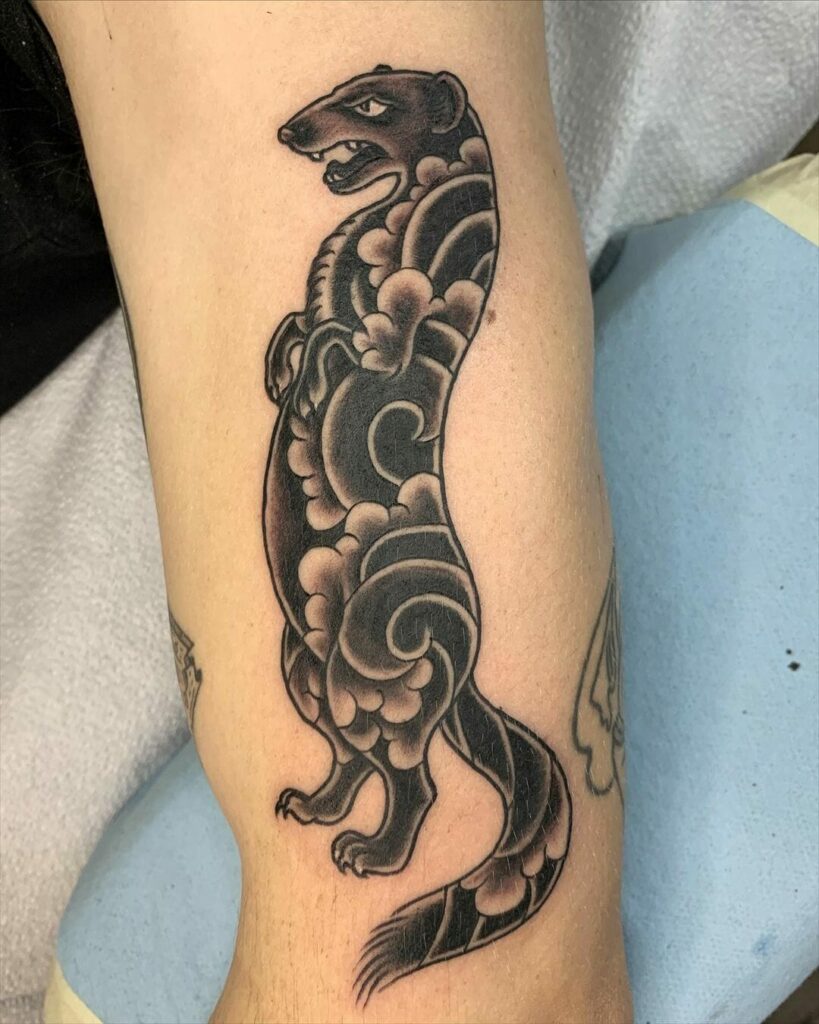 If you're a fan of black and white tattoos, you'll love this mongoose tattoo design. The tattoo is intricately detailed with black ink, creating a sense of depth and contrast. The tattoo features a standing mongoose with sharp claws, fierce eyes and a wild look. The cloud detailing on the body of the mongoose adds a sense of freedom and limitlessness to the tattoo. The combination of black and white ink creates a dynamic and bold look that is sure to make a statement. So, if you're looking for a tattoo that symbolizes strength and courage, this mongoose tattoo is the perfect choice for you!
Mongoose Snake Tattoo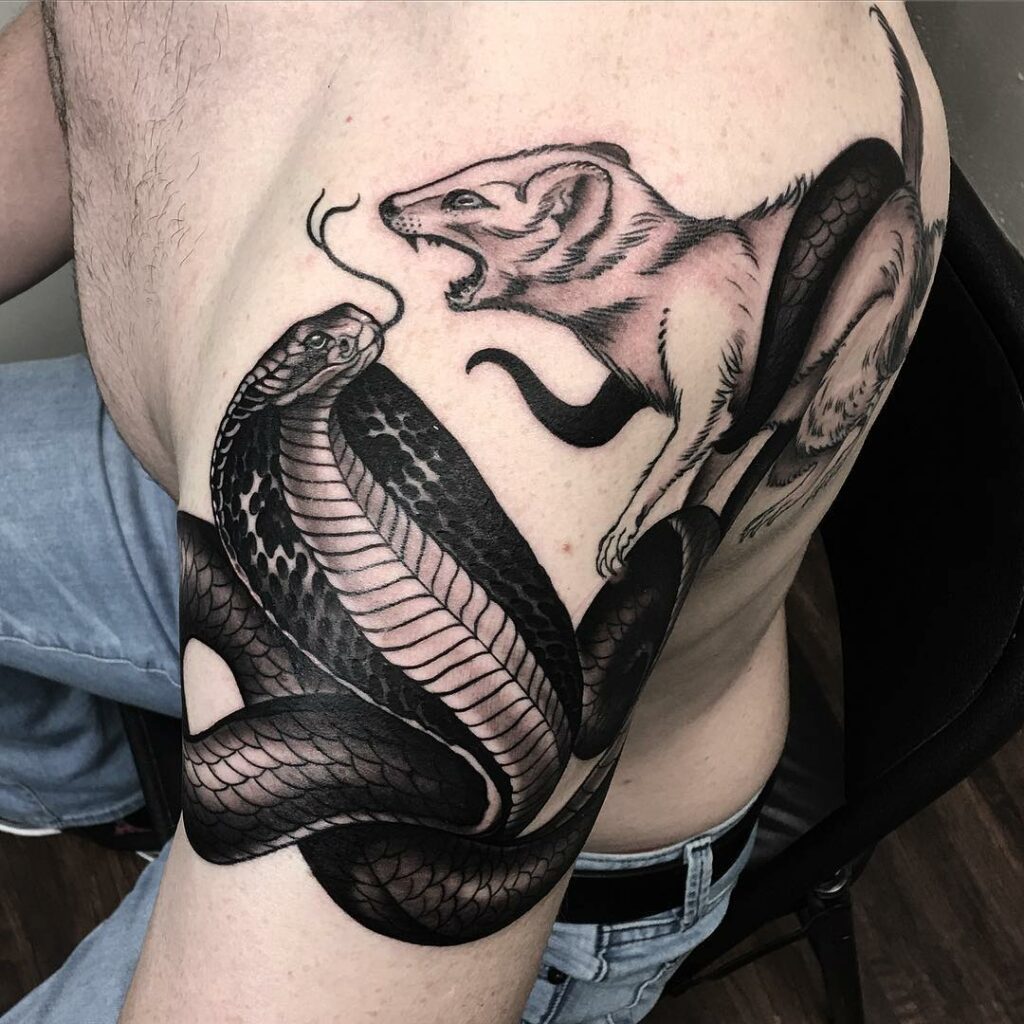 If you're looking for a deadly tattoo design that's both captivating and powerful, check out this cobra and mongoose tattoo. The artist has masterfully used black ink to capture the untamed and ferocious spirit of these creatures. The cobra and mongoose are depicted in action, with both animals exuding an explosive energy that jumps off the tattoo. The cobra is drawn with varying shades of black, while the lighter shades add a shimmering effect to the design. This tattoo is not only a visually stunning piece of art, but it's also symbolic of fighting against evil. Embrace your inner strength and let this tattoo be a symbol of your resilience and courage!
One-Eyed Mongoose Tattoo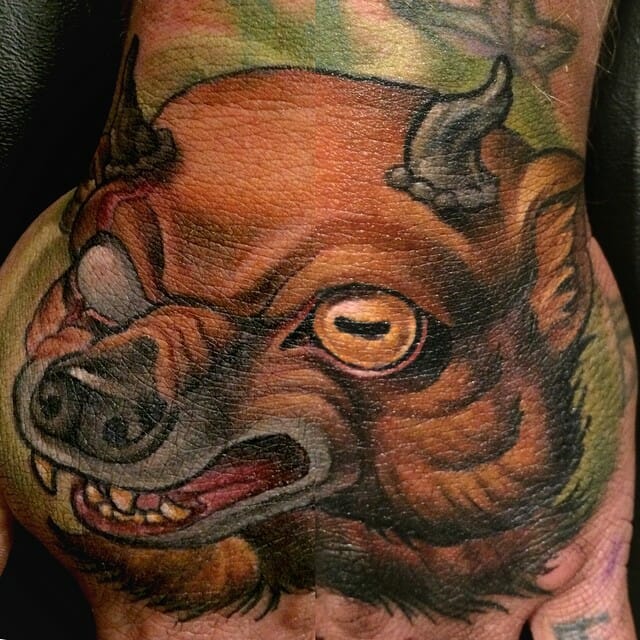 The tattoo of a colourful mongoose with one eye is a true masterpiece that showcases the animal's untamed spirit. With its ferocious expression, this tattoo is a must-have for those who appreciate the power of wild creatures. The combination of red and black shades in the design adds an extra layer of depth to the artwork, while the black horns and eyes lend a monstrous and dangerous look. Whether you choose to have it inked on your arm or any other part of your body, this tattoo will definitely make a bold statement and show off your appreciation for the fierce beauty of nature.
Mongoose Floral Tattoo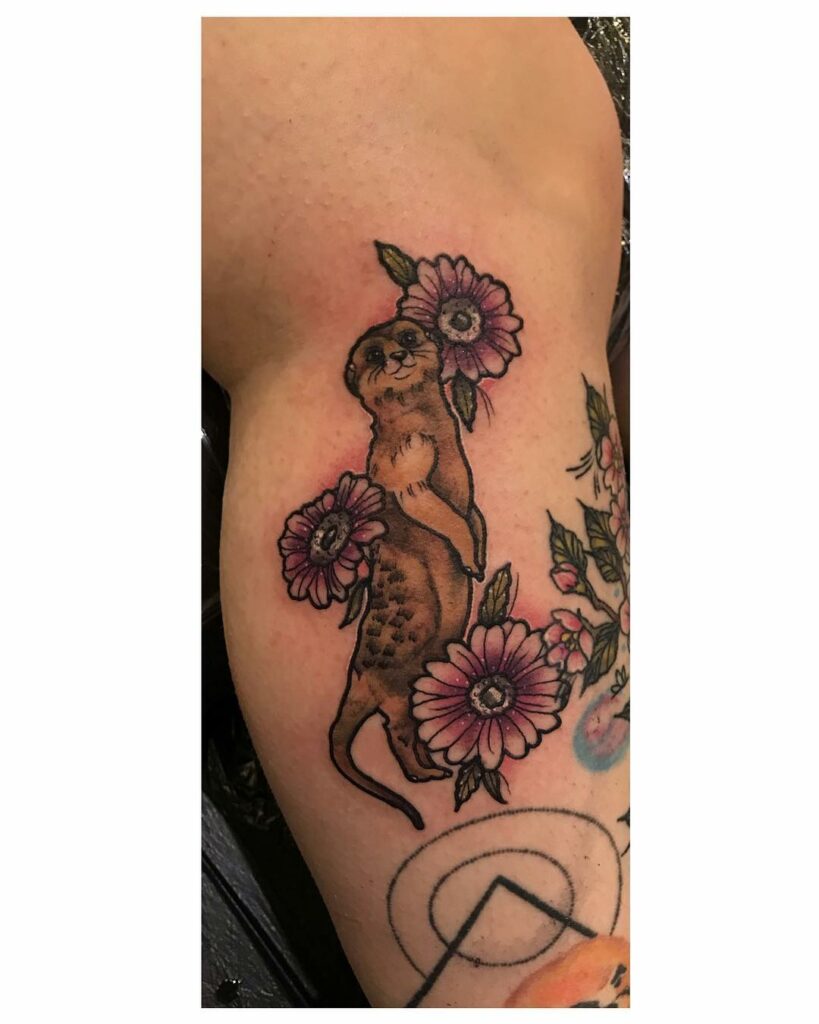 Looking for a tattoo that will make you smile every time you look at it? Check out this mongoose design surrounded by beautiful floral elements! The variety of shades used in the flowers adds a lively touch to the tattoo, making it a perfect way to add some positivity to your day. And if you're curious about the symbolism behind the design, look no further than the mongoose's eyes. These creatures are known for their fierce and resilient nature, making them a popular choice for tattoos that represent strength and courage. Whether you're a man or a woman, this cute and meaningful tattoo is sure to be a standout addition to your collection.
Feature image from Pinterest
Last reviewed and updated on May 4, 2023