If you're looking to commemorate a special moment in your life, butterfly memorial tattoos are a beautiful way to do so. These tattoos are inked by tattoo artists who pour their hearts into their work, creating designs that are both beautiful and meaningful.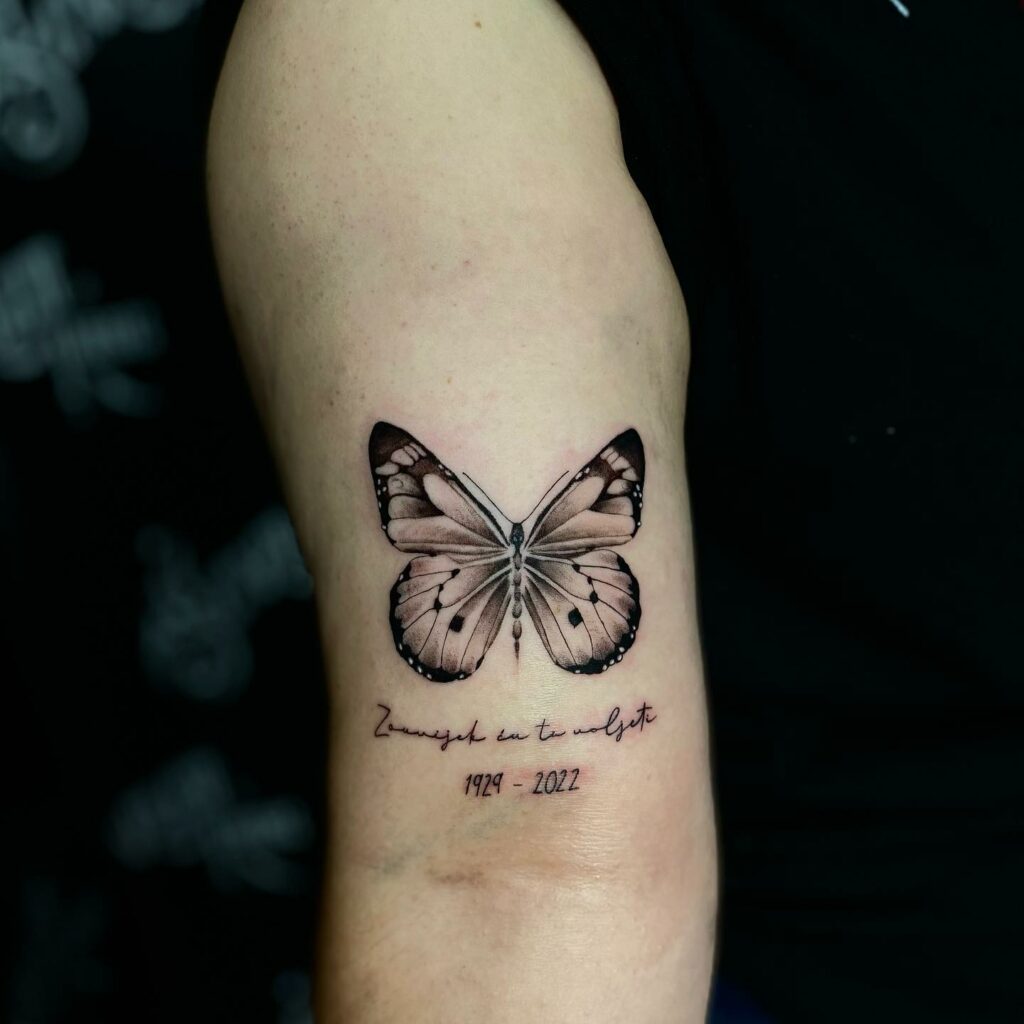 From heartfelt tributes to enormous accolades to creditable commendations, memorial tattoos are well famed around the globe. The trademark of memorial tattoos can be represented by uncountable motifs, but if the focal point is a butterfly, then the conjunctive body art is destined to become the most beautiful outlier.
Butterfly memorial tattoos are mainly for the acclamation of impenetrable retrospections, which are heftily latched with emotions. Butterflies are the most beautiful flying insects and broadly dictate the essence of endeavors to subdue the darkest of times. They are the epitome of beauty that can easily hide the darkness leaking from the cracks. One can get ink inspired with ample butterfly tats, but when a butterfly tattoo is inked to compile a memorial tattoo, the entire process from acquiring the tattoo idea to a selection of the design and getting it done by a tattoo artist and grooving over it is surely a life-changing event. Some unique ideas for butterfly memorial tattoo designs have been underlined below.
Butterfly Memorial Quotation Tattoo
Quotation tattoos are a great way to express yourself and can be inspired by bible verses, famous movie scripts, popular words from respected figures, or even self-created motivational lines. They can be standout examples if one is looking to create a tribute message through their tattoo. When a butterfly is associated as the main theme to ink a memorial tattoo, the entire tattoo art becomes solitarily exquisite.
Take this forearm memorial tattoo for example. It consists of four butterflies with four distinctive names inked on them. Also, a small verse from a poem by Alex MacLean has been inked in bold patterns that can surely draw attention. Butterfly tattoos exist in different styles and forms, but while creating a memorial tattoo design with delicate lines or quotes, it becomes more charming and elegant.
Butterfly Memorial Realistic Tattoo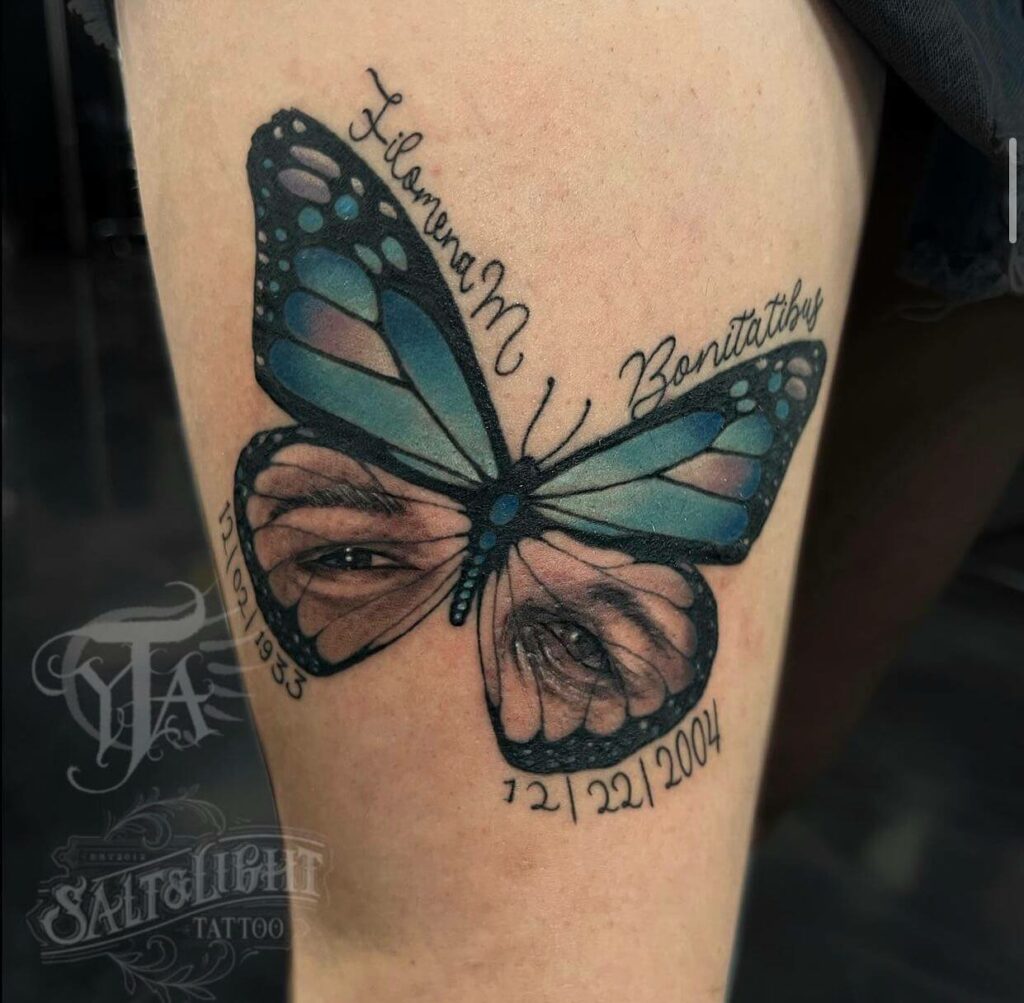 Realistic tattoos add an extra dimension of seduction for the viewers. One can add a classy touch to memorial tattoos by asking the tattoo artist to create a realistic design. Take this butterfly tattoo for example, which was created as a tribute from a granddaughter to her grandmother.
The blue and white butterfly tattoo with a black butterfly outline is one of the most creative tattoo designs. This is simply because of the creation of the realistic human eyes beneath the butterfly wings. The tattooer requested the artist to create two different eyes of her grandmother, one from her youth days and one from her adulthood. The result was breathtaking and the birthday and death date inked on either side of the butterfly wings makes it one of the brilliant ideas of tribute memorial tattoos.
Butterfly And Hummingbird Tattoo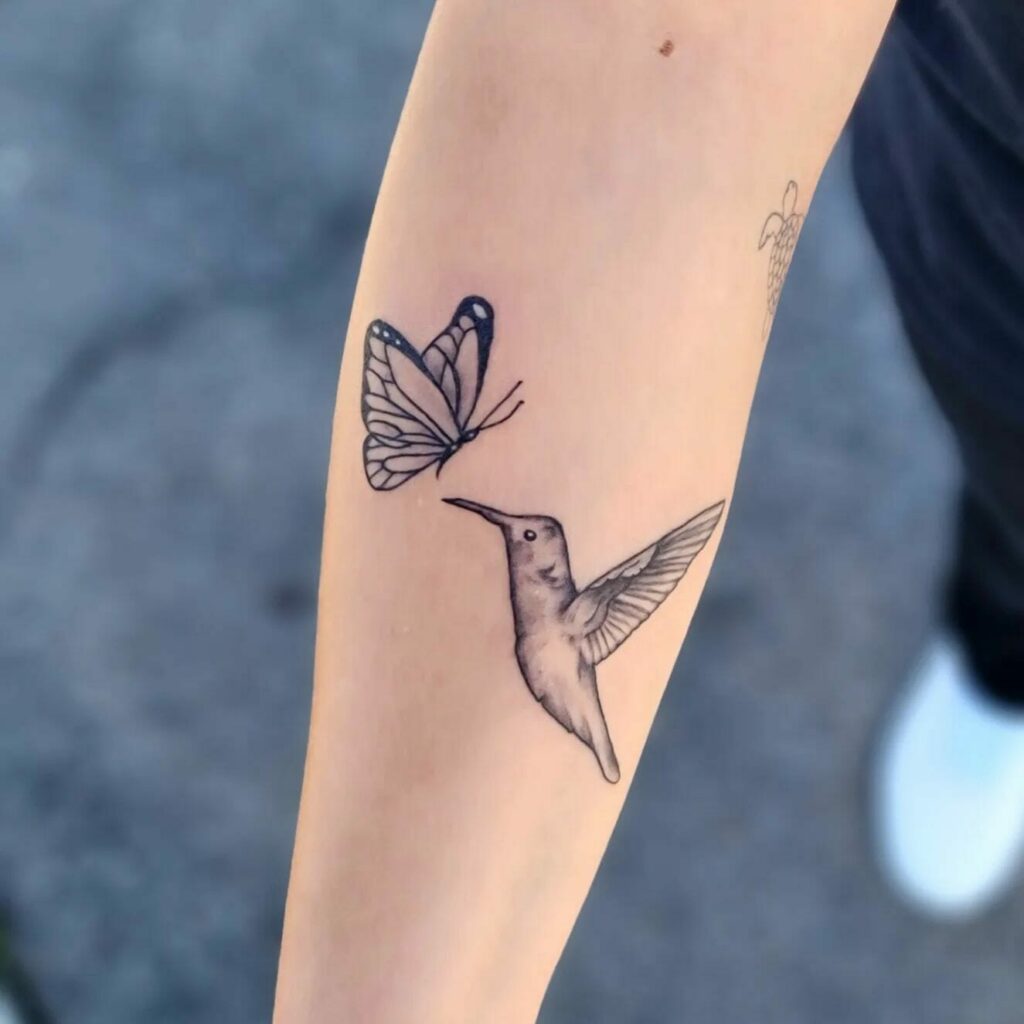 Hummingbirds are said to be descended from the spirit worlds to guide a person in need. The small size of the hummingbird teaches us to enjoy every small aspect of life. Thus these tiny warblers are the inspiring symbols of good fortunes and they can be wielded to create memorable tattoo designs.
Take this small butterfly and hummingbird tattoo for example. It is an emblem of hope and good luck. Simple lines have been used to create these miniature pieces and they reflect nothing but deep thoughts. The small butterfly and the fragile hummingbird can together construct unique tribute tattoo pieces to reminisce old memories and onrush the new life ahead.
Butterfly Memorial Collar Neck Tattoo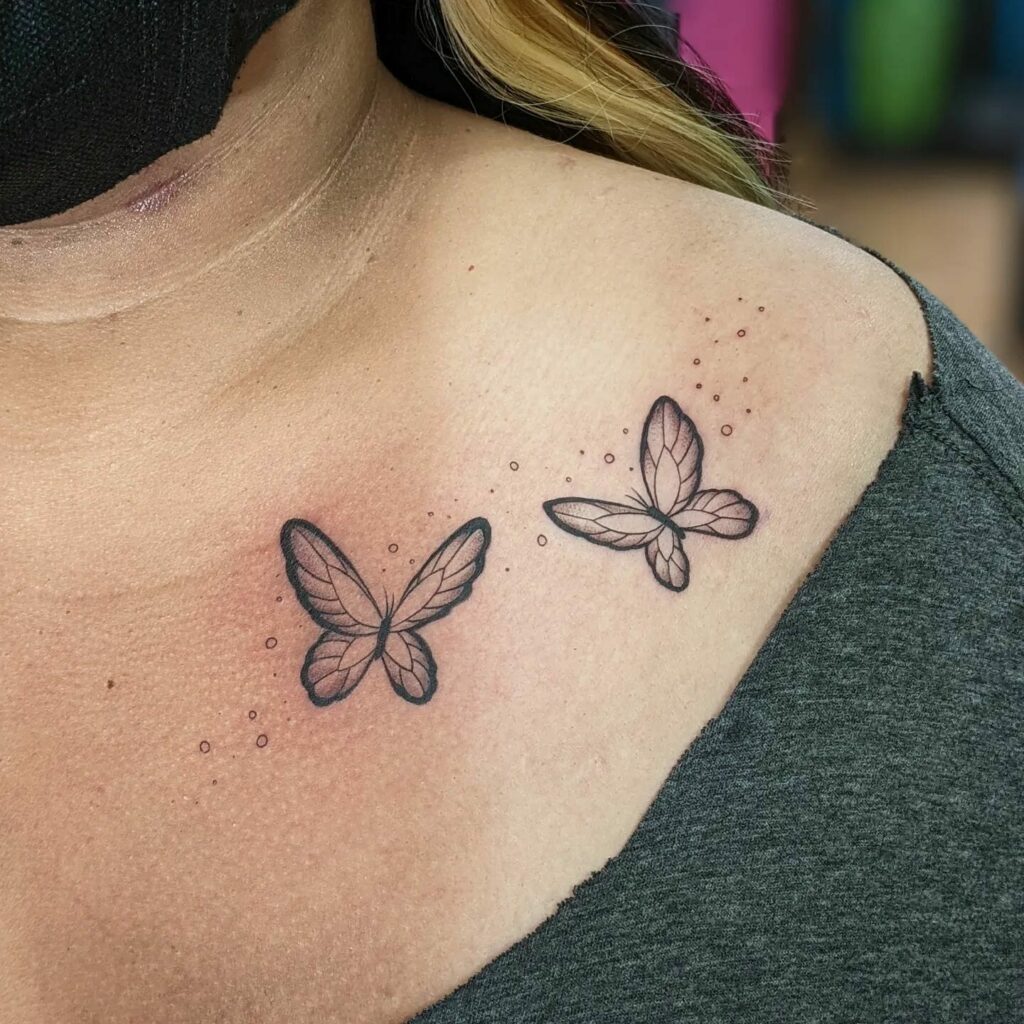 Collar neck tattoos are new trendsetters moving distinctly from traditional neck tattoos. Although they are one of the delicate areas to ink any design, any tattoo will look extremely freakish on them. They are preferred most by women to showcase their beautiful collar bones along with intriguing body art which will surely arouse the natural sex appeal.
Take this small butterfly tattoo for example. It represents bonding and attachment and is inked with perfection on the collar neck. It is one of the elegant butterfly tattoo designs any woman will desire. The clean lines and bold black borders make the butterfly tattoo more elegant. The best part about its location is that it can be easily hidden according to the user's choice or can be flashed for an ostentatious display.
Pool Ball And Butterfly Tattoo
Memorial tattoos can be categorized with ample hallmarks. These unique features are either closely associated with the user or lost in the wave as memories of their loved ones. To ink a butterfly tattoo and pair it with any favorite object also as a tattoo form is surely one of the new beginnings of modern body art.
Take this upper arm butterfly tattoo for example. Along with a pool ball, it looks fun but also holds some hidden meaning. Life is full of little adventures and one can surely ink those fun activities in the form of memorial tattoos. A simple butterfly tattoo and a dot work pool ball tattoo are the flawless dedication of the user for this beautiful game. Although it is not a concept of the classical memorial tattoo, it is surely an eccentric butterfly tattoo.
Best Friend Memorial Tattoo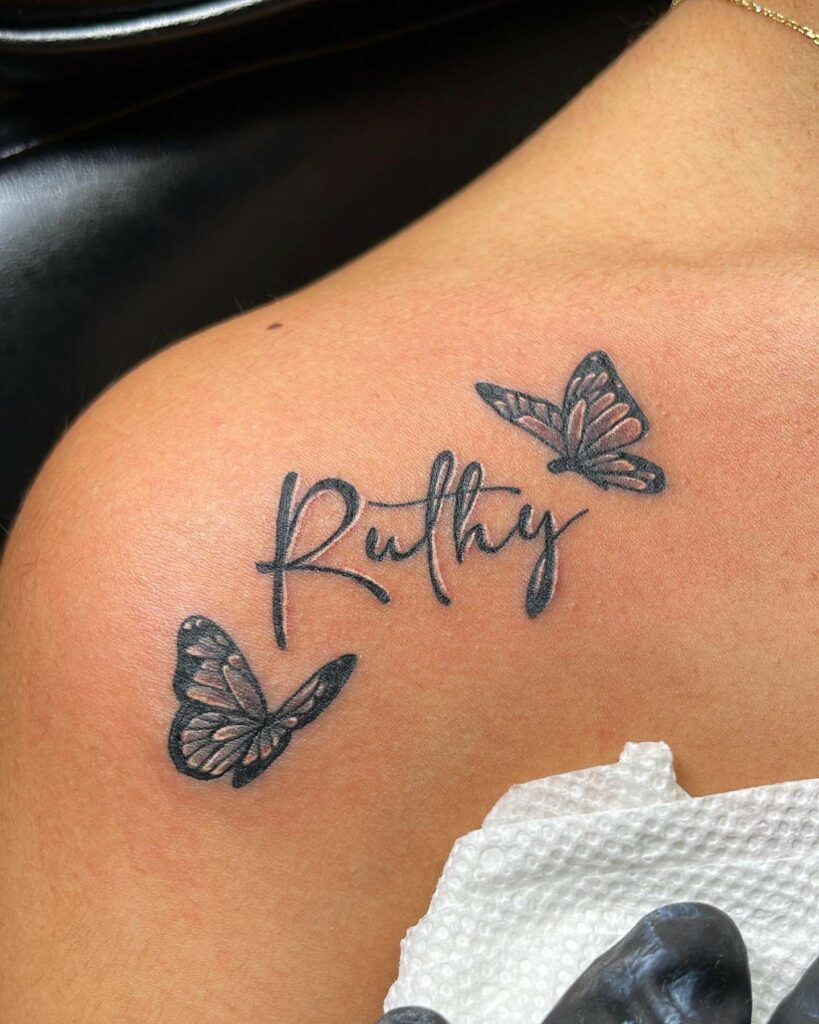 A tattoo dedicated to best friends is always a special one. One has to go far-fetched to understand this butterfly tattoo meaning. Keeping aside all the social barriers, the tattooer made the perfect notion of dedication to her best friend through this butterfly tattoo.
These tiny tattoos of butterflies with wings of geometric shapes and the name Ruthy inked between is a classical tribute tattoo. Tributes can be given in many ways but creating a memorial butterfly tattoo is exceptional as butterflies always signify purity and cohesiveness in nature.
Butterfly And Roman Numerals Tattoo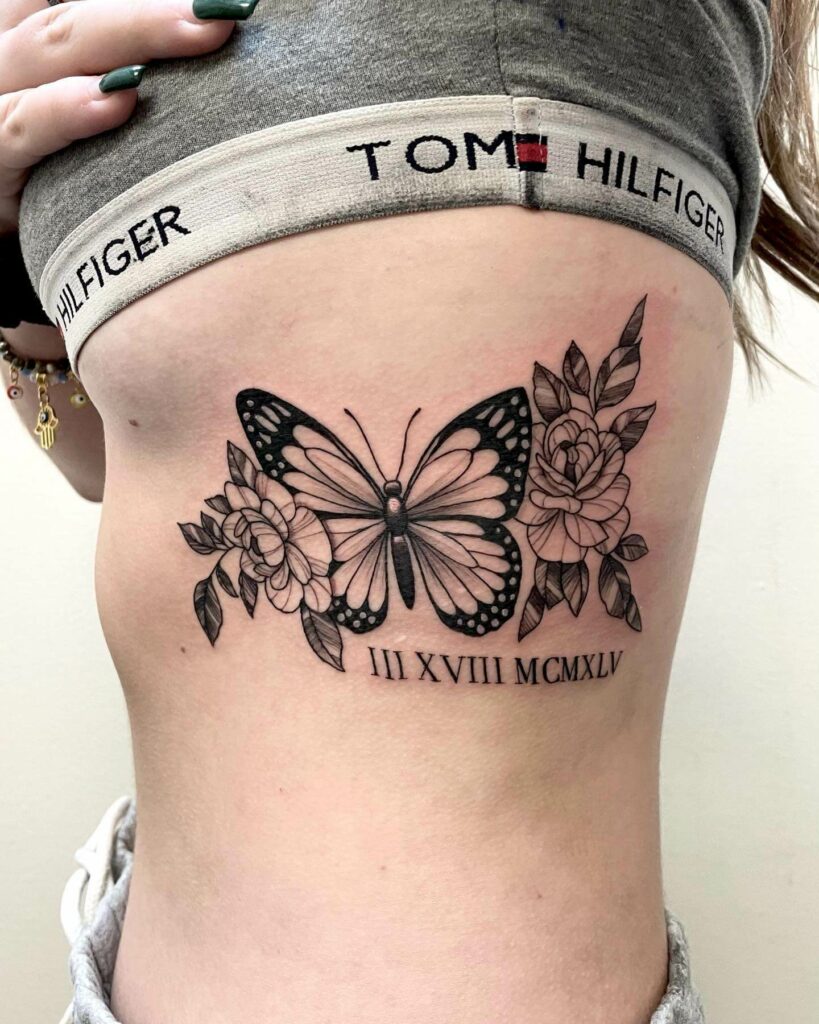 Roman numerals are ancient numbers and in the present day, they have some salient features. They can be noticed in unique categorizations of numbers, fancy clocks, or to represent education standards. As ink ideas, they are suitable for any skin tone and can reflect unique tattoo designs on any body part. From simple outlines to bold fonts, they can be clubbed with other tattoo designs and the intellection of butterfly tattoo designs will surely catch the eye.
Take this waist tattoo for example. It represents Roman numerals paired with a larger piece of a butterfly tattoo. Roman numerals can be used to mark the birthday or death day as body art uniquely and this concept is well adopted here as a sign of remembrance. The accurate work by the tattoo artist makes it so realistic that the bold black ink on the wings of the butterfly can make one feel it on the skin.
Butterfly Memorial Colorful Tattoo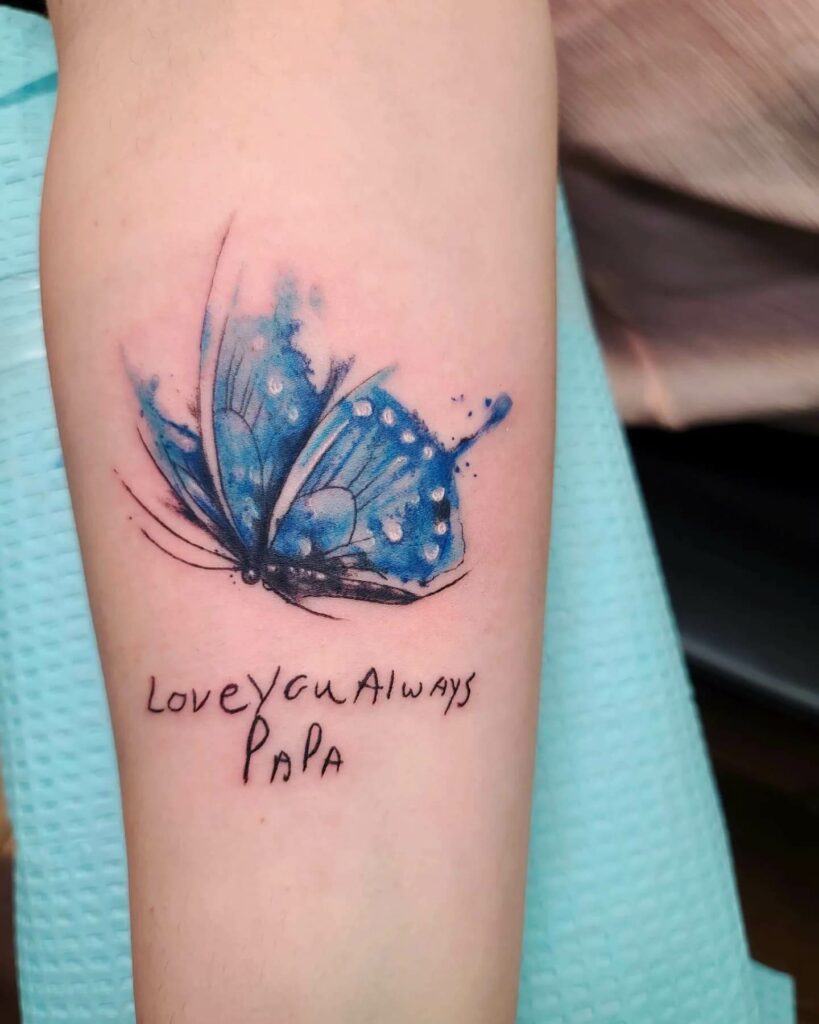 Colorful tattoos are a modern trend inked by many women and men, leaving behind the stereotype of black inks. One can choose vibrant colors or soft tones and each color tattoo stands aloof from any ordinary tattoo designs. Colorful tattoos representing butterflies as a notion of long-lost memories for dedication can be inked anywhere to portray the true essence of the memorial butterfly tattoo meaning.
Take this blue butterfly tattoo for example. It is in loving memory of a father and is one of the spectacular butterfly designs under the category of passed away remembrance butterfly memorial tattoo. The blue pigment makes the butterfly wings even more arresting for the eyes and the dedication phrase just intensifies the beauty. Any memorial tattoo style can be generated with splashes of color and a convenient theme like butterflies per the user's wish.
Rose And Butterfly Tattoo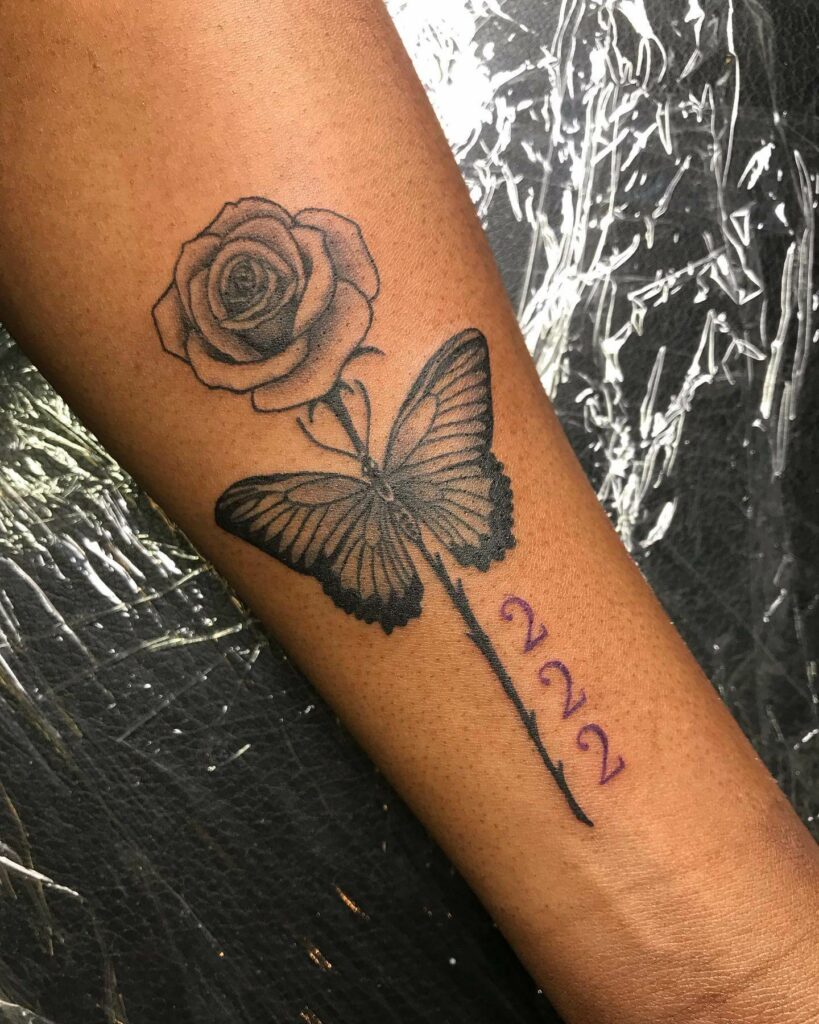 Roses are the purest form of beauty. Different colors of roses symbolize different sensations and are the most common specimens of flower tattoos. Flowers are ideally given as a notion of moral tributes or in ceremonies of remembrance. When someone inks floral butterfly tattoos to dedicate their enticement to loved ones, the concept becomes more alluring.
Take this stemmed rose with thorns and a butterfly sitting over it for example. It defines the temptation of the tattooer for the utmost dedication towards her grandmother. The forearm small butterfly tattoo is a natural beauty and three twos inked with it also depict the favorite television show of her grandmother, the dramedy series Room 222. Thus the rose and the butterfly tattoo together can be passionately inked for deft lovers of flowers or as a symbol of dedication to the most sophisticated flower, the rose, and can be classified under floral butterfly tattoos with refinement and femininity.
Butterfly Memorial Shoulder Tattoo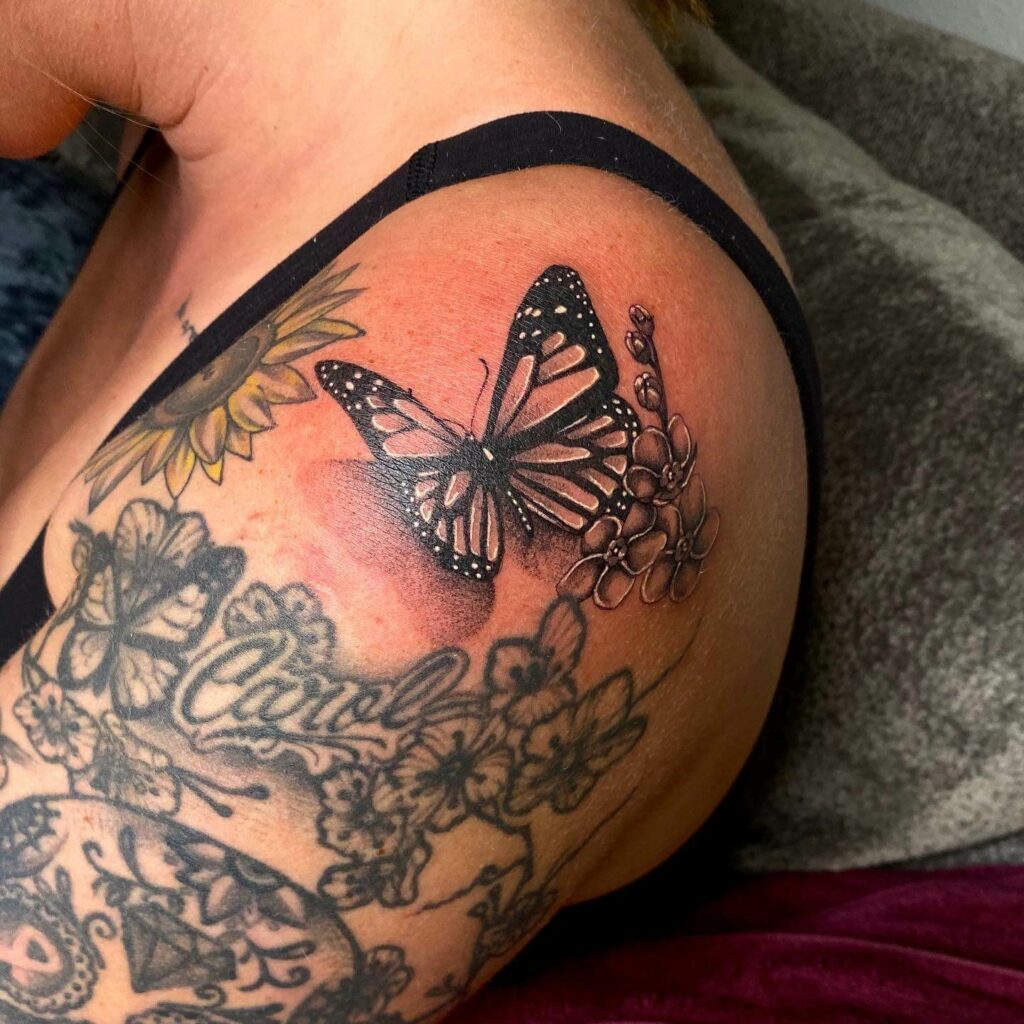 Shoulders are muscular areas and can be the perfect canvas for millions of tattoo designs. From a small tattoo to a full arm sleeve tattoo, an array of creative popular designs can be inked and such tattoo designs can also be kept concealed by just wearing full sleeve outfits. Although most tattooers like to express the bold colors of their inks, some might want them to keep out of sight if the design is a butterfly tattoo with a lot of injected memories and lies in the pockets of personal space.
Take this shoulder butterfly tattoo for example. It stands as an extended piece to a previous butterfly tattoo work. It can also be considered as in loving memory remembrance butterfly memorial tattoo of a person named Carol. This butterfly tattoo has a colossal depth of personal touch and can easily be inked as a memorial tattoo to live for lost memories. Shoulders are the ideal spot to ink a butterfly tattoo along with a token of affection for both men and women.
Conclusion
In conclusion, tattoos are a beautiful way to express oneself and can be a great way to commemorate a loved one or a special moment in life. Butterfly tattoos are especially popular and can be inked in various colors and designs. The shoulder is an ideal spot for butterfly tattoos as it can be easily concealed if needed. When choosing a tattoo artist, it is important to do your research and choose someone who is experienced and has a good reputation. The cost of a tattoo can vary depending on the size and complexity of the design. It is important to note that there are potential negative side effects such as infection or allergic reactions, so it is important to take proper care of your new tattoo and follow the aftercare instructions provided by your tattoo artist.
Feature Image from Pinterest