Greetings, seekers of symbolic ink! Are you poised on the edge of choosing that perfect design to grace your arm? Well, dear reader, we've curated a collection of entrancing butterfly tattoo concepts just for you that promise to inspire and delight.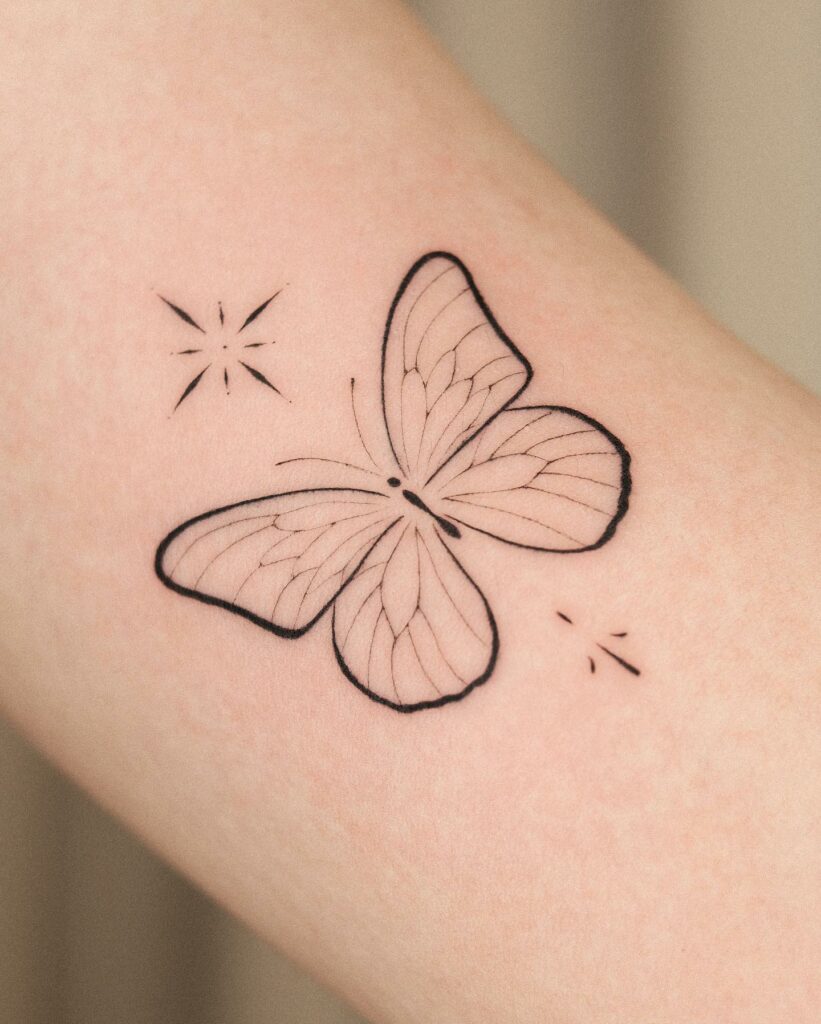 Often seen flitting delicately from flower to flower, butterflies are small yet magnificent creatures, renowned for their expansive, vivid wings. Their arresting beauty and ephemeral existence have long captivated the hearts of humankind, resulting in a rich tapestry of cultural symbolism that makes them perfect subjects for body art.
A butterfly tattoo is much more than an aesthetic adornment. It holds profound symbolism, carrying the promise of new beginnings. The fleeting lifespan of a butterfly serves as a reminder of life's transient nature, a poignant yet beautiful juxtaposition to the permanence of a tattoo.
There's a compelling analogy between the human life cycle and the metamorphosis of a butterfly. The transformation from caterpillar to fully-fledged butterfly has long been viewed as a symbol of personal growth and evolution. This process mirrors the inevitable metamorphoses that occur in our own lives, from our struggles to our triumphs, making butterfly tattoos a significant symbol of personal growth and resilience.
Boasting a riot of colors on their large wings, butterflies captivate us with their simple elegance and diversity, serving as a stunning visual metaphor for our unique human experience. Originally, the allure of butterfly tattoos held a particularly strong sway among women. But as the rigid confines of traditional gender roles continue to dissipate, an increasing number of cis men are also embracing the magnetic charm of the butterfly tattoo.
Whether you're a seasoned tattoo enthusiast or a newcomer to the inking scene, butterfly designs offer a universally appealing choice. From delicate, minimalistic designs to grand, intricately detailed pieces teeming with color, there's a butterfly tattoo to suit every aesthetic. After all, in the hands of a skilled tattoo artist, each butterfly design becomes a vibrant testament to personal transformation and the enduring beauty of life.
Fine-Line Mini Butterfly Tattoo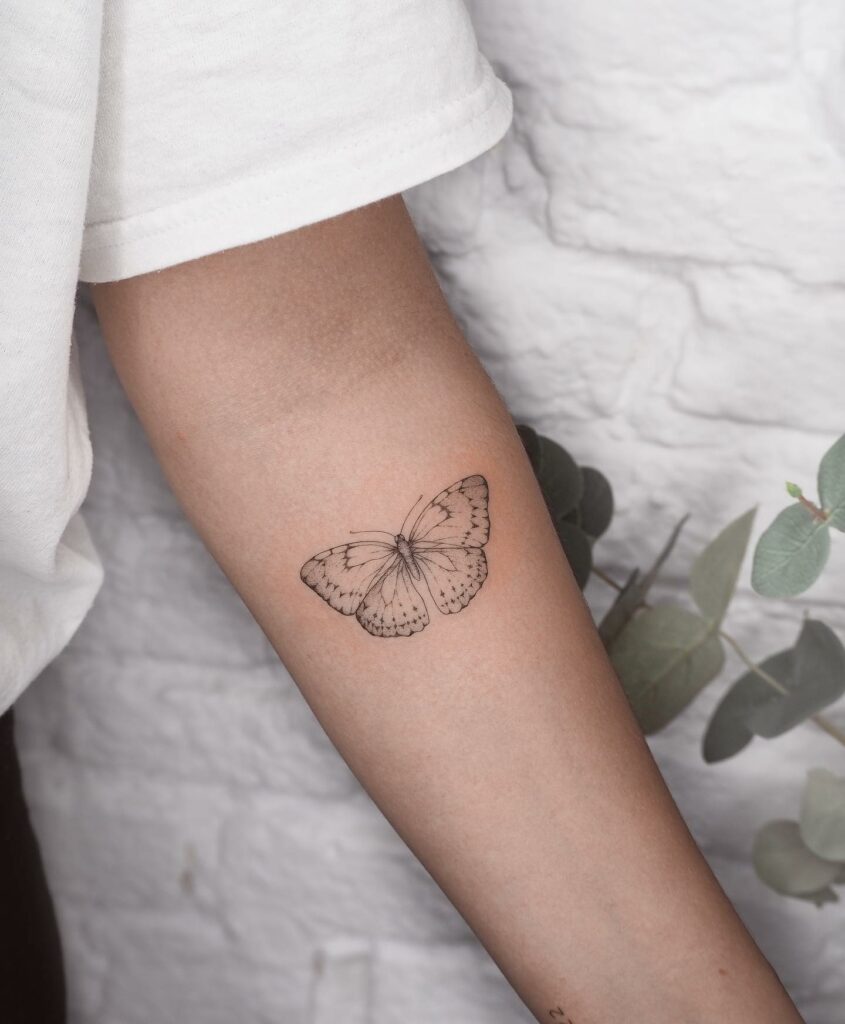 Immerse yourself in the subtle elegance of a fine-line mini butterfly tattoo. Precisely etched on the forearm, this design masterfully exploits thin black lines to capture the intricate patterns that adorn the butterfly's wings. With minimal shading, the tattoo takes advantage of the skin's natural tones, resulting in a wonderfully delicate and understated piece of art. Despite its low-key allure, the design radiates sophistication without being ostentatious. As versatile as it is beautiful, this tattoo can easily adapt to any body part, inviting the tattoo enthusiast to tailor its size to their preference.
Minimalist Small Butterfly Tattoo
Behold the charm of a minimalist small butterfly tattoo. Inked in black, the body of the butterfly takes form with a few graceful strokes. However, the true beauty of the piece lies in the wings, featuring a basic yet captivating design that utilizes the wearer's skin tone as its canvas. While a single butterfly creates a statement in itself, the addition of more butterflies can further elevate the design's allure. Embodying lucidity, or ultimate sophistication, this small design is an excellent choice for those embarking on their tattoo journey.
Butterfly With A Moon Tattoo
Experience the enchantment of a butterfly-moon tattoo. This stunning design, crafted with a combination of black and brown ink, presents a beautifully segmented wing pattern and a delicately streamlined butterfly body, leading to two long feelers. A full moon nestled between the feelers adds a dramatic touch, complemented by the gradual color shift from brown to black on the butterfly. While maintaining a classic look in its monochrome form, this design invites the bold to infuse it with color.
Colourful Realistic Butterfly Tattoo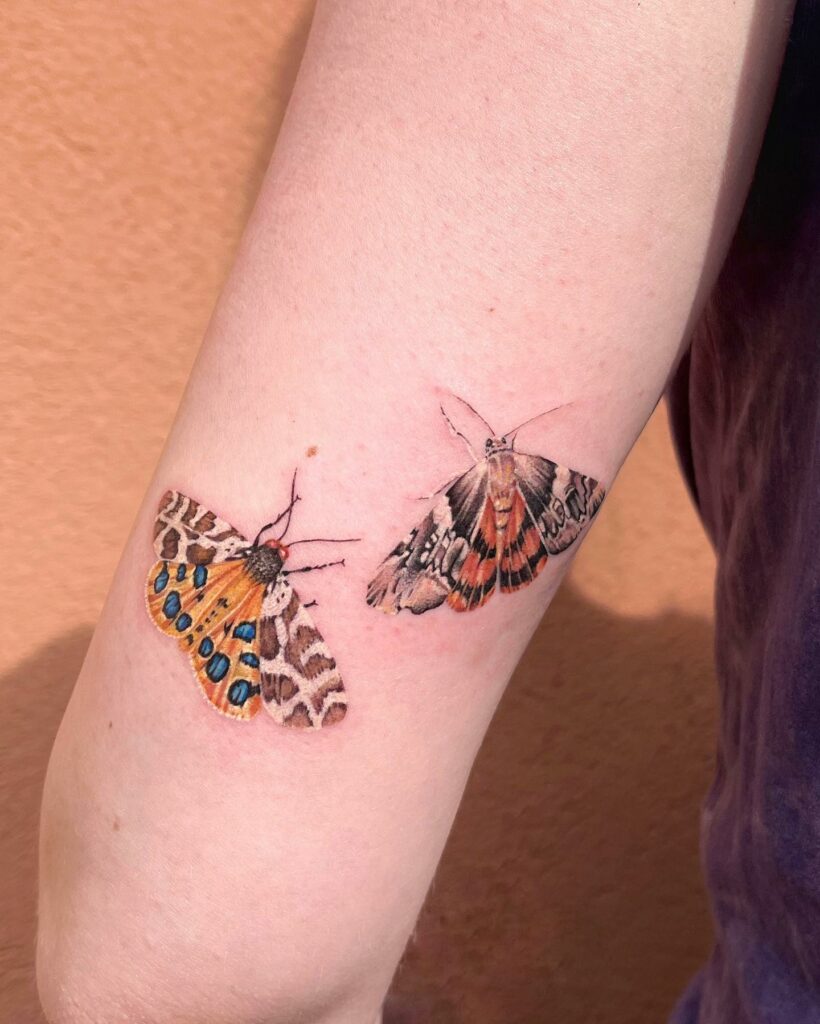 Indulge in the vibrant spectacle of a colorful realistic butterfly tattoo. Symbolizing love and friendship, these 3D butterflies – one awash with green and orange, the other with resplendent red – seem ready to take flight from the back of the arm. A perfect tribute to a deep bond between two individuals, this duo tattoo caters to those with a penchant for vivid colors in butterfly designs.
Soothing Butterfly Tattoo
Delight in the tranquillity of a soothing blue butterfly tattoo. Executed with fine lines in a palette of blue, purple, and black, this design adorns the area above the wrist. An unexpected twist sees the butterfly positioned upside down, adding a hint of playful creativity. Resembling a watercolor painting, this tattoo offers a serene aura, appealing to those who prefer subtler colors.
Flower And Butterfly Tattoo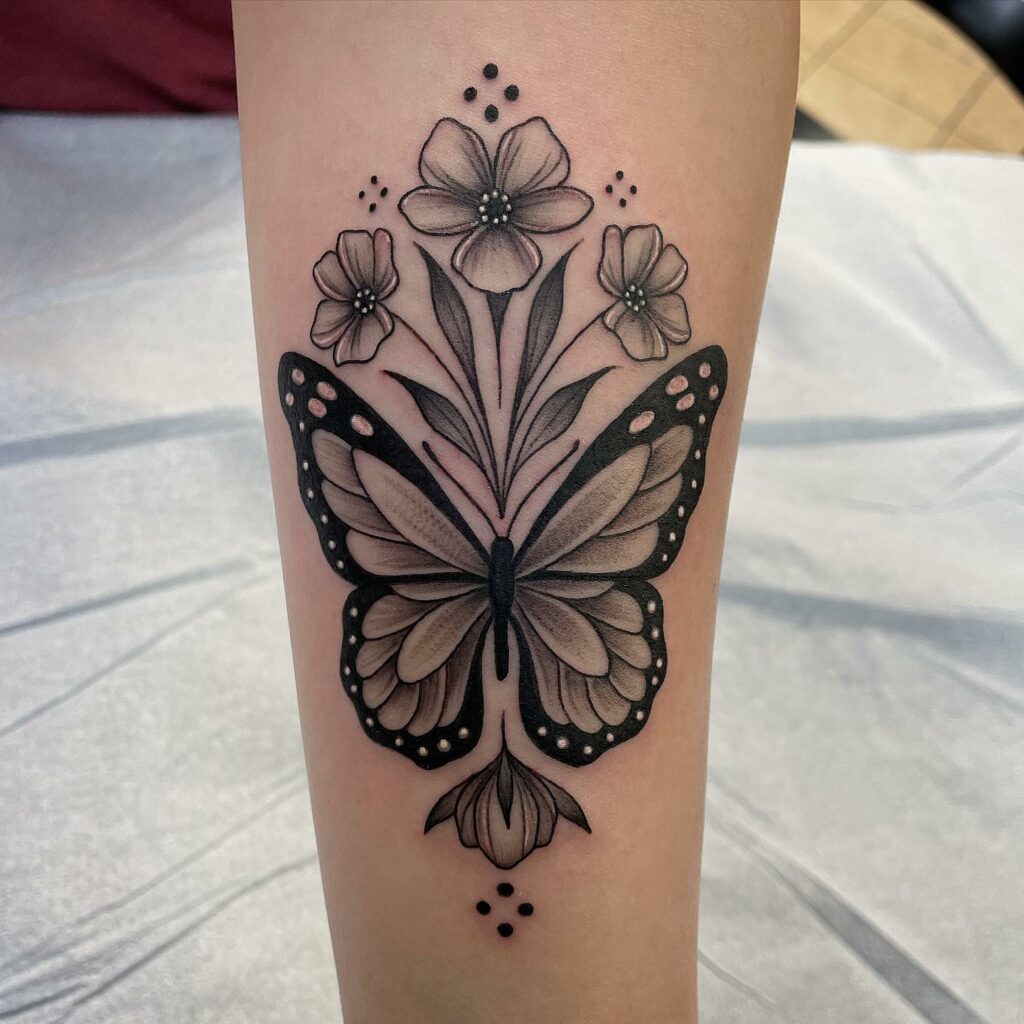 Appreciate the detailed allure of a butterfly tattoo complemented by floral patterns. Nestled among gracefully inked flowers, the butterfly takes center stage on the forearm. Smooth shading breathes life into the butterfly's wings and the surrounding floral motifs, resulting in an exquisite and elegant design. The adaptability of this design means any talented artist can make it shine on various parts of the arm.
Dark Black Butterfly Tattoo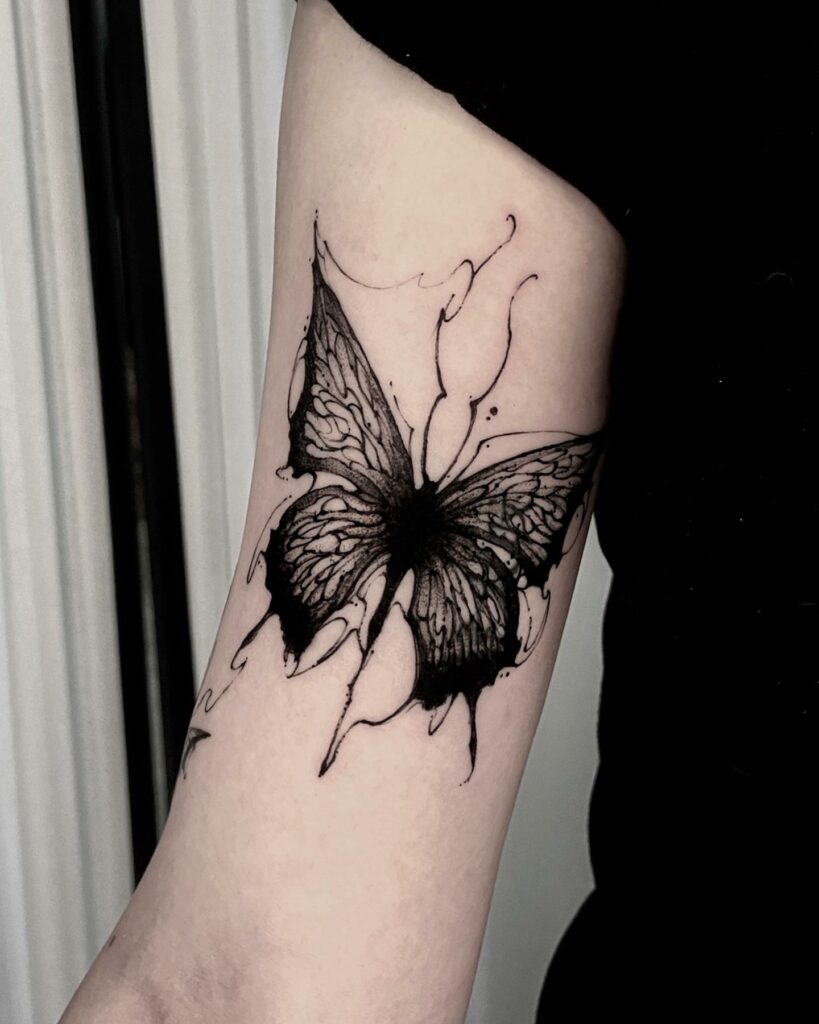 Savor the innovative appeal of a dark black butterfly tattoo. The fluid nature of this design, absent of a rigid outline, evokes a sense of freedom and personal evolution. A modern take on a classic motif, this design resembles an abstract painting, making it an intriguing choice for all ages.
Sketch Butterfly Tattoo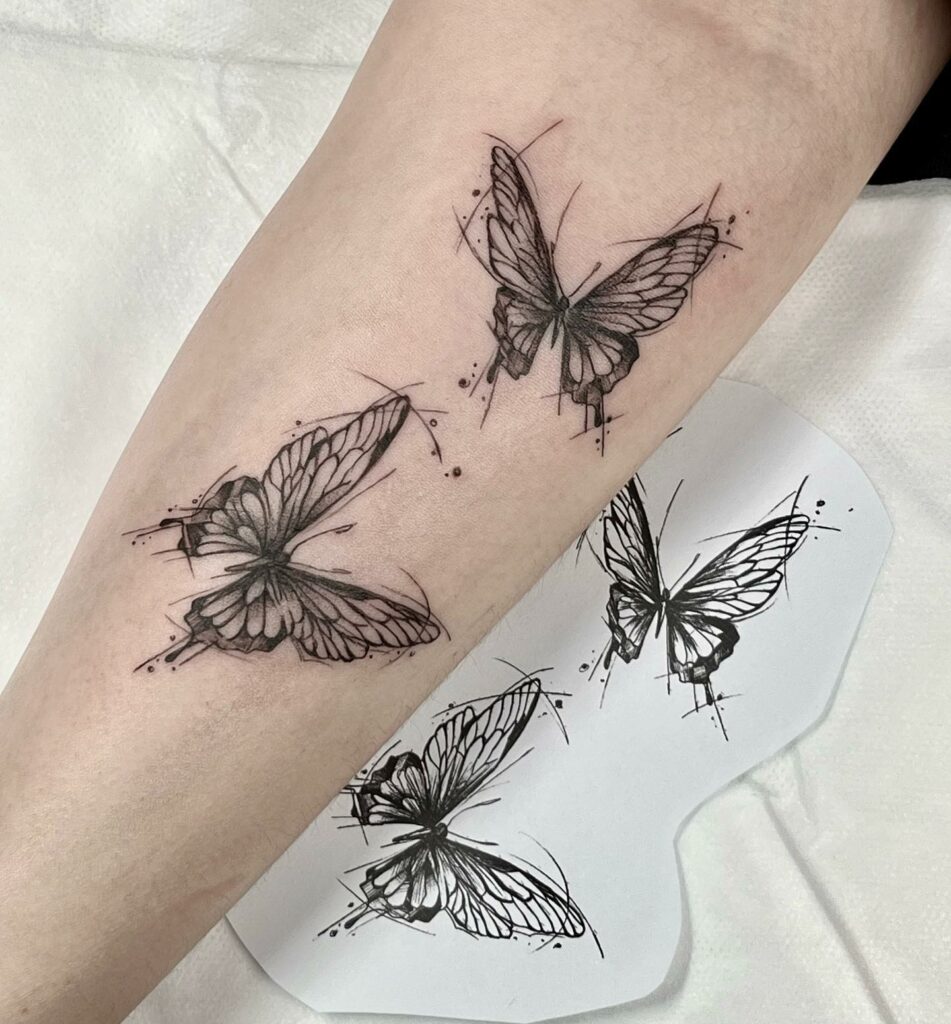 Admire the sketch-like quality of this butterfly tattoo. Featuring two butterflies in flight, this black and grey design is enriched with fine lines and strokes that capture the dynamic movement of the wings. Symbolizing love and joy, this tattoo is a beautiful option for couples, siblings, or best friends seeking to honor their bond.
Tiny Butterfly With Flowers Tattoo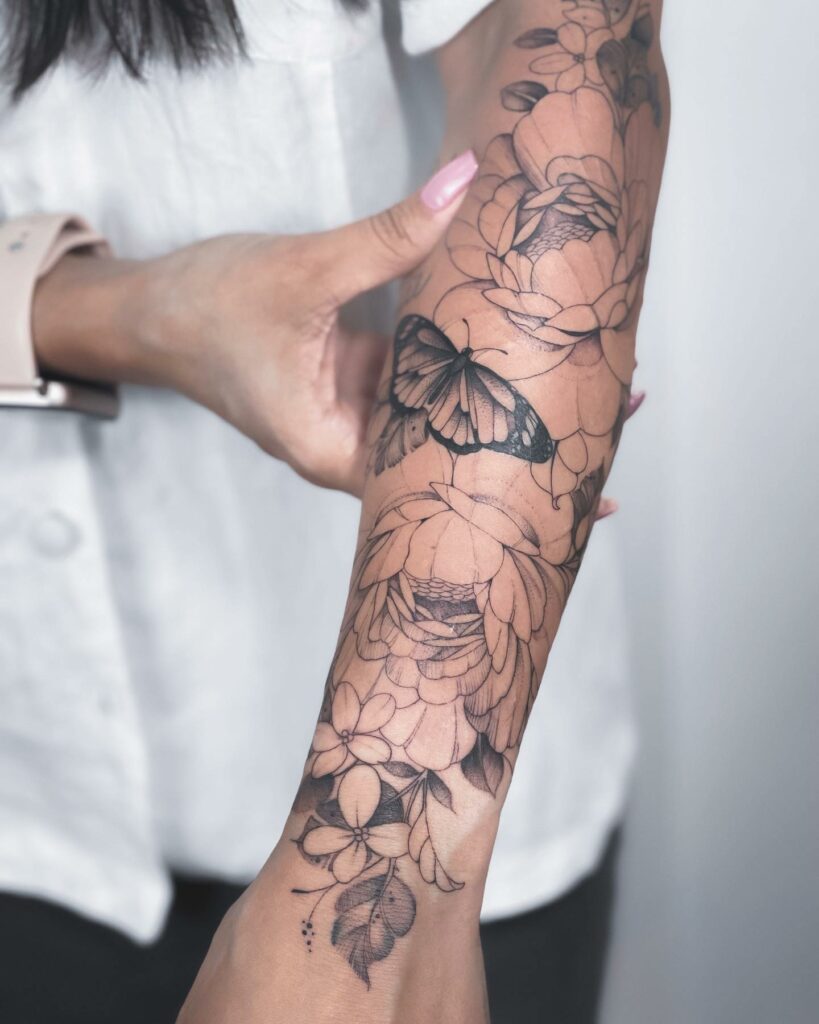 Absorb the intricacy of this detailed butterfly tattoo, sprawling across the entire forearm. With a detailed floral backdrop highlighting the central butterfly, this piece is a true testament to the artist's craft. The charm of this small butterfly design lies in the meticulous detailing and seamless finish, making it an excellent choice for those seeking a full forearm tattoo.
Simple Butterfly Tattoo
Relish in the simplicity of a translucent-winged butterfly tattoo. The wings, tinted grey, feature unique designs drawn with thin lines, aside from the boldly black edges. This design epitomizes grace in simplicity. If you're seeking a design that exudes effortless elegance, this might be the perfect fit for you.
Blue Butterfly Tattoo On Arm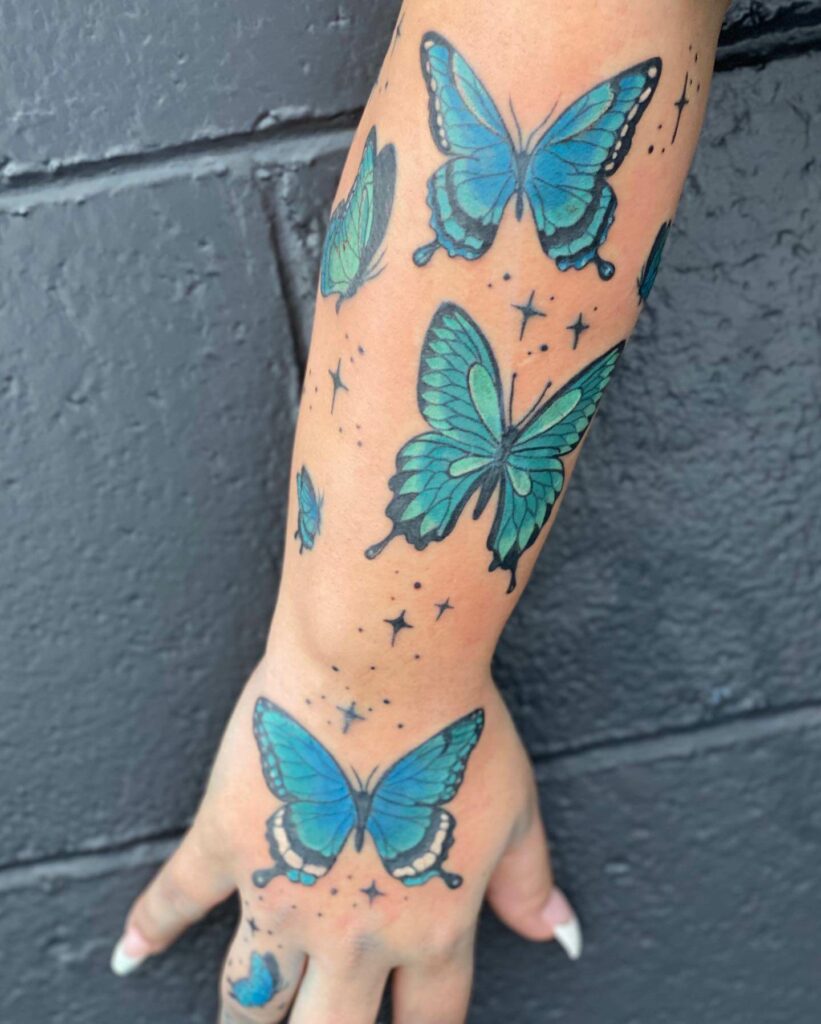 Conclusion
Tattoos can be a captivating way of expressing your individuality or commemorating meaningful symbols, stories, and bonds. These butterfly-inspired designs can be adapted and personalised to grace any part of your body. Costs, however, can vary widely, based on factors such as size, complexity, color, and the expertise of the artist. A small, minimalist design may start at $50, while a larger, more intricate piece can run into several hundreds of dollars. But remember, a tattoo is an investment in yourself and should never be chosen based on price alone.
Prior to embarking on your tattoo journey, be aware of potential risks. These include allergic reactions, skin infections, or diseases from non-sterile needles. Choose a reputable artist, insist on a clean and sterile environment, and follow all aftercare instructions to mitigate these risks. A reputable professional will also guide you on tattoo placement, taking into consideration factors such as your lifestyle, career, and comfort. So, whether you're considering a tiny butterfly on your wrist or a pair of vibrant butterflies on your back, armed with these insights, you're ready to take that exciting leap.
feature image from Pinterest