Thinking about taking the plunge with a neck tattoo? You're in the right spot. We're diving into the captivating world of winged neck tattoos—a badass blend of symbolism and style that's got some serious street cred. Angel wings aren't just about the spiritual high; they're a killer way to express your journey towards personal freedom or even a tribute to someone who had your back. On the flip side, a neck tattoo says you're not just living life, you're owning it. Before you go under the needle, though, know this: the design and its meaning have got to jive. We're talking the ethics of ink here, especially if you're borrowing from cultures where tattoos are sacred. Get ready to discover how to pick the right wing design, what it could say about you, and pro tips on placement. Let's ink that story of yours the right way.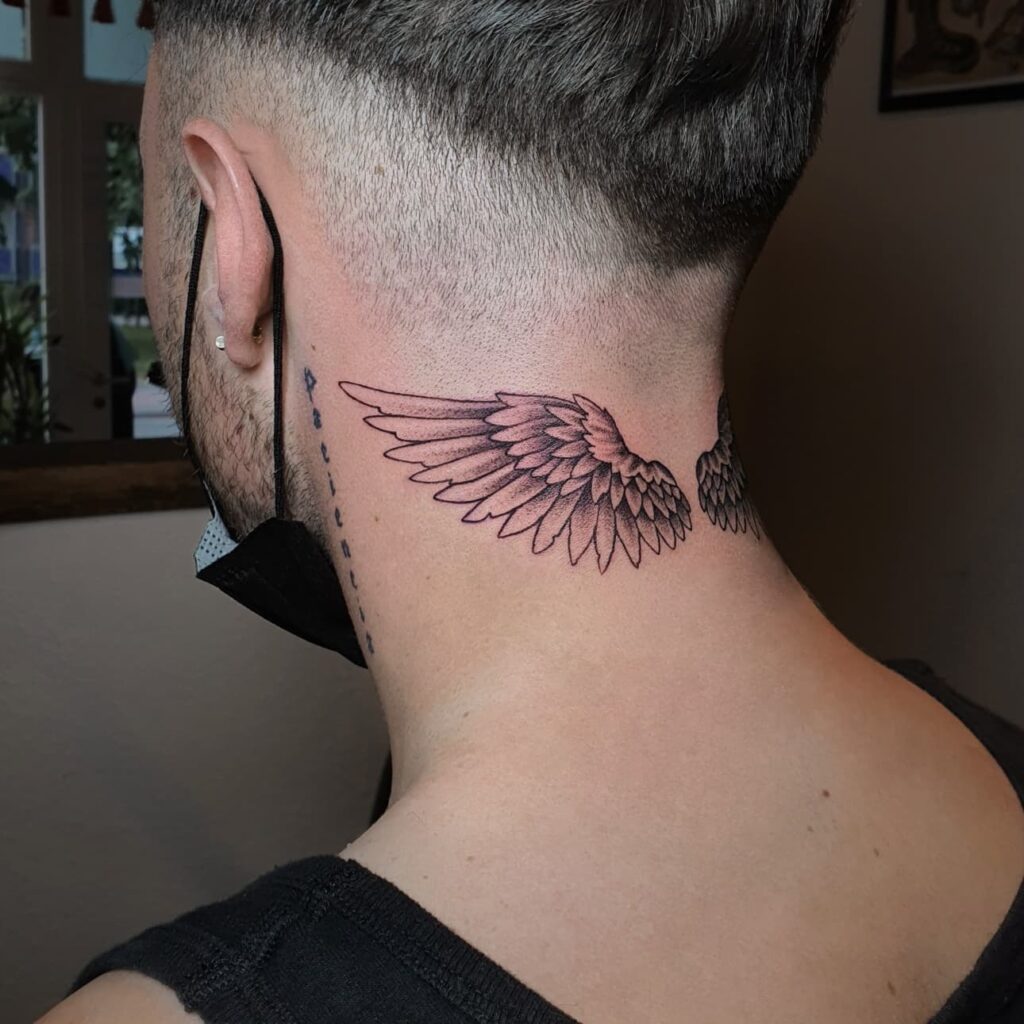 The gentle swoop of angel wings wrapped around the neck makes a stunning statement, as seen in one enchanting neck tattoo. The angel in this image appears to slumber, wings spread wide in an array of delicate grey tones, creating a vision of tranquility. The stark contrast of deep black ink in the background brings the tattoo to life, a testament to the skillful work of the tattoo artist. Encompassing the neck and throat, this piece employs a subtle palette, yet its artistic richness commands attention.
Red And Black Angel Wings Tattoo On The Neck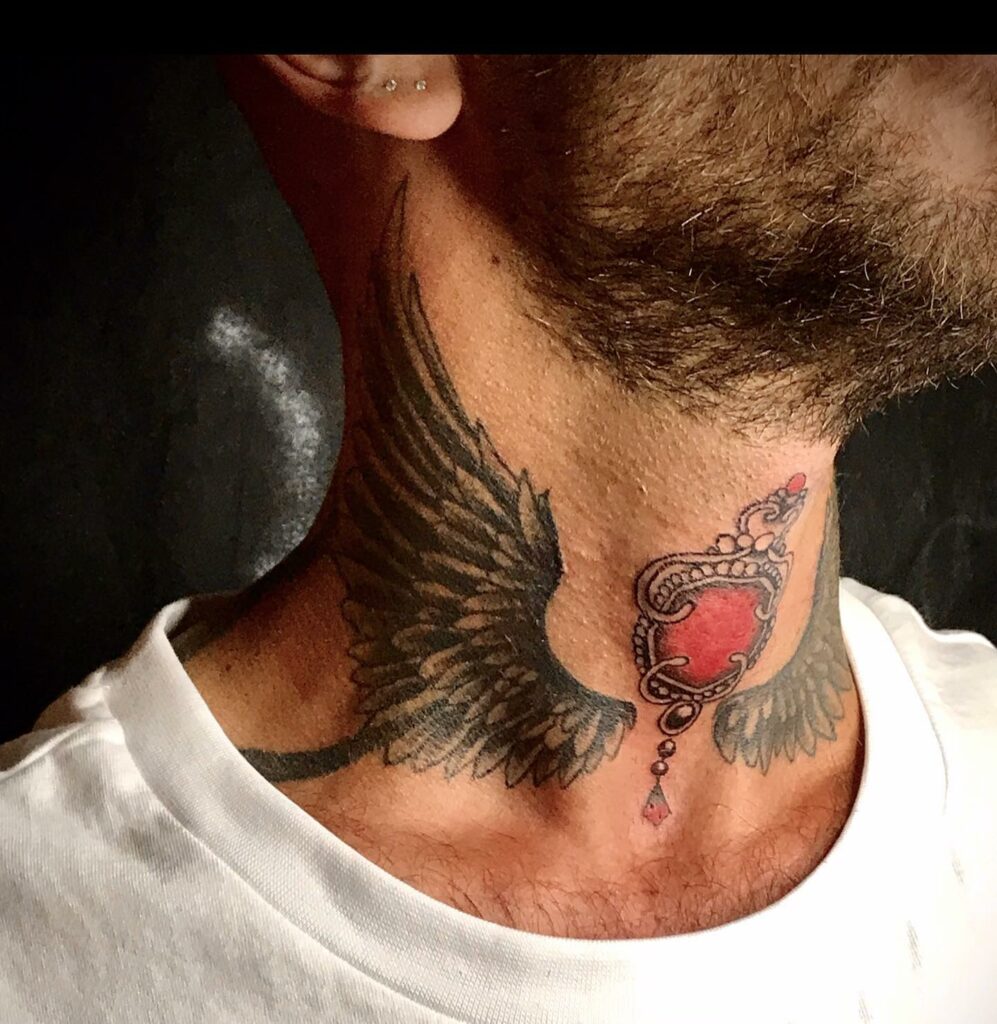 A striking choice for those desiring a full neck and throat tattoo is a unique design of angel wings separated by a ruby-like gem. The wings are meticulously shaded in black, casting captivating shadows on the feathers. The radiant red gemstone, outlined with a hint of brown, adds a vibrant touch. Encircling the gemstone, mandala designs add a flair of Asian origin, making this an eclectic piece for those seeking offbeat tattoo designs.
Classy Neck Tattoo Wing On Men For Cover Up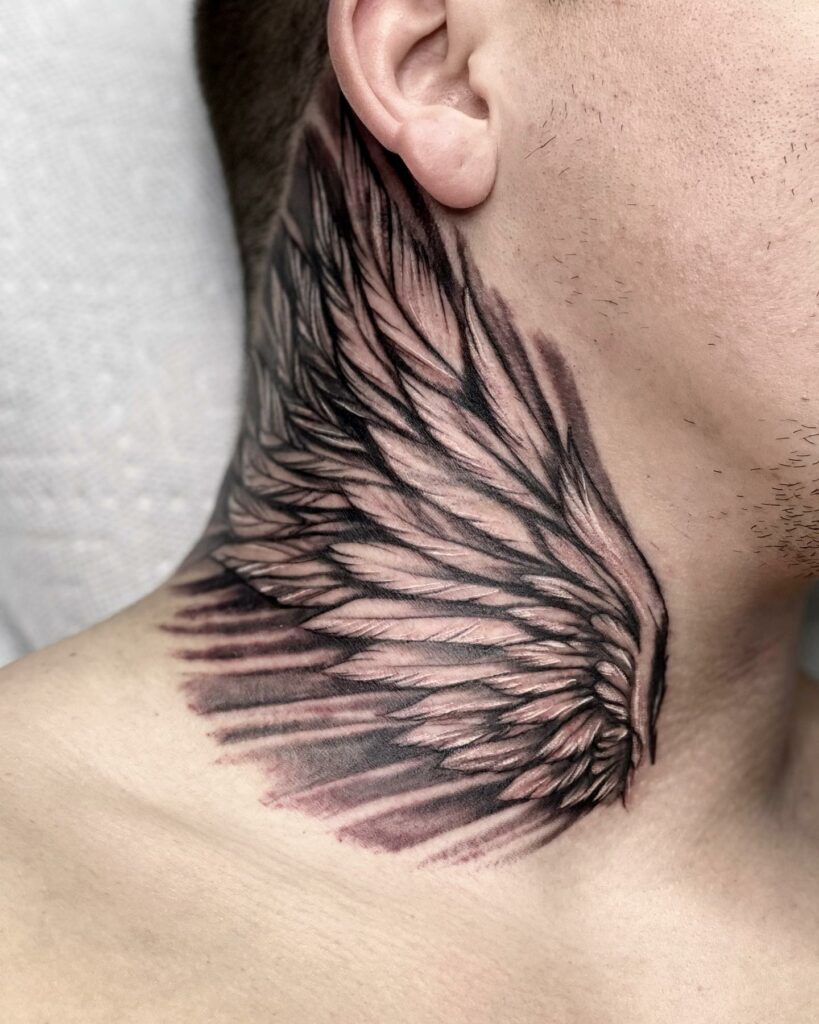 A subtle yet powerful neck tattoo is perfect for those wishing to pay tribute to their religious faith. With angel wings etched across the neck, this design subtly communicates the wearer's belief in divine protection. This piece not only serves as a beautiful cover-up tattoo but also conveys a sense of spiritual renewal and resilience.
Sword And Wings Back Neck Tattoo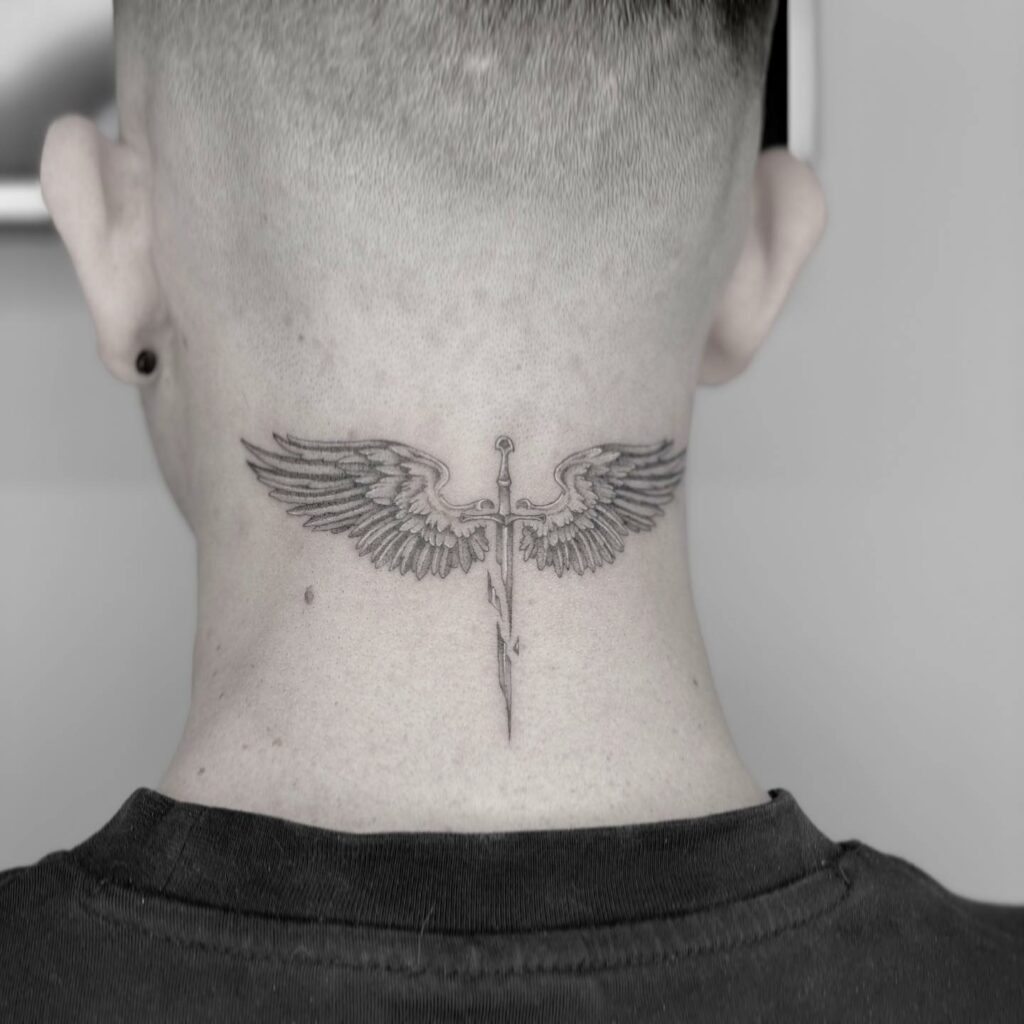 For those seeking strength and power in their ink, a back neck tattoo featuring a sword flanked by wings can be a potent symbol. Although the sword in this design more closely resembles a dagger, its positioning beneath broad wings implies an aura of might and freedom. Rendered in understated grey tones, this piece beautifully symbolizes the wearer's inner power.
Crown Neck Tattoo With Wings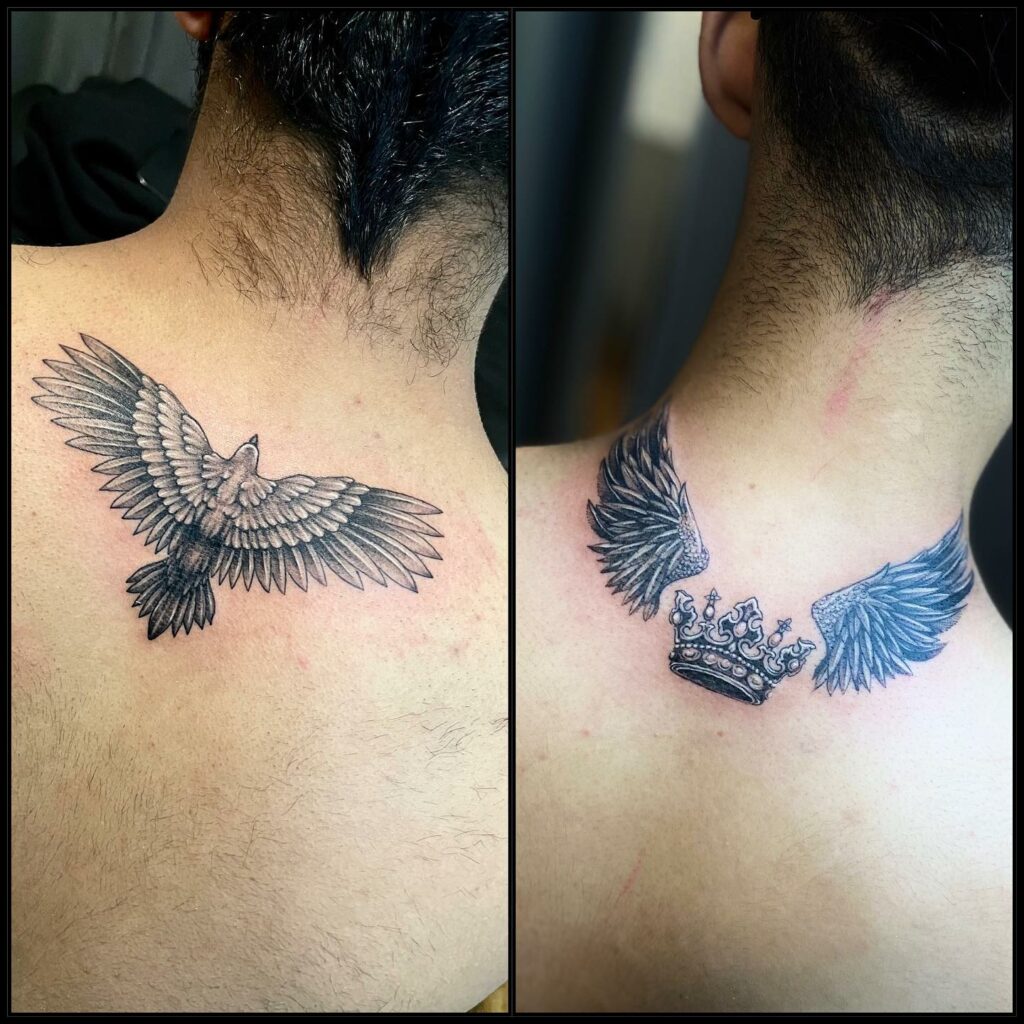 An eagle and crown tattoo can make a commanding statement. Embodying pride, leadership, and a regal bearing, this design serves as a bold expression of the wearer's royal inclination. Back neck tattoos, like this one, can be just as compelling as full neck pieces, adding an element of intrigue.
Compass Tattoos For Men With Bird On The Neck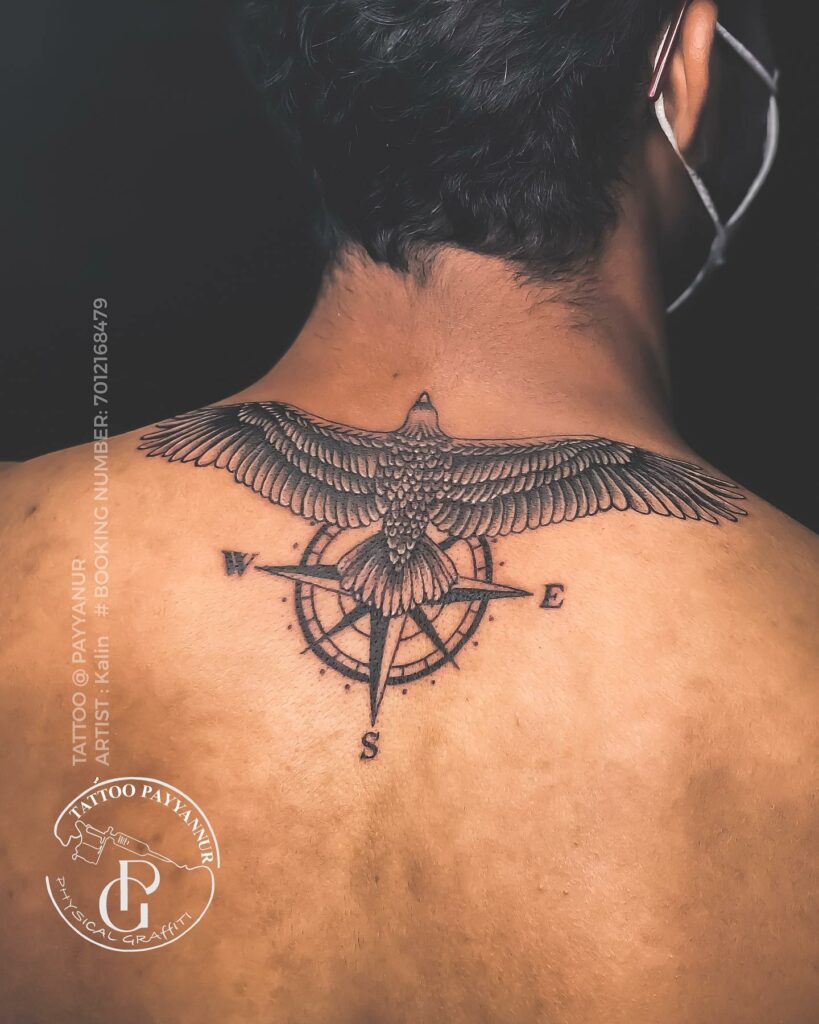 A full neck compass tattoo, adorned with an eagle, can be a unique choice for men who value directional symbolism. The eagle implies the wearer's pride and leadership abilities, while the compass suggests a path of righteousness. The beautifully rendered grey and black wings, coupled with the compass' northward direction, embody the wearer's leadership and guidance.
Demon Wings On The Neck Tattoo For Women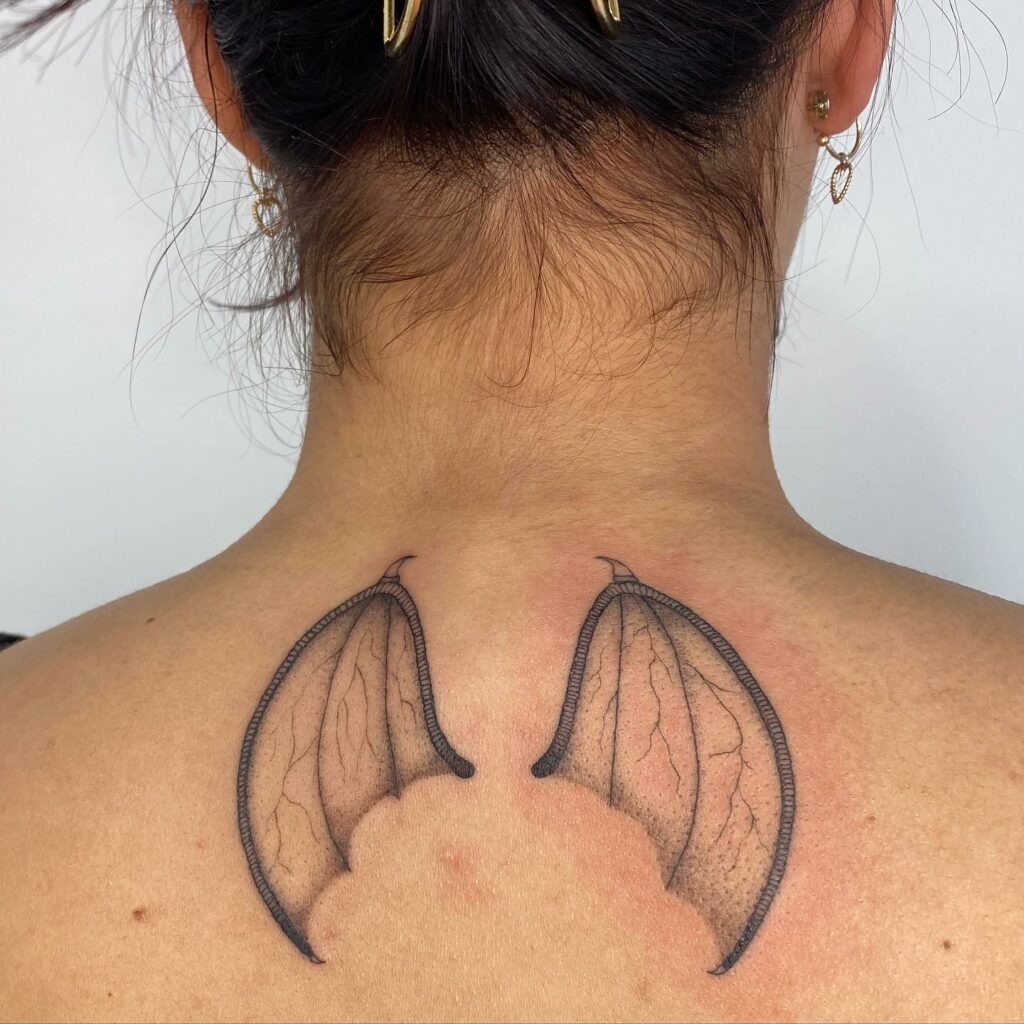 Small, yet impactful neck tattoos are currently making a fashion statement. A demon wing tattoo, for instance, can serve as a powerful symbol of inner struggle and personal balance between good and evil. This badass and sexy design may also appeal to those drawn to gothic culture and darker themes.
Angel Tribal Cool Neck Tattoo Ideas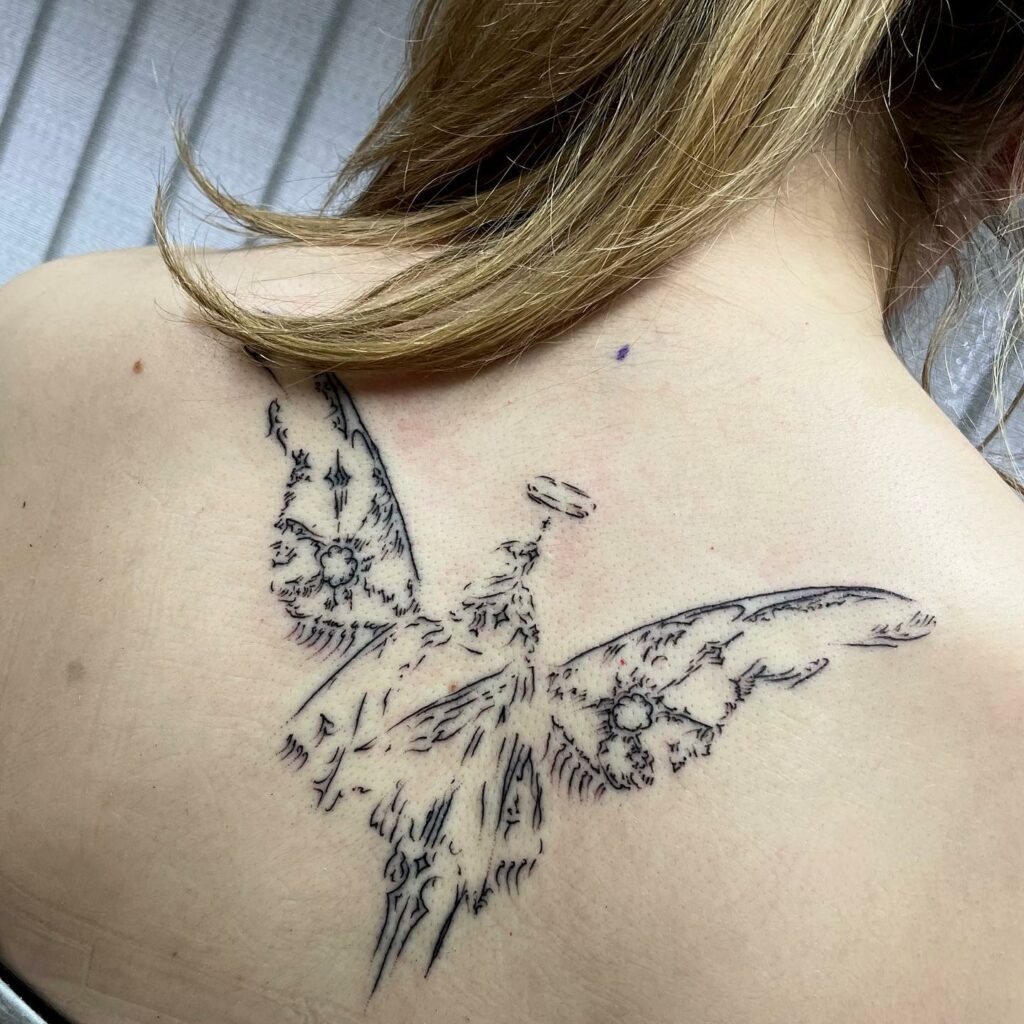 Tribal neck tattoos offer an impressive range of design possibilities. A blend of angel and tribal elements can result in an intriguing piece, with its minimalistic lines and dotwork suggesting a guardian angel's protective wings, perhaps reminiscent of a butterfly.
Trivandrum Temple Wings Religious Tattoos On Neck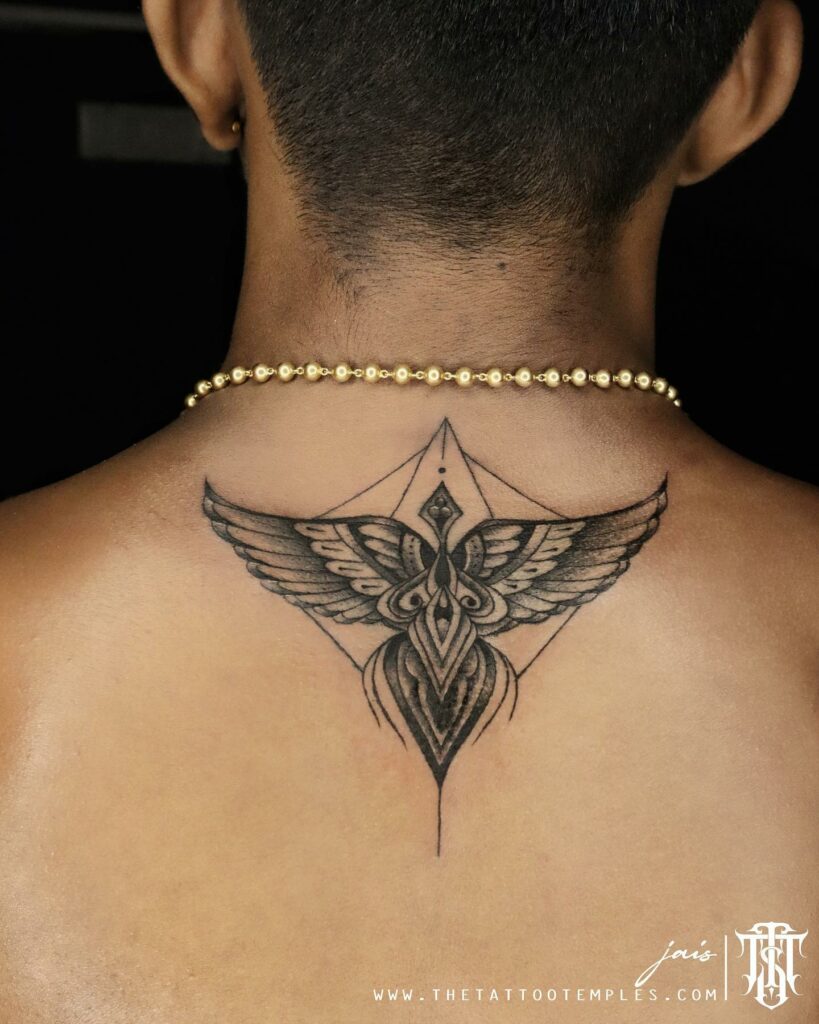 A unique piece for those interested in religious tattoos is a design based on the Trivandrum temple in Kerala, India. Known for its serene atmosphere and cleanliness, the temple's architecture is mirrored in the detailed mandala artwork and ombre tones in this intricate tattoo.
Minimalistic Neck Tattoo Of Angel Wings For Women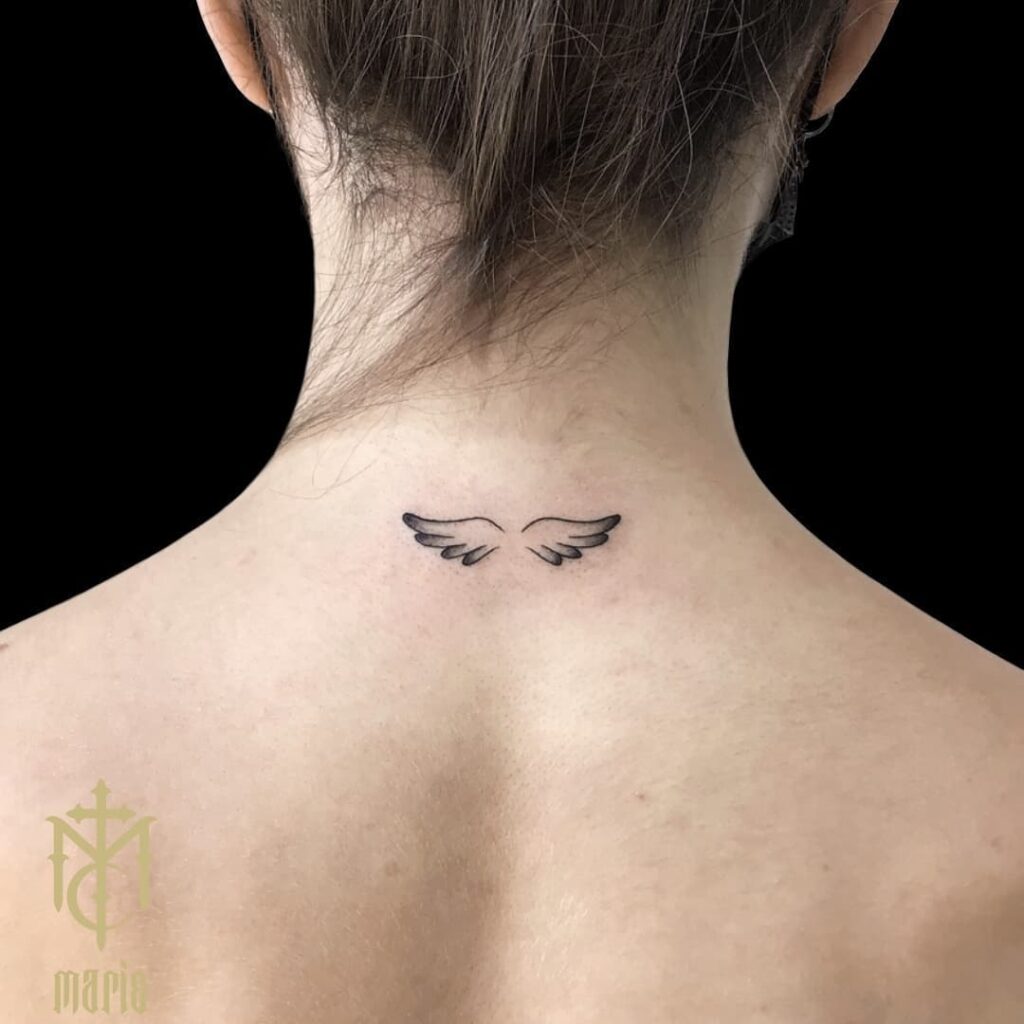 For a minimalist approach, a back-of-the-neck tattoo featuring dove wings in grey and black ombre hues can symbolize the wearer's readiness to explore new life horizons. With its artistic simplicity, this design beautifully enhances the wearer's inherent charm and spirit of adventure.
Still Looking for Inspiration, Then Check Out This Video
Conclusion
Neck tattoos, with their striking visibility and symbolic potential, have emerged as a bold canvas for personal expression. Be it the portrayal of spiritual beliefs, celebration of freedom, or homage to one's inner struggle, the neck offers an ideal placement for those who are confident and comfortable showcasing their narratives to the world. The cost of such a tattoo can vary widely depending on the size, complexity, and the artist's reputation, typically ranging from a few hundred to several thousand dollars. It's crucial to remember that while the neck's thin skin may lead to more vivid colors and sharper details, it also means these tattoos can be particularly painful and may require more time to heal. Potential risks, such as infection, allergic reactions, or keloid formation, underline the importance of seeking out a reputable professional for the job. Regardless, the ultimate reward of a neck tattoo is in its capacity to tell a story, a visual testament to the wearer's journey, beliefs, and individuality. So if you've got the courage and the conviction, why not let your neck be the stage where your unique tale unfolds?
feature image from Pinterest
Last reviewed and updated on September 27, 2023