Are you ready to take your love for tattoos to the next level? If you're up for a challenge, then a beautiful neck sleeve tattoo might be just what you're looking for! In this article, we'll share some of the best recommendations for neck tattoos that are sure to inspire you.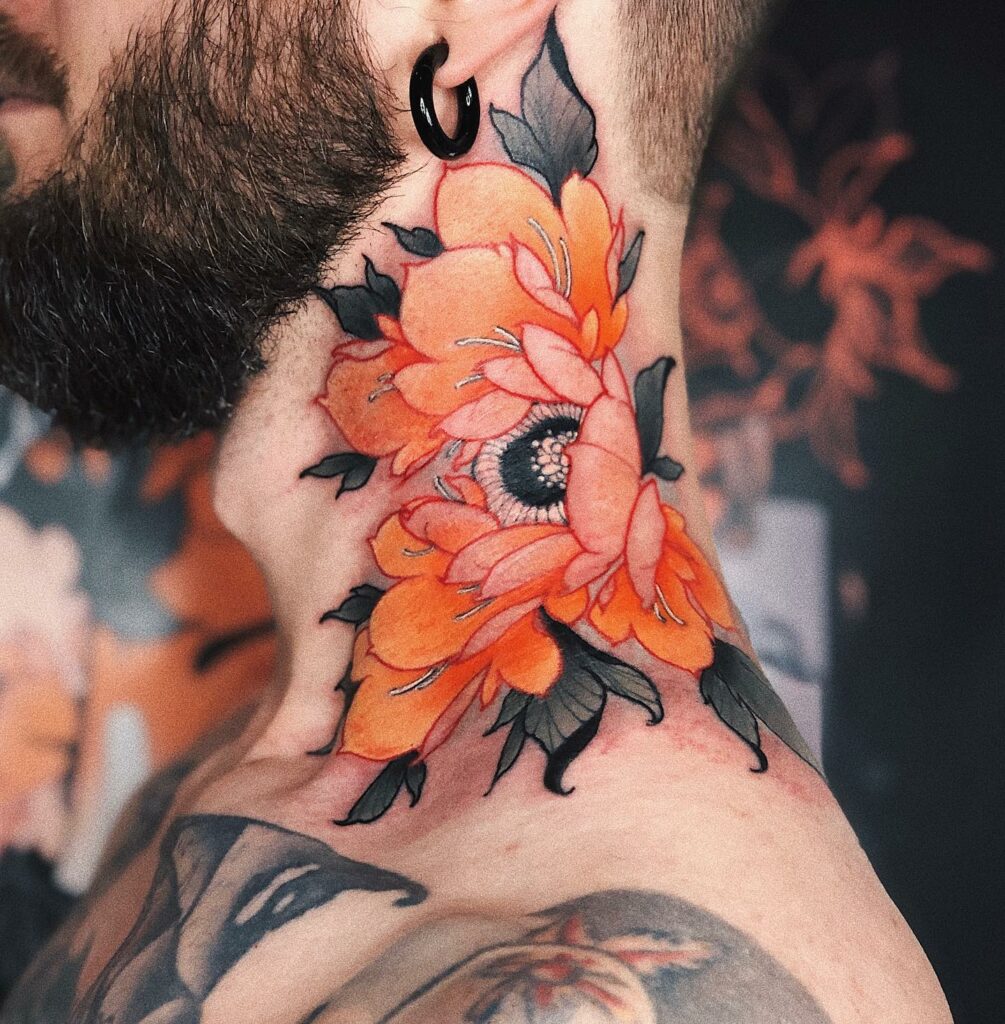 Despite being painful, neck tattoos are emerging as some of the most popular tattoos among women and men. They allow people to share intricate art pieces through body art. The face and neck being the foremost area one notices about your look makes it highly visible for people to spot any changes. That's probably why many people opt for getting gorgeous neck tattoos to flaunt their love for ink openly.
Neck tattoos symbolize bold and challenging personalities who don't step back from a good challenge. With throat tattoos holding a reputation of being one of the most painful spaces to get tattoos, many people show off their bold personalities by investing in neck tattoos. Tattoos on the neck and spine can definitely hurt due to the lack of thick skin on their structure, though it successfully represents the tattoo wearer's fierce personality and the ability to handle physical pain.
The neck's flexibility and graceful movements make it an ideal placement for many tattoo designs that demand versatile space to create complex artwork. From small neck tattoos to ones extending down to the shoulders or chest, neck tattoo ideas allow extra space for the tattoo artist to go crazy with their creativity. By keeping a little neck pain in check, you can get exceptional tattoo designs always-on display to enhance your first impressions.
If you have decided to get a semi or full-neck tattoo design, why not go through our detailed list? We've compiled diverse tattoo suggestions featuring elaborate and small-neck tattoo ideas! Here are some of the best ones to get you inspired.
Skull Crown Neck Tattoo Designs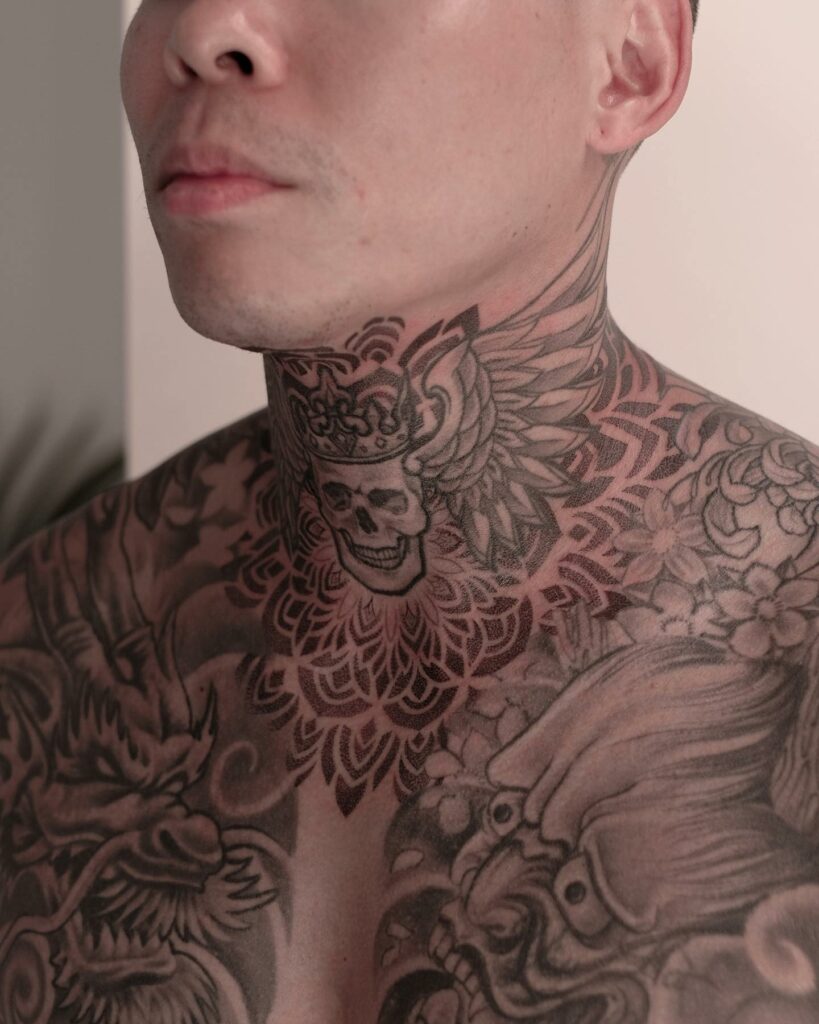 Dark theme tattoo lovers, it is your time to seek inspiration from an elaborate full neck tattoo design featuring a creepy human skull. The skull crown neck tattoo uses single needle artwork to create a very detailed full neck tattoo design with angel wings. The tattoo combines an angel neck tattoo with a skull and creates a majestic combination of the two, spread across the entirety of the wearer's neck.
If looked closely, the artwork is created using grainy, dot work-like ink texture to keep it subtle compared to what solid color could've done. The tattoo further expands to assimilate with the chest tattoo, helping the tattoos appear cohesively. The front neck tattoo features a leading image while maintaining a repetitive pattern that extends and joins at the back of the neck.
Floral Throat Tattoos With Intricate Designs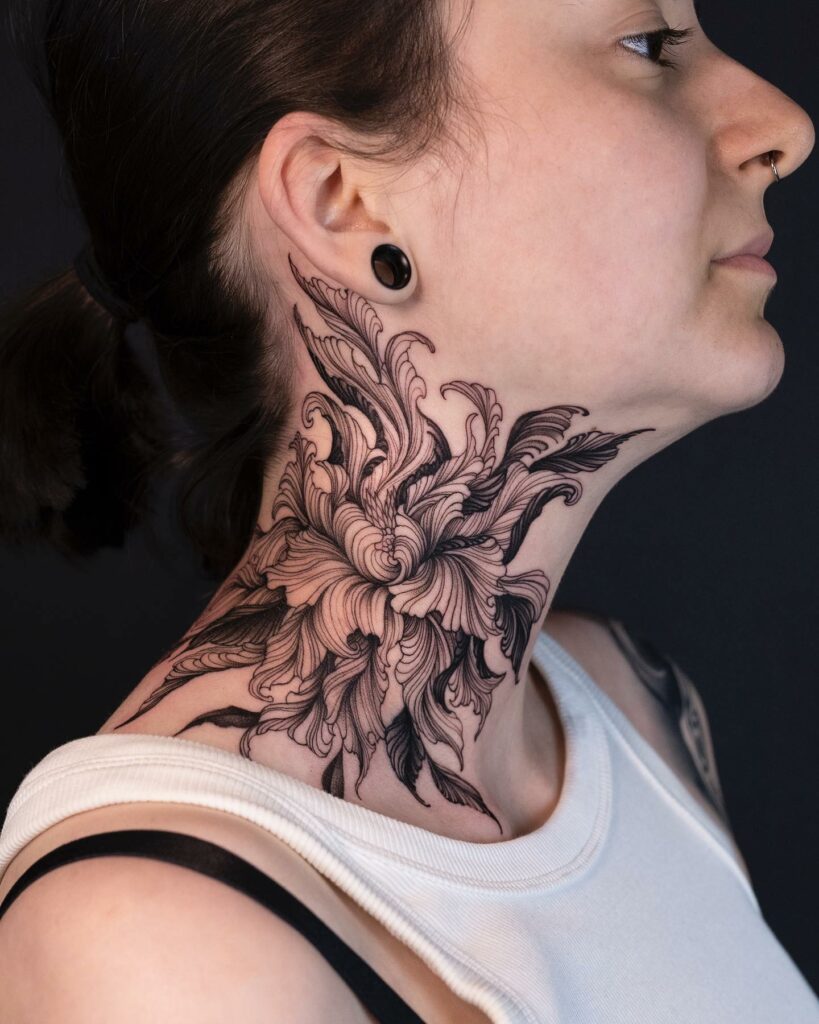 Floral arrangements can be a beautiful way to express your ideas and life philosophies through meaningful tattoos. The Iris flower tattoo is one such example. It represents holding onto hope, courage, and wisdom – some of the greatest traits a human can possess. The illustration above is an excellent example of an Iris tattoo that extends only across the side of the neck, leaving enough space for future tattoo ideas. The tattoo artist has done an exceptional job on this piece, combining intricate patterns to create an illusion-like effect not frequently found in floral arrangements. Flower-loving folks can benefit from this unique pattern and get inspiration for their subtle design.
As for the meaning of Iris flower tattoos, they can represent hope, new beginnings, and rebirth. They can also symbolize strength, courage, determination, innocence, greatness, passion, and cleanliness.
Japanese Style Full Neck Sleeve Tattoo Ideas For Men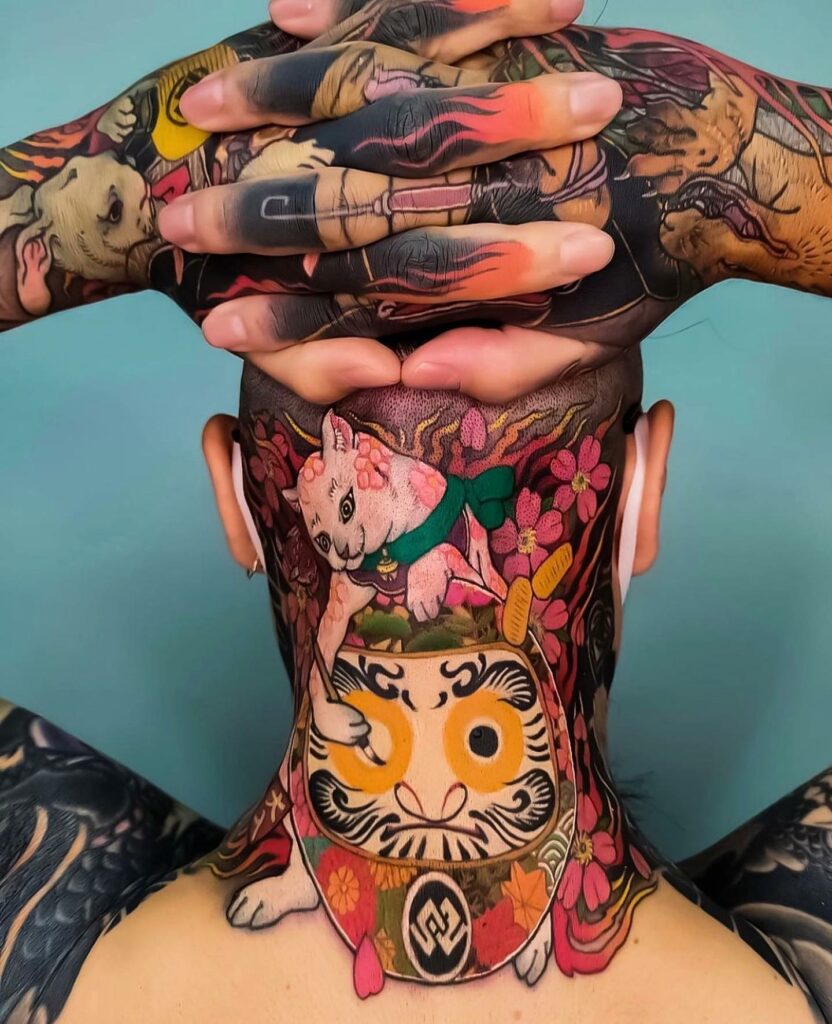 apanese-style tattoos are widely loved by people all over the world due to their vibrant colors and heavy dependence on details. This full neck tattoo illustrated in Japanese style covers the signature features to create badass tattoos for the neck featuring the Daruma doll, cat, and cherry blossoms. Placed on the back of the neck, the tattoos use bright and vibrant colors to capture the complete essence of Japanese art on the neck while also adding minute details to make the full neck tattoo as detailed as possible. If you are interested in getting a full back neck tattoo, this design can work as an excellent inspiration to help you find your own style!
Dark Theme Bat Full Neck Tattoo For Women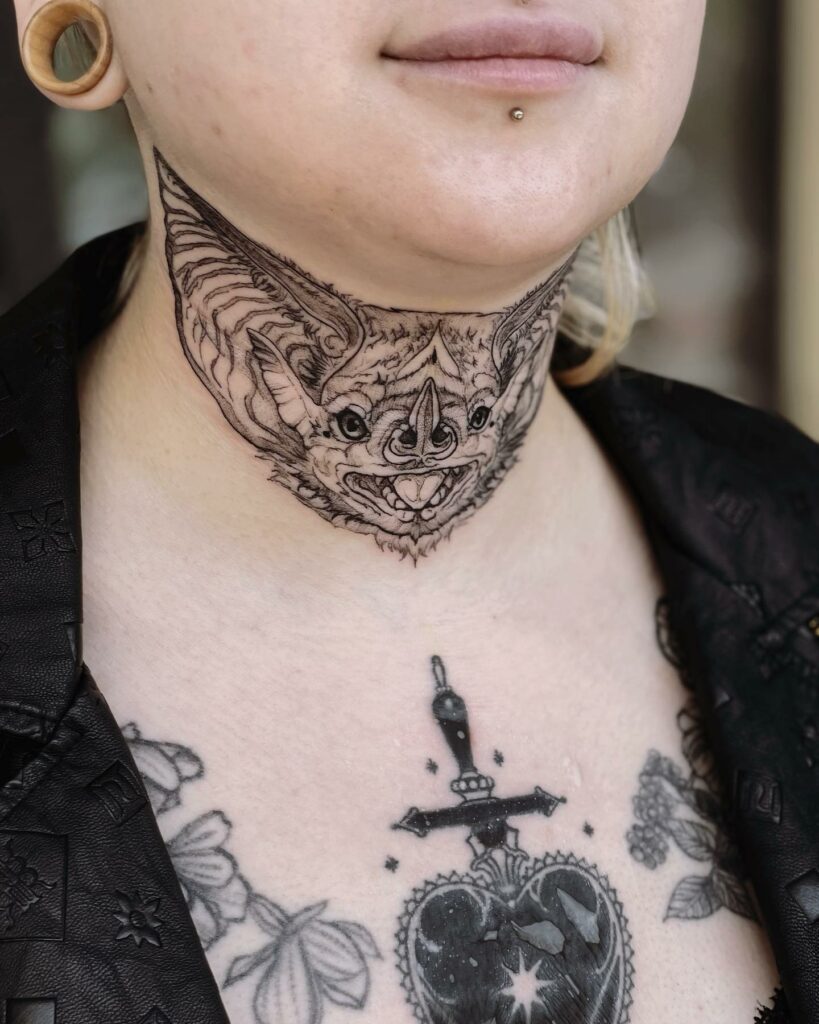 Neck tattoos can be a great way to express your personality and interests. The mischievous Goblin-like bat tattoo is one such example. It adds a creepy yet fun element to your neck tattoo designs. In contrast to what small neck tattoos offer, this bat head tattoo covers the entire front neck with a large head and open ears spreading across to reach the under-ear area.
The tattoo artist has used a combination of black and gray to create a shaded effect instead of solid colors that might've appeared too distracting. Neck tattoos like these narrate your mischievous side while exhibiting your interest in bold neck tattoo ideas. Dark theme tattoo lovers are free to claim the design if the neck tattoo design fits their genre of interest.
Intricate Demon Tattoo Neck Sleeve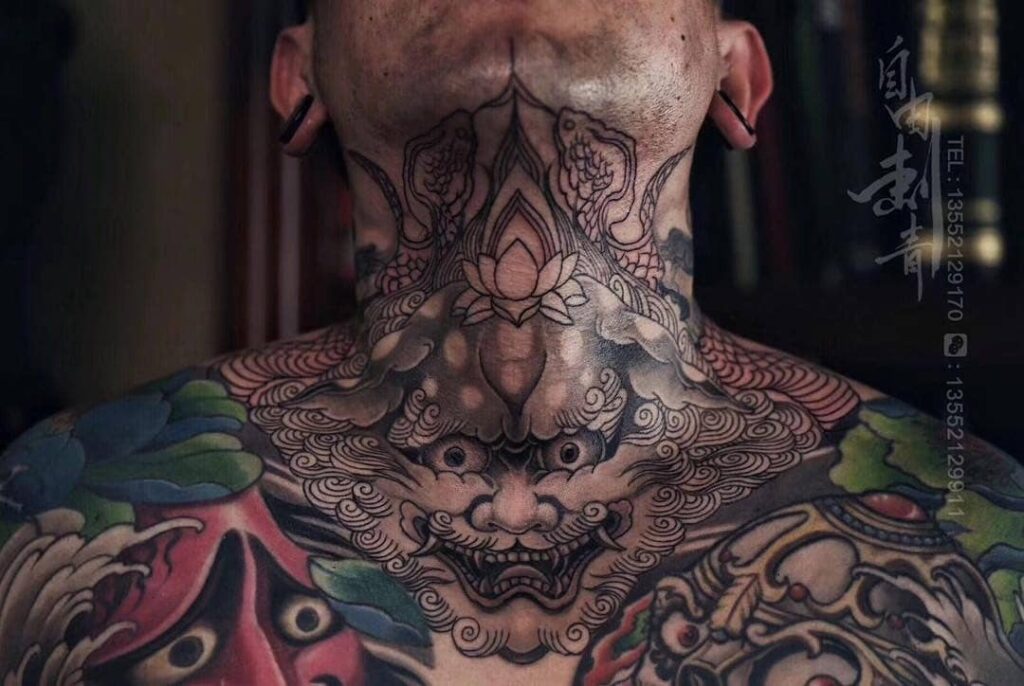 Tattoos can be a great way to express your personality and interests. Many people enjoy getting edgy, creepy tattoos to stand away from the ink-loving crowd that only explores floral or positively symbolic tattoo ideas. The patterned eye neck tattoo is one such design with no positive symbolism but contains extensive details capable of stealing compliments left and right.
The full neck tattoo covers the entire neck with a demon's face and eye tattoo, illustrating expressions creepy enough to scare many people at a glance. The artwork is illustrated in a manner to spread across the neck and shoulder to reach below further and assimilate seamlessly with the chest artwork. If you are hoping to get neck tattoos that compliment and mix up with chest tattoo designs, this artwork is a great piece to seek inspiration from.
Black Ink Illusion Neck Tattoo Sleeve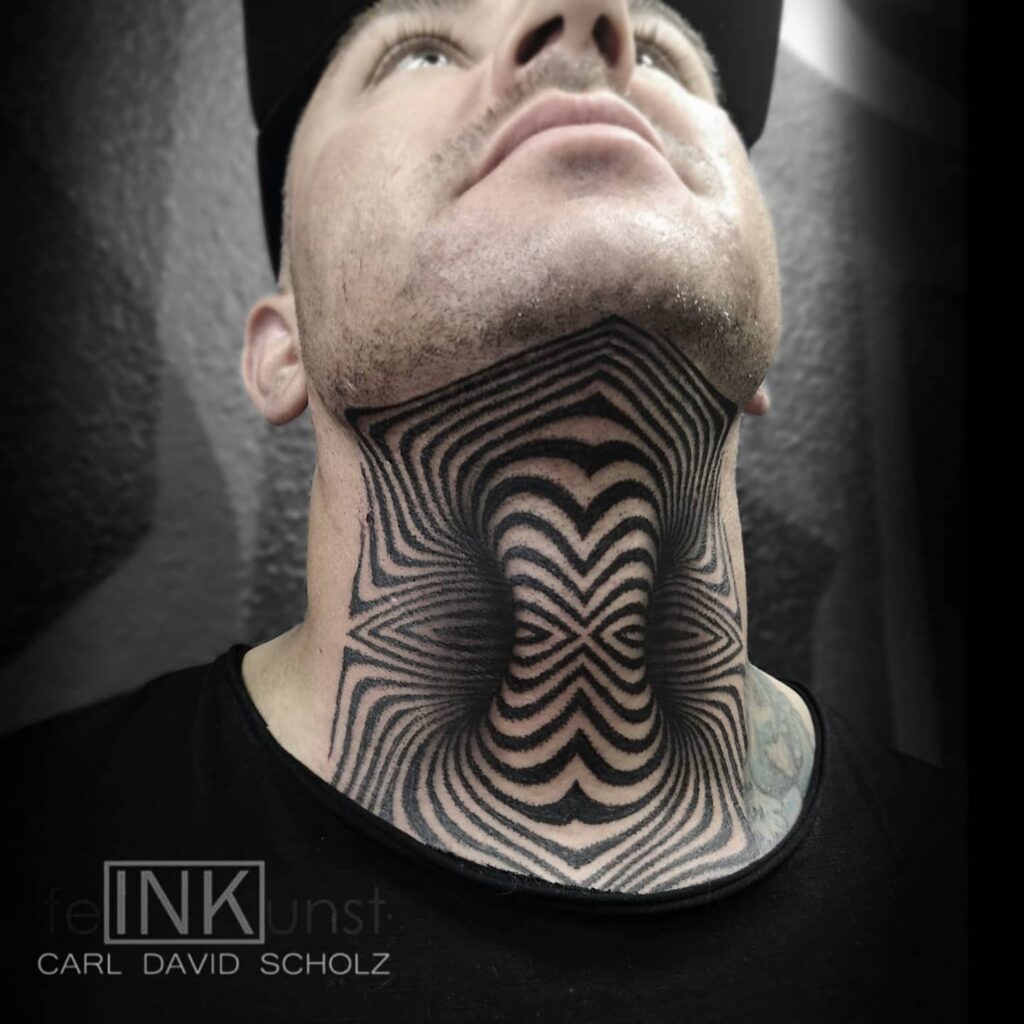 Neck tattoos can be a great way to express your personality and interests. Neck tattoo ideas creating illusion are sure to be the next trending thing among tattoo lovers, and the tattoo represented above speaks for it! Neck tattoos usually deal with diverse themes related to personal philosophies and interests, though depicting illusion pieces through neck tattoo is a rarity that needs to be explored by tattoo artists a lot more than a bunch of simple lines.
The neck tattoo illustrated above is a complex piece working with bold lines and tangled patterns to create a visual illusion piece. The one-of-a-kind tattoo style can appeal to many, though possibilities also make new ink lovers apprehensive at such a complex design.
Lightning Neck Tattoo Ideas For Men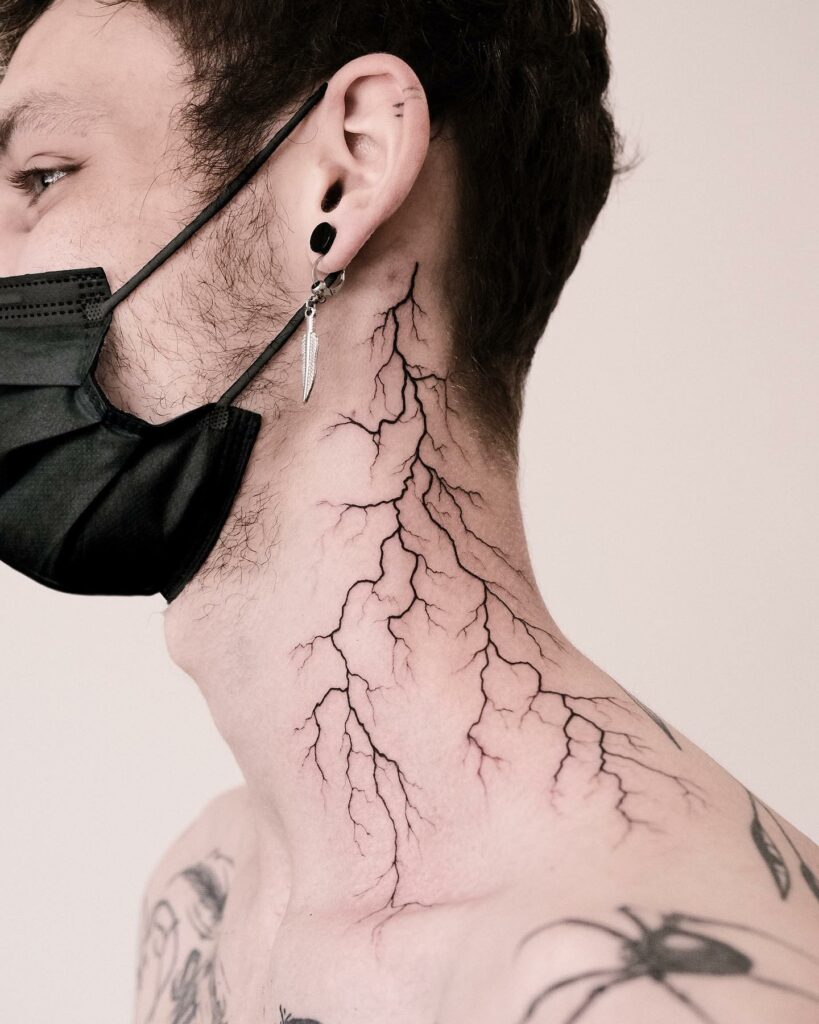 Tattoos can be a great way to express your personality and interests. Lightning neck tattoos are gaining great appreciation in pop culture for being an edgy yet sophisticated tattoo piece. While it has more visual prominence over deep meaning, many people consider lightning as a symbol of triumph over trials. The long stem of lightning is perfect to be put on the curve of the neck, making it an excellent neck tattoo.
Those apprehensive about getting full neck tattoos can explore neck tattoo designs like these to start their tattoo collection and slowly expand it to full neck tattoos.
Grim Reaper Back Neck Tattoos For Men
Tattoos can be a great way to express your personality and interests. Character neck tattoos are among the best neck tattoos to ink on your body. The one in our list features a very cool grim reaper illustrated in the American traditional tattoo style with bold lines and vibrant primary colors. Instead of heavy, elaborate tattoo work on the neck, the tattoo artist has created a variety of separate neck tattoos to fill up the neck placement and slowly create a cohesive chain of the best neck tattoos suitable for men and women.
You can curate several matching and contrasting tattoo designs to create a sequence of tattoos, for example, angel neck tattoo, lion neck tattoo, religious neck tattoo, or tribal neck tattoo.
Serpent Cool Neck Tattoo Ideas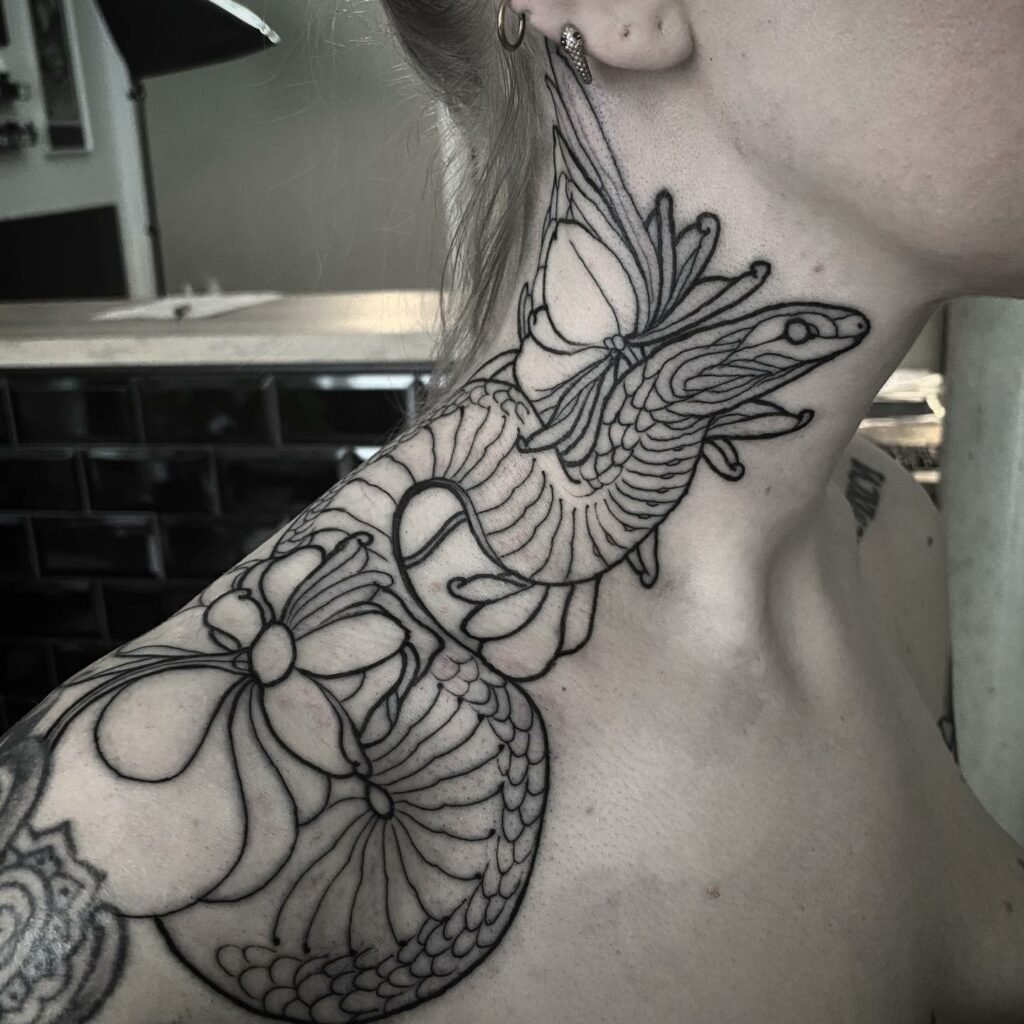 Tattoos can be a great way to express your personality and interests. Snakes' graceful and threatening curves are meant to apply to a place that can carry its curves with equal grace. While front neck tattoo or back tattoos might not do justice to it, the neck area to shoulder line's gentle curve can be the perfect tattoo space for a serpent neck tattoo. The serpent tattoo arranged with a floral branch unites two contrasting symbolism to make an exceptional combination, visually and meaningfully, making it a perfect side neck and back neck tattoo idea.
Botanical Neck Tattoos For Men And Women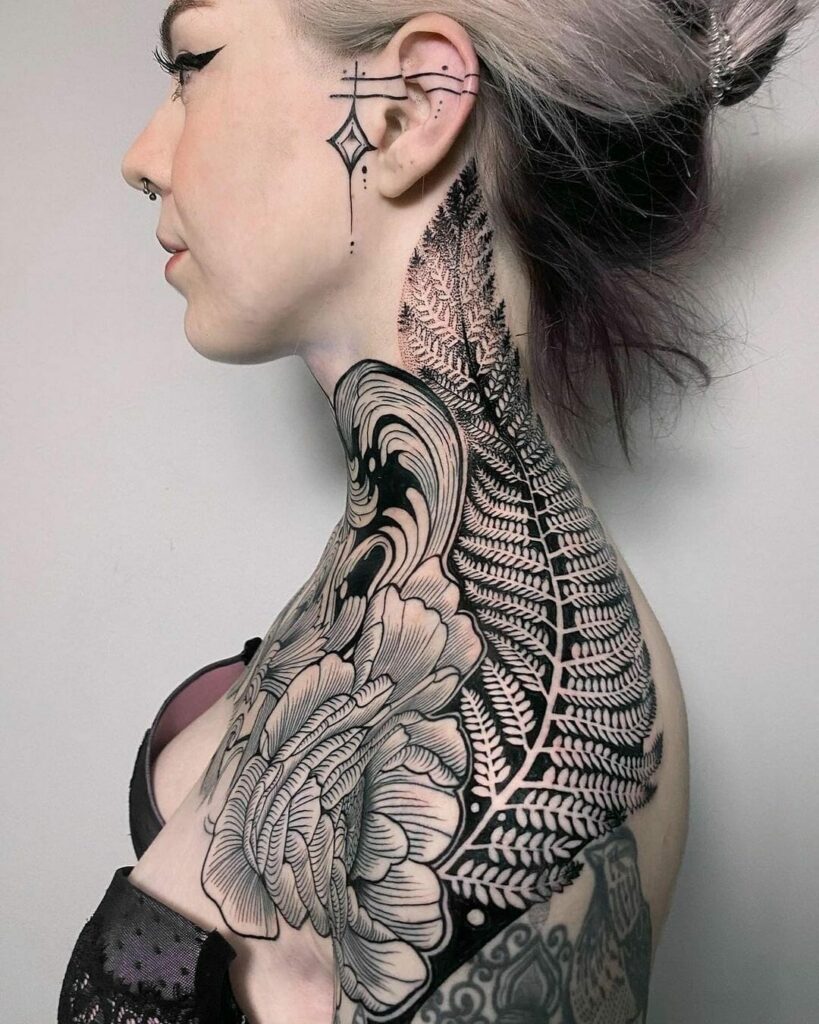 Tattoos can be a great way to express your personality and interests. The variety of greens is as vibrant and diverse as flowers, so why not combine green leaves into your neck tattoo! The botanical tattoo contains all the overlooked features of a garden, from beautifully sculpted leaves to large fern petals. The neck tattoo extends from should to ear across the neck and further dips to reach the chest, creating an extensively detailed piece. The best feature of this tattoo is the long fern branch, majestically drawn using shades of black on the skin.
Conclusion
Tattoos are a great way to express your personality and interests. When it comes to neck tattoos, it's important to choose a design that fits the natural curves of your neck and shoulders. Some popular designs include lightning tattoos, character tattoos, snake tattoos, and botanical tattoos. While these tattoos can be beautiful and meaningful, it's important to remember that they can also be painful and expensive. The cost of a neck tattoo can vary depending on the size and complexity of the design. Additionally, there is always a risk of infection or other negative side effects associated with getting a tattoo. If you're considering getting a neck tattoo, be sure to do your research and choose a reputable artist who can help you create the perfect design for your unique style.
feature image from Pinterest