Are you looking for some inspiration for your next tattoo? Look no further! In this article, we'll explore some amazing air element tattoo ideas that are simply out of this world.
Air is one of the four classical elements found in nature according to ancient philosophy of Greece and western alchemy. Its tattoo holds many purposes and is intricately linked to zodiac signs and traditional elements in astrology. For instance, Gemini, Aquarius and Libra belong to the air realm.
The portrayal of air elements has taken multiple aspects. For example, in the case of Avatar anime, human beings were believed to be able to 'bend' elements. So if you are planning to get one of these aesthetic and mystic tattoos of elements, then read on to find more. This piece covers various ideas and meaningful tattoos that you can get inked with!
Zodiac Sign x Air Element Tattoo
We're glad to hear that you're interested in tattoos with zodiac signs and air elements! We have the perfect tattoo design for you. This miniature tattoo features the Libra zodiac sign with the traditional symbol of the air element – an upright triangle with a horizontal line. This design can be tattooed near your elbow or even on your ankle!
If you're looking for more ideas, you can also get tattooed with an Aquarius or Gemini symbol. These zodiac signs also belong to the air realm in astrology.
Air Element Tattoo With Moon And Broken Clover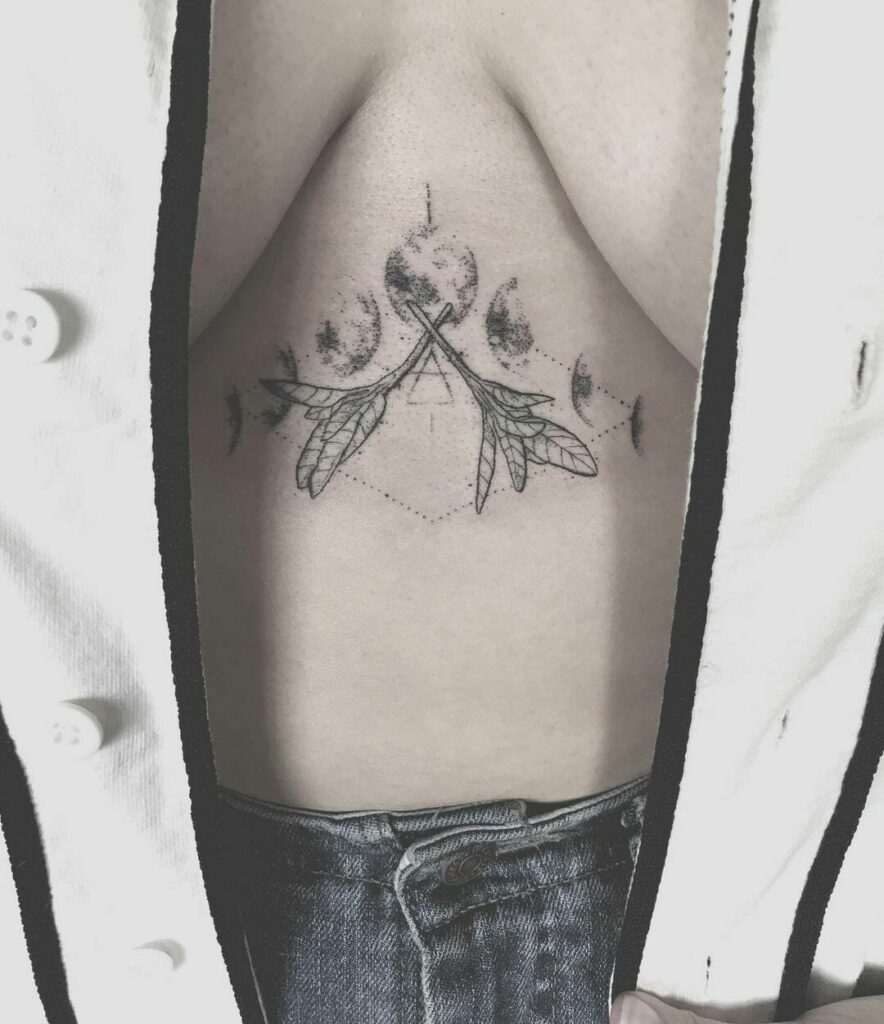 Tattoos associated with earthly elements are becoming increasingly popular these days. If you're looking for a similar design, then look no further! This work of art is sure to catch your eye.
This particular tattoo design depicts the various stages of the moon, which is enclosed in a diminishing geometric shape. There is a broken clover structure, and just beneath it is an upright triangle. This tattoo signifies life and its ideal body placement is on the upper abdomen, but you can also do it on the waist.
Monochrome Air Element Tattoo With Flowers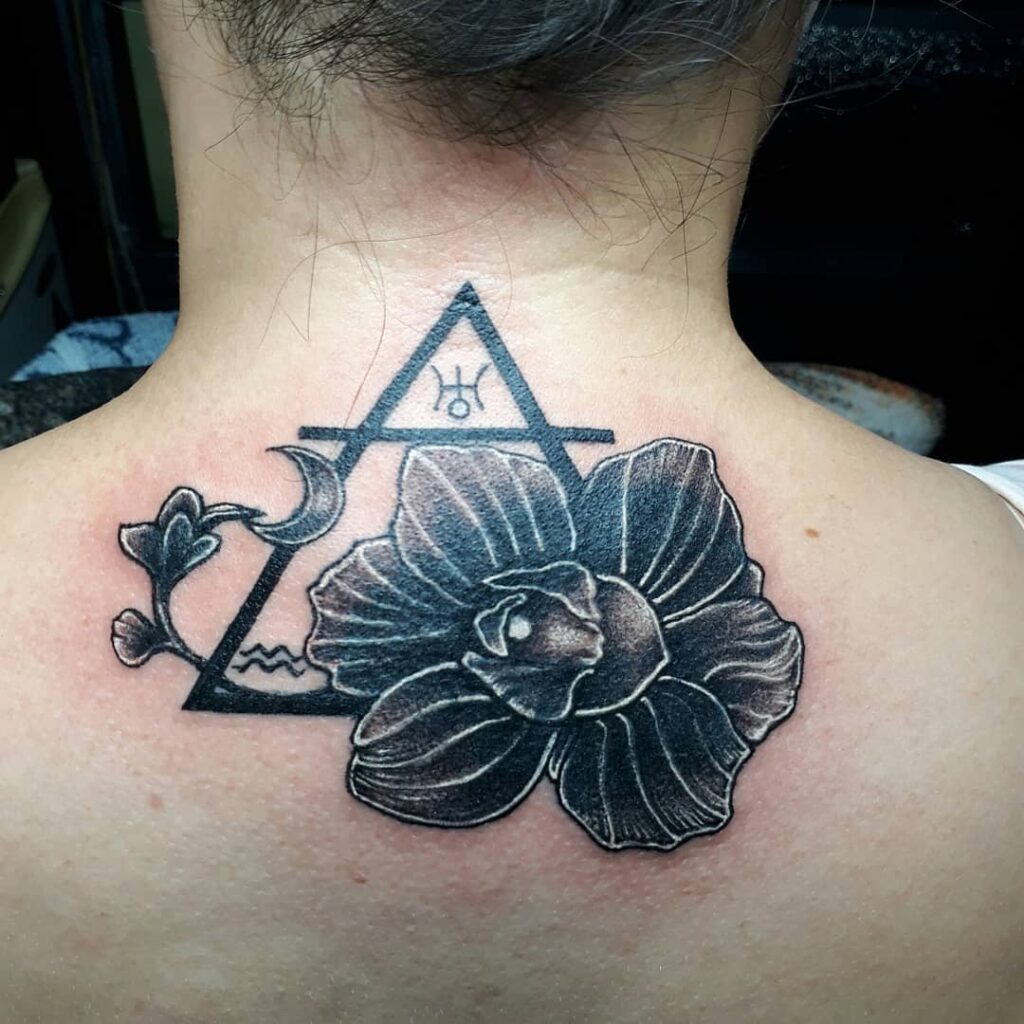 If you're looking for a cover-up tattoo, then this spiritual-themed tattoo might be a good match for you. This tattoo consists of flowers as well as one crescent moon inked in two sides of the triangle tattoo, indicating the vastness of being. Above the triangle, which is upright, is a symbol that signifies power. This entire tattoo is in black and will work very well as a cover-up tattoo.
The ideal body placement of this tattoo will be on the neck, but you can also have it done on the calf, thigh as well as the upper arm. This tattoo will add more strength to your personality!
Colourful Flowers x Air Element Tattoo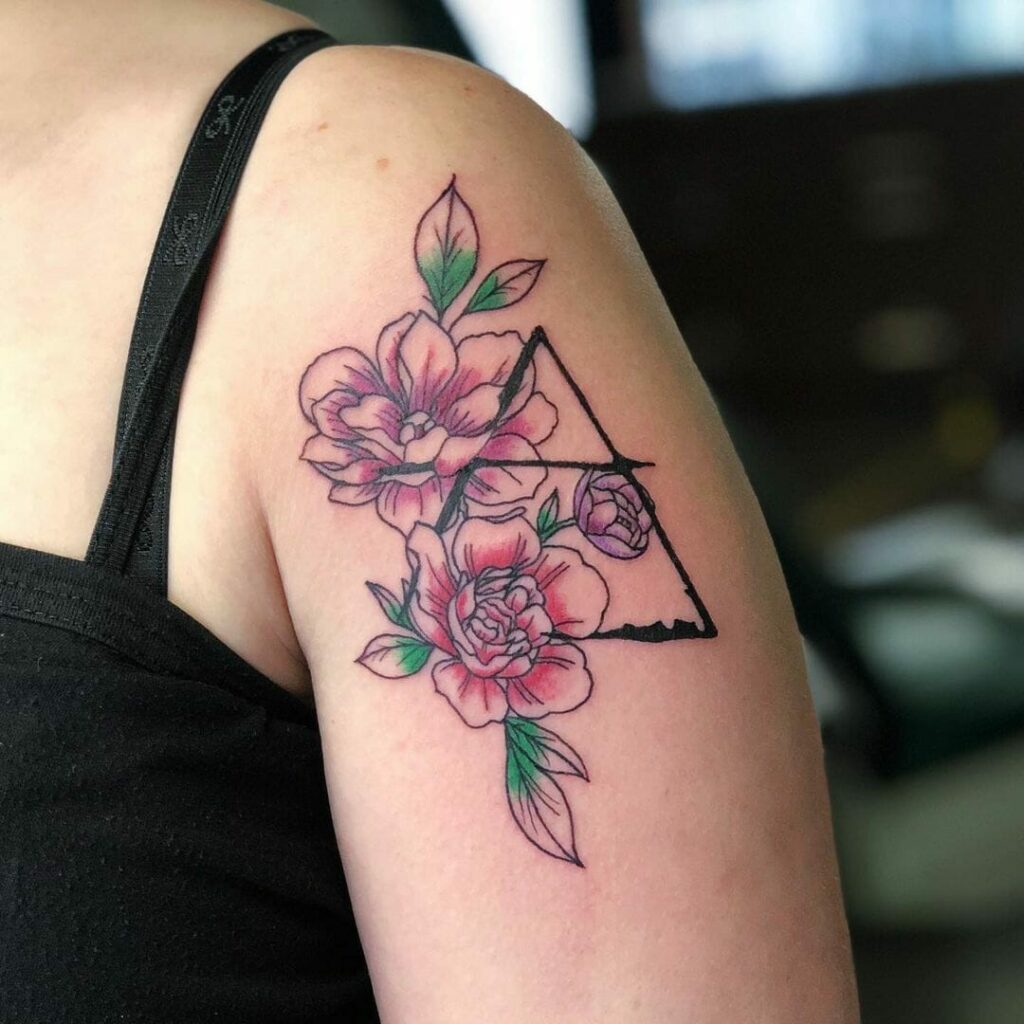 If you're looking for a colorful tattoo with deep insights, then this piece of art will surely attract you. This particular tattoo consists of an upright triangle, signifying air as an element. In addition, this tattoo consists of picturesque flowers with petals, which signify morality. The tattoo as a whole is the epitome of existence.
The color of the flowers can be customized as per your desire. This tattoo can also act as a cover-up tattoo. The ideal body placement for this tattoo is on the upper arm, but you can ink it on the thigh or collarbone as well.
Simple Air Element Wrist Tattoo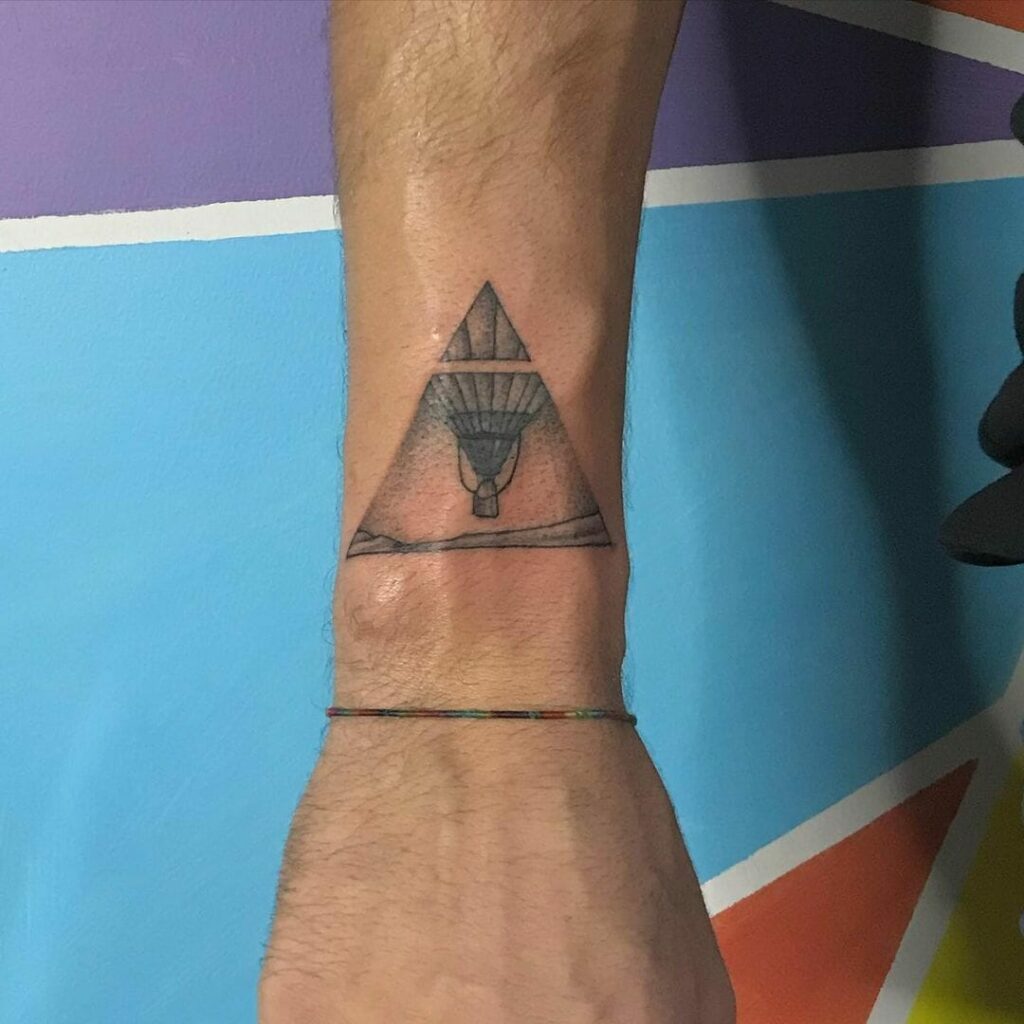 If simple classical tattoos are what you desire, then you might want to consider this particular tattoo. This is an air element symbol tattoo that depicts an upright triangle with diminishing patterns within it. These patterns signify flexibility which is necessary for existence.
The properties of this element tattoo are intimately linked with the mighty planet Jupiter which is strength personified, and this tattoo will showcase the strength in your nature. The ideal placement for this tattoo is the wrist due to its petite size, but you can also ink it on your ankles, waist, or on your back.
Air Element Inspired Tattoo
If you're looking for air element tattoos, then we have an out-of-the-box air element inspired tattoo for you. Here, the air element is depicted with the help of smoke, which forms a triangle. Air is synonymous with life, and in this tattoo, we also have a bird that symbolizes life.
The tattoo is unique in the sense that it brings the bird and air element together with the help of a book, which can be a symbol of imagination. You can bring out the imaginative side of yours with this tattoo!
Avatar Anime-Themed Air Element Tattoo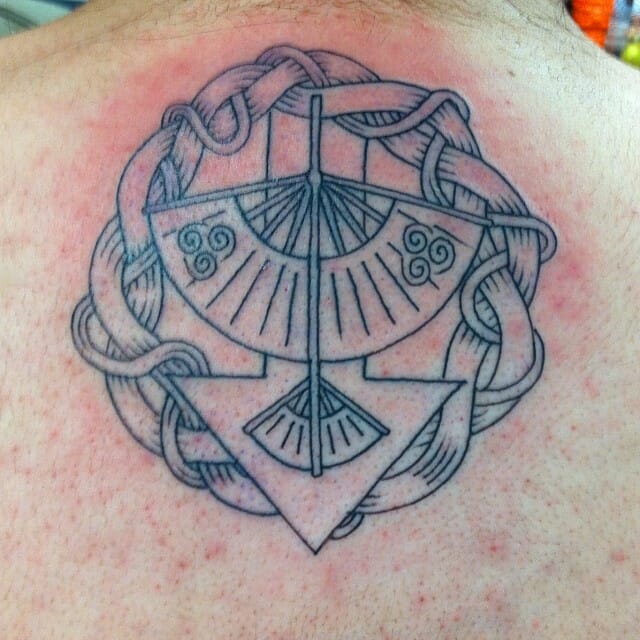 We heard you love animes? Then you will adore this Avatar The Last Airbender themed tattoo design. In this tattoo, you can see the airbending staff of Aang, which is inspired by the air element. It also has Aang's air nomad triangle, which you can ink in blue color to depict the glow in his Avatar state!
This amazing line-work tattoo is an intricate piece of art, and you can ink it on your chest, forearm or maybe your back too!
Air Element x Water Element Tattoo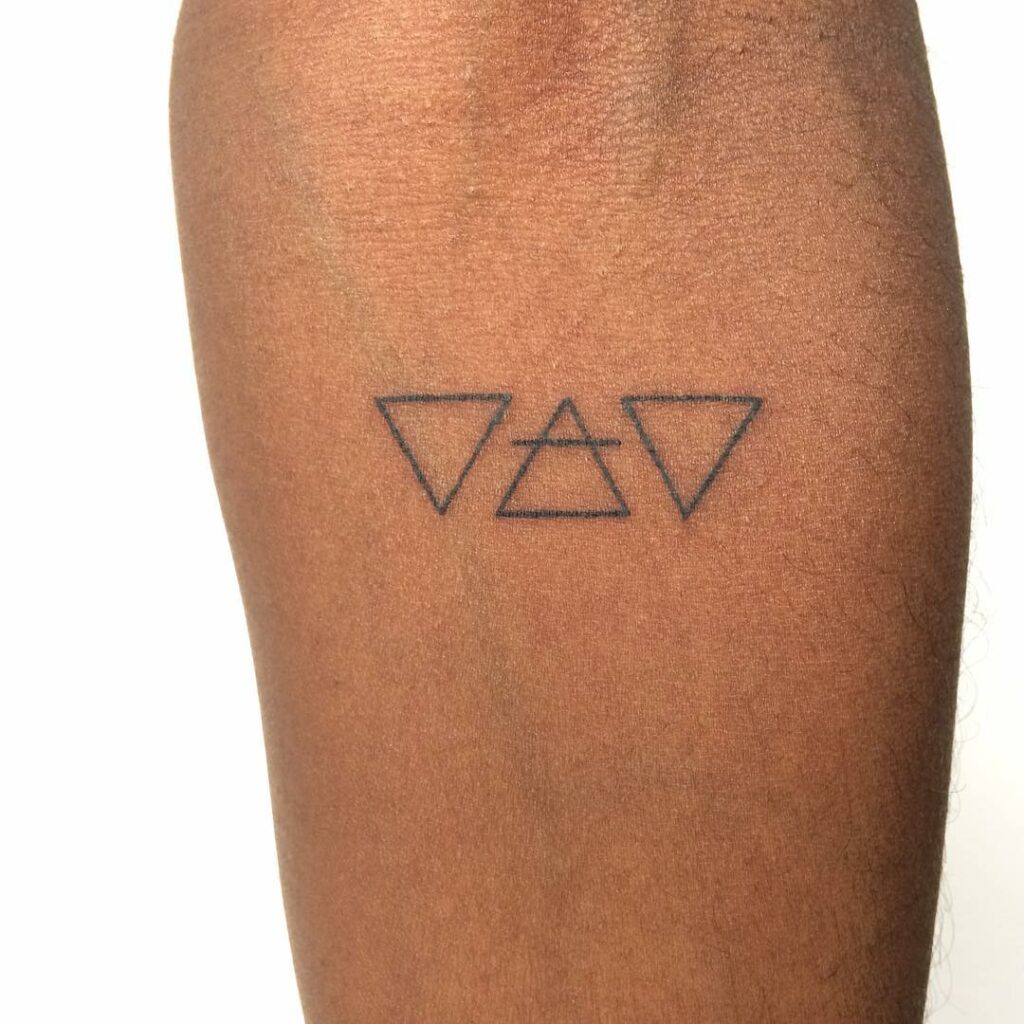 If you're searching for a tattoo of two of the four elements, then we have a spectacular minimal tattoo idea for you. In this tattoo design, you can see two symbols: air element and water element. The air element is depicted by an upright triangle, along with an inverted triangle on two sides, indicating water.
This is a simple and straightforward tattoo, where you can replace the water symbol with an earth symbol or fire symbol.
Air Element Tattoo x Tattoo Of The Four Elements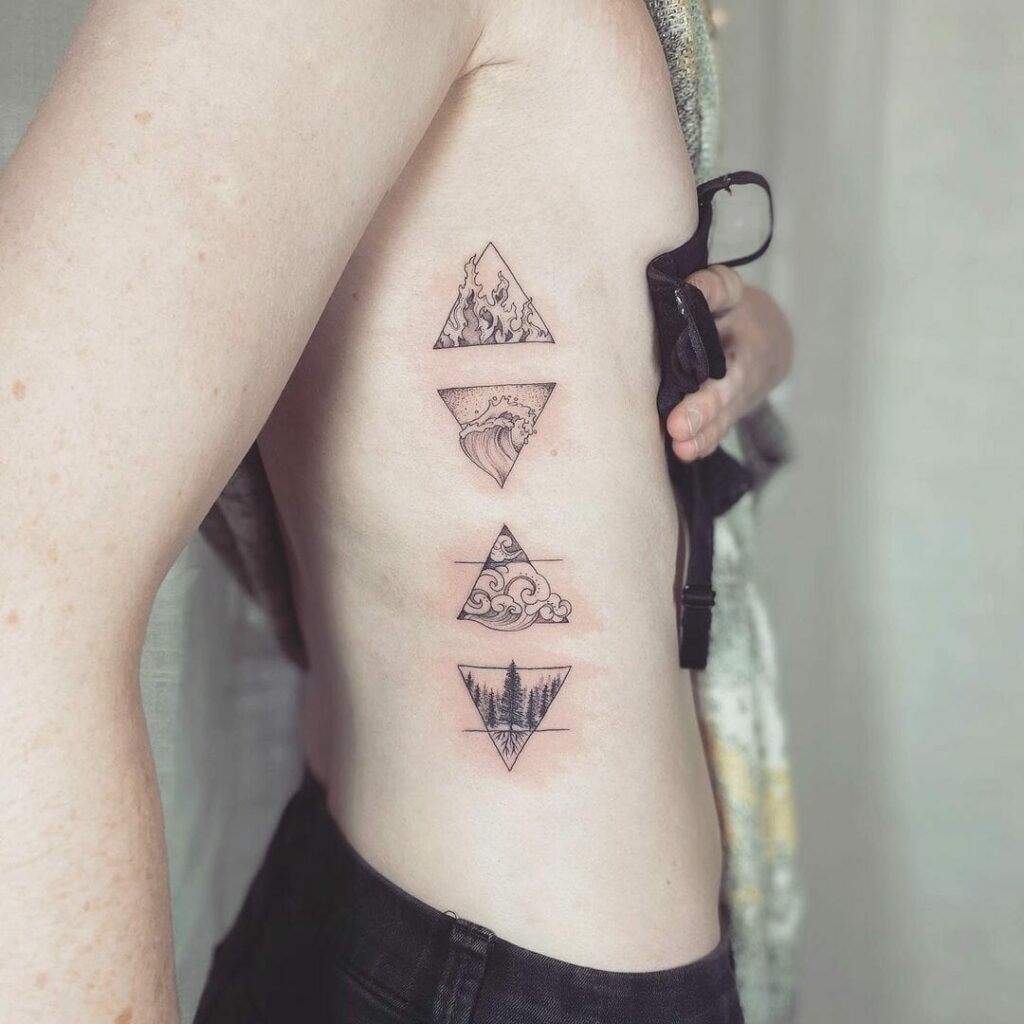 In this amazing tattoo idea, we have a combination tattoo of all four elements. The four elements, along with their real-life depiction, is attractive and eye-catching. If you're not into monochrome shades, then you can also add a pop of color to this design.
Let's say you choose a red and yellow palette for fire, a light blue hue for air, deep blue shades for water, and a green and brown palette for the earth? The earth water fire air element tattoo done as a forest sleeve is also an amazing way to get this design inked!
Cosmos-Themed Air Element Tattoo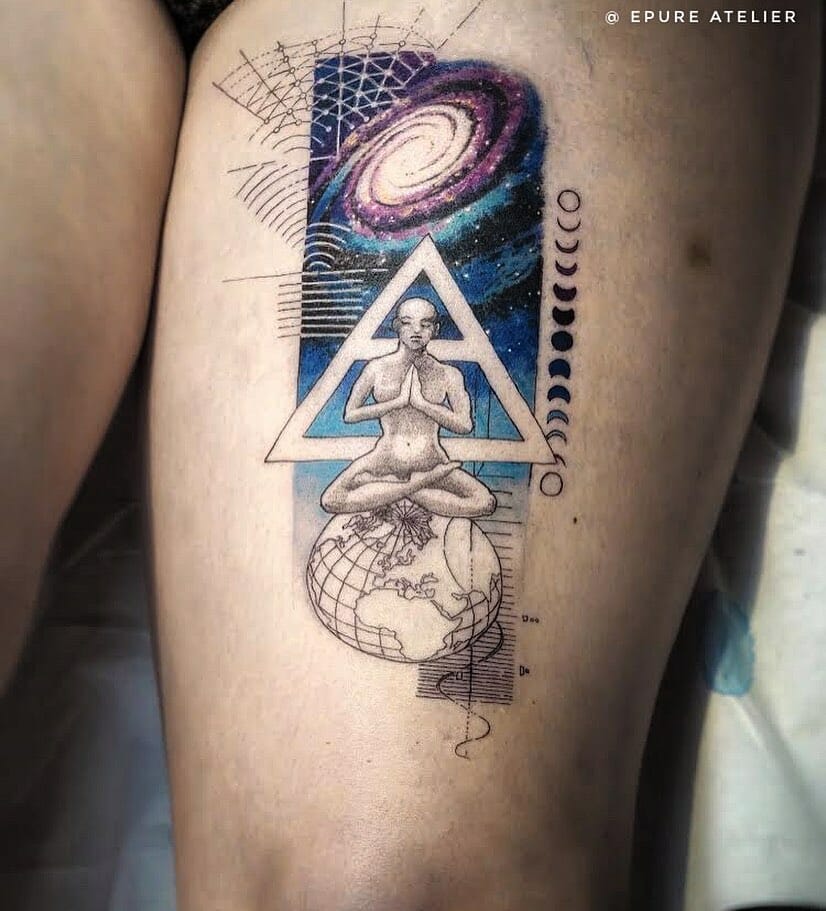 You can get this fantastic cosmos-themed air element tattoo design inked on your body if you're looking for out-of-the-world tattoo ideas! In the literal sense! This tattoo has the entire cosmos painted on your thigh, along with a meditative figure sitting just in front of the air element symbol.
The blue palette simply brings out the tattoo and, at the same time, fits perfectly in the entire picture. So, when are you getting this tattoo inked?
Conclusion
When it comes to tattoo placement, it's important to choose an area that you'll be happy with for years to come. Some popular areas include the arms, legs, back, and chest. However, it's important to keep in mind that some areas may be more painful than others. For example, tattoos on the ribs or feet can be more painful than tattoos on the arms or legs.
As for cost, the price of a tattoo can vary depending on a number of factors such as size, design, and placement. According to TatRing, a small tattoo can cost anywhere from $50 to $200 while a larger tattoo can cost anywhere from $200 to $2,000 or more1. It's important to do your research and find a reputable artist who can help bring your vision to life.
Remember that tattoos are permanent and can have potential negative side effects such as allergic reactions or infections if not done properly. It's important to choose an experienced artist who uses sterile equipment and follows proper safety protocol.
Feature image from Pinterest
Last reviewed and updated on May 22, 2023