Hey there, are you in search of personalized infinity symbol tattoo ideas? Look no further! We've got some amazing infinity tattoos with names that are sure to reflect your unique personality.
Personalized tattoos have always been a popular choice among both men and women, and it's no surprise that the infinity symbol with names tattoo has gained a lot of traction in recent years. The infinity symbol itself is a beautiful representation of everlasting love and faith in someone, making it the perfect design to include the names of loved ones or family members.
Since the infinity symbol is relatively small, it can be placed just about anywhere on the body. If you're looking for a discreet tattoo, you can get it inked on your chest, shoulder, foot, back, or any other concealed location. On the other hand, if you want to showcase your tattoo to the world, you can opt for placing it on your finger, wrist, arm, or any other visible area. Additionally, words like "hope" and "faith" complement infinity tattoos beautifully.
So, what are you waiting for? Take a dive into some of the coolest infinity tattoos with names out there and pick the perfect one that resonates with you. Trust us, you won't regret it!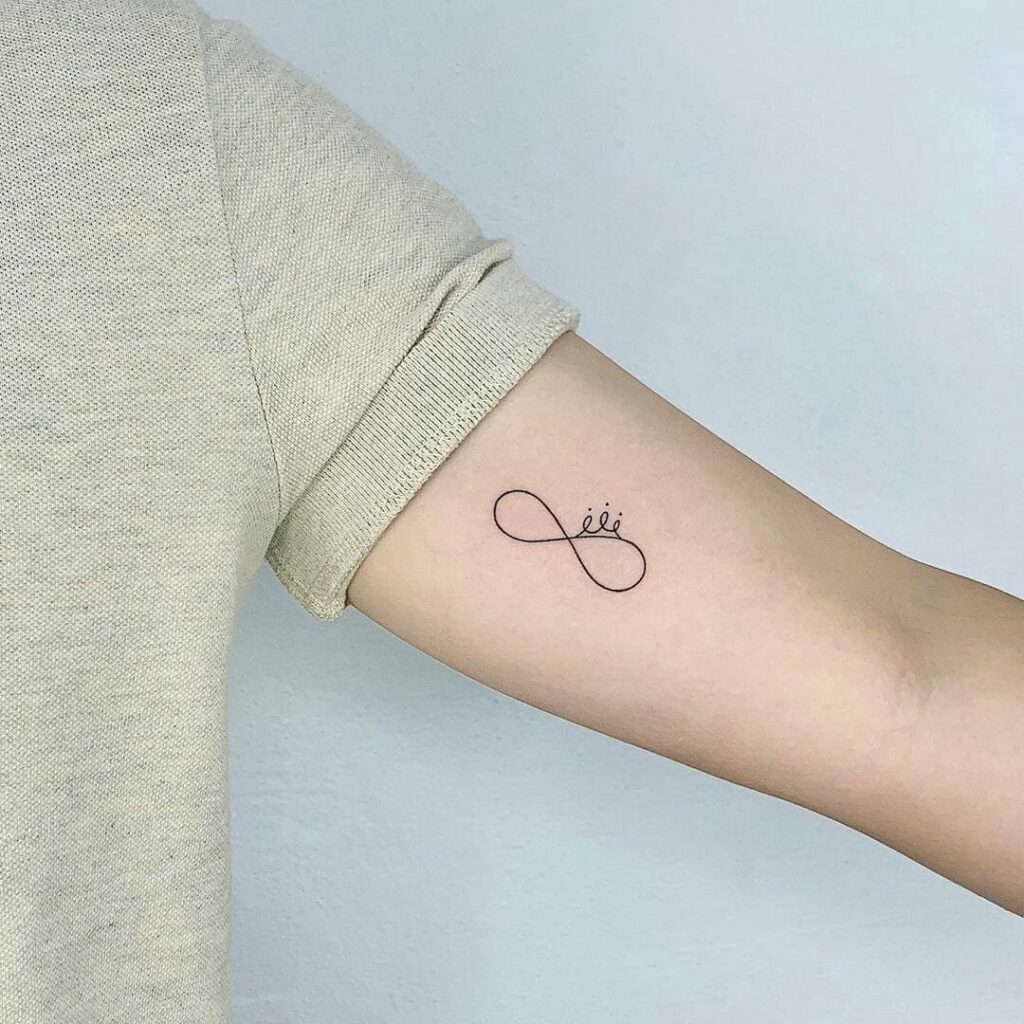 Infinity Tattoo With Tiny Heart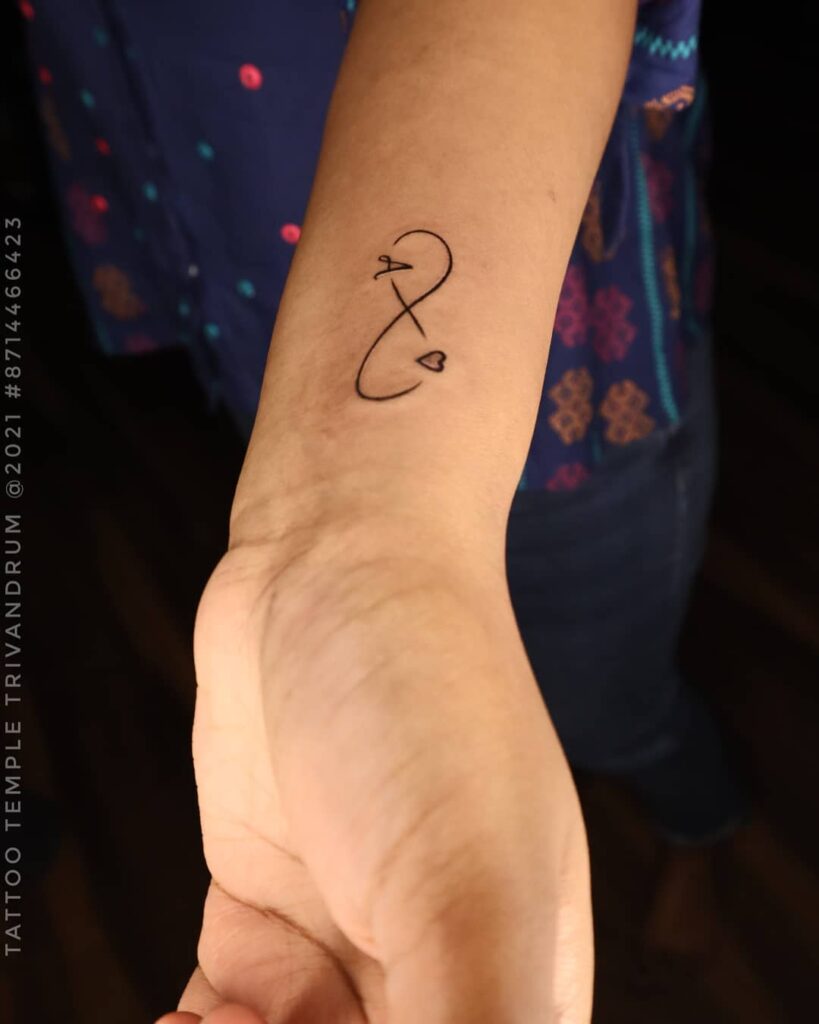 The heart symbol is one of the most popular and endearing symbols around, so it's no wonder that the infinity heart symbol is also very special. Take a look at this beautiful tattoo design, where one side of the infinity sign has an initial of a name, while the other side features a small heart. This infinity heart tattoo is perfect to show your love for someone special, or as a symbol of self-love and faith that lasts forever. It's a simple and cute design that will surely melt your heart!
Feather Infinity Tattoo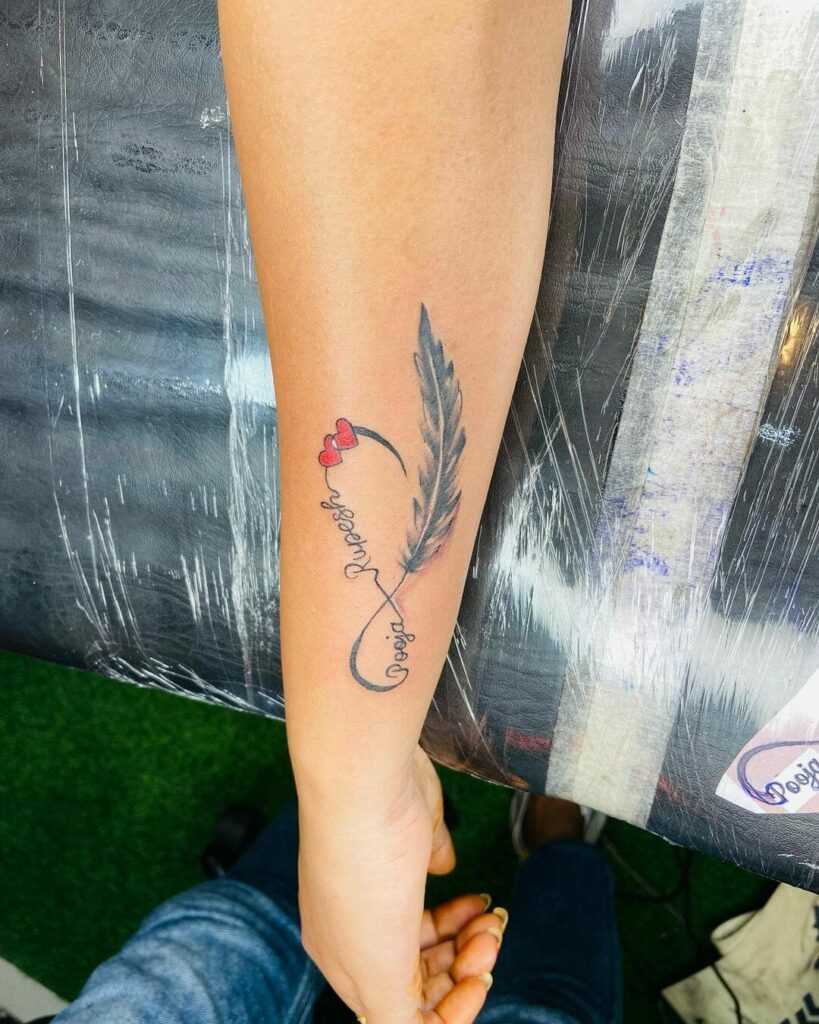 Feathers and infinity symbols are both popular tattoo designs, but it's not often that you see them combined into one elegant design. This feather infinity tattoo is a rare beauty that showcases a detailed black and grey feather delicately ending the infinity symbol. The two bright red hearts incorporated in the design adds a pop of colour and vibrance to the tattoo. The lettering of the names, beautifully incorporated into the design, adds a personal touch to this unique tattoo idea. If you're looking for a tattoo that symbolizes infinite love and connection, this feather infinity tattoo is definitely worth considering.
Watercolour Feather Infinity Tattoo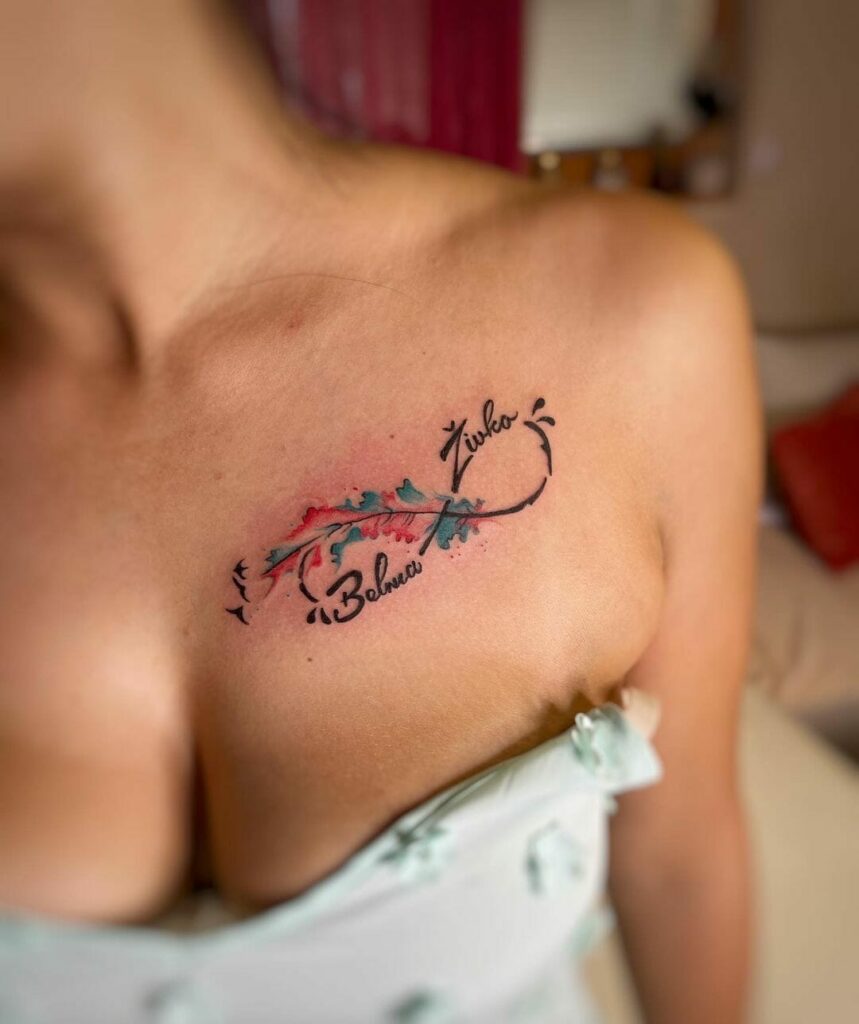 If you have an artistic inclination, you will surely love this infinity tattoo with names design. The beautifully coloured feather looks like it has been painted by an artist. The infinity loop has been designed in a unique way, with each name inked in bold letters. The tattoo also features three birds, flying gracefully on one side of the infinity sign. This kind of infinity tattoo design is perfect if you're looking for a family tattoo idea that you can cherish forever.
Vibrant And Elaborate Infinity Tattoo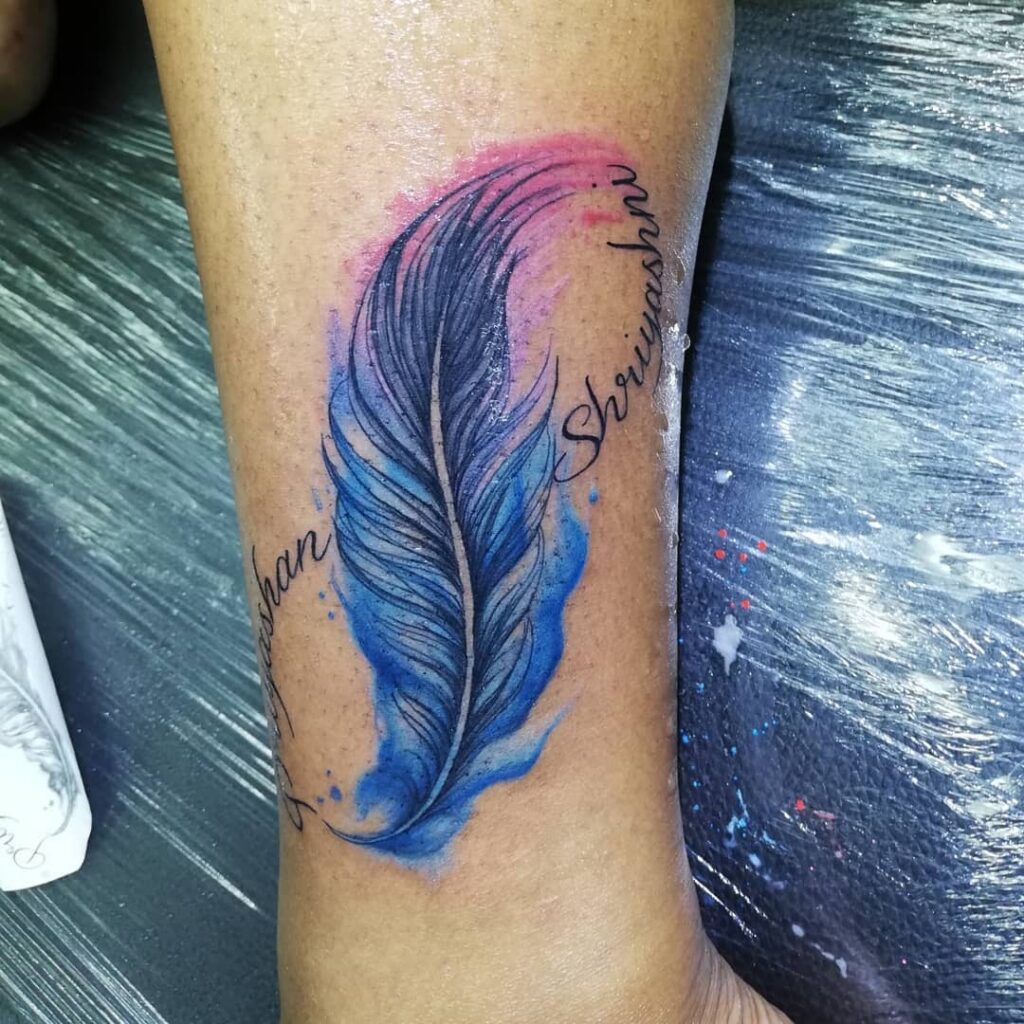 Take a look at this incredible infinity feather tattoo design that is unlike any other. The feather is intricately detailed and brightly coloured, making it stand out. What's special about this infinity tattoo is that the feather is used to form one side of the infinity symbol. On the other side, you can get the names of two people who are close to your heart. This infinity tattoo is perfect for those who want to commemorate the love and connection they share with someone special.
Flying Birds Infinity Tattoo
Flying bird tattoos are often used to symbolize family values and love, making them a great option for an infinity tattoo design dedicated to a loved one or family member. This particular tattoo features names written in the rounded space left by the loops of the infinity symbol, with birds that appear to be a part of the symbol and are flying away. The use of bold black lettering and outlining adds a touch of artistry to this unique and special infinity tattoo idea.
Matching Initials Infinity Tattoo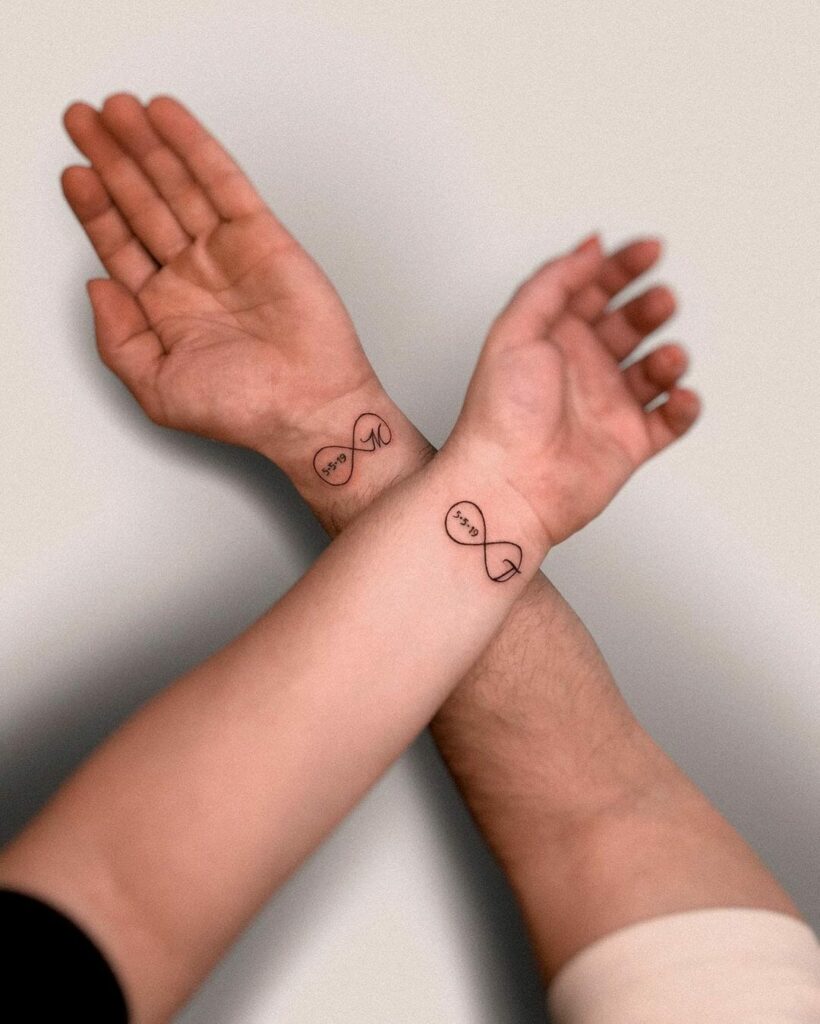 If you are in search of a matching tattoo for you and your partner that symbolizes your infinite love, then this matching infinity tattoo design is just for you. It is a simple yet beautiful design, with a thin line forming the infinity symbol. On one side of the symbol, the initials of the names of the partners are inked, while on the other side, a special date is added. This wrist tattoo design is perfect to show your commitment and love towards each other. With such a tattoo, you can keep your partner close to you forever, and remind each other of your endless love every day.
Arrow Infinity Tattoo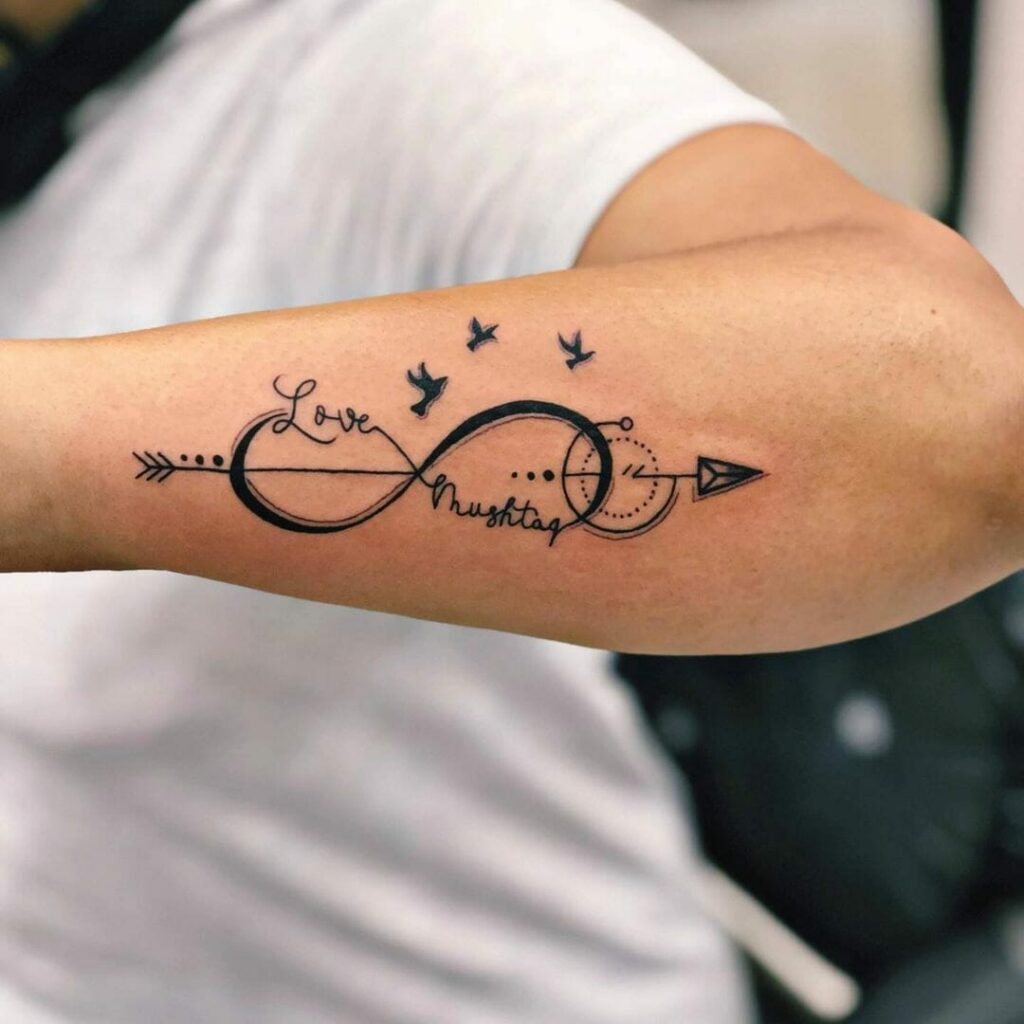 Arrow tattoos are a popular choice for those looking for meaningful tattoo ideas, as they symbolize protection. For parents who want to express their love and commitment to their children, an arrow tattoo paired with an infinity symbol can be a perfect choice. This particular design features the word "love" on one side of the infinity symbol, with the child's name on the other side. The double infinity outline adds a unique touch to this tattoo idea, and it can be placed on various parts of the body, including the foot, finger, neck, and more.
3D Feather And Birds Infinity Tattoo
Feather infinity tattoos have always been popular among tattoo enthusiasts. This particular design stands out because of its 3D effect. The black feather has been inked in such a way that it looks like it is hovering above the skin, adding a unique touch to the tattoo. One side of the infinity loop has the initial of a name, and the other side has the feather. You can also add words like "love," "hope," "faith," or "forever" to the tattoo to make it even more special. This feather infinity tattoo is perfect for those who want to express their love and affection for someone special in their lives.
Lotus Infinity Tattoo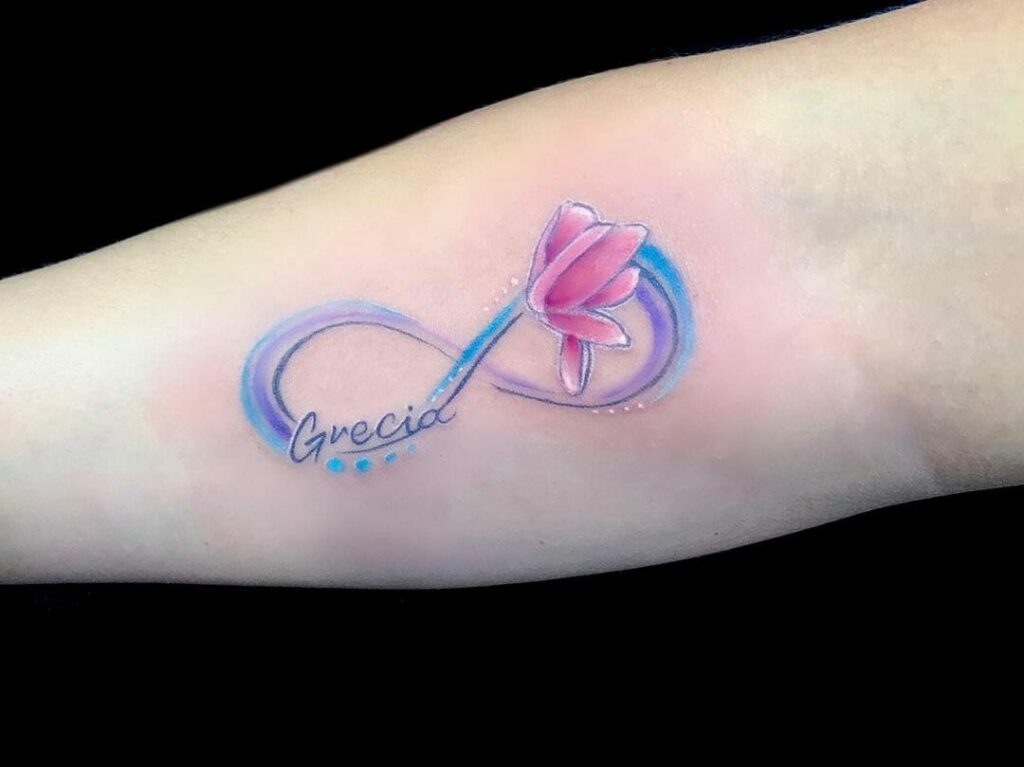 The lotus symbolises enlightenment and spiritual growth, making it an ideal choice for those who want to dedicate their tattoos to their loved ones who have helped them achieve peace of mind. This stunning infinity tattoo is designed with shades of blue and purple that give it a double infinity look. The bright pink lotus is inked on one side of the infinity sign, while the name of the person is placed diagonally on the other side. The use of colours in this tattoo is making it look like an art piece. With this infinity tattoo, you can showcase your infinite love for someone special.
Cute Infinity Tattoo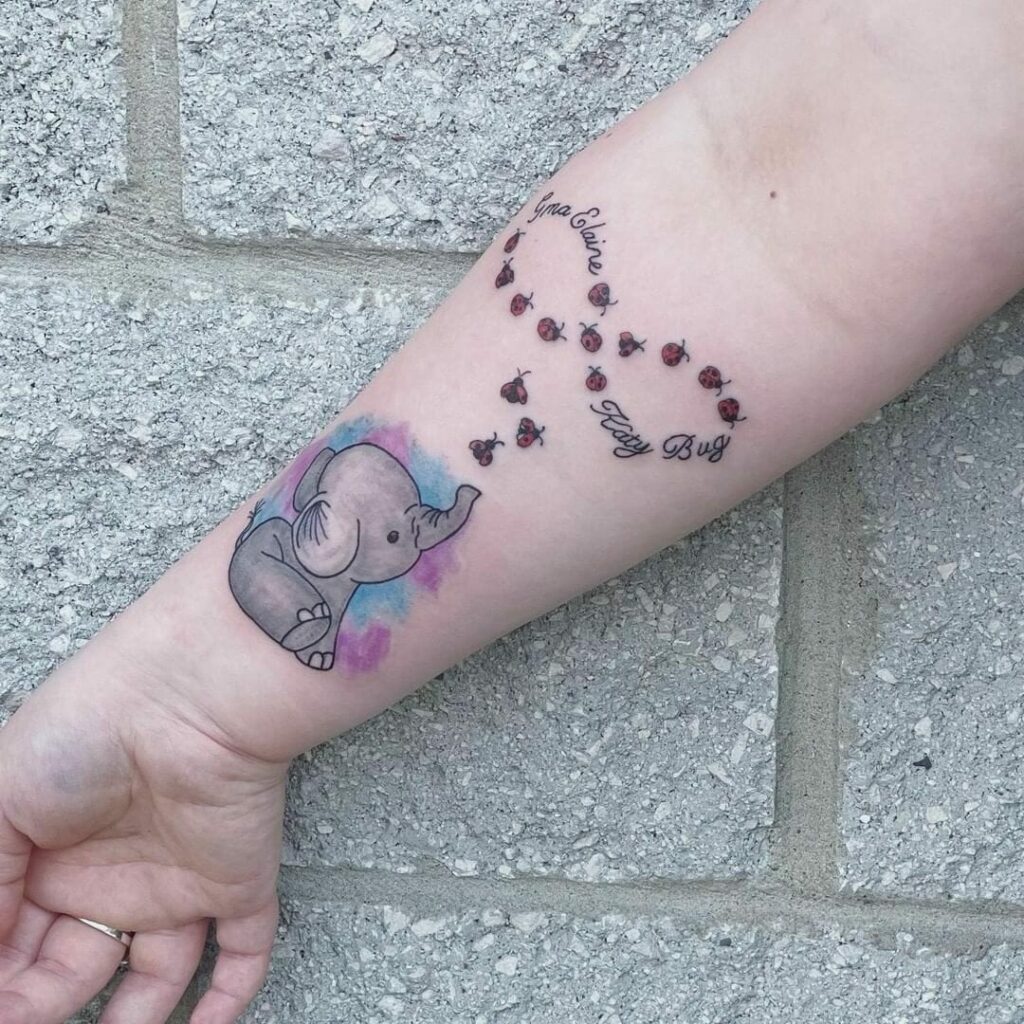 Looking for a cute and unique infinity tattoo idea? Check out this adorable design featuring ladybugs and a baby elephant! The little ladybugs form the shape of the infinity symbol, while the baby elephant adds a pop of colour and cuteness at the bottom. This design can even be customized to include three names, making it perfect for family tattoo ideas.
An infinity tattoo with names is a beautiful way to express eternal love and commitment. It can be a romantic gesture for couples or a special way for parents to honor their children. And don't forget, an infinity tattoo with your own name is a great way to show self-love and self-acceptance. So go ahead, explore the possibilities and find the perfect infinity tattoo design for you!
feature image from Pinterest – Want your tattoo to look brighter? Try "Tattoo Balm"
Last reviewed and updated on April 30, 2023