Hey there, are you on the hunt for some side wrist tattoos for girls? Look no further! You've come to the right place to gather ideas for the most popular designs.
Side wrist tattoos are a delicate and meaningful form of body art, and they're definitely eye-catching. While these tattoos are visible, they're also unique designs that are sure to make a lasting impression.
Tattoos come in both permanent and temporary varieties and involve inserting ink and dye into the skin's dermis layer to create intricate designs. Although wrist tattoos can be a little painful, they're definitely worth it for the stunning results. Whether you're into tree tattoos, crown wrist tattoos, or cute heart tattoos, there are countless side wrist tattoo ideas out there to explore.
So why not take a few minutes to browse through some of the most beautiful and meaningful wrist tattoo designs? Who knows, you might just find the perfect one to adorn your skin with!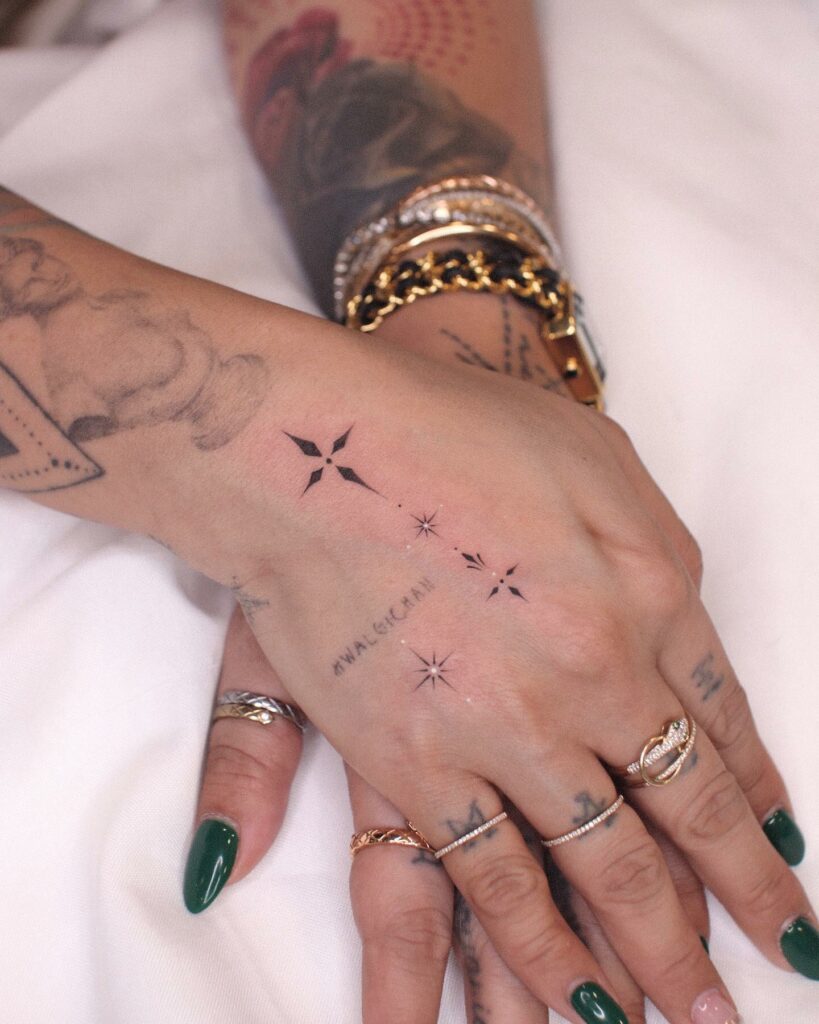 Infinity Side Wrist Tattoo For Girls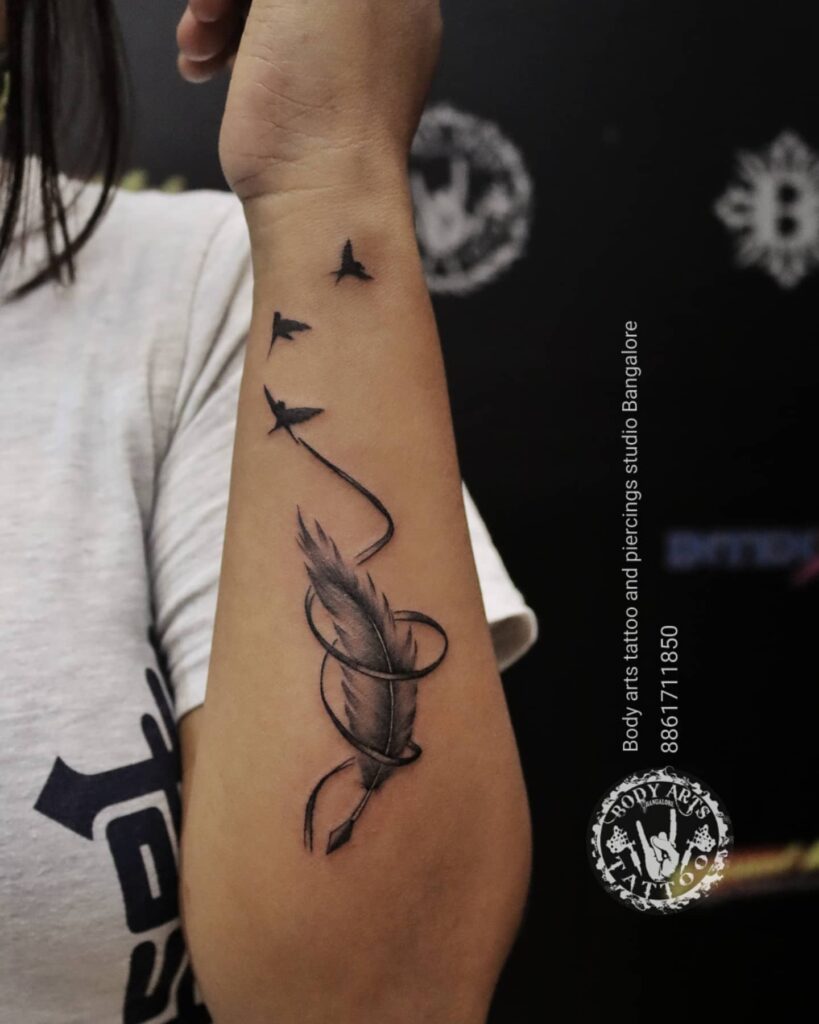 The Infinity wrist tattoo is gaining popularity due to its unique minimalist design. This design has caught the attention of onlookers and is a great way to share your values and thoughts with society. The tattoo contains an Infinity loop, feather, and birds, all of which carry a significant meaning. The Infinity symbol is a Universal symbol of Civilization that represents forever immortality and the unending cycle of life. As a reference for an unending system, the Infinity symbol has its roots in mathematics. It's a powerful symbol that can be inked by anyone who shares the same perspective.
Delicate Tattoo Design For Girls On Side Wrist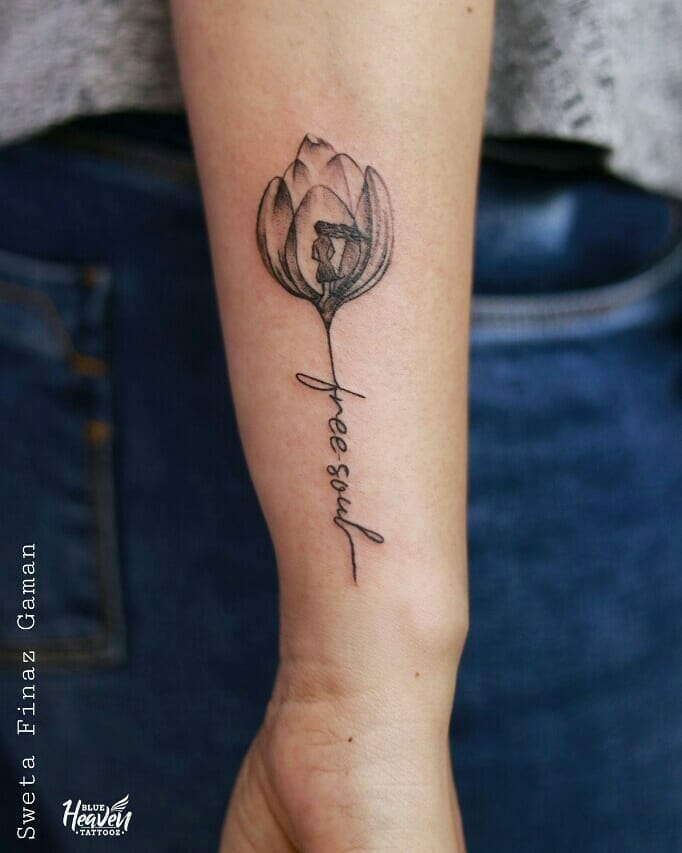 The wrist tattoo is an absolute stunner with a beautiful flower design on the side of the girl's wrist. The floral tattoo is accompanied by the words 'free soul' and a depiction of a little girl amidst the flowers.
Each flower has a unique meaning, making flower designs very versatile. Flowers were traditionally used to symbolize divine presence and love in ancient cultures. This particular wrist tattoo symbolizes the girl's desire to be a free spirit, delicate yet able to work according to God's will.
Bird Hand Side Wrist Tattoo For Girls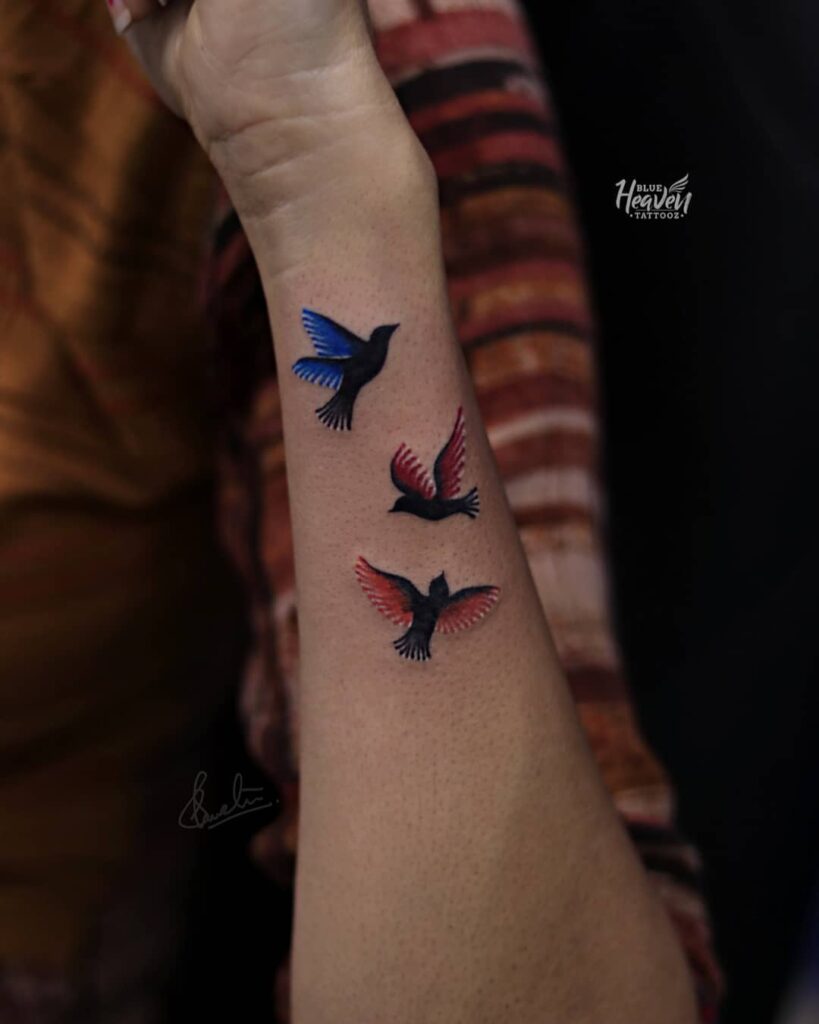 The stunning and eye-catching bird tattoo on the inner wrist of this girl is a true work of art. The unique design features three birds in different vibrant colours, and its simplicity only adds to its appeal. The image of the birds flying with colourful wings on the wrist makes this tattoo even more striking.
Bird tattoos have long been associated with freedom, both physically and mentally. The feather wrist tattoo, in particular, is a symbol of freedom, self-control, and independence. The bird tattoo can also represent peace and happiness, making it a popular choice for wrist tattoos among girls.
There are endless designs and styles to choose from when it comes to bird tattoos, but the underlying theme is always the same: the desire for freedom and the ability to soar to new heights. Whether you choose a minimalist design or a more intricate one, a bird tattoo on your wrist is sure to make a statement.
Butterfly Star Tattoo Designs For Girls On Side Wrist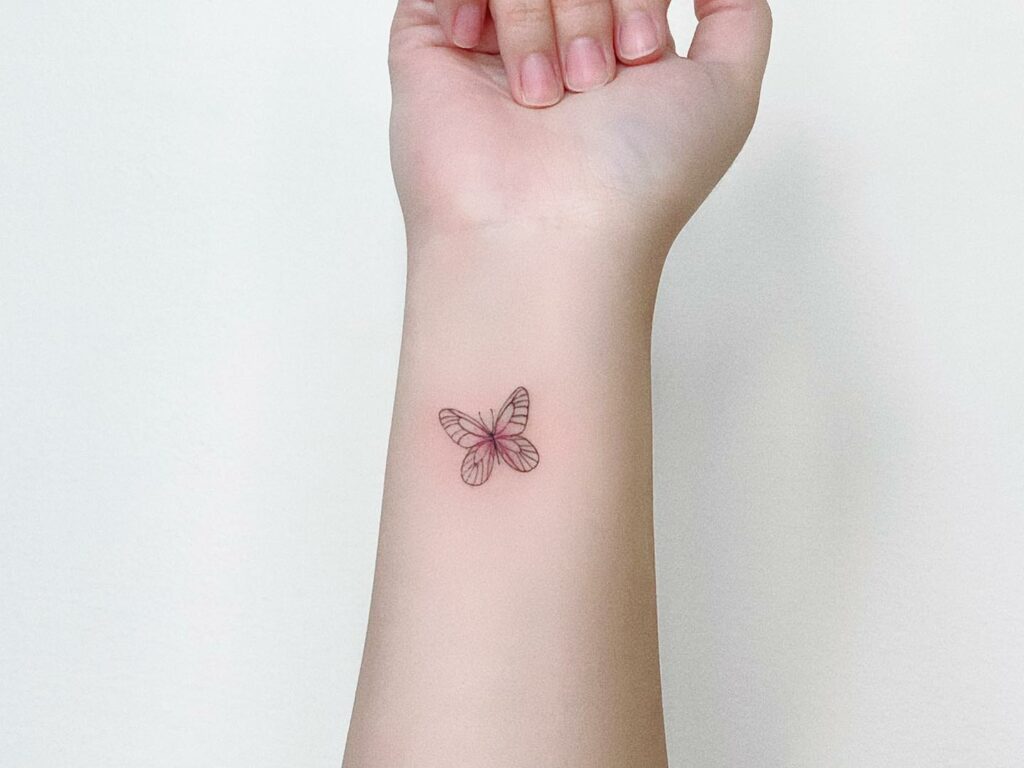 The small butterfly tattoo on the inner wrist of the girl is beautifully crafted, reflecting the essence of young love. This cute wrist tattoo is a popular design among young people, and it looks great on the wrist. The simplicity of the design adds to its charm, making it a unique choice.
Butterfly tattoos have a romantic connotation and are often associated with young love. Just like butterflies fly from flower to flower, young people often do the same in their social lives. In Chinese culture, butterflies symbolize summer, immortality, grace, and joy.
If you're a young girl looking for a meaningful tattoo, the butterfly wrist tattoo idea might be just what you're looking for. You can even add some stars to the design to symbolize your ambition and desire for success. So go ahead and contact your tattoo artist to get inked with this beautiful and symbolic design.
Sunflower Wrist Tattoo Designs For Women
This wrist tattoo is a beautiful combination of a sunflower design, a bird, and some words, all inked on the inner side of the wrist. Sunflowers are known for representing good luck and a long, happy life, making this tattoo a great way to bring some positivity into your life.
Additionally, sunflowers are also associated with intelligence, joy, and happiness. The bird in the tattoo adds an extra layer of symbolism, representing optimism, peace, and happiness.
Overall, this wrist tattoo is a great design for women who want to add a touch of positivity and happiness to their lives. And with its simple yet distinctive look, it's sure to catch the eye of anyone who sees it.
Angel Wings Side Wrist Tattoos for Women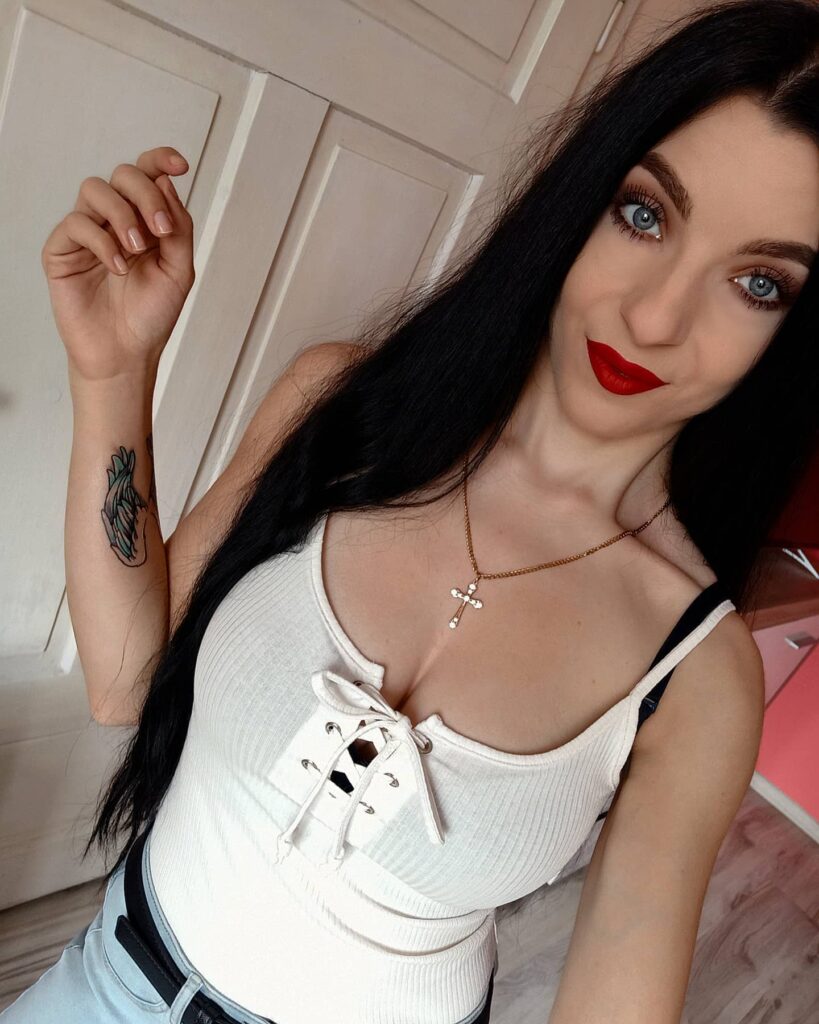 Wrist tattoos can be painful, but the final results are worth it, especially when you have a beautiful design like colourful angel wings adorning your wrist. This design is not only visually stunning but also unique, making it one of the best wrist tattoos for women.
The angel wings in this design represent the Christian faith and the holy and angelic realm, serving as a reminder of one's belief in God. Moreover, the tattoo can serve as a tribute to a loved one who has passed away, representing them as a guardian angel.
The placement of this wrist tattoo is perfect as it symbolizes faith, protection, and freedom. So, if you want to carry a symbol of hope and faith with you at all times, consider getting an angel wings wrist tattoo.
Small Wrist Tattoos For Women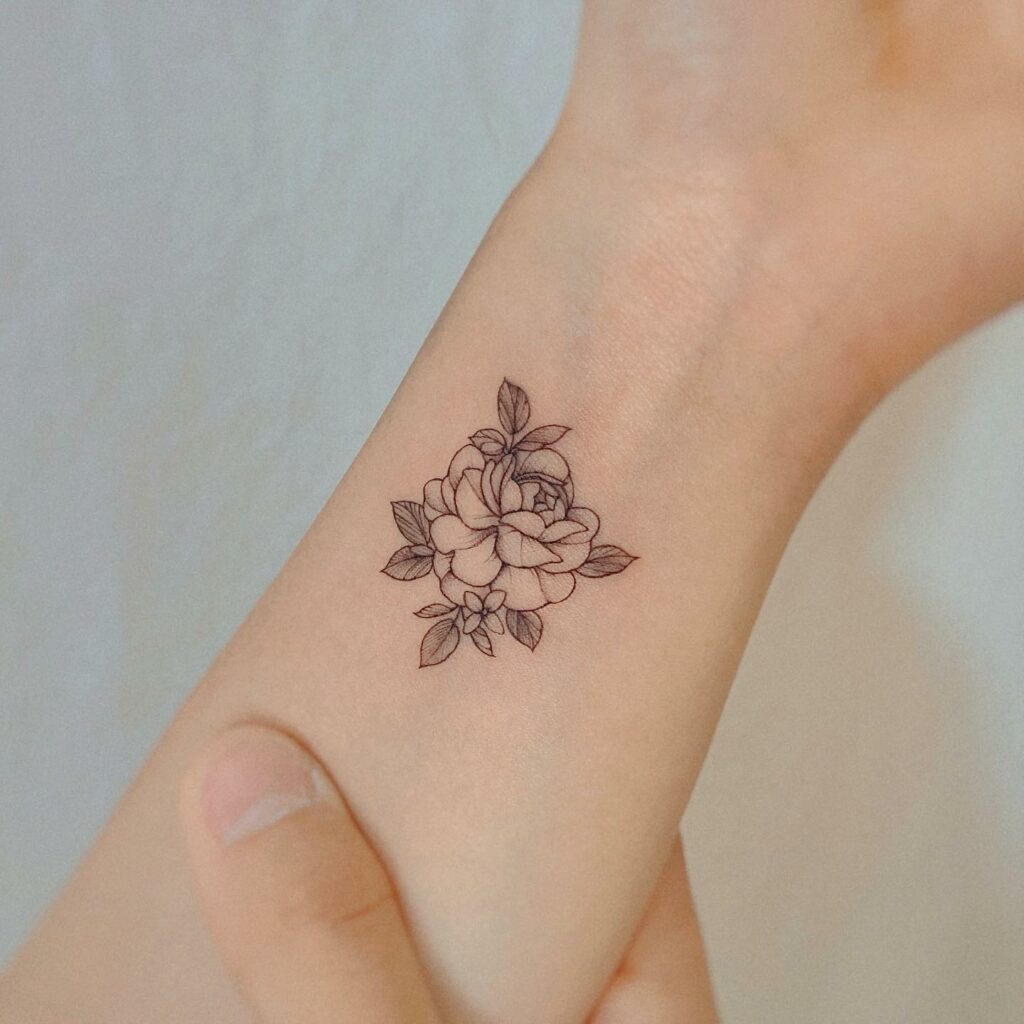 Roses have always been a favourite among girls who want to get inked. These tattoos are usually small, making them a perfect fit for the wrist area. The historical significance of roses is immense and cannot be overlooked. Roses have different meanings depending on their colour. Red roses symbolize love, while white roses represent purity and innocence. The beauty of a rose is unparalleled, and adding a single word, such as the name of a loved one, to the tattoo can make it even more meaningful. This can also transform the design into a name tattoo, which is quite popular among girls. So, if you want a tattoo that is both beautiful and meaningful, a rose tattoo is definitely a great choice!
Small Tattoo Ideas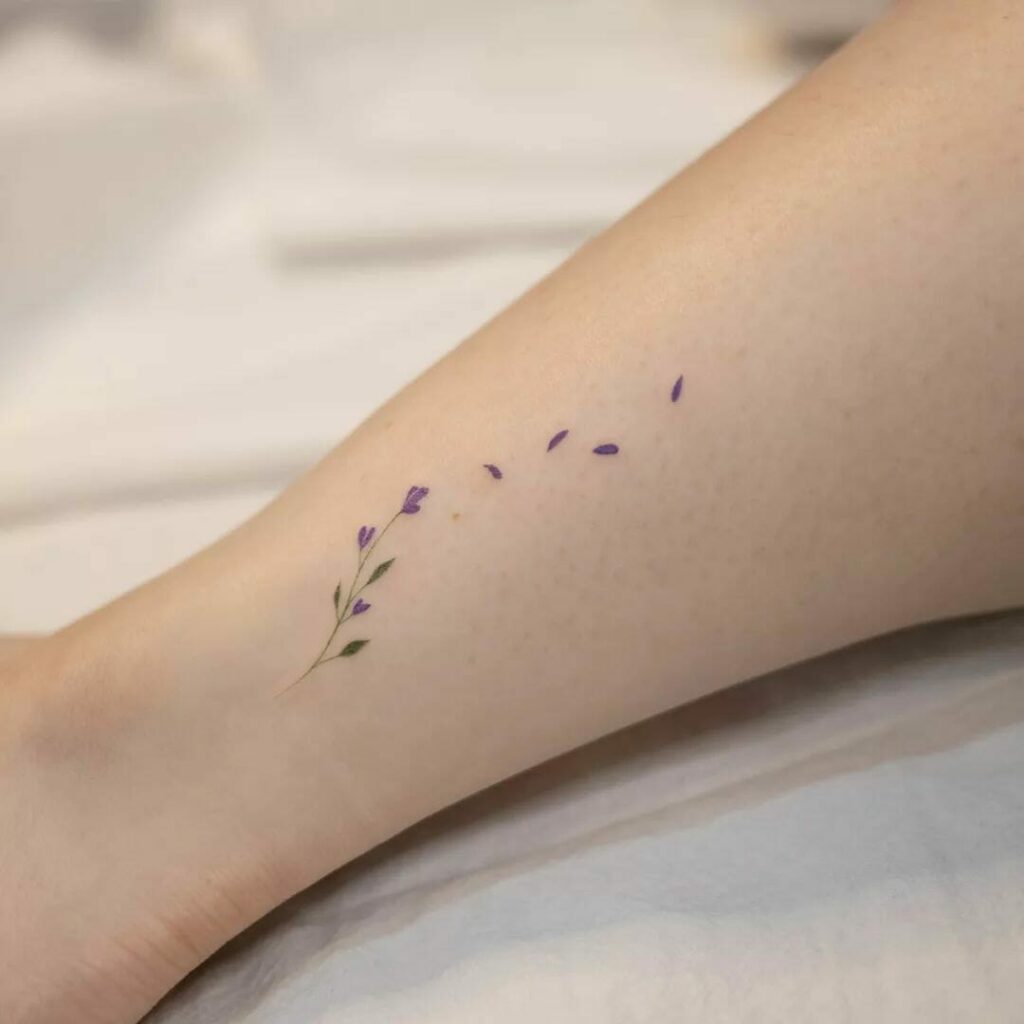 When it comes to small wrist tattoos, floral designs are always a great option. This particular tattoo featuring beautiful purple flowers adds a charming touch to the woman's wrist. The purple colour symbolizes many things, such as love, devotion, and purity. Purple also radiates a strong feminine vibe, perfect for any woman looking to add a touch of elegance to their wrist. Additionally, purple represents royalty, refinement, and luxury, making this tattoo a perfect choice for anyone wanting to show off their sophisticated side.
Tribal Tattoos For Girls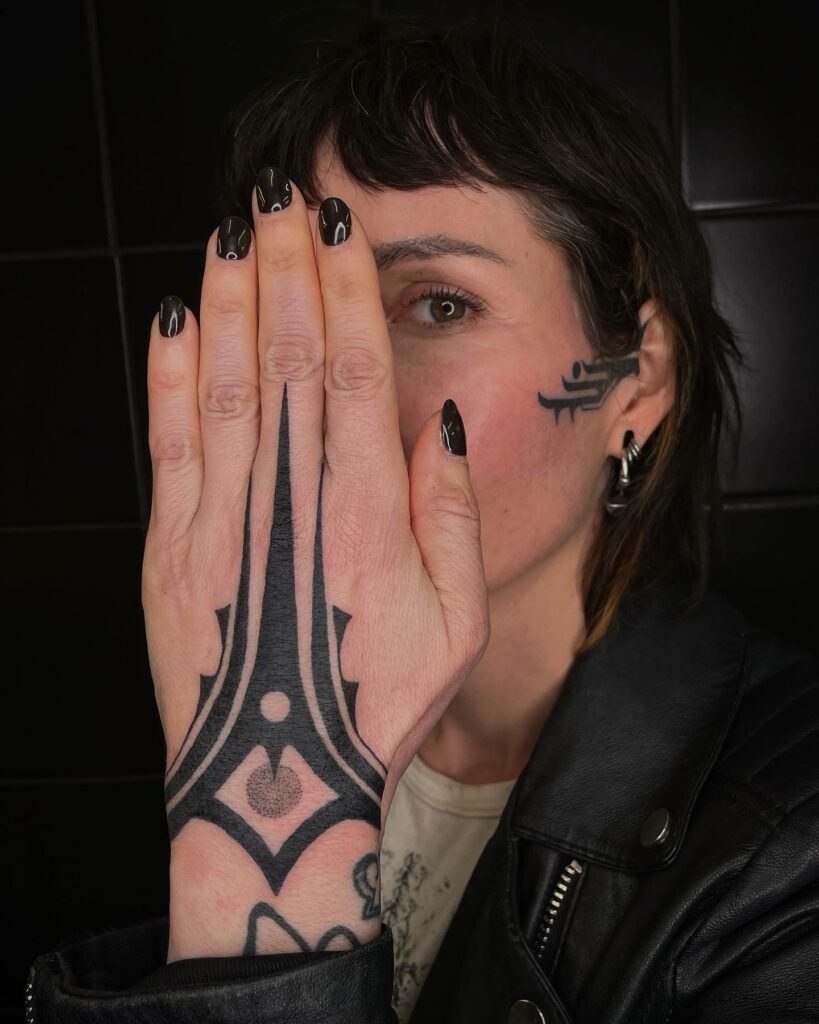 The beauty of tribal tattoos lies in their ability to convey a sense of heritage and cultural significance. Each design holds its own unique meaning, with many narrating the stories of the wearer's personal achievements. This particular wrist tattoo is a powerful symbol of protection, strength, and power, with many believing that tribal tattoos hold magical powers that protect the individual from evil. If you are drawn to the cultural significance and meaning behind tribal tattoos, then a beautiful wrist tattoo could be the perfect way to express your own personal story.
Night Sky Wrist Tattoos For Girls
This celestial tattoo design is truly dreamy, featuring a stunning night sky filled with stars, the moon, and even planets. It's a full wrist tattoo that extends all the way to the fingers, making for an eye-catching and unique design.
The beauty of this tattoo lies not only in its aesthetic appeal, but also in its symbolism. Stars have long been associated with good luck and guidance, while the moon represents spirituality and hope. The entire design is a reminder of the vastness and beauty of the universe, and can serve as a source of inspiration and motivation for the wearer.
Wrist tattoos are a popular choice among women and girls looking to add some personality and style to their look, and this celestial design is a stunning example of what can be achieved with a little creativity and a skilled tattoo artist.
feature image from Pinterest – Want your tattoo to look brighter? Try "Tattoo Balm"
Last reviewed and updated on April 30, 2023