The Grim Adventures of Billy and Mandy is a popular Cartoon Network comedy series that aired from 2004 to 2007. The show follows the story of a dim-witted boy named Billy and his ultra-nihilistic and cynical friend who gain the Grim Reaper in eternal servitude.
Although Grim hates it initially, he does learn to find comfort in his new life. The slapstick comedy show began as a spin-off of Grim & Evil and became a full-time show later on. It was met with largely positive comments and was enjoyed by both kids and adults alike.
Billy and Mandy tattoos are extremely popular nowadays. Most of the tattoos are small, colorful, and fun to see. Here are some of the best The Grim Adventures of Billy and Mandy tattoos that we have curated for you! 
The No-Fuss Tattoo of Grim, Billy, And Mandy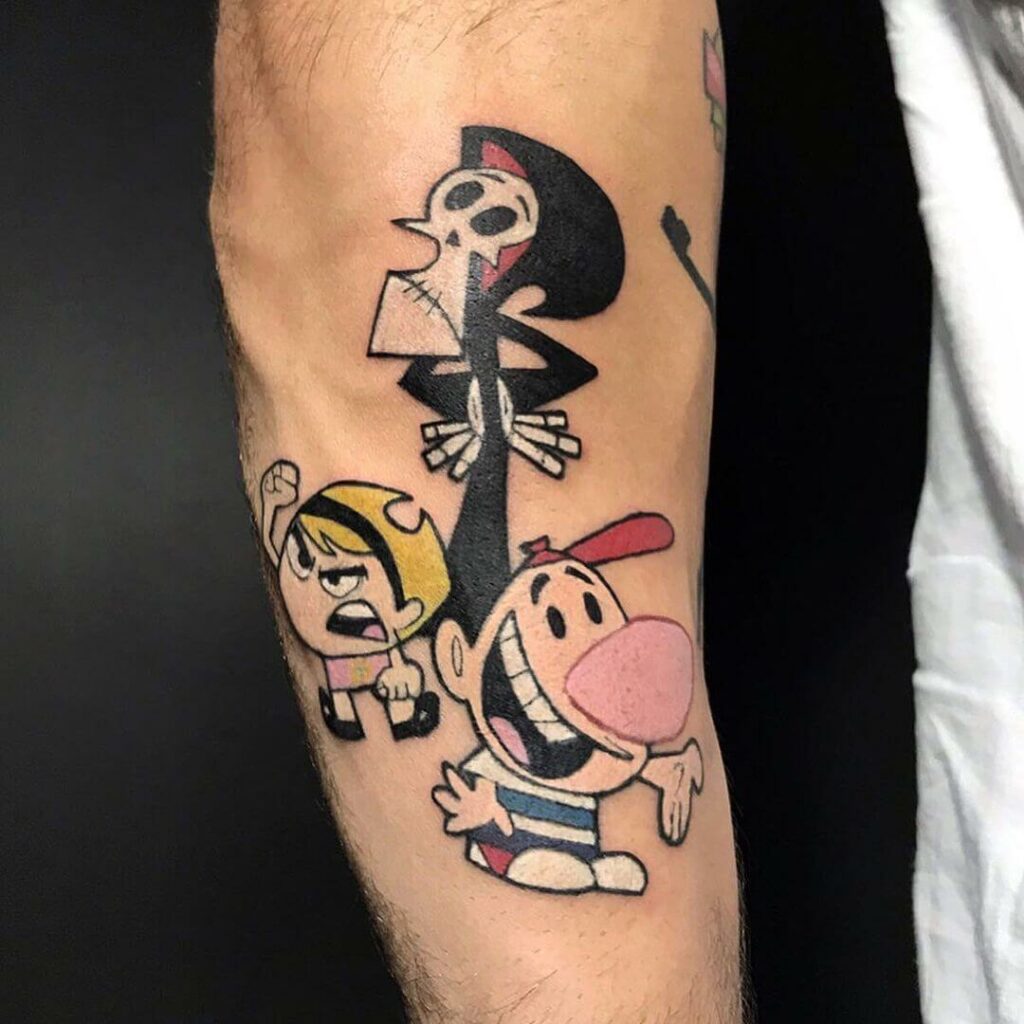 This tattoo features the main characters from The Grim Adventures of Billy and Mandy in their natural element. It's a simple yet special tattoo that captures the essence of the show. Billy's dumb smile, Mandy's anger, and Grim's tired face are all present in this tattoo. The colors are perfect and show the skills that the artist has to offer. Tattoos like this are a great way to show your love for the show without making things too complicated.
The Grim Adventures Tattoo for Fans Of The Powerpuff Girls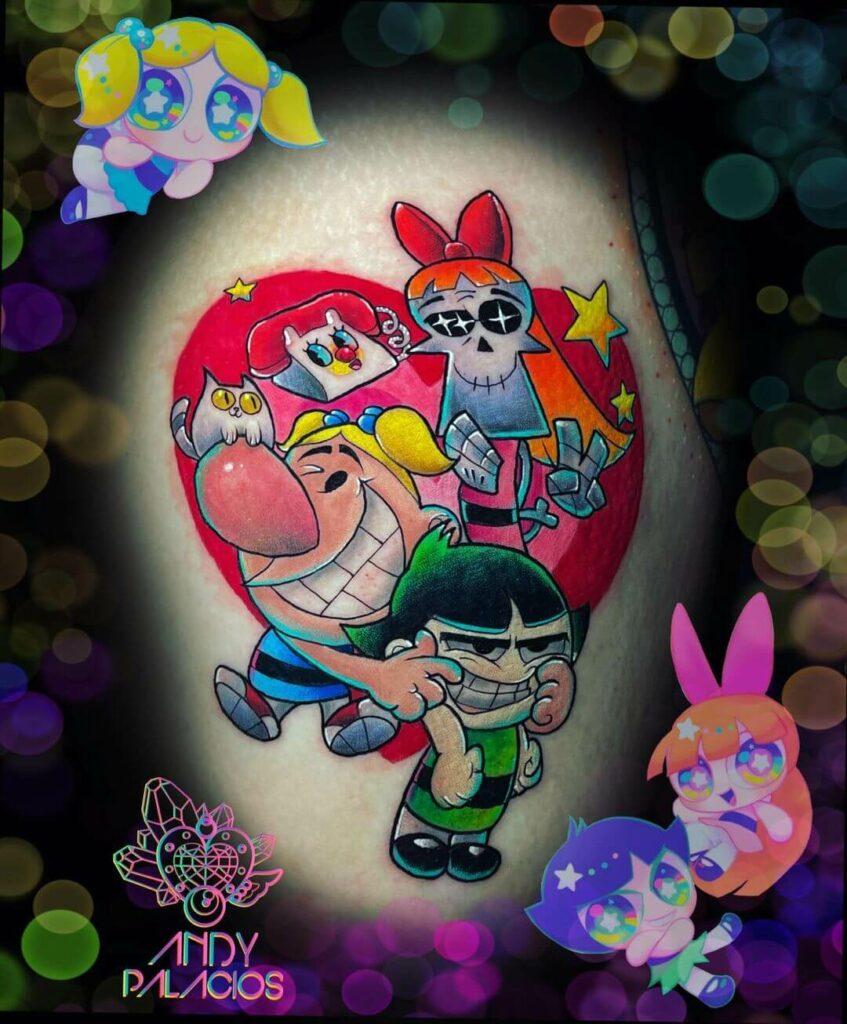 The Powerpuff Girls was another iconic show from our childhoods and it's no wonder that this artist fused the two shows together to create a unique and memorable tattoo. Billy is dressed as Bubbles and Mandy is dressed as Buttercup. Grim is the cutest of the bunch dressed as Blossom. Both of them are seen in their usual moods, with Billy flashing his wide grin and Mandy annoyed as ever. This is a colorful design for anyone looking for such The Grim Adventures of Billy and Mandy tattoos. We can assure you that it's an offer you cannot refuse.
The Grumpy Mandy Tattoo
Mandy's grumpy and cynical character has been a fan favorite from day one. Most of us who rewatch the show as adults can connect to her even more. It feels like the tattoo was cut out right from the show itself. Mandy's menacing and disapproving stare in this tattoo has made this one of our favorite The Grim Adventures of Billy and Mandy tattoos on this list.
The Tattoo of Grim
The Grim Adventures of Billy and Mandy features the most hilarious portrayal of the Grim Reaper ever. His reluctance to be enslaved in eternal servitude to Billy and Mandy is very visible on his face and that is captured neatly by the tattoo artist. Kids loved this rendition of the Grim Reaper as it made a seemingly evil character likable. There is a lot to offer in this design as it's a standalone piece of the Grim who is an iconic character of our childhood. This is a pretty funky Grim from Billy and Mandy tattoo.
The Sleeve Tattoo of The Grim Adventures of Billy and Mandy
Tattoo sleeves are one of the coolest things to see if pulled off correctly and this sleeve of The Grim Adventures of Billy and Mandy is a perfect example of that statement. The iconic Cartoon Network show gets a superbly executed Grim Reaper, Billy, and Mandy tattoo sleeve. The bright flame in the background does work very well with the rest of the design and also acts as a theme. We love how fans come up with brilliant tattoos of their favorite shows and The Grim Adventures of Billy and Mandy definitely has a great fanbase.
The Zombie Mandy Tattoo
Imagining a cartoon character in black and white is weird but then this tattoo artist has done an amazing job. Black and white tattoos offer a very unique charm which is quite evident here. The addition of the exposed tissues in a zombie style adds a creative layer to the design of Mandy. Mandy is a symbol of cynicism and this black and white piece is a perfect representation of that fact. This is definitely one of our favorite The Grim Adventures of Billy and Mandy tattoo designs.
The Portrait of Grim Tattoo
The usual thought about Grim tattoos is that they are tattoos about pain and suffering. That is definitely not the case with this super cool cartoon Grim Reaper tattoo. The flames behind add a splash of color to this Billy and Mandy Grim tattoo. A highly recommended design in this list of The Grim Adventures tattoos.
The Tattoo of Mandy as Blossom
Another Powerpuff Girls inspired design on this list. Mandy already has yellow hair in the cartoon which makes it easier to transform her into Blossom. But the disapproving face still gets featured in this cool design of Mandy. If you are a fan of The Grim Adventures and a new tattoo enthusiast, this small piece of Mandy is perfect for you.
The Tattoo of Happy Billy
Billy is a happy-go-lucky guy with a dumb spirit that was charming in its own way. Billy gathered a massive fanbase due to his non-complicated brain. This black and white piece portrays that emotion beautifully. The shading is perfect and doesn't let you feel the absence of colors. A really cool tattoo of Billy, an iconic character out of childhood.
The Grim Adventures Tattoo for Cartoon Network Fans
Cartoon Network has given us some memorable shows to watch over the years. The channel was a household name, and still is a great source of entertainment. Courage the Cowardly Dog, CatDog, and The Grim Adventures define a golden era of television and this pays homage to that. It is a great design that features Billy and the main characters, along with Courage and CatDog as well. This is bound to make anyone nostalgic.
Conclusion
Tattoos are a great way to express yourself and show off your personality. The Grim Adventures of Billy and Mandy tattoos are a great way to pay homage to the classic cartoon. If you're looking to get one of these tattoos, it's important to find a reputable tattoo artist who can help you design the perfect piece. You should also consider the placement of your tattoo and how much it might cost. Negative side effects or risks are rare but it's important to follow aftercare instructions carefully to avoid any complications.
Feature image from Pinterest