Roll up those sleeves and let's get down to the meat and potatoes of tattoo lore – the time-honored and ever-popular Celtic designs. They're practically a rite of passage in the ink world and have carved out quite the niche for themselves in our collective tattoo consciousness.
Celtic tattoos, much like the verdant landscapes of Ireland, have perennially been at the forefront of the tattoo industry. My journey into their mesmerizing labyrinth began during my formative years, living beside an Irish family with a fiery-haired matriarch who proudly sported a Celtic knot tattoo.
Aesthetic Charm and Heritage Homage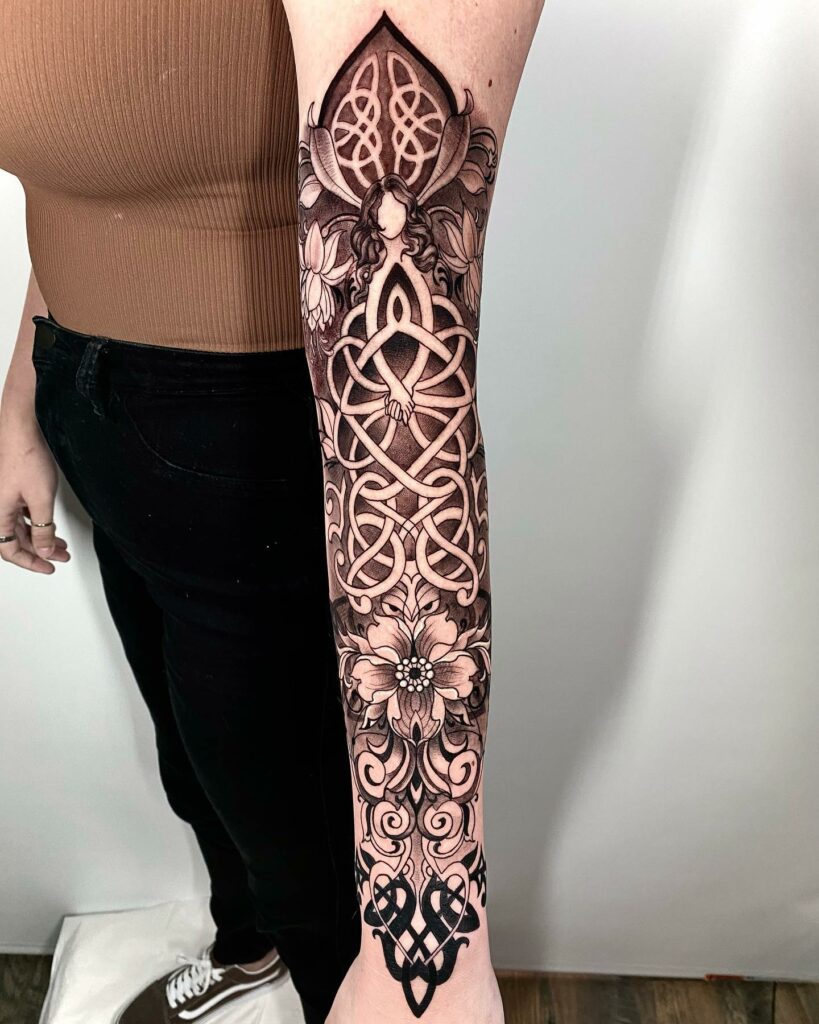 Celtic tattoos offer a blend of aesthetic allure and symbolic significance that's hard to resist. Whether it's an appreciation of the elaborate artistry or a connection to Celtic lineage that draws you in, there's no denying the magnetism of these timeless designs.
Celtic Knot Tattoos: Encircling Love, Heritage and the Infinite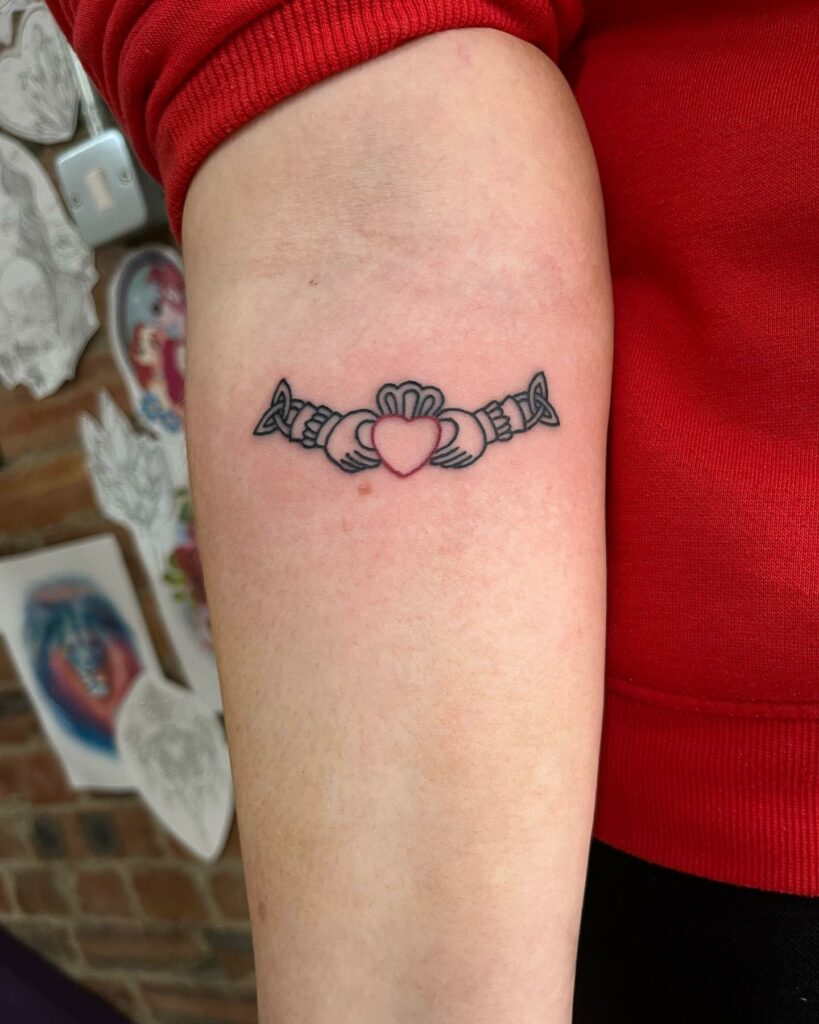 Picture this: You're walking along the deck of a ship, windswept and sea-salted, carrying an intricately woven sailor's knot – known as a love knot, or more affectionately, Josephine's knot. This knot, beautifully crafted from two unified ropes, is a symbol of your undying love, waiting to be gifted to your significant other upon your return. It's not just a knot, but a token of devotion, an emblem of a heart eternally entwined with another. If you can relate to this romantic sailor's tale, then you've already connected with the essence of Celtic love knot tattoos.
Infinite Love Enclosed in a Knot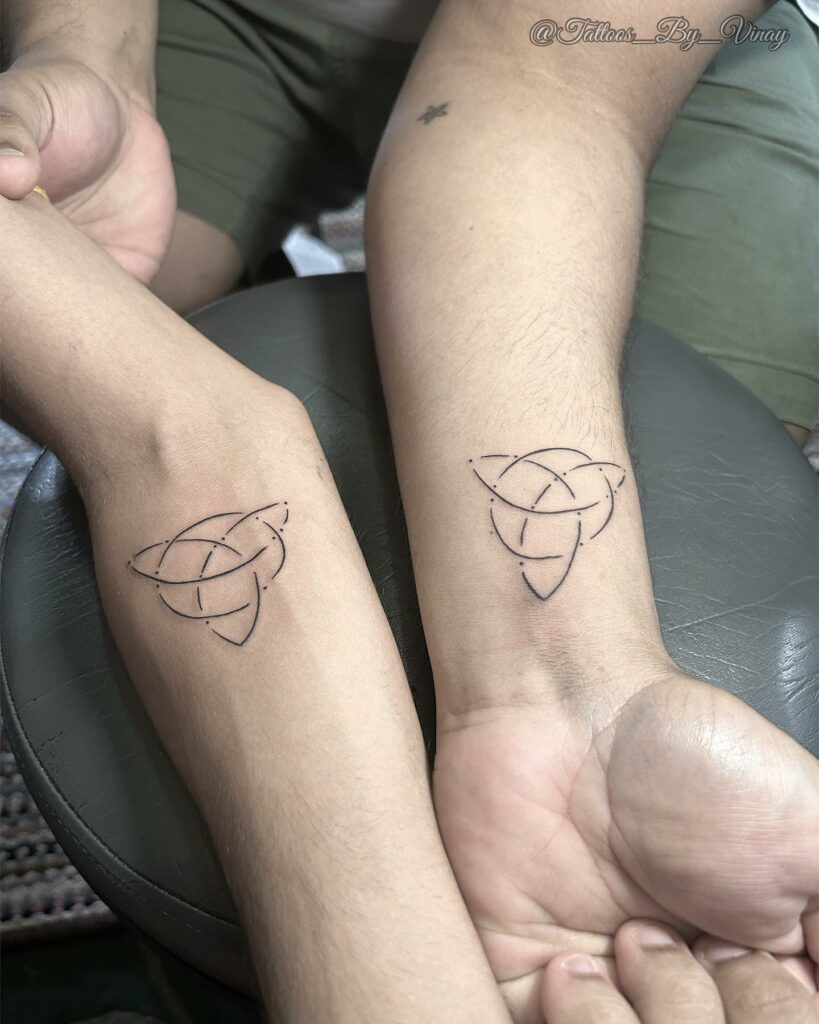 In the realm of Celtic knot tattoos, there are few designs more poignant than the love knot. Customizable to capture the unique essence of each couple, this design is a true heart wrapped in a triquetra knot. Its significance, much like the sailor's knot, lies in the joining of two parts, metaphorically two hearts. The knot represents not just the unity, but the timeless bond between partners. A sailor, after all, could bring back nothing more enduring than an emblem of love.
Journey of the Lovers' Knot Tattoo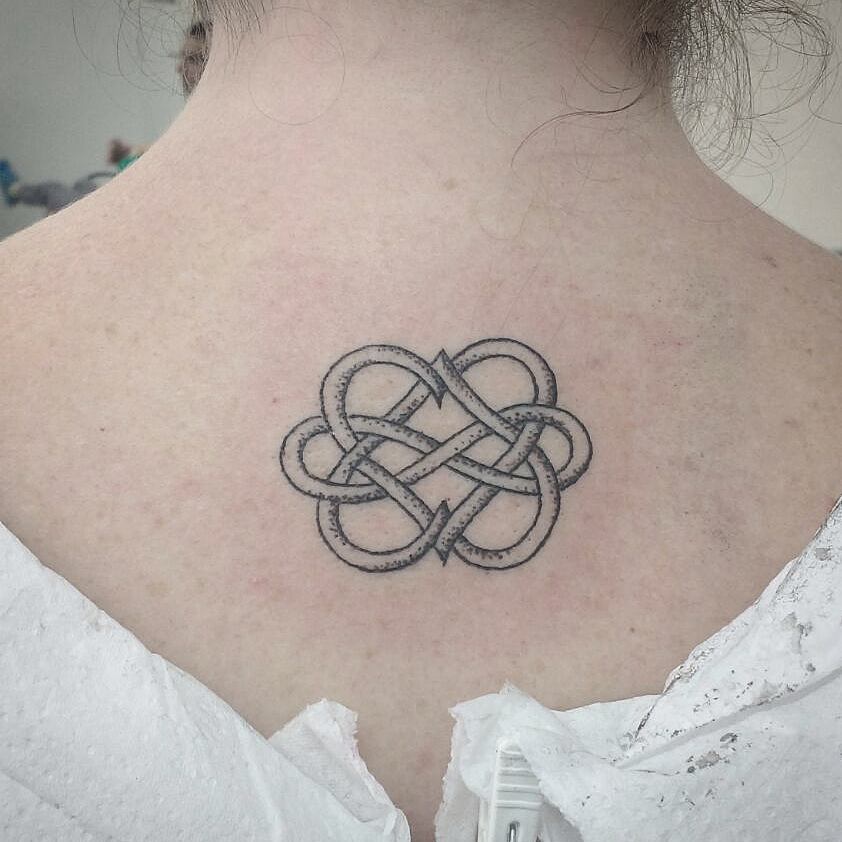 But love knots aren't the only stars in the Celtic knot universe. Another emblem of unending love is the Celtic lovers' knot tattoo. This design captures the fortitude of love that's weathered years, challenges, and time spent apart, much like a well-trodden and still blossoming love story. It is a tattoo that tells the tale of your infinite love, a love that refuses to falter or fade. So, if your love story has been a journey worth every twist and turn, this might be the perfect symbol for you.
Inception of the Infinite Knot
The Celtic lovers' knot tattoo offers a fascinating spin when it's combined with the infinity symbol – evolving into the Celtic lovers' knot infinity tattoo. A seamless amalgamation of the infinity symbol and the lovers' knot, this design introduces the concept of an intellectual interconnection, where love and eternity coalesce. The aesthetics of this tattoo lie in the interplay of pointed and round shapes, creating a mesmerizing pattern where both the heart and infinity symbol hold prominence, depending on where your gaze lands.
Unearthing the Profound Spirals
Taking a different spin on the Celtic knot narrative, the Celtic Spiral Knot Tattoo incorporates a distinct design – a trio of spirals connected at the center. Much like the ebb and flow of life, this tattoo symbolizes the interconnection of life, rebirth, and the end. The spirals, encapsulated within a circle, leave ample white space that adds to the enigmatic aesthetic. With its roots deep in the Celtic culture, the spiral is a testament to a person's journey through life and into the spirit realm. It's a symbol that transcends mere aesthetics, encapsulating the spirit of the mind, body, and the omnipresent concept of love.
The Sacred Triskele
Amid the multitude of Celtic symbols, there's one that holds a sacred place – the triskele or the triple spiral. This symbol, deeply embedded in many belief systems, embodies the power of the number three. It can represent a multitude of trios – earth, water, and sky; human, spirit, and celestial worlds; or the progression of time from past, present to future. The triskele is a versatile symbol, ready to mirror the wearer's personal belief or life story.
As a tattoo artist with an enduring fondness for Celtic designs, I can affirm that these knots, spirals, and symbols offer more than just skin-deep beauty. They are a celebration of love, heritage, and life. Whether you're a sailor carrying a love knot or a seeker embarking on a spiritual quest, the intricate artistry of Celtic tattoos is bound to captivate you, adding a unique stroke to your life's narrative.
The Warrior's Mark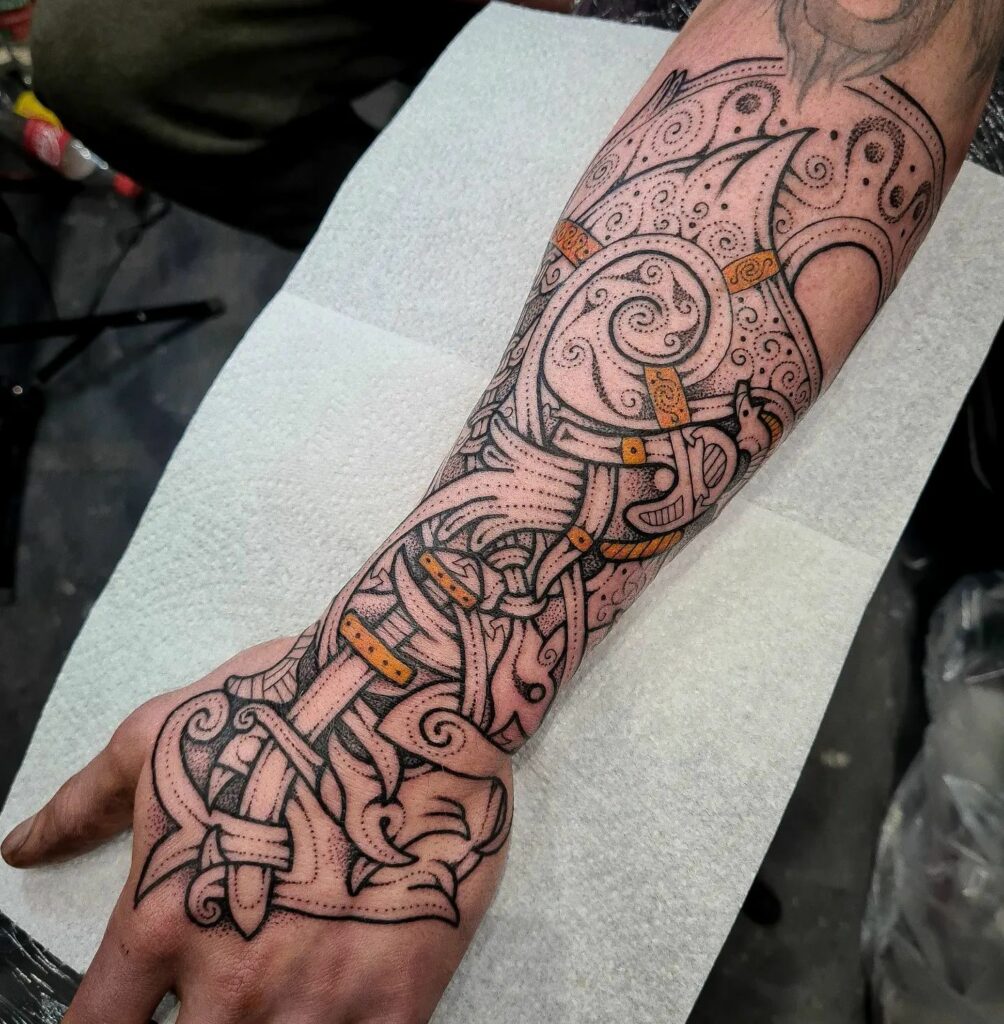 The deep-rooted legacy of Celtic tattoos goes back to the era of Celtic warriors, their bodies adorned with intimidating blue tattoos, created with ink derived from the woad plant. Visiting the Celtic Nations, I was moved by the resilience and bravery etched into the ancient stone monuments, a testament to this enduring warrior spirit.
The Celtic Knot: An Eternal Emblem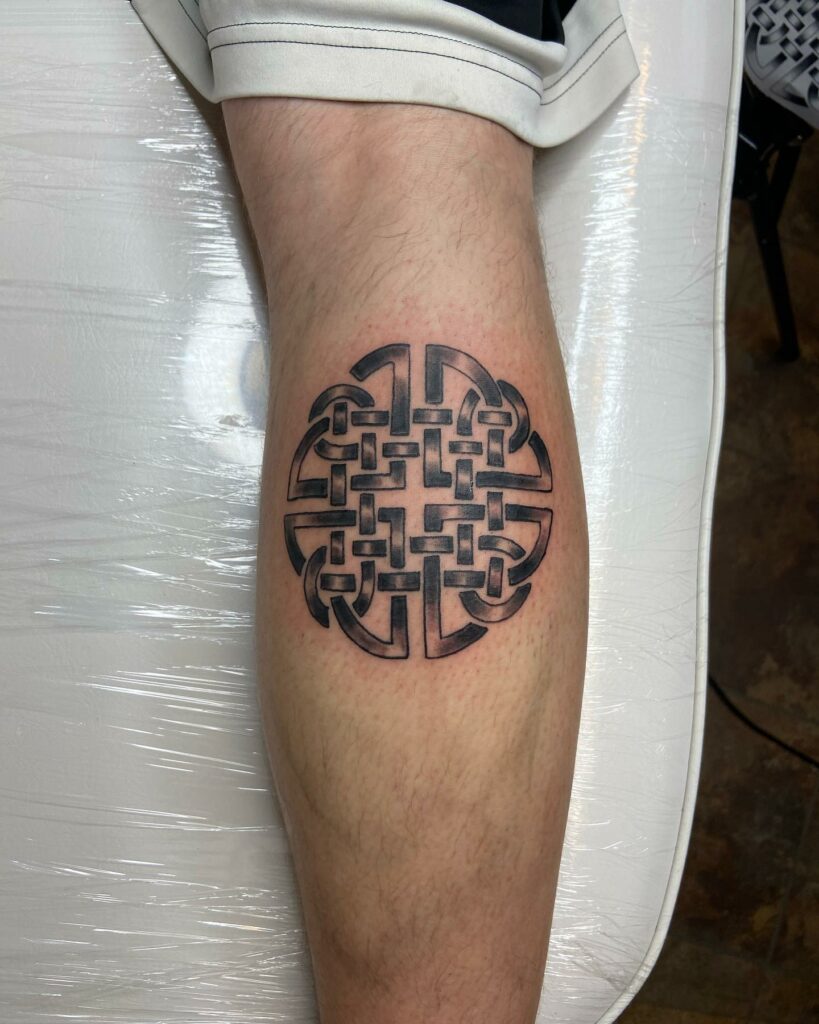 The Celtic knot, the most celebrated of Celtic designs, carries with it a wealth of symbolism. This intricate web of loops represents eternal bonds – between individuals, between humans and nature, and an everlasting emblem of life itself.
Trinity Knot Tattoos: A Popular Pick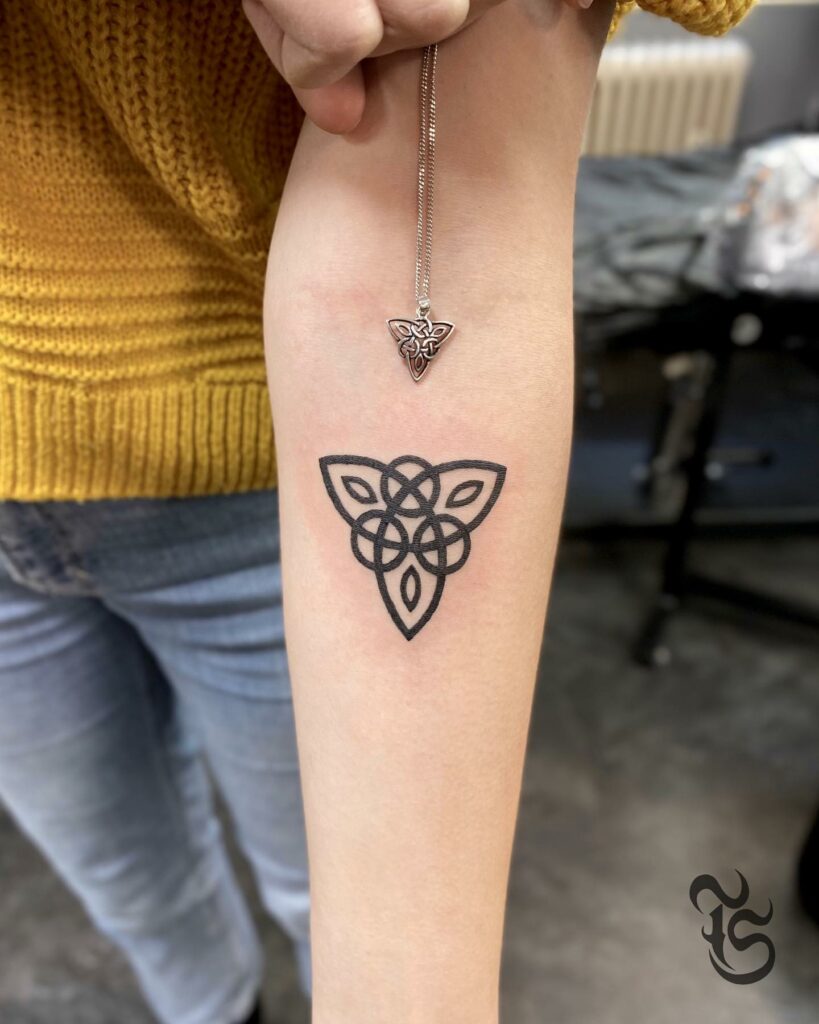 The Trinity Knot, or the "three-cornered" knot, holds its own in the realm of Celtic designs. Historically symbolizing the three sacred stages of a woman's life – the maiden, the mother, and the crone – it later evolved under Catholic influence to represent the Father, Son, and Holy Spirit.
The Triquetra Knot: A Symbol of Strength and Unity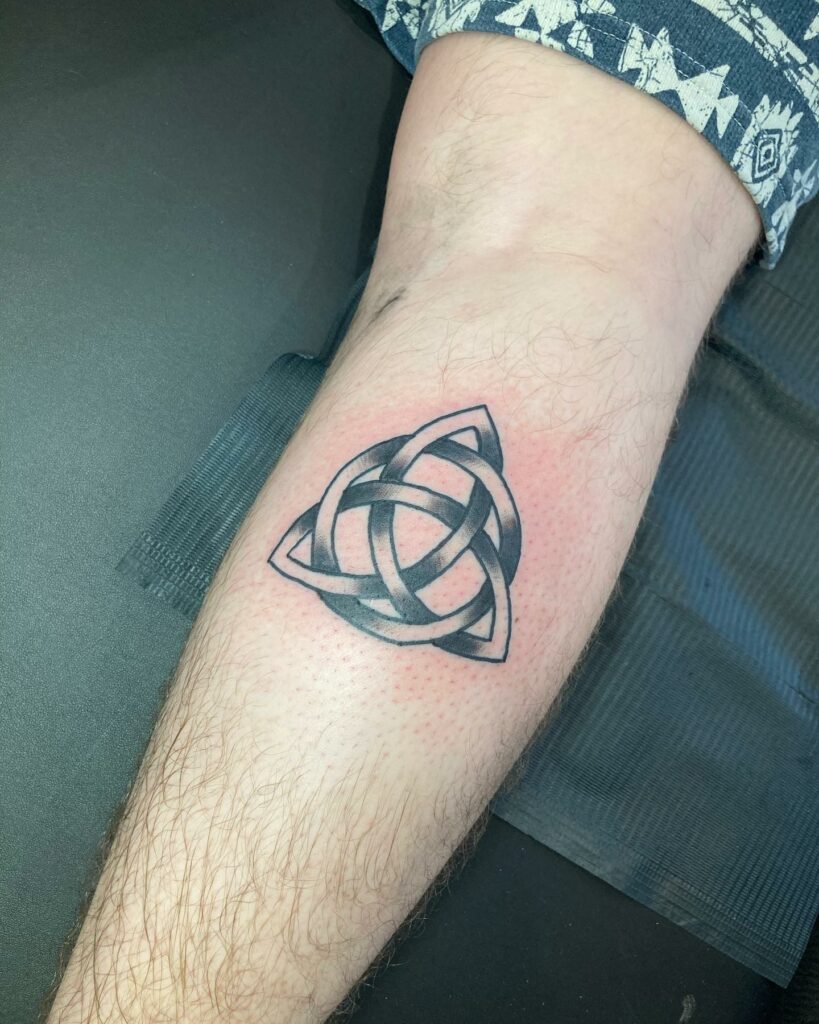 The Triquetra Knot, a stunning composite of intricate lines and three-pointed sides, stands as a testament to strength, unity, and eternal life. Not only is it visually appealing, but it also provides divine protection, adding an extra layer of spiritual significance.
Modern Love with Love Knots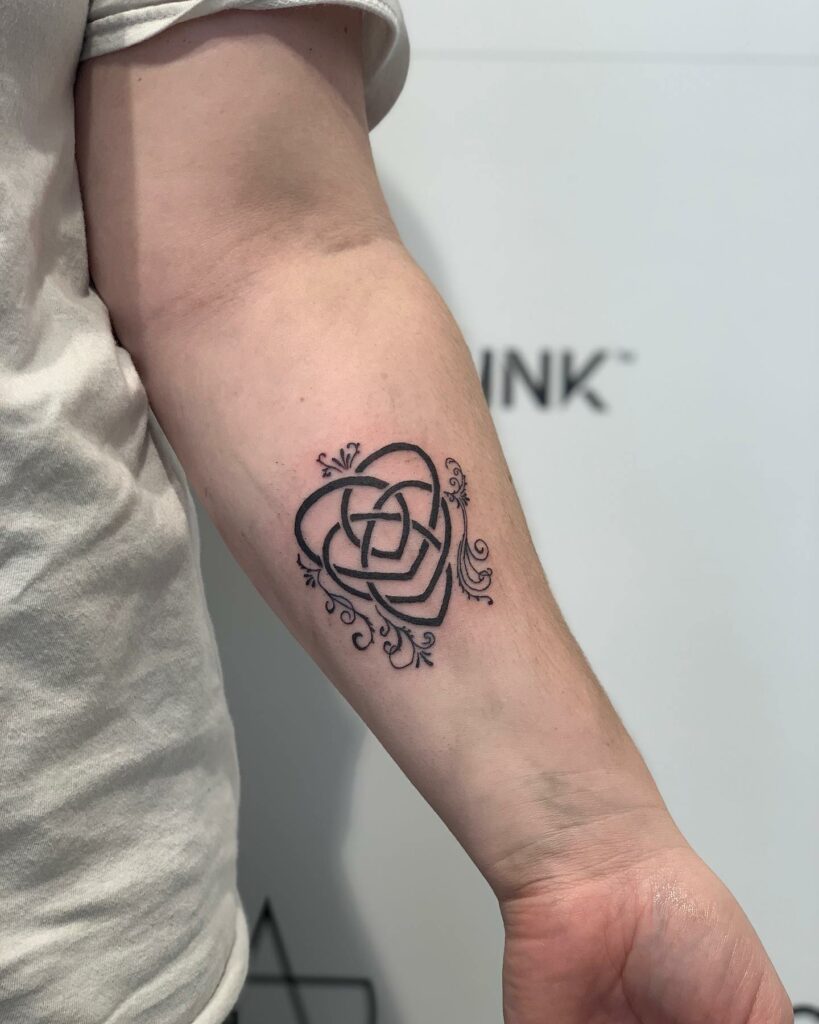 In more recent times, the rise of Love Knots offers a modern interpretation of the Celtic tradition. Despite being a deviation from the classic symbols, they encapsulate the timeless Celtic essence of eternal bonds and connections.
Whether you're drawn to the Celtic heritage, intrigued by the intricate aesthetics, or looking for a tattoo brimming with symbolism, Celtic designs cater to every ink enthusiast's whim. As the lines form on your skin, intertwining with your own personal narrative, you will feel a deep connection to the ancient Celtic tradition. Enjoy your inking journey!
Love Knots: Weaving Two Hearts into One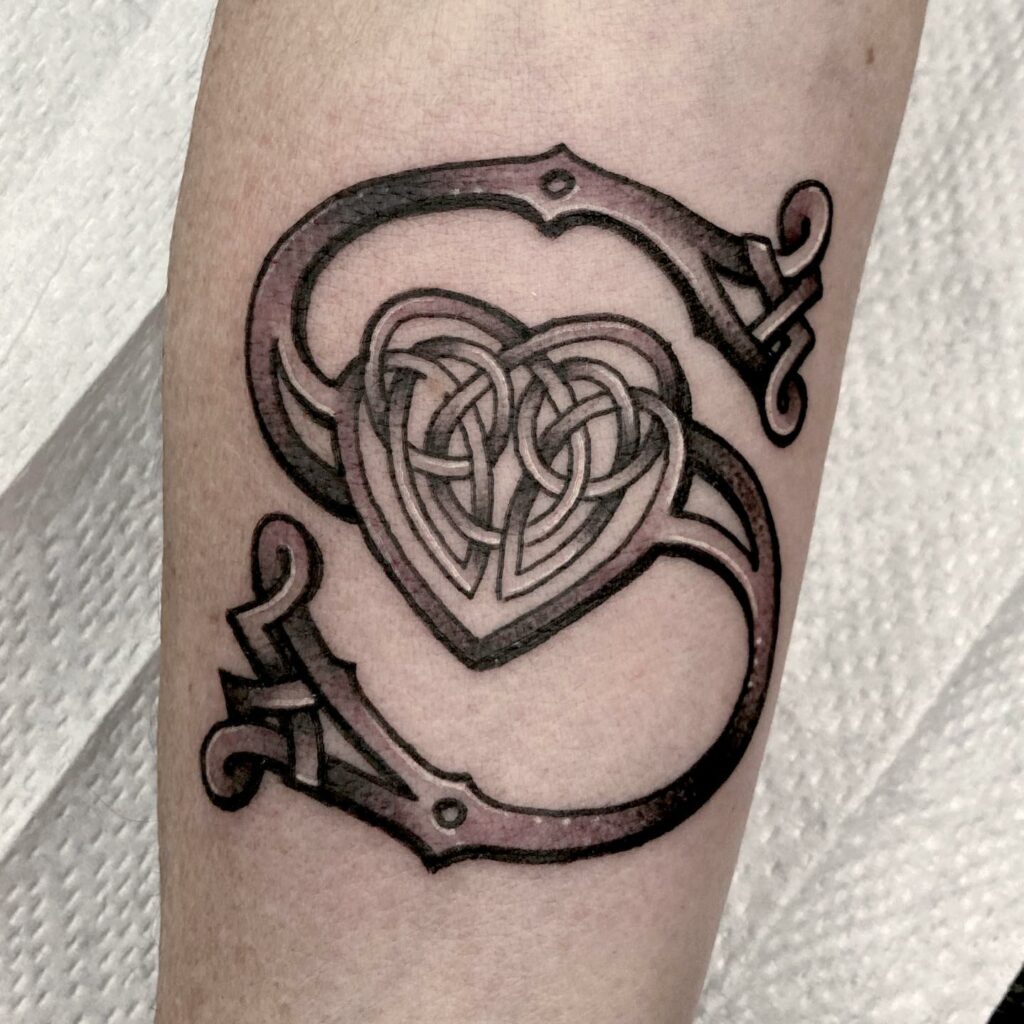 A Love Knot, traditionally the creation of sailors, is born from the unification of two ropes into one harmonious knot. It's a tangible testament to the bonds formed in the seafaring world. I fondly recall a grizzled old sailor from my seaside hometown showing me his Love Knot tattoo, and his eyes would light up as he recalled the love waiting for him at every port.
Customizable Symbols of Devotion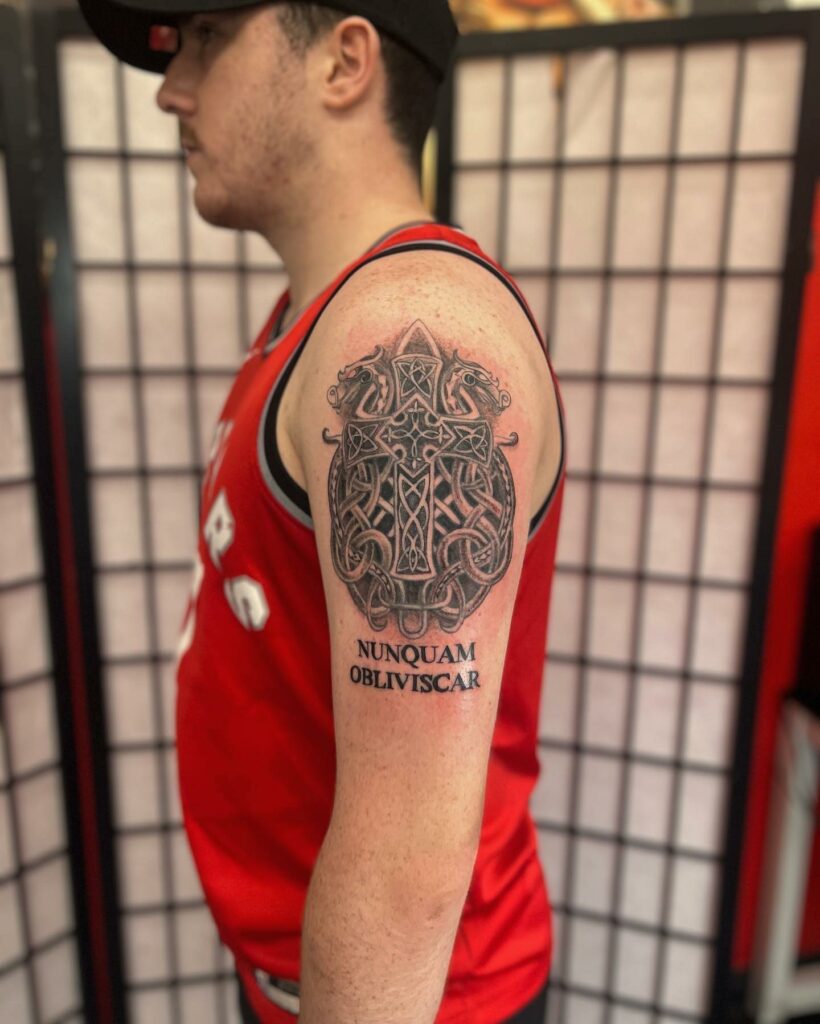 With their roots in the Celtic knots, Love Knots are often etched onto the skin to celebrate nuptials or express devotion between life partners. What's fascinating is how adaptable these designs are, allowing each couple to tailor it to their unique love story. A heart entwined with a triquetra knot is a common design, but I've seen countless iterations in my time in the tattoo studio.
The Symbolism of Love Knots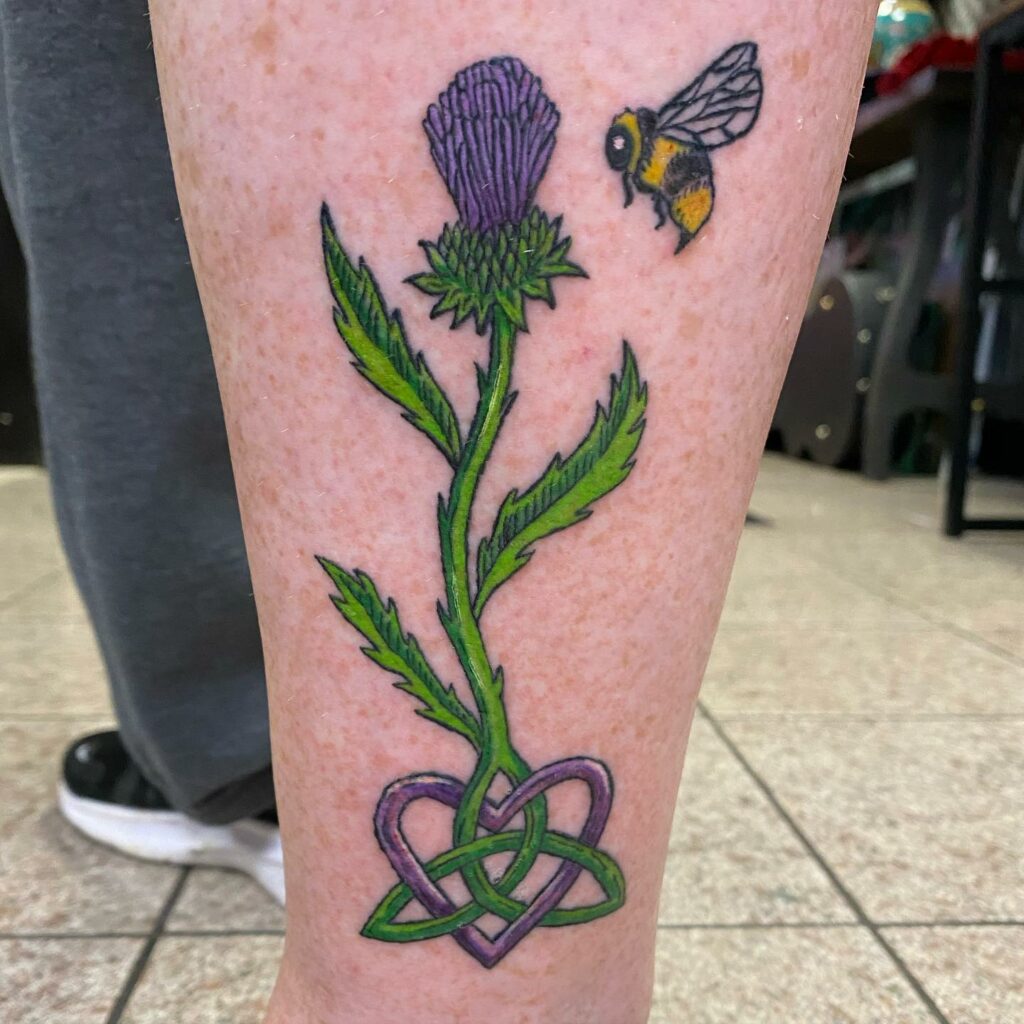 The beauty of a Love Knot lies not only in its aesthetic appeal but also in its poignant meaning – the joining of two hearts. The same way sailors would return home bearing Love Knots as gifts for their loved ones, these tattoos symbolize the endurance of love through time and distance.
A Love Letter in Ink: The Celtic Sailor's Knot Tattoo
I'm a sucker for love stories, and the Sailor's Knot offers plenty of that. This two-strand knot stands for duality and balance. It was born of longing and memories, a token created by sailors as they ventured into the vast unknown, leaving their loved ones behind.
When I ink a Sailor's Knot, I am marking the client's skin with symbols of eternal love, friendship, and unity. It's often chosen by couples about to tie the knot or by best friends looking to symbolize their unbreakable bond. Each Sailor's Knot I've inked is a love story in its own right, making it a sentimental favorite.
Finding Peace with the Celtic Mandala Knot Tattoo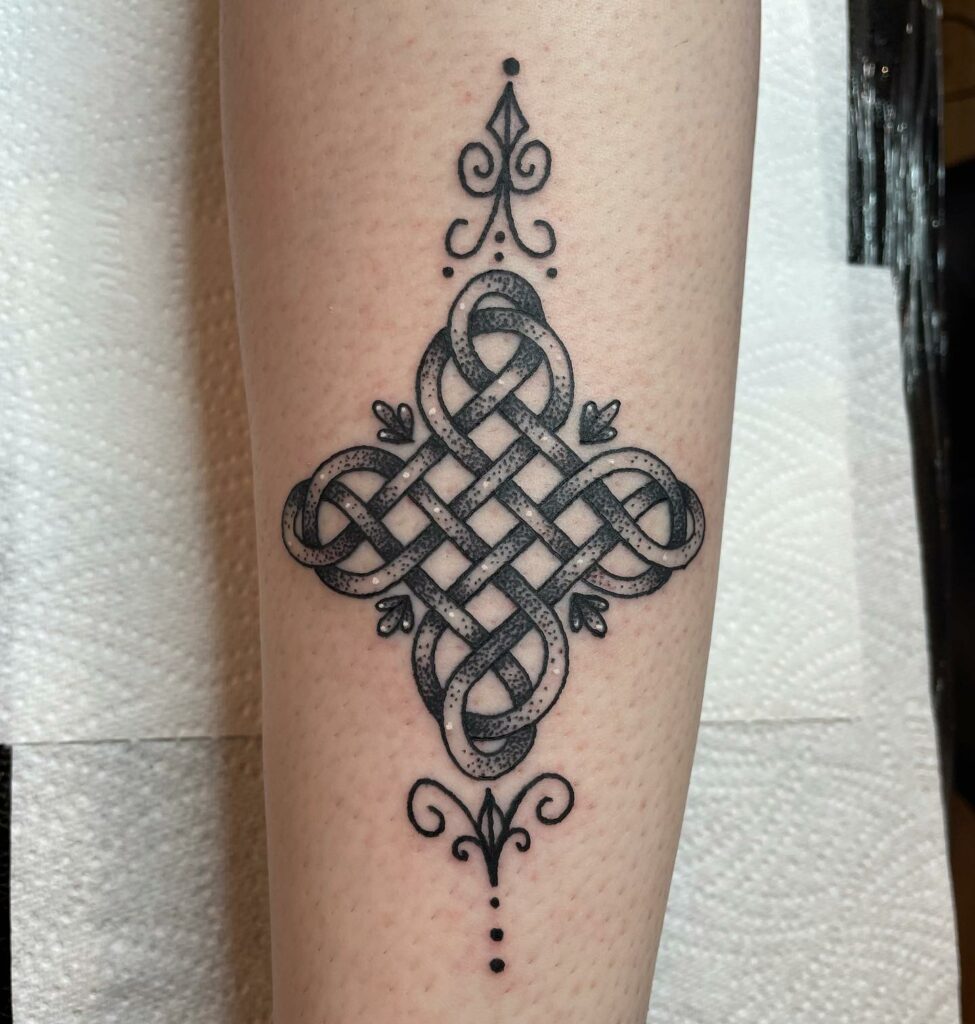 The Celtic Mandala Knot is another intriguing design. Within its symmetrical sphere, knots coil and wind into various shapes, each carrying a story, each holding a message. Its complexity calls out to those seeking peace, grounding, and an understanding of their place in the cosmos.
A client once told me she chose this design as a nod to her belief in reincarnation. She saw herself as a soul journeying through the universe, learning and growing with each life. The Celtic Mandala was her way of embracing her ancestral roots and interconnectedness with the universe.
A Protector in Ink: The Celtic Shield Tattoo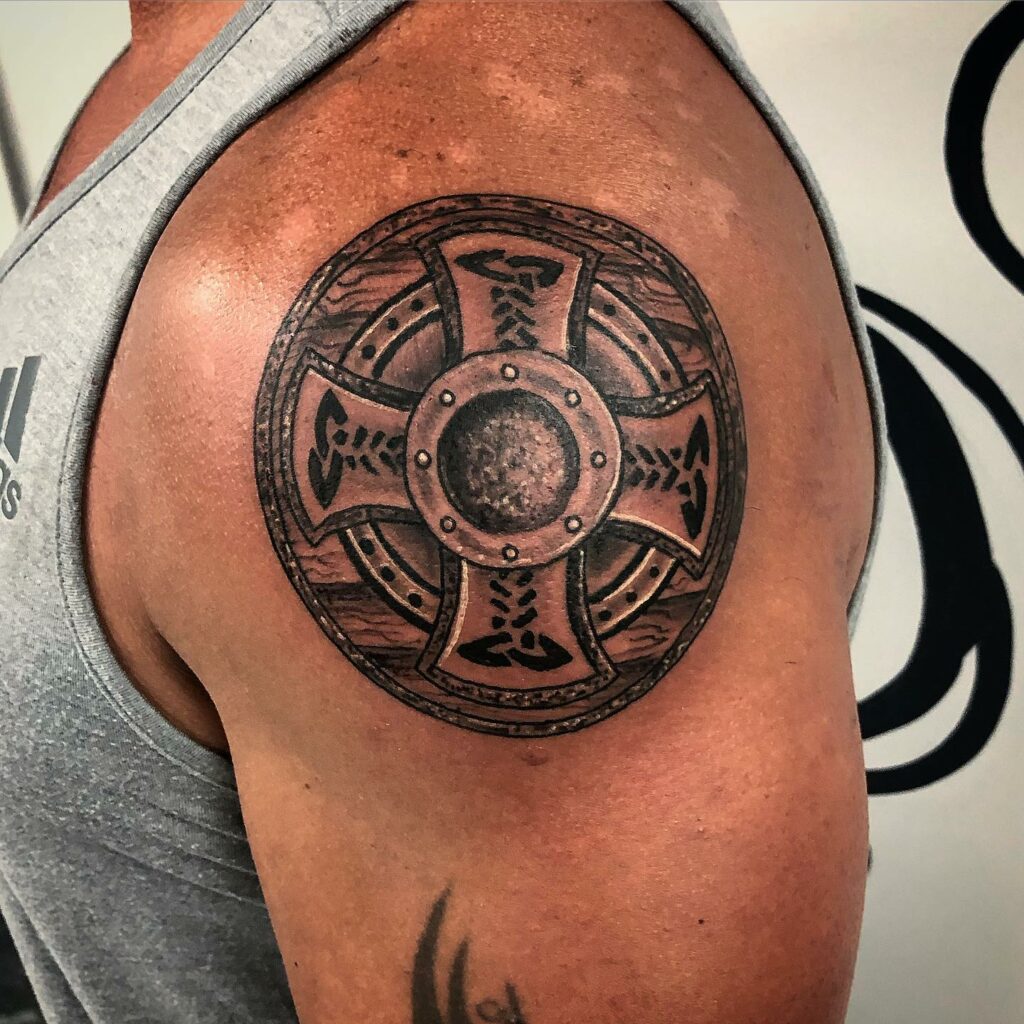 The Celtic Shield tattoo brings together many traditional knot styles within its circular frame. It looks powerful, regal, and even a bit intimidating, much like a warrior's shield.
The symbolism of the shield knot traces back to ancient Celtic warriors who carried it as a talisman for protection and luck. Today, it serves as a symbolic shield against negative energy and as a beacon of protection, inspiring a sense of safety.
I remember inking a Celtic Shield for a young man who had just embarked on his battle against addiction. For him, it was a beacon of protection, a constant reminder that he was never alone in his fight.
Infusing Infinity into Love Knots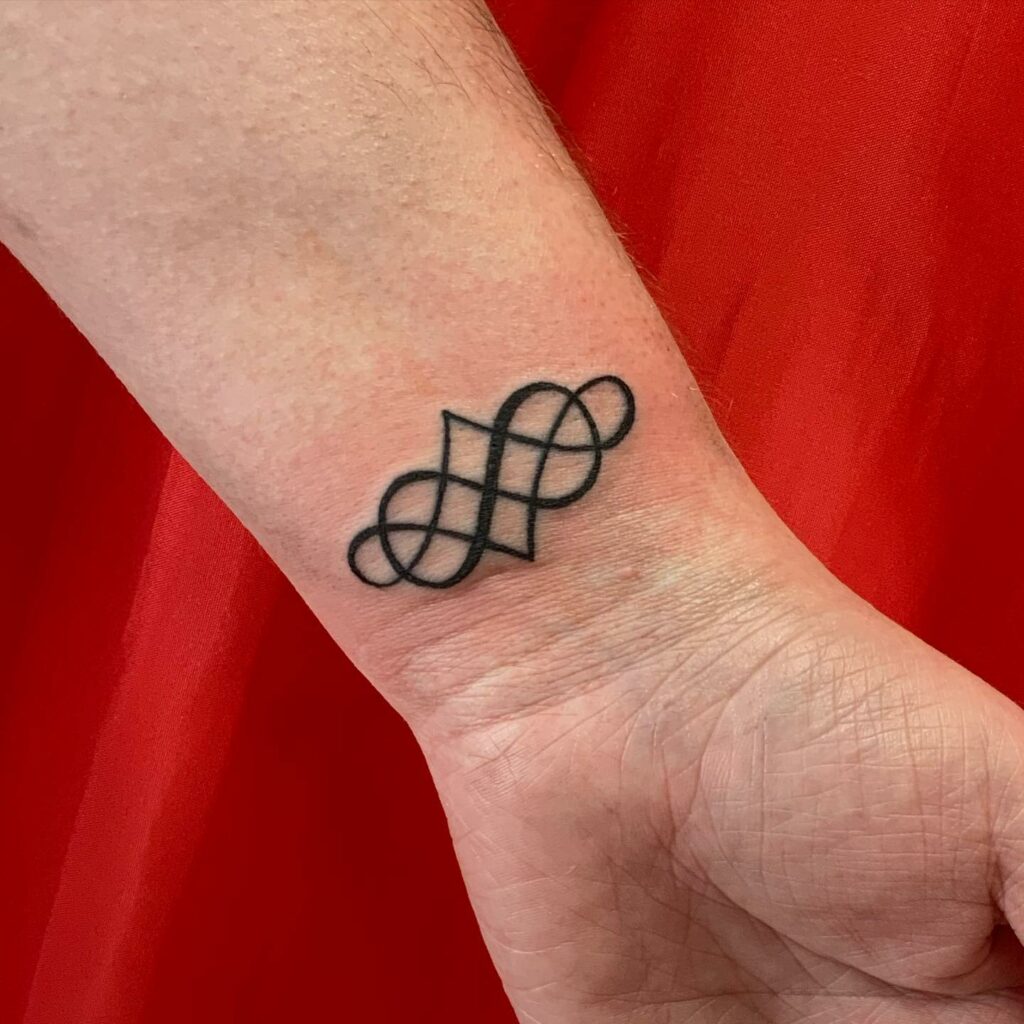 There's an exciting variant of the Love Knot that incorporates the infinity symbol into its design – the Celtic Lovers Knot Infinity Tattoo. This amalgamation results in a stunning interconnected pattern. Whether it's the pointed contours of the knot or the rounded loops of the infinity symbol, different parts of the design draw attention depending on where your gaze falls.
The profound meaning of this tattoo lies in the experience of a love that is not only special but infinite. What could be a more potent testament to a bond that you believe is eternal? This ink could serve as a perpetual symbol of your marriage, or it could reflect the infinite love you hold for a family member, or even your spiritual bond with God.
Exploring Celtic Spiral Knots
While we're on the subject of interesting Celtic designs, let's dive into the realm of Celtic Spiral Knot Tattoos. A notable design consists of three spirals, connected at the center, contained within a circle. Even the color palette offers room for personalization, with the tattoo rendered in classic black or even a touch of blue for those inspired by the sailor's tradition.
The Celtic Spiral Knot is more than just an appealing design. It symbolizes the interconnected aspects of life – birth, rebirth, and culmination. The design encapsulates love, the vitality of mind and body, and the significance of honoring the past while embracing the future.
Celtic Triskele Tattoos: Embodying the Power of Three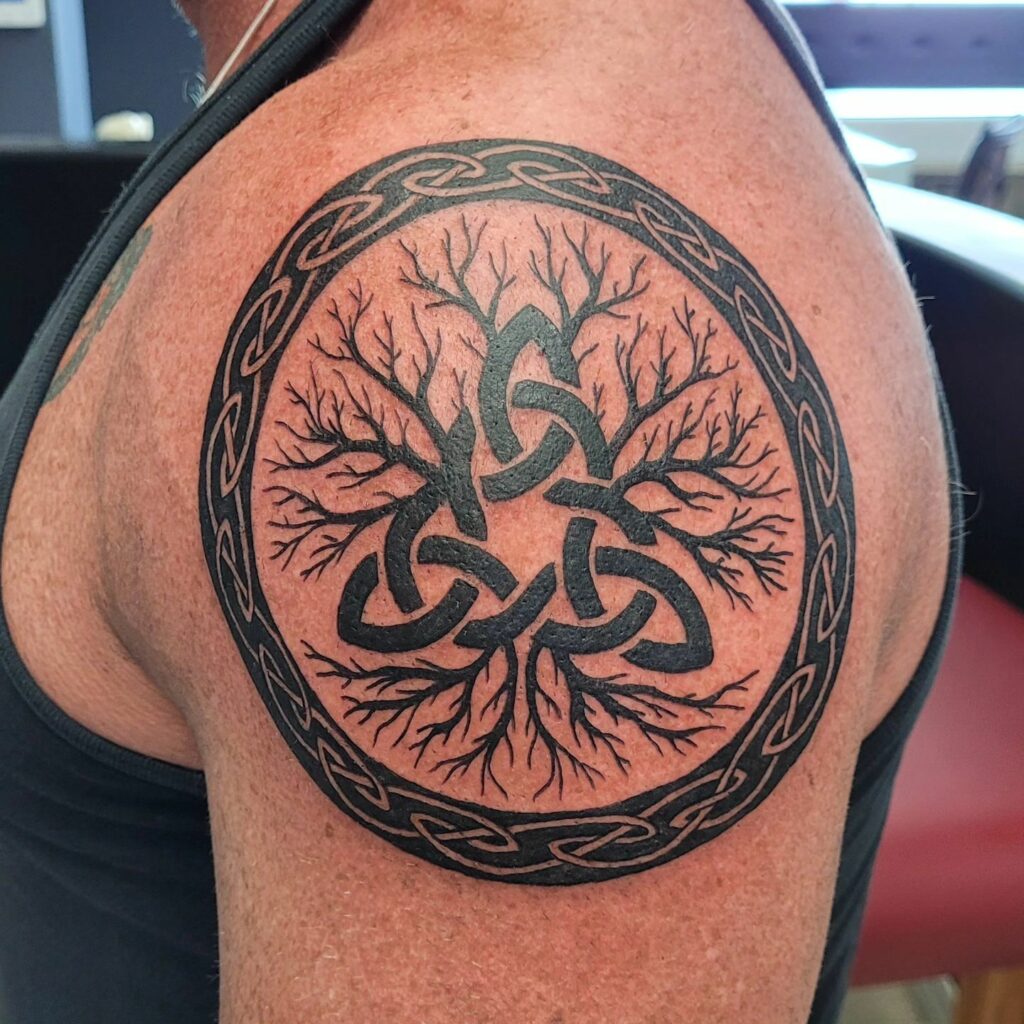 Celtic culture reveres the number three, and the Triskele tattoo encapsulates this sacred numerology. This triple spiral design is thought to symbolize the Earth, Water, and Sky or different facets of existence – the human world, spirit world, and celestial world. It could also embody life's journey – past, present, and future, or relationships like father, mother, and child.
The world of Celtic tattoos is like an ocean, expansive and deep, teeming with beauty, history, and meaning. Whether you're a sailor returning home, a couple celebrating their love, or someone on a spiritual quest
The Solomon Knot: A Timeless Ode to Wisdom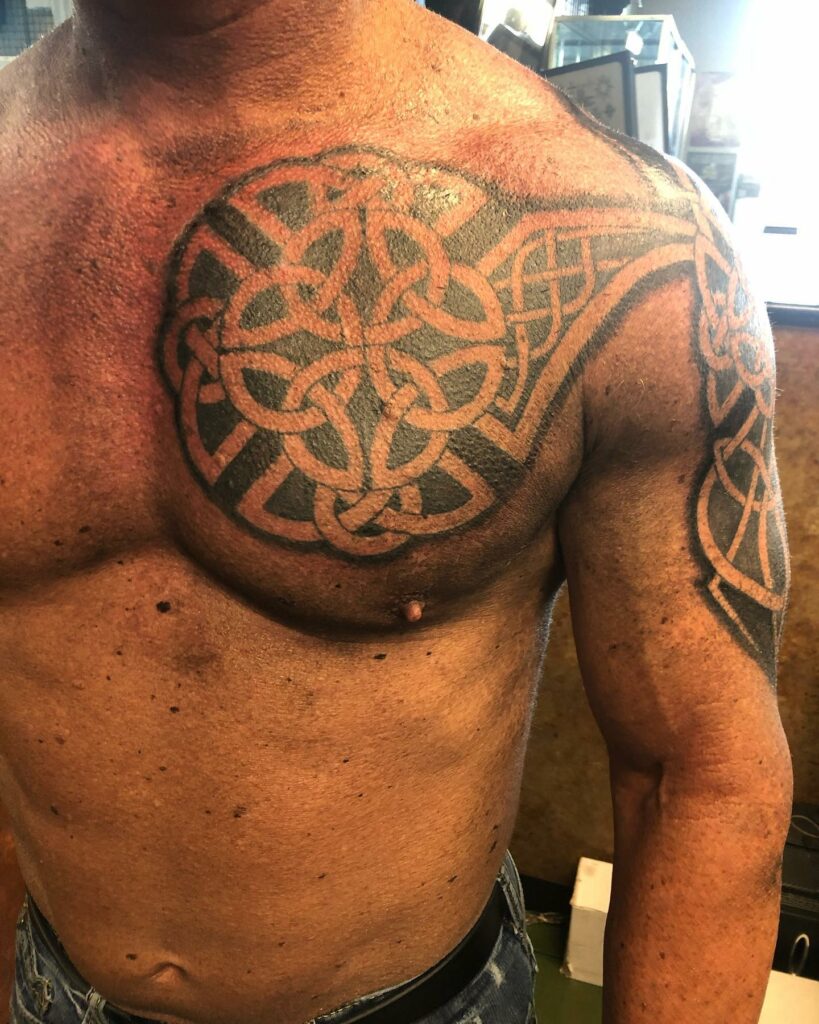 The Solomon Knot, a modest yet profound design, has been my go-to recommendation for those looking for something simple but meaningful. Despite its simplicity, there is a lot of room for customization – the addition of ovals or gaps can add a unique spin to this classic knot.
This particular knot traces its roots back to the cave drawings of the Stone Age, carrying with it the whispers of a bygone era. Named after King Solomon, renowned for his wisdom, it serves as a beacon for those on a spiritual journey, symbolizing the connection between humans and the divine.
I remember etching a Solomon Knot for an aging professor. For him, it was a celebration of his life-long pursuit of knowledge and his spiritual connection to the world. As the ink sank into his skin, he spoke of his reverence for the ancient Celtics, seeing the tattoo as a link to a rich and powerful heritage.
The Celtic Cross: A Testament of Faith and Heritage
If you ask me about the most popular Celtic symbol, the Celtic Cross would be an unchallenged contender. The intricate knots woven within the cross are captivating, often mirroring the client's personal journey of faith and heritage.
Despite its association with Christianity today, the Celtic Cross originally held more pagan connotations. The circle at the back was believed to represent the sun god. Today, it symbolizes God's eternal love and protection, making it a favorite among Irish Christians looking to celebrate their faith and heritage.
I still vividly remember the time I worked on a Celtic Cross tattoo for a young woman who had recently discovered her Irish roots. She was looking for a way to honor her heritage, and the Celtic Cross, for her, was the perfect blend of her newfound cultural identity and her deep-seated Christian faith.
Decoding the Design of the Celtic Cross
Designing a Celtic Cross tattoo can be an exciting journey, with countless avenues for customization. One can add intricate patterns imbued with personal or cultural significance within the cross or around it. The color palette can be experimented with too – from the traditional grey or white to bold reds or blues.
I've seen clients incorporate the shamrock into their Celtic Cross, often at the center or the ends of the cross, as a tribute to their Irish lineage. The shamrock, known for its significance in Irish culture, adds an extra layer of depth to the symbolism of the tattoo.
For those seeking a minimalistic take, a tribal Celtic Cross with thick black lines and basic Celtic knots is a timeless choice. The stark simplicity of the black ink design resonates deeply with the core themes of the Celtic Cross – loyalty, infinity, and everlasting peace through God.
As I ink each Celtic Cross, I'm often reminded of its essence – the circle of life, its movements through the universe, and our spiritual journey within it. Whether it's to celebrate heritage, faith, or the profound wisdom of the ancient Celtics, the Celtic Cross tattoo remains a cherished design in the world of tattoos.
Inking these Celtic symbols is like weaving stories on the canvas of skin – each knot, each cross is a tale waiting to unfold. And as a tattoo artist, it's an honor to be a part of these personal and spiritual journeys.
Celtic Animals: Emblems of Spirituality and Strength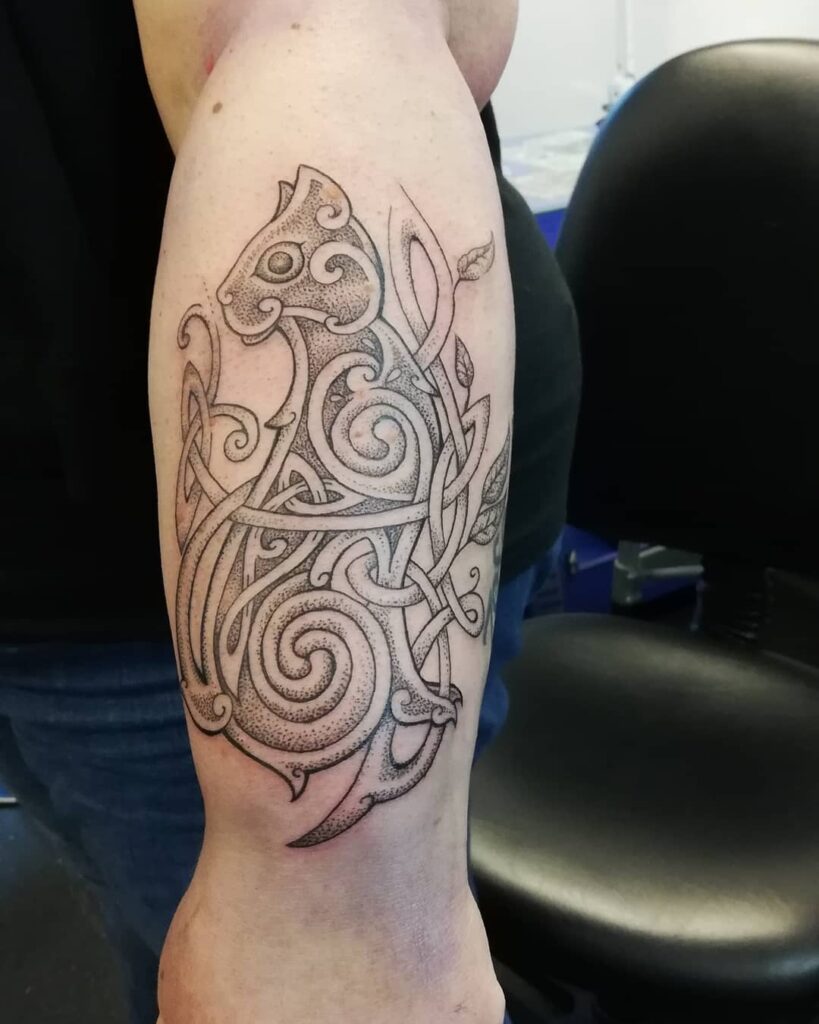 Rooted in the ancient Celtic belief that every entity – plants, animals, rocks, even inanimate objects – possesses a soul, animal tattoos form a significant part of Celtic body art. Each animal carries its own significance, each a unique tale steeped in Celtic lore.
A Mother's Strength: The Celtic Bear Tattoo
In my career, I've found the bear to be a popular choice among my clients, especially those looking for a symbol of bravery, strength, or femininity. The Celtic goddess Artio, often depicted as a bear, embodies strength and protection, mirroring the protective instincts of a mother bear. It's fascinating how the sighting of mother bears after hibernation becomes a metaphor for new life, isn't it?
Once, a soon-to-be-mother came to my studio, asking for a Celtic bear tattoo. For her, it was a symbol of the fierce protective love she felt for her unborn child. As I inked her skin, we chatted about motherhood and the powerful bonds that tie us to the ones we love.
Guardians of the Realm: Celtic Wolf Tattoos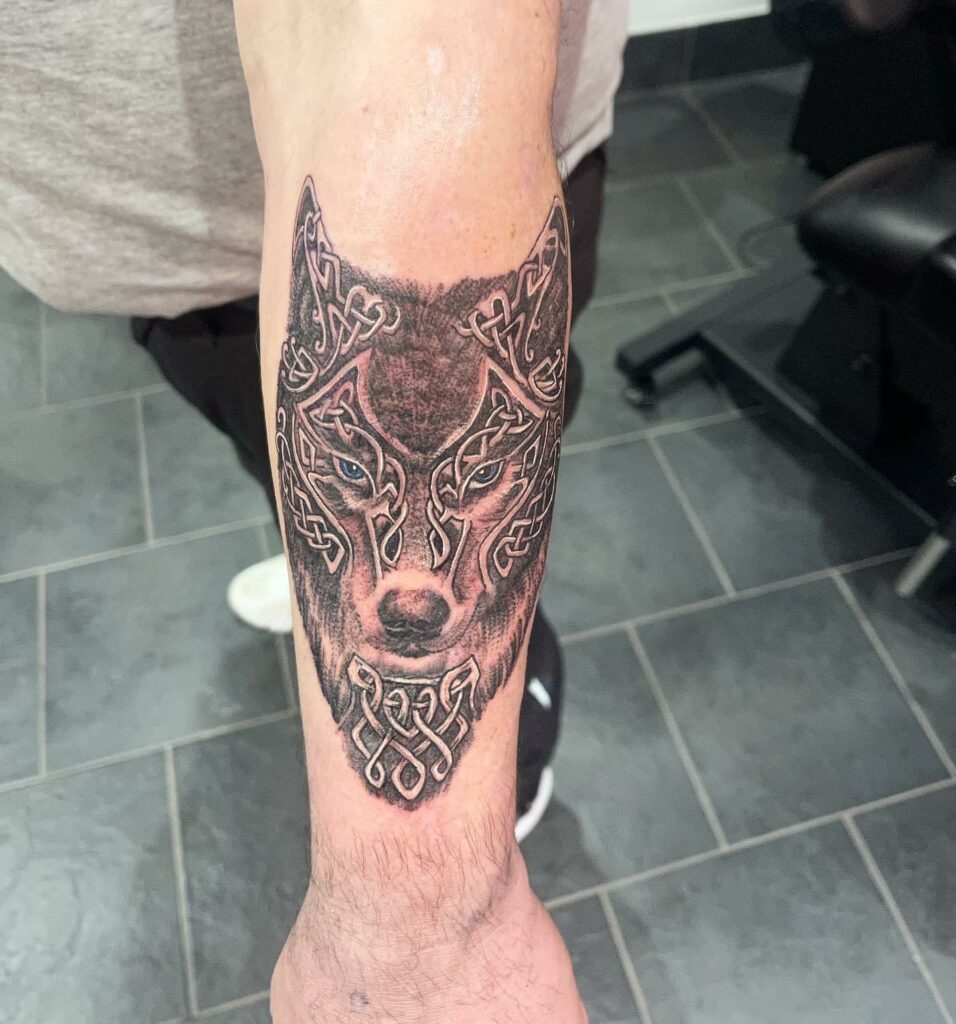 The wolf, a totem animal deeply respected by the Celtic community, is another compelling choice. Fierce protectors in Celtic lore, wolves symbolize strength, confidence, and vigilance. They are also seen as guides, connecting the mortal realm with our ancestors and spiritual guides.
I once inked a Celtic wolf tattoo for a young man who saw the wolf as a representation of his loyalty to his family. As the needle traced the sharp lines of the wolf, we spoke of the importance of family bonds and the strength that comes from standing together.
The Pursuit of Wisdom: Celtic Salmon Tattoos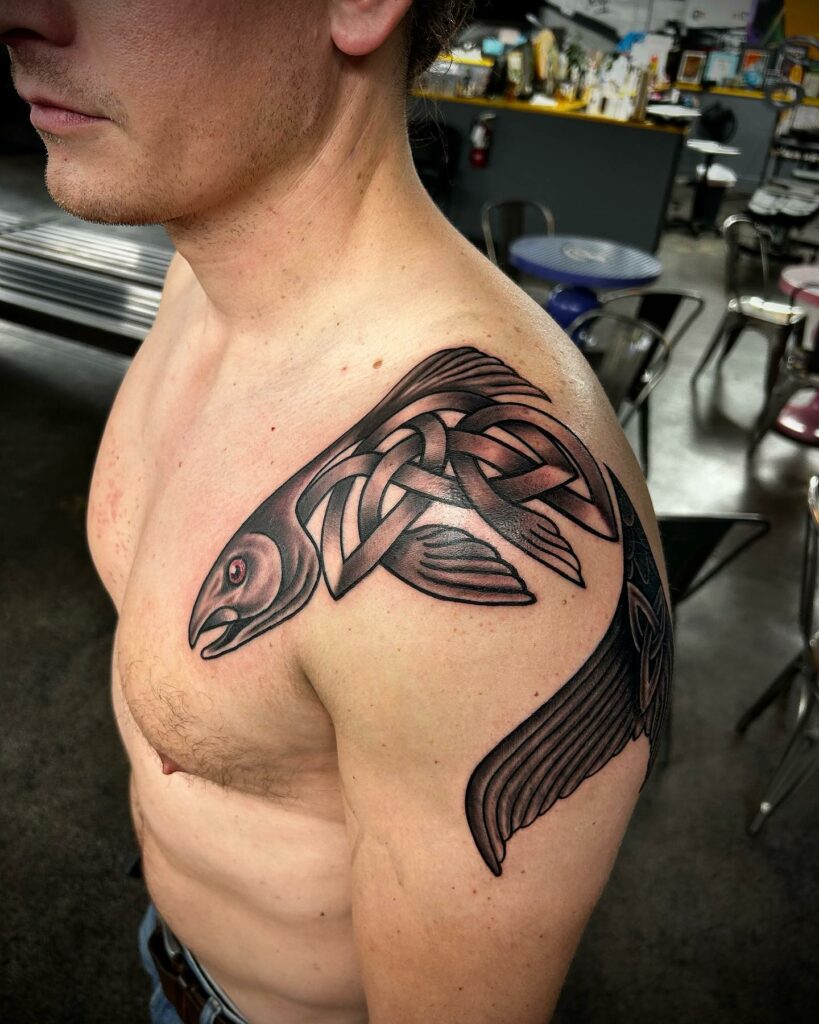 If you're on an intellectual journey, the Celtic Salmon, revered for its intelligence, could be your perfect tattoo companion. Eating Salmon was believed to impart wisdom in the Celtic tradition – a belief that gives this tattoo design its appeal among academics and intellects.
The Whispering Night: Celtic Owl Tattoos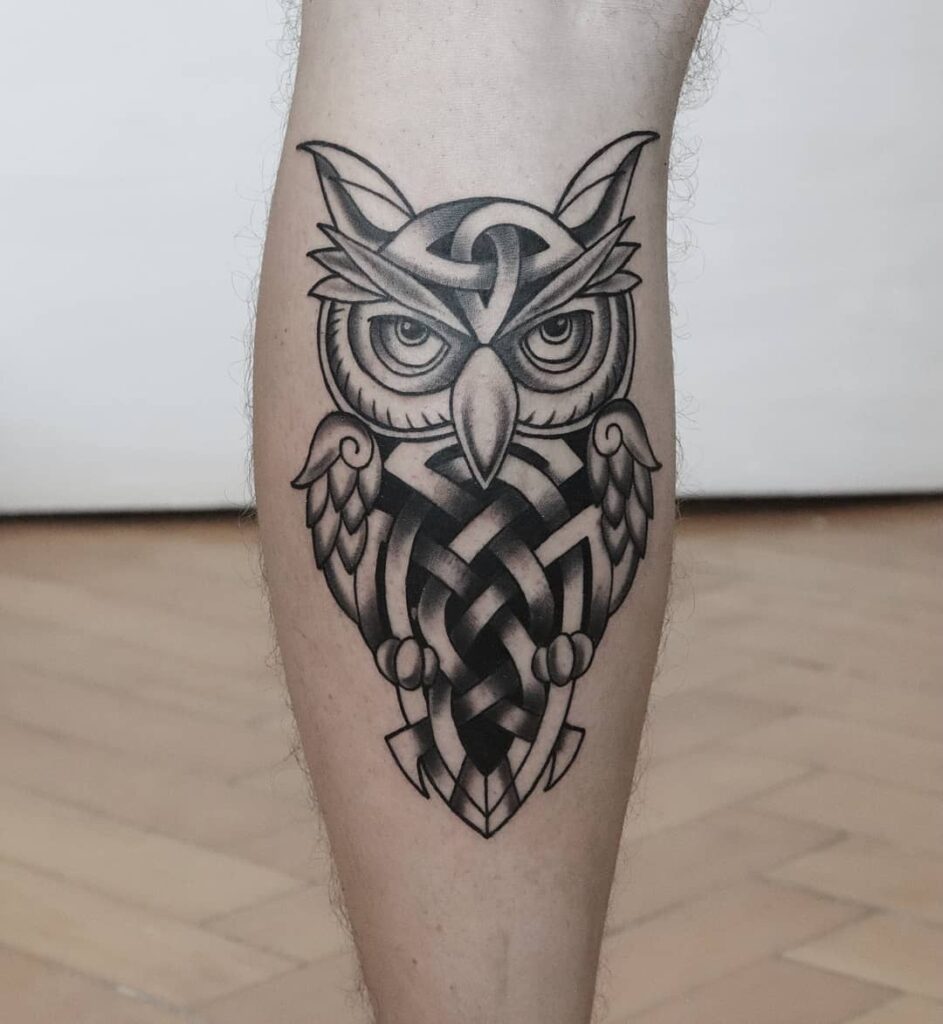 The owl, a nocturnal creature, is a symbol of mystery and mysticism in Celtic culture. An owl tattoo is a wonderful way to pay homage to the pagan traditions of Celtic culture.
Living Symbols: The Celtic Tree of Life and Harp
Moving beyond animals, the Celtic Tree of Life and the Harp are two enduring symbols in Celtic tattoo culture. The Tree of Life, with its roots grounded and branches reaching for the sky, signifies balance and the interconnectedness of all life. It's a gentle reminder to remain grounded while striving for greatness.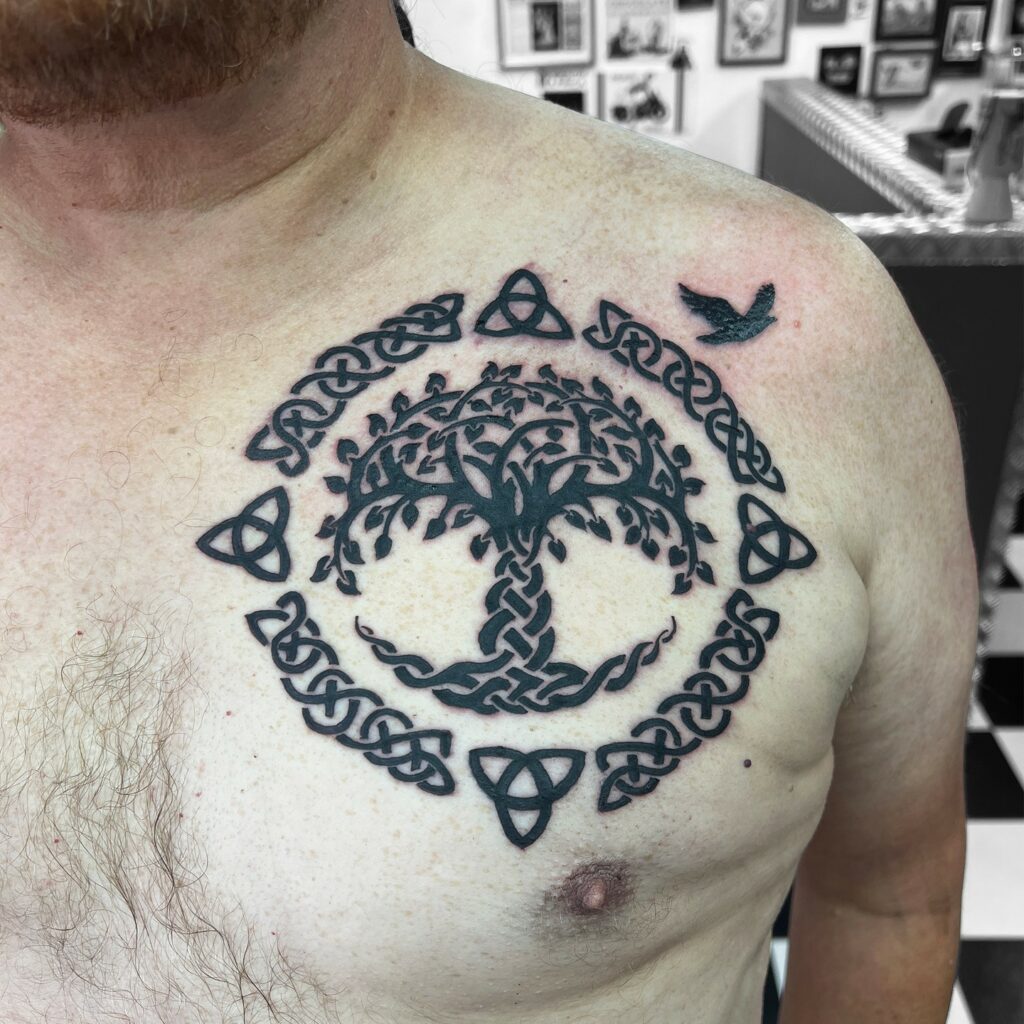 The Celtic Harp, the national emblem of Ireland, is a symbol of tradition and Irish pride. It encapsulates the 'luck of the Irish', adding an extra note of charm to one's heritage.
I remember inking a Celtic Harp for a young woman who had just learned about her Irish ancestry. As the strains of the harp took shape on her skin, we exchanged stories about heritage and culture, and I could see the pride in her eyes as the tattoo came to life.
The world of Celtic tattoos is as diverse as it is intriguing. Whether you're honoring your Irish heritage, expressing your faith, or celebrating the wisdom of ancient civilizations, there's a Celtic design that perfectly captures your story. So, whether you're Irish, Christian, or simply someone fascinated by the intricacies of Celtic art, these tattoos offer a unique way to wear your heart on your skin.
A Symbol of Love and Loyalty: Claddagh Tattoos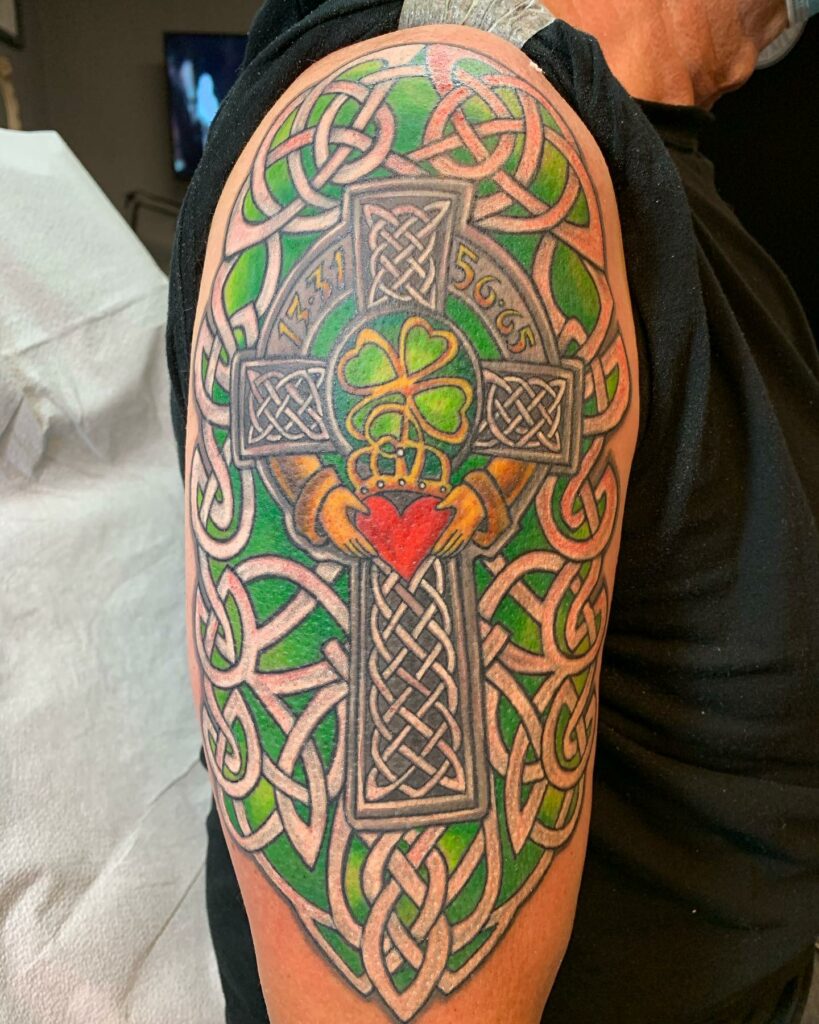 An emblem of love, friendship, and loyalty, the Claddagh is a symbol widely adopted in jewelry and body art. The two hands holding a heart express a bond that transcends time and space. Getting a Claddagh tattoo is a heartfelt way to honor someone you deeply love or cherish.
Guardian against Evil: Brigid's Cross Tattoos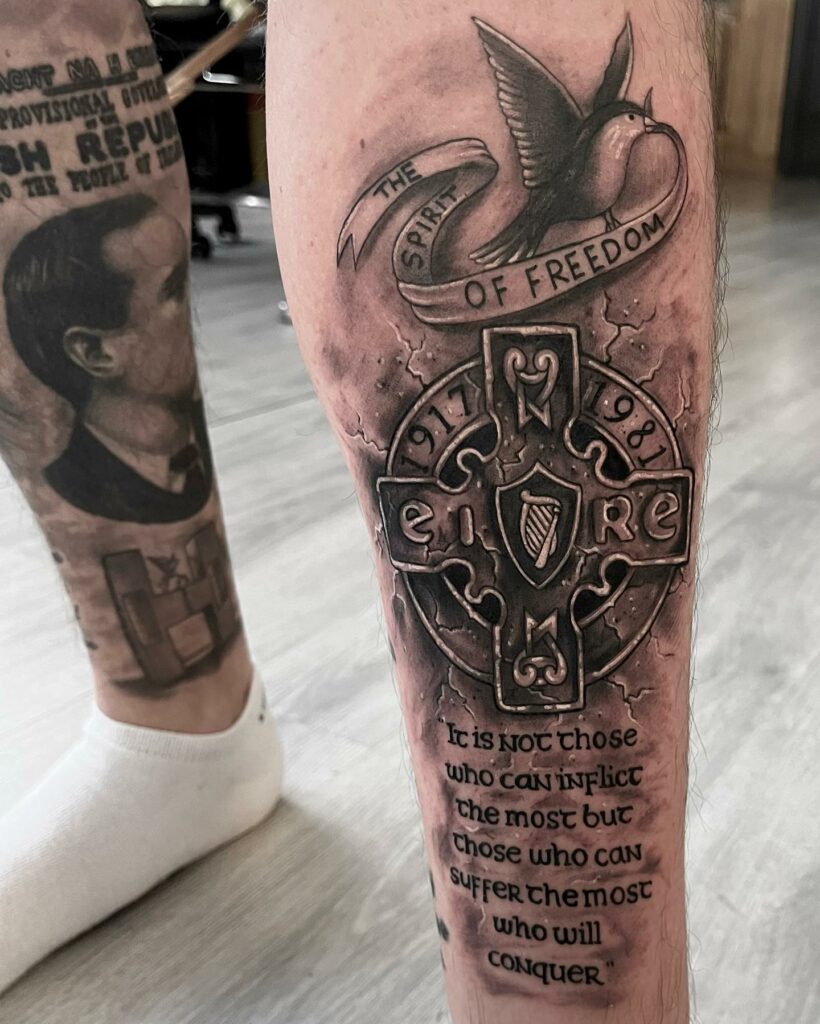 The Brigid's Cross, a symbol representing Ireland itself, is a popular design choice for those seeking protection from evil forces. This tattoo, woven from rushes, has the potential to keep you on the right track and symbolize your Irish heritage.
Ideas for Celtic Tattoo Designs
There's no one-size-fits-all when it comes to Celtic tattoos. From size and placement to intricacy of design, each tattoo reflects the individuality of the bearer. Here are a few design options to consider:
Minimal yet Meaningful: Small Celtic Tattoos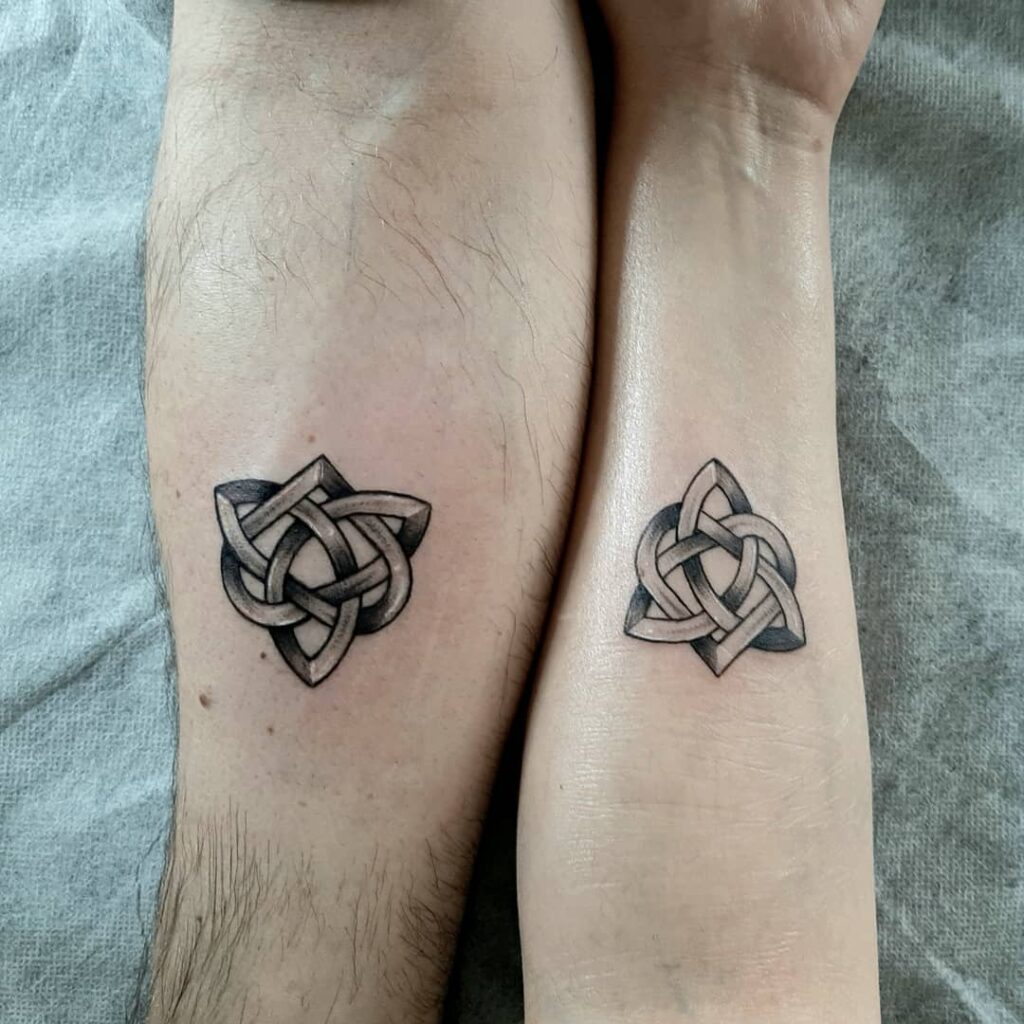 A small Celtic tattoo can be a subtle yet potent symbol of your Celtic pride. Particularly suitable for Celtic knot designs, these tattoos can be a small but significant part of your personal style and identity. And remember, small doesn't mean simple – a tiny tattoo can pack as much detail and complexity as a larger piece.
Simple Elegance: Simple Celtic Tattoos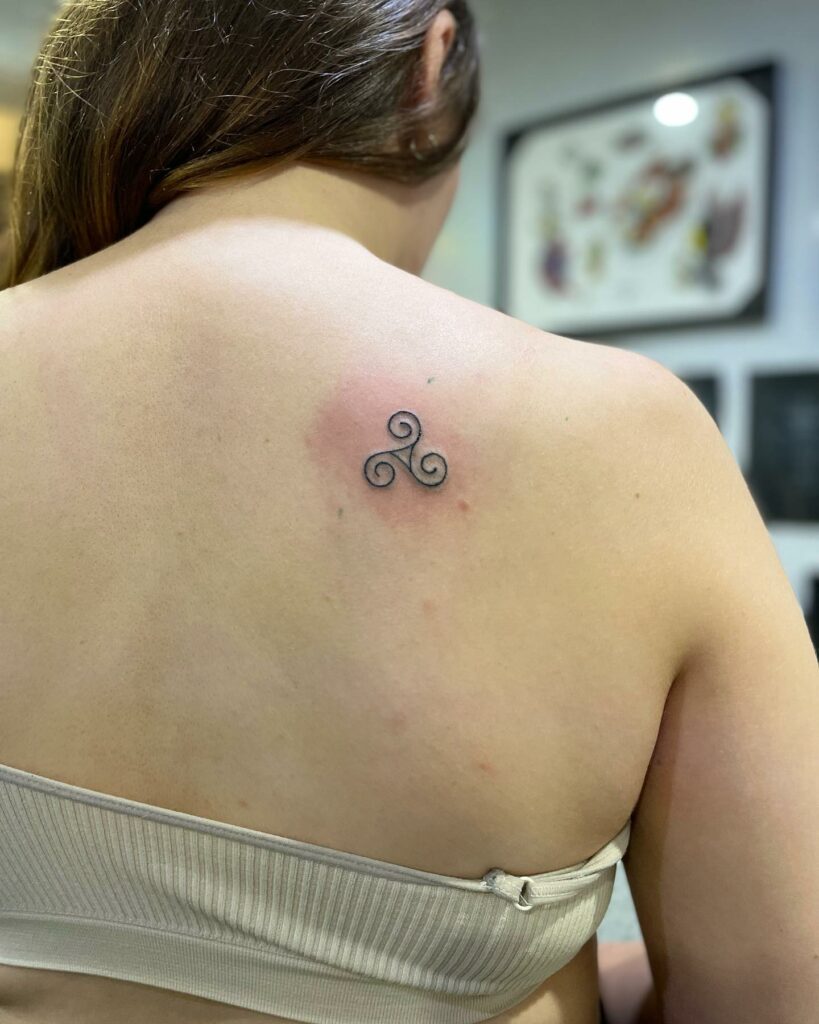 If you're a fan of clean lines and minimalism, a simple Celtic tattoo might just be your best bet. Often designed as Celtic knots, these tattoos add a touch of modern style while maintaining significant cultural meaning.
A Circle of Life: Celtic Band Tattoos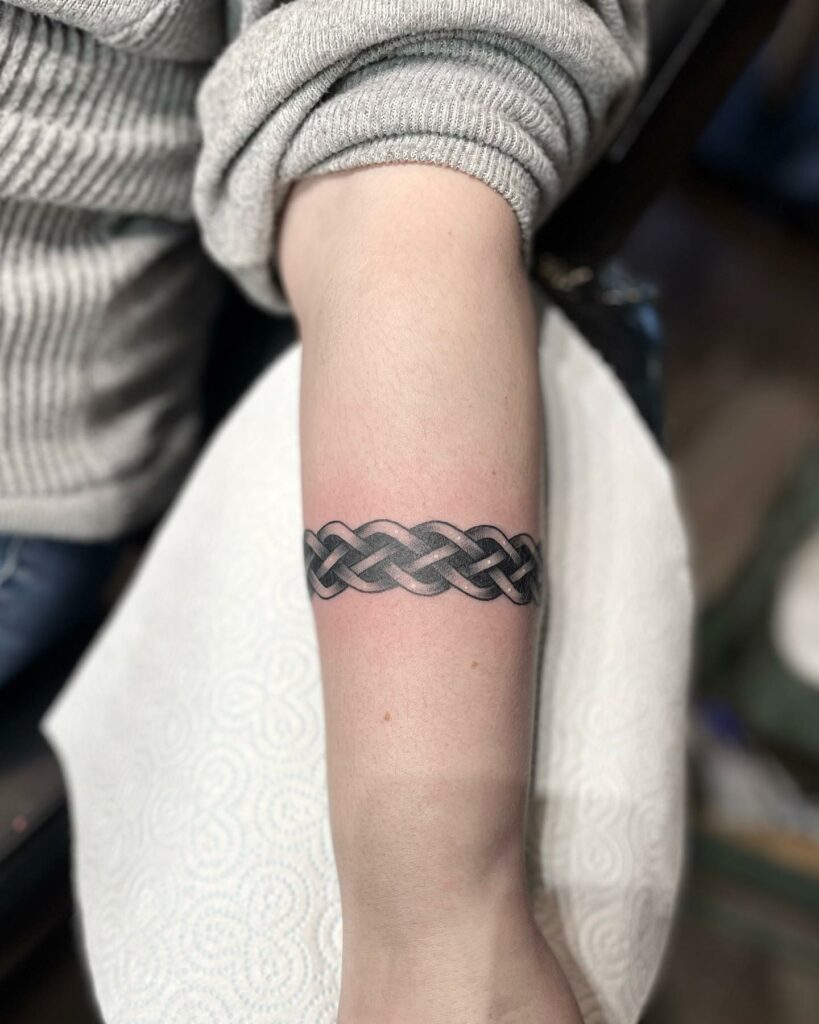 Celtic band tattoos are intricate and captivating. These tattoos, designed as a circle of Celtic knots, can wrap around your wrist, forearm, or any part of the arm, resembling a permanent bracelet. Each knot has a specific meaning – from love and luck to religious symbolism and Pagan beliefs.
A Living Canvas: Celtic Tattoo Sleeves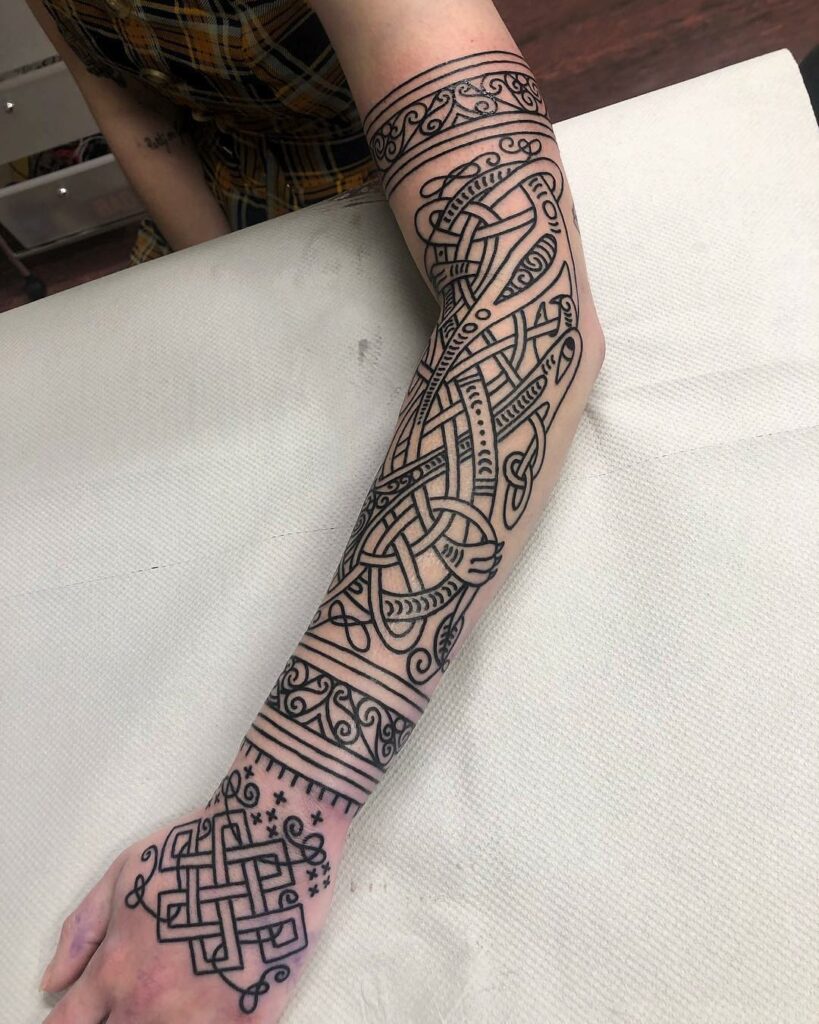 For those deeply invested in Celtic culture and Irish heritage, a Celtic tattoo sleeve can be a bold statement of identity. A testament to strength, perseverance, love for life, and family, these tattoos transform your arm into a vibrant canvas of Celtic art.
Where to Get a Celtic Tattoo?
Choosing the right place for a Celtic tattoo can be as personal as the design itself. Here are some popular placements:
Shoulder Spotlight: Celtic Shoulder Tattoos
A Celtic shoulder tattoo is bold, visible, and powerful. If you take pride in what your tattoo stands for, this is an excellent placement choice. For men, this can symbolize ancestral warriors, while showcasing strength and pride in heritage.
Front and Center: Celtic Chest Tattoos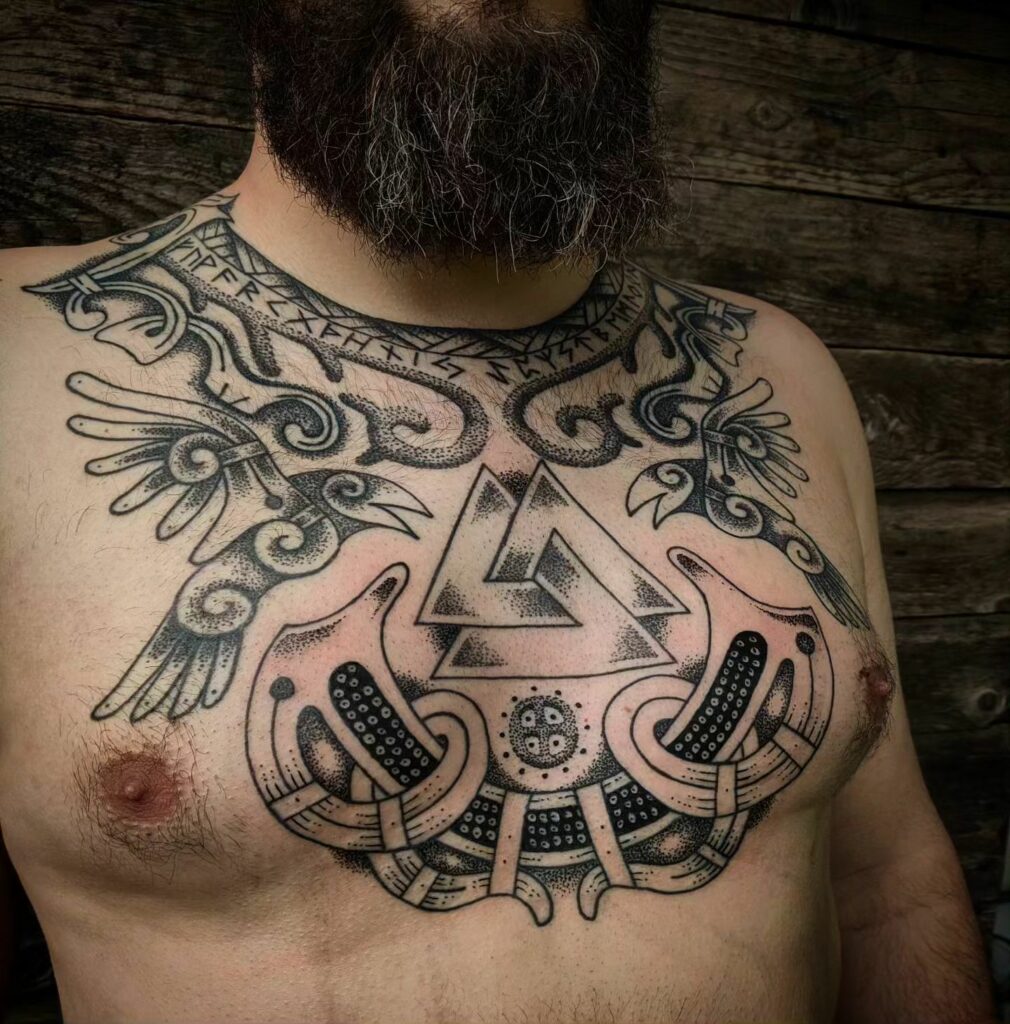 Chest tattoos are another popular choice, especially for men. The placement embodies strength, heritage, and a connection to ancestral warriors. These tattoos are typically seen as masculine, but they can be meaningful for anyone who resonates with the symbolism.
Whether it's a small knot, an elaborate band, or a full sleeve, a Celtic tattoo can be a beautiful embodiment of your identity, heritage, or beliefs. With such a rich history and diverse range of designs, there's sure to be a Celtic tattoo that speaks to you.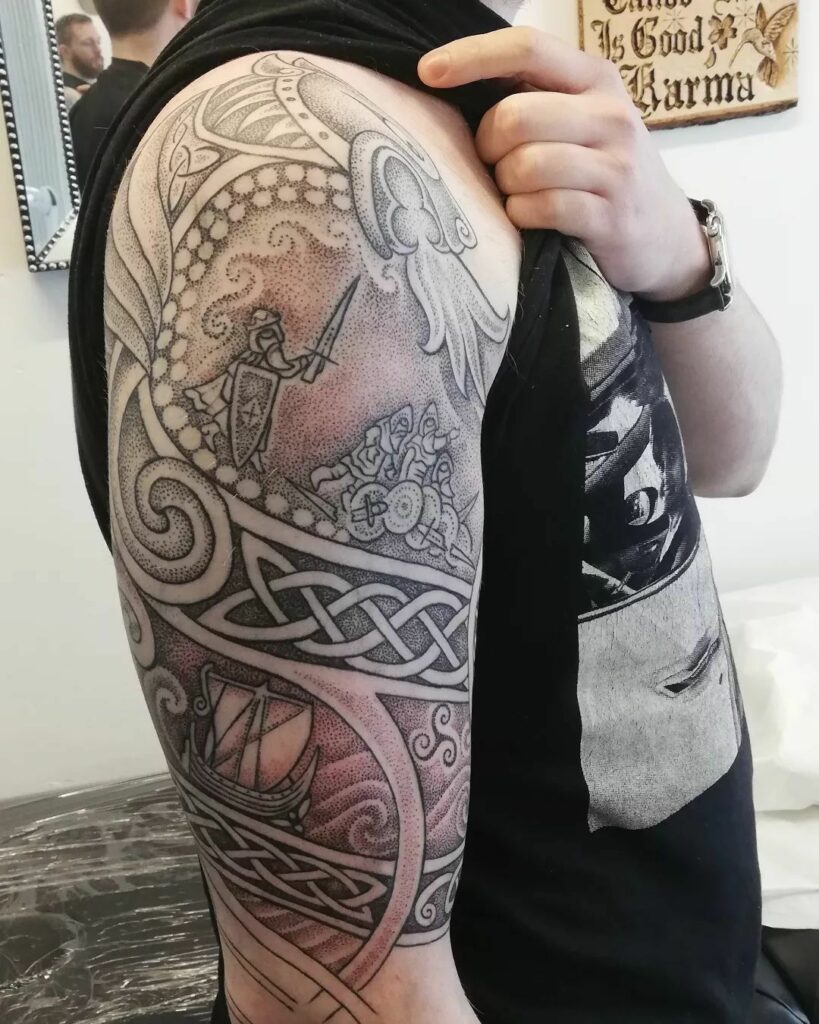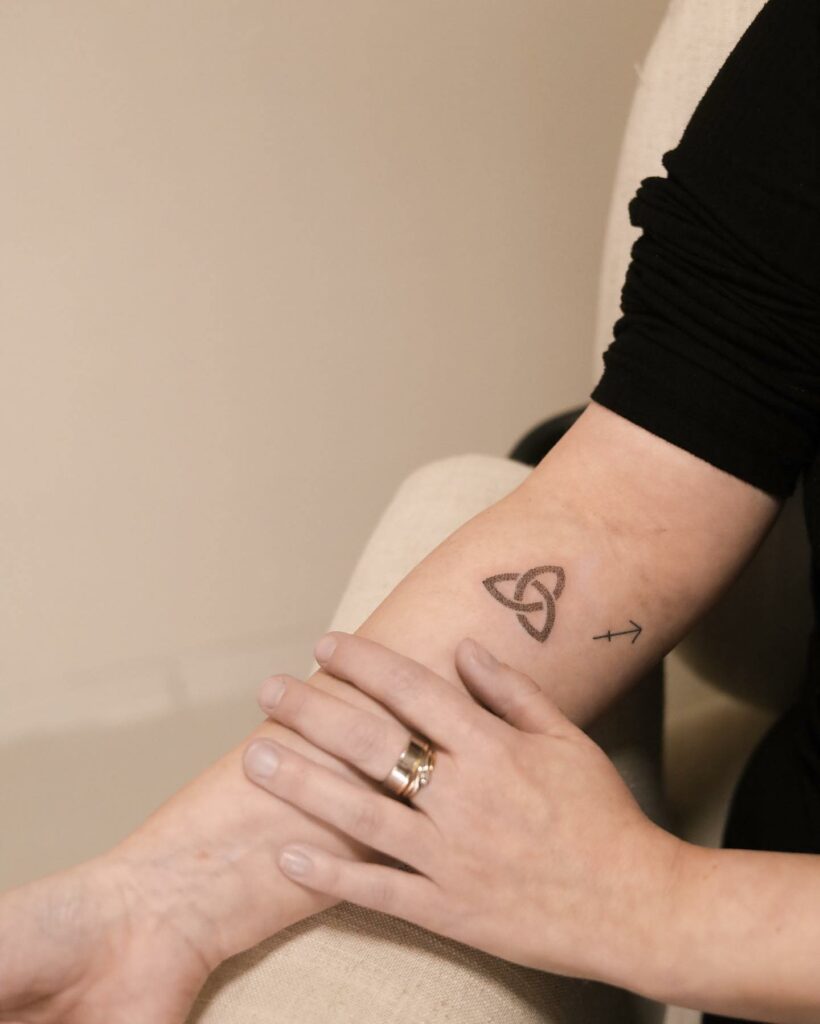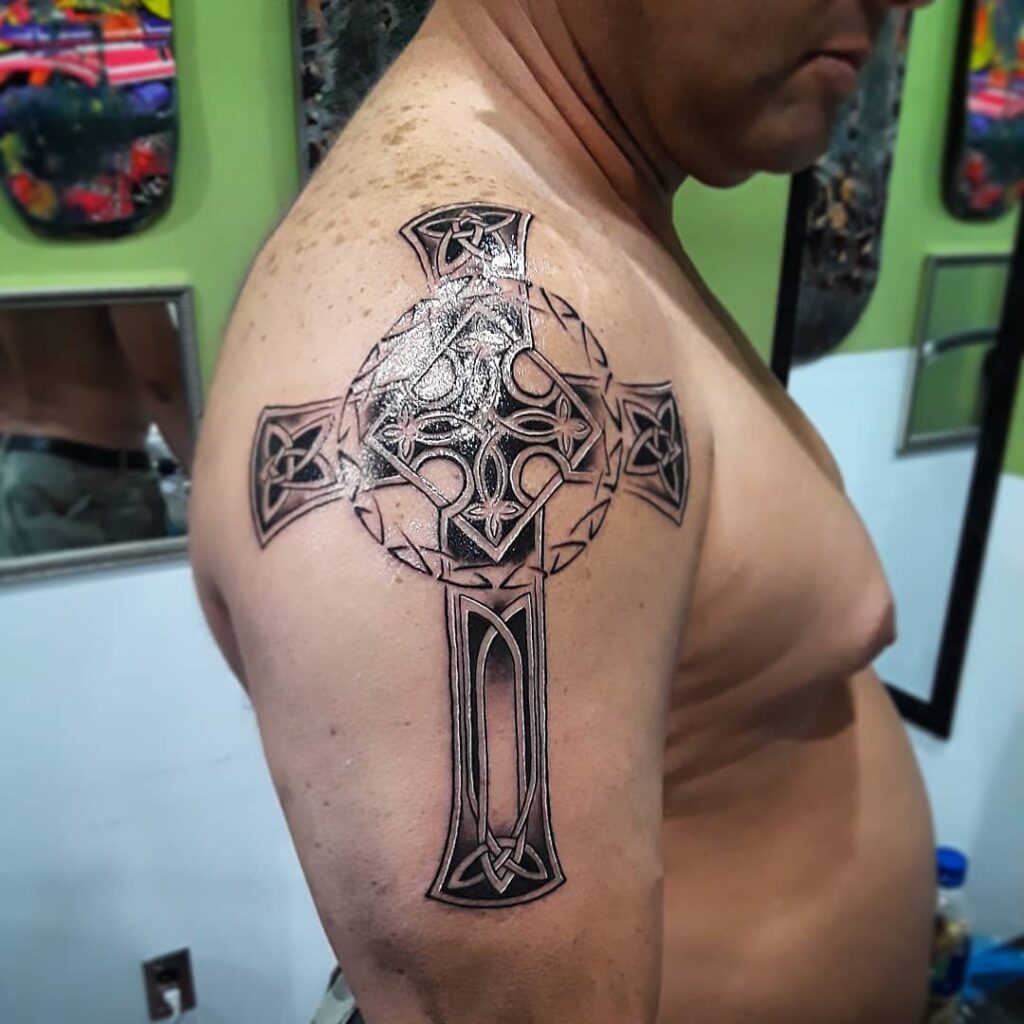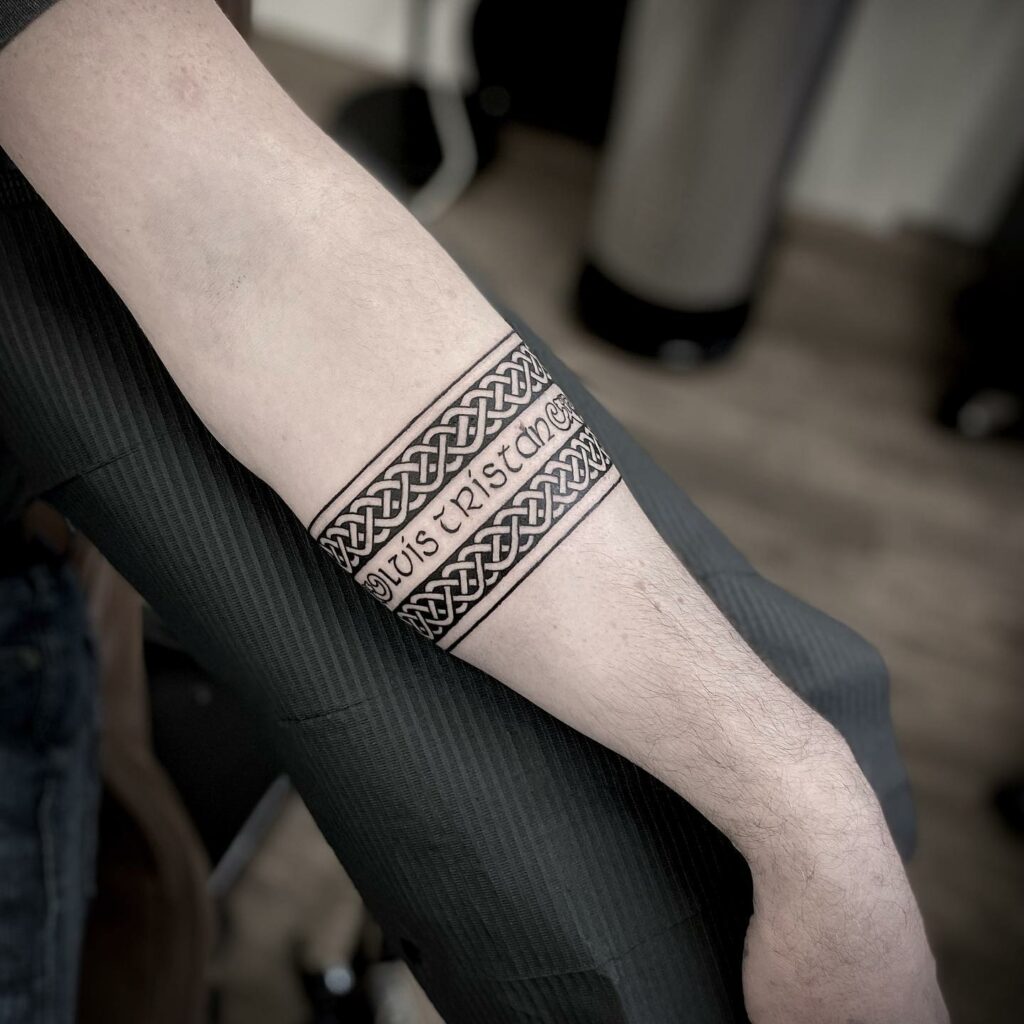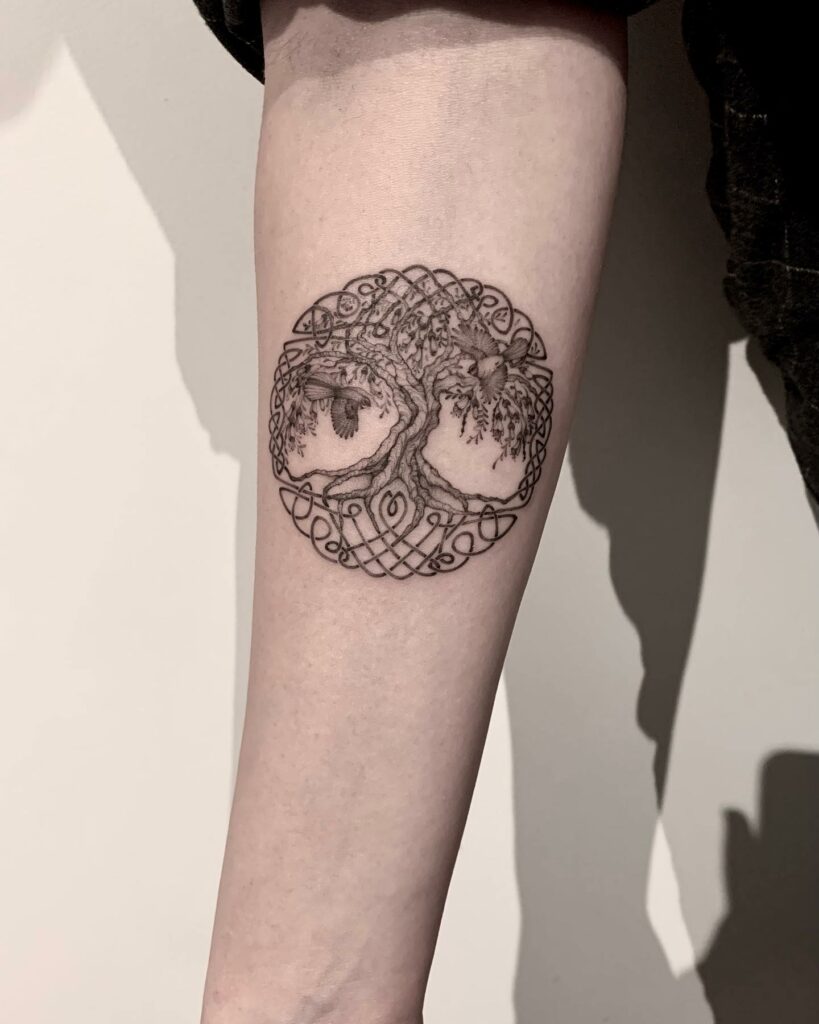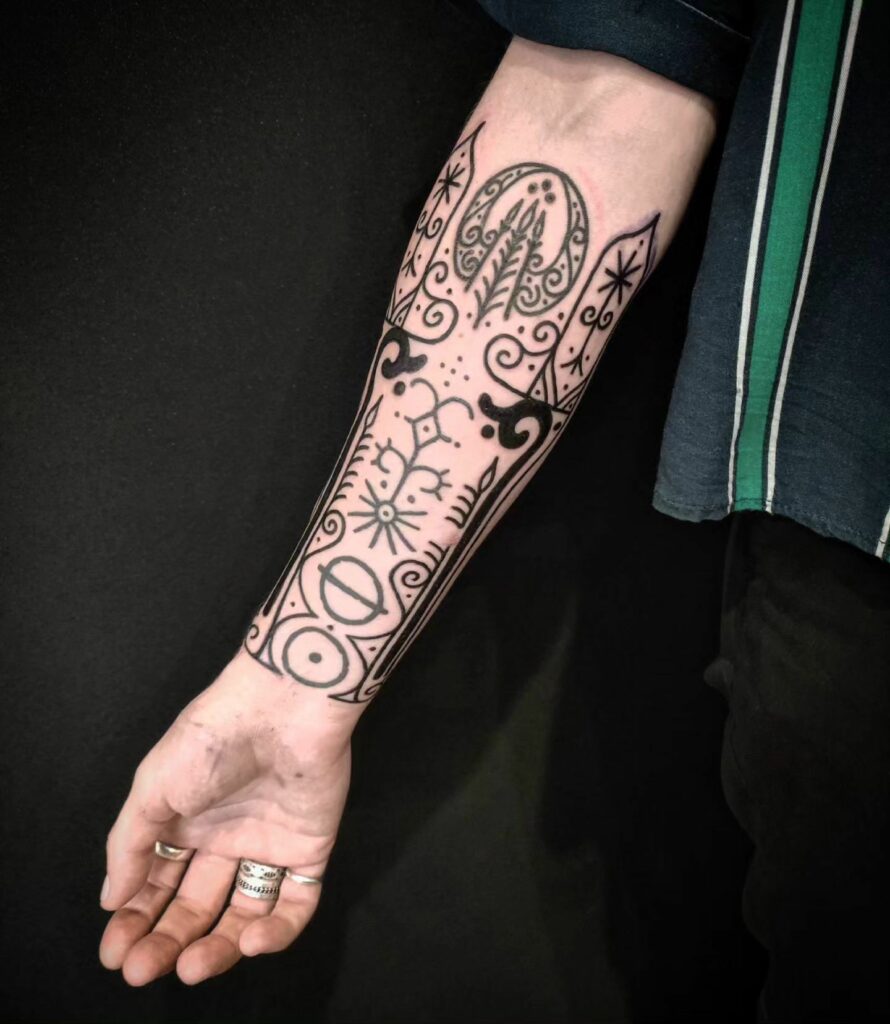 Conclusion
As we unfurl the beautiful tapestry of Celtic knot tattoos, it becomes evident that the artistry, symbolism, and individual significance of these designs carry a powerful allure for many. Where to wear these intricate tales inked onto the skin is highly personal and usually guided by the knot's symbolism. A trinity knot may be best appreciated on a visible area such as the wrist or neck, while the private and intimate nature of a love knot could lend itself to a less visible location. The cost of such a tattoo can vary greatly based on the complexity of the design and the artist's expertise, typically ranging from $100 to $200 per hour, though exceptionally intricate designs may command higher fees.
However, like all tattoos, Celtic knot tattoos come with their share of considerations. A well-executed design requires a skilled and experienced artist, especially given the complex intricacy of these knots. In the hands of an inexperienced artist, the details may blur over time or the design may not fully capture the intended symbolism. Moreover, as tattoos puncture the skin, there's always a risk of infection or allergic reaction to the ink, so it's paramount to select a reputable studio that adheres to rigorous hygiene standards.
In essence, the journey of selecting and receiving a Celtic knot tattoo is one of self-discovery and personal expression. These enduring symbols, deeply rooted in history and culture, allow us to etch our personal narratives onto our skin, linking us to the rich tapestry of human experience, past, present, and future. As with all body art, it's a journey of deep personal significance – a testament to our individual stories and the timeless narratives that bind us all.