In the kaleidoscopic world of tattoos, there's a standout motif that has, over time, captivated hearts and skin alike: the cherry blossom. This design, resplendent in its simplicity, carries an abundance of profound messages, including love, renewal, and beauty. Drawing from rich Japanese and Chinese traditions, the cherry blossom tattoo has woven its spell not just in the East, but worldwide, and each tattoo bears a story as unique as its bearer.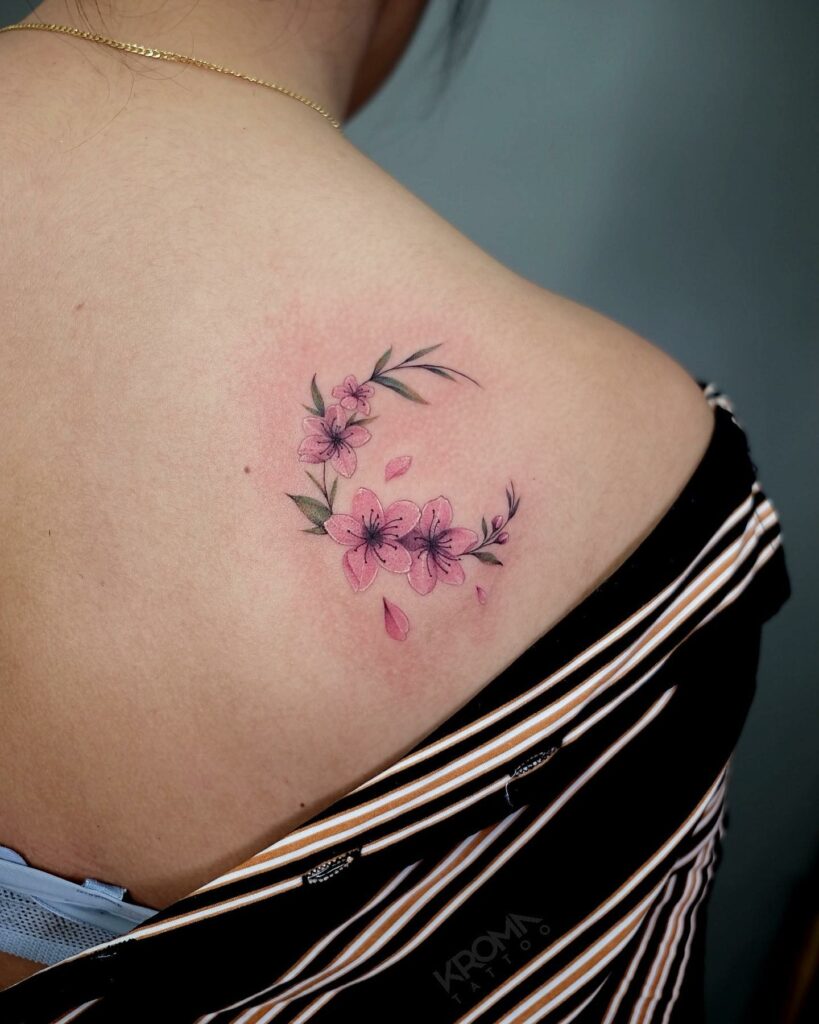 For those sporting cherry blossom tattoos, each petal is not merely an artistic flourish, but a symbol of life's transience and exquisite beauty. It is a daily reminder that we, like those delicate blossoms, have but a brief moment to dazzle before we return to the earth. The flower's fall, often hastened by wind and rain, encapsulates life's fragility yet unquenchable spirit.
What then does a cherry blossom tattoo mean to the person who carries it? Well, the answer lies in the interplay of personal experiences, design, and chosen symbolism. It can be a tribute to a past love, a declaration of freedom, or an emblem of resilience. It can also reflect an acceptance of life's ephemeral nature and a commitment to savor every fleeting moment. But no matter what meaning one imparts to it, a cherry blossom tattoo invariably serves as a profound and deeply personal narrative etched in ink.
Cherry Blossom Tattoo Meaning Tattoos
The realm of tattoo artistry, a vibrant tableau of symbolism and personal expression, is steeped in centuries-old tradition. Among these myriad representations, the Japanese cherry blossom, or sakura, reigns supreme, offering a bouquet of meanings that are as beautiful as the flower itself.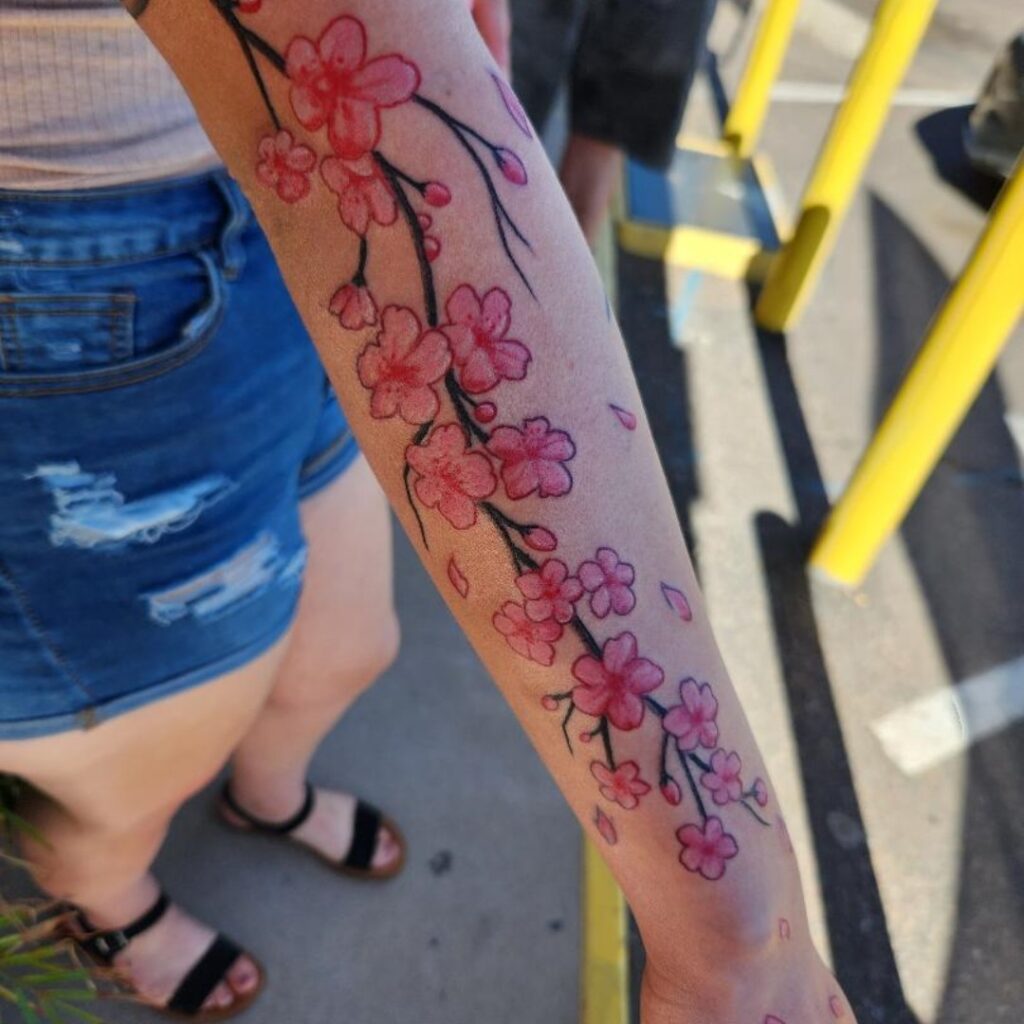 Consider a canvas named Sam from the heart of Tokyo, who bears a stunning panorama of cherry blossoms across his back. The intricate tableau isn't just a backdrop to the larger images that adorn his skin but a testament to the profound symbolism of the sakura. For Sam, this tattoo marks a transformative journey – a new job, a new city, a new beginning. The cherry blossoms, with their fleeting bloom, remind him that life's beauty lies in its transience, its ceaseless cycle of renewal.
The cherry blossom has a long and rich history, particularly within the cultures of Japan and China, and its symbolic potency resonates deeply within these societies. The sakura's delicate bloom and transient beauty have made it a symbol of life's ephemeral nature, a theme that transcends cultural boundaries and time.
In Japan, the cherry blossom's significance is deeply rooted in the country's history and spirituality. The tradition of Hanami, or cherry blossom viewing, dates back over a thousand years. During the Heian period (794-1185), the elite of the Imperial Court would enjoy its lush beauty and fragrant blossoms as a form of entertainment and artistic inspiration. The blossom also played a symbolic role in the samurai culture of the Edo period (1603-1868), representing the brief yet glorious life of a warrior. This perspective on the fleeting nature of existence permeates Japanese poetry, literature, and art and is mirrored in the concept of mono no aware – a sensitivity to the transient beauty of the world.
Meanwhile, in China, the cherry blossom has its own distinct cultural connotations. Often associated with female beauty and dominance, it also signifies the power and resilience of women. It is viewed as a symbol of love and the feminine mystique, embodying beauty, strength, and the complexity of women. The blossom is also an integral part of the Chinese Spring Festival, adding to its representation of renewal and new beginnings.
Despite their different interpretations, both cultures revere the cherry blossom as a symbol of life's fleeting nature, reinforcing the notion that beauty and life are transient. It is this universality and profound symbolism that have propelled the cherry blossom's popularity in tattoo artistry worldwide.
As tattoos have evolved from a fringe element to mainstream fashion, the cherry blossom design has grown in popularity. It allows people to wear their stories, beliefs, and personal transformations on their skin. It is a reminder of life's fleeting moments, of the joy and beauty that can be found in every transition, and of the resilience that lies within us.
Dragon and Cherry Blossom Tattoos
Down under in Sydney, a young woman named Ava sports an exquisite pairing of a dragon and cherry blossom branches. This juxtaposition of fiery strength and delicate beauty serves as a reminder of life's fleeting nature and the pursuit of wisdom. The dragon, a beacon of good fortune, augments the cherry blossom's symbolism, heralding not just prosperity but also an enriched existence.
Samurai and Cherry Blossom Tattoos
Crossing the Atlantic to New York, we encounter Carlos, a devoted follower of bushido, the Samurai code of honor. His Samurai and cherry blossom tattoo embody not just physical strength but the nobility of character, heralding prosperity and wealth. His tattoo, a harmonious blend of ferocity and frailty, underscores the belief that virtue engenders fortune.
Katana Cherry Blossom Tattoo
And then there's Erika from Rome with her Katana cherry blossom tattoo. The katana, a symbol of courage, strength, and resilience, juxtaposed with the delicate cherry blossom branches, represents the pursuit of wisdom and the anticipation of prosperity. Every glance at her ink is a reaffirmation of her desire to seize life's offerings and ascend to heights of success.
Koi Fish Tattoos and Cherry Blossom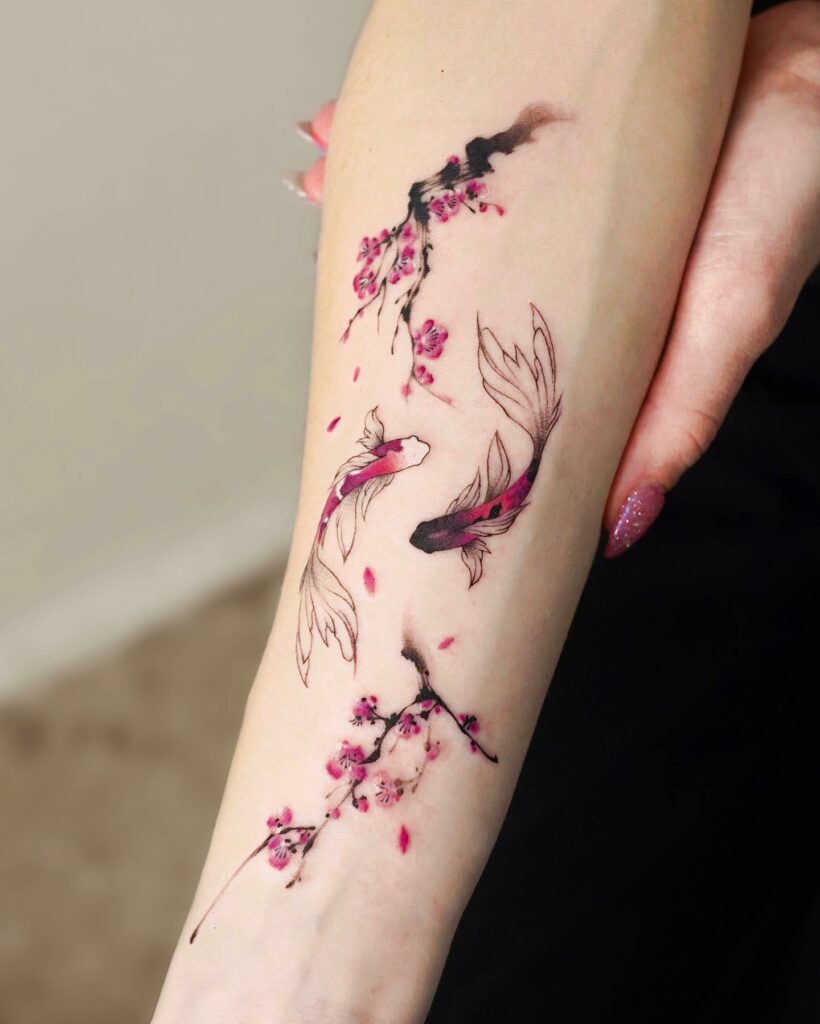 From a koi fish tattoo symbolizing passionate love and sensual freedom to a tiger tattoo celebrating the awe-inspiring beauty of nature, the cherry blossom serves as a poignant accomplice, amplifying the symbolism. Together, they echo a symphony of life's multilayered experiences.
Tiger and Cherry Blossom Tattoo
Perhaps the most tender pairing is the cherry blossom with one's name, a testament to self-love and positive self-affirmation. Much like Emma from London, whose forearm bears her name intertwined with a cluster of cherry blossoms, it's a daily reminder of her intrinsic beauty and a commitment to cherish her self-worth.
Butterfly and Cherry Blossom Tattoos
Whether it's a butterfly, symbolizing transformation and rebirth, a hummingbird representing freedom and revitalization, or the robust branch that testifies to the strength in beauty, the cherry blossom effortlessly weaves itself into the narrative, enhancing the symbolism and personal meaning of the tattoo.
Tebori Cherry Blossom
In the rich tapestry of tattoos, every design, every line, every shade holds significance. Whether it's a traditional Tebori tattoo style or a realistic rendition, the sakura lends itself beautifully to various styles, each capturing its essence in a distinct way. This multifaceted symbolism and the charm of the cherry blossom ensure its timeless allure in the world of tattoos, where each design is as unique as the life story it represents.
Advice From Our Readers
'I got my cherry blossom tattoo after surviving a serious illness,' Grace, a nurse in her late thirties, shared her story with a voice steady with resilience. 'To me, the cherry blossom represents renewal and the fleeting nature of life. It's a daily reminder of my strength and the second chance I've been given.'
'I always admired the cherry blossoms back home in Kyoto,' Leo, a young man just starting college, revealed with a touch of nostalgia. 'Getting this tattoo was like carrying a piece of home, a piece of my childhood, with me. Plus, the symbolism of life's transience resonates with me as I embark on this new journey.'
'I see so much beauty in the world,' confessed Sarah, a vibrant artist who wanted the blossoms cascading down her arm. 'The cherry blossom epitomizes that. It's a testament to nature's fleeting artistry and a symbol of my own creative pursuits.'
Conclusion
The cherry blossom, with its mesmerizing beauty and profound symbolism, makes for a compelling tattoo choice. If you're thinking about where to place your sakura tattoo, remember that this decision is as personal as the tattoo itself. Some prefer the visual drama of a back piece, while others opt for the intimacy of a wrist or ankle tattoo. A larger piece, like a full back or a sleeve, allows for intricate detailing and can range anywhere from $500 to a couple of thousand dollars, depending on the artist's experience and the complexity of the design.
However, like any significant decision, it's important to weigh potential downsides. Tattoos are a commitment, not just to the design, but to the aftercare and potential side effects like allergic reactions or infections. Choose your artist carefully and always ensure that they follow strict hygiene protocols. Remember, tattoos might also fade over time and may require touch-ups.
In conclusion, cherry blossom tattoos are more than just a nod to nature's fleeting beauty or an homage to Eastern cultures. They are a celebration of life's profound truths, of love, transformation, strength, and resilience. Every sakura tattoo tells a story as unique and transient as the blossom it represents, making each a cherished masterpiece in the grand gallery of life.