Are you in the market for a unique and inspiring tattoo? If you're looking for something that honors law enforcement, why not consider a correctional officer tattoo? We've curated a list of 10 fantastic designs that are sure to catch your eye!
While there are countless tattoo ideas out there, a correctional officer tattoo holds a special meaning for those in the law enforcement community. These dedicated officers work hard to keep our communities safe, and a tattoo can serve as a powerful symbol of their commitment to public service.
However, it's important to note that in some countries, law enforcement officers such as correctional officers and police officers are not allowed to have visible tattoos. This is because these officers are held to a high standard of professionalism and are expected to maintain a certain image while on duty. That being said, many officers choose to express their love for their profession through tattoos that can be concealed under their uniforms.
As government officials tasked with the important duty of guarding and maintaining discipline in prisons, correctional officers are exposed to significant risk on a daily basis. This is why it's especially meaningful to see these officers commemorated through tattoo art. From traditional badges and emblems to more abstract designs that capture the spirit of law enforcement, there are plenty of options to choose from.
While correctional officers are only armed during specific situations, their role in ensuring the safety of our communities cannot be overstated. So why not consider honoring their dedication and sacrifice with a meaningful tattoo that celebrates their profession? Let's take a look at 10 inspiring correctional officer tattoos that are sure to impress.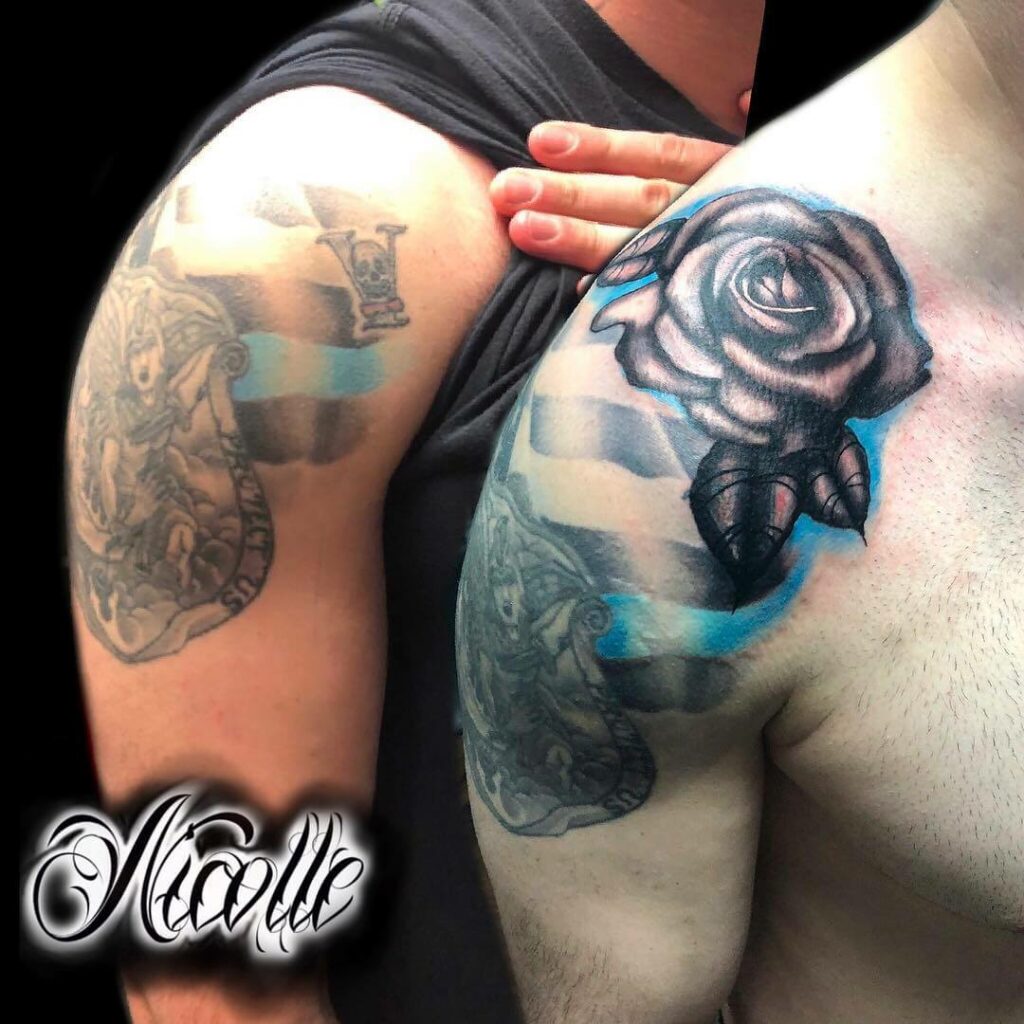 A Cute Piggy Correctional Officer Tattoo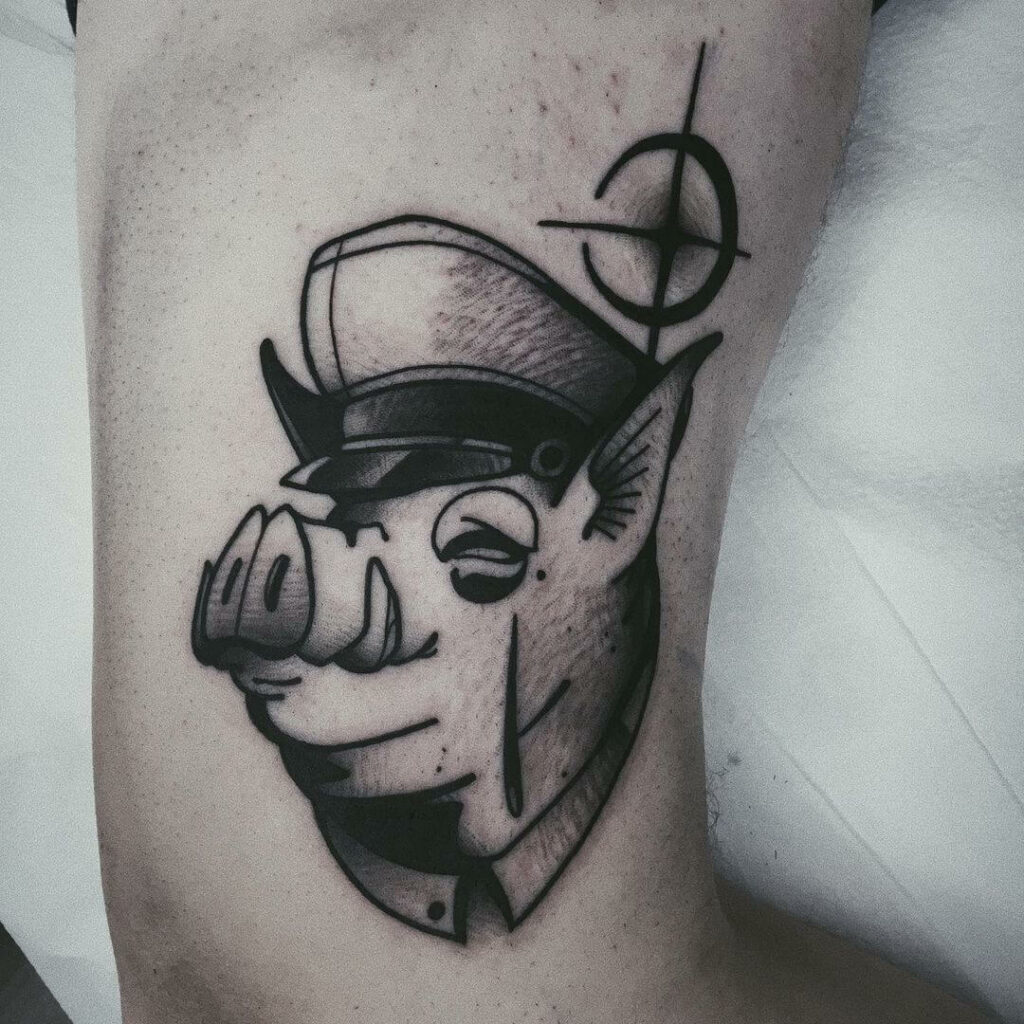 Tattoos have always been a medium of artistic expression. People often use animals to represent different meanings, sometimes humorously or in a cute way. This tattoo of a piggy correction officer is a great example of that. The piggy symbolizes satisfaction for a correction officer's job. The satisfaction of a correction officer comes from seeing a person who was once unruly and undisciplined transform into a responsible and law-abiding citizen. This tattoo is perfect for someone in law enforcement who wants to showcase their commitment to their job while also adding a touch of humor to it.
Correctional Officer Tattoo With American Flag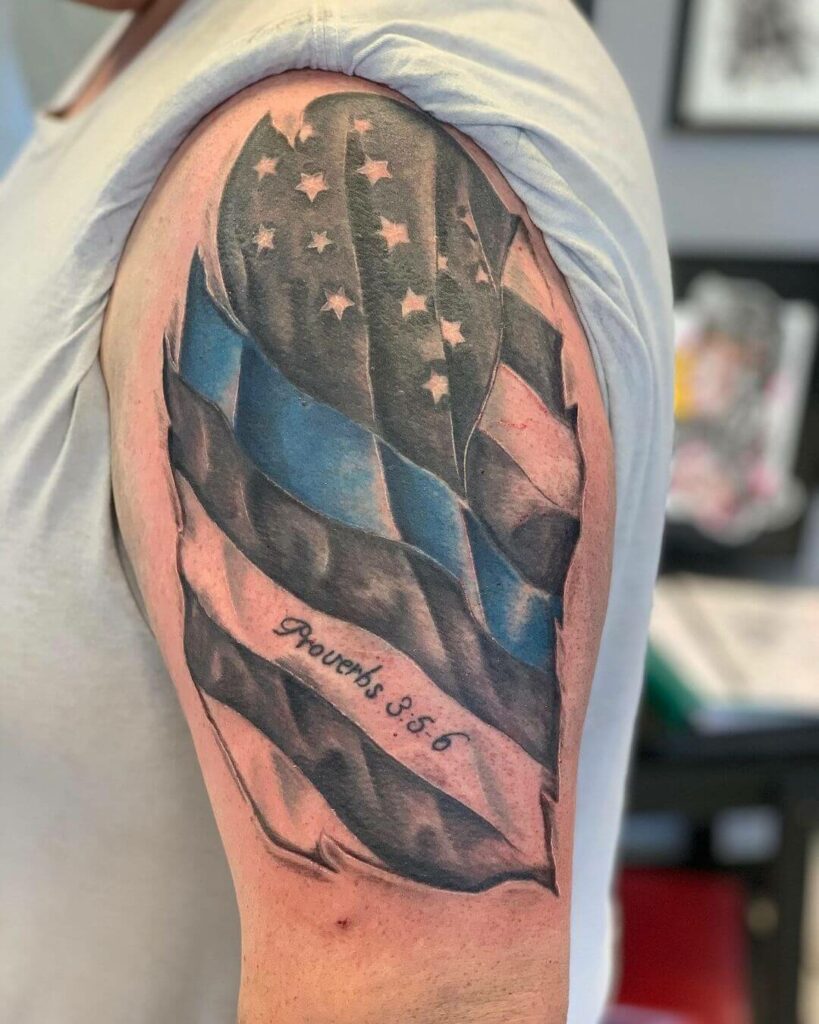 Inked with great precision and detail, this tattoo design is a perfect representation of pride and honor for the brave and dedicated correctional officers. It depicts a subtle yet powerful image of the American flag that is adorned with a thin blue line that signifies law enforcement. This tattoo is perfect for correctional officers who want to display their love for their country and profession in a subtle yet meaningful way. It can be placed anywhere on the body, making it a great option for those who want to keep their tattoo private or hidden under their uniform.
Correctional Officer Memorial Tattoo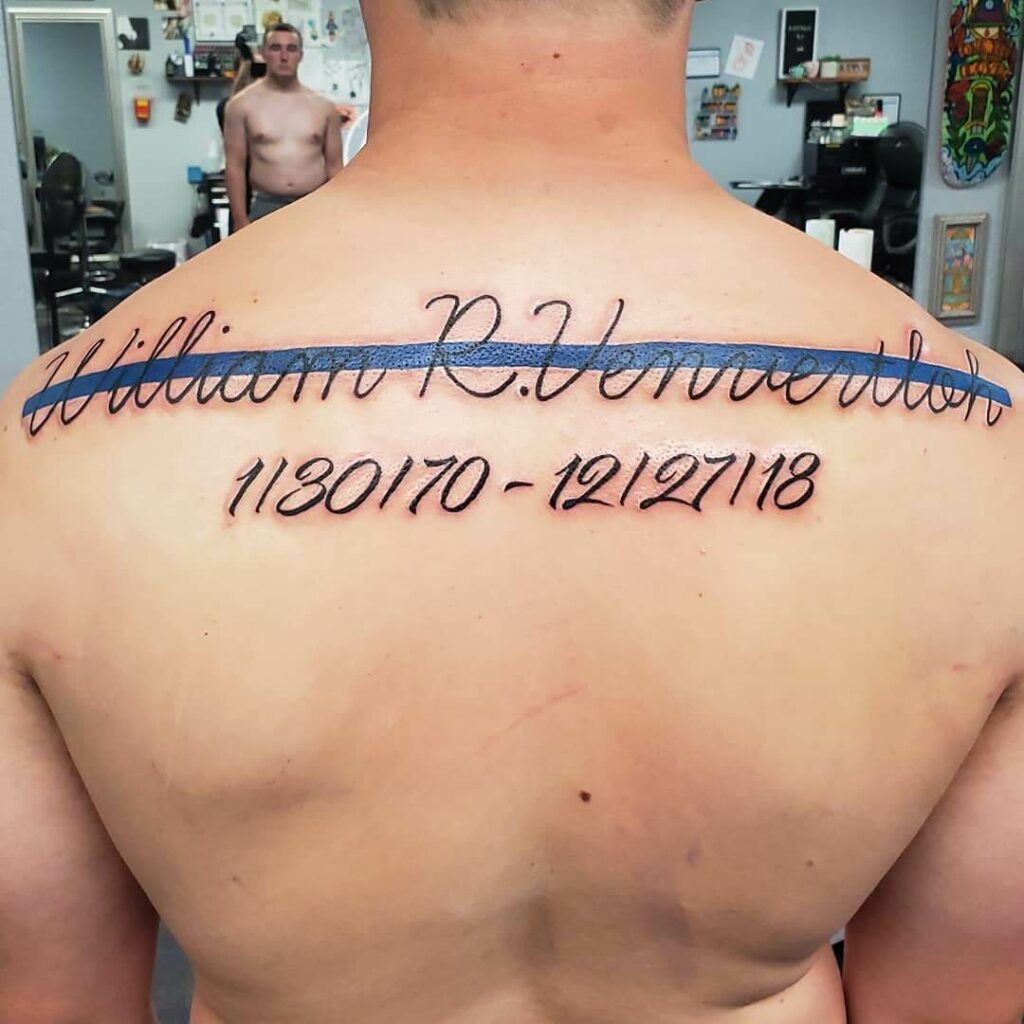 Memorial tattoos are a beautiful way to honor and remember loved ones who have passed away. When it comes to law enforcement officers, these tattoos hold even more significance as they pay tribute to those who have sacrificed their lives for the safety of the nation. These tattoos can also serve as a source of inspiration for those who aspire to serve as law enforcement officers. If you want to get a memorial tattoo for a loved one who served the country with loyalty, you can choose to incorporate meaningful symbols and designs to create a personalized and unique tribute.
A Correctional Officer Badge Tattoo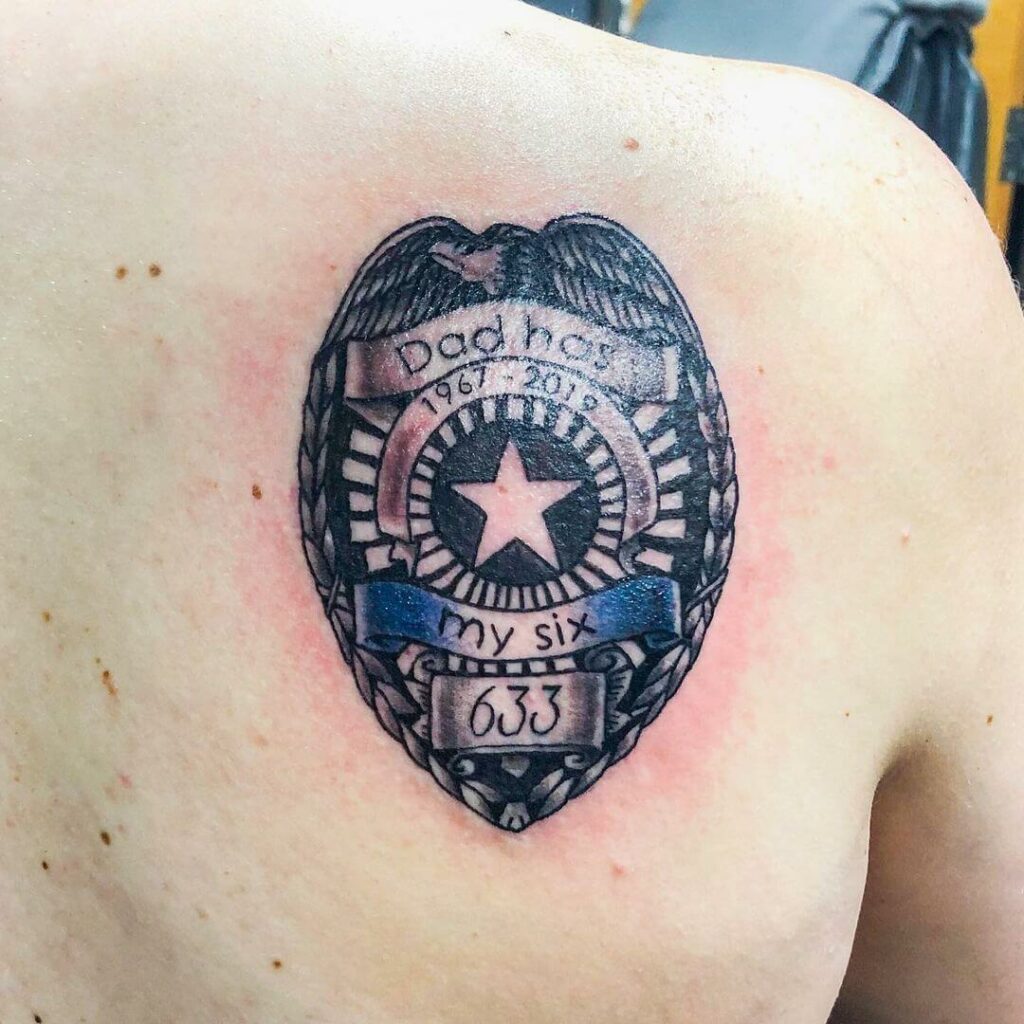 Memorial tattoos are a beautiful way to commemorate the memory of someone dear who has passed away. A memorial tattoo with a police officer's badge can hold a special meaning for those who have lost a loved one in the police force. It is a poignant reminder of their selfless service and sacrifice to uphold the law and protect the community.
A Dead Skull Correctional Officer Tattoo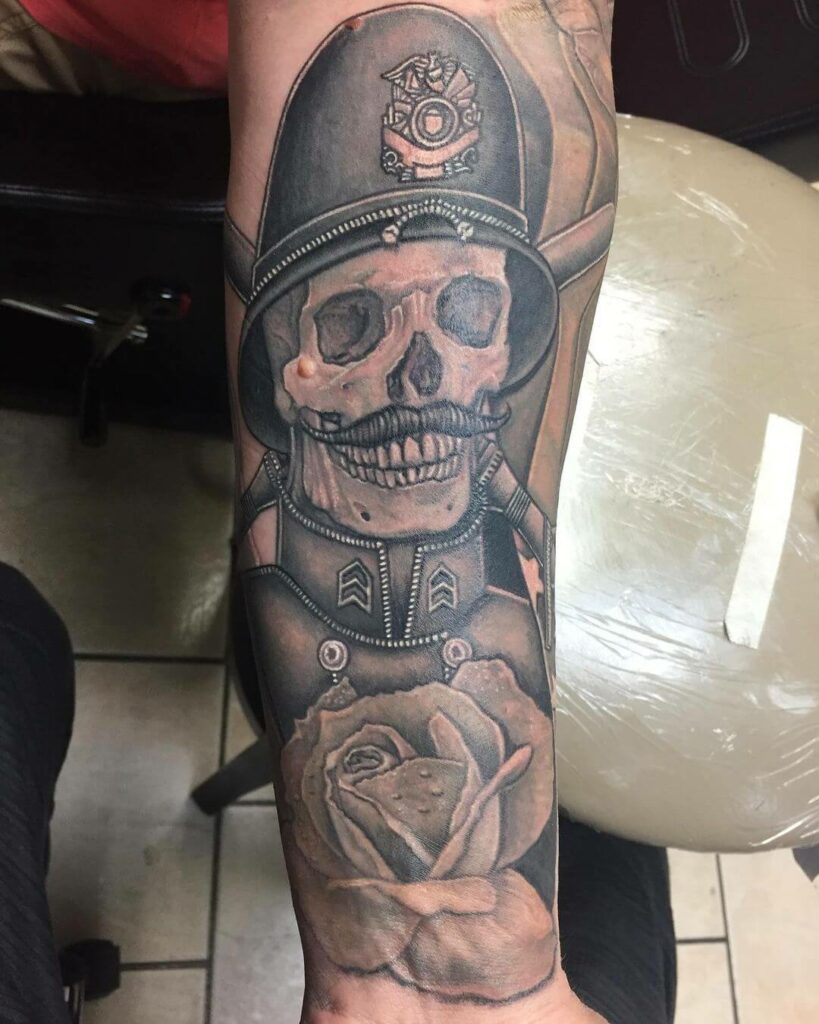 Combining skulls and roses is a popular tattoo design that adds depth and dimension to many tattoos. A unique twist on this design is to incorporate a skull in a police uniform. This tattoo not only represents strength and fearlessness but also pays tribute to the brave men and women who risk their lives to protect their communities. The skull in uniform design is a powerful symbol that honors the dedication and sacrifice of law enforcement officers. It is a great tattoo idea for those who have served in the police force or have loved ones who are officers.
Police Officers' Awareness Flag Tattoo
Flag tattoos are a great way to show your love and respect for your country. A flag tattoo on the arm of a police officer is a symbol of patriotism and honor. But even if you're not in law enforcement, you can still show your love for your country by getting a flag tattoo. It's a timeless design that never goes out of style and looks great on any part of the body. So if you're looking for a tattoo that shows your national pride, a flag tattoo might be just what you need.
American Flag Law Enforcement Tattoo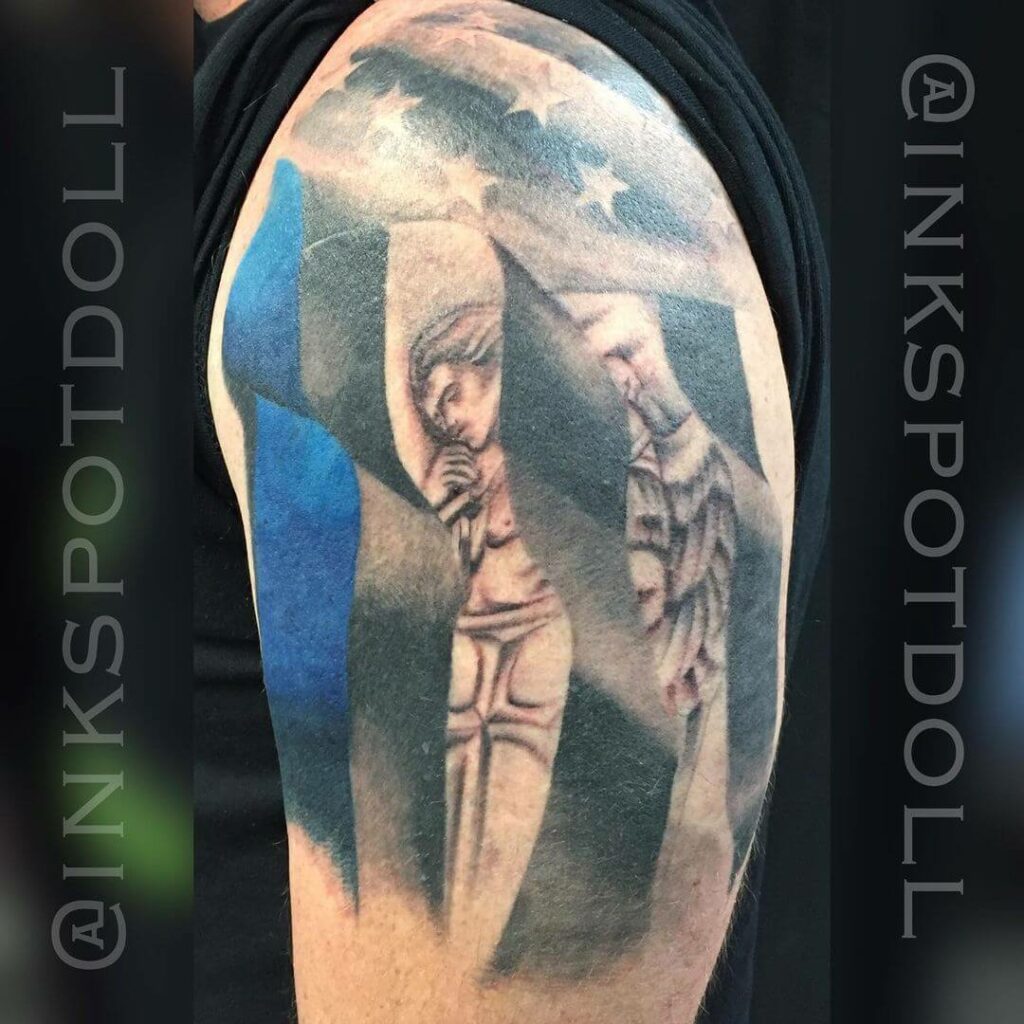 Flag tattoos are an excellent way to show your pride and love for your country. As a law enforcement officer, having a flag tattoo on your forearm can be a fantastic way to express your patriotism. This is a special tattoo because it can be covered by your uniform, making it perfect for officers who wish to have tattoos but cannot display them visibly. It's important to keep in mind that visible tattoos are not always allowed for those in law enforcement, so this is a great way to have a meaningful tattoo while still adhering to professional standards.
Police Badge Tattoo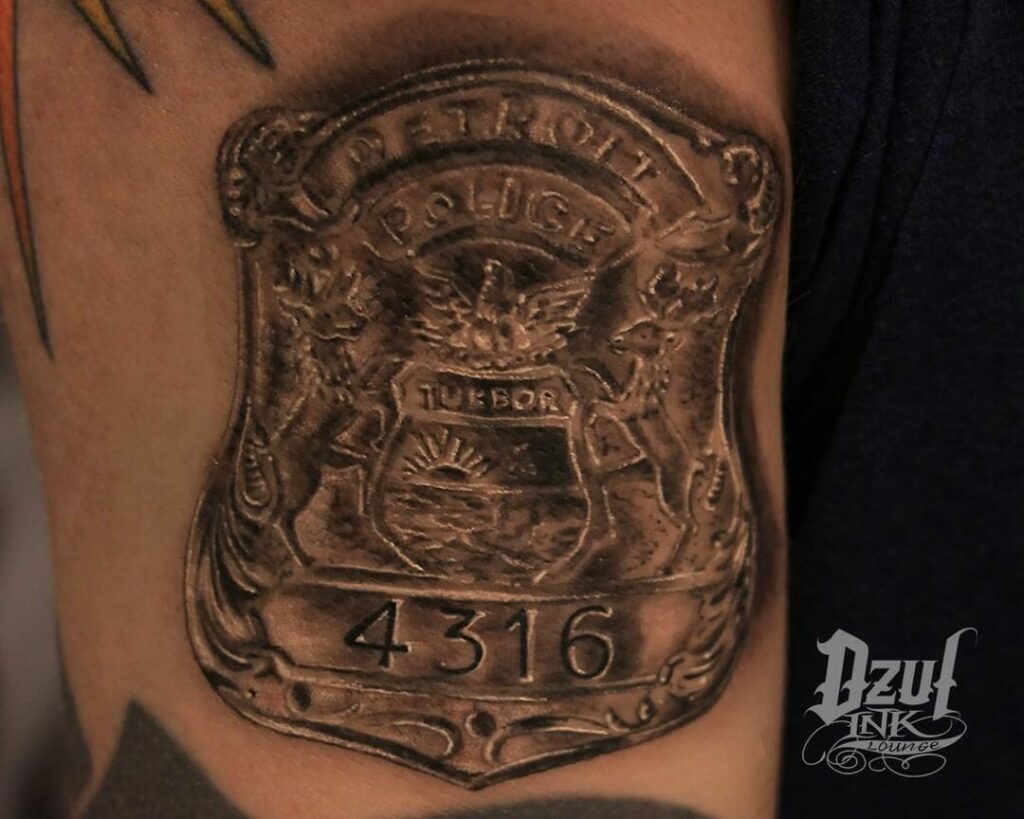 The police badge tattoo is an iconic symbol of law enforcement, and this realistic version of it is breathtaking. It's not just cool; it's the perfect choice for someone in law enforcement. This tattoo captures the essence of the profession and the bravery of those who wear the badge. The level of detail in this tattoo is impressive and makes it stand out. Police officers risk their lives to keep us safe, and this tattoo is a great way to show appreciation for their service.
Sheriff Badge Memorial Tattoo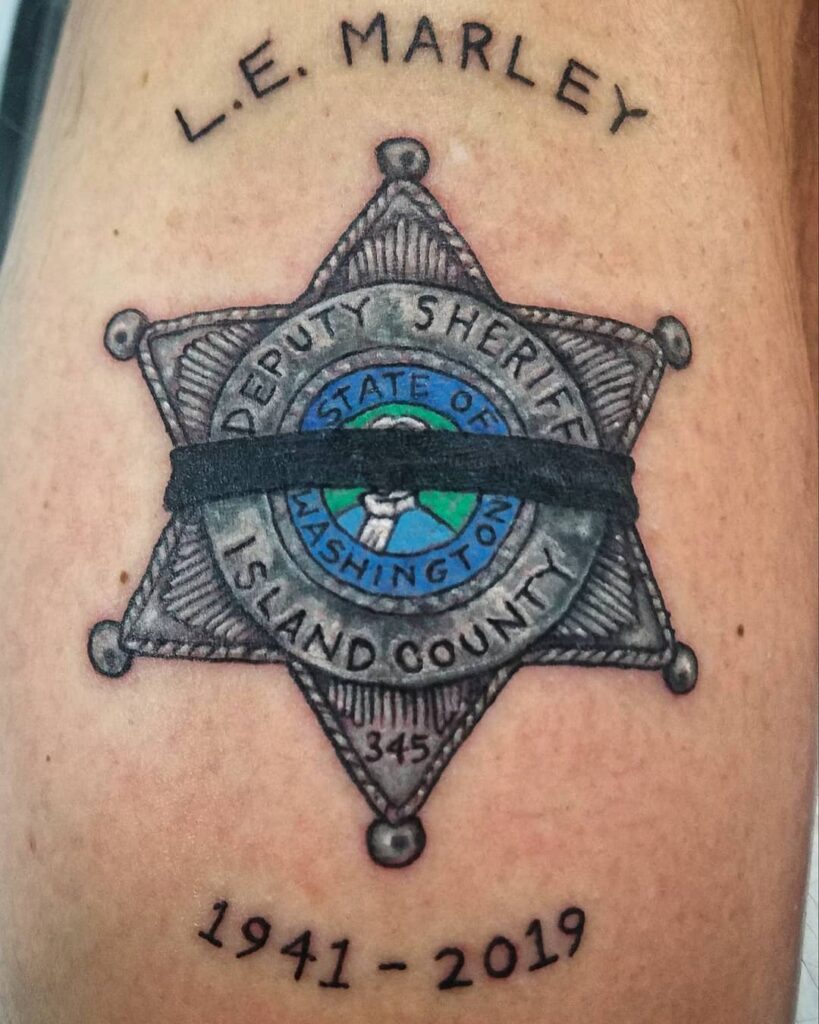 Sheriffs are an essential part of law enforcement, and their badge is a symbol of their authority and dedication to their job. If you are a sheriff, you may want to consider getting a sheriff badge tattoo as a tribute to your profession. The tattoo will showcase your pride and honor for the work you do. The best part is that you can get it inked in a place that is covered by your uniform, so it won't interfere with your job. So why not take the leap and get a beautiful and meaningful tattoo that represents your commitment to the community you serve?
Old Age Officer Tattoo
For a correctional officer, tattoos can be a meaningful way to represent their profession and honor the ancient soldiers and officers who have helped maintain law and order in the past. This Roman soldier tattoo is a great example of a tattoo that pays tribute to history while also representing the discipline and order that correctional officers work to maintain. However, it's essential for officers to understand the rules and regulations surrounding tattoos in their profession. While some departments may have exceptions, generally, it's best to choose tattoos that can be easily hidden and don't violate any restrictions on visible tattoos. By taking the time to choose the right design and placement, correctional officers can have meaningful tattoos that also maintain a professional appearance.
Feature image from Pinterest – Want your tattoo to look brighter? Try "Tattoo Balm"
Last reviewed and updated on May 2, 2023