Today, we're voyaging into the captivating territory of dopamine tattoo meanings. By the time you've journeyed through this post, not only will you understand the origins, symbolism, and narratives behind popular scientific tattoos, but you'll also see how they can communicate your passion for discovery, curiosity, and the beautiful logic that governs our universe.
Science isn't just about hypotheses, data, and lab experiments—it's about narratives and expressions of the human condition. And in the grand tradition of our craft, tattoos can distill those complex concepts into a symbol that lives on your skin. It's like wearing your heart, mind, and fascination for the universe, all on your sleeve.
Dopamine Tattoo Designs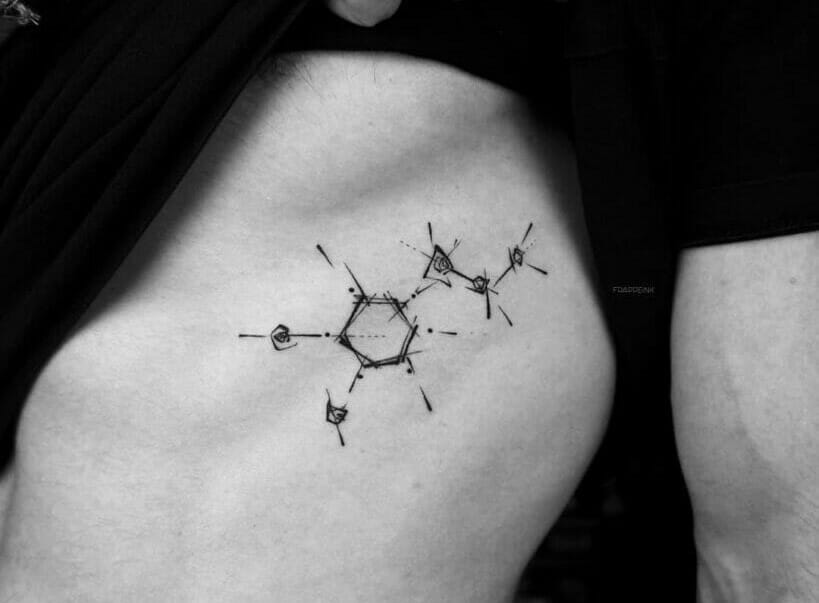 If you've ever seen a tattoo with a complex, interconnected design that looks like a science student's doodle, there's a good chance it's representing a molecule, and dopamine is one of the most popular choices.
Now, let's get into the nitty-gritty. Dopamine is a neurotransmitter, a type of chemical messenger that transmits signals in the brain and other vital areas. It's often recognized for its role in reward-motivated behavior, playing a critical part in how we perceive pleasure. It's also involved in learning, memory, mood, and even regulating body movements. In other words, it's pretty important!
A dopamine tattoo can have multiple layers of personal meaning. For some, it's a way to pay homage to their love for neuroscience or chemistry. For others, it represents the human capacity for joy, pleasure, and reward. It might signify the thrill of achieving goals or the ability to find happiness in life's little moments. It's a reminder of our body's own natural 'feel good' mechanism, our ability to experience pleasure, and the reward system that drives us to explore, learn, and strive for success.
On a deeper level, some people get dopamine tattoos as a symbol of their journey with mental health. It can represent personal struggles with conditions like depression or Parkinson's disease, both of which involve dopamine system dysfunction. It's a way to wear their challenges on their skin, serving as a badge of their resilience and their continuous fight.
In short, dopamine tattoos are a powerful symbol of joy, reward, resilience, and the beautiful complexity of human biochemistry. They remind us that beneath the skin, we're all just fascinating networks of interlocking systems, capable of experiencing immense pleasure and overcoming even the most profound challenges.
Other Scientific Tattoos To Inspire You
Ever considered making the scientific world your canvas? We're not talking about doodling equations on your lab book, but inking your skin with artful representations of scientific marvels. From the microscopic wonder of DNA to the infinite expanse of a nebula, science-themed tattoos offer a profound and modern take on body art. Here's a crash course on some of my favorite scientific tattoo designs. Grab your lab goggles, folks, we're about to get nerdy!
Amino Acid Sequence Tattoo Designs
Remind me of the time when I tattooed an amino acid sequence on a stargazing biochemist. He chose it to signify his belief in the cosmic connection, reminding him that we are all made of 'star stuff.' It's an inspiring way to remember that we share the same cosmic heritage as the stars themselves.
Anatomical Heart Tattoo Designs
How about wearing your heart on your sleeve, literally? I remember tattooing an anatomical heart design on a cardiac surgeon, which wasn't just a symbol of his profession, but also his dedication to love and compassion. It's all about the true-to-life heart – no simple love hearts here.
Darwin's Finch Sketches Tattoo Designs
One of my clients, an evolutionary biologist, was a huge fan of Darwin. To pay tribute to her idol, she chose the exact replica of Darwin's original observational sketches of finches, demonstrating her admiration for his work on evolutionary theory.
DNA Helix Tattoo Designs
I can't count how many times I've tattooed this design. It's a symbol of individuality and uniqueness since it holds all of a human's genetic information. Every DNA helix design I've done is a testament to the person's uniqueness.
Dopamine Tattoo Designs
Ah, the happy chemical. The dopamine molecule is a popular choice for folks wanting to tattoo a symbol of their motivations and rewards. One of my clients, a neuroscientist, got it as a reminder of why she loves her job.
Fern Tattoo Designs
Ferns are a symbol of resilience and virility, surviving millions of years and thriving against the odds. I once tattooed a Kiwi who wanted to carry a piece of his homeland and its indomitable spirit with him.
Golden Ratio Diagram Tattoo Designs
When an architect client wanted a tattoo that merged his love for design and nature, we landed on the golden ratio, a symbol of beauty and nature's intricate order. It was as mathematical as it was artistic!
Nebulas Tattoo Designs
Nebula tattoos always end up being a stunning spectacle, a splash of color that symbolizes the universe's mystery and grandeur. One client wanted to keep a piece of the cosmos with her as a reminder of our small but significant place in it.
Neuron Tattoo Designs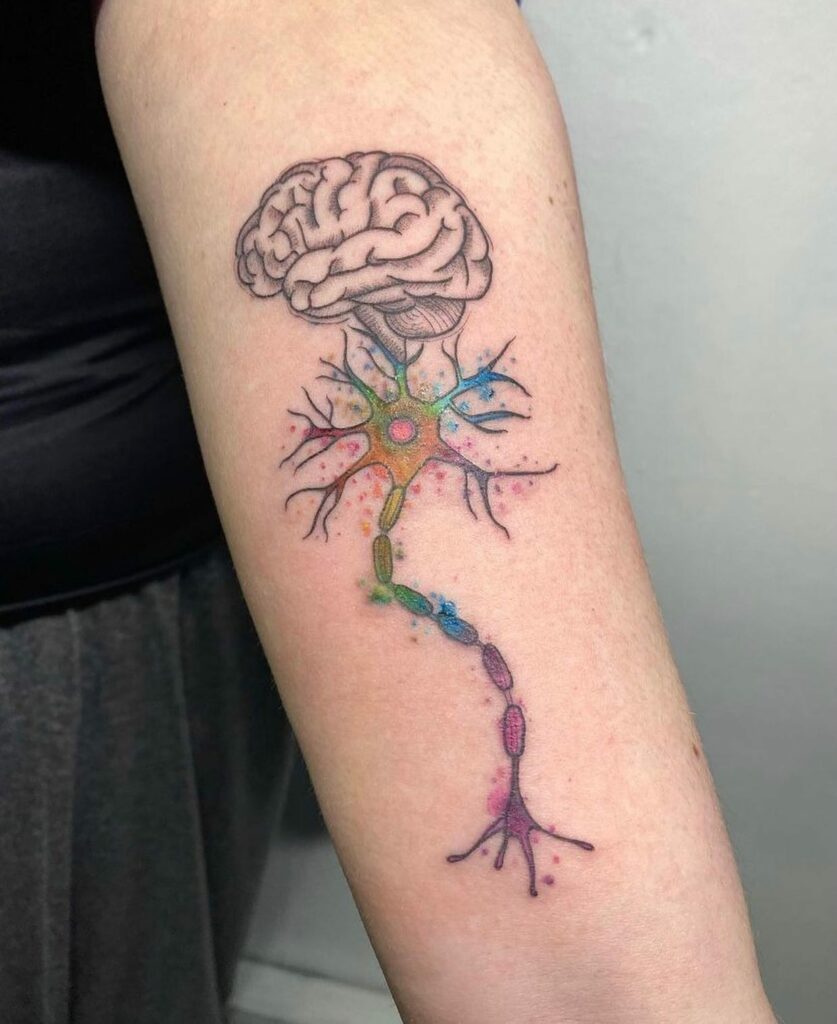 As a nod to the impressive power of the mind, the neuron design is a favorite among psychology buffs and neuroscientists alike. I remember inking one on a psychologist, who said it was a tribute to the resilience of her patients' minds.
Pi Tattoo Designs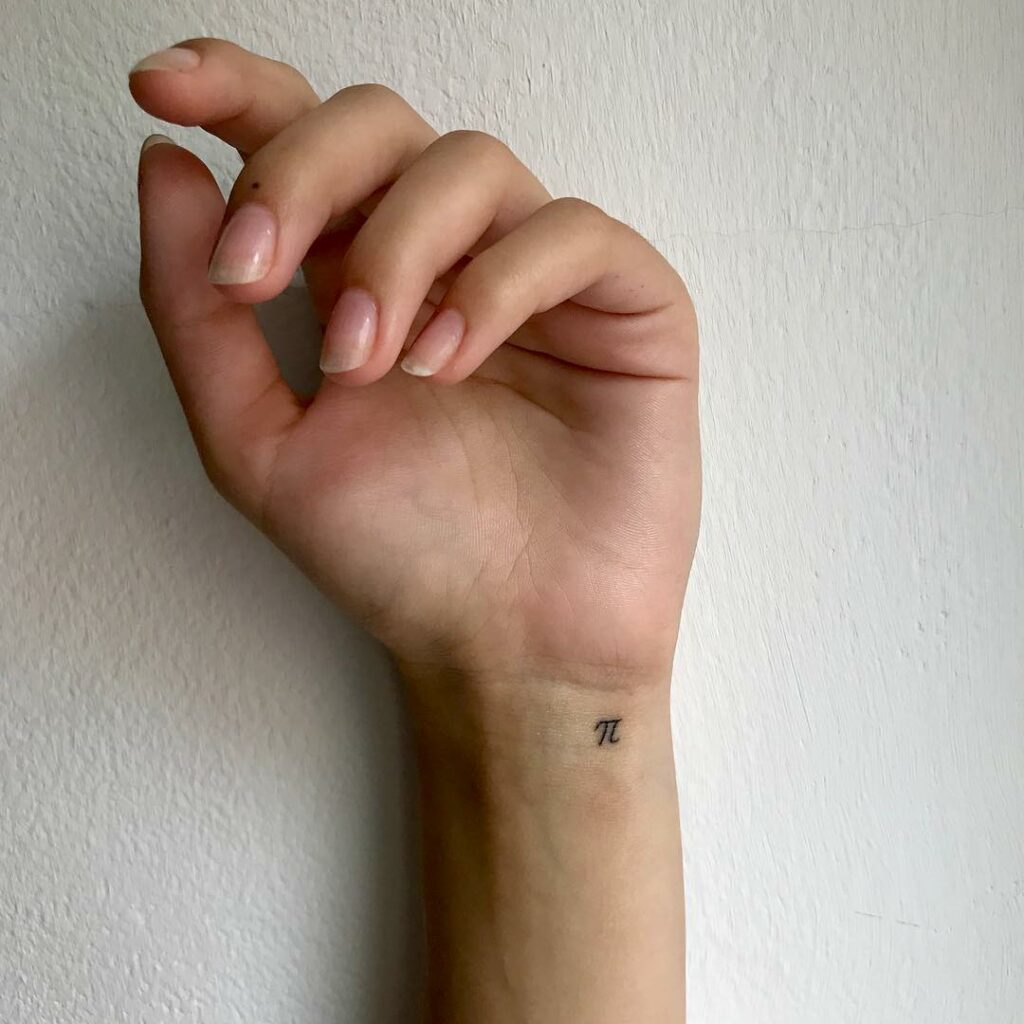 The beauty of math made eternal! A math teacher wanted the pi symbol to represent nature's infinite complexity, showcasing his love for the subject beyond the classroom.
Schrodinger's Cat Tattoo Designs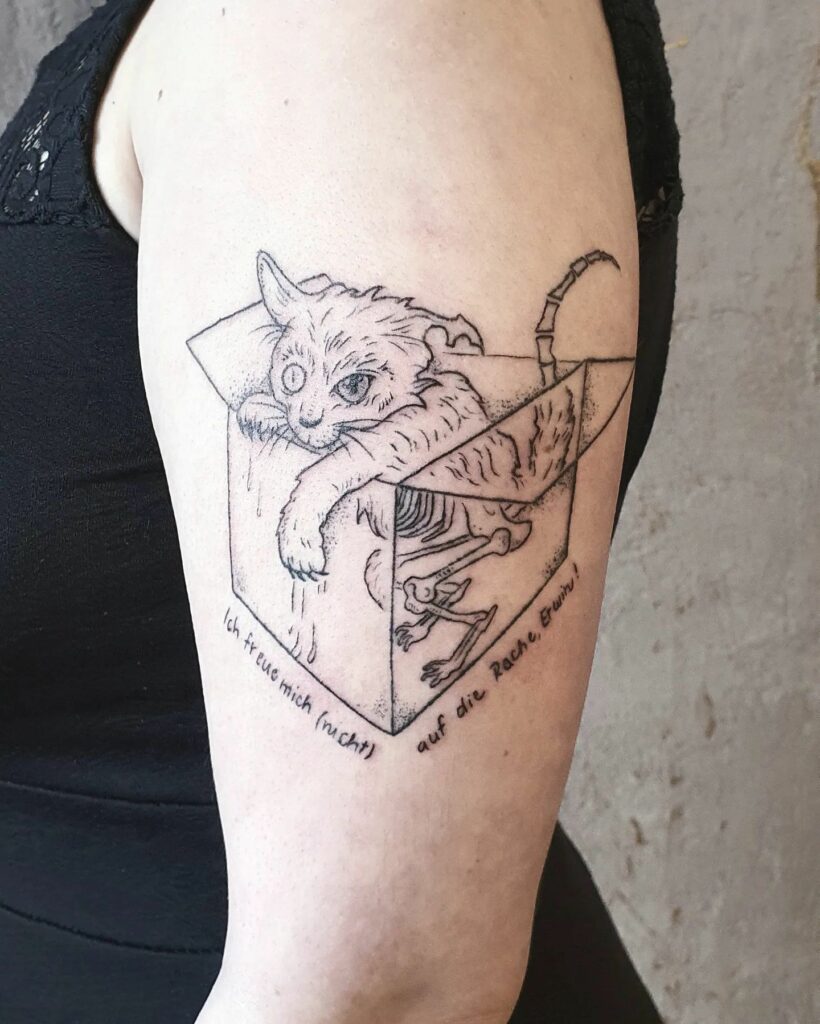 A classic paradox to ponder over, Schrodinger's cat makes for a unique tattoo design. One physicist opted for this to symbolize the mystique and uncertainties of life, a reminder to embrace the unknown.
Serotonin Tattoo Designs
Much like the dopamine design, the serotonin tattoo serves as a reminder to stay happy and to cherish those moments of joy.
Solar System Planets Design
Who said the solar system is only for astronomers? A client, an astronaut wannabe since childhood, chose this design to pay homage to human knowledge and our place in the grand cosmic dance.
Science isn't just limited to textbooks and laboratories. It's a story written in our DNA, reflected in nature's golden ratio, and told through our scientific explorations. These tattoos serve as physical reminders of the beauty and complexity of that narrative. Whether you're a science enthusiast, a seasoned scientist, or just someone who appreciates the fascinating intersection of art and science, these tattoo designs might be the perfect way to express your passion and awe for the mysteries of the universe. So, ready to get inked?
Conclusion
And there you have it, my stellar readers, a walk through the world where tattoos and science intersect! As we've seen, dopamine and more broadly scientific tattoos offer an extraordinary way to articulate our individuality and passion, while also showcasing the profound beauty of the natural world and our place within it.
Before taking the leap, remember that any tattoo is a commitment. It's crucial to do your homework—understand the meaning behind the design, think about its long-term relevance in your life, and find a skilled artist who can breathe life into your vision. Health-wise, always ensure that the parlor you choose follows strict hygiene standards to minimize any risk of infection.
Finally, don't rush. It's not a lab experiment with a timer! Take your time to explore, dream, and design. Whether you're inking a strand of DNA, a nebula, or Schrodinger's famous feline, let it be something that sparks joy and curiosity within you.
Remember, tattoos are the stories we ink on our skin to be worn for a lifetime. So, dream big, explore the wonders of science, and may your next tattoo adventure be as fascinating as the universe itself! Happy inking!