Are you an adventurous soul, eager to explore every possibility? Well, you're in luck! We've gathered the top 10 dragon sleeve tattoo designs to help you find the perfect ink to dazzle your friends.
Dragons are large, serpentine-like mythical creatures that have captivated the imagination of countless civilizations throughout history. Their legendary status has made dragon tattoos increasingly popular, with Japanese dragon tattoos being especially sought after for their representation of freedom and good luck.
These magnificent creatures feature prominently in Asian folklore, carrying similar symbolism across Japanese, Chinese, Korean, and other Asian cultures. In Western traditions, dragons are often viewed as symbols of strength and masculinity, leading to a wide array of half-sleeve dragon tattoo designs for men. Dragons can also be paired with other mythical creatures, such as tigers, serpents, or snakes, further enriching their connection to ancient stories and legends.
Take a look through our curated list of captivating dragon tattoos for arm sleeves, and get ready to make a statement with your own mythical masterpiece!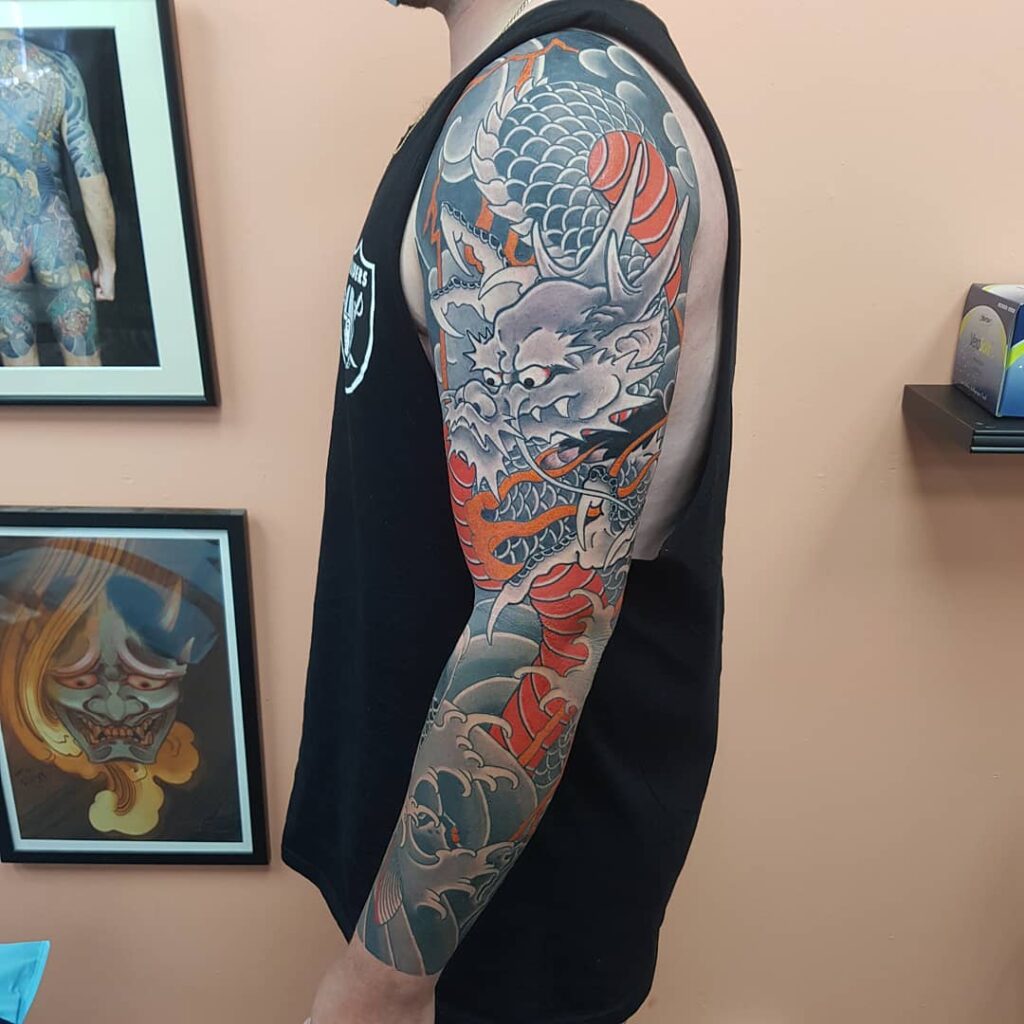 Cool Full Japanese Dragon Sleeve Tattoo Design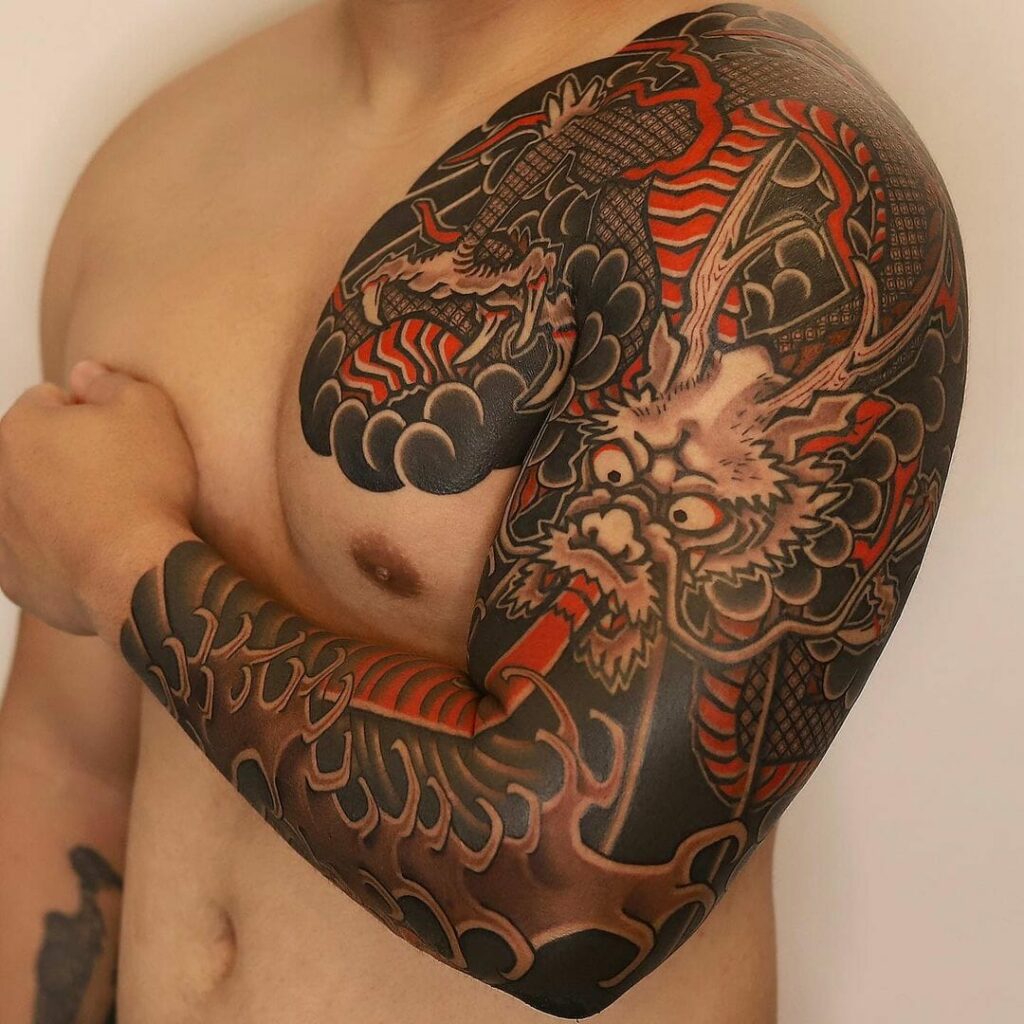 The dragon tattoo is a classic design that transcends cultural boundaries and has been a staple among tattoo enthusiasts for centuries. This breathtaking tattoo design features the mythical creature known as a dragon and is a popular choice for men who want to showcase their bold and adventurous side.
Dragon sleeve tattoo ideas like this are a great way to incorporate the intricate details and symbolism associated with this legendary creature. Tattoo artists pour their creativity and passion into these designs, bringing them to life with every stroke of the needle. The mix of red and grey shades in this particular tattoo design, along with the fierce Japanese dragon, exudes a sense of power and strength.
While the arm sleeve is the most popular spot for this design, it can also be extended to the chest, back, or leg for a more dramatic effect. If you want to embrace the dragon's fierce spirit and add a touch of mystique to your body art, this tattoo idea is definitely worth considering!
Traditional Black And Grey Japanese Dragon Tattoo Sleeve Design
Looking for a tattoo that highlights a mystical creature without too much color? Look no further than this black and grey dragon tattoo! This highly detailed design features traditional and tribal patterns that bring out the best of the art style, making it perfect for those who appreciate a darker approach to body art. Black and grey tattoos like this are incredibly popular among different groups of people who appreciate the simplicity and striking contrast of the ink. Plus, with the flexibility of tattoos, you can always add additional elements like skulls or flowers to make it truly your own!
Awesome Chinese Dragon Half Sleeve Tattoo Sleeve Design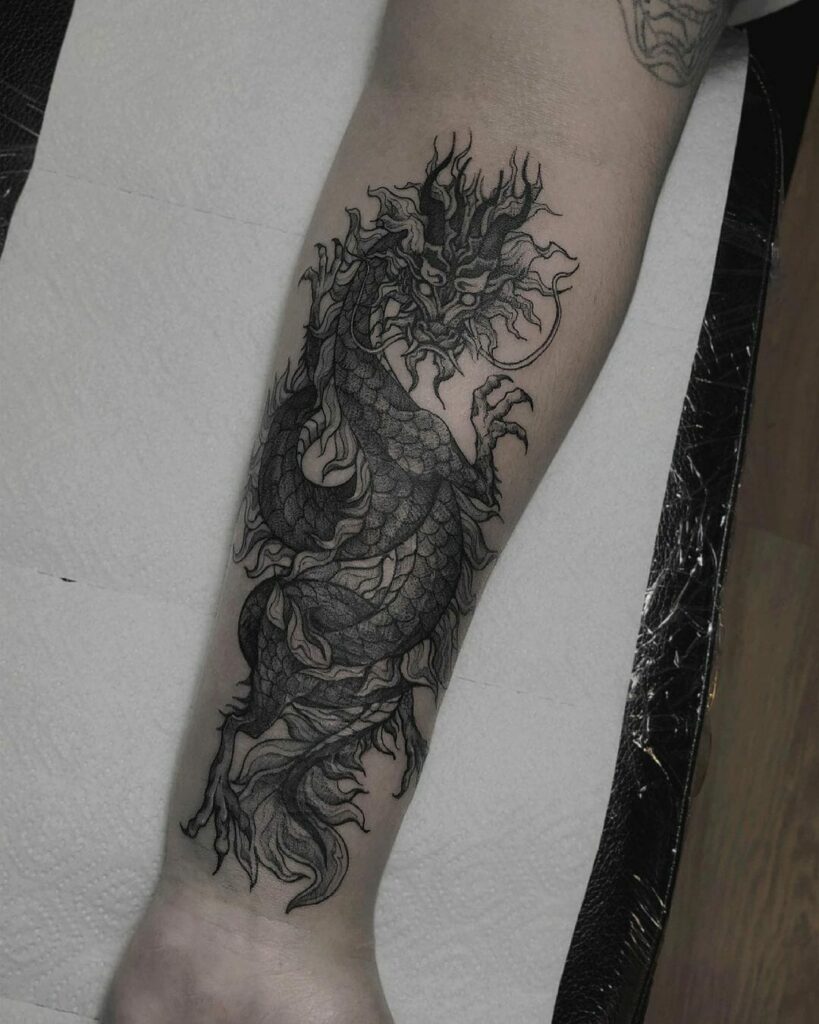 The world of tattoo art is not short of impressive dragon designs, and the Chinese dragon is definitely one of the most sought-after designs for men. This particular tattoo design is a masterpiece that pays homage to Asian culture and mythology. If you're looking for an amazing dragon tattoo, then this design might be just the inspiration you need. The all-black design features an intricately drawn portrait of the mythical creature and is perfect as a half or full sleeve tattoo. You can add your own personal touch by incorporating tribal patterns, making the dragon breathe fire, or even adding a splash of color to make it truly unique. And if you're feeling adventurous, you can experiment with different locations like your chest or back instead of the arm.
Yin-Yang Full Sleeve Japanese Dragon Tattoo Design For The Spiritual People
If you love dragon tattoos, then you will definitely fall in love with this idea of two dragons facing each other. This full sleeve tattoo takes inspiration from Yin-Yang symbolism, with two dragons in a duel that represents the two-sided nature of Yin and Yang. The inclusion of flowers and petals adds a subtle touch to the overall design, using a mix of black and reddish ink that draws from traditional and tribal aspects of Asian culture.
A tattoo like this is a major commitment, so trust your artist to bring your vision to life while also adding their unique artistic touch. You can also customize the design by adding your own personal touches, such as a skull, snake, or tiger to enhance the traditional Yin-Yang tattoo idea.
Electrifying Full Sleeve Japanese Dragon Tattoo Idea For Men And Women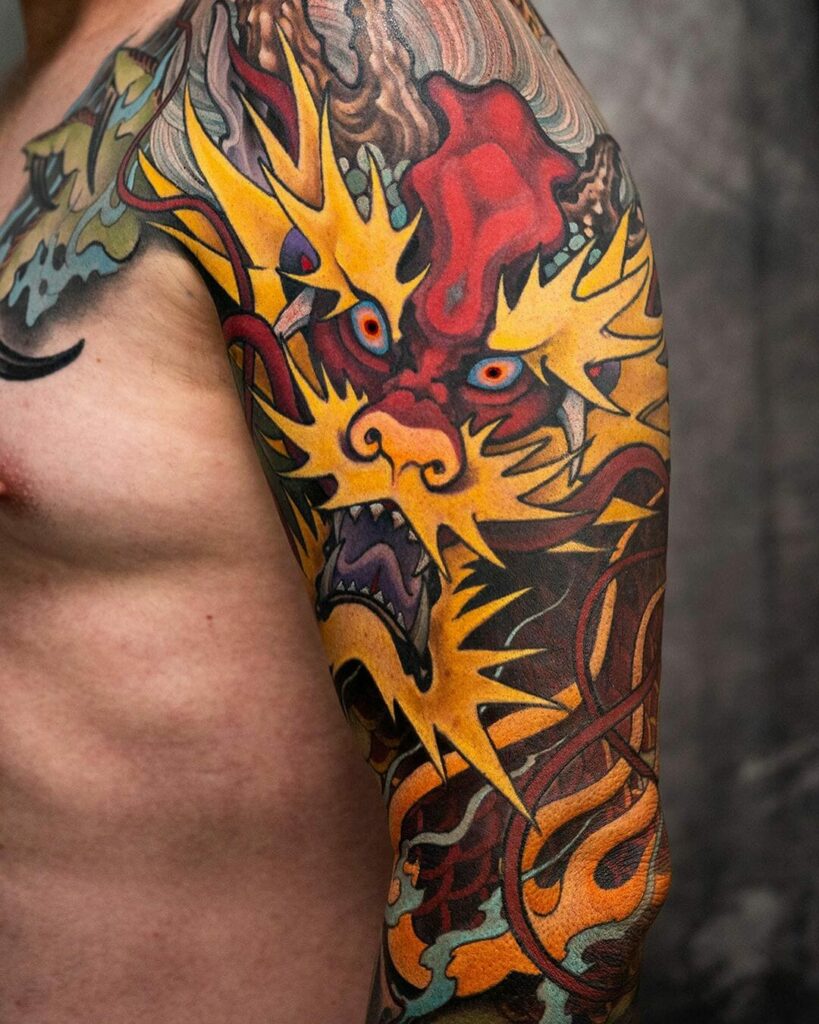 This Japanese dragon tattoo is one of the most awe-inspiring dragon tattoos that capture the true essence of the mythical creature. The intricately drawn portrait showcases the dragon's fierce and powerful personality with its fiery red, black, and yellow ink that complements the artwork's tribal pattern. Adding a unique touch to the design, a skull is included that accentuates the dragon's ferocity. The Japanese dragon tattoo is best suited for arm sleeves, legs, chest, or back, depending on your preference. This tattoo is a great way to exhibit the strength and wisdom of the mythical creature while also being a stunning work of art.
Traditional Japanese Dragon Tattoo Idea For The Old School Folks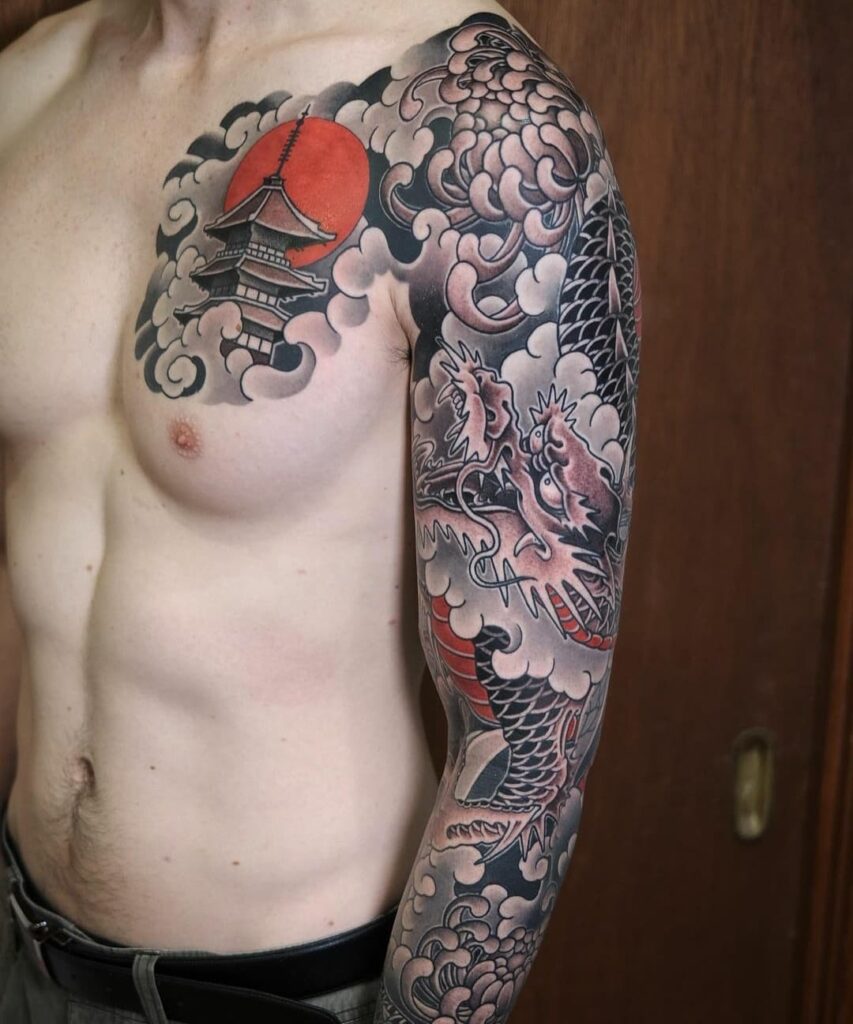 The Pagoda is a fascinating multi-tiered tower that symbolises wisdom and power. It was originally built to house holy relics and has become an important symbol in ancient times.
This striking black and red dragon tattoo is a perfect blend of the mysterious nature of dragons and the significance of the Pagoda. The artist has created a cool tattoo concept by adding clouds in the design that pay tribute to the legendary tales of dragons soaring through the skies.
The tattoo artist has done an amazing job in crafting a dragon in the clouds with the dragon reaching out to the Pagoda in search of power and wisdom. This design is a great choice for anyone interested in mythology and wants to showcase their love for dragons on their body.
This artwork is ideal for arm sleeve tattoo designs and can also look great as a half-sleeve or medium-sized tattoo on other parts of the body such as the leg, chest, or back.
Blue Dragon Tattoo Idea For The Calm Crowd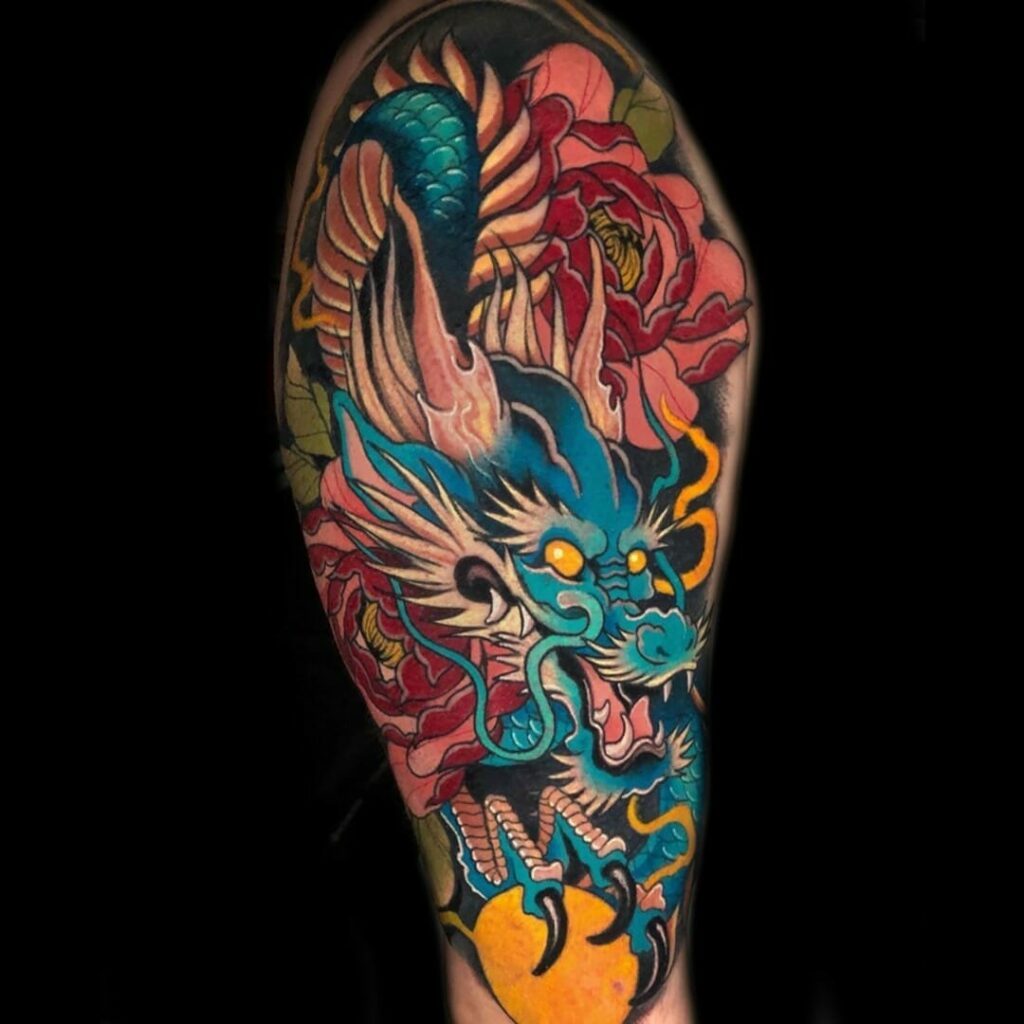 Blue is a soothing color that symbolizes tranquility, freedom, and imagination. If you are someone who identifies with these traits and is interested in getting a tattoo, a blue dragon tattoo might be the perfect fit for you. This tattoo is a great option for men who want to express themselves through body art. Dragon tattoos are known for their fierce and mysterious nature, and this design is no exception. Additionally, this tattoo can be paired with other animal tattoos like snakes or tigers to create a cohesive and unique look.
Neo-Traditional Japanese Dragon Tattoo For The Art Lovers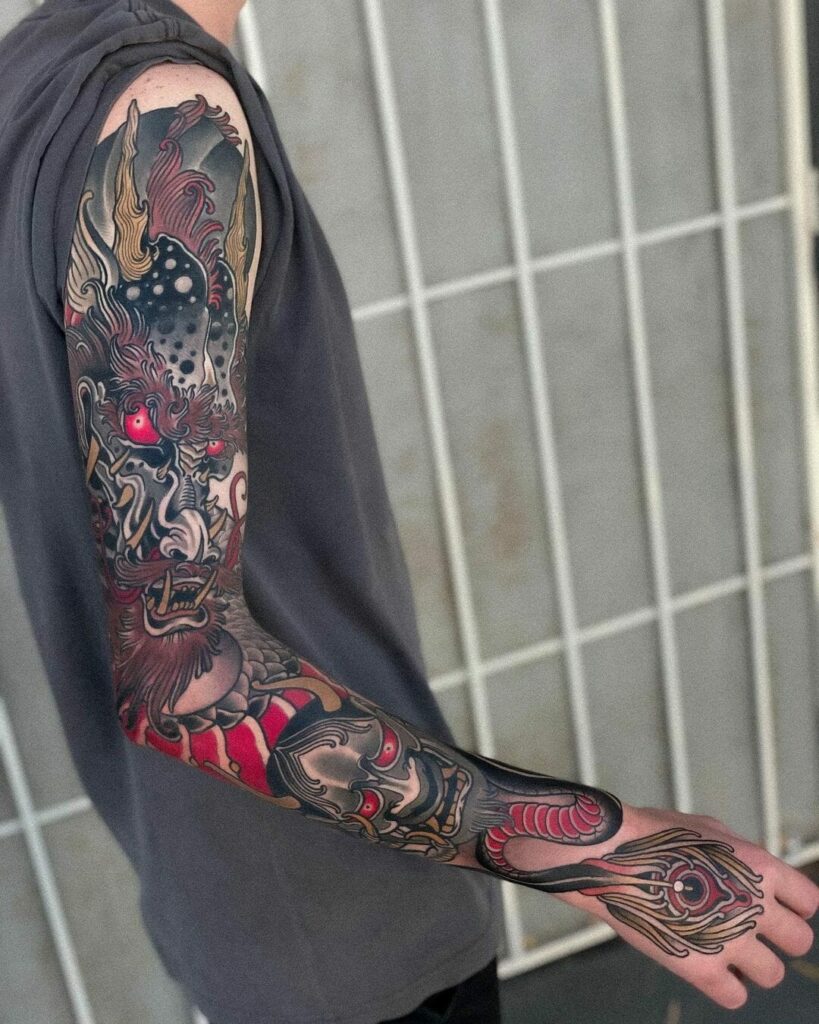 Dragon sleeve tattoos are always evolving as artists continue to bring fresh and exciting ideas to the table. One of the latest trends in dragon tattoos is the steampunk-themed design, which adds a unique twist to the traditional Japanese dragon motif. This incredible tattoo idea captures the essence of the dragon's power and majesty while incorporating elements of industrial machinery and clockwork.
Of course, if you're considering this type of tattoo, you may want to add your own personal touches to the design. Talk to your artist about incorporating elements that hold special meaning to you, whether it's a particular symbol, color scheme, or other design element.
Korean Dragon Sleeve Tattoo Art Idea For Men And Women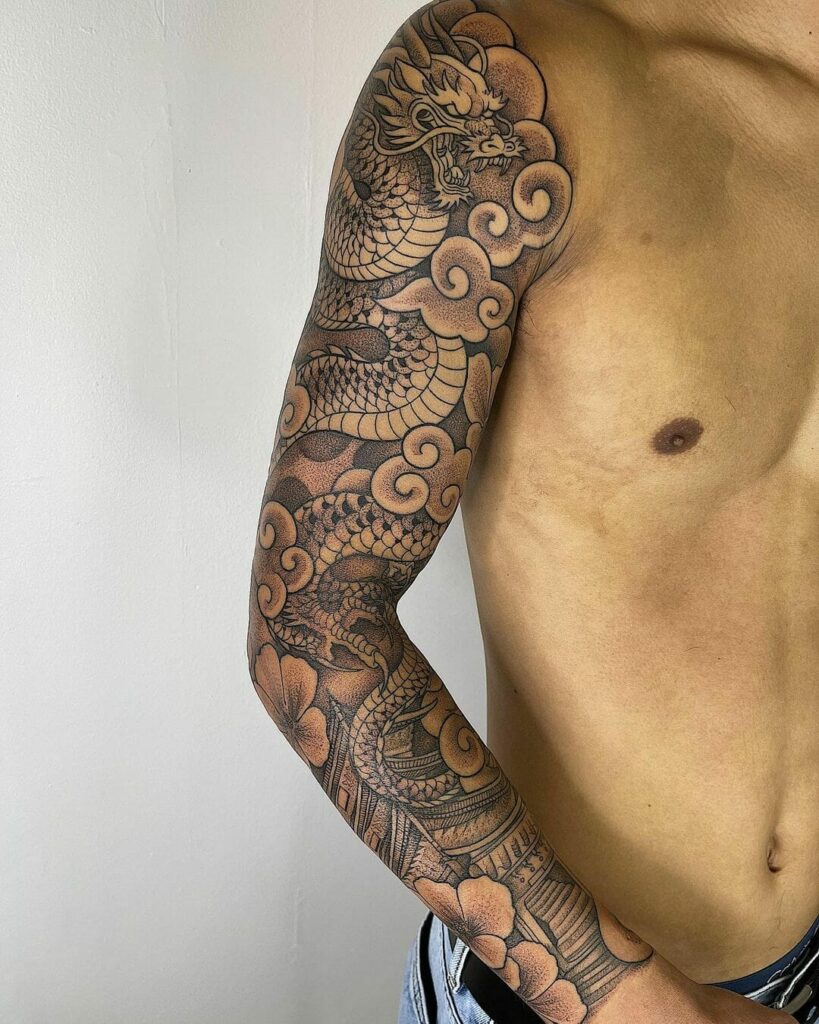 The Korean dragon tattoo is a great way to pay homage to one's cultural heritage while having a unique tattoo. It symbolizes spiritual clarity and good fortune, and in Korean culture, dragons are considered protectors of Buddha and temples. This tattoo is not only suitable for Koreans but can be a great option for anyone who admires the culture and traditions of Korea. It makes for an excellent sleeve tattoo, especially for those who want a stunning tattoo design on their arm. You can always add your own creative twist to it, or make it into a half-sleeve design if you don't want to commit to a full sleeve tattoo.
Stunning Chinese Dragon Tattoo Sleeve Idea For Art Enthusiasts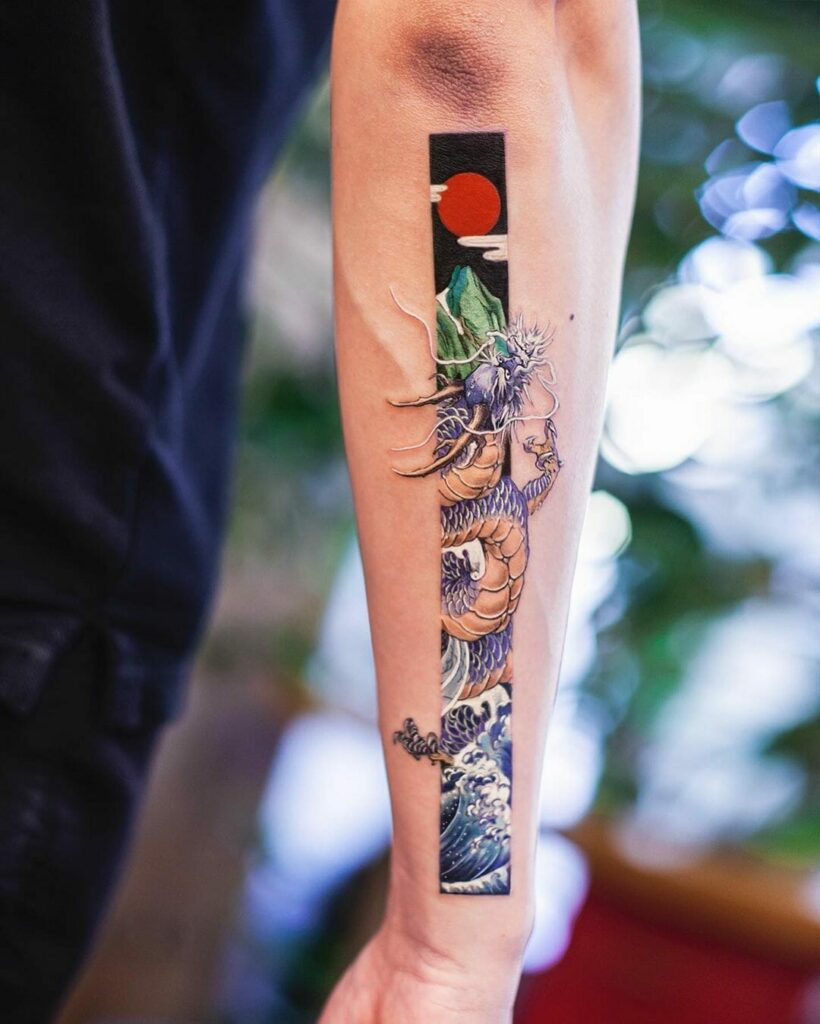 Chinese dragon tattoos are a popular choice among tattoo enthusiasts, and this particular sleeve tattoo design is an excellent example of why. The detailed artwork showcases a majestic dragon rising from the waves and ascending to the sky, surrounded by a mountainous landscape. The design is a nod to the revered Chinese dragon and is sure to make a bold statement on any part of the body, whether as a full sleeve or a half sleeve tattoo. So if you're looking for a striking and intricately drawn tattoo that celebrates the mythical Chinese dragon, this design is an excellent choice.
Last reviewed and updated on May 25, 2023