Are you a huge fan of the rapper Meek Mill and looking for a tattoo to pay tribute to him? Then the Dream Chaser tattoo might be the perfect option for you, as it shares the same name as one of his albums.
If you search for Dream Chaser on the internet, you might come across Meek Mill's album or a single track by Komario. However, there's more to the Dream Chaser tattoo than just that. The tattoo gained attention due to American rapper Dylan Harraway, who had it stenciled backward.
Although Harraway didn't initially realize the mistake, his friend pointed it out to him. As a huge fan of Meek Mill, he wanted the tattoo as a source of inspiration, but unfortunately, it backfired for the rapper. Despite this, the Dream Chaser tattoo continues to be a popular choice among Meek Mill fans, representing perseverance and the pursuit of one's dreams.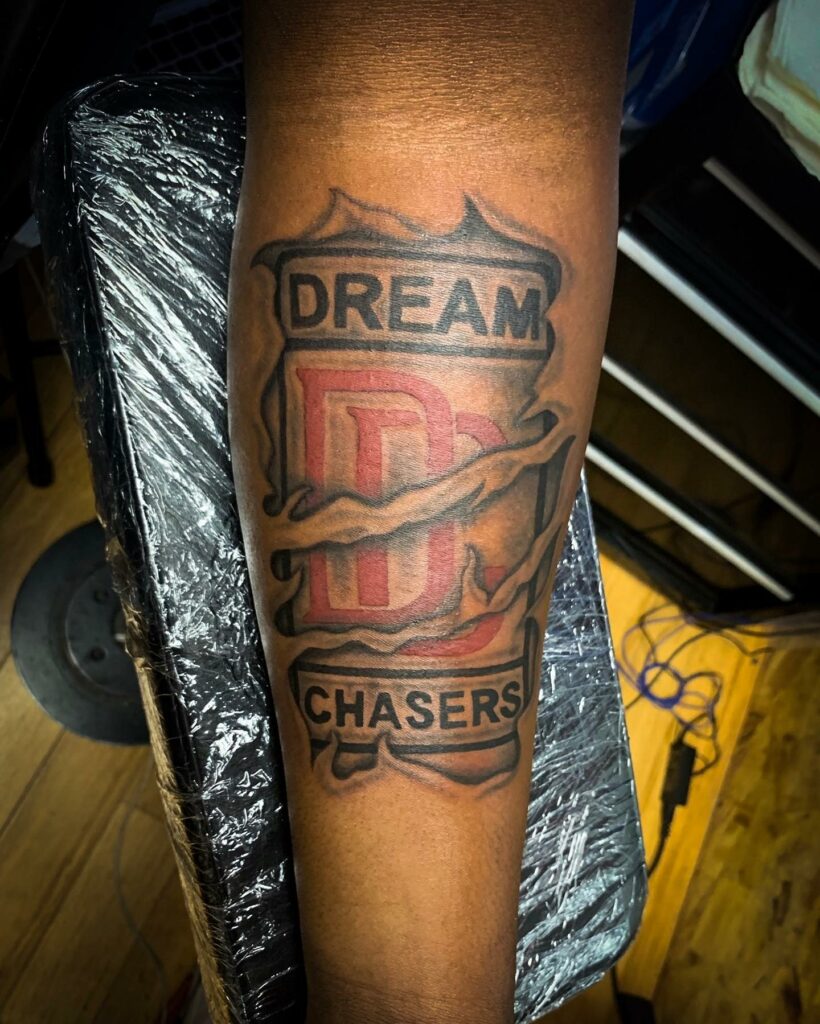 Simple Dream Chaser Tattoo
Many of us have aspirations and goals that we strive to achieve. It's important to stay motivated and focused on our dreams, which is why dream chaser tattoos have become increasingly popular. These tattoos can be done in black or color ink and can be placed on various parts of the body, including the wrist, forearm, thigh, chest, back, and shin. The size of the tattoo can vary depending on personal preference and the expertise of the tattoo artist. Whether you want a small and subtle design or a larger and more intricate piece, a dream chaser tattoo is a great choice for anyone who wants a constant reminder to chase their dreams.
Dream Chaser Tattoo With An Armband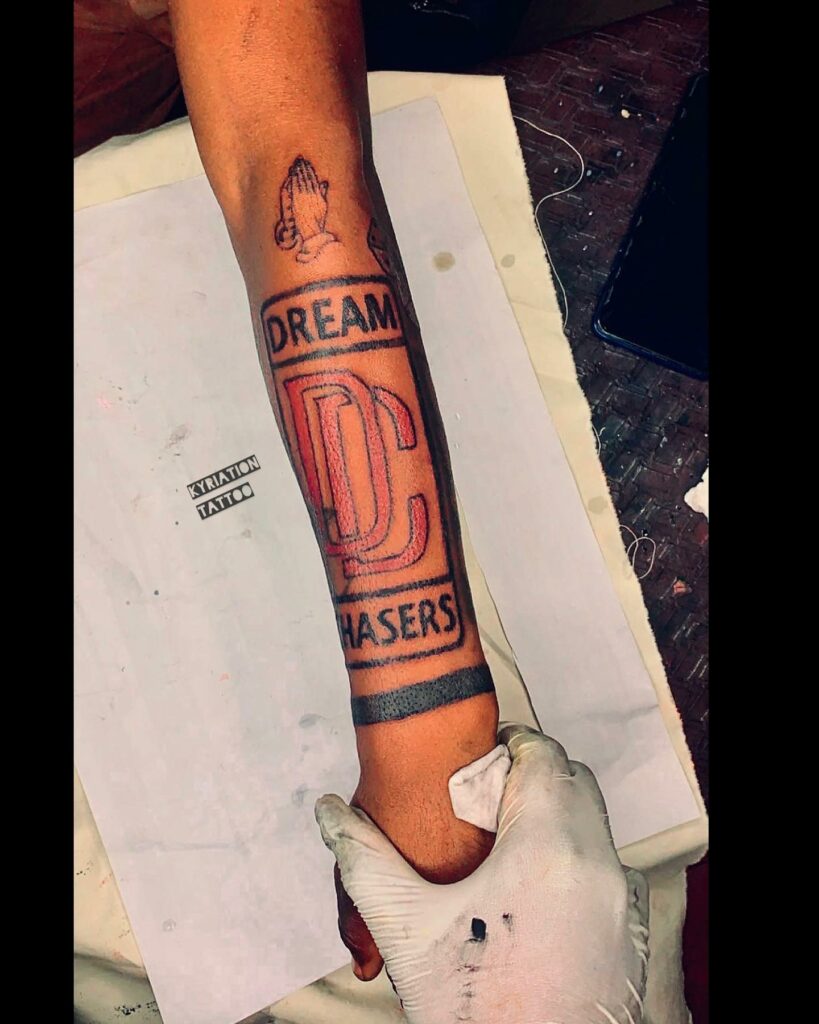 Armband tattoos have a deep meaning and a solid black ink armband tattoo is usually associated with mourning. It represents the memory of someone close to the tattoo wearer who has passed away. However, when combined with dream chaser tattoos, it can take on an additional meaning. The tattoo can signify that the person being remembered was a dreamer, who believed in pursuing their goals and aspirations.
While black ink is typically used for these tattoos, the DC symbol can sometimes be done in red for added effect. Other elements such as crosses or beads can be added to further emphasize the notion of mourning the dead. When done on the bicep, the armband can also represent power and luck, signifying that the tattoo wearer will use their strength to achieve their dreams.
Snake Dream Chaser Tattoo
The snake has been an important symbol across various cultures throughout history. Although some people associate snakes with danger and ominous events, the snake holds significant symbolism in many cultures. The Greeks associated it with medicine and health, while Native Americans and Africans view it as a symbol of wisdom and protection. When combined with dream chaser tattoos, it can create an edgy and unique design.
In Buddhism, Lord Buddha was protected by a divine serpent, which is why coiling snakes are often used in dream chaser tattoos as a symbol of protection. These tattoos are commonly done in traditional black ink and can be placed on various parts of the body such as the thighs, calves, back, chest, forearm, and bicep. The snake's twisting and coiling movements create a captivating visual effect, making it a great addition to any dream chaser tattoo.
Neck Dream Chaser Tattoo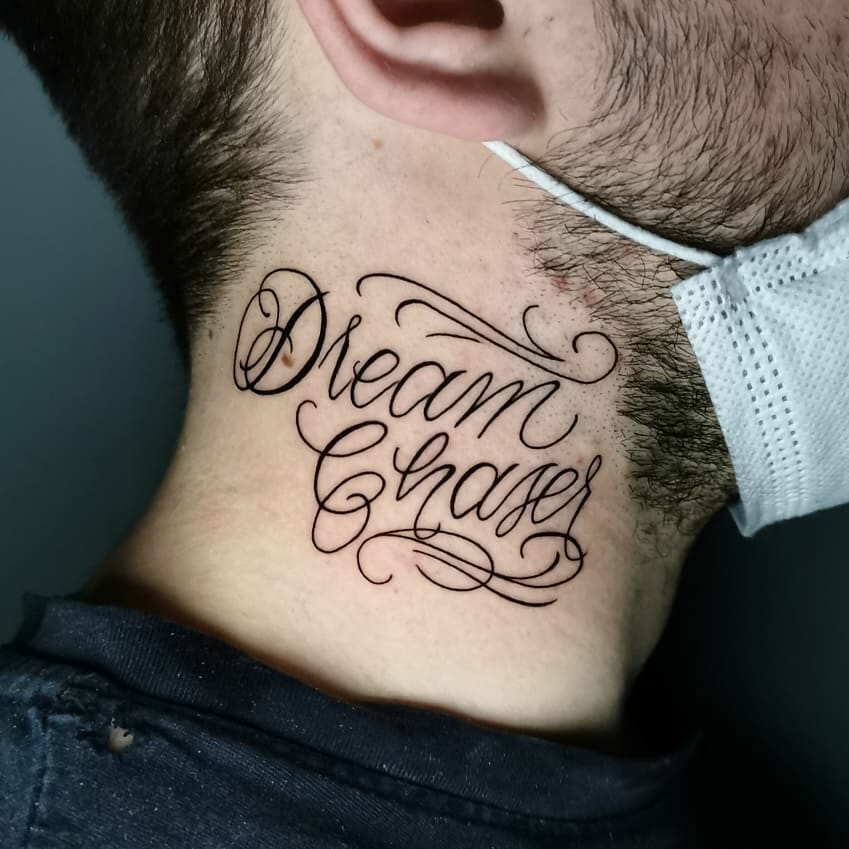 The neck is undoubtedly one of the most eye-catching parts of the body, and what better way to show it off than with a stunning tattoo? When it comes to dream chaser tattoo ideas, the neck is a fantastic location that can give off a truly amazing vibe. The design can speak volumes about the individual's character and aspirations, and can be a great conversation starter!
Chasing one's dreams can be a risky yet exciting business, and the Dream chasers tattoo on the neck symbolizes exactly that. It indicates that the tattoo bearer is willing to take risks and communicate their aspirations to the world. While black ink is the most common choice, some people opt for colored ink or even a mix of both. However, it's essential to note that getting a neck tattoo can be quite painful, and it's not recommended for beginners. It's important to choose a skilled and experienced tattoo artist to ensure the best results.
Dollar Dream Chaser Tattoo
Dreams of wealth are not uncommon, and there is no better way to symbolize them than with a currency sign tattoo. Be it dollars, euros, francs, or any other currency, this tattoo reflects the ambition of the wearer to strive for financial success. Typically, the ink used for this type of tattoo is black, and the design is usually quite large.
In a society that places a high value on wealth, this dream chaser tattoo serves as a constant reminder to work hard towards one's goals. It is most commonly placed on the forearm, bicep, thighs, shin, or back. However, it is important to remember that shortcuts or unethical means will not lead to the realization of one's dreams.
Back Arm Dream Chaser Tattoo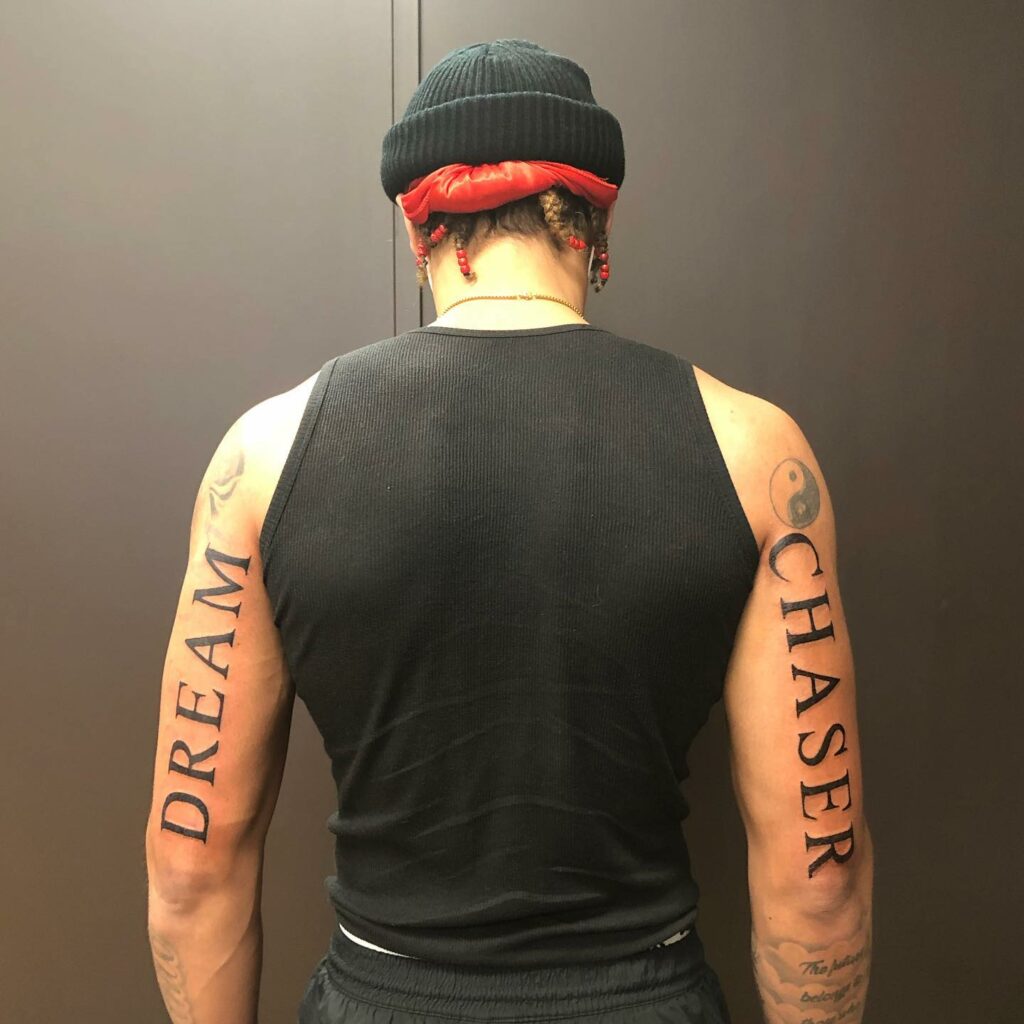 The back of the arm is a fantastic place to get a dream chaser tattoo! As a symbol of strength and power, it's the perfect spot to showcase your drive to reach your aspirations. Most dream chaser tattoos in this location are done in black ink, with medium to large sizes being the most popular. Adding a splash of color or other design elements like flowers, animals, or currency symbols can take your tattoo to the next level. Although these tattoos are popular among men, they can be a great choice for anyone who wants to express their determination to achieve their dreams.
Realistic Dream Chaser Tattoo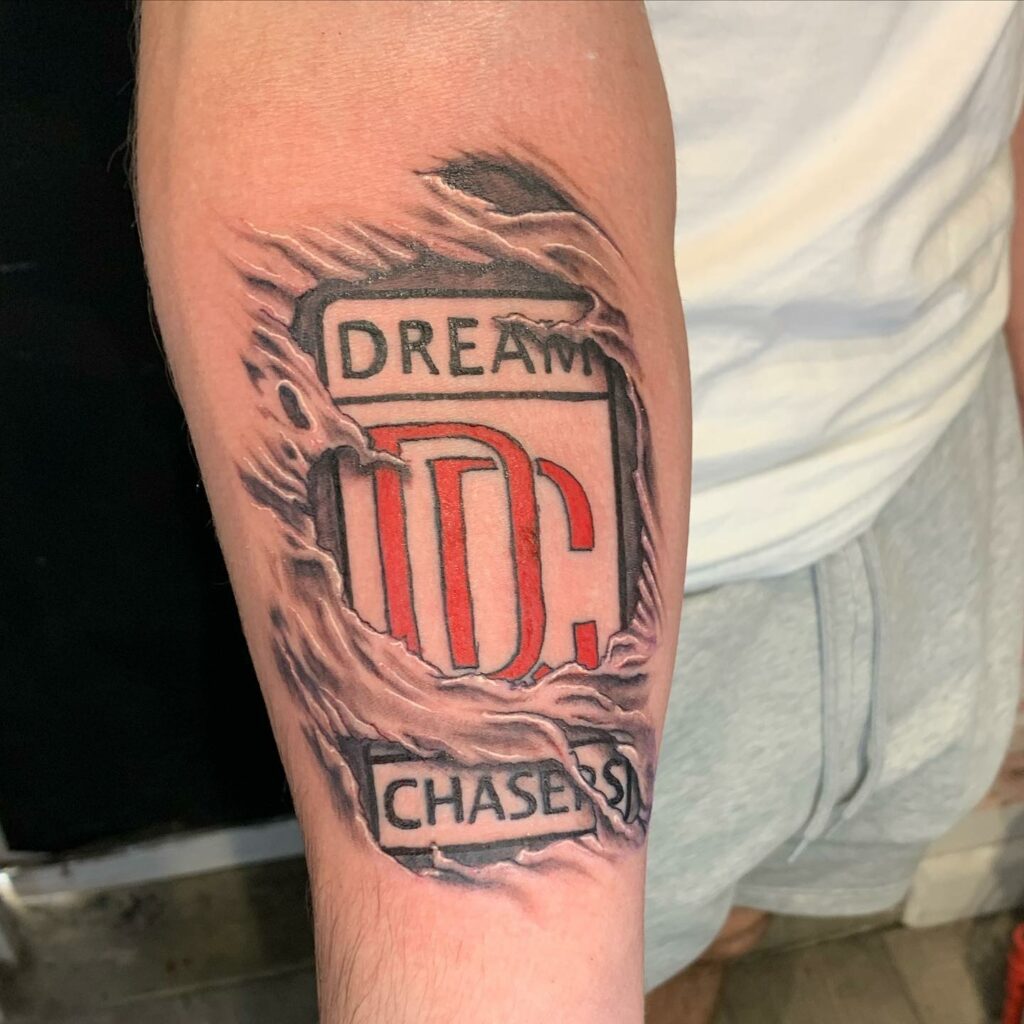 Realism is a technique in art that originated in Europe during the mid-19th century and continues to be one of the most impressive techniques used in tattooing today. When combined with the dream chaser tattoo concept, it creates a remarkable work of art that is sure to impress. This photo-like tattoo is created using black, white, grey, and red ink, and can be placed on various parts of the body such as the forearm, wrist, bicep, chest, sheen, and back.
Inspired by the Dream Chasers album of Meek Mill, this tattoo design is perfect for fans of the American rapper. The realistic style of the tattoo creates a lifelike image that is often mistaken for a photograph. It serves as a reminder that in order to achieve your dreams, you must be disciplined and focused, just like the technique of realism.
Meek Mill Dream Chaser Tattoo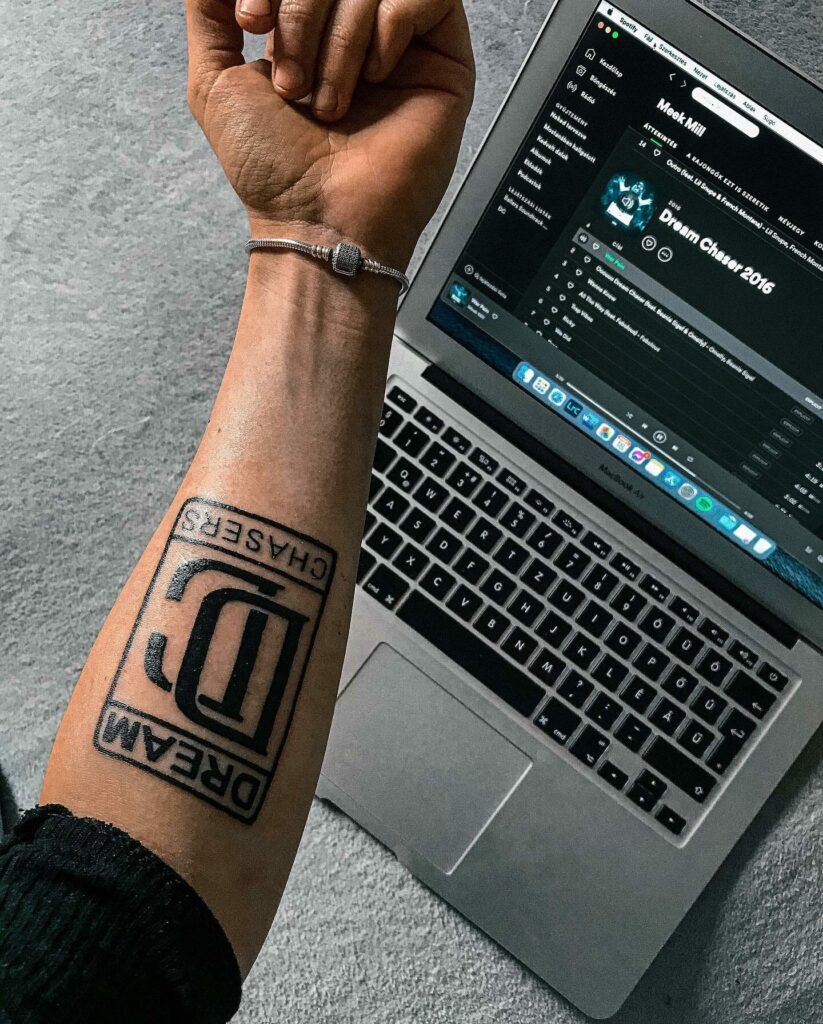 If you are a fan of the American rapper Robert Rihmeek Williams, also known as Meek Mill, then getting a dream chaser tattoo is a great way to show your respect for the artist. Meek Mill's mixtape album "Dreamchasers" may have received mixed reactions from the rap community, but the dream chaser concept lives on through his fans. The initials "D" and "C" are often used in the tattoo design to represent the Dreamchasers.
The best places to showcase this tattoo are on the forearm, wrist, bicep, back, chest, and sheen. The initials can be inked in red or the entire tattoo can be done in classic black. In addition to paying homage to Meek Mill, this tattoo can also serve as a tribute to Lil Snupe, who was considered to be Meek Mill's protégé. This dream chaser tattoo design is not just a symbol of respect but also a representation of chasing dreams and striving for success.
Dylan Harraway Forearm Dream Chaser Tattoo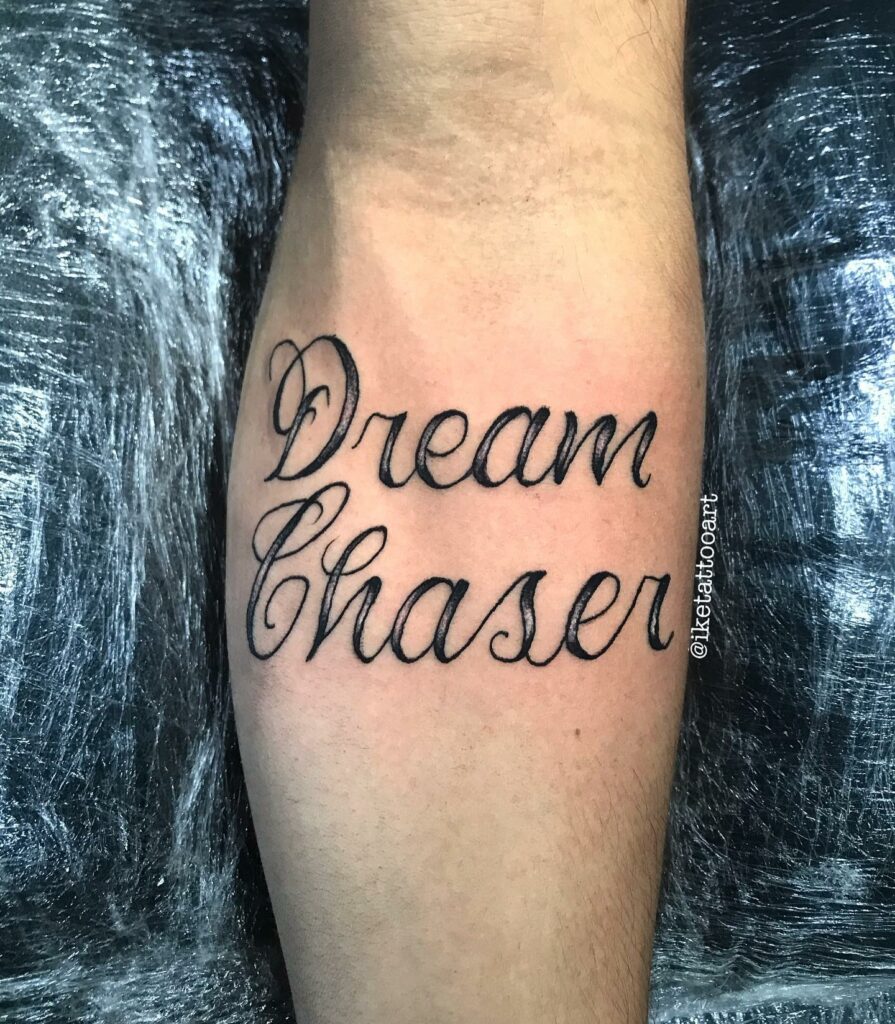 The forearm is a classic spot to get inked, and it's no surprise that it's a popular choice among tattoo enthusiasts. However, it's important to be cautious and do your research before committing to a design. Dylan Harraway, a young rapper who drew inspiration from the Dreamchasers album, got the tattoo on his forearm but unfortunately, it was inked backward. It's crucial to choose a reputable tattoo artist and carefully examine their work before going under the needle. Dylan used black ink for his design and his family initially believed it was done correctly, but it's important to keep in mind that tattoos are permanent, so it's essential to get them right the first time. Dylan's experience serves as a reminder to be diligent and thorough in choosing a tattoo artist and ensuring they understand your vision.
Chest Dream Chaser Tattoo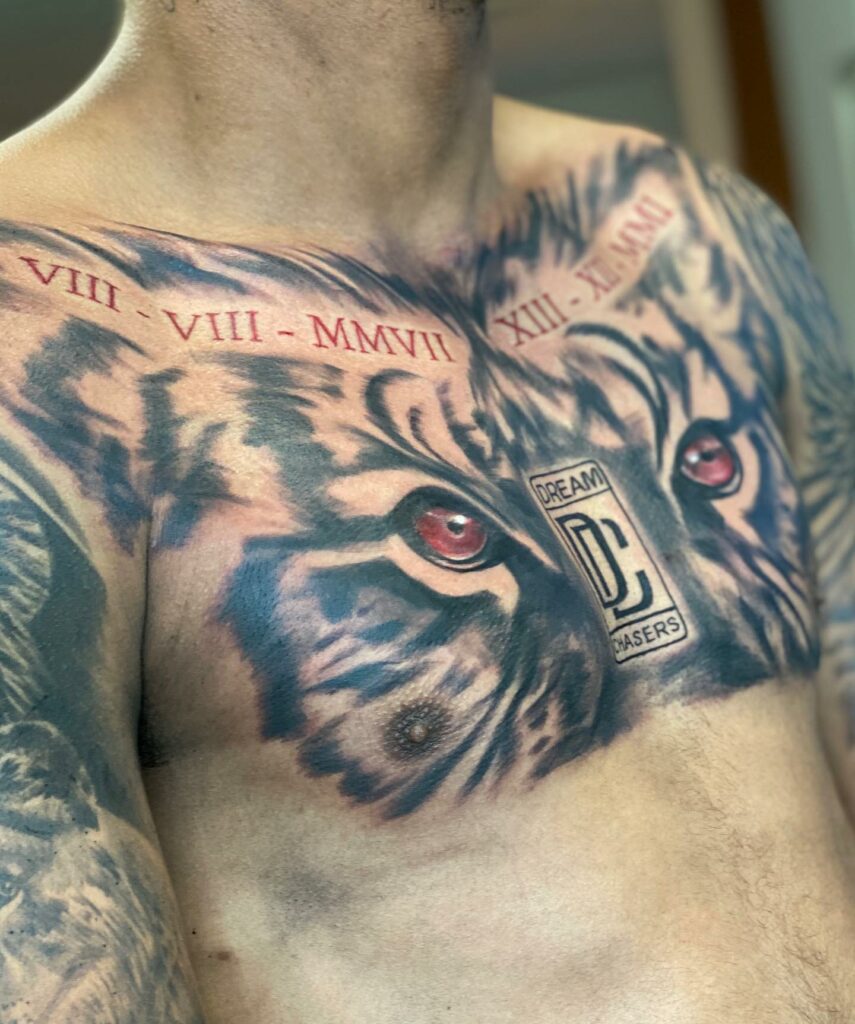 When it comes to tattoos, the chest is a popular canvas for large and beautiful designs. A dream chaser tattoo on the chest can have multiple meanings, but most importantly, it represents the courage to take risks and pursue one's aspirations. Placing the tattoo close to your heart also emphasizes the significance of your dreams. This type of tattoo is typically executed in black ink and is more commonly chosen by men. To add a unique touch to the design, elements like eagles, tiger eyes, or snakes can be incorporated. It is important to visit a reputable tattoo shop to ensure the tattoo is done correctly and to avoid unfortunate mishaps, like the backwards tattoo Dylan Harraway received. Ultimately, owning a dream chaser tattoo is a great reminder to stay focused and committed to achieving your dreams.
Still looking for inspiration, then checkout this blog post about japanese snake tattoo
feature image from Pinterest – Want your tattoo to look brighter? Try "Tattoo Balm"