Hey there, ink enthusiasts! Are you on the hunt for a beautiful and meaningful tattoo design? Look no further than the world of flower tattoos! These versatile designs can be customized to fit your unique style and personality while also holding special significance for a variety of people.
Whether you're looking to commemorate a special memory or simply add a touch of beauty to your body, a flower tattoo can be a great option. From the classic acacia flower to the elegant lily, there are countless flower designs to choose from that can represent everything from your place of origin to a personal cause or belief.
The best part? Flower tattoos have been a popular choice for creative minds for centuries, making them a timeless and evolving fashion statement that will never go out of style. So, whether you're looking for a small, delicate design or a full forearm display, let's dive into the world of flower tattoos and find the perfect inspiration for your next ink session!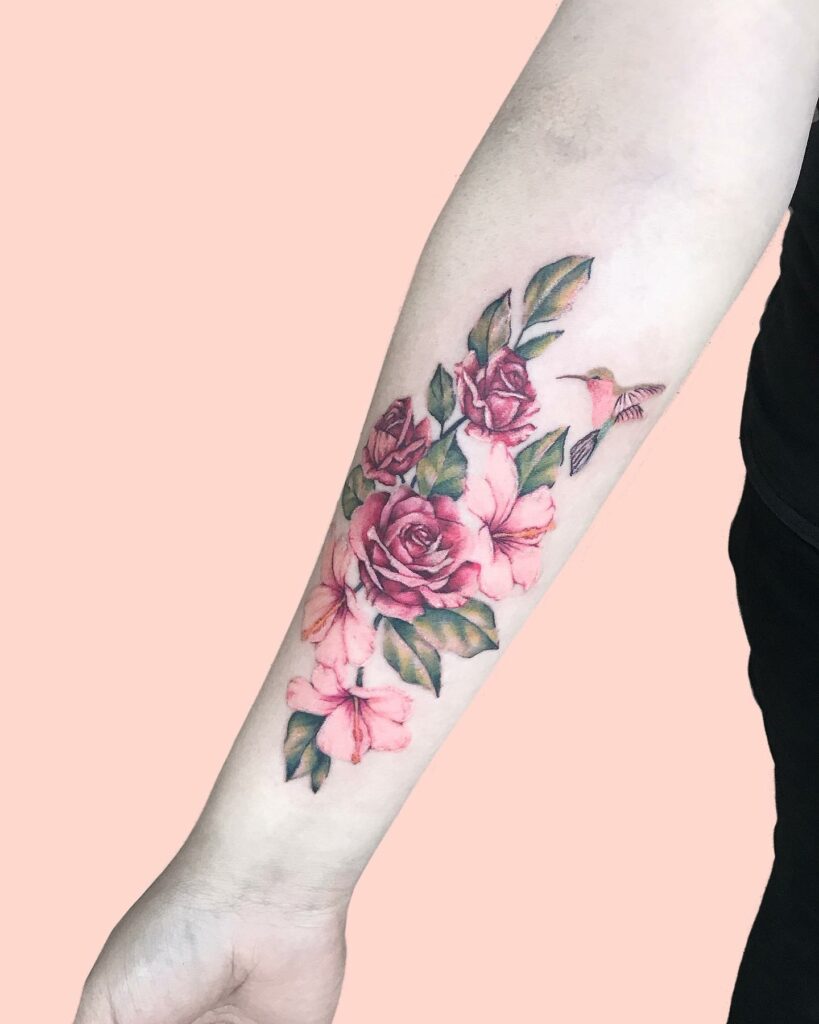 The Bold Fineline Rose and Marigold Tattoo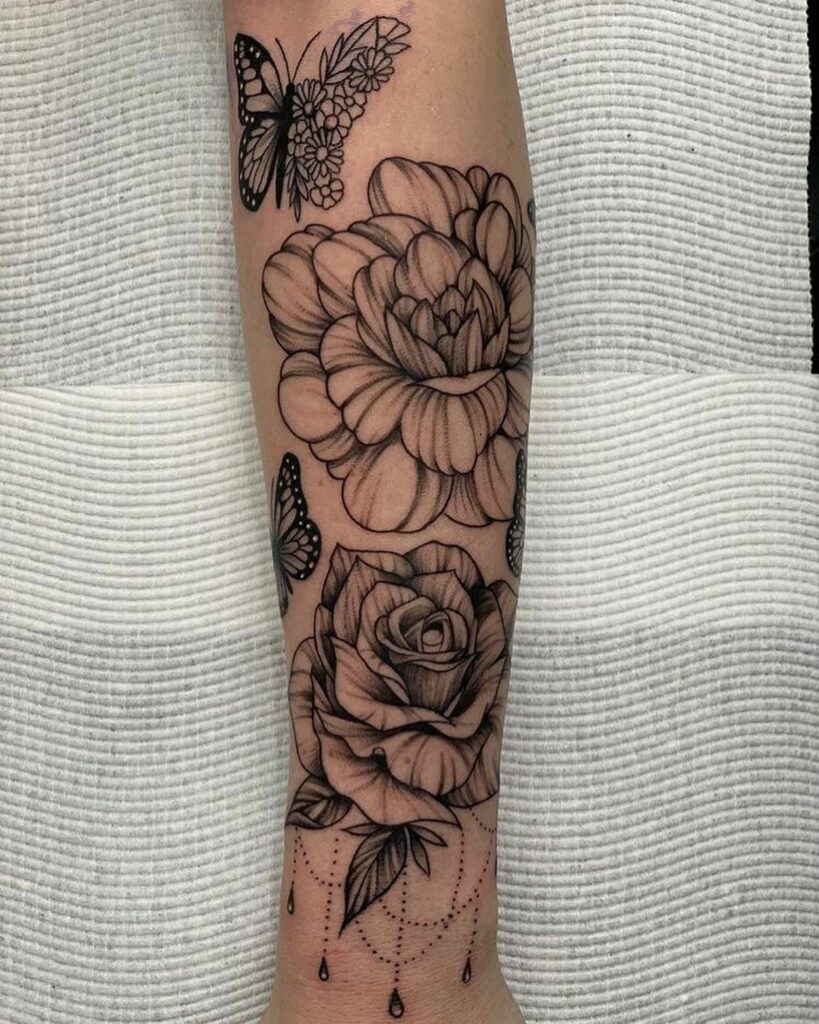 The Marigold flower tattoo design is a perfect choice for those looking to make a bold statement. The Marigold represents power and strength, and when paired with the elegance and sensuality of a flower tattoo, it creates a beautiful and eye-catching design. This particular tattoo is a forearm tattoo, making it an excellent option for those who want their tattoo to be visible and make a great first impression. The intricate detailing of the flower tattoo highlights the symbolism of power and elegance, while also showcasing the skill and dedication of the tattoo artist. This is a timeless design that you will treasure for years to come.
The Rose Forearm Tattoos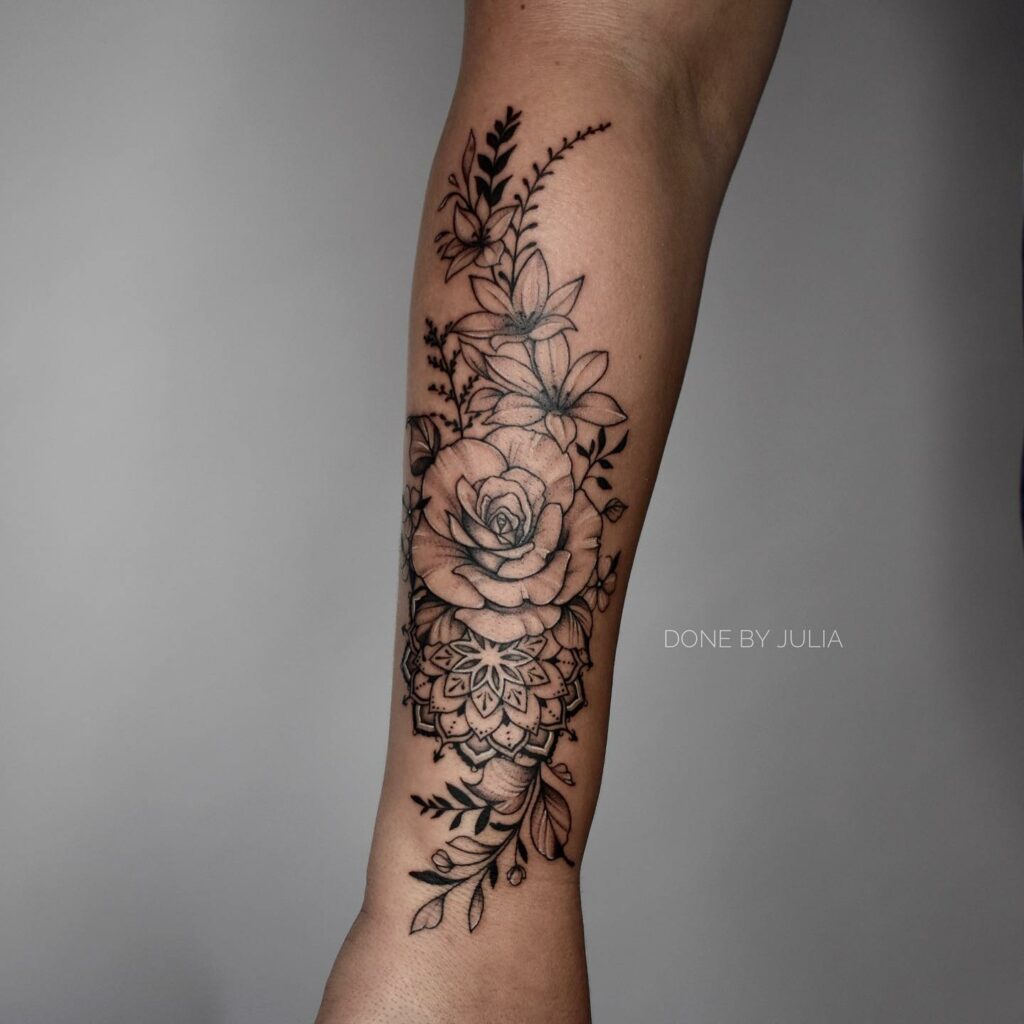 This exquisite forearm tattoo art features a stunning portrait of a rose, capturing the essence of strength, love, and beauty, alongside the vast array of symbolic meanings that these floral tattoo designs hold. The half-slit flower beneath the rose brings an air of mystery and duality to the piece, inviting deeper interpretation and understanding.
The rose has long been regarded as a symbol of love, youth, and passion. However, many cultures also attribute the flower with representing confidentiality and secrecy. With such a vast array of meanings, it's no wonder that flower tattoo designs remain a popular choice for many, and tattoo artists continually find ways to create unique and personalized pieces.
This stunning rose tattoo design on the forearm is a timeless choice that will undoubtedly draw attention and leave a lasting impression. The tattoo artist has masterfully captured the intricate details of the rose, from the delicate petals to the sharp thorns. It's a testament to the artist's skill and the wearer's commitment to showcasing their unique style and personality through body art.
The Minimalist Sweet pea flower tattoo with Larkspur Flower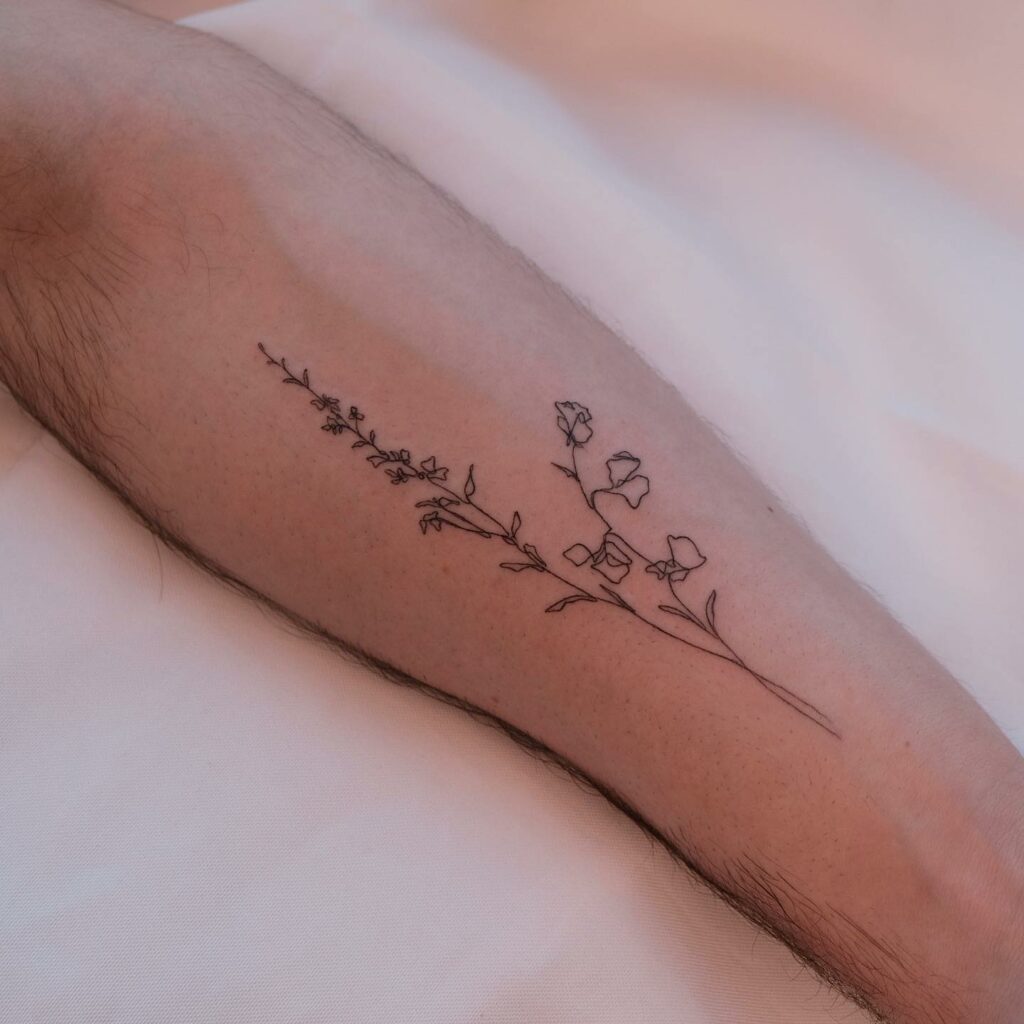 Sweet pea is a delicate flower that symbolizes gratitude and remembrance of loved ones, but it also serves as a reminder of mortality, which grounds us in the present moment. This minimalist floral tattoo design is a great way to express these meaningful messages.
Adding the larkspur flower to the sweet pea design creates a deeper meaning of open-heartedness, which pairs perfectly with the delicate and grateful nature of the sweet pea. The best thing about flower tattoos is that their meanings are not set in stone and can vary depending on the individual's perspective. You can personalize your design by adding other elements or symbols that hold significance to you, creating a unique tattoo with a special meaning. Get inked with a sweet pea and larkspur flower tattoo design and carry a meaningful reminder with you always.
The Colorful Cherry Blossom Flower Tattoo
Adding a splash of color to your skin with a floral design can be just the confidence boost you need to tackle each day with style and grace. The delicate yet striking cherry blossom is a perfect choice for those seeking a meaningful and beautiful tattoo. While these colorful flower tattoos require more effort and endurance, the reward of having a stunning piece of body art that is a constant companion in your daily life is well worth it. Pain is often a concern when it comes to colored tattoos, but a forearm or arm tattoo is generally considered less painful than other areas. Keep in mind that pain tolerance varies from person to person, and the extra effort you put into enduring the process might even make you feel stronger and more accomplished in the end.
The Dotted Lotus Tattoo
Looking for a meaningful and elegant tattoo design that embodies your journey of self-actualization? The simple and dotted lotus design might just be the perfect choice for you. The lotus flower is known to represent purity, enlightenment, and rebirth. The dotted design adds a unique touch to the lotus, giving it a minimalist and modern look that's perfect for those who appreciate simplicity. This design is not only aesthetically pleasing but also serves as a constant reminder of your strength and determination to overcome challenges and temptations. Placed on the outer or inner forearm, it's a small yet powerful design that will keep you motivated on your path to self-improvement.
The Minimally Colored Dahlia Tattoo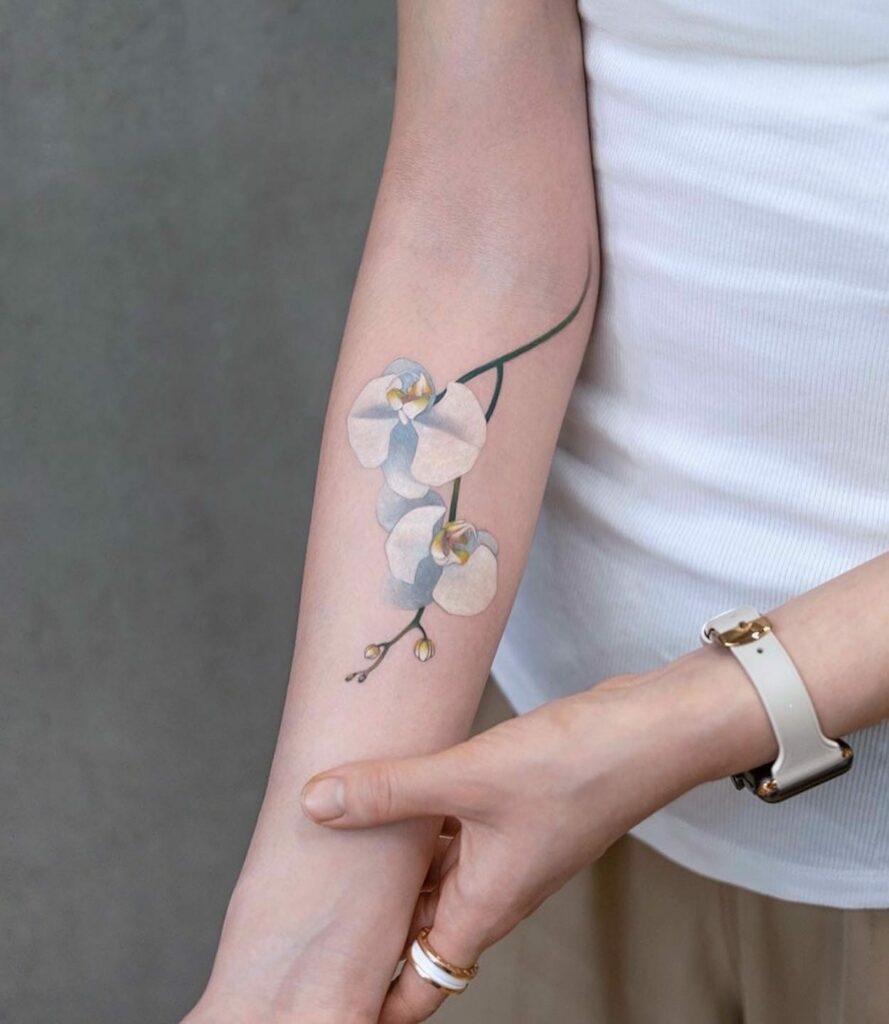 The beauty and symbolism of a flower tattoo can speak volumes, and the Blue Dahlia is no exception. While it may seem like a simple design, the meaning behind it runs deep. Not only does it represent honesty, change, and forgiveness, but it also serves as a reminder of the power of a fresh start. This beautiful flower symbolizes the beginning of a new journey, one that requires leaving the past behind and forgiving oneself and others.
When it comes to flower tattoo designs, adding colors can take the symbolism to the next level. A Pink Dahlia is a perfect example of this. Not only does it represent a new start, but it also embodies kindness and beauty, two qualities that are often overlooked but essential for personal growth. So, if you're looking for a simple yet meaningful tattoo idea, consider a Minimally colored Dahlia, and let your creativity flow to make it a unique expression of your personality.
The Realistic Daisy Tattoo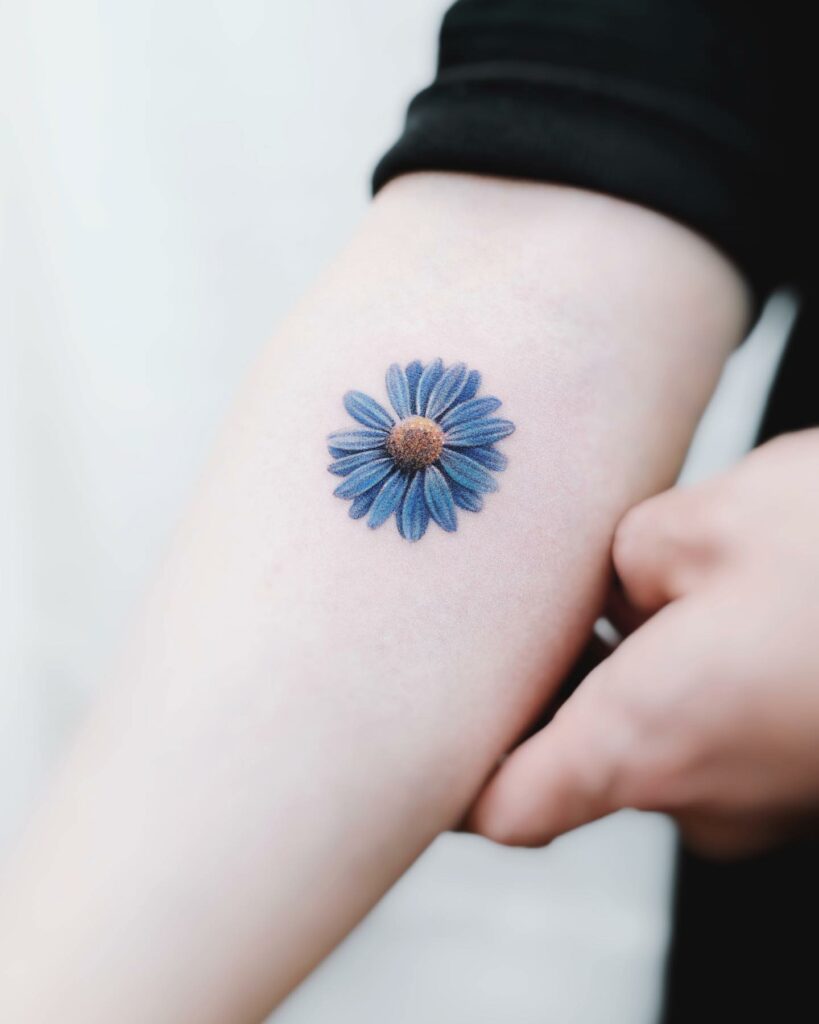 Flower tattoos have always been a popular choice for those who seek to express their personalities through their ink. A realistic flower design, such as one worn on the forearm, can evoke feelings of vulnerability and strength simultaneously. However, it is important to remember that vulnerability does not equate to weakness. Rather, it takes strength to show your vulnerable side to the world. These realistic tattoos are a beautiful representation of your fearlessness and confidence, paired with the romanticized meaning of the flower. The minimal pain of getting this amazing design is well worth it, and can serve as a great symbolism of your personality and inner strength. Whether you're an elegant woman or a man who appreciates the beauty of flowers, this is a perfect tattoo idea for anyone looking to express themselves through their ink.
The Versatile Floral Mix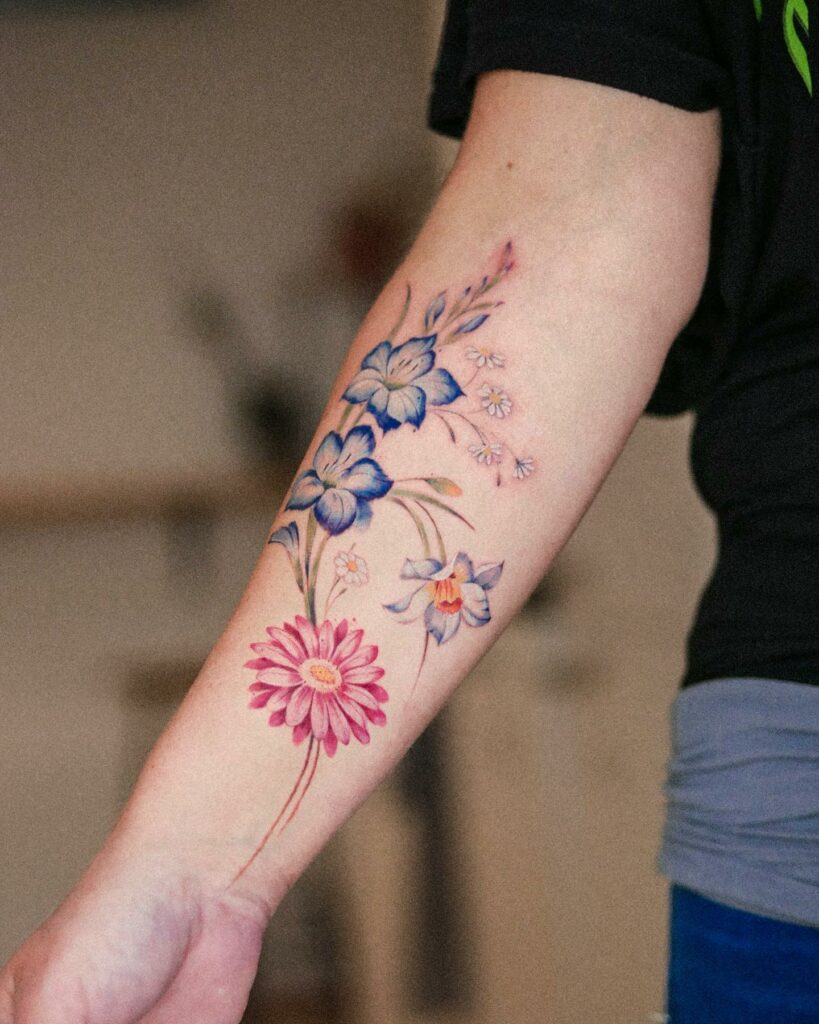 This multi-dimensional design is perfect for those who want to make a statement with their ink. With a carefully curated collection of flowers, including the chrysanthemum for happiness and well-being, Freya's treasured flower for motherhood, and narcissus for rebirth, this tattoo is sure to impress.
Not only is this design visually stunning, but each flower holds a deep symbolic meaning that can represent different aspects of your life and personality. And while a full forearm or sleeve tattoo might seem daunting, it is actually one of the least painful options for tattoo placement.
So why not take the leap and embrace a new start with a beautiful and meaningful floral tattoo?
The Floral Sleeve of Life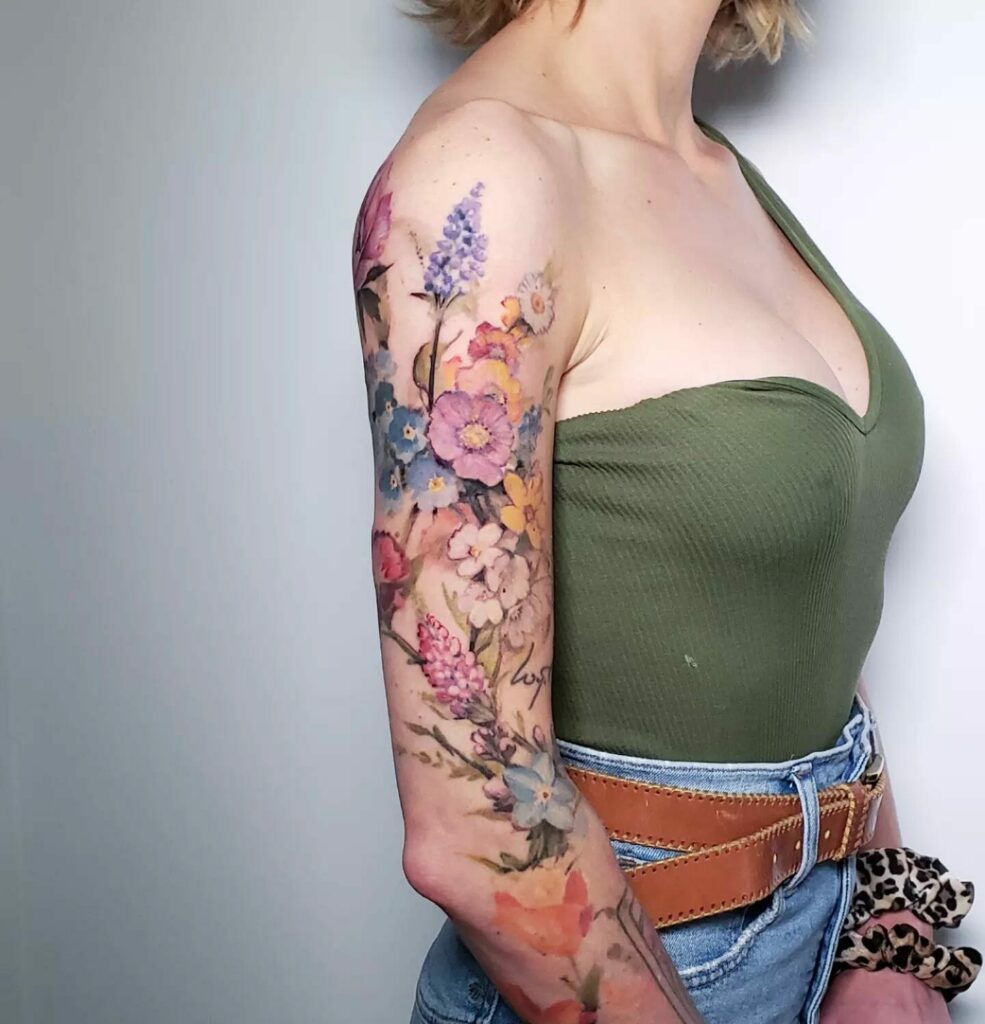 The art of a floral sleeve tattoo can capture attention like no other, and is a great way to showcase your unique personality and journey through life. The options are endless, allowing you to truly express yourself with creative and meaningful tattoo ideas.
Starting from the wrist and climbing up the forearm, you can highlight different events and milestones in your life with various flowers and their symbolic meanings. For instance, a Narcissus tattoo on your wrist represents rebirth and new beginnings, while a dotted lotus tattoo serves as a reminder of the journey of self-actualization.
A floral sleeve can be designed to tell your story, with each flower representing a different aspect of your life. You can use bold, bright colors for a vibrant look or opt for more subtle shades for a softer appearance.
Whatever your preference, a floral sleeve tattoo is a timeless piece of art that captures the essence of who you are and what you have been through. So, why not make a statement and let your sleeve tattoo speak for itself?
The Black and White Sunflower Bouquet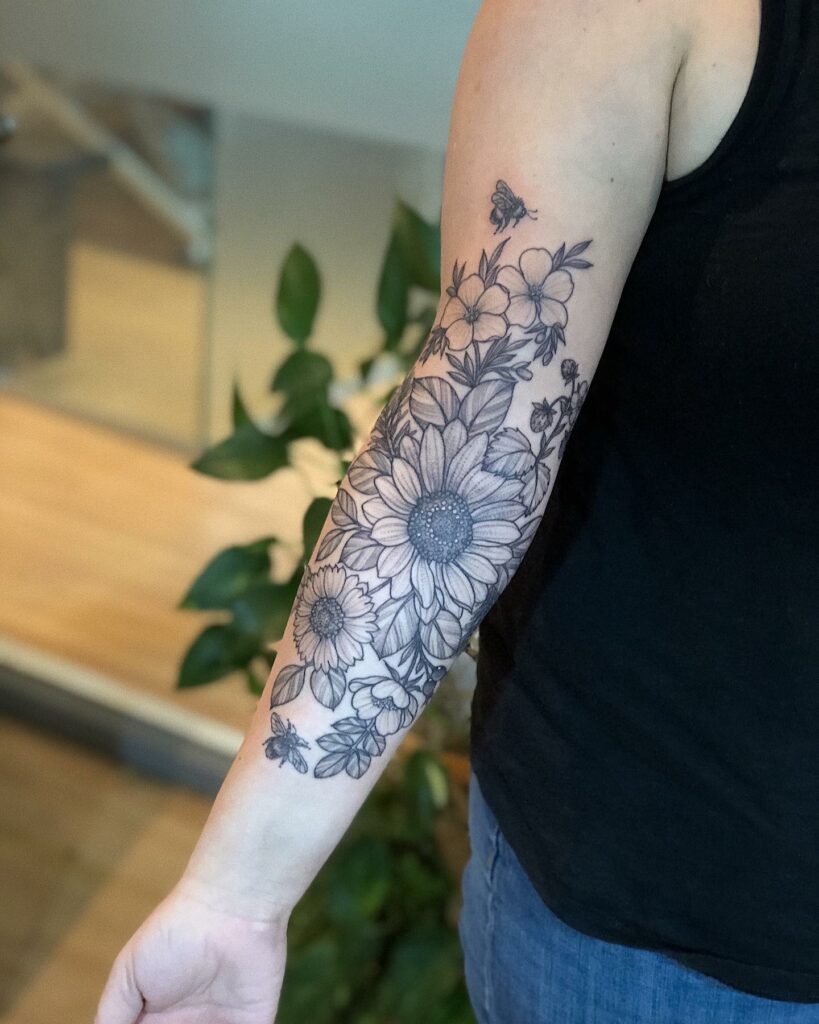 While some may argue that it's a common design, the sunflower's unique features and denotation of good luck and longevity make it stand out in every perspective.
But why stop at a simple bouquet? A sunflower can be incorporated into a larger, full sleeve or forearm flower tattoo, allowing for even more creativity and personal meaning. These tattoo ideas for women are not only visually stunning but also serve as a constant reminder of our best selves and cherished memories.
It's important to remember that flower tattoo designs hold deep symbolic meaning and serve as a special gift to ourselves. So let your imagination run wild and create a beautiful piece of art that represents your unique journey and personality.
feature image from Pinterest – Want your tattoo to look brighter? Try "Tattoo Balm"
Last reviewed and updated on April 8, 2023