Hello, ink enthusiasts and stargazers alike! Are you dreaming of adorning your skin with the celestial beauty of a galaxy tattoo? Well, your stars have aligned, as we've curated a list of the most stunning galaxy tattoo designs for your next tattoo adventure.
Galaxy tattoos are truly a sight to behold — they bring the mesmerizing aesthetics of the cosmos right onto your skin, a testament to the celestial beauty that surrounds us.
These tattoos have a certain allure that has captivated tattoo lovers across the globe. Inking a galaxy onto your body is like carrying a piece of the cosmic puzzle with you, a splendid display of the enigmatic universe we reside in.
Beyond their aesthetic appeal, galaxy tattoos carry a profound symbolism of mystery, encouraging us to embrace the unknown. Just think of the Milky Way, our home galaxy — a spectacular sight few of us have had the privilege to witness firsthand, yet its breathtaking images have left us awestruck. Tattoos depicting outer space capture this splendor with vibrant colors and intricate designs, making them a feast for the eyes.
So, if you're a space aficionado yearning to etch a piece of the cosmos onto your skin, we're here to guide your way. Dive into our curated selection of galaxy tattoo designs and let the stars be your canvas in your upcoming tattoo session.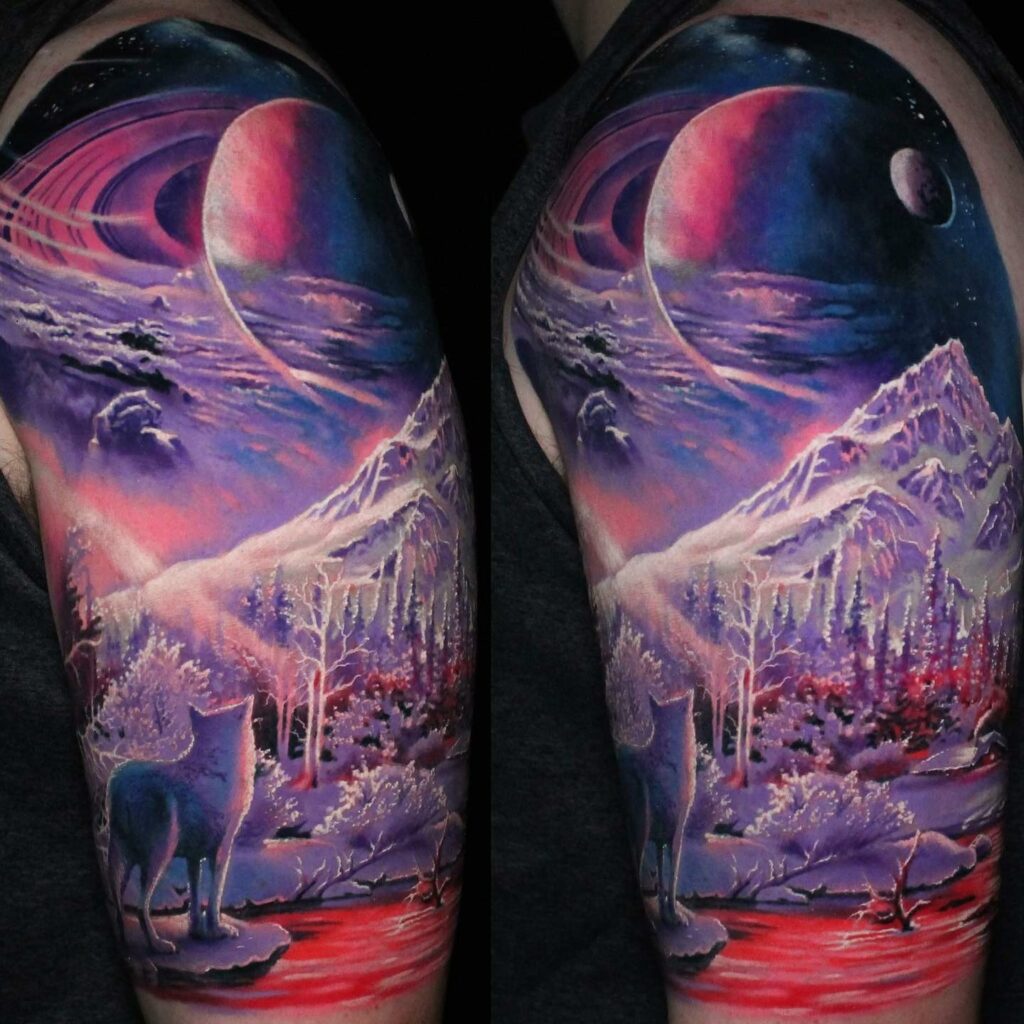 Very Cute Astronaut And Planets Small Galaxy Tattoo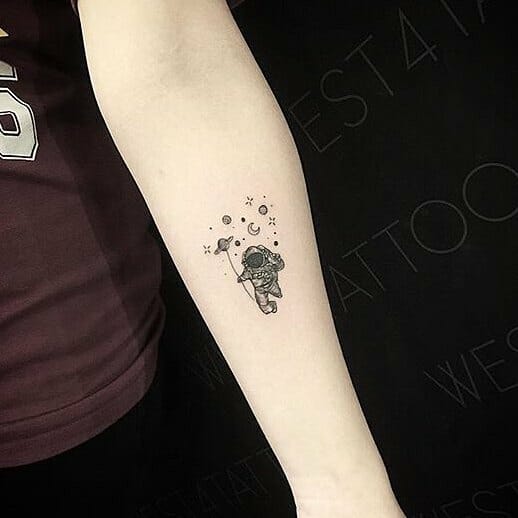 If you're looking for a unique and cute tattoo idea, consider an astronaut tattoo! This minimalist design features an adorable astronaut holding onto a Saturn balloon, with planets and the moon floating around. The design is versatile and can be placed on any part of your body. It's essential to choose a professional tattoo artist who can do justice to the intricate details of the design. While this astronaut tattoo is currently done in black ink, you can add colors to it if you wish. The planets and the moon make the tattoo even more beautiful and add to the design's overall charm. The size of the tattoo is perfect for a subtle yet eye-catching addition to any outfit.
Minimalist Galaxy Tattoo Idea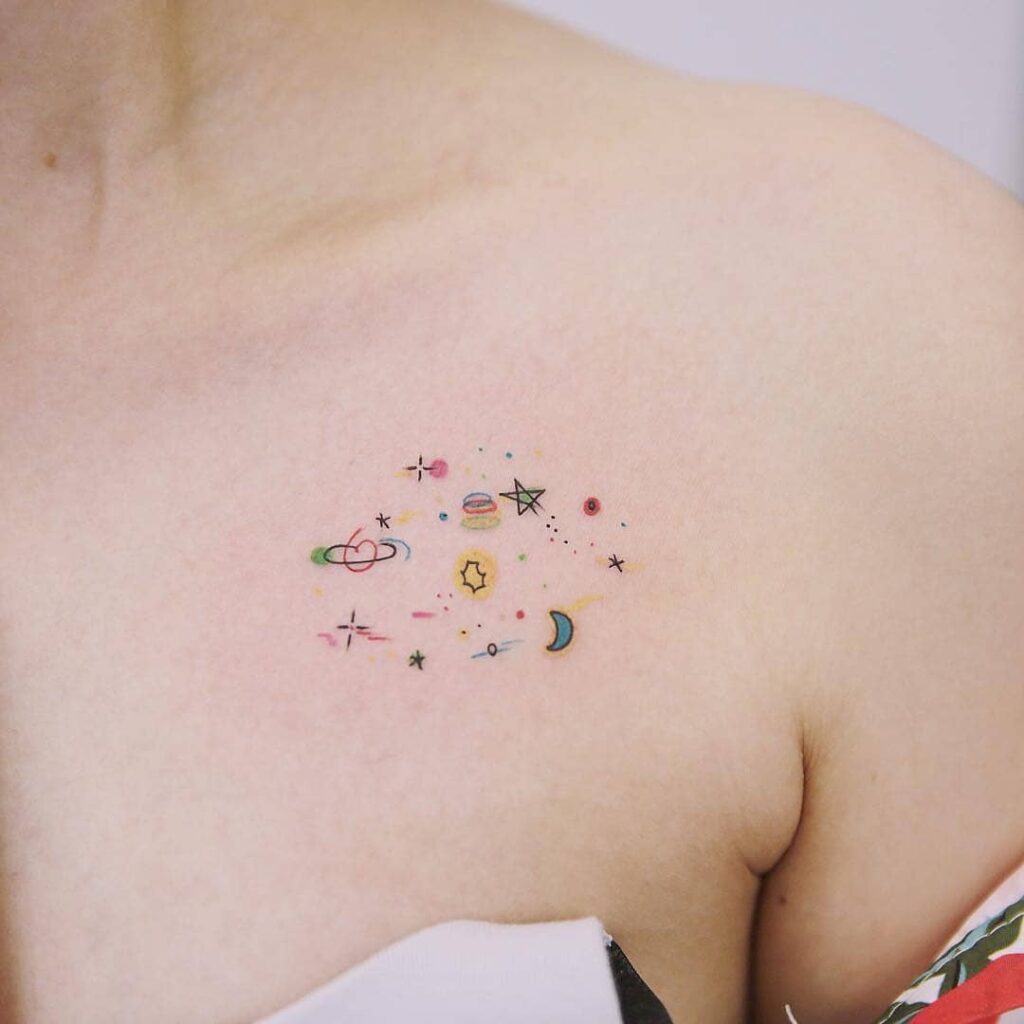 Galaxies have always been a source of inspiration and wonder for people. It represents the endless possibilities and the exploration of the unknown. This minimalist space tattoo is a symbol of courage and venturing beyond one's limits. The design features stars, planets, and the moon with subtle yet eye-catching colors that bring the tattoo to life.
This simple yet captivating tattoo is perfect for those who want to express their fascination with space in a unique way. Its small size makes it suitable for any body part, such as the chest, forearm, thigh, or back. As with any tattoo, it's essential to choose a skilled artist to achieve the intricate detailing and shading of the design. Overall, this space tattoo is an excellent choice for anyone looking for a minimalist and aesthetically pleasing artwork.
Forearm Universe Tattoo Designs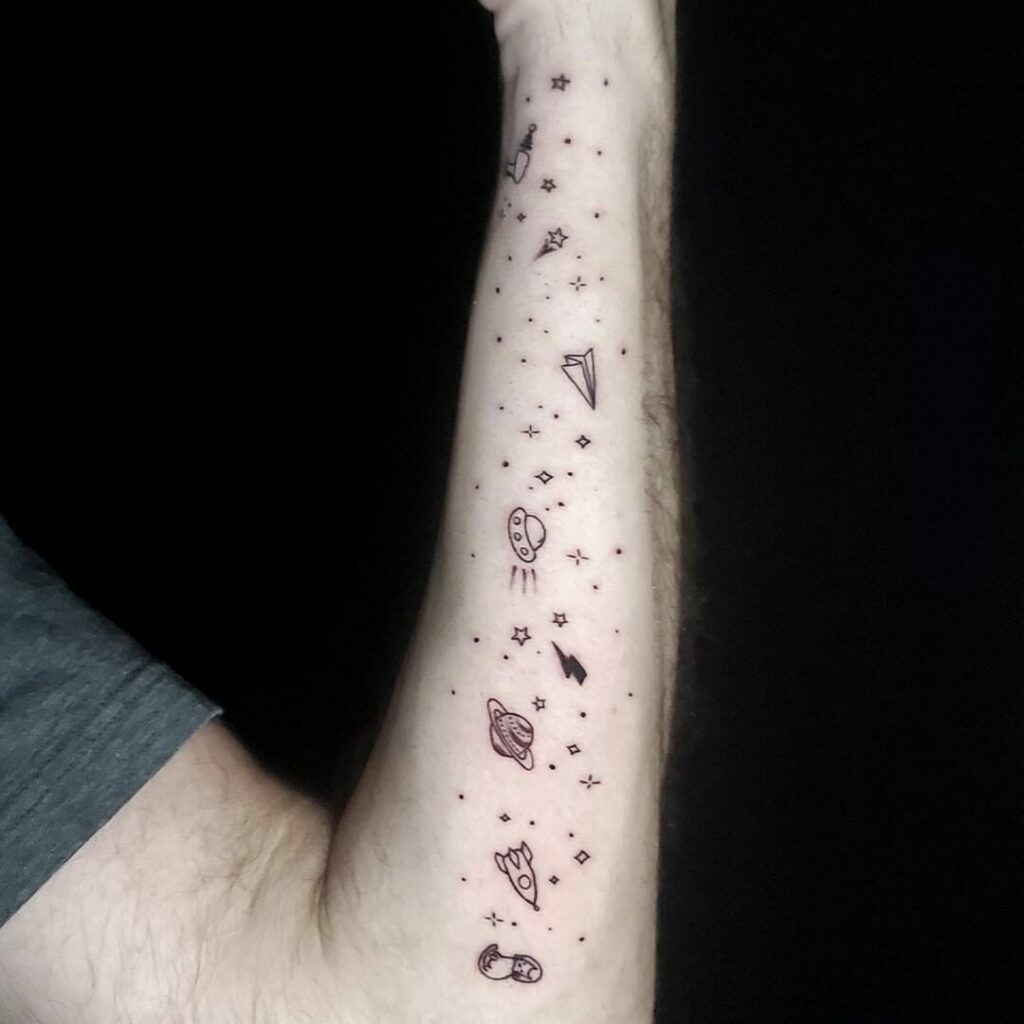 Looking for a tattoo that showcases your love for space? This black and white galaxy tattoo is the perfect minimalistic design for you! It has been placed on the forearm and features various space elements such as a UFO, a Saturn, a rocket, stars, and more. You could even personalize it by adding more elements that hold a special meaning to you.
The space elements in this tattoo convey several meanings, including your passion for exploring the unknown. You can also add colors to make the tattoo even more unique. If you want to create a larger tattoo piece, this design is also great for filling spaces on your chest, leg, or back. Just make sure to have a skilled artist do the job to ensure the intricacy of the details.
Elegant Solar System Tattoo

This solar system tattoo is a great choice if you want a tattoo that showcases your love for space. The tattoo includes all nine planets in our solar system, along with the sun. The planets are aligned in order, creating a perfect symmetry in the tattoo design. The sun is the largest element in the tattoo, with rays radiating from it.
The tattoo has been created using black ink, with fine detailing on each planet. The precision in the detailing makes the tattoo look stunning. The sun has been left without any detailing, which enhances the overall look of the tattoo. This elegant space tattoo can be a great addition to your forearm or back, and will definitely turn heads.
Galaxy In Her Head Tattoo Design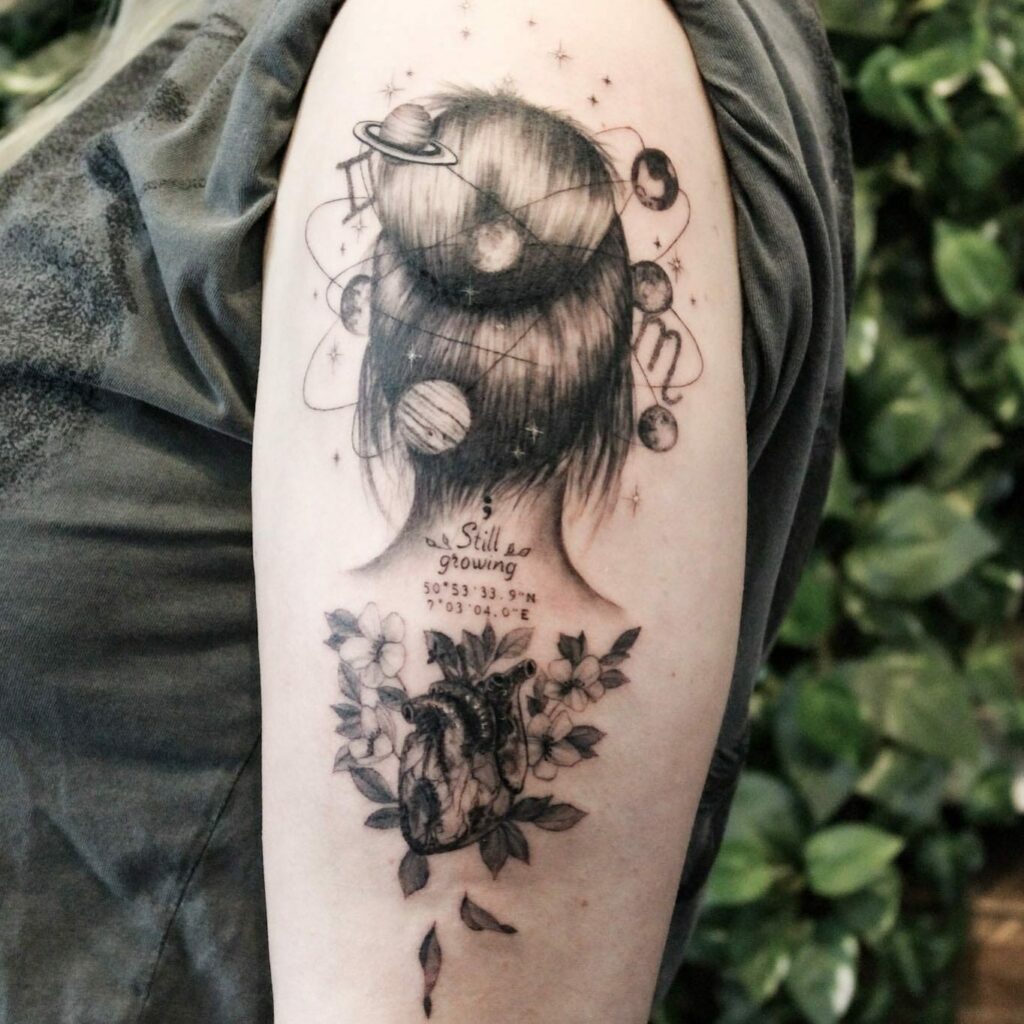 The galaxy represents endless possibilities, and this tattoo showcases the imaginative universe inside a girl's head. The girl's hair is styled in a chic bun, with planets and stars surrounding her head. The tattoo's meaning is to show how everything begins with the thoughts in our head, and that we are in control of our world.
At the bottom of the tattoo, there is a heart surrounded by beautiful flowers, representing that with a strong heart, anything is achievable. The tattoo is done in black ink, but you can opt for different colors to make it pop. This is a perfect tattoo for anyone who wants a space tattoo with a deep meaning attached to it. You can get this tattoo on your back, chest, or arms.
Puppet Planets Galaxy Tattoo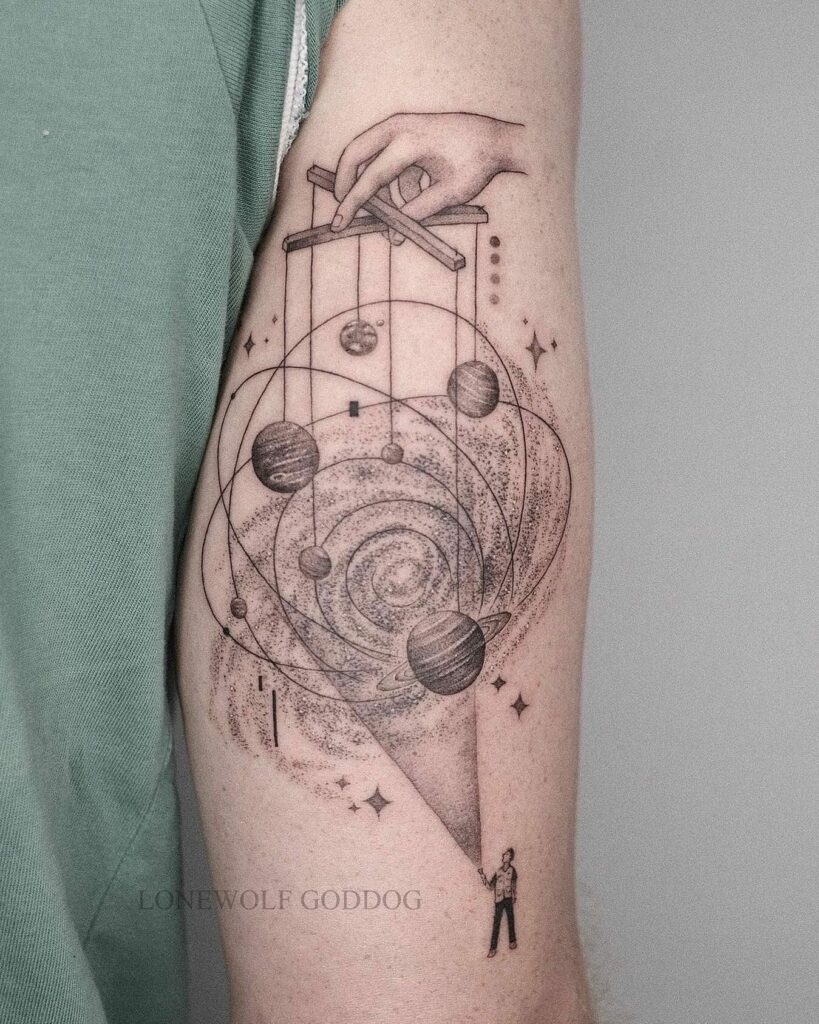 Fineliner tattoos are the perfect choice if you're looking for something subtle and refined. This minimalist planet tattoo is an excellent option for those who prefer simple and elegant designs. This galaxy tattoo sleeve complements any outfit you wear and adds a touch of sophistication to your style. The tattoo artist has used fine detailing, and the precision with which the tattoo has been done makes it absolutely stunning.
The tattoo features a hand holding the planets with threads, and a tiny man holding a torch that illuminates the planets. The concept behind the tattoo is very creative, and the tiny man and the hand have been meticulously detailed, making the tattoo look perfect. If you want a galaxy tattoo design that's truly unique and complements all styles, then this is the tattoo for you.
Small Galaxy Tattoo Ideas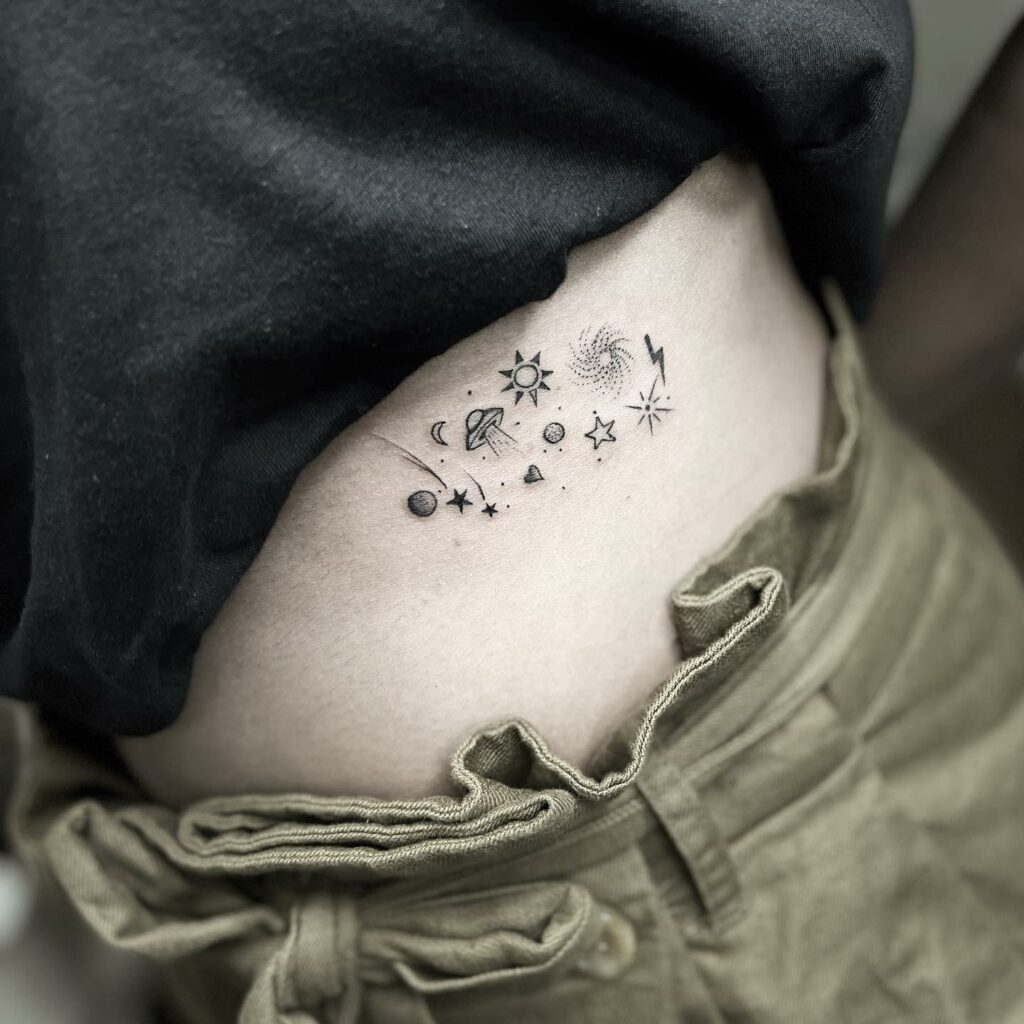 Looking for a tattoo design that reflects your love for the universe? Look no further than this stunning galaxy tattoo, complete with all the celestial elements you could want. With a UFO, the sun, stars, and planets, this design is perfect for anyone who wants to add a touch of mystery and wonder to their body art. And if you have any other elements you'd like to incorporate, your tattoo artist can work with you to create a custom design that's uniquely you.
Not only is this tattoo stylish and timeless, but it also carries a deeper meaning. It represents the beauty of the cosmos and all the secrets that lie within it. Plus, since it's such a versatile design, you can place it on any part of your body that you prefer, from your arms to your chest to your legs. So, whether you're a longtime fan of the galaxy or simply want to add a touch of whimsy to your tattoo collection, this design is the perfect choice.
Floating Astronaut Space Tattoo
This galaxy tattoo design is perfect for space enthusiasts! The tattoo showcases an astronaut floating in space with various planets orbiting around him. The detailing on the astronaut's suit makes the tattoo look realistic and out of this world. This tattoo is shown in a larger size, but it can also be done in a smaller size to suit your preference. Adding colors to the tattoo can also bring it to life and add a unique touch. If you're looking for a tattoo that represents your love for space and the mysteries beyond, this astronaut tattoo is a fantastic choice!
Planets Of The Solar System Tattoo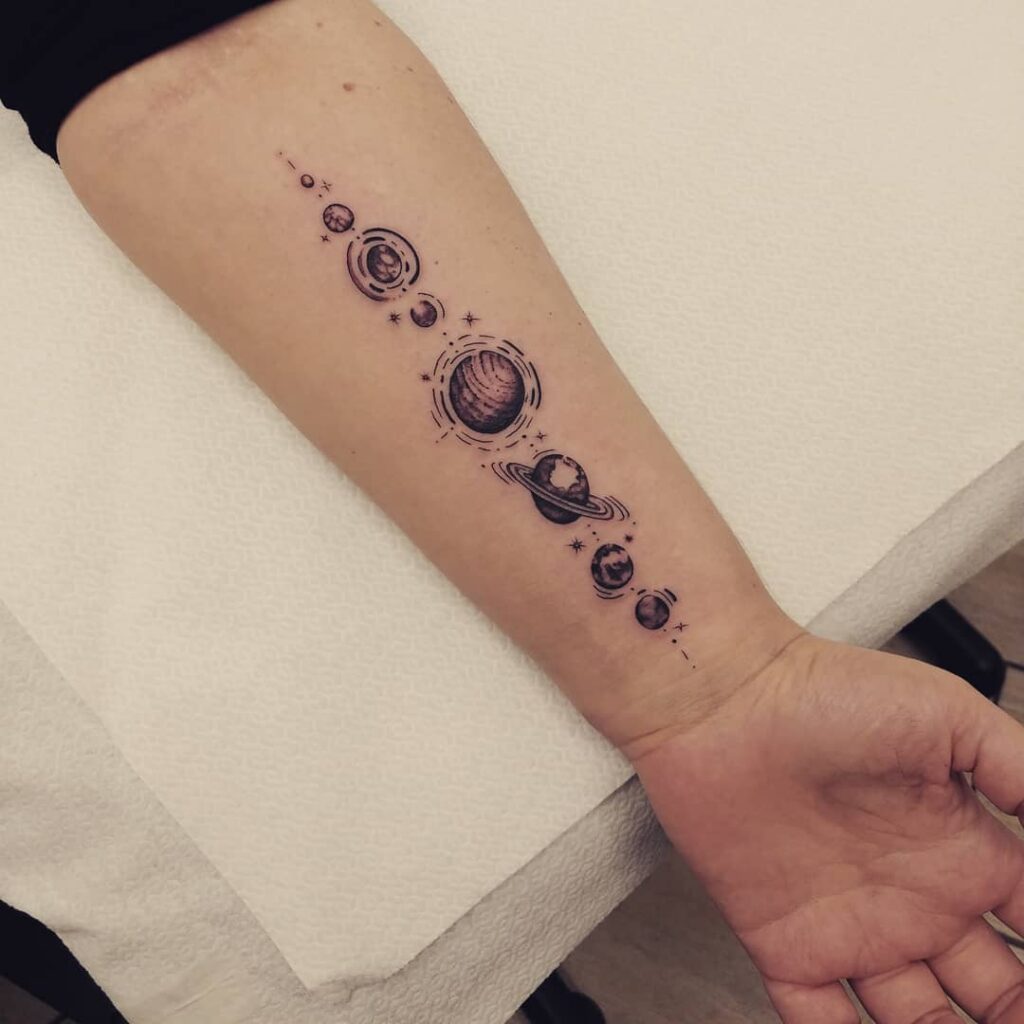 This solar system tattoo design on the forearm is an amazing artwork that showcases the planets present in the solar system. The detailing on every planet is done with great precision, which makes it look very realistic. The whole tattoo is done using black ink, but you can always add colors to make the planets and stars stand out.
The tattoo is perfect for those who love space and want a simple yet elegant galaxy tattoo. The tiny elements, such as stars, add to the charm of the tattoo and make it look more realistic. If you want to personalize the tattoo, you can always ask the tattoo artist to add some additional elements or remove the outlines on the planets. This tattoo is perfect for those who want a unique yet straightforward solar system tattoo design.
Super-Cute Outline Tattoo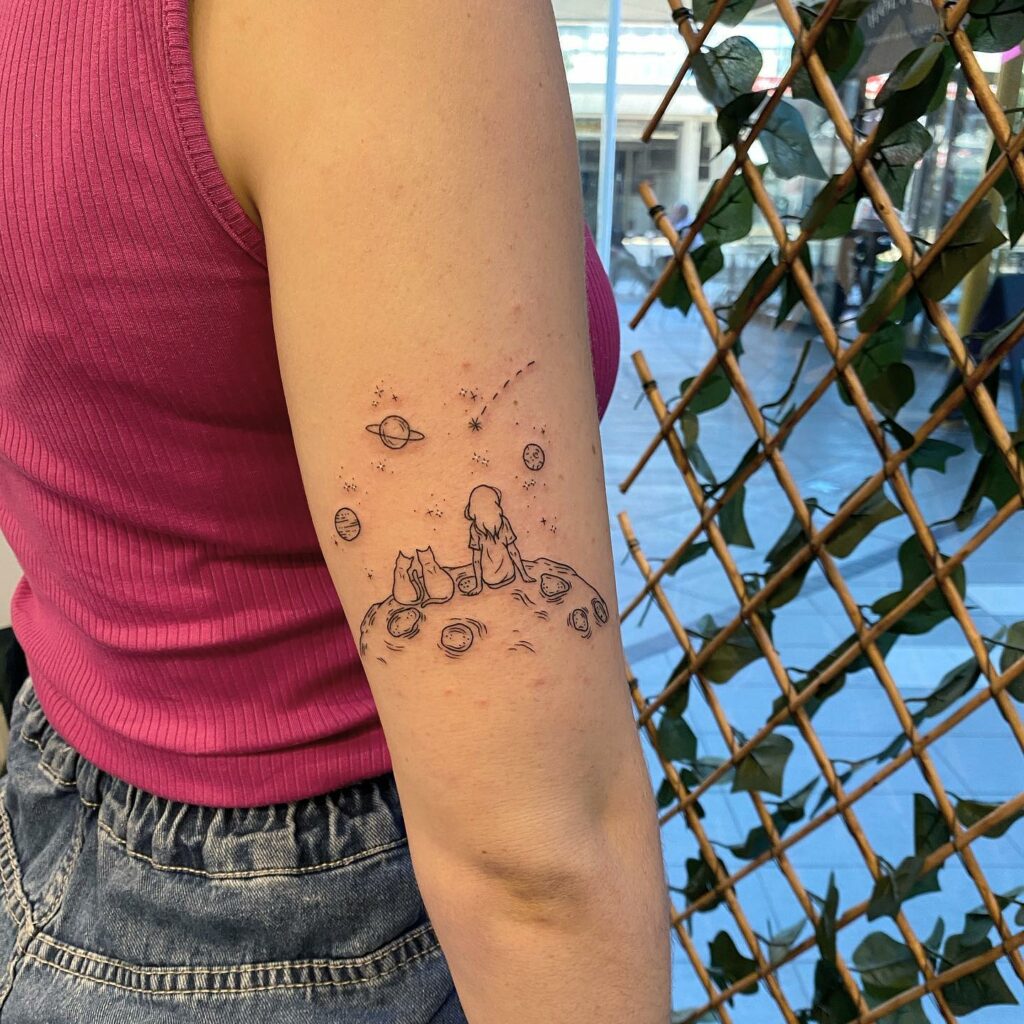 If you're looking for an elegant and cute galaxy tattoo, this outline design may be perfect for you. The tattoo features a little girl with two cats sitting and gazing at the beauty of the universe. The characters are shown from behind, looking up at the stars, planets, and sky. The tattoo is outlined, adding a subtle touch of artistry to the design.
While the tattoo is primarily outlined, you can always add color or other elements to make it unique to your personality. The simplicity of this tattoo makes it versatile and ideal for any part of your body. It is a great addition to any outfit you choose to wear.
Galaxy tattoos represent the beauty and mystery of the universe. The best part is that you can customize the design to reflect your personality and what is meaningful to you. Whether you are a space enthusiast or love the mystery of the unknown, a galaxy tattoo can be a great addition to your body art collection.
feature image from Pinterest