Greetings, fellow fans of games of chance! It's safe to say that many of us are drawn to the rush of betting, testing our fortunes, and striking it big. That's why gambling tattoos are such a hit for showing off our devotion to the sport! Whether you're a seasoned high roller or simply adore the excitement of the game, a gambling tattoo can be a fantastic way to express yourself. With countless design options ranging from cards and dice to roulette wheels and monopoly boards, the possibilities are truly limitless. Our studio is devoted to helping you find the perfect gambling tattoo that best displays your love for the game. Come take a look at our impressive array of tattoo ideas and let's get started on your masterpiece!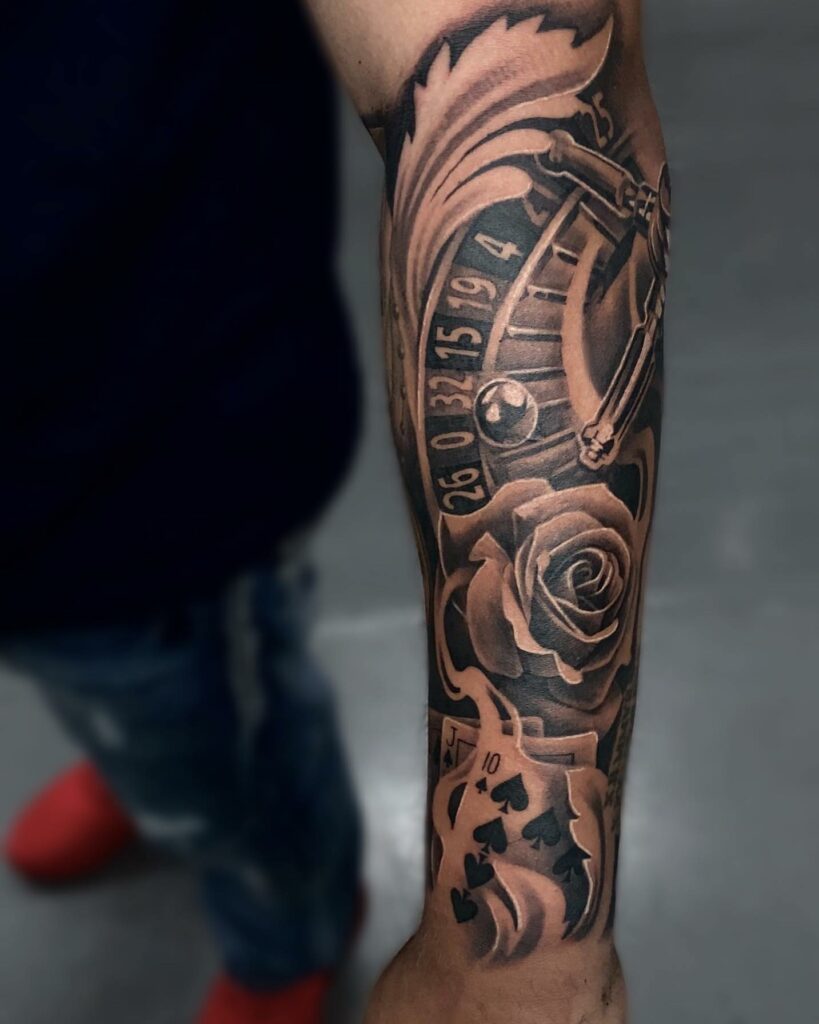 Cool Gambling Tattoo Ideas On Legs
When it comes to tattoos, there's a lot to consider, including the design and the message it conveys. For some, tattoos are a way to commemorate important moments in their lives or to serve as a reminder of past experiences. In the case of gambling tattoos, they can serve as both a warning and a reminder of the dangers of risky behavior.
Take, for example, the tattoo depicted above, which features a true gambler surrounded by the tools of the trade: playing cards, dice, a roulette wheel, and money. The artist has added fiery colors to make it appear as if the gambling scene is on fire, adding to the intensity of the piece.
But this tattoo is more than just a piece of art. It serves as a reminder of the potential consequences of gambling, both positive and negative. While gambling can bring immense wealth and excitement, it can also lead to financial ruin and addiction. For some, getting a tattoo like this one is a way to acknowledge past mistakes and stay on the right path moving forward.
Of course, not everyone who gets a gambling tattoo has a personal connection to the world of gambling. For some, it's simply a way to show their appreciation for the aesthetics and symbolism of gambling or to pay homage to the history of gambling in America. Whatever your reasons for considering a gambling tattoo, it's important to choose a design and an artist that resonates with you and that will stand the test of time.
Gamble Tattoo Ideas With Dice, Playing Cards, And Dollar Bill Roses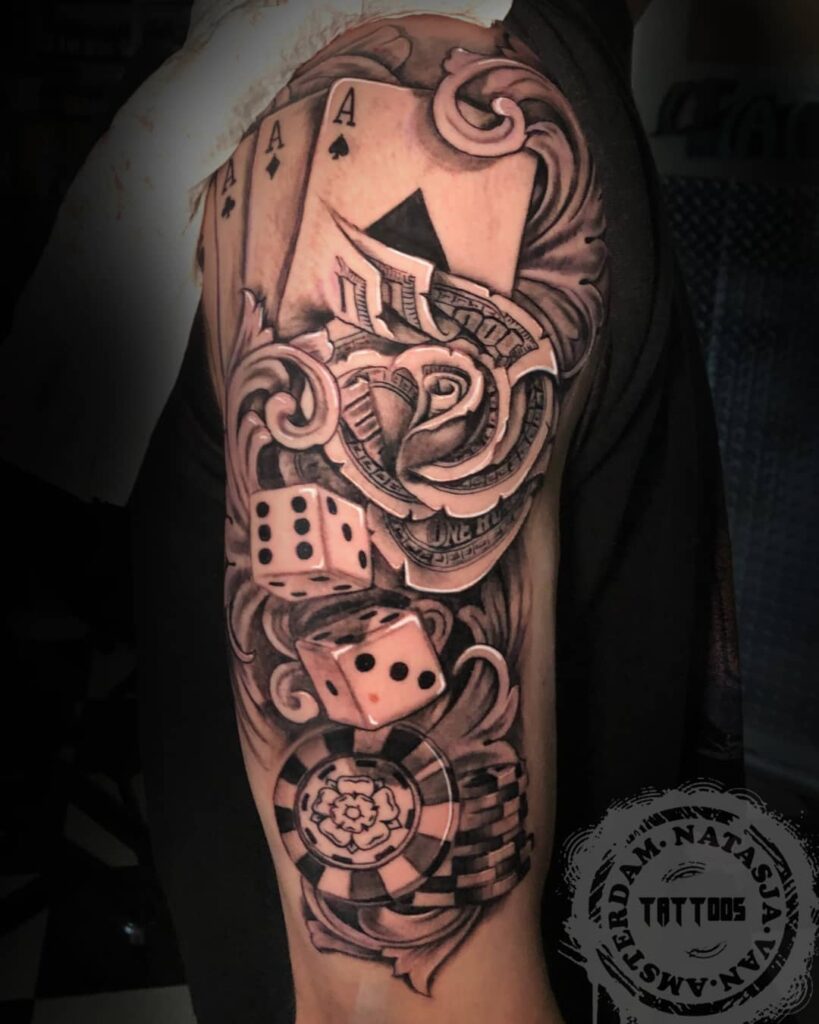 If you're a poker enthusiast looking for a way to showcase your passion for the game, then look no further than the ace trio tattoo! This tattoo design is a symbol of good luck and a representation of your biggest win.
The ace trio tattoo is perfect for anyone who loves gambling and wants to showcase their appreciation for the versatile designs of the industry. The design includes poker chips, roulette wheels, money rolls, and dice – all of which are iconic symbols in the world of gambling.
The shading in this artwork gives it a vintage feel, making it an authentic representation of the gambling scene. This sleeve tattoo is an excellent way to show off your love of poker and gambling while also attracting good luck for future games.
So why not come check out our list of amazing tattoo ideas and let's get inked? We can't wait to help you find the perfect design that truly speaks to you!
Detailed Gambling Tattoo Categories For Full Back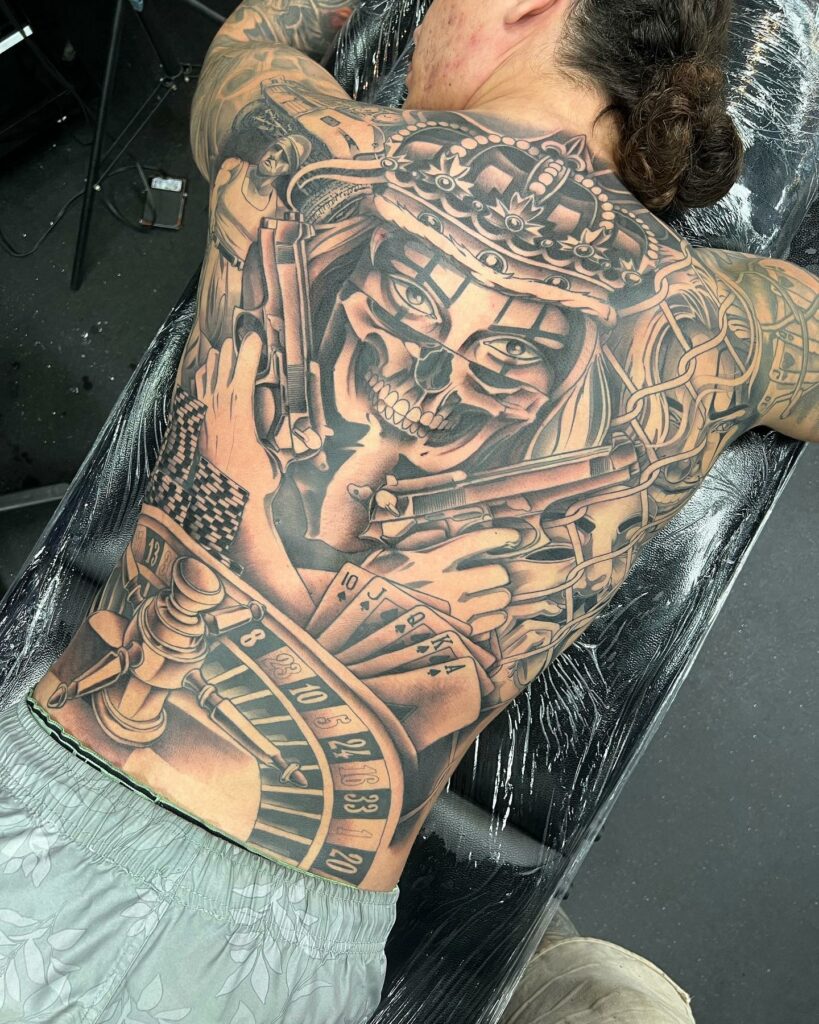 If you're looking to showcase your passion for gambling on a bigger canvas, then a full-back gambling tattoo is perfect for you. This majestic tattoo covers all aspects of the gambling world and casinos. From a royal flush of spades to poker chips, sexy women wearing victory crowns to roulette wheels, this tattoo has it all!
However, to pull off a tattoo as intricate as this, you need to find an experienced and talented tattoo artist. The design involves complex aspects of the casino world that require finesse and attention to detail.
When choosing an artist for your full-back gambling tattoo, it's important to look for someone who has experience with intricate designs and can bring your vision to life. Our list of tattoo inspirations can help you achieve the perfect artwork for your full-back gambling tattoo.
A full-back gambling tattoo is a stunning piece of art that lets your love for gambling and tattoos come to life. It's important to choose an artist who can create a design that is both beautiful and meaningful to you. With the right artist and inspiration, your full-back gambling tattoo will be a work of art that you can be proud of for years to come!
Full Sleeve portrait Gambling Tattoo Ideas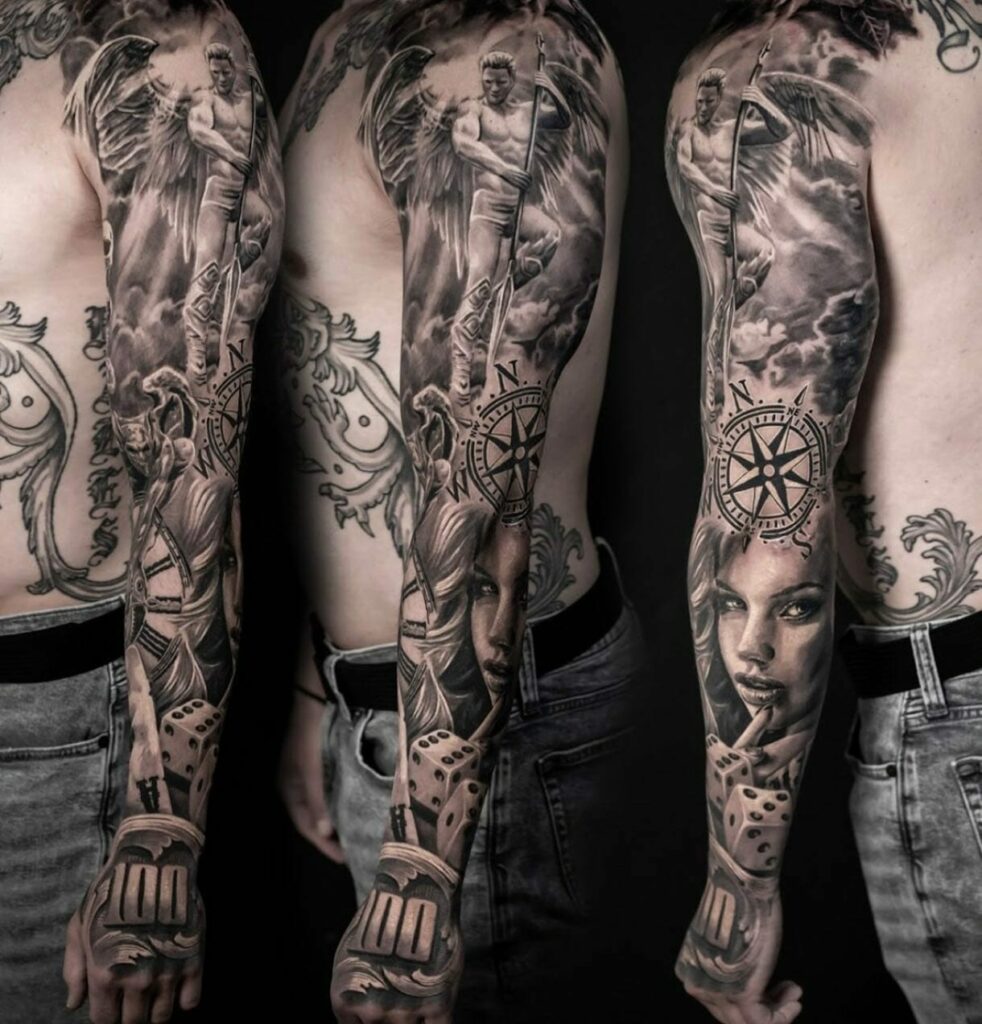 If you're a gambling enthusiast looking to show off your love for the casino, why not consider getting a casino tattoo? A gambling tattoo sleeve can be the perfect way to showcase your passion for all things gaming, and it's sure to grab the attention of everyone around you.
The design of this particular tattoo features some classic casino elements, including a pair of dice, an ace card, and a hundred dollar sign, all placed prominently on the back of your hand. Of course, you can customize the design to include any other games or machines that hold a special place in your heart, making the tattoo even more personal and meaningful.
The artist has chosen a classic black and grey style to maintain the authenticity of the artwork, giving it a timeless look that will never go out of style. And the placement on the hand ensures that it will always be on display, ready to spark conversations and turn heads wherever you go.
So, if you're a true gambler at heart, consider letting your body narrate your love for the game with a casino tattoo. It's a bold and beautiful way to showcase your passion for all things gaming, and it's sure to be a conversation starter wherever you go.
Shoulder And Chest Roulette Wheel Gambling Tattoos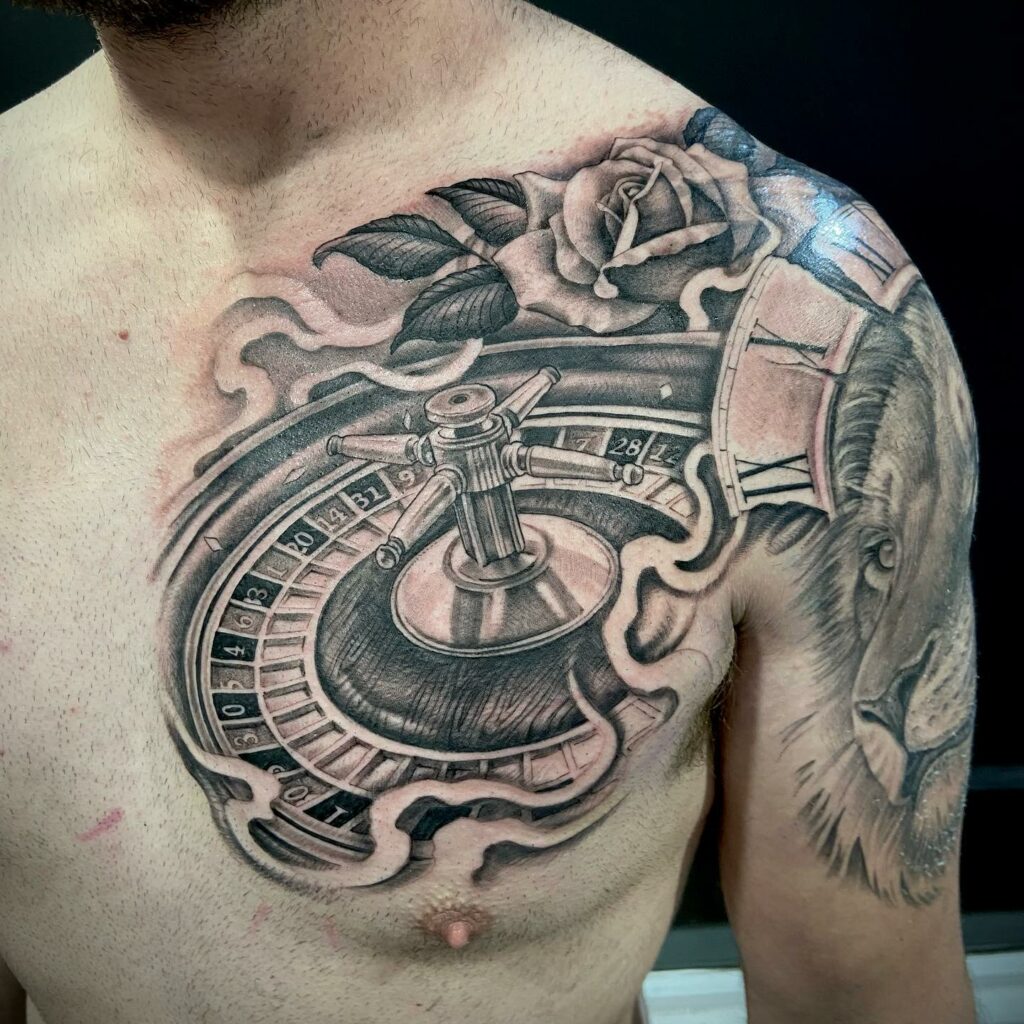 The stunning artwork on this large canvas is truly remarkable, with a beautifully detailed illustration of a roulette wheel that blends seamlessly with the other elements of the sleeve tattoo. It's clear that the artist behind this masterpiece is incredibly talented and has paid attention to every detail, from the shades and highlights to the smallest features of the design.
When it comes to choosing a gambling tattoo, it's important to select a design that truly speaks to your personal interests and preferences. That's the beauty of this style of tattoo – it can be customized in so many different ways, allowing you to get creative and incorporate your favorite games and symbols. Whether you're a slots fanatic or a card shark, there are endless possibilities when it comes to creating a unique and meaningful gambling tattoo.
So, if you're looking to take your love of casino games to the next level, consider a gambling tattoo. With the right design and a talented artist, you can create a stunning piece of artwork that will showcase your passion and leave a lasting impression.
Playing Cards Surrounded Gambling Tattoo Designs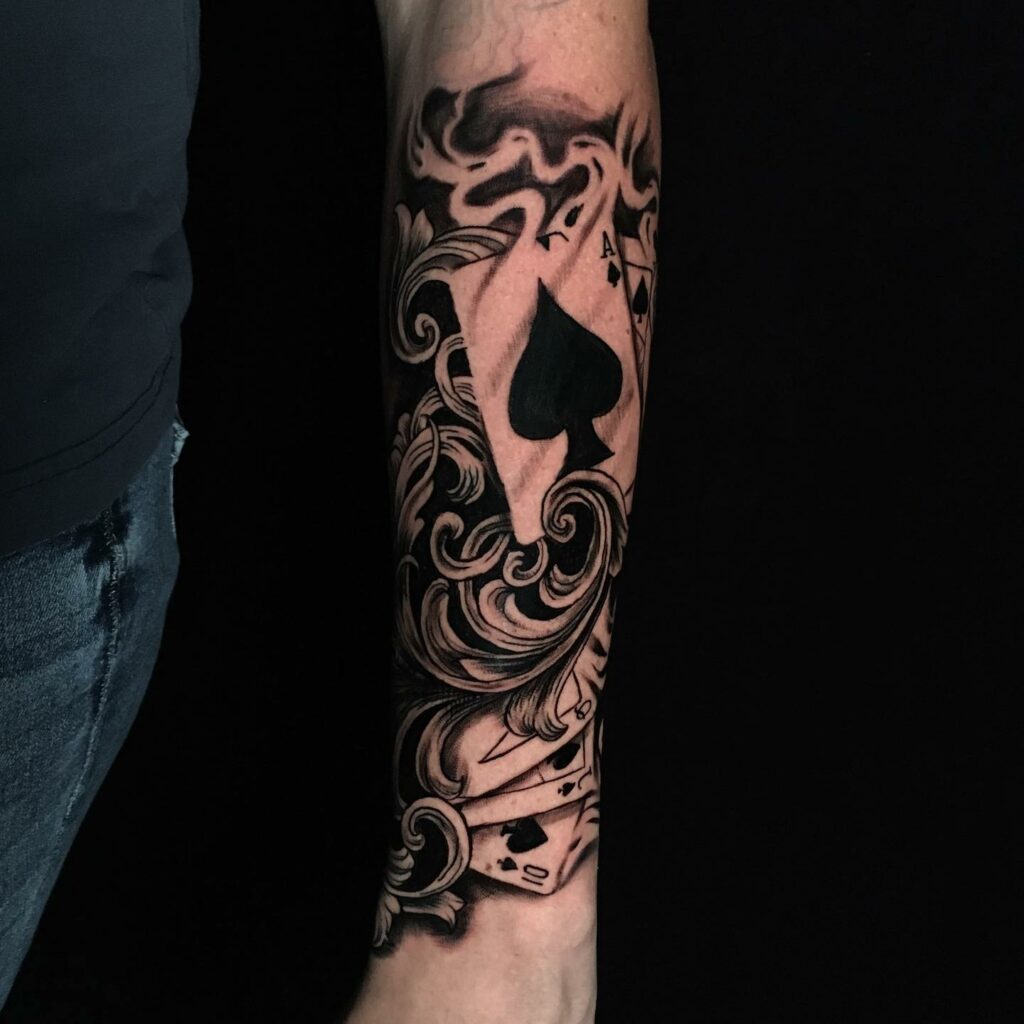 It represents the highest value of cards and is often associated with victory and stealing the limelight of the show. It's a winning feat for risk-takers and hence, gambling tattoo lovers can totally dedicate a separate tattoo like this to the ace of spades.
The ace of spades tattoo is further consumed by an intricate design that supposedly looks like smoke. The tattoo uses simple black and white shades to keep it as authentic as possible, making it a people-favorite design.
If you're looking for inspiration for your next ace of spades tattoo design, you can choose from many different designs such as the abstract ace of spades tattoos, black and gray card tattoos, royal flush, or A, K, Q, J, and 10 all in spades.
Traditional Gambling Tattoo Ideas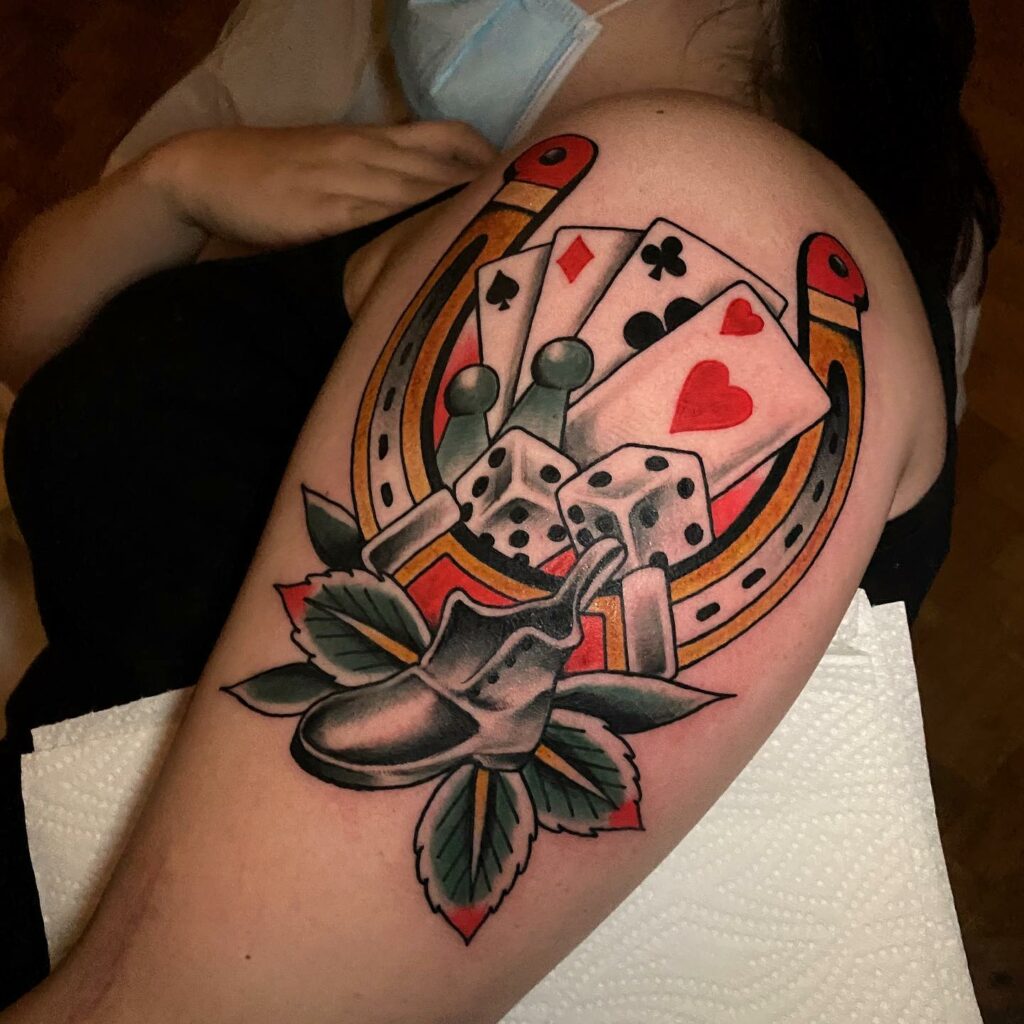 Are you a risk-taker who loves to mix and match tattoo styles and shades? If so, you'll definitely appreciate the charm of old-school traditional tattoos. Just take a look at the impressive design above, which features a classic American tattoo style. The tattoo covers the entire shoulder and boasts a bold and beautiful illustration of a pair of dice and playing cards, done in vibrant primary colors.
While the design may include a distracting element like the big shoe, remember that you can always switch it up or add your own personal touch to make it truly unique. Traditional tattoo styles are incredibly versatile, allowing you to play around with various elements and make the design your own. So, if you're looking for a classic and eye-catching design to add to your collection, make sure to consider a traditional gambling tattoo like this one!
Casino Tattoo With Gambling Quote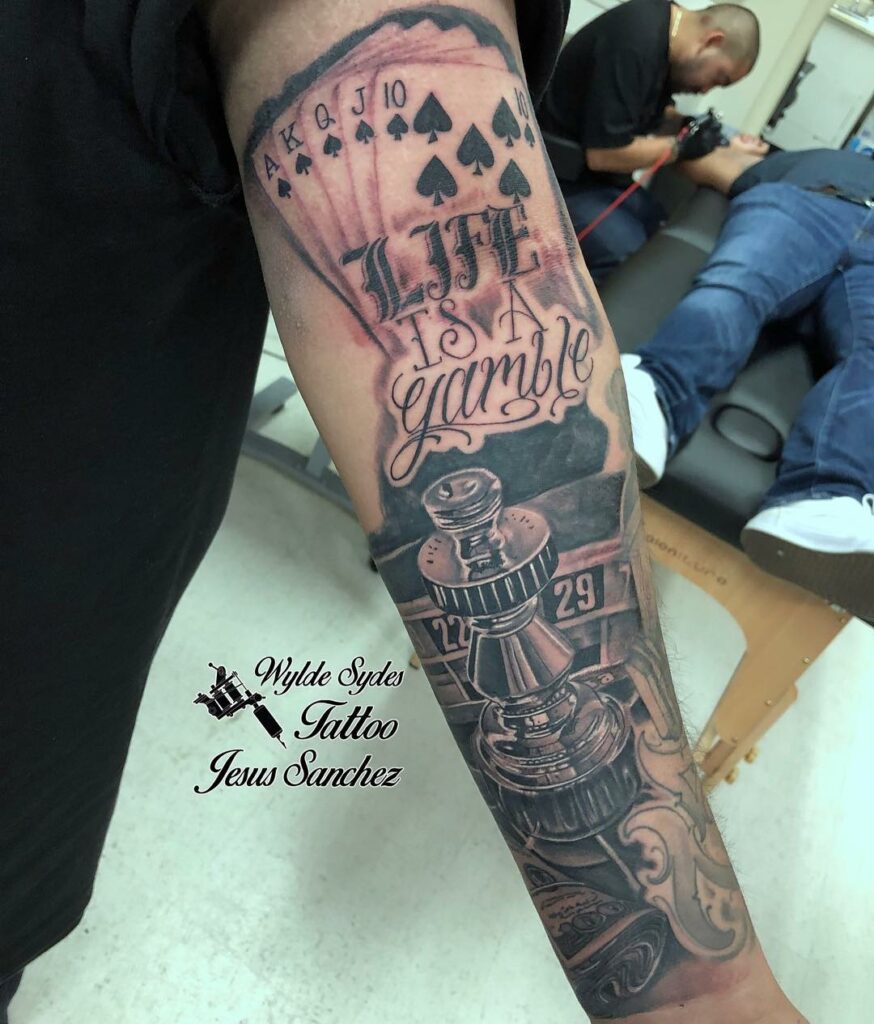 Tattoo sleeves with quotes are a timeless classic, and this casino tattoo perfectly captures the essence of gambling with a meaningful message. The "Life's a Gamble" tattoo is a fitting reflection of the thrill of the casino and the risks that come with it. This quote is universally recognized and resonates well with those who love to gamble or those who prefer to keep their distance.
When it comes to creating a casino tattoo, incorporating a meaningful quote can add an extra layer of depth and personalization to the design. The quote can be paired with other classic casino games like roulette, craps, or blackjack to further express your love for gambling. A Las Vegas tattoo sleeve would make the perfect canvas to showcase this type of design. So, if you're looking for a way to express your passion for the casino, consider adding a meaningful quote to your gambling tattoo design.
Creepy Gambling Joker Skull Tattoo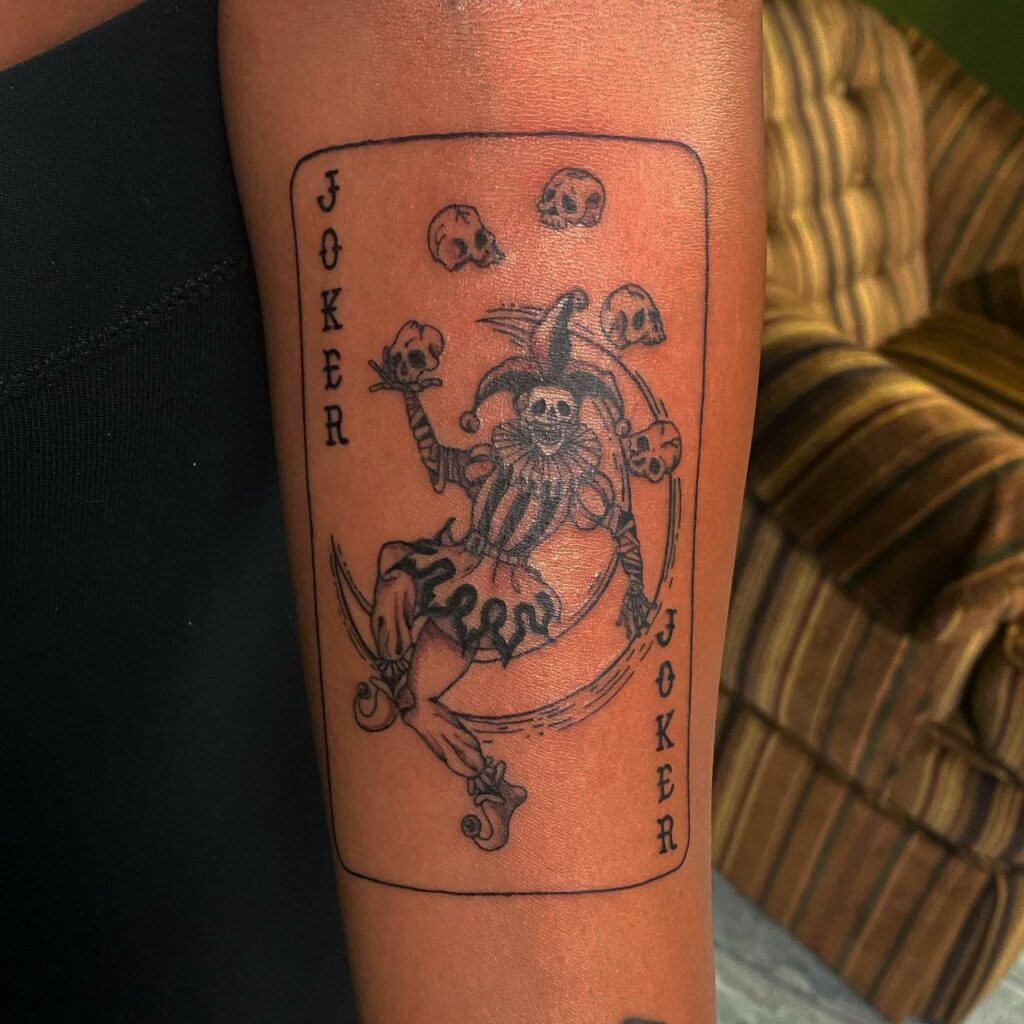 Jokers are a timeless element in tattoo designs, with their distinctive makeup and costumes making them an exceptional choice for tattoo enthusiasts. Despite its apparent insignificance in a deck of cards, the joker symbolizes adaptability and versatility, making it an inspiring and meaningful tattoo design. The joker has the power to play any card, filling in the gaps where needed, much like how we should embrace change and adapt to different situations. These tattoos often inspire philosophical reflection, making them a great choice for those seeking a meaningful and thought-provoking design. Don't hesitate to add a joker tattoo to your collection!
Minimal Casino Tattoos With Small Designs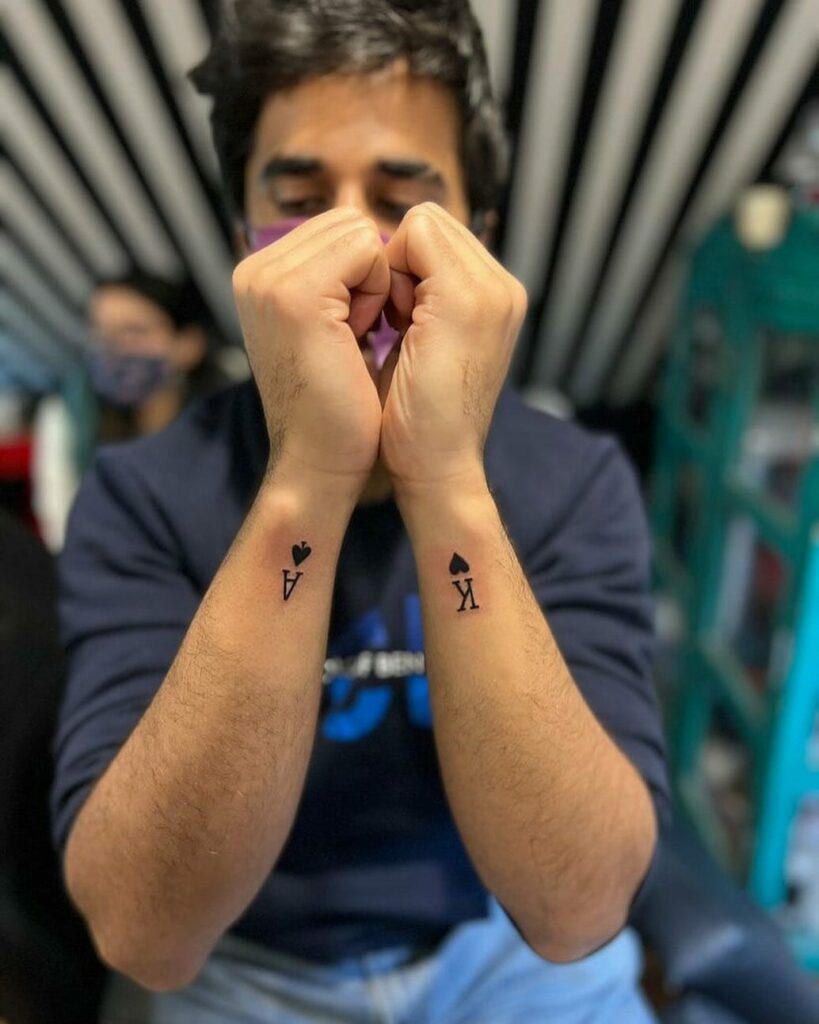 If you're looking for a smaller gambling tattoo that still packs a punch, check out this sleek and stylish design featuring the ace of spades and king of hearts. It's the perfect choice for those who want to show off their love of the game in a discreet way. But if you're feeling bold, there are plenty of other symbols to choose from, including money, dice, and roulette. We've rounded up some additional tattoo ideas to help spark your creativity and get you thinking about your next ink. Whether you're a seasoned gambler or just love the thrill of the game, there's a gambling tattoo out there that's perfect for you!
feature image from Pinterest – Want your tattoo to look brighter? Try "Tattoo Balm"