Looking to get a quirky geometric hummingbird tattoo? Look no further as we bring you the best ideas for hummingbird tattoos just for you!
Hummingbirds have always been a spectacle of nature that has captured the attention of humans since time immemorial.
In recent years, hummingbird tattoos have been very popular, and geometric hummingbird tattoo ideas are very much in demand. Hummingbirds are fascinating due to their speed and agility.
They are also incredibly tiny and cute friends of nature. The tattooing world revers hummingbirds as they make really good subjects for tattoos that one can proudly show off. Animals are always tattoo subjects that are in great demand as they are used in symbolism across various cultures and they add meaning to any tattoo. The meaning of hummingbird tattoos can vary from person to person but usually freedom and survival. The Cherokee people of the United States view the hummingbird as a symbol of harmony and integrity. You can get a geometric hummingbird tattoo in any part of your body, of any size and shape, and colour. The beauty of geometric hummingbird tattoos is that irrespective of the factors, they look great. Geometric tattoos further add a sense of harmony and balance to any tattoo design and hence geometric humming tattoo ideas have become largely popular in modern tattoo culture. If you are looking for amazing geometric hummingbird tattoo ideas, you have come to the right place. We have curated the 10 best geometric hummingbird tattoo ideas just for you so that you can get inspired and create your own body art masterpiece.
Vertical Geometric Hummingbird Tattoo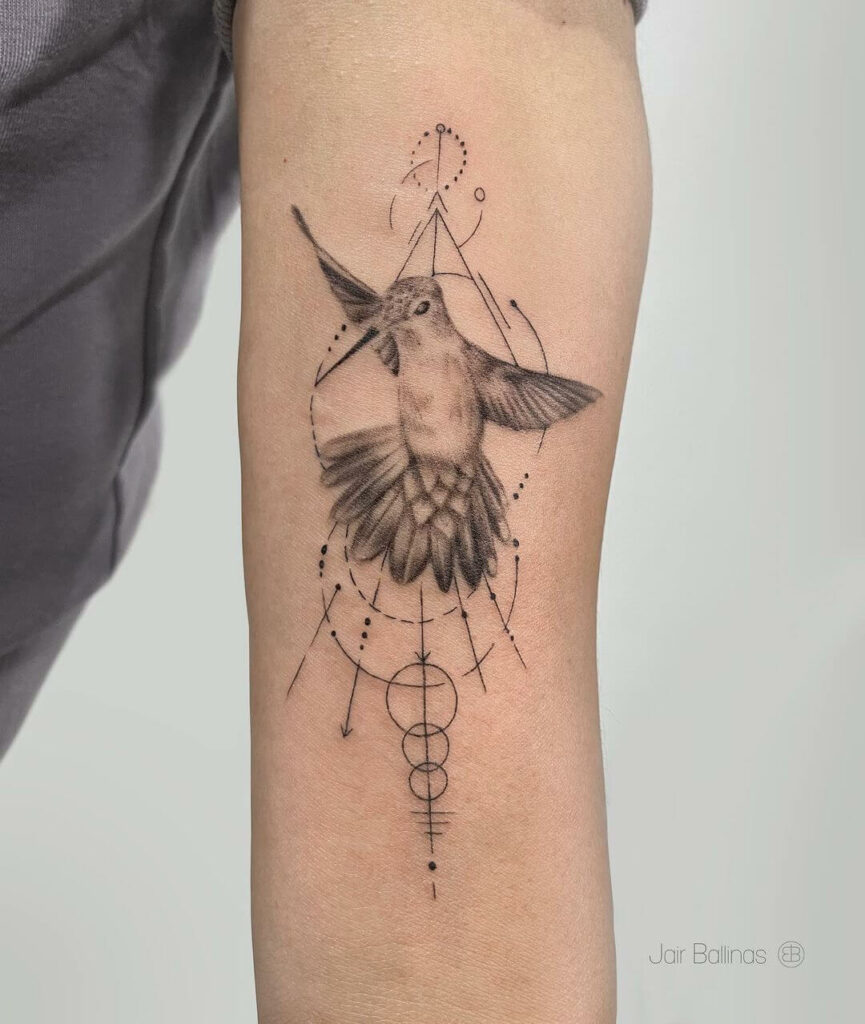 This geometric hummingbird tattoo has a pretty uncommon hummingbird poses that you will come across, and we give it a tattoo difficulty rating of difficult due to the incredible shading and anatomy knowledge demonstrated by the great artist. This geometric hummingbird tattoo is an example of different styles of geometric hummingbird tattoos that you can find on the internet. The detailing of the features and the finely drawn lines and circles are a few things that make this geometric hummingbird tattoo look well refined and realistic. If you are a fan of birds and are looking for realistic tattoos of geometric hummingbirds then this geometric hummingbird tattoo is a great recommendation as it is or as a source to take ideas from.
Colourful Idea of Geometric Hummingbird Tattoos
The hummingbird geometric tattoo is full of bright colours, which makes it pop up from the skin. One of the smaller designs on this list, this tattoo proves that you don't need a large and flashy tattoo to stand out in the crowd. A good idea and a good tattoo artist can make the best out of tattoos of any shape or size. The geometric tribal style motifs on the bird are also stunning! A great hummingbird geometric stylized tattoo if you are looking for bird tattoos that are unique and different.
An Example of Tribal Hummingbird Tattoos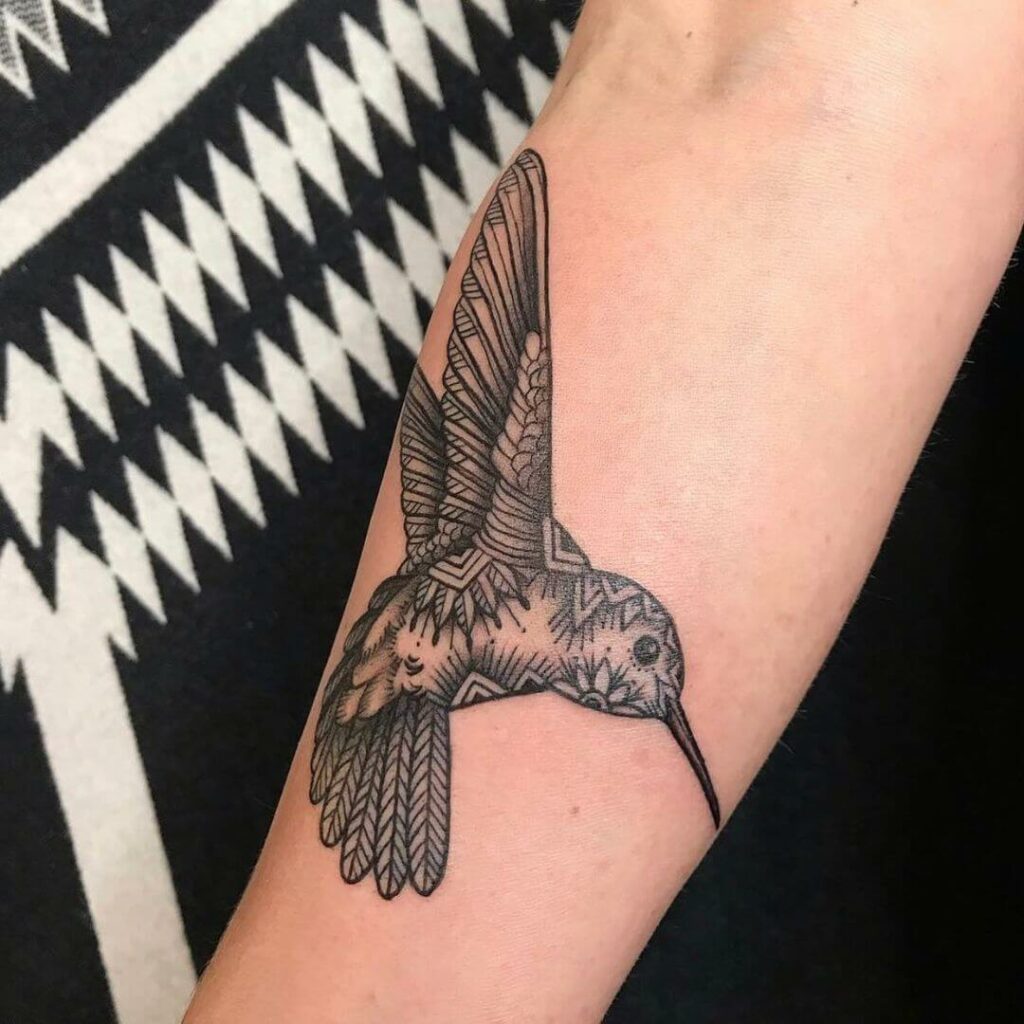 Tribal tattoos are characterized by bold lines and abstract shapes to create beautiful composite designs. Although there can be other meanings of tribal tattoos according to different cultures, these tattoos usually represent the heritage of the wearer and are a symbol of strength and power. Hummingbird symbolism includes joy, healing, and good luck. The Aztecs believed that the hummingbird is a sign of rebirth and they would be reborn as them if they died in battle. This is a fine example of tribal hummingbird tattoos. You can definitely notice the neat lines and the decorative abstract designs on the body of the bird.
An Idea for Watercolor Effect on Geometric Hummingbird Tattoo Designs
Tattoos of birds, especially hummingbird tattoos are a great subject for watercolor tattoos. We love the blotting paper effect that the artist has given to this washed-out style geometric hummingbird tattoo. The excess ink spilling out at the bird's tail and the use of negative space are great effects that the artist has put into the design. The design is divided into roughly drawn triangles and rectangles that represent the bird's feathers and body, which gives a certain aspect of abstractness to this geometric hummingbird watercolour tattoo. The simplicity and uniqueness of this tattoo make it a perfect candidate for a first tattoo. A great recommendation if you are looking for a geometric hummingbird tattoo (watercolour style) to get inked.
Small Geometric Hummingbird Tattoo Design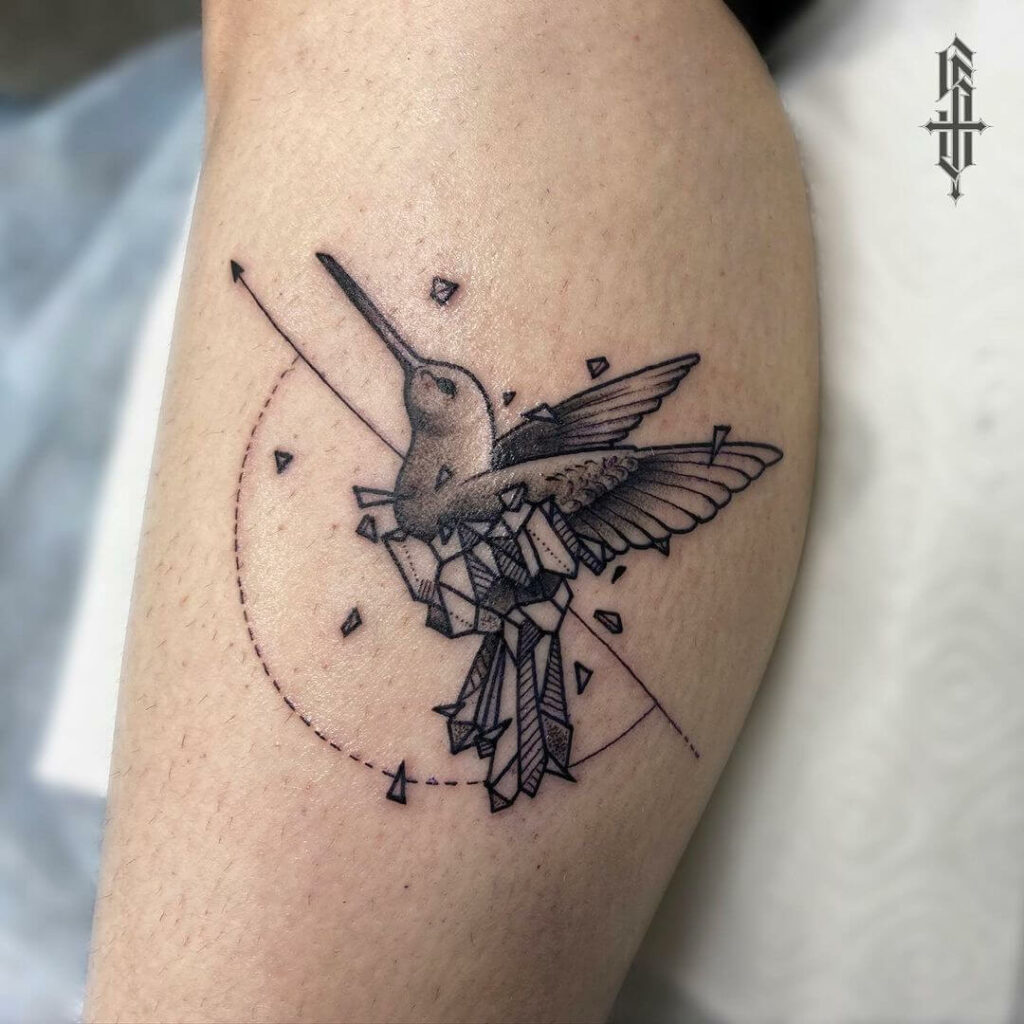 This tiny geometric hummingbird tattoo design is perfect for newbies in the tattooing world. It is also an easily concealable tattoo for corporate professionals as many companies have very strict tattoo policies. Hummingbirds are a fascinating and interesting subject for tattoos. This simple geometric hummingbird tattoo features the hummingbird designed with geometric shapes and a dotted semicircle and an arrow as the frame of the hummingbird tattoo. The forward-pointing arrow along with the rebirth symbolism of the hummingbird gives this hummingbird tattoo meaning. Definitely a great recommendation for first-timers or people who just want a small geometric hummingbird tattoo.
Yellow and Green Ink Geometric Hummingbird Tattoo Design
The Red-Billed Streamertail (belonging to the family of hummingbirds) is the national bird of Jamaica. The yellow, green, and black colour combination is common to the bird, Jamaica's flag, and this tattoo. This a very tasteful trivia to know if you are looking to get this geometric hummingbird tattoo design inked on your body. The artist has done a great job of keeping the lines straight and clean to give it a mosaic effect. A fantastic hummingbird tattoo design in this list of geometric hummingbird tattoo ideas.
Realistic Geometric Hummingbird Tattoo Design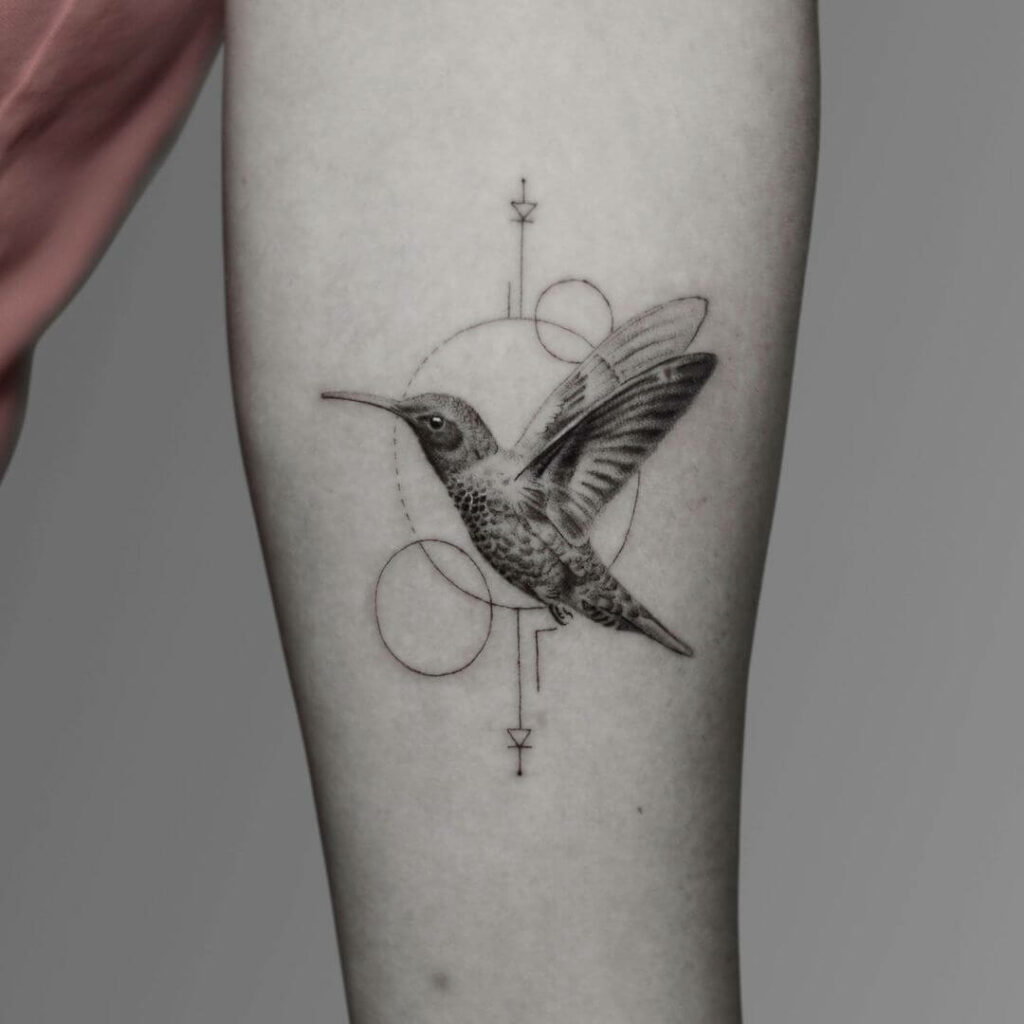 This artist has taken this geometric hummingbird tattoo to the next level by making it extremely realistic. The intricate details and tasteful shading makes this hummingbird tattoo look absolutely amazing. Although the body of the hummingbird does not have any elements of geometric tattoos, the background circles and lines give it a frame-worthy of its beauty. The delicately drawn lines complement the delicate and agile hummingbird which is the subject of this particular geometric hummingbird tattoo. You can add flowers to the background frame to add to the beauty of this tattoo. A well-placed flower in the background is sure to elevate this tattoo to the next level. This geometric hummingbird tattoo design (black and white) was done on the arms, you can also get it on your inner bicep or neck. Neck tattoos are difficult to pull off but this delicate and realistic geometric hummingbird tattoo is definitely a great tattoo design for your new tattoo.
Geometric Floral Hummingbird Tattoo
This amazing geometric hummingbird tattoo looks like a pencil sketch. The incredibly intricate details that are drawn give a very delicate look to this geometric hummingbird tattoo. Although it is black and white, you can certainly add splashes of pink here and there, as it would contribute to the delicate look of this geometric hummingbird tattoo. The triangles, circles and dotted figures act as the frame and background of this geometric hummingbird tattoo. If you are looking for such tattoos of hummingbirds, then this delicate geometric hummingbird tattoo surely is a great place to take inspiration from.
Deep Black Geometric Hummingbird Tattoo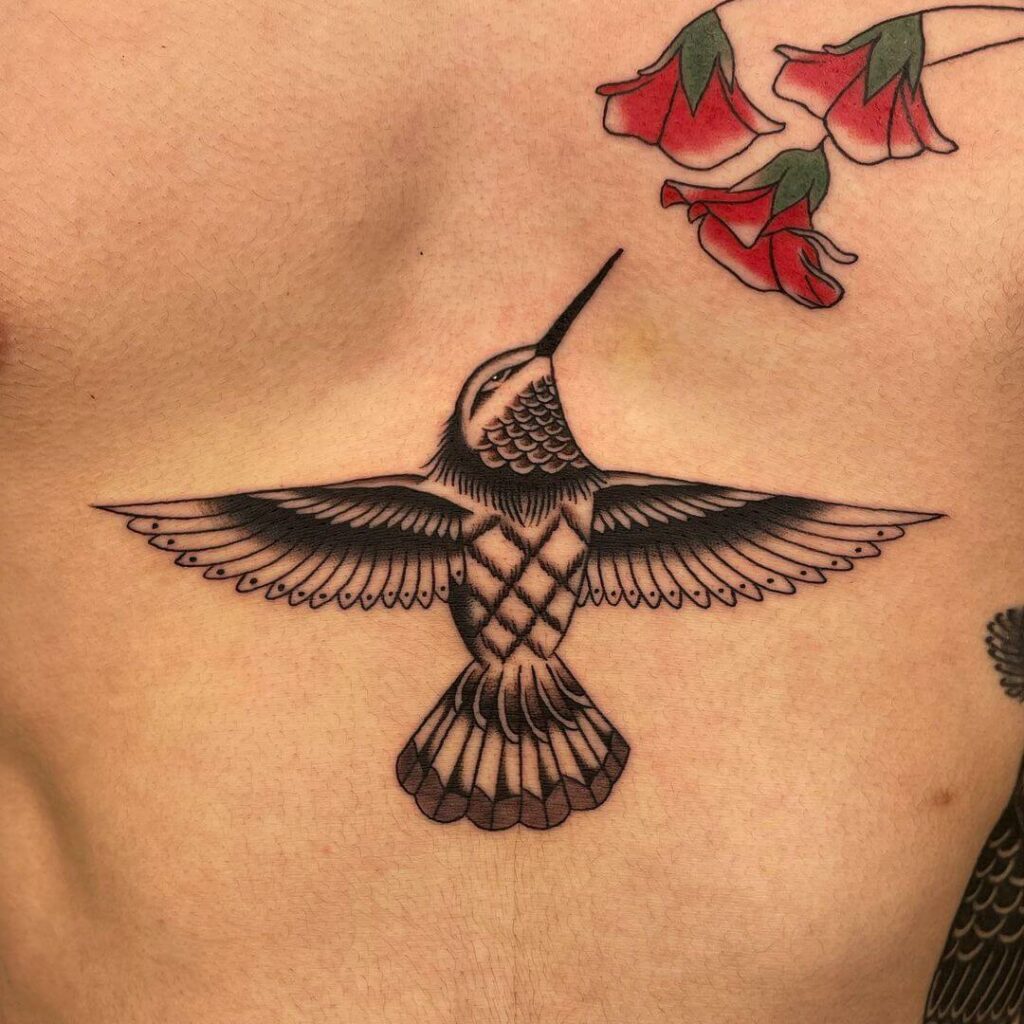 Nature is one of the greatest sources of geometric patterns, which is demonstrated aptly in this deep black geometric hummingbird tattoo. We love the deep blacks used to create contrast in the tattoo and the bold lines that show the naturally occurring geometric patterns in hummingbirds. The shading also gives life to this tattoo and brings out the texture in the feathers of this geometric hummingbird tattoo. It feels like the hummingbird is approaching the blooming flowers to collect the sweet nectar in them. The bright red colour of the flowers also adds to the beauty of the tattoo. Hummingbird tattoos have become quite popular in recent times and you need a hummingbird tattoo that is unique and bold to stand out in a crowd of endless geometric hummingbird tattoo ideas. If you are looking for such hummingbird tattoos, then this deep black geometric hummingbird tattoo design is definitely one image to recommend.
Geometric Hummingbird Silhouette Tattoo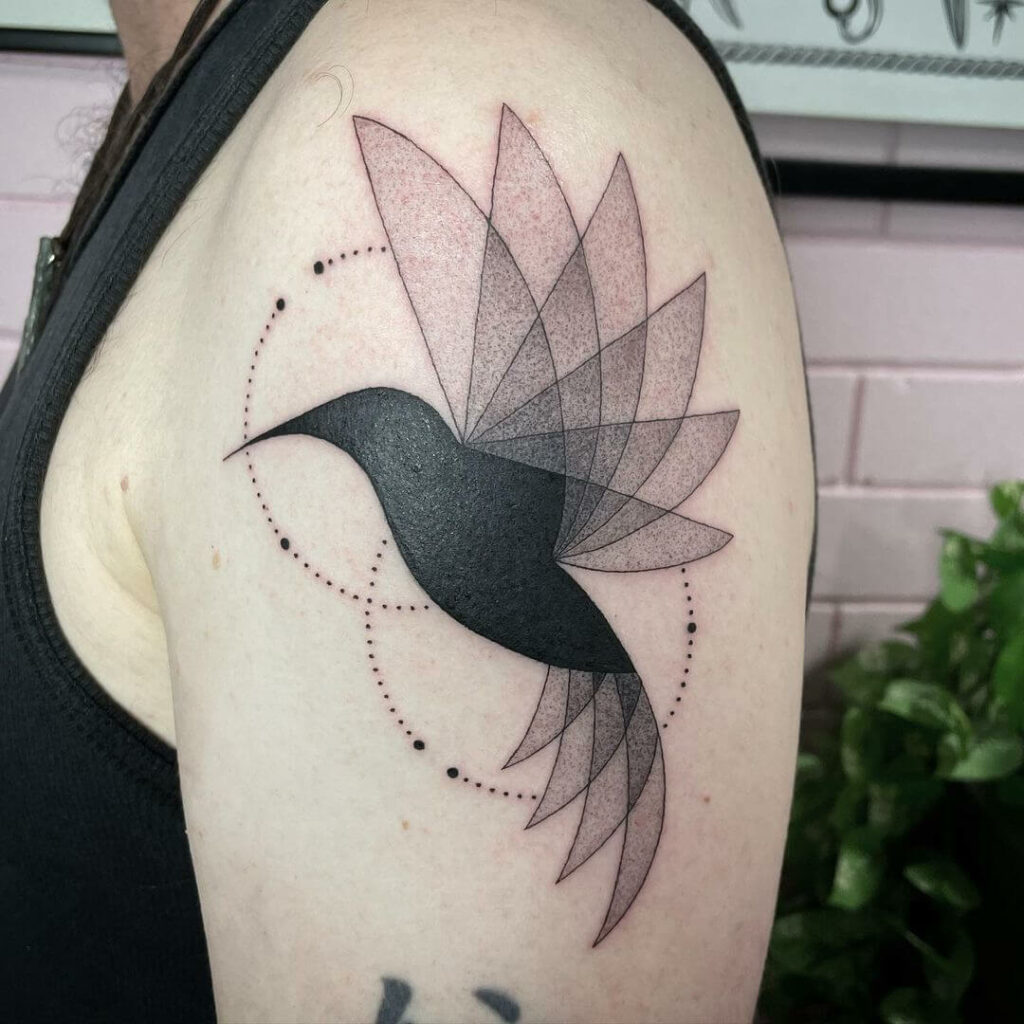 Animal tattoos look really cool but they are often boring as the designs get repetitive and common. This geometric hummingbird tattoo, however, is far from a common hummingbird tattoo depiction. Such a unique deep black design of hummingbird tattoos, making it very eye-catching. Although the all-black silhouette style body would take about three to four hours to complete, it can be lesser or more than that depending upon your pain tolerance. We love the dotted circles that represent the circular motion of the flapping wings. A great design for your tattoo collection, if you are looking for a mindblowing geometric hummingbird tattoo.
As we come to the end of this article we wanted to discuss tattoo care, which is also a major aspect of getting any tattoo. If you want your geometric hummingbird tattoo to look pristine and sharp over the years, you have to pay attention to the aftercare as well. The aftercare pain level exposure determines the healing time of the tattoo. Tattoos might take time to heal if done in sensitive areas. Tattoos also heal faster if you avoid swimming in the first few weeks. As the body hair is shaved off, use an alcohol-free soap and moisturize your skin to keep the tattoo looking fresh forever. Hummingbird tattoos look really great and quirky and one should definitely get a geometric hummingbird tattoo as they add more meaning and beauty to the hummingbirds. We hope this curated list of geometric hummingbird tattoos helped you to finalize the tattoo of your dreams!
Feature image from Pinterest – Want your tattoo to look brighter? Try "Tattoo Balm"
Last reviewed and updated on June 19, 2023